Latest posts by Mark Spera
(see all)
SEO is the holy grail of digital marketing.
There are 40,000 Google searches per second — so getting your website to the top of the Google search engine results page (SERP) is extremely valuable.
And, if you don't want to shell out thousands of dollars a month for an SEO agency, you'll need to do the work yourself. That's where an SEO tool comes in.
To win with SEO, you need to do two things:
Make great content.
Distribute that content to get backlinks.
So you should be looking for tool(s) to help you do exactly that.
In my 10+ year career in digital marketing, I've come across hundreds of SEO tools. And I promise, they're not all created equal. Great SEO tools enable you to:
I've put together a list that includes 20 of the best SEO tools (plus three tools that are 100% free) that will help you improve your website's Google search optimization. We're talking about tools beyond Google Analytics — tools that are guaranteed to help you get in front of Googlers and crush it with SEO!
Also read:
What are the best SEO tools?
The 20 best SEO tools will help you improve your website's visibility in Google's search results. I've only included tools that I think are worth considering as your primary SEO tool.
1. Semrush: Best All-Around

About: Semrush has emerged as one of the most comprehensive SEO and market research tools. It went public in 2021, and it's probably safe to say it's among the largest marketing software companies in the world. I've used it for 5+ years and can confidently say it's got everything you'll need for keyword research, backlink analysis, domain audits and analysis, and Google Ads keyword planning. It also has social media, PR, and agency reporting software.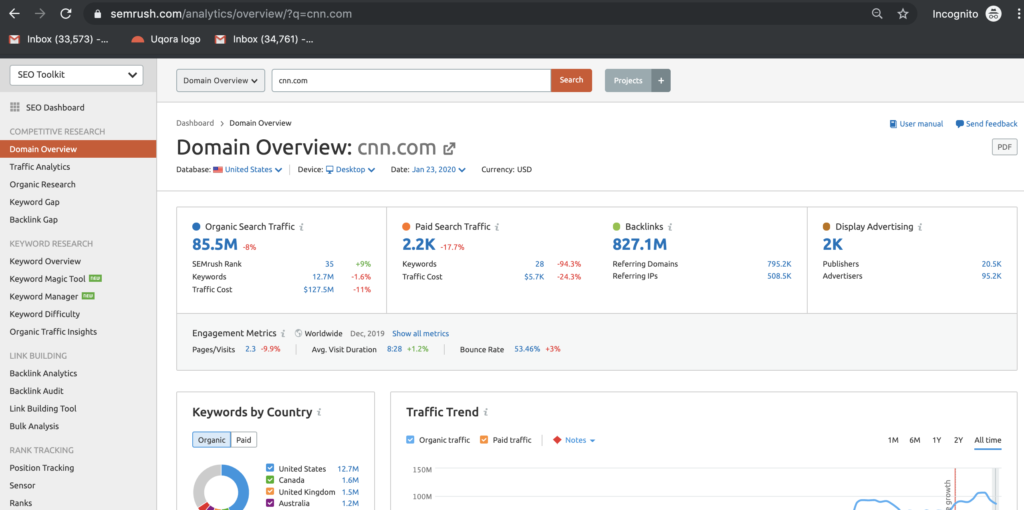 Some of the web's largest websites such as Quora, eBay, and Overstock all use their tools to improve their organic traffic and research competitors. It's an enterprise-grade product that will help any sophisticated marketer get any insight they desire to make organic search optimization decisions. 
Semrush is constantly making improvements, rolling out new features, and offering some unique insights into keywords and URLs that are incredibly useful for SEO.
Ease of Use:
Semrush enables you to find any metric you could ever dream of, all in a comprehensive, easy-to-read dashboard  
Like Ahrefs, Semrush is fairly advanced, so it takes some getting used to
Features:
Organic and paid keyword research
Detailed analysis of paid ad campaigns, including Google display campaigns
On-page SEO checklist and analysis
Keyword research and difficulty checker
Rank tracking
Domain analysis — compare your site to competitors
Full website audit tools including toxic backlink score
Enable position change alerts right to your email
Price: Semrush has three pricing plans; Pro which is $99.95/mo, Guru $199.95/mo, and Business $399.95/mo. There is a 7-day free trial available before choosing a plan, and once registered, you can still run a few free reports per day.
Bottom line: While Semrush is one of the more expensive SEO tools, it's the #1 or #2 most powerful (along with Ahrefs). I recommend it to anyone who knows what they're doing and needs all their SEO and competitive insights in one place. The interface has a lot going on, but once you get familiar with using Semrush you realize you have a wildly powerful suite of SEO tools at your disposal.
Full review: Semrush User Reviews
2. Ahrefs: Best for Backlink Research

About: Ahrefs claim to fame is having the largest backlink profile of any tool with more than 16 trillion links being crawled every day. They also say they have the second largest website crawler after Google themselves, so with Ahrefs you're in capable hands.
You can get detailed insight into a website by typing in the URL. Or, dig into a seed keyword and associated relevant keywords by using the keyword search tool.
See the search rankings or organic traffic for any keyword or website.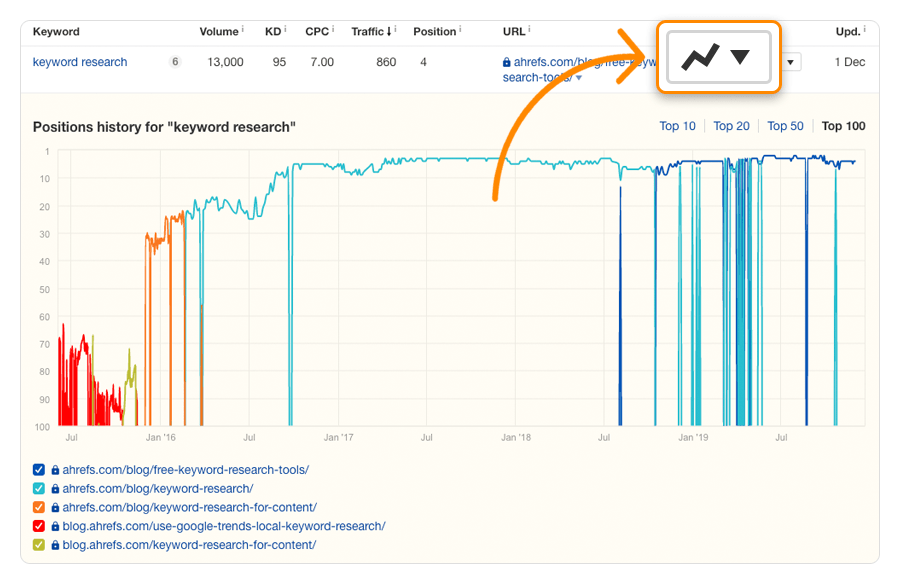 I've used Ahrefs for years, and it's my #1 tool for backlink research — so that I can snipe competitor's links, find broken link opportunities, and keep track of link acquisition. Ahrefs also has strong keyword and search volume metrics, fully rounded out with accurate CPC data, international data, and more. Ahrefs is a truly top tier SEO tool.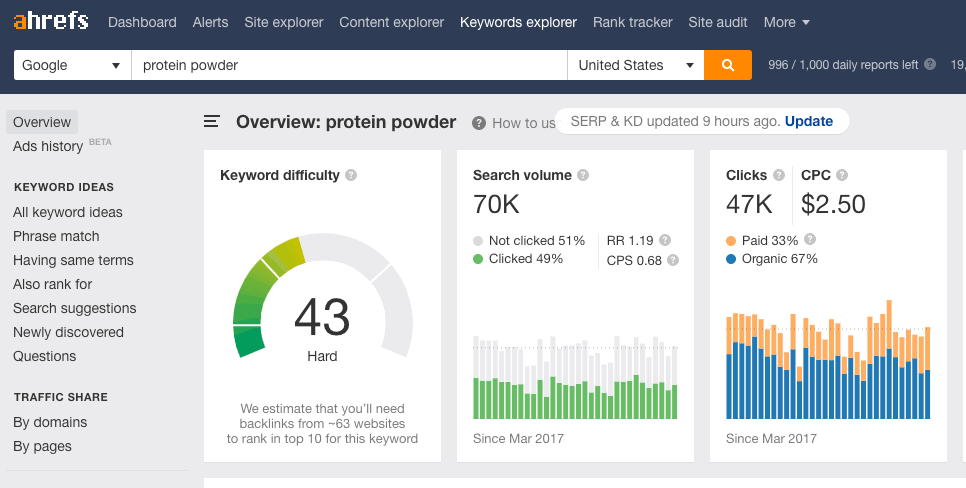 Ahrefs is used by huge companies, including Shopify, Expedia, Adobe, Ebay, and more. It's truly enterprise grade.
The only criticisms I have are: 1) it takes some getting used to the interface 2) the price 3) it tends to be pretty slow.
Ease of Use:
There is a learning curve involved if you want to progress to carrying out detailed site audits and backlink analysis — it's a complex tool
However, the interface is intuitive once you get used to it; Ahrefs makes great use of colors to make readable graphs and tables
Features:
Site explorer – Paid and organic traffic stats and backlink audits
Site audits – Look "under the hood" of any site and find out how it's performing.
Rank tracker – Monitor your own keyword rankings against your competitors over time
Content explorer – Take a deep dive into how your content is performing and identify areas to make improvements
Advanced keyword analytics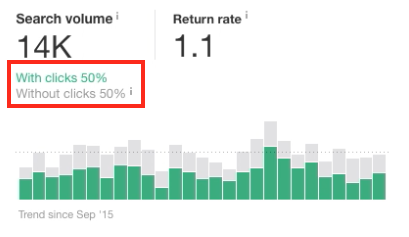 Price: You can get a 7-day trial for $7. After that, plans range from $99/mo to $999/mo depending on how many users you need, the number of keywords you want to track, and some other usage metrics.
Bottom line: Ahrefs is the tool with the largest backlink database and one of the most powerful suite of SEO insights. But it comes with a price. Ahrefs is one of the most expensive tools on the market.
You can't go wrong with their 7-day trial for just $7. My advice is to put their tool to the test in those 7 days and see how much value you're getting compared to some of the lower-priced tools on this list.
Full review: Ahrefs User Reviews
3. GrowthBar: Best for Bloggers

GrowthBar is an all-in-one tool for planning, creating, and measuring content. From them: Get billions of keywords, backlinks, and create blog content that Google loves, powered by OpenAI.
It's used by thousands of individuals, agencies and teams to do keyword research, create AI-generated blog posts, conduct backlink research, and track keyword rankings.
GrowthBar is an SEO suite and AI writing tool. It uses the largest language model in the world to give you incredible blog content with the click of a button. Its sophisticated algorithms then tell you how to turn that content into a blog post masterpiece that ranks #1. GrowthBar's technology works by scraping hundreds of results in the Google search engine results page (SERP) to define optimal content for your query. It then uses natural language AI to "write" content for you.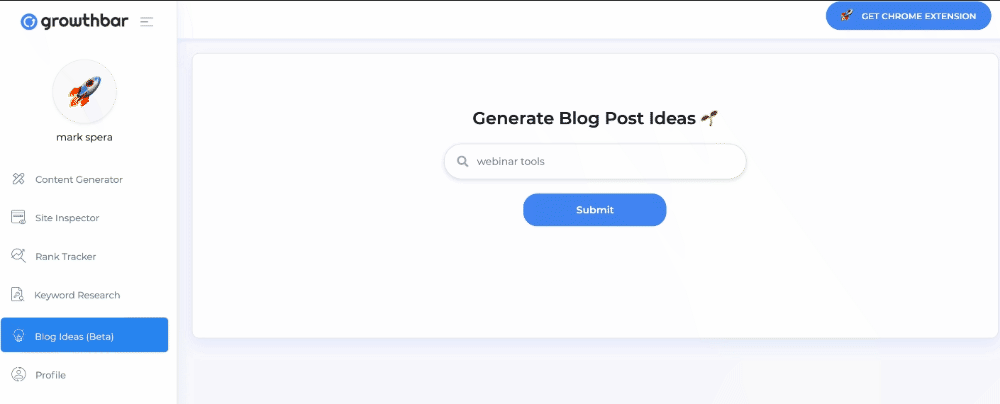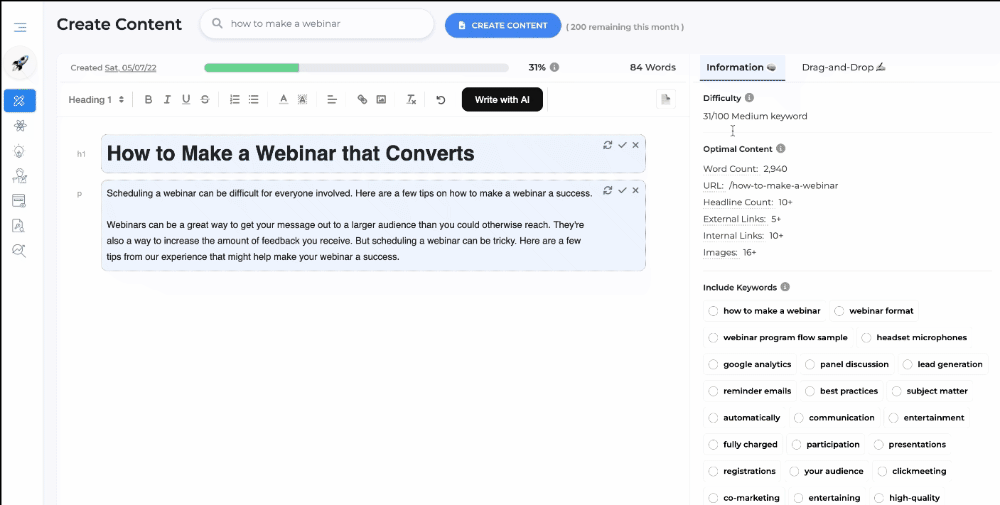 GrowthBar is used by fast-growing tech companies, including Square, Postmates, Minted, Spekit, Bill.com, and more.
Ease of Use
Super simple, easy-to-read dashboards make GrowthBar delightful to use.
GrowthBar is also a content generator. It's the first end-to-end SEO tool in the world to use OpenAI GPT-3, to generate blog content in one quick… which saves you time.
And if you like SEO Chrome Extensions, GrowthBar's 5-star rated extension will knock your socks off. Just type in a URL or keyword into your Google search bar and hit "enter." Now you get SEO insights as you Google search normally.
Features
It's an all-in-one solution like Ahrefs, but optimized for content creators and teams. GrowthBar's most important features include:
AI content generation: generate blog content using OpenAI's GPT-3
Content auditing: score your content and find opportunities for improving it
Keyword research with a database of 2 billion+ keywords, search volume, and competition scores
Stats on any website on the internet: organic traffic, backlinks, Google Ads, and corresponding CPCs
Keyword rank tracking
Chrome Extension
Price: GrowthBar is free to try for 5 days and then it costs $29/mo for Standard, $79/mo for Pro, and $129/mo for Agency.
Bottom line: GrowthBar is the most complete SEO tool for content creators and teams. It has all the important features that Ahrefs has, like keyword research and backlink research, but it goes much deeper in content optimization. It's trusted by thousands of entrepreneurs and marketers at companies you've heard of, including MagicJack, Bill.com, TeePublic, Square, Postmates, and Minted. It gives curated insights, plus millions of keywords, and enables you to create content in one click. Plus, it's all incredibly user-friendly.
Read a full GrowthBar review here
4. Moz Pro: Great All-Around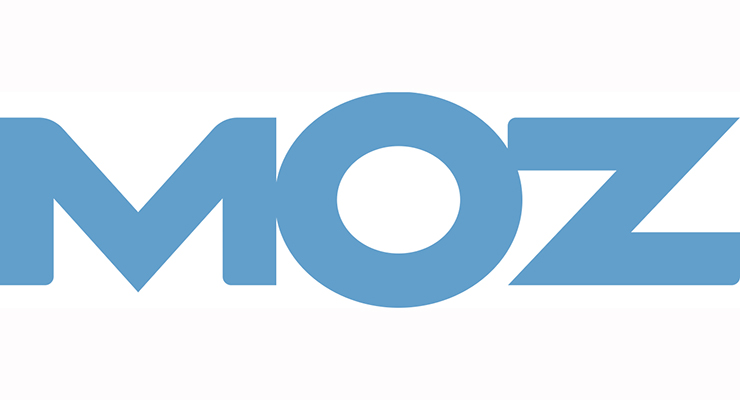 About: Moz is one of the most prolific SEO tools out there. They've been around since the early 2000s and have a pretty popular blog. Plus, whenever a dreaded Google algorithm update happens, the Moz site is usually one of the first to try and dissect it.
I started using Moz Pro after playing with the Moz Chrome plugin, which is a pretty simple browser extension that displays a few data points about a site, including domain authority, while you browse Google.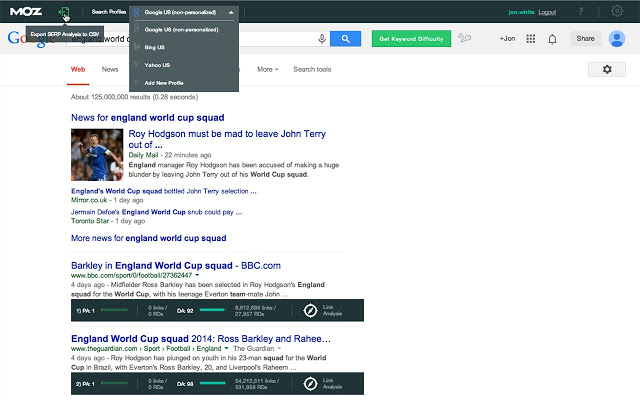 Moz Pro is a paid web version of Moz, which allows you to explore keywords, track your keyword rankings, run technical SEO site audits, optimize content, and check on your competitors' backlinks.
It's a very comprehensive suite of tools that will take you through the process of 1) identifying low competition keywords you can rank for 2) exploring and earning new backlinks 3) improving your on-page SEO with Moz Site Crawls.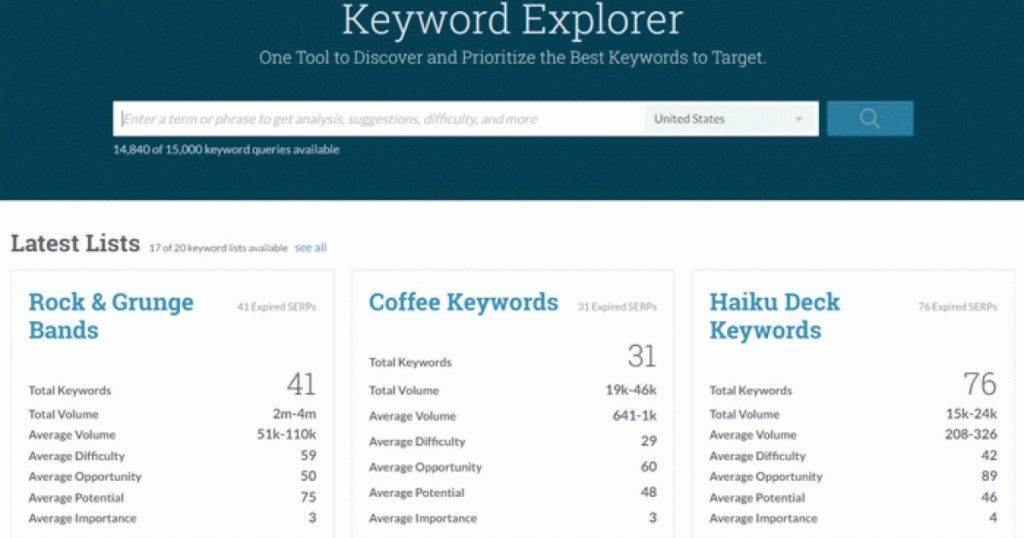 Ease of Use:
Type in a keyword or URL to get started
Custom reporting and dashboard make it easy to track results
Nice, clean, and easy to use UX
Chrome browser extension that is pretty easy and free (but quite basic)
Features:
Keyword explorer to find keywords and analyze by difficulty
Ranking tracker to keep an eye on keyword rankings
SEO audit tools to find and identify site issues affecting SEO
Content optimizer to help improve your on-page SEO score
Backlink checker to provide visibility on your competitors' link-building abilities
Price: Plans range from $99/mo to $599/mo with a 20% discount across the board when paying yearly upfront. They also offer a 30-day free trial so you can try it before you buy.
Bottom line: 30 days is a nice long stretch to find out if Moz is the right SEO tool for you, so I recommend taking their free trial if you're interested. Moz Pro is a complete suite of SEO tools, there are more than enough features to help you improve your SEO, it's a matter of finding out if it's the right fit for you.
Full review: Moz User Reviews
5. Yoast: Best WordPress Plugin
About: There are 1.3 billion WordPress sites on the internet. And Yoast has been downloaded over 200 million times. You do the math!
If you're publishing content online and using WordPress, you need to install the Yoast SEO plugin. It's simply the best SEO plugin available for WordPress in this marketer's opinion.
The Yoast plugin has been around since 2010, and the brand has become synonymous with WordPress SEO over the years. It's a bit different than traditional SEO tools, which live "outside" your content — that's to say most tools exist on their own website. Yoast is a tool that's overlaid on your WordPress instance.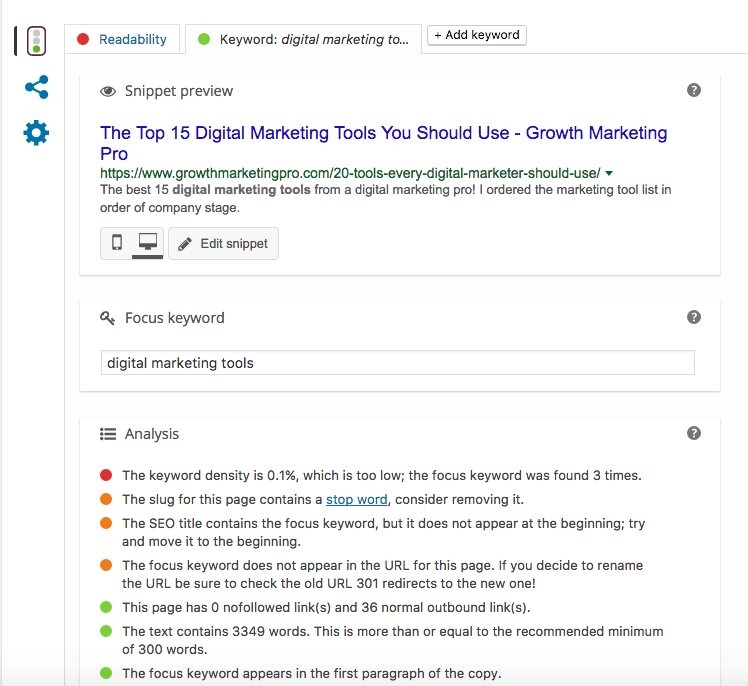 As you create blog posts and add pages in WordPress, Yoast gives you suggestions on how to optimize them with additional keywords, meta descriptions, content length, and clarity, plus a whole host of other suggestions. Yoast is perfect for on-page SEO — less so for "off-page" SEO insights like backlinks and domain authority of competitor sites. 
The plugin is free to download and install. There is a paid Premium plan, but the free version is going to be more than suitable for most people.
Ease of Use:
All you need to do is download it and declare a "focus keyword" for every blog post or page — then Yoast does the rest, by giving you insights right in your WordPress dashboard
The settings interface is easy to navigate, and Yoast has a load of FAQs if you get stuck
Features:
Keyword optimization checklist (with traffic light visuals)
Schema markup
See a preview of what your finished page looks like
Easily edit your URL slug, run redirects from old pages to new, breadcrumbs, and more
Duplicate content checker
Handles technical stuff like robots.txt, .htaccess, sitemaps, and more
Paid only features include:
Internal linking suggestions
Redirect URLs
Optimize for multiple keywords
24/7 support
No ads
Price: You can upgrade to a Yoast Premium for $89 (ex VAT) per year per site.
Bottom line: Yoast is one of those must-have plugins for all WordPress users. The main benefit of using it is the multi-point checklist making sure you're on page SEO is all in order. It's super easy to generate sitemaps too and check if your site is properly indexed in Google. Note: you need another tool in addition to Yoast. Yoast is not equipped to do keyword research and competitor research.
Full review: Yoast User Reviews
Also read: Yoast vs AIOSEO vs Rank Math
6. SE Ranking: Best Rank Tracking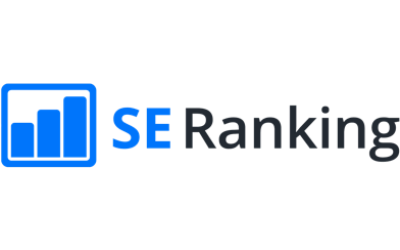 About: SE Ranking is the company to choose if you think SEO is as difficult as colonizing Mars. It's easy. It offers multiple tools that help entrepreneurs, SMBs, agencies, and marketing specialists curate projects, boost online visibility, monitor the technical side of websites, research keywords, competitors, and backlinks.
All in one place.
The mission of the service is to make SEO as easy as possible, from start to finish. The Keyword Rank Tracker is a true discovery! On one page, you can see the average position, traffic forecast, search visibility, SERP features where you rank, the percentage in the TOP-10, a comparison of selected keyword rankings, and more.
Besides, you get to choose which search engine, location, and device combo to analyze. SE Ranking supports Google, Yahoo!, Bing, and YouTube, for any location, and both desktop and mobile devices.
And more importantly, you can peek into your competitors' ratings as well.
The usability of SE Ranking's tools makes it one of the best options for beginners and professionals. The former will quickly get their focus keyword ranking, and the latter will be able to make an analysis effortlessly.
Not to mention that the prices are fairly appealing.
Ease of Use:
The interface is very easy to understand
If you're a complete beginner, you may need some time to get used to it, but there are tutorials on SE Ranking's website
Features:
Keywords – a rank tracker and a keyword research tool
Competitors – a detailed research tool that will help you see what they are doing to stay on top
Backlinks – a checker and a tool to monitor your own backlink profile or a competitor's
Website – check on-page SEO and do easy regular website health checks
B2B – a lead generator and report builder are at your service, along with other B2B features
Advanced tools like a marketing plan, social media management software, etc.
Price: You can access a demo account or start a 14-day free trial to see if the service is right for you. Then, choose between customizable plans ranging from $39/mo to $189/mo. If you need something special, the company will create a custom plan just for you, all you need to do is contact them.
Bottom line: SE Ranking has succeeded in creating an all-in-one tool that isn't too complicated. Everything is balanced here: the tools, the special features, the price. The Keyword Rank Tracker works quickly and does so worldwide, so the results of your analysis can be adjusted to the smallest detail like a postcode.
Plus, it won't cost you anything to try the toolset out for 2 weeks, so it's definitely worth a go.
7. Serpstat: Best Discounts with Prepay
About: Serpstat is an "All-in-One SEO Platform" that has a number of SEO tools. The core of Serpstat's functionality is its keyword research analysis. You can collect large batches of keywords and display search volume, PPC, competition, and all the other metrics you need to make an informed decision about targeting a keyword.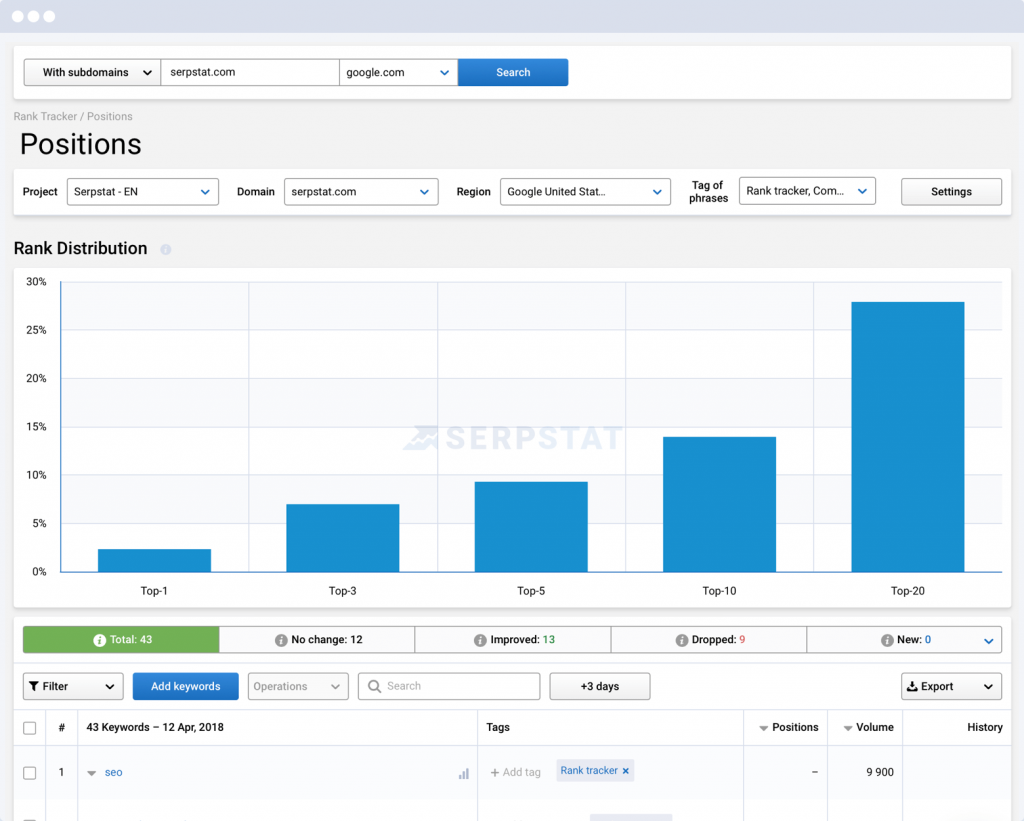 Also, Serpstat enables you to conduct a competitor analysis like Semrush and Ahrefs. You can see everything from the keywords they're already ranking for and how many backlinks they have to their domain, plus loads more.
Serpstat is a great growth hacking tool for SEO and Google Ads PPC campaigns. There is an extension for Chrome, Firefox, and Opera too, enabling you to pull vital data while browsing the web — much like GrowthBar.
Ease of Use:
Simple interface and lots of graphs and visuals within the custom reporting
Easily track your competitors' backlinks and other metrics
Features:
Keyword research
Search analytics
Advertising analysis
Content marketing ideation
Competitor research
Rank tracking
Backlink analysis
Price: Pricing starts at $69/mo for their Lite plan which allows you to make up to 4,000 queries a day. You can upgrade to Standard for $149/mo, Advanced for $299/mo, or Enterprise for $499/mo to increase your limits.
Bottom line: If keywords are the main focus of your SEO efforts, Serpstat is worth taking a closer look at. You'll be able to find lots of long-tail keywords to help you cast a wider net and capture more long-tail traffic using their keyword research tool. However, Serpstat comes with one of the the heftiest price points of any tool on the list.
8. Screaming Frog: Best for Technical Audits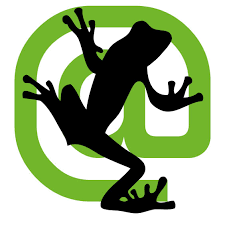 About: The Screaming Frog SEO Spider is a website crawler, that allows you to crawl websites' URLs and fetch key elements to analyze and audit technical and onsite SEO factors. It's purely an SEO audit tool.

Screaming Frog enables you to crawl any website and find broken links, generate XML sitemaps, see all your crawlable pages, get H1s, meta descriptions, and backlinks to any site or page. Plus, everything is exportable to a neat CSV or Excel file.
Screaming Frog has a number of more advanced features too, including detecting 404 errors or other server errors on your site.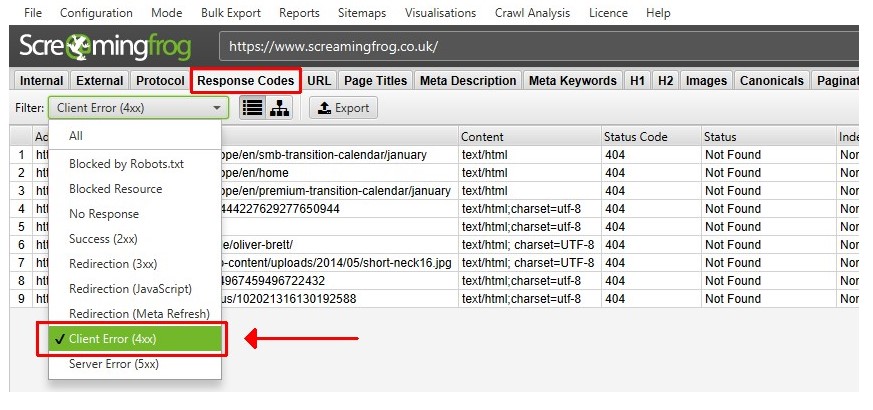 Crawl 500 URLs for free, or purchase a license for additional advanced features.
Ease of Use:
Screaming Frog is easy to start and easy to run audits with
There's a lot of technical information like crawl errors, sitemaps, and site architecture maps — some of this may be tough for new marketers to digest
Features:
Find broken links, see redirects and other site status codes 
Discover duplicate content 
Analyze page titles, meta titles, and some other on-page insights
Generate an XML sitemap (tip: this is only important for large sites)
Integrate with Google Analytics or Search Console to pull in user and performance data for pages on your site
Price: Screaming Frog has a free version, which allows you to audit up to 500 URLs. This version is probably going to cut it for a while for smaller sites, but eventually you'll need to upgrade to the $149/year paid plan to run more audits.
Bottom line: Screaming Frog isn't a totally traditional SEO tool. It's really more geared toward technical SEO audits — which for larger, more complex sites, may be very important. It's great for getting a technical pulse of a site, but there are other tools better for comprehensive insights — particularly for beginners. Screaming Frog is an advanced tool.
Full review: Screaming Frog User Reviews
About: Mangools has a simple but effective tagline that reads, "Juicy SEO tools you will love." There are five tools included in Mangools' toolkit. Some of you reading this may have heard of KWFinder, which is one of the five tools that come under the Mangools umbrella.
KWFinder is a popular keyword tool, which is particularly good for finding long-tail keywords with low SEO difficulty — like you would with Moz, Semrush, Ahrefs and GrowthBar. Perfect for newer sites that want to find keywords they can rank for now to get some traction.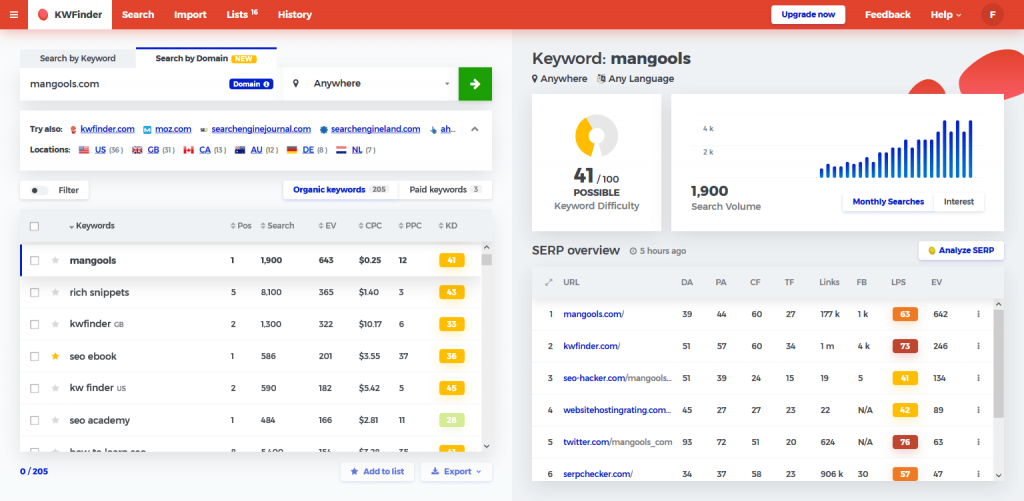 Within a monthly plan, you also get access to SERPChecker, SERPWatcher, LinkMiner, and SiteProfiler. A complete range of tools to help any marketer manage and improve both their on-page and off-page SEO.
Ease of Use:
The information is presented in a very simple, visual, and colorful format, making it incredibly easy to work with
The way their tools are split up makes it easy to choose which you want to use
Features:
Mangools split their toolkit into five separate SEO tools:
KWFinder – A keyword research tool
SERPChecker – A SERP analysis tool
SERPWatcher – A rank tracking tool
LinkMiner – A backlink analysis tool
SiteProfiler – SEO metrics and insights tool
Price: As with most SEO tools, there's a free trial available. Mangools offers you 10-days to try out all their tools before making a commitment. If you're hooked after those 10 days, you can get started for just $29.90/mo if paid annually. Their plans top out at $79.90/mo, making Mangools one of the more affordable SEO toolkits.
Bottom line: I have Mangools pegged as the best SEO suite of tools for anyone working on a budget or new to SEO tools. The simple layout makes it easy to understand the data, and it's excellent for finding those longtail low competition keywords that are important to newer sites.

About: Clearscope is a newer tool that specializes in content auditing. It's very similar to GrowthBar in that you can paste in your existing blog posts and Clearscope audits and gives suggestions for ways to improve it. Suggestions include keyword usage, content length insights, and readability score.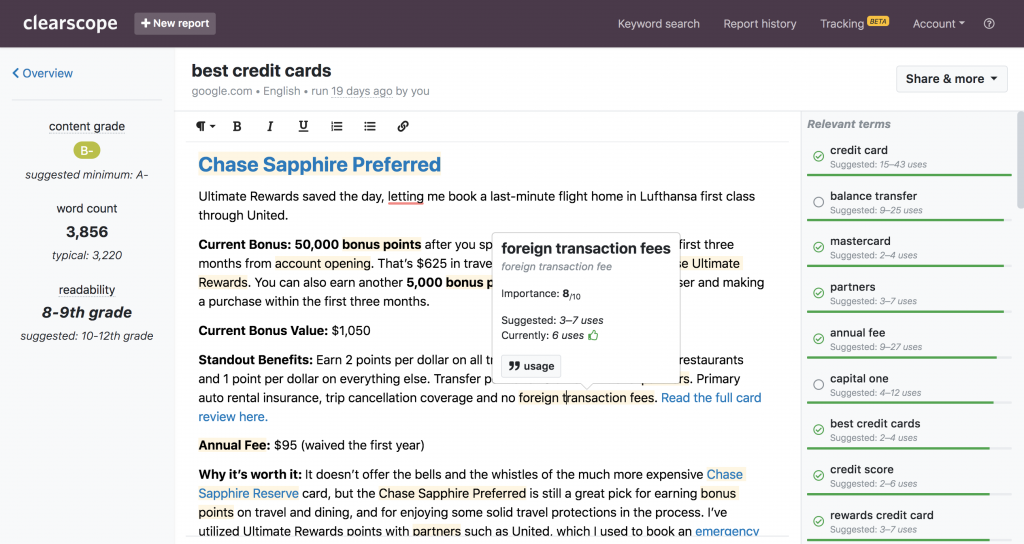 Clearscope advertises that it also has natural language machine learning, which enables it to even make suggestions about article tone and additional keywords that should be included for your content to rank.
Plus, they have keyword research capabilities like many of the other tools.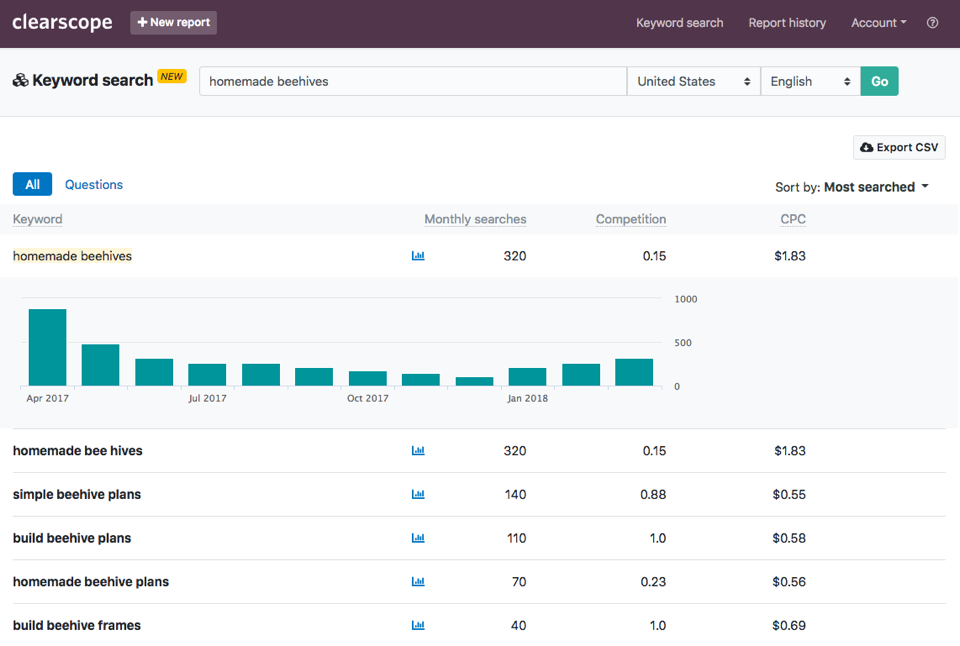 Ease of Use:
It's as easy as Yoast and some other simple SEO tools — you can simply plug your articles into Clearscope and it spits out suggestions for improving your article, based on exact insights about your article topic
Features:
Suggestions on article length, content readability and an overall content grade (A+ being the best)
Suggests additional keywords to include in an article
Offers a keyword planner, much like most of the other tools on this list
It integrates with Google Docs, so you can edit articles in your natural workflow, and simultaneously grab insights from Clearscope
Price: $350+/month, which makes it prohibitively expensive for most search engine optimization individuals. I think the price is a bit high, given that WordPress plugin, Yoast does a lot of the same stuff. But if you're looking to add that extra 2% perfection to your SEO efforts, Clearscope may be worthwhile.
Bottom line: Clearscope makes on-page SEO insights as clear and accurate as can be. If you want to know how many words a post for a specific keyword should be, Clearscope has you covered. If you want to know which additional keywords to include in a particular article, Clearscope will suggest them. It's got a host of useful features, but the price tag is extremely high. 
Read: Clearscope vs Frase.io vs MarketMuse vs SurferSEO
About: AuthorityLabs offers a range of tools to help you accurately track, monitor, and improve the performance of your chosen keywords. It's really a keyword monitoring tool.
Monitoring keywords is vital for SEO. It enables you to react quickly when changes happen. You can track any keywords, these might mean yours, your competitor's, or both side-by-side.
AuthorityLabs goes a lot deeper into monitoring and tracking keywords than most SEO tools. If tracking keywords is an important part of your SEO strategy, I suggest checking out AuthorityLabs to do this.
Ease of Use:
You type in your keywords and AuthorityLabs does the rest
The layout of the UI is very clear and easy to use
Custom reporting is easy to set up and can be sent to clients
Features:
Monitor the performance of keywords
Automate daily reporting to keep up to date on keyword ranking
Local and global tracking
Price: AuthorityLabs offers a 30-day free trial. Their paid plans range from $49/mo to check 250 keywords and 50 domains per month and go up to $450/mo for 5k+ keywords and unlimited domains.
Bottom line: AuthorityLabs specializes in tracking keyword rankings. It's not an all-in-one SEO tool like most of the others I've reviewed in this article.
When it comes to tracking keywords you care about, it's probably one of the best solutions on the market. However, it doesn't do much more, which is pretty limiting.
About: Surfer is an SEO tool designed to help you improve your onsite content quickly and efficiently. With a one-click audit for any URL, Surfer analyzes 500+ ranking factors and pulls data points from the top 50 ranking pages to give you a comprehensive plan on how to optimize your content for a specific keyword.
This data-driven model takes the guesswork out of manually optimizing your content which is often based on intuition and what has worked for you in the past. Manual audits of blog posts and articles are often time-consuming and prone to human error, so having the ability to have a detailed breakdown of the SERPs for a target keyword generated in a matter of minutes can be a huge advantage for people dishing out a lot of content.
Ease of Use:
One-click site audits are simple
Visual representation of on-page areas of improvement is easy to interpret
High volume of data points can be overwhelming and UI could use improvement
Features:
SERP Analyzer to access deep analyses of top-ranking pages in your SERPS
Content Editor to optimize old blog posts, create landing pages and more
Built-in keyword research tool to explore new keywords
SEO Audit feature to pinpoint actionable ways to improve content
Price: With monthly billing, pricing is $29/mo for Hobby, $59/mo for Basic, $99/mo for Pro, $199/mo for Business, and $649/mo for Business Plus. Annual billing for each plan costs 20% cheaper.
Bottom Line: Surfer SEO is a solid and affordable tool for people looking to boost existing rankings and create higher ranking content. It is especially useful for less experienced people new to optimizing for SEO. And since it's available as a web app, it's easy to get entire teams to use the tool and collaborate on content. I like it, but have found it to be data overload. It's truly a great tool for on-site SEO, but you need to know what you're looking for.
About: KeywordTool.io is one of the best keyword research tools for SEO pros and content marketing agencies. It uses Google Autocomplete to pull up to 750+ long-tail keyword suggestions for a given search term and can be used for a number of different search engines including Google, Amazon, YouTube, Play Store and Instagram.
The solution presents users with a massive amount of Google keyword suggestions in a simple interface. Content creators use it to replace tools like Google's Keyword Planner, which often hides profitable long-tail keywords and isn't great for content marketing as it's meant to be used for paid advertising within Google Ads.
KeywordTool.io has a limited free tool and a paid plan that offers additional capabilities and improved accuracy of search engine data.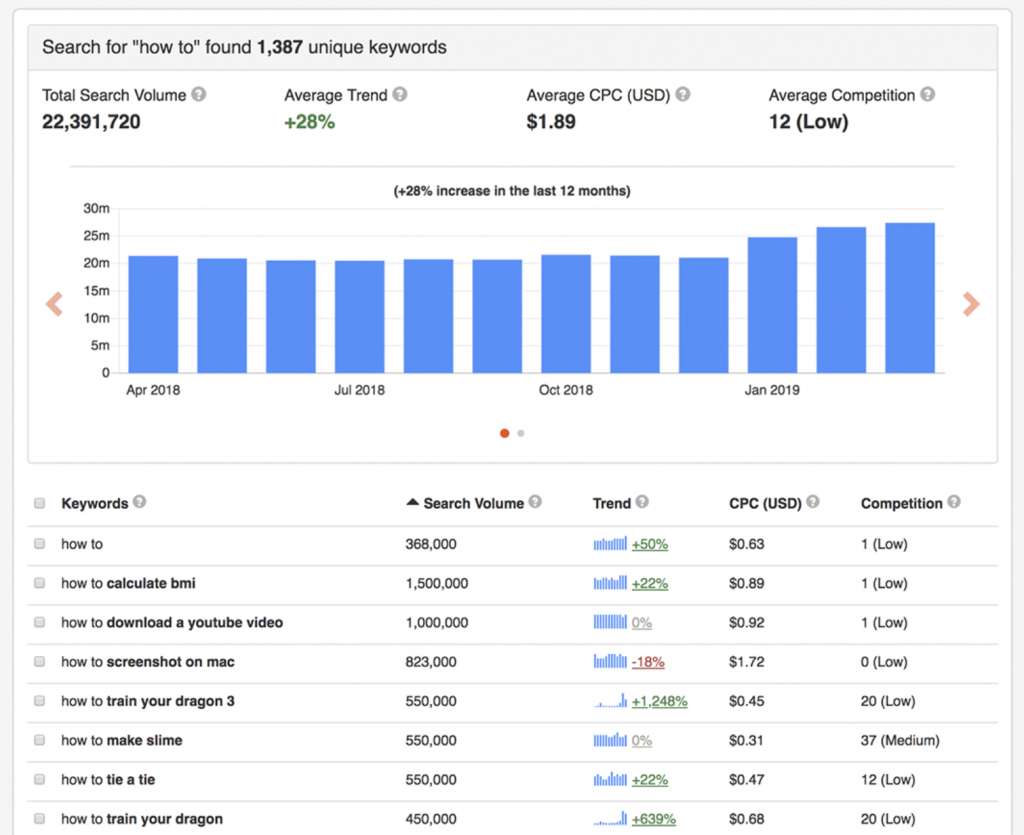 Ease of Use:
Very simple keyword tool – just enter the search term and indicate which search engine, format, and language. That's it.
Not overly complicated user interface makes the solution user-friendly
Features:
Search Volume Data – find out how popular certain keywords are
CPC Data – learn how profitable certain keywords are
Google Ads Competition Data – see how much competition there is for keywords
Keyword Research – explore new keywords
Competitor Keyword Analysis – find keywords that Google associates with any website on the internet
Bulk Search Volume Analysis – get accurate search volume data from Google
Price: Keyword Tool Pro is available for $199/mo when billed monthly and $79 when billed annually.
Bottom Line: KeywordTool.io is an incredibly simple and reliable tool for organic research. With highly accurate data, this platform provides long-tail keywords that other platforms don't show, making it an invaluable resource for people looking for keyword ideas and information queries to create content around. I find it a bit limited for the price. I think there are better options out there.
About: An Amazon company, Alexa is another stack of marketing tools designed to help your content, SEO and PPC strategies. Unfortunately, Amazon sunset Alexa in 2022. Rest in peace — it was actually a great competitive intelligence tool.
About: Brightedge is an AI and machine learning-powered enterprise SEO system that will help you maximize your online visibility. This tool has a set of five advanced content performance marketing products that will give you a deep understanding of how your content is performing in the digital space as well as how to improve your SEO strategy for the purpose of maximizing ROI. 
This all-in-one style platform lets you optimize for search, content, social, local and mobile while enabling you to precisely track key business objectives like traffic, conversions and revenue.
Ease of Use:
Will take some time to get acquainted with the platform
Site health audit lays out what needs to be addressed in order to improve content efforts
Tools allows you to assign tasks so to-do's can be distributed quickly to writers, devs and designers
Supports collaboration so teams can easily work together
Features:
Instant – Access real-time research and content optimization
ContentIQ – Audit sites for any type of content
Data Cube – SEO and keyword research tool to analyze content performance
Hyperlocal – Review location-based search data
Intent Signal – Track the performance of your marketing channels
Keyword Reporting – improve organic traffic by screening and prioritizing keywords
Opportunity Forecasting – Forecast upcoming SEO updates
Page Reporting – Find out what drives revenue and affects brand engagement
Recommendations – Access detailed SEO recommendations
Share of Voice – Find out who is competing for key topics
Site Reporter – Learn which channels are driving web traffic
Storybuilder – create customized dashboards
Price: Brightedge makes it difficult to learn about its pricing, which means it is expensive. You'll have to contact the vendor and get a quote to get an idea of how much this tool will cost based on the specific needs of your organization.
Bottom Line: Being an enterprise solution with a steep price tag, Brightedge is less suited for SMBs. There is a bit of a learning curve that comes with the system but after acclimating, this tool becomes a powerful asset for any marketing team within a larger company.
About: Build specifically for agencies and freelancers, AgencyAnalytics gives people the power to track and manage SEO, PPC, social, email, review and call tracking in one consolidated space. The main selling point is that AgencyAnalytics easily generates branded PDF and web-based reports, which is a must when presenting campaign results to clients.
The tool grants a high level of transparency so multiple team members can work on accounts and see what changes and additions have been made. You can easily give clients access to dashboards so they can view the fruits of your labor and it's simple enough for them to use without extensive guidance.
At no extra cost, the platform includes SEO tools like rank tracking, website audits and backlink monitoring.
Ease of Use:
Easily pull branded reports for all your clients
Customizeable dashboards are great for live client reporting
Integrations let you see data from other platforms so you don't need to jump from tab to tab
Features:
Suite of SEO tools ranging from rank tracking to site audits
Automated tracking reports
50+ marketing integrations
Custom dashboards
Fully branded marketing materials
Price: The most basic pan, Freelancer, starts at $49/mo for 5 campaigns. The Agency plan costs $149/mo for 15 campaigns. The priciest plan comes in at $399/mo for 50+ campaigns. You can try the tool for free for 14 days without needing to enter any credit card information.
Bottom Line: Agency Analytics is mostly a reporting platform with the exception of a few analytics features. The software pulls data from a few sources like Google Analytics ad social media channels and presents them in a dashboard, so it's not an all-in-one SEO suite like Ahrefs.  But, for people who are dealing with several accounts and are working with distributed teams, this tool is great for handling reporting. It doesn't fully focus on one area of SEO or another — it's sort of a jack-of-all-trades tool.
About: Big names like Shopify and Booking.com use Nightwatch for their global and local rank tracking. Its visualization and detailed graphs set this tool apart from competitors and lends useful insights pertaining to your keywords, owned and paid media, and competitor performance.
The cloud-based platform supports site audits and backlink monitoring so you can build-out and refine your SEO campaigns. Nightwatch also integrates with Google Analytics and Search Console so you can keep a close eye on desired keywords and create dynamic keyword lists.
Filter and manage bulk sets of keywords and organize dashboards so they present the data you need.
With Nightwatch, you'll get the most accurate site performance metrics with multiple functionalities that give you in-depth data analysis of keywords, site changes, trends and more.
Ease of Use:
Track and filter large sets of keywords
Easily organize and segment search data
Features:
Rank Tracker – View daily local ranking updates across mobile and desktop, along with automatic keyword discovery
Backlink Monitor – You can monitor all of your backlinks and analyze the impact they have on your search engine rankings.
Reporting – Quickly generate white-labeled reports that are easy to interpret. Automate when and what reports are delivered to clients
Price: The Starter plan costs $24/mo and is ideal for Freelancers and SMBs with a lower budget. The most popular plan, Optimize, costs $9/mo and works for agencies and growing companies. Agency, the most expensive and comprehensive plan costs $221/mo and is designed for enterprise-level companies and larger agencies. 
Bottom Line: All in all, Nightwatch is a widely trusted SEO solution for marketing agencies and freelancers that understand the importance of tracking SEO performance. Running ranking reports is made easy with this tool and its intuitive visuals are what draw marketing professionals to use it.

About: SerpWatch is a not-notch rank tracker that lets SEO pros manage and analyze keywords and site rankings. This tool delivers comprehensive ranking data aggregated from most major search engines. You can get notiifcations via email or Slack whenever your ranking shifts for certain keywords.
Pull SEO ranking reports with ease and learn more about the success of your keyword strategy with SerpWatch's advanced keyword data and SERP features. And with notifications about Google's algorithm updates, you can tweak your content quickly and accordingly.
Keywords are tracked once a day and your rankings are refreshed every 24 hours.
Ease of Use:
Simple to interpret dashboards
Easy to pull reports
Price based on usage
Features:
Star your favorite keywords
Advanced SERP analysis capabilities
Access to high-level keyword data
Organic search traffic overlay
Detailed tracking and tracking algorithm updates
Localization
Multiple Google Indexes and search engines
Price: SerpWatch's pricing plan is designed to charge based on usage and the more keywords you track, the less expensive they are. To give you an idea, 250 keywords will cost you $250/mo and 15k keywords will cost $243/mo.
Bottom Line: With everything constantly changing in the SEO sphere, SerpWatch's real-time notifications draw your attention to changes happening with your rankings that may otherwise have gone unnoticed. SerpWatch also offers a free SERP checker that can run queries and gather performance data on owned or competitor domains. So we say it's worth giving a shot.
The best FREE SEO tools and software
There's literally a hundred or more free SEO tools. Most of them are junk, to be honest. These are the only three worth looking at.
About: Google Search Console has some of the best SEO information on the internet. Why? Because it's a tool Google itself offers to marketers.
Google Search Console takes just a few minutes to set up and once it's up and running, it offers you awesome insights about your website, which can help you improve your organic search optimization.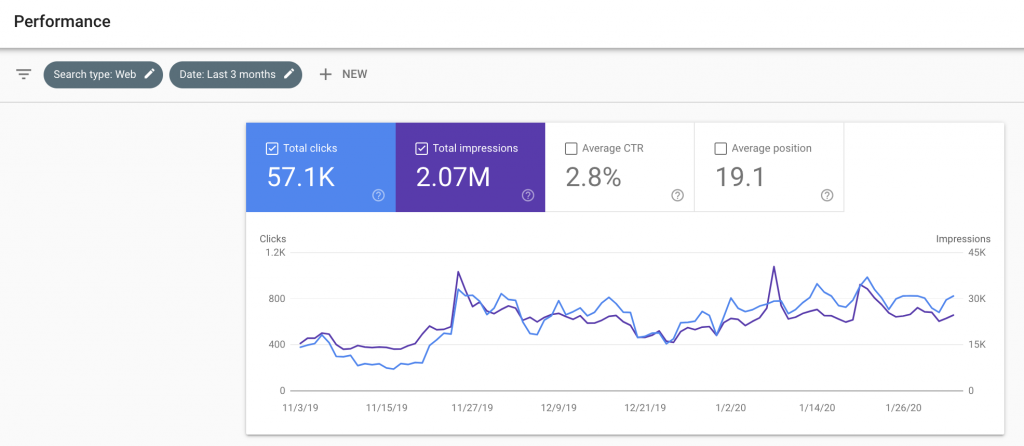 Search Console allows you to see impression and click data for your site, by keyword, by landing page. Semrush, Ahrefs and other tools offer this too, but it's second-hand information. You know Search Console is 100% accurate — because it comes straight from Google. 
Use Search Console to see your inbound links and internal links. Use it to run a site speed audit and learn if any pages on your domain are affecting your speed score. Even see your ranking for keywords and how it has changed over time.
Ease of Use:
It's pretty easy to hook Search Console up to your site
And once you're in the tool, Search Console is pretty straightforward to navigate and use — it's a Google product after all
Features:
Performance stats including total impressions, clicks, and average SERP position by keyword and URL
Inspect URLs to see page speed and other performance issues
Mobile usability inspector
Advanced features including link removal, sitemaps and security issues
Price: Free forever!
Bottom line: Almost every marketer or website owner should be using Search Console. It's one of the easiest and most powerful tools in an SEO's toolbag. It gets my #1 rating for on page SEO statistics and for identifying small improvements to make your site more favorable to Google. It's definitely worth using.
About: Keywords Everywhere is a browser add-on for Chrome and Firefox. It shows you monthly search volume, CPC and keyword competition data from multiple APIs and is embedded directly into the search page. It's not 100% free, but it basically is. They only charge a few bucks a month so that they can keep the tool running.
Once the extension is installed, users can make a google search and keyword metrics will appear below the search bar and in a side panel on the results page. Keywords Everywhere displays the Trend chart, Related keywords and "people also search for" keywords with their metrics in widgets on the results page. The benefit to this is you don't need to toggle between different platforms to conduct research and compare data.
Set up requires you to connect the tool's API to your account but Keywords Everywhere gives you simple instructions on how to do this.
Ease of Use:
Browser plugin makes it easy to view data everywhere you do on the internet
Easily customizable and works across 15+ search engines
Features:
Download data – download lists of keywords as Excel, CSV, or PDF file formats.
Import keywords – add your own keywords to look at their search volume metrics
Search by country – further focus your search by selecting a specific country
Analyze page – review metrics for keywords on any given page
Add all keywords – save all keywords on a specific page for future use.
16 APIs – browser extension works with Google Search, Google Search Console, Google Analytics, Google Trends, Google Keyword Planner, Bing, YouTube, YouTube Tags, Amazon, eBay, Etsy, Answer the Public, Soovle, Keyword Shitter, Majestic, and Moz Open Site Explorer.
Price: Keywords Everywhere has a simple pricing model that allows you to pay as you go meaning there is no monthly subscription where you get charged regularly. One credit equals one keyword and credits expire after one year. $10 gives you 100,000 credits, $50 gives you 500,000 credits, and so on up to 10 million credits.
Bottom Line: As a simple browser extension, marketers love this tool for collecting real time data while doing keyword research. The tool is pretty customizable and lets you save your favorite keywords for later. This is a very useful tool when looking for new keyword ideas. It's been around for a while and tends to have pretty trustworthy data.
About: SeoQuake is a powerful SEO toolbox that you can make use of by installing their extension on your browser. And it's been around for a long time. For every site you see in the Google SERP or visit, you'll see data for the number of links that site has, their Alexa rank, Google and Bing index, estimated traffic, and loads more.
They pull a lot of their data from the Semrush API, so you know you're using quality data (the tool is actually owned by Semrush). As a free extension, however, if you click-through you'll be prompted to sign up for a Semrush plan to dig deeper into the data. The reason it's free is that it's basically a lead generation tool for Semrush.
Ease of Use:
Simply install the browser extension and it'll populate data for each site you see in the SERPs or visit
Features:
From the free toolbar you're able to see the following information for a domain:
Inbound links
Google and Bing index rank
Alexa rank
Social signals
Whois data
Estimated traffic data
Price: It's 100% free to download and install the SeoQuake toolbar. It's currently compatible with Internet Explorer, Opera, Firefox, and Google Chrome.
Bottom line: Not every free SEO tool is worth using, but SeoQuake is one that's definitely worth trying out. All you're giving up is a little bit of space below your search bar in your browser. In return, you're gaining some valuable stats on any domain you visit. I'm biased, but for the SERP real estate, GrowthBar is a better alternative.
Best SEO audit tool
I recommend two tools for SEO site audits.
To audit your site for all technical issues and general SEO readiness, I recommend Semrush. I recommend it for a few reasons:
Semrush enables you to see general metrics for any website (your competitors' sites too!) including domain authority, number of backlinks to the site, quality of backlinks, etc.
You can see which keywords or backlinks you're missing to supercharge your organic search
It also shows you whether or not your backlinks are in any way spammy or toxic, and even has a friendly way to help you remove them if they fail the audit
Plus, Semrush does the normal stuff, like track your rankings
There's a second (free) tool I love:
Google's Lighthouse Audit is another Google tool that allows you to see one score for each: performance (site speed), accessibility (performance), best practices and SEO. Simply right-click on any website, navigate to "inspect" and then to "audits." Then click "run audits." Google spits out one simple report, which includes suggestions for improving your performance. I include it because it's straight from Google itself and it's completely free! 
Best SEO keyword research tool
I love three tools for keyword research: GrowthBar, Semrush and another free Google tool.
GrowthBar and Semrush are incredibly robust when it comes to keyword research. Both have billions of keywords in their database along with extremely accurate search volume, CPCs, related keywords and more.
But I also love Google's Keyword Tool. It's another free tool I didn't include in this list. It comes free when you sign up for Google Ads (hint: you don't actually have to spend any money on ads, you just have to sign up!).
Simply type in any keyword and it spits out hundreds of results, which you can use to improve your content and rank for new keywords. For example, see the report below. Can you see why I included sections in this post for "best free SEO tools" and "best SEO audit tools?"
Best on-page SEO tool
For on-page SEO (content), I recommend GrowthBar.
GrowthBar has all the stuff other tools have, including keyword research, competitive insights, and rank tracking.
But the GrowthBar Content Feature is next-level stuff for content creators. GrowthBar generates paragraphs of content using AI and then enables you to score your written content. That means every blog post you write has a better chance of ranking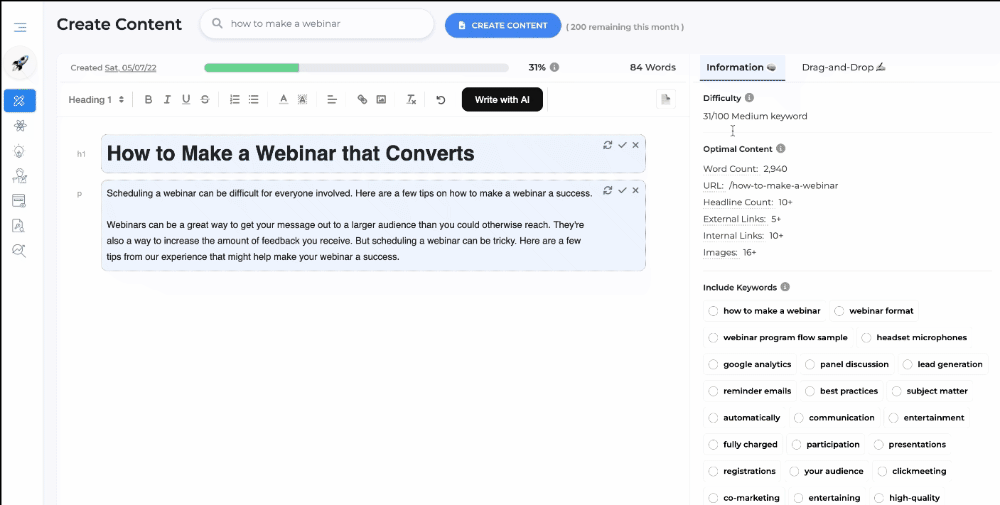 Best SEO tool for agencies
Semrush is the best agency tool.
As an agency, you need all of your data in one place. The best tool for agencies should allow you to quickly navigate between each client campaign to monitor rankings, backlinks, and much more. Plus, an agency-grade tool should automate your reports and make client dashboards easily. Semrush does all this.
Plus, there's a few features others don't have.
Semrush allows you to prospect for agency leads by filtering on companies that have increased their marketing spend dramatically, among other metrics.
Access Semrush's API so you can pipe any data into a custom report and expose it in dashboards for your entire workforce and client roster.
And build custom reports with your agency logo (white labeled) so client reporting is as easy as a couple of clicks. Plus, you can schedule these reports for automated delivery.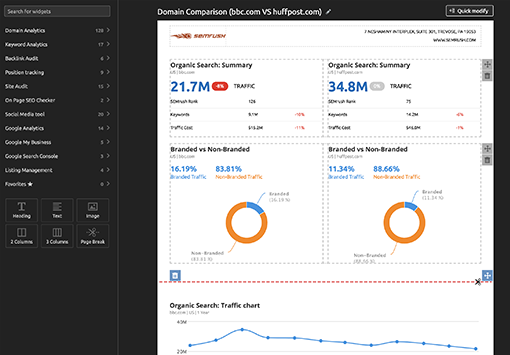 Conclusion
SEO is an ever-evolving, often intimidating marketing discipline. But once you get going, the best practices are pretty consistent: make great content, and distribute that content to get backlinks.
Any solid SEO tool should be able to help you accomplish those two things with:
Keyword research capabilities: understanding which keywords to try and rank for — Semrush, GrowthBar, Moz, Ubersuggest and Ahrefs all do a great job with this.
Site audits: many of the best tools have a way to audit your site for things like backlink profile, speed, and sitemap. Use Google's Lighthouse Audit for the cheapest way to do this.
On page SEO insights: getting tips on how to improve your posts and pages. This is mostly covered by tools like Clearscope and Yoast. But GrowthBar, with one-click content creation is perfect for creating brand new content according to SEO best practices.
Most tools do some or all of the above. Choose wisely and learn more about SEO with a few of my other posts.
Also read: