I'm a marketing guy, a pizza enthusiast and San Francisco resident. Also, I started this blog, Growth Marketing Pro and built it into a 6-figure passive income business in 18 months.
Latest posts by Mark Spera (see all)
SEO is the holy grail of digital marketing.
There are 38,000 Google searches per second — so getting your website to the top of the Google search engine results page (SERP) is extremely valuable.
And, if you don't want to shell out thousands of dollars a month for an agency, you'll need to do the work yourself. That's where an SEO tool comes in.
To win with SEO, you need to do two things: 1. Make great content, and 2. distribute that content to get backlinks. So you should be looking for tool(s) to help you do exactly that.
In my 10+ year career in digital marketing, I've come across hundreds of SEO tools. And I promise, they're not all created equal. Great SEO tools allow you to audit your domain, do market research, find areas of search arbitrage, get backlinks, and track your personal Google rankings — all in functional dashboards.
I've put together a list that includes 13 of the best SEO tools (plus three tools that are 100% free) that will help you improve your website's Google search optimization. We're talking about tools beyond Google Analytics — tools that are guaranteed to help you get in front of Googlers and crush it with SEO!
Also read:
What are the best SEO tools?
The 13+ best SEO tools will help you improve your website's visibility in Google's search results. I've only included tools that I think are worth considering as your primary SEO tool.
About: Ahrefs claim to fame is having the largest backlink profile of any tool with more than 16 trillion links being crawled every day. They also say they have the second largest website crawler after Google themselves, so with Ahrefs you're in capable hands.
You can get detailed insight into a website by typing in the URL. Or, dig into a seed keyword and associated relevant keywords by using the keyword search tool.
See the search rankings or organic traffic for any keyword or website.
I've used Ahrefs for years, and it's my #1 tool for tracking my personal organic search rank, finding competitor's backlinks so that I can snipe them myself, and doing keyword research so I know which additional keywords I need to add to my blog posts or YouTube posts!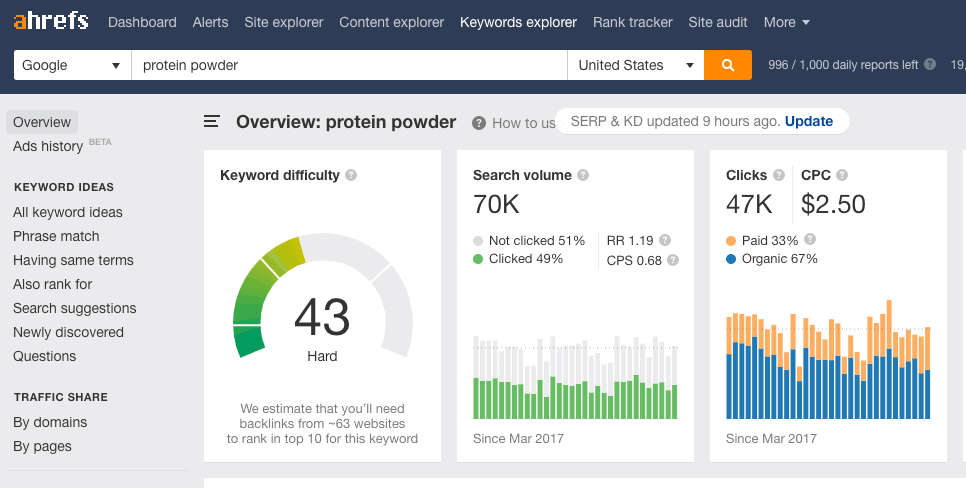 The only criticism, and I found this myself when using Ahrefs, is that there can be too much data being returned. Analysis paralysis is a real thing. If you're easily overwhelmed or distracted by going down a rabbit hole of keywords you might be better off with a simpler SEO solution. Ahrefs is definitely an expert, enterprise scale tool.
Ease of Use:
There is a learning curve involved if you want to progress to carrying out detailed site audits and backlink analysis — it's a complex tool
However, the interface is easy to use, and the use of visual data representation makes reading data easy
Features:
Site explorer – Paid and organic traffic stats and backlink audits
Site audits – Look "under the hood" of any site and find out how it's performing.
Rank tracker – Monitor your own keyword rankings against your competitors over time
Content explorer – Take a deep dive into how your content is performing and identify areas to make improvements
Price: You can get a 7-day trial for $7. After that, plans range from $99/mo to $999/mo depending on how many users you need, the number of keywords you want to track, and some other usage metrics.
Bottom line: Ahrefs is the tool with the largest backlink database and one of the most powerful suite of SEO insights. But it comes with a price. Ahrefs is one of the most expensive tools on the market.
You can't go wrong with their 7-day trial for just $7. My advice is to put their tool to the test in those 7 days and see how much value you're getting compared to some of the lower priced tools on this list.
Full review: Ahrefs User Reviews
About: Moz is one of the most prolific SEO tools out there. They've been around since the early 2000s and have a pretty popular blog. Plus, whenever a dreaded Google algorithm update happens, the Moz site is usually one of the first to try and dissect it.
I started using Moz Pro after playing with the Moz Chrome plugin, which is a pretty simple browser extension that displays a few data points about a site, including domain authority, while you browse Google.
Moz Pro is a paid web version of Moz, which allows you to explore keywords, track your keyword rankings, run technical SEO site audits, optimize content, and check on your competitors' backlinks.
It's a very comprehensive suite of tools that will take you through the process of 1) identifying low competition keywords you can rank for 2) exploring and earning new backlinks 3) improving your on-page SEO with Moz Site Crawls.
Ease of Use:
Type in a keyword or URL to get started
Custom reporting and dashboard make it easy to track results
Nice, clean, and easy to use UX
Chrome browser extension that is pretty easy and free (but quite basic)
Features:
Keyword explorer to find keywords and analyze by difficulty
Ranking tracker to keep an eye on keyword rankings
SEO audit tools to find and identify site issues affecting SEO
Content optimizer to help improve your on-page SEO score
Backlink checker to provide visibility on your competitors' link building abilities
Price: Plans range from $99/mo to $599/mo with a 20% discount across the board when paying yearly upfront. They also offer a 30-day free trial so you can try before you buy.
Bottom line: 30 days is a nice long stretch to find out if Moz is the right SEO tool for you, so I recommend taking their free trial if you're interested. Moz Pro is a complete suite of SEO tools, there's more than enough features to help you improve your SEO, it's a matter of finding out if it's the right fit for you.
Full review: Moz User Reviews
About: GrowthBar is a Chrome extension that "lives in the search engine results page, so you can gain competitive insights for every website and keyword on Earth, FAST."
To be clear: I built GrowthBar… along with my business partner, Hailey.
It's so easy to get lost digging through data and pulling reports when doing SEO research with some of the larger software tools like Moz, Ahrefs and SEMrush. Don't get me wrong, I love all the information those tools have, but most marketers don't need it all!
GrowthBar strips away all the massive keyword lists, complicated dashboards and displays JUST the key information you need right in front of you while you're browsing Google.
You can easily explore your competitors' backlinks, identify the keywords bringing in traffic, social signals, look at their Facebook ads, plus a ton more.
Ease of Use:
Just browse keywords as normal in Google and GrowthBar will add all the relevant data within the search results page
Get keyword topic ideas and competitiveness scores
The icons and layout make it easy to identify where to click to gain deeper insights
See competitors' Google Ads keywords and Facebook Ads
Features:
See domain and page authority metrics
Organic traffic and keyword statistics for any site on the internet
Keyword analysis; competition, related searches, top paid keywords
See the backlinks pointing to sites
Track your keywords over time with biggest movers dashboard
Price: You can try GrowthBar for free for 5 days. Then it's $29/mo which makes it one of the most affordable SEO tools on the market.
Bottom line: GrowthBar is one of the best SEO tools (yes, I'm a bit biased), and at such a low price point it's hard to argue your dollars are better spent elsewhere. GrowthBar enables you to see the keywords your competitors are bidding on, their domain authority, backlinks, and it's all delivered in your normal workflow! It literally doesn't get FASTER. And when you're an entrepreneur, creator, or SEO freelancer, speed is pretty damn important.
About: SEMrush has emerged as one of the most comprehensive SEO and market research tools. I've used it for 5+ years and can confidently say it's got everything you'll need for keyword research, backlink analysis, domain audits and analysis, and Google Ads keyword planning. It's one of my favorite tools.
Some of the web's largest websites such as Quora, eBay, and Overstock all use their tools to improve their organic traffic — SEO. It's an enterprise grade product that will help any sophisticated marketer get any insight they desire to make organic search optimization decisions.
SEMrush is constantly making improvements, rolling out new features, and offering some unique insights into keywords and URLs that are incredibly useful for SEO.
Ease of Use:
SEMrush enables you to find any metric you could ever dream of, all in a comprehensive, easy to read dashboard
Like Ahrefs, SEMrush is fairly advanced, so it takes some getting used to
Features:
Organic and paid keyword research
Detailed analysis of paid ad campaigns, including Google display campaigns
On-page SEO checklist and analysis
Keyword research and difficulty checker
Rank tracking
Domain analysis — compare your site to competitors
Full website audit tools including toxic backlink score
Enable position change alerts right to your email
Price: SEMrush has three pricing plans; Pro which is $99.95/mo, Guru $199.95/mo, and Business $399.95/mo. There is a 7-day free trial available before choosing a plan, and once registered, you can still run a few free reports per day.
Bottom line: While SEMrush is one of the more expensive SEO tools, it's the #1 or #2 most powerful (along with Ahrefs). I recommend it to anyone who knows what they're doing and needs all their SEO and competitive insights in one place. The interface has a lot going on, but once you get familiar with using SEMrush you realize you have a wildly powerful suite of SEO tools at your disposal.
Full review: SEMrush User Reviews

About: There are 1.3 billion WordPress sites on the internet. And Yoast has been downloaded over 200 million times. You do the math!
If you're publishing content online and using WordPress, you need to install the Yoast SEO plugin. It's simply the best SEO plugin available for WordPress.
The Yoast plugin has been around since 2010, and the brand has become synonymous with WordPress SEO over the years. It's a bit different than traditional SEO tools, which live "outside" your content — that's to say most tools exist on their own website. Yoast is a tool that's overlaid on your WordPress instance.
As you create blog posts, and add pages in WordPress, Yoast gives you suggestions on how to optimize them with additional keywords, meta descriptions, content length and clarity, plus a whole host of other suggestions. Yoast is perfect for on-page SEO — less so for "off-page" SEO insights like backlinks and domain authority of competitor sites.
The plugin is free to download and install. There is a paid Premium plan, but the free version is going to be more than suitable for most people.
Ease of Use:
All you need to do is download it and declare a "focus keyword" for every blog post or page — then Yoast does the rest, by giving you insights right in your WordPress dashboard
The settings interface is easy to navigate, and Yoast has a load of FAQs if you get stuck
Features:
Keyword optimization checklist (with traffic light visuals)
Schema markup
See a preview of what your finished page looks like
Easily edit your URL slug, run redirects from old pages to new, breadcrumbs, and more
Duplicate content checker
Handles technical stuff like robots.txt, .htaccess, sitemaps, and more
Paid only features include:
Internal linking suggestions
Redirect URLs
Optimize for multiple keywords
24/7 support
No ads
Price: You can upgrade to a Yoast Premium for $89 (ex VAT) per year per site.
Bottom line: Yoast is one of those must-have plugins for all WordPress users. The main benefit of using it is the multi-point checklist making sure you're on page SEO is all in order. It's super easy to generate sitemaps too and check if your site is properly indexed in Google. Note: you need another tool in addition to Yoast. Yoast is not equipped to do keyword research and competitor research.
Full review: Yoast User Reviews

About: Serpstat is an "All-in-One SEO Platform" that has a number of SEO tools. The core of Serpstat's functionality is its keyword research analysis. You can collect large batches of keywords and display search volume, PPC, competition, and all the other metrics you need to make an informed decision about targeting a keyword.
Also, Serpstat enables you to conduct a competitor analysis like SEMRush and Ahrefs. You can see everything from the keywords they're already ranking for and how many backlinks they have to their domain, plus loads more.
Serpstat is a great growth hacking tool for SEO and Google Ads PPC campaigns. There is an extension for Chrome, Firefox, and Opera too, enabling you to pull vital data while browsing the web — much like GrowthBar.
Ease of Use:
Simple interface and lots of graphs and visuals within the custom reporting
Easily track your competitors' backlinks and other metrics
Features:
Keyword research
Search analytics
Advertising analysis
Content marketing ideation
Competitor research
Rank tracking
Backlink analysis
Price: Pricing starts at $69/mo for their Lite plan which allows you to make up to 4,000 queries a day. You can upgrade to Standard for $149/mo, Advanced for $299/mo, or Enterprise for $499/mo to increase your limits.
Bottom line: If keywords are the main focus of your SEO efforts, Serpstat is worth taking a closer look at. You'll be able to find lots of long-tail keywords to help you cast a wider net and capture more long-tail traffic using their keyword research tool. However, Serpstat comes with one of the the heftiest price points of any tool on the list.
7. Screaming Frog
About: The Screaming Frog SEO Spider is a website crawler, that allows you to crawl websites' URLs and fetch key elements to analyze and audit technical and onsite SEO factors.

Screaming Frog enables you to crawl any website and find broken links, generate XML sitemaps, see all your crawlable pages, get H1s, meta descriptions, and backlinks to any site or page. Plus, everything is exportable to a neat CSV or Excel file.
Screaming Frog has a number of more advanced features too, including detecting 404 errors or other server errors on your site.
Crawl 500 URLs for free, or purchase a license for additional advanced features.
Ease of Use:
Screaming Frog is easy to start and easy to run audits with
There's a lot of technical information like crawl errors, sitemaps, and site architecture maps — some of this may be tough for new marketers to digest
Features:
Find broken links, see redirects and other site status codes
Discover duplicate content
Analyze page titles, meta titles, and some other on page insights
Generate an XML sitemap (tip: this is only important for large sites)
Integrate with Google Analytics or Search Console to pull in user and performance data for pages on your site
Price: Screaming Frog has a free version, which allows you to audit up to 500 URLs. This version is probably going to cut it for a while for smaller sites, but eventually you'll need to upgrade to the $149/year paid plan to run more audits.
Bottom line: Screaming Frog isn't a totally traditional SEO tool. It's really more geared toward technical SEO audits — which for larger, more complex sites, may be very important. It's great for getting a technical pulse of a site, but there are other tools better for comprehensive insights — particularly for beginners. Screaming Frog is an advanced tool.
Full review: Screaming Frog User Reviews
About: Mangools has a simple but effective tagline that reads, "Juicy SEO tools you will love." There are five tools included in Mangools' toolkit. Some of you reading this may have heard of KWFinder, which is one of the five tools that come under the Mangools umbrella.
KWFinder is a popular keyword tool, which is particularly good for finding long-tail keywords with low SEO difficulty — like you would with Moz, SEMRush, Ahrefs and GrowthBar. Perfect for newer sites that want to find keywords they can rank for now to get some traction.
Within a monthly plan, you also get access to SERPChecker, SERPWatcher, LinkMiner, and SiteProfiler. A complete range of tools to help any marketer manage and improve both their on-page and off-page SEO.
Ease of Use:
The information is presented in a very simple, visual, and colorful format, making it incredibly easy to work with
The way their tools are split up makes it easy to choose which you want to use
Features:
Mangools split their toolkit into five separate SEO tools:
KWFinder – A keyword research tool
SERPChecker – A SERP analysis tool
SERPWatcher – A rank tracking tool
LinkMiner – A backlink analysis tool
SiteProfiler – SEO metrics and insights tool
Price: As with most SEO tools, there's a free trial available. Mangools offers you 10-days to try out all their tools before making a commitment. If you're hooked after those 10 days, you can get started for just $29.90/mo if paid annually. Their plans top out at $79.90/mo, making Mangools one of the more affordable SEO toolkits.
Bottom line: I have Mangools pegged as the best SEO suite of tools for anyone working on a budget or new to SEO tools. The simple layout makes it easy to understand the data, and it's excellent for finding those longtail low competition keywords that are important to newer sites.
About: Clearscope is a newer tool that operates much like Yoast. It audits existing content and gives suggestions for ways to improve it, including content length insights and readability score.
Clearscope advertises that it also has natural language machine learning, which enables it to even make suggestions about article tone and additional keywords that should be included for your content to rank.
Plus, they have keyword research capabilities like many of the other tools.
Ease of Use:
It's as easy as Yoast and some other simple SEO tools — you can simply plug your articles into Clearscope and it spits out suggestions for improving your article, based on exact insights about your article topic
Features:
Suggestions on article length, content readability and an overall content grade (A+ being the best)
Suggests additional keywords to include in an article
Offers a keyword planner, much like most of the other tools on this list
It integrates with Google Docs, so you can edit articles in your natural workflow, and simultaneously grab insights from Clearscope
Price: $350+/month, which makes it prohibitively expensive for most search engine optimization individuals. I think the price is a bit high, given that WordPress plugin, Yoast does a lot of the same stuff. But if you're looking to add that extra 2% perfection to your SEO efforts, Clearscope may be worthwhile.
Bottom line: Clearscope makes on page SEO insights as clear and accurate as can be. If you want to know how many words a post for a specific keyword should be, Clearscope has you covered. If you want to know which additional keywords to include in a particular article, Clearscope will suggest them. It's got a host of useful features, but the price tag is extremely high.
About: AuthorityLabs offers a range of tools to help you accurately track, monitor, and improve the performance of your chosen keywords. It's really a keyword monitoring tool.
Monitoring keywords is vital for SEO. It enables you to react quickly when changes happen. You can track any keywords, these might mean yours, your competitor's, or both side-by-side.
AuthorityLabs goes a lot deeper into monitoring and tracking keywords than most SEO tools. If tracking keywords is an important part of your SEO strategy, I suggest checking out AuthorityLabs to do this.
Ease of Use:
You type in your keywords and AuthorityLabs does the rest
The layout of the UI is very clear and easy to use
Custom reporting is easy to set up and can be sent to clients
Features:
Monitor the performance of keywords
Automate daily reporting to keep up to date on keyword ranking
Local and global tracking
Price: AuthorityLabs offers a 30-day free trial. Their paid plans range from $49/mo to check 250 keywords and 50 domains per month and go up to $450/mo for 5k+ keywords and unlimited domains.
Bottom line: AuthorityLabs specializes in tracking keyword rankings. It's not an all-in-one SEO tool like most of the others I've reviewed in this article.
When it comes to tracking keywords you care about, it's probably one of the best solutions on the market. However, it doesn't do much more, which is pretty limiting.
Try GrowthBar. Get millions of keyword suggestions, backlink audits, keyword tracking and much more. All in the simplest interface possible.
The best FREE SEO tools and software
About: Google Search Console has some of the best SEO information on the internet. Why? Because it's a tool Google itself offers to marketers.
Google Search Console takes just a few minutes to set up and once it's up and running, it offers you awesome insights about your website, which can help you improve your organic search optimization.
Search Console allows you to see impression and click data for your site, by keyword, by landing page. SEMRush, Ahrefs and other tools offer this too, but it's second hand information. You know Search Console is 100% accurate — because it comes straight from Google.
Use Search Console to see your inbound links and internal links. Use it to run a site speed audit and learn if any pages on your domain are affecting your speed score. Even see your ranking for keywords and how it has changed over time.
Ease of Use:
It's pretty easy to hook Search Console up to your site
And once you're in the tool, Search Console is pretty straightforward to navigate and use — it's a Google product after all
Features:
Performance stats including total impressions, clicks, and average SERP position by keyword and URL
Inspect URLs to see page speed and other performance issues
Mobile usability inspector
Advanced features including link removal, sitemaps and security issues
Price: Free forever!
Bottom line: Almost every marketer or website owner should be using Search Console. It's one of the easiest and most powerful tools in an SEO's toolbag. It gets my #1 rating for on page SEO statistics and for identifying small improvements to make your site more favorable to Google. It's definitely worth using.
About: "Want more traffic? Ubersuggest shows you how to win the game of SEO. Just type in a domain or a keyword to get started." That's what Ubersuggest tells you when land on their homepage, and after using this tool for a while, I can tell you it's not a false promise.
Ubersuggest started life as a basic keyword research tool. You'd enter a keyword, and it would populate a list of related searches based on your seed keyword. That was before content marketer Neil Patel bought the tool and started developing it into one of the most comprehensive SEO tools on the market.
The best part — Ubersuggest is one of the only SEO tools that really is 100% free. There are no restrictions on usage, no paid plans to use it with multiple sites or users, as of writing this it's completely free to use…. But, it's fair to say that Ubersuggest is still a work in progress, Neil added several more tools in 2019 and has promised more for 2020. With that said, however, it already has most, even all the tools that'll meet most small businesses' needs.
Ease of Use:
Just type a keyword or URL into the search bar, hit "search" and sit back while Ubersuggest generates all the data around your seed keyword or URL
The interface is easy to navigate, there are loads of click-through options, and honestly, I can't think of any way space could be better used
Features:
Overview for keyword search volume (split by desktop and mobile)
Keyword and content idea generators
Backlink analysis
Site audit tools
Keyword tracking
Paid and organic keyword difficulty metrics
Price: 100% free to use with no limits!
Bottom line: Ubersuggest has a range of tools to rival any of the paid tools. If you're using an SEO tool for the first time, or just working to a budget while you bootstrap your business, I recommend starting with Ubersuggest.
The data isn't the most comprehensive or detailed stacked against the premium paid tools. But there are loads you can do to improve your SEO with Ubersuggest, and you can never really complain when it's free, can you?
About: SeoQuake is a powerful SEO toolbox that you can make use of by installing their extension on your browser. And it's been around for a while.
For every site you see in the Google SERP or visit, you'll see data for the number of links that site has, their Alexa rank, Google and Bing index, estimated traffic, and loads more.
They pull a lot of their data from the SEMRush API, so you know you're using quality data. As a free extension, however, if you click-through you'll be prompted to sign up for a SEMRush plan to dig deeper into the data. The reason it's free is that it's basically a lead generation tool for SEMRush.
Ease of Use:
Simply install the browser extension and it'll populate data for each site you see in the SERPs or visit
Features:
From the free toolbar you're able to see the following information for a domain:
Inbound links
Google and Bing index rank
Alexa rank
Social signals
Whois data
Estimated traffic data
Price: It's 100% free to download and install the SeoQuake toolbar. It's currently compatible with Internet Explorer, Opera, Firefox, and Google Chrome.
Bottom line: Not every free SEO tool is worth using, but SeoQuake is one that's definitely worth trying out. All you're giving up is a little bit of space below your search bar in your browser. In return, you're gaining some valuable stats on any domain you visit. I'm biased, but for the SERP real estate, GrowthBar is a better alternative.
Best SEO audit tool
I recommend two tools for SEO site audits.
To audit your site for all technical issues and general SEO readiness, I recommend SEMRush. I recommend it for a few reasons:
SEMRush enables you to see general metrics for any website (your competitors' sites too!) including domain authority, number of backlinks to the site, quality of backlinks, etc.
You can see which keywords or backlinks you're missing to supercharge your organic search
It also shows you whether or not your backlinks are in any way spammy or toxic, and even has a friendly way to help you remove them if they fail the audit
Plus, SEMRush does the normal stuff, like track your rankings
There's a second (free) tool I love:
Google's Lighthouse Audit is another Google tool that allows you to see one score for each: performance (site speed), accessibility (performance), best practices and SEO. Simply right click on any website, navigate to "inspect" and then to "audits." Then click "run audits." Google spits out one simple report, which includes suggestions for improving your performance. I include it because it's straight from Google itself and it's completely free!
Best SEO keyword research tool
I again love two tools for keyword research. It's Ahrefs and another free Google tool.
Ahrefs is simply the most robust when it comes to keyword research. I love how easy it is to pull reports and the sheer volume of keywords is unparalleled. However, it may be a bit too much information for many entrepreneurs, who are just dipping their toes into SEO.
I also love Google's Keyword Tool. It's another free tool I didn't include in this list. It comes free when you sign up for Google Ads (hint: you don't actually have to spend any money on ads, you just have to sign up!).
Simply type in any keyword and it spits out hundreds of results, which you can use to improve your content and rank for new keywords. For example, see the report below. Can you see why I included sections in this post for "best free SEO tools" and "best SEO audit tools?"
Best on page SEO tool
For on page SEO, I recommend Yoast.
Unfortunately, Yoast is only available for WordPress users. But if you use WordPress, nothing is easier than Yoast. It lives right in WordPress, which enables you to optimize your posts and pages as you write blog posts normally. Again, Yoast will tell you whether your content is readable, contains enough keywords, and audits your titles, meta descriptions and more — all so that you can improve the quality of your on page SEO — your content.
Plus, the price point is totally reasonable.
Best SEO tool for entrepreneurs
If you're an entrepreneur, you need something powerful, fast and simple. Let's face it, you don't have an SEO army and time to waste on 10,000 word keyword reports. You need curated recommendations that have high impact.
We made GrowthBar for this reason. GrowthBar allows you to glean insights about SEO and other growth metrics, so that you can learn to optimize your site on the fly.
Simply Google search any keyword or website and see related keyword suggestions, domain authority, backlinks of your competitors, your competitors' Google Ads accounts, and even their Facebook ads. It's stupid simple and intentionally so. No huge keywords or backlink reports. Just plain, stupid simple, on-the-fly suggestions and insights.
Plus, we made it at a price point that should agree with most entrepreneurs.
Best SEO tool for agencies
SEMrush is the best agency tool.
As an agency, you need all of your data in one place. The best tool for agencies should allow you to quickly navigate between each client campaign to monitor rankings, backlinks, and much more. Plus, an agency-grade tool should automate your reports and make client dashboards easily. SEMrush does all this.
Plus, there's a few features others don't have.
SEMrush allows you to prospect for agency leads by filtering on companies that have increased their marketing spend dramatically, among other metrics.
Access SEMrush's API so you can pipe any data into a custom report and expose it in dashboards for your entire workforce and client roster.
And build custom reports with your agency logo (white labeled) so client reporting is as easy as a couple of clicks. Plus, you can schedule these reports for automated delivery.
Conclusion
SEO is an ever-evolving, often intimidating marketing discipline. But once you get going, the best practices are pretty consistent: make great content, and distribute that content to get backlinks.
Any solid SEO tool should be able to help you accomplish those two things with:
Keyword research capabilities: understanding which keywords to try and rank for — SEMRush, GrowthBar, Moz, Ubersuggest and Ahrefs all do a great job with this.
Site audits: many of the best tools have a way to audit your site for things like backlink profile, speed, and sitemap. Use Google's Lighthouse Audit for the cheapest way to do this.
On page SEO insights: getting tips on how to improve your posts and pages. This is mostly covered by tools like Clearscope and Yoast.
Most tools do some or all of the above. Choose wisely and learn more about SEO with a few of my other posts.
And if you're ready, try GrowthBar now.
Also read:
*Articles on this blog contain affiliate links that GMP receives a small commission from at no cost to you. We only recommend tools we trust. And never ones we don't trust.