Head of Marketing
at
PlushCare
I'm the head of marketing for a tech company in San Francisco and the cofounder @ GrowthMarketingPro.com
Latest posts by Mark Spera (see all)
I don't care what you're selling or building on the internet, you need landing pages that convert visitors into subscribers, users and customers. 
To stay ahead of the competition in 2017's hyper-competitive internet, your landing pages need to be engaging, catchy, creative and optimized. Fortunately, there's software that makes this an easier feat than it sounds. 
When landing page software came about in 2011, building front-end website components — like landing pages and lead capture forms — got a lot easier. It put the power of creating webpages in the hands of marketers. No code or design background necessary. You could make a webpage look and perform exactly like you want and you can put the webpage on any website or blog for the world to find.
At first, the only choice for landing pages was Unbounce. Instapage came about in 2012, followed by Leadpages and ClickFunnels. These remain the big four in landing page software.
Whether you're building pages to capture leads/signups or you're showcasing a product offering, landing page software will help you do so faster and easier. 
In my opinion, Instapage is the software with the perfect combination of easy to use, complete functionality and useful integrations, but if you're still weighing Unbounce, Leadpages or ClickFunnels, have a read.
1. Instapage
Instapage is a straightforward landing page software with the whole suite of useful features — A/B testing, lead capture forms, completely editable templates and easy integrations with Mailchimp, Salesforce and more.
I love it because it's impossibly easy and intuitive. It feels like the "Apple" of landing page software. Yuck, I can't believe I just said that.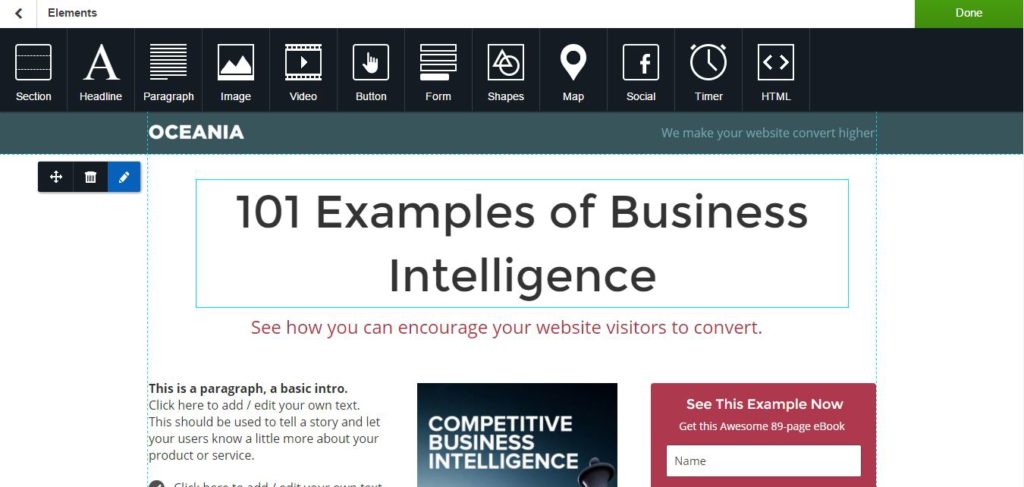 Setup is really easy and getting started on your first page takes minutes.
On my team at RealtyShares (and for pages on this blog) we usually start with one of the out-of-the-box templates. They look great on any device and are completely adjustable via the Instapage drag-and-drop editor. You can match the font, color and design of your existing website.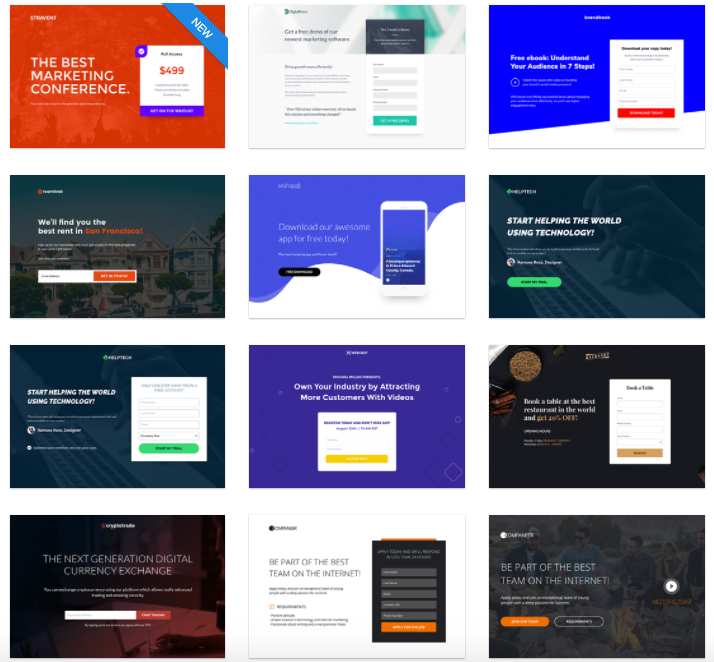 Instapage allows you to add components like a countdown timer, lead capture form, shapes, images, videos and buttons in order to create pretty much any type of webpage you can imagine. 
There is also A/B testing option that is very handy if you want to find out what page design/copy works best. You just duplicate the page in the editor, slightly change the design or text to figure out which components are converting your customers. 
Instapage offers the built-in analytics tool so it's easy to analyze page performance. This powerful tool lets you set display rate percentages, select date ranges, view conversion rates over time, and view conversion rates vs. unique visitors. You can see all of the A/B testing results in the dashboard.
The other feature that may help in optimizing your landing page is Instapage Heatmaps. Using this option it's easy to track your visitors' behavior (e.g. how far down the page your visitors have scrolled, on which elements your visitors have clicked, where on your landing page the visitors spend the most time) and to improve your element placement accordingly.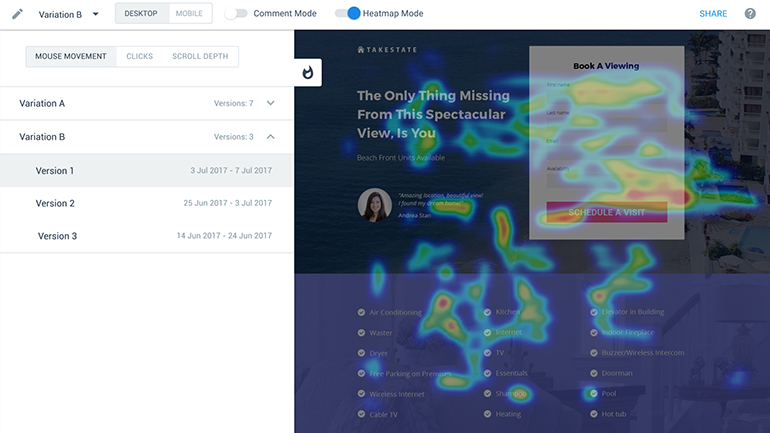 You can export a CSV file of the leads you capture on your landing pages. Or if you're a larger company using tools like Mailchimp, Salesforce, Hubspot, Autopilot, Marketo, Adword, WordPress and Drupal. 
It's super easy to set up your landing pages if your website or blog is hosted on WordPress. Hosting your landing page masterpieces on your WordPress or Drupal website is as simple as downloading a plugin. To host on any other site is as easy as a simple change in your web hosting settings.
Instapage is the easiest for design, implementation and affords the most team collaboration features for larger organizations.
Pros
No traffic limitations

Integration with many other softwares 

Built-in analytics tool

More than 200 editable templates

Best user interface and easiest to use
Cons
There are few built-in images/icons/shapes — you will need to find images you want in Google search and upload them as images
Price  Plans start from $68 per month for the core plan, which is totally great and really accomplishes most of your landing pages dreams. There is also Optimizer plan for $113 per month that includes A/B Testing and Heatmaps features, and Team & Agency plan for $203 per month that adds branded lead notifications, 15 sub-accounts, and more.
If you're considering Instapage, we have a 14-day free trial. Click here. 
Link https://instapage.com/
Video https://www.youtube.com/watch?time_continue=4&v=t2bUbBTbTsU
2. Unbounce
Unbounce was the first landing page software out there. In the world of Instapage vs Unbounce, Unbounce had one key feature that sets it apart. It has a dynamic text replacement feature which automatically swaps out select keywords on your landing pages to match up with the keywords that were searched for by the prospect.
So if you're a PPC marketer, Unbounce was the right choice. You don't need to create different landing pages for the every keyword, which is a real time saver. 
Apparently Instapage now has this feature. I haven't used it but I imagine it works in much the same way.
Unbounce functions much like Instapage. You will use the Unbounce Builder to design your custom webpages. It's a powerful editor. You can customize nearly every element of your page.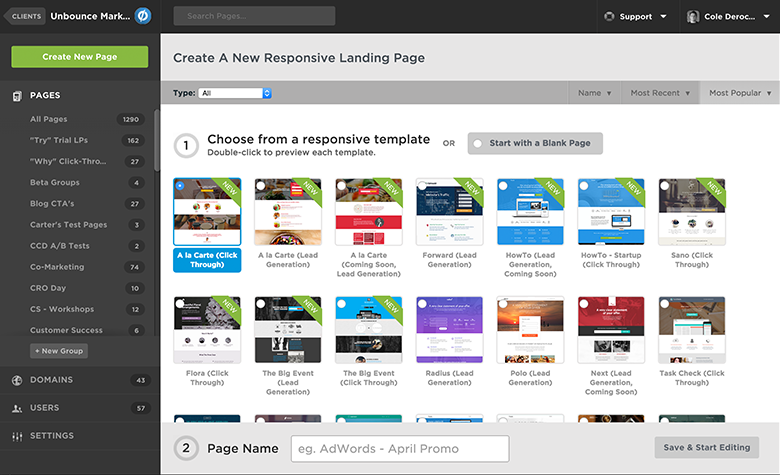 While power users will find Unbounce powerful, it's complex for novices. The interface is just a bit more difficult to navigate. 
Still the Unbounce Builder is still drag-and-drop, so you can simply add images, text, video, and maps into the page and easily organize the content. Page builder also offers social media integration, downloadable files (eBooks and other content) and the form builder to collect data.
Along with the landing pages, Unbounce lets you create sticky bars for the websites. These bright forms draw attention to the offers and help to get more conversions without paying for more traffic. You may also add the pop-up windows (which are called overlays here) on exit, on arrival, after a delay, on a scroll, or on click. There are plenty of pop-up templates to choose from, and you may also customize them.
Unbounce landing pages and pop-ups may be integrated with the most popular email, CRM and analytics tools, such as MailChimp, WordPress, AWeber etc. There is also Google Analytics integration in case you are not satisfied with the built-in tool for measuring visitor stats and tracking conversion rates.
As with Instapage, marketers can also use A/B testing to split traffic between two variations of the same landing page and then to see which version performs better. 
Pros
Great flexibility in setting up the pages

Dynamic text replacement for PPC campaign

Handy WordPress integration
Cons
Could be a bit complex for the beginners

Limited number of pages

No integration with Facebook
Price Plans start from $79 per month for the Essential plan. There is also Premium plan for $159 per month that includes more published landing pages and client sub-accounts creation, and Enterprise plan for $399 per month that adds template migration service, more sub-accounts, and so on.
Link https://unbounce.com/
Video https://www.youtube.com/watch?v=i8Yh8dWFec4
3. Leadpages
Leadpages offers unlimited pages creation as well as unlimited traffic & leads even on the most inexpensive plan. 
Like Instapage and Unbounce, Leadpages landing pages are drag-and-drop, mobile friendly and feature a reasonable suite of integrations.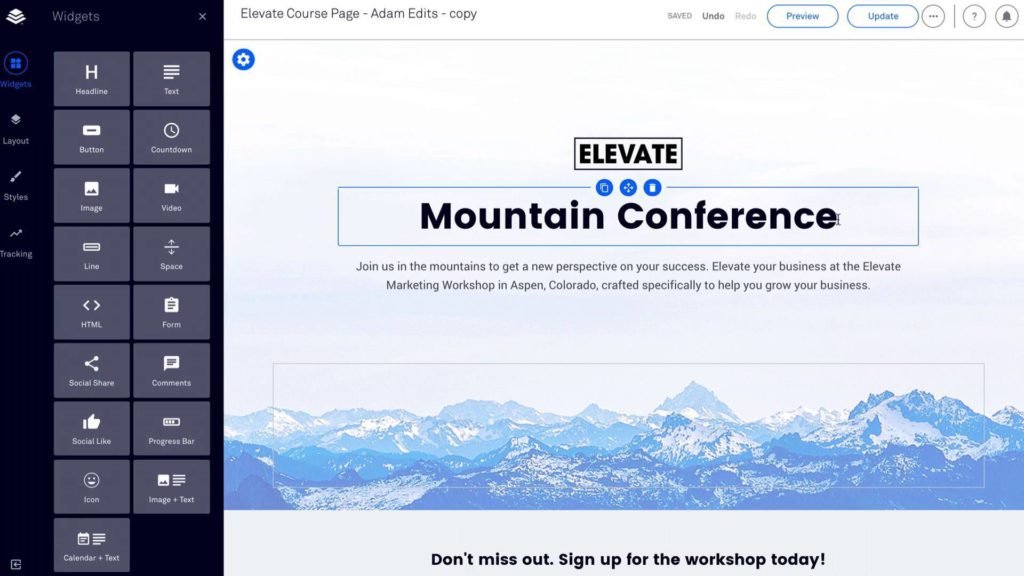 The tool offers some pretty cool templates that make your life easy. There are special templates for the webinar promoting, upsells, prelaunch sales, 404 pages, checkout pages, Facebook pages, and so on. And if you are unsure which one is better you may try sorting by conversion.
You can build landing pages with preloaded elements, photos, videos, testimonials, partner lists, social sites integration, links, maps, pop-up windows and other interactive content.
Leadpages stands alone vs Instapage and Unbounce in one unique way. It offers two different landing page editors — one for novices that has only basic customization and another more advanced version. With the advanced editor's complete drag-and-drop support, you have the full ability to re-arrange, delete, and add elements on the page easily.
Another thing Leadpages does is create popup window modals to get users' attention. You can use it on any page, not just ones you create with Leadpages. You can set up the popup you can specify when the user will see it, e.g. when he/she wants to leave the page, when he/she clicks the link, moves the cursor on the active element, etc. 
While there are a lot of free templates available, Leadpages also has a growing ecosystem of paid templates in their market. Templates may be created by any Leadpages user.
Overall, Leadpages is a fine tool to help you meet your landing page goals. It's just not quite as good as Instapage or Unbounce.
Pros
Popups may be created anywhere on any page you own

Leadlinks feature lets the customers join events by clicking the link from their inbox

Cons
Autosave doesn't always work well

More limited customization
Price Plans start from $17 per month for the Standard plan. There is also Pro plan for $42 per month that includes A/B Testing and taking payments with checkouts, and Advanced plan for $159 per month that adds advanced integration with Hubspot, Marketo, and more.
Link https://www.leadpages.net
Video https://www.youtube.com/watch?v=v5dNAvIbR_E
4. ClickFunnels
ClickFunnels works differently than other software in this review. It's a bit more complex. While Instapage, Unbounce and Leadpages allow users to create single landing pages, ClickFunnels lets you build different types of marketing funnels. It's important to note that with the other three softwares, you create redirects to other pages after form submission. 
With ClickFunnels you create a series of landing pages your visitors will go through to reach a certain goal. It usually consists of opt-in pages, an email autoresponder, sales pages, order forms, etc. Leadpages is a good solution for users who want to do far more than just create landing pages with their tool 
When you are building your funnel with ClickFunnels you don't need to think what page to add next. There are different types of funnels with specific templates. With ClickFunnels, you may create optin/lead capture funnels, sales page funnels, webinar funnels, membership sites, and so on. The tool allows for upsells and downsells and processes payments for your sales pages digitally (there is integration with Stripe, Recurly, NMI and more.)
The templates are fresh and diverse, but you can work with them further in the editor. All sections of the page are customizable. You can move or remove taglines, videos, footer and testimonials sections. 
ClickFunnels' website was definitely made with the ClickFunnels tool.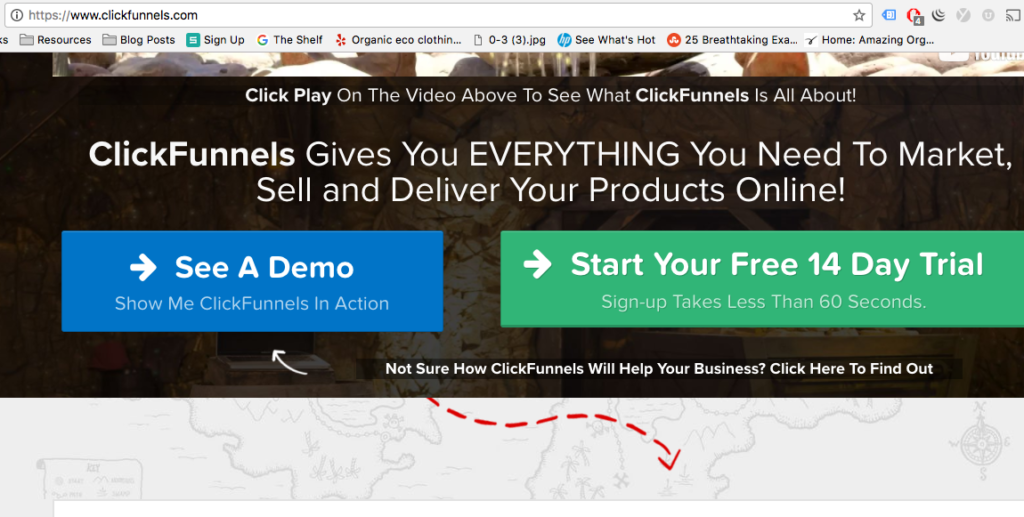 ClickFunnels also has the integrated email service provider. It's easy to design nice looking emails, to create autoresponders which help to convert your subscribers into the customers and also to track the leads stats. There is also an integrated affiliate platform to help you with product promoting. So, this service would be the best choice for those marketers who prefer having all their tools in the one place. However, ClickFunnels allows integration with a dozen of popular email services, so it's possible to use only the landing page creation software and third-party services.
Another huge benefit of ClickFunnels is the numerous tutorials that are available for the members. They offer free educational content for the members and build the marketers community around the product. Being the part of this community it's very easy to get a new knowledge constantly, to improve your skills and thereby, increase your profits!
Pros
Building marketing funnels, not just the pages

Direct support of the Backpack CRM, InfusionSoft and Clickbank

Sharing the funnel with other members

Cons
The standard plan limits the number of funnels, pages, and visitors

Split testing is very basic
Price Basic paid plan costs $97 and includes 100 landing pages, 20000 visitors, and three custom domains. There is also $297 per month plan that includes unlimited pages, funnels, custom domain and visitors, as well as additional mailing and affiliate program features.
Link https://www.clickfunnels.com/
Video https://www.youtube.com/watch?v=pCAlJYgoyxg
Conclusion
Which landing page software should you pick? All tools reviewed are high quality with good functionality, and all of them offer landing pages creation without programming and design knowledge. So your choice will depend on your needs and experience. Here are some points you should take into consideration while giving them a try:
Ease of use. Is the editor user-friendly? Can you create the stunning page quickly?
Quality of the templates. Are the templates modern and have the mobile devices support? Are there enough templates in your niche?
Limitations. Are there any limitations on the pages amount, visitors or other important parameters? 
Special features. What additional features do you need? Is it important for you to have built-in analytical tools, mailing features, pop-ups, integration with other services?
Price. Is the price competitive? Will you really get more for the higher price? Can you get as much for the lower price?
Again, I recommend Instapage. If you want a free 14-day trial click here. 
Disclaimer: We occasionally link to products and earn fees. We only review products we trust. And we only trust about 10.