Latest posts by Mark Spera
(see all)
I don't care what you're selling or building on the internet.
You need landing pages that convert visitors into subscribers, users, and customers.
Fortunately, landing page builder software makes it possible to create beautiful landing pages from scratch — usually without any code — so you can spin up pages that meet your customer's intent, fast.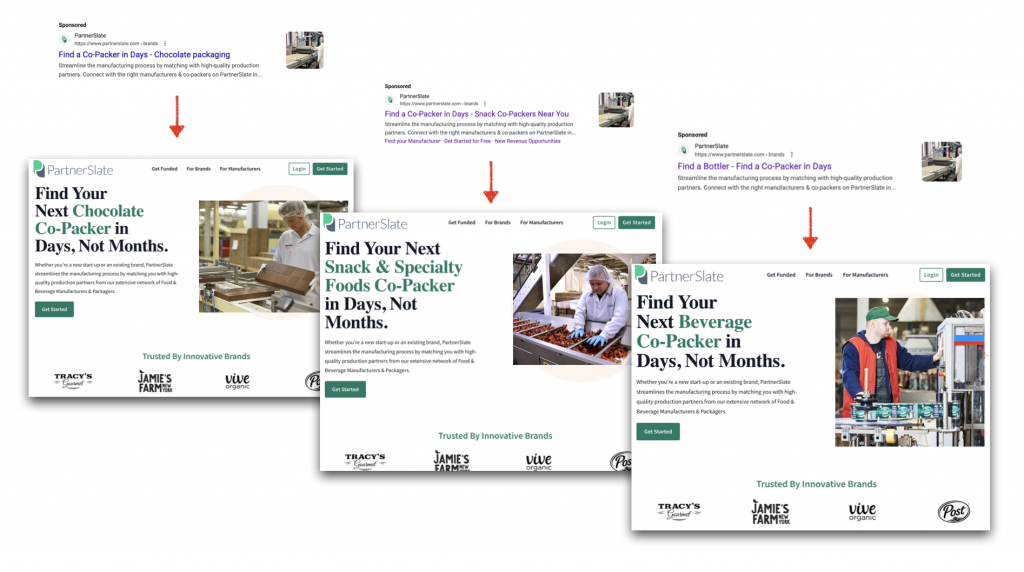 Instapage, Unbounce, Leadpages, and Clickfunnels are the big four when it comes to landing page builders. But choosing one isn't that easy.
I know because I've been in the digital marketing game for 12+ years and I've used each of these tools! Seriously, I have.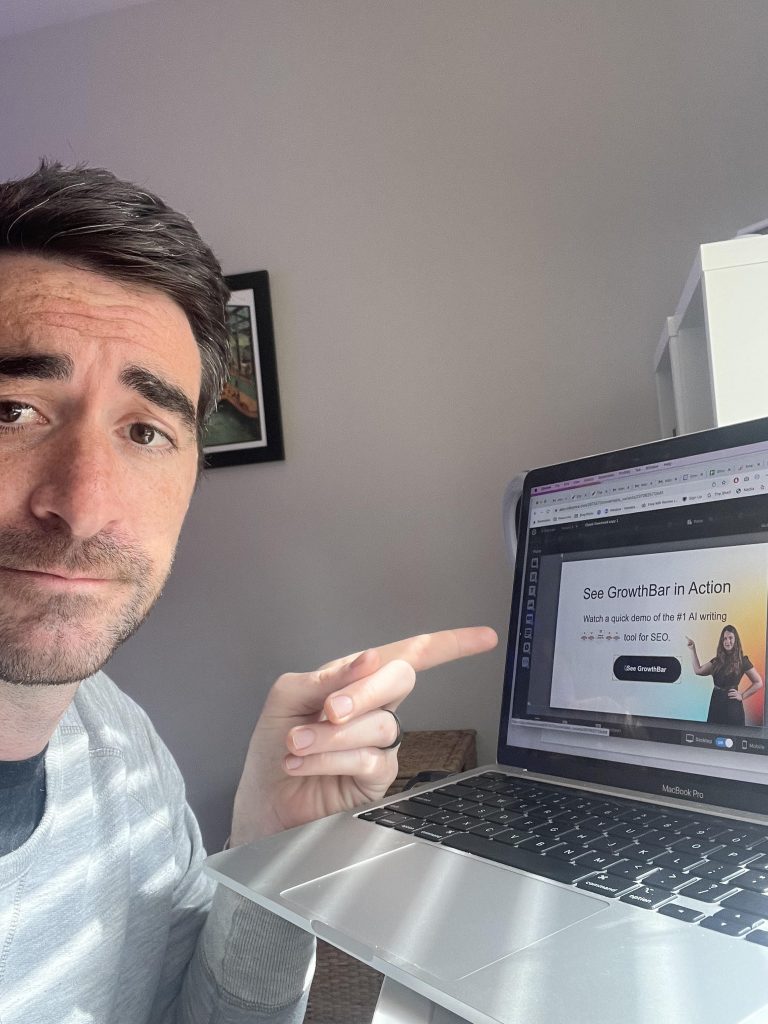 The main differences between Unbounce, Leadpages, Instapage, and Clickfunnels
Here's a brief overview of the features of Unbounce, Leadpages, Instapage, and Clickfunnels. After that, I'll get into my more detailed ratings plus personal commentary (again, I've used each one!).
Metric
Unbounce
Leadpages
Instapage
Clickfunnels
Price
$74/mo
$37/mo
$199/mo
$127/mo
Pros
– Easy drag-and-drop editor
– AI-generated landing pages
– 200+ templates
– WordPress plugin
– Forms, dynamic text replacement, and AB testing
– Integrations with Google Ads, Facebook, Mailchimp, HubSpot, Zapier, CallRail, and more
– Slick editor
– Countdown timer, alert bars, email captures, popups, checkout forms, and more
– WordPress plugin
– "Lead meter" to predict page performance
-Integrations with Zoho, Salesforce, Facebook, Constant Contact, and more
– Easy drag-and-drop editor
– Great analytics
– Beautiful templates
– Best enterprise features
-Integrations with Google Ads, Facebook, HubSpot, Marketo, Mailchimp, Aweber, Drip, Stripe, PayPal, and more
– Full website builder like Leadpages
– Additional tools, including email marketing, triggered emails, upsells, checkout flows, pricing pages, etc.
– Integrations with tools like Stripe, Zoom, Twilio, and Mailshake
Cons
– Sometimes difficult mobile experience
– Missing a couple of integrations that Instapage and Leadpages have

– Editor is more difficult than other options
– No A/B testing at the lowest plan
– Finished pages aren't quite as slick as Instapage and Unbounce
– Enterprise pricing
– Subpar customer support, except at higher price tiers
– There are many features you may not need
– Price is on the high end
– Pages aren't as beautiful as other options
Ease
5.0/5
4.7/5
4.8/5
4.3/5
Customers
Thinkific, Zola, Indochino, Sundae, Later
NA
Vimeo, Honey, Ebay, Udacity
NA
To summarize:
Unbounce: Unbounce was the first landing page software tool. It has a near-perfect drag-and-drop editor, A/B testing, sticky bars, and hundreds of templates. Plus, you can create checkout flows right on Unbounce and sell products. It has everything you need and nothing you don't at a reasonable price point. Unbounce can get expensive if you want to publish many pages.
Leadpages: The most affordable tool on this list, Leadpages has a semi-flexible editor that enables you to make high-converting pages. The drag-and-drop editor is not quite as good as Unbounce and Instapage — it takes extra finessing to get pages to look like you want — but it's still pretty nice. It also has features like pop-ups that neither Unbounce nor Instapage has. Leadpages also does not charge per published page, so the price stays relatively low.
Instapage: While it may be (tied with Unbounce for) the most powerful landing page builder, it comes with a very high price point and poor customer support. However, the platform is incredible: perfect drag-and-drop landing page builder, A/B testing, heatmaps, email alerts, and out-of-the-box AMP pages. It's truly a pleasure to use.
ClickFunnels: ClickFunnels started as a landing page software tool, but has since evolved into an all-in-one website builder. It does have landing pages, but they're not quite as flexible or beautiful as Unbounce, Leadpages, or Instapage. But if you want a tool that can capture leads, send emails, enable customer checkouts, and more, ClickFunnels is a solid tool.
All of these platforms have plenty of integrations with Google Analytics, Google Ads, Facebook Ads, CRM tools, email marketing tools, and more — so that probably shouldn't factor into your purchase decision.
1. Unbounce

Unbounce was the first landing page software out there. In the world of Instapage vs Unbounce, Unbounce had one key feature that made it the platform of choice for PPC marketers: dynamic text replacement. This made scaling huge Google Ads accounts possible.
The Unbounce Builder allows you to design custom webpages with lead capture forms, buttons, videos, and a whole lot more — and the pages are beautiful!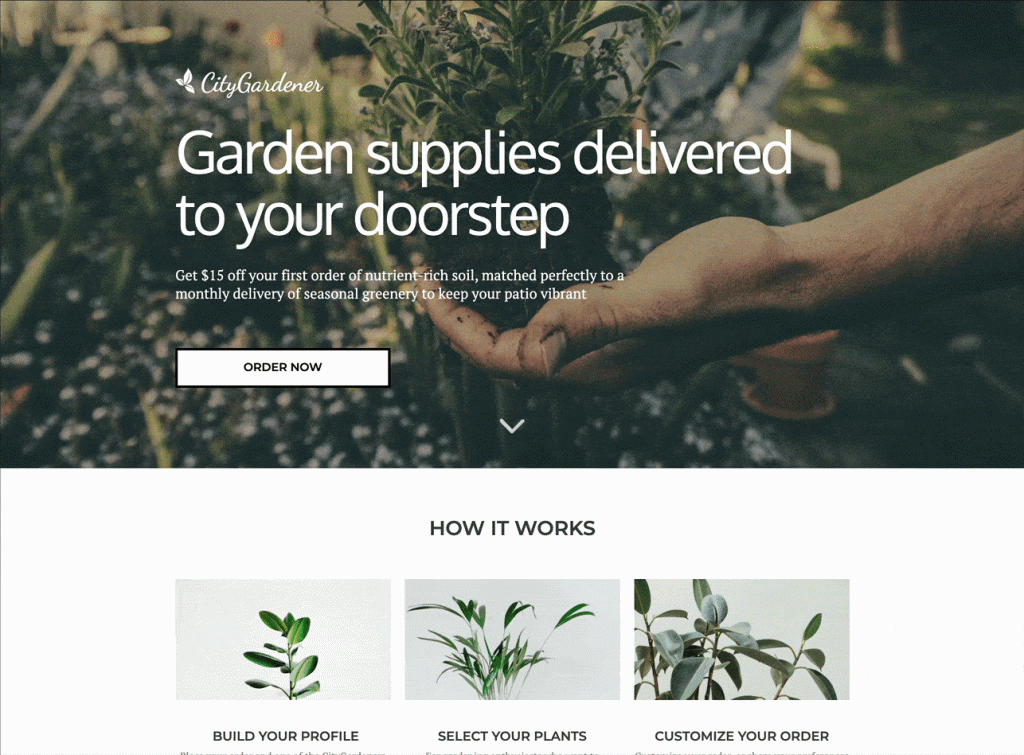 The Unbounce Builder is drag-and-drop. You can add:
Form builder to collect leads
Downloadable files (eBooks and other content)
It also allows you to put your social media on the page
Images, text, video, and maps on the page
Unbounce also lets you create sticky bars for your site. These bright forms draw attention to the offers and help to get more conversions without paying for more traffic. The editor allows you to add pop-up windows (which are called overlays here) on exit, on arrival, after a delay, on a scroll, or on click. There are plenty of pop-up templates to choose from, and you may also customize them. This feature is not available with Instapage.
Unbounce landing pages and pop-ups may be integrated with the most popular email, CRM, and analytics tools, such as MailChimp, Salesforce, Calendly, Stripe, Jotform, WordPress, AWeber, etc. It's missing an integration GetResponse, ConvertKit, and Sendgrid — which Instapage has.
There is also Google Analytics integration in case you are not satisfied with the built-in tool for measuring visitor stats and tracking conversion rates. It's also handy that you can export your leads list to a CSV for easy parsing and analysis.
Marketers can also use A/B testing to split traffic between two variations of the same landing page and then to see which version performs better.
Finally, I love Unbounce's new AI landing page content generation feature. It enables users to enter a little information about their product offering and Unbounce spits out headlines and other content ideas — which means an easier process for building your pages.
Pros
Great flexibility in setting up the pages

Dynamic text replacement for PPC campaigns
Handy WordPress integration
Automated A/B testing
Good analytics suite
200+ profession looking templates
Cons
Limited number of pages that can be published at one time without moving to a higher pricing plan
The mobile editor is not always in perfect harmony with the desktop editor, meaning you need to make changes to both versions sometimes
I haven't figured out a way to put more than one lead capture form on a page
Price Plans start from $74/month for the Launch plan. The Optimize plan is $109/month and the Accelerate plans and Concierge plans are $180 and $469 respectively. If you're an entrepreneur or company with under $100,000/month in marketing spend, the Launch or Essential plan is great. Higher tiers offer template migration service, more domains, more sub-accounts, AMP pages, and so on.
Best for Entrepreneurs and digital marketers who want a powerful tool at a reasonable price. Unbounce has all the features you want from sophisticated landing page software, without the high price tag.
We negotiated a special discount with Unbounce. Use my link below for a 20% promo code for Unbounce!
---
2. Leadpages

Leadpages offers unlimited page creation as well as unlimited traffic and leads even on the most inexpensive plan.
Like Instapage and Unbounce, Leadpages landing pages are drag-and-drop, mobile friendly, and feature a reasonable suite of integrations.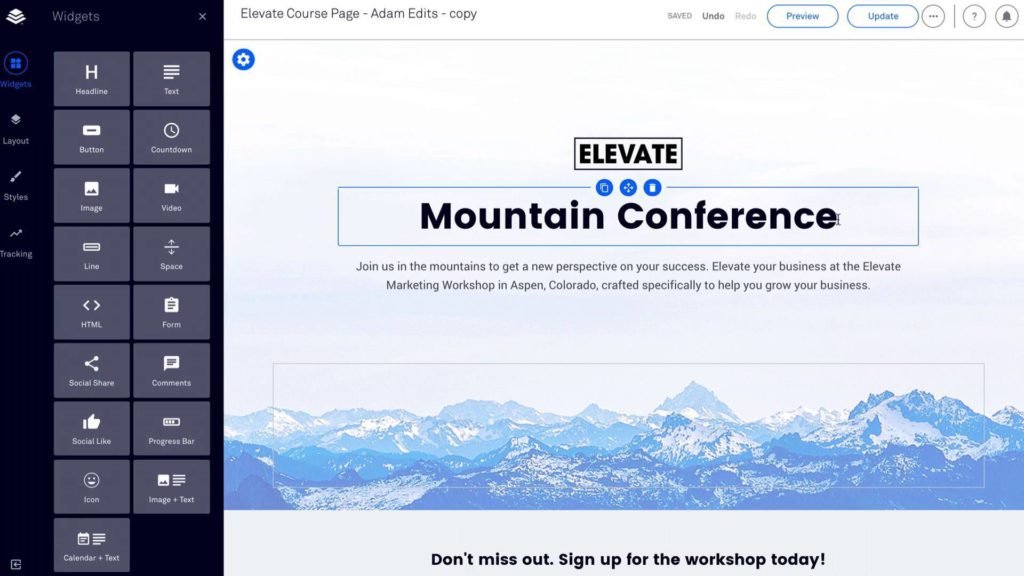 The tool offers some pretty cool templates that make your life easy. There are special templates for webinar promoting, upsells, prelaunch sales, 404 pages, checkout pages, Facebook pages, and so on. And if you are unsure which one is better you may try sorting by conversion.
Launching your business? Read 8+ Launch Strategies You Need to Know
You can build landing pages with preloaded elements, photos, videos, testimonials, partner lists, social site integration, links, maps, pop-up windows, and other interactive content.
Leadpages stands alone vs Instapage and Unbounce in one unique way.
It offers two different landing page editors — one for novices that has only basic customization and another more advanced version. With the advanced editor's complete drag-and-drop support, you have the full ability to re-arrange, delete, and add elements on the page easily.
Another thing Leadpages does is create popup window modals to get users' attention. You can use it on any page, not just the ones you create with Leadpages. You can set up the popup you can specify when the user will see it, e.g. when he/she wants to leave the page, when he/she clicks the link, moves the cursor on the active element, etc. Finally, I love the "lead meter" feature, which predicts how optimized your landing page will be.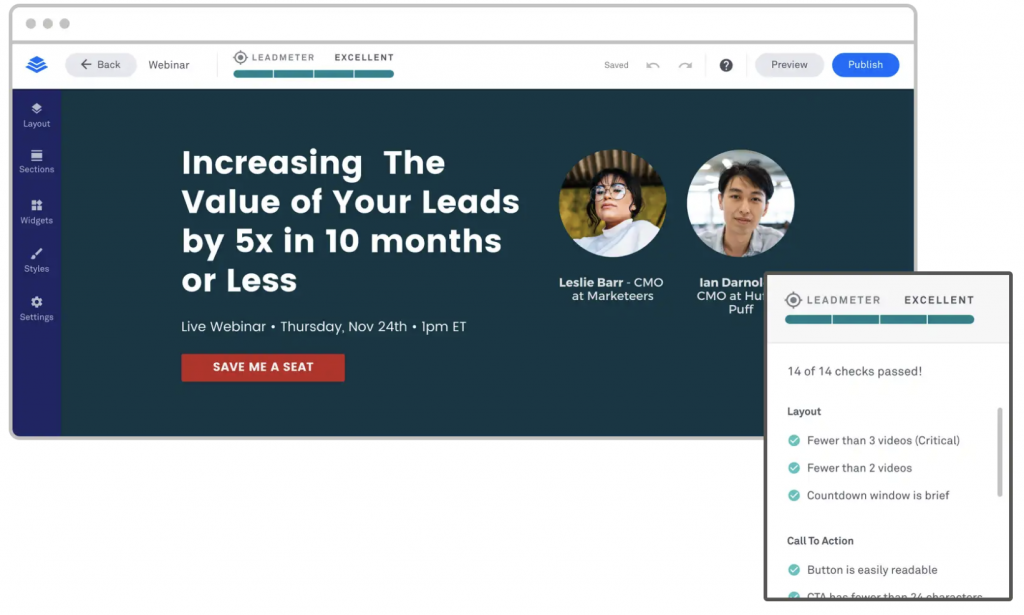 While there are a lot of free templates available, Leadpages also has a growing ecosystem of paid templates in their marketplace — some of which are absolutely stunning.
In my opinion, Leadpages is the second best choice after Unbounce, given the price and quickly improving the design of template pages — they seem to be investing a lot in improving features across the board.
Pros
Love the countdown timer, alert bars, text opt-in texts, and progress bar widgets — all conversion-oriented features the other tools don't have

Leadlinks feature lets the customers join events by clicking the link from their inbox

Popups may be created anywhere on any page you own

Has the most integrations of any tool on this list, including some obscure ones like MailerLite, Emma, Bing Ads, etc.
Cons
Autosave doesn't always work well

Limited customization

The editor is a little clunkier than Instapage and Unbounce
Price Plans start from $37 per month for the Standard plan. There is also Pro plan for $74 per month that includes A/B Testing and taking payments with checkouts and advanced integration with Hubspot, Mailchimp, and more.
Best for Entrepreneurs and digital marketers who want a flexible landing page builder at a reasonable price. Leadpages is really affordable, but there are some limitations to its page design power. I still can totally recommend the product.
See Leadpages user reviews here.
---
3. Instapage

Instapage is a straightforward landing page software with a whole suite of useful features — A/B testing, lead capture forms, completely editable templates, and easy integrations with Mailchimp, Salesforce and more.
I love it because it's impossibly easy and intuitive. It feels like the "Apple" of landing page software. The Instapage editor is simple, beautiful, and completely drag-and-drop!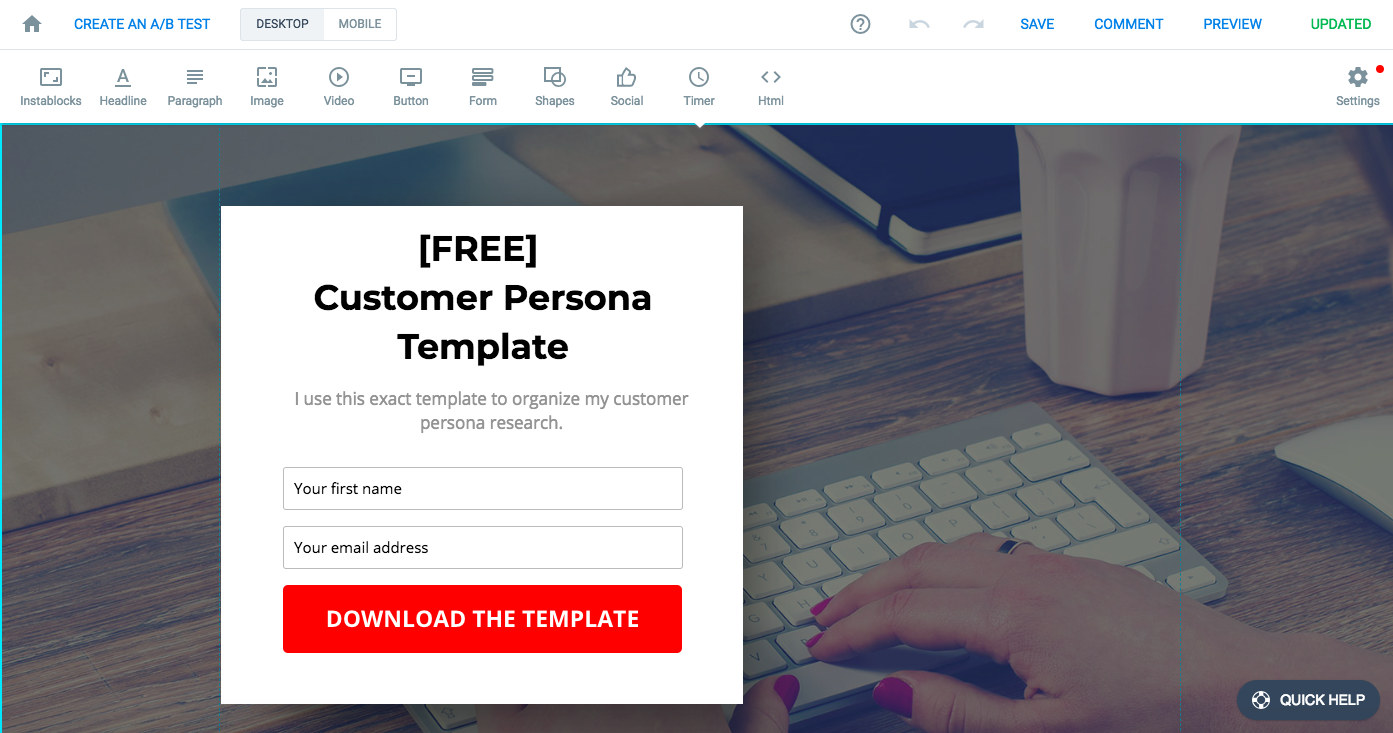 Plus, the setup is really easy. As with most landing page software tools, it takes just a flip a switch in your domain settings to host Instapages on your site. Or if you have WordPress, there is a one-click integration.
To make a page, I usually start with one of their 200+ out-of-the-box templates.
Templates look beautiful on any device and are completely adjustable via the Instapage drag-and-drop editor. You can match the font, color, and design of your existing website. If you're super sophisticated, Instapage also offers AMP-optimized pages.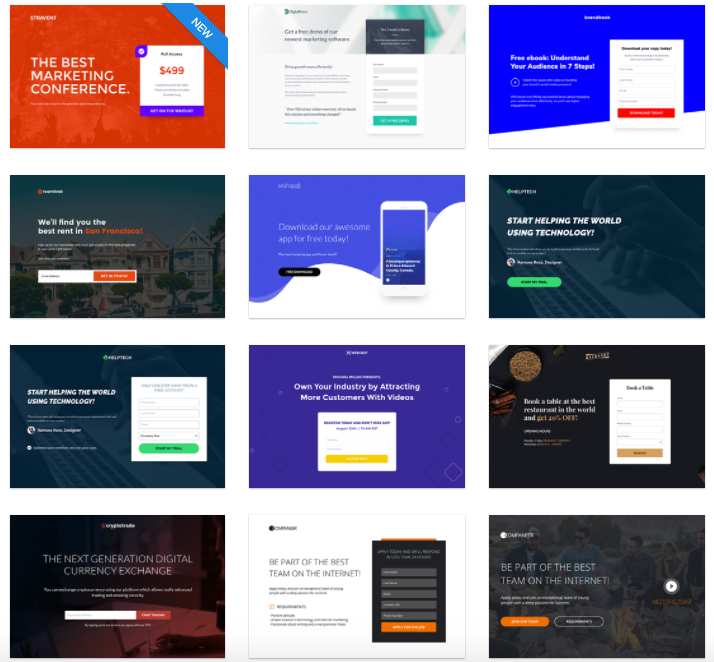 Instapage allows you to add components to your site like:
Shapes, images, videos, and buttons

Social media logos/links
Basically any other feature or element you might put on a webpage
Timers
Lead capture forms
There is also an A/B testing option that is very handy if you want to find out what page design/copy works best
Instapage has built-in analytics. The analytics dashboards allows you to select date ranges, view conversion rates over time, and compare A/B test performance. Another cool feature is Instapage Heatmaps (note: only available with premium plans).
Heatmaps make it easy to track your visitors' behavior (e.g. how far down the page your visitors have scrolled, on which elements your visitors have clicked, where on your landing page the visitors spend the most time) and to improve your element placement accordingly.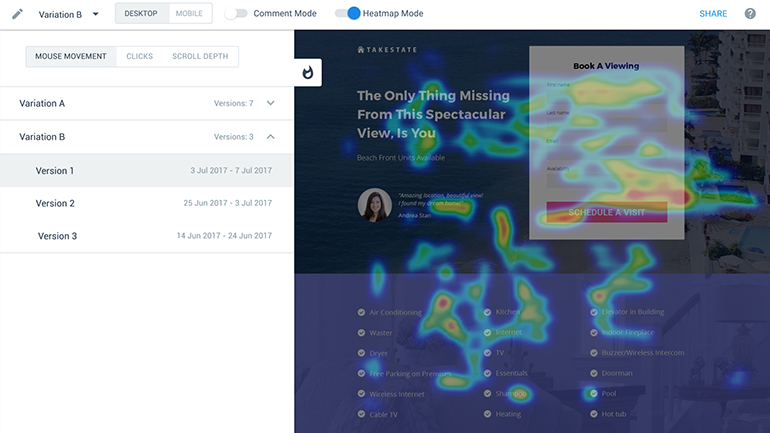 If you're using Instapage to capture leads using forms, you can export a CSV file of the leads you capture.
Or, if your needs are more complex, you can send your lead capture data to tools like Mailchimp, Salesforce, Hubspot, Autopilot, Marketo, Adwords, WordPress, and Drupal. Along with Leadpages, Instapage has the most out-of-the-box integrations.
Hosting your landing page masterpieces on your WordPress or Drupal website is as simple as downloading a plugin. To host on any other site is as easy as a simple change in your web hosting settings.
Pros
No traffic limitations

Integration with many other software

tools
Built-in analytics tool
More than 200 editable templates
Best user interface and easiest to use
The best page designs and templates
Direct WordPress integration
Dynamic text replacement for PPC campaigns
Cons
There are few built-in images/icons/shapes — you will need to find the images you want in Google search and upload them as images

The price — it's the most expensive tool on the market
Customer support: unfortunately, we've had many poor experiences with their customer support
Price Plans start from $199 per month for the core plan, which is totally great and really accomplishes most of your landing page dreams. With that, you get branded lead notifications, 15 sub-accounts, and more.
Best for Digital marketers who want the most powerful landing page software. Instapage has a whole suite of features the average entrepreneur may not use, but agencies and high-budget marketers may.
Use my link below for a 14-day free Instapage trial.
---
4. ClickFunnels

Clickfunnels works differently than other software in this review. It's a bit more complex. It's basically a website and marketing flow in a box. While Instapage, Unbounce and Leadpages allow users to create single landing pages, ClickFunnels lets you build different types of marketing funnels — ones containing lead capture forms, email campaigns, etc.
With ClickFunnels you create a series of landing pages your visitors will go through to reach a certain goal. It usually consists of opt-in pages, an email autoresponder, sales pages, order forms, etc.
When you are building your funnel with ClickFunnels you don't need to think about what page to add next. The ClickFunnels builder takes you through setup.
With ClickFunnels, you may create optin/lead capture funnels, sales page funnels, webinar funnels, membership sites, and so on. The tool allows for upsells and downsells and processes payments for your sales pages digitally (there is integration with Stripe, Recurly, NMI and more.)
The templates are fresh and diverse, but you can work with them further in the editor to get them to look pretty professional. All sections of the page are customizable. You can move or remove taglines, videos, footer and testimonials sections.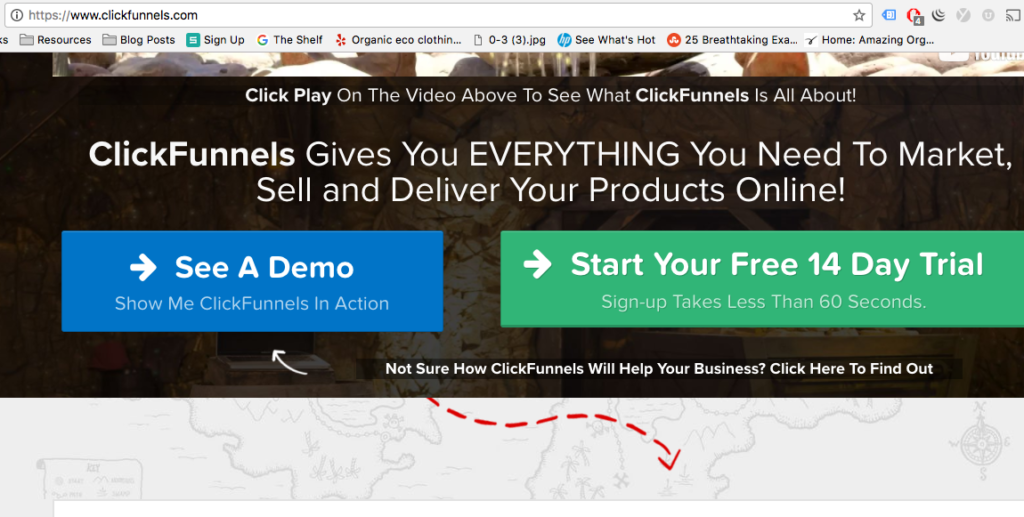 ClickFunnels also has an integrated email service provider. It's easy to design nice-looking emails, create autoresponders that help to convert your subscribers into customers, and also to track the leads stats.
There is also an integrated affiliate platform to help you with product promotion. So, this service would be the best choice for entrepreneurs who prefer having all their tools in one place. However, ClickFunnels allows integration with a dozen of popular email services, so it's possible to use only the landing page creation software and third-party services.
Another huge benefit of ClickFunnels is the numerous tutorials that are available for the members. The founder, Russell Brunson is a born salesperson and customer service wiz. ClickFunnels definitely doesn't leave you hanging once you sign up.
Pros
Building marketing funnels, not just the pages

Direct support of the Backpack CRM, InfusionSoft and Clickbank

Sharing the funnel with other members
Customizable, eye-popping pages
Cons
The standard plan limits the number of funnels, pages, and visitors

Split testing is very basic
Price Basic paid plan costs $127 and includes unlimited landing pages, 20 funnels, and one website. There is also a $157 per month Pro plan that includes unlimited pages and 100 funnels, and finally the a Funnel Hacker plan which enables you to operate with unlimited landing pages, 3 websites, and unlimited funnels.
Best for The standard use case for ClickFunnels is a high ticket sale. If you're an entrepreneur selling a special product or service at a premium price point, ClickFunnels may be for you. Plus, ClickFunnels is easy enough that beginners can get used to it fast.
---
Which one to choose
If none of these four tools meet your needs, there are a couple of others to consider. For my money, Swipe Pages and HubSpot are both worth a look. Why?
Other tools worth looking at
If none of these four tools meet your needs, there are a couple of others to consider. For my money, Swipe Pages and HubSpot are both worth a look. Why?
Swipe Pages

Swipe Pages differentiates in one big way: it's built for mobile conversions. Why? Because the pages are the fastest out there. Even a second or two of load time can make a huge difference in mobile conversion rate. If you have a product that sells mostly on mobile, Swipe Pages may be for you. I see ecommerce businesses as one of the hugest use cases for Swipe Pages. The product comes with an easy drag-and-drop editor, 50+ templates, 20+ widgets like Timers, Popups, Payment Forms, Carousels, Tables, and Toggles, plus integrations with the biggest email tools and CRMs.
HubSpot

HubSpot enables you to design, build, and analyze the performance of landing pages for free! The catch is you have to use HubSpot's CRM to capture and engage those leads. I mention HubSpot not because the landing page feature is incredible — it's adequate though. More than that, HubSpot is an all-in-one CRM, email marketing tool, landing page software, and so much more. If you're a B2B business starting from square one, HubSpot might be the perfect landing page tool for you because it can take care of so many other elements of your business.
A little background…
When landing page software came about in 2011, building front-end website components — like landing pages and lead capture forms — got a lot easier.
It put the power of creating webpages in the hands of marketers. No code or design background is necessary.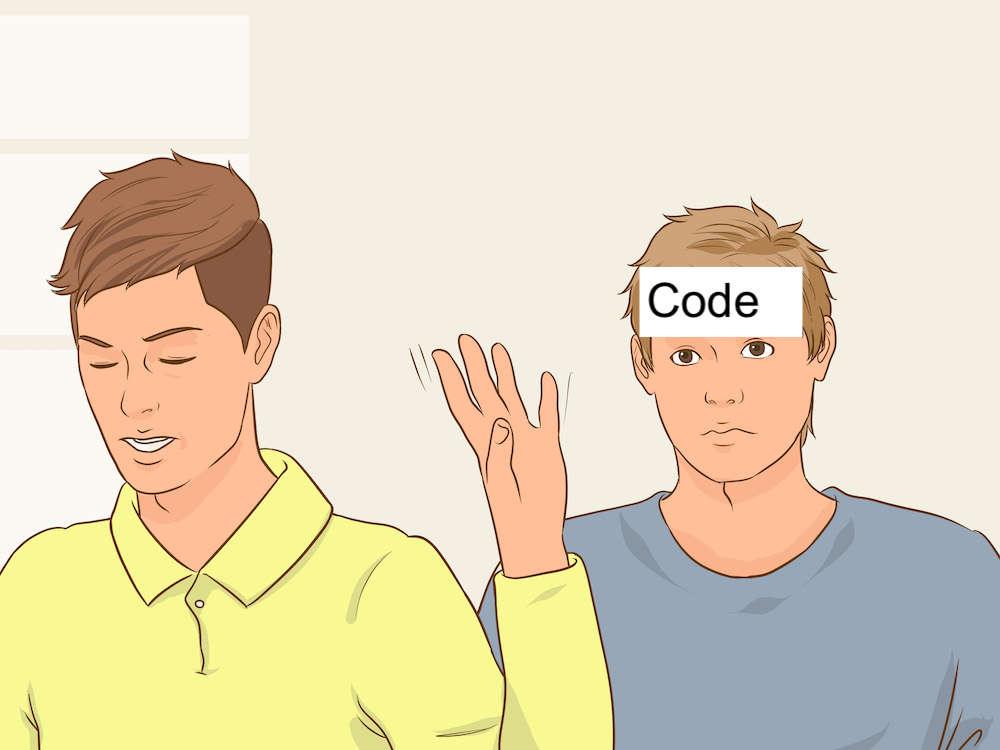 Landing page builders are incredible. I couldn't get enough of them and I began testing every single one. They're perfect for marketers who want to:
Make simple pages to optimize for conversions.
Improve advertising quality scores, which lowers your cost per click to make ad budgets go further.
MVP test products or offerings by spinning up fast pages.
Integrate pages and forms with tools like Mailchimp, Salesforce, HubSpot and Zapier.
Read analytics and A/B test.
Landing page software is completely game-changing.
What is a landing page?
I'll bet your website isn't optimized for conversions.
That's okay. Most sites have lots of pretty pictures, value propositions, press mentions, and paragraphs of information.
But when you're running paid marketing campaigns (Google Ads, Facebook Ads, LinkedIn ads, etc.) you need pages that convert — get a user to take action. In general, a landing page is shorter than a normal web page and highlights a call to action, driving the user to take action.
Here are two landing pages from HubSpot and Noom: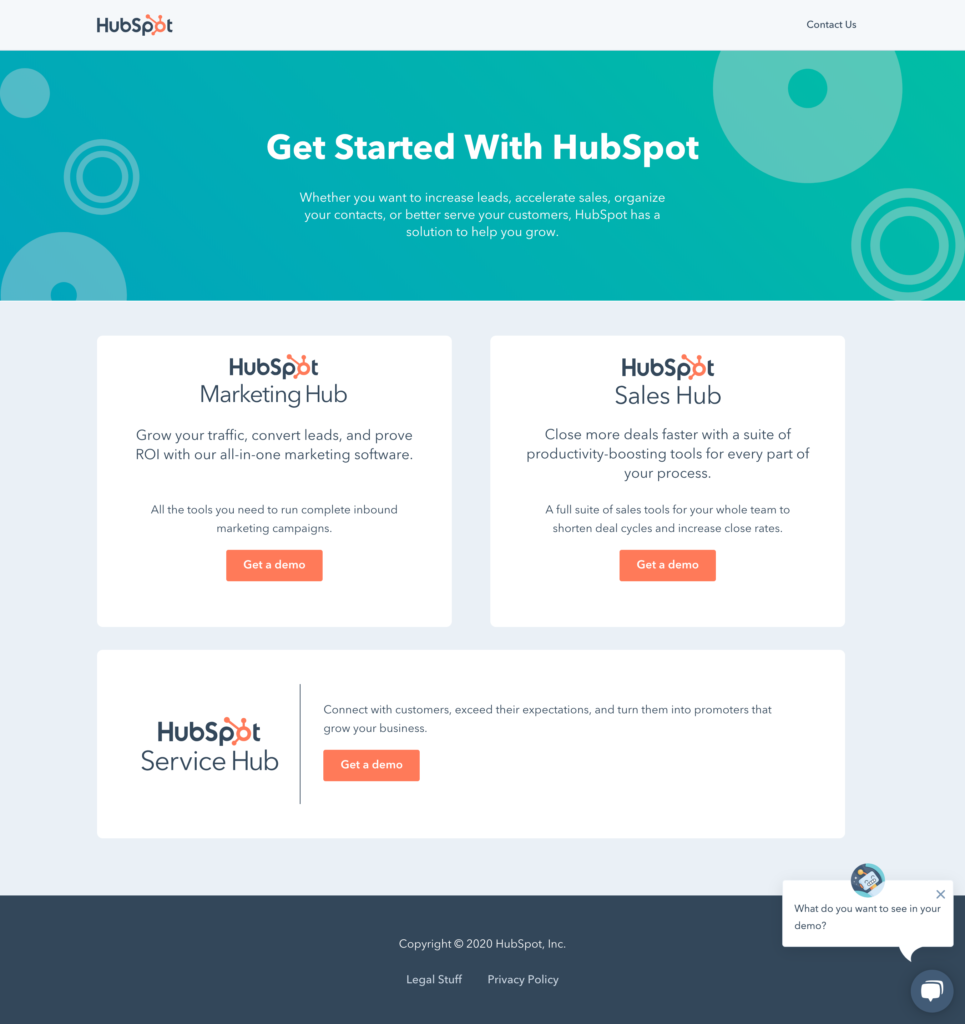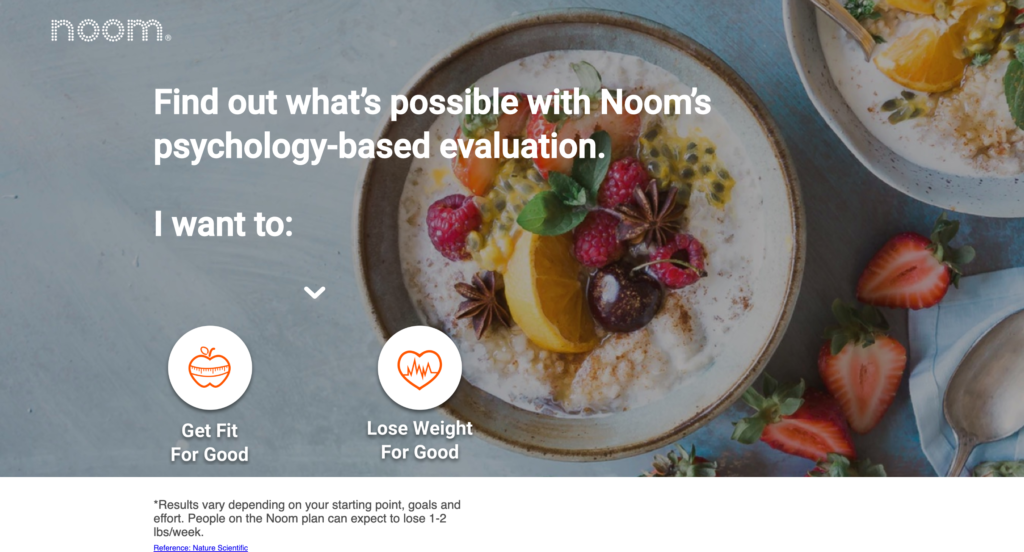 Note, both of these pages have clear CTAs, very little clutter and just enough information for a user to click.
If you're running performance marketing campaigns or selling something on the web, you need a landing page builder!
Tips for great landing pages
Simply implementing a landing page builder doesn't necessarily mean you'll capture more leads and increase your conversion rate. There are best practices that you should follow to get the most out of your landing page builder:
Catchy headlines: Your landing page should lead with value-based copy and your headline should never be ambiguous or vague. It should capture your readers' attention and give them a reason to keep scrolling. As I'm thinking about headline copy, I like to channel one of the best business books I've read, Play Bigger: your copy should make you a category leader. Even if your product isn't a category leader, think of a way to position yourself as the #1 in some category. Maybe you're not the #1 SEO tool, but perhaps you're the #1 SEO tool for fashion bloggers. Figure out a way to "own" a category via your headline copy.
Trust signals: Humans like social proof. We're more apt to buy when we see logos and customer testimonials on a website. I've found that using press badges above the fold on my landing pages increases the conversion rate 10% or more. Press badges lend credibility to your product and make users more likely to continue reading. Similarly, customer testimonials enable users to envision themselves using your product, which will increase conversion rates.
Images: Think about how often you read every word on a webpage… not often. Visually appealing images work in keeping users on-page and illustrating your product offering. Hint: human faces keep people on-page — when in doubt, use a stock photo with people in it.
A/B test: Particularly if you're sending paid traffic to your landing page, you should A/B test. It's the financially smart thing to do. And if you're going to A/B test anything, make sure to first experiment with your headline. Since the headline is the first thing users see when they hit your page and only 20% of users will read past your headline copy, it's the most impactful place to A/B test.
Mobile: Mobile traffic accounts for 54.8% of total web traffic, so make sure your landing pages are pixel-perfect on mobile as well. The good news is that the best landing page builders have mobile and desktop views, so that you can see your page in both formats before publishing.
Conclusion
Which landing page software should you pick?
Instapage, Unbounce, Leadpages and ClickFunnels are all perfectly awesome products. All of them will give you custom landing pages without programming knowledge.
So your choice will depend on your needs and experience.
Here are some things you should take into consideration while weighing your options:
How big is your business? If you're a large company with any sort of budget, you should definitely use Instapage or Unbounce. The few extra dollars gets you a whole lot more functionality and much more polished-looking landing pages.
Do you value sleek design? If you're trying to make beautiful pages, you should use Instapage or Unbounce.
Do you want an all-in-one solution? If you want a tool to make landing pages, checkout flows and even do email marketing, you should look at ClickFunnels.
PPC expert or digital marketer? Instapage or Unbounce is your solution.
On a budget? The price of Leadpages is the lowest, followed by Unbounce, ClickFunnels, and finally, Instapage.
Use my link below for 20% off your first 3 months of Unbounce.
Read More: