Latest posts by Mark Spera
(see all)
If you're using WordPress, search engine optimization (SEO) plugins are 100% going to be your best friend.
But choosing the right WordPress plugin for SEO? Not always so simple!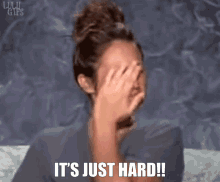 Before we dive into a review of Rank Math vs. Yoast SEO vs. SEOPress vs. All in One SEO, I want to note three things.
Setting up a WordPress blog/site takes about 10 minutes and it's the best SEO investment you can make for your business. WordPress organizes content perfectly for Google to read. So if you haven't already done so, set up a WordPress site here.
SEO software tools are a necessity for anyone building a blog or site audience. But choose a tool wisely — they come at vastly different price points and don't share all the same features. You also don't have to choose a WordPress plugin. You might be better off with a standalone tool (more on that later).
Finally, please capture email leads with a tool like Leadpages. You can have all the organic (SEO) traffic in the world, but you need to turn that traffic into customers.
With that as context, now I'll dive into the four leading SEO plugins: Rank Math, Yoast, SEOPress, and All In One SEO.
Or, try our favorite SEO and AI writing tool for bloggers, GrowthBar for only $29/month (5-day free trial). It has the same powerful features as these plugins + keyword research + AI content generation!
What are SEO plugins?
SEO WordPress plugins are a bit different than traditional SEO tools, which live "outside" your content — that's to say most tools exist on their own website.
SEO plugins are tools overlaid on your WordPress site.
To find the universe of WordPress plugins, toggle to the "Plugins" section of the WordPress dashboard. You will be directed to a page that will basically look like an App Store for WordPress plugins. From there, you can choose between any of the SEO plugin options (including Yoast, SEOPress, AIOSEO, and Rank Math).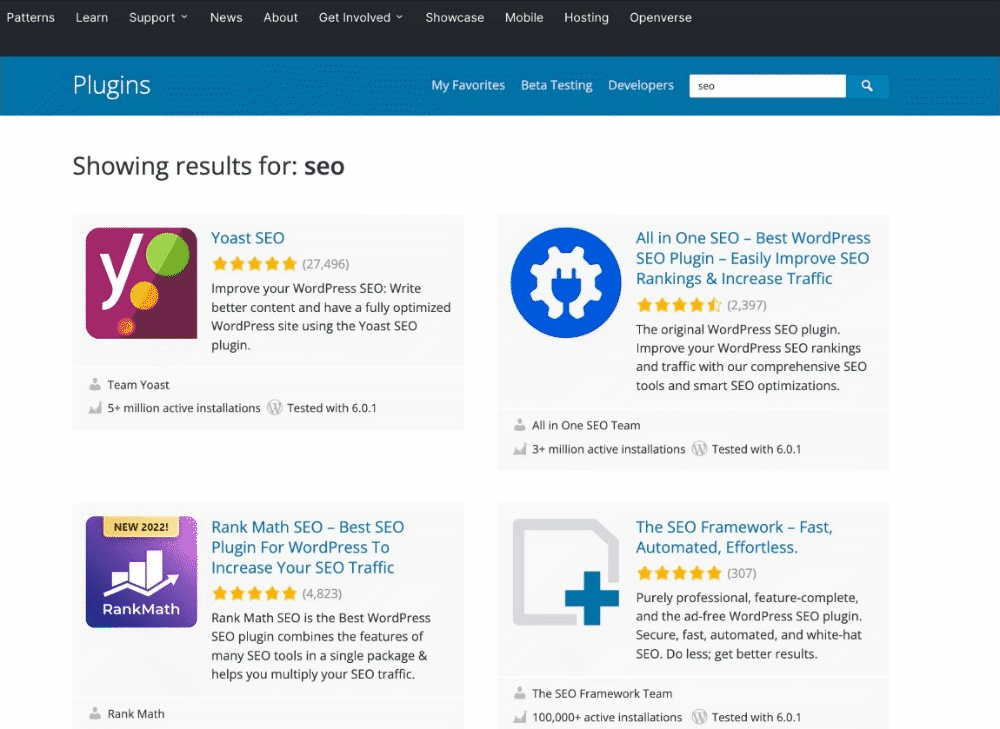 SEO plugins are modules that extend the capabilities of a content management system (WordPress), browsers, and other software solutions.
SEO plugins can:
The best SEO WordPress plugins can do all these things and more.
Why use an SEO plugin for WordPress?
When SEO is done well, the ROI on time and money spent can be incredibly high. You don't pay for every click or view like with advertisements, which is what makes SEO cost-effective short term and long term. We've turned this blog, Growth Marketing Pro into a passive income machine using only SEO.
While SEO isn't as complicated as some make it seem, it's not always straightforward. The constant process of optimizing and re-optimizing your posts can take more time than actually writing the content (which also takes a lot of time, though content generators can help with that).
Enter: WordPress SEO plugins.
SEO plugins allow you to optimize your blog posts and web pages for SEO without having to get into your HTML code (unless you want to).
WordPress is extremely well-coded, which makes it SEO-friendly to start, but plugins can improve on-page and off-page SEO, making the time you spend on SEO a lot more efficient.
Rank Math vs. Yoast vs. SEOPress vs. AIOSEO
About
Rank Math is a relatively new WordPress SEO plugin that's quickly become very popular. Rank Math has almost endless features, perhaps more than any other SEO plugin on this list, and comes in at an affordable price. 
Rank Math was founded in 2018 and gained traction incredibly quickly, having almost as many active users as some of the other SEO plugins on this list in just a few years.
Customers
Rank Math customers include:
Ryan Robinson (blogger)
Matthew Woodward (blogger and agency)
Digital Minds (agency)
GreenGeeks (startup)
Kinsta (startup)
Features
While we can't list every feature here, here are some of the top features of the Rank Math plugin:
LSI Keyword Tool Integrated
Google Search Console and Analytics integration
1-click import from other plugins
Google keyword ranking and suggestions 
Google Schema Markup Integrated
Auto Canonical URLs
Social media optimization
Search engine instant indexing
Image optimization
Post optimization
XML Sitemap
404 Monitor and redirection manager
Check out their complete feature list here.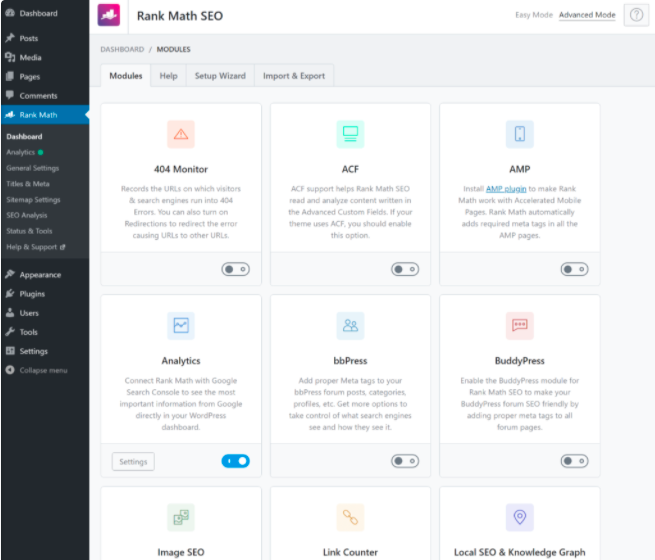 Ease of Use
As you can see, Rank Math has a lot of features, so if you have no experience with SEO it will take time to learn. That said, it has a very intuitive UI which makes for a great user experience, and all of these features allow you to remove other plugins on your site.
Rank Math makes it very easy to transfer your data from its competitors, as well as uses a setup wizard, so you can make the switch to their plugin and get started right away. 
Pricing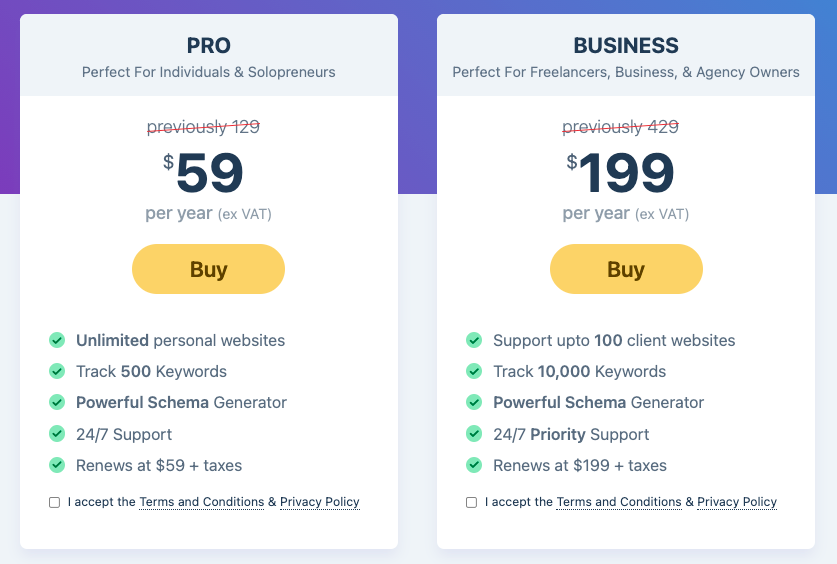 Rank Math used to only have a free version, which already had tons of helpful features. Now, it has two new pricing tiers at very affordable levels: 
Pro: $59/year (previously $129/year)
Business: $199/year (previously $429/year)
Pro and Business plans have almost all the same features. The only real difference is that Business allows you to track 10,000 keywords (vs 500), provides white-labeled email reports, support for client sites, unlimited days to preserve Google data, and the opportunity to email every 7 days (instead of 15). 
Unlike the other SEO plugin tools on this page, their pricing is all-inclusive, in that no matter how many sites you're managing, you still only pay one price. They highlight this is a handy chart on their pricing page: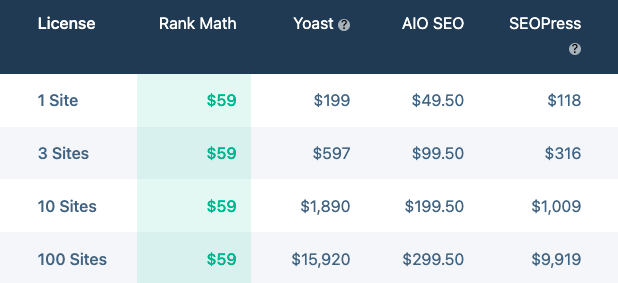 Bottom Line
Rank Math is a pretty amazing SEO tool, and is making a lot of customers very happy. For the number of features it has, it doesn't slow down your site nearly as much as other SEO plugins, and is one of the most affordable options on this list, especially if you need the plugin for multiple sites.
That said, it's a much younger SEO tool, so it could be still working through any kinks or problems with the software that may pop up. Youth isn't a bad thing, but more established software can sometimes offer more of a guarantee.
About
Speaking of well-established software, the Yoast SEO WordPress plugin has been around since 2010, and the brand has become synonymous with WordPress SEO over the years.
As you create blog posts and add pages in WordPress, Yoast gives you suggestions on how to optimize them with additional keywords, meta descriptions, content length, and clarity, plus a whole host of other suggestions. Yoast is perfect for on-page SEO — less so for "off-page" SEO insights like backlinks and domain authority of competitor sites, but that's common with SEO plugins.
Customers
Yoast customers include:
Growth Marketing Pro (us!)
NCH.org (enterprise)
Zenefits (startup)
Digital Strike (agency)
Forge and Smith (agency)
Features
Keyword optimization checklist (with traffic light visuals) for SEO and readability analysis
Schema markup
See a preview of what your finished page looks like
Easily edit your URL slug, run redirects from old pages to new, breadcrumbs, and more
Duplicate content checker
Handles technical stuff like robots.txt, .htaccess, sitemaps, and more
Social media optimization
Internal linking suggestions
Google Search Console integration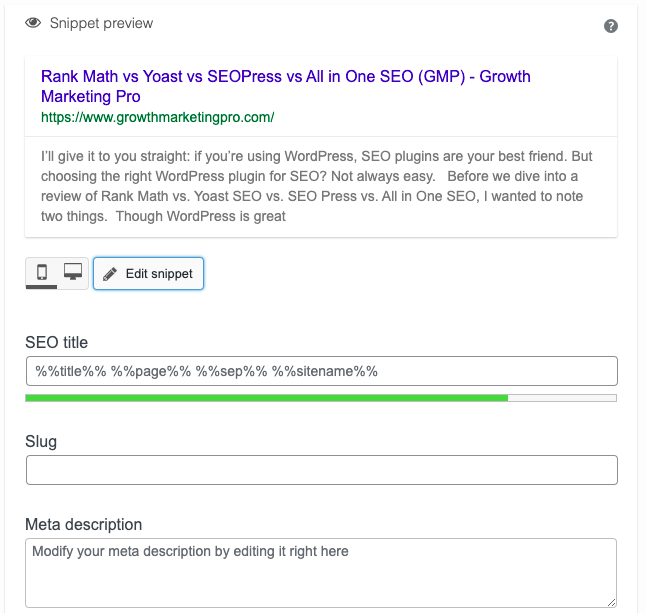 Ease of Use
Yoast has a user-friendly setup wizard, which makes getting started easier. It has a lot of features, so just make sure to set aside some time to get started.
Once you get set up, it's easy to use. You just put in your keyword focus for each post and let Yoast tell you what you need to improve to get your writing search engine ready. 
If you're using the free version and are having a lot of questions, you're only going to be able to use their FAQs, whereas the Pro gives you one year of 24/7 support.
Pricing
The plugin is free to download and install. There's a paid Premium plan, but more often than not, the free version is going to be more than suitable for most people.
The paid version of Yoast is pretty expensive, given it's per year, and per site. But, it allows you to run 301 redirects, get 24/7 access, optimize for multiple keywords, and do other things that are optimal for websites that focus heavily on SEO. Plus, no ads, which can be nice.
It also has several add-on options for purchase, so these can add up.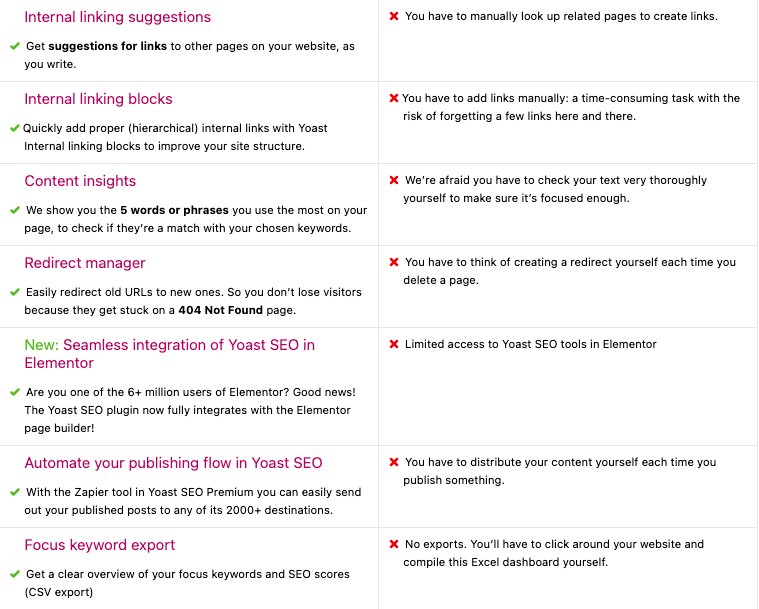 Bottom Line
Yoast is is an established, well-trusted WordPress SEO plugin that users love. There are 12 million active Yoast users, compared to 2 million for AIOSEO, 900,000 for Rank Math, and 150,000 for SEOPress.
Some things to note:
You'll need another SEO tool in addition to Yoast since Yoast is not equipped to do keyword research and competitor research.
It's a bit larger than the other SEO tools on this list.
Where Rank Math is really young, Yoast is definitely older, and you'll be able to see that in it's design. But, don't let a prettier design fool you: Yoast is one of the best SEO plugins, and has been a favorite at GrowthMarketingPro since the beginning.
Also read: The 8+ Best Yoast Alternatives
About
SEOPress is another relatively young WordPress plugin that started in 2017. It's simple, yet powerful, and includes all the features you would expect from an SEO plugin like meta title, description, open graph support, image and content XML sitemaps, redirects, and more. It has the most features of the four on this list.
It's gotten increasingly popular, and for good reason: it has a ton of features while keeping things simple, and for an affordable (and free) price.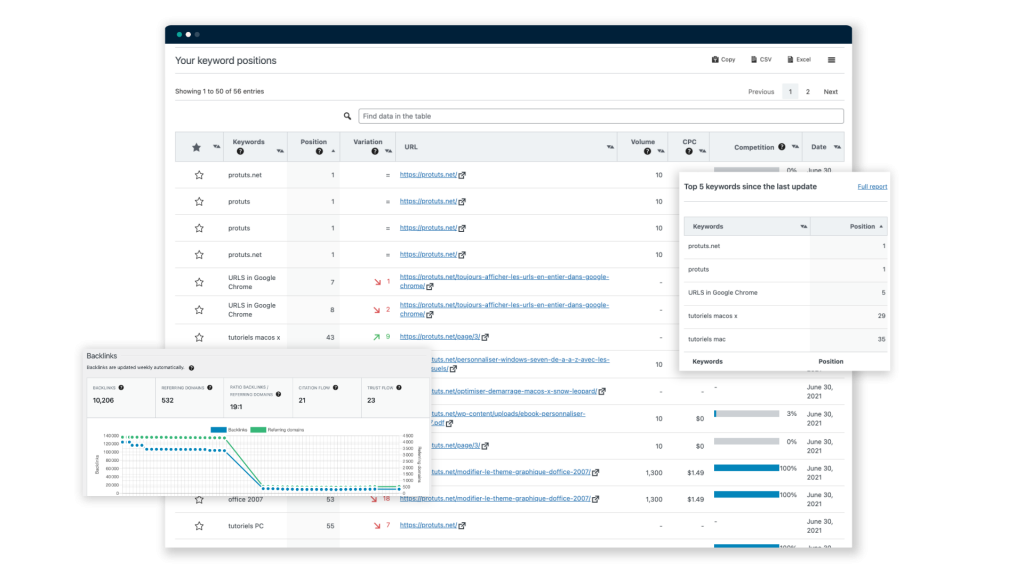 Customers
SEOPress customers include:
OceanWP (startup)
CollectiveRay (agency)
Goodness (startup)
Features
XML & HTML sitemaps
Installation wizard for easy start-up
Easy imports from other SEO tools
Content analysis and optimization for multiple keywords
Full nofollow management
Social network sharing
Keyword research
Rank tracking
Some site audits
Ease of Use
SEOPress comes with a straightforward setup for beginners and advanced controls for more experienced users. It's easy to start using, but like all SEO plugins there is a learning curve and it will take some time to go through all the potential options.
Pricing
SEOPress has two pricing options: free or Pro. It's the most affordable SEO tool on this list when comparing the paid options. Plus, the free option will most likely have all the features you need, helping you improve your WordPress SEO for nothing but time!

Bottom Line
SEOPress is a great WordPress plugin option: it has all the capabilities (or more) of the others, including Woocommerce capabilities, integrations, and white labeling, which can be an additional revenue stream. Like Rank Math, it's a relatively young platform, which isn't automatically a bad thing, but just something to keep in mind. 
About
All in One SEO calls itself the "original WordPress SEO plugin" (not sure this is true) focused on making SEO easy for its customers. Started in 2007, AIOSEO is a comprehensive plugin that provides XML sitemaps, optimized search appearance, SEO meta title, SEO meta description, SEO keywords, Open Graph SEO Knowledge Panel information, social media integration, SEO search console/webmaster tool connections, local SEO, schema markup for SEO, and more.
Customers
WalletHero (startup)
MySEOGuy (agency)
HBC News (publication)
Affiliate Milestones (blog)
BrightTribe (agency)
Simplify Now (startup)
Features
These features are included in all of their plans:
Unlimited Keywords
Advanced SEO Modules
WooCommerce SEO
Powerful Sitemaps
Social Media Integration
TruSEO Analysis
Smart Schema Markup
Custom Breadcrumbs
User Access Control
Standard Support
For all listed All in One SEO features, head here.
Ease of Use
AIO is extensive but does a great job of keeping things simple. It's relatively easy to set up, and its everyday SEO features make it easy to optimize your content, and keep it optimized, such as with their "dynamic year" tab, which updates your meta title with the new every year so you don't have to do it manually. 
Pricing
All in One SEO is the only option on this list that doesn't have a free version. Their paid versions include:
Basic: $99/year
Plus: $199/year
Pro: $399/year
Elite: $599/year
Though they don't have a free trial, All in One SEO also offers a 14-day no-risk money-back guarantee. So if your plan isn't a good fit, you can get your money back. You don't even need to give a reason for the refund!

Bottom Line
One of the most established SEO WordPress Plugins, AIOSEO is going to be a good option. But, given their hefty price tag, especially compared to the other free options on this list, choosing this plugin depends on your means and business needs. 
Free WordPress plugin for SEO
Looking for a free SEO plugin for WordPress? You've come to the right place.
Rank Math, Yoast SEO, and SEOPress all have great free options. Though you won't get all the features as their paid versions, you might never need them! These free WordPress SEO plugins are perfect if you're a small business or freelance marketer.
Rank Math vs. Yoast vs. SEOPress vs. AIOSEO: Final Conclusion
I don't want to say "it depends," but there's not going to be a straightforward answer here.
If you have only one website, the pricing is quite similar (particularly if you're using a free version). If you are working on multiple websites, the Yoast subscription can get pricey fast, while the others include multiple sites in their plans.
Also, what are you using it for? If you're a blogger working on SEO just because you know it's good for traffic, I'd suggest you choose the platform that's the easiest for you to use to optimize your posts. If you're an "SEO-er" and have an idea of what you want, you'll want to check out their extensive feature options to see if it covers just that.
The good news? You really can't go wrong with any of the options on this list. At Growth Marketing Pro, we use Yoast SEO, and are pretty obsessed with it. Let us know in the comments below your opinions on Rank Math, SEOPress, Yoast SEO, and All in One SEO.