Growth Marketing Manager
at
RealtyShares
Cofounder @ GrowthMarketingPro.com
Latest posts by Hailey Friedman (see all)
Are you looking to start a WordPress blog? It can be intimidating to get going. I know because I went through the process myself without any technical knowledge.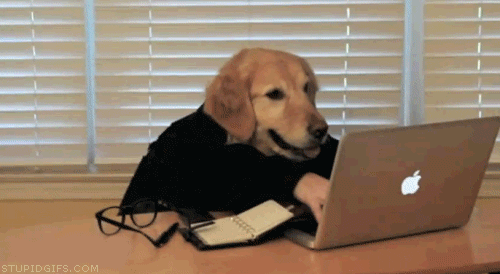 It was tough. And before putting paw to paper, you need to choose from a long list of blogging platforms: Drupal, Tumblr, WordPress, Magento, Blogger, Medium and more.
They're all totally viable options.
Tumblr, Blogger and Medium tend to be the easiest to start using. But they have poor search optimization and function more like social networks than discoverable content producers.
Modern website generators, Weebly and Squarespace have cute bells and whistles but aren't optimized for search either. They also don't scale very well — so it's not the best idea to start blogging on them if you expect to grow.
I've built 10+ blogs for clients and friends/family. For nearly every use case, I recommend starting a WordPress blog.
WordPress gives you the most design flexibility, best search engine optimization and has tons of tools and plugins to optimize and tweak your look and performance.
But again, starting off was hard.
That's why I created this outline, a step by step guide on how to start a WordPress blog — for first timers, experts and everyone in between.
But First: Why Start Your Blog on WordPress?
WordPress has a whole host of features that makes it the right choice for most bloggers.
It's a content management system or CMS. That's a fancy way of saying that WordPress is a system to publish content (blog posts) to a blog.
These are the reasons I love it ♥♥♥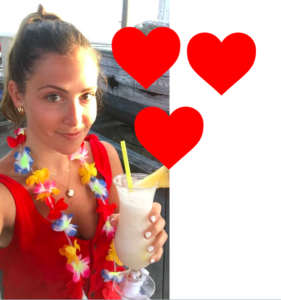 Ease: Setting up a WordPress blog takes 20 minutes and the dashboard is very intuitive. It is designed for first-time bloggers and experienced folks alike.

Design: You can literally make your blog look however you want. Out of the box, WordPress has a bunch of free themes and for less than $50, you can buy a whole host of premium themes to bring the look and feel to the next level. If you're technical or know someone who is, you can add all sorts of custom items to your blog using code.

Tools: Once you set up your blog, WordPress makes it super easy to add all the features your heart desires. You can add email capture, analytics, search engine optimization tools, fast landing page generators like Instapage and even sell products. WordPress "Plugins" will be your best friend.

WordPress Scales: Huge companies like

TechCrunch, BBC America and The New Yorker

are built on WordPress sites. So if you have huge ambitions, it's a website builder that scales with your needs.

Search Engine Optimization: What good is a blog if nobody reads it? WordPress blogs naturally organize your content in ways that optimize for Google's search engine. So your posts should get some eyes on them if you follow best practices and produce great content. 
If numbers speak, you should build your blog using WordPress.
Over 75 million WordPress websites exist on the internet today. That's pretty amazing.
If you don't need the above features and you just want a place to jot down notes on the internet easily, Tumblr and Medium are viable blogging solution.
Think of Tumblr as more an internet diary than a place for people to read and consume your content.
So anyway, if you decide to go the WordPress route, read on!
So, What Do You Need to Start a WordPress Blog?
You need three things to start:
A name for your blog that will be your domain name — like www.blahblahblahblah.com

A web host — this is the service that enables your website to be presented to the world on the internet

About 20 minutes  
Getting right to it, we will go over the following:
Choosing your hosting service

Registering your domain name

Choosing your hosting service

Installing WordPress

Picking the look and feel of your website by choosing a theme

Write your first blog post

Using plugins
How to Start a WordPress Blog in 5 Easy Steps
Make sure to use WordPress.org! A mistake some users make is using WordPress.com. If you're interested in the differences between the two read WordPress.com vs WordPress.org.
1. Sign up for WordPress.org
First, you'll need to sign up and download wordpress.org. You'll notice it's free! 
But that's because you have to provide the domain name and do the hosting yourself. That's where choosing the right hosting service becomes important. 
2. Choosing Your Hosting Service
In setting up your WordPress blog, you'll need to choose your hosting service. Every website on the internet needs some form of web hosting. Your host ensures you appear on the internet 100% (or nearly) of the time.
Even more, many hosting services also enable you to buy a domain name. This means you can feed two birds with one scone.
Hosting services usually cost $7.99/month and a domain name costs $14.99/year up to $1 million (like Genius.com reportedly spent).
An extremely user-friendly, WordPress-friendly hosting/domain service is Bluehost. This blog is a WordPress blog that uses Bluehost for hosting. We love it.
We struck a deal with our favorite, Bluehost for a free domain name and over 60% off on web hosting. If you're interested, you can get it below.
→ Click Here to Get 60% off Your BlueHost Hosting ←
If you can believe it, Bluehost is a 30 year old company. They offer best in class hosting. The other things we love are:
Free customer support and even live chat support

They specialize in WordPress hosting: they've been doing so since 2005

They sell domain names

Manage email accounts for the domain name you choose
If you're ready to get started, click here to go to Bluehost.
Click "Get Started Now."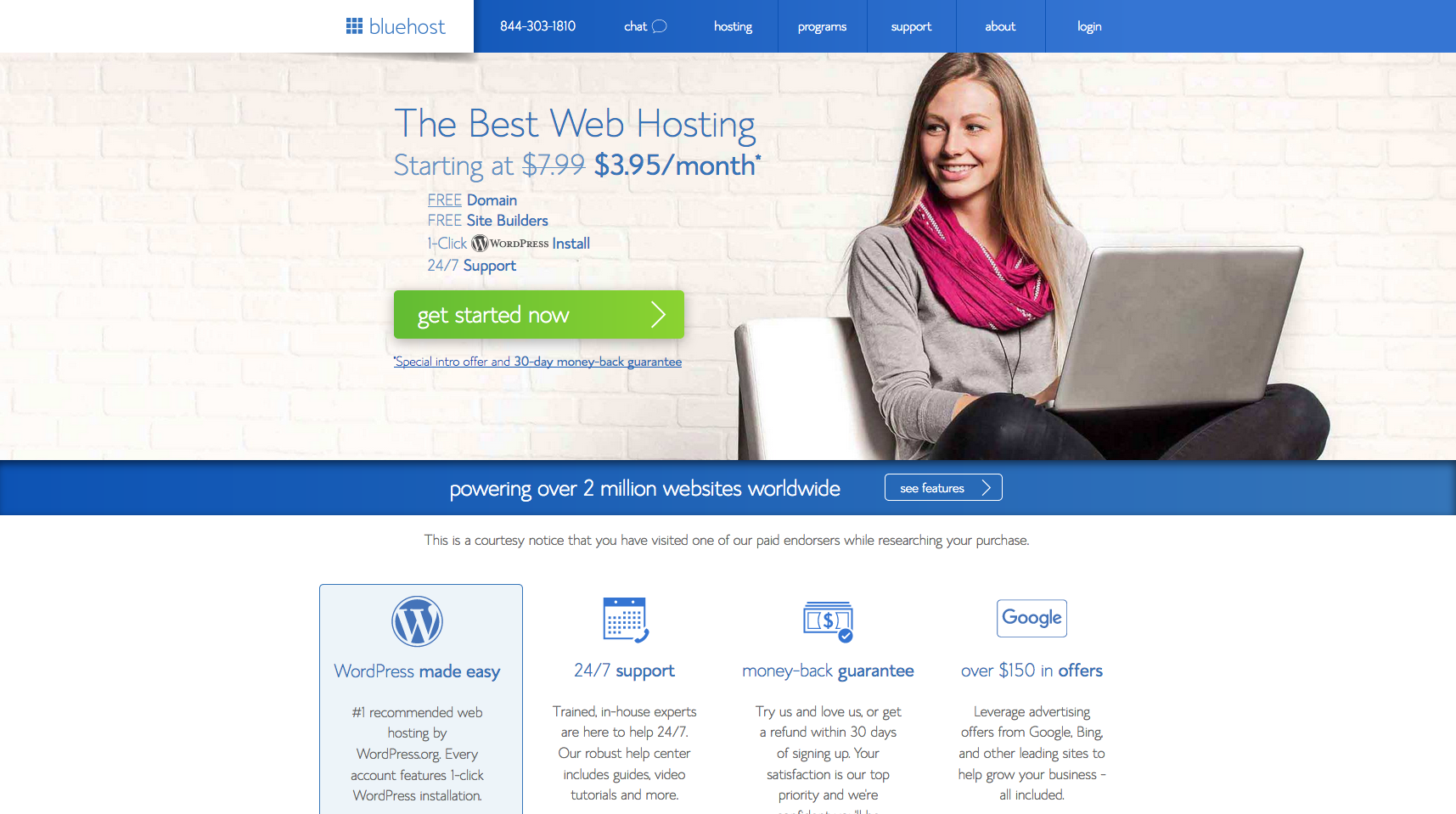 You'll notice you have a few options when it comes to plans. If you're making a relatively serious website that you plan on monetizing, it's probably worth it to go with the "prime" option (currently listed at $5.45/month). But again, this option is cheaper with our special promo. 
The "basic" plan will quickly run out of email space, website space and has none of the other bells and whistles.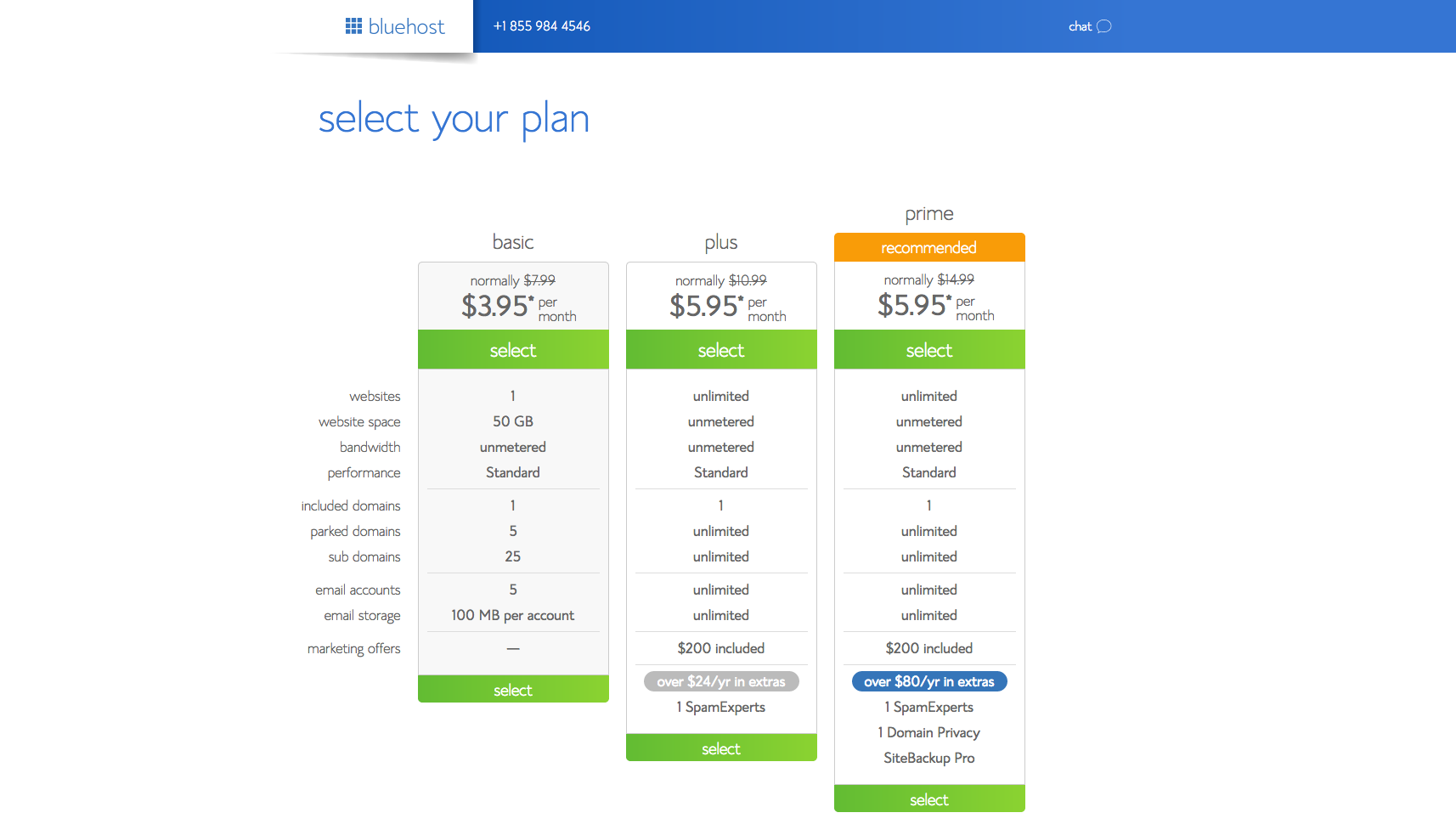 After choosing your plan, you have the option to choose a domain name if you don't already have one. If you have one already, you can choose that option.
If you're buying your domain through Bluehost, this is an important moment in your young blog's life. Congrats!
I recommend choosing a domain name that is concise, has no special characters or pronunciations and is as related to your offering as possible — which can help with search optimization.
Bluehost actually allows you to choose your domain name later too if you're not quite ready to make the decision.
At this point, you will enter your checkout details.
If you go the Bluehost route, we would love for you to use our link (you get a discount, we get a kickback, everyone wins).
→ Click here to Claim this Exclusive Bluehost offer ←
3. Install WordPress
In the cPanel, find the "Install WordPress" badge.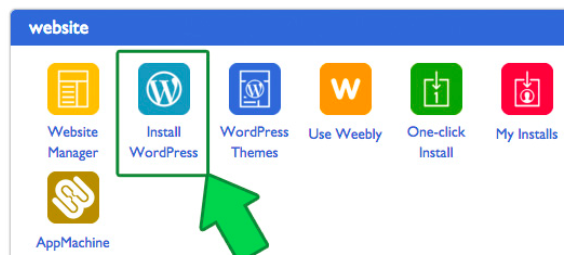 At this point, you'll be directed to the Bluehost Marketplace WordPress install screen. Select your domain name from the dropdown on the next page. This will be the domain name you just registered with Bluehost, of course!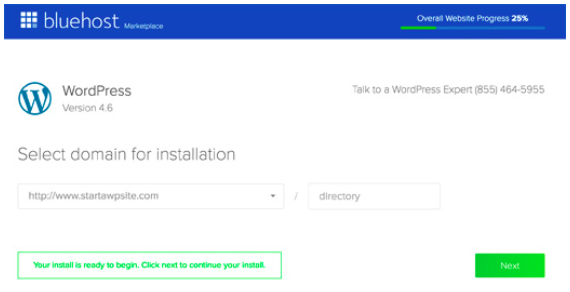 Create your site title, username and password.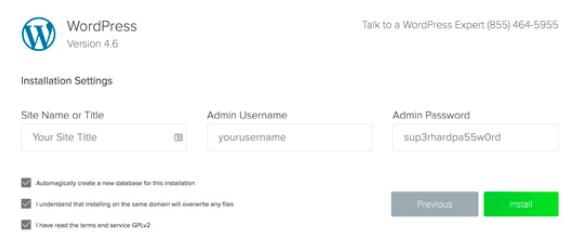 Install WordPress.
Once WordPress is finished installing, you will see the success notice in the top header bar.
Click on the Installation Complete link, and it will take you to the screen with your WordPress login URL and password.
Click on the WordPress login link. This will bring you to the the WP dashboard. The dashboard is sort of like the "back end" for your website. In there, you'll find all the features that allow you to customize your blog, at shiny features and change colors, fonts, etc.
4. Create Your Blog: Choosing Your WordPress Theme
You'll notice that once you're in the WordPress dashboard, you have a bunch of options. The first thing you'll probably want to do is choose a theme. Making your blog a bit more interesting and eye catching is one of the most fun parts of the whole process.
Choosing a WordPress theme is important. But don't despair, your selection isn't permanent and you can totally flip the script if you decide you like something better.
In the "Appearance" section you will "Add New" theme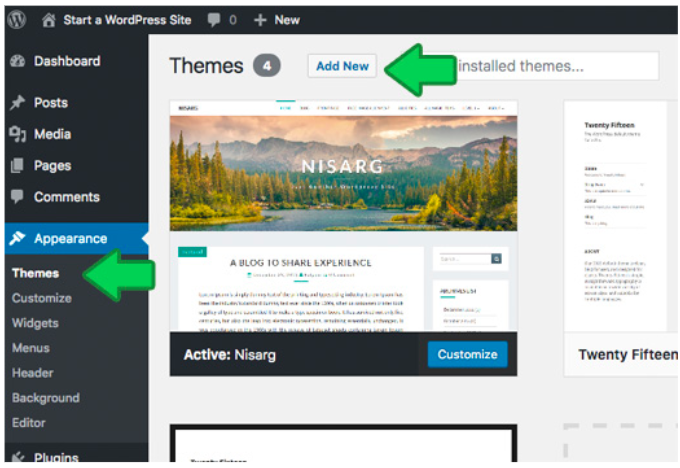 There are literally thousands of themes — more like 5,000.. This means you should be able to find something that you like.
I've used 10 different themes on 10 different blogs and have never run into any major issues. You sort of can't go wrong with most of the themes.
Because WordPress is a so-called open source platform, there are hundreds of members of the WordPress community that are updating and improving the service for the community all the time. This means that everything is pretty reliable.
You should consider and just a few things when choosing a WordPress theme.
The type of blog you're starting is important. Read the details of each theme. If a theme is for a true "blog" and you want to have lots of ecommerce features on your blog — you should choose a different theme.  

Simplicity is best. The modern internet is clean and simple — think about Apple, Google or your favorite blogger. White space is generally a good thing. You don't need to clutter every square inch of the site.

Look at the reviews. Again, WordPress is open source. Notice the 5 star rating system and the (# of sales) in the details of each theme.
Most of the paid themes have pretty good detail, reviews and ratings.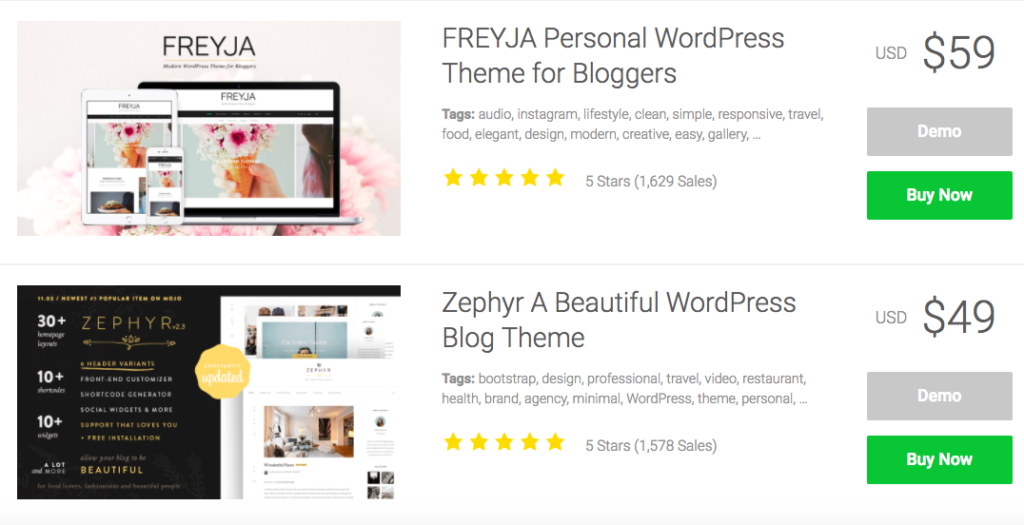 5. Posts, Pages and Plugins
There's a lot of other features in the WordPress dashboard that are important to understand as you begin your blogging journey. It's important to understand three features in particular in order to become a blogging king or queen. 
Posts
Toggle to posts in order to begin adding content to your blog. "Add New" to begin posting.

You will want to make sure to include a title that describes the content of every post.
Make sure the url you choose (WordPress calls this your "shortcode") tell Google what your post is about so that you optimize your rank in Google searches.
Finally, you can add your content in the large text back in the middle of the page. Include whatever you want — text, images, links to other sites, animated gifs and even video.
Once you're ready to share your work with the world, press the blue "Publish" button. This should set your post live on your blog at the URL specified. In the case below, this will post to growthmarketingpro.com/your-url-goes-here.  

Pages
"Pages" aren't entirely different from "Posts." You'll notice when you create a new page, the editing interface looks much the same.
The main difference is that pages are meant to be used and published as one-off static pages. Things like your "contact me," "privacy policy" or "about us" page should be pages.
Posts on the other hand are marked by time and organized in reverse chronological order so that your most recent blog posts appear first.
Pages are great for nesting content — you can create subpages within a page.
Finally, pages and posts are treated differently by themes. For instance, the theme you choose might tile posts three across in a line whereas pages appear in your navigation bar.
In general, if you're just blogging, the vast majority of your pieces should be in "Posts."
Plugins
Plugins are basically my favorite thing about WordPress.
They are pieces of code that other people have written that you simply "activate." In seconds, boring old blog can transform in ways dictated by the plugin.
For instance, if you want to optimize your post for search engine optimization, you can use a plugin called Yoast, which gives you tips and tricks along the way as you write posts.
Or if you want to sell products like an ecommerce store would on your blog, you may choose to install a plugin called WooCommerce. This customizable ecommerce plugin enables a whole host of features that allow you to post items for sale, add inventory and collect payment.
To find the universe of WordPress plugins, toggle to the "Plugins" section of the WordPress dashboard and click "add new."
You will be directed to a page that will basically look like an App Store for WordPress plugins.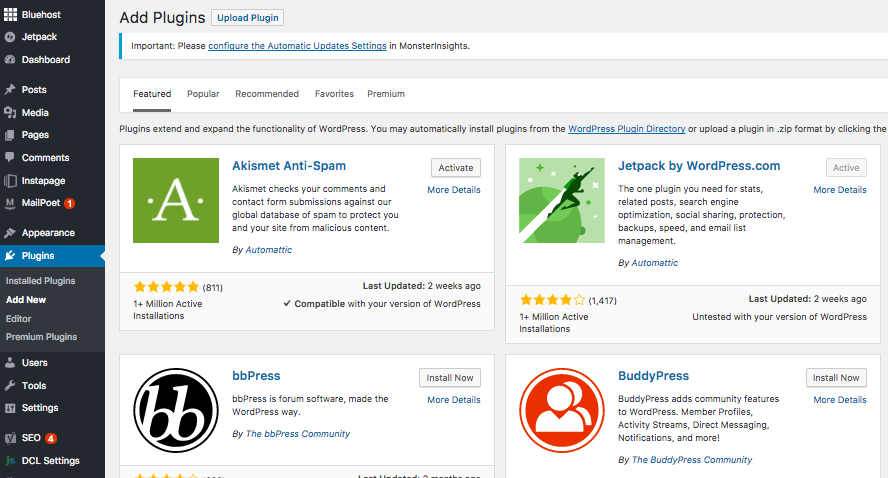 As with the App Store, there are good and bad plugins. Some are very widely used and trusted (and have a lot of installs and ratings) and others are more crude and potentially less stable.
In general, if a plugin has a bunch of reviews you can probably assume it will work just fine.
In Conclusion
If you're starting a blog, consider WordPress.
I love it for its ease, design, tools and scalability. This website sees tens of thousands of pageviews per month and WordPress has worked just fine.
And again, if you need to find your web host, consider my favorite Bluehost.
→ Click here to Claim this Exclusive Bluehost offer ←
Disclaimer: We occasionally link to products and earn fees. We only review products we trust. And we only trust about 10.