Latest posts by Hailey Friedman
(see all)
This blog completely changed everything for me.
In 2016, I moved to San Francisco from New York, where I had spent pretty much my whole life.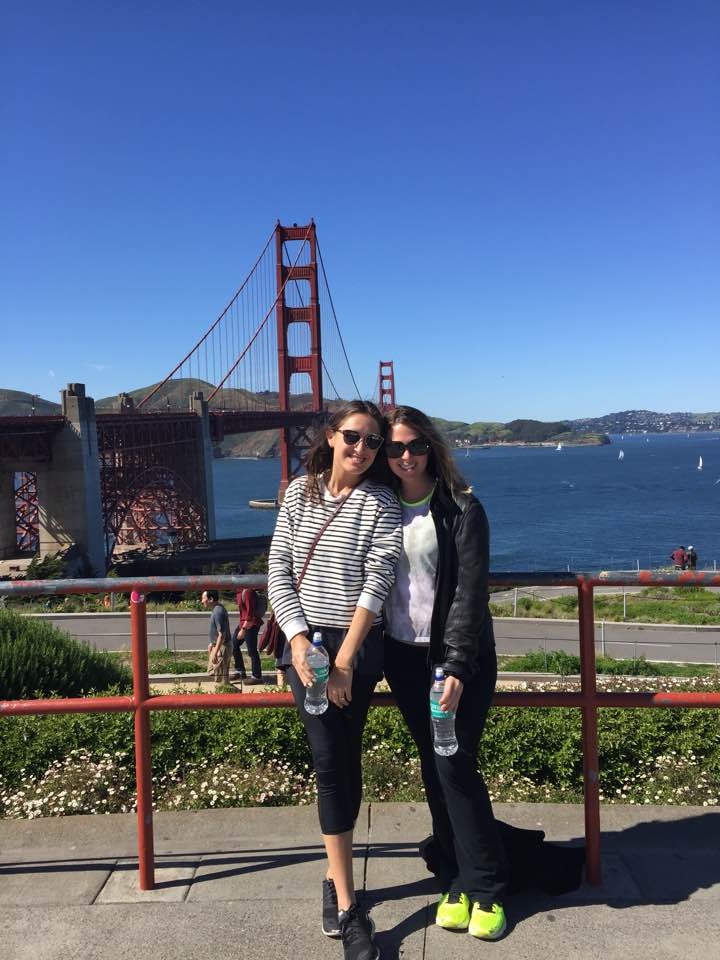 It was exciting.
I found a new job, left my boyfriend in New York, and somehow picked an amazing roommate, who I was becoming fast friends with.
But after the novelty of moving across the country wore off, I started feeling like something was missing. So in March 2017, I started this blog with my friend and colleague, Mark Spera.
Our common interest? Growth marketing.
There was only one domain name that made sense:
GrowthMarketingPro.com.
What happened?
We started the blog as a creative hobby, but six months after beginning, Growth Marketing Pro was already being seen by more than 3,000 visitors/month.
Today, Growth Marketing Pro gets over 40,000 organic visitors per month and earns us over $1.5M per year in passive income!
More, we took some of this money and started an industry-best SEO tool called GrowthBar.
You know what the craziest thing is? It's not that hard to build an audience online.
Mark and I aren't geniuses.
You only need three things to succeed:
A website
An SEO tool
Commitment
The website part is easy. I'll tell you how to make that in the next few paragraphs.
The SEO tool part is also easy. Do yourself a favor and try GrowthBar 🙂
The commitment part is tougher.
But know this: if you blog 2 times a week for 3 months (just over 20 posts) about a topic you know very well, you can create a niche blog audience large enough to engage users, build a community and sell products. Pretty cool, huh?
---
Want my free 5-part SEO course?
My course has helped over 20,000 students master SEO with tips that aren't in this guide or anywhere else on the internet!
---
Thinking of starting a blog/website?
First of all, a blog and a website are the same thing…
As for starting one…. it's easy.
I decided to start blogging in order to build my personal online brand. Mark wanted to use blogging to build his digital marketing career at startups.
If you're reading, you might be thinking about starting a blog or site. Perhaps for one of these reasons?
Whatever the reason, starting a blog for the first time can be a bit intimidating.
I know because like I said, I went through the process myself without any technical knowledge.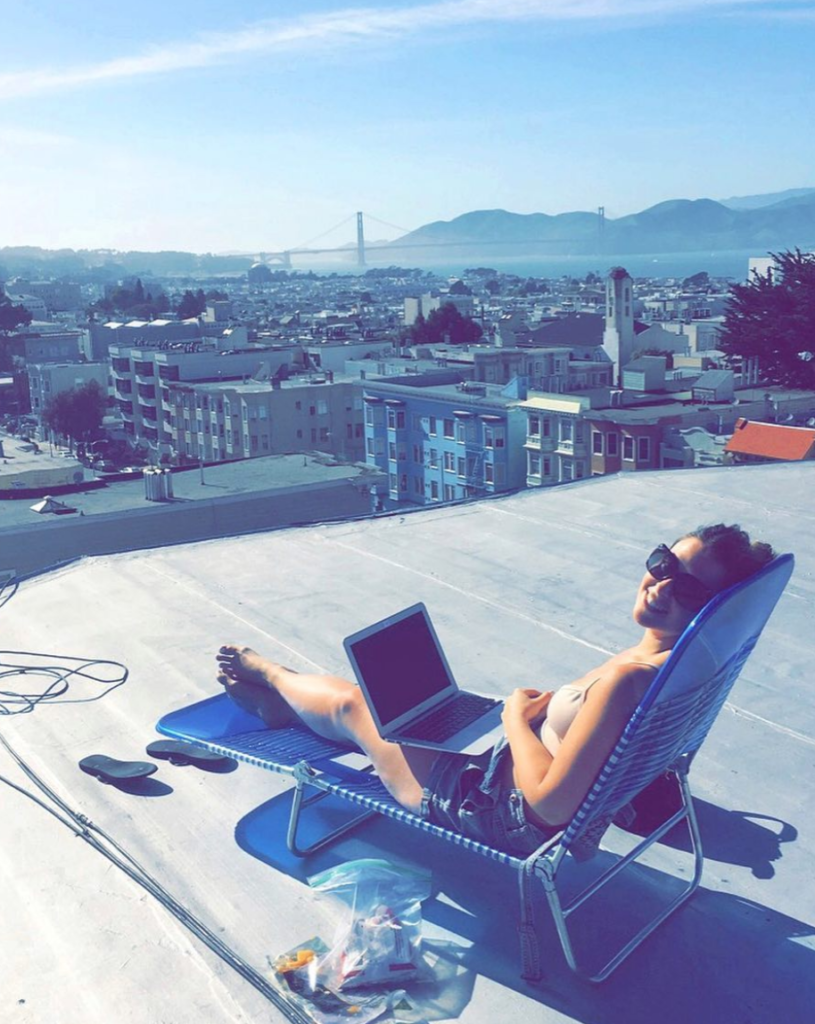 Doing it…
If you're still reading, you're thinking about doing it. Good!
So many people sit on the sidelines. Don't be those people!
If you're going to start a blog/website, the first thing you need is to choose the best platform for your needs. This is what you'll use to design your blog/site, post content, engage with users or even sell products.
Like you may be, I was so confused by the number of platforms — Tumblr, Medium, Drupal, Shopify and WordPress all seemed pretty viable.
I've now built websites and blogs many times over.
So when entrepreneurs ask me what platform they should use, I recommend WordPress nine times out of ten.
Why?
It's easy: Setting up a WordPress blog/site takes like 10 minutes and the dashboard is really intuitive. It is designed for first-timers.
Search engine optimization (SEO): What good is a blog or site if nobody sees it? WordPress naturally organizes your content in ways that optimize for Google's search engine. So your posts should get some eyes on them, just through Google search. This is completely essential if you want to build passive income.
Themes: You can literally make your blog/site look however you want and do whatever you want. Ecommerce entrepreneurs can use a theme like WooCommerce to sell products professionally. WordPress has an endless variety of responsive themes so that you can customize your entire site for free.
Plugins: Once you set up your blog, WordPress makes it super easy to add all the features your ❤️ desires. You can capture email addresses, add analytics, live chat, build landing pages and way more. WordPress plugins will be your best friend.
It's free! Yup. WordPress is free. But the catch is that hosting your blog costs about $2.95/month. I'll get to that part below.
The two times I don't recommend WordPress:
Ecommerce entrepreneurs selling

tons

of products should use Shopify.
If you want to use your blog like a simple personal journal, I recommend Medium.
How to Start a WordPress Blog/Website
You need three things to start a WordPress site:
A name for your blog: that will be your domain name — like www.mydomain.com. For search optimization and for the best user experience, it's good to choose a name that explains what your blog is about.
A web host: this is the service that enables your website to be presented to the world on the internet — this is the part that costs a few bucks.
About 10 minutes.
Yup, that's it.
Setup Guide: 3 Steps
I included discounted pricing that I personally negotiated with web host, Bluehost so that you can start your blog on the cheap. You will also receive a free domain name through my link!
1. Register Your Domain Name
WordPress is free. But the catch is that you have to set it up and host a WordPress site yourself. Domain names and web hosting aren't free. Hosting services usually cost $7.99/month or more.
I struck a deal with my favorite webhost, Bluehost, which gets you a free domain name as long as you buy 12 months worth of hosting from them. And with my link, the hosting is 60% off.
Here's the offer…
→ Get my $2.95/month Bluehost offer ←
FYI 1: When choosing a plan, the 12 month Basic plan is just fine.
FYI 2: Bluehost actually allows you to choose your domain name later too if you're not quite ready to make the decision.
2. Install WordPress
Once you've registered for hosting and a domain name, find an email from Bluehost in your inbox. In that email, you will click through to your web hosting control panel (cPanel).
Bluehost is great because they have one-click installation of WordPress. In the cPanel, find the "Install WordPress" icon.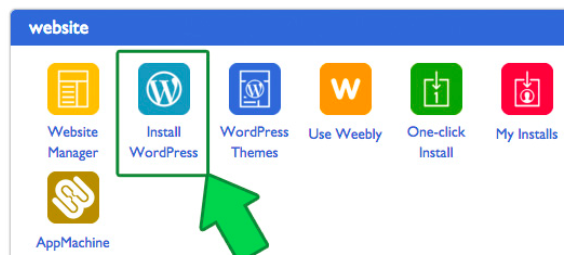 Once you click, you'll be directed to the Bluehost Marketplace WordPress install screen.
Select your domain name from the dropdown on the next page. This will be the domain name you just registered with Bluehost, of course!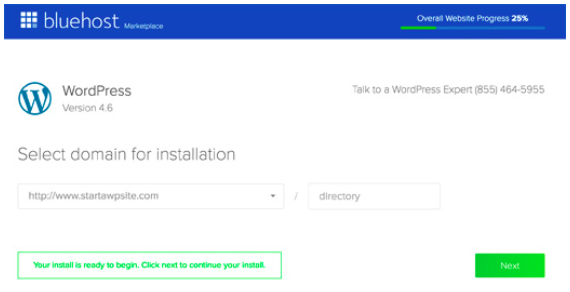 Create your site title, username and password.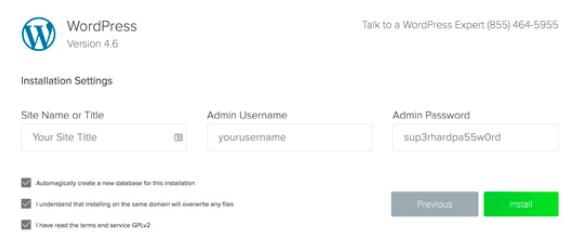 Install WordPress.
It will prompt you to browse WordPress themes while it's installing. Don't worry about this now if you're not in the design frame of mind. You can choose a theme later.
Once it's finished installing, you'll click the "Installation Complete" link. That will take you to a page with your WordPress login URL and password. Your WordPress login URL is your gateway to the "back end" of your WordPress site. This is where you will publish posts and customize your blog!
The URL for your "back end" will be something like this: http://yoursite.com/wp-admin.
3. Design Your Site
Check your site's URL. You've now got a real live website!
The only problem is that it looks pretty plain.
The good news is there are countless free themes and ways to customize your WordPress blog or website design. This is one of the most awesome parts about making your own digital property… you can truly make it your own.
In your WordPress admin page (http://yoursite.com/wp-admin) you'll navigate to "Themes" and click "Add New."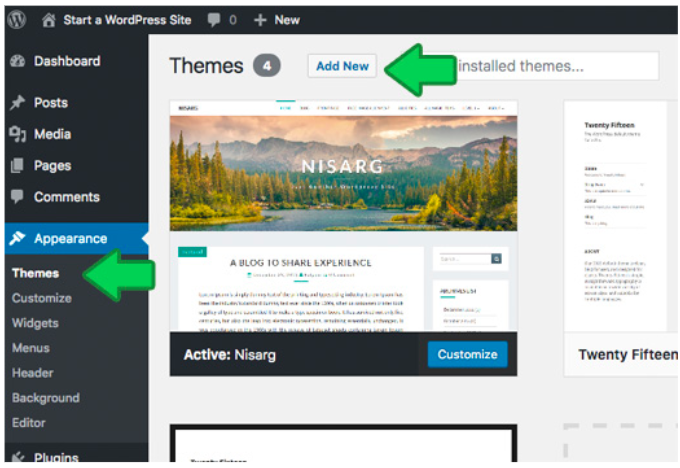 There are literally thousands of themes — like 5,000. This means you should be able to find something that you like.
You should consider just a few things when choosing a WordPress theme.
The type of blog you're starting is important. Read the details of each theme. Some are for fashion bloggers, some are for tech companies and some are for ecommerce entrepreneurs (WooCommerce). Choose appropriately.

Simplicity is best. The modern internet is clean and simple — think about Apple, Google or your favorite blogger. White space is generally a good thing. You don't need to clutter every square inch of the site.

Look at the reviews. Notice the 5 star rating system and the (# of sales) in the details of each theme.
Make sure it is responsive. Here is a list of free responsive WordPress themes.
Most of the paid themes have pretty good detail, reviews and ratings.
A Few Tips for Navigating WordPress
There are a few other features in the WordPress dashboard that are important to understand as you begin your blogging journey. I'll highlight some of them.
Posts
Toggle to posts in order to begin adding content to your blog. "Add New" to begin posting.

Once you're ready to share your work with the world, press the blue "Publish" button. This should set your post live on your blog at the URL specified. In the case below, this will post to growthmarketingpro.com/your-url-goes-here.

Pages
"Pages" aren't entirely different from "Posts." You'll notice when you create a new page, the editing interface looks much the same.
The main difference is that pages are meant to be used and published as one-off static pages. Things like your "contact me," "privacy policy" or "about us" page should be pages.
Posts on the other hand are marked by time and organized in reverse chronological order so that your most recent blog posts appear first.
Finally, pages and posts are treated differently by themes. For instance, the theme you choose might tile posts three across in a line whereas pages appear in your navigation bar.
In general, if you're just blogging, the vast majority of your pieces should be in "Posts."
Plugins
Plugins are basically my favorite thing about WordPress. They are pieces of code that other people have written that you simply "activate." You download them in the WordPress app exchange and they can do a lot of different things…
They can help you optimize your post for search engine optimization with plugins like

Yoast or RankMath

.
Or, implement a refer-a-friend plugin.
Or, stream all your Tweets or Instagram posts live on your site.
Or, allow users to comment on your posts.
To find the universe of WordPress plugins, toggle to the "Plugins" section of the WordPress dashboard. You will be directed to a page that will basically look like an App Store for WordPress plugins.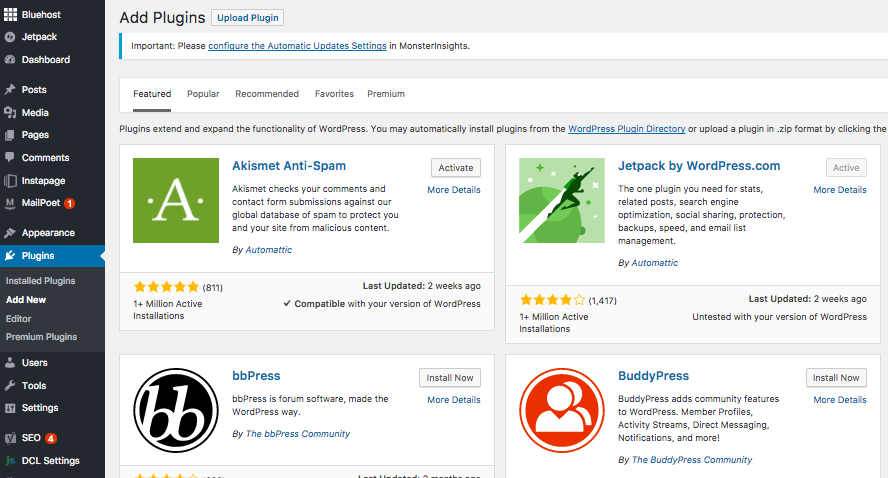 Here's Mark, my business partner, explaining a few of the important how-to's of setting up your first WordPress blog.
In Conclusion
If you're starting a website or blog, you'd be smart to choose WordPress.
Whatever your final goal is, WordPress sites are customizable enough to get you there.
Use my link for a free domain name and super cheap web hosting for your WordPress blog.