Content Marketing Manager at Payscale
Latest posts by Jingcong Zhao (see all)
Jingcong Zhao, Content Marketing Manager at Payscale shares how to write a blog post that will increase SEO.
If you've spent any amount of time as a content marketer, you'll likely agree with me when I say that it has become extremely difficult for your content to rank on search engines.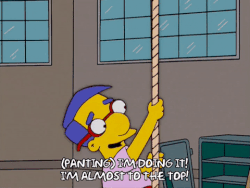 Gone are the days when you can get a page one result on Google by pumping out a 500-word piece. If you're serious about breaking through the noise and building a lasting brand through great content, here's what you need to start doing. Here's how to write a blog post that will increase SEO for your website.
By the way, everything I'm sharing in this post is based on my own experience and backed by data and research.
In the last 18 months, I was responsible for Content and SEO for a SaaS company in one of the most competitive niches on the Internet – digital marketing. This space dominated by companies like Hubspot, Marketo, Kissmetrics, and Neil Patel — who are experts at creating awesome, SEO-optimized content on digital marketing.
Coming into my former employer Socedo, I knew that we had to create amazing content in order to stand a chance of getting our target audience's attention on Google. Based on trial and error, I've learned a few things on how to create blog posts that drive organic traffic to your B2B website.
Read on and I'll show you:
The 8 types of blog posts that drive the most organic traffic
How to come up with great topics for blog posts using a variety of tactics and tools
The steps to take to create an epic blog post that ranks on page one of Google for your target keyword
How to get Google to reward your site with a higher ranking by using the Content Cluster Model
8 Types of Blog Posts That Will Increase SEO
Based on my experience in B2B SaaS, there are eight types of blog posts that work particularly well. These are based on the data I pulled from Socedo's Google Analytics. I looked to see which blog posts had the most unique visits and longest time-on-site.
1. "How to" –  give people actionable advice and include step-by-step instructions
When you create a blog post that provides insanely practical advice for your target audience (as opposed to a piece with only high level advice), you will dramatically increase the chances that people will discover your page and stay there longer.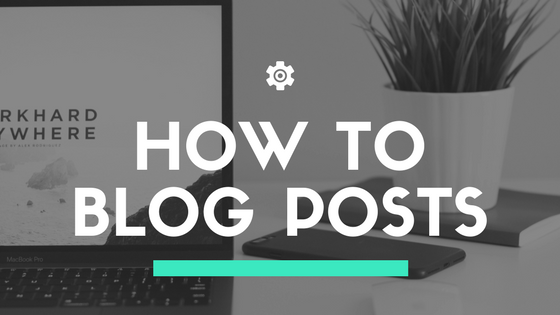 What are the most pressing problems your customers are facing? What are emerging tools your customers would benefit from using? Are there methodologies, frameworks, concepts and tactics you applied in your own business that have made a difference? Why not share them with your customers as well?
Chances are, plenty of people have already written "how-to" articles on the topic you want to write about. To stand out, you'll want to provide fresh tips that aren't mentioned elsewhere, or share original case studies no one else has shared.
To take my former employer as an example; before Socedo earns the right to talk about its social lead generation software, the company needed to educate our target audience – B2B marketers – on how to use Twitter to generate leads. Socedo created several articles to provide comprehensive guidance on using Twitter to build a brand and find leads. Articles like these below performed the best in terms of unique visitors and pageviews from organic search.
Here are some examples of "How to" posts on Growth Marketing Pro
2. Lists – A Quick Way to Introduce Many Ideas
Your customers are busy professionals. Writing an article with a lists of actionable ideas a reader can implement is a surefire way to keep someone's attention – as long as your ideas are relevant and you give people the guidance to turn ideas into reality. People can quickly skim these "list" articles and hone into sections they find most interesting and relevant. These are the "list" articles that worked well for Socedo from an organic traffic perspective.
These list posts have worked well for Growth Marketing Pro:
At Socedo, the marketing team ran a lot of experiments. We often wrote about marketing tactics that have worked well internally, because it's relatively easy to document our experience and share them with others.
3. Curate Resources or Highlight the Best Resources From Other Content Creators
Instead of creating an original article each time, you can create a post that pulls together your favorite resources created by other people.
What are the benefits?
Writing a round-up post is a great way for you to expand your own knowledge of a subject, get to know the experts and thought-leaders in your field and create a highly trafficked blog post.
Additionally, by mentioning others in your article and notifying them about your article, these content creators  will likely share your article with their audience and bring new visitors to your website.
Here's an example of how I created this kind of blog post when I was at Socedo.
First, I make sure to subscribe to the top blogs and sites in the B2B marketing space so I'm up-to-date whenever one of these sites publishes new content. I always keep an eye out for new research and benchmarking data that are pertinent to B2B marketers. Once I find a great piece of new research (or a few different pieces), I'll synthesize their findings, add my own commentary on why the research matters and provide at least a few actionable tips.
Here is one piece I wrote on evolving B2B buyer preferences for Socedo- which follows this exact approach. It is one of the most popular blog posts on the site in 2016 and 2017.
4. Cheat sheets, checklists, templates – Give people an easy-to-follow guides or blueprints to help them accomplish what they need.
Hubspot is a master at this – as they have an extensive library of downloadable resources designed to make marketers' lives easier. For Socedo, we decided to create The Cheat Sheet to Socedo's Free Trial, this gives people a good overview of how to set up a trial for success and it's a piece we used in our trial nurture email stream.
Here's a step-by-step example done by Growth Marketing Pro about how to build an affiliate program: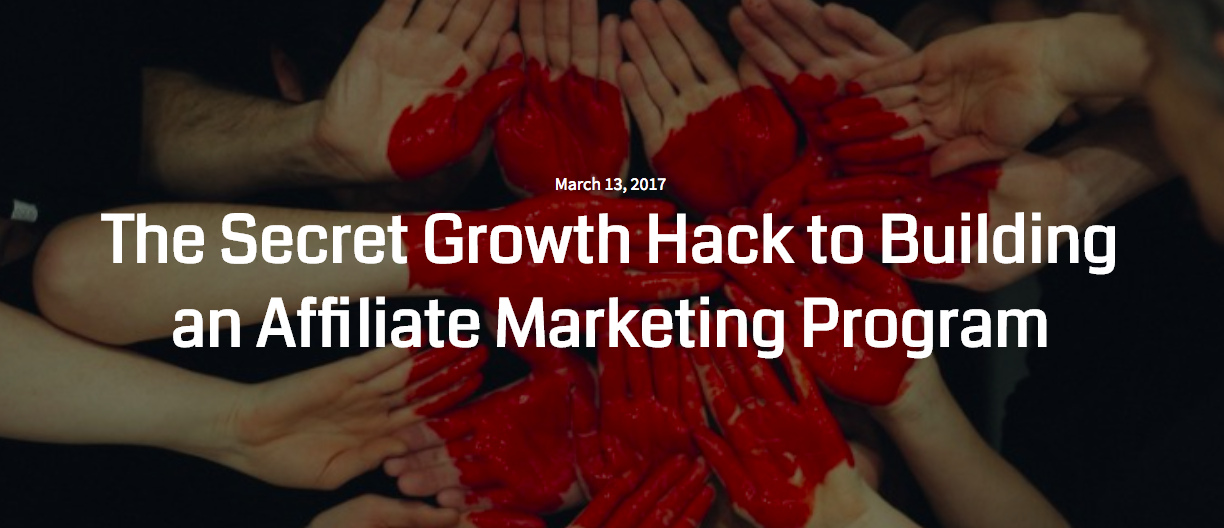 5. Reviews of Tools / Software
Review tools that help your customers save time and gain efficiency in their day to day lives.   By mentioning other tools and letting those brands know about your article, they'll share the article with their audience.
Growth Marketing Pro has done this in the following posts:
6. Case Studies (on How to Get Results or Lessons learned From Trying Something New)
People appreciate real life examples of how to grow a business. At Socedo, whenever we tried something new in Marketing and worked well, we would write a case study about it so that other marketers can try it out. Here's a couple examples of case studies we created that did especially well:
Growth Marketing Pro has taken a similar approach but instead shares videos and interviews with founders and marketers who have shared their growth stories. Here are a few examples:
7. Infographics
Infographics are easy to digest – they're great when you want to share key statistics or provide step-by-step guidance on a certain topic.
Infographics are still some of the most shared and liked content on the Web nowadays. Despite the fact that there's a good amount of bad infographics out there, this visual content format continues to top the list of the best-performing digital content in 2017, according to Hubspot. At Socedo, we had guest contributions on popular marketing topics like how to develop a content marketing plan.
Growth Marketing Pro shared an infographic in a guest post: [Infographic] The 12 Types of Video Every B2B Business Needs
8. Define a New Trend or Concept
When you define a new concept in your field and talk about why it's relevant to your target audience, you're positioning yourself as a thought leader.
When I was at Socedo in early 2017, I started to notice that B2B marketers were starting to talk about a new type of data — known as intent data. Although there were articles written about what you can do with intent data for B2B marketing and sales at a conceptual level, no one was talking about how to incorporate this data into core demand generation workflows.
There was a clear opportunity for Socedo to jump into the conversation and position itself as an expert on intent-based marketing. I created a series of posts ranging from an overview of the intent data market,  to the applications of intent data in a demand generation context, to discussing the predictive power of intent data (since Predictive Analytics is a hot topic in B2B marketing).
How To Pick Worthy Topics to Write a Blog Post About That Will Increase SEO
Because there's so much content out on the web, it's important that you are do the research to determine which topics are worth your time.
Here's the criteria I use to evaluate whether a topic has enough potential.
1. Find your niche (aka don't pick a topic that's too popular) 
If you are in a competitive space (like digital marketing), you need to pick a specific niche within your domain that you would like to own.
For example, it would be extremely hard for Socedo to rank for a keyword like "social media marketing" because that's a highly competitive area. However, intent-based marketing and social intent data are keywords we could rank for.
Although there are articles about using intent data to improve marketing and revenue, there aren't articles about "social media intent data" specifically and there really weren't any articles that provide specific actionable advice on how to use intent data to improve the sales process. This was the best place for us to start.
To make sure the topic has potential to compete, type the topic in Google to see whom you are competing with. If you're competing with all big-name sites, then you should choose another topic that's being covered by smaller blogs.
Next, you'll want to make a list of subtopics you can cover. Think of all the aspects of this topic you can write about and put it on paper. For example, if I'm writing about how a B2B business can use Twitter to generate sales leads, I might break up the topic into these sub-topics and have a section (or separate article) to address each:
Why Twitter is worth your time for B2B marketing
How to optimize your Twitter profile and content to attract the right audience
Using keywords to find your target buyer personas or potential business leads
How you can engage people in an authentic way to bring new leads into your sales funnel
How to do this efficient with tools like Socedo
2. Make sure the post is answering "burning" questions
Are people asking questions about this topic on Quora? To come up with topics for Socedo, I would go to Quora, search for "top B2B marketing challenges", "top B2B marketing trends", "top social media challenges" and see what comes up. I use these trends or challenges as the starting point for my keyword research, which is the next step in the process.
3. Do your keyword research  
You'll want to make sure you know which keywords you want to target before writing the article.
One of my favorite tools for doing keyword research is  Moz Keyword Explorer. With the Moz Keyword Explorer tool, you can understand what's the search volume on a keyword, how much competition there is for that keyword, how much opportunity there is for you to rank on that keyword if you were to invest in content around it.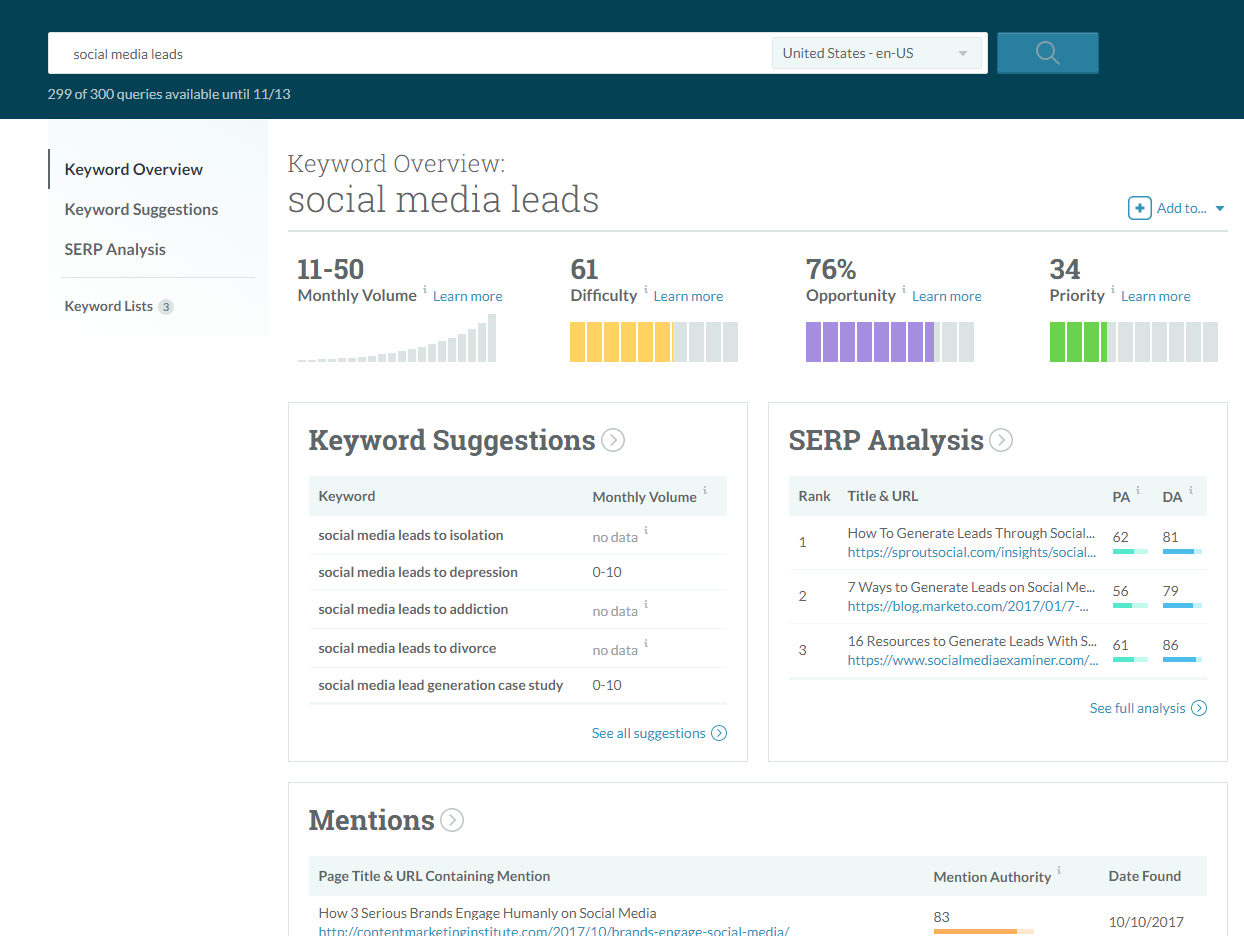 I like to look at the Priority Score which gives you an all up sense of how worthwhile it is to go after a keyword.
Guidelines for keywords that work well:
Has at least 50-100 or more monthly searches.
Difficulty score below 50.
Higher opportunity score, aim for 70 or above.
Priority scores that are higher than 40.
Look at SERP Analysis to see what articles are ranking on Page one for that keyword.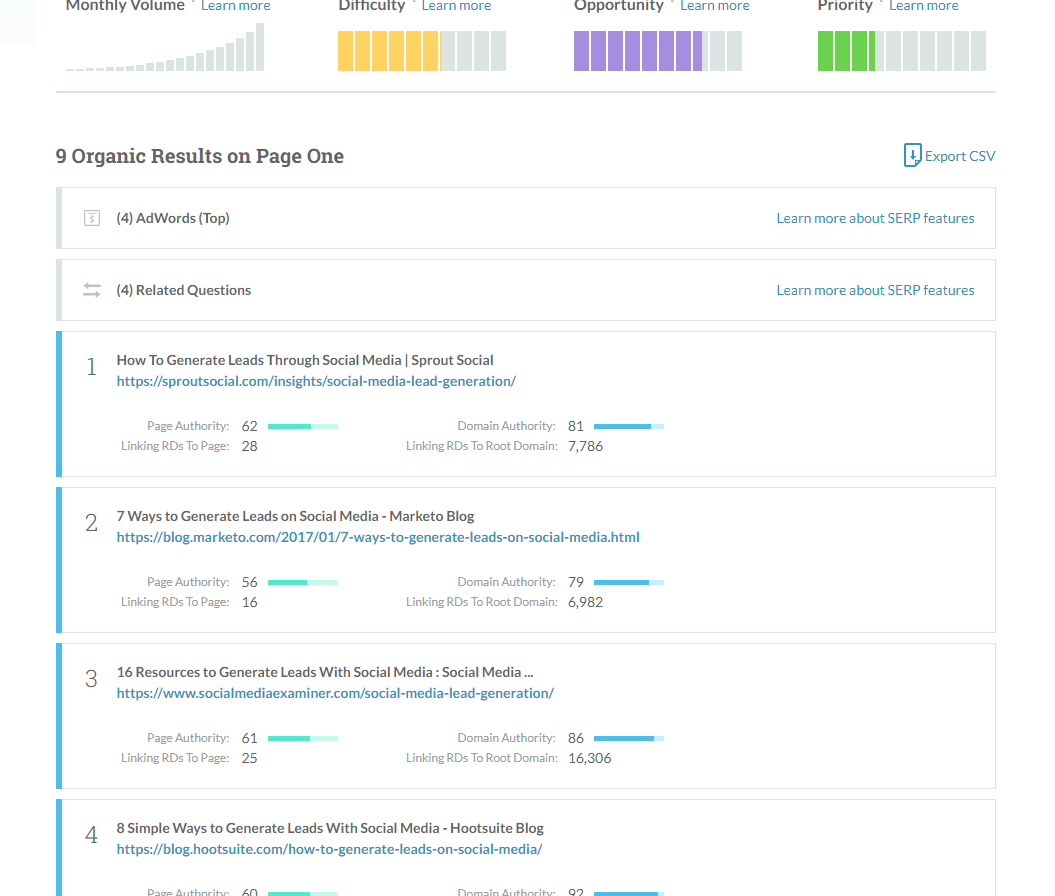 Search for your target keyword on Google and see what comes up in Google auto-complete, then look at related searches for more ideas to see what's popular.
4. Use these tools to see what people respond to   
Besides the Moz Keyword Explorer tool, you can use the Google Keyword Planner (pictured above) and Wordstream's Free Keyword Tool to generate ideas. Simply plug in general themes you're considering writing about, look for phrases that seem to be relatively popular (but not TOO popular; these will be harder to rank for).
Look at Google Analytics to see which pieces get the most organic traffic.
Look at analytics in your social media publishing/management platform (i.e. Hootsuite, Buffer, Oktopost, etc.). Take a look at which posts have gotten the most clicks, shares and or retweets and you will find patterns on the types of posts that work well for your audience.
Use BuzzSumo to see which topics have already done well. Search for a topic, BuzzSumo shows the most popular articles on that topic. Gives you a good idea on what people like.
Type in a topic into Google search, see what are the related searches that come up, see the options for Google auto-complete, these often give me good ideas.
Go to Amazon book reviews – search for books on marketing, find books that deal with digital marketing/social media, read reviews and mine for phrases that reveal what people want.
Go through G2Crowd or other 3rd party software sites (if you are in the software space) – go to your competitors' profiles and read their reviews. These reviews will give you a good idea of what business problems your target customers are looking to solve.
Now that you know how to identify worthy topics, let's go over 8 things to include in your blog post to increase the likelihood that it ranks on page 1 of search results.
How to Write a Blog Post That Will Rank on Google
Make sure it's long enough
Generally speaking, in-depth posts will tend to rank better in Google. Research seems to indicate that 1,500 words should be your minimum length if you want your post to rank in the search engines. Some experts recommend shooting for 2,000-3,000 words.
2.  Use your target keyword in strategic locations in the post
Try to use them in your:
Page URL: [blog  domain]/your-keywords-here
Title
Meta-description – include the target keyword somewhere in the first 100 words
In the caption and alt image tag of your images (where appropriate)
Throughout your content where it makes sense
Use the Yoast SEO plugin to make this a breeze. 
Yoast SEO is a great free plugin for WordPress because it tells you exactly how to optimize a post for your target keywords.
Once you enter your target keyword for a blog post, Yoast tells you whether this keyword has been used before or not. It'll also tell you whether your post is optimized to rank for the keyword phrase and helps you write an SEO friendly title and meta-description.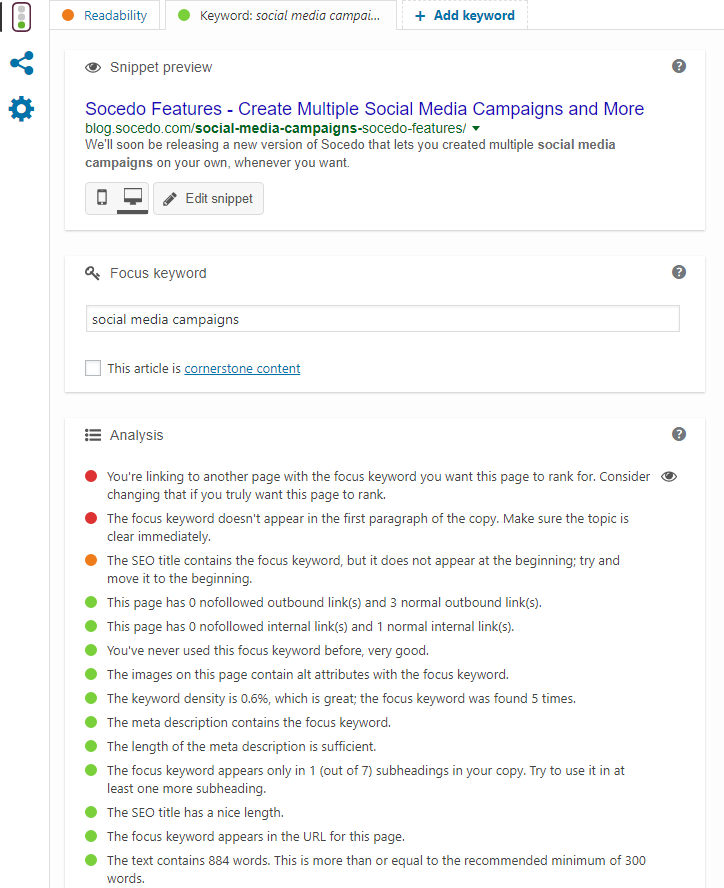 You'll want to have this keyword in in the SEO title, the URL itself, and in the meta-description. Simply click Edit snippet to change the snippet that will show up in the search engine.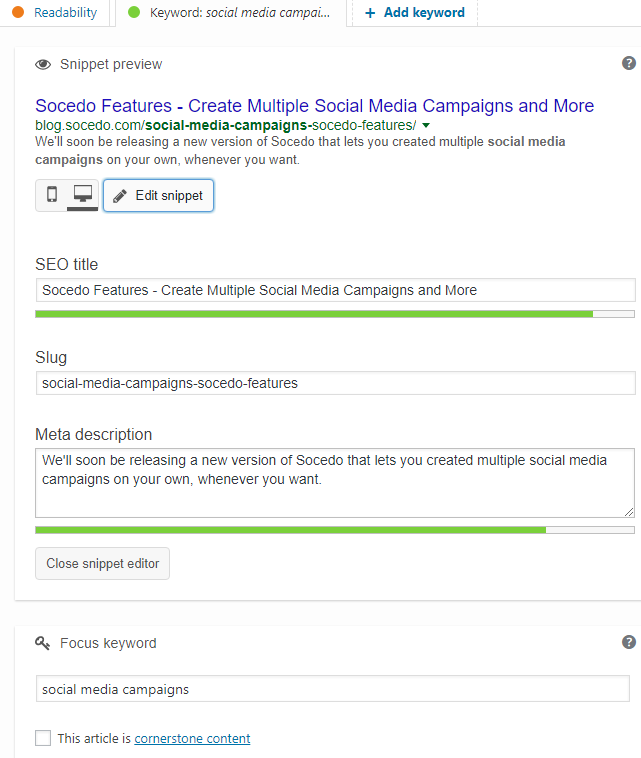 3. Make sure the blog post links to other pages on your website
Internal linking is one of the most important things you can do to rank in the search engines.
More internal links equals  higher placement in SERP.  Each blog post should include at least 2-3 links to other pages on the blog or the main site.
Also, be sure to go to other posts on the site and link back to the new post just written. This helps visitors find the new post and will give your post a boost in the search engines. See Tip 9 how to think about internal linking.
4. Link out to other authoritative sites' sources in the body of the post.
Google may reward your page if you choose to link to other reputable resources throughout your post. When you do this, it helps Google "see" your page as a "hub" of resources so they may reward you with a better position for your target keyword.
5. Put in "Click to Tweet" feature in sections where there are good quotes or statistics. By encouraging people to share your post on social media and making sharing as easy as possible, you can get more visits to your post.
6. Make sure each section has clear headlines/key takeaways so that the blog post is easy to skim. Break up the paragraphs into short paragraphs. Each one should have no more than 4 sentences. I like the Neil Patel format because it's super easy to read.
 7. Make sure to write a conclusion that summarizes the key takeaways from the posts
There are some people who will decide whether to read an article by reading the conclusion first. You want to use the conclusion to summarize the key points of the post to encourage these readers to read your entire article.
8. Use pictures, infographics and videos throughout to break out the text
Breaking up the text with relevant pictures, illustrations and videos will ensure people stay longer on your post.  You need to put your target keyword into the alt text of the image – that's how Google is able to understand what your image is about. This in fact, is one of the most under-rated tactics for driving traffic. Neil Patel has a great article on optimizing images for SEO.
9. Write a compelling introductory paragraph
You really have just a couple of seconds to hook a search visitor once they land on  your page. That's it.
I like to start an article by calling out the problem my target audience is facing to show that I understand their pain point. Then, I make a promise that I plan to deliver in the rest of the post. Lastly, I preview what solutions they will learn about. Here's an example intro paragraph taken from one of my recent posts for Socedo:
"Thinking about kicking off a campaign to generate leads from Twitter? Or maybe you're already a Socedo customer and you're looking for tips on taking things to the next level.
Of all the questions we get, these are the questions our customers raise most often regarding running social lead gen campaigns:  
What keywords should I use when starting a new campaign?  
How do I know when my campaign's performance has declined and it's time to do something about it?  
If a campaign isn't performing ( i.e. "I am not gaining enough followers"), what can I do to optimize it?  
Recently, I decided to sit down with Socedo's Head of Customer Success – Nate – and asked him to share his best tips on what our users can do to set up high performing campaigns that drive lots of relevant followers, website traffic and new leads.
Below, Nate reveals tips on how you can select the best keywords to reach your goals, common mistakes to avoid, and how to know when it's time to make changes to an existing campaign."  
9. Make sure your images have appropriate "alt_text" – Alt Text is how Google is able to understand what an image is about. Certain images in the post can be tagged with your target keyword. For example, I could tag this image and call it "Socedo social media campaigns" in the post about "Socedo's multiple social media campaigns".  Each image should have the appropriate title and alt text.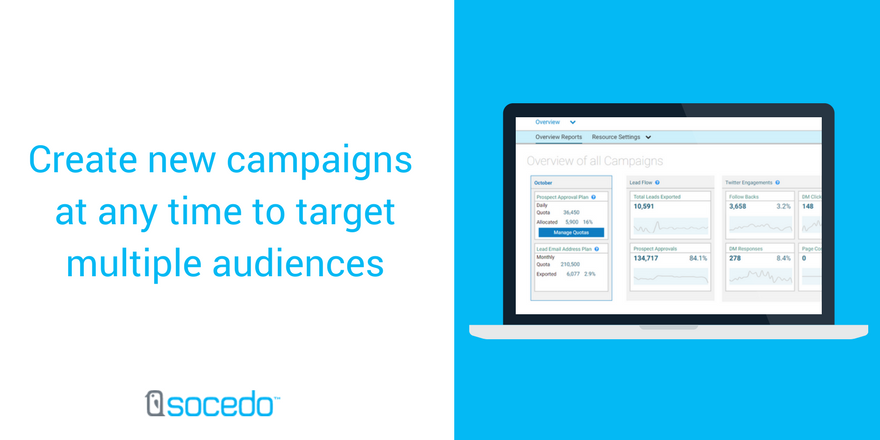 10. Submit the blog post to Google Search Console to make sure it gets indexed. Sometimes Google simply can't or won't index your latest post. If you update any old posts to add new content, you should always redex the page.
Head to your Search Console, go to "Crawl" – > Fetch as Google -> Fetch

Put in just the URL of the specific blog post you want to index. Once the blog post is fetched, hit "Request indexing".

Select "Crawl only this URL" and hit Go.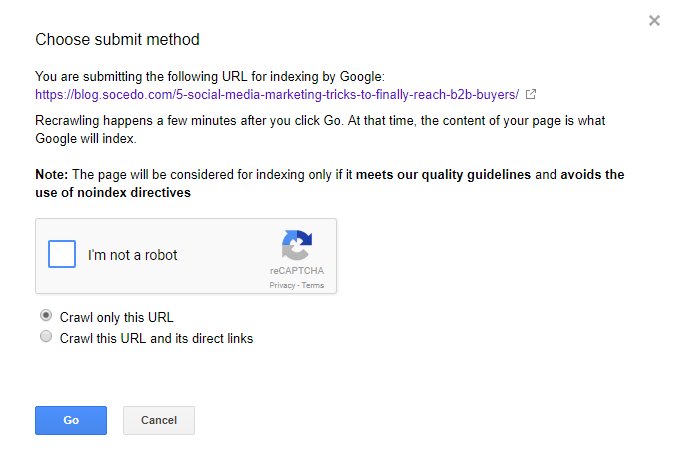 11. Use a Blog Post Template to Ensure Quality  
Instead of creating a new post from scratch, I like to have a standard content template to consistently produce high quality work and create each article faster. Here's the formula I like to use:
Headline: make sure it's attention grabbing
Hook/lead: Paragraph(s) to get reader interested and build anticipation with an attractive angle
Problem/Context: Fill readers in on the problem and what issues it can cause
Solution: Give a solution (or multiple ones) to fix the problem
Conclusion/wrap up – summarize the key points, add a CTA
Make sure to keep formatting primed for distracted readers.
Organizing blog posts using the Topics Cluster Model
While it's great to create individual pieces that rank in the search engines, to scale that success, you'll need to be strategic about how you categorize your blog content and link to other pieces on your site.
Search engines have changed their algorithms in response to changes in consumer behavior. They now favor topic-based content.
Hubspot was the first to write about using the Topics Clusters Model to organize blog posts. This model helps Google index your content and understand how all the different pieces are related to each other.
Instead of writing about topics X, Y and Z and treating each article as equally important individual pieces, in this cluster model, you would choose a single "pillar" page which acts as the main hub of content for an overarching topic.
Multiple content pages that are related to the same topic will link back to the pillar page and to each other.
Let me show you how this works with an example.
For Socedo, "How to Use Twitter to Bring new Leads Into Your Sales Funnel" can be considered a main hub because it's the most comprehensive article on how to use Twitter for lead generation.
Other pieces we have about Twitter marketing – such as "The Ins and Outs of Running Social Lead Generation Campaigns" and "How to Use Keywords to Find Your Target Audience on Twitter" – are related pieces the "pillar" page should link to.
In the future, if Socedo were to build a "Twitter lead generation" page on its main site, that can become the new "pillar" page.
By linking all internal content within that topic to a pillar page, search engines can easily scan all the content and understand there is a semantic relationship between the pages' content.
This setup also signals to search engines that there is real breadth and depth in the content, which gives the pillar page more authority on the topic.
You'll want to develop content clusters based on the topics you want your business to compete in, rather than discrete keywords. The keywords should still be a part of your overall strategy, but topics are the umbrella under which your keywords strategy operates.
Topics clusters are the spheres of influence on the internet that you want to dominate.
Conclusion
Hopefully, you now have a solid idea on how to create blog posts that generates significant organic traffic. Given the vast amount of content being published everyday onto the web, you need to do everything you can to ensure that your content is more valuable to your audience than what exists today. .
It's important that before you create any new posts, you know exactly whom you are creating it for, what problem or pain point you'd like to help your audience solve. There are some types of posts that are proven to work in every niche, so start with formats that already work.
To sure to do abundant research on your audience as well as the content that already exists in your space before creating more. When you develop a new piece, make sure it's following SEO best practices and linking to relevant resources (internal and external) on the topic.
Last but not least, search engines have changed their algorithms to favor topic-based content.  It's time for you to re-configure your web pages to follow the Topic Clusters model. By linking all internal content within a key topic to a pillar page, search engines can easily scan all the content and understand the semantic relationship between the pages' content. They will reward your orderly linking with higher search placement.
Do you have experience on how to create blog posts for SEO? Share them below.
Jingcong Zhao is currently a Content Marketing Manager at Payscale. Prior, she led Content Marketing and Product Marketing at Socedo, a software company that helps B2B marketers discover, engage and qualify new leads by leveraging social media data. Jingcong has been in the B2B marketing space for the past 4 years and has experience growing early stage SaaS companies through digital marketing and PR and has managed Analyst Relations at Tableau. You can connect with her on LinkedIn at https://www.linkedin.com/in/jingcongzhao/ or on Twitter at Twitter.com/Jingcong_Zhao