Latest posts by Mark Spera
(see all)
Gone are the days of getting to page one of the Google search results page (SEPR) by writing a mediocre 500-word article.
If you're serious about breaking through the noise and building a lasting brand through great content and SEO, there's a few hard and fast rules that will help you get there. This post is about how to write a blog post that is optimized for SEO.
And I promise, I know what I'm talking about. See, here's me: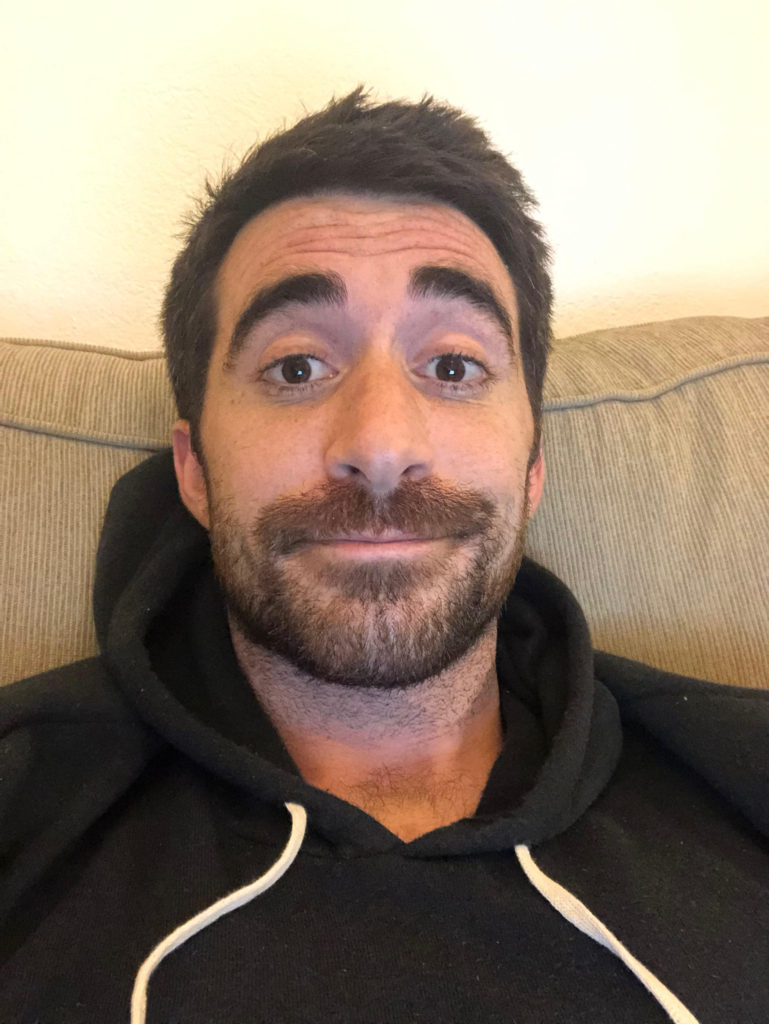 As Head of Marketing at telemedicine startup PlushCare, I was able to grow organic traffic from nothing to almost 1 million organic visitors per month in under a year!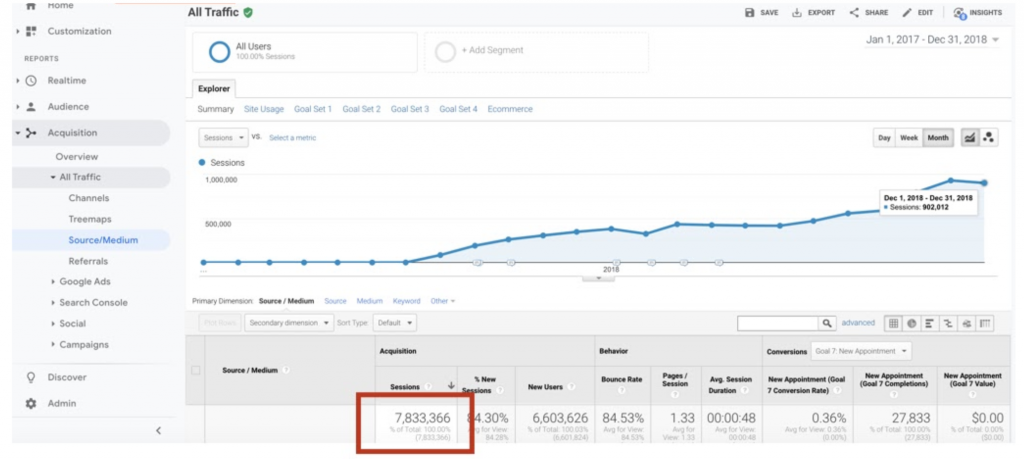 Simultaneously, I built Growth Marketing Pro from nothing to the leading growth marketing site on the internet, with over 50,000 visitors per month and 7-figure income.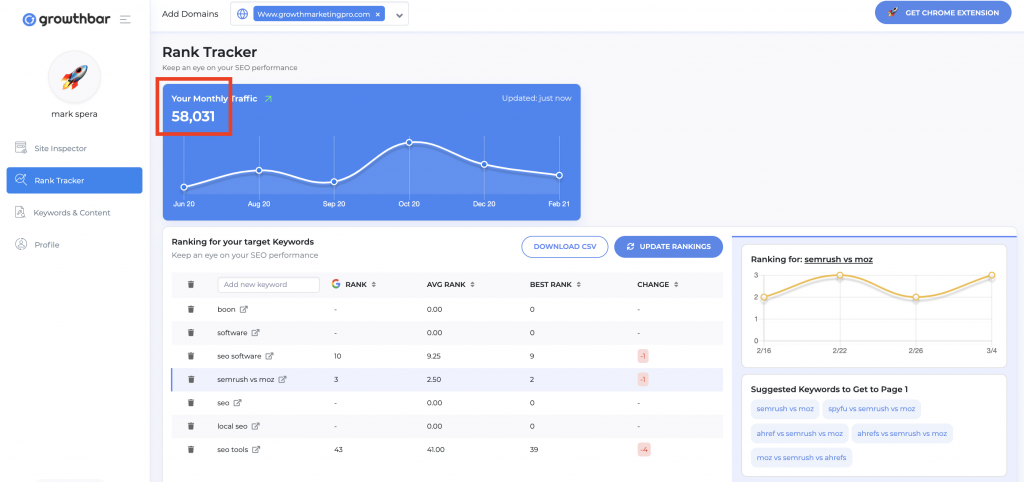 And our posts rank #1 and #2 on Google for highly competitive queries like "best webinar software" and "landing page software" — keywords that even the best digital marketers can't rank for.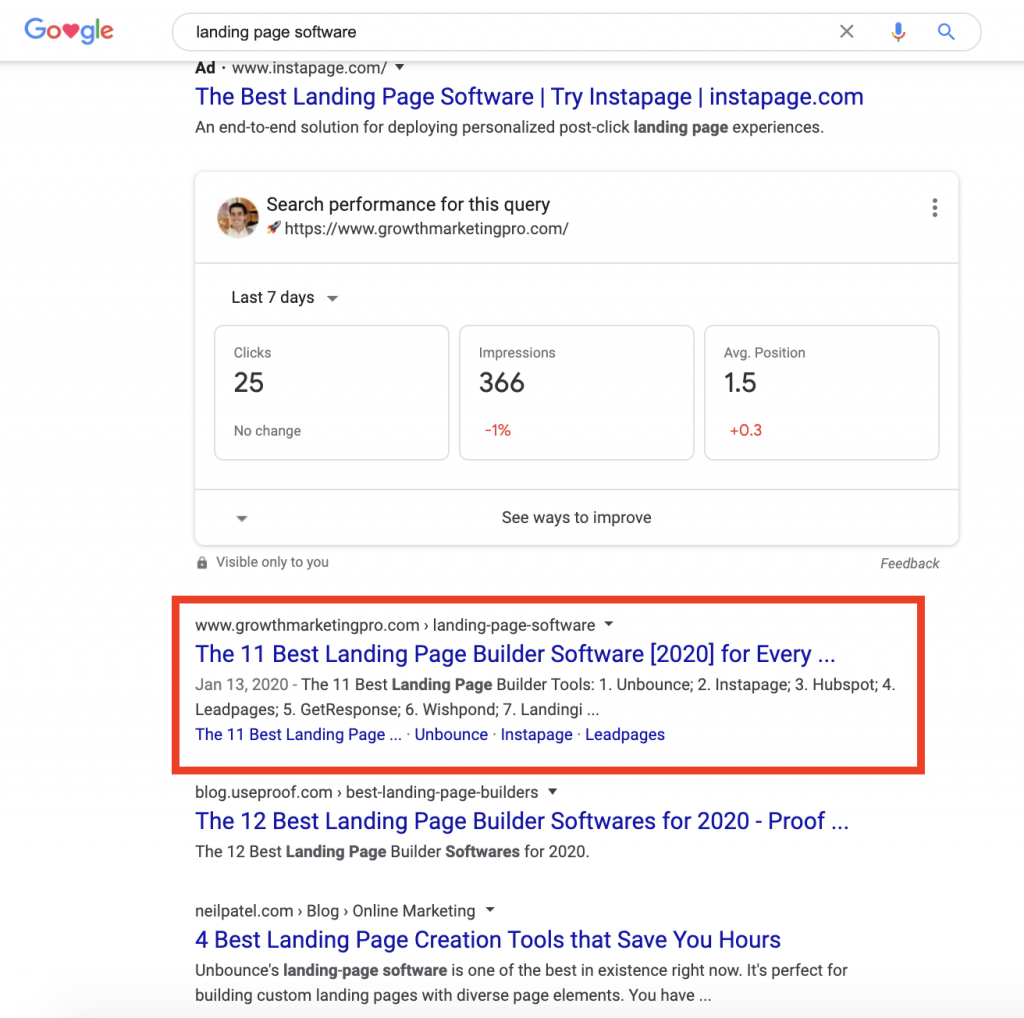 Read on and I'll show you:
The 7 types of blog posts that drive the most organic traffic
How to come up with great topics for blog posts using a variety of tactics and tools
The steps on how to create a blog post that ranks on page one of Google for your target keyword
How to get Google to reward your site with a higher ranking by using the Content Cluster Model
If you're looking to start a blog, please read How to Start a WordPress Blog.
Looking for a content tool? Read The Best Content Writing Tools for Bloggers.
Also, check out GrowthBar, the tool we built for SEO and AI content generation in one click of a button. It's a blogger's dream and only $29/mo. Watch me make a blog post with it in 5 minutes here.
7 Types of Blog Posts That Will Increase SEO
Based on my experience, these are the types of blog posts that are guaranteed to help you crush the competition. These are evidence-based answers to the question, "how do I get my blog posts to rank!?"
By popular demand, I made this video to explain some of the foundational aspects of getting your blog post to rank:
1. "How to" Blog Posts
When you create a blog post that provides insanely practical advice for your target audience (as opposed to a piece with only high level advice), you will dramatically increase the chances that people will discover your page and stay there longer.
Why? Because readers will stay on page longer.
The longer a reader stays on your site, the more Google will see your site as the authority on that topic.
Chances are, plenty of people have already written "how-to" articles on the topic you want to write about. To stand out, you'll want to provide fresh tips that aren't mentioned elsewhere, or share original case studies no one else has shared.
Here are some examples of "How to" posts on Growth Marketing Pro
You'll notice that each one of those posts does a few things to keep reader engaged and on page longer:
Starts strong: Many people who hit your site will inevitably bounce. In fact, something like 49% of visitors will leave your site immediately. That means you need to grab your visitors' attention FAST. Notice this post started with a few of my really impressive Google Analytics screenshots from PlushCare and Growth Marketing Pro. This is by design. Readers who hit my site are immediately engaged and trust my content after seeing that. Bottom line: make your first few paragraphs engaging and amazing. Spend time there.
Doesn't only use paragraphs: Paragraphs can be hard to read, particularly on mobile. The best websites use a mix of paragraphs, varying sentence lengths, bullets, numbered lists, images and much more to make their blog posts more readable and engaging. Bottom line: do the same!
Give specifics: General information isn't actionable. You need to tell your reader exactly what to do and how to do it. Use personal anecdotes, data, screenshots, and anything else you can do to create a "how to" blog post that leaves nothing to the reader's imagination. Bottom line: be personable and provide actionable tactics.
Are long: Yup, in most search verticals, longer posts perform better. It makes sense; longer posts keep people on your site longer and signal to Google that your post is extremely comprehensive. This doesn't mean you should sacrifice quality. Bottom line: you should aim for 1,500-3,000 words of rich, well-written content.
Hint: use a tool like GrowthBar to quickly get the word counts of every post on page one of the Google search results page. Plus, GrowthBar generates blog posts for you with one click! Watch me make a blog post with it in 5 minutes here.
2. Listicles: Introduce Many Ideas
Your customers are busy professionals. Writing an article with a lists of actionable ideas a reader can implement is a surefire way to keep someone's attention — as long as your ideas are relevant and you give people the guidance to turn ideas into reality.
Plus, because lists contain so many different topics and a diverse set of keywords, there are many more opportunities for your post to rank on Google than there otherwise would be.
Here are a few listicle posts have worked extremely well for Growth Marketing Pro:
One of the great parts of listicle posts is that they work in almost every search vertical. Take a minute and think about how many times you search for "the best xyz" on Google. I'm sure it's a lot!
Your best bet is to do a little light keyword research to figure out whether it's worth writing a listicle post in your niche. Our tool, GrowthBar shows you 1) whether a search term is difficult to rank for or not and 2) how many people are searching for that keyword. This way, you don't waste time on a listicle that won't work.

3. Curate Resources
Instead of creating an original article each time, you can create a post that pulls together your favorite resources created by other people.
What are the benefits?
Writing a round-up post is a great way for you to expand your own knowledge of a subject, get to know the experts and thought-leaders in your field and create a highly trafficked blog post.
Additionally, by mentioning others in your article and notifying them about your article, these content creators will likely share your article with their audience and bring new visitors to your website.
This is a great way to procure valuable backlinks.
Read: 25 Ways to Get More Backlinks
Here's how to curate resources for a blog post and do it well:
Subscribe to the top blogs and sites in your space so you're up-to-date whenever one of these sites publishes new content. Always keep an eye out for newsworthy posts or great data your peers blog about.
Connect with your industry peers on LinkedIn! Promise, this is a great way to flatter them and give them confidence that you're blogging for the human connection, not to make a buck.
Once they unveil a great piece of new research or news (or a few different pieces), synthesize the findings, add your own commentary, and whip up a 1,000 word blog post quoting them and their article.
Then, reach out to them and direct them to your post. After they engage, gently ask that they link to your content within their original post.
I've done this time and time again. Flattery is a really powerful way of producing content and getting links to your content. It works almost every time.
However, make sure not to duplicate too much of their content. Google does not like too much copy and pasting. And make sure to cite their blog or website within your article!
Hint: use a tool like GrowthBar to generate blog posts with one click! Watch me make a blog post with it in 5 minutes here.
4. Cheat Sheets, Checklists, Templates
Hubspot is a master at this. They have an extensive library of downloadable resources designed to make marketers' lives easier.
Free resources often get distributed around the web and are the beneficiaries of a little bit of virility.
Plus, you probably have your own resources you can simply repurpose into blog content. For instance, we often run webinars for our audience and have made Powerpoint presentations to accompany them.
So we decided to publish our Powerpoint and webinar script for our audience. Since publishing, this post has been viewed 4,948 times. And it took about 15 minutes to post. Pretty cool, right?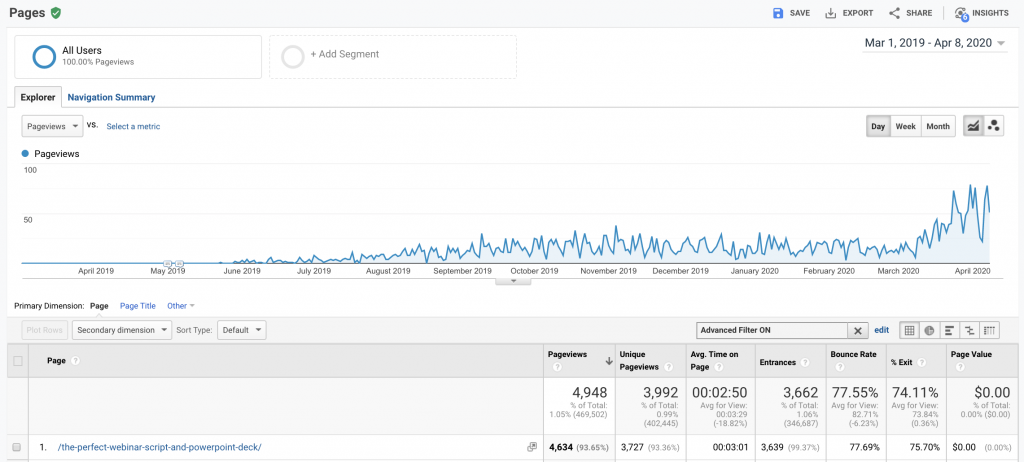 5. Case Studies
People appreciate real life examples. Usually this type of post makes for an extremely actionable and sometimes entertaining read.
We have found that the most frictionless ways to get posts like this live is by interviewing founders.
Our audience loves to hear how other businesses have grown. We encourage founders and marketers we interview to share actionable tips. Our readers love hearing these case studies because there are generally nuggets of information they can apply to their own businesses.
And for us, interviews are great because we simply transcribe our conversations, so the posts take very little time to put together.
See a few of our case studies below:
6. Infographics
Infographics are easy to digest — they're great when you want to share key statistics or provide step-by-step guidance on a certain topic.
Companies like Zumper have made an absolute killing off of infographics. That's because they're incredibly topical and shareable. Plus, once you have a template, you can update the data and use the same graphic over and over again.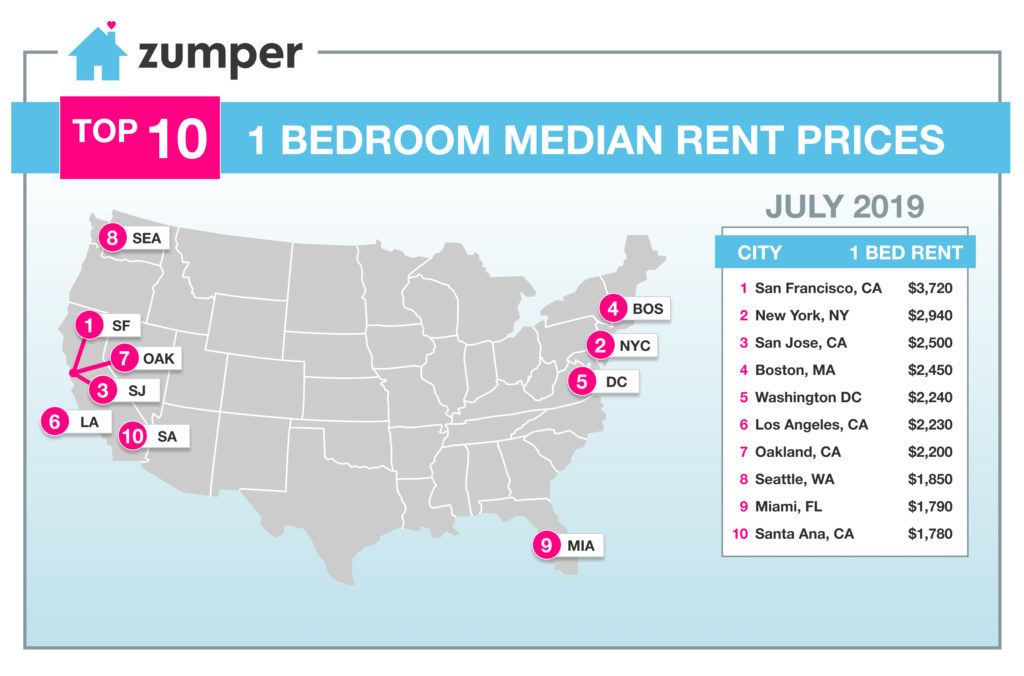 We've found that infographics are also some of the best tools for getting backlinks. Whenever we publish one, we make sure to email to ~20 other bloggers we've developed relationships with to ask them to share on their blog. We've measured a 35% success rate on that tactic.
7. Be Current
When Coronavirus hit, the world of in-person meetings very quickly moved to online meetings. Zoom was one of the fastest services to catch fire at the beginning of the pandemic.
We figured that might be the case, so we wrote a review of Zoom. Sure enough, search volume increased drastically, and since we were one of the first to market with a blog post about Zoom, we were able to capture a position on page 1 of the Google Search Results Page for the search query "Zoom review."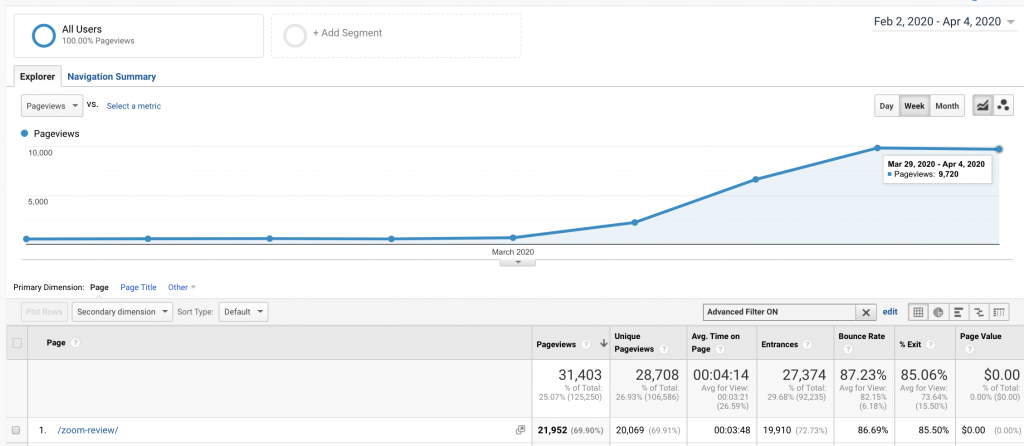 The Google Analytics snapshot above shows that we were able to garner 9,720 pageviews in just one week from that one article.
Picking Worthy Topics to Write About
Because there's so much content out on the web, it's important that you are do the research to determine which topics are worth your time.
Here's the criteria I use to evaluate whether a topic has enough potential.
1. Find your niche (don't pick a topic that's too popular)
If you are in a competitive space (like digital marketing), you need to pick a specific niche within your domain that you would like to own.
For example, it may be hard to rank for a keyword like "social media marketing" because it's highly competitive area. However, intent-based marketing and social intent data are keywords you could consider.
Although there are articles about using intent data to improve marketing and revenue, there aren't articles about "social media intent data" specifically and there really weren't any articles that provide specific actionable advice on how to use intent data to improve the sales process. This was the best place for us to start.
To make sure the topic has potential to compete, type the topic in Google to see whom you are competing with. It's as simple as that. Just Google the topic.
2. Do your keyword research
You'll want to make sure you know which keywords you want to target before writing the article.
You can use an SEO tool to do this.
Read the comparison of our four favorite SEO tools to find one that suits your needs: SEMRush vs Ahrefs vs Moz vs GrowthBar.
With most SEO tools, you can understand the search volume and competition for a particular keywords. This will give you an idea of how difficult it will be to rank for that keyword.
Guidelines for keywords that work well:
Has at least 50-100 or more monthly searches.
Difficulty score below 50.
Google search the keyword yourself and confirm that page one of the search engine results page isn't littered with articles from the New York Times, Forbes, Huffington Post and others. Use your judgement.
Most SEO tools also give you additional suggested keywords. This should help you find alternative queries to write about — some of which may be less competitive or more highly searched than the one you originally intended on.
How to Write a Blog Post That Will Rank on Google
Writing an optimal blog post is easier than it looks. There's a few hard and fast best practices that will catapult you up the Google SERP.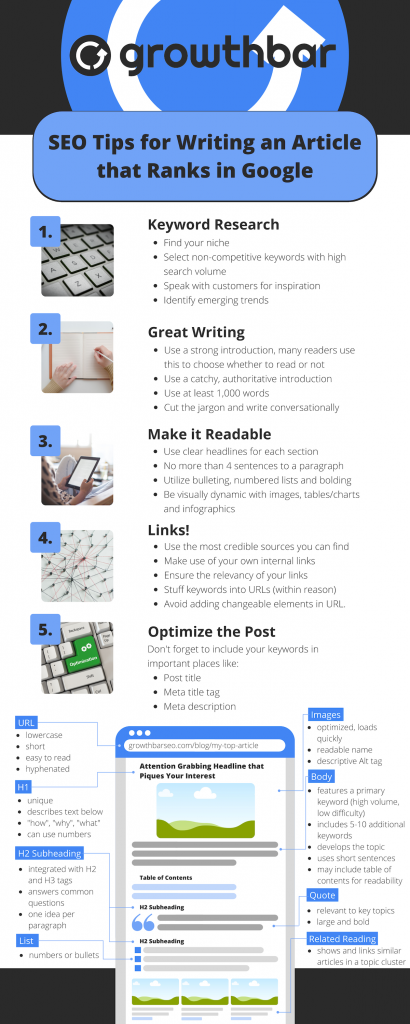 1. Make sure it's long enough
Generally speaking, in-depth posts will tend to rank better in Google. Research seems to indicate that 1,500 words should be your minimum length if you want your post to rank in the search engines. I usually recommend writing between 2,000-3,000 words, particularly for competitive topics. Great content tools like GrowthBar will actually give you optimal blog post length specific to your topic.
2. Use your target keyword in strategic locations in the post
Try to use them in your:
Page URL: [blog domain]/your-keywords-here
Title
Meta-description – include the target keyword somewhere in the first 100 words
In the caption and alt image tag of your images (where appropriate)
Throughout your content where it makes sense
3. Make sure the blog post links to other pages on your website
Internal linking is one of the most important things you can do to rank in the search engines.
More internal links equals higher placement in SERP. Each blog post should include at least 2-3 links to other pages on the blog or the main site.
Also, be sure to go to other posts on the site and link back to the new post just written. This helps visitors find the new post and will give your post a boost in the search engines.
4. Link out to other authoritative sites' sources in the body of the post.
Similarly, Google rewards your page if you choose to link to other reputable resources throughout your post. When you do this, it helps Google "see" your page as a "hub" of resources so they may reward you with a better position for your target keyword.
5. Make sure each section has clear headlines/key takeaways so that the blog post is easy to skim. Break up the paragraphs into short paragraphs. Each one should have no more than 4 sentences.
6. Make sure to write a conclusion that summarizes the key takeaways from the posts
There are some people who will decide whether to read an article by reading the conclusion first. You want to use the conclusion to summarize the key points of the post to encourage these readers to read your entire article.
7. Use pictures, infographics and videos throughout to break out the text
Again, breaking up the text with relevant pictures, illustrations and videos will ensure people stay longer on your post. You need to put your target keyword into the alt text of the image — that's how Google is able to understand what your image is about.
8. Write a compelling introductory paragraph
You really have just a couple of seconds to hook a search visitor once they land on your page. That's it. Your introduction is so important! I can't underscore this enough.
9. Organizing blog posts using the Topics Cluster Model
While it's great to create individual pieces that rank in the search engines, to scale that success, you'll need to be strategic about how you categorize your blog content and link to other pieces on your site.
Search engines have changed their algorithms in response to changes in consumer behavior. They now favor topic-based content.
Hubspot was the first to write about using the Topics Clusters Model to organize blog posts. This model helps Google index your content and understand how all the different pieces are related to each other.
Instead of writing about topics X, Y and Z and treating each article as equally important individual pieces, in this cluster model, you would choose a single "pillar" page which acts as the main hub of content for an overarching topic.
Multiple content pages that are related to the same topic will link back to the pillar page and to each other.
You'll want to develop content clusters based on the topics you want your business to compete in, rather than discrete keywords. The keywords should still be a part of your overall strategy, but topics are the umbrella under which your keywords strategy operates.
Usually, this means you'll have one 3 or 4,000 word blog post on a topic and several other 1,000-2,000 word articles that link back to this pillar content. This my friends, is how you dominate a niche.
Hint: use a tool like GrowthBar to generate blog posts with one click! Watch me make a blog post with it in 5 minutes here.
Conclusion
Hopefully, you now have a solid idea on how to create blog posts that generates significant organic traffic.
Given the vast amount of content being published everyday onto the web, you need to do everything you can to ensure that your content is more valuable to your audience than what exists today.
It's important that before you create any new posts, you know exactly who you're creating it for, what problem or pain point you'd like to help your audience solve. There are some types of posts that are proven to work in every niche, so start with formats that already work.
Be sure to do abundant research on your audience as well as the content that already exists in your space before creating more. When you develop a new piece, make sure it's following SEO best practices and linking to relevant resources (internal and external) on the topic.
Last but not least, search engines have changed their algorithms to favor topic-based content. It's time for you to re-configure your web pages to follow the Topic Clusters model. By linking all internal content within a key topic to a pillar page, search engines can easily scan all the content and understand the semantic relationship between the pages' content. They will reward your orderly linking with higher search placement.
Do you have experience on how to create blog posts for SEO? Share them below.