Latest posts by Hailey Friedman
(see all)
The popularity of webinar marketing has skyrocketed in the last 5 years.
Heck, even my parents know what Zoom is.
As the world has gone digital, it's no wonder that selecting the right webinar software has become a critical decision for so many businesses.
Luckily, my business partner, Mark, and I were ahead of the curve on this one. We've hosted hundreds of webinars over the past 10 years. And one of the biggest secrets to using webinars to drive sales is that you need the best webinar software tool in order to engage viewers and deliver a smooth experience.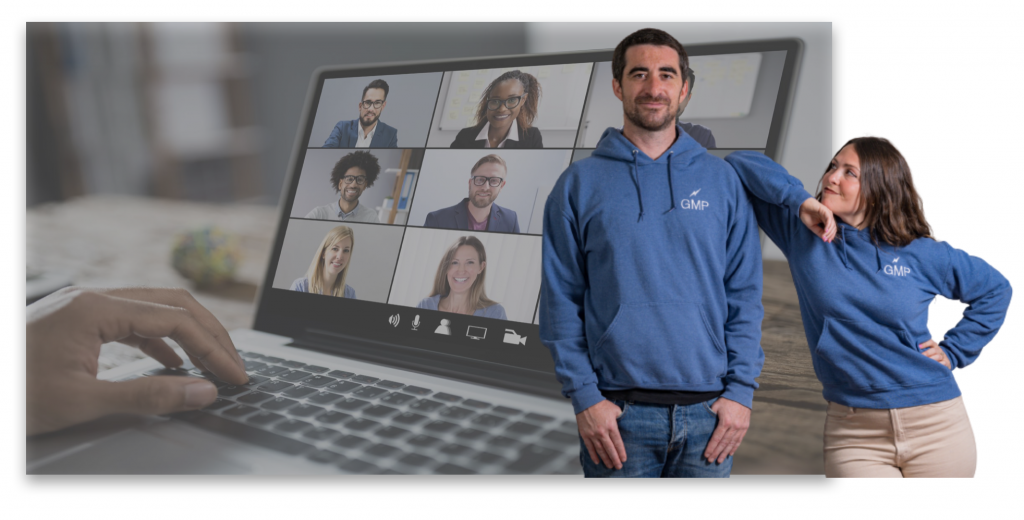 Fact: 77% of marketers use webinars in their lead generation efforts and most companies use webinars in at least some part of their business — customer support, lead nurturing, product explanations, and more.
I want to warn you about some red flags you want to look out for when selecting the best webinar software for your business. Run the other way if you see a webinar tool that involves:
Confusing downloads and extensions
Poor customer service
Technical difficulties with sound and video
Overcomplicated dashboards
It's simply not worth the headache of dealing with these issues. You and your attendees deserve better.
My favorite webinar software these days is Demio, but keep reading for a list of my other favorite webinar software tools and my experience with them.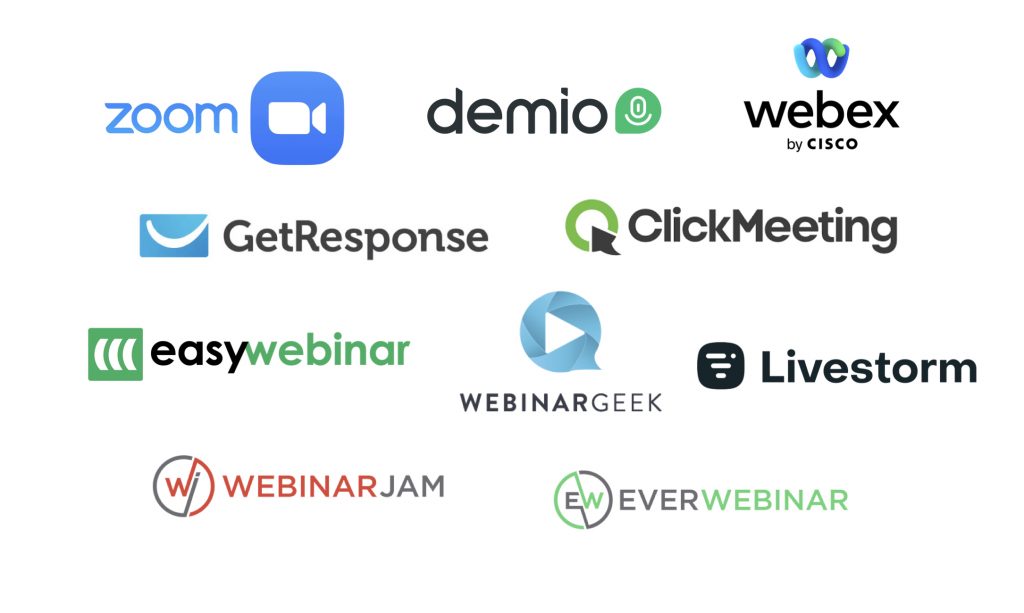 What is the best webinar software tool?
The best webinar software allows you to host live events with attendees, and it runs seamlessly without a hitch.
I've taken the time to test each webinar platform for my own use, and so my hope is that this list of the Best Webinar Software Tools, along with their pros, cons & pricing, is going to help you figure out which tool is best for your business.

Demio is my #1 recommended webinar platform.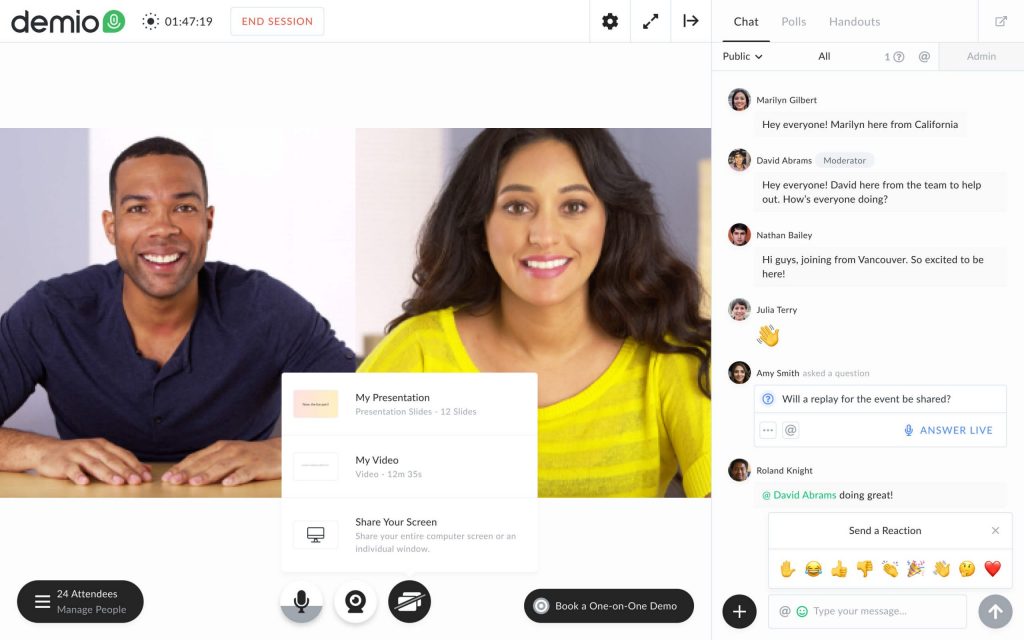 After all the tools I've tried, I've happily switched over to Demio, as it's the most modern, seamless solution.
I spent years fumbling with other webinar tools that had clunky interfaces and appalling customer service. Finally, I found Demio and I haven't looked back since. I can confidently say that this solution has everything I was ever looking for and more.
The interface is modern and a pleasure to use — both for me, but more importantly, for my customers and attendees.
There's no need for anyone to download anything, just click and you're inside the webinar.
But the BIGGEST PLUS is that it offers both live webinars AND automated on-demand webinars. This is huge because I used to use two different webinar tools to do that and now I can do it with just one.
This tool is great for beginners and for those who feel uncomfortable with the clunky interfaces and numerous settings. On the other hand, professional marketers and busy corporate users will appreciate its extensive automation tools.
When I'm trying to sell my products and services via webinars, I love using their pop-up offers and CTA features.
You can see Demio's pricing and features here.
Pros
100% browser based (no software to download)

– support all browsers and devices
Live AND automated on-demand webinars
It's simple. Very easy to set up, literally minutes.
So modern, such a pleasure!
Customizable: you can add your logo so it matches your brand.
Give your audience a beautiful experience that is clean, crisp, and reliable in how it functions.
Automated emails go out to make sure everyone gets reminded to attend the event.
Send out the webinar recording to all registrants after the event.
Cons
You'll need to upgrade from the Starter Plan if you need more than 50 live participants.
Demio Pricing
14-Day Free Trial — give Demio a try.
Starter Plan: $34/month for a 50-person attendee room.
Growth Plan: $69/month for a 150-person attendee room & customized branding.
Business Plan: $163/month for a 500-person attendee room & 4 hosts.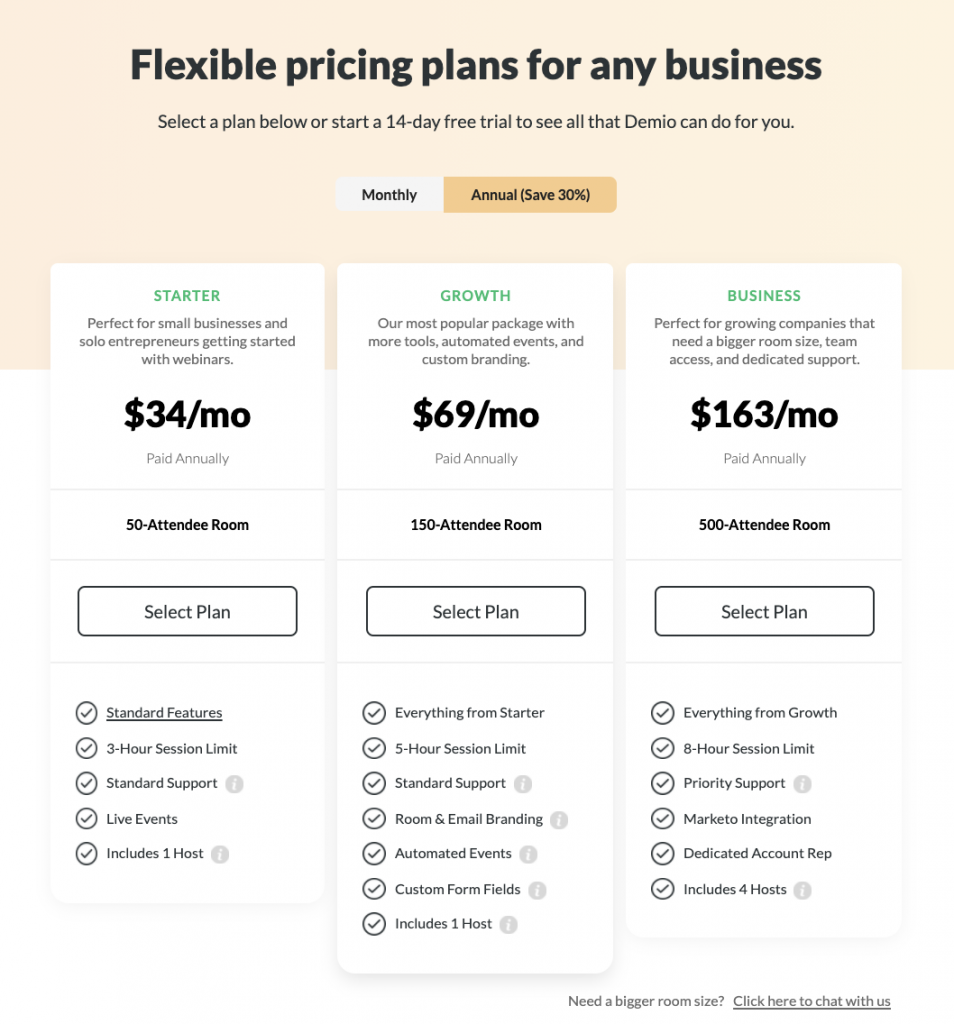 Link Demio
Companies All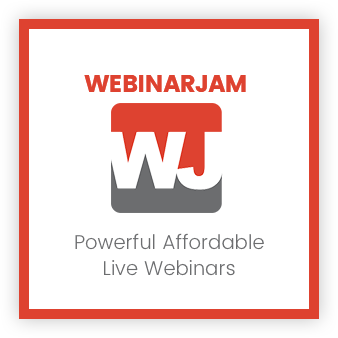 WebinarJam is my #2 recommended webinar software.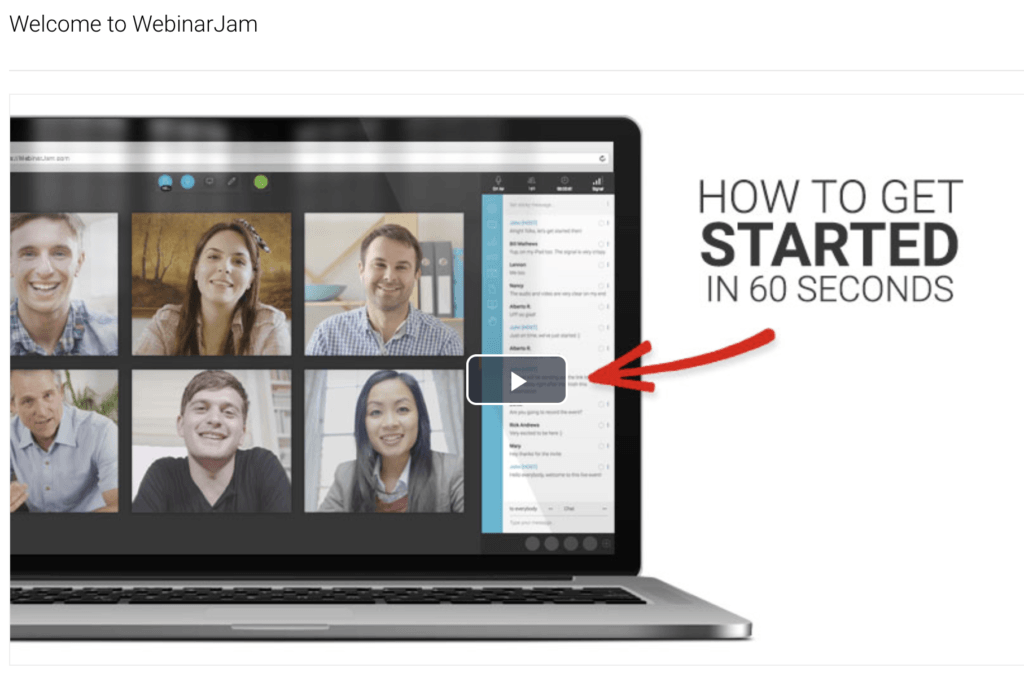 I had been using WebinarJam for years before stumbling on Demio and it really is one of the most intuitive webinar solutions on the market if you're looking to sell a product or service via webinar.
I used it for so long because it did two things perfectly.
I found it to be great for selling a product or offering during the webinar because you can have popup calls-to-action during the webinar so your audience can purchase with ease.
I loved their live chat feature for communicating with attendees during the webinar.
When you're hosting a webinar to sell a product, you want all the bells and whistles. WebinarJam has them. Plus, it all comes at a very reasonable price.
It works smoothly on any browser or device. I've only had an issue once with a slight delay.
It has all of the following features: live broadcast to YouTube, live chat in webinar, ability to moderate and highlight comments, private messages between moderators, popups for selling your product during your webinar, the ability to poll your audience, or share a video or whiteboard annotation mid-webinar and a super robust analytics dashboard.
Pros
It's easy — it can take just 60 seconds to set up your webinar

Advanced chat with moderators and private messages

Up to 6 co-presenters shown on one screen
The ability to temporarily turn the attendee into a presenter
Works in all browsers, OS, and devices utilizing the latest web technologies
Can push to YouTube or Facebook Live
The ability to have pop-ups offers mid-webinar
Automatically records the webinar and offers a replay to attendees
Cons
Great for live webinars but if you want to create automated on-demand webinars, you have to also purchase EverWebinar. (This is why I like Demio

because it can do both)

S

ome people complain about experiencing video and sound delays up to a couple of seconds

Some larger companies might complain about the lack of integration with 3rd party AV tools… so again, this isn't the tool for enterprise-stage companies
WebinarJam Pricing
Basic Plan: $499/year ($41.58/month). This plan gives you up to 500 participants per webinar, up to 3 presenters, and 24/7 support.
Professional Plan: $699/year ($58.25/month). With the pro plan, participants increase to 1,000 and speakers go up to 4.
Premium Plan: $999/year ($83.25/month). This plan is for businesses that rely heavily on webinars for their online marketing. It features up to 6 speakers and a webinar audience of up to 5,000.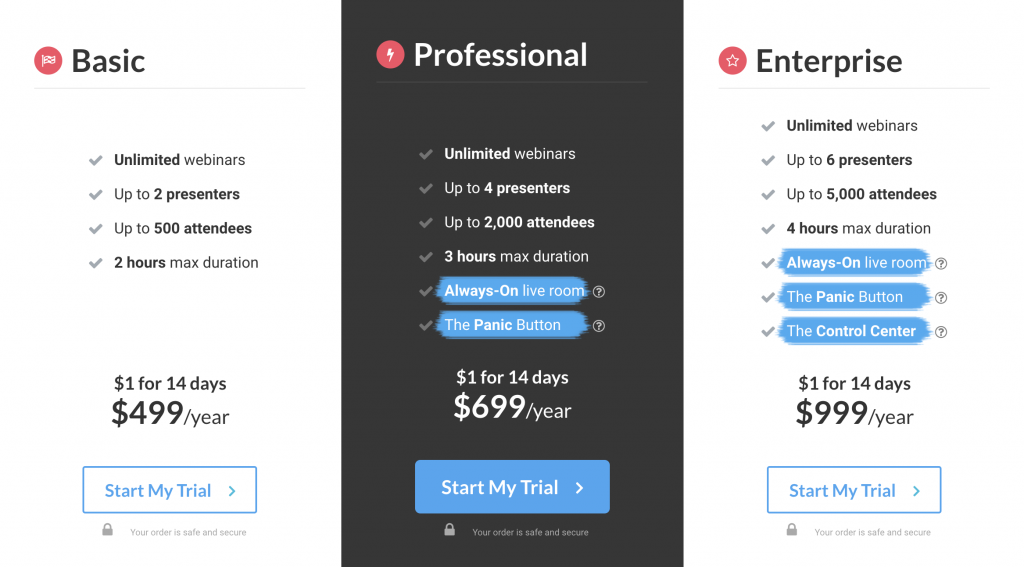 Link WebinarJam
Companies All except big, big companies that want a "web conference" type of experience (you're better off with a tool like Zoom).
Full review WebinarJam review
Special offer
We specially negotiated a $1 trial for 14 days!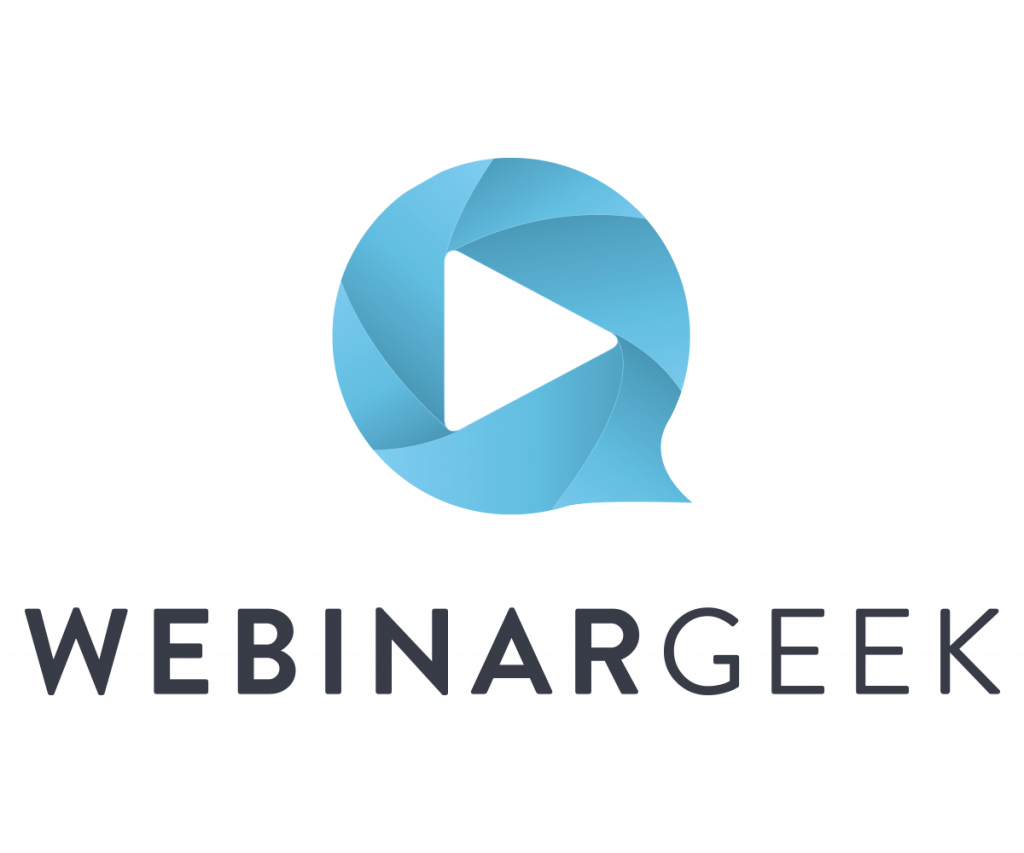 WebinarGeek is my #3 recommended webinar software.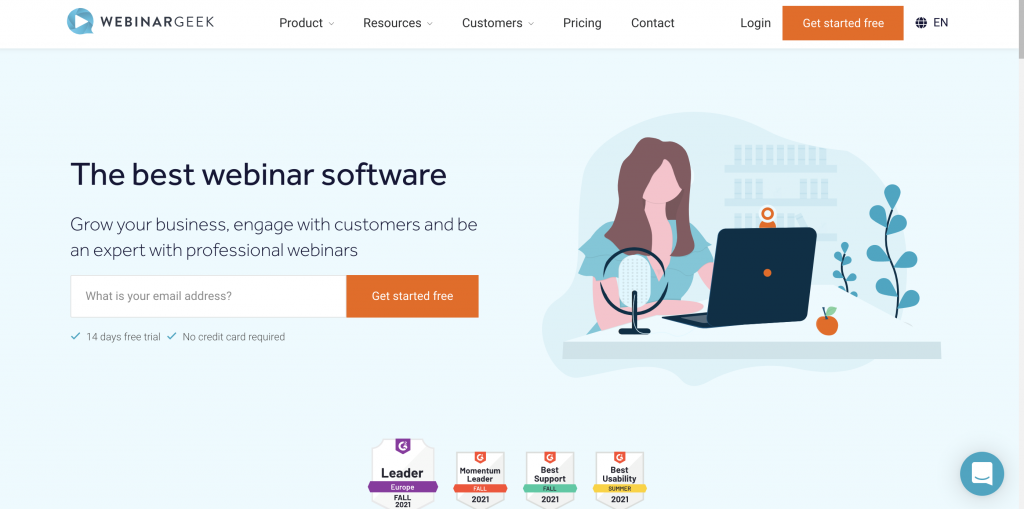 I've found WebinarGeek to be one of the best webinar platforms out there. I like it because it's the only GDPR-compliant webinar software provider, it's really easy & intuitive to host webinars, it's browser-based so there is no need to download special software and you can set up a webinar with just a few clicks.
Polls, quizzes, live chat and call-to-action buttons all make it possible to engage with your audience in a fun way. Statistics give you insight into exactly what the participants filled in on the interactions during the webinar. You can even make a personalized follow-up based on the information gathered during your session.
Another thing that makes WebinarGeek great, is that you're able to upload your own videos that have already been pre-recorded, even a previously hosted webinar video to create a hybrid webinar.
All webinars you host are recorded automatically so you can send out the replay or repurpose your content. You can also use the software to create an automated or on-demand webinar and start hosting webinars and pulling in leads automatically.
Pros
The only webinar software that is completely GDPR compliant
A lot of features and options!
Easy to use
Live, automated, on-demand, or hybrids webinars
Great collection of statistics
Automatic recording of the webinar
Use all videos you want
Many options to interact with the viewers
Email automation
Able to link your integrations
Host webinars with up to 6 co-presenters and add up to 50 moderators
Cons
No break-out rooms
Participants aren't visible or audible
WebinarGeek Pricing
Free trial for 14 days with all of the Premium features
Starter plan: $22 a month for 25 viewers
Premium plan: from $56 to $228 for 100 to 2000 viewers, automated webinars, and a lot of integrations
Advanced plan: from $339 for up to 4000 viewers, RTMP and 50 moderators included
Link WebinarGeek
Companies All
4. GetResponse

GetResponse is my #4 recommended webinar software.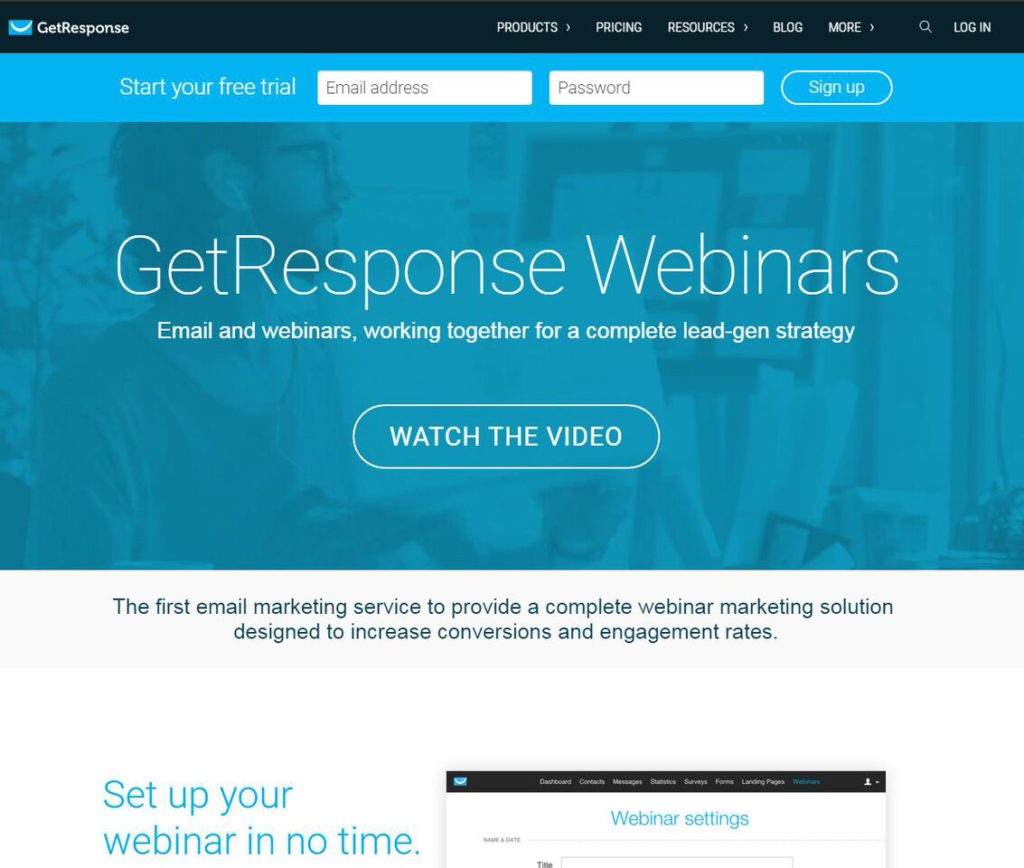 This all-in-the-box solution incorporates not only webinar platform, but also different marketing tools, including autoresponders, custom emails, list segmentation features, etc. With this, it is possible to have the email database and webinar tool under the same roof.
As a result, the account holder may schedule webinar campaigns for the subscribers, send reminders to them; share the event on social media.
It is also possible to use the registration feature to collect new emails and send automatic thank-you messages to the registrants.
Pros
YouTube integration for viewing videos

Desktop sharing
Integrated whiteboard for notes and drawings
Polls and surveys for instant feedback
Detailed reports
AB testing
In-depth reporting
RSS / blog to-email functionality
CRM feature for managing customers at scale
Cons
The pricing structure is a bit confusing, with users having to pay something of a premium to access the landing page creator tool and more advanced features (unrelated to webinars)
The free trial limits the number of subscribers you can send messages to 1,000
No phone support is available
The pricing depends on the email list size
GetResponse Pricing Free 30-day trial. Plans start from $49 per month for up to 100 participants. Extended plans for $165 per month for up to 500 attendees.
Link GetResponse
Companies All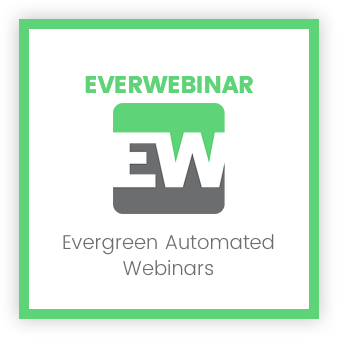 EverWebinar is the best solution for evergreen, or automated webinars.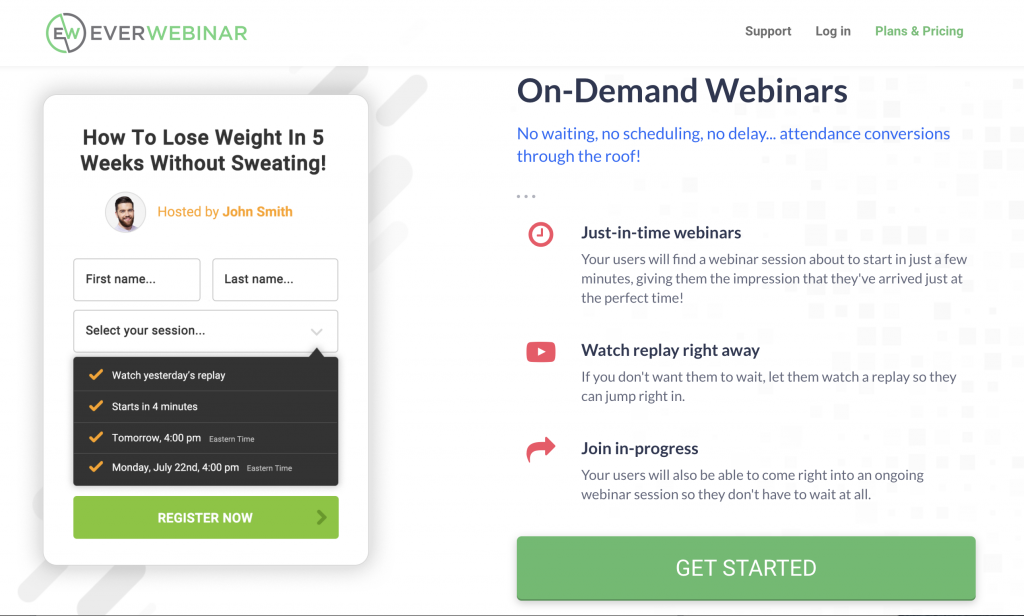 EverWebinar is a sister tool for WebinarJam and it allows you to create on-demand webinars. It is one of my favorite marketing tools on earth and I've used it for years.
First, I would record a live webinar with WebinarJam, and then I'd send it over to EverWebinar and turn it into an automated webinar that I can use over and over again until the end of time. You can also just upload any pre-recorded video and turn it into an on-demand webinar.
The EverWebinar looks and feels like a real, live webinar. The first time I saw it, I was totally stunned!
Big software companies, bloggers, and marketing influencers like the Growth Marketing Pros (us!) are harnessing evergreen webinars to make money while we sleep!
Any marketer can confirm that people prefer live events and they actually stay engaged up to 4x longer in a webinar environment than they would just watching a video recording.
With EverWebinar you can get the look and feel of the original webcast as often as you want.
The solution is fully automated, so you can be in the webinar room and handle the chat while your prerecorded webinar is played or just have a nice day somewhere in the park while your products are presented online.
EverWebinar takes care of all of the engagement stuff — room count simulation, email reminders, real-time chat simulation and popup reminders/calls-to-action.
Evergreen webinars work so well, I almost didn't want to tell anyone about them.
Pros
The number of attendees can be faked

"Ask a question" option instead of the regular chat that sends the questions to your email
The smart webinar bot that shows your offer at the time of your choosing
Three types of webinars: live, hybrid (prerecorded video with live chat) or automated.
Powerful statistics option
Purchase includes "webinar university," which is a huge how-to guide for producing the most effective evergreen webinars possible
Cons
One or two users experienced streaming issues on mobile (I have never seen this)
If your webinar is not convincing you may appear disingenuous
EverWebinar Pricing There are a few options here. You can pay in 3 installments of $199 or pay $499 annually but most importantly, you can try it out and get a feel for it first with a 14-day trial with our link here!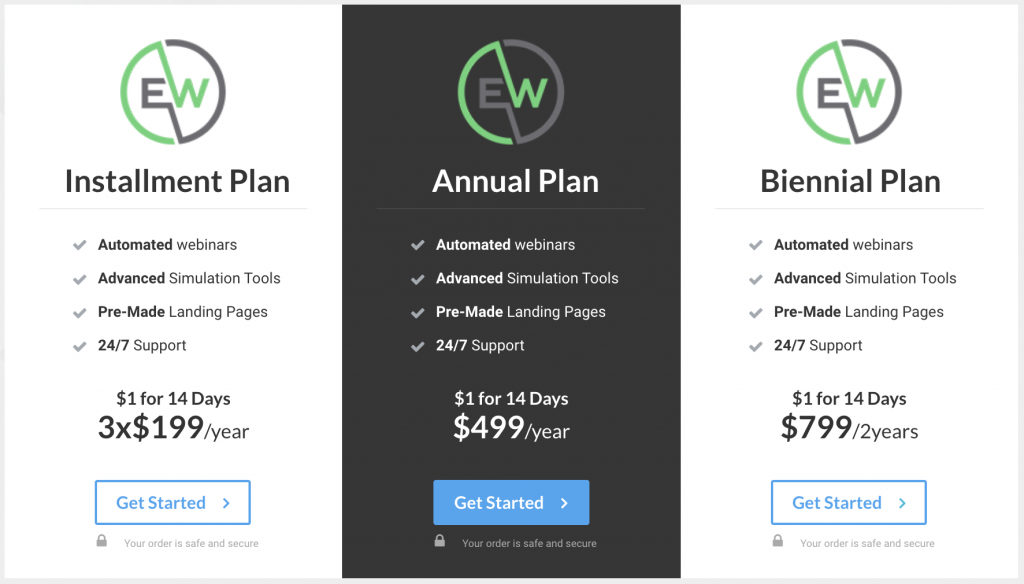 Link EverWebinar
Companies All companies selling a product online
Full review EverWebinar review
Special Offer
We specially negotiated a $1 trial of EverWebinar!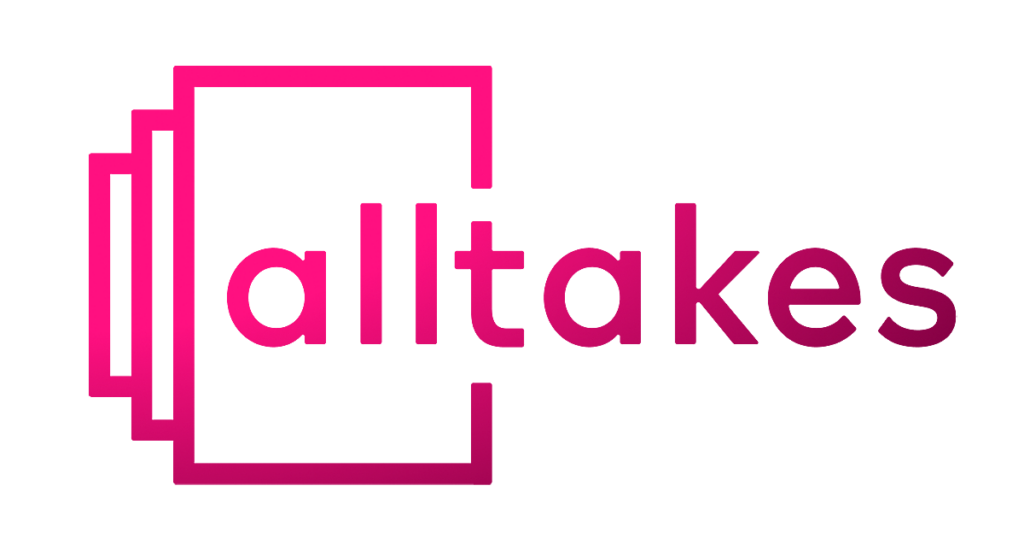 AllTakes is the best webinar software for engagement, connection, and authenticity.
AllTakes is an incredible webinar software focused on enhancing online communication and community-building for various purposes, from casual gatherings to professional events. It offers two distinct products, which I've found super helpful for different reasons.  
Roundtable is their dynamic and engaging video conferencing platform that sets up meetings in a circle structure to help reduce online fatigue and improve engagement. Roundtable offers 60-minute free sessions and provides a uniquely energizing and dynamic online meeting and webinar experience. 
Roundtable provides:
Connected Video Conferencing: At the Roundtable on AllTakes, circle time mimics real-life seating arrangements, encouraging communication, participation, and growth.
Custom Connections: Add depth and personality to your chats with unique expressions and emojis.
Add Music: Choose a track that aligns with the theme of your event (meditation, dance, etc.) and add it as your welcome music, during transitions, and more.
Easy Sharing: Sharing your screen is finally simple. Whether it's video or audio, AllTakes makes it easy to get involved.
Host Fireside Chats and Panels: Engage in intimate conversations or feature a group prominently.
Studios are private online spaces with gated memberships for communities, coaching groups, training sessions, cohorts, and virtual events. It offers tools for content sharing, payment collection, and easy management–replacing multiple tools all at an affordable price point.
Studios offers:
Private Spaces: AllTakes offers exclusive spaces where you manage membership to ensure privacy and control.
Registration and Payments: Easily set up and monetize private studios so you can start realizing revenue immediately.
Organized Content Sharing: Centralize and categorize your content in the studio library.
Private Chat: Studio chat allows tailored interactions, from specific mentions to broadcasting a message as an email to all members.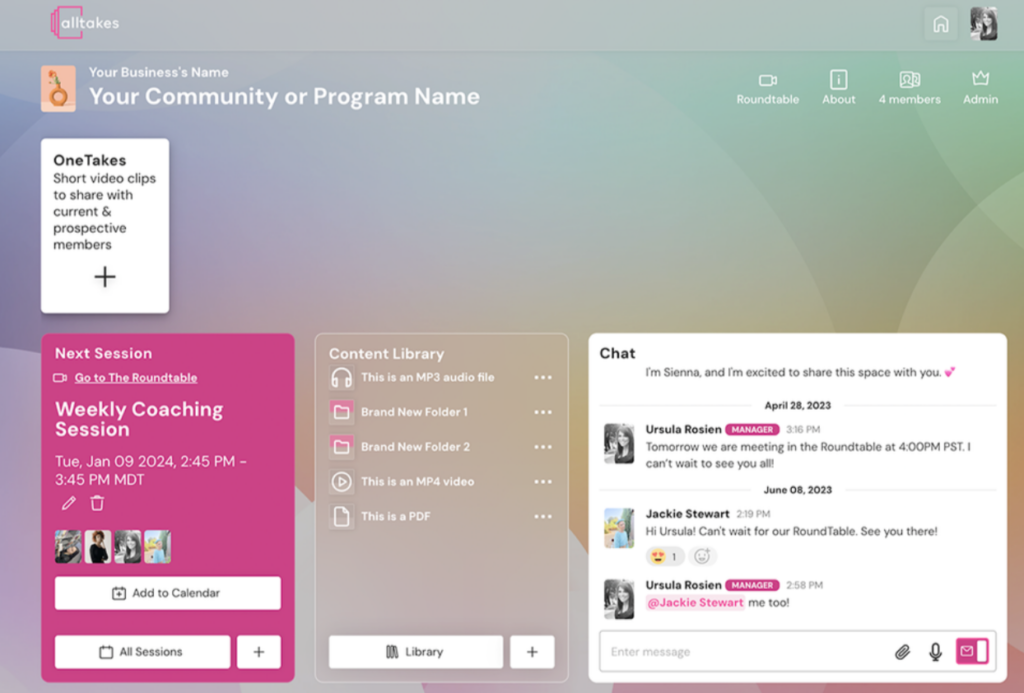 Pros:
The unique roundtable setup creates a communal feeling, making it easy for new members to join and make contributions
The user interface is super easy to set up and manage
Replaces a myriad of tools, including Zoom, Google Meets, Mailchimp, etc.
Ideal for coaches, community builders, and event organizers who want to grow engaging, authentic communities
Private Studios allow you to get paid immediately for events and registrants
Responsive customer service is always willing to help
Roundtable offers free 60-min sessions
Cons:
Best for interactive, communal events, so does not offer one-way streaming webinars
If you don't need community-building features, it may not be the best fit
Pricing: AllTakes offers a free plan for personal use, and then several payment options, ranging from $12/month to $150/month depending on your needs.
Link: Learn more about AllTakes
Companies: Any organization looking for a more engaging webinar experience. A great fit for coaches, workshops, cohorts, and community builders.

Livestorm is my #6 recommended webinar software.
If you regularly facilitate product demos and training sessions, Livestorm is a great option for companies at any stage. You can get sessions up and running in a matter of minutes and the tool takes care of most of the planning with auto-generated registration pages and event reminders.
Livestorm is great for when you have multiple people collaborating on a presentation and you can easily invite any of your peers to join you on screen. Data and insights collected from sessions can be viewed in Livestorm's dashboard or in your CMS which can be connected to your account. This lets you keep an eye on visits, registrations and attendees so teams can improve and optimize your strategy.
Host live product demos and customer training or record and automate training and onboarding videos for internal use. Livestrom is a strong webinar tool with all the staple features you could want like polling and Q&A during presentations.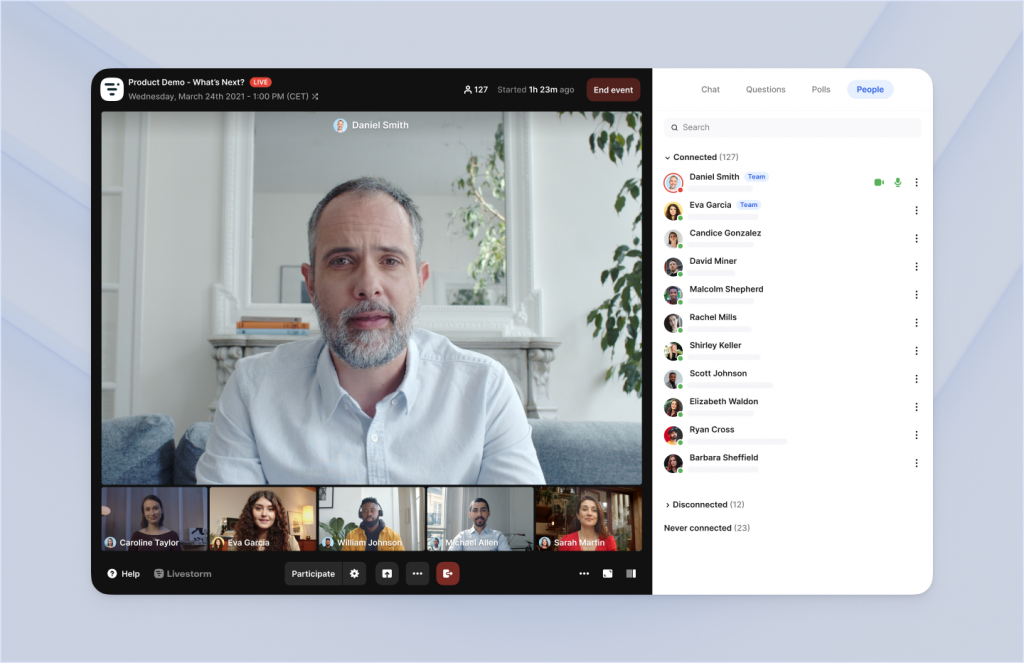 Pros
Great for live training and product demos
Generates complete registration pages and sends email reminders to people who have registered for your webinar
Invite teammates so you can collaborate on building presentations
Fully customizable branding lets you create presentations that are unique to your business
Easily lets you invite moderators and attendees to join the host on screen
Automate different moments to happen during your webinars like videos and messages so you don't need to fumble around with them during the presentation
Connect Livestorm with any of your marketing tools like Salesforce and HubSpot so you can collect contacts and data from your webinars
Cons
Since it's a browser software, video and audio can be affected by the host's internet connection
Livestorm Pricing Livestorm offers Webinar Basic for free so you can test the platform with up to ten live attendees. The Webinar Premium plan costs $99/mo and you get 100 live attendees.
Designed for meetings, Livestorm's Meet Basic plan is free and includes all Webinar Basic features as well as one meeting room with up to four participants. Meet Premium used to cost $31/mo but as a form of COVID relief, this plan is now offered for free. With this plan, you get all Webinar Basic features along with unlimited meeting rooms with up to 12 participants.
Link Livestorm
Companies All sizes
8. ClickMeeting

ClickMeeting is a webinar platform whose main selling point is a user-friendly interface.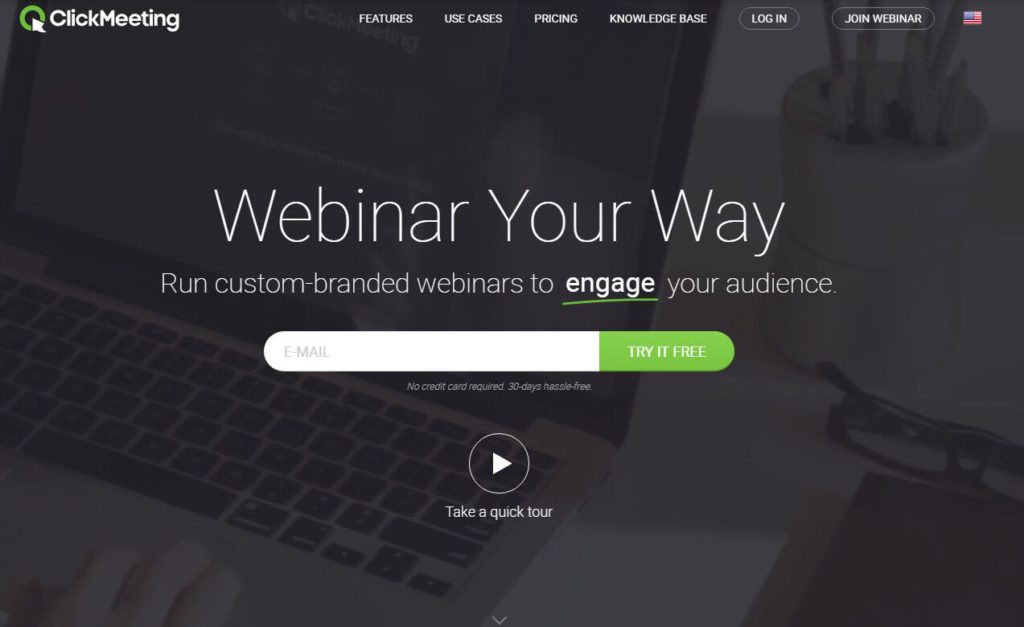 This platform might come in handy for web entrepreneurs, small and medium businesses or in-company meetings (even international ones).
There are step-by-step instructions on setting up the event, so you can create your first webinar effortlessly. The software is browser-based. On your dashboard, you can see your past and scheduled webinars overview.
You can see the number of registered users for the upcoming event and study the analytical report for all past webinars.
Need to set up a new live event quickly? Just use the duplicate feature and you don't need to waste time on filling out all the fields again.
If the participants come to the event earlier they may get additional info about the webinar while inside the "Waiting room with an agenda". To keep the audience engaged, you can share info about the webinar topic, presenters, important files to download, etc.
There are a number of extensive interactive options that can be used during the event. The presenter may run the presentation, preloaded video or audio, whiteboarding, etc.
Pros
Step-by-step setting

Offer on-demand and automated webinars
Full switch to WebRTC+HTML5 (instead of Flash)
All browser-based
Improved screen sharing
Audio-video
Event duplicating option
Rebranding feature for the waiting room, webinar room, email notifications, etc.
Chat messages translation
Waiting room with agenda
ClickMeeting is super adept at providing templates for different business types and powerful tools for each type, like polls and surveys and chat translation
Cons
You can't schedule recurring meetings

No break-out sessions
ClickMeeting Pricing Free 30-day trial. Plans start from $25 per month.

Link ClickMeeting
Companies Startups
Full review ClickMeeting Review

ON24 is one of the best webinar options for enterprise-sized businesses. The company recently IPOd as one of the oldest VC-backed IPOs of the year.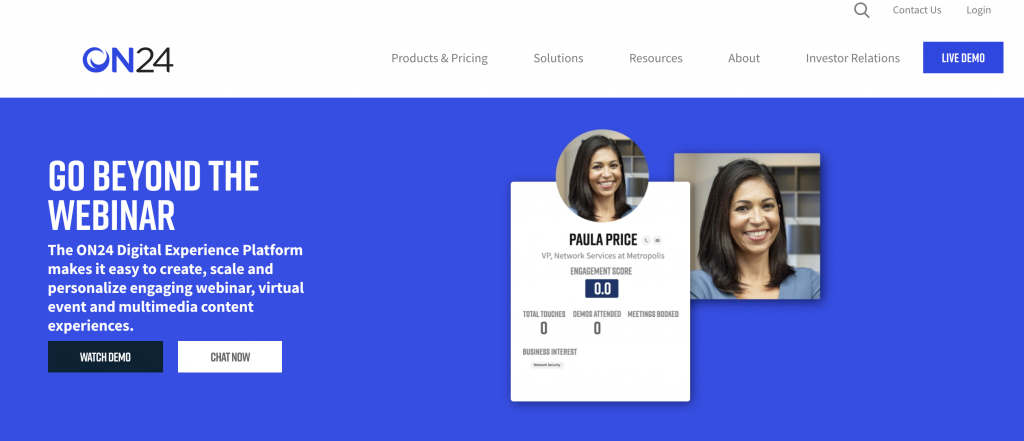 ON24 makes it easy to create, scale and personalize engaging webinars, virtual event,s and multimedia content experiences. The difference between this and other software is their focus on not just webinars, but also large-scale user conferences.
They offer the ability to create live webinars as well as "content hubs" where always-on content can live. What's great is that you can customize these experiences entirely to fit your company.
In-depth analytics allow you to understand engagement even for the grandest digital events or conferences.
With over 740 ON24 reviews on G2Crowd, the platform has been around for quite a while and has collected some great user feedback.
Pros
Easy to use and sleek
Fast to create a professional-looking webinar
Great integration with Salesforce
Engaging features like polling, on-demand, customization options, lobby music, etc.
Real-time statistics reports about online conferences you arrange
Cons
Multi-session events can be confusing

Expensive
Back-end and set-up process is a bit wonky, confusing, and complicated
ON24 pricing
ON24 does not list pricing on its site. They require you to request a quote first. It seems pricing changes depending on your needs and some reviews online reflect that the service is more "concierge" and they charge by event anywhere from $1,600 – $10,000.
Link https://www.on24.com/
Companies Enterprise
10. EasyWebinar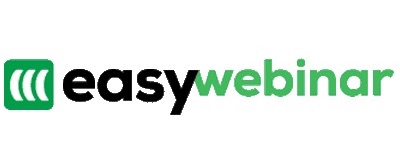 EasyWebinar is an all-in-one solution for live and automated webinars.
They've built a very comprehensive product that allows you to put webinars at the center of your digital marketing efforts.
There are tons of features including HD video, live webinars, evergreen webinars, pre-made sales funnels, a multi-presenter option, a chat feature, a mobile app, a strong analytics suite, and more.
It's actually a pretty fantastic product. If I wasn't already such a big EverWebinar fan, I might consider it as an alternative.
Pros
Automated (evergreen) webinar has sales funnels and analytics to make it a real selling machine

Up to 100 attendees for the basic plan

Multiple presenters, screen-sharing, live chat, Q&A and some of the other table stakes features for great webinar software
Integrations with some of your favorite software including Mailchimp, GetResponse and Stripe
8,000 customers and counting with plenty of positive reviews
Live and automated webinar features
Mobile app for on-the-go webinars
Cons
Pricer than some other options
EasyWebinar Pricing Plans starting from $59 per month, for up to 100 participants. Price quickly climbs.

Link EasyWebinar
Companies Companies with webinars at the core of their business
11. GoToWebinar

GoToWebinar is a professional and proven solution that is trusted by large businesses. It's one of the oldest tools in the book. With GoToWebinar, you can scale your rooms to up to 3,000 attendees.
I'll be honest, I used to be hesitant to recommend GoToWebinar. But within the last several years, they've completely rebranded and upgraded their back-end system to make things way more user-friendly, and I haven't seen a single review about unreliable webinars on G2.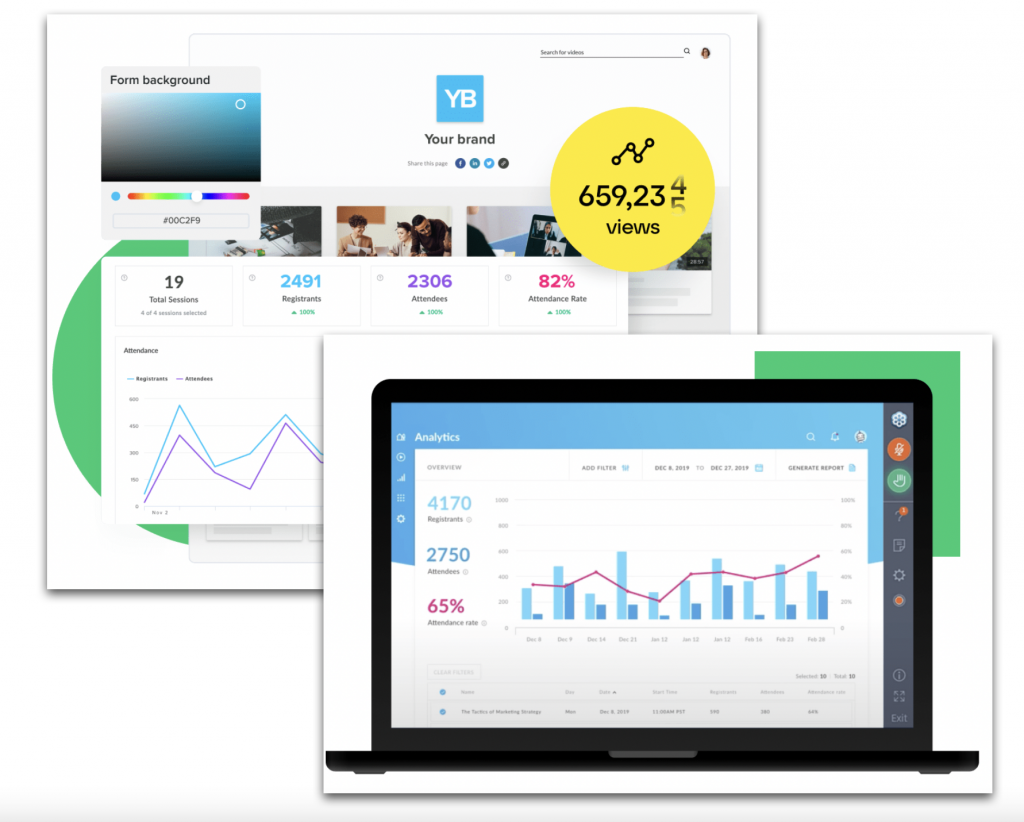 It is possible to add a survey for the participants, to create custom email invitations, confirmations and reminders with the predefined templates, and to monitor the webinar stats in real time.
The account holder also gets some nifty lead management and reporting tools.
GoToWebinar has handy mobile apps that can be used for the webinars' management and for participating in online events.
Finally, I love how many integrations GoToWebinar has — everything from CRM tools like HubSpot and Salesforce, to Microsoft, Google Suite, and marketing tools like Marketo and Eloqua.
Pros
Trusted quality of the video and audio

and easy-to-use platform
Personalize registration forms with customized questions and polls
Share your camera, create interactive polls, and draw right on screen
Breakout rooms to divide your audience
Includes audience surveys, automated follow-up emails, and other cool features included even in their lowest tier plans
Editable recordings
Nice attendee analytics, so you know how your audience felt about everything minute-by-minute
Pre-recorded webinars for nice marketing automation
Cons
There is no free version unfortunately

Customer service is not very helpful

— and there are customer reviews that attest to that
GoToWebinar Pricing Free 7-day trial. Plans start from $49 per month for webinars that can hold up to 250 participants. There are also Standard, Pro and Enterprise plans that range from $99 to $399/month and hold 500, 1,000, and 3,000 attendees respectively.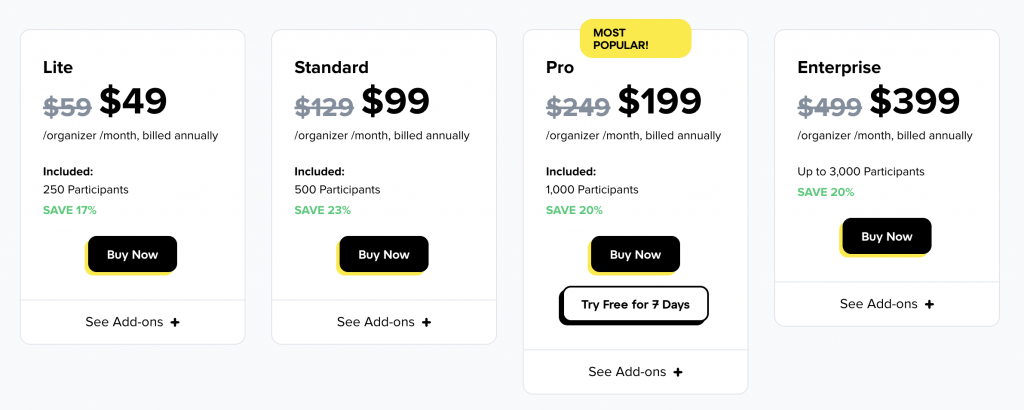 Link GoToWebinar
Companies: All
12. Webex

Webex is a Cisco product.
It's a true enterprise webinar system that is meant for team collaboration.
It does this very well. With Webex, users can video meet, call, screen-share and collaborate via HD video or voice call.
To me, it's not really a consumer webinar platform — one meant to use to communicate with hundreds of customers or potential customers. It doesn't have most of the bells and whistles that other platforms have for selling products.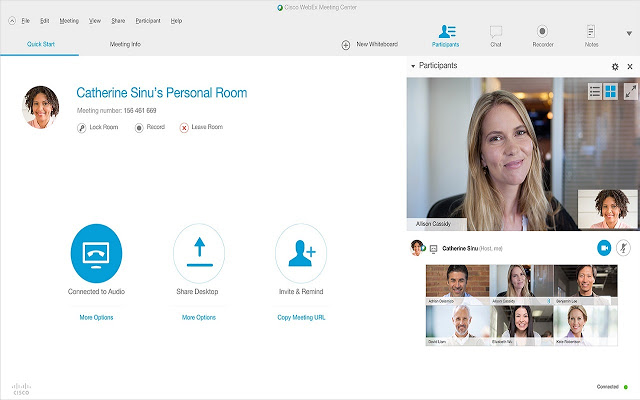 Webex advertises that users can meet with up to 40,000 attendees. So if you're the CEO of a Fortune 500 company, it may be the perfect webinar platform for your next conference call!
Webex also has a mobile app that makes on-the-go team collaboration very easy.
Webex also has a solution for hosting customer webinars — for up to 3,000 attendees. It's simple, streams nicely and has a few features you might come to expect from a superior webinar service, including live chat, Q&A, polling, branded invitations and some analytics features.
Plus, you can record your event to make a simple evergreen webinar.
Pros
Up to 40,000 attendees

Screen-sharing, live chat, Q&A, etc.
One of the best webinar tools for collaborating as a team
Mobile app is an awesome feature
Robust support for large accounts
Webex devices include hardware tools for conference rooms to improve your video conferencing quality and collaboration (for a high price, of course)
Cons
Definitely for team collaboration, rather than consumer webinars
Webex Pricing Plans starting from $13.50 per month, for up to 50 participants. Price quickly climbs
Link Webex
Companies Big, big companies
13. Zoom

Zoom has made a big splash in recent years. I see their billboards from the freeway in San Francisco all the time… still to do this day.
The most pleasant thing about Zoom is that it offers basic webinar features for free. If your meetings continue for less than 40 minutes and the number of attendees is less than 100 there is no need to pay. That's because Zoom is built for large companies that are going to fork over big dollars for video conferencing technology. Don't use Zoom to sell a product! It's a web conferencing tool more than anything else.
You will get excellent video conferencing features with screen sharing, annotations on the screen while sharing, private and group chats, MP4 or M4A local recordings.
It is possible to create recurring meetings with the same link, so it's very convenient for the event attendees.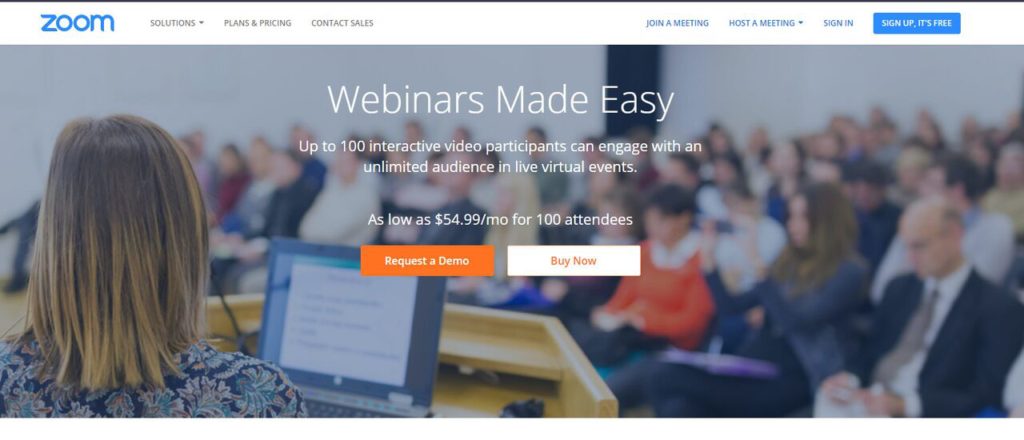 While Zoom is mainly used for teaching purposes, corporate users and entrepreneurs also may find it useful. Paid features include admin controls, detailed webinar reports, cloud storage for the recordings, personal subdomain for your events that looks like yourcompany.zoom.us.
Pros
Simultaneous Screen Share for several attendees

Free desktop and application sharing
Works on all platforms and devices
Records the complete event, including the questions asked by attendees via chat and the videos from multiple presenters and attendees that are part of the Question and Answer
Zoom also has a massive marketplace of app integrations, which enable businesses to get even more out of the platform — for instance, HubSpot users can connect Zoom to HubSpot's CRM and email marketing suite to automate followups for attendees
Cons
Interface navigation is a bit confusing
Zoom hardware doesn't work that well — plain and simple
Zoom Pricing Free personal meetings with up to 100 participants with limited duration (up to 40 minutes). Paid plans start from $14.99 per month and include unlimited meeting duration with up to 100 participants.
Link Zoom
Full review Zoom review
Companies Big companies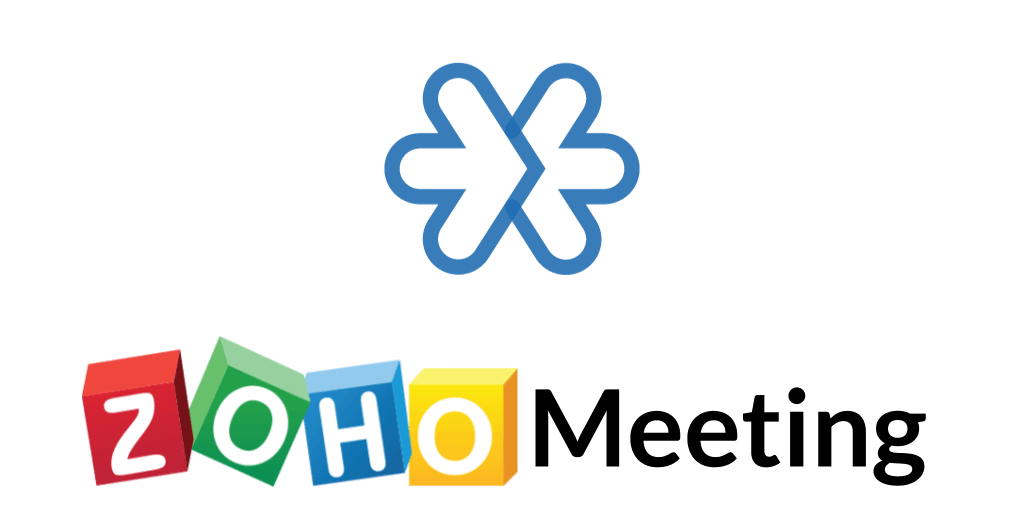 Zoho Meeting is web conferencing software that offers both video conferencing and a webinar solution, which makes it a great 2-in-1 solution. Zoho Meeting is easy to use for small and large businesses alike, and is best used for basic remote support, team collaboration, application-based demonstrations, and webinars.
Pros
We love that it runs directly on your browser without you needing to download anything — that way attendees can join the session with just one simple click.
Excellent video conferencing features like screen sharing, moderator controls (to host secure meetings) and live chat.
Ability to perform Q&A, polling, broadcast messages, make attendees a presenter, allow an attendee to "raise a hand" and speak during the webinar
Online recordings are available to share via a link with your attendees and/or via a downloadable MP4 format.
Option to embed your registration form on your website so that website visitors can join the meeting with just one click.
Scalability to meet with up to 250 participants and view up to 50 live video feeds at a time.
Add co-hosts to meetings, share files, and also take meeting notes.
Virtual backgrounds to help you work from anywhere you want.
Raise Hand feature to get the attention of the presenter, and emoji to express reactions during a meeting
Webinars that can scale for up to 3000 attendees with YouTube live streaming
Cons
Reporting could be more in-depth.
The features are simple and basic.
Zoho Meeting Pricing
The paid meeting edition starts at $10/month with up to 10 participants and the paid webinar edition starts at $19/month for 25 attendees. Read the complete pricing details on the Zoho site.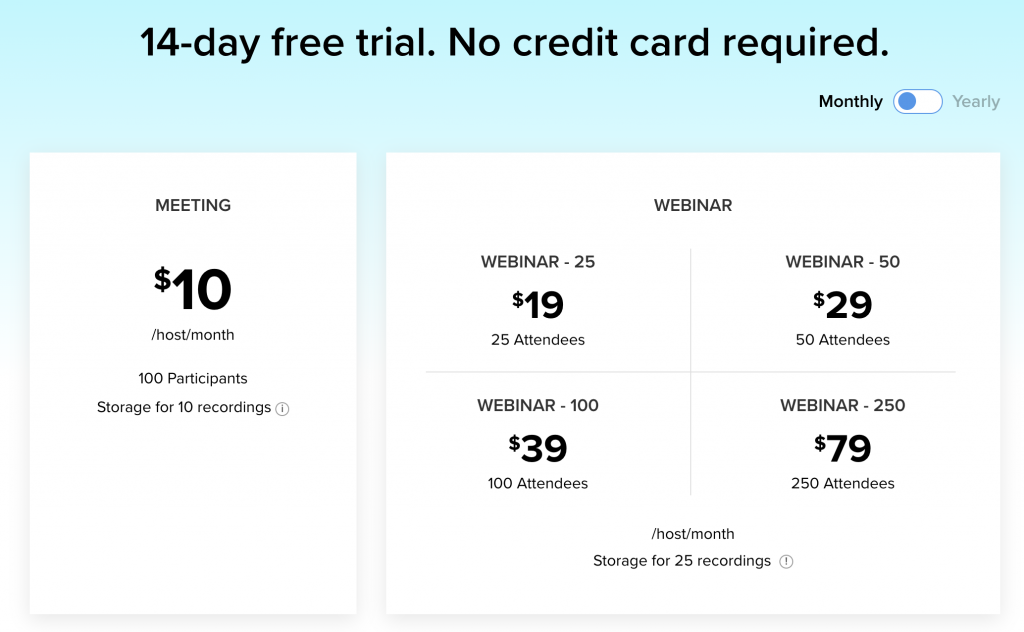 Link Zoho Meeting
Companies All – especially when you're looking for no downloadable application for attendees.
15. Livestream

Livestream is a serious platform for corporate clients, big businesses, and educational institutes. While it can be used by all other categories of webinar users, it is primarily aimed at those who have already built a relationship with their audience.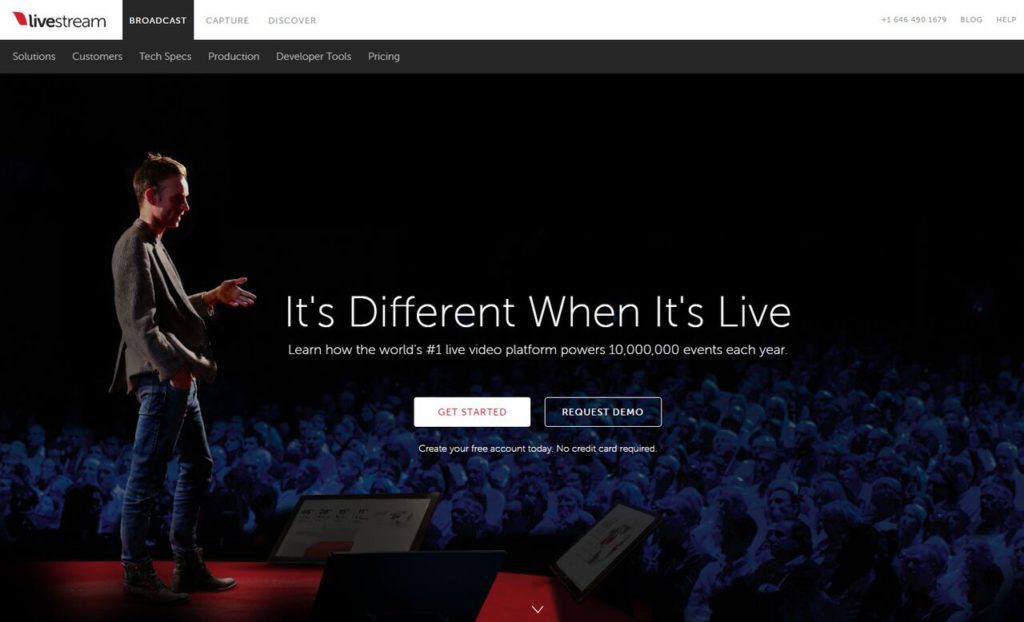 Here the broadcaster doesn't need to keep in mind the maximum number of attendees that are allowed by his plan. You may have as many participants as needed and still experience the great audio and video quality.
All events are automatically recorded and stored in the cloud.
The storage is also unlimited, so you may save each of your events for the future.
To maximize the audience coverage it's possible to advertise in the strong Livestream community, and also to stream your event to Facebook Live and YouTube.
Have you already reached the level where the people are ready to pay for your events? Enjoy the Pay-Per-View option with digital tickets.
Livestream's event camera MEVO: MEVO is an incredible camera that can be used to record live events, hands-free. It has a mind of it's own and can record from different angles. The technology just follows the speaking head. It's pretty amazing.
I use Demio for my webinars, but I do use a MEVO to record my live fireside chats and panels. I used to spend a few hundred dollars hiring a videographer every time I hosted an event, now I just use my MEVO.
Pros
Unlimited attendees

Unlimited storage for the recorded events
Stream to Facebook Live or YouTube
Pay-Per-View feature for monetizing events
Can be embedded directly into your website
Cons
No audience engagement features like surveys or polls
Livestream Pricing Free 30 days trial. Paid plans start from $42 per month and don't limit the number of participants. The plans differ in their functionality. The premium plan costs $199 per month and includes analytics tools and live embedding option. Enterprise clients may choose an advanced plan for $799 per month with password protection, advanced privacy controls, and more.
Companies All, particularly ones that do live events
Link Livestream , MEVO
BlueJeans Events is great for hosting live events, town halls, and webcasts for large audiences around the world.
Designed for marketing teams that aim to capture and capitalize on audience participation, BlueJeans Events provides a premium content delivery platform alongside a feature-rich moderator dashboard that supports a variety of one-to-one and one-to-many communication options.
BlueJeans encourages customers to replace their "worn-out webinars" with production-grade experiences that transform outdated slide-share presentations into upgraded video events. Their multi-media stack is powered by HD video and Dolby Voice audio for a crystal-clear experience. To retain audience attention, BlueJeans Events supports up to 150 on-camera speakers, chat, polling, Q&A, screen share, app share, pre-uploaded media playback, and multiple video display options that event managers can change throughout the presentation.
BlueJeans allows you to define your event participants and segment them into three groups: moderators, presenters, and attendees. Each role has access to a unique set of capabilities to ensure an optimal event experience.
BlueJeans integrates with marketing tools like Marketo, Salesforce, and Splash to automate invitations, collect RSVP data, and accelerate the follow-up process. Additionally, users can create virtual pay gates with TicketSocket and stream to Facebook Live or YouTube Live.
Pros:
The Moderator dashboard is best-in-class
100% browser-based with zero app downloads
Backstage 'green room' for presenters and moderators, lobby 'waiting room' for attendees
Event setup and scheduling takes less than one minute
HTML embed allows event admins to stream content from their domain of choice
Intermission/pause broadcast feature for mid-event breaks or session switching
Automated closed captioning
Cons:
Price is higher although includes a wider selection of built-in features
BlueJeans Events Pricing: Free 14-day trial. Unlimited webinar plans are available online starting from $99/month with packaging for 100, 200, and 500 participants. For larger presentations, customers can contact sales to host audiences up to 50,000 attendees.
Link: BlueJeans Events
Companies: Growth-focused marketing teams and production groups with a need for high-value, easy-to-use technology.
17. Google Hangouts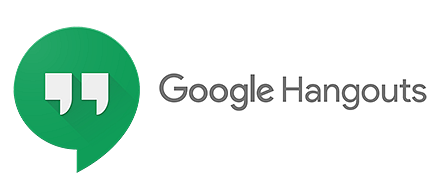 Hangouts is a completely free online software that is a part of Google+ and works with YouTube. To hold a webinar on Google Hangouts you need your own channel on YouTube and Chrome browser.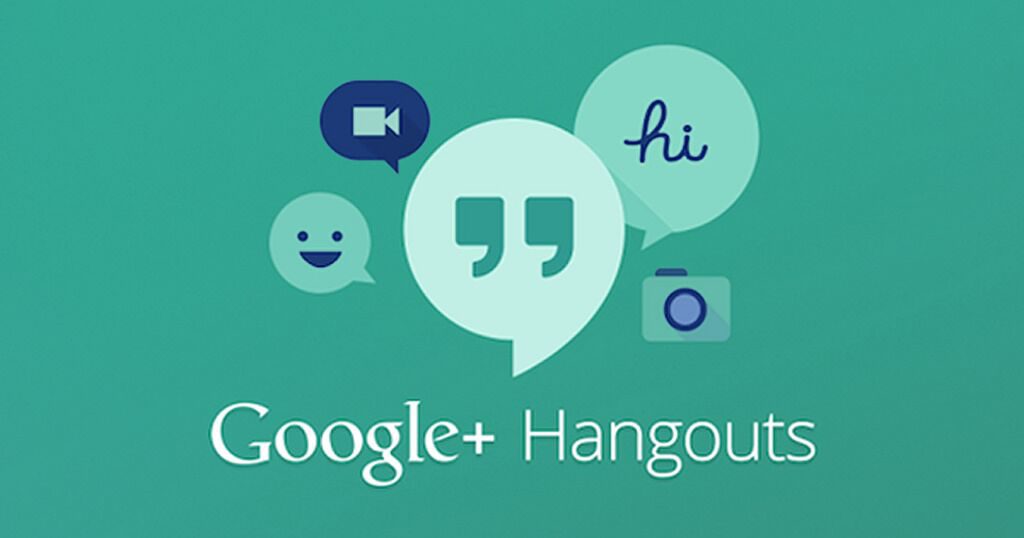 The webinar may be held in a small group up to 30 people or broadcasted to the wider audience using a live YouTube stream.
Either way, the webinar is recorded during the broadcasting. It becomes available as a YouTube video after the event is finished. The author may make the video private or public then.
Google+ Hangouts is very popular in the corporate world because it allows handy features for inviting members. Moreover, several people can speak during one event, and the webinar can be easily shared upon completion.
However, it is not suitable for paid events, because there is no option to make the stream private. For this reason, we typically consider Google Hangouts to be more for video conferencing, and less for webinar-ing.
Pros
Up to 30 people in the chat

Webinar is automatically recorded and uploaded to your YouTube channel
It is possible to broadcast the webinar through YouTube for the greater audience
There is an option to change the speakers during the webinar
It is possible to turn off the video and share the presentation
Cons
The members need to have Google account to take active part in the event (ask questions etc.)

No marketing features (paid events, tracking etc.)
Google+ Hangouts Pricing Free
Companies All. Startups with just a few customers can use G+ Hangouts to communicate. Can't beat the price.
Link Google+ Hangouts
18. WebinarsOnAir

WebinarsOnAir is an inexpensive solution for those who cannot afford to spend hundreds of dollars on webinar software. It can be used by freelancers, entrepreneurs, small businesses, educational institutes, etc. It's an add-on to Google+ webinars.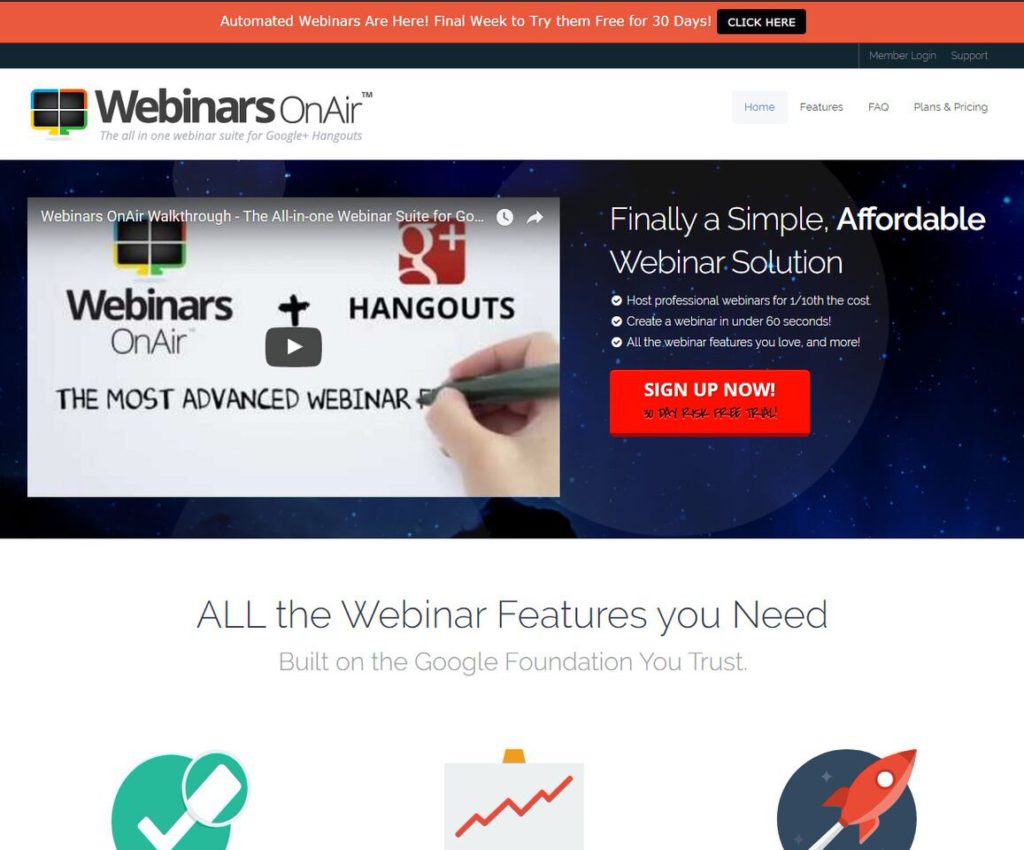 This solution extends the Google+ Hangouts features by making it possible to hold the pre-paid event (the payments options are integrated directly to the registration form). It also allows webinar page customizing.
It will make your webinars lead capture magnets. You can collect customers' emails by letting them enter the event only after registration. G+ doesn't enable this feature.
Due to utilizing Google top technologies up to 10 people may speak during the webinar, and the quality of the translation is typically great.
Pros
Very affordable

Easy to join for the users (no additional software or plugins)
Customizable webinar page
Capturing leads feature
Automatically records the event and publishes to YouTube
Cons
Depends on Hangouts and sometimes become inaccessible due to the changes in Google software.
WebinarsOnAir Pricing Free 30-day trial. Plans start from $19.97 per month for 25 participants. The plan for unlimited attendees costs $99 per month.
Link WebinarsOnAir
Companies Startups. If you have a few customers and you need a free and reliable add-on to G+ this is it.
19. DaCast

DaCast may be a great choice for companies and individuals who are just trying their hand in webinar conducting. While the majority of webinar platforms are subscription based, this pricing format may not be ideal for those who only hold live events from time to time.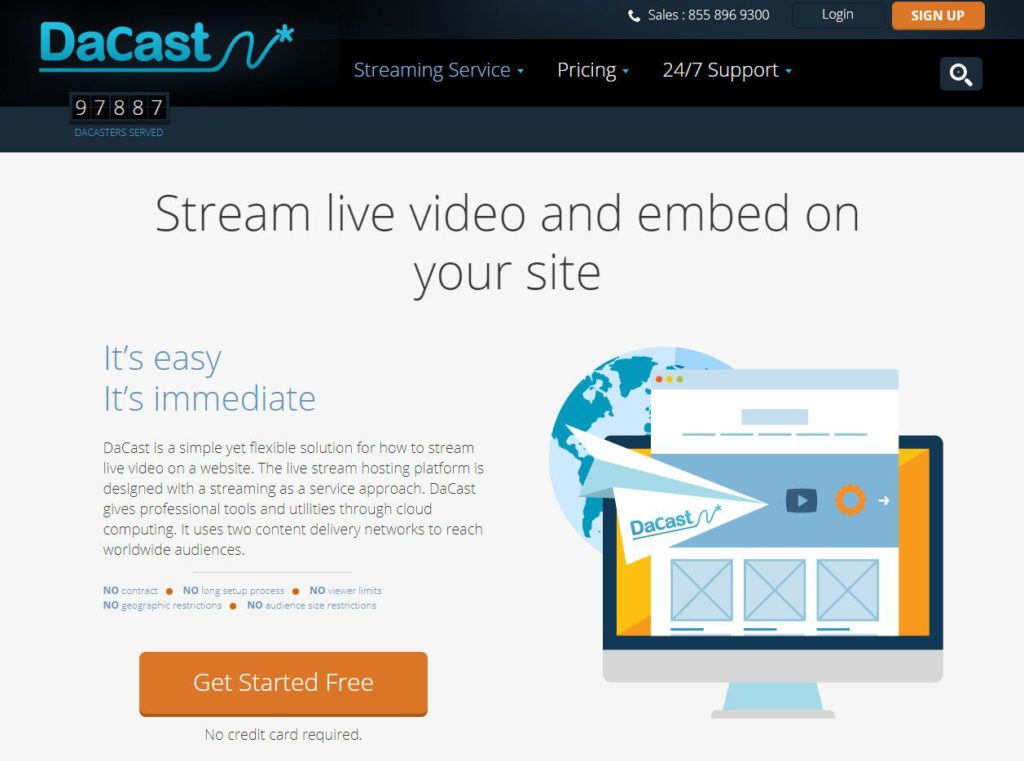 Dacast is a live streaming platform with a unique approach to pricing. The customers may pay on an event-by-event basis. Prepaid bandwidth may be used when the client needs it during the following 12 months. However, there are also subscription-based plans for those who hold webinars regularly.
With Dacast, it is possible to stream from your website, over social networks including Facebook, or any other way. The account holder may apply geo or referrer restrictions, add watermarks to the stream, and also charge for paid events.
Pros
No Viewer Limits

Unlimited Channels
FTP Access
Embedding live video streams
May be used without a subscription (great for one-time and rare events)
Cons
If you go over the bandwidth amount you will be charged $0.15 per GB, or streams will shut off
DaCast Pricing Free trial. Monthly or per event plans. Per-event plans start at $0.25/GB, monthly plans start from $19 per month and include prepaid bandwidth, viewer hours, storage, and support.
Companies Startups
Link Dacast
20. WebinarNinja 
WebinarNinja is an all-in-one webinar software solution trusted by companies like Baremetrics and AppSumo. It has all the tools you need to run any type of webinar whether you are a seasoned pro or a newbie.
Host live webinars with a highly interactive attendee experience and then record and automate your webinars so that new attendees can view them in the future. Hybrid webinars let you interact with viewers in the chat area so they can have a live experience even while viewing a recorded webinar. If your organization wants to host a series or summit, WebinarNinja enables users to produce multi-session courses and attendees only need to register once.
WebinarNinja's email notifications, registration confirmations, and event reminders provide registrants with all the details they need. WebinarNinja incorporates key marketing tools that help track conversions and attendance rates so you can analyze stats and get smart about moving attendees through your funnel.
Pros
Create any type of webinar you need; live, automated, hybrid, series, summits, you name it.
WebinarNinja is cloud-based, so attendees can join in on any web browser without having to download any software
Create eye-catching webinar decks with WebinarNinja's professional templates and page designs
The platform comes with a set of marketing tools so you can further engage with your audience via search and social
Cons
The back-end can be difficult to navigate
Occasional glitches have been reported with audio going in and out
May take longer to upload longer presentations
Customer service team is slow
WebinarNinja Pricing WebinarNinja is available at three price points. The Pro plan costs $79/mo and allows for 300 live webinar attendees but does not include hybrid webinars. Their Plus plan costs $129/mo for 500 live webinar attendees and the most expensive plan, Power, costs $199 for 1000 live webinar attendees. Each plan grants unlimited attendees for recorded webinars.
Link WebinarNinja
Companies All companies but especially larger ones
Full Review WebinarNinja Review
21. LiveWebinar
LiveWebinar is a technical cloud-based webinar tool. It is a fully customizable option that offers seamless live video streaming, screen sharing, and social media broadcasting capabilities.
As a top-of-the-line solution, LiveWebinar has modern webinar features that will transform the webinar experience for your audience. Maintain the quality of your live webinars with HD recordings so you can automate presentations that don't look blurry and pixelated.
Broaden your audience and extend the reach of your webinars by broadcasting them through popular channels including YouTube, Facebook, Vimeo and Periscope.
Promote engagement with polls, surveys, chat and CTAs during live sessions. LiveWebinar's whiteboard feature can help turn stale deck slides into dynamic learning opportunities by allowing hosts to draw on documents and videos. Turn your viewers into active participants by splitting attendees into breakout rooms where they can network and connect over the amazing content you're sharing with them.
Pros
Record live webinars in full HD and store them in your personal cloud space
Show your desktop in real-time to easily share content throughout your webinar
Incorporate Prezi forms into your presentation so you can earn and keep your attendees' attention
Broadcast your webinars and meetings to external sources and social platforms like YouTube and Facebook
Enable polls, surveys, CTAs and chat with attendees to enhance feedback and participation while nudging your attendees closer to converting
LiveWebinar's Whiteboard feature elevates the experience of your presentations by allowing you to draw on documents and videos
Connect with participants with email, call and text messages
Easily assign roles for webinar and online meeting participants to remove confusion for everyone involved in the presentation
During webinars, you can split your attendees into breakout groups to create more intimate and collaborative environments
There are tons of integrations available so you can store your contact data in your marketing automation tool
Customer support is pretty responsive
Cons
Steep learning curve when first using the tool
Users have reported issues when upgrading services
UI could be made simpler
LiveWebinar Pricing LiveWebinar has a free option for smaller teams that only need up to five attendees. The Pro plan costs $11.99/mo for up to 100 attendees. Their Business plan costs $95.20/mo and grants up to 500 attendees. LiveStream also lets you customize a plan so you only get and pay for the features and capacity you need.
Link LiveWebinar
Companies All sizes
22. MyOwnConference 
MyOwnConfernce is a cloud-based solution for webinars, video conferencing and online meetings. At an affordable price, it offers a relatively stress-free experience with a simple setup process. Smaller businesses will find this solution to be a viable option as it checks most of the boxes in terms of must-have webinar features.
Attendees can join in without downloading software and they can join with any web browser on desktop or mobile. Share your screen and easily broadcast videos from YouTube for a multi-media webinar experience.
With widespread coverage, people can participate in your webinar no matter where they are in the world. There is also no need to worry about a language barrier as MyOwnWebinar's webinar room interface is available in over 16 languages.
Another unique feature lets hosts warn or blacklist unruly attendees so you can keep the peace during your presentation and avoid future issues with spammers. This way you can channel all your effort toward delivering valuable information to your audience.
Pros
Attendees don't need to install software
Live broadcast presentations with one or several presenters at once
Send instant private messages to attendees and pin important info and links to the top of the chat so they don't get lost in the mix.
Show whatever materials you have during the webinar like slides and documents
Record webinars in SD, HD or full HD with the ability to choose which elements of the webinar room stay in the recording
Incorporate test and surveys into your presentation to collect specific information about your participants
MyOwnConference's white-labeling feature allows for personalized branding and custom backgrounds
The platform uses international-level data centers so people all over the world can easily participate. It also supports 16 different languages.
Automate email invitations and reminders to registrants don't miss your live webinars
Cons
UI could be more user friendly
Live room layout can seem clunky
Internet connection will affect webinar performance but the platform has a speed test function so you can test it out beforehand
MyOwnConference Pricing MyOwnConference has a free and paid plan. The Free option lets you have 20 attendees and three cameras during your webinar but you can only record for up to 20 minutes. The paid plan is priced based on the maximum number of attendees you need. At a minimum, you can have 60 attendees, 10 cameras and full HD recording for up to 10 hours for $30/mo.
Link MyOwnConference
Companies SMBs and growing companies
23. BigMarker 
BigMarker is a browser designed to handle virtual events with a large volume of attendees. There is no limit to the number of presenters you can have which is handy when orchestrating larger events with several guest speakers.
Custom invites, registration landing pages and email reminders are just a few of the features available through BigMarker's suite of marketing tools.
With so many attendees, it's hard to keep everyone's attention and video fatigue can be a real issue with virtual events. BigMarker lets you interact with audience members like with any other webinar solution, with digital handouts, polls and live Q&As.
Turn your participants into leads with BigMarker's CRM software integrations. Store all the information you collect from surveys and embedded forms so you can turn that data into actionable insights that will enable you to nurture leads after the webinar is over.
Pros
No software install required
Best for summits and virtual conferences in addition to webinars. Host up to 10,000 attendees.
Create live, automated and evergreen webinars
With on-demand video, you can embed an interactive video player into your presentation
Broadcast live events to an audience of thousands on your website, Facebook and Youtube pages.
There is no limit to the number of presenters you can have so you can call on anyone to join the conversation on-screen
Cons
May need high-speed connection to avoid dodgy connection and stalled webinars
With the variety of options, it can be difficult to set up the type of webinar you need
BigMarker Pricing There is no free plan but the least expensive Starter option starts at $79/mo for 100 attendees and 1 host license. The Elite plan costs $159/mo and lets you have 500 attendees and 2 host licenses. Premier costs $299/mo for 1000 attendees and 4 host licenses. BigMaker's white label can be customized and is best for large events with up to 10,000 attendees.
Link BigMarker
Companies Larger companies and enterprises
24. Adobe Connect 
In true Adobe fashion, Adobe Connect's platform places emphasis on creating visually stunning content that tells a complete story. It recently launched Adobe Connect 11 which is now more accessible and has an enhanced user experience with modern HTML browsers and a new Windows desktop application.
The user interface has been revamped to be more minimalistic, intuitive and responsive. And with better host controls, you can better manage breakout sessions, design layouts and save smooth recordings.
Customize your hosting rooms with functional windows called Pods, which are easy to make. Just add name, position and size, and you can create virtual storyboards called Layouts. Adobe Connect has a set of custom apps that can be incorporated to extend the functionality of your Layouts or create your own apps using their new HTML SDK. For example, you can create a Web Links Pod to open a URL in all participants' browsers so you can send them to a post-session survey, assessment, or whatever you want.
These are just a few of the powerful features included in this solution. If you have advanced requirements and want to explore a new realm of possibilities, Adobe Connect could be what you're looking for.
Pros
The platform works for webinars, meetings, training/onboarding and more
Design and deliver visually beautiful webinar presentations
Create interactive recordings so you're webinars can continue to do work for you even after they're over
Create interactive and engaging storyboards and customized colors, banners and logos
Track conversions by campaign and leverage the analytics provided by Adobe Experience Manager and Adobe Analytics
Custom CRM integrations
Cons
Users have reported some video and audio disturbances on mobile
Somewhat expensive
Adobe Connect Pricing Adobe Connect offers three different products for Meetings, Webinars and Learning. The Meetings plan starts at $50/mo for 25 participants and the Learning plan lets you conduct virtual classes with up to 200 participants. Adobe Connect Webinars has three tiers. The lowest tier starts at $130/mo for up to 100 participants, the second tier costs $470/mo for up to 500 participants and the third tier costs $580/mo for up to 1000 participants.
Link Adobe Connect
Companies Agencies and larger organizations
25. Intermedia AnyMeeting 
A strong, middle-of-the-road webinar solution, AnyMeeting lets you host virtual events when and wherever you want. Attendees can join in from anywhere with just one click and hosts have the power they need to produce engaging presentations that get the job done.
Conduct polls and answer questions from participants while they enjoy your screen shares, slides, and videos in high definition. You can be confident your audience will have a smooth experience from beginning to end with AnyMeeting. They can tune in by dial-in from 40 different countries and are directed to a waiting room where they'll be held until the webinar begins.
Built-in reporting gives you the opportunity to review analytics and statistics from your webinars so you can see when audience members came and left. With this you can identify ways to better promote engagement during your webinar.
Pros
Sound video, audio and screen sharing
Create custom invitations, registration pages and email reminders
Take polls and surveys and share their results in real time with your audience
Built-in reporting lets you learn more about your audience based on data collected about their behavior throughout the webinar
AnyMeeting features a presenter Green Room so everyone participating in the presentation can gather to go over details for up to an hour before it starts
Cons
One-click functionality is only accessible for Chrome browsers
Can't broadcast from a mobile device
Intermedia AnyMeeting Pricing AnyMeeting's Webinar Lite plan costs $48/mo per user for 50 attendees. Webinar Pro starts at $128/mo per user and allows for 200 attendees and Webinar Enterprise costs $298/mo per user for 1000 attendees. Plans come with a 30-day trial and 24/7 customer support
Companies All sizes but especially SMBs
---
Our Top Pick
Demio for live recordings and on-demand webinars
So, which webinar tool should you choose? It really depends on your needs.
What is a webinar?
Webinars are video seminars held online. They are powerful tools that businesses use to market products, educate customers and even train employees.
Webinars can be held live or they can be pre-recorded and automated (also known as "evergreen").
The person holding the seminar is referred to as a "host" and they invite attendees to watch and participate in an online session that can last anywhere from 10 minutes to 2 hours.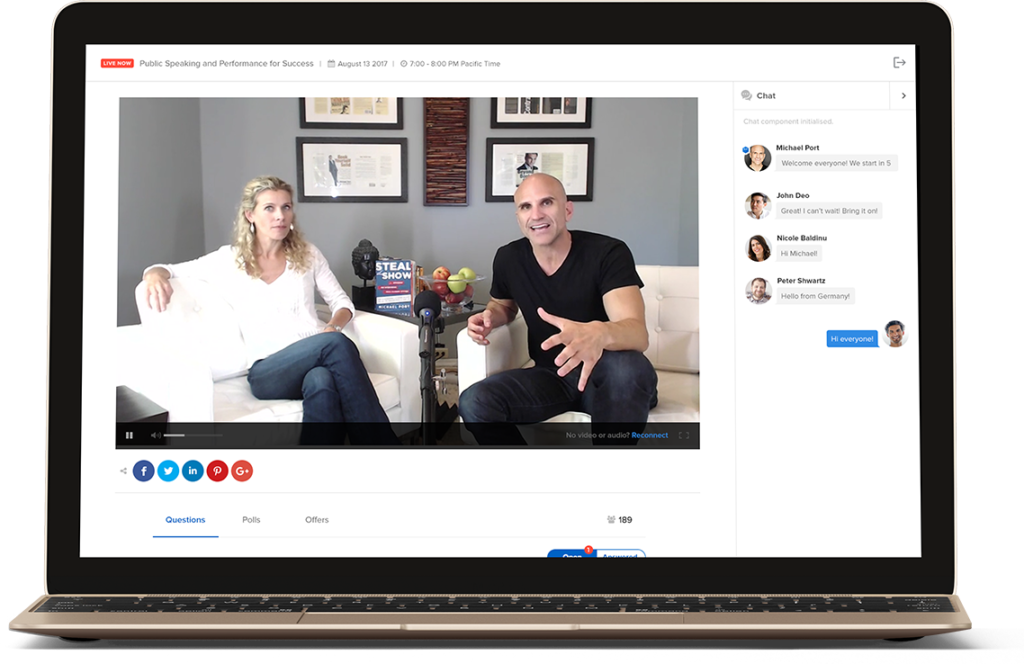 Why use webinars?
Webinar marketing is now one of the most popular and effective ways to promote brands online today.
People love hearing a founder or product expert walk through their product or service, give a demonstration and respond to Q&A.
Here are some reasons why you should be interested in webinar marketing:
People pay attention! According to GoToWebinar, attendees don't drop off during longer webinars. Attendees will stay for about 70% of a webinar that lasts up to 90 minutes. The average webinar attendee stays for 54 minutes!
51% of traffic to a page advertising a webinar ends up signing up for the webinar!
The average webinar converts 19% of users. Depending on what you're selling, this could be a lot of revenue for your business.
Plus, webinars work in nearly every industry!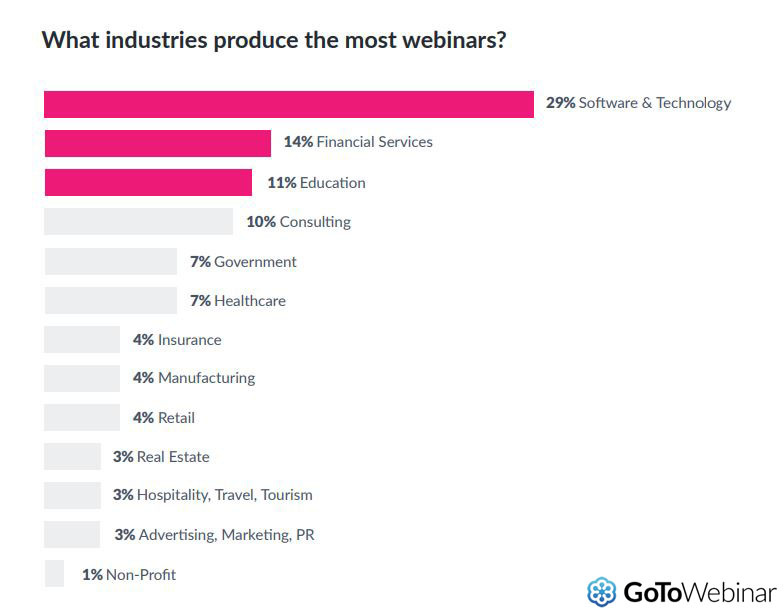 Webinars are great for:
Showcasing new (or difficult-to-understand) products and services
Selling b2b products (ones that are used by other businesses)
Engaging blog audiences
Creating onboarding or training videos for employees
Selling SaaS products (software)
Nurturing existing customers
Acquiring leads
And the list goes on.
What is webinar software?
Webinar software refers to the tools we use to make webinars, allowing us to deliver content in a convenient and engaging way. They're effective at converting passive viewers into leads and revenue.
Webinar software allows you to create an interactive experience online.
Attendees can use the chat section to ask questions at any time.
Hosts can take polls and surveys to keep attendees engaged and gather data.
Screen sharing can be used to give live demos.
Hosts can make exclusive product offers for attendees during sessions.
The best webinar platforms, like Demio and WebinarJam, enable selling and have a bunch of bells and whistles for marketing your webinar (getting attendees to sign up).
How to choose the best webinar software for your business?
Try to answer the following questions in writing as a first step:
What is your budget? Can you afford expensive solutions?
What is the size of your audience? How many attendees do you expect on the event?
Is your audience tech-savvy? Whether downloading/installation of the additional software is a problem? What OS and devices do they use?
What features do you need at the time of the live event (whiteboarding, screen sharing, presentations, prerecorded video, chat translation, etc.)?
Is the chat important? Do you need advanced features for communication with your audience, such as moderation, private messages, surveys, and polls, and asking questions by email?
How many presenters do you expect during the webinar?
Do you plan to hold paid webinars or rather use the live events for advertising and collecting customers' emails?
Do you want your webinars to be recorded?
Do you need analytics tools?
Do you want your webinars to be replayed again?
Almost all of the webinar tools have either 30-day money-back guarantee or a free trial period, so there's really no reason why you shouldn't at least start using webinars for your business.
The best free webinar software
The best webinar platforms offer a free trial or $1 trial for as many as 14 days. So if you're trying to run a webinar on a budget, I recommend signing up for an inexpensive trial before making a long-term purchase.
The only completely free webinar software is Google+ Hangouts, however, it does have significant limitations.
Google Hangouts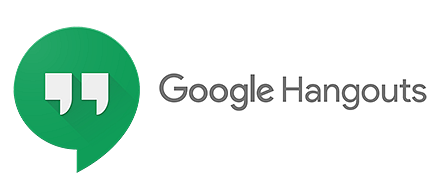 Hangouts is a completely free online software that is a part of Google+ and works with YouTube. To hold a webinar on Google Hangouts you need your own channel on YouTube and Chrome browser.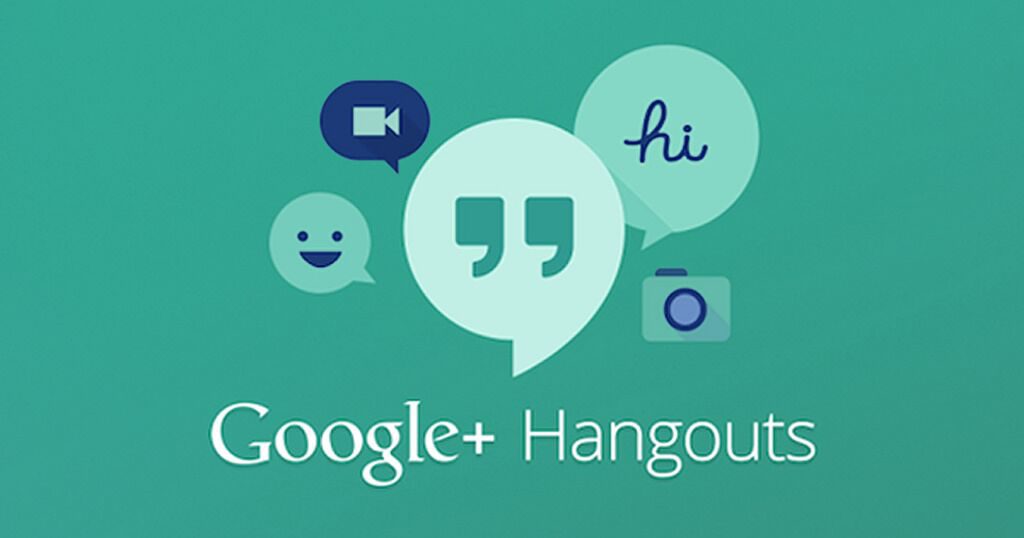 The webinar may be held in a small group up to 30 people or broadcast to a wider audience using a live YouTube stream.
Either way, the webinar is recorded during the broadcasting. It becomes available as a YouTube video after the event is finished. The host can make the video private or public at that point.
However, it is not great for lead generation because you don't have the option to make the content gated and collect emails. For this reason, we typically consider Google Hangouts to be a tool more for video conferencing and 1-on-1 video calls, and less for webinar-ing.
Pros
Webinar is automatically recorded and uploaded to your YouTube channel
It is possible to broadcast the webinar through YouTube to a larger audience
Cons
Limit of 30 people
Not good for lead generation

The members need to have a Google account to take an active part in the event (ask questions etc.)

There are no marketing features (paid events, tracking etc.)
Google+ Hangouts Pricing Free
Companies All. Startups with just a few customers can use G+ Hangouts to communicate. Can't beat the price.
Link Google+ Hangouts
The best pre-recorded webinar software
A pre-recorded webinar, also called an on-demand webinar, automated webinar or evergreen webinar, allows you to get WAY more out of each live webinar you conduct. Pre-recorded webinar software allows you replay a webinar for future audiences.
Learn more: How to make money while you sleep with pre-recorded webinars.
Tools, like Demio, EverWebinar and EasyWebinar take your videos and recordings and turn them into webinars, making replayed webinars seem like live ones! So you can make money while you sleep ?
The Best Pre-Recorded Webinar Software is Demio
Demio is the best solution for pre-recorded webinars and live webinars, which is super convenient to have both in one platform.

How to get people to attend your webinar
What good is a webinar if nobody shows up?
Once you have selected the perfect webinar software and written the perfect webinar script, it's time for you to start marketing your webinar.
Here are some other best practices for effectively marketing your webinar.
Create your webinar registration page
The registration page is the place where people can come and know more about your webinar. Your landing page sends a professional image and proves your existence to the people.
Of course, people will have a lot of questions about your webinar and what you will be talking about. Use your landing page to answer most of their questions and talk about what they will learn and how they will benefit from attending your webinar. You could create some urgency, release coupon codes, etc. to offer discounts to those who register the earliest.
The good news is that nearly every webinar software can and should take you through all of this so you won't have to do anything from scratch.
Blast your email list
Use your email lists to tell everyone about your upcoming webinar. You may have spent months or years building up your email list, now is certainly the time to use it. Heck, go ahead and email people on your personal email list.
Post a CTA on your website
Anyone who visits your website should know that you have a webinar coming up and that they can click to join! You can use a tool like Hello Bar or Unbounce to create pop-ups that alert people about the existence of your webinar.
Use the power of social media
Find creative ways to get people's attention via social media. Use your social media accounts to build hype for your webinar and engage the potential audience. You can do things like: create polls to get people's feedback on topics for the webinar or record and share short teaser videos of your webinar.
Paid social media
In addition to that, try to take advantage of targeted marketing on Facebook and Instagram if you have a little budget to play with. Facebook has loads of targeting options that can help you "recruit" people to your webinar. You can target based on interests, demographics, and recent online purchasing histories to know what will attract them.
Ask partners to promote you
Ask other industry experts, small blogs and publications and even your friends or coworkers to help you promote your webinar in the week or two leading up. If you plan on having other experts on the webinar with you, make sure to ask them to activate their marketing networks, online influence, and social media presence to promote the event. Use your network!
Now go start your first webinar!
Here's a free perfect webinar script to make it nice and easy.
xoxo
Hailey