Head of Marketing
at
PlushCare
I'm the head of marketing for a tech company in San Francisco and the cofounder @ GrowthMarketingPro.com
Latest posts by Mark Spera (see all)
There are so many choices for webinar software.
It's annoying because it doesn't seem like it should be so complicated. We're going to simplify it.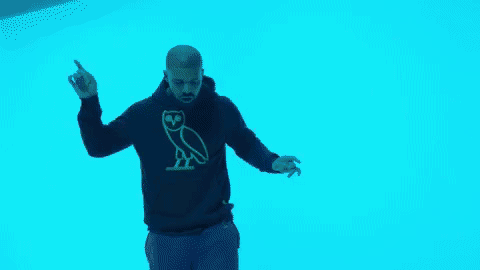 Whether you are an entrepreneur, content provider (blogger), online training provider or software creator, you definitely need to connect with your audience to be successful.
In today's internet, you have to connect in a real way to engage your audience and convert them into buyers. 
Webinars stand at the top of the modern technologies for promoting online. 
We've distilled the list down to 12 with pros, cons, pricing and we even tell you which types of businesses should use each software.
But first, why webinar software and which businesses need webinars?
ALSO IF YOU WANT THE ULTIMATE WEBINAR SCRIPT (WE'VE TRIED A MILLION), DOWNLOAD IT HERE
Why Webinar Software?
People do not like to miss out "one-time" events and are more motivated to turn up. (Our favorite webinar software has a recurring evergreen feature that makes all of them just-in-time)
You may discover more about your audience and fit your presentation towards the visitors while holding the webinar. Know thy customer.
Webinars help to tell about new services to a large audience. This is particularly useful for software companies.
Webinars can be very detailed. That little feature in your product that is super hard to explain — you can explain it in a webinar.
I was once told it's the only marketing method online that holds people's attention for 45+ minutes. This Google search seems to confirm.
Which Businesses will Succeed with Webinars?
Saas companies, b2b companies and upmarket products tend to benefit from the high touch, long form nature of webinars.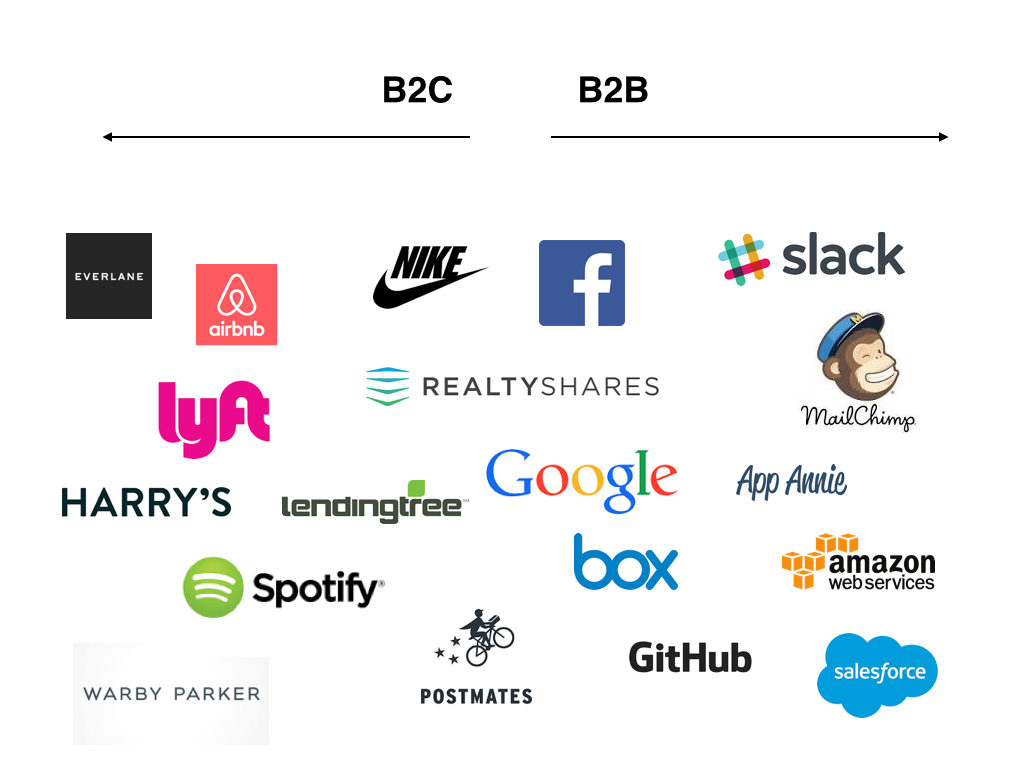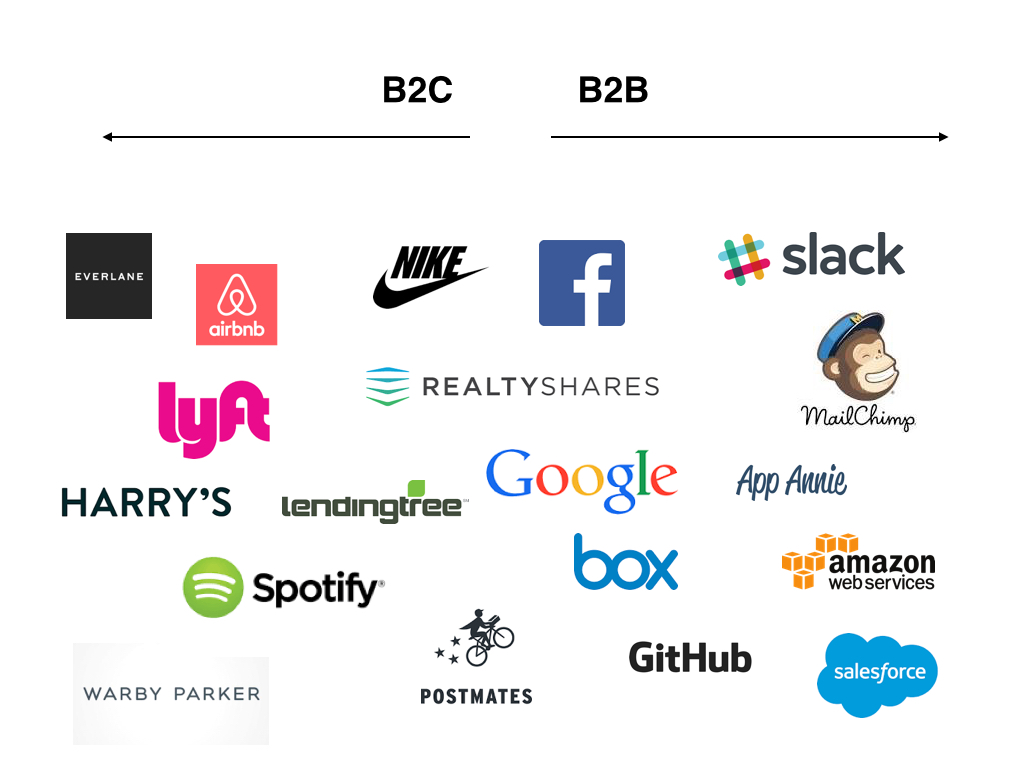 These types of businesses sell a robust and frequently expensive product that requires explanation and a lot of tender loving care.
Plus some features are complicated and require additional detail in the form of video.
Bloggers are great webinar candidates. Successful bloggers tend to have a persona that their audience connects with. Naturally, their readership eats up an opportunity to see them "in person."
Companies that may not Benefit from Webinars
Webinars aren't particularly useful for ecommerce companies.
Warby Parker, Everlane, Dollar Shave Club and other companies selling relatively low cost products may not benefit from the high touch webinar software.
Generally, there are other ecommerce best practices that are more effective at moving product.
The Top 12 in the World of Webinar Software
This list is going to help you figure out which webinar software is best for your business.
I'm an entrepreneur, blogger and I work for a 100 person startup.
I married my experience with all the best resources from across the web.
Read on to figure out which is right for your business.
ALSO IF YOU WANT THE ULTIMATE WEBINAR SCRIPT (WE'VE TRIED A MILLION), DOWNLOAD IT HERE
WebinarJam
WebinarJam recently re-launched and is now the simplest most intuitive webinar solution on the market. It does two things perfectly. 
WebinarJam is the best webinar solution for selling a product during a webinar. They let you have popup calls-to-action during the webinar so your audience can purchase with ease.
 It's best for communicating with viewers via live chat during the webinar.
It is built on the top of the RTMP, WebRTC, HLS, Flash and the other latest web technologies, so it works smoothly on any browser or device.
Along with the features that are offered everywhere, WebinarJam includes some pretty cool other stuff. 
For example, the webinar chat contains relevant comments highlighting, the ability to moderate the comments before they are appeared in the chat, private messages to the moderators, popups for selling product during your webinar, etc. 
Yes, the user interface on the homepage looks a little cheesy… I can't answer as to why.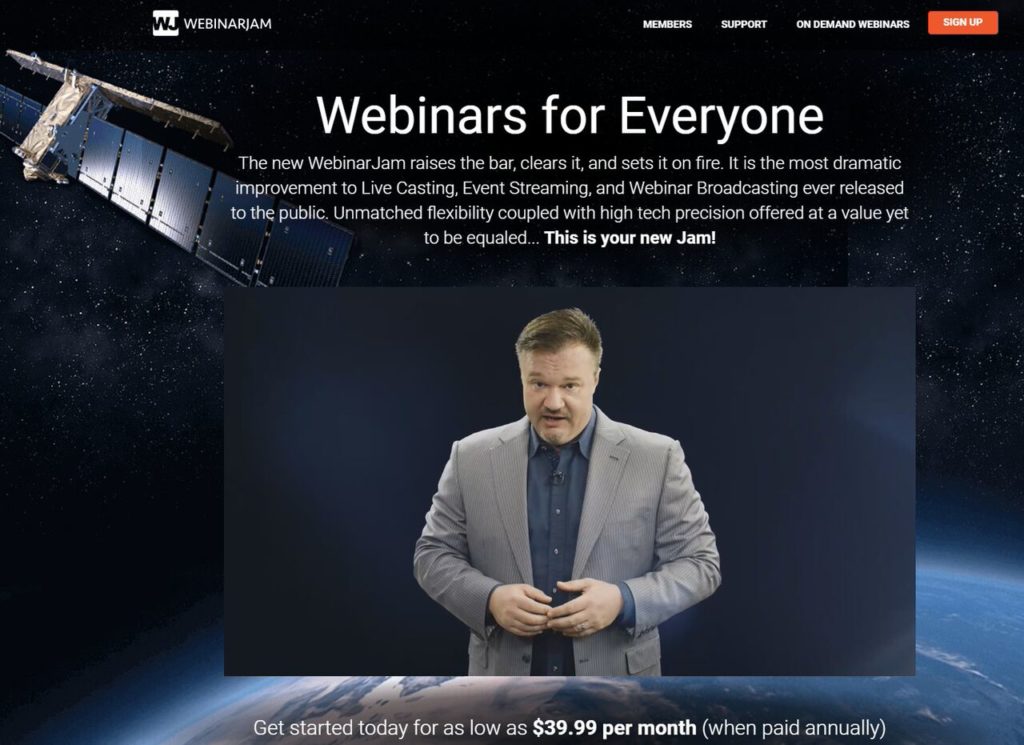 This platform is suitable for the coaching, consulting, promoting new products and even for the meetings with the fans.
The attendees may even send the request to speak, turn into the speakers for a while, and then return to the attendee mode.
It's great for companies of all sizes. It's the cleanest webinar software I've used.
Pros
Advanced chat with moderators and private messages

Up to 6 co-presenters shown in one screen
The ability to temporarily turn the attendee into a presenter
Works in all browsers, OS and devices utilizing the latest web technologies
Can push to Youtube or Facebook Live
The ability to have pop-up offers mid-webinar
Automatically records the webinar and offers a replay to attendees.
Cons 
S

ome people complain about experiencing video and sound delay up to 10 seconds
Price  Starts from $39.99 per month (when paid annually)
Link WebinarJam
Companies All
Video www.youtube.com/watch?v=Nv0fnByCLVs
Everwebinar
Everwebinar is a solution for automated evergreen webinars. It's a project of the same team that stands behind the WebinarJam solution. It's one of my absolute favorite marketing products. 
While WebinarJam is the platform for real-time events, Everwebinar is focused on the rebroadcasting — so-called evergreen webinars.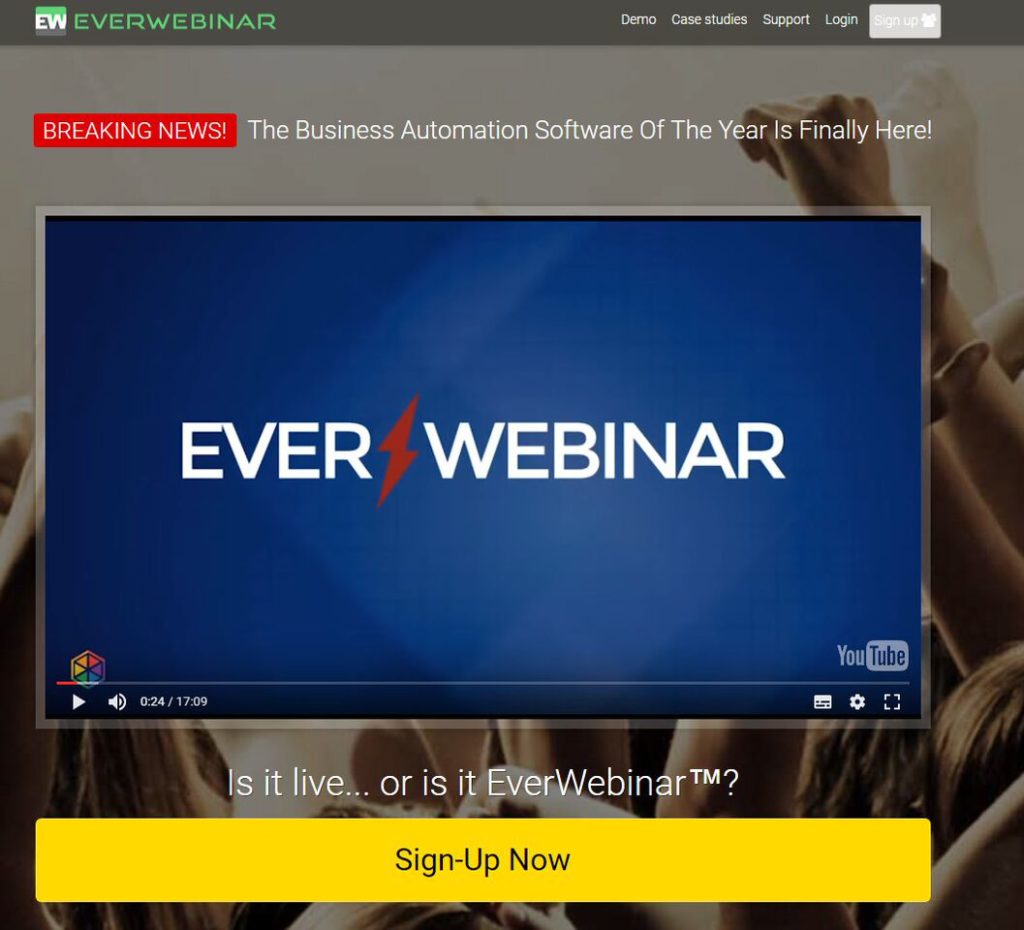 This platform is intended to use by small and medium businesses which can boost their sales by taking existing webinars and replay them for the new attendees and potential customers. 
Here you get the powerful automation tools that allow you schedule the replay of already recorded webinars. Well, you may say that it makes no sense because you just may offer the recording to your customers. Actually, it doesn't work in this way.
Any marketer can confirm that people prefer live events and they actually stay engaged up to 4x longer in a webinar environment than they would just watching a video recording. 
With EverWebinar you can get the look and feel of the original webcast as often as you want.
The solution is fully automated, so you can be in the webinar room and handle the chat while your prerecorded webinar is played or just have a nice day somewhere in the park while your products are presented online.
Everwebinar takes care of all of the engagement stuff — room count simulation, emails reminders, real-time chat simulation and popup reminders/calls-to-action. 
Evergreen webinars work.
Pros
The number of attendees can be faked

"Ask a question" option instead of the regular chat that sends the questions to your email
The smart webinar bot that shows your offer at the time of your choosing
Three types of webinars: live, hybrid (prerecorded video with live chat) or automated.
Powerful statistics option
Cons 
Price $41 per month (paid annually). But you get a $1 trial with our link below!
Link Everwebinar
Companies All
Video www.youtube.com/watch?v=KZYsbZauNeo
Google+ Hangouts
Hangouts is a completely free online software that is a part of Google+ and works with YouTube. To hold a webinar on Google Hangouts you need your own channel on YouTube and Chrome browser.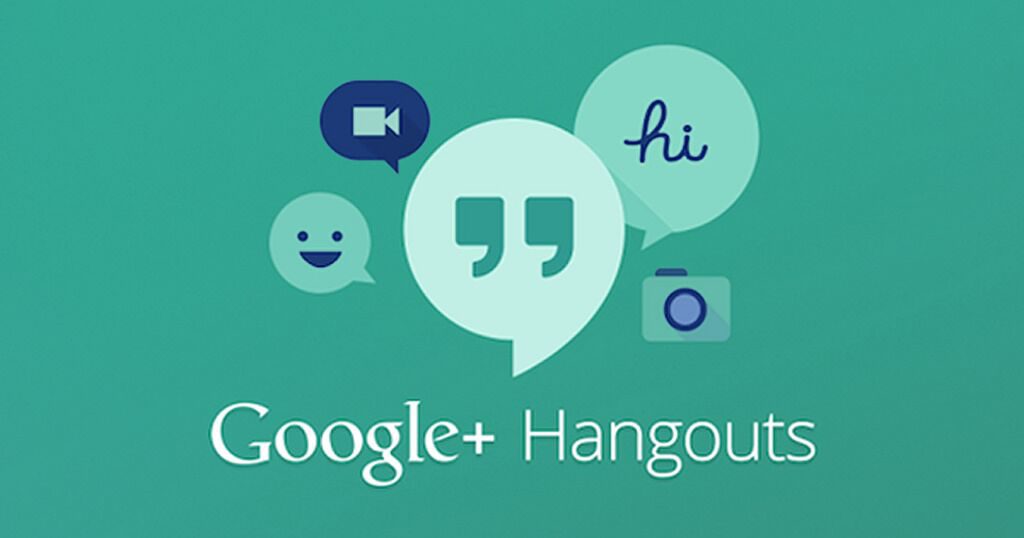 The webinar may be held in a small group up to 30 people or broadcasted to the wider audience using live YouTube stream.
Either way, the webinar is recorded during the broadcasting. It becomes available as a YouTube video after the event is finished. The author may make the video private or public then.
Google+ Hangouts is very popular in the corporate world because it allows handy features for inviting the members. Moreover, several people can speak during one event, and the webinar can be easily shared upon completion.
However, it is not suitable for the paid events, because there is no option to make the stream private.
Pros
Up to 30 people in the chat

Webinar is automatically recorded and uploaded to your YouTube channel
It is possible to broadcast the webinar through the YouTube for the greater audience
There is an option to change the speakers during the webinar
It is possible to turn off the video and share the presentation
Cons
The members need to have Google account to take active part in the event (ask questions etc.)

No marketing features (paid events, tracking etc.)
Price Free
Companies All. Startups with just a few customers can use G+ Hangouts to communicate. Can't beat the price.
Link Google+ Hangouts
WebinarsOnAir
WebinarsOnAir is the inexpensive solution for those who cannot afford to spend hundreds of dollars on webinar software. It can be used by freelancers, entrepreneurs, small businesses, educational institutes, etc. It's an add-on to Google+ webinars.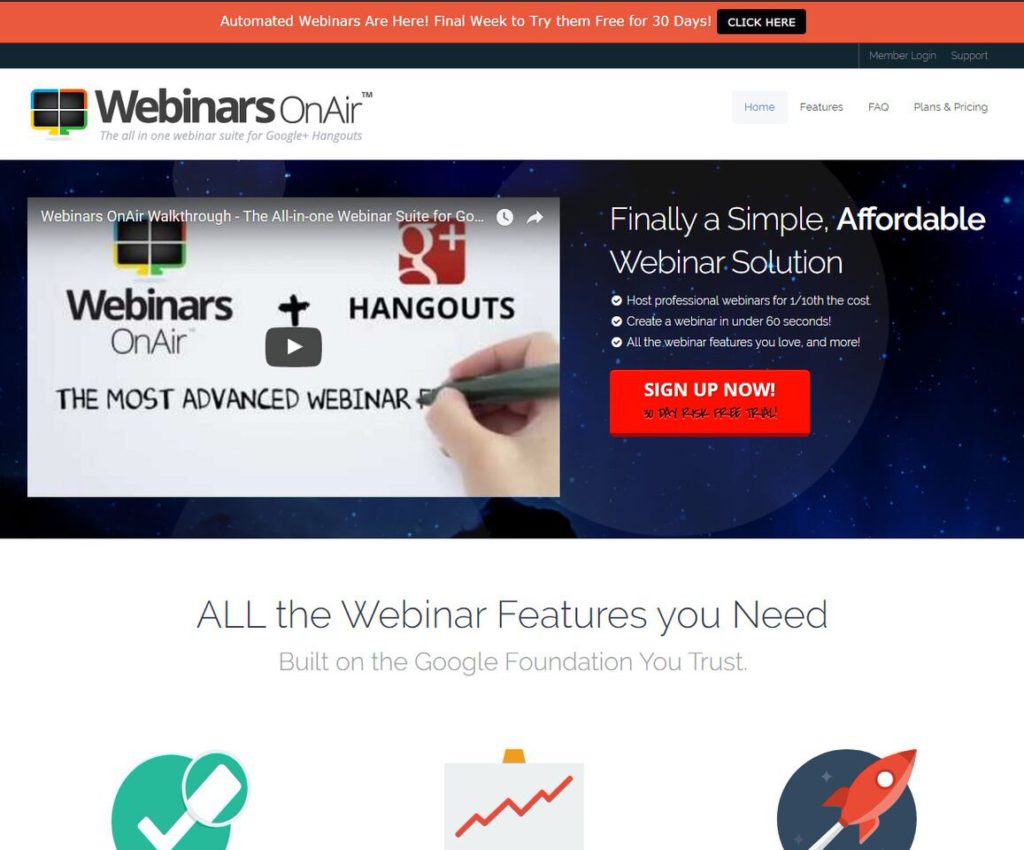 This solution extends the Google+ Hangouts features by making it possible to hold the pre-paid event (the payments options integrated directly to the registration form). It also allows webinar page customizing.
It will make your webinars lead capture magnets. You can collect customers' emails by letting them enter the event only after the registration. G+ doesn't enable this feature. 
Due to utilizing Google top technologies up to 10 people may speak during the webinar, and the quality of the translation is typically great.
Pros
Very affordable

Easy to join for the users (no additional software or plugins)
Customizable webinar page
Capturing leads feature
Automatically records the event and publishes to YouTube
Cons
Depends on Hangouts and sometimes become inaccessible due to the changes in Google software.
Price Free 30-day trial. Plans start from $19.97 per month for 25 participants. The plan for the unlimited attendees costs $99 per month.
Link WebinarsOnAir
Companies Startups. If you have a few customers and you need a free and reliable add-on to G+ this is it.
Video www.youtube.com/watch?v=47mOuRJ1Fso
GetResponse
GetResponse is a complete marketing program that is widely used by entrepreneurs, small, medium and large businesses.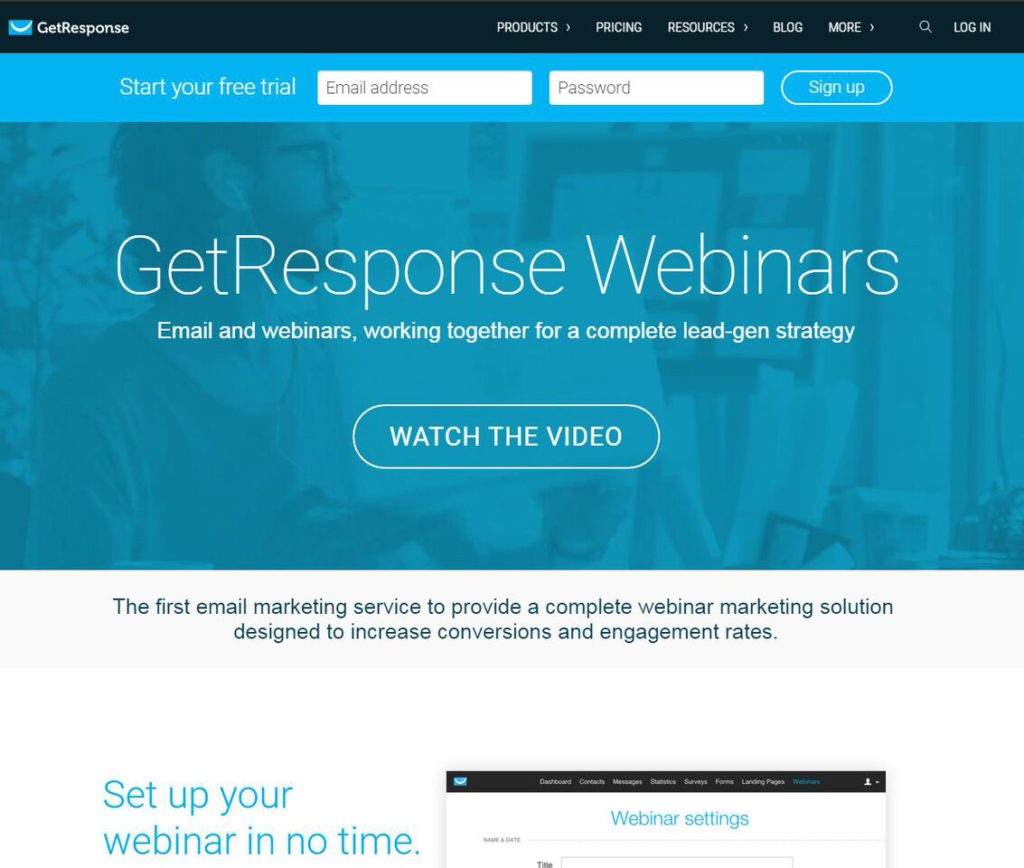 This all-in-the-box solution incorporates not only webinar platform, but also different marketing tools, including auto responders, custom emails, list segmentation feature etc. With this, it is possible to have the email database and webinar tool under the same roof.
As a result, the account holder may schedule webinar campaigns for the subscribers, send the reminders to them; share the event in social media.
It is also possible to use the registration feature to collect new emails and to send automatic thank-you messages to the registrants.
Pros
YouTube integration for viewing videos

Desktop sharing
Integrated whiteboard for notes and drawings
Polls and surveys for instant feedback
Detailed reports
Cons 
The pricing depends on the email list size
Price Free 30-day trial. Plans starting from $49 per month for up to 100 participants. Extended plans for $165 per month for up to 500 attendees.
Link GetResponse
Companies All
Video www.youtube.com/watch?v=wYllMzF1zCE
demio
demio positions itself as a smart webinar platform. What makes it really smart?
First, the software has powerful tracking options. Retargeting, tracking, or conversion pixels may be freely added on the registration page, thank you page, or in the webinar room.
Secondly, demio offers automation rules, such as sending the webinar recording to those who joined only after the 30-minute mark. With these rules, it is easy to segment the audience in real-time based on the actions that people take. Finally, demio is very simple tool.
It usually takes just several minutes to schedule the first event and even less time to setup the recurring webinars.
This tool is great for the beginners and for those who feel uncomfortable with the clunky interfaces and numerous settings. On the other hand, professional marketers and busy corporate users appreciate its extensive automation tools.
Pros
100% browser based (no software to download)

Very easy to setup
Up to 15 event coordinators for the event
One-time registration for the recurring webinar series
The ability to offer files for downloading
Cons 
Limited compatibility with mobile devices, OS, and browsers
Price Free demo. Plans starting from $47 per month for 100 participants. There are also $117 per month plan for 500 attendees and $237 per month plan for up to 1000 participants.
Link Demio
Companies All — ones that don't require a lot of bells and whistles
Video https://www.youtube.com/watch?v=Megzk1q-ch8
Zoom
The most pleasant thing about Zoom is that it offers basic webinar features for free. If your meetings continue less than 40 minutes and the number of attendees is less than 100 there is no need to pay. That's because Zoom is built for large companies who are going to fork over big dollars for video conferencing technology. 
You will get excellent video conferencing features with screen sharing, annotations on the screen while sharing, private and group chats, MP4 or M4A local recordings.
It is possible to create recurring meetings with the same link, so it's very convenient for the event attendees.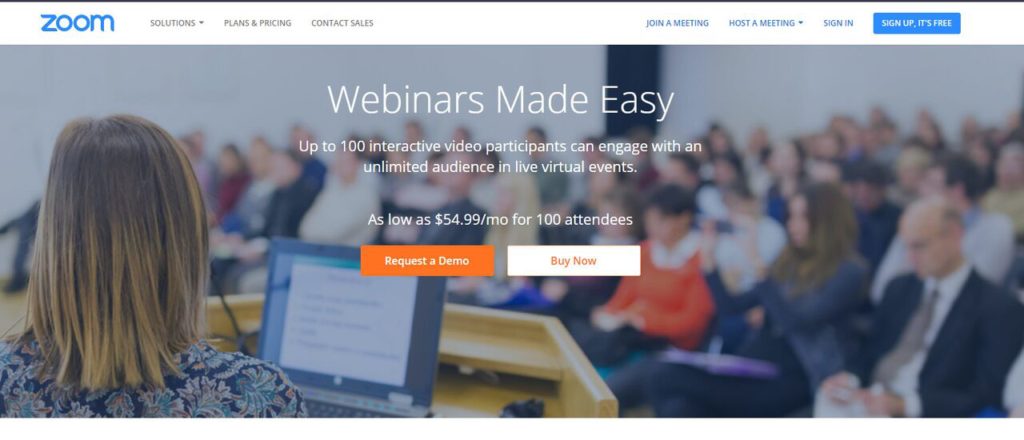 While Zoom is mainly used for the teaching purposes, corporate users and entrepreneurs also may find it useful. Paid features include admin controls, detailed webinars reports, cloud storage for the recordings, personal subdomain for your events which looks like yourcompany.zoom.us. 
Pros
Simultaneous Screen Share for several attendees

Free desktop and application sharing
Works on all platforms and devices
Records the complete event, including the questions asked by attendees via chat and the videos from multiple presenters and attendees that are part of the Question and Answer
Cons 
Interface navigation is a bit confusing
Price Free personal meetings with up to 100 participants with limited duration (up to 40 minutes). Paid plans start from $14.99 per month and include unlimited meeting duration with up to 100 participants.
Link Zoom
Companies Big Companies
Video www.youtube.com/watch?v=BGH1y70zSkg
Livestream
Livestream is a serious platform for the corporate clients, big businesses, and educational institutes. While it can be used by all other categories of webinars users, it is primarily aimed on those who have already built the relationship with their audience.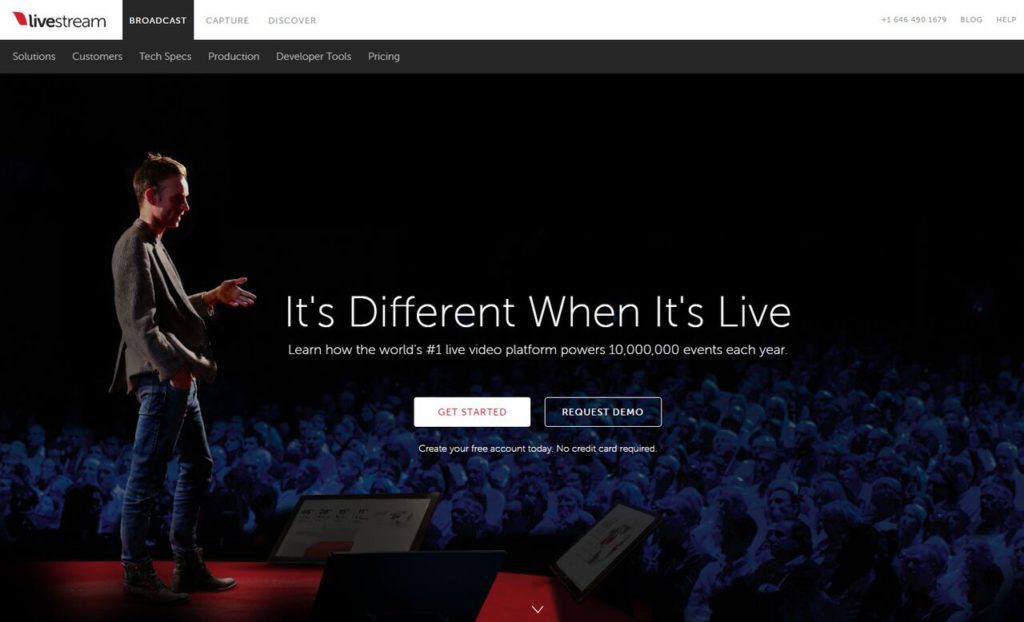 Here the broadcaster doesn't need to keep in mind the maximum number of attendees that are allowed by his plan. You may have as many participants as needed and still experience the great audio and video quality.
All events are automatically recorded and stored in the cloud.
The storage is also unlimited, so you may save each of your events for the future.
To maximize the audience coverage it's possible to advertise in the strong Livestream community, and also to stream your event to Facebook Live and YouTube.
Have you already reached the level where the people are ready to pay for your events? Enjoy the Pay-Per-View option with digital tickets.
Pros
Unlimited attendees

Unlimited storage for the recorded events
Stream to Facebook Live or YouTube
Pay-Per-View feature for monetizing events
Can be embed directly into your website
Cons 
No audience engagement features like surveys or polls
Price Free 30 days trial. Paid plans start from $42 per month and don't limit the number of the participants. The plans differ in their functionality. Premium plan costs $199 per month and includes analytics tools and live embedding option. Enterprise clients may choose advanced plan for $799 per month with password protection, advanced privacy controls, and more.
Companies All, particularly ones that do live events
Link Livestream
Dacast
Dacast may be the great choice for the companies and individuals who are just trying their hand in webinar conducting. While the majority of webinar platforms are subscription based, it may not be the option for those who hold live events from time to time.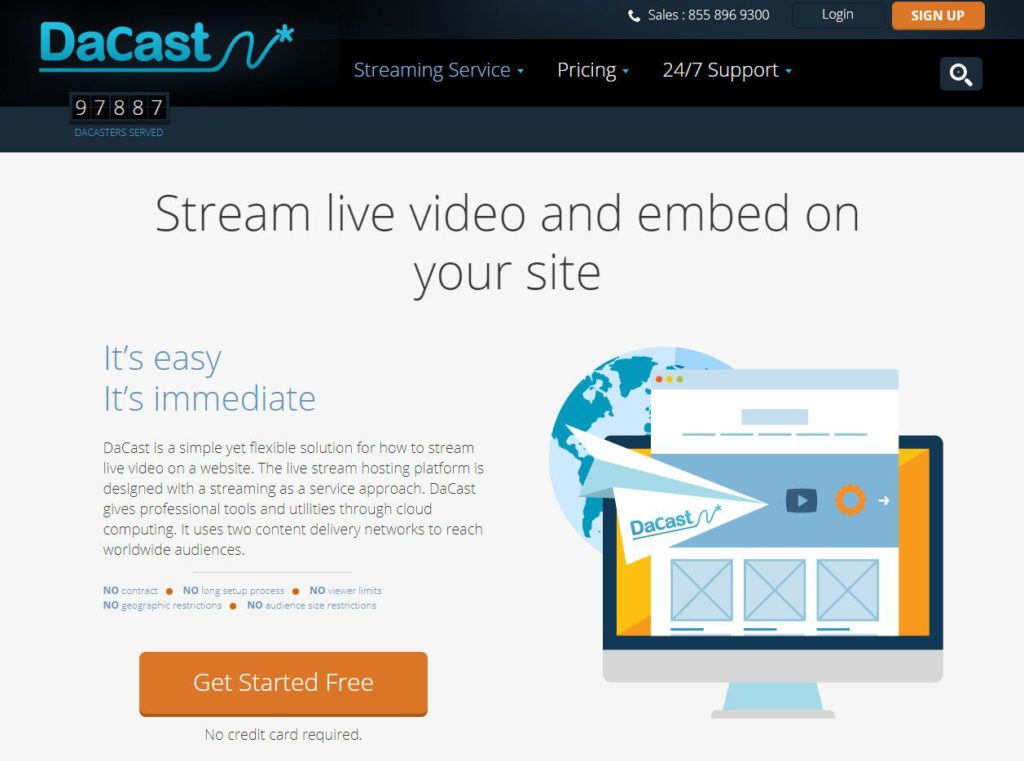 Dacast is the live streaming platform with the exceptional approach to the pricing. The customers may pay on event basis by buying the bandwidth in advance. Prepaid  bandwidth may be used when the client needs it during the 12 months. However, there are also the subscripton-based plans for those who hold the webinars regularly.
With Dacast, it is possible to stream from your website, over social networks including Facebook, or any other way. The account holder may apply geo or referrer restrictions, add watermarks to the stream, and also charge for the paid events.
Pros
No Viewer Limits

Unlimited Channels
FTP Access
Embedding live video streams
May be used without subscription (great for one time and rare events)
Cons 
If you go over the bandwidth amount you will be charged $0.15 per GB, or streams will shut off
Price Free trial. Monthly or per event plans. Per event plans starts from $0.25/GB, monthly plans start from $19 per month and include prepaid bandwidth, viewer hours, storage, and support.
Companies Startups
Link Dacast
AnyMeeting
AnyMeeting is very simple solution that may be used by the startup organizations. It is also suitable for the educational purposes in small groups, coaching, quick business meetings etc. This platform offers intuitive interface and basic tools for the broadcasting.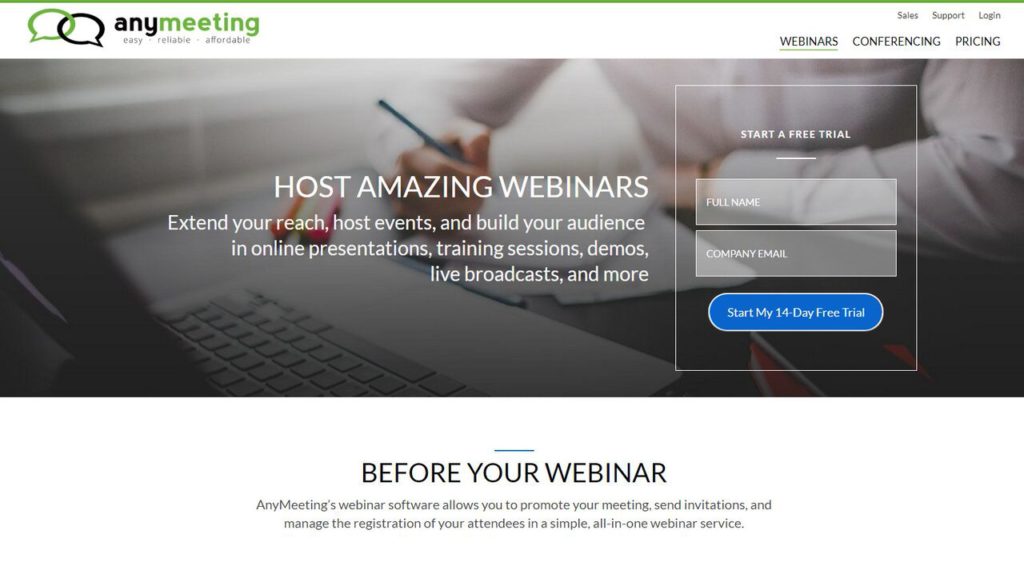 It is possible to share the presenter's screen, to show the pre-uploaded presentation during the event, to share video/audio clips, to take notes during the event, to chat with the audience.
One of the biggest advantages of this platform is reliability that is proven by thousands of customers. While you may experience some problems with the other software AnyMeeting works just the way you expect.
Pros
Free lite version

Paypal linking for the paid events
6-way video conferencing
Customizable registration form
Cons
No broadcasting from the mobile device

No whiteboading
Price Free lite version up to 4 attendees (ad supported) and full-featured 14-days trial. Paid plans start from $78 per month for 100 attendees.
Link Anymeeting
Companies All
Video www.youtube.com/watch?v=XJcTAvNN3Ww
ClickMeeting
ClickMeeting is another webinar platform whose main feature is user-friendly interface.
This platform might come in handy for the web entrepreneurs, small and medium businesses, in-company meetings (even the international ones).
There are step-by-step instructions on setting up the event, so you may create your first webinar effortlessly. The software is browser-based, and each time you login you start with your dashboard. Here you can see your past and scheduled webinars overview.
You may see the number of registered users for the upcoming event and study the analytical report for the already held webinar.
Need to setup the new live event quickly? Just use the duplicate feature and don't waste time on filling all the fields again.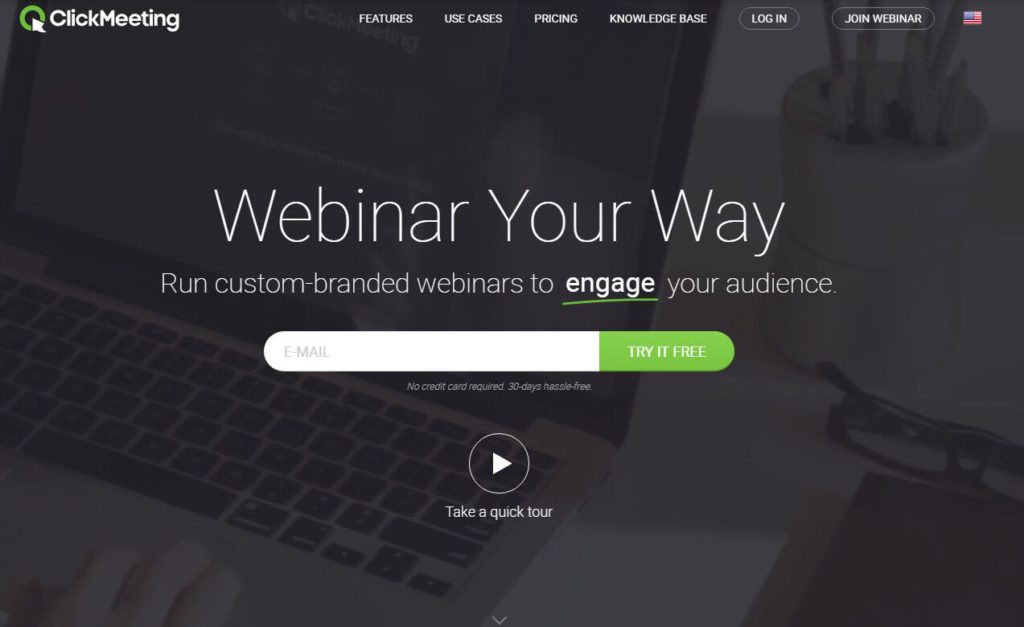 If the participants come to the event earlier they may get the additional info about the webinar due to "Waiting room with agenda". To keep the audience engaged you may share the topic, info about the presenters, important files to download etc.
Here are the extensive interactive options that can be used during the event. The presenter may run the presentation, preloaded video or audio, whiteboading etc.
Pros
Step-by-step setting

Event duplicating option
Rebranding feature for the waiting room, webinar room, email notifications etc.
Chat messages translation
Waiting room with agenda
Cons
You can't schedule recurring meetings

No break-out sessions
Price Free 30-day trial. Plans start from $21 per month for 25 participants.
Link ClickMeeting
Companies Startups
Video www.youtube.com/watch?v=A_8RQ1IkRGE
GoToWebinar
GoToWebinar is a professional and proven solution that is trusted by large businesses. It's one of the oldest tools in the book, and in our opinion- it looks it.
The webinar room can hold up to the 5,000 participants but the pricing is steep in order to accomplish that.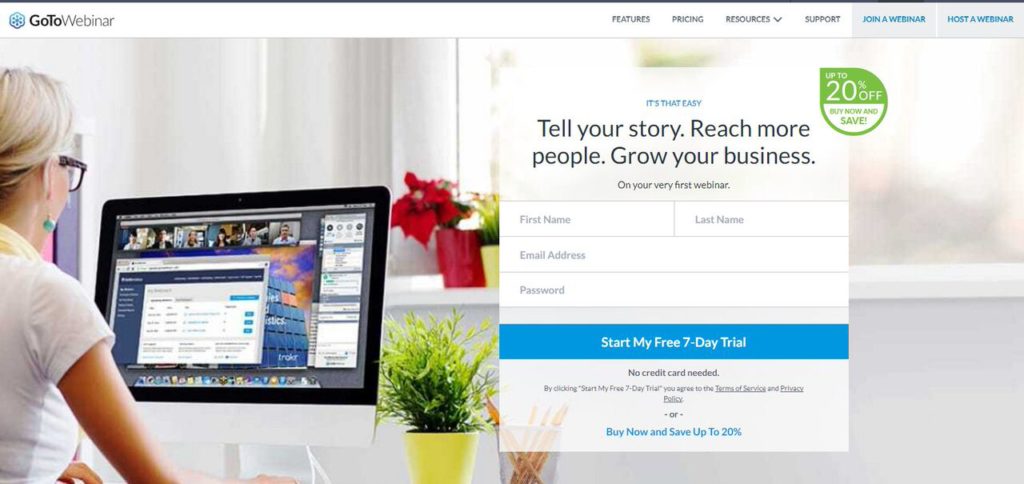 It is possible to add a survey for the participants, to create custom email invitations, confirmations and reminders with the predefined templates, and to monitor the webinar stats in real time.
The account holder also gets some nifty lead management and reporting tools.
GoToWebinar has handy mobile apps that can be used for the webinars' management and for the participating in the online events.
I don't recommend the tool.
Pros
Up to 5000 members in the room (in the Enterprise plan)
Video sharing feature
Trusted quality of the video and audio
Breakout rooms to divide your audience
Cons
It's expensive- the cheapest most basic version costing up to $900/year
The basic version only let's you hold 100 attendees in the webinar.
The software is outdated and clunky
Customer service is not very helpful

Participants and presenters have to download confusing software to use the platform

The recorded file is stored on the presenter's computer and has to be uploaded to the cloud manually
Price Free 7-day trial. Plans start from $ 89 per month for webinars that can hold up to 100 participants. There are also Pro ($199 /month), Plus $(429 /month ) and even Enterprise plans with up to 5000 participants.
Link GoToWebinar
Companies: Nobody
Video www.youtube.com/watch?v=mJ287ngnI0A
Conclusion
So which one should you choose? It really depends on your needs. How to choose the best option for you? Try to answer the following questions in writing as a first step:
What is your budget? Can you afford expensive solutions?

What is the size of your audience? How many attendees do you expect on the event?
Is your audience tech savvy? Whether downloading/installation of the additional software is a problem? What OS and devices do they use?
What features do you need at the time of the live event (white boarding, screen sharing, presentations, prerecorded video, chat translation etc.)?
Is the chat important? Do you need advanced features for communication with your audience, such as moderation, private messages, surveys and polls, asking questions by email?
How many presenters do you expect during the webinar?
Do you plan to hold paid webinars or rather use the live events for advertising and collecting customers' emails?
Do you want your webinars to be recorded?
Do you need analytics tools?
Do you want your webinars to be replayed again?
Now, after you've answered those questions, review this list again. Your answer should be clear. If we had to pick, we chose WebinarJam for live recordings and EverWebinar for automated webinars.
Almost all solutions have either a 30-day money back guarantee or a free trial period, so there's really no reason why you shouldn't at least start using webinars for your business.
ALSO IF YOU WANT THE ULTIMATE WEBINAR SCRIPT (WE'VE TRIED A MILLION), DOWNLOAD IT HERE
Disclaimer: We occasionally link to products and earn fees. We only review products we trust. And we only trust about 10.