Latest posts by Hailey Friedman
(see all)
Market research tools have come a long way in recent years. Conducting market research is no longer an enormous, arduous task like it was in the days of Mad Men.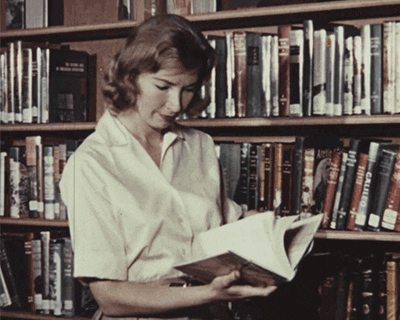 Today there are tools out there to take all the hard work of market research off your hands. You just need to know which tools are best for your business and how to use them.
This is where I can help.
But before I do, let's cover the basics…
What is Market Research?
Market research is the process of gathering information about consumers' needs and preferences.
It is important to spend time doing market research before building a business or formalizing your marketing strategy.
If you skip this step, you can end up spend a lot of time and money in the wrong places. Trust me.
How do you do Market Research?
You do market research by finding out what your customers really want, looking at what your competitors are doing, and using this to deduce the ideal product permutation as well as which marketing channels will work to grow your business.
1- Look at what your competitors are doing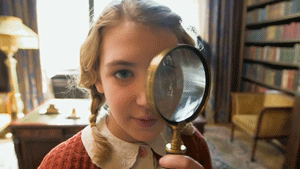 Please, for the love of God look at your competitors.
I stalk my competitors for
There are already plenty signals in the market — that are publicly available — that will tell you what's working and what's not as far as product market fit and consumer preferences.
Your competitors (especially ones that are further along) have already done a lot of this work for you, so it makes sense to look at successful businesses in your space and what they're doing.
The best tool for this: GrowthBar
2- Find out what your customers really want
The best way to find out what your customers really want, is to ask them. You can do that using surveys or setting up calls to talk to the customers you already have about their challenges and desires.
The best tools for this: A few phone calls and/or SurveyMonkey
3- Use these insights to build your product and marketing plan
We help thousands of founders and marketers build a bullet-proof growth strategy and we ALWAYS start with market research. Like I mentioned above, we primarily use GrowthBar and a few phone calls to get the information we need, but below is a comprehensive list of all the best market research tools available as well as our thoughts on them.
The Best Market Research Tools
Here's an introduction to 8 of the best market research tools to help you get a competitive edge by better understanding your target market and audience's needs.

About: The tagline reads: "Make it 10X easier to get more customers. The only growth tool marketers and entrepreneurs need for SEO, SEM, and Facebook advertising."
GrowthBar is the perfect market research tool because it gives you instant access to critical data points about your competitors and the growth channels and keywords that are working for them. It is a market research tool for marketers and for understanding marketing channels. And it's only $29/month.
GrowthBar has a web version and comes free with a simple Chrome extension that instantly allows you to do market research from the comfort of your Google search page, which saves you a ton of time from having to login to other platforms or switch tabs.
New features are being steadily rolled out that continue to make performing market research a breeze. You can explore your competitors' backlink data, social signals, which keywords they rank for, best performing keywords, spy on their facebook ads and so on.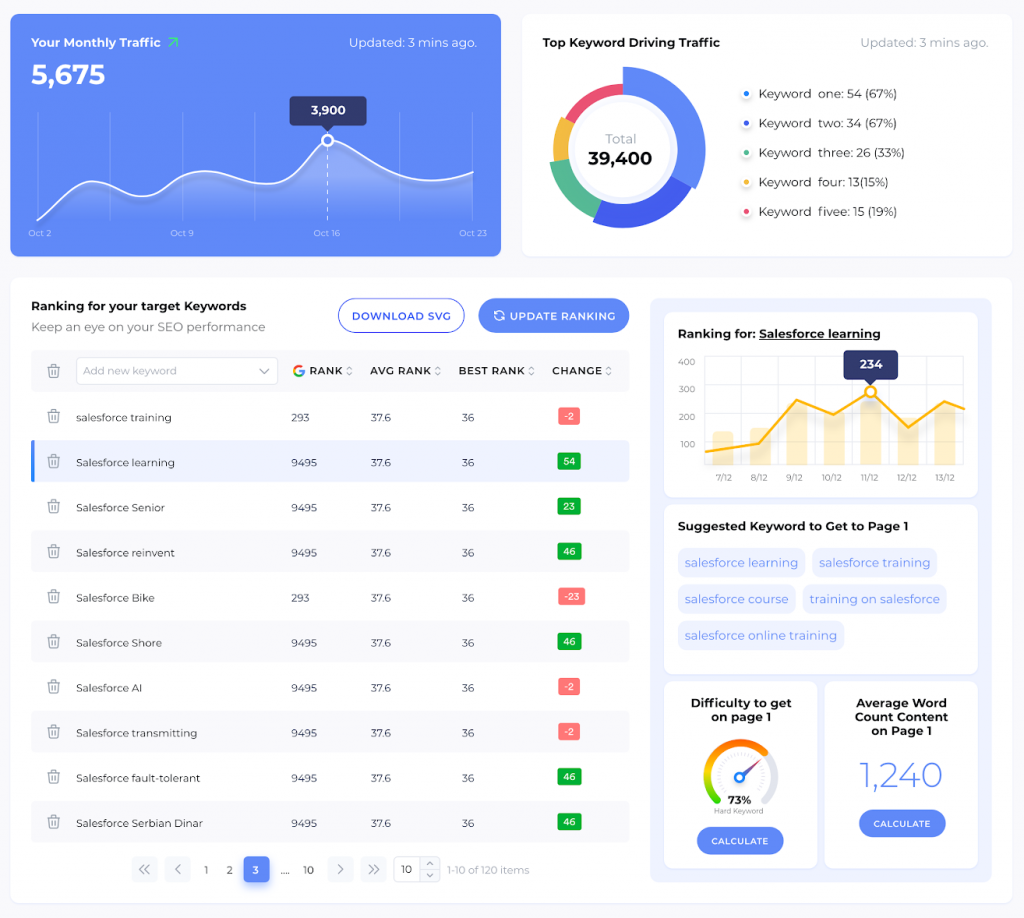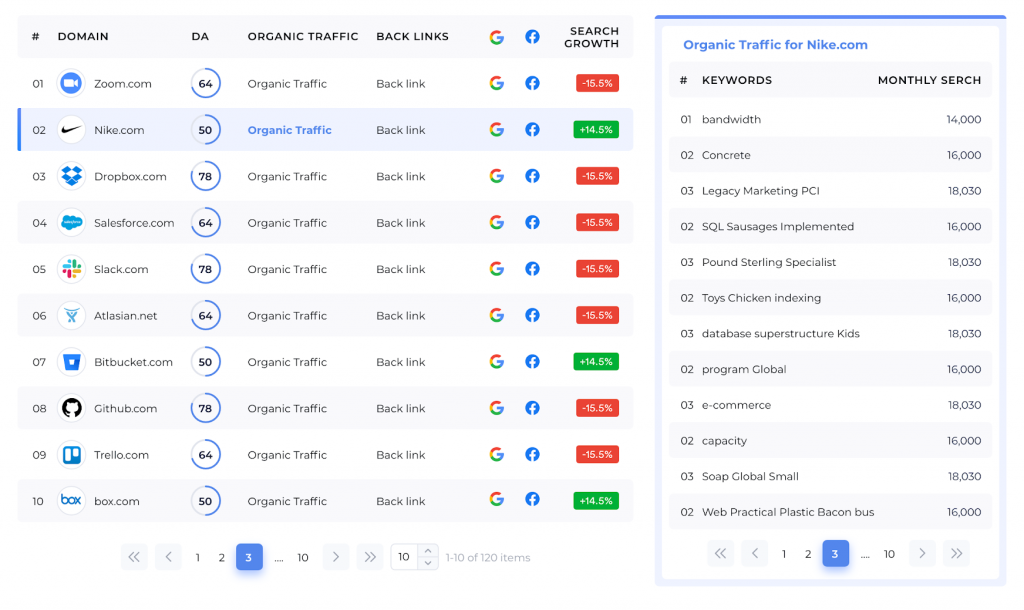 Ease of Use:
Just type in a URL or keyword into GrowthBar and see everything there is to know about that URL or keyword.
Comes with a free Chrome Extension for the market research obsessed among us!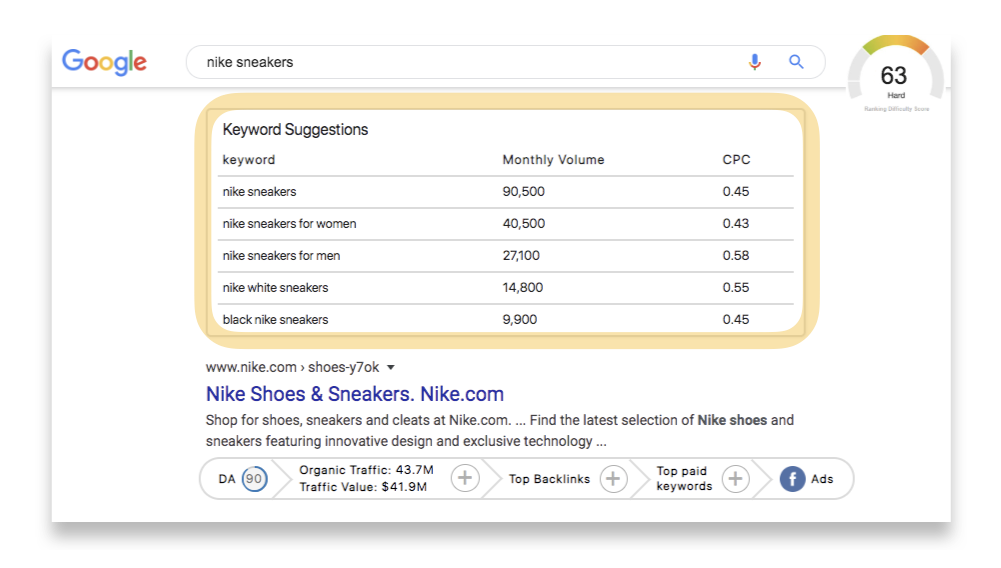 Features:
Unlock this data for any website:
Domain Authority
Page Authority
Organic Traffic
Traffic Value
Top Paid Keywords
Organic Keywords
Keyword Search Volume
Keywords Competition
Keywords CPCs
Keyword Research
Top Backlinks
Facebook Ads
Price: GrowthBar is free to try for 5 days and then it costs $29/mo (a steep discount from comparable tools that cost between $100-$200/mo).
Bottom line: GrowthBar is the most complete market research tool that is 100% free to try and more affordable than any alternative. It holds its own against some of the more expensive paid keyword and market research tools on the market, like Ahrefs and SEMrush. It's become a key part of our market research process for snooping on competitors.
About: Are your customers satisfied? Could you be doing more for your customers?
The answers to these questions offer valuable consumer insights if you want to increase lead generation, your conversion rates, customer retention rate, improve your bottom line, and so on.
Questions about your customers are best answered by your customers themselves. This brings me to SurveyMonkey, one of the most popular questionnaire and survey platforms that might be the missing link in your current market research efforts.
Ease of Use:
You can create surveys in just a few clicks
Easy to create and answer questions on both PC and mobile
A wide range of other tools and products that integrate seamlessly
Features:
Survey creation
Integrates with other software and platforms
Tools to measure engagement and analyze results
Reporting features
Price: Their basic plan is free, which is a great way to get used to the platform and start surveying your audience. You can upgrade for advanced features ranging from $25-$85 per month.
Bottom line: If you don't survey your audience, you leave money on the table by not getting inside their minds and figuring out what they want from your product or service. My advice is to head over to SurveyMonkey, sign up for a free plan, and get started today.
About: Gartner provides insights into market segments and arm leaders with the right metrics to make informed decisions.
Known for its Magic Quadrant, the research tool provides accurate data to identify trends, weaknesses, opportunities, and more.
Get peer insights, research, and a full arsenal to dispose of your competition.
Ease of Use:
Use of visualization
Comprehensive questionnaires
Makes decision-making easier
Features:
User experience reviews
Presentations and reports
Analyst calls
Magic Quadrant
Price: Gartner has a free basic account, but it can cost upwards of $30,000 per year if you want access to expert analysts and other services.
Bottom line: Gartner offers some of the most accurate market research with expert insights relayed in an easily digestible manner. It can be expensive for startups, but invaluable to organizations on the cutting edge of their industry.
About: Tableau Public enables users to publish interactive visualizations to the internet. Marketers can leverage this research by embedding the data to websites, blogs, and more.
A product of the popular business intelligence software, Tableau, Tableau Public helps journalists, marketers, and everyone else access the data and research they need.
It's basically a free version of Tableau, but users are unable to save workbooks locally with the Public version.
Ease of Use:
Works with Excel, Google Sheets, text files, and more
Clean and clear dashboard design and menu options
Easy to read visuals and clear reporting features
Features:
Access to all other Public users' visualizations ("vizes")
Useful data, free of charge and ready to share
Up to 15 million rows of data
Price: This tool is free, and open to the public. Just remember, your vizes aren't private.
I Think: As far as market research tools go, Tableau Public is an interesting way to get access to data in your space – so it's worth checking out to see if there is anything interesting or helpful.
About: BuzzSumo is a powerful tool that finds the most popular types of content for any given topic. You can then analyze that content to see why it works, which of your competitors benefits from this content, and what you can do better in these areas.
This tool focuses heavily on the social footprint and backlinks of content. These are two very important metrics if you plan on doing some content marketing. You want people to share your content so you get a social mention. The more a piece of content gets shared, the more likely it will attract backlinks.
Ease of Use:
Very easy to use, just type in a keyword and hit "Search"
Large icons and plenty of filtering options
Fluid and intuitive reporting features
Features:
Social media and content insights
Personalized alerts and reporting
Social media analytics
Backlink analytics
Price: Plans start at $99 per month and go up to $499+ per month for custom plans.
Bottom line: BuzzSumo gives some insight into the minds and wants of content consumers in your niche that you can't get with many other tools. As far as I'm concerned, it can be super helpful for content marketing strategies.
About: Social Mention is an online market research tool that enables you to gather real-time social media data on any site.
All you need to do is type in a website's URL, and the tool pulls all the social media mentions related to that site. You can either use this on your own site, to see where you're being talked about on social media, or use it to analyze your competitors.
The strength of the tool is being able to see a social media footprint for a brand across all the media platforms without having to aggregate the data yourself.
Ease of Use:
Just simply input a URL to perform a search
The data is laid out in a simple and easy to read format
Features:
Find out who's been talking about your brand and how positive your social media presence is
Use it to discover where and why your competitors are being mentioned to help you tailor your own marketing efforts
See the sentiment, hashtag, sources, and keywords most frequently associated across social media for a target URL
Price: Free to use.
I Think: While not one of the most powerful marketing research tools on the market, Social Mention gives you a quick point of reference for whether or not social media is important to your business. It's free to use and the data is good, so it's worth bookmarking the URL.
About: Survata uses a digital network to help you collect data from millions of customers quickly.
They do this by putting up your surveys on their affiliate sites that users must answer to access the site. This is similar to how Google Surveys operates, but you have more control over your data.
Their dashboard presents the information in real time, enabling you to analyze your customer's insights to better understand their wants and needs.
Ease of Use:
Extremely simple user interface and reporting
Good customer support
Features:
Ability to reach millions of targeted audiences
Wide range of reporting options to analyze data
Granular demographic information and behavioral targeting of respondents
Price: Pricing starts at $1 per respondent.
I Think: Survata opens up more options for businesses that want to survey targeted audiences that they wouldn't otherwise reach. It's a valuable tool for small to medium-sized businesses or businesses looking to enter a new market and create accurate buyer personas.
About: Statista is an online portal that aggregates market data from more than 600 industries across 50+ countries. You can tap into this data by typing in keywords related to an industry you want to analyze and browsing their reports.
You may be familiar with the blue charts Statista generates when you perform a search, they're pretty much a standard for blogs and sites publishing statistics. Statista is one of the best places to get statistical analysis backed by facts and figures for just about any topic.
If you're performing market research you can get some valuable insights into buyer behavior, market size, market growth and trends, and much more.
Ease of Use:
Performing searches couldn't be any easier, just type a keyword and click "Search"
The charts provide a clear visual answer to your search
Features:
Download data and statistics in various formats
Additional data and related statistics are also returned with searches
Lots of advanced reporting features and tools
Price: Their free to use plan enables you to pull basic statistics. You can upgrade for $59 per month to get full access to their statistical database, or $650 per month for their corporate solution package.
I Think: Statista is great for pulling visual market statistics backed by factual data – an integral part of any research activities and a helpful tool for content marketing efforts as well.
Conclusion & Tips for Conducting Market Research
Market research is one of the key steps in building a sustainable, awesome business. It's not something you do once and move on — it's important to get competitive benchmarks as often as possible — and use them to steer your ship in the right direction.
Our favorite tool is GrowthBar.
Some things to remember about research:
Start broad. I always find that getting on the phone with customers is the best way to begin. Speak with ~10 customers and learn about their likes and dislikes. Let your customers really speak — don't guide them down any conversation path — you want to hear their real, honest thoughts. You can always drill in on interesting nuggets of information at the end.
Be unbiased. Yes, that's basically impossible. But still, don't put words in anyone's mouth and be honest with data you collect. Your business will thank you in the long run.
Ask the right questions. Surveys are only as good as the questions you ask. It's important to remove biases from questions and focus on getting actionable insights from answers.
Other reading: