Latest posts by Hailey Friedman
(see all)
I use Google Chrome as my browser, and I love it.
Even more, I love finding marketing tools and hacks that increase productivity and make my life a whole lot easier.
Google Chrome is fast, lightweight, and best of all, there are thousands of helpful extensions in the Chrome Web Store that can be added in one click and help me with my online work. My favorite extensions are for SEO and productivity.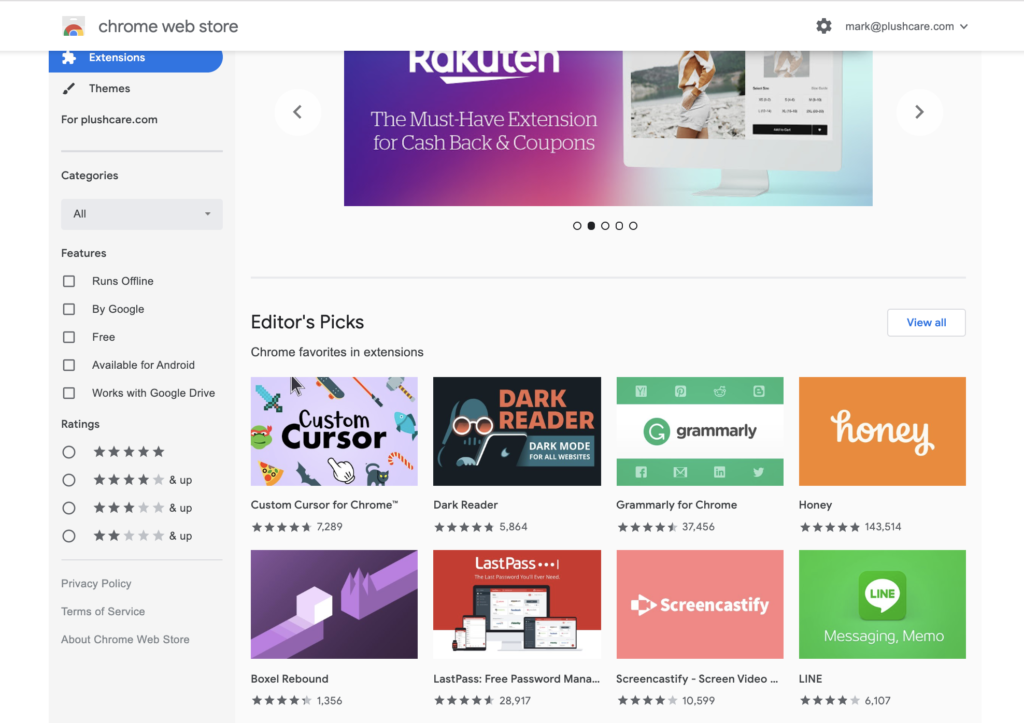 The only problem is navigating which extensions are best.
The good news for you is that I've tested hundreds of extensions. Yup, I've literally spent thousands of hours in the Chrome extension store.
I've narrowed my own list of extensions down to a handful that I couldn't live without right now, and once you start using them, I'm guessing you'll feel the same.
The Best Chrome Extensions for SEO, Growth, and Productivity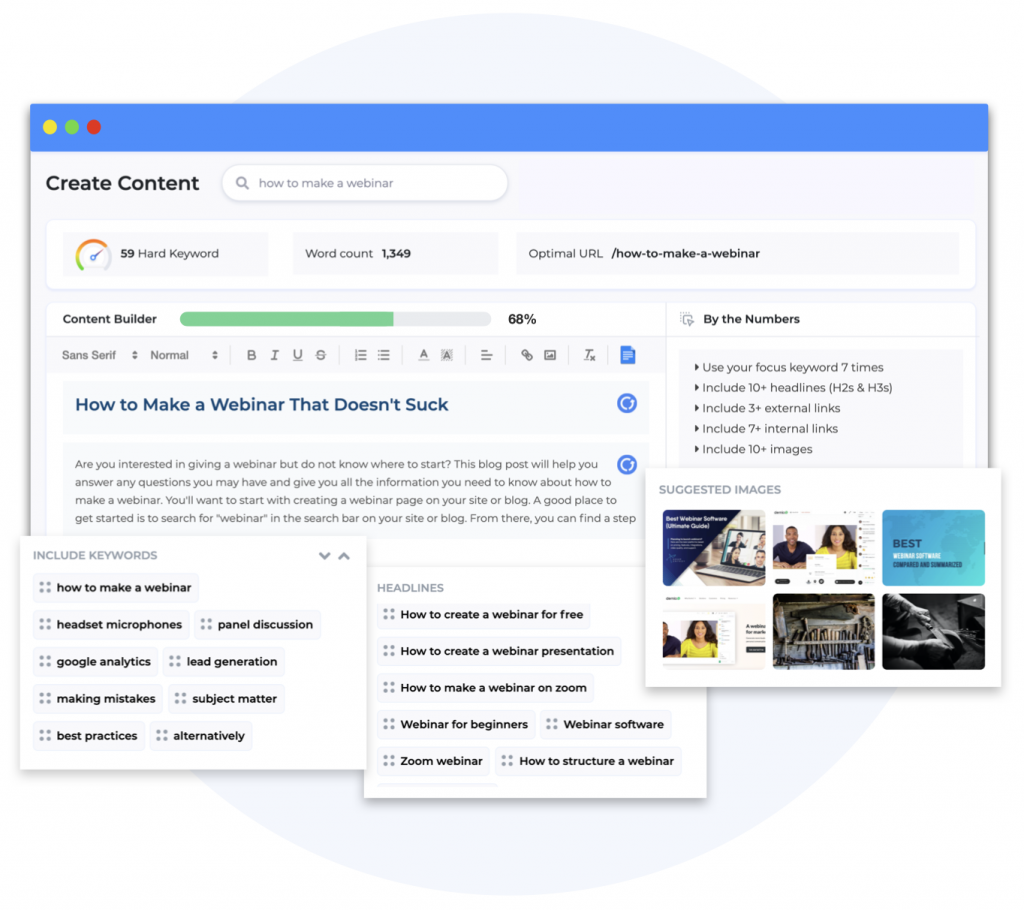 GrowthBar is an SEO tool that pulls together only the data points that modern-day marketers actually need to make everyday decisions. GrowthBar is also an automated content generation tool. Together, this makes GrowthBar the number one tool for content creators and bloggers.
GrowthBar features include:
AI blog post outlining, including proper keywords, word counts, headers, images, links, using GPT-3 tech — so that you can create content briefs in a snap
AI writing: or write the article yourself by clicking a few buttons
Keyword difficulty scores
Keyword suggestions
Competitive research
Backlink research

Export data to CSV
GrowthBar has the same backlinking, Google Ads, and organic keyword capabilities as other larger (and more expensive) SEO tools, but it also has specialty features that make bloggers' lives way easier. For small SEO agencies, particularly ones that specialize in content, GrowthBar is a must-have.
GrowthBar's Chrome Extension (free to use with your account) provides insights when it's most convenient for you. Find out the monthly search volume, keyword ranking difficulty, and what all your competitors are doing, right on Google's search page.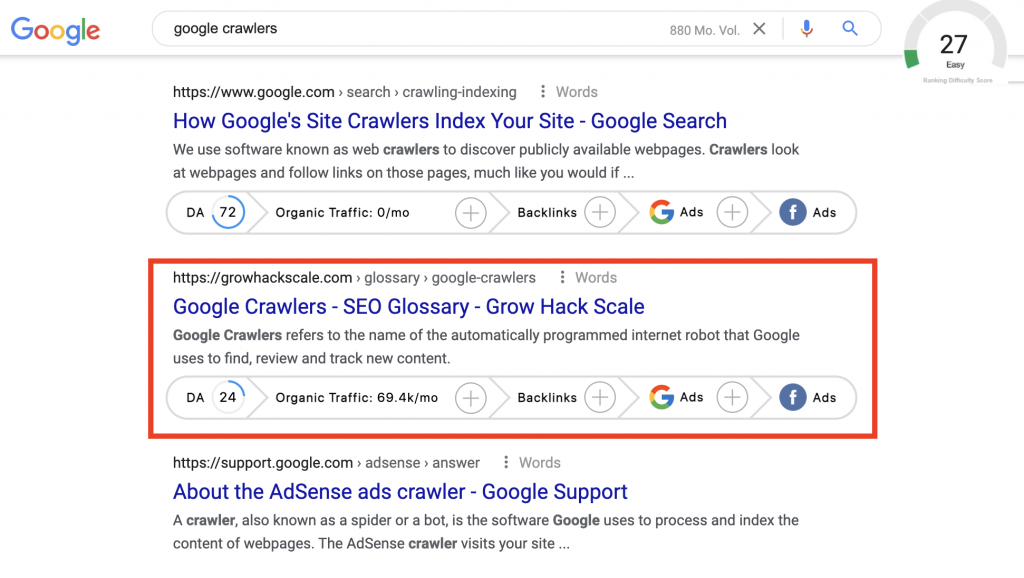 Of course, GrowthBar's secret sauce is the content generation feature. With one click, GrowthBar creates AI-powered content outlines that enable you, your writers, and clients to create articles according to SEO best practices.
Get optimal URLs and titles, word counts, internal and external links, headlines, keywords, and intro paragraphs. Then hone and export your work to a Google Doc for easy collaboration. It's game-changing for just $29/month.
Who this page is for: SEO, Google Ads research, backlinks, content, data reporting 
Price: Starts at $29/month, but try it free first for five days.
SEOquake is a powerful SEO toolbox for your browser.
The extension literally analyzes every website you visit or see in the search engine results pages (SERPs), giving you the insights you need without having to navigate to a different site.
SEOquake breaks down exactly what, how, and why each page on your SERP is ranking for the keywords it is ranking for, giving you valuable insight into what's working for your competitors.
It also allows you to see domain and page-level metrics, run SEO audits, pull keyword difficulty and search volumes, see your competitors' paid ads, and so much more.
If you are a marketer looking to bolster your insight into your competition and improve your SEO and PPC campaigns, SEOquake is definitely a tool you'll want in your wheelhouse.
Who this page is for: SEO professionals, Google Adwords users, and any other marketing professionals interested in search.
Price: Free!
MozBar is another SEO toolbar. It pulls a lot of the same information as SEOquake, but it does some things very differently — I couldn't live without either of these.
Moz uses their own domain authority metric, and it's used pretty universally used in the industry as the standard for determining the authority of a website.
This is super helpful to have available whenever you are browsing sites, particularly if you are looking to find quality sites for your business to form relationships with or evaluate the quality of your competition.
The Moz extension also goes a little deeper into keyword analysis if SEO is one of your main focuses right now. You can get more in-depth analysis on your SERPs and individual pages.
That's why I use both extensions. Big dawg SEO's often have more than one tool. It's worth the extra extensions to have the 360 degree view of SEO to make the smart decisions… and make a lot more money on the internet.
Who this page is for: Marketers and SEO professionals alike!
Price: Free.
BuzzStream is an amazing tool for performing outreach and networking. This tool navigates all the content on any given site, quickly pulling all of the contact information for any people involved in the creation of the page.
This means you can get the email addresses for the editor, reporter(s), content chief, or literally any person you are interested in contacting on the website.
Who this is for: This plugin is awesome for SEO link builders, PR professionals, and marketers interested in doing some PR outreach.
You do need a BuzzStream account to sync with this extension. Plans start at $24/mo and they offer a 14-day free trial so you can put this tool to the test before committing to a plan.
Price: Plans start at $24 /month and do get as pricey as $999/month. It all depends on your company's needs.
TubeBuddy has become an integral part of my video marketing strategy. Growth Marketing Pro doesn't have a ton of videos, but the ones we do have absolutely crush!
This extension not only shows the metadata, tags, view counts, and all the other vital statistics for videos I'm watching, but it also helps suggest all the metadata for my own videos.
It also helps Mark and I determine which videos are worth making. Understanding how competitive a search term is on YouTube allows us to prioritize which videos to make.
TubeBuddy also has templates and bulk process tools to make uploading videos a breeze. It saves you time on the small stuff, so you can spend more time on the creative processes behind creating awesome videos.
Who this tool is for: Video-makers, video-marketers, content marketers, and anyone else who uses video tools regularly.
Pricing: Free!
Ever seen a color on a webpage and you just absolutely have to know what it is so you can use it too?
With ColorPick Eyedropper you can take a snapshot of a webpage and analyze the colors to find the color code for any color you see. It has really powerful magnification, is easy to use, and does exactly what you'd want from a color picker.
Who this is good for: Anyone interested in colors! But also, more specifically, designers, marketing designers, and anyone else creating visual materials. We use it when building pages in WordPress and Instapage.
Price: This extension is free.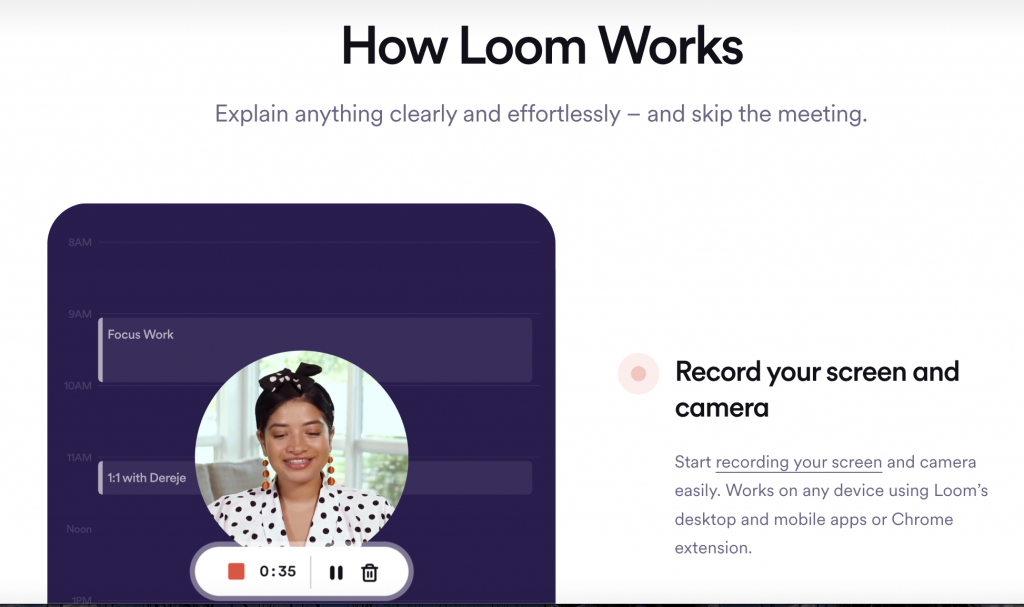 After testing a handful of screen capture/video recording extensions, Loom tops the bunch for ease-of-use and functionality. I use Loom to quickly record videos of my screen to share with colleagues and/or teammates and it's majorly sped up my productivity.
Others agree. That's probably why Loom just raised $30 million from top tier venture capital firms.
All I have to do is click the extension, choose the type of capture mode I want to use, and start recording. Loom generates a link to share and I can have instructions or information passed around within minutes.
Who this is good for: Honestly, everyone. If you are collaborating with teammates, this tool will be useful for you.
Pricing: Free!
I receive a lot of emails every day, as I'm sure you do — and unless you get it under control, it can become a huge time suck. Seriously, I get 50+ emails from Growth Marketing Pro fans alone! I'm flatter. But holy shit, I don't have the time.
If you click on your email every time you get a notification, you're probably not using your time optimally. That is where Inbox When Ready can help.
This Chrome extension allows you to hide your inbox, check for email at a set frequency, batch process emails, and tells you how long you've spent in your inbox (this was quite the eye-opener for me). It's a one-stop-shop for improving email efficiency, and I highly recommend it for, well, everyone.
Who this extension is for: Everyone.
Price: Free!
If you've ever forgotten a password, which we all have, then LastPass is going to be a lifesaver. LastPass is basically a cloud-based vault that encrypts and holds all your passwords, allowing you to safely autofill any password fields.
It also enables you to share access to password-sealed sites and apps with other team members around the world without sending them visible passwords. A must-have from a security and productivity standpoint.
Who this is for: Honestly, everyone. Particularly those working within multiple systems and sharing passwords with employees. That stuff can get out of hand quickly, and having all of your passwords in one place is extremely helpful when it does.
Pricing: Pricing for LastPass varies on two axes: personal vs. business, and how many users will be using the account.
The personal pricing plans cost between $0-$4 per month, depending on how many people are using the account and whether you want access to premium features.
The business plans are priced per user, starting out at $4/user per month and going all the way up to $8/user per month, again depending on the features you would like to use.
Momentum is probably the simplest extension on this list, but one of the most effective for increasing productivity. It acts a personal dashboard, replacing your "new tab" function for a calming background featuring all of your personalized notes and lists. It has a suite of widgets, most are designed to help you track your to-do list and keep you informed on how you manage your workload.
The best part is that, with Momentum, you get customized backgrounds with inspiring images and inspirational quotes, all carefully designed to help you stay focused by boosting your motivation and creativity.
Who this is for: Anyone looking for a little extra zen during the workday.
Price: Free!
If you're anything like me, you find yourself with dozens of tabs open while you're flicking from one to the other doing research online. With every extra tab you open, not only does it get a little harder to navigate, but it also drains your laptop's memory and strains the CPU.
A slower laptop means a slower you. This is why I started using The Great Suspender Chrome extension. This add-on suspends any tabs you aren't using, lessening the strain on your CPU and speeding up your browsing experience.
Online privacy is something I've always been mindful of, which is why I use Ghostery. This browser extension allows me to block or configure ads, trackers, and other third-party marketing tools.
You might want to just block trackers from websites trying to collect your personal data. Or, you can use this information to see the marketing stack your competitors are using. It's a versatile tool that gives you better insight into what's watching you while you're browsing, and can be used to speed up page performance.
Who this is for: Anyone interested in their online privacy.
Price: Free!
Sharing screenshots is vital to my day-to-day operations. I had to find the quickest possible way to take and share screenshots, and this led me to Awesome Screenshot.
This simple but effective screen capture and image annotation tool will reduce the amount of time you spend taking screenshots. I can guarantee it. You may even end up taking more screen captures because it's so easy.
Just snap the part of your screen you want to share and upload to Trello, Slack, and various other platforms with a one-click upload. Simple.
Who this is for: Anyone with a visual component to their job. Or anyone with a P.C., because taking screenshots on a P.C. is a notorious pain in the you know what.
Price: Free Free Freee!
Buffer is the easiest way to quickly share content across all your social networks. If you're driving traffic through social media posts or trying to build a presence on social media, this Google Chrome extension is a must-have.
Let's be honest, it gets tiresome syndicating content across several social media platforms. With Buffer, I can share my content across all my social media accounts with just a couple of clicks and not have to worry about any of the formatting.
Who this is For: Social Media Specialists, or anyone working social media marketing, for that matter!
Pricing: Buffer pricing spans 3 types of account management: social media posting, social media replies, and social analytics. There are different levels of accounts within these categories, all of which range from $15/month to $99/month, depending on your depth level. Luckily, Buffer offers free trials on every type of plan they have, so you can take that account for a test ride before committing.
I love Grammarly. It's like the last line of defense for grammatical and spelling errors. With the extension enabled, it'll watch over your shoulder no matter which platform you're writing on. It works on Gmail, Google Docs, WordPress, and will often pick up errors Microsoft Word and other writing applications miss.
There's a free and a paid version, but honestly, the free version does enough to point out errors and show you areas of your content that need improving.
Who this is for: Your English-major friend and your chem-major friend. In other words, everyone will enjoy this tool, because it helps you write better!
Pricing: As I mentioned above, I think the free version of this tool does plenty. The premium account does offer additional features, though, and goes for anywhere between $11.66/month to $29.95/month, depending on what payment plan you opt in to.
It's easy to get distracted while researching articles or building out your own piece of content. Opening more tabs and clicking save on articles is messy and time-consuming.
With Save to Pocket, I can click save on any articles I want to read later and the app arranges all the articles in a clean, distraction-free format for when I'm ready. It's kind of like building a personal storyboard of articles.
Who this is for: The obsessive tab opener. I am, for one, guilty.
Pricing: Free!
Links play a crucial role in the authority, SEO, and functionality of any website. Broken links can have a negative impact on SEO and user experience, and it's hard to find them without clicking every link and seeing where it goes.
Check My Links does all the work for you. It will crawl any page looking for broken links, and populates a report identifying any link issues on your site.
Who this is for: SEO people working anywhere in the realm of content!
Pricing: You guessed it – free!
Also Read: