Latest posts by Mark Spera
(see all)
Backlinks are hyperlinks from someone else's website to yours. And they're a necessary part of any good search engine optimization (SEO) strategy.
In fact, backlinks are the #1 way we leapfrogged all of our competition and grew Growth Marketing Pro into the biggest growth marketing blog on the internet — in under 18 months.
It's how we get 14,543 visitors to our Best Webinar Software post every month.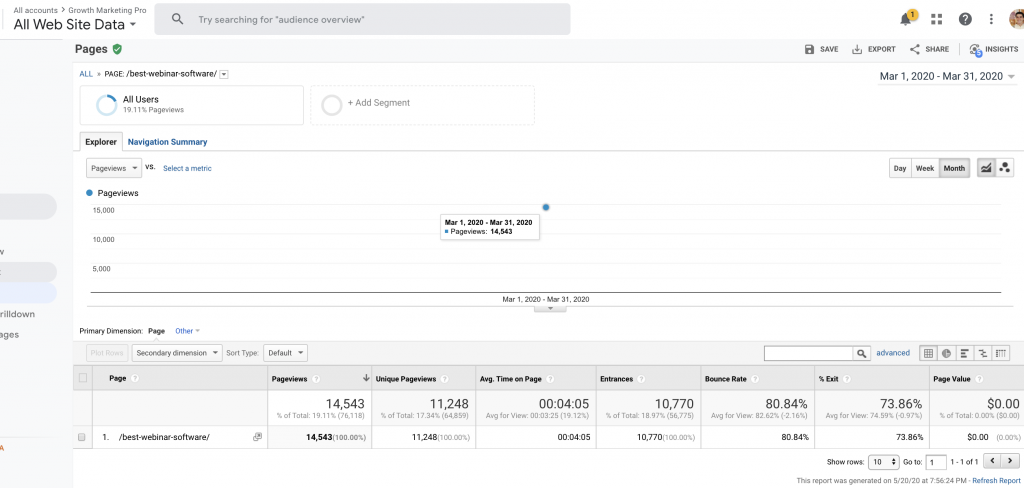 It's also how we consistently drive 50,000 visitors to this blog every month.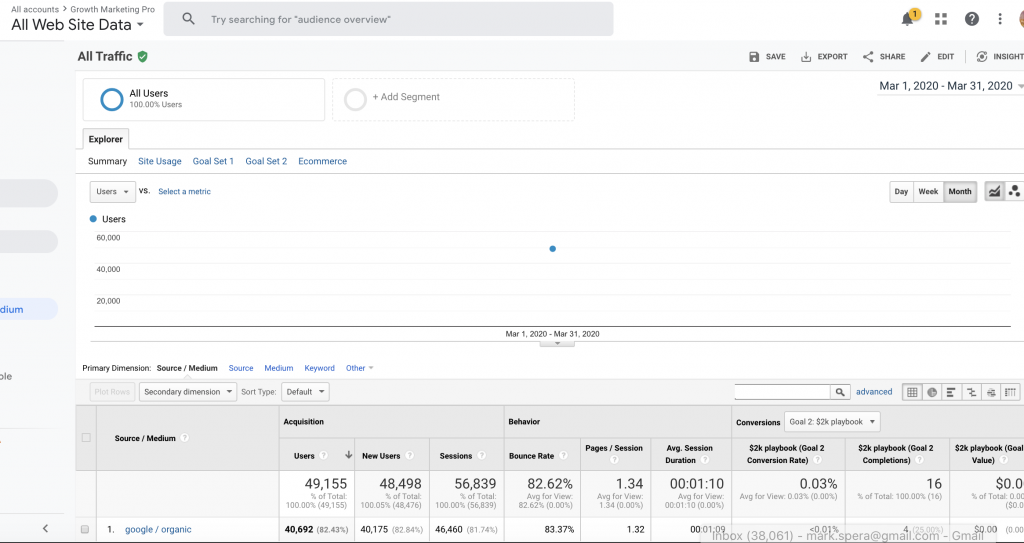 When I left my day job at a telemedicine company, I became a cofounder at blog called ManlyWellness. When I came on board, I grew that blog to 116,961 organic visitors/month in just a couple months! No joke.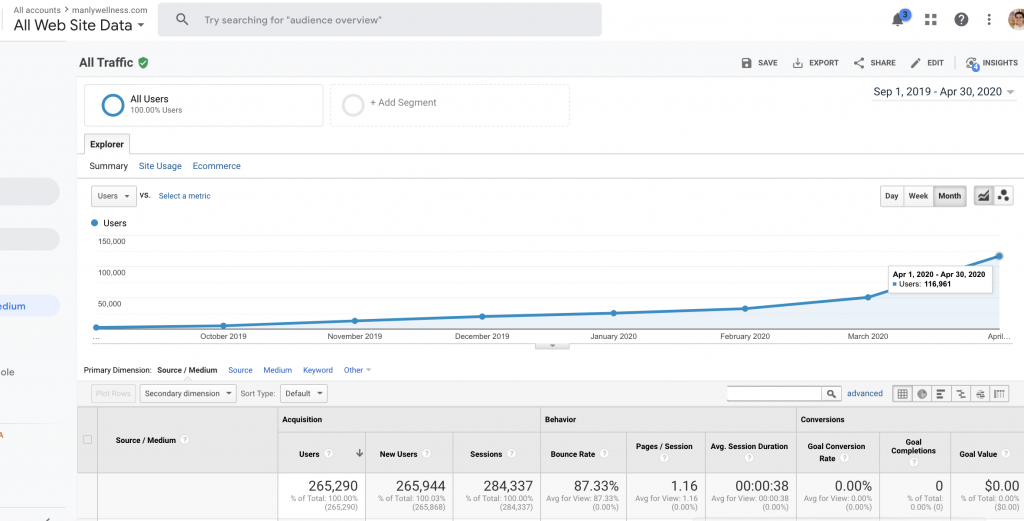 Why are backlinks so important?
To answer the question succinctly: Are you more apt to trust a website that is cited by 50,000 other sources or one that is cited by only one or two other sources?
Google relies on complex algorithms that weigh hundreds of factors to determine rankings, so that Googlers see the best, most appropriate search results. Backlinks are one of the most important ranking factors because backlinks indicate a website is trusted by others. More quality backlinks = a more reputable website.
Pages that rank #1 on Google have on average 2.7x as many backlinks as those in position #2.
In a murky internet, backlinks talk. They cut through the noise and help Google surface content that is most valuable and trusted.
Google has a vested interest in showing you the best results. They know if their results stink, you'll go use Yahoo or Bing instead.
How to Get Backlinks to Your Site:
While Google likes "natural" backlinks — ones that arise organically over time, you can definitely speed up the process by using any one of the following tactics.
As with everything, it takes time and effort to get the job done right. This list will help you focus on the most effective strategies.
Word to the wise: Not all backlinks are created equal. It's best to focus on authoritative sites that have many backlinks themselves and/or a high domain authority (a measure of a site's repute). Use an SEO software tool to see which sites are worth pursuing. On a budget? Just use your best judgement.
1. Conduct email outreach
Email outreach is the process of reaching out to key figures and site owners via email and requesting a backlink. In a survey of our Growth Marketing Pro readers, a majority — 37.5% — said that link outreach was the best way to get backlinks.
I agree. Connecting with your industry peers and getting placement on their blog or site is a great way to generate backlinks fast.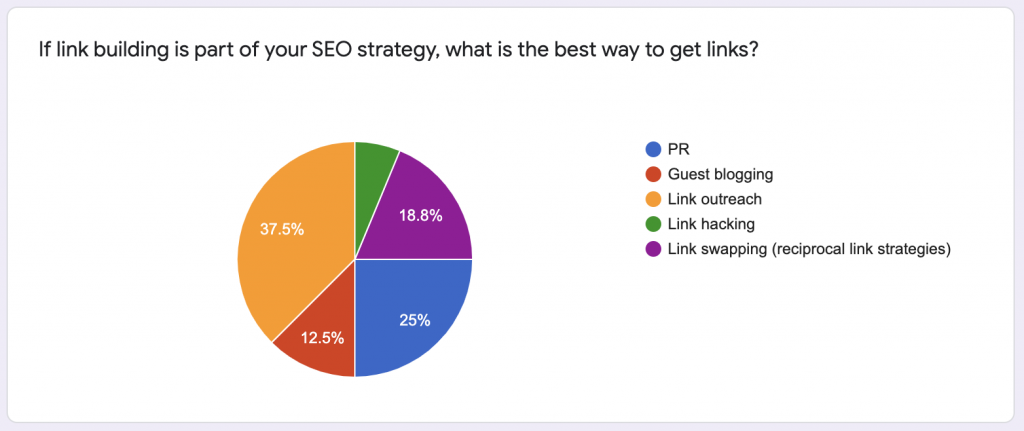 Here's how to get started:
Step 1: Compile a list of contacts
First, you need a list of people to reach out to. Use a tool like BuzzStream to find influencers and manage relationships. Feel free to leverage your network on LinkedIn. Heck, even use the "contact us" form on the website!
I recommend compiling your list in Google Sheets to stay organized. Sleuth the internet for the email addresses of the contacts. Or, hire a virtual assistant on Upwork to help you find their contact information.
Step 2: Reach out
Personalize each email to each prospect. Get straight to the point. Request a link to your website in a relevant place on their site. Make it really easy for them but showing them exactly where they should link to you.
Here's a template you can use:
Hi [webmaster]!
I'm [name] and I write for [your site].
I'm reaching out to you because I saw your article [their article URL] and believe a link to [your article] would be perfect in the sentence [the sentence you want your link in].
Would you be willing to add it? I'd be extremely grateful!
Thanks!
[name]
Step 3: Follow up
Follow up if you don't hear back.
Sending multiple sales prospecting emails results in higher response rates. So you can't afford not to follow up.
2. Guest posting
Guest posting is the practice of writing an article and publishing it on another website. It can help you build high quality backlinks and reach a new audience online.
Here's how to get started:
Step 1: Use Google to find sites that accept guest posts
Type in the following queries on Google:
Your keyword + "Write for us"
Your keyword + "Become an author"
Your keyword + "Guest post"
Here's an example:
Compile a list of potential sites you can write for. I recommend compiling your list in Google Sheets to stay organized. Dig around on the internet for the email addresses of the contacts. Or, hire a virtual assistant on Upwork to help you find their contact information.
Step 2: Reach out
Here's a template you can use:
Hi [webmaster]!
I'm [name] and I write for [your site].
I'm reaching out to you because I would like to contribute a post to your blog.
Here are some topics I think your readers would love:
–[post idea #1]
–[post idea #2]
–[post idea #3]
Please let me know if you're interested in any of these.
I look forward to hearing from you soon.
Thanks!
[name]
Follow up in a few days if you don't hear back.
Step 3: Submit your article
Focus on providing value. Don't be overly promotional. 79% of editors say that guest content they receive is too promotional.
Pro tip: You can reach out to the same websites for backlinks and for guest post opportunities. It never hurts to ask another blog if they're willing to accept a guest post (even if they don't explicitly say they do).
3. PR
Press is one incredible way to garner backlinks. Think about how many times you or your business generate small nuggets of news. Perhaps you redesigned your site, came up with a new product, or hired a noteworthy executive. All of those moments are opportunities to create buzz and get some backlinks. If you're serious about SEO, it's important you take advantage of those opportunities.
Here's how to get started:
Step 1: Come up with the story
Think about your product roadmap or the plans for your business over the next weeks and months. Consider all the great work you're doing and narrow down to a few interesting stories. Some ideas:
A redesign of your site
A brand new product
A new partnership
A pivot in business model
An acquisition of a smaller company
An interesting survey or proprietary data insight
Step 2: Create a press release
Write a press release. Typically, releases are a few hundred words and follow AP format. It's important to cover who you are, why the news is important, the particulars of the news, and anything else interesting. Put the release out on Newswire and distribute your release. You will get backlinks just from that proliferation of your piece.
Step 3: Find other editors and bloggers who might be interested
Make a list of industry publications that might be interested in your news. Enrich the list with their email addresses or LinkedIn profiles. If the news is big, you should reach out to 30-50 relevant editors. If it's small news you can either skip this step or reach out to 5-10 friendlies. After all, this is about maximizing your effort and time. Don't spend days pitching editors about your site rebrand — it will probably fall on deaf ears.
4. Reverse guest blogging
Reverse guest blogging is when you get influencers in your industry to write guest posts for your blog. Getting others to write for your blog can boost your credibility. 62.96% of readers perceive blogs with multiple contributors as more credible.
More importantly, if you allow someone to guest post on your site, you should definitely request they link to their guest post from their site… or at least their social media.
Here's how to get started:
Step 1: Compile a list of contributors
Use Google or LinkedIn to find contributors. Don't aim too high. Start with blogs and influencers with small to medium followings. If you're not a big publication, the big guys might not be interested in the exposure on your site.
Step 2: Reach out to them
Let them know what's in it for them. Exposure and backlinks to their site of course!
Step 3: Publish the content
Don't forget to thank your contributors.
5. Create a blog
A blog is a site that gets regularly updated with new content. Publishing great content can help you build brand awareness, get content indexed in Google, and get backlinks… particularly if you're writing really insightful, professional stuff.
Read: How to Write a Blog Post to Increase SEO
Here's how to get started:
Step 1: Create a blog
Starting a blog only takes about 10 minutes. Read our article about How to Start a WordPress Blog to get the step by step instructions. Because WordPress is a super Google-friendly platform, it's usually considered the best for SEO.
Step 2: Write your content
Use tools like GrowthBar to find relevant keywords to write about. Go in-depth with your content. List posts generate more links and shares than other content formats. But again, if you publish well-written, engaging content, you will inevitably garner natural backlinks as others discover it.
Step 3: Publish and promote
Get the word out promote your post on social to generate a traffic train! I've found time and time again, if you write about 15 blog posts about topics related to your product offering, you will make sales online.
6. Publish an ultimate guide
An ultimate guide is a comprehensive article that covers everything on a particular topic.
They take more work to write than a standard blog post, but they generate more backlinks. That's because they're more discoverable than other posts, given the number of long-tail keywords, plus they simply have more opportunity to garner backlinks, given all the great information contained in the post.
I would consider this post an ultimate guide on backlinking. In general, ultimate guides should be 3,000+ words long and should be extremely well researched.
Here's how to get started:
Step 1: Research potential topics
Again, use a keyword tool like GrowthBar to uncover all the long-tail search terms your audience is searching for. Try and weave them into your piece.
Step 2: Write your content
Analyze other pages that are ranking for your target keyword. You'll want to look at the word count and content of the #1 and #2 results in the Google search engine results page (SERP).
Make your content even better.
7. Create tangential content
Are you in a "boring" niche or industry? You can still get quality backlinks. Tangential content is content on a topic that is related to a brand.
An example might be a furniture company publishing content on interior design. Tangential content leads to 77% more social shares than on-brand content. Why? Because it looks less overtly promotional.
Here's how to get started:
Step 1: Brainstorm related topics
Consider trending topics that are related to your brand (e.g., upcoming events). Use Google News, Quora, and GrowthBar to find the other nuggets users want to hear.
Step 2: Write your content
Research and write your content. Tangential content often performs best with click-bait headlines and grandiose (but accurate) statistics and claims. Be hyperbolic. You're going for clicks and shares.
Step 3: Publish to your site
Or offer it as a guest post to another site.
8. Publish an expert roundup
An expert roundup is a compilation of tips from recognized authorities. It's a great way to build relationships and leverage the credibility of others to build your own. You can also parlay those relationships into guest posts or link exchanges.
Here's how to get started:
Step 1: Choose a topic
Research topics that are relevant to your business. It's best to ask a very specific question.
Step 2: Find and reach out to experts
Send a short prompt and ask for their thoughts. It's easiest if you use a tool like Google Forms to collect answers. It makes it really easy for the responder and you.
Step 3: Compile and publish the roundup
Don't forget to thank each person who contributed and ask them to share on their social media or blog!
9. Curate a list of resources
Content curation is the process of gathering existing content around a specific topic. It creates a helpful resource for your readers, which in turn can attract quality links.
The end result is usually some sort of listical that's packed full of information.
Here's how to get started:
Step 1: Compile a list of resources
Search for the best resources on a particular topic. Find the top 20+.
Step 2: Organize your links
Put them into sections to make them readable. Readability is key. Nobody wants to sift through a dry list of resources or a copy and pasted encyclopedia. Your list should be curated.
10. Publish a whitepaper
A whitepaper is an in-depth report that breaks down a complex topic. Publishing these can build your authority and attract tons of quality backlinks. It's particularly effective in niches that require serious expertise like technology, healthcare, or education.
This whitepaper from Cisco has 2,592 links.
Here's how to get started:
Step 1: Research a topic
What are pressing issues in your industry now? Search Google News for the juicy stuff everyone is buzzing about.
Step 2: Write your whitepaper
Use a whitepaper template to create an eye-catching report. Make it comprehensive and include images. Make sure to cite your sources to build maximum credibility.
Step 3: Publish and promote
Publish your whitepaper to your site.
11. Post on social media
Social networks are another channel you can leverage to get backlinks to your site. While social media links are technically no-follow links (they don't pass any SEO juice), I think there's enough evidence out there to make a case that they do show signals to Google that increase domain authority.
A case study was conducted where a website link was shared over 130,000 times on Facebook and the site shot up to first position pertaining to the keywords. So while social media is a weak signal, it certainly helps.
There are an estimated 3.81 billion social media users in the world. This is a huge pie. So don't ignore it!
Here's how to get started:
Step 1: Create social media profiles
Start with the popular networks—Facebook, Twitter, LinkedIn, and Instagram. Completely fill out your profiles and include a link to your site.
Step 2: Share engaging content
Facebook posts with images see 2.3x more engagement.
Step 3: Engage with your audience
Interact with your followers and key figures to build a following. If you or people you know have large followings, make sure to get them to post. It certainly can't hurt.
12. Create an infographic
Infographics present data and other information into a visual graphic that's easy to understand. A well-made infographic has the potential to go viral and become a backlink magnet. This post has several infographics that I've cited throughout… garnering backlinks for the owners of the infographics.
Check out this infographic posted on Bill Gates' blog on the world's deadliest animals:
It has almost a thousand backlinks. That's a lot for a graphic that probably cost a couple hundred dollars in design resources to make.
Here's how to get started:
Step 1: Compile your data
Gather raw data. Compile your sources. You can survey your own audience, post polls on Facebook or LinkedIn, or even email friends and family. As long as you cite your source, you should feel free to gather data however you can.
Step 2: Create your infographic
Use Canva to create your infographic. Choose a template and add interactive charts.
Step 3: Publish to your site
Publish on other platforms to spread the word and begin distribution:
13. Submit videos
Videos are a great way to showcase your expertise and get more backlinks. YouTube is bigger than Yahoo, Bing, and AOL combined. It's a search engine in its own right. So if you can create video content, by all means do it!
And in general, YouTube SEO is untapped. In the same survey of our audience, 89% of Growth Marketing Pro readers say they haven't tried YouTube SEO. That is absolutely staggering!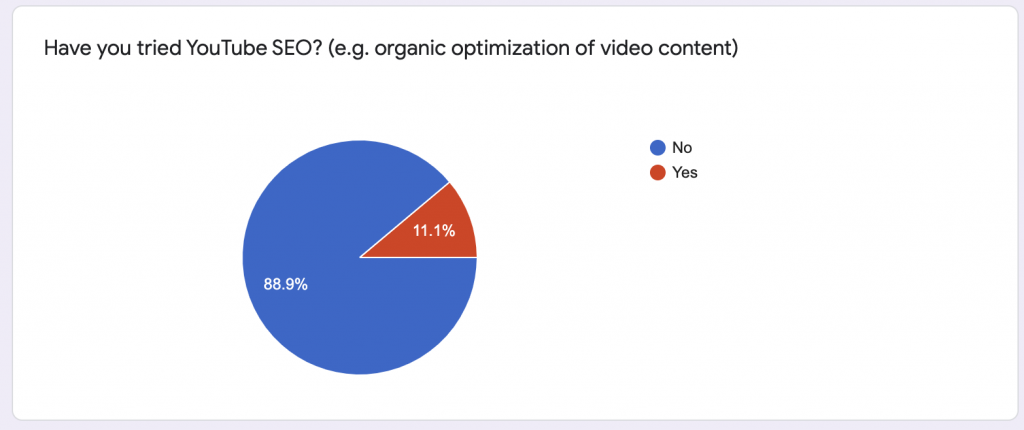 Not only does a video help you with your YouTube SEO, it helps with your website's SEO if you embed it in your site. That's because videos keep users on page longer, which is a signal to Google that your site has valuable content.
Here's how to get started:
Step 1: Create a video
Research a topic your audience would be interested in. Record and edit your video.
Step 2: Post to video platforms
Start on YouTube. Share to other sites like Vimeo and Dailymotion. If it's comical, throw it on Reddit and Imgur. There's a whole distribution network for videos on the internet.
Step 3: Send your embed code
Share your video to get the word out. Send bloggers who might be interested your embed code.
14. Find broken backlinks
Broken backlink building involves finding broken backlinks on the web and getting them replaced with a link to your site.
Here's how to get started:
Step 1: Compile a list of sites
Search for your target keywords. Put together a list of sites in your niche.
Step 2: Look for broken links
Use the free Broken Link Checker tool from Ahrefs. The goal is to find sites with broken links and have them replace their broken links with links to your site.
Step 3: Reach out
Here's a template you can use:
Hi [name],
I came across your page here: [link]
I noticed the link to [broken link] is no longer working.
I recently published a new piece of content here that I think would be a good replacement: [new link]
Hope this helps!
[your name]
The site owner should be pretty happy that you reached out to help them correct their broken link… so happy that you may have luck getting them to replace the broken link with one to your site!
15. Build local citations
Local citations are online mentions of a business. Citation signals are an important ranking factor for local SEO.
Here's how to get started:
Step 1: Submit your site to local directories
Start with Google My Business. Here's a list of the top local citations by country.
Step 2: Completely fill out all profiles
Google appreciates when local businesses create local citations. Keep NAP consistent for each site. NAP stands for Name, Address, and Phone Number.
16. Spy on your competitors
Your competitors are a goldmine of even more link building opportunities. Use any of the techniques on this list once you have a big list of competitors' backlinks. After all, if they're writing about your competitors, they'll probably be inclined to write about you.
Here's how to get started:
Step 1: Compile a list of competing sites
Search for your target keywords. Compile a list of the top ranking sites. Also, use your brain! You probably know a bunch of the competitors in the space.
Step 2: Analyze their backlink profiles
Use the backlink checker from SEMrush, Ahrefs, Moz, or GrowthBar. These tools will allow you to see all the backlinks of a particular website and the domain authority of those backlinks — so you can prioritize your outreach.
Step 3: Replicate those links
Analyze and replicate the links. You won't be able to copy all of them, but you'll find more link building opportunities. If you're feeling really feisty, you can reach out to the webmaster and ask them to replace the link to your competitor with a link to your site.
17. Post on question and answer sites
Question and answer sites allow users to post a question and anyone can respond with an answer. They tend to be a goldmines for producing traffic.
Here's an example from Quora:
Quora links are no-follow and while there isn't a direct SEO benefit (according to Google), there is some overwhelming evidence that those links do in fact help.
Here's how to get started:
Step 1: Search for your keyword
Use Quora or Yahoo Answers to find questions. But also look for sites in your niche that have forums or Q&A sections.
Step 2: Post an in-depth answer
Post a thoughtful answer. See how other answers look on those sites. They're generally well written and comprehensive. This strategy takes work. It's like keeping another blog! So make sure to make your words count and respond only to topics related to your offering.
Step 3: Include a link back to your site
Mention your site as an additional resource.
18. Create a quiz
Quizzes are a fun way to engage directly with your visitors. They also get tons of shares and backlinks. This quiz from BuzzFeed has over 400 backlinks:
Quizzes, like videos, also have direct SEO benefit in that they keep readers on page longer — a signal to Google that your content is valuable.
Here's how to get started:
Step 1: Make a quiz
Use a quiz maker to create your quiz. Make it fun and engaging. You can even be a bit controversial or hyperbolic in your quiz. Your goal is to get backlinks, not make friends!
Step 2: Share your quiz
Post your quiz to your social media profiles and embed it into your site. WordPress has a bunch of quiz plugins to make this easy. Ask your followers to share their results.
Step 3: Invite influencers
Invite influencers to take your quiz or share it with their audience.
19. Reclaim unlinked brand mentions
A brand mention is an online reference of your brand, company, or product. Monitoring these can help you identify brand mentions that aren't linking back to your site.
For example, this is an unlinked brand mention to the –> Wall Street Journal <–
Here's how to get started:
Step 1: Set up Google Alerts
Set up Google Alerts to send emails whenever your brand or products are mentioned online. Google Alerts are pretty handy for following any number of topics or brands.
Step 2: Send outreach emails
Find sites that mention you, but don't link back. Ask them to link to your site.
20. Submit to blog directories
Blog directories are websites that categorize blogs into different categories. Submitting your blog to these directories can help you get more links.
Here's how to get started:
Step 1: Compile a list of directories
Here's a list of verified directories to help you out.
Step 2: Submit your blog
Create new accounts at each directory. Submit your blog to the relevant category.
Step 3: Fill out your profile
Some directories may require additional information. Add the name of your blog and a brief description. Easy, right?
21. Create an online tool
This one is tough. But it can be hugely effective.
Online tools are simply programs or applications that help users with a specific task. Building these tools and making them freely available is another powerful way to get links.
This email signature generator from HubSpot has over 1,000 links. This tool is super simple and probably took one HubSpot engineer about a week to build.
Here's how to get started:
Step 1: Identify a common problem
Brainstorm ideas of tools you can create. It needs to be relevant to your niche. After all, you want to acquire backlinks and users who might consider buying what you're selling. It's one of the reasons we made our SEO tool, GrowthBar!
Step 2: Build a tool
Hire a developer to build your online tool. You can find developers capable of building just about anything on Fiverr or Upwork. We made the first version of GrowthBar for only a couple thousand dollars.
Step 3: Offer it on your site
Make your tool available for free. Promote it to encourage others to use it.
22. Buy existing sites
If you have the budget, you can acquire existing sites and add a link to your site.
Here's how to get started:
Step 1: Research domains
Search on Google for your target keywords.
Look for domains that haven't been updated in a while. They may be interested in selling.
Step 2: Use website marketplaces
Alternatively, you can use marketplaces like Flippa:
Step 3: Buy the website
Finalize the sale. Add a link to your site. Be careful with this strategy. While it can be really effective, it's not without risk. Google is aware of this strategy and can penalize you if the site is very unrelated to your offering.
Many entrepreneurs start out by simply buying an old domain and building their new site on top of that site. This means you start from second base, with a few backlinks already — meaning you have some existing domain authority before ever writing a word of content!
23. Create a scholarship
SEOs who have been around the block for a few years probably know this hack. Scholarships are financial awards that are granted to students who meet specific academic criteria. Creating a scholarship means you can help a student fund their education and build powerful .edu links.
Sure Oak helped one of their clients grow their organic traffic by 161% with this strategy:
Here's how to get started:
Step 1: Create a scholarship
Make a sizable scholarship of at least $500.
Step 2: Create a page
Create a new page that lists details about your scholarship including any requirements.
Step 3: Reach out to schools
Use this search operator:
Inurl: .edu + "outside scholarships"
Reach out and let schools know about your scholarship. If you're lucky enough to get a positive response, you can get .edu backlinks — some of the most powerful backlinks on the internet.
24. Sponsor an event
Events aren't cheap to organize. Organizers are always looking for sponsors to help them raise funds. Sponsoring an event like a local meetup or an industry conference can earn you backlinks.
Here's how to get started:
Step 1: Search for events
Use this search string:
"City" + "become a sponsor"
Step 2: Reach out
Find the event organizer's email address. Send an email indicating your interest in sponsoring their event.
Step 3: Send your donation
Request a link on their site.
25. Help a Reporter Out (HARO)
HARO is a free service that connects journalists and industry experts.
By helping a reporter out, you'll be able to earn quality links from major publications….Hopefully not Fox News, since it's nothing more than a propaganda machine (oops did I say that?).
Here's how to get started:
Step 1: Create an account
You'll receive several emails a day.
Step 2: Send your pitch
Bigger media outlets receive tons of responses.
Send a personalized pitch with in-depth answers to make yours stand out.
Step 3: Sign up for a paid account
You can get even more out of HARO with a paid account—set up keyword alerts, search online, create profiles, and more.
5 Tools to Get Backlinks to Your Site
You can do it yourself or you can use these tools to get backlinks to your site and grow your traffic. All of them will expedite your backlinking process! I'm partial to GrowthBar, of course.
1. GrowthBar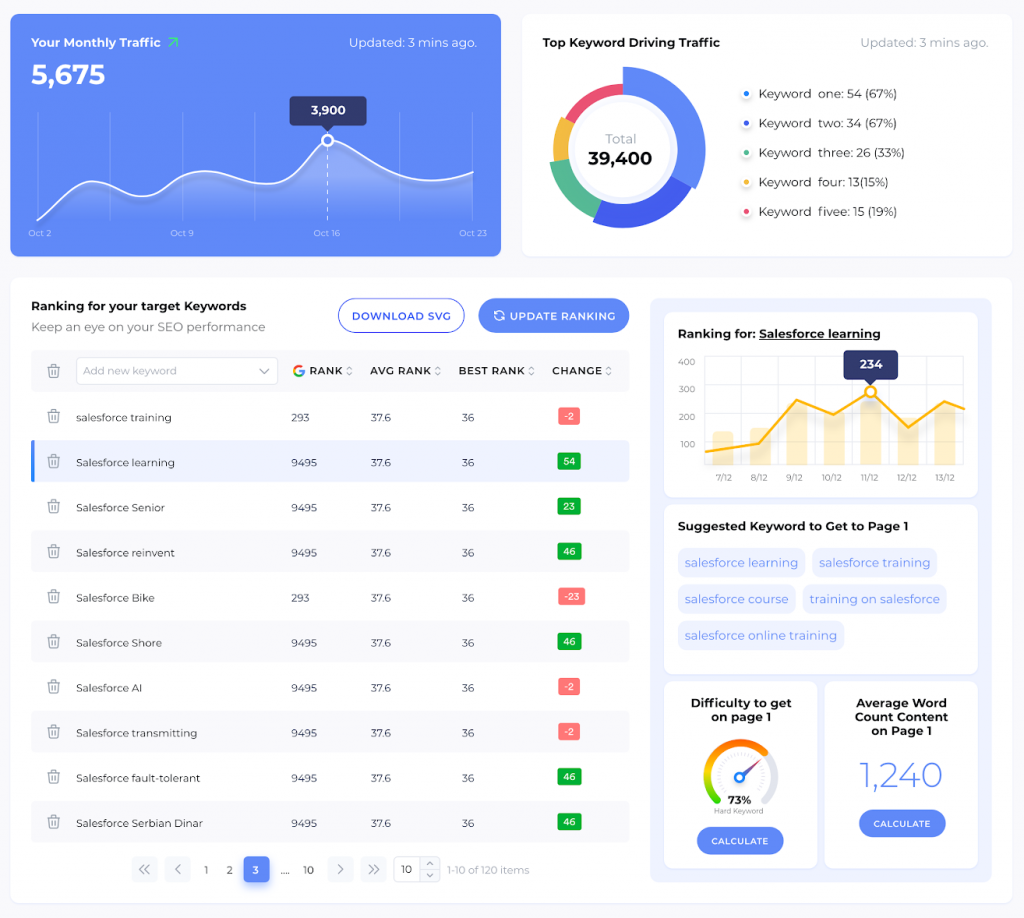 GrowthBar is an SEO tool that delivers keyword suggestions, top backlinks, word counts, and more—right from the search engine results page. It enables you to find backlink targets and capitalize them. Plus, track your keyword rankings over time for only $29/month.
2. Ahrefs
Ahrefs is a powerful SEO tool that lets you monitor your backlinks, see what keywords your competitors rank for, conduct content research, and track your rankings.
3. Ubersuggest
Ubersuggest is a free tool that you can use to get keyword suggestions and backlink data about competing sites.
4. Monitor Backlinks
Monitor Backlinks does more than just help you monitor backlinks—you can use it to identify quality sites for outreach, monitor brand mentions, recover lost links, and disavow bad links.
5. Buzzstream
Buzzstream makes it easy to manage your email outreach and link building efforts. You can even use the tool to quickly find email addresses.
Final Thoughts
SEO is only getting more important. As Facebook and Google Ads get more expensive, SEO is one of the last "free and cheap" channels left.
In fact, when we surveyed our audience, almost 78% of them said SEO will be more impactful in 2021 than it is in 2020! It's a channel you can't afford to sleep on.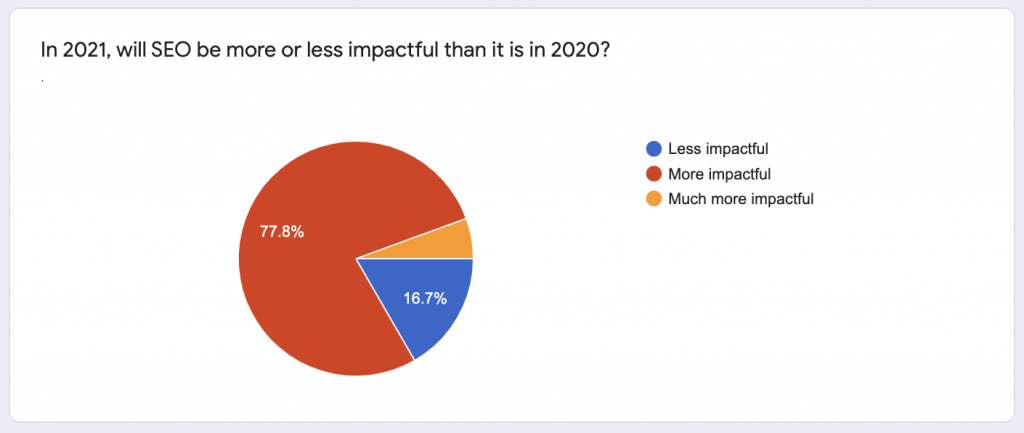 So if you're going to take SEO seriously, you need to get serious about backlinks. Remember this: different strategies work better for different industries. You'd be smart to test out a few of these and see which of them webmasters react best to.
Use these proven strategies to get backlinks to your site and outrank your competitors. God speed!
Also read: