I'm a marketing expert, a chef-in-training and a San Francisco resident. Also, I started this blog, Growth Marketing Pro and built it into a 6-figure passive income business in 18 months.
Latest posts by Hailey Friedman (see all)
Ecommerce search engine optimization (SEO) has the highest ROI of any form of ecommerce marketing.
If you don't already have an SEO plan in action, you're leaving money on the table. 
What is Ecommerce SEO?
Ecommerce SEO is a tactic used to improve your online store's search engine rankings.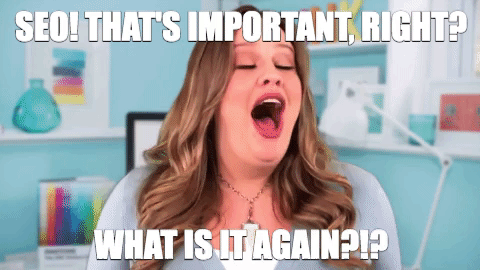 A lot of ecommerce site owners think SEO is too difficult or too time-consuming and get frustrated at not seeing results right away as they do with paid search.
But it's really not that difficult, and with the right SEO growth hacks, you'll see a much higher ROI than you do with paid search.
Plus, there will be a much more consistent flow of visitors coming to your site.
How Do You Use Ecommerce SEO?
You use ecommerce SEO to improve the search engine ranking of your online store.
Using specific keywords and links within your product descriptions, blog, or website copy can help your website rank higher on Google, so more customers can find your store.
You can use our own SEO tool, called GrowthBar, to help you with keyword research, backlinks, traffic value, and more.
1 – Improve Rankings
Ecommerce SEO is important because it improves your website's search engine ranking. Using the right keywords and links, your website will eventually land on the first page of Google (or another search engine), which means more clicks from potential customers.
2 – More Customers
When you improve your search engine rankings, you're able to drive more organic traffic to your website. A customer who came across your website looking for "cropped overalls" might not have discovered your website if it wasn't on the first results page of the search engine.
3 – Increase Revenue
Because you'll be driving more organic traffic to your website, you'll naturally improve your conversion rate, and the likelihood that a customer will purchase something. 
Ecommerce SEO: 8 Tactics to Get You Ranked
If frustrates me (and I'm sure you) to see how some guides overcomplicate ecommerce SEO. In this guide, I'm going to take you through 8 easy-to-implement tactics that'll increase your site's SEO and start bringing in that organic traffic you want.
1. Keyword Research – the Ecommerce Way
It's no secret that keyword research is the backbone of SEO. Without clearly defining the keywords your content is focusing on and aligning those with searcher intent, how are visitors supposed to land on your site?
Keyword research for ecommerce sites is slightly different from the regular keyword research you'd do for blog posts. The principles are the same — you're looking for keywords with search intent — but the execution is slightly different.
You need to think about the structure of your URL as a visitor goes down the sales funnel. Additionally, think about capturing all the related keywords around a product to give your pages maximum visibility in the search engine results pages (SERPs).
The easiest way to approach ecommerce keyword research is via a three-stage process:
Make a list of all your category pages and assign a target keyword to each page. For example, if you sell gym equipment, you'll likely have categories/keywords like "dumbbells," "weight lifting belts," "weights," and so on.
Next, make a list of all the individual product keywords. For example, if you sell dumbbells, you might have adjustable dumbbells, women's dumbbells, chrome dumbbells, etc.
You'll use all this keyword information to build a clear URL string and write SEO-rich content. I'll explain this in more detail throughout this guide.
2. Optimizing Your Products Pages for On-Page SEO
If you want your product pages to rank higher, there are a few things you need to optimize for SEO benefit.
Here's a handy little checklist of the important on-page factors to pay attention to:
Meta titles
Meta descriptions
Body of content
Image tags
Related questions
Meta Title — This is your main keyword as covered in point one above. You can test additional words in your H1 without changing your URL slug to increase the click-through and conversion rate. Example: "Best dumbbells for women under $50."
Meta Descriptions — The meta description is the few sentences displayed under your result in the SERPs. A good meta description will increase your click-through rate, which will improve SEO over time.
Content/Product Descriptions — The more content you add to a page and the more descriptive you are, the more keywords you will rank for. Think of it like this: you can only rank for keywords that are on your page or closely associated with the topic.
Image Tags — A lot of online shoppers browse products by images in Google. By making sure your images have your keywords in the alt tags and a short description, you improve your image SEO.Related Questions — Adding an FAQ to a product page is an ecommerce SEO hack that can give you an edge over your competitors. By answering any questions shoppers have, you'll increase your footprint in the search results and improve your on-page conversions.
3. Optimizing Your URLs
URLs are incredibly important for SEO and click-through rates. Yet, it's something that a lot of ecommerce sites get wrong. Admittedly, it's not always their fault. Some ecommerce platforms make it difficult and by default have URL structures that are not SEO-friendly.
However, knowing exactly how to create clear URL slugs can give you a competitive edge. Here's how your URL string should look leading to your product pages:
yoursite.com/category-name/subcategory-name/product
This string clearly shows Google exactly what the product is and the keywords you're targeting. It also demonstrates good navigation within your site, helping users find their way back and forth to related products.
4. Add Schema Markup to Your Listings
Schema is a type of microdata that you can add to help search engines interpret the information on your site. It may sound complicated, but it's not. Plus, anything you can do to help Google read and process the information on your site is good for SEO.
It's particularly useful for ecommerce SEO because you can add the price, number of reviews, and display a star-rating for your products that will appear in the SERPs when your product listings appear.
5. Link Building to Improve Your Domain Authority
Link building is one of the most challenging aspects of SEO, but it's also capable of returning the best SEO results.
Link building for ecommerce sites is a little more difficult than building links for a blog or content site. There is a stronger self-promotional tone when doing outreach to build links to product pages or an online brand. With the right strategy, you can still formulate effective outreach campaigns.
Some effective ecommerce link building tactics include:
Guest Posts — Guest posting has been the backbone of outreach and link building for years, and it's still just as effective. You may have to lead in with a value-based proposition, but securing a guest post and that important link in your bio (or even better, in the body of the article) is the end goal.
Reach Out to Influencers — There are always influencers in every niche that have already built up an audience. It's common practice to offer them a deal to have your products exposed to their audience, which will often lead to links back to your site.
Blog Content — SEO-rich blog content is a great way to build linkable assets on your site and utilize content marketing. I explain this in more detail in the next section.Create an Affiliate Program — Affiliate programs are great ways to generate more sales without using your own marketing channels. It also attracts more backlinks as affiliates link back to your site and drive sales.
6. Add Blog Content to Your Site
This is another SEO hack that most ecommerce sites aren't taking advantage of.
Why would you add blog content when it's not a product page?
There are a number of reasons why blogging is an effective tactic to increase the traffic to an ecommerce site. Just consider the following;
You can target lower competition keywords and rank easier for those terms.
You can add a call to action or link to your product pages from your blog content.
You can use blog content to attract links and strengthen your overall domain authority.
By providing useful content you will improve your trust and brand recognition.
You will improve your relevancy and authority on certain topics in the eyes of search engines.
More pages on your site with more internal linking is also an SEO factor
Blogging and producing regular, helpful, relevant content should be part of any SEO strategy. You won't see results overnight, but in the long-term, it brings a steady flow of organic traffic to your site.
7. Use Social Media
When formulating an SEO strategy, most SEOs pass over social media. They don't see any direct SEO benefit to spending time and resources building up a social media following.
In fact, social media can help SEO. It's still up for debate just how much social signals and inbound links from social media platforms affect SEO. But one thing every SEO agrees on is that it doesn't do any harm.
Here are three good reasons why you should include social media in your SEO strategy:
You can increase your brand awareness and attract more PR opportunities, links, and so on.
Social media posts rank within Google. Admittedly not as well as website content, but you can still increase your organic visibility.
You can improve your user metrics by sending visitors to your site from social media. You'll see in your analytics that Google measures visitor metrics, such as time on page, bounce rate, etc. Improving these metrics by sending visitors from social media platforms helps your SEO.
8. Utilize Your Search Console and Analytics
With Google serving up around 3.5 billion search queries every day, it's smart to make use of any data they provide. Two of their most valuable tools for SEO are Google Search Console and Google Analytics.
Google Search Console is a free tool that helps you monitor, maintain, and troubleshoot your site's presence in Google's search results. Once your posts and product pages have been indexed for a few weeks, you can dig into the data in your Console to find out what keywords you're ranking for and where.
Conclusion
Ecommerce SEO is an effective way to boost your search engine rankings, increase brand visibility, and get more customer shopping on your website. To help you get started, sign up for a free trial of our Chrome plug-in SEO tool, GrowthBar.
*Articles on this blog contain affiliate links that GMP receives a small commission from at no cost to you. We only recommend tools we trust. And never ones we don't trust.