Latest posts by Hailey Friedman
(see all)
We recently considered starting our own Growth Marketing Pro podcast and we were on the hunt for the best podcast hosting platform.
Personally, I'm a huge podcast fan.
I've been featured on dozens.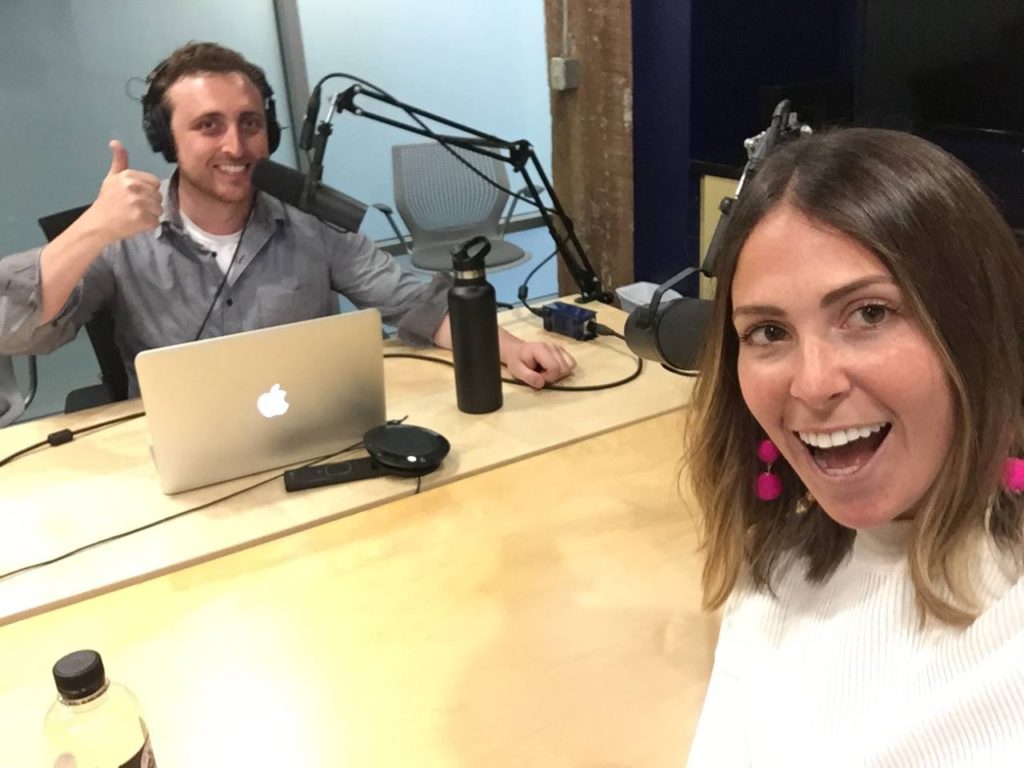 I've also run podcast ads for San Francisco startups. And I've seen what an enormous impact they can have on your brand and on your business.
So when I began to investigate starting my OWN podcast, I discovered all the steps involved in setting one up. It was annoying and confusing.
So I did the research about the best podcast hosting to help you find the perfect fit for your new podcast.
First, what is Podcast Hosting?
Your podcast hosting platform is going to be your central hub for all things "podcast."
This is where you're going to:
Upload your audio files and store them (they take a lot of space)
Write out the title and description of your show
Generate an RSS feed that will include all your episodes
Gather any analytics you need to understand your audience and download stats
Here's a quick image I put together that describes the process pretty clearly…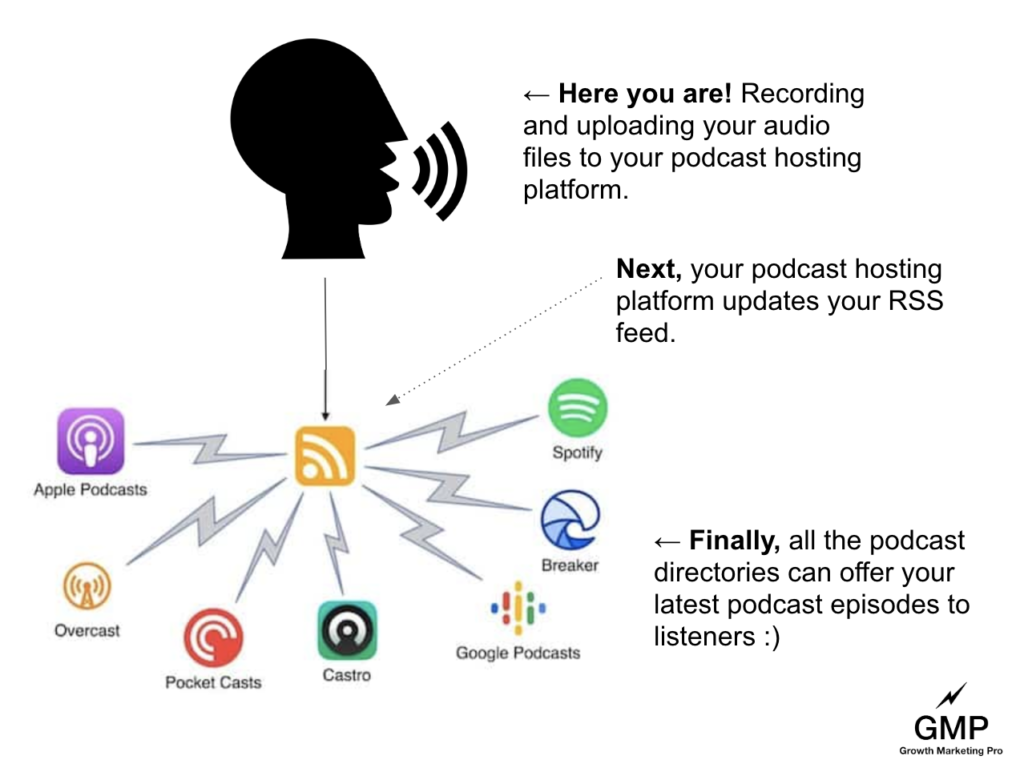 Note: Podcast hosting is different than a podcast directory. Any time someone subscribes to your podcast, they do so on a directory, like Apple Podcasts or Spotify. After they subscribe or click to listen, your podcast host does the dirty work behind the scenes — sending your audio files to the directory, and then straight into your listener's ear.
Choosing the best site to host your podcast can be a daunting and time consuming task. There are so many choices out there, and many that offer similar-sounding features. 
I did my homework
The Best Podcast Hosting Platforms
1. Buzzsprout: the biggest podcast platform

The Best Podcast Hosting Platform for: Podcasting novices looking for a quick and easy solution.
About: Buzzsprout has been a popular choice since 2009, and for good reason. They offer a free plan that lets you upload two hours each month (enough for a couple shows). They get high marks in feature set and user-friendly design. Plus, there's an analytics dashboard with easy-to-understand engagement metrics and download metrics.
Plus, Buzzsprout allows you to embed a podcast player right on your blog or website, which is pretty cool.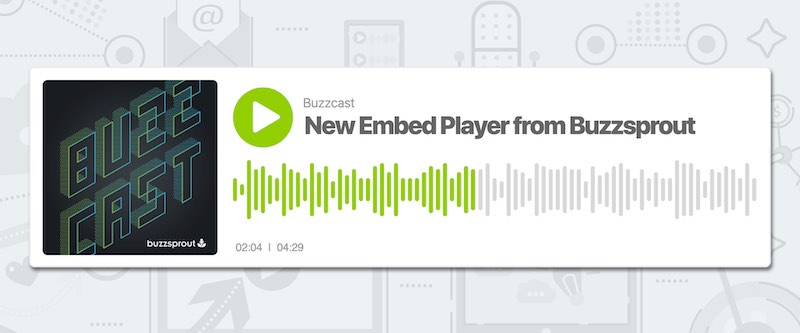 Buzzsprout allows you to upgrade to 128k stereo optimization for better sound. They make it super easy to upload and schedule your podcast: you just upload audio, add a title and description, and submit your podcast to all the big directories (Apple, Spotify, etc.)
Ease of Use:
Easy upload and hosting
Quick customer service
Intuitive dashboard
Free to get started
Features:
Social media sharing features
WordPress plugin
Affordable pricing
Great storage limit
Podcast statistics like downloads, listen time, etc.
Add chapter markers so that users can understand the details of the podcast at a glance
Price:
The free plan offers 2 hours each month, $12/month for 3 hours, $18/month for 6 hours, or $24/month for 12 hours. Plus, pricing is truly month-to-month. No commitments,
I think: Buzzsprout is great for anyone who wants to get in the podcast game thanks to its free plan and easy-to-use interface.
While Buzzsprout only hosts your content for 90 days with the free plan, any of the paid option allows for indefinite hosting, unlimited storage, and the option to upload additional hours for a small fee.
Special offer: Get started for free and get a $20 Amazon Gift Card just for signing up.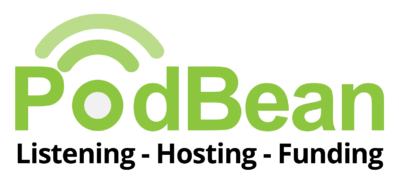 A Great Hosting Platform for: Beginners and veterans alike. Used by over 310,000 podcasters around the world, this is a safe and trusted bet. (Get one month free on paid plans with my link here.)
About: PodBean is a podcast hosting and monetization site that makes podcast hosting simple through its user-friendly interface. Over 225,000 podcasters around the world use PodBean and the platform is deeply trusted. The service integrates podcast publishing, management, syndication, and detailed analytics into a single easy-to-use package.
Ease of Use:
User-friendly interface
24/7 customer support
Easy to make metric comparisons across platforms and episodes
Reliable cloud hosting
Easy to fire up
Features:
In-depth dimensional view of insights
Unlimited storage and bandwidth (paid plans)
Search engine optimized
iTunes and Play Store support
Own domain and branding
Price:
The Basic plan is free and offers 5 hours of storage space and 100GB monthly bandwidth. The Unlimited Audio plan is $9/month, the Unlimited Plus is $29/month, and the Business plan is $99/month. The paid plans provide unlimited storage and unmetered bandwidth.
I think: PodBean is great for both the podcast newbie or the seasoned veteran. With its easy to use and navigate interface, you can publish episodes in no time, with several customizable options. Offering a free plan also makes it easy for beginners to test the podcast waters.
The podcast hosting site also offers a variety of useful features, such as analytics, automatic posting to social media, and a mobile app. Users can also add in their own sponsored ad campaigns.
Special offer: Get one month free on paid plans with my link here.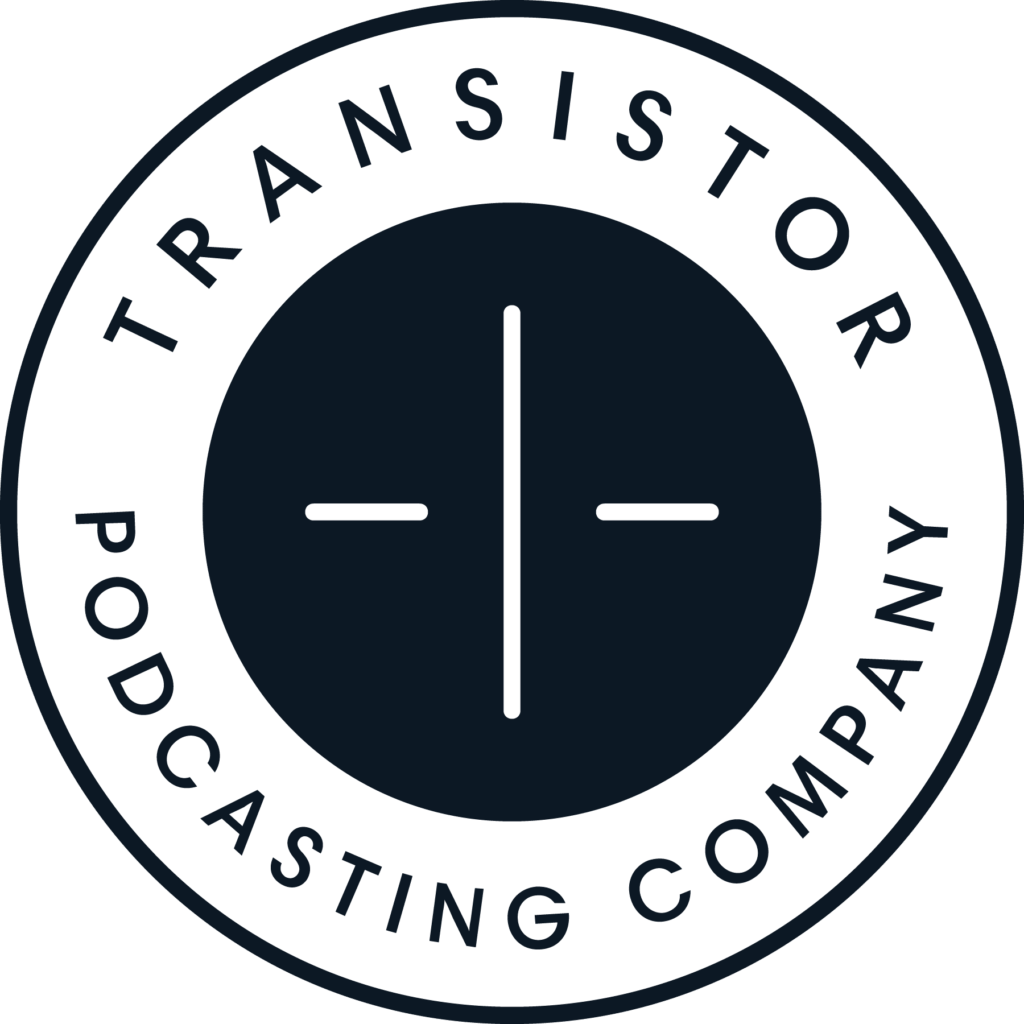 About: Professional podcast hosts with an emphasis on analytics. Get a 14 day free trial with this link.
About: Transistor is a professional, high-quality podcast hosting service that has hosted several popular podcasts, such as Cards Against Humanity, Honeybadger, and Drift. The company offers everything needed to grow a podcast audience, such as the capability to host unlimited shows, generating branded websites, podcast distribution, and advanced analytics.
Ease of Use:
Easy-to-use platform
Customization options
Clean layout
Simple uploads
Great customer support
Features:
Unlimited shows
Multiple user access to your shows
Podcast analytics
Embed the audio player anywhere
Distribute your show on Apple Podcasts, Spotify, Overcast, Pocket Casts, Stitcher, Google Play, Castro, and on social media.
Price:
Transistor offers three different plans, all including an unlimited number of podcasts and episodes. The Starter plan is $19/month, the Professional plan is $49/month, and the Business plan is $99/month. A 14-day free trial is available and there's a discounted price for paying annually.
I think: Transistor is a good choice for professional podcast hosting, as well as advanced podcast analytics. The site allows users to scale their podcast as their audience grows. The distribution features for the easy-to-use platform makes it easier to build a podcast audience, and existing feeds from other podcast hosting platforms can be easily imported.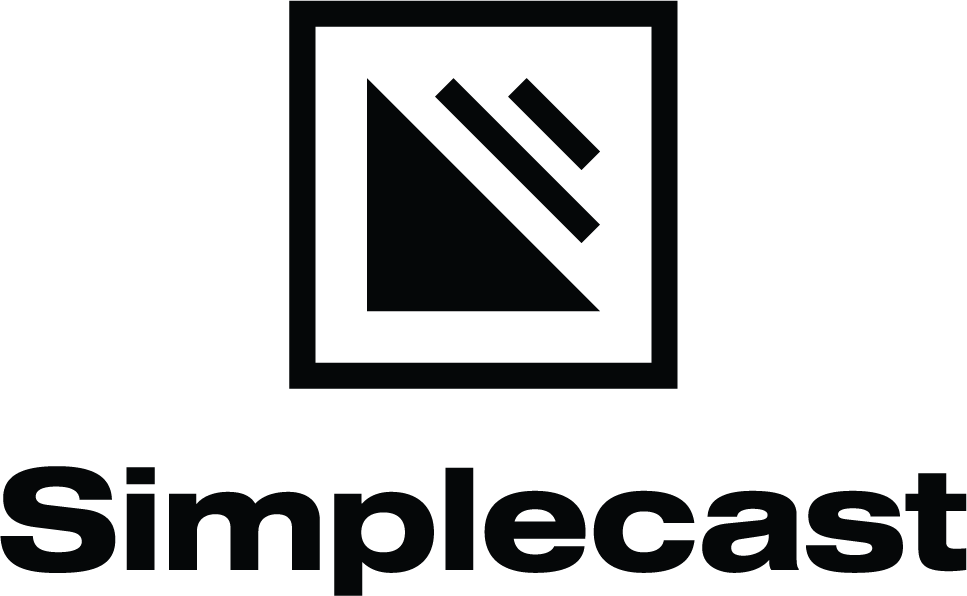 About: Simplecast has hosted several podcasts of some of the country's largest brands, such as HBO, Facebook, Nike, and Kickstarter. One of the reasons why is due to powerful tools the platform offers users at all stages of podcasting, including a full-functioning website, different web players, one-click podcast publishing, and a number of advanced analytic tools.
Ease of Use:
Easy-to-use interface
Great audio quality
Communicates well with servers
Customization options
One-click publishing
Features:
Unique social sharing functionalities
Advanced analytics tools
Recast podcast sharing tool
Audience insights
Web player insights
Price:
Simplecast offers three different plans. The Basic plan is $15/month and offers limited features compared to the other two plans. The Essential plan is $35/month and the Growth plan is $85/month. A 14-day free trial is offered for all plans and there's a slight discount for paying annually.
I think: Simplecast offers industry-leading features when it comes to podcast hosting, which help the platform live up to its name. With unlimited uploads, unlimited storage, and distribution features for all major platforms, it's not hard to see why many major brands have chosen the hosting site.
One of the standout features of the site is the Recast™ tool, allowing users to schedule and share podcast clips to social media. Simplecast also allows for collaboration by multiple users with a single account.
About: Captivate is a great podcast hosting site for growing an audience, offering unlimited team members for accounts, unlimited podcasts, marketing tools, and advanced analytics. All plans come with a mobile-friendly, customizable website that includes built-in donation support and the call to action allows for generating leads and building an email list.
Ease of Use:
Easy to understand
Smart UI features
Mobile-friendly website
Customizable
Easy to set up
Features:
Unlimited team members
Advanced analytics
Built-in calls to action
Unlimited podcasts
Automatic podcast website
Price:
Three different plans are available, all including a 7-day free trial. The Podcaster plan is $19/month, the Audio Influencer is $49/month, and the Podcast Brand plan is $99/month.
I think: Since Captivate is hyper-focused on growing your podcast audience, the platform may be a great option for those starting out with little to no audience or businesses trying to build an email list or generate new leads.
The various marketing tools and advanced analytics further helps with growing an audience, including calls to action built-in to further your reach.
About: Spreaker boasts that it provides "everything you need to create, distribute, and monetize your podcast." This easy-to-use, mobile-focused podcast hosting site includes its Spreaker Studio tool for both mobile and desktop devices.
Ease of Use:
Distributes to major streaming portals
Easy to navigate
Simple interface
Excellent audio clarity
Apps for both desktop and mobile
Features:
Analytics
Mobile-focused
Ad revenue sharing for monetization
Private episode sharing
Auto publishing
Price:
Spreaker has both Professional and Enterprise plans. For Professional, there is a Free Speech that is always free and offers up to 5 hours of audio storage and up to 15 minutes per live podcast. The On-Air Talent plan is $7/month, the Broadcaster plan is $20/month, and the Anchorman plan is $50/month. The Enterprise Station plan is $100/month.
I think: Spreaker is one of the better options when it comes to monetization. All plans include ad revenue sharing, inserts for ads for show intros, and private episode sharing. The site also lets you distribute your podcast to several major streaming portals, including YouTube, Spotify, Apple Podcasts, Sonos, and Amazon Alexa.
About: Smart Podcast Player was created by the famous podcaster behind Smart Passive Income, Pat Flynn, and is "a media player that's as smart as your podcast." The innovative podcast player offers numerous great features, such as capturing listeners' email addresses.
Ease of Use:
Straightforward
Easy-to-use WordPress plugin
Customize colors
Versatile podcasting tool
Features:
Capture email addresses of listeners
Social sharing
Speed control
Mobile-friendly
Sticky player
Price:
Smart Podcast Player charges $12 per month, or slightly less if billed annually.
I think: Smart Podcast Player is a useful an affordable option for podcasters who want a simple, easy-to-use podcast player to display on their WordPress site, but still want useful features like social sharing.
One thing that Smart Podcast Player has over its competition is its email capture feature. It's the only known podcast hosting site that gives you the ability to capture the email addresses of your podcast listeners.
About: Castos is different than other podcast hosting sites on this list as it's a full-featured plugin for WordPress sites. The podcasting plugin makes it easy to build, grow, and monetize your show.
Ease of Use:
Manage from within WordPress
Automated transcripts
Easy to use
Integrates seamlessly with WordPress
Intuitive, simple plugin
Features:
Unlimited storage
Unlimited bandwidth
Unlimited podcasts/episodes
Customizable media player
YouTube republishing
Price:
The Starter plan is $19/month, the Growth Plan is $34/month, and the Pro plan is $49/month. All three plans include unlimited storage and unlimited episodes. A 14-day free trial is also offered.
I think: Castos may be the best option for anyone wanting an easy-to-use podcast hosting service and already has a WordPress website. Basically, all you have to do is upload the audio file for the podcast, type in a description, and the podcast goes live on your website through the customizable media player.
The podcasting plugin also provides simple YouTube republishing with its higher tier plans, as well as an automatic transcription that can be easily copied and pasted into WordPress or downloaded as a PDF.
The 2 Best Free Podcast Hosting Sites
Yup, as I promised, there are some free podcast hosting platforms that will get you up and running for nada.

Yup, Buzzsprout again. Buzzsprout's free podcast hosting plan has the most features and flexibility on this list. Plus, it scales with your business. So if you get off the ground, get some listeners and start crushing it, you can continue using Buzzsprout as you graduate from sortapreneur to podcasting legend!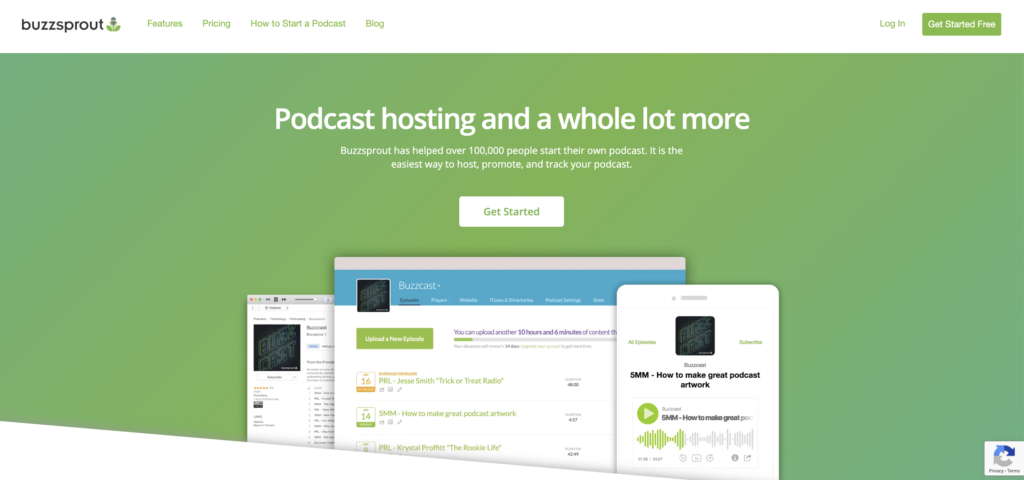 With their free plan, you get two free hours of upload time, hosted episodes for up to 90 days, and a complete podcasting dashboard.
Again, Buzzsprout enables you to get up and running FAST, upload your first podcast and publish it on the major directories.
I love SoundCloud for music and much more… including their podcast hosting.
Using their hosting services, you get access to all of their embedded players, Twitter cards, and timed comments. With a free account, you can upload 3 hours of content per month and get basic reporting.
Getting started is easy:
Create a profile
Complete your profile information
Adjust the content settings to increase discoverability of your podcast
SoundCloud allows you to make an RSS feed and expand distribution on iTunes, Stitcher, etc. Basically, SoundCloud has all the great stuff you'd expect from a podcast hosting platform, without any bells and whistles — which if you're just getting started, may be okay.
Podcast Directories: Making Sure People Listen
What good is a podcast if nobody ever tunes in? Podcast directories ensure you get in front of the most listeners and your feeds are updated automatically after each episode.
As I've said, podcast directories will read your RSS feed that is created by your podcast host and then your episode will be available on the podcast directory platforms for all to hear.
There are 5 big directories that most podcasters release new episodes on.
1. Submit Your Podcast to iTunes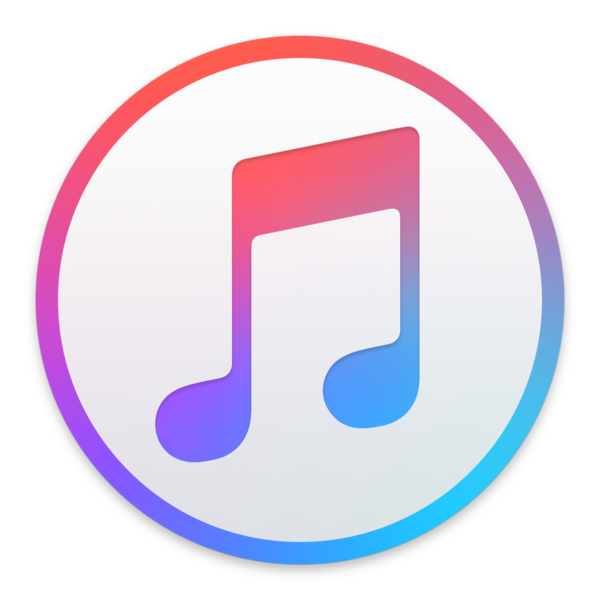 iTunes has over 500,000 podcasts available with over 50 billion downloads, according to 9to5Mac.
This is normally the first place podcasters go to ensure distribution, as the reach is so massive. Here's how to submit your podcast to iTunes:
First, make sure you have an active Apple ID to submit your podcast.
Sign in to iTunes Connect.
Click on the top-left area of the podcast dashboard and enter your RSS feed into the text box.
All of your podcast's information will load from your podcast host and show you a feed preview. Make sure that all of your text and artwork looks ready to go.
Click submit and wait for the approval.
2. Submit Your Podcast to Google Play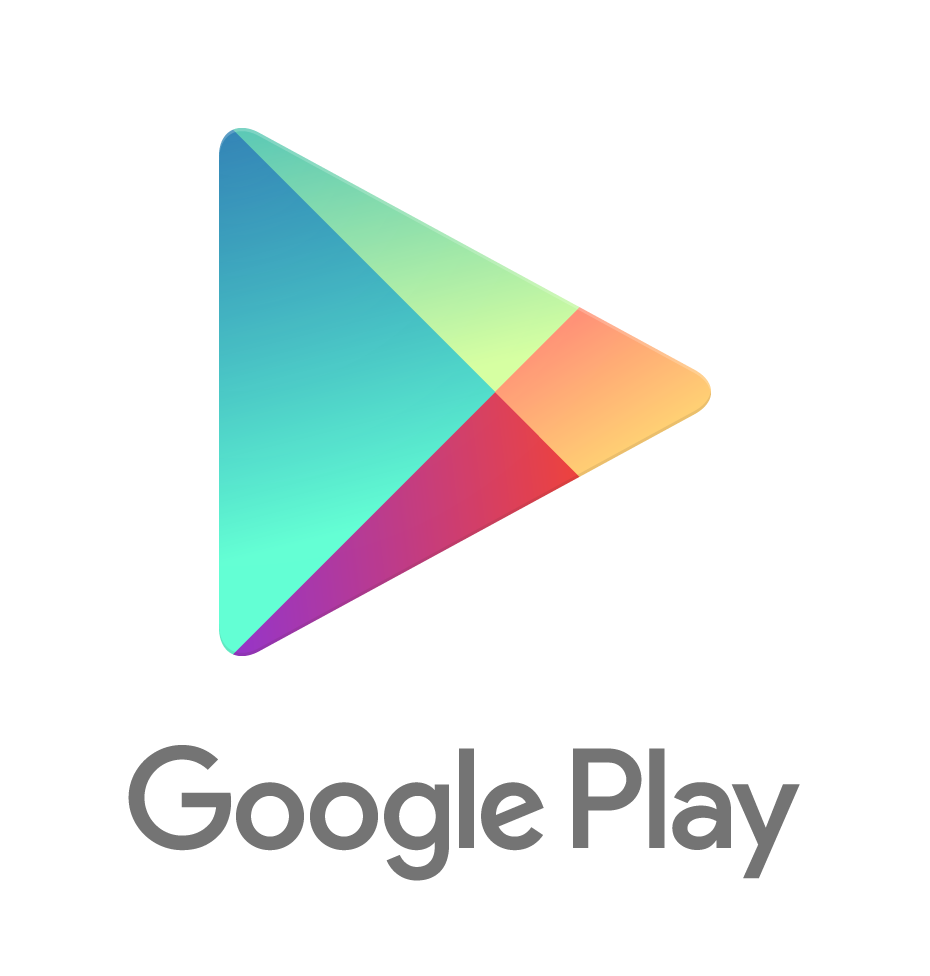 Here's how to submit your podcast to Google Play:
Visit the Google Play Podcast Portal
Click "Add a Podcast"
Past in your podcast's RSS feed URL
Click "Submit RSS Feed"
Verify ownership
Review your podcast info
Click "Publish Podcast"
Your podcast should be approved in a few days
3. Submit Your Podcast to TuneIn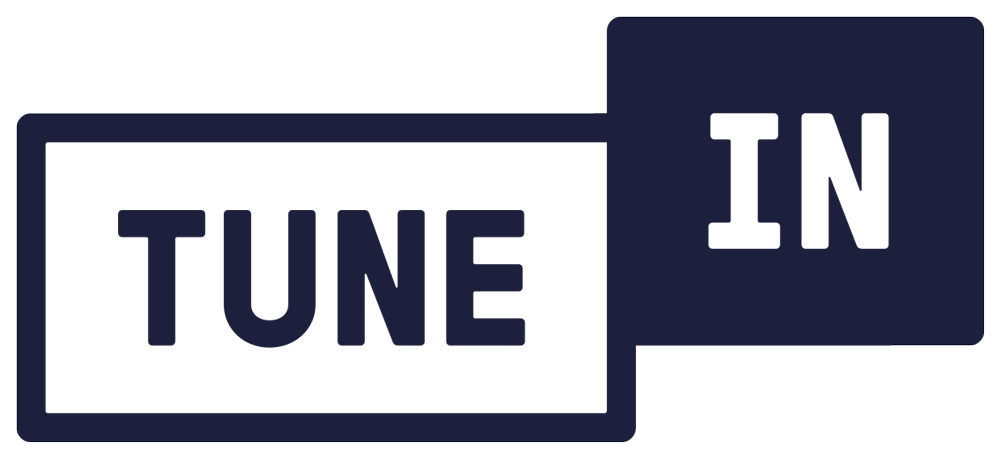 TuneIn is a cool product that has 100,000+ radio stations, live sports, and you guessed it — podcasts. Submitting to TuneIn is stupid easy. So you should do it!
Simply fill out this contact form
Accept terms and conditions and submit
Yup, that's it.
4. Submit Your Podcast to Stitcher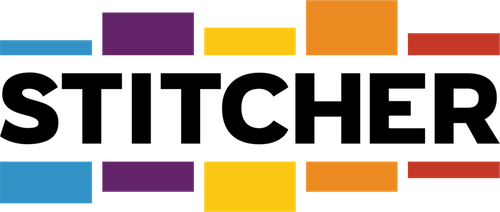 I'd be willing to bet Stitcher keeps Apple executives up at night. Stitcher is one of the biggest podcast listening platforms in the world, with over 100,000 podcasts.
Plus, Stitcher gives listeners personalized recommendations based on listening history and preferences, so the chance of your podcast getting discovered there is pretty dang good!
This is how to submit your podcast on Stitcher:
Create a Content Provider profile here
Once you're logged in to your newly created account click the "Add Show" button
Add your RSS feed and show details and submit
Wait for approval
5. Submit Your Podcast to Spotify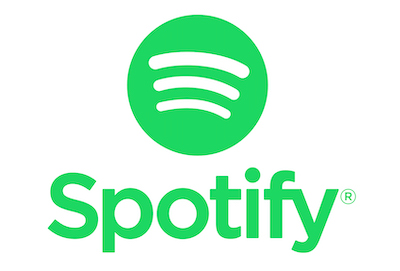 Spotify is getting into the podcast game in a big way. Spotify has over 200 million listeners worldwide and the podcast audience has doubled in the last 12 months.
Plus, Spotify gives podcasters a great snapshot of who their listeners are — what episodes they're streaming the most, and even the music they love — insights that will help podcasters plan episodes and get sponsors.
This is how you submit your podcast to Spotify:
Click Get started.
Paste in the link to your podcast's RSS feed.
Add podcast info like the category, language, and country.
Review the details and submit.
How to Create and Record Your Podcast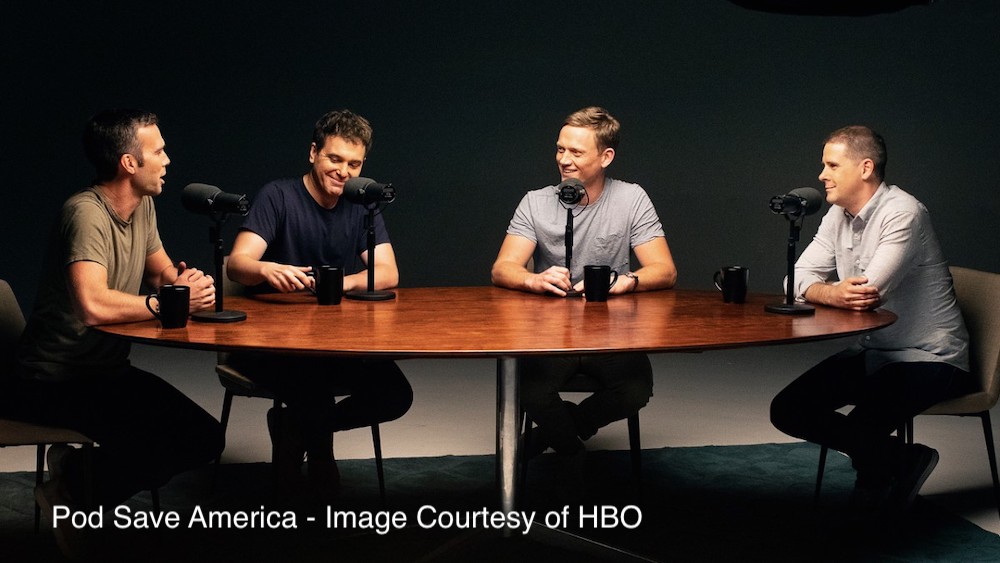 Recording your podcast and making sure it gets into the headphones of listeners is the last step in reaching podcast nirvana!
1. Creating Your Podcast
Niche or authority: The internet and the airwaves are very crowded. When you begin your podcasting journey, make sure you're coming from a place of authority and confidence. If you've never baked in your life, a podcast about baking isn't for you. Even more, make sure your take on topics is unique. Don't be sensationalist or factually incorrect, but the more niche your perspective is, the more listeners will tune back in time and time again.
Name: Choose a name for your podcast that will carry it to every iPhone, Android device and car stereo on the planet! It's important to use the keyword(s) your audience may be searching for in the major directories, as it means your podcast may come up organically. Also, try to be clever and authoritative with your language when possible!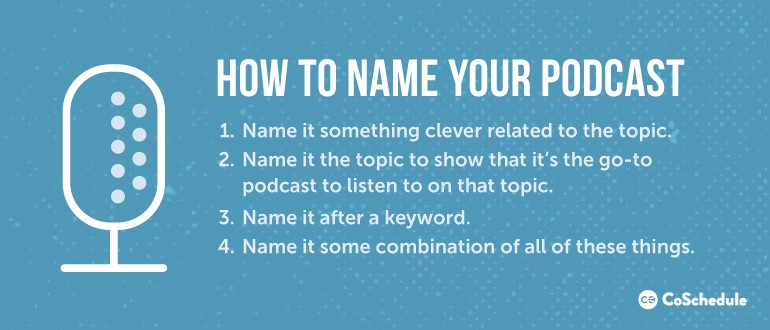 Music intro: Do you know the music in your favorite TV show? Seinfeld or Friends? Podcasts are no different. You should definitely have intro music! Your intro music is your "brand." Begin your podcast with a theme song to captivate the interest of the listeners. Make it fun. Make it "you!" Typically, it should be about 5-10 seconds long.
Cover photo: Your cover photo is another element of your brand. Get a great picture of you or create something more graphical using a tool like Canva. Like your name, your cover photo should be meaningful and memorable.
2. Recording Your Podcast
The equipment: Fortunately, there's not too much you need to begin podcasting when it comes to equipment. But you should spend a few bucks on a nice microphone and headphones with a USB connection. Adding an audio interface/mixer is a bonus for podcasters who want effects and some additional features.
The recording software: This is the last real investment in your podcasting future. You will need a clear, professional podcast recording software. Anchor is recommended by Spotify. Zencastr is another that many podcasters use. In reality, you can't go wrong with either.
3. Distributing Your Podcast
Yes, you have to get your podcast into the hands of listeners!
Put it on the podcast directories: As I laid out above, you'll need to get your podcast on the popular directories including iTunes, Google Play, Stitcher, Spotify and TuneIn. This will definitely get you some organic downloads, which you'll need in the early days, while you're still making a name for yourself and your show.
Guests and partners: Tap influencers in your niche (YouTube, bloggers, Instagrammers or podcasters) and invite them to be guests on the show. They will have a really unique take that your audience will love, plus they have existing distribution. What do I mean? Well, ask them to post about your podcast once the episode is recorded and available! That'll get the word out for free.
Digital marketing: A whole post could be written about digital marketing for podcasting, but in general, if you want to promote your podcast digitally, I'd recommend a few different avenues:
SEO: Search engine optimization is the holy grail of digital marketing. Imagine getting eyes on your podcast for free when people Google topics related to your show. SEO requires that you host your own site and that you make blog content on keywords surrounding your podcast topic.
Seed the internet: When you launch, make sure to get it in front of your potential listeners in the cheapest ways possible. This includes launching on ProductHunt, talking about it on Reddit, Twitter, Facebook Groups and wherever else your potential fans may be.
Being a guest yourself: Yup, you can get distribution for your show by being a guest or by guest posting on other people's podcasts, blogs, YouTube channels, etc.
In Summary
There's a lot of other steps to get your musings in front of listeners, but hosting is the first step. I hope this guide will help you do everything, from conceiving your podcast, to getting it on the airwaves.
The best podcast hosting platform for beginners at podcasting, looking for a quick & easy solution is Buzzsprout. I couldn't recommend it more. Save a lot of headache and get a $20 Amazon Gift Card just for signing up.
This is the platform I'm going to go with myself.
Happy podcasting!
xo
Hailey
Also read: