Latest posts by Hailey Friedman
(see all)
Every day, 15% of the queries that happen on Google are ones that have never been searched before.
That's why Google updates its algorithm 500+ times per year — to stay current with the way people are living and searching the internet.
So, if you're an entrepreneur or marketer trying to compete in search engine optimization (SEO), you need a great content optimization tool to keep your content optimized for what searchers—and therefore search engines—are looking for. Frase, MarketMuse, Surfer, and Clearscope are some of the best.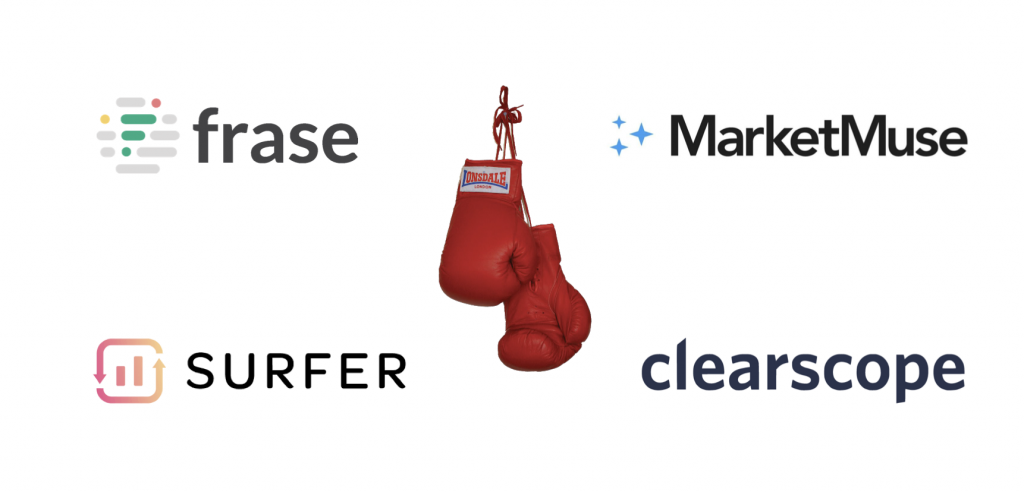 Clearscope, Frase, MarketMuse, and Surfer SEO are all great content and SEO tools, but they're not necessarily interchangeable. They don't have all the same features (or price) and depending on the size of your company or whether or not you're a freelancer, your needs will vary slightly.
So….which content optimization software is right for you and your business? Keep reading to find out.
What are Content Optimization Tools?
Content optimization tools are platforms that help modern marketers create relevant and useful content that is fully optimized for what search engines (primarily Google) are looking for. Many content optimization tools use some form of correlational SEO to pinpoint the most important elements of ranking content.
Using AI and machine learning, content optimization software can help you top organic search results by making the optimization process a lot simpler and faster, which helps expedite your content output.
If you want to have a strong online presence—and especially if your goal is to excel at search engine optimization (SEO) — you need to produce great (optimized) blog posts often.
Content optimization tools can have a variety of functions, including:
Streamlining the brainstorming, writing, and publishing process, including directing any writing staff
Optimizing your content for search engines by providing recommendations for keywords, headings, post length, and more
Making more content faster by providing keywords, content briefs and outlines, and AI-written pieces or outlines you can base your writing on
Predicting content success by determining ease of ranking for specific keywords and how to change your content to best rank for it (many do this by giving "content scores" as you post)
Overall, content optimization tools can improve your search engine rankings, increase revenue for your business, and help you become an authority in your field.
Sounds pretty good, right?
Now you get to decide whether Clearscope, Frase, MarketMuse, or Surfer SEO is going to be the best content optimization tool for your business!
Also read: The 9+ Best AI Writing Tools for Every Use Case
---
GrowthBar is the SEO content tool that Postmates, Square, Minted and 4,000+ other content creators use.
Create the best, most optimized blog content with AI (starting at only $29/month)
---
Clearscope vs Frase.io vs MarketMuse vs Surfer SEO
1. Clearscope

What Clearscope Says…
"Content drives more traffic with Clearscope. Our AI-powered platform makes it ridiculously easy to get more out of your content."
About:
Clearscope is a content optimization tool that uses IBM Watson to analyze the content that search engines rank the highest for specific keywords, and give you suggestions for your content based on this and SEO best practices.
Basically, you tell Clearscope a keyword you want to rank for, say "content optimization tools," and it reverse-engineers the top results on Google for the term to figure out what words and phrases should be included in your piece to rank well.
Clearscope will give you a list of key terms and topics as well as competitors who are currently ranking for that term, and a content optimization outline for whichever topic you click "optimize."
This outline helps you outline the scope of work, decide what topics to cover, and the length of your post, especially because Clearscope suggests a word count length, which is determined by the lengths of top-ranked content for this keyword.
While you're working, it assigns a content score based on your post's word count, readability, and search volume, as well as how to improve this score.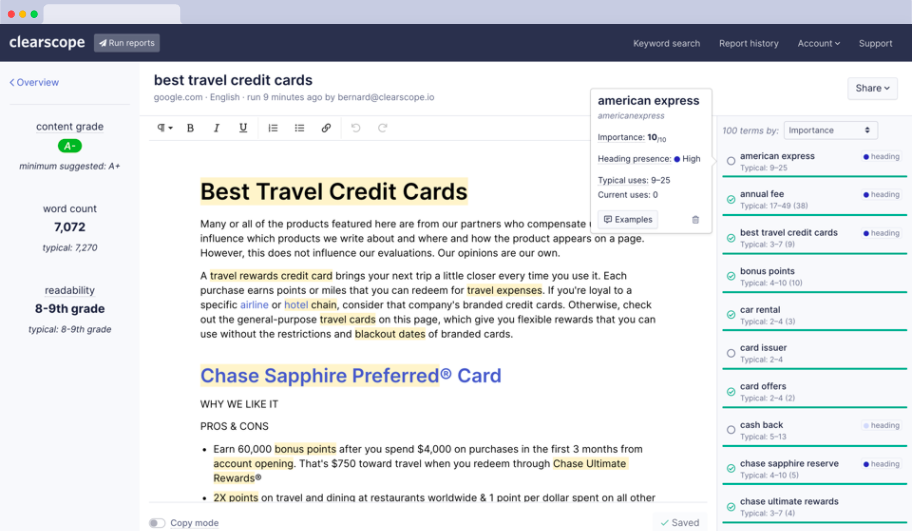 It also audits existing content and gives suggestions for ways to improve it, including content length insights and readability score.
Clearscope advertises its natural language machine learning, which enables it to even make suggestions about article tone and additional keywords that should be included for your content to rank.
Plus, they have keyword research capabilities like many of the other tools.
Features:
Competitor content analysis
Content length suggestion
Real-time content assessment and overall grade
Content optimization recommendations, including additional keywords to put in your article
Google Docs & WordPress integration
Unlimited sharing and exporting
Free onboarding and training
Keyword planner
Pricing:
Essentials: $170/month
Professional: $350/month
Enterprise: Custom
Bottom Line:
Does Clearscope's "AI-powered platform make it ridiculously easy to get more out of your content?"
Well, Clearscope makes on-page SEO insights as clear and accurate as can be. If you want to know how many words a post for a specific keyword should be, Clearscope has you covered. If you want to know which additional keywords to include in a particular article, Clearscope will suggest them. Reviewers on G2 give Clearscope an average score of 4.9/5. 
Clearscope is easy to use–you can easily train your writers to use it in a few hours–and it really works. It's got a host of useful features, but…the price tag is extremely high, so it's probably best for mid-to-large size companies. 
2. Frase

What Frase Says…
"Accelerate Growth with Answers: Grow organic traffic, conversion rates, and revenue with integrated content optimization and conversational AI tools."
About:
Frase is a content optimization tool that identifies the content most relevant to your research by sorting through search results based on what keywords you're looking to rank for.
It then provides a "smart outline" for your content so you increase your SERP. It also automatically generates content briefs that you can share with any writers on your project, so they know exactly what to include to rank that piece well. You can also make your own template brief with detailed brand guidelines.
You can treat Frase's platform like any other word processor and write your copy directly into the platform. As you write, a bunch of "smart insights" will pop up next to your document, as well as a content score that you can improve by including some of the topics mentioned in the ranking articles.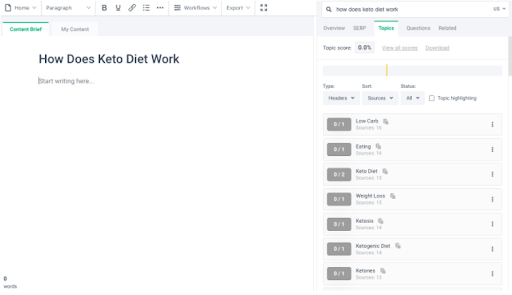 Frase also helps you optimize your content workflows, allowing you to invite writers to your projects, assign due dates, tag documents by stage, and export to WordPress.
They also offer a "Frase Answers Platform" which uses AI to analyze your website's content and answer customer questions for sales and support needs. 
You link up your blogs, product pages, technical documents, support docs, and FAQs, and then Frase Answers makes an AI assistant for your site to help answer questions, convert qualified leads, and reduce support cases.
Features:
AI outline for target keywords
Automatically generated content briefs
SEO guidelines
Optimizes content workflows
Google doc and WordPress integration
Real-time topic scores
Content strategy template
Pricing (for Frase Content):
Free version, with capped usage.
Individual: $45
Team: $115
Bottom Line:
Can you "grow organic traffic, conversion rates, and revenue" with Frase.io? 
Its users seem to think so! Frase receives an overall score of 4.8/5 from reviewers on Capterra, and 4.6/5 from reviews on G2.
Its free option can also give you a good idea of how it works before committing to a paid plan.
Want something better? Try GrowthBar.
3. MarketMuse

What MarketMuse Says…
"Make Content your competitive advantage: The AI Content Intelligence and Strategy Platform that transforms how you research, plan, and craft your content."
About:
MarketMuse optimizes your content with the following process:
First, they conduct AI-driven research on your topic, and determine a personalized difficulty score for you to rank for it based on an assessment of how well you've covered a topic across your entire content inventory
Then, they provide detailed content briefs, using machine learning to analyze the content published already about a subject, and determine what related topics are important and the amount of content necessary to cover these topics.
Next, their MarketMuse "First Draft" feature uses natural language processing to create a preliminary article for your chosen topic based on the corresponding content brief and KPIs determined.
Lastly, you move that draft into their editor and continue to craft the copy based on optimization recommendations.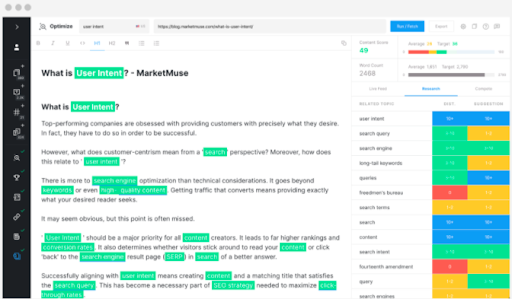 Like Frase, MarketMuse can also help you with workflow efficiency, allowing you to create specific assignments and due dates for any topic.
Features:
Content competition analysis
Personalized difficulty scores based on your site and its contents
Fully outlined content briefs about topics to cover word count goals and KPIs
AI-supported first-draft content 
Internal link-building suggestions
Optimization suggestions for old content
Predicts content performance
Content advisors that provide SEO audits and content strategizing
Topic tracking & ROI tracking
Pricing:
Optimize: $79/month
Plus: $179/month
Pro: $499/month
Premium: $1,499 a month
They also have a 7-day unlimited-usage trial to try it out!
Bottom Line:
Will MarketMuse "transform how you research, plan, and craft your content?"
Eighty-three MarketMuse reviewers give MarketMuse a 4.8 out of 5 stars on G2, while it gets a 4.8/5 on Capterra. It is quite pricey (especially since it works by exchanging credits) but for larger enterprises, it's a good option.
4. Surfer SEO

What Surfer SEO Says…
"Great content starts with Surfer: Write outstanding content that people search for – so you can strengthen your brand and watch your organic traffic grow like crazy!"
About:
Surfer SEO is a full-service SEO company that provides SERP analyzer, content editor, keyword research, SEO audit, and a content editor extension.
Their data-driven content editor model takes the guesswork out of manually optimizing your content by showing marketers what's working for the currently top-performing pages…and then how to outrank them.
Plus, manual audits of blog posts and articles can be time-consuming and prone to human error, so having the ability to have a detailed breakdown of the SERPs for a target keyword generated in a matter of minutes can be a huge advantage for people when you're trying to up your content output.
To use Surfer SEO's content editor tool, their AI technology checks the prominence of each word on competitor's pages based on a topic. Then, it gives you the most accurate and competitive guidelines for you to start working in your content editor.
Next, you start writing in their content editor (check out their fun, interactive page that shows you just what it's like) and work to improve their continually updating "Content Score."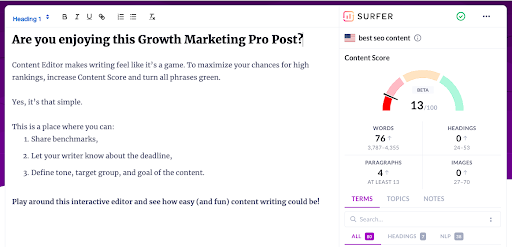 To successfully finalize your writing, you should hit the optimal terms usage and number of structural elements, like paragraphs, headings, words, and images. Their "Content Score" goes green, and then you're reading to publish.
Surfer SEO also offers a content editor Chrome Extension that works in both WordPress and google docs, so you can use it as you go.
Features:
Optimize old blog posts, create landing pages and more
Content scores and content optimization recommendations (length and topic suggestions)
Multi-keyword analysis booster so you can rank for several keywords in one piece
Google Docs and WordPress integration
SEO-driven content briefs
SERP Analyzer
Monthly Pricing:
Basic: $59
Pro: $99
Business: $199
7-day trial for a dollar 
Bottom Line:
So, will Surfer SEO help you "write outstanding content that people search for – so you can strengthen your brand and watch your organic traffic grow like crazy?"
Surfer SEO is a solid and affordable tool for people looking to boost existing rankings and create higher ranking content. It's especially useful for less experienced people new to optimizing for SEO and reviewers give it 5 stars on G2.
And since it's available as a web app, it's easier for yours teams to use the tool and collaborate on content. It's truly a great tool for on-site SEO, but you need to know what you're looking for, because it can be a bit of a data overload at times.
At a more affordable price, and with a free trial, it's a good option for smaller businesses or freelancers.
What is Content Optimization?
These days, content needs to be more than just shareable, clickable, and readable. Five hundred words stuffed awkwardly with keywords and headings don't cut it anymore. 
Optimized content fulfills the user's search intent by being both informational and relevant to their question—which is exactly what search engines are looking for when ranking pages. Highly optimized blog content is the way we've been able to scale this blog into a 6-figure passive income business.
A good content optimization tool will help you adhere to SEO best practices—from word count, title and images, to URLs, tone of voice, and keyword suggestions!
MarketMuse, Frase, Clearscope, and Surfer are super sophisticated and each one does a little bit of everything.
What Does Content Optimization Have to do with SEO?
Most people don't realize how easy it is to get started with your own blog, and start growing an audience.
If you blog two times a week for three months (about 20 posts) about a topic you know very well, you can create a blog audience large enough to engage users, build a community, sell products, and make a profit.
But: really good, optimized content is 10x better than average content, so it's worth the extra effort to make sure it's optimized for search engines. No one wants to put in a lot of effort to see little or no return.
Highly-ranked content is no longer about who creates the most of it the quickest, but who creates the highest quality content that's relevant and helpful to searchers. Just remember: "quality over quantity."
When people make a search query, Google's Search algorithms look through their Search index using many factors. Google then organizes and presents the results on the search pages in the most helpful way possible by ranking the pages, and creating the SERP that you hope puts your content on the first page. 
If you can master SEO and make articles rank at will, you're going to be able to build a repeatable and profitable business. 
But there's a lot of competition out there: organic search drives more than 50 percent of all website traffic. So in addition to your posts being well-researched, well-written, and relevant—they need to be optimized for search engines. 
What are some of the characteristics of optimized content?
It contains the proper keywords
It meets a specific content length
It uses the right headers, images, disclaimers, etc.
It contains links to other credible sources internally and externally
Managing all of these elements becomes a lot simpler when you're using a content optimization tool.
Conclusion
Optimized content will attract consistent traffic to your website, allowing you to see increased conversions and revenue therefore ROI for all of your hard blog-writing work!
Using a content optimization tool can help you expedite your writing output, without sacrificing quality for quantity.
Have you used any of these content optimization tools? Comment and let us know your thoughts!
---
GrowthBar is the SEO content tool that Postmates, Square, Minted and 4,000+ other content creators use.
Create the best, most optimized blog content with AI (starting at only $29/month)
---