Latest posts by Hailey Friedman
(see all)
So if you're an entrepreneur or marketer trying to compete in search engine optimization (SEO), you need a great tool to keep up.
The best tools — Moz, Semrush, Ahrefs and GrowthBar — will all help you: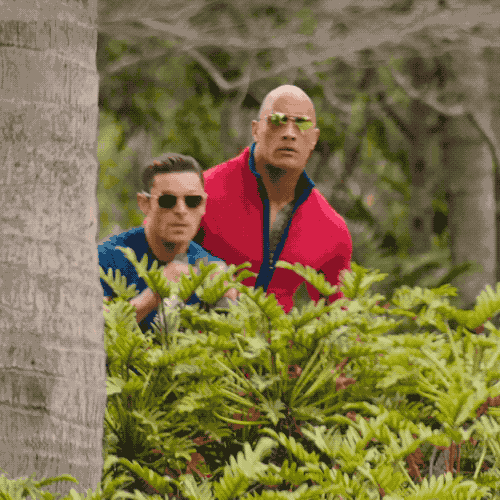 I've used each one of these tools — they're all fantastic. We've used a combination of the four of them to build this blog, Growth Marketing Pro into a 6-figure passive income machine.
But which tool is right for you and your business?
Semrush, Ahrefs, Moz and GrowthBar are powerful, but they're not interchangeable.
Sure, they're all SEO tools. But they're priced differently, geared toward different parts of SEO optimization, and two of them are for small businesses and startups — while the other two are better suited for enterprise stage companies.
I'll help you decide which one is best for you!
Why use an SEO software tool?
If you only ever invest in one tool for your online business, it should be an SEO software tool. Nothing is more cost effective for customer acquisition than SEO. Facebook Ads and Google Ads are great, but they're expensive. You pay for every click.
SEO — if done correctly — yields targeted clicks to your website for free.
A good SEO tool usually helps you do four things:
1. Spy on your competitors
Peak behind the curtain to see what growth tactics are working for your competitors. Semrush, Ahrefs, Moz and GrowthBar allow you to see which keywords are bringing your competitors traffic, conversions, and sales. In most cases, you just type your competitor's domain into the tool and it spits out the insights. You will also be able to to better optimize your content, view backlinks, and create a strategy to outrank the competition.
2. Get backlinks
High quality links from other websites to yours can be 1) a good audience-building opportunity and 2) good for SEO. The best SEO tools should help you identify actionable websites to get links from!
Also read: The 25 Best Ways to Get Backlinks
3. Find the best keywords to rank for
Be on the lookout for SEO keywords with high search volume, and low competition. These are open opportunities for your content to rank more quickly and really shine. A solid SEO tool will tell you whether it's a keyword worth pursuing.
4. Grow your business & optimize spend
These four tools will help steer you in the direction of the most effective channels with the highest ROI, more than justifying the monthly subscription cost. Make sure to spend on what works, and not what doesn't. Following SEO best practices is going to save you a ton of time in the long run, by enabling you to skip over stupid mistakes.
Semrush vs Ahrefs vs Moz vs GrowthBar
All four tools are great candidates to be your primary SEO tool. Each one is comprehensive and gives you the full suite of offerings you need to succeed. Keep reading to find the right solution for your business needs.
| | | | | |
| --- | --- | --- | --- | --- |
| Tool | Price | Google Rating | Customers | Free Trial |
| Semrush | $99/mo | 3.9 | Tesla, Samsung, IBM, Walmart | 30 day free trial |
| GrowthBar | $29/mo | 5.0 | Postmates, Product Hunt, Minted, Spekit | 5 days free |
| Ahrefs | $99/mo | 3.6 | Adobe, LinkedIn, Netflix, Uber | 7 days for $7 |
| Moz | $79/mo | 4.0 | Zillow, 99designs, Trivago, Aaron's | 30 days free |
1. Semrush: Best for Enterprise Customers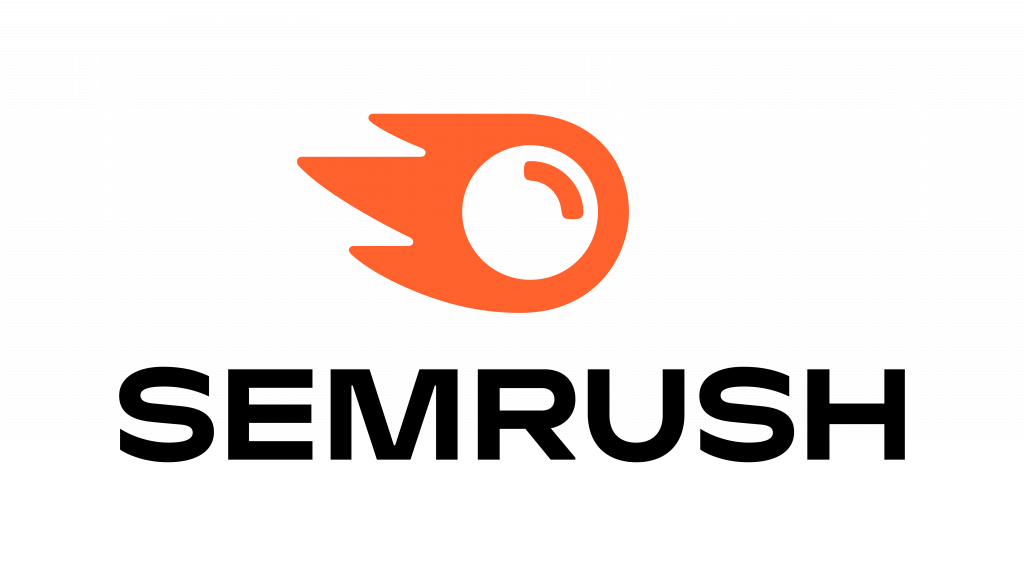 About Semrush
Semrush is a suite of digital marketing research tools that will help you analyze your competitors' sites and better understand exactly how and why they're performing how they are. Plus, get keyword suggestions, site audits, and more.
By simply typing in a URL, you can see exactly which keywords a site ranks for and get the estimated organic and paid traffic. Semrush also enables you to deep dive into any website's backlinks, paid ad campaigns, social media followings, and more.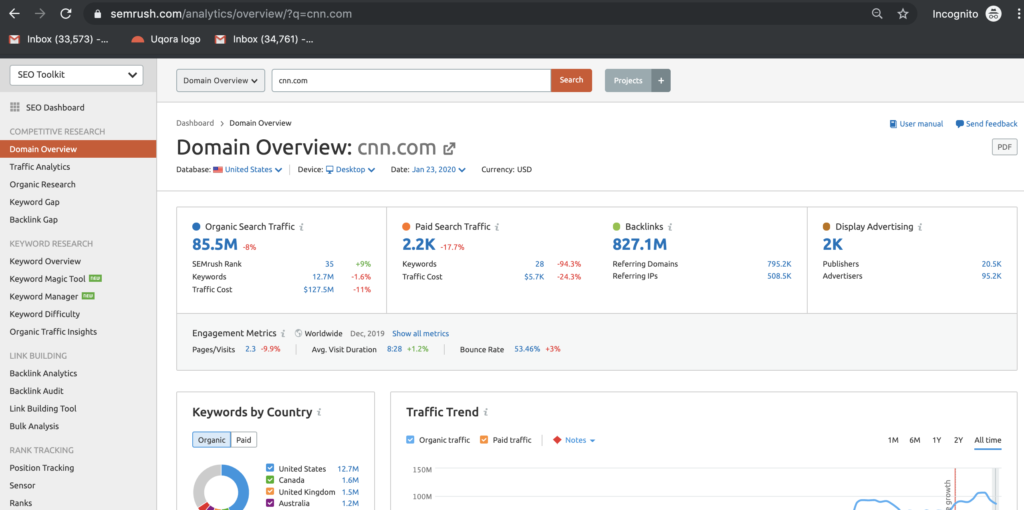 You can run reports, see the results in a graph or static data, and keep probing until you get the answers you want.
Semrush Ease of Use
You can find any metric you can imagine, from keyword stats, to individual URL traffic, Google Ads, and a lot more
There's a lot of data on each screen, but once you know what you're looking for it's very easy to read
Liberal use of drop-down menus and all the key information displayed on the sidebar makes navigation easy
Semrush also offers a number of onboarding materials and tips and tricks
Semrush Features
Perform website audits
Set benchmarks for data analysis
Find and analyze keywords
Competitor overviews
See competitor's paid ads
Track organic keyword rankings
Position tracking
Top movers by position
Technical site audits
Mobile performance audits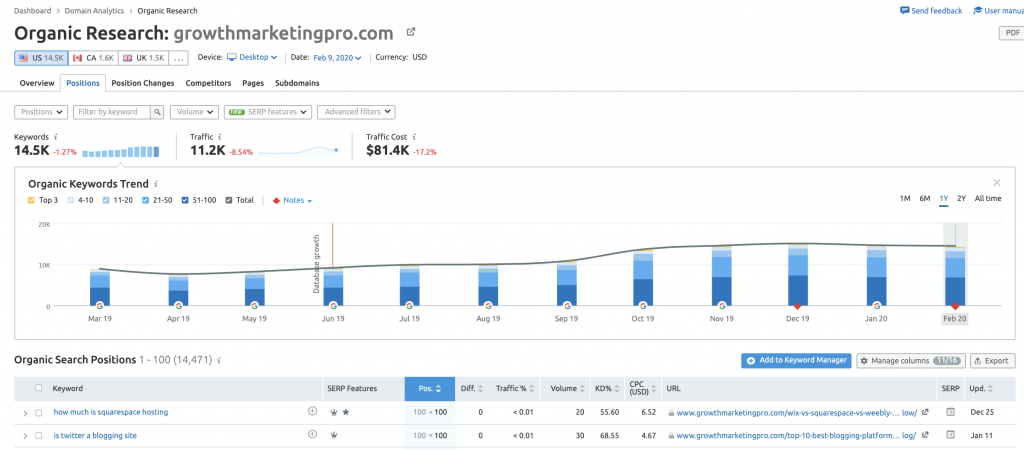 Semrush Pricing
Semrush is always running free trials, although the duration changes from time to time. They have 3 paid plans starting at $99/month for their Pro Plan, which allows you to run up to 5 projects.
You can upgrade to their Guru Plan for 50 projects and some additional features or their Business Plan for 200 projects.
Semrush Customers
Tesla
Nike
WalMart
Forbes
IBM
Bottom line
Semrush is one of the most powerful SEO suites out there. It does everything really well, and after a small learning curve, is easy to understand. Like other high end SEO tools, Semrush is really a suite of tools — 12 different ones to be exact. This means it's extremely powerful and perfect for agencies and large companies.
I still consider it an enterprise tool, as it goes pretty deep in the data in a lot of places and costs $1,000+ per year to use.
I recommend taking it for a spin.
Read more Semrush user reviews here.
Sign up here: 30 day free trial
2. GrowthBar: Best for Bloggers & Content Teams

GrowthBar is an SEO software tool for results-driven entrepreneurs and marketers. It helps internet-enabled businesses — from blogs, to ecommerce businesses, to startups — uncover critical data points and rank their content in Google. Plus, it rocks for bloggers because you can make content in ONE CLICK using OpenAI.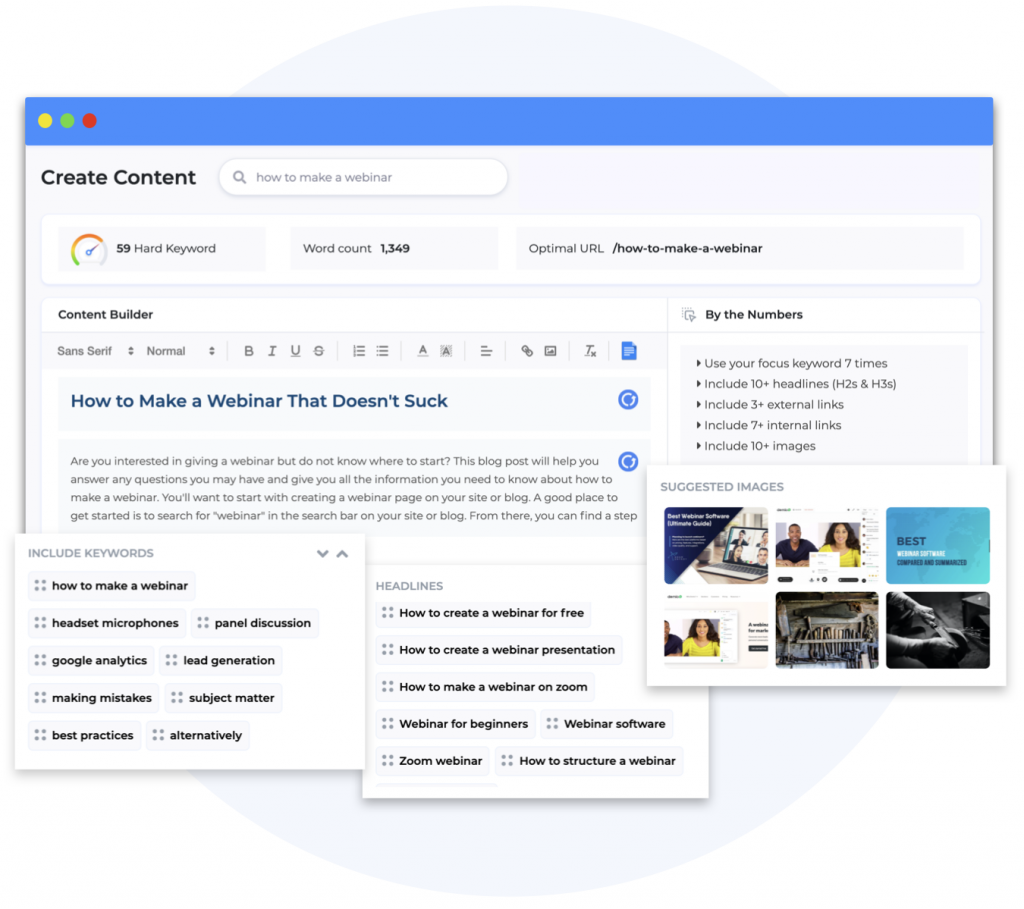 GrowthBar enables marketers to 1) uncover keywords and search volume 2) spy on competitors, and 3) generate blog ideas and blog post outlines using OpenAI's GPT-3 — the largest natural language model on earth.
GrowthBar Ease of Use
GrowthBar presents SEO tips in plain English and delightful dashboards.
Get billions of keywords, competitive intelligence, backlink reports, Google Ads data, and Facebook Ads.
GrowthBar is a content generator. It's the first SEO tool in the world to use OpenAI GPT-3 to generate blog content outlines in one click. Content generator surfaces keywords, word counts, headers, images, links, intro paragraphs, titles and more.
GrowthBar also has a 5 star rated Chrome Extension that enables you to get keyword and competitor insights while you browse Google normally.
GrowthBar Features
Unlock this data for any website (your own or your competitors):
Domain authority
Monthly organic traffic
Monthly traffic value
Top paid keywords
Millions of keyword suggestions
Keyword monthly search volume
Keyword competition
Keywords CPCs
Keyword rank tracking
Get the backlinks of any website
See Facebook Ads
Get the word count of any webpage
Generate content in one click for any Google search term
AI-generated blog ideas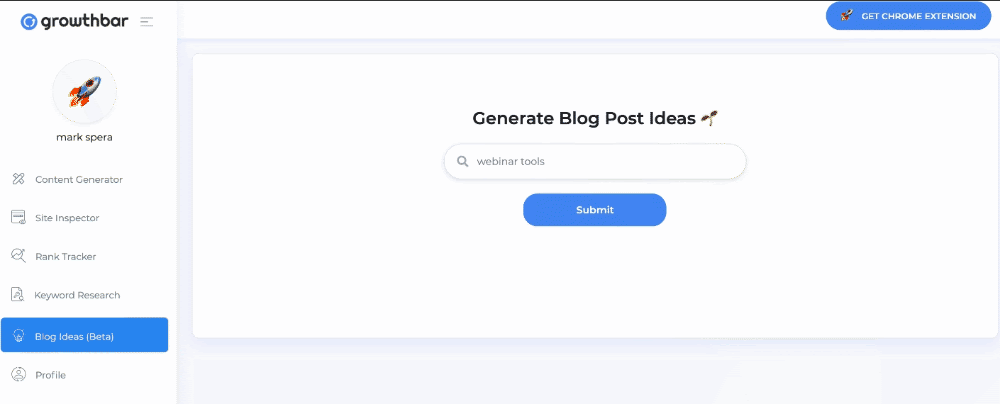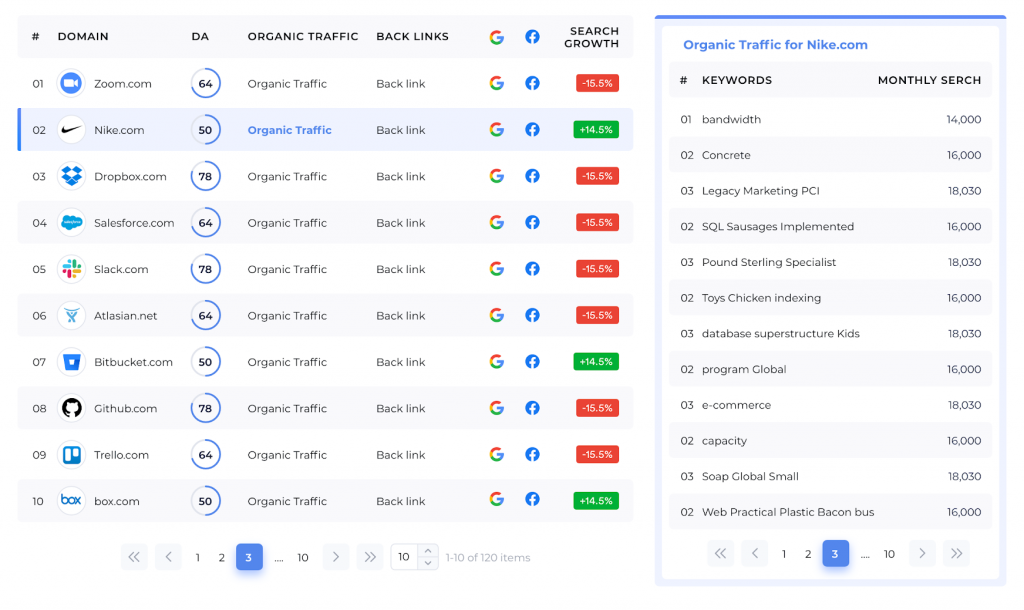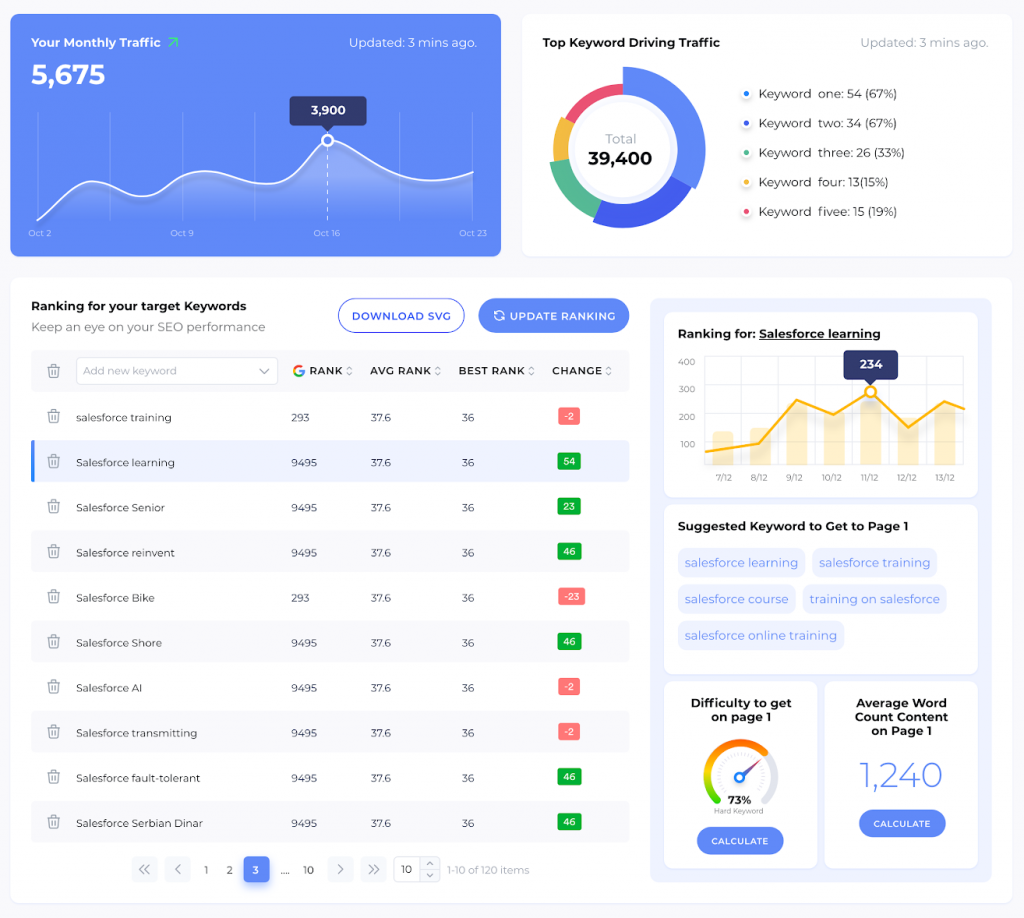 GrowthBar Pricing
GrowthBar starts at just $29/month, which makes it the most affordable tool on the list.
GrowthBar Customers
TeePublic
Square
Postmates
AspireIQ
Minted
Codeless
Bottom line
GrowthBar is the most complete SEO tool for bloggers, trusted by thousands of entrepreneurs and marketers at companies you've heard of, including MagicJack, Bill.com, TeePublic, Codeless, and Minted. It gives curated insights, plus billions of keywords, enables you to create content in one quick…. all in the most user-friendly way.
3. Ahrefs: Best for Backlink Analytics
About Ahrefs
Ahrefs is a premium competitive analysis and keyword research tool. They claim to have "the world's largest index of live backlinks" of any tool on the market. Ahrefs has invested in data harvesting, so they likely have the most accurate third-party SEO information available.
The main features include keyword research by either typing in a seed keyword or analyzing competitor sites to see what they're ranking for. Plus, Ahrefs enables you to download backlink reports, get keyword difficulty scores, international keyword rankings and mobile vs desktop rankings. Ahrefs allows you to go incredibly deep in your competitive research.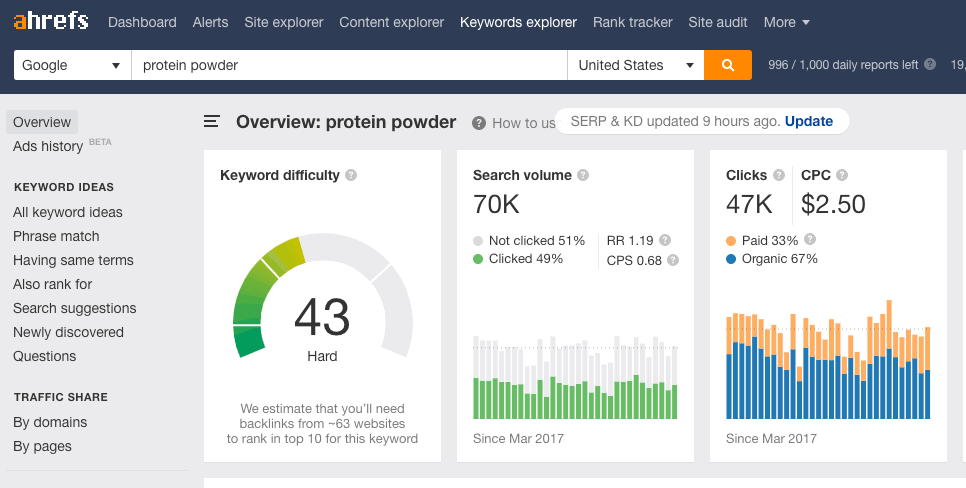 Ahrefs Ease of Use
You can execute most search queries by either typing in a keyword or a URL
The UX is smooth and intuitive to use, although it can look cluttered at times
You can see Information via visual graphs, color-coded results, and data
Ahrefs Features
I could go on and on if I were to list every individual feature Ahrefs has to offer. I'll keep it to their core set of features that most people will be buying the tool for:
Competitive analysis
Keyword research
Backlink analysis
Content analysis
Rank tracking
Site audits
Ahrefs Pricing
Ahrefs offers a 7-day trial for $7, which is an awesome way to try out the tool without committing to a plan. Monthly plans start at $99/month, which opens up enough of the features for individuals and small agencies.
Pricing tops off at $999/month, making it one of the most expensive tools on the market but it's worth every penny if you're putting it to good use. This plan is for enterprise customers with 5+ person SEO teams.
Ahrefs Customers
Netflix
Shopify
Uber
Ebay
LinkedIn
Bottom line
There is no denying that Ahrefs has the most tools in its toolkit out of all of the market research tools on the market — and the price reflects that.
More isn't always better, however, and it's fair to say that Ahrefs isn't going to be suitable for everyone. If you're an individual or a small agency and can't justify the $99/month fee, there are less expensive options that will do everything you need. But if you're at a company with a budget that is taking SEO super seriously, it might be a good choice for you.
Read more Ahrefs reviews here.
4. Moz: Strong All-Around
About Moz
Moz is one of the original SaaS companies specializing in developing SEO tools. Originally founded in 2004, their domain authority metric (zero through 100) has been used as an industry standard for many years now. That's a reflection on how good their products are and how well they've continued to develop their software tools and release new features.
This is why Moz Pro is always in the discussion as one of the best market research and competitive analysis tools.
Moz Pro is a complete SEO toolkit that enables you to find out everything about a competitor's website and marketing strategy. Plus, it enables you to carry out market research and keyword analysis in your niche to find profitable opportunities.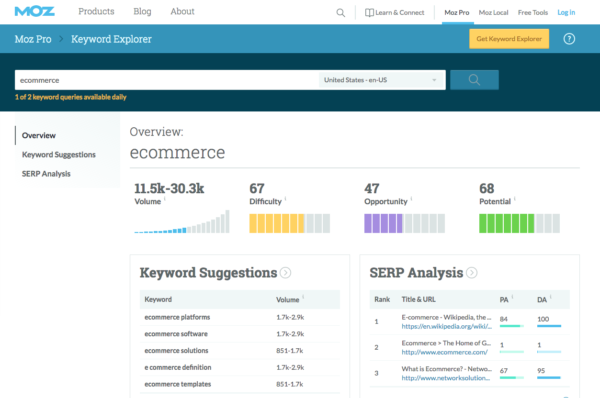 Moz Ease of Use
One of Moz Pro's strengths is its interface. Their use of color-coding and rating scales makes it incredibly easy to use and interpret the data
Very little data needed from you outside of the keywords or sites you want to analyze
Personal dashboard and reporting data is easy to use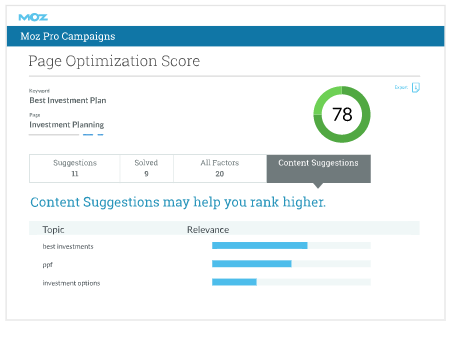 Moz Features
Free Chrome Extension
Keyword Explorer
Ranking Tracker
Perform Technical Audits
Content Optimizer
Backlink Checker
Moz Pricing
Moz offers a generous 30-day free trial. After that, their plans start at *$99/month for their Standard Plan, which will allow you to run 5 campaigns.
Or you can upgrade to their Medium, Large, and Premium plans for *$179/month, *$249/month, and *$599/month respectively.
*You can save 20% on any of their plans if you opt to pay annually.
Moz Customers
99designs
Trivago
Zillow
Alaska
Aaron's
Bottom line
As one of the longest-running tools on the market there is a great deal of trust and history showing Moz Pro to be one of the best and most reliable competitive research tools.
You don't need to question whether or not Moz Pro does what it promises, you just need to check the fine print to make sure it'll do everything you need. You can't go wrong taking them up on their 30-day free trial, that's a lot of time to put Moz Pro to the test.
A free SEO audit tool you should try
"Technical SEO" sounds overwhelming. But it's really just a health check for your site. I recommend a free Google's Lighthouse Audit to confirm your site speed, SEO readiness, and technical setup.
Google's Lighthouse is an automated tool for improving the quality of web pages. You can run it against any public web page and audit performance, accessibility, progressive web apps, SEO and more.
To use it, you must use Google's Chrome web browser (the same one you need for GrowthBar). Right-click on any website, click "inspect," and then to "audits." Then click "run audits." Google spits out one simple report, which includes suggestions for improving your performance. I include it because it's straight from Google itself and it's completely free!
Best SEO keyword research tool
I love three tools for keyword research: Semrush, GrowthBar, and another free Google tool.
Semrush is extremely robust when it comes to keyword research. I love how easy it is to pull reports and the sheer volume of keywords is unparalleled. However, it may be a bit too much information for many entrepreneurs, who are just dipping their toes into SEO.
GrowthBar has billions of keyword suggestions, plus difficulty scores and CPCs. It makes it easy to see what you should pursue and what you shouldn't. Plus, it enables you to track your own keyword positions over time.
I also love Google's Keyword Tool. It's another free tool I didn't include in this list. It comes free when you sign up for Google Ads (hint: you don't actually have to spend any money on ads, you just have to sign up!).
Simply type in any keyword and it spits out hundreds of results, which you can use to improve your content and rank for new keywords. For example, see the report below. Can you see why I included sections in this post for "best free SEO tools" and "best SEO audit tools?"
Also Read: The Ultimate Guide to Keyword Research
The best SEO tool for monitoring backlinks
Ahrefs is the kingpin of SEO backlinking tools. It enables you to set up monitoring for your site, competitor sites, and even individual webpages.
Set up a new alert, and voila, you'll get an email alert every time that page procures a new backlink.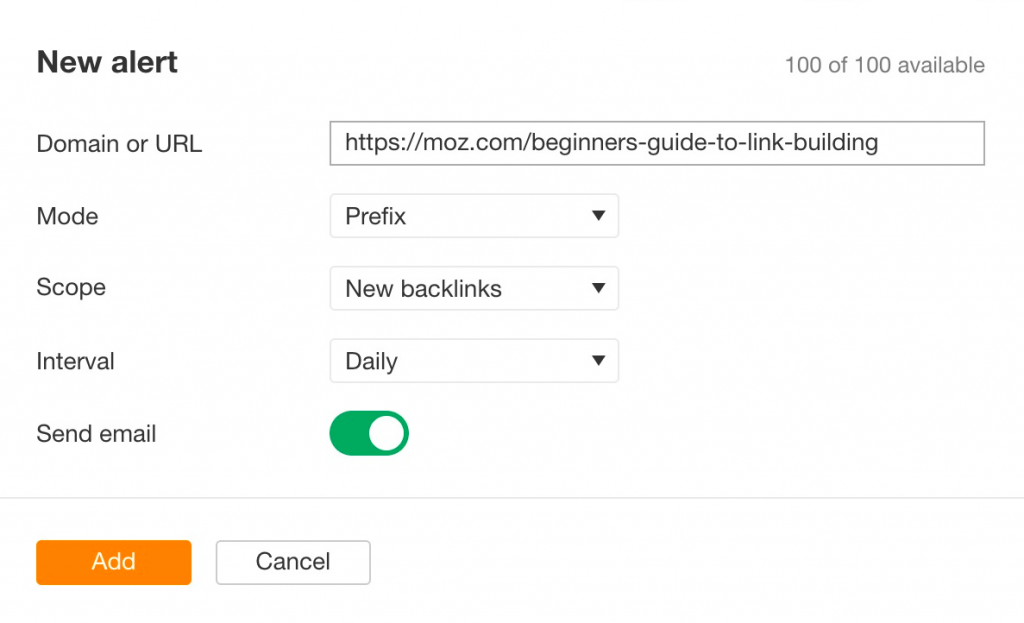 You can set up the same sort of function for lost backlinks. This is helpful for maintaining your link equity proactively. Note that Semrush also has this feature.
The best SEO tool for agencies
Semrush is the best agency tool.
As an agency, you need all of your data in one place. The best tool for agencies should allow you to quickly navigate between each client campaign to monitor rankings, backlinks, and much more. Plus, an agency-grade tool should automate your reports and make client dashboards easily. Semrush does all this.
Plus, there's a few features others don't have.
Semrush allows you to prospect for agency leads by filtering on companies that have increased their marketing spend dramatically, among other metrics.
Access Semrush's API so you can pipe any data into a custom report and expose it in dashboards for your entire workforce and client roster.
And build custom reports with your agency logo (white labeled) so client reporting is as easy as a couple of clicks. Plus, you can schedule these reports for automated delivery.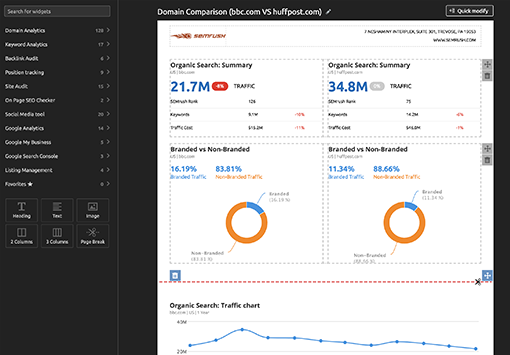 However, if you're a content marketing agency, I recommend GrowthBar for its powerful AI content creation suite.
My favorite SEO tool
The same tool will not work for every entrepreneur or marketer.
If you need advanced metrics (and a heftier price tag) I suggest Semrush. This is the best solution for enterprise customers that want advanced features like "referring IP addresses," "lost links," and international keyword data. Plus, it contains a suite of tools for content marketers and social media marketers. So everyone in your organization will get value from it.
For everyone else, I truly believe GrowthBar satisfies every need, at a price almost anyone can afford. GrowthBar is made for independent creators — marketers, bloggers, freelancers, and entrepreneurs. It's just as powerful, and has features (like rank tracking and one-click content creation) that others don't.
GrowthBar has billions of keywords and backlinks, competitiveness metrics, and quick competitor insights for only $29/month. I hope you'll check it out!
Also Read:
---
Want our free 5-part SEO course?
Our course has helped over 20,000 students master SEO with tips that aren't in this guide or anywhere else on the internet!
---