Latest posts by Mark Spera
(see all)
Seven years ago, I began my job as Head of Marketing at a real estate technology company. And I walked into a complete mess!
Real estate salespeople were cold calling and tracking lead information in spreadsheets and even notebooks. That meant measuring pipelines or even the impact of marketing campaigns was a nightmare.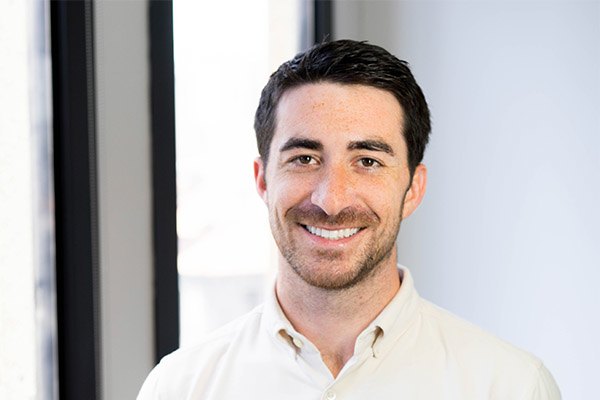 One of my first initiatives in that role was to implement a CRM tool.
Also known as a customer relationship management tool, a CRM is used within sales and marketing departments as a way to process client interactions.
The goal of a CRM is to organize and manage customer data in a way that salespeople and marketers can use it to do their jobs better.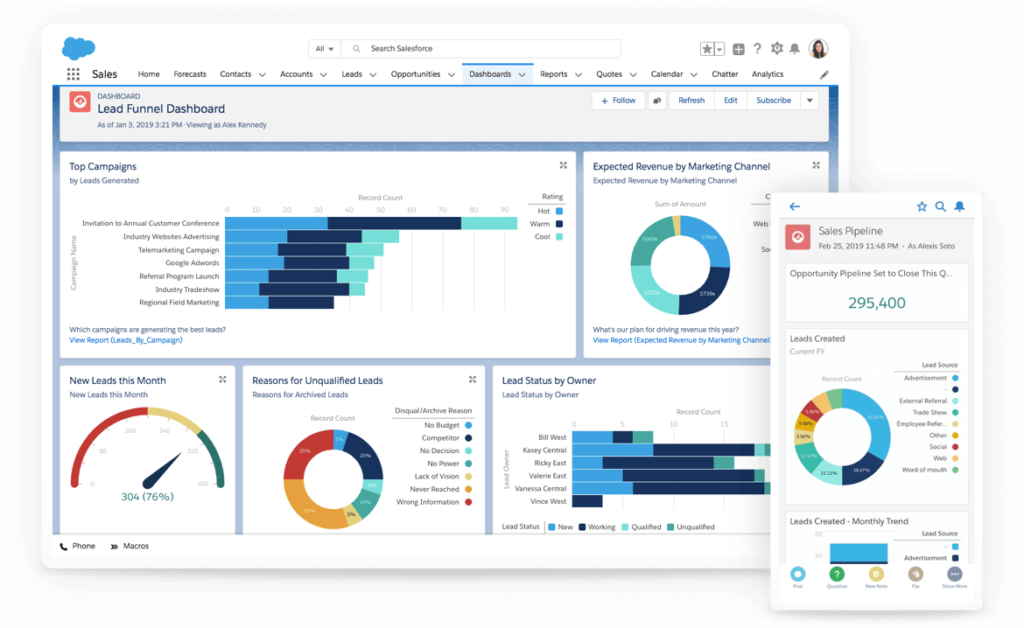 By tracking every customer touch point — from sales calls to lead generation to email communications — CRMs keep everyone in the organization on the same page.
The best CRMs:
Help you sell more products or services.
Increases the chances of a smooth and successful sales process for the client.
Are an efficient way to find data to inform all teams involved in the selling process.
Enable you to automate much of your communication with customers via email marketing.
Are compatible with business intelligence and analytics tools, so that can help you pull your marketing analytics data into one place.
Almost every sales-enabled business needs a CRM. If your lead tracking and customer relationships are getting hard to manage, you might be smart to consider of the most popular ones.
I've narrowed down the list of the best CRM software tools to a proven nine (and another three free ones).
While no tool itself can guarantee success, any one one of these tools will help your business take advantage of any client interaction in a hassle-free and purchase-ready way.
What are the best CRM software tools?

About Keap:
If you're looking for the best CRM specifically for small businesses, Keap is the first place to look. The strength of its light, web-based CRM is in the sales and marketing automation tools, which are built for the SMB owner and entrepreneur looking to scale their businesses through automation. That means growing the business without letting it consume more and more hours in a day.
Pros:
Keap has been developed and refined to allow for a low barrier of entry for beginners.
Keap's focus is on the elements of your business that go straight to growing your bottom line: better lead management, email and SMS marketing, meeting scheduling, and payment processing.
Keap's automation prevents leads from falling through the cracks and resulting in missed opportunities for revenue.
Keap's drag-and-drop flow chart tool is perfect for mapping out your strategy visually, and it connects multiple outreach types, making your automated plan function holistically
Cons:
Because Keap is focused on sales generation, if you're looking for a CRM with a team-based project management component, it won't be a good solution.
Keap, being built for small businesses, is not an enterprise solution, so if you're looking for a more robust CRM, or a CRM for a larger team, it may not be best-suited for your needs.
Pricing:
Keap's pricing is broken into three categories. The regular price for Keap Lite starts at $79 per month, while Keap Pro starts at $169 a month, and Keap Max is as low as $199 per month.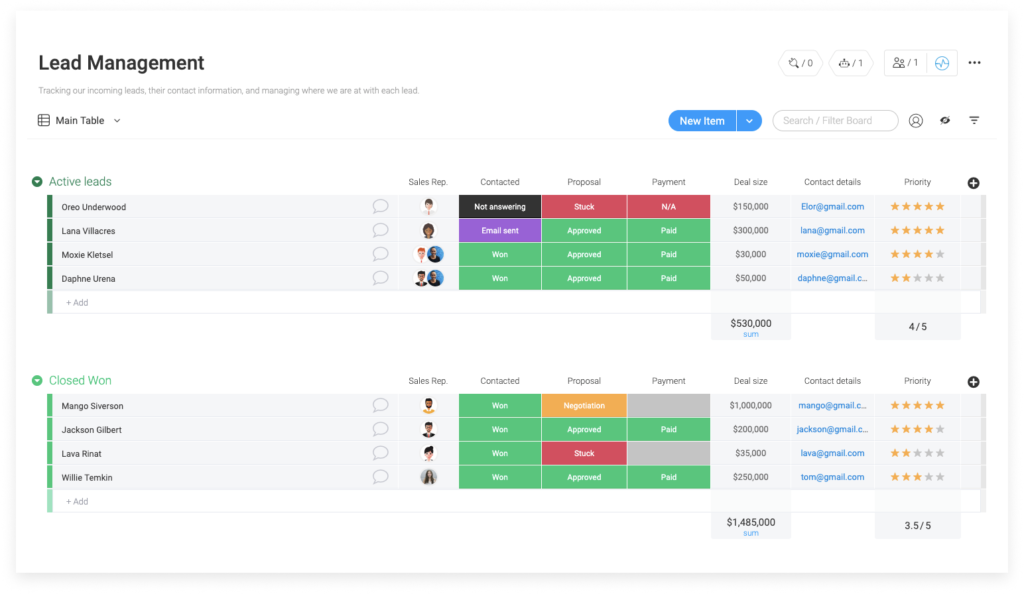 About Monday.com:
When it comes to the best CRM for small business activities, Monday.com can certainly fit that role. It's more of a team and project management application, but its CRM is fast becoming popular — because it's incredibly affordable and infinitely scalable. Monday is a provider to nearly 100,000 businesses and organizations in different markets. It allows for task management for deadline and project tracking, collaborative client management processes and sales tracking. Overall, Monday.com can fit into just about any business structure through its customizable settings and a wide range of business process capabilities.
Pros:
Monday is a very "friendly" tool, with an easy-to-follow dashboard and colorful user interface. Monday is structured so that any sales professional can establish strong customer communication and relationship management.
Capture all the calls, emails, and meetings you had with contacts so that it will be accessible when needed.
Collaborate with team members in context so that everyone is aligned, knows where things stand and what they should do to move work forward.
Light landing page creation capabilities.
A stand out feature that this tool has is its task assigning creation boards. Known as "pulses" within the system, these creation boards allow for client management tasks to be broken down in a manageable approach that increases collaboration.
And it's affordable!
Cons:
Monday has the opposite con of Salesforce. Some of the predetermined settings are rigid and difficult to change. that they come equipped with. In a nutshell, these settings make it difficult to make necessary changes to create a better fit according to the needs of your business.
Apart from this, you will also find that streamlining any process through the system is more efficient with additional tools and applications. Depending on your business' complexity, it may not hold its own as a one-stop hub for all your customer relationship management requirements.
Pricing:
Monday's pricing is broken down into four categories that are similar to most CRM tools. It offers a basic plan, standard plan, pro plan, and finally an enterprise plan. With the price range starting as low as $30 a month for the basic plan, the enterprise plan has to be negotiated with professionals at their end. Nonetheless, it provides enough capabilities for any small to medium size organization to fulfill their CRM duties without having to break the bank.
See our Monday.com user reviews here.
3. Salesforce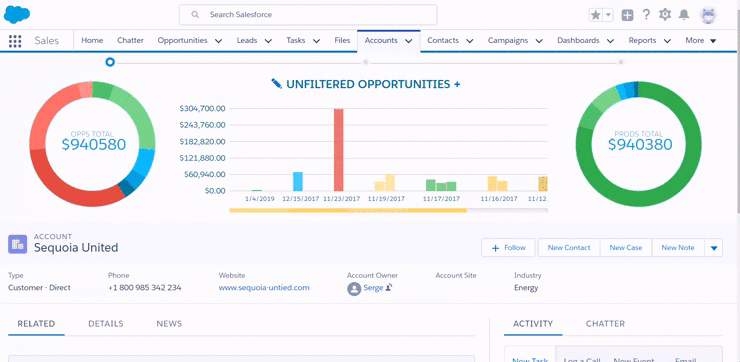 About Salesforce:
Salesforce is the most popular CRM in the world. They basically invented the category of cloud enterprise software tools. Salesforce is a very comprehensive customer relationship management tool. It can be customized and optimized to fit any business need. It functions based on the requirements that a business has and can be adjusted accordingly. The result is a highly customizable system that allows for faster lead searches, efficient automation of business processes, and a hassle-free internal client management process.
Some of the Salesforce product categories include: Marketing Cloud, Service Cloud, Sales Cloud, and Commerce Cloud. All of these will integrate together, making your CRM services more informed and simple than ever before.
Salesforce is widely known as the industry standard for CRM software platforms, and business.com even named it the Best CRM Software Overall.
Pros:
Best-in-category customization for any type of business. Salesforce offers a huge range of business products, all of which integrate with each other, which enables your company to seamlessly scale within the platform, making growth easier than ever.
Status and "state" features so you know where your clients are in the customer journey.
Intuitive reporting for revenue, average order value, and much more.
Extensive list of settings and report widgets that give multiple perspectives on client data.
Plugins and a full "app store" for customer widgets to optimize your sales process.
Features for email marketing (Salesforce Marketing Cloud), data visualization (Datorama) and more.
Integrations with many of the most popular tools like Mailchimp, Zapier, Jira and Outlook.
Third party integrations for big names like Google and Facebook are amazingly simple to add and configure.
Has an available API.
Best-in-class data security and HIPAA compliance if needed.
Cons:
Despite its many capabilities, Salesforce is one of the more complex systems to work with. Its system runs more efficiently with dedicated sales and marketing departments which makes it troublesome for smaller businesses without them.
Salesforce's updates can be abrupt and dramatic to the point where you might need to re-learn the user-interface.
Salesforce's customer service is sometimes lacking. It's tough to get technical support or information without filling out forms online, calling, and emailing back and forth with representatives.
The price gets pretty high pretty fast.
Pricing:
This CRM tool is quite flexible in function and in price. It has a range of four monthly price options from $25/user/month to $300/user/month that allows a business to choose according to their financial and business situations. The four options are sales essentials, lightning professional, lightning enterprise, and lightning unlimited. You can get by on the lowest pricing tier if you are a small business or fledgling startup.
See our Salesforce user reviews here.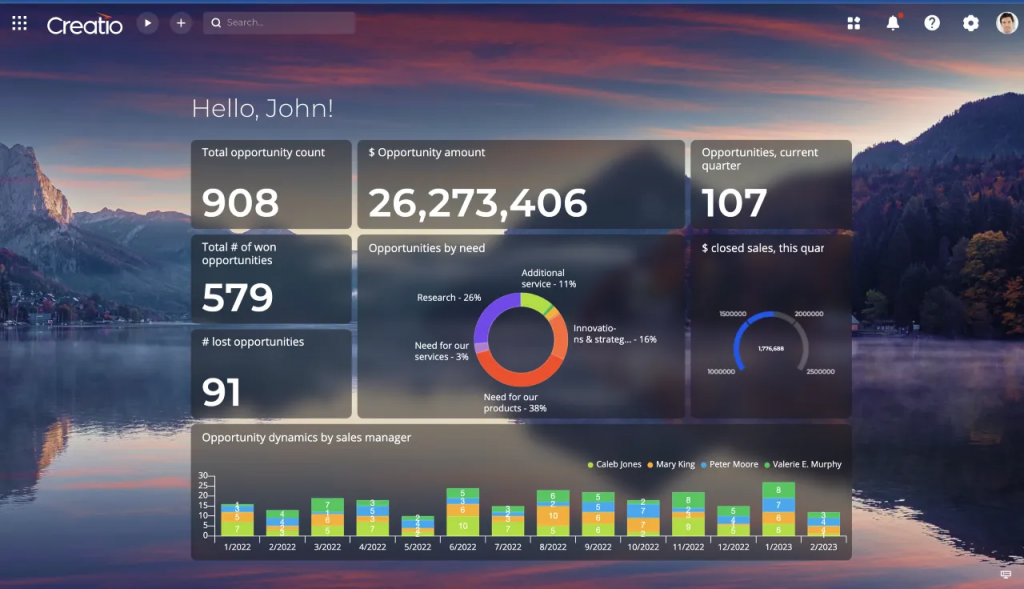 About Creatio
Creatio CRM is a full-fledged suite of products for marketing, sales, and service automation integrated on
one no-code platform. It's used by medium and large companies, such as AMD, Bayer, Kraft Heinz, Visteon, Société Générale Group, BNP Paribas Group, and many others.
Marketing Creatio – a ready-to-use platform to automate marketing campaigns and lead management
workflows with no-code and maximum degree of freedom.
Sales Creatio – an end-to-end platform to automate sales processes of any type with no-code and
maximum degree of freedom.
Service Creatio – an omnichannel platform to automate customer service workflows of any complexity
with no-code and maximum degree of freedom.
Studio Creatio – a no-code platform to automate workflows and build applications with maximum degree
of freedom.
Pros:
Highly customizable and user-friendly, Creatio applications help businesses of any size and from any industry manage customer-facing processes
Creatio provides industry workflows for more than 20 business verticals
Creatio products can be deployed as a single CRM bundle or as standalone solutions to fit your company's exact use case
Useful reports & metrics for daily analysis
No-Code Designer to create and modify pages and views, data models, workflows, and integrations
Intelligent goal setting, forecasting and analytics functions
Freedom UI Designer with a library of predefined views, widgets, and templates to accelerate the design process
Cons
Creatio is an upmarket platform that caters to enterprise businesses (not the best fit for SMBs)
Pricing
Creatio provides you with a 14-day free trial for you to test all the features available. Creatio offers a number of various editions and composable pricing, which allows users to select the edition that best fits their business model:
Growth + CRM (Service/Marketing/Sales) starts from $40/user/month. Provide automation to SMB clients.
Enterprise+ CRM (Service/Marketing/Sales)  starts from $70/user/month. Enable full-scale automation for corporate and enterprise needs.
Unlimited+ CRM (Service/Marketing/Sales)  starts from $100/user/month. Deliver limitless automation for advanced enterprise scenarios.
All Creatio licenses include basic support plan, product maintenance and free updates. More information: https://www.creatio.com/products/pricing.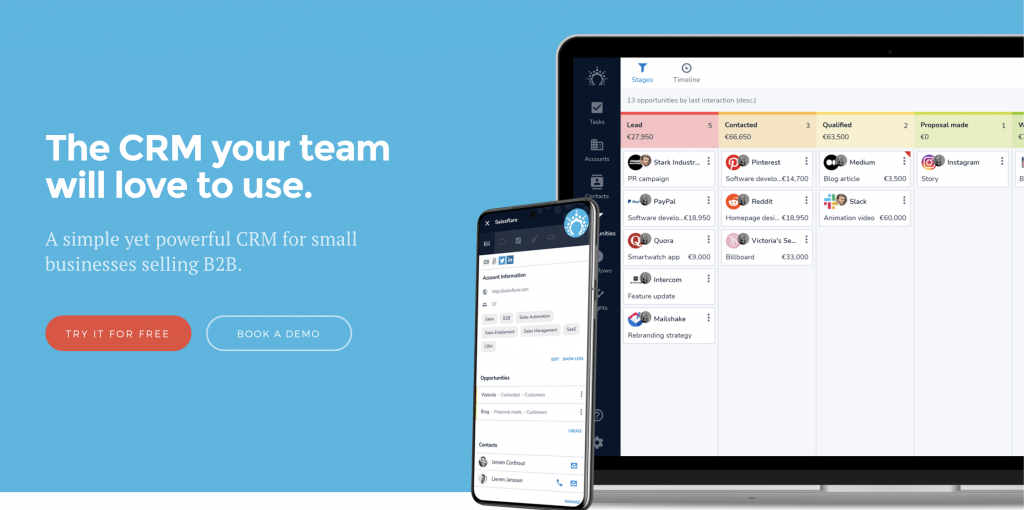 About Salesflare:
Haven't found the CRM your team really loves? Then maybe you should have a look at Salesflare.
Most CRMs are dependent on you and the rest of the sales team performing manual data input, but this is not the case with Salesflare. It makes keeping the CRM up to date a breeze by pulling together all the information automatically. That means less work for your team, and better results and data for you.
Salesflare is a great choice for small and medium-sized businesses selling B2B. Its email integration is literally unrivaled (especially with Google Workspace and Office 365) and we just love how easy it is to work with. Plus, the support is top notch.
Pros:
With Salesflare, you're up and running in days, not months. Going live takes teams three days on average, compared to almost two months with competing CRMs. It's the #1 easiest-to-setup on CRM on G2.
Salesflare auto-enriches contacts and companies with data from email signatures and publicly available sources. It also automatically pulls in all emails, meetings, calls, … in one place. That's a whole lot of time saved, plus it makes it more likely that your team keeps using the CRM.
It's easy for your team to understand. Even though it packs a lot of power, its interface is simple and intuitive.
You can more effectively track your prospects and make more sales. With automated reminders, you'll never forget to follow up with a customer, answer an email, or enter meeting notes.
Know how your customers are interacting with your emails and what they're reading on your website. You can track emails sent from Gmail, Outlook and Salesflare, and link that up with the native website tracking.
Automate repetitive emails by using templates in Salesflare and Gmail, powered by shortcut keys and merge fields. Want to automate your follow up fully? Just set up an email workflow.
Cons:
Salesflare only comes in English. This may not make it the right choice if your team doesn't speak English.
Some teams love the extra transparency Salesflare brings, some are less comfortable with it. In the second case however, Salesflare does offer a handy and simple enough permissions system, so you can restrict what certain team members see or can do.
Pricing:
Salesflare comes with 3 pricing plans: the Growth plan packs most functionality; the Pro plan adds email sequences, permissions and custom reporting; and the Enterprise plan mainly comes with extra onboarding, training and support services. Pricing starts at $30 per month, which is definitely a steal considering the amount of functionality you get.
6. HubSpot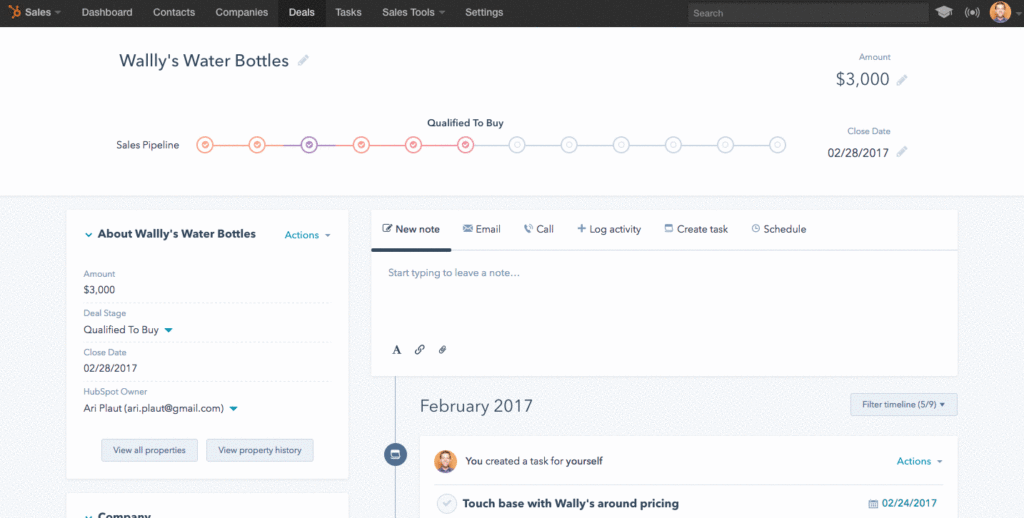 About HubSpot:
Another tool that can make the case as the best CRM is HubSpot. With a focus on inbound marketing and sales, HubSpot offers relationship management solutions for sales funnels, social media, content, and other digital business processes. Since it's establishment in 2006, it has grown to become one of the most beginner-friendly CRM tools around AND it scales as your company expands. While it is mostly associated with providing solutions for digital marketing processes, it is still effective in other traditional sales processes as well.
Pros:
HubSpot is made by salespeople and marketers for salespeople and marketers; it has marketing software to help you grow traffic, convert more visitors, and run complete inbound marketing campaigns at scale.
Customer service software to help you connect with customers, exceed expectations, and turn them into promoters that grow your business.
Friendly user interface and easy-to-learn navigation.
Time-saving sales software that helps you get deeper insights into prospects, automate the tasks you hate, and close more deals faster.
Very good pre and post-sale data tracking.
It includes the ability to track client activity before purchase via product consideration metrics and after purchase via repeat purchase metrics.
It's very comprehensive and affordable for small and medium sized businesses.
Cons:
Like Salesforce, HubSpot takes a bit of finesse to configure for more complicated companies.
It has a tricky way of allowing the user to set the frequency of contact which can lead to overwhelming amounts of client contact mistakes to correct.
Pricing:
Its pricing is broken down into three categories including the starter, professional, and enterprise packs. The basic plan is free, but you can expect to pay between $50 and $3,000/month depending on the size of your team.
See our HubSpot user reviews here.
7. Zoho CRM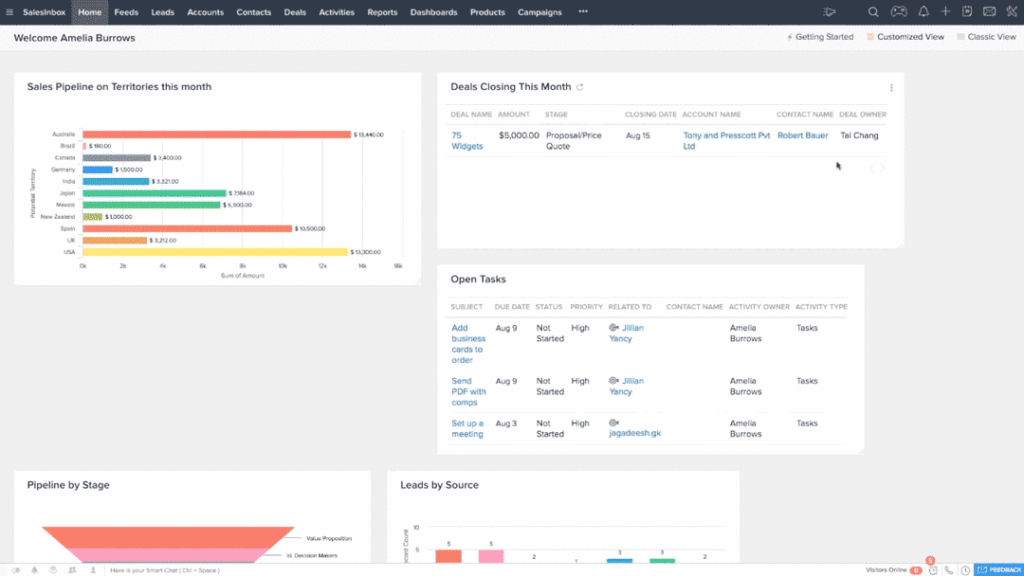 About Zoho CRM:
Zoho is another proven CRM for small and midsize businesses. For that matter, it works for just about any size business with its web-based and client prioritized solutions. Zoho enables you to attract and retain clients, send personal invitations, and operate your customer support at scale. With the help of social media integration, it also stands out as a well-rounded source for client management.
Pros:
Zoho has a wide range of capabilities: from its social media integration to its automated business processes, it gives users multiple avenues to attack client management in the most comfortable way possible.
Streamline notifications across multiple channels and respond to customers in real time.
Create distinct portals for your customers, vendors and partners to let them self-service their requests.
Generate leads, automate lead scoring, and drive quality leads to closure.
Third party integrations for big names like Google and Facebook are amazingly simple to add and configure.
Has an available API for creating custom application integrations
Zoho CRM is the sister product of Zoho Suite and Zoho Project Management, which are add-ons that allow you to automate and keep track of more processes.
Cons:
The user interface is clunky and dated looking.
It's reported that "Events" created are automatically are marked as closed when the date arrives.
The calendar view leaves out a few important visuals, like calendar sharing and an "Activities" view in the calendar.
Pricing:
The starting plan for Zoho starts it off at a cost-effective $12/user/month. It's one of the most affordable CRMs out there. From there, the additional professional and enterprise plans come in at $20 and $35 a month respectively.
See our Zoho CRM user reviews here.
8. Pipedrive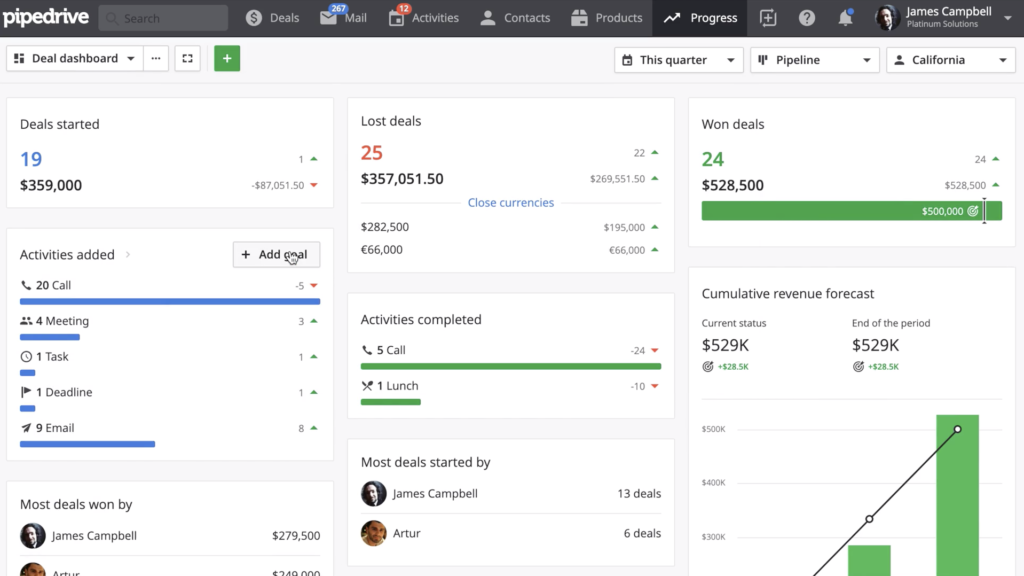 About Pipedrive:
With the original idea of creating a tool for experienced sales professionals only, Pipedrive has come a long way into becoming a fully optimized client relationship management tool for all to use. Specifically, it helps users organize leads in a way that improves conversion rates. Automate lead scoring and set up an environment to optimize your specific business. Because Pipedrive is a sales-first CRM, it has great lead management and salesperson collaboration features.
Pros:
Track calls, emails and contact history and have full visibility and control of your schedule.
Make sales visual with unlimited, customizable pipelines and start sliding deals to won
Even has a chatbot! Let your chatbot qualify and route hot, new leads 24/7 and even automate meeting booking.
Friendly user interface.
Landing page feature: generate quality leads for your pipeline with intuitive and fully customizable web forms.
Strong privacy and security ratings.
Cons:
Limited scope compared with other tools. For instance, there is not a project management tracking user interface.
Pricing:
Like many other tools, it sticks to a maximum of three plans to choose from. The first option, which starts at around $13/user/month, is called the silver plan and offers enough features to get started. The next two are the gold and platinum plans which come out to $24.20 and $49.17 a month respectively.
9. Zendesk
About Zendesk:
Perhaps the most interesting customer relationship management tool on this list is Zendesk. Originally a customer support tool, Zendesk has morphed into a full blown CRM. Zendesk is a big company with lots of resources, and they've made an enterprise-grade tool that puts your customers first. I would say this tool is the opposite of Pipedrive. While Pipedrive is very sales-oriented, Zendesk is much more customer support-oriented
Pros:
Easy to use contact database and support tool in one.
Quick platform set up and implementation. There is no learning or relearning of the system, which tends to happen with other customer relationship management tools.
Integrated channel support, which keeps teams on the same page. This can be done through chat messaging, email, and even voice communication.
Community forums are an excellent way to get to know your customer, and Zendesk does a particularly good job of creating a platform for them to thrive.
Zendesk makes it easy to create, customize and use any number of knowledges bases. You can create them for specific departments, for you customer service agents, and even for your customers themselves.
A support ticketing system is essential to the success of your customer relations. It allows you to collect your customer support tasks and manage them in one single place.
Cons:
Zendesk is not a superior "selling" CRM. It is more for support organizations.
Pricing:
The pricing of this tool is more on the high-end of the spectrum. However, by all accounts, it is worth every penny it takes to use it (for non "selling" business use cases). That said, the pricing for the prominent packages starts at $59 a month per user and goes up to $200 a month from there. In between, there is a variety of packages that range anywhere from $20 to $100 a month per user.
See our Zendesk user reviews here.
10. Copper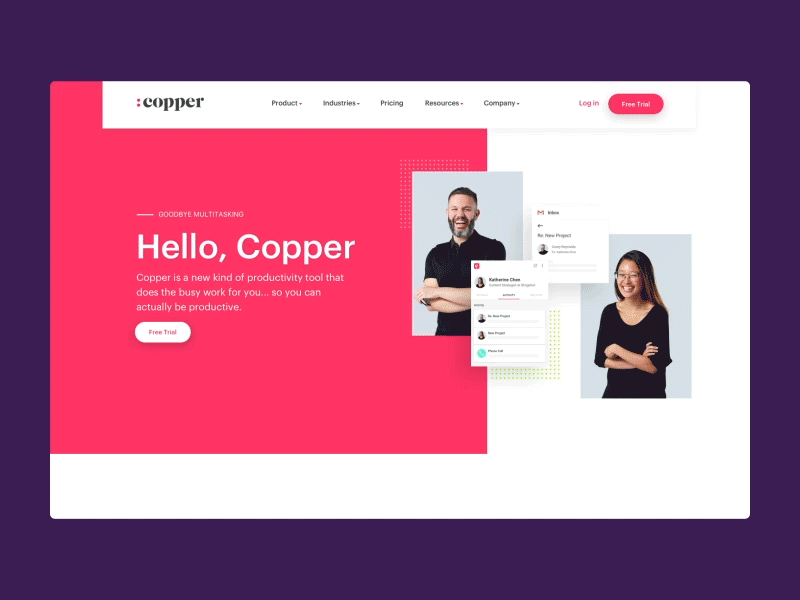 About Copper:
Copper customer relationship management software is a tool for building up and managing any type of pf relationship across your business processes — from your marketing department, sales, support, your technical staff or leadership team. Copper is a full CRM that integrates into the Google Suite, so you can run your entire organization, from support to data and forecasting from Google. It's awesome for teams graduating from Gmail communication with customers and Google Sheets to a more professional solution.
Pros:
Copper starts by scraping and and capturing all of your contacts, emails and other crucial account details so everything's automatically in Copper when you begin.
Because Copper looks and feels exactly like the G Suite tools you already use every day, you'll be up and running in minutes.
It layers in custom pipelines and dashboards, you'll always know the numbers you have to hit and how to get there.
Can pull data and customer interactions from anywhere: Google Sheets, Slack, Google Drive, Google Calendar and more.
Automatic email sync.
Integrates with HubSpot, Mailchimp, Docusign, Quickbooks and more.
Email templates.
Chrome extension.
Alerts and notifications in real time.
Cons:
Copper is only for people who are comfortable and willing to use Google tools full time.
Pricing:
Copper doesn't stray too far away from the pricing model of most customer relationship management tools. Starting at $19/user/month, its basic plan covers enough capabilities to have a fast management start. Next, the professional and business plan cap off the pricing range at $49 and $119 a month respectively. The only major difference between the next two pricing plans are promises of more support from their team.
The 3 best free CRMs
For small businesses, price is usually a big concern. There are some free CRMs out there — and they're actually pretty awesome. In general, free CRMs are free until…
You have over ~1,000* contacts
You scale to more than ~10* users
You begin using your CRM for email marketing
You want dedicated support
More complex data
*These are illustrative estimates. Each CRM tiers their plans differently.
If your business/agency/startup scales, you'll eventually be required to pay some fee, which is usually a monthly fee per user.
1. HubSpot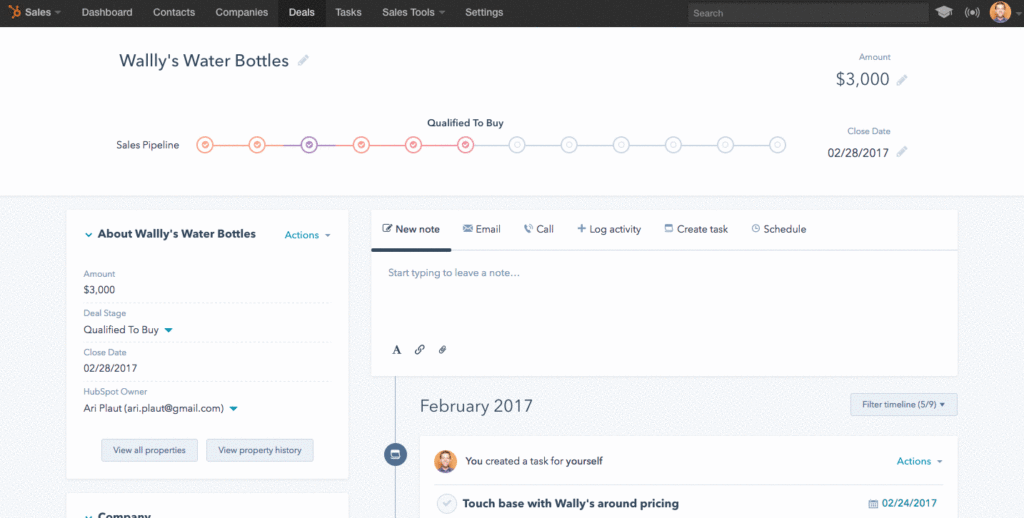 HubSpot offers relationship management solutions for sales funnels, social media, content, and other digital business processes. It also appeared previously on this list as one of our favorite CRM tools overall. Since it's establishment in 2006, it has grown to become one of the most beginner-friendly CRM tools.
HubSpot's CRM is truly free. You can add 1,000,000 contacts, unlimited users, and free access to the CRM has no time limit. Just be aware that if you use HubSpot CRM with the Marketing Hub, the contacts you add to the CRM end up in both places, which could affect your Marketing Hub subscription's contact tier pricing. So basically, you may end up paying once you need email newsletter sending, email tracking, or marketing automation.
HubSpot's free solution will enable you to:
Keep track of leads and sales interactions in a friendly dashboard.
Grow traffic, convert visitors, and run complete inbound marketing campaigns at scale.
Automate customer service.
Great team dashboards for data on sales activity, productivity, and individual performance.
See our HubSpot user reviews here.
2. Freshworks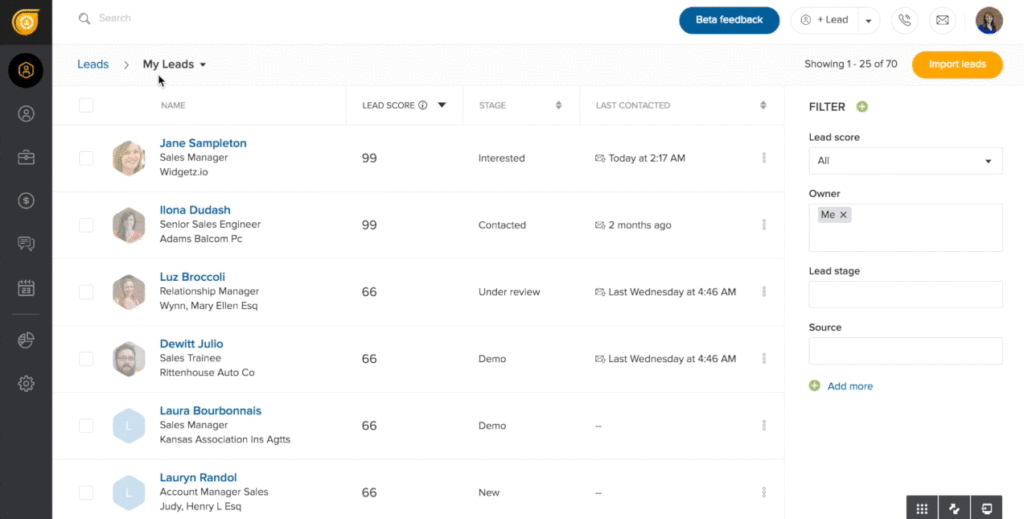 Freshworks is a CRM that services small businesses and enterprise customers. Real estate agents, wholesalers, agencies, software companies and even Cisco use Freshworks' products.
Freshworks offers a 21-day free trial of its basic CRM solution, which enables your team to do a ton:
Lead, contact, account, and deal management
See visual sales pipelines and enable with lead scoring
2-way email sync so that your team's client interactions can be recorded in a super organized way
Freshwork's CRM is free for 21 days. Thereafter, it costs $12 per user, per month.
3. Agile CRM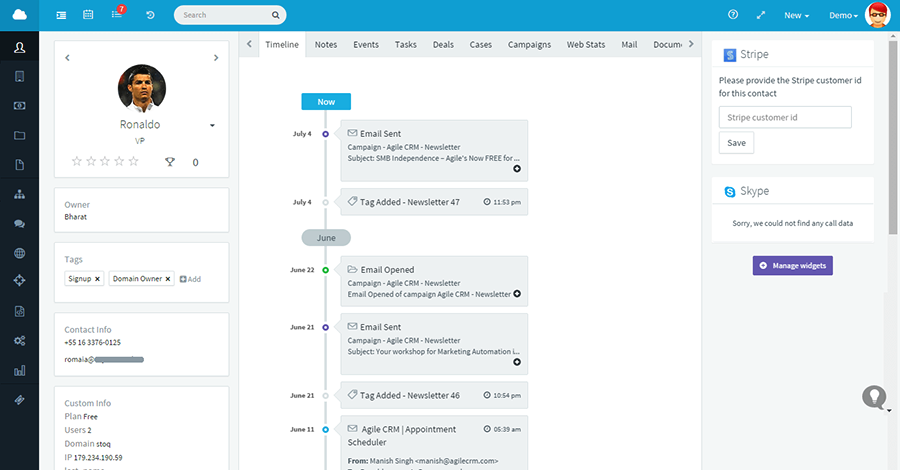 Agile CRM is trusted by over 15,000 businesses for delighting and selling to customers.
Agile CRM allows you to automate your sales, marketing, and customer support in one platform.
Sales tools include contact management, deals, project management, and appointment scheduling. Marketing tools include email campaigns, a landing page software, marketing automation and more.
The free solution will enable you to:
Have up to 50,000 contacts and companies
Score leads, manage projects, schedule appointments, and integrate salespeople email accounts
Customize data fields to suit the needs of your business
Agile CRM's paid plans begin once you start using sales and marketing tools like email campaigns, form builders, helpdesk and custom reporting.
What is a CRM?
Selling a product is difficult. Your sales process probably involves some combination of the following:
Prospecting for leads
Capturing sales leads
Building a relationship with a prospect
Looking at pipelines to infer potential revenue for a time period
Setting up meetings with prospects
Closing deals
Retaining clients
Managing all that is tough. So most businesses that require a CRM, start with spreadsheets.
But usually that gets cumbersome and confusing really fast.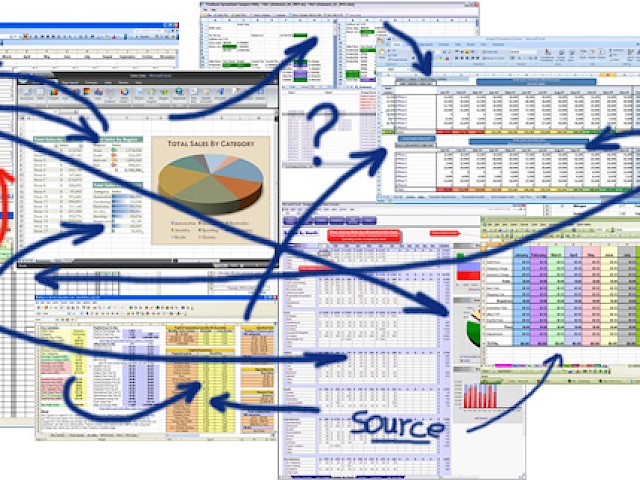 A CRM software is easier to use than a spreadsheet. The best CRMs record customer contact information and "remember" the details of your relationship and every interaction—whether by phone, email, help desk, etc.
Maintaining all this information enables you and your salespeople to:
Get out of spreadsheets, get organized and maintain sanity
Score leads based on traits you care about, so that you spend more time selling to customers with a chance of converting
Track invoices, schedule meetings, and send email communications
Improve customer satisfaction by managing support tickets and by recording all points of contact — ensuring smooth handoffs and clear deliverables
Before choosing a CRM, consider price — most CRMs charge per user (salesperson or support staff) using the tool.
Also, consider onboarding and training — there is a cost to using more complicated CRMs like Salesforce, as they take require more technical implementations and have a steeper learning curve.
Finally, look at the bells and whistles. Does your CRM integrate with software you already use? Do you need a CRM with customer support functionality? Do you need email marketing and automation?
The best CRM for startups and small businesses
HubSpot. Small businesses, agencies, gyms, software companies, sales operations, mattress companies, catering businesses and 56,000+ businesses love HubSpot. From our experience, people love it because:
The price is right: HubSpot's CRM is free.
Ease of use: as of this article, HubSpot has a 4.7/5.0 user rating for "ease of use" in the Growth Marketing Pro HubSpot software review.
Integration: it integrates with existing email systems to auto-capture and organize communication between customers and employees (Gmail, Outlook, etc.)
Integration with the HubSpot marketing tools: this allow salespeople to easily find their best leads and know how their leads are interacting with their marketing.
Integration with HubSpot's sales tools: which specialize in helping salespeople more easily do their job.
Reporting: HubSpot allows small business owners to track their sales pipeline, predict revenue, and keep salespeople honest.
Conclusion
Whether you've been in business for 1 year or 20 years, you probably know that customers are essential to the success of your business. And as important as it is to acquire these customers, it's also important to engage with them and nurture them through a great experience with your business… and sell to them!
Maximizing every interaction you have with your customers can do wonders for your business. And doing that requires that you know more about them than just their basic contact information.
Sure, knowing their name is great.
Knowing how to contact them? Great.
But knowing how their last interaction went with your business, so that you can properly attend to them this time? Priceless.
This, of course, requires record keeping, particularly on the part of your customer facing employees, as well as proper employee training. It also requires a data-driven approach that enables your customer facing team to record information in an efficient, thoughtful manner. This is where the right CRM comes in.
CRMs help you record your customers' contact information, as well as all of the details of your relationship and interactions with that customer. This information is crucial to the growth of your business, as it can help you identify opportunities for up-selling, cross-selling, targeted marketing, and more!
Choosing the right CRM software for your business will improve your team's productivity, sales results, and increase customer satisfaction. Choose wisely!
Ask questions in the comments.
Also Read: