Latest posts by Mark Spera
(see all)
Landing page builders hit the internet around 2011. I became fascinated in 2013 when I began running lots of Google Ads campaigns for a real estate crowdfunding business.
My super high-converting landing pages outperformed my competition and I was able to grow my company on the back of search marketing!
Fast forward to today: I use landing page software every day for my PPC clients and for this blog — Growth Marketing Pro.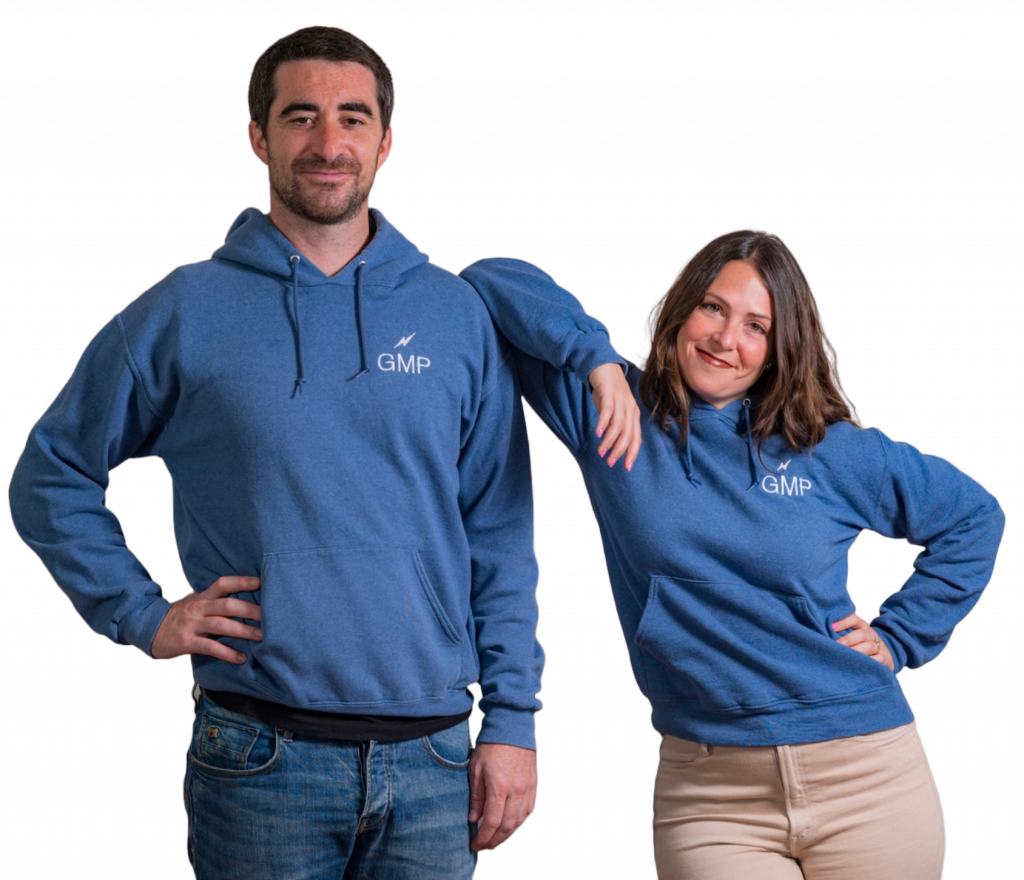 I've ranked the best landing page builders 1 through 11, based on:
Ease of use: can I set this up and make a few good-looking pages in 20 minutes?
Price: how much for a monthly plan and will I need to upgrade my plan every few months?
Bells and whistles: is there other cool stuff I don't even know about?
I'll also tell you which software is best for which size companies.
Unbounce is still my champion at the #1, but read on for the low-down on each one of them.
The 11 Best Landing Page Builder Tools:
This WordStream study found the top 10% of landing pages converted 3x-5x higher than average converting pages. That means testing landing pages will make you A LOT of money. This list will help you find a landing page software tool that can help you create high-converting landing pages.
Let's get into it.
1. Unbounce

About: From them: "Unbounce is the easiest way to build and test custom landing pages, website popups, and sticky bars. Improve your post-click conversion rates and launch more campaigns, fast."
Unbounce was the first landing page builder software. You could actually say they invented the category.
I've used it for various projects within the last few months and it's still one of the best landing page software tools out there. It's perfect for optimizing performance marketing campaigns, creating "coming soon" pages, capturing emails on-site, and describing those hard-to-explain elements of your product offering.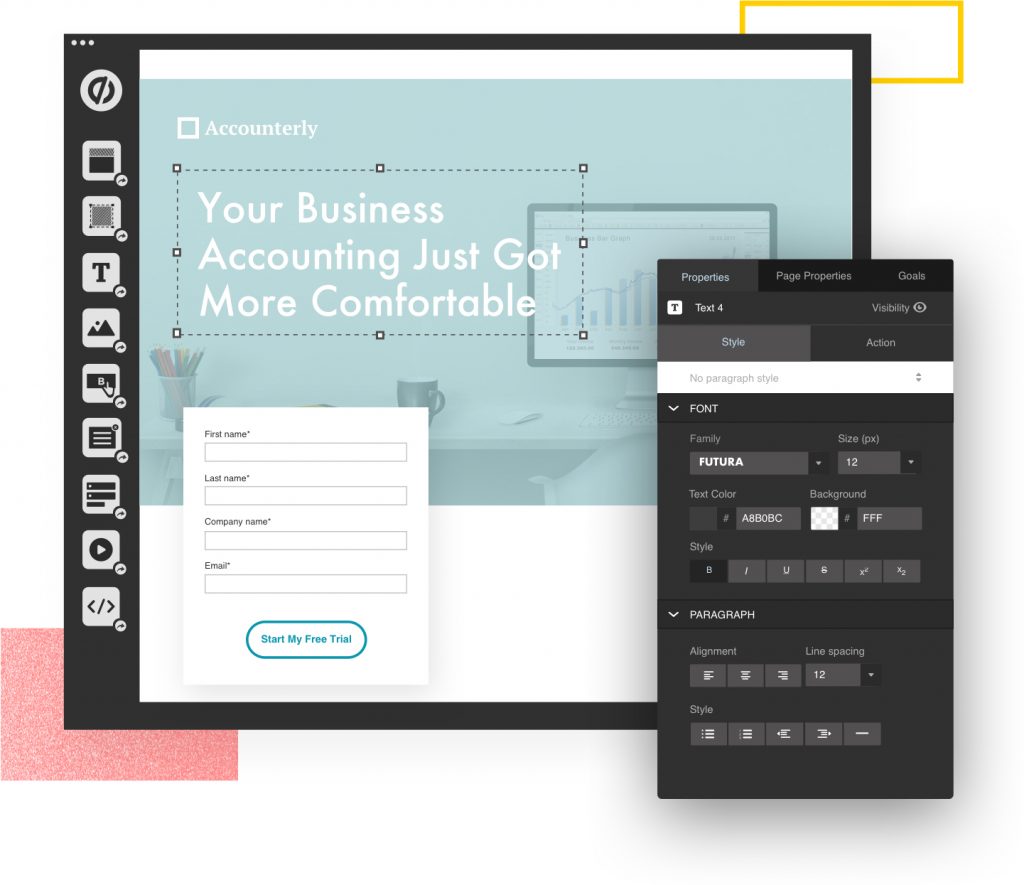 Unbounce continues to add features too. They recently launched a "conversion intelligence suite" that uses AI to inform landing pages, so that your ad spend goes further. In my experience, the platform is cutting-edge and dare I say… nearly flawless.
I've noticed the editor is a bit buggy on rare occasions — but for the most part, I recommend Unbounce to 9 out of 10 marketers.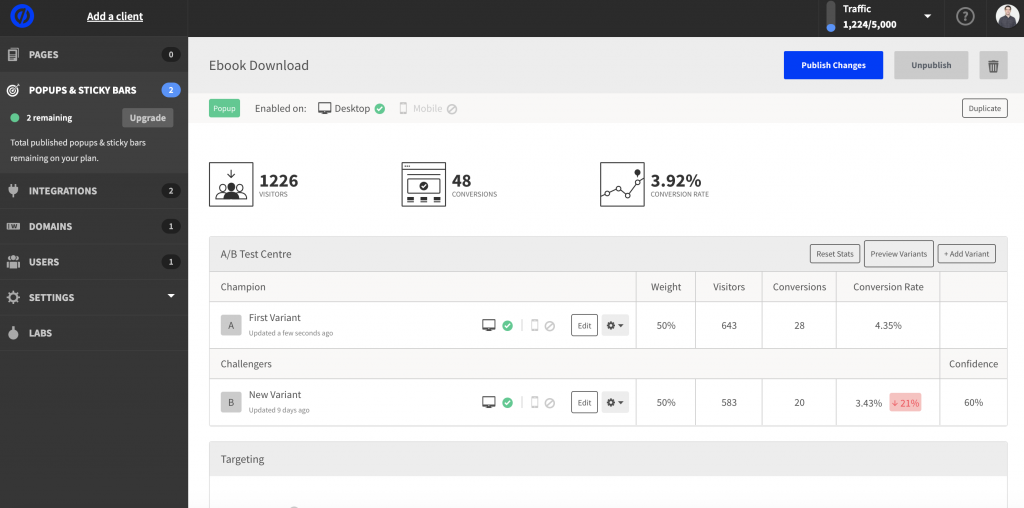 Ease of Use: 5/5
Easy user interface
Easy drag-and-drop editor
Friendly plugins, form creation, and page design
Can edit pages to make them mobile-responsive
Easy to read "stats engine" for reading analytics fast
Features: 5/5
100+ out-of-the-box templates

WordPress integration

Unbounce landing pages and pop-ups may be integrated with the most popular email, CRM and analytics tools, such as MailChimp, WordPress, AWeber, etc.
A/B testing
Dynamic keyword insertion for SEM campaigns
Can add sticky headers and popups to pages
Add maps, scripts, and pixels to landing pages
You can do pretty advanced design functions like putting gradient colors on buttons, compressing images to make load time faster, giving images opacity, and almost anything else you can think of.
Clone and edit entire pages
AMP mobile pages
Incredibly fast load times, which should improve your bounce rates, and increase your conversion rate
Price: 4/5
$74/month for the Launch plan. The Optimize plan is $109/month and the Accelerate plan is $180. There's also a Concierge plan for $469/month. If you're an entrepreneur or company with under $100,000/month in marketing spend, the Launch or Optimize plan is great.
Customers:
Breather
CampaignMonitor
New Balance
Vimeo
Indochino
I Think: Unbounce has 4.4/5 stars on G2. I remember what it was like starting out with landing page software. It can be confusing. Unbounce is so intuitive… you'll be able to make your first page 10 minutes from now. Even if you have no design experience, you simply choose one of Unbounce's elegant pre-made templates and insert your brand elements. Pages look professional and they convert! Unbounce and Instapage (later in this list) are admittedly quite similar. They're two of my favorite tools. You probably can't go wrong with either, but given that Unbounce is way more affordable, I give it my #1. I also give Unbounce's customer service an A+.
Suffice it to say, I love the product. If you're curious to compare Unbounce, read my article, Unbounce vs Leadpages vs Instapage vs Clickfunnels.
We negotiated a 20% off subscription with our link.
---

About: Leadpages enables you to easily build stunning opt-in campaigns that capture leads, convert customers, and integrate across all your favorite digital marketing tools: from Facebook ads to Google Ads to e-commerce. With Leadpages, it's easy to fine-tune your campaigns for maximum impact by testing multiple versions side-by-side so you can keep what's working and ditch what doesn't.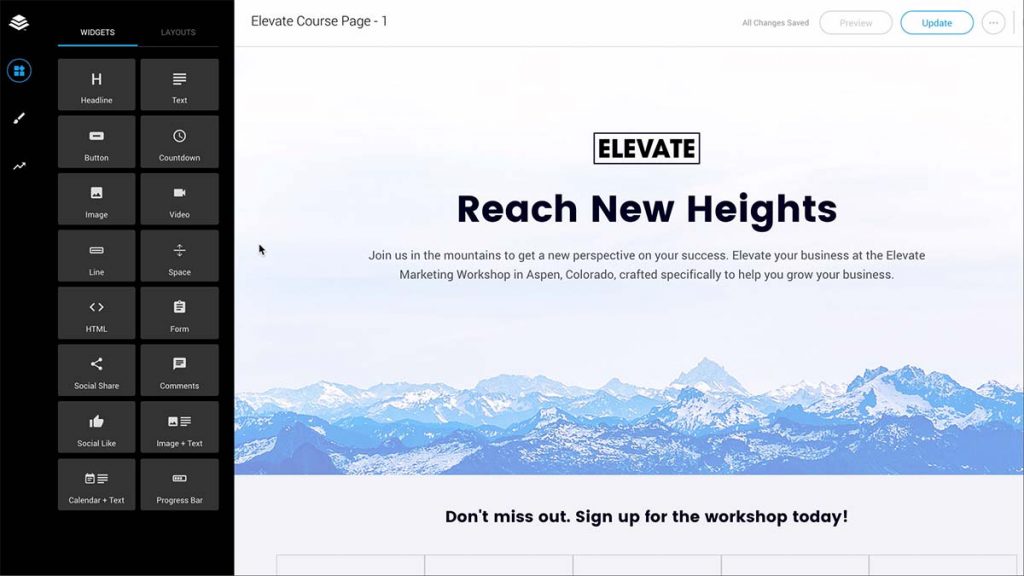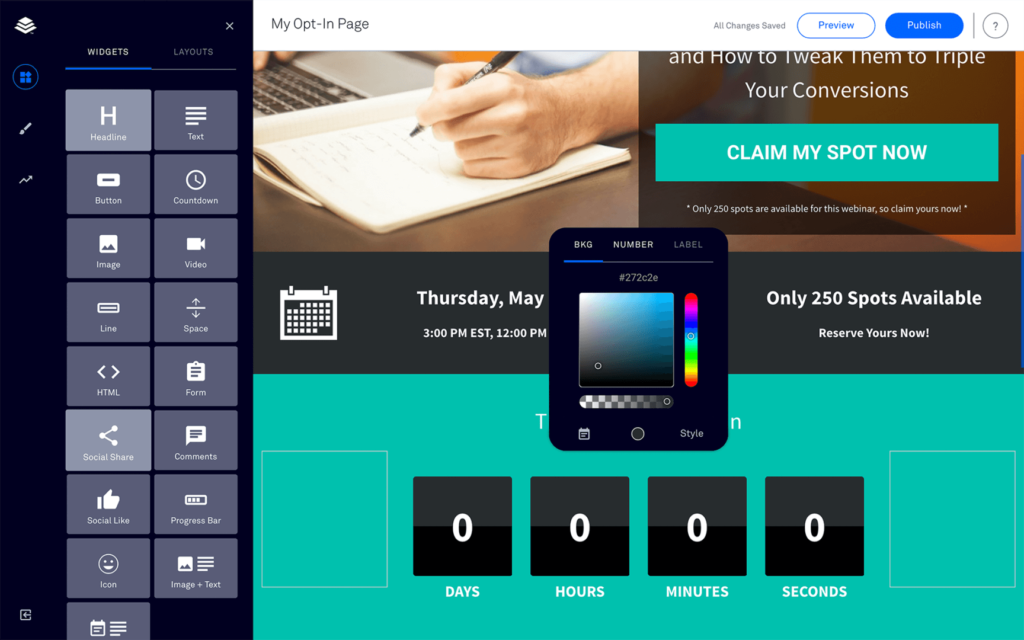 As with Unbounce, you can create landing pages, popups, forms, alert bars, and even checkout flows (a feature Unbounce doesn't have).
And Leadpages comes at a really reasonable price. Plus, it has a ton of integrations with CRM tools, email software, live chat tools, webinar tools, and more.
Ease of Use: 4/5
Easy to move content around: truly drag-and-drop
Has plugins, form creation, and page design
Can edit pages to make them mobile-responsive
Features: 5/5
160+ out-of-the-box templates
Unlimited Mobile-Responsive Pages
Works with 40+ tools
Captures leads with forms in an easy format
A/B testing
Add popups and alert bars
Can integrate with WordPress, Google Analytics, Google Ads, Salesforce, Zapier, Mailchimp, Hotjar, and a lot more
Add checkout pages to create an ecommerce experience
Price: 5/5
$37/month for the Standard plan, $74/month Professional plan and you can contact the team for information about the Advanced plan.
Customers:
GE Digital
Spiro
ZenMaid
Optimizely
I Think: Leadpages is an A+ in terms of value. Leadpages has 4.3/5 stars on G2. It's got every great feature you could possibly need and it comes at a price that's just right. Plus, it's easy to use. I like everything about Leadpages, but I take minor issue with the landing page editor itself. Whereas Unbounce and Instapage feel perfectly intuitive, the Leadpages editor takes a few minutes to get used to. However, there's no question Leadpages will deliver you higher ROI on your campaigns. I should also mention, I've interacted with their affiliate and customer support a few times and they've been stellar. If you're a small business particularly, Leadpages may be the choice for you.
Get their most current promotional pricing with our link…
---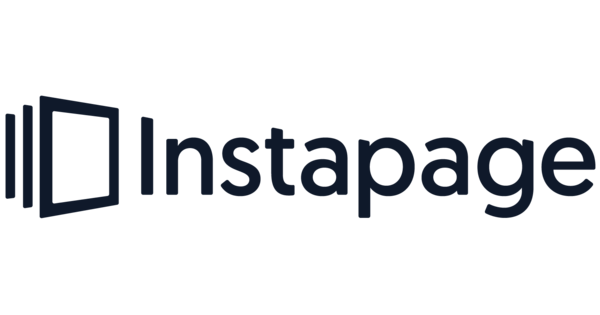 About: Instapage allows you to create stunning, on-brand, mobile-responsive landing pages from one of 200+ templates. No developer required. Instapage is incredibly powerful. It's a simple drag-and-drop landing page builder that creates pixel-perfect pages. Unfortunately, it's quite expensive. As such, it's more of a large company and agency tool.
It takes about 2 minutes to set up and it has an extremely user-friendly, customizable editor, which will undoubtedly earn you more leads at a lower cost-per-lead. In their own words: "own your post-click experience and maximize your conversion rates with Instapage, the most powerful landing page platform for marketing teams and agencies."
Plus, integrating your pages into your website requires no code. Below is a "coming soon" splash page we made for our SEO tool, GrowthBar back in 2020. As you can see, the page has calls-to-action, moving elements, and is easy on the eyes to boot!

Ease of Use: 4/5
Best user interface and easiest to use
Direct WordPress integration
Easy to move content around: truly drag-and-drop
Friendly plugins, form creation and page design
Can edit pages to make them mobile-responsive in under a minute
Easy-to-read analytics and lead list exports
The 4/5 is just because of poor customer support experiences
Features: 5/5
200+ out-of-the-box templates
Codeless integration with Google Analytics, Facebook Advertising and more
Capture leads with forms and send them to Mailchimp, Salesforce, Marketo, Zapier, Hubspot, GetResponse, Autopilot, AWeber and more
A/B testing (at higher pricing tiers)
Heatmaps (at higher pricing tiers)
Ability to add custom code to pages
Real-Time Visual On-Page Collaboration
AMP & Thor Render Engine®
Built-in Heatmaps
Global Blocks for universal content changes
Incredibly fast load times, which should improve your bounce rates, and increase your conversion rate
Price: 2/5
$199/month for the core plan — which should give you absolutely everything you need to set up and capture leads in 15 minutes. Agency and Team plans begin at $999/month. It's very expensive, but definitely among the most powerful in terms of feature sets for enterprise companies.
Customers:
SoundCloud
Ebay
HelloFresh
ADP
I Think: Instapage has 4.3/5 stars on G2. Instapage is tied for the most functional, user-friendly, high-performing, easiest and most powerful landing page software. It truly requires no code to operate and is perfect for midsize and enterprise businesses. It's particularly awesome for Google Ads and Facebook Ads specialists. Instapage has 340+ Capterra reviews, more than any other landing page builder. It allows you to customize pages fully and it integrates with every software that you might already be using. As teams and agencies scale production, built-in visual collaboration helps speed up design reviews by allowing users to make comments, provide feedback, and resolve issues. This ultimately eliminates time-consuming bottlenecks inherent in design reviews. Unfortunately, the price and lackluster customer support make Instapage difficult to choose over Unbounce, given the similarities of the features. And it's pretty expensive too — so you need to be a large operation to make it worth your while.
Get a Free 14-day Instapage trial by clicking below.
---

About: Swipe Pages enables you to create fast, mobile-optimized landing pages quickly. They're perhaps the best landing page software for mobile pages. That's because the pages are FAST and high-converting. When it comes to mobile landing pages, speed is everything.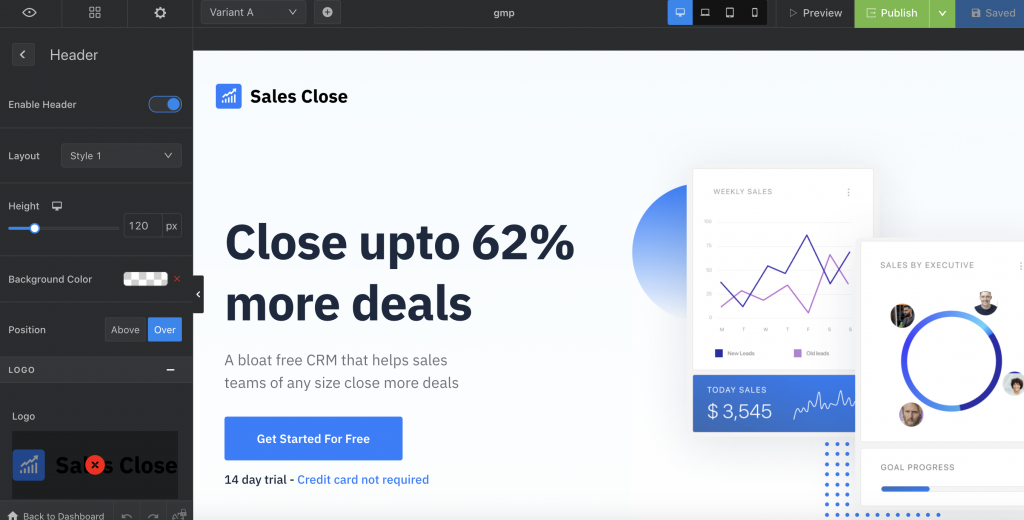 With AMP support out of the box and a unique 'app-like experience, Swipe Pages is ideal if a majority of your ad clicks come from smartphones — but you can build pages for desktop as well.
It comes with 50+ templates and the builder is quite intuitive. It comes with 20+ widgets like Timers, Popups, Payment Forms, Carousels, Tables & Toggles that help you add functionality without a developer. Swipe Pages integrates with Zapier, Zoho, HubSpot, ConvertKit, Mailchimp, Campaign Monitor and plays nicely with your CRM and Marketing tools.
Ease of Use: 5/5
Easy page editor
Clean interface and easy onboarding
Global blocks (like Unbounce, Leadpages and Instapage)
Integrations with 10+ tools you probably use in your workflows
Strong customer support
Features: 4/5
Smart Pages that route mobile traffic to a mobile-specific page
Create mobile app-like landing pages
AB Testing
Global Blocks & Dynamic Keyword Insertion
50+ templates
Capture leads with forms and sends them to other tools
Sell products using payment forms — Stripe & Paypal support
Custom fonts
Ecommerce features
Price: 5/5
$39/mo for the Starter plan, $89/mo for Marketer Plan and $199/mo for the Agency plan offer very high usage limits.
Customers:
I think: Swipe Pages has 4.8/5 stars on G2. While Swipe Pages is relatively new, it's a very strong tool. They've rapidly scaled to thousands of customers because Swipe Pages can create mobile-friendly, high-converting landing pages. Plus, the pages are FAST — which again, is hugely important if you're trying to succeed with a mobile-first audience. They have a lot of helpful integrations, making them just as user-friendly as the bigger tools on this list. If you're running primarily mobile campaigns (think: Instagram, Snapchat, TikTok), Swipe Pages might be the perfect solution for you.
---

About: HubSpot makes a variety of tools for digital marketers and salespeople, but we are big fans of their landing page tool. They describe their marketing service as everything you need to launch effective marketing campaigns that make people interested in your business and happy to be your customer. HubSpot is an enterprise marketing solution that has an excellent solution for creating landing pages.
Especially if you're a SaaS company, real estate company, or marketing agency, HubSpot is an awesome platform to manage your landing pages, CRM, email marketing, and a whole lot more.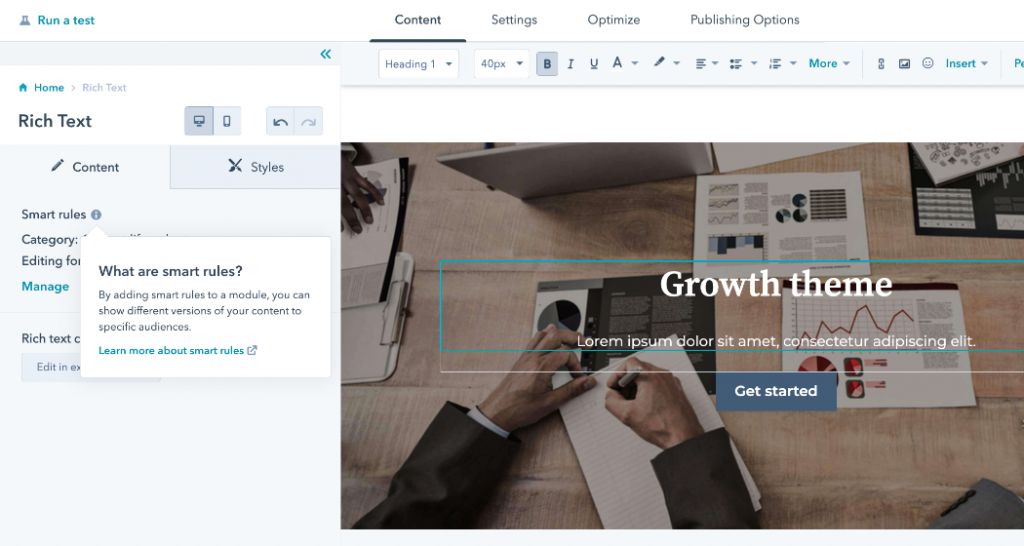 The HubSpot landing page tool comes as part of HubSpot's Marketing Hub. It's drag-and-drop, just like Unbounce and Leadpages, plus it integrates directly with HubSpot (maybe that was obvious).
Ease of Use: 4/5
Start to finish in a few minutes with onboarding videos and written content
Very well-reviewed customer support (4.5/5)
Easy to move content around and get a business live online
Has plugins, form creation and page design
Templates are very simple
Easy to add videos, tracking code, etc.
Features: 4/5
Captures leads with forms in an easy format
Email marketing and automation
A/B testing
Blog & content creation tools
SEO & content strategy features (though
Complete paid marketing suite for Facebook, Google, etc.
They literally make everything you'll ever need to succeed in marketing — from CRM to email marketing
Price: 4/5
$50/month for the cheapest tier that has the landing page builder functionality.
Customers:
Blend
Care.com
Casio
Slingshot
ClassPass
I Think: The HubSpot offer continues to gets more sophisticated as their product grows and expands into different territories. The landing page tool along with the smart content and CTAs is a huge benefit and the cost is low enough that it makes this offering worth a try.
---

About: GetResponse enables you to create high-converting, mobile-responsive landing pages, but it's also a diversified software offering that offers email marketing and webinar capabilities. GetResponse features integrations with tons of the top tools you're already using like Salesforce, WordPress and Shopify.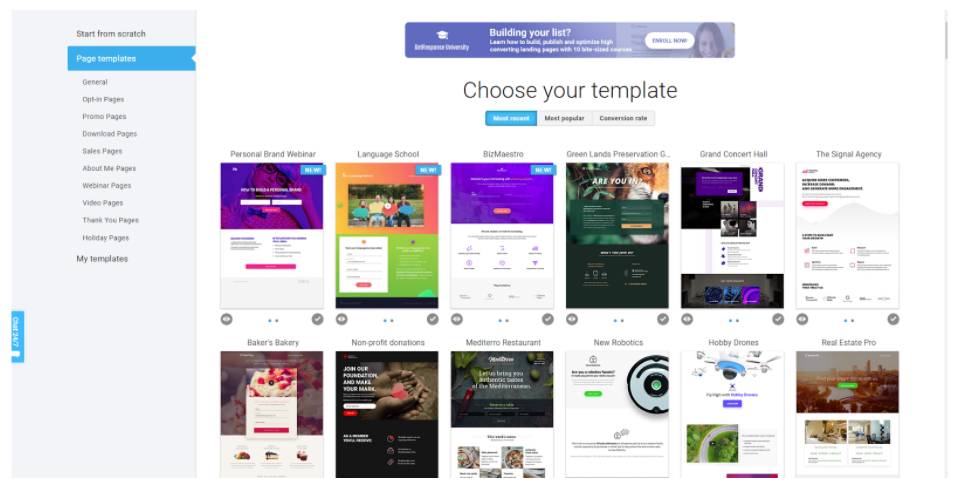 Ease of Use: 4/5
Drag-and-drop landing page editor
Easy to move content around, upload images, and edit mobile layouts
Features: 4/5
Built-in analytics
Integrates with many platforms including Adwords, Google Analytics, Bing, KissMetrics and Facebook
Capture leads with forms and integrate them with the GetResponse email platform
1,000's of stock photos and templates available
A/B testing
Add PayPal button to take payments on the fly
GetResponse allows you to do a whole host of things including creating landing pages, email marketing and creating webinars
Price: 4/5
$15/month for the Email plan, $49/month for Pro, $165/month for Max, and $1,199/month for Enterprise.
Customers:
Ikea
Stripe
Revolut
Zendesk
I Think: All in all, GetResponse is an all-in-one marketing suite that is well-regarded. Landing page software is one of their offerings. As such, it's an enterprise marketing product, which has benefits of scale including end-to-end customer dashboards and favorable pricing. In this way, I only recommend it to marketers who have more than just landing page needs. GetResponse is a decent option for marketers or business owners that require a comprehensive suite that includes landing page software.
---

About: Systeme.io is an all-in-one marketing platform to help entrepreneurs automate and scale their marketing activities. It's the ideal software for creating a launching an online business, starting a course, building a mailing list, creating sales funnels, and much more.
Systeme is made for entrepreneurs. It's a website builder, landing page software, email marketing tool, affiliate program management tool, and marketing automation tool. So if you're a solopreneur looking for an all-in-one solution, Systeme may be right for you. It's very similar to another tool on this list: ClickFunnels.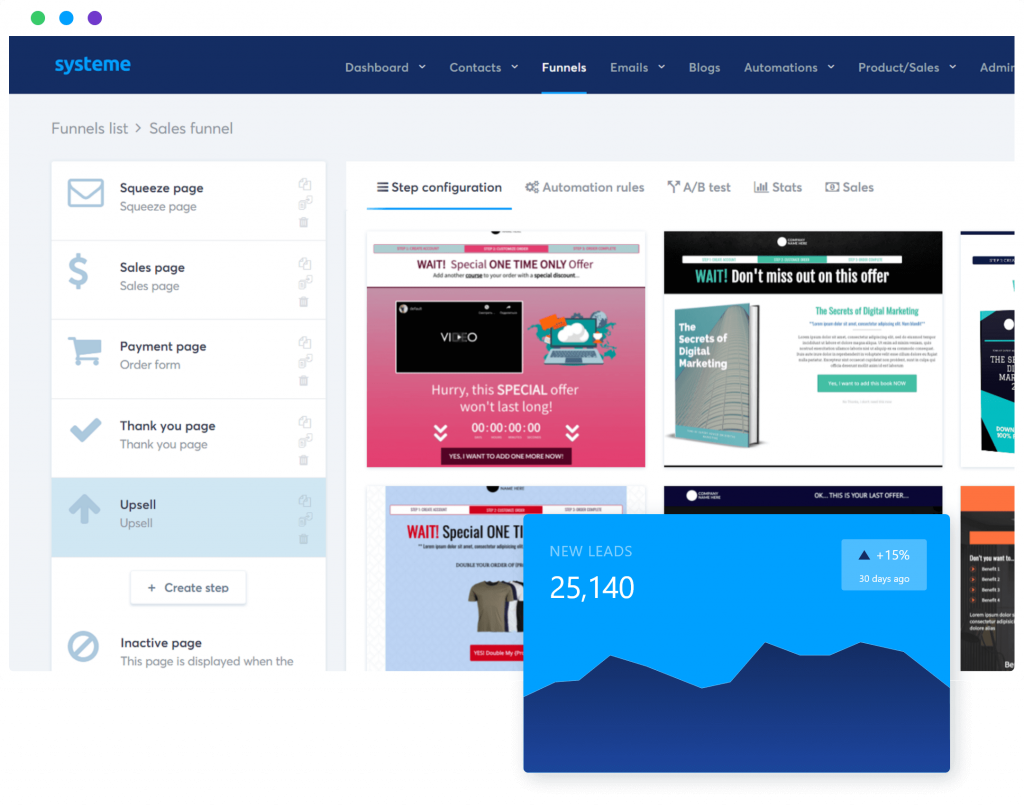 Ease of Use: 4/5
Easy drag-and-drop builder
User-friendly, intuitive components
Mobile-responsive pages by default
Helpful support that knows entrepreneurs
Features: 4/5
Offers a host of features, including email marketing/automation
Blogging capabilities
Pre-designed landing page templates filtered by industry
A/B testing
Integrations with Zapier and other major platforms
Sales funnel creation
Up-sell/cross-sell/down-sell capabilities so you can maximize customer conversion rate
Pop up creation
Affiliate program maintenance
Price: 5/5
Systeme.io is one of the most affordable all-in-one marketing platforms. The starting plan is only $27, which has most of the features you need to build a site, create landing pages, and increase customer value. The other plans are at $47 and $97.
Customers:
I think: Systeme.io is offering one of the top all-in-one platforms in the industry. Similar to ClickFunnels (further down on this list), Systeme.io has much more than just landing page functionality. It's perfect for entrepreneurs who want a whole suite of services, at a way more affordable price than other all-in-one solutions.
And you can start with the 14-day free trial.
---

About: Take advantage of a flexible platform with options dedicated to converting traffic from your digital campaigns into customers.
Landingi is the end-to-end platform for landing pages without IT and coding skills. Create, publish, optimize your landing pages and run a/b tests by yourself. Landingi has come a long way. It's been on the market
With our drag-and-drop editor, you can create a landing page with ease. Select from over 300 high-converting templates, automate your marketing stack using the built-in integrations and bring your marketing to a higher level! We will support your campaigns by personalizing your landing pages for your target audience and PPC ads.
Ease of Use: 4/5
Landingi gets great reviews for ease of use, as its a true drag-and-drop pixel-perfect editor
Start to finish in a few minutes
Has plugins, form creation and page design
Templates are very simple
The editor is apparently difficult to use, particularly the mobile editor
Features: 4/5
300+ out-of-the-box templates
Integrations with Salesforce, Mailchimp, Hubspot and many more
Landing page import: this is an awesome feature that Instapage and others had to get rid of (I imagine for copyright infringement issues), but Landingi lets you import other pages from the internet to "clone"
AB testing
Captures leads and allows you to perform automation using those leads
Ability to add custom code
Popup builder
Customers:
Dekra
Voxie
Booksy
Sony Music
Price: 4/5
$29/month+, the Automate plan is $89/month and the Agency plan is $109/month.
I Think: As I said, I've followed the landing page software industry for almost 10 years. Landingi is a strong solution that has come a long way. If you're looking for an affordable solution (with 5 stars on G2 and Capterra), Landingi is great.
---

About: ClickFunnels enables you to pick the sales funnel that is designed to sell your type of product, so you can send traffic to the offer.
Clickfunnels allows you to sell any product online. You simply pick your sales funnel, pick your design and upload a few custom elements like a logo. Modify the page with a few drag-and-drop tools and your entire funnel is ready to roll.
It's not at the top of the list because it's not quite a landing page software — as much as it's a full website + marketing funnel in one. ClickFunnels is a perfect solution for entrepreneurs selling a course or consulting service on the internet and want landing pages, email nurtures, and payment solutions in one… which means it's very much for entrepreneurs.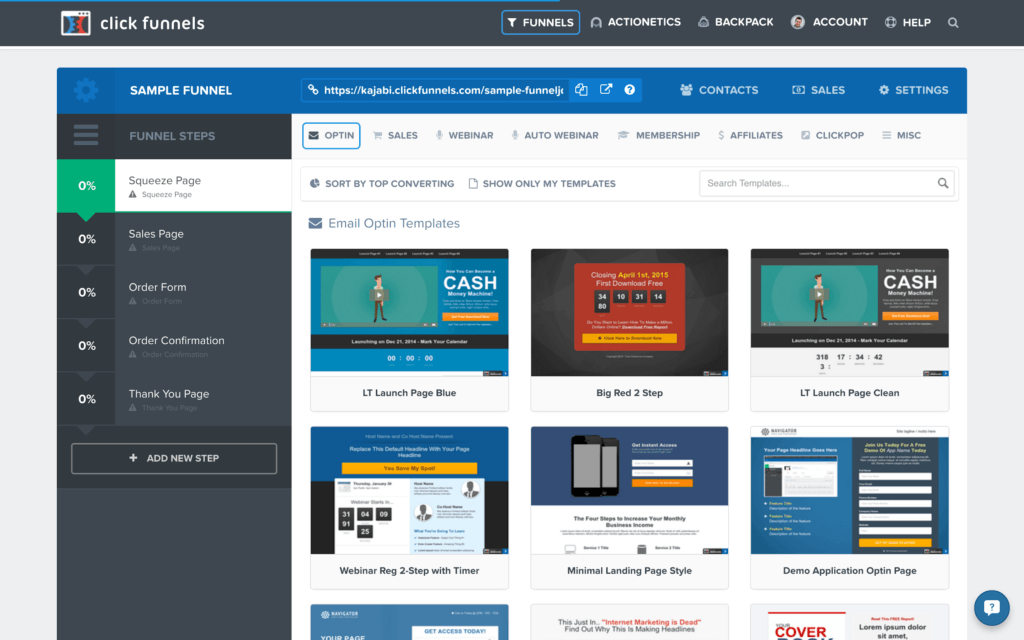 Ease of Use: 5/5
ClickFunnels is stupidly simple to use
Start to finish in a few minutes with onboarding videos
Easy to move content around and get a business live online
Has plugins, form creation and page design
Templates are very simple
Easy to add videos, tracking code, etc.
Features: 2/5
Several out-of-the-box "ClickFunnels" (templates)
Capture leads with forms in an easy format
Email marketing and email automation
Build sales pages and collect payments
Price: 5/5
$97/month+
Customers:
I Think: ClickFunnels is simple as can be. It's a "website-in-a-box" solution that makes it so easy to make a site and promote it to the world. They will take you from nothing to a business online in a few minutes. So if you're an entrepreneur looking to sell a course, sell a book, sell a single product, or sell anything else on the web — ClickFunnels may be right for you. The problem is that for a landing page builder, the customization is really limited. Your entire web presence will look like a ClickFunnels… which is a little hokey looking. If you already have a blog or website, don't use ClickFunnels. If you're starting from scratch and you're an internet novice, go for it!
---
About: Ucraft is a website builder that turns your ideas into online realities. It's analogous to Wix or Squarespace, but I give it mention in this article because it is really slick and gets great reviews. Plus, because Ucraft hosts your sites for you, you can create a landing page right now… right this second! It has a powerful drag-and-drop editor and has integrations with basically every tool you'll ever need, including Mailchimp, HubSpot and Google Analytics.
Ease of Use: 4/5
Completely drag and drop landing page editor

Hosted by Ucraft

Easy to move content around and get a business page live (Ucraft is a true website creator)
Features
:
1/5
Has form creation and page design
120+ templates
Integrations with Mailchimp, HubSpot, Zapier, HotJar, Google Analytics, Intercom, Mandrill, Zendesk, and more

No A/B testing

You will have to host your page on a new website URL
Price: 5/5
$8/month+
Customers:
I Think: Ucraft has a pretty sophisticated website/landing page builder that makes it easy for you to get a pixel-perfect site live. I give it mention because the builder is orderly and entrepreneur-friendly. Plus, they have loads of integrations. Ucraft is quite affordable, so it may be worth a try.
---

About: ShortStack is for "contests, forms, and landing pages." It's a cool product, in that the landing pages you make are specialized to host content and/or events on. Create pages for photo contests, giveaways, refer-a-friend contests, voting contests, video contests, Instagram contests, and more. It's a cool twist on landing page software that may have a place in your toolkit.
Ease of Use: 4/5
Gets medium-to-strong marks for user-friendliness on G2 and Capterra
Features: 3/5
Templates include contests, giveaways, quizzes an email collection giveaways, but limited to these use cases
Collect user-generated content (a feature I haven't seen elsewhere)
Can automate emails to lead captures on page
Price: 4/5
$99/month+
Customers:
Victory Brewing
Timbuktu Labs
Chubbies
I Think: It gets strong reviews and it makes sense that if your goal is a giveaway or contest, you'd need a landing page builder and customer support team that is specialized. If that's your goal, then by all means ShortStack is for you.
---
What is landing page builder software?
You can have a beautiful website with perfect functionality.
But that doesn't necessarily mean your site is optimized for converting customers.
If you're running performance marketing campaigns (namely Facebook Ads or Google Ads), you need a simple page with just a few elements — one that's optimized so that a user takes action — clicks, signs up, downloads a PDF, or something else entirely.
That's where landing page software comes in.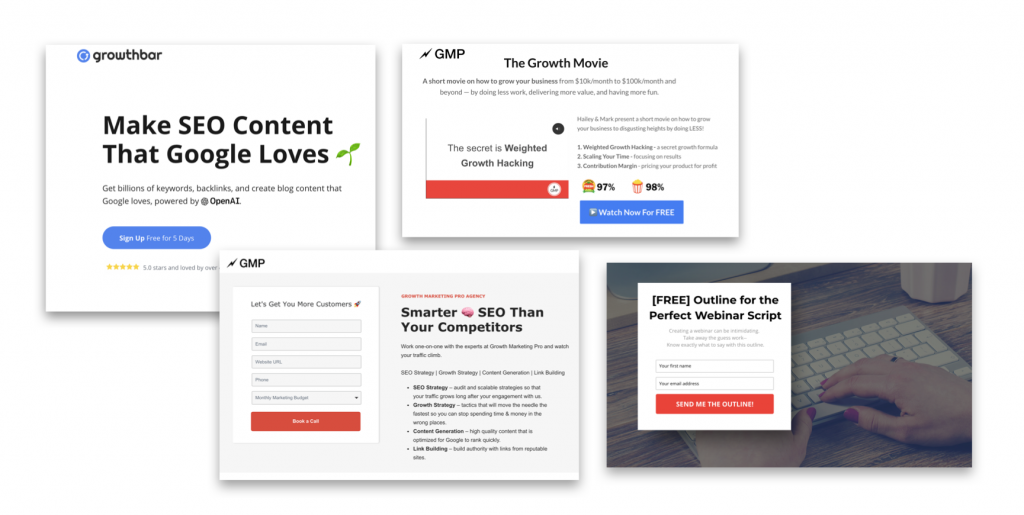 Even the easiest website builders like WordPress aren't totally flexible.
Landing page software, on the other hand, is drag-and-drop — meaning you can move elements around at your will, which helps marketers create an experience that nudges the visitor and converts them into leads.
Plus, the best landing page builders have tons of templates to choose from, so you never have to start from scratch with your page.
Who should use landing page software?
Not everyone needs landing page software. When you're trying to build a business, the last thing you need is to spend money frivolously.
But there are some really important use cases:
Entrepreneurs and marketers running performance marketing campaigns like Facebook Ads and Google Ads must have landing page software. It's the only way you'll be able to run experiments rapidly and reduce your cost of acquisition to a profitable number. Ecommerce companies generally spend a ton on paid ads, so they're a prime customer of landing page software.
Entrepreneurs selling high ticket items over $1,000. If you're selling something expensive (consulting services, for instance) that requires a lot of proof points, testimonials and feature explanations, you must use landing page software. Why? Your real website homepage can't be pages long — it's not a good user experience. But traditionally, the sales page for high-ticket items needs to be really robust. The easiest way to do this is with landing page software. Plus, you can A/B test to maximize for performance on that page, using landing pages.
Marketers, product managers and entrepreneurs who want to A/B test like crazy. Enterprise A/B testing tools like Optimizely are crazy expensive. If you need to test calls-to-action, value propositions or even new features, landing page software is by far the easiest (and cheapest) way to do it.
Growth marketers testing hypotheses. Growth marketing moves fast. If you're a growth marketer or entrepreneur who wants to test a hypothesis — like a new product offering or feature set — you can use landing page builders to spin up a quick minimum viable product and use on-page lead capture to gauge customer interest.
Do you need a website to have a landing page?
You don't actually need a website to use landing page software. Tools like ClickFunnels for instance can be wholesale alternatives to making a website. As long as you have a domain name, you can plug in a landing page (or multiple pages) to create a full website — capable of lead capture, taking payments, and even light email marketing.
Also read: What's the Difference Between a Landing Page and a Website?
Do landing pages impact SEO?
Landing pages do not negatively affect your search engine optimization. However, it's important to note that most landing pages are not structured appropriately for SEO. I like to think of them as "skins" rather than HTML pages that Google can index and understand. So if SEO is part of your strategy, you'll need to use a blogging/website tool like WordPress and simply plug your landing pages into your website.
What are the best WordPress landing page software tools?
Since the vast majority of bloggers and even many technology companies run on WordPress, I'd be remiss not to mention the best options for WordPress landing page software.
Some of the tools on this list also have one-click WordPress integrations. Instapage, Unbounce, HubSpot, and Leadpages all have highly-rated WordPress connections. But there are also WordPress landing page plugins. The most trusted include WPForms, SeedProd and OptimizePress.
Tips for great landing pages
Simply implementing a landing page builder doesn't necessarily mean you'll capture more leads and increase your conversion rate. There are best practices that you should follow to get the most out of your landing page builder:
Catchy headlines: Your landing page should lead with value-based copy and your headline should never be ambiguous or vague. It should capture your reader's attention and give them a reason to keep scrolling. As I'm thinking about headline copy, I like to channel one of the best business books I've read, Play Bigger: your copy should make you a category leader. Even if your product isn't a category leader, think of a way to position yourself as the #1 in some category. Maybe you're not the #1 SEO tool, but perhaps you're the #1 SEO tool for fashion bloggers. Figure out a way to "own" a category via your headline copy.
Trust signals: Humans like social proof. We're more apt to buy when we see logos and customer testimonials on a website. I've found that using press badges above the fold on my landing pages increases conversion rate 10% or more. Press badges lend credibility to your product and make users more likely to continue reading. Similarly, customer testimonials enable users to envision themselves using your product, which will increase conversion rates.
Images: Think about how often you read every word on a webpage… not often. Visually appealing images work in keeping users on-page and illustrating your product offering. Hint: human faces keep people on page — when in doubt, use a stock photo with people in it.
A/B test: Particularly if you're sending paid traffic to your landing page, you should A/B test. It's the financially smart thing to do. And if you're going to A/B test anything, make sure to first experiment with your headline. Since the headline is the first thing users see when they hit your page and only 20% of users will read past your headline copy, it's the most impactful place to A/B test.
Mobile: Mobile traffic accounts for 54.8% of total web traffic, so make sure your landing pages are pixel-perfect on mobile as well. The good news is that the best landing page builders have mobile and desktop views, so that you can see your page in both formats before publishing.
Conclusion
Every tool on this list I consider to be a fully drag-and-drop solution.
That's the reason I love landing page software. It allows us, marketers and entrepreneurs, to avoid code and make pixel-perfect pages in just a few minutes.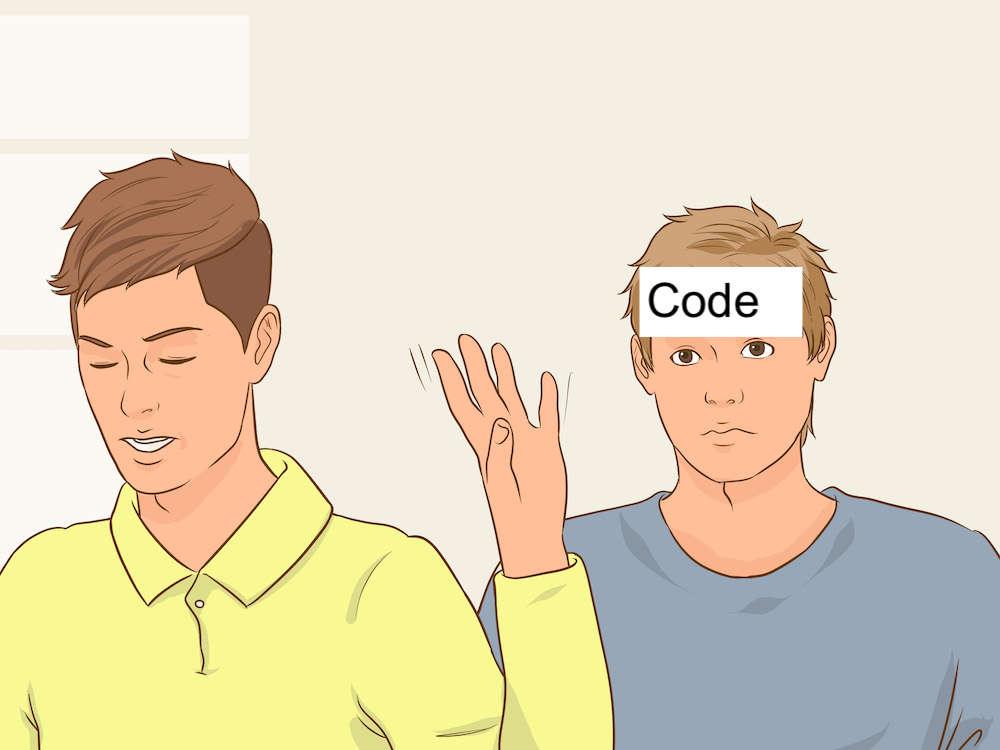 You should consider a few things when picking a software tool:
Price point: Landing page software ranges from as low as $10/mo to upwards of $200/mo.
Design: Some tools on this list excel at creating-perfect landing pages, while others aren't quite as slick. If you want the former, Unbounce and Instapage are the only way to go… but you'll pay a bit more for those capabilities.
Accepting payments: If you want to use your landing page as your checkout flow, you need to make sure your solution either has an existing checkout solution (ClickFunnels) or is easily integrated with PayPal/Stripe (Unbounce).
A/B testing and other features: If you're running performance marketing campaigns and you want the best optimization features to squeeze every last cent out of your campaigns, you'll want to select Unbounce or Instapage.
Integrations: Do you use other marketing tools that you will need to connect to your landing pages?
There are a few landing page builders I like for small businesses and large companies alike — Instapage, Unbounce, Leadpages and HubSpot. For entrepreneurs who want an all-in-one solution — one that's reminiscent of a website builder — take a look at ClickFunnels, Systeme.io. and Ucraft.
Of course, there's only one landing page tool this nerd endorses…
Starting or Growing a Businesses? Also read…