Latest posts by Hailey Friedman
(see all)
Hey there, it's me – Hailey.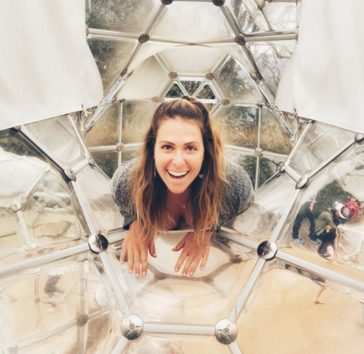 People often ask me, "What's the best way to get customers?"
My answer every time: A referral program.
And to start a referral program, you need referral program software.
What is a referral program?
A referral program is the easiest and cheapest way to get the highest quality customers. Dropbox grew 3,900% thanks to its simple referral program. Heck, even Tesla has a referral program.
Later in this post, I'm going to tell you the story of how I grew our referral program 10x in less than one month.
But for now, you should know that referrals are extremely powerful.
Consumers trust their friends, family, and influencers.
If one of those people tells a consumer about a product or service that they love, that consumer is now up to 25X more likely to make a purchase than they would be without that referral.
25 times!
I've seen the numbers to prove it. A quick look at my Google Analytics dashboard for my SEO tool, GrowthBar shows that the average conversion rate of someone who lands on our site is between 1% and 4%. Whereas the average conversion rate of someone that was referred by a friend is 13%!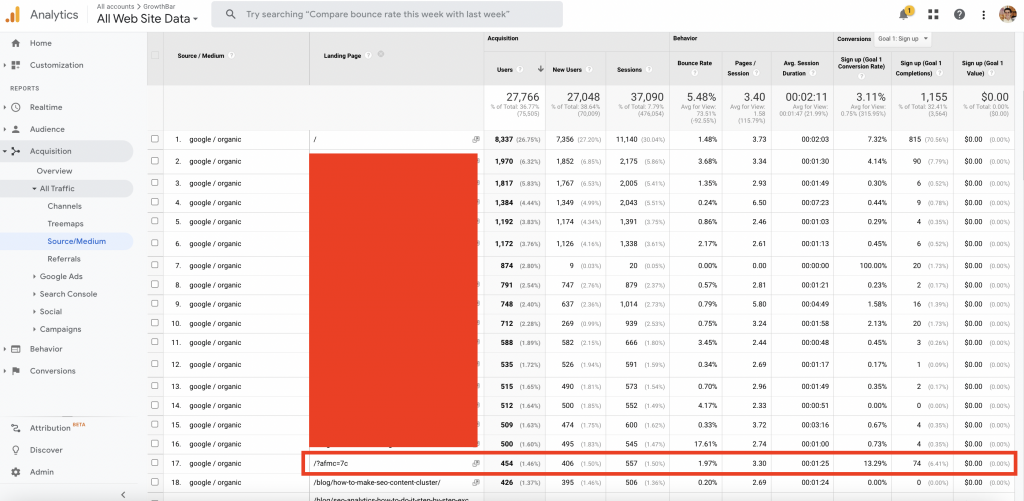 In order to get your customers to refer their friends, family, and colleagues, you need to set up a referral program.
Also read: How to Start an Affiliate Program and Hack it to Millions in Revenue
Why a Referral Program is Great for Customer Acquisition
It's cost-effective.
If you're spending money to acquire customers, building a referral program is one of the most cost-effective ways you can do this.
You only pay per customer that signs up or makes a purchase.
Meaning you don't have to waste money on impressions or clicks like on Google Ads or Facebook. You just pay a set cost per acquisition. And you can set the cost per acquisition to anything you want.
It's easy.
You are essentially empowering your customers to become advocates and salespeople for your business. That means, the legwork is in the hands of your customers, and both you and your customers stand to benefit. They can make money by referring their friends through your referral program, and you'll make money too.
How to Set Up a Referral Program
First things first. Your customers don't know that you are willing to pay them to refer their friends. So, you'll have to tell them!
But before sending an email about your referral program, you want to make sure that you have a seamless referral process. In order to make your referral program seamless, you'll need to purchase great referral program software.
Why You Need Referral Program Software
Without referral program software, you risk creating a complicated mess for your customers.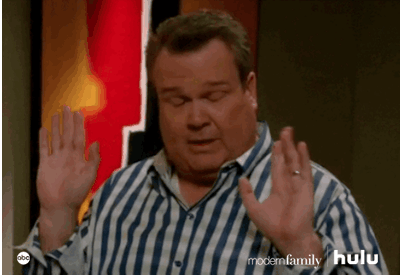 I made this mistake back in my early marketing days when I was building the referral program at a real estate startup, RealtyShares.
We hired a developer to build a page where people could quickly sync with their Google Contacts and mass invite their friends to sign up for RealtyShares. At the time, we offered to pay $100 for every valid sign-up who completed their profile.
People referred their friends, tons of them, which was great.
Here was the downside: I wasn't using referral program software, so there was no way for our customers to keep track of their referrals.
For example, there was no way for referrers to see which of their friends had signed up, or how much money they earned, or when they could expect us to pay them.
This created confusion and the last thing I wanted was for our best customers to get frustrated. If they had no visibility into the status of their referrals and payments, then they would have a bad experience referring their friends.
And they had a bad experience referring their friends, they weren't going to refer more friends in the future.
The solution? Purchasing software to manage our referral program.
How to Create Your Own Referral Program
Referral program software tools make it really easy and intuitive to set up a referral program.
Follow these steps to get started:
Create a landing page for your referral program. With top choices like Referral Factory and Ambassador, you can create a branded landing page with instructions that describe how your referral program will work. When someone signs up, they'll have the option to invite friends right away via email or copy their unique link. If they decide to use the email option, they'll be able to sync with all their email contacts and quickly select which friends to send an invite to.
Decide how you will reward your referrers. Are you going to pay them in cash, via gift card, or in future credit towards your product? Most referral tools will automatically pay referrers by sending gift cards via email.
Place a tracking pixel on your site. In order for a tool like Referral Factory or Ambassador to send out emails and payouts, they'll need a way to track when someone signs up. By placing a quick snippet of code into the header of your website, they will be able to track referred signups and take action right away by alerting all the parties involved. Most tools have a direct integration with Shopify, WordPress, Wix, HubSpot, and the other big website builders.
Write a "You're Invited!" email: Write a canned response email template that will automatically be sent from the referrer to their friends.
Write a "Your friend just signed up" email: Write a canned response email template that will be sent to a referrer every time one of their referrals signs up.
Write a "Your welcome gift is on the way!" email: Write a canned response email template that will be sent to a new referral after they've signed up.
Write a "Your referral payment is on the way" email: Write a canned response email template that will be sent to the referrer when a payout is coming their way. Don't forget to ask for more referrals in this email!
Add a pop-up referral widget on your site: This way, customers can invite their friends without even leaving your website at all.
One of the most amazing things about using a referral program platform? Once you set it up, it pretty much runs on autopilot. Don't get overwhelmed either — the best referral tools will guide you through all of the steps above.
The 13 Best Referral Marketing Software Tools
Referral Factory offers over 1,000 referral program templates used for a variety of industries in countries across the world. They offer 18 different languages, lots of different integrations, and of course…their own referral program! Plus, they integrate seamlessly with many of the most popular CRMs like Zoho, Intercom, Pipedrive, HubSpot, and Salesforce.
Our #1 recommendation is Referral Factory. Why? It helps businesses automate the process of enrolling, tracking, rewarding, and managing their referring customers, influencers, and affiliates. The referral software helps marketers acquire more best customers, faster, by leveraging the power of word-of-mouth marketing.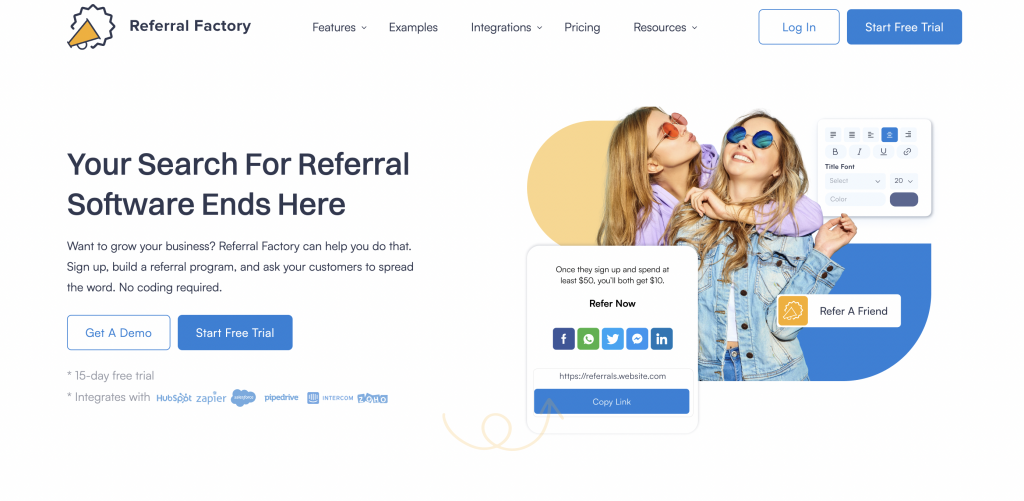 Referral Factory enables you to brand your referral campaigns with a drag-and-drop page builder, popups, and many more tools to help businesses implement a referral program, with no developer needed. You can see some of their customers' live referral programs here.
Pros:
100+ customizable templates, including widgets and popups
Tracking and analytics suite
200+ referral rewards and incentives
Flexible webhook and API
Multiple integrations with tools you use like HubSpot, Zapier, Intercom, Zoho, and more
Cons:
Despite their several template options, they might not have one for your specific business, and occasionally can be tough to customize depending on your needs
Price
Referral Factory is pretty affordable, with their most affordable option coming in at $95/month. All plans offer a free trial and concierge onboarding.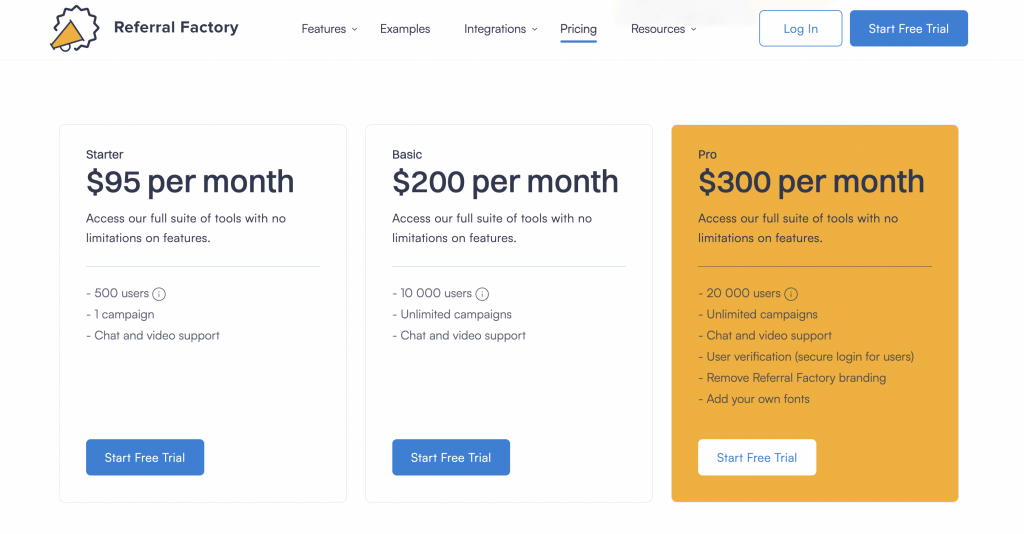 Link
Video
2. Referral Rock
Referral Rock helps companies grow through word-of-mouth marketing. With its powerful referral software, companies can put their referral marketing on autopilot, making it easy for your customers to share your business through a variety of features, including one-click access and sharing to social media, default sharing messages, and dual-side rewards. It's a bit more sophisticated than Referral Factory in terms of feature sets and pixel-perfect, branded experiences. But it comes at a slightly higher price.
Our #2 recommendation is Referral Rock. Why? Referral Rock offers generously-priced referral software for businesses of all sizes. Plus, they offer concierge onboarding so that you can get up and running without a ton of technical headaches.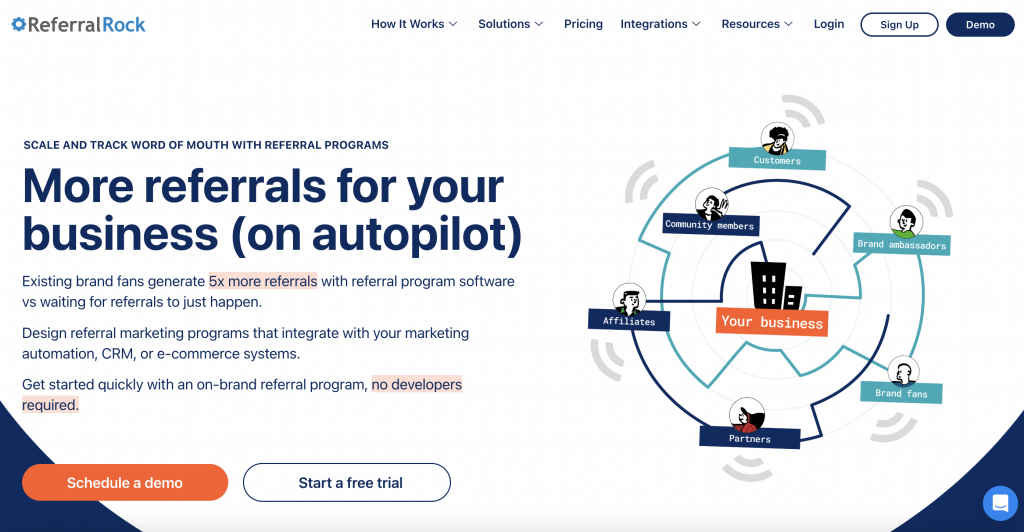 The referral program software also makes referral marketing easier for businesses through easy setup for campaigns, email notifications, and one-step Google Analytics. Automatic referral attribution and integrated referral widgets are also fairly useful in making referral marketing a channel for growth.
Pros:
Clean, user-friendly interface that enables you to create on-brand referral experiences
Easy to embed widgets
Automated templated email messages
One-click, call-to-action
Great customer support and concierge setup
Integrations with GA, Zapier, Stripe, Shopify, Salesforce, Mailchimp, and more
Reporting is sophisticated
Cons:
Templates for emails are not very customizable; better to hook referrals into your own email provider if you want them to be of pixel-perfect branding
No function for adding more than one website to an account
Price
Pricing for Referral Rock starts at $200 per month for its Starter plan.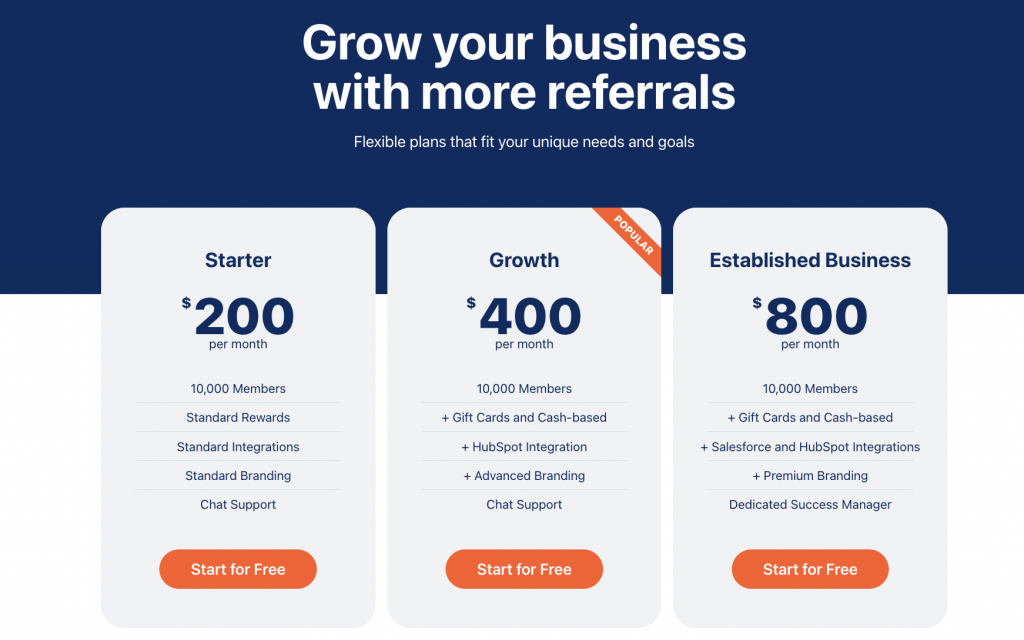 Link
Video
You can easily enroll customers, influencers, and affiliates in targeted and personalized referral campaigns. Companies can also manage all ambassadors, monitor key performance indicators, and optimize referral programs in real time. Ambassador provides the ability to offer and test different incentives for different campaign segments, and automate the reward process.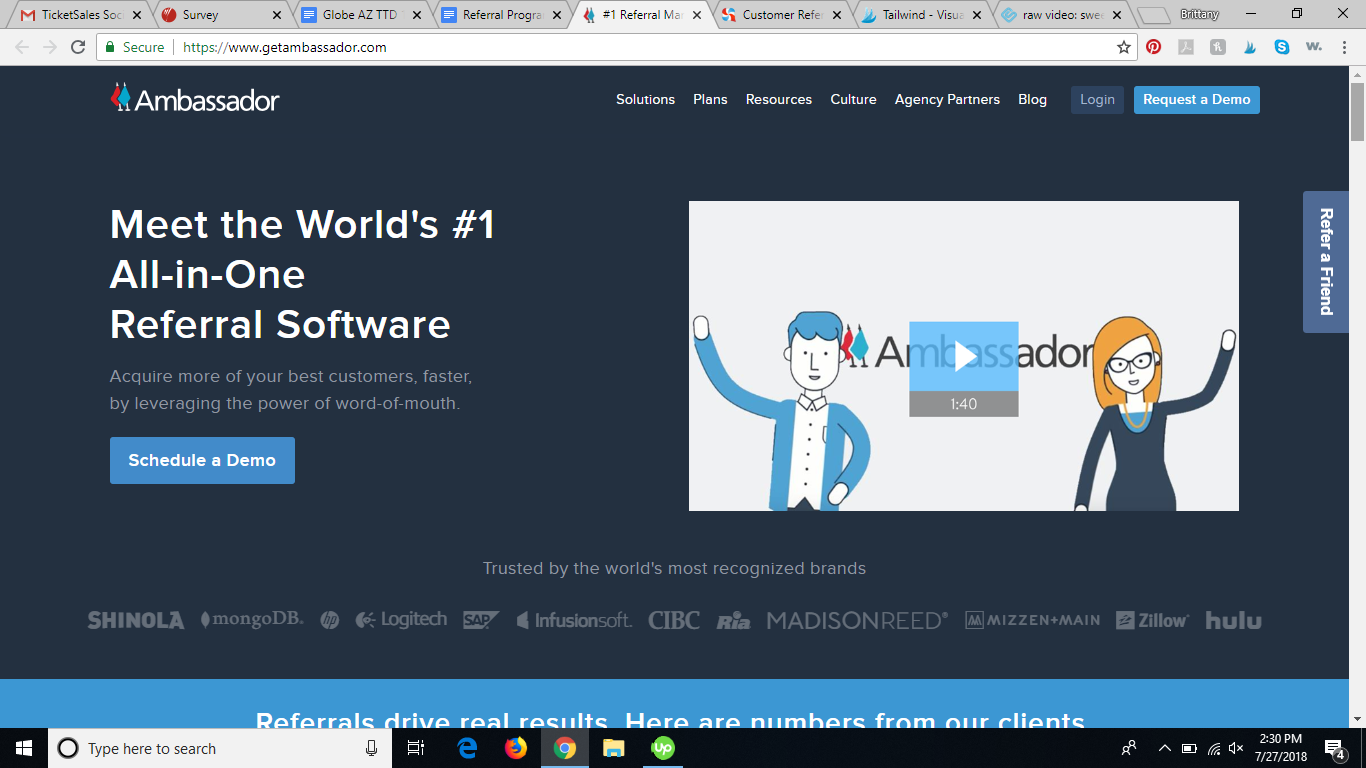 Pros:
Multi-campaign capabilities
Versatile reward payment methods
Good onboarding and customer support
All-one platform
Easy integration
Cons:
Can take some effort to get properly set up
Could stand to have more customization for campaigns
Some of the reporting could be more robust
Price
The company asks for potential customers to contact them for pricing and schedule a demo of the software.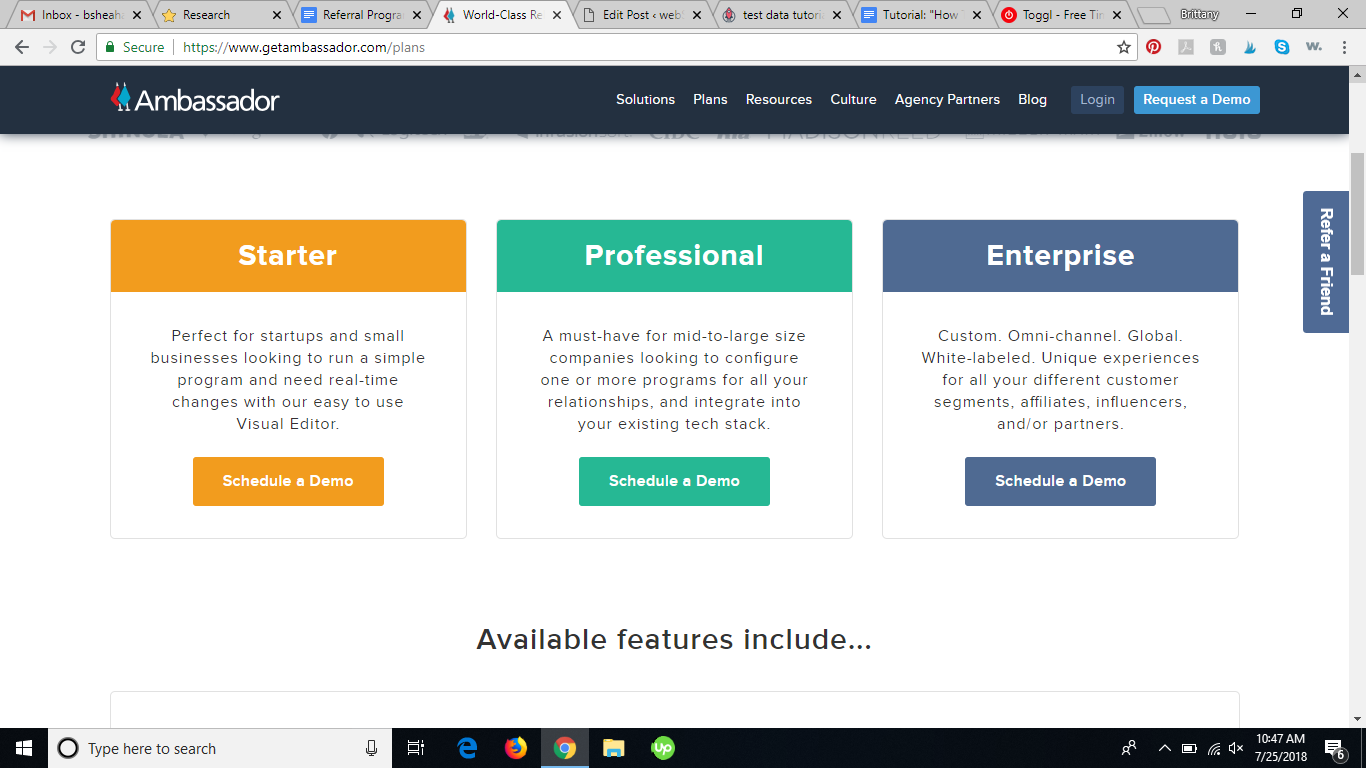 Get Started
https://www.getambassador.com/
Video
4. Referral Candy
Referral Candy is a customer referral program great for those just getting started. It's one of the first referral software tools — I remember it from back in 2012 even. The web application is meant for online stores to boost sales. It features integrations with Amazon Webstore, Etsy, Shopify, Magento, and many other sites.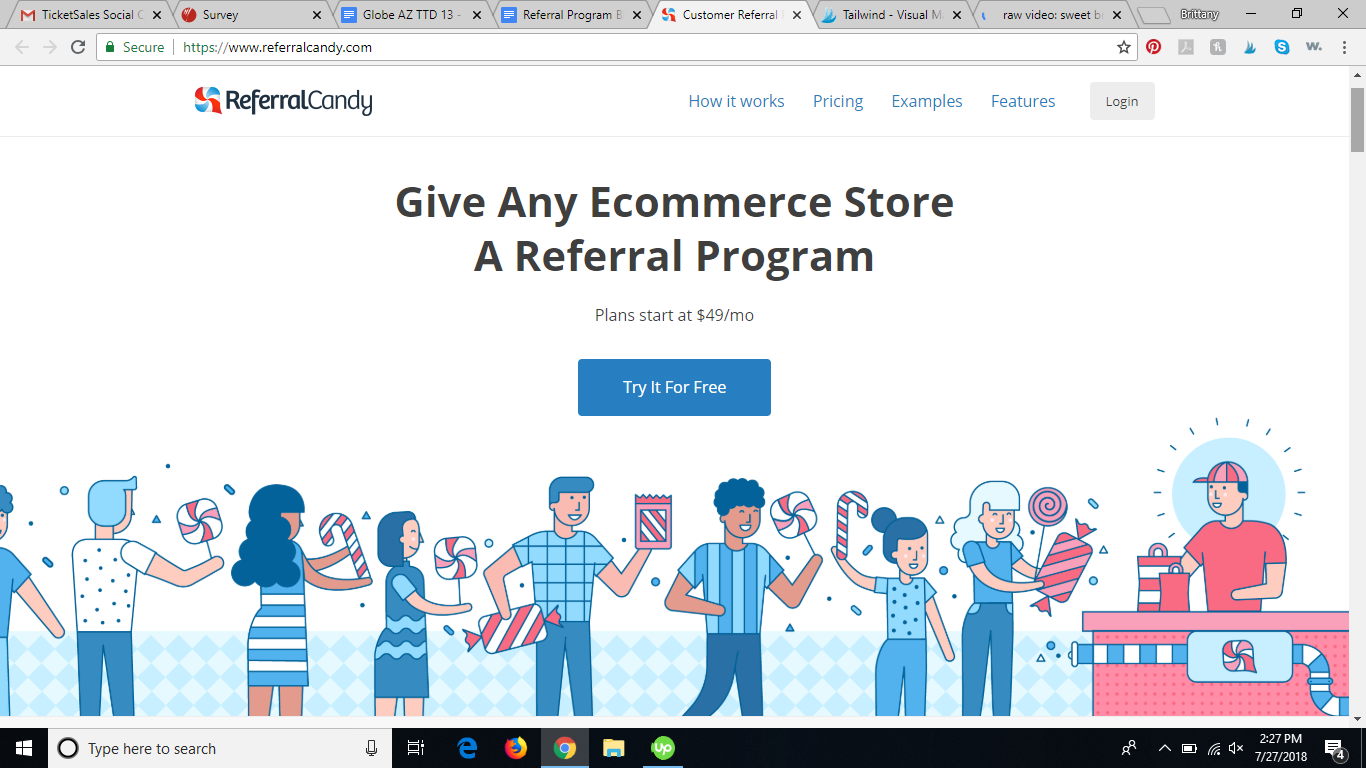 You can easily set up the program you want, customize the program and rewards, and change the way things look with the need for help from developers. The easy-to-navigate dashboard displays campaigns, analytics, and contacts, and you can generate reports on how your campaign is going and how to improve it if needed.
Pros:
Easy to set up and get started on creating referral programs
Makes it very easy for people to spread the word about companies
Mostly an "out-of-the-box" software solution
Very affordable compared to competitors
Templates for creating email messages
Cons:
Monthly commission for the base plan.
Can't have multiple affiliate and referral programs.
Limited bells and whistles
Price
Pricing for Referral Candy starts at $49 per month as a base fee. The company also charges a monthly commission for the Premium plan. To start with a 30-day free trial, click here.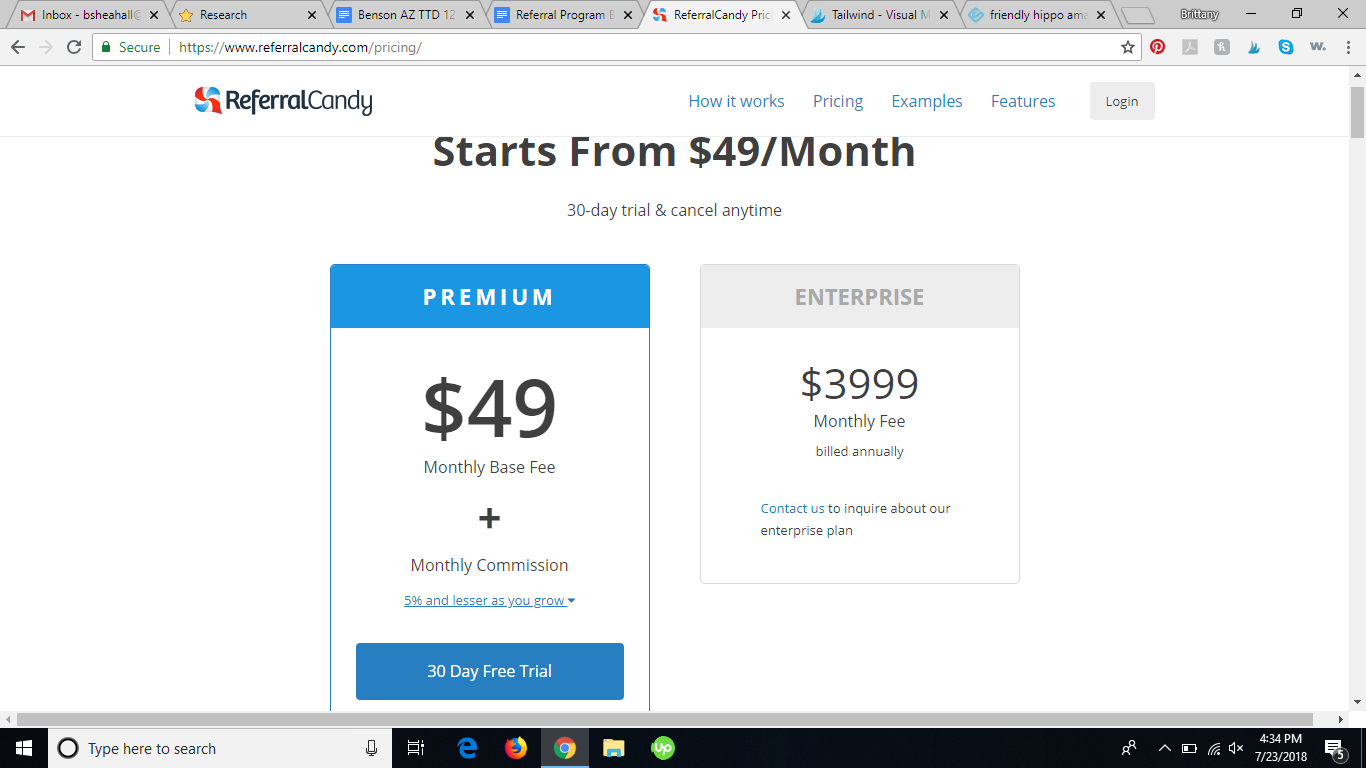 Link
Video
5. Friendbuy
Friendbuy specializes in referral marketing programs and email capture widgets. Marketers can build campaigns, and A/B test and track results. The platform offers a turnkey, powerful referral engine for any business. It's another tool that's been around forever. I remember using it as early as 2013.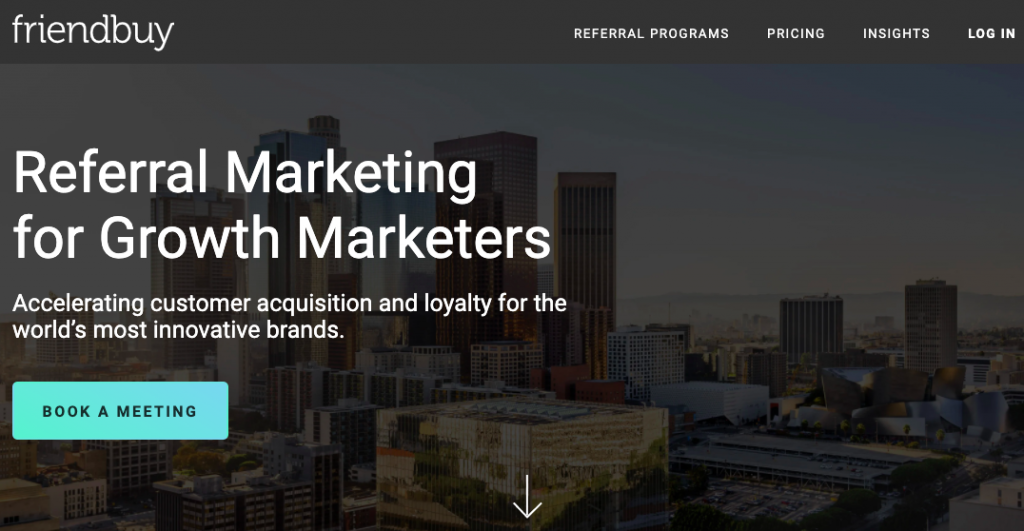 Businesses can also take advantage of widget editing and a mature API. You can go beyond cookie-cutter referral programs and turn any idea into an actionable revenue engine with Friendly.
Pros:
Ability to see a Facebook feed of what people are saying when they share your referral link.
User-friendly
Widgets available
Cons:
Dashboard design could stand for some improvements
Price
Prices for Friendbuy start at $99/month for the Starter (DIY) plan. The company also offers a 30-day free trial.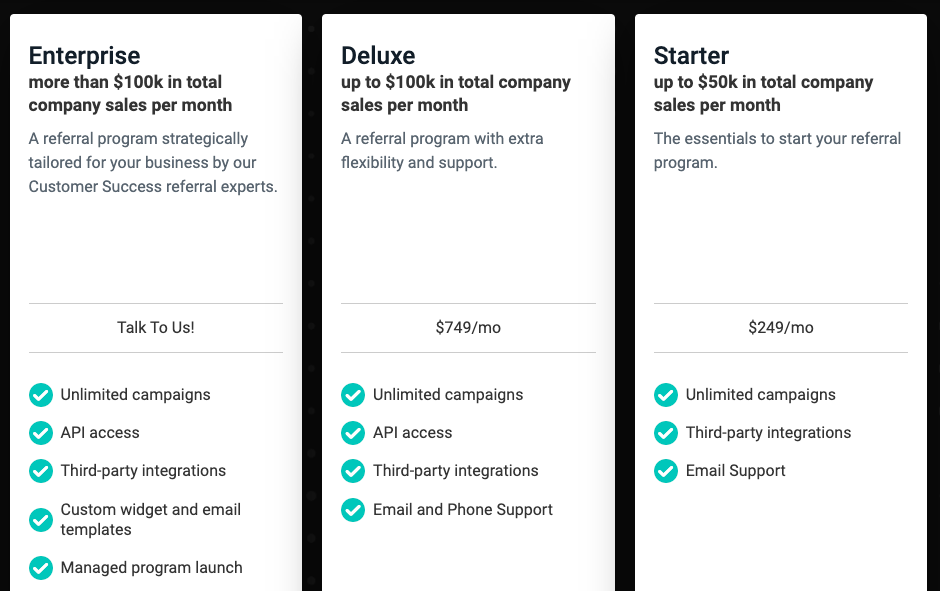 Special offer: We negotiated with Friendbuy to get you 1 month free + 25% off when you use this link.
Link
VYPER is a marketing tool that makes it easy to run viral campaigns. Set up Referral campaigns, Reward/Loyalty Programs, or even Giveaways and Leaderboards with VYPER software.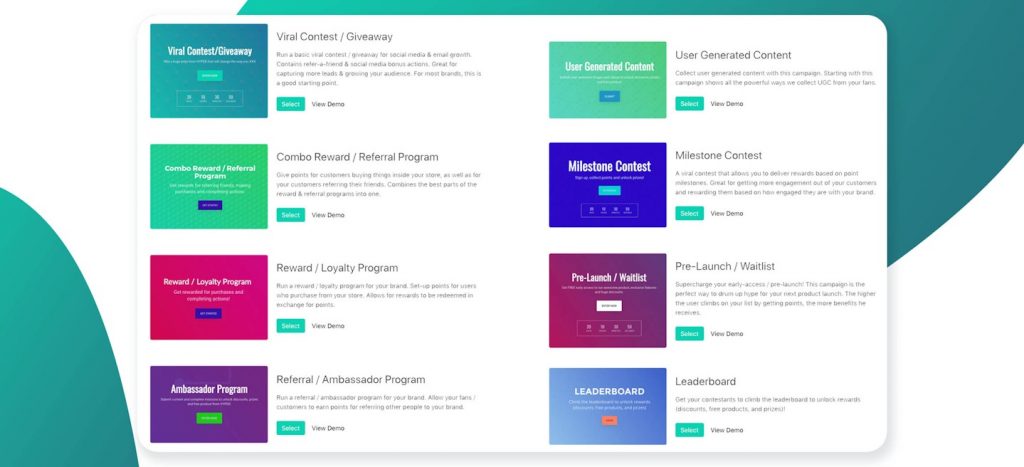 It leverages gamification to incentivize, engage, and encourage "shareability" to help grow your business faster and more efficiently!
The flexible builder makes it really easy to build branded campaigns the focus on your brands core goals. You can choose to display your campaigns as a website chat widget, landing page or embed form, and even use these 3 options all at the same time.
Visit vyper.io to create a free account.
Pros
Flexible builder
Tracks lead and purchase referrals
Has a huge range of bonus actions
Uses a points system for milestones, tiers, and placement winners
Has a free plan
Cons
Free plan only has 250 leads and $250 revenue-a-month limit
They just launched version 2.0 so not a huge amount of examples yet
Pricing
You can test out Vyper for free as long as you want, and only pay when you want to start your campaign. They also have a 50% discount for annual pricing, and additional payment options if you need additional participants.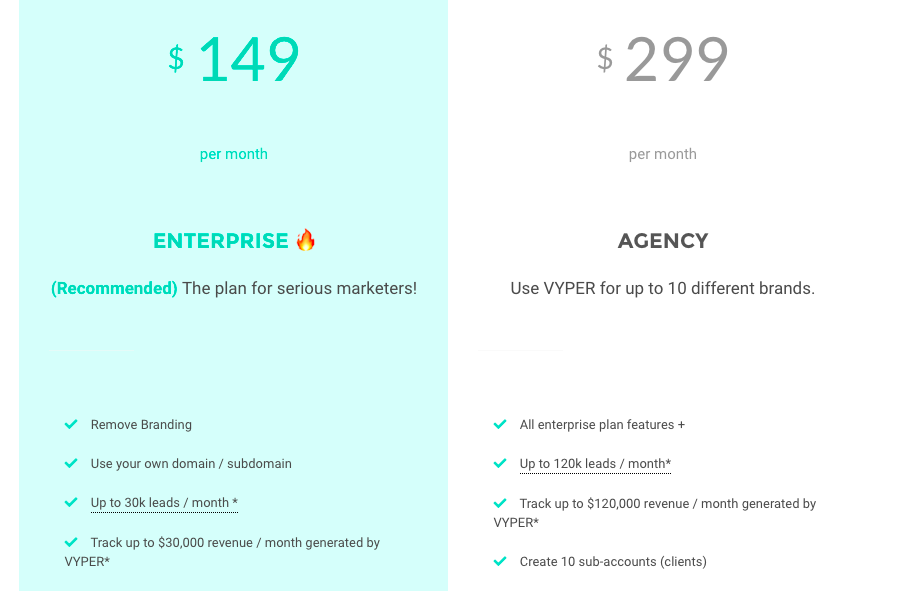 Link
Visit vyper.io to create a free account.
Video
7. Extole
Extole helps users acquire more customers with its referral marketing platform. With Extole's turnkey SaaS platform, marketers can create a complete, reliable, and efficient acquisition channel. They offer refer-a-friend, nominate-a-friend, influencers, ambassadors, drop-a-hint, and friends & family.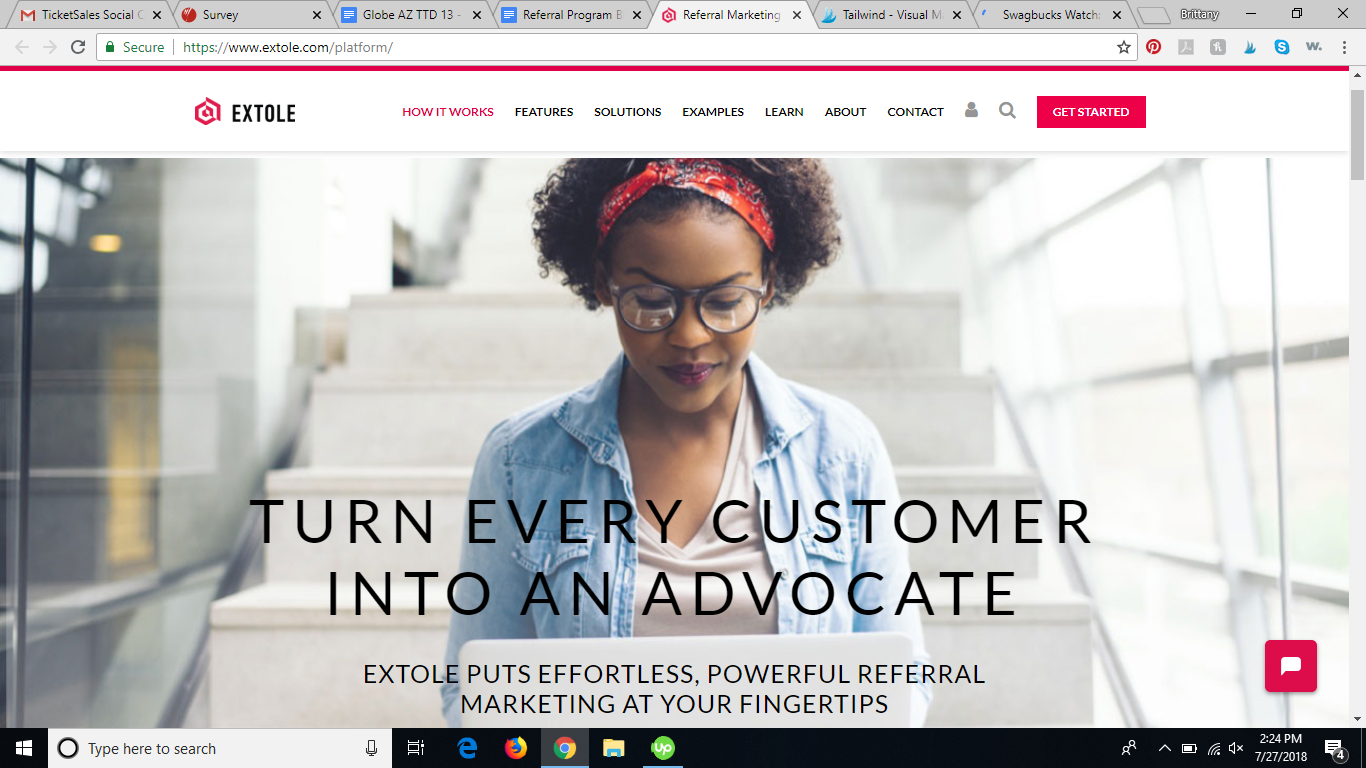 Their platform not only enables you to have a successful referral campaign, but also lets you target with precision, capture the trust factor, and influence and acquire new customers through the power of social media. Focused on creating the most advocates from existing customers, Extole powers refer-a-friend programs for Vistaprint, Petco, Shutterfly, and more. Extole is an enterprise solution — best for large companies with large budgets
Pros:
Easy to use
Track advocates and reward friends
Fraud prevention/Abuse of incentive program
Reporting is easy and provides good insights
Cons:
Lacks geo-filtering capabilities
Platform requires assistance from account manager for some actions/features that should be in the hand of the client.
Price
Extole doesn't display any pricing information on its website. Contact Extole to obtain current pricing.
Link
https://www.extole.com/platform/
8. InviteReferrals
InviteReferrals offers simple referral marketing software with a complete referral strategy, design, and implementation. The platform provides supposedly unmatched insights into your referral program, measuring everything from referrers, invites, referral visits, and referral installs to your top influencers in one powerful dashboard.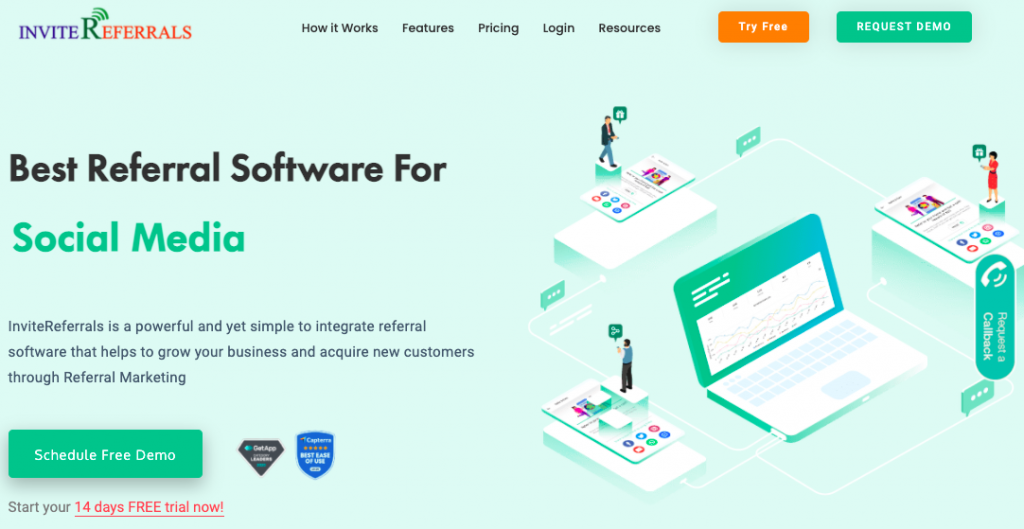 You can run different types of customer referral programs, such as giveaway campaigns, top referrer contests, and goal-based customer referral programs.
Pros:
Social media optimized
Seamless integration with third-party applications
Several campaign options and types of rewards
Analytic reporting
Cons:
No mobile version, limited campaign participants.
There aren't many design options
Price
Pricing for Invite Referrals beings at $79 per month (billed annually) or $99 per month for a month-to-month plan for the Basic plan (below). A 14-day free trial is available, which includes 100 new referrers.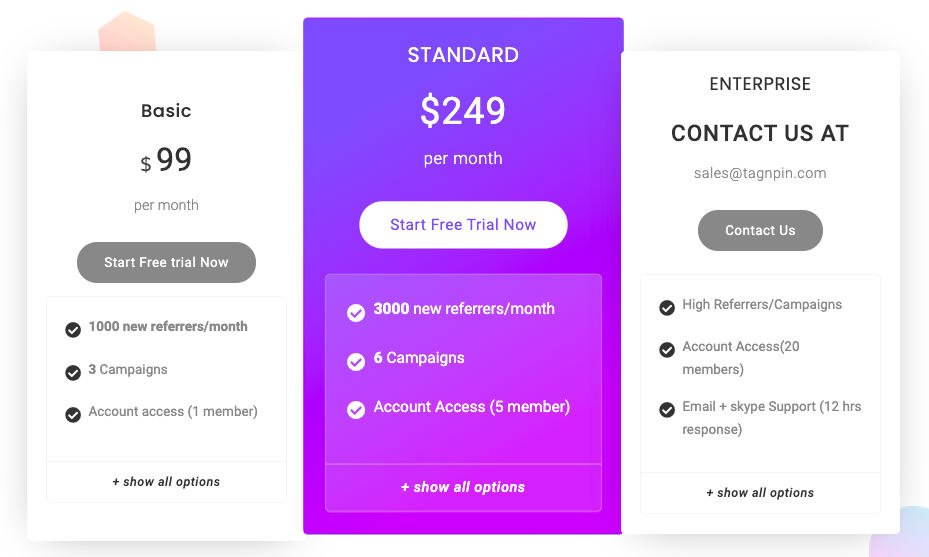 Link
https://www.invitereferrals.com/
Video
9. InviteBox
InviteBox is a referral software that makes it easy for businesses to create different types of referral marketing campaigns, such as instant rewards and sweepstakes. The platform includes all the technology you need in one package to create a referral program.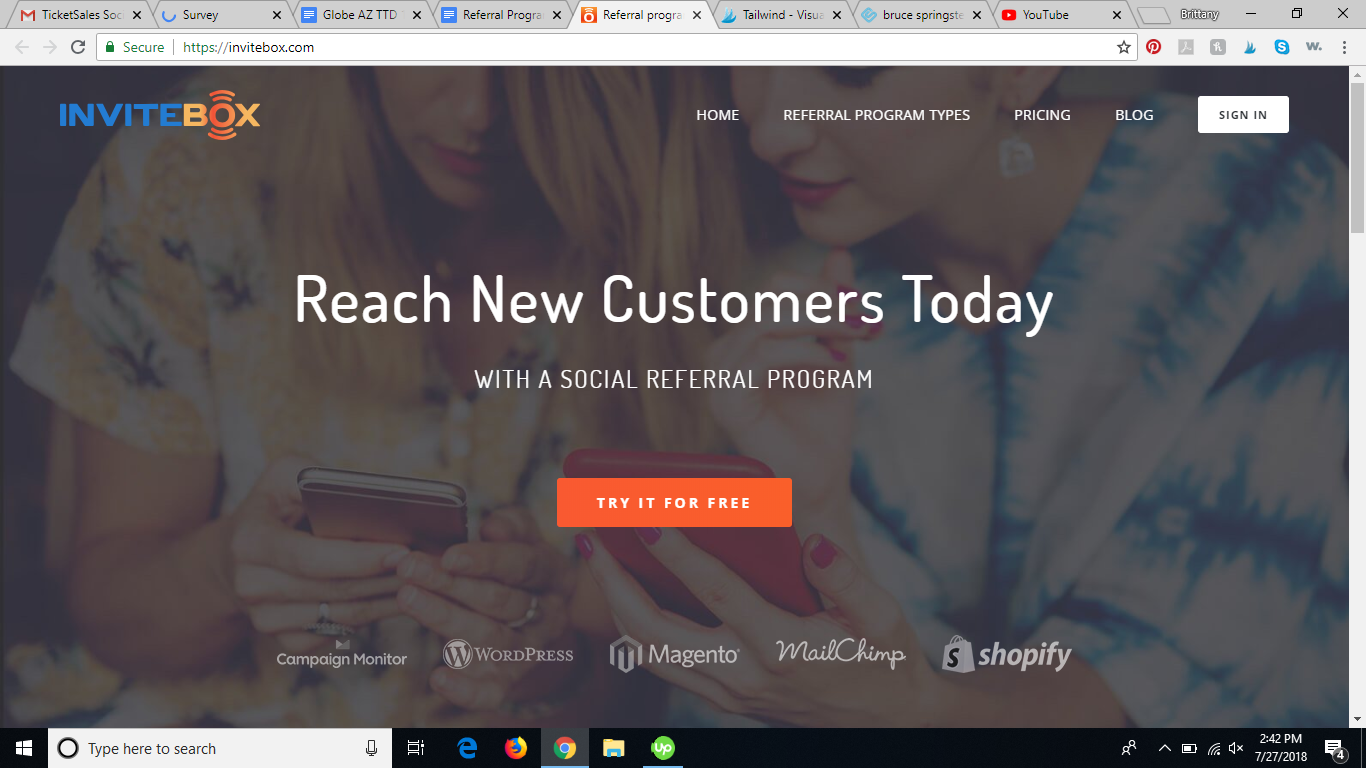 All marketers have to do is set the rules of their referral program and copy and paste the widget code into their website. The InviteBox software takes care of the rest.
Pros:
Easy to set up and easy to use
Fast support
More value for your dollar
Can integrate with WordPress sites via a WP plugin
Cons:
There are some cases when you can't customize the widget to ideally fit the site design
It doesn't create the most creative or amazing referral campaigns
Price
InviteBox is a more affordable referral software, starting at $29 per month for its Startup plan. Businesses can save some money by paying for the software on a yearly basis. The platform also offers a 14-day free trial of its software.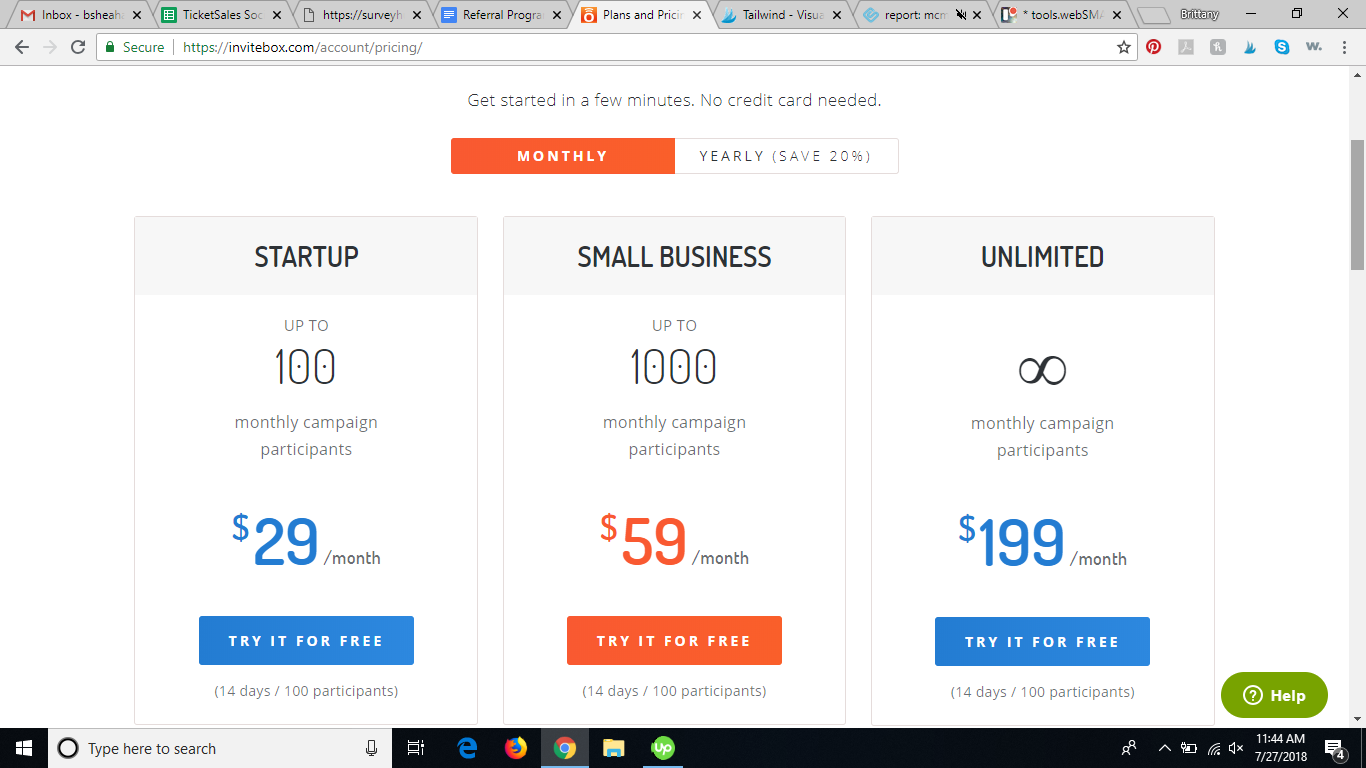 Link
Video
10. Genius Referrals
Genius Referrals allows marketers to choose and customize the perfect template for their referral program in less than ten minutes. The software offers seamless integration methods and gets referral programs up and running in minutes.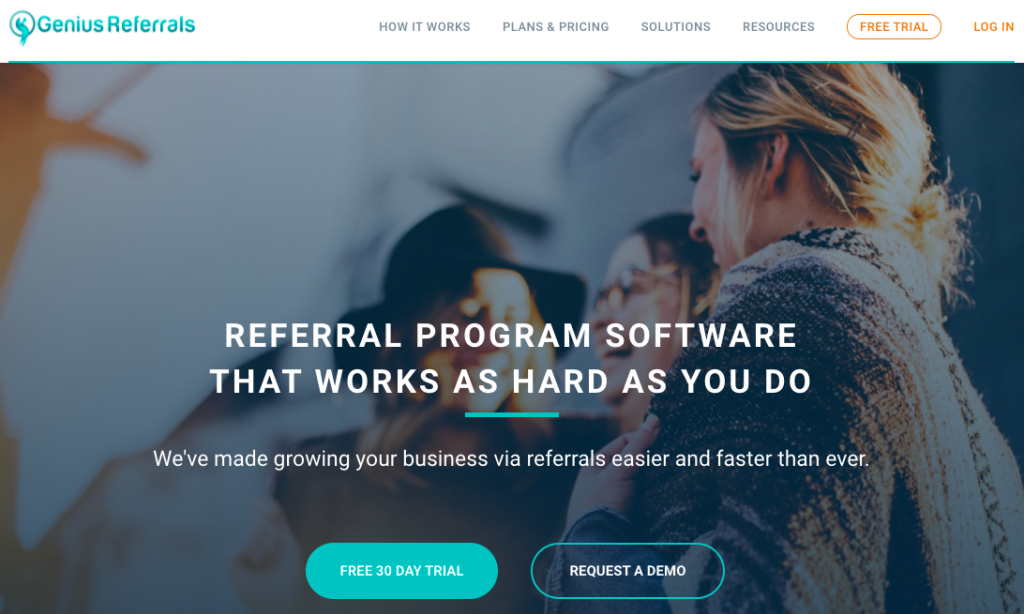 There are also several options to choose from, letting businesses customize different types of programs, including flexible campaigns with multiple currencies and tiers restrictions.
Pros:
Easy to navigate
Exceptional customer service
Very flexible and customizable
Several options for campaigns and integrations into existing programs
Cons:
Require a little bit of understanding of code and scripts, but customer support can help with this.
Fulfillment is manual
Price
Pricing for the Genius Referrals platform starts at $49 per month for the Starter plan. The company boasts that customers can pay for only what they need, switch plans at any time, and purchase extra features. A 30-day free trial is available as well.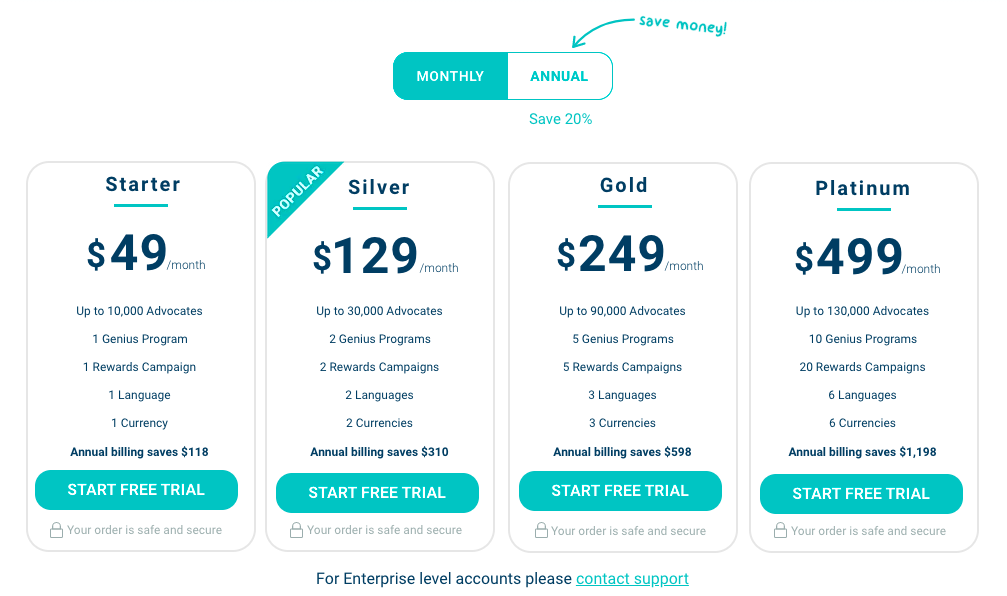 Link
https://www.geniusreferrals.com/
Video
11. Mention Me
Mention Me is a referral software platform that offers a powerful solution for referral marketing that is used by more than 300 brands across the world. The platform includes a "Name Sharing" feature that allows users to capture real-world conversations. The company boasts that this drives up to 35% more referrals combined with other options for social sharing.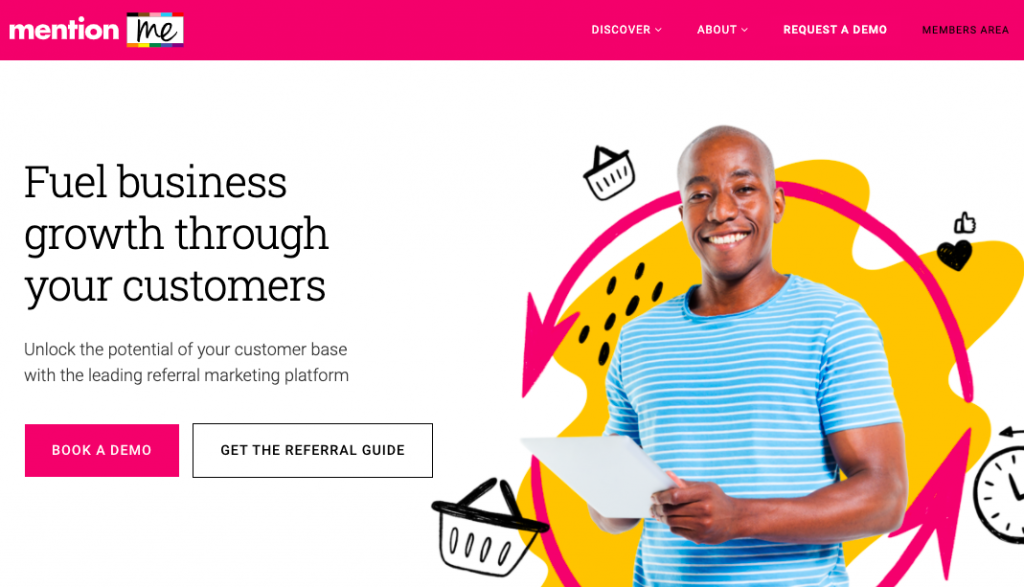 The platform also features A/B testing and best practice insights from the Client Success Team. The refer-a-friend platform is tailored to your brand.
Pros:
Software creates a smooth customer journey.
The reporting dashboard is extensive
Good insights into how customers are behaving with the technology
No need for developers to help set up
Support team are also very quick to help out with any requests
Cons:
There are a couple of things design-wise that would enable the platform to align with our design requirements better
At times the options available are a little overwhelming
Terminology between referrer and referee can get a little complex
UX can be a little restrictive at times …
Price
Pricing plans are customized based on business needs. To find out pricing, you will have to contact the company.
Link
Video
12. Referral SaaSquatch
Referral SaaSquatch is a customer referral platform for B2C brands that operate in the on-demand space and want to realize the potential of a refer-a-friend program to power growth.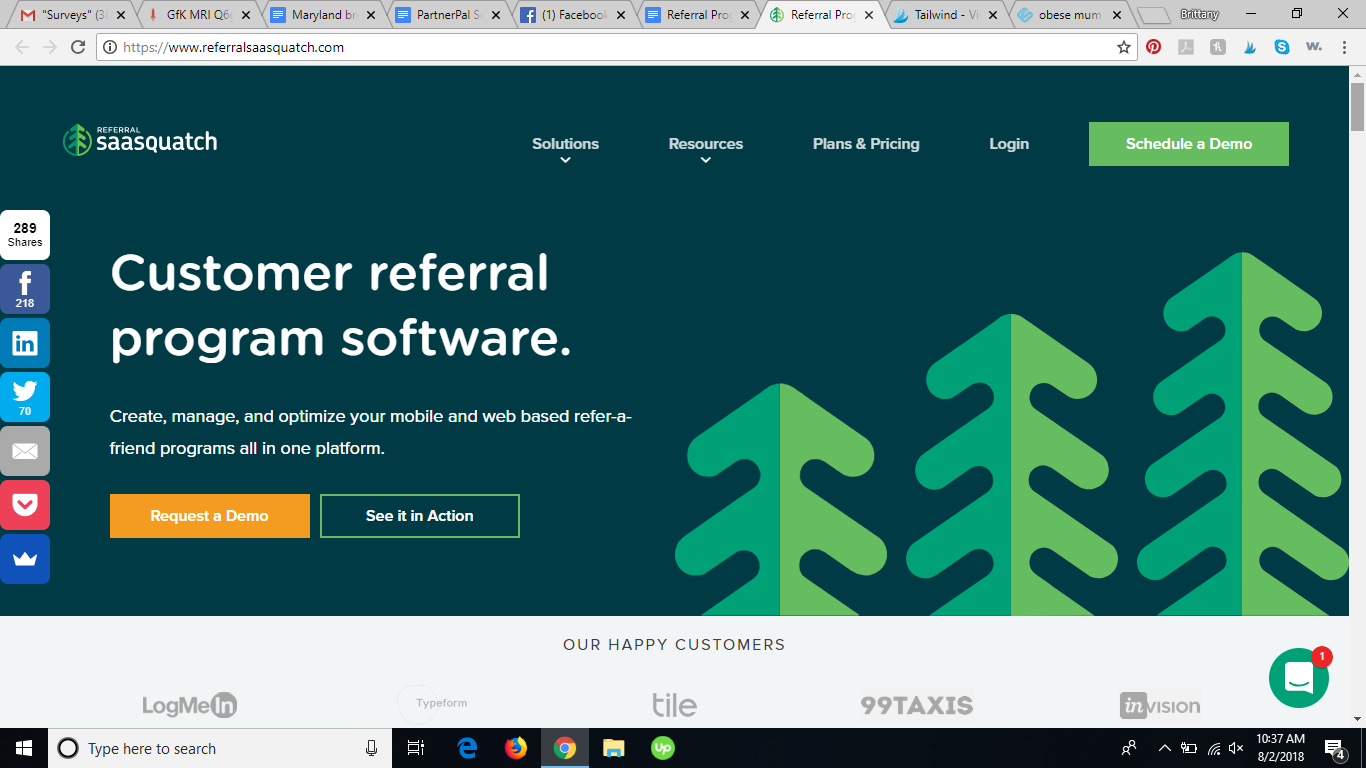 The software is designed for on-demand businesses, consumer service/box subscriptions or online marketplaces with 5,000+ customers. The multi-channel referral software features funnel analytics, fraud detections, and more than 50 integrations with payment and marketing systems.
Pros:
Great customer service
Able to block or flag referrals and screen for fraud
Simple to implement and track referrals
Cons:
Have to contact support to change text or photos
Limited customization
Limited reporting capabilities
Language in the platform can be confusing
Price
Pricing for Referral SaaSquatch is more on the expensive side compared to some of the referral softwares, starting at $499 per month for the Growth plan.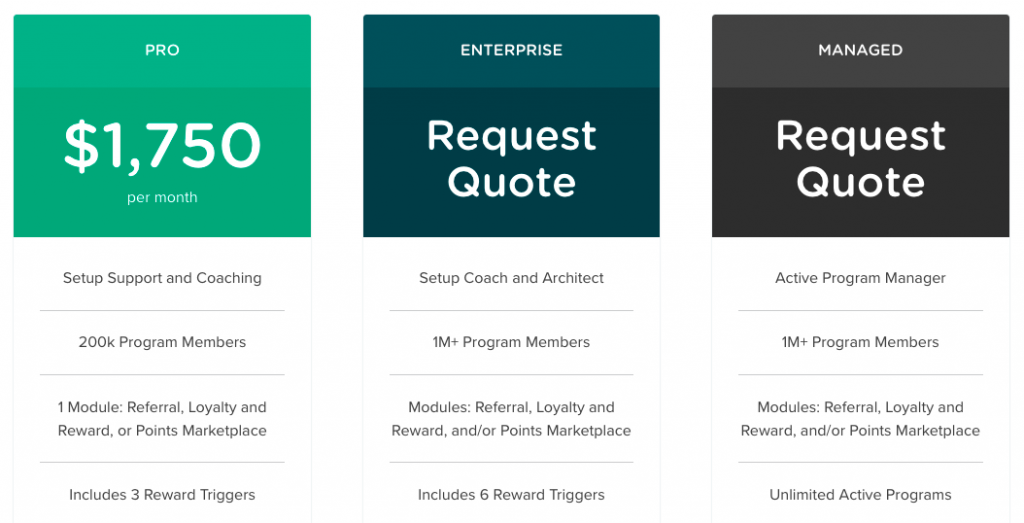 Link
https://www.referralsaasquatch.com/
Video
13. ReferralMagic
ReferralMagic is one of the most user-friendly and simple referral marketing solutions, designed for SaaS businesses on the internet. It offers all of the features necessary to run successful referral marketing campaigns.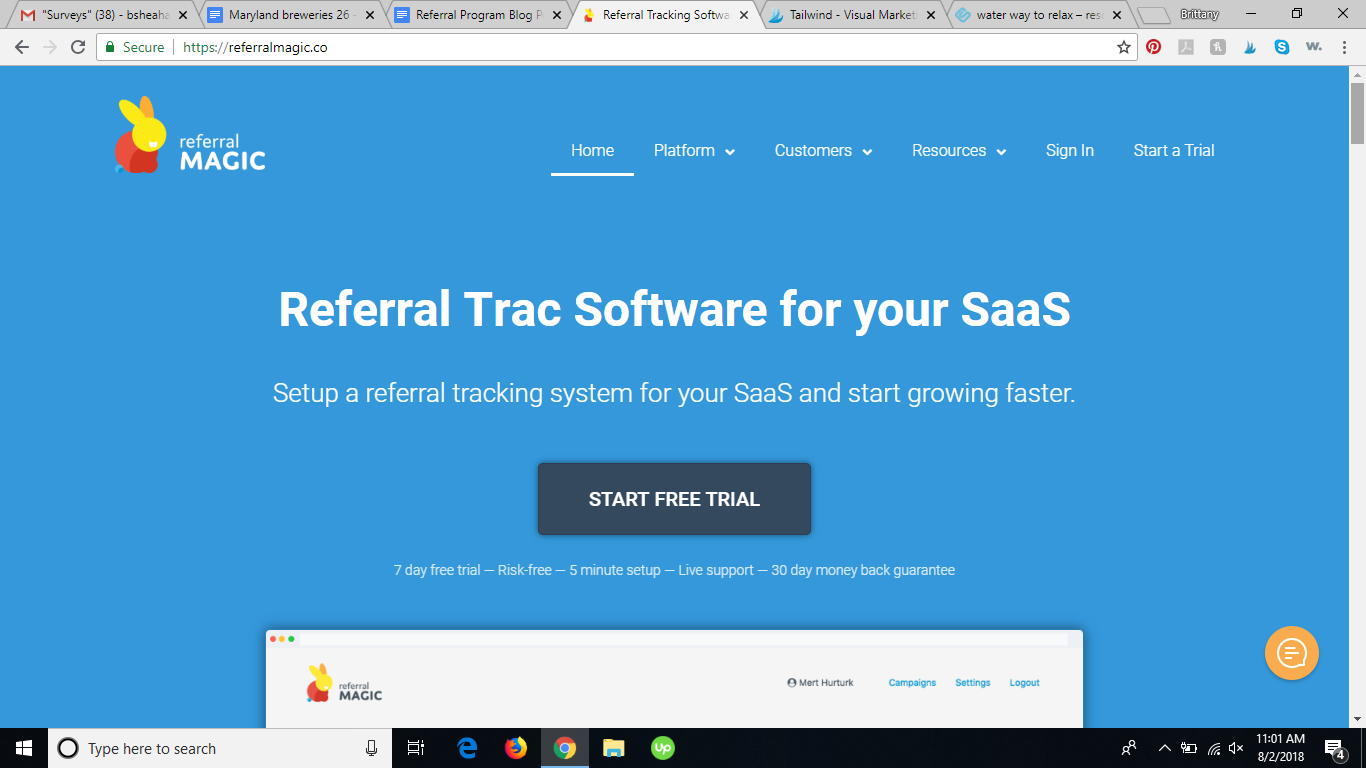 The software provides you with the tools needed to build multiple referral marketing campaigns simultaneously, in just a few minutes. ReferralMagic can also quickly integrate with several 3rd party applications.
Pros:
Full-featured API
Responsive and friendly customer support
Easy integration
Cons:
Lacks some of the bells and whistles of other platforms
Price
ReferralMagic offers all of the necessary features for referral marketing software at both monthly and yearly options, as well as a one-time usage fee. A 7-day free trial and 30-day money-back guarantee are offered as well.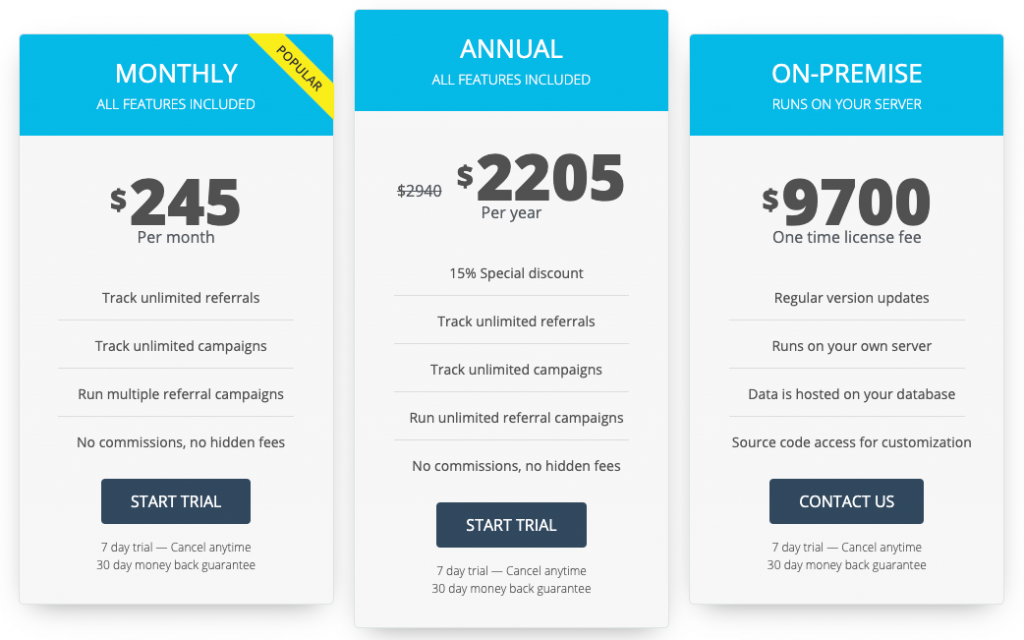 Video
Conclusion
Have you heard of LuLaRoe, Mary Kay, or Herbalife? They're big multilevel marketing companies — and they're basically huge referral programs.
These companies empower customers to become advocates and salespeople for their businesses. Customers can make money by referring their friends through a referral program, and of course, the company makes money too. And it's one of the most cost-effective ways of acquiring customers.
While I'm not exactly advocating for multilevel marketing, referral programs are incredibly useful in driving low-cost acquisitions and high customer lifetime values.
The good news is: there are simple referral marketing tools that make setting up a program easy and affordable. Sign up for one of the tools above and get going!
Other readings you might be interested in:
–The Secret Growth Hack to Building an Affiliate Program
–How to Market Your Business with Little to No Money