Latest posts by Mark Spera
(see all)
Keyword research is essential to succeeding with SEO and Google Ads.
What good is writing about or bidding on keywords no one is searching? What good is getting millions of visitors to your site for keywords that don't convert and don't generate revenue for your business?
90.63% of pages on the web get no organic search traffic from Google. Please don't let your pages be one of those!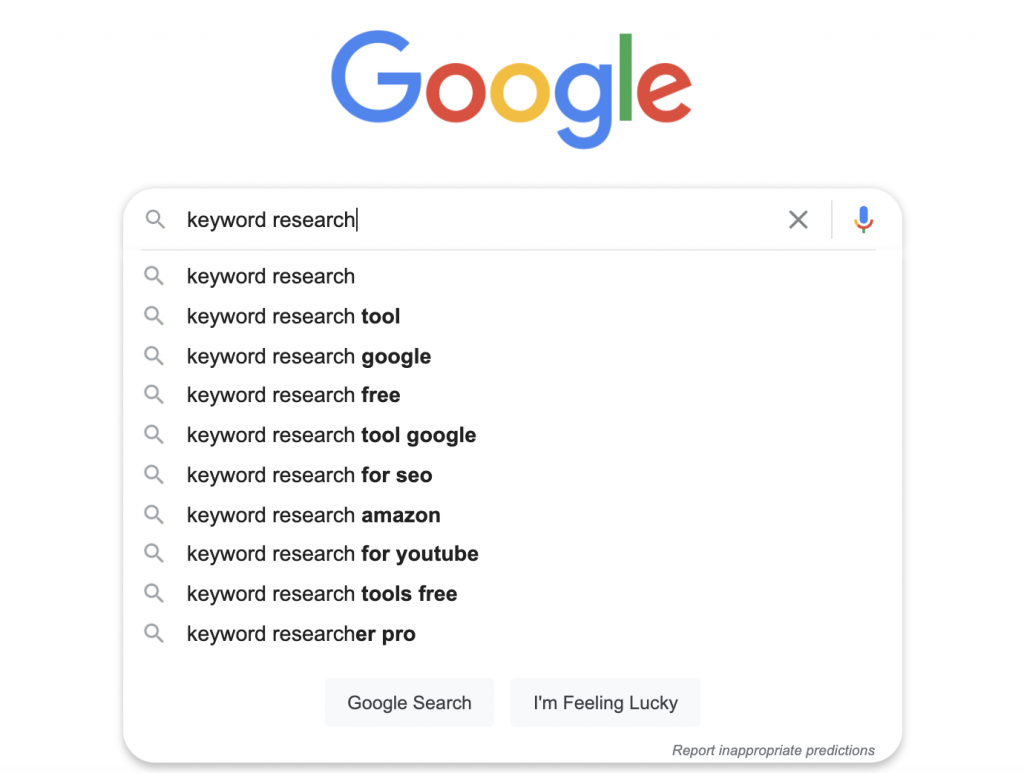 Hailey and I have perfected keyword research on this blog, Growth Marketing Pro.
How do I know that?
Well, we generate over 41,000 site visitors per month to GMP and we earn over $60,000 per month in revenue. That means we earn $1,463 per 1,000 site visitors. When you consider the average site earns $2.80 per 1,000 visitors, it's pretty clear we're targeting the right keywords and getting extremely qualified leads to the site.

Success with search marketing begins and ends with keyword research — and having the right tool to help you do it properly.
Yes, there's a lot that goes into ranking #1 for a topic in Google. A backlinking strategy, an on-page SEO strategy, and a few other best practices will help your site rank.
But at the end of the day, keyword research is the most important part of dominating search marketing.
This ultimate guide will help you:
Properly conduct keyword research in 5 steps
Apply it to your specific business niche
And choose an all-important keyword research tool so that you can zoom to the top of Google. Enjoy!
---
Want my free 5-part SEO course?
My course has helped over 20,000 students master SEO with tips that aren't in this guide or anywhere else on the internet!
---
The 8 best keyword research tools
For the entirety of my marketing career, having a keyword research tool has been an integral part of my every single day. It's the one tool that I keep coming back to.
For years, I reluctantly used a tool called Semrush. I cringed at the monthly bill of $100+ ? After years of giving them thousands of my dollars and tinkering around with their clunky software, I finally decided there has got to be a better way.
That's what lead me to explore every tool under the sun and build my own keyword research and all-around SEO tool, GrowthBar. GrowthBar now has thousands of users and is trusted by companies like MagicJack, Minted, Teepublic, Zest Tea, and countless bloggers/creators. We've put hundreds of hours into research and development to make GrowthBar the smartest way to do SEO for marketers and bloggers.
Of course, I'm biased.
But over the course of building GrowthBar, my team and I looked at more than 50 keyword research tools. We've distilled it all down and ranked the top few.

About: Yup, we made GrowthBar. You can click in our main menu to learn more about it.
Our mission is to make it 10X easier to get more customers.
GrowthBar enables you to explore your competitors' backlink data, their paid and organic keyword rankings, and even their Facebook Ads. Plus, we built in tips along the way — so you learn best practices from the best growth marketers in the world in plain, concise English.
GrowthBar now has thousands of customers including:
TeePublic
Square
Postmates
AspireIQ
Minted
Codeless
Ease of Use: 5/5
GrowthBar presents SEO tips in plain English and delightful dashboards.
Get billions of keywords, competitive intelligence, backlink reports, Google Ads data, and Facebook Ads.
GrowthBar is a content generator. It's the first SEO tool in the world to use OpenAI GPT-3, the largest language model ever created. Generate content outlines in one minute for your blog or website with keywords, word counts, headers, images, links and more. Write content that ranks, fast.
If you like Chrome Extensions, GrowthBar's 5 star rated extension will knock your socks off. Just type in a URL or keyword into your Google search bar and hit "enter." Now you get SEO insights as you Google search normally. Chrome Extension is free with subscription.
Features: 5/5
Domain authority
Monthly organic traffic
Monthly traffic value
Top paid keywords
Millions of keyword suggestions
Keyword monthly search volume
Keyword competition
Keywords CPCs
Keyword rank tracking
Get the backlinks of any website
See Facebook Ads
Get the word count of any webpage
Generate content in one click for any Google search term
Price: GrowthBar is free to try for 5 days and then it costs $29/mo — a steep discount from comparable tools that cost between $100-$200/month.
Bottom line: GrowthBar is the most complete SEO tool, trusted by thousands of entrepreneurs and marketers at companies you've heard of, including MagicJack, Bill.com, TeePublic, Codeless, and Minted. It gives curated insights, plus billions of keywords, enables you to create content in one quick…. all in the most user-friendly way.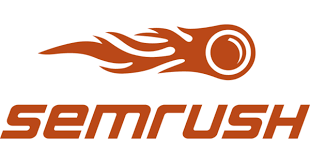 About: Like I said, I've used Semrush for years. It's a powerful keyword research tool that has truckloads of data available via a sophisticated dashboard. Once you learn the ins and outs of how to use Semrush, it delivers all the keyword data you could ever need.
Some of the web's largest websites such as Quora, eBay, and Overstock all use Semrush tools to improve their organic traffic — SEO. It's an enterprise grade product that will help any sophisticated marketer get any insight they desire to make organic search optimization decisions.
SEMrush is constantly making improvements, rolling out new features, and offering some unique insights into keywords and URLs that are incredibly useful for SEO.
Ease of Use: 4/5
Semrush enables you to find any metric you could ever dream of, all in a comprehensive dashboard
Semrush is fairly advanced, so it takes some getting used to. There are many tabs to navigate.
Features: 5/5
Organic and paid keyword research
Detailed analysis of paid ad campaigns, including Google display campaigns
On-page SEO checklist and analysis
Keyword research and difficulty checker
Rank tracking
Domain analysis — compare your site to competitors
Full website audit tools including toxic backlink score
Enable position change alerts right to your email
Price: SEMrush has three pricing plans; Pro which is $99.95/mo, Guru $199.95/mo, and Business $399.95/mo. There is a 7-day free trial available before choosing a plan, and once registered, you can still run a few free reports per day.
Bottom line: While SEMrush is one of the more expensive SEO tools, it is also one of the most powerful if you know what you're doing. The interface has a lot going on, but once you get familiar with using SEMrush you realize you have a wildly powerful suite of SEO tools at your disposal.
Full review: SEMrush User Reviews
About: Ahrefs and Semrush are very similar, though Ahrefs claims to have the largest backlink profile of any tool with more than 16 trillion links being crawled every day. They also say they have the second largest website crawler after Google themselves, so with Ahrefs you're in capable hands.
The keyword search tool lets you get detailed insight into a website by typing in the URL or exploring an individual keyword and associated relevant keywords.
The only criticism I have, is the same one I have to Semrush which is that there can be too much data being returned. Analysis paralysis is a real thing. If you're easily overwhelmed or distracted by going down a rabbit hole of keywords you might be better off with a simpler SEO solution. Ahrefs is definitely an expert, enterprise scale keyword research tool.
Ease of Use: 4/5
In order to execute detailed site audits and backlink analysis, there is definitely a learning curve involved — it's a complex tool
However, the interface is easy to use, and the use of visual data representation makes reading data easy
Features: 5/5
Site explorer – Paid and organic traffic stats and backlink audits
Site audits – Look "under the hood" of any site and find out how it's performing
Rank tracker – Monitor your own keyword rankings against your competitors over time
Content explorer – Take a deep dive into how your content is performing and identify areas to make improvements
A database of millions of backlinks – Find backlinks that will be most impactful for your SEO growth
Price: You can get a 7-day trial for $7. After that, plans range from $99/mo to $999/mo depending on how many users you need, the number of keywords you want to track, and some other usage metrics.
Bottom line: Ahrefs is the keyword research tool with the largest backlink database and one of the most powerful suites of SEO insights. But it comes with a price. Ahrefs is one of the most expensive tools on the market.
You can't go wrong with their 7-day trial for just $7. My advice is to put their tool to the test in those 7 days and see how much value you're getting compared to some of the lower priced tools on this list.
Full review: Ahrefs User Reviews
About: If you've been in the SEO space for a while, you've likely heard of Moz. Founded in the early 2000s, the tool is well known and their popular SEO blog is famous for documenting each and every Google algorithm update.
My first experience with Moz was downloading their Moz Chrome plugin, which is a pretty simple browser extension that displays a few data points about a site, including domain authority, while you browse Google. It didn't give me enough data points to keep it around for very long, but I did end up trying the paid version of Moz which is called Moz Pro and is a web based version.
Moz Pro allows you to explore keywords, track your keyword rankings, run technical SEO site audits, optimize content, and check on your competitors' backlinks.
It's a suite of tools that will take you through the process of 1) identifying low competition keywords you can rank for 2) exploring and earning new backlinks 3) improving your on-page SEO with Moz Site Crawls.
Ease of Use: 4/5
Type in a keyword or URL to get started
Custom reporting and dashboard make it easy to track results
Nice, clean, and easy to use UX
Chrome browser extension that is pretty easy and free (but quite basic)
Features: 4/5
Keyword explorer to find keywords and analyze by difficulty
Ranking tracker to keep an eye on keyword rankings
SEO audit tools to find and identify site issues affecting SEO
Content optimizer to help improve your on-page SEO score
Backlink checker to provide visibility on your competitors' link building abilities
Price: Plans range from $99/mo to $599/mo with a 20% discount across the board when paying yearly upfront. They also offer a 30-day free trial so you can try before you buy.
Bottom line: 30 days is a nice long stretch to find out if Moz is the right SEO tool for you, so I recommend taking their free trial if you're interested. Moz Pro is a complete suite of SEO tools, there's more than enough features to help you improve your SEO, it's a matter of finding out if it's the right fit for you.
Full review: Moz User Reviews
About: Serpstat is a keyword research analysis tool. It lets you collect large batches of keywords and display search volume, PPC, competition, and all the other metrics you need to make an informed decision about targeting a keyword.
Similar to Semrush and Ahrefs, Serpstat lets you conduct a competitor analysis. You can see everything from the keywords your competitors already rank for and how many backlinks they have to their domain, and more.
Serpstat is more of a growth hacking tool for SEO and Google Ads campaigns. They also have an extension for Chrome, Firefox, and Opera too, enabling you to pull data while browsing the web — much like GrowthBar, but with a few less data points.
Ease of Use: 4/5
Simple interface and lots of graphs and visuals within the custom reporting
Easily track your competitors' backlinks and other metrics
Features: 4/5
Keyword research
Search analytics
Advertising analysis
Content marketing ideation
Competitor research
Rank tracking
Backlink analysis
Price: Pricing starts at $69/mo for their Lite plan which allows you to make up to 4,000 queries a day. You can upgrade to Standard for $149/mo, Advanced for $299/mo, or Enterprise for $499/mo to increase your limits.
Bottom line: If keyword research is the main focus of your SEO efforts, Serpstat is worth taking a closer look at. You'll be able to find lots of long-tail keywords to help you cast a wider net and capture more long-tail traffic using their keyword research tool. However, it is important to note that Serpstat comes with one of the heftiest price points of any tool on the list.
About: Mangools is comprised of a suite of five SEO tools has a simple but effective tagline that reads, "Juicy SEO tools you will love." Some of you reading this may have heard of KWFinder, which is one of the five tools that come under the Mangools umbrella.
KWFinder is a popular keyword research tool, which is particularly good for finding long-tail keywords with low SEO difficulty — like you would with Moz, SEMRush, Ahrefs and GrowthBar. Perfect for newer sites that want to find keywords they can rank for now to get some traction.
Within a monthly plan, you also get access to SERPChecker, SERPWatcher, LinkMiner, and SiteProfiler. A complete range of tools to help any marketer manage and improve both their on-page and off-page SEO.
Ease of Use: 4/5
The information is presented in a very simple, visual, and colorful format, making it easy to work with.
The way their tools are split up makes it easy to choose which you want to use, though you do have to jump back and forth between tools.
Features: 4/5
Mangools split their toolkit into five separate SEO tools:
KWFinder – A keyword research tool
SERPChecker – A SERP analysis tool
SERPWatcher – A rank tracking tool
LinkMiner – A backlink analysis tool
SiteProfiler – SEO metrics and insights tool
Price: Mangools offers you 10-days to try out all their tools before making a commitment. If you're hooked after those 10 days, you can get started for just $29.90/mo if paid annually. Their plans top out at $79.90/mo, making Mangools one of the more affordable SEO toolkits.
Bottom line: Mangools is a great option for anyone working on a budget or new to SEO tools. The simple layout makes it easy to understand the data, and it's great for finding those longtail low competition keywords that are important to newer sites.
Which are the best free keyword research tools?
About: Ubersuggest began as a keyword research tool with pretty basic data and a simple user interface.
Ubersuggest is one of the only SEO tools that really is 100% free. There are no restrictions on usage, no paid plans to use it with multiple sites or users, as of writing this it's completely free to use…. But, it's fair to say that Ubersuggest is still a work in progress.
Ease of Use: 3/5
Just type a keyword or URL into the search bar, hit "search" and sit back while Ubersuggest generates all the data around your seed keyword or URL
The interface is easy to navigate, there are loads of click-through options, and honestly, I can't think of any way space could be better used
Features: 3/5
Overview for keyword search volume (split by desktop and mobile)
Keyword and content idea generators
Backlink analysis
Site audit tools
Keyword tracking
Paid and organic keyword difficulty metrics
Price: 100% free to use with no limits!
Bottom line: Ubersuggest has a range of tools to rival any of the paid tools. If you're using an SEO tool for the first time, or just working to a budget while you bootstrap your business, I recommend starting with Ubersuggest. The data isn't the most comprehensive or detailed stacked against the premium paid tools. But there are loads you can do to improve your SEO with Ubersuggest, and you can never really complain when it's free, can you?
About: I also love Google's Keyword Tool. It's another free tool I didn't include in this list. It comes free when you sign up for Google Ads (hint: you don't actually have to spend any money on ads, you just have to sign up!).
Simply type in any keyword and it spits out hundreds of results, which you can use to improve your content and rank for new keywords. For example, see the report below.
Ease of Use: 5/5
It's a Google product, so you know it's straightforward
Features: 2/5
Overview for keyword search volume
Keyword and content idea generators
Paid keyword difficulty metrics
Price: 100% free to use with no limits!
Bottom line: Google's Keyword Tool is awesome. It's straight from the horse's mouth (Google). However, it's important to note that this data is for Google Ads. So competitiveness metrics don't actually apply to organic search, as Google only shows CPC data. It's very limited, but you can't beat the price!
How to do keyword research in 5 steps
Other guides on the internet are overly complicated.
Rest assured, keyword research isn't super difficult. Hailey and I have been able to rank on page 1 of Google for really competitive queries like "best webinar software" and "SEO growth hacks" using this simple 5 step method.
But first…
What are keywords?
Keywords are Google queries.
If you're searching for basketball shoes, you might type:
"Best basketball sneakers for point guards"
Or, if you're price conscious, you might search for "best affordable basketball shoes"
Or, if you're brand loyal, you might search "Nike basketball sneakers"
Whatever the case, keywords are your portal to the internet. When you search a keyword, Google surfaces both paid (Google Ads) and organic search results — so keyword research is important whether you're running ads or trying to rank using SEO.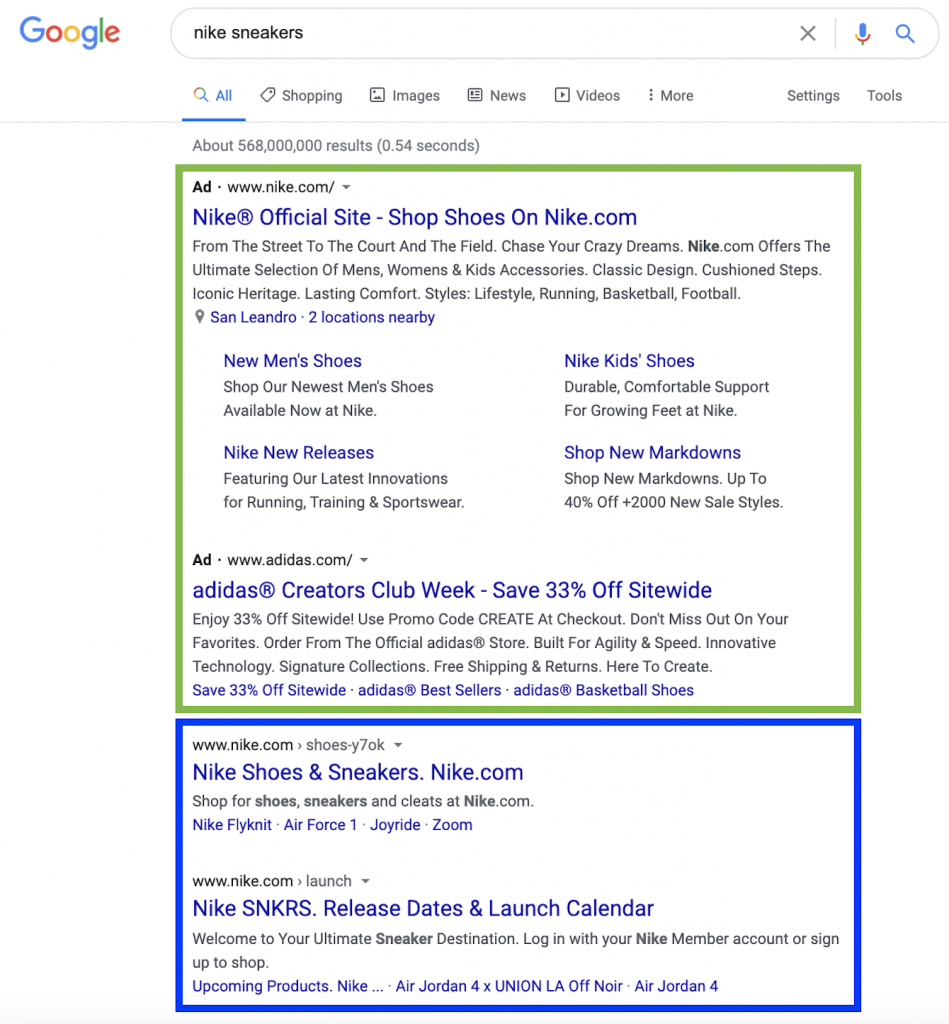 A winning keyword research strategy
The surest way to succeed with keyword research is to find keywords that have high search volume and are relatively uncompetitive (more on that later).
Of course, the keywords you choose must have high search volume and must be related to your product offering. After all, what good is it to rank for music lyrics if you're selling gym equipment on the internet?
This is how to do keyword research right.
Step 1: Logic and brainstorming
This is the step that 95% of people miss — even digital marketers and other so-called experts. Before you ever look to a keyword research tool, begin by using your brain.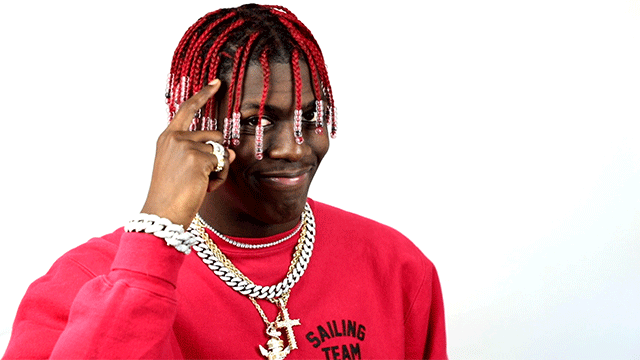 Think about your product or service. Now think about what people might be searching for or trying to learn about before purchasing your product or service. If it helps, interview a few of your existing or perspective customers to learn more about their path to purchase.
Put yourself in the head of your customer. Say for instance, you're a PPC and Facebook Ads expert selling your consulting services online. What types of queries might your customers be searching for? Perhaps "Facebook Ads tutorials" or "hire a PPC agency" or "how to scale a Facebook budget fast?"
Or, if you're selling nutrition supplements via ecommerce, consider your customer might be searching for "weight loss supplements" or "best ways to put on muscle mass." Use discretion to even further break down the queries. Perhaps your potential customers are searching for the ingredients in your product like "buy whey protein" or "best supplements with glucosamine?"
The point is to be creative and logical.
Another way to add keywords to your brainstorm is to do a little competitive stalking. If you have competition that you know is pretty SEO-adept, check out their blog. There's a good chance that if they're writing about a topic actively, it's one you may want to consider for your own strategy.
Another way I like to brainstorm and find pockets of search arbitrage is with Google Trends. Google Trends enables you to type in any keyword and see the change in search volume for that query over time. If you can find a keyword that is targeted and has growing search volume, you've found a real winner.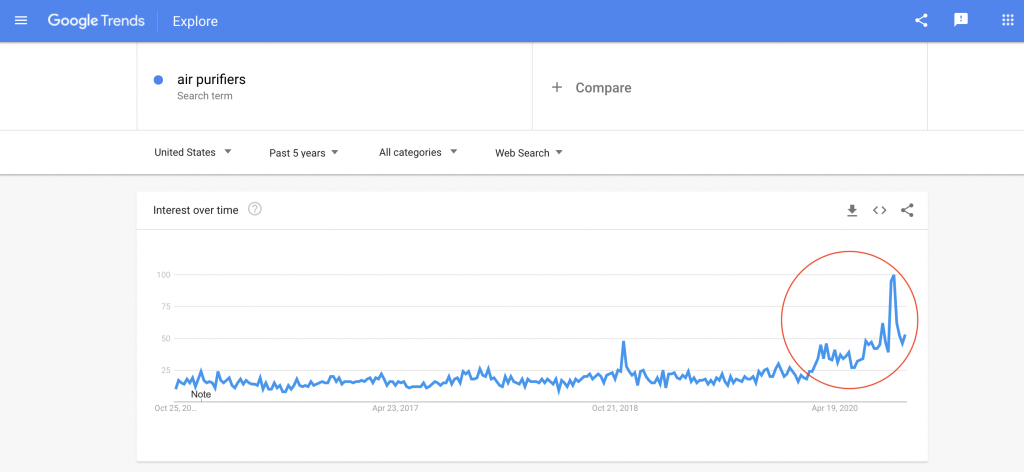 The keywords you come up with in your brainstorm will become your seed keywords — broad keyword ideas. You'll take these and move onto the next step.
Step 2: Discover long-tail keywords
Your brainstorm might lead you to seed keywords that are really competitive. You don't need an SEO tool to tell you that you probably won't be able to rank for keywords like "Michael Jordan memorabilia" or "Tesla" or "iPhone" or "tee shirt."
You'll be competing with the likes of Ebay, Tesla, Apple, and Nordstrom.
So the best SEOs learn to start with seed keywords, but find similar long-tail keywords that are much easier to rank for.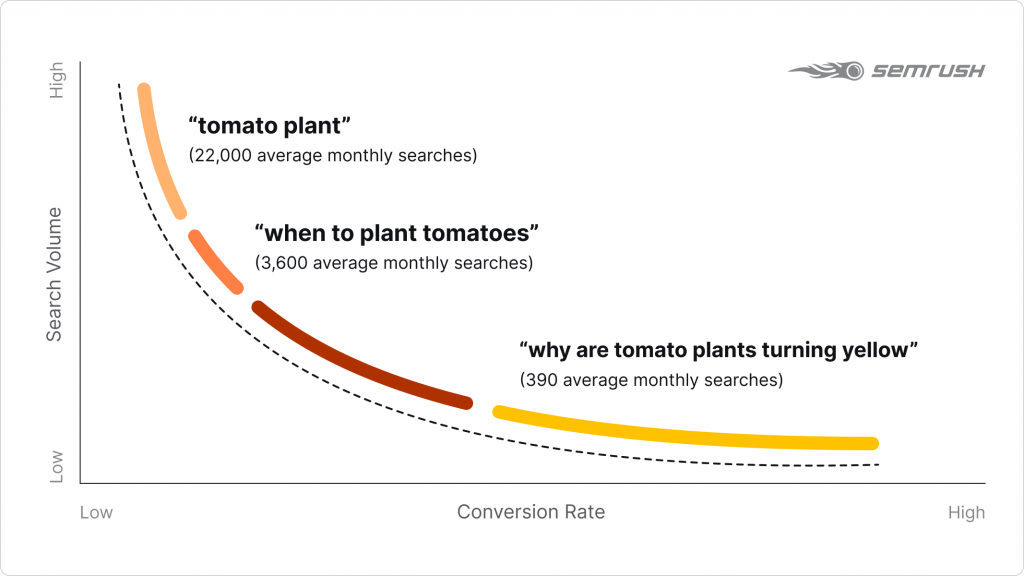 Long-tail keywords are longer and more specific keyword phrases that visitors are more likely to use when they're closer to a point of purchase. 70% of searches on Google are long-tail searches.
To illustrate: If you Google the word "tee shirt" (a very broad keyword sometimes referred to as a "head term") what are the chances you're going to end up buying? But if you google "men's red organic cotton tee shirt" you know exactly what you're looking for and you're probably prepared to pay for it then and there. Not only are long-tail keywords easier to rank for, they're often further down in the funnel — closer to the point of purchase.
Finding long-tail keywords isn't very complicated.
One of the easiest ways to do it is by simply typing your seed keywords into Google. Google autocompletes a list of other popular search terms. These are often long-tail keywords.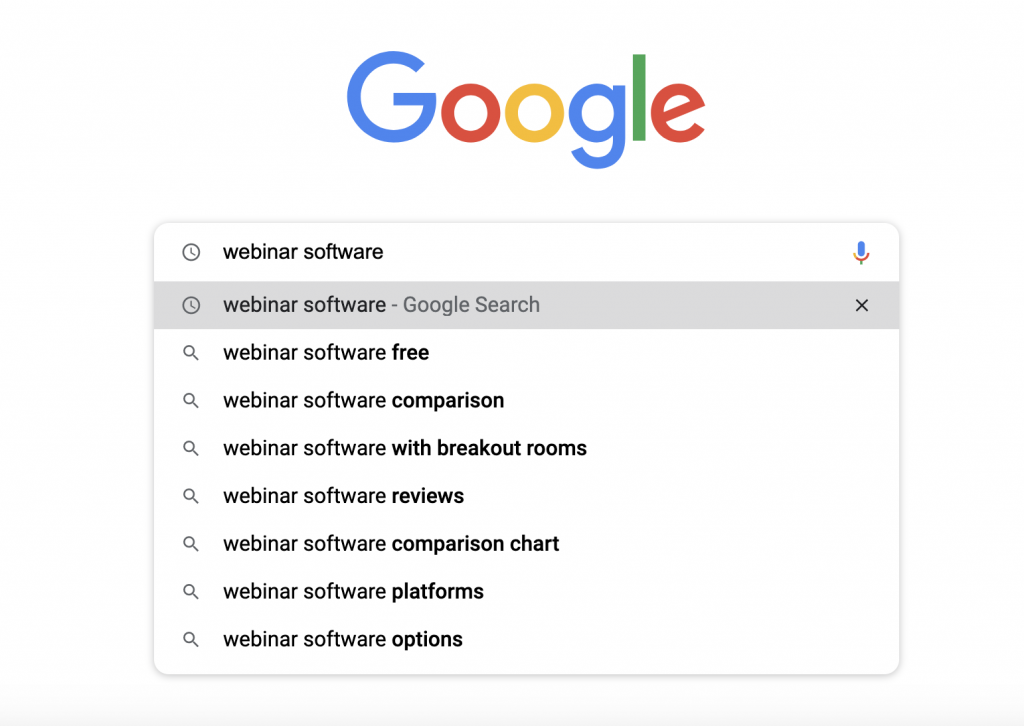 Notice in the search engine results page (SERP), that Google sometimes populates a "people also ask" section. You can consider these additional long-tail keyword suggestions.

Another free place to look for suggestions is YouTube's autocomplete. However, beware that searcher intent on YouTube can be quite different than searcher intent on Google, so you need to take these suggestions with a grain of salt. When I think about my own behavior, I'm much more often using YouTube to search for fun stuff than I am for business purposes. YouTuber mindset is way different and therefore, suggested searches are different too.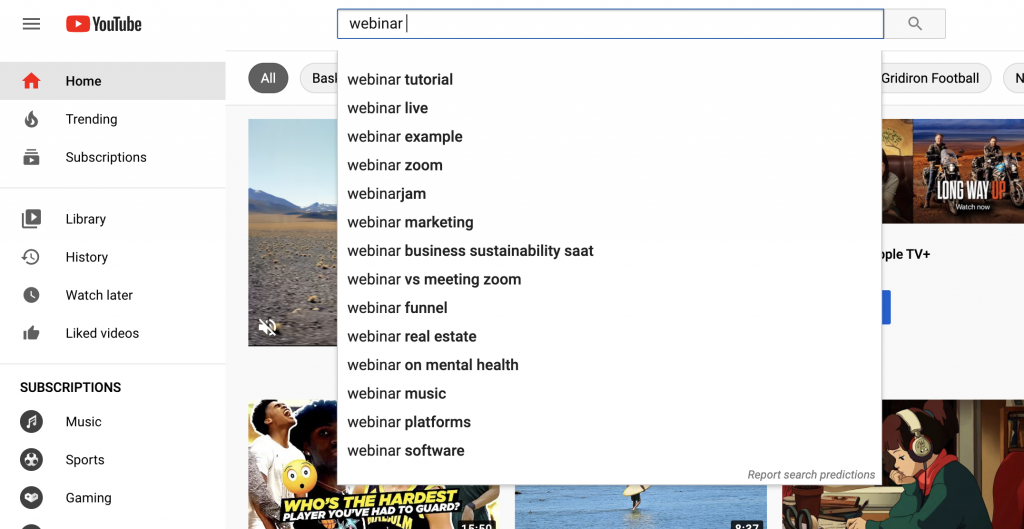 Unfortunately, without a keyword research tool, this is about as far as you can go.
A keyword research tool will unlock tons of long-tail keywords and provide metrics like competition score to make it even clearer which keywords you should try to rank for.
Step 3: Use a keyword research tool
A keyword research tool makes keyword research way easier and more precise. If you're taking search marketing seriously, you really need one.
The good news is that some keyword research tools are free, and even the ones that aren't have pretty generous free trials.
Most keyword research tools operate pretty much the same. Usually, you're prompted to type in a head term and it spits out a whole bunch of derivative, longer-tail keywords. The best keyword research tools will include monthly search volume metrics and some measure of competitiveness of the keyword.
See the screenshot of keyword research tool, GrowthBar below.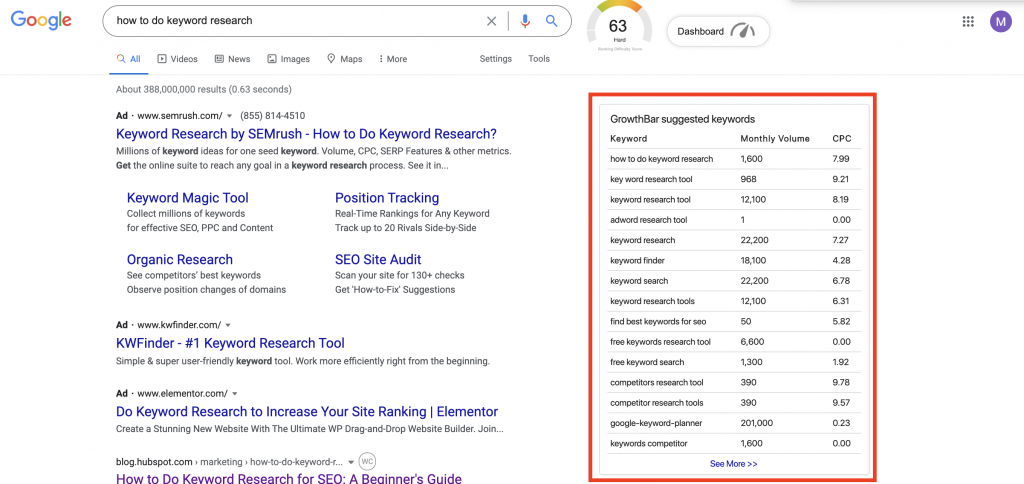 Keyword research tools are typically very friendly to use and they make it super simple to choose long-tail keywords.
Something I'm always asked is, "how many monthly searches makes a keyword worth pursuing in my SEO strategy?"
It's a great question.
For some businesses, a keyword has to have 50,000+ searches a month to be worthwhile, whereas other businesses only need a couple hundred searches a month. In general, there's no "right" number of monthly searches that make a keyword worth pursuing.
One way to approximately calculate the size of the search opportunity is by doing a rough revenue sizing experiment using a few pieces of information:
The target keyword's monthly search volume
An assumption of click-through rate from the Google SERP to your website if you rank on page 1 (15% is a good approximation)
Your business' conversion rate
And the amount of revenue an average customer brings you — aka your average order value
This data will help you turn search volume into an estimation of potential revenue.
Say for instance, your Facebook ad agency wants to rank on page 1 for the keyword "Facebook ad agency." In order to roughly size the revenue opportunity of ranking on page 1, you take the monthly searches for that query (2,400), multiply it by 15% (the average click-through rate of the 5th result in the Google SERP), multiplied by a conversion rate that is reasonable for your business or industry (10%), multiplied by the average revenue a lead drives for your business ($500). All in, that shows that the revenue opportunity for this search query is about $18,000.

But say you're selling clothing. The average conversion rate for ecommerce businesses is about 2.6% and unsurprisingly, an average sale is probably only a hundred or two hundred dollars.
This changes the math quite a bit if you're trying to sell a "dark green maxi skirt" via SEO.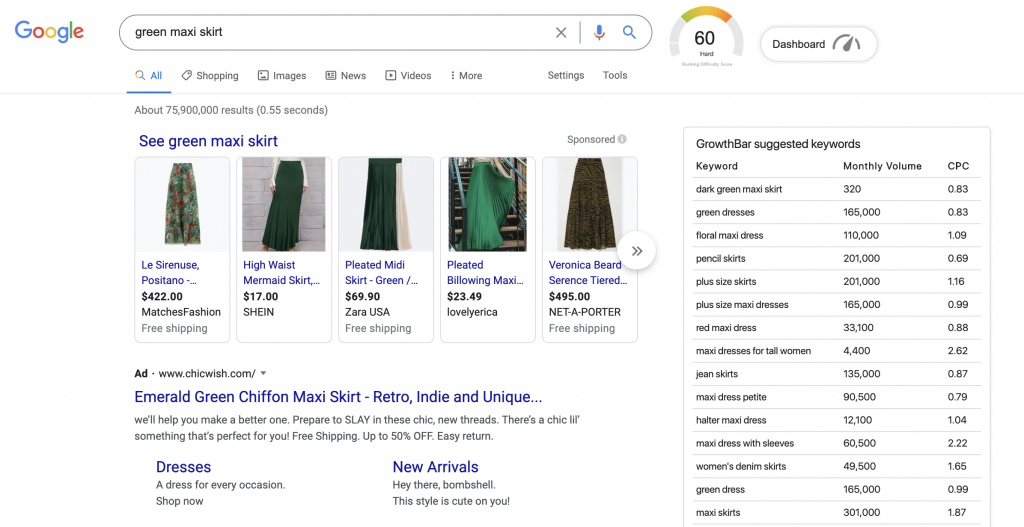 See what changing the conversion rate and revenue-per-lead does to the size of the opportunity?
Ranking on page 1 for that keyword probably wouldn't yield more than a couple hundred dollars a month in revenue.

Competitive intelligence — stalking your competitors' Google Ads — is another fun way to find keywords using a keyword research tool. The best tools enable you to see your competitors' Google Ads keywords with the click of a button.
Why is that important?
Think about it: if a competitor is willing to pay for clicks from X keyword, ranking organically for that keyword would probably be a pretty profitable endeavor for you.
Keyword research tools are really the only way to fly when it comes to understanding which keywords to include in your content and which to avoid.
Keyword research tools like GrowthBar come equipped with way more than just keyword research. You can use the same tool to track your keyword rankings, get word counts, difficulty scores, and a whole lot more…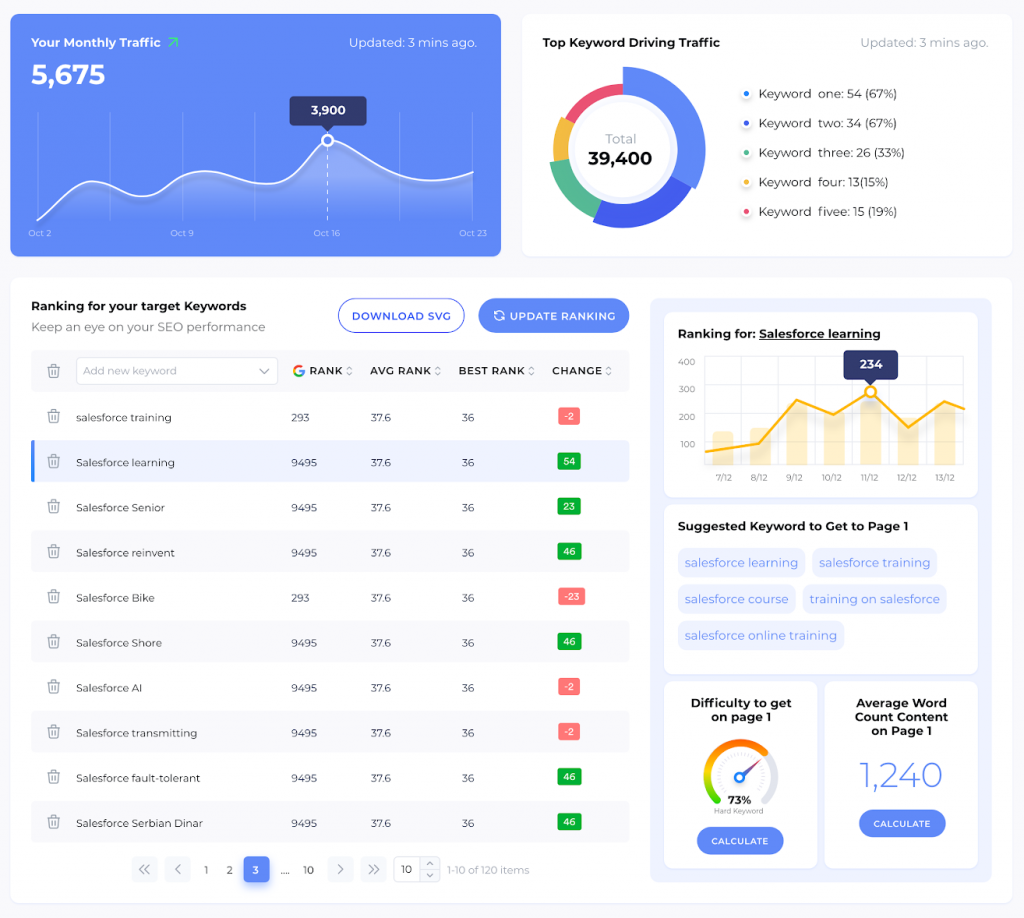 Step 4: Search competitiveness
The best keyword research tools have some measure of keyword competitiveness. Remember, you want to choose keywords that are not only highly searched, but uncompetitive as well — that's the holy grail.
Keyword competition gives you a sense of how many web pages you need to beat to claim a top spot in search engine rankings.
Great keyword tools like GrowthBar display a ranking difficulty score for every keyword on earth. The score is usually based on a number of factors, including the number of sites that already rank and the domain authority (Google trustworthiness) of the websites at the top of the Google SERP.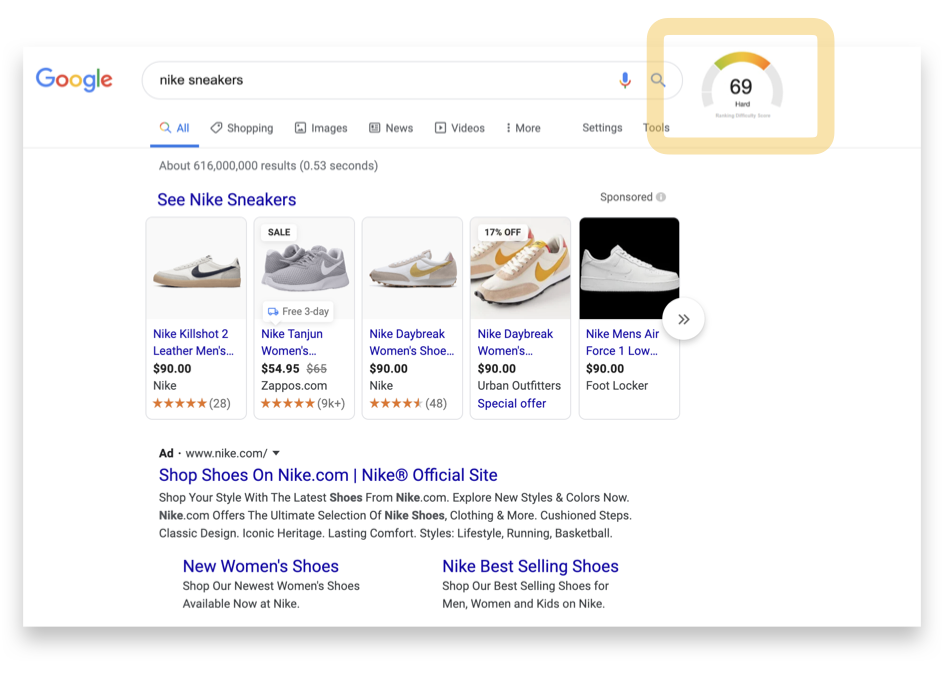 Whether you use a keyword research tool or you don't use one, make sure to consult your brain on the competitiveness of your keywords.
Again, good old fashion common sense can usually help you figure out if a keyword is super competitive. If Huffington Post, CNN, and NY Times rank on page 1 for the query, there's a good chance the competition is pretty high.
One last thing to remember: competitive doesn't mean impossible.
There are tons of things you can do to beat even some of the most authoritative websites on the internet in SEO. We've done it time and time again and you can too! You just need to be realistic. If your site is brand new, you may be better off trying to rank for uncompetitive keywords. But if you've already got a few thousand organic visitors to your site per month, go right ahead and beat the big guys!
Our review of Zoom webinar software sits ahead of Tom's Guide, Harvard Business Review, and Consumer Reports!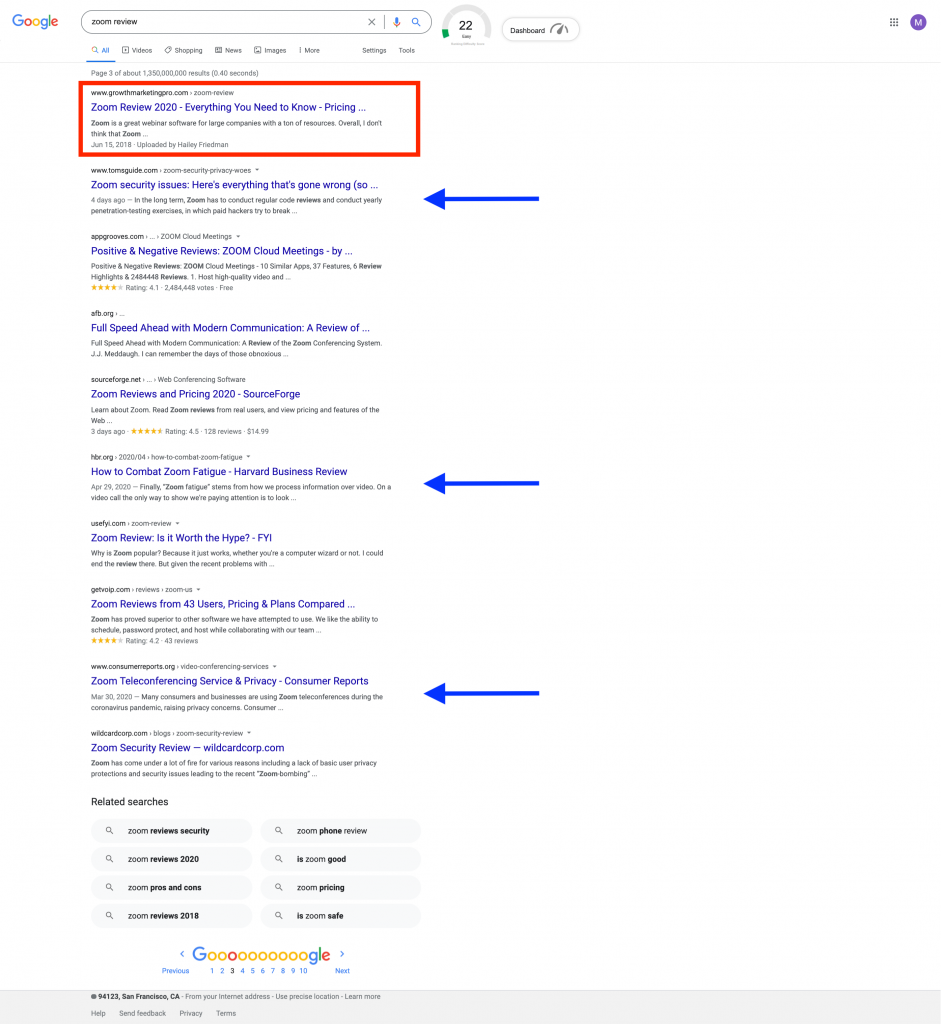 Step 5: Putting keywords to use
Once you have a list of keywords, including some great long-tail ones, it's time to put them to work!
But before you start slotting your keywords into a Shakespearean 10,000 word SEO-friendly blog post, you need to decide on the format of your page.
Think about it.
Any type of webpage can theoretically rank #1 for a keyword — a homepage, blog post, listicle, how-to post, ecommerce shopping page, landing page, or even a YouTube video. But Google definitely favors certain types of pages for certain types of search queries.
If you Google "Nike" the first result will be the Nike.com homepage. If you Google "Nike Air Zoom Pegasus 36," you'll get a shopping page. If you Google "who is the founder of Nike?" you'll get a blog post.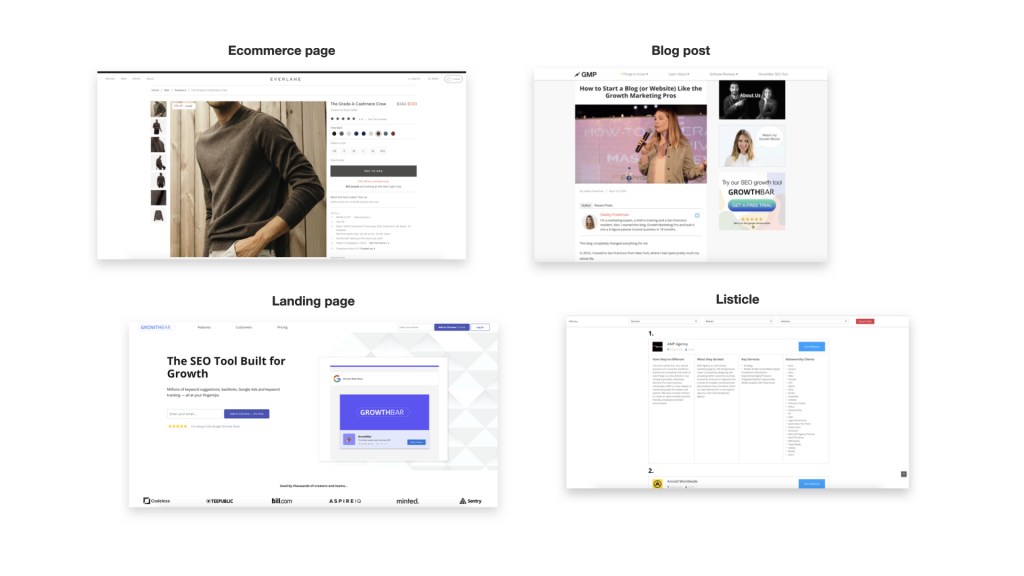 So, how can you figure out which type of webpage is optimal for X search query?
The easiest way is to see what your competitors are doing. Check out the pages that rank in the top few results in the Google SERP. Are those pages big blog posts, ecommerce pages, listicles, category pages, or something else entirely?
Think about the intent of the user. Ask yourself, "what is my user looking for when he/she Googles this keyword?"
Once you've decided on a page format, it's time to pepper in your target keyword (and 4-6 support keywords) throughout the page. If you're using WordPress or some other reputable website builder, it's as easy as weaving your keywords into the different sections of your post or webpage. You should make sure to include them in the following places:
Page URL
Meta titles and descriptions
Content/product descriptions
Image names/alt tags
Related questions and reviews
Schema data
Pro Tip: You should aim for a keyword density of 1-2%, which means you should include one or two of your target keywords for every 100 words on page.
Be natural. You never want to stuff keywords in awkwardly.
But you also never want to miss an opportunity to include your keywords (or synonyms of your keywords) where appropriate.
Keyword research isn't rocket science. It just takes common sense and some careful planning. And a keyword research tool makes it even easier and more data-driven.
Wrapping up
There's nothing more satisfying than targeting a keyword, creating content, and ranking right away. And there's nothing more impactful to rankings than proper keyword research.
Remember: keyword research is equal parts logic and data.
Brainstorm
Find long-tail keywords
Use a keyword research tool to get a lot more sophisticated
Check on the competitiveness of your keyword
And put those keywords to use with smart content
It's not that complicated, but a well-planned approach will give you much better odds of rocketing up the Google SERP!
Also read:
---
Want my free 5-part SEO course?
My course has helped over 20,000 students master SEO with tips that aren't in this guide or anywhere else on the internet!
---