Latest posts by Hailey Friedman
(see all)
Recently, I was looking up some of the best leashes for puppies (just doing some casual research). A couple weeks later, I get this in my mailbox: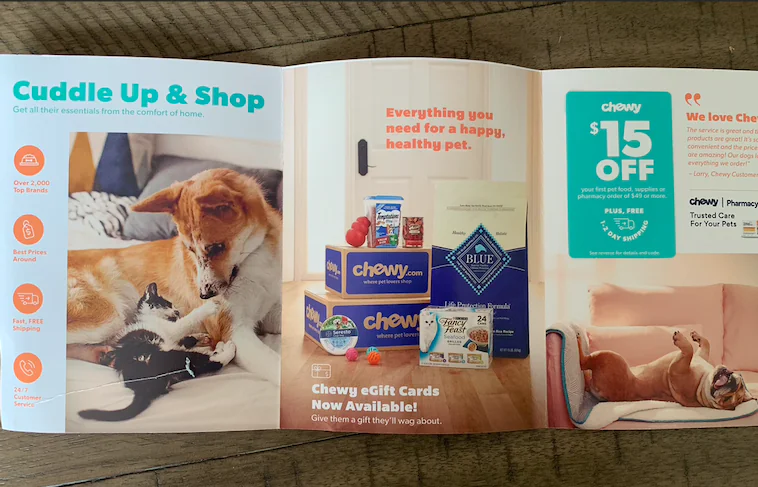 Scary, maybe, but effective? Yes! I don't even have a dog and I'm about to use that 15% off!
This is all to say: we might think direct mail is the thing of the past, but…it's not! Though we're well into the digital age, direct mail campaigns can see more success than digital campaigns.
Over the past few years, companies like LendingClub, Casper, Everlane, and yes, Chewy, have all figured out how to perfect their direct mail campaigns, allowing them to engage with customers that might not see their traditional digital marketing and double down on people that have seen their other forms of marketing.
In 2018, direct mail campaigns saw a 9% response rate. When compared to email, paid search, and social media's 1% return, direct mail doesn't look too shabby.
Plus with our dwindling mailboxes (and increasingly overwhelming inboxes) direct mail campaigns are a unique way to expand your reach and keep people thinking about your ad long after they've read it. By putting yourself literally into the palm of your customer's hand, you're taking a risk that a lot of companies have been rewarded for.
And, good news! We've reviewed the best direct mail companies in the game, so you can choose the one that's right for you. We compare them based on years of experience, client roster, and our personal experience with them (when applicable).
The Best Direct Mail Companies in 2021

Star Rating
5 out of 5
Services Offered
Mail with confidence when you work with Gunderson Direct. Having been in the direct mail business for over 18 years (with over 1.5 billion pieces of mail sent), they know a quite a bit about making mail work for clients across America (and internationally).
Gunderson Direct goes beyond offering top notch direct mail services – they offer a strategic partnership to help you continuously iterate and improve your campaigns.
Gunderson Direct offers clients a full-service, turn-key direct mail solution, or a la carte services including:
Strategic Expertise: Years of experience allows them to put together winning programs that hedge for success.
Creative Thought Leadership: They deliver creative that gets response while also supporting your brand and aiding awareness.
Responsive Data and List Sourcing: Gunderson Direct is data agnostic and will leverage their vast network of data providers to ensure you are mailing to the right audience for your product or service.
Production and Mailing: Direct mail is a manufacturing process. Depend on Gunderson Direct to insure your mail is produced with the highest quality in mind, while maintaining budgets and sticking to timelines.
Insightful Analytics: Their data team measures each campaign and provides actionable next steps to enhance the response of future mailings.
Pricing
Pricing is customized for each program based on campaign size, services needed and program goals.
Pros
Top-notch client list. You'll be in good company with the likes of Personal Capital, One Medical, AAA, ZipRecruiter, plus numerous startups, nonprofits and technology companies.
Agency-style service that can handle any or every part of your mail campaign. Services include program and test strategy, creative development, audience selection and segmentation, managing print production and personalization, and follow-up campaign analytics.
Creative leadership that focus on direct response. Creative and messaging support brand positioning while also getting prospects to take action and convert!
Serious direct mail know-how. This team is the best in the business, bar none. Over 17 years of experience in virtually every category makes them a leader among direct mail agencies and service providers.
ROI focused strategy that delivers results. They say that over 80% of the clients they onboard that are new to the direct mail channel can scale their programs significantly within 3 months. See if direct mail can work for your company – you can model your estimated ROI and CAC using their handy direct mail calculator found here.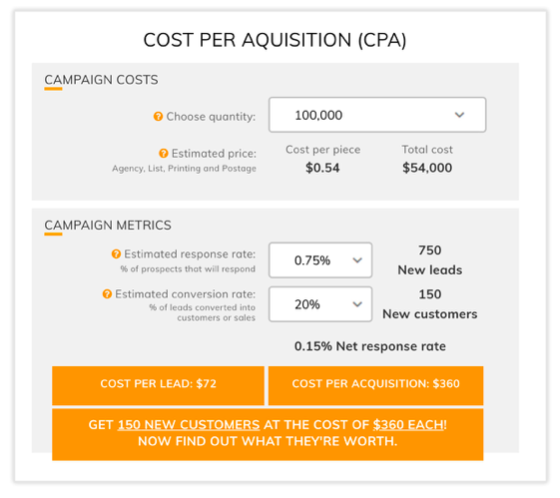 Cons
Campaigns can get pricey as minimums are high. An average engagement with Gunderson Direct can range $50,000 – $150,000. But this is economical for a full-service agency model.
Link

Star Rating:
5 out of 5
Services Offered:
Whether you're looking to build a new campaign from scratch, improve an existing campaign, or integrate mail into your digital marketing strategy, SeQuel Response can help take your direct mail programs to the next level of growth. What makes them unique from other direct response agencies is their proprietary, data-driven approach to audience targeting and program testing, and their keen ability to integrate digital and direct mail programs together.
SeQuel's full suite of in-house services have helped hundreds of brands effectively launch and scale direct mail campaigns. Their areas of specialty include:
Research: critical process to successful campaign design, execution, and scale
Testing: proprietary testing methodology to quickly identify the winning list, offer, and creative combination – for less
Data: a data-agnostic approach to modeling and list building
Digital Integration: coordinating digital and direct mail strategies to boost response and reduce acquisition costs
Creative: expert writers, designers, and offer strategists to ensure maximum response
Execution: strategic media-buying and delivery methods to minimize costs
Reports/Analytics: actionable insights to optimize campaign performance
Pricing:
SeQuel's campaign costs can be tailored to your budget and growth goals. Contact them directly for a quote.
Pros:
A solid team of experienced direct response marketers and a track record of producing and performing direct mail programs.
Their proprietary testing approach combines the best of A/B and multivariate testing for quick, accurate, and cost-effective results.
Integrated digital marketing strategies boost campaign performance by reaching the right audience, on the right channel, at the right time.
Their data agnostic approach leverages real-world competition to build unique models based on several data sets and data partners.
Creative flexibility so clients are not limited to only postcards or letter packages.
Cons:
Minimum volume threshold of 100,000. But they do offer triggered-based, automated services for smaller mailers.
Link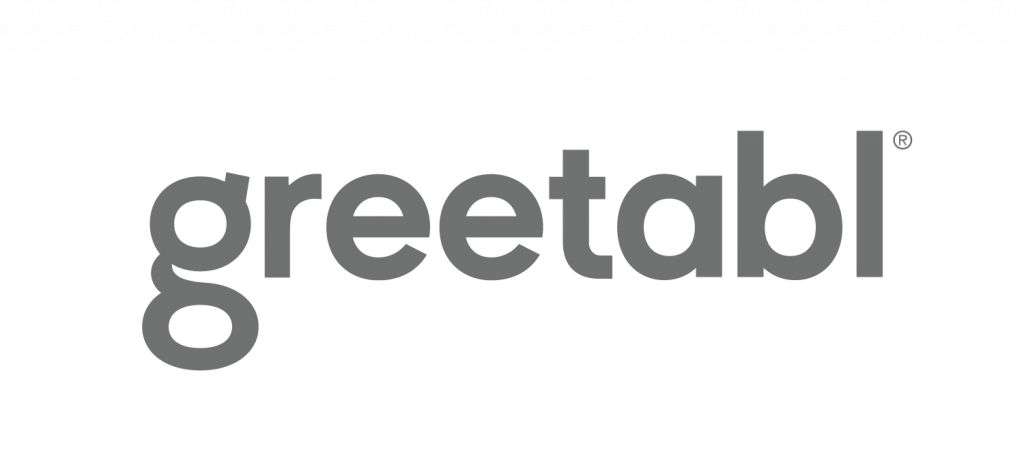 Star Rating
5 out of 5
Services Offered
Greetabl has created systematized a way to send unique and personalized gifts at scale, in a way that is more beautiful than anything I've ever seen done in the direct mail space. Plus, you can do it for under $15/box!
To be honest, I stumbled across Greetabl as a way to send small, personalized gift boxes to friends for their birthdays. But when I discovered that I could use them to send out branded gift boxes at scale for my business, I was beyond excited.
I love it because you can choose the design of the box (even design it yourself), include a logo card, write a customized message and even include unique photos within each box. Check out the screenshot below to see what I mean…
Greetabl's corporate gift offering allows you to send gifts your clients will love. Features include:
Insanely easy large or small orders
Pick from their design catalogue or design your own
Work with your own dedicated account rep or send them self-serve
Upload personal photos and craft a special message
Pricing
You can easily send a Greetabl box for as little as $12 depending on the gift or gift card you choose to include in your box. Plus, I negotiated a special offer for GMP readers, use promo code: GROWTH15 for 15% off. 🙂
Additionally, there are a few different pricing tiers if you want to use Greetabl for business or if you want access to special features.
Pros
Perfectly priced: send the love without breaking the bank. I've used Greetabl to send hundreds of gift boxes to clients for $15/box.
Make someone's day in minutes.
All of the thought, none of the effort.
A slew of awesome gifts and gift cards to choose from that you can include.
Get alerts as each package is sent and received
Cons
I can't think of a negative thing to say about this solution, just so grateful it exists!
Link
https://greetabl.com/ <– Use promo code: GROWTH15 for 15% off. 🙂

Star Rating
4 out of 5
Services Offered
SaasMQL does more than just direct mail marketing. They are actually a full service agency specifically for SaaS companies, and one of their expertise happens to be direct mail. When you utilize SaasMQL's direct mail services, you will gain access to their:
Targeted Direct Mail Campaigns
ABM Analytics
SaaS-focused Demand Generation
Campaign ROI in Salesforce
Pricing
You will need to schedule a consultation with the company for pricing.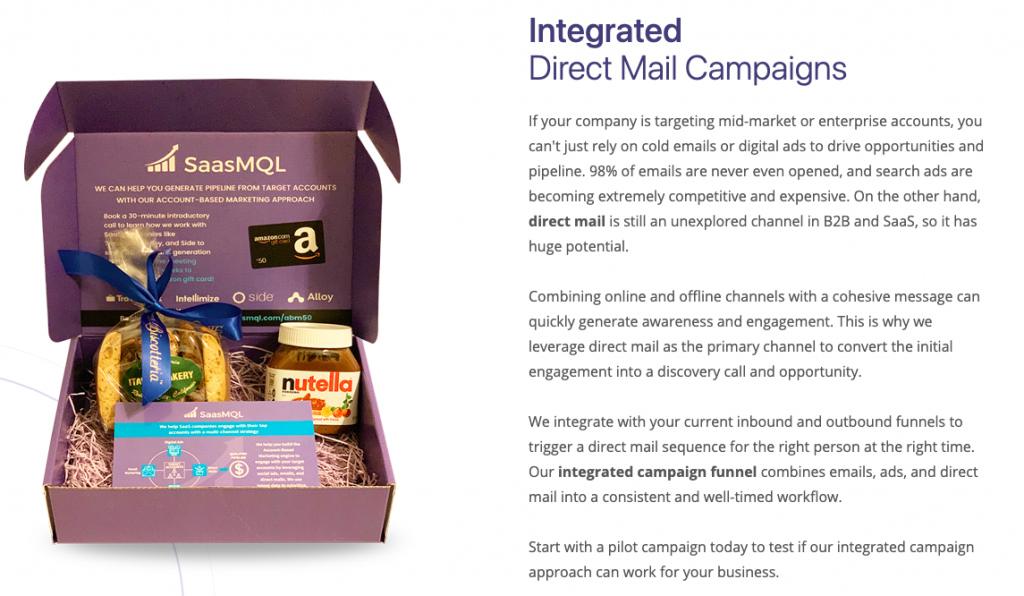 Pros
Seasoned expertise in SaaS-focused, targeted campaigns
Takes care of the entire campaign
Great support and customer service
Cons
Works primarily with venture-funded SaaS companies
Company is not an exclusively direct-mail company
Link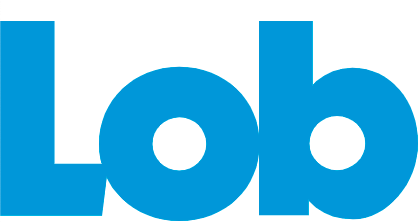 Star Rating
5 out of 5
Services Offered
Lob has created a direct mail system that works for the modern marketer. They let you program and control your direct mail campaigns the same way that you can control an email campaign or other digital marketing effort.
Lob's direct mail features include things like:
Automatic triggers, which allow you to scale your campaigns to the next level.
A print delivery network that ensures your mail will travel the fastest route possible to its destination.
Control over every detail. No rigid templates, so that you can test your mail design the way you want to test it.
Dashboard and analytics that give you the granular insights you need to keep improving.
Easy API integration, to make tracking easier than ever before.
Pricing
Lob offers pricing plans based on the size of your business.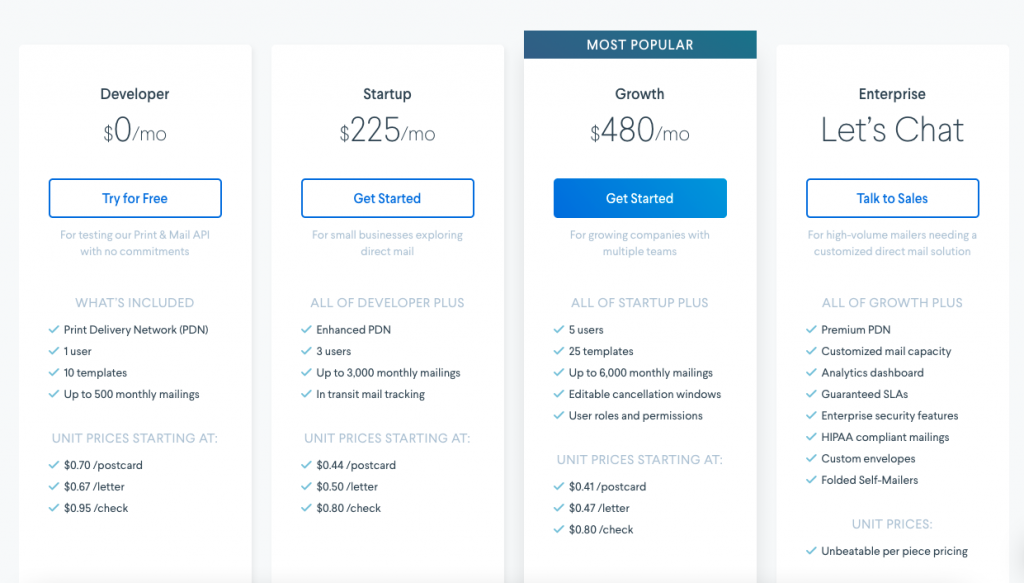 Pros
Address verification
Simple and easy to use API
Great developer documentation
Easy testing capabilities
Trigger based mail system for easy scale
Print delivery system that is optimized for the fasted delivery possible
Cons
Set up and delivery times can sometimes be slower than other direct mail companies
Link
Star Rating
4 out of 5
Services Offered
PFL was the world's first online print shop, founded in 1996. They've been doing the whole printing thing for a while, and their products reflect that. They are a one-stop shop, offering a whole host of different printed products, as well as direct mail services. Some of their services include:
Tactile Marketing Automation
Reseller Program
Web to Print Solutions
Mailing Services
Fulfillment
Custom Solutions
Pricing
You can contact the company for a price quote.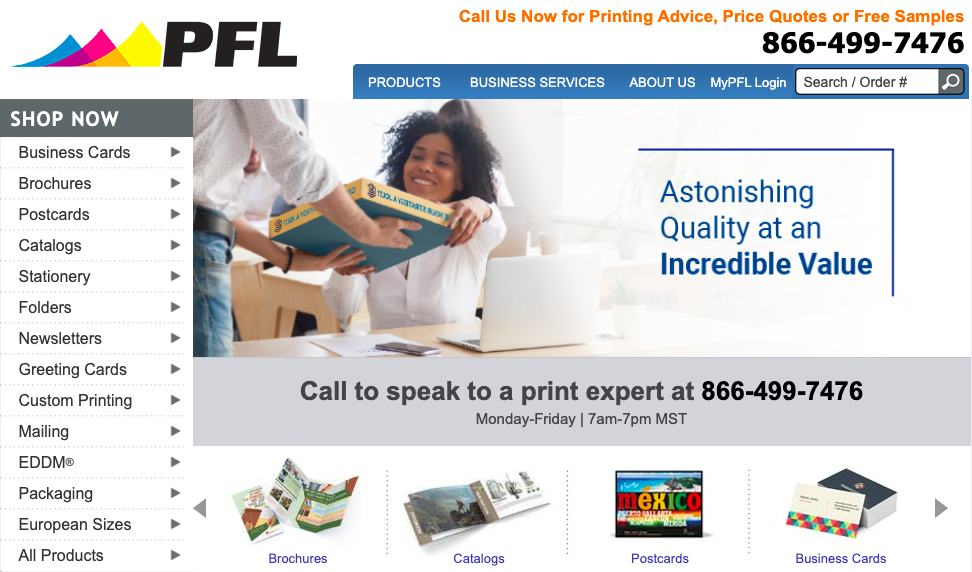 Pros
Provides services to design, print and mail numerous products
Takes care of the entire process
Provides mailing lists & will clean it up lists for you by removing duplicate or incorrect addresses
Cons
Could give the sender a bit more control on stopping packages or changing send dates, as well as meeting deadlines
Access to analytics are limited, so you'll have to make sure to implement in-house tracking.
Link
https://www.printingforless.com/

Star Rating
3 out of 5
Services Offered
Data Axle USA, previously known as InfoUSA, offers a number of different direct mail related services.
Mailing Lists
Direct Mail
Sales Leads
Data Enhancement
Customer Analysis Profiling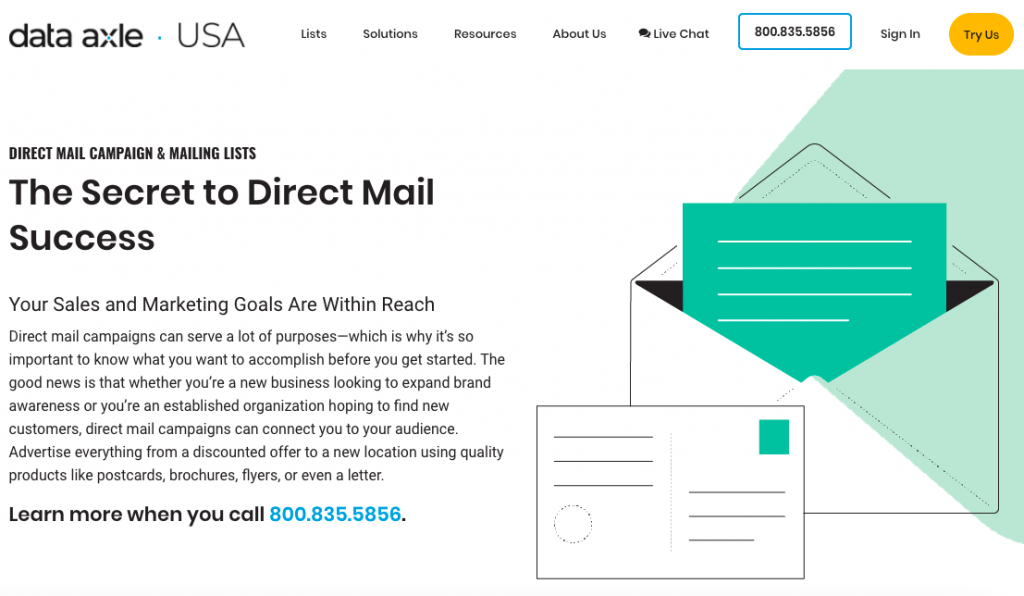 Pricing
You can speak with one of their marketing experts to get a price quote.
Pros
Offers a large number of products in both black and white and full color options.
Can send your artwork to the company to be placed on the mailer
Professionals can help you create a custom look for your mailer
Cons
No way to track regular mail
Link
https://www.dataaxleusa.com/marketing/direct-mail/
Star Rating
3 out of 5
Services Offered
Postable offers a slightly different kind of direct mail service. Not only do they allow you to mail regular mail, as well as fancier, custom-designed cards that can include "handwriting" font. You can choose from their hundreds of templates, or upload your own design.
Postable's direct mail services offer all of the following:
Card Printing
Direct Mail
Custom Stationary
Automated Cards
Pricing
The company features a pricing calculator on their website. You can also contact the company for a price quote.
Pros
Easy-to-use website
Good for creating and mailing simple cards
Automated card mailing
100% recycled cards
Cons
Not very many paper options
On the pricier side, but they do have volume discounts
Link
Star Rating
4 out of 5
Services Offered
Cactus Mailing offers something called "Smart Marketing," which means they coordinate direct mail efforts with other forms of marketing–namely Google display and landing pages–to improve your campaign results. Their other marketing offerings include:
Direct Mail Postcards & Brochures
Mail Piece Design
Targeted Mailing Lists
Call Tracking
Pricing
You will need to contact the company for a price quote.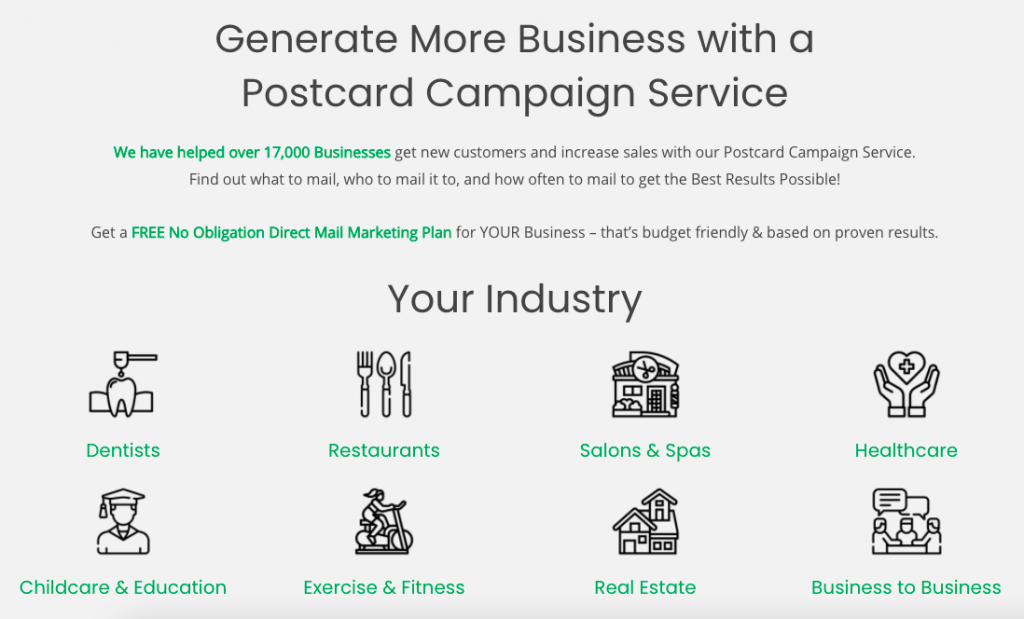 Pros
Offers many additional features, such as mailing lists and tracking options
Call-tracking feature. Cactus Mailing will put a tracking phone number on each mailer. When a customer calls that number, the calls are transferred to your business and you are able to track how many calls originated from your direct mail campaign
Smart marketing dual channel approach
Cons
Only specializes in postcards and brochures for direct mailing services
Link
https://www.cactusmailing.com/
Star Rating
4 out of 5
Services Offered
Modern Postcard has tons of different kinds of direct mail templates, allowing you to custom design your piece to make sure it stands out from the crowd. They also offer printing services, display advertising, sms marketing, email marketing, and other digital marketing options.
Some of their direct mail services include:
Data & Lists
Marketing & Design
Custom solutions like corporate marketing programs and web to print portals
Pricing
You can get a price estimate on the company's website, with a free consultation and action plan.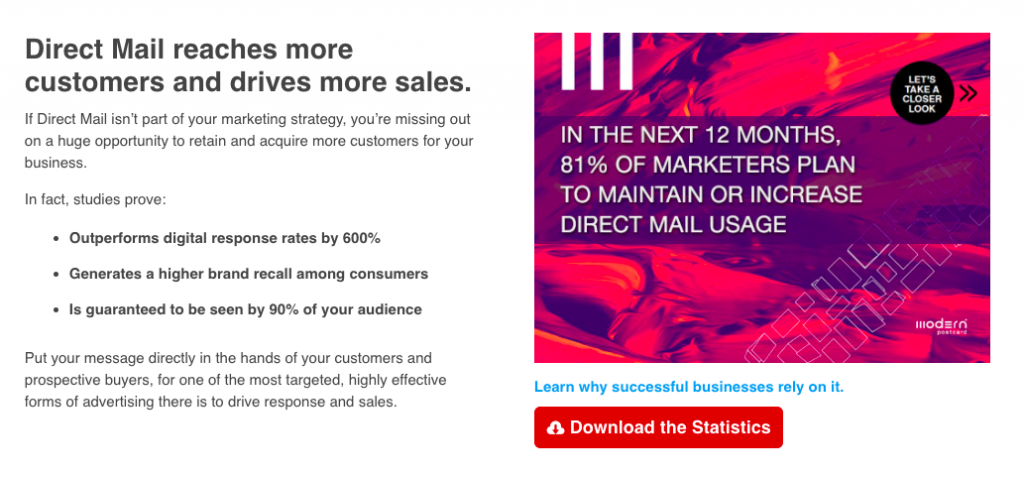 Pros
Can use the service to design, print and mail a wide selection of mailer formats
Choose from several different lists, including consumer lists, business lists and occupant lists
Access to a collection of consumer data
Lots of additional marketing services
Cons
Process time is sometimes longer
Communication time could be improved
Link
https://www.modernpostcard.com/
Star Rating
4 out of 5
Services Offered
Postalytics is a direct mail automated service that delivers personalized messages through mailing campaigns. You'll be informed on the delivery and response status of each piece you send, because it's synced to your CRM or other marketing automations. Plus, they check all your addresses before sending to your list against USPS databases.
Services include:
Automated Direct Mail
Mailing Lists
Analytics
Response Tracking
Pricing
Postalytics offers different plans for automated direct mailing in addition to their per piece pricing, which can be found on their website.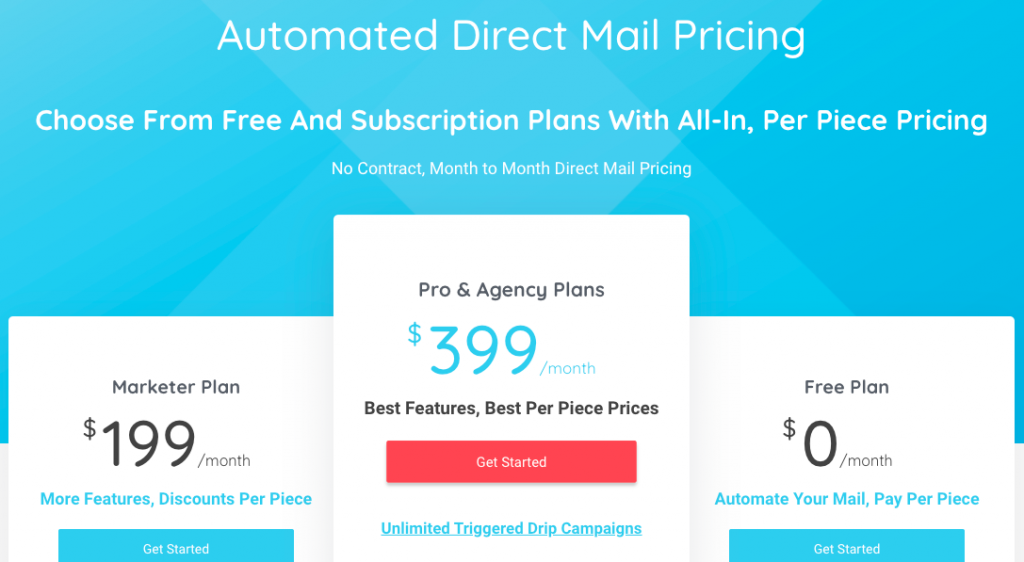 Pros
Tracks the performance of mailings
Automated direct mailing
Can be done all online with an easy to use, self-help format
Cons
Lack of customization and available types of mailing
Link

Star Rating
3 out of 5
Services Offered
Print Label and Mail is a direct mail advertising company providing their services for over 30 years. They offer:
Full Service Direct Mail
Weekly Mailings (Drip Campaigns)
EDDM – Every Door Direct Mail
Do It Yourself Mailings
Label & Mail Service (if you already have postcards printed)
Mailing Lists
Guerilla Marketing
Pricing
You can contact the company for a quote and payment plans are offered as well for eligible customers.
Pros
Features design assistance, strong product quality, and printing and mailing options
Provides product samples
Extensive range of services and takes care of the entire process of sending out mailers
Cons
No eco-friendly option available
Link
https://printlabelandmail.com/

Star Rating
3 out of 5
Services Offered
Ps Print is a design, printing, and mailing service. With printing options ranging from business cards to magnets, you have a lot of options to send using their direct mail campaigns!
Mailing Services
Custom Printing
Design Services
Die Cutting
Foil Stamping
Pricing
No pricing information is listed on the company's website for Direct Mail services.
Pros
Offers a handful of products you can mail to current and potential customers.
Features mailing list options, management of the assembly process and a fast turnaround time.
Will review your designs to ensure the card meets the regulations set by the United States Postal Service.
Cons
Lacks some features found with other similar companies
Link
Star Rating
3 out of 5
Services Offered
Next Day Flyers is primarily a printing company (with hundreds of different options) that also offers mailing services.
Custom Printing
Direct Mail
EDDM
Design Services
Rentable Mailing Lists
Pricing
A pricing table is provided on the company's website for direct mailing services.
Pros
Helps you create custom mailers to send to potential and current customers in a designated area
Offers assistance through the design and mailing processes, and offers numerous support resources
Each product is high quality and you can choose from a variety of paper options
Fast service
Cons
Does not offer tracking features
Link
https://www.nextdayflyers.com/
Star Rating
3 out of 5
Services Offered
SmartPress, previously PostcardBuilder, has combined printing and mailing services for various mailing needs, including:
Variable Data Printing
Online List Builder
Design Services
Corporate Branded Websites
Web to Print Storefronts
Layout Services
Digital Layer Cutting
Pricing
You will need to contact the company for a price quote.
Pros
Provides high-quality products, allows you to see a finished product before printing and offers design assistance.
All postcards have a UV coating to help withstand fading during the mailing process.
Ability to create a postcard and send it to yourself for no additional cost
Powered by Canva, their online design services makes you feel like a graphic designer!
Cons
Slower than some of the other services.
Link
https://smartpress.com/pages/postcardbuilder-is-now-smartpress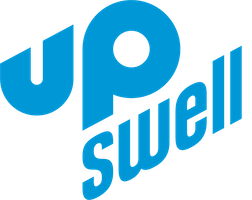 Star Rating
3 out of 5
Services Offered
UpSwell, previously Mudlick Marketing, offers "hyper-local marketing" that serves single and multi-location independent and franchise businesses across all life stages of a business, from launch to rebirth. Offerings include:
Direct Mail (postcards, newsletters, envelopes, etc.)
Display Advertising
Reputation Management
Social Media Marketing
Mail2Mobile
Pricing
You can contact the company through their online form or by calling their support line.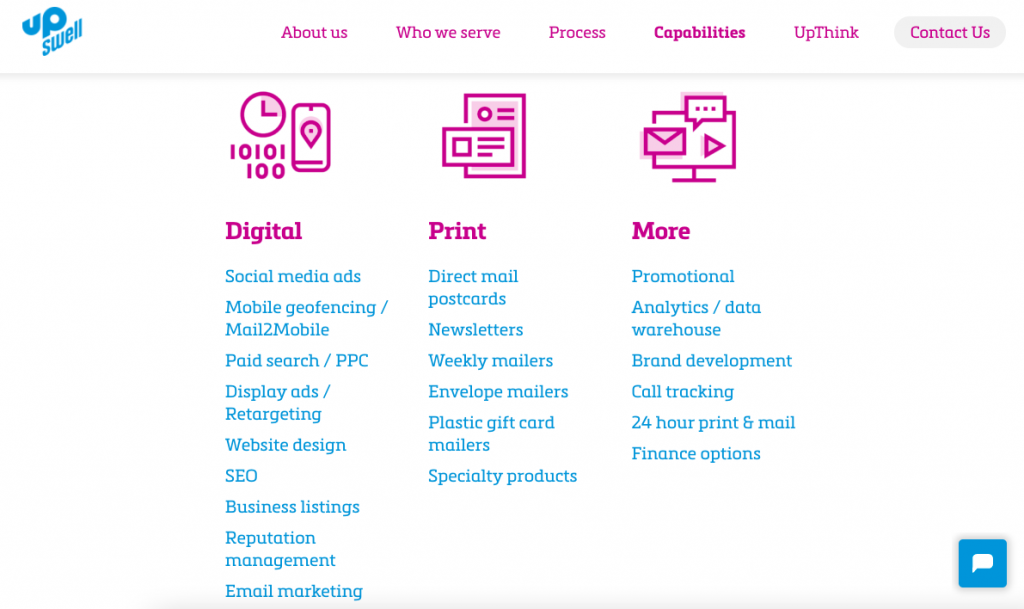 Pros
Call-tracking options
Access to a detailed data report
Includes many useful tools, such as reporting options and consulting services
Cons
Does not include as many product sizes as several other direct mail companies
Link

Star Rating
3 out of 5
Services Offered
Postcard Mania are "small business marketing experts" for postcard printing and direct mailing services that include:
Postcard & Brochure Design and Printing
Direct Mail API & Retargeting
EDDM
Graphic Design
Mailing Lists
Automated Email Follow Up
Website & Landing Page Design
PPC Management
Pricing
They have direct mail postcard pricing on their site, and you can get a quote for your exact project.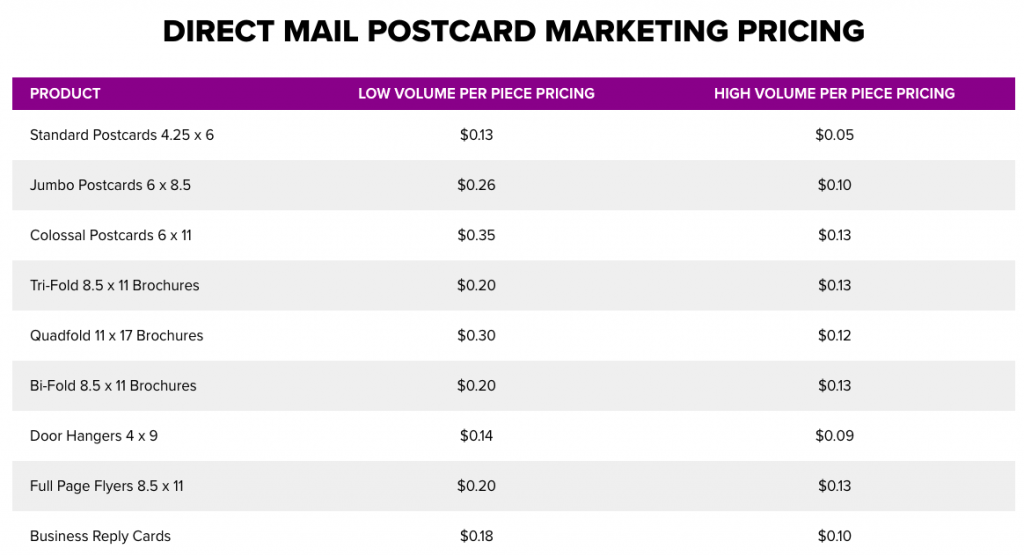 Pros
Prints a variety of marketing products
Gathers data and information for tracking campaign results
Custom design services
Cons
There can sometimes be a lot of back and forth with communication
Link
https://www.postcardmania.com/
Every Door Direct Mail (EDDM)
Every door direct mail is another awesome option, particularly for small businesses. Pricing as good as it gets for mail (16 to 20 cents per piece) and minimums are very low. Many of the options on this list offer EDDM as well as direct mail services.
Great for small businesses, restaurants, realtors, and local political campaigns
Send at least 200 and up to 5,000 pieces per day per ZIP Code
Drop off your EDDM mailing at the Post Office
No special mailing permit needed
Pay online or at the Post Office
EDDM is a great way to dip your toe into direct mail at a pretty affordable price. Use USPS's route tool to see targeting options.
Wrapping Up
Direct mail is an incredible way to reach audiences at massive scale. It can be a bit expensive, but once it gets going, the ROI can be huge.
Some agencies will try to tack on digital retargeting (Facebook Ads) along with your mail buy. This is a common upsell, but frankly, you can run these campaigns yourself for much cheaper.
Also, you can usually talk agencies down on price and minimum buy. Do your homework and put on your best negotiating hat with your direct mail campaigns!
Read more: