Latest posts by Mark Spera
(see all)
Brands doing sales, email marketing, social media, and blogging for SEO have an insatiable demand for content. The problem is, content takes time and manpower to create.
The size of the content market is expected to grow to $418 billion by 2025. As such, numerous artificial intelligence (AI) writing software tools have emerged to support content creators.
AI writing software is sophisticated enough to take on the voice of your target demographic and generate content in half the time. And there are a lot of AI writing tools out there.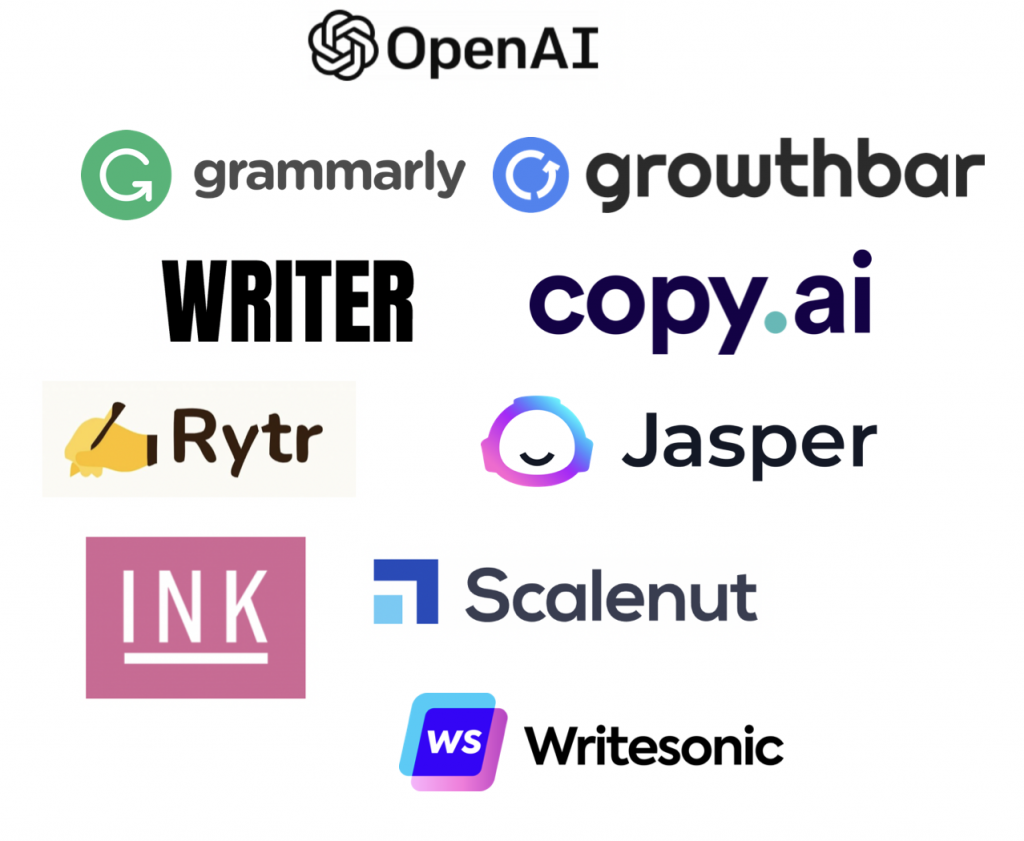 Each of these tools has its own strengths and weaknesses:
There are AI blog writing tools like GrowthBar.
There are general AI writing tools like ChatGPT, Copy AI, and Jasper that excel in a number of areas.
There are enterprise AI writing tools like Writer.com for enforcing corporate writing guidelines across the organization.
Finally, there are are other AI writing tools that have pretty specialized use cases, from browser extensions, to essay writers, to ecommerce copywriters.
I have been obsessing over the AI writing industry for over 3 years. I'll share everything I know about the best tools in the space.
[Yes, much of this article has been written with an AI writing tool ✍️]
What are the best AI writing tools?
What are the best AI writing software tools for your marketing projects?
Well, that depends on your needs. Are you trying to save time writing SEO-optimized blog posts or are you making huge volumes of social media posts? Do you have a team or are you a solopreneur? How price sensitive are you?
This post will help point you in the direction of your dream tool. I'll share my experience with the products, pricing information and even their G2 rating. It's split up into four different sections. Use the table of contents to navigate.
Lez' go.
3 Best AI Blogging Tools
If you're looking for the best AI blogging tools, these are the ones you should consider. Also read: The 9+ Best SEO Tools for Bloggers.
1. GrowthBar

GrowthBar is hands down the best AI writing tool for bloggers and content creators. It's an all-in-one AI tool that enables you to create content with a button click (1,500 words in just two minutes). Because GrowthBar is an AI blogging tool, it gives you automatic blog SEO recommendations while you write with AI. Drag and drop headlines, click write with AI, then optimize and share with your writers and teammates. GrowthBar also features keyword research and competitor research so you can find what to write about to rank on Google.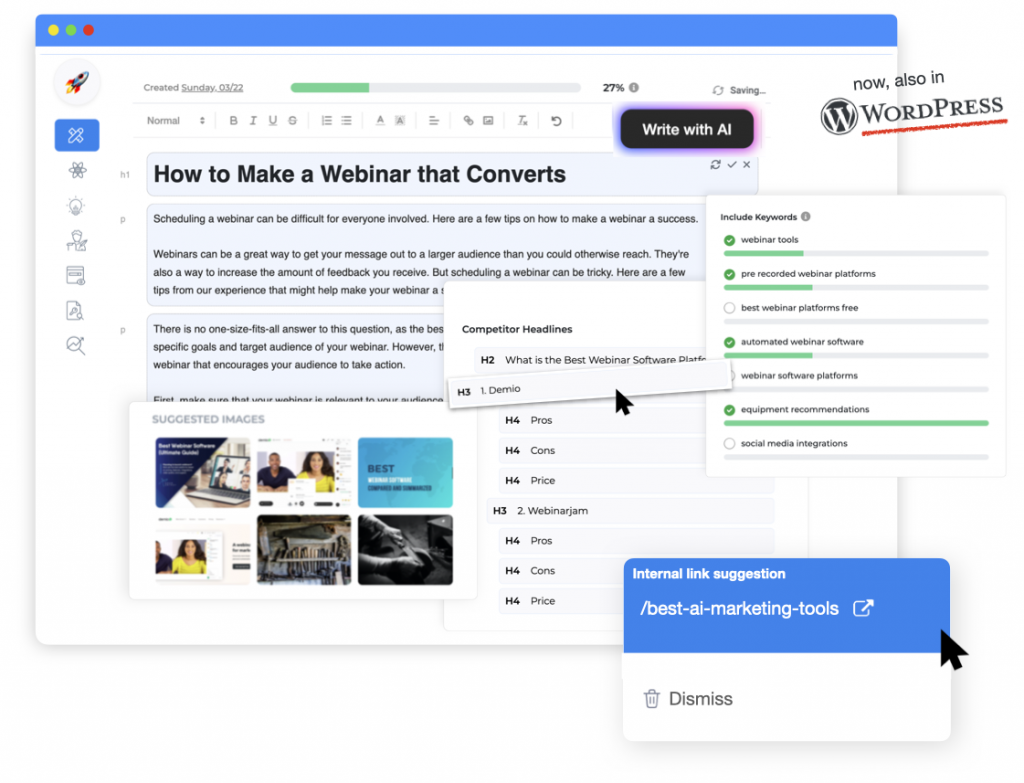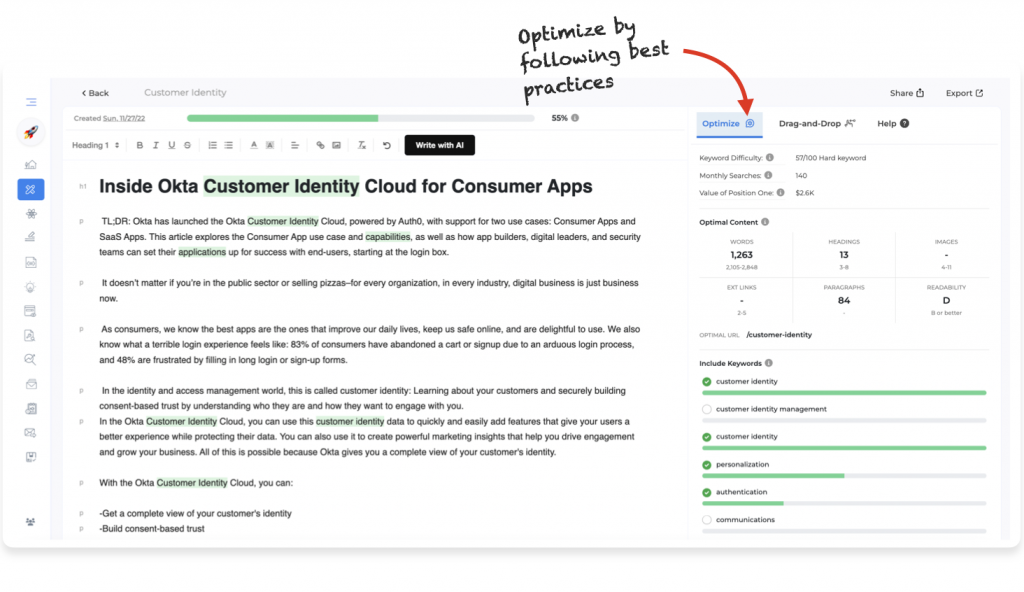 GrowthBar is built atop GPT-3, the most sophisticated natural language processing model ever created. With one click, you can create a blog post outline with drag-and-drop headlines. From there, you can click a button and GrowthBar's algorithm will read your content and generate hundreds of words at a time, filling your blog posts with awesome, unique content.
Plus, there's also a WordPress plugin so that you can operate directly in your CMS (if you're a WordPress user).
GrowthBar also enables you to generate blog ideas, standalone paragraphs, and much more.
Features:
AI content outlines and drag-and-drop headlines
AI content creation
AI blog idea generatioin
2-Minute First Draft builder, which writes 1,500 word SEO-optimized blog posts in 2 minutes
Automatically suggests internal links and grades your content as you write + gives suggestions for improving SEO
Writing editor interface that scores your work, counts keyword usage, and paragraphs, delivers a Flesch Readability Score, and much more; includes a Grammarly integration out-of-the-box
Keyword research, competitor analysis, Google Ads analysis, and backlink analysis
Pros:
AI content generation is fast and high quality
Add 10 or more teammates to collaborate on articles
Content outlines are drag-and-drop, enabling you to make outlines in less than half the time
A few free-to-use tools, including writing paragraphs with AI
Works in 20 + languages
Keyword research, including search volume and difficulty scores, enables you to make smart blog decisions — keyword research is also available in 20+ languages
Chrome Extension for writing in WordPress and getting SEO tips while you Google search
Companies using GrowthBar:
GrowthBar is used by 6,000+ companies including Postmates, Square, Minted, Spekit, Bill.com, Wheel, and more.
Pricing:
Standard: $29/month unlimited keyword research, unlimited competitor research, 25 AI blog posts, 200 paragraphs of AI content (about 50,000 words)
Pro: $79/month unlimited keyword research, unlimited competitor research, 100 AI blog posts, 500 paragraphs of AI content.
Advanced: $129/month unlimited keyword research, unlimited competitor research, 300 AI blog posts, 2,000 paragraphs of AI content.
Our take:
GrowthBar is one of the best AI writing tools out there. Growth Marketing Pro and a team of engineers and marketers have built GrowthBar over the last 2+ years. We've invested hundreds of thousands of dollars and thousands of hours into honing GrowthBar into the number-one tool for content SEO. GrowthBar is one of the most affordable tools on this list too. If you're looking for a tool for blogging this is it. If you have a wider array of use cases, you might consider other tools on this list. GrowthBar has 4.9 stars on G2.
2. ChatGPT

ChatGPT is the brainchild of Sam Altman's OpenAI. ChatGPT enables you to do just about anything with AI. Write an email to your mom. Rephrase a sales email. Or even write a cease and desist letter to your annoying neighbor. But ChatGPT is a Swiss army knife for bloggers. I like to use it for a bunch of time-saving tasks like generating a quick and dirty outline for a blog post or for finding topical gaps in my blog posts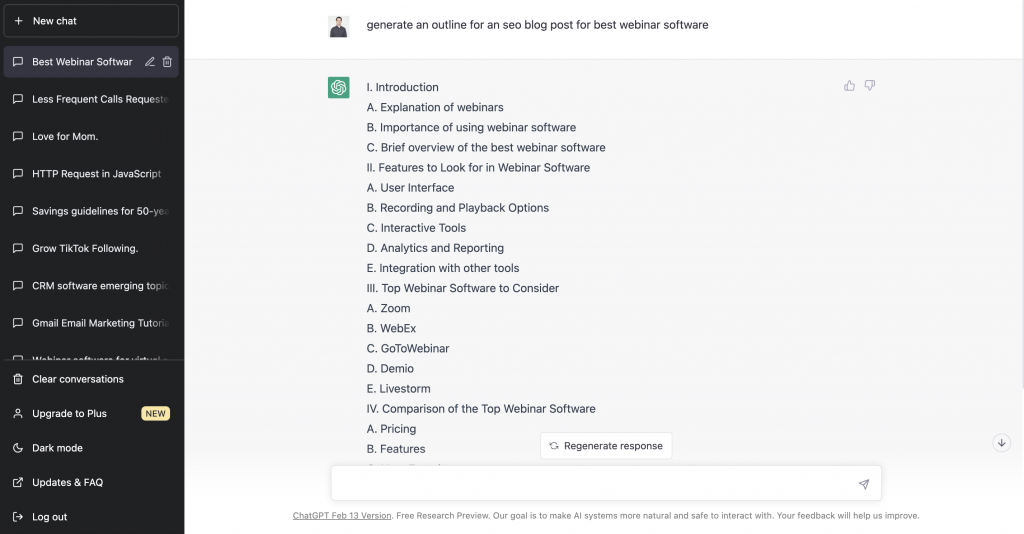 Also, watch my video to see the 13 ways I use ChatGPT for SEO:
Features:
ChatGPT has a single feature: a chat interface in which you can ask the AI anything
Do keyword research for emerging keywords, high-value keywords, and related keywords
Create paragraphs, meta descriptions, titles, and bulleted lists
Find citations and statistics for blog posts
Pros:
Fast, accurate outputs
Wide range of uses
Free!
Companies using ChatGPT:
I think it's safe to say that someone at every reputable company has used or is using ChatGPT. I have a friend working at a reputable tech company who used it to help write his employee's performance reviews.
Pricing:
There are two different monthly pricing plans:
Free
Plus: $20/mo for faster outputs and priority feature access
Our take:
ChatGPT is basically the most versatile AI product there is. I use it for research, planning and writing blog content. Plus, the use cases are far more diverse than that. Like I said, you can do everything from writing emails, to summarizing big chunks of test, to changing the tone of your content. There's almost no use case ChatGPT can't cover, blogging included.
3. Scalenut

Scalenut is a newer AI writing tool with a focus similar to GrowthBar. It's primary use case is SEO writing, and it does it very well! Like GrowthBar, it surrounds its AI writing tools with SEO insights so that blogging teams have an all-in-one product for creating content. The content planning cluster creator is very useful if your primary use case is blogging.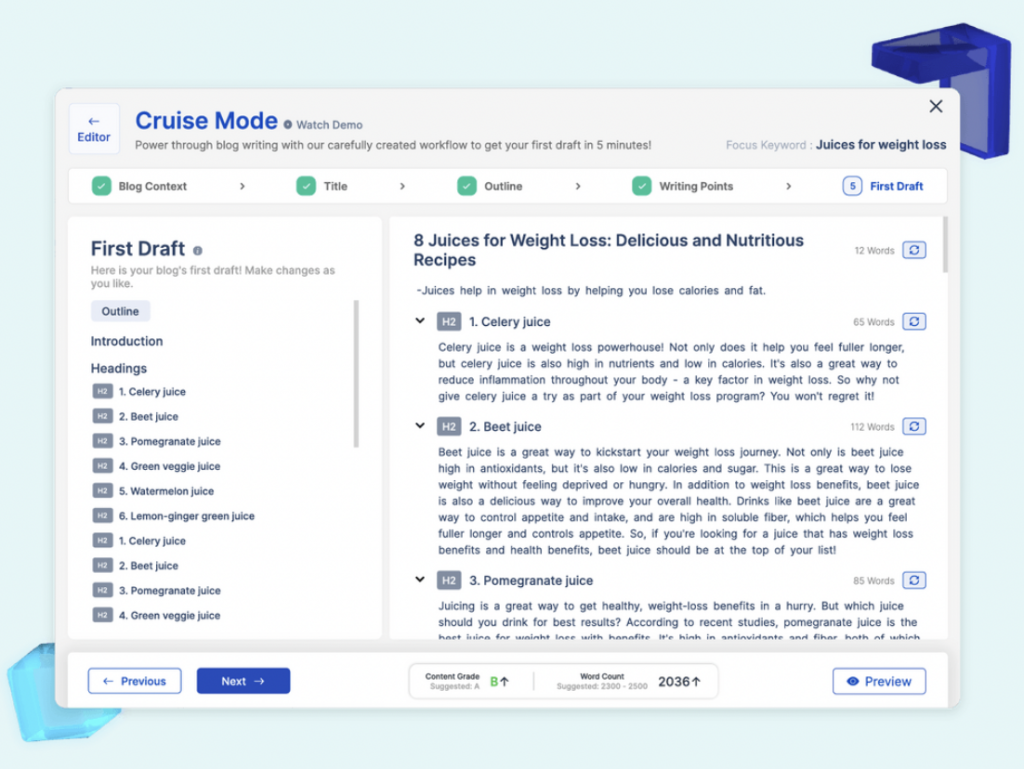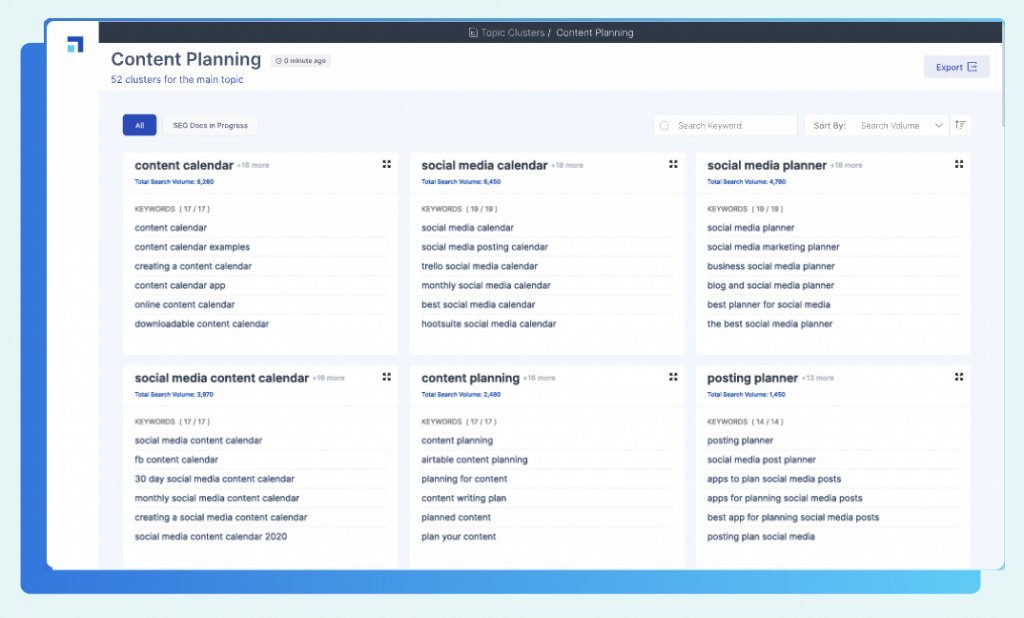 Features:
Instantly generate high-quality AI content across 50+ use cases, specializing in blog writing
Other features include ad copy writing, web copy writing, social media, and a whole lot more
Pros:
Great one-shot content generator, so you can create a from-scratch article in 10 minutes
Like GrowthBar, it pulls in keyword research and ideas from the Google search engine results page (SERP) to recommend topics and keywords for your blog posts
50+ fun use cases
Strong AI outputs
Reasonably priced
Companies using Scalenut:
Teachmint, PharmEasy, Hubilo, and Outplay
Pricing:
There are four different monthly pricing plans:
Starter: $29/mo
Professional: $79/mo
Enterprise: $149+/mo
Our take:
Scalenut is another great choice for the blog writing audience. It features a really nice AI writing text editor, SEO tools to help you plan your content, and 50+ other AI writing tools that make it easy to produce copy in a snap. However, additional users cost $49/month, which isn't great. Most other tools on this list enable you to add some writers for free. However, it's a strong tool with 4.7 stars on G2.
6 Best General AI Writing Tools
There are a whole bunch of AI writing tools with many use cases. They are some of the most well-known AI tools in the space.
1. ChatGPT (again)

ChatGPT is insane. It belongs on every one of these lists because of the amount of use cases and the accuracy of the outputs. It belongs in your toolkit. Use it for writing help, sales help, coding help, simple rephrasing, or just about anything else you can think of.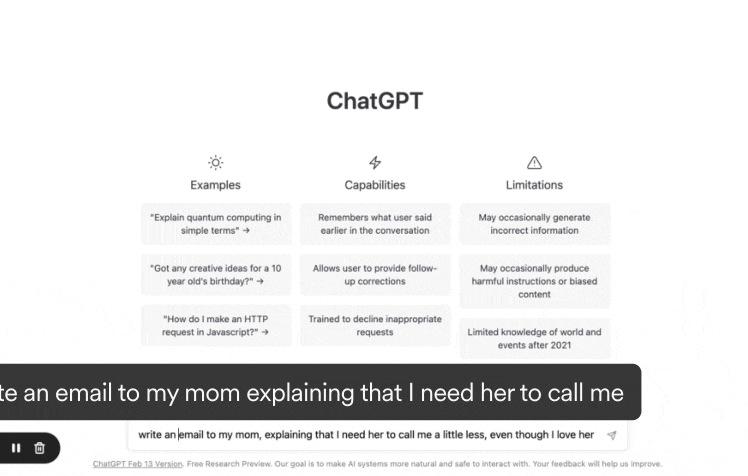 2. Copy AI

Copy AI is a comprehensive AI writing tool with a ton of use cases.
It excels at generating short-form content such as email subject lines, blog title ideas, headlines, social media captions, product descriptions, brainstorming, bullet points, and almost anything else you can think of. It's an optimal tool for teams with a wide variety of writing use cases. It also has a chatbot that incorporates real time information (more on that shortly).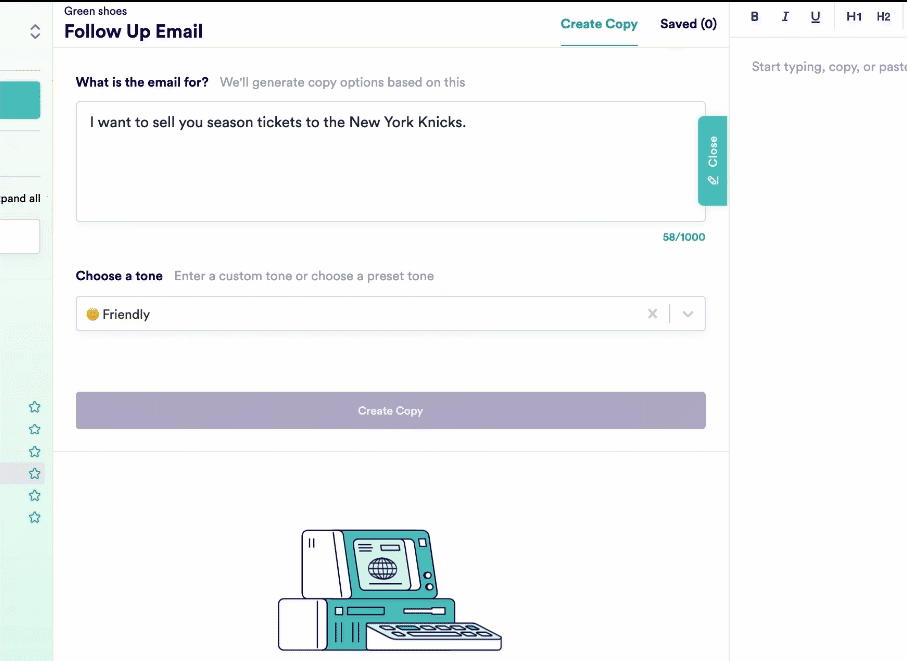 Like GrowthBar, Copy AI is built on GPT-3, making its results very accurate and 100% unique. There are 90+ use cases and Copy AI's large team of engineers are constantly refining the product.
Features:
Digital ad copy: Facebook Ads, Google Ads, LinkedIn Ads
Social media content: Instagram posts, Instagram hashtags, brainstorming topics, etc.
Website copy: hero text and meta descriptions
Ecommerce copy: product descriptions, product benefits, etc.
Sales copy for lead generation
Chat by Copy AI is a great ChatGPT alternative with sales and marketing use cases
Pros:
Content templates: Copy AI comes with many templates (90+) and tones to choose from for all kinds of short-form content, such as emails, social media posts, and product descriptions.
Supported languages: Copy AI can translate to 25 languages, regardless of the chosen plan.
Quality of support: In addition to the Help Center page on their website, Copy AI also has an easy-to-use messaging system to get in touch with their customer support team.
Chat by Copy AI: enables you to write with AI and include real-time information. For instance, if you want Chat to write you a summary of all of [your LinkedIn contact]'s recent updates, it can do that. So there are some really handy use cases that set it apart for salespeople.
Companies using Copy AI:
Ebay, Nestle, Ogilvy, Microsoft
Pricing:
Free: Copy AI has a free plan that includes 10 pieces of copy, which won't get you too far
Pro: $36/month, which gets you unlimited copy credits
Enterprise: no pricing information provided
Our take:
If you're a growth marketer, social media marketer, salesperson, or almost any other content-creating function, Copy AI is a transformative tool. It enables you to make copy for almost anything you can imagine. As with most tools, it requires a little human editing to get your content perfect for customer consumption, but it's really outstanding. Copy AI has 4.8 stars on G2.
3. Jasper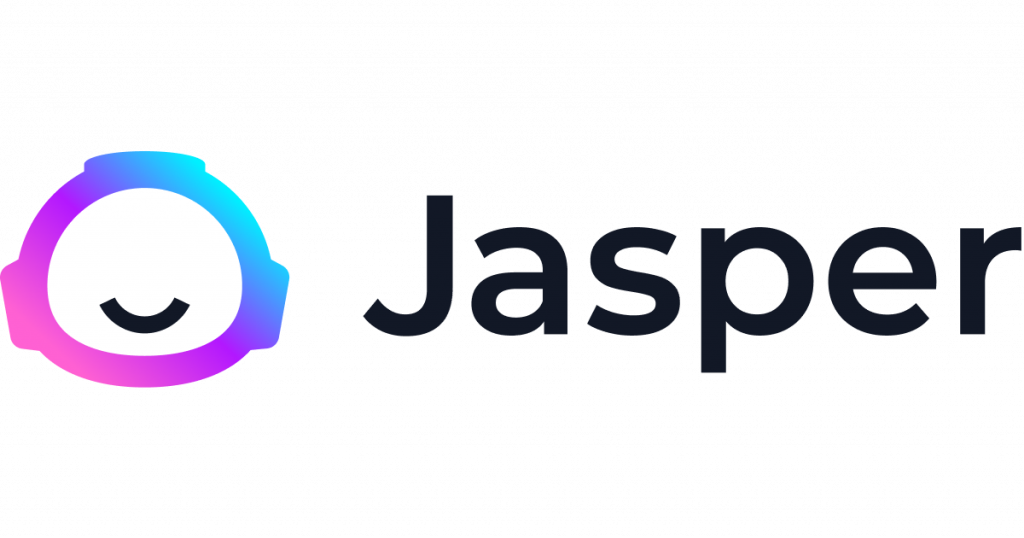 Jasper is the tool with the most use cases. It includes a number of short-form features, including product descriptions, blog post ideas, Google Ads, Facebook Ads, LinkedIn Ads, as well as a long-form content assistant that helps you write blog posts. Like Copy AI, it has a wide array of use cases — some of which are better than others. It also has an AI image generator, a Chrome Extension, and an API.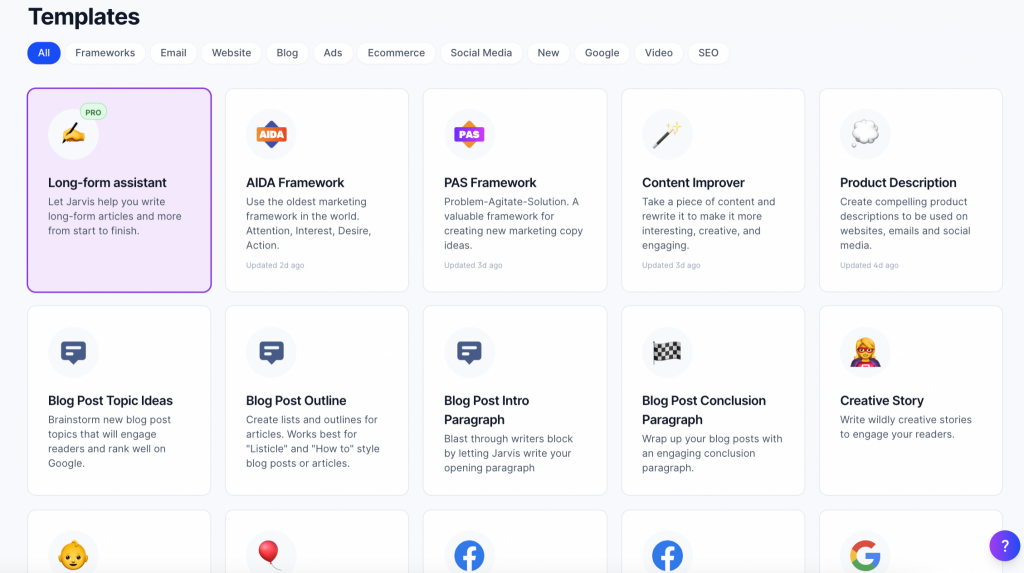 The product is slick and modern and very simple to understand/use.
Features:
Over 50 templates that produce AI copy including Facebook Ads, Google Ads, LinkedIn Ads, sales copy, social media copy, email marketing copy, and much more
Long-form content assistant that allows users to create full blog posts with AI assistance
Plagiarism checker built-in
Team collaboration features
Works in 25+ languages
Has a Chrome Extension that operates much like Grammarly's — so you can get AI writing assistance wherever you write!
Integrations with Grammarly and SurferSEO for support with grammar and search optimization on the fly (though, these add-ons get expensive)
API
Pros:
Great suite of templates that rivals Copy AI in breadth
Large Facebook community for support
Works across 25 languages
Many help videos to get started
Companies using Jasper:
Airbnb, Promo, Autodesk, Keller Williams and Logitech
Pricing:
Starter: $29/mo, 20k words per month and access to all 50 templates
Boss Mode: $59/mo, 50k words per month, access to all 50 templates, plus Boss Mode (the long-form editor)
Our take:
Good product, but falls in between a long-form SEO tool (like GrowthBar) and a full suite of copy tools (like Copy AI). I took it for a spin and wrote some content. The AI outputs were fine, but far from perfect. Jasper also seems to include weird spacing in all of its outputs, which means more editing is required than I'd like. It also tends to be among the more expensive tools on this list. Its sliding-scale pricing means that the full suite of tools will cost a minimum of $49/month to upwards of $500/month depending on your writing volume. It's a great tool for a wide variety of use cases. Jasper has 4.7 stars on G2.
4. Ink For All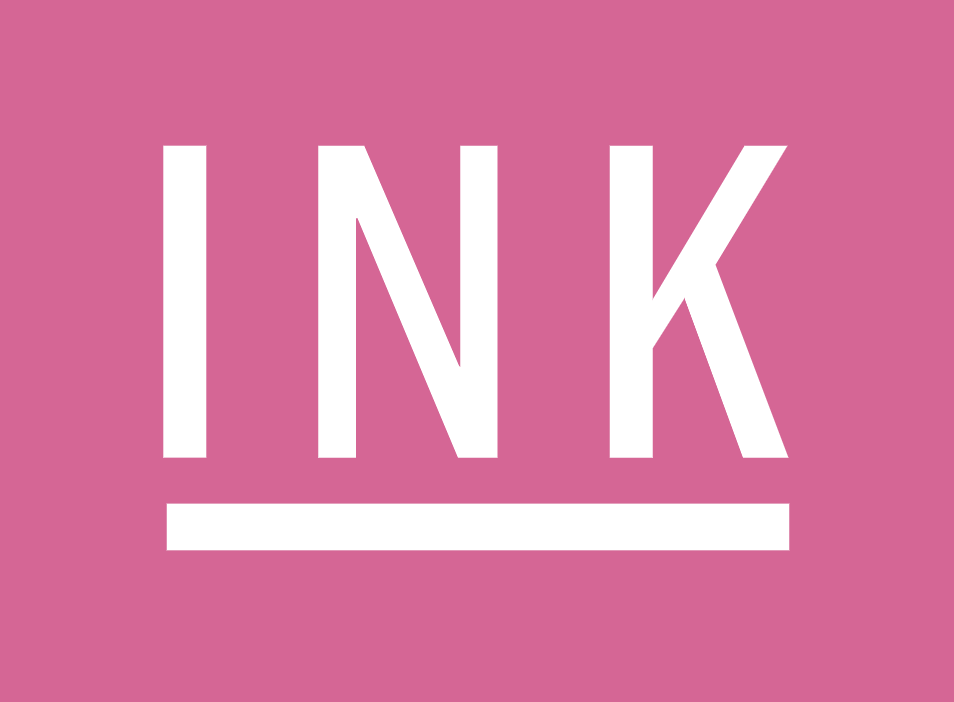 Ink is an all-in-one text editing and SEO writing tool that makes it easy to find and publish high-quality content. With Inkforall, you can quickly find and curate content from around the web, and then publish it to your website or blog with just a few clicks. Plus, Inkforall's built-in SEO tools help you optimize your content for the search engines, so you can write and rank simultaneously.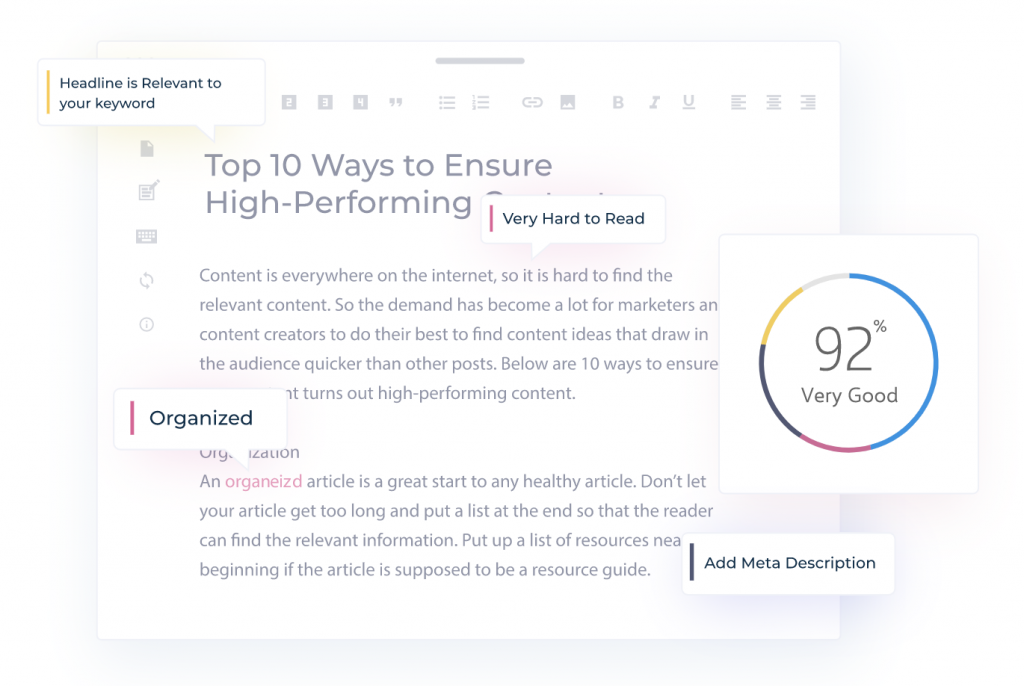 Ink also has some Grammarly-like features, in that it can instantly rephrase your content with a single click. And because there is a Chrome extension, you can use Ink anywhere you write. Finally, Ink has many features like Copy AI including PPC ad copy, call to actions, and more.
Features:
Long-form editor with SEO optimizations built-in
PPC copy and landing page text generations
Other content generations include video titles, bulleted text, product descriptions, domain name generations, AIDA copywriting, and more
Writing tools including noun checker, verb finder, parts of speech checker, paragraph counter, and more
Meta optimization
Spelling and grammar suggestions
Minimalist interface
Image optimization — compression and resizing
Sentiment analysis
WordPress integration
Pros:
With 60+ functions, Ink is definitely one of the most comprehensive solutions on this list, as it includes grammar, long-form content, ads, and more
Native app for Mac, Linux, Windows, and Google Chrome
Simple to use and fantastic support documentation and videos
Companies using Ink:
Shopify, HubSpot, Uber and Salesforce
Pricing:
Starter: $8.80/month, 60+ AI writing functions, 222 Ink points, unlimited sentence rewrites, 1 user login, chat support
Pro: $44/month, 60+ AI writing functions, 555 Ink points, unlimited sentence rewrites, 1 user login, priority support, and SEO tools including headline optimizer and keyword research
Team: $177/month, 60+ AI writing functions, unlimited Ink points, unlimited sentence rewrites, 3 user logins, priority support, and SEO tools including headline optimizer and keyword research
Our take:
Ink is another all-around tool with many features like Copy AI and Jasper. However, it actually has better SEO functionality than Copy AI and a superior long-form editor. Ink For All has 4.9 stars on G2.
5. Rytr

Like Copy AI and Jarvis, Rytr is a jack-of-all-trades when it comes to creating copy. It uses AI to generate unique copy for a number of use cases, including business pitch ideas, brand names, calls to action, email, Facebook, Twitter, and LinkedIn ads, product descriptions, meta descriptions, and more. It's a straightforward tool that generates unique copy in seconds.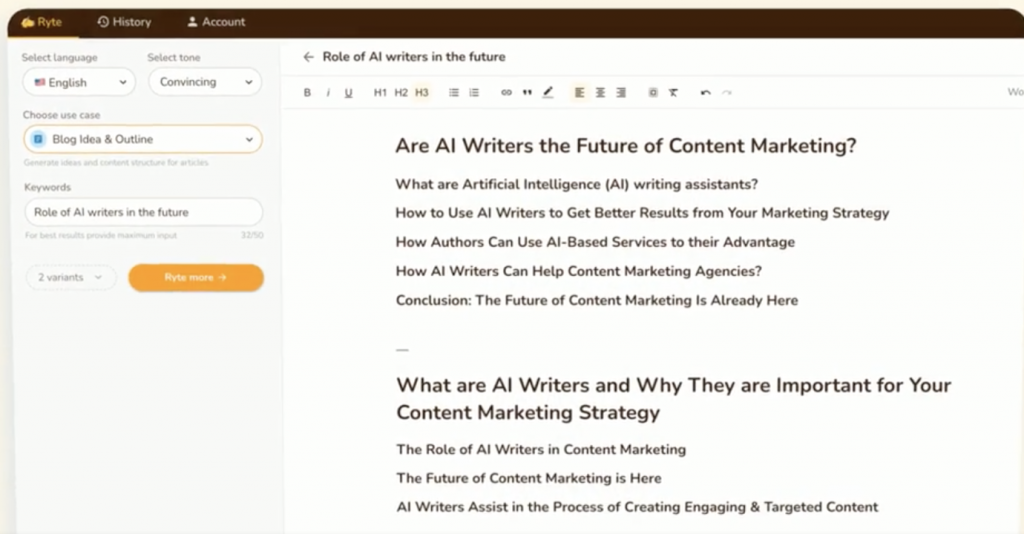 Features:
30+ use cases
30+ languages
18+ tones you can select from (convincing, awestruck, inspirational, etc.) to add personality to your content
API available
Pros:
Uses scientific copywriting formulas — such as AIDA & PAS — to provide best quality output that requires minimal to no editing
Honed content outputs mean pretty reliable text generations
Very generous free plan
Companies using Rytr:
Freshworks, Ikea, Ford, Payoneer, PWC and Adidas
Pricing:
Free: $0/mo, generate 5,000 characters per month
Saver: $9/mo, generate 50,000 characters per month
Unlimited: $29/mo, generate unlimited characters per month
Our take:
Rytr is a good tool. The AI content outputs are generally error-free and the free plan is one of the strongest on this list. They also have a "lifetime plan" that has been advertised on AppSumo that is very affordable. For that reason alone it's worth a spin. I think it's one of the best tools for journalists and other long-form writers who aren't necessarily as concerned with SEO suggestions. Rytr has 4.7 stars on G2.
6. Writesonic

Writesonic has developed a deep-learning artificial intelligence that is able to write articles in a fraction of the time it previously took. The AI is able to generate high-quality articles, blog posts, landing pages, Google ads, Facebook ads, emails, product descriptions, and more. Like the others in this section, there are a million and one use cases.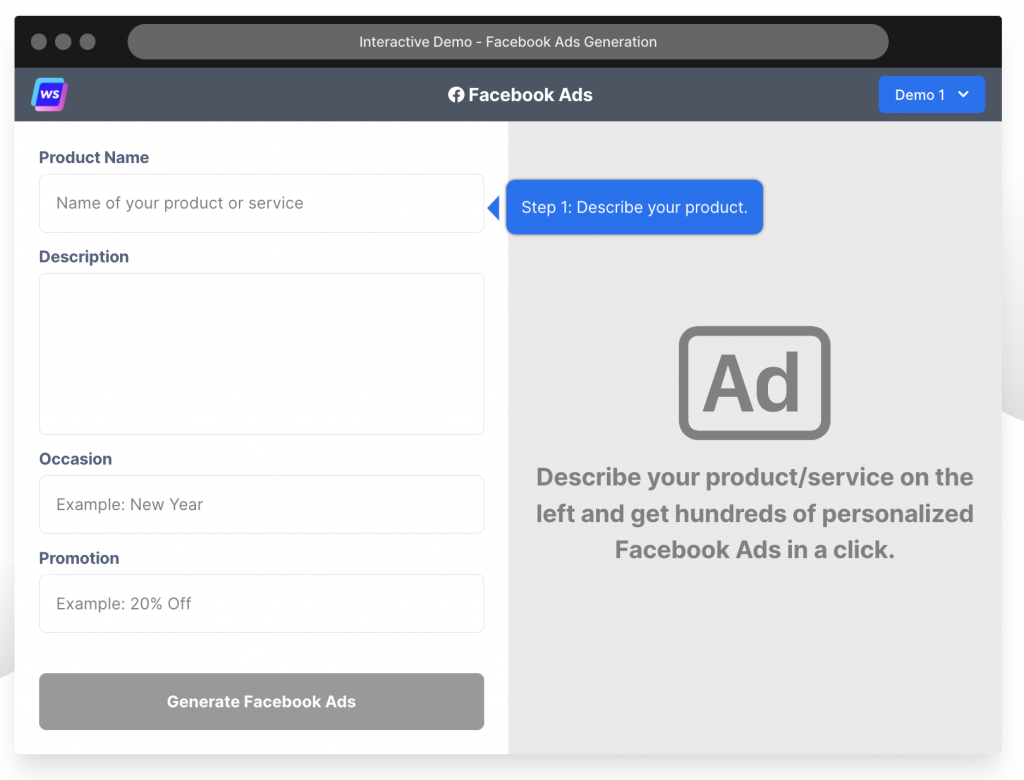 Features:
Website copy: headers, feature to benefit, landing pages
Digital ads: Facebook, Google, LinkedIn
Ecommerce: product titles, product descriptions, Amazon Ads, etc.
AI article writer similar to Jasper and GrowthBar
One-shot article generator, so you can create 1,500 words of content with just a few button clicks
Has an AI chat function like ChatGPT
Has an AI image generated like Jasper
API access
Pros:
Writesonic is pretty comprehensive and has nearly as many functions as Copy AI
Semrush integration gives SEO recommendations that enable you to write Google-friendly copy
One of the widest varieties of use cases and different tiers of writing quality, so you can get more low-quality words or fewer high-quality words (for the cost-conscious customer)
Companies using Writesonic:
Taskade, Mattressman, Schneider Electric, Evernote, and Salesforce
Pricing:
Free: 10 credits, all features, 1 seat
Basic: $15/month 100 credits, all features, 1 seat, long-form writing assistant, and Semrush integration
Professional: $45/month unlimited credits, all features, 1 seat, long-form writing assistant, and Semrush integration
Startup: $95/month unlimited credits, all features, 2 seats, long-form writing assistant, and Semrush integration, priority support
Agency: $195/month unlimited credits, all features, 4 seats, long-form writing assistant (with longer AI outputs), and Semrush integration, priority support
Our take:
Writesonic is a great all-around solution that has nearly as many functions as Copy AI. From my experience, the outputs are pretty well-honed as well. I think it falls between an SEO AI tool and a comprehensive solution like Copy AI. Depending on your use case, it may be a strong solution. Writesonic has 4.7 stars on G2.
3 Best Enterprise AI Writing Tools
If you're a large company, your needs are a bit different (and sensitivity to price). These tools help teams stay on-voice and write together, faster.
1. Writer

Writer.com is probably the best choice if you're a large company with a very particular writing style and a lot of quirks. Why? Because you actually declare "rules" for Writer, so that people across your organization use the same lingo and adhere to the particulars of your brand messaging.
This means that your blog posts, social media posts, sales emails, and site content all say the same thing. Writer is somewhere between Grammarly and an AI content generator like Copy AI or GrowthBar. It underlines and suggests alternatives for spelling, clarity, keyword usage, style, readability, and more. It also has generative AI capabilities to save you time while you create copy.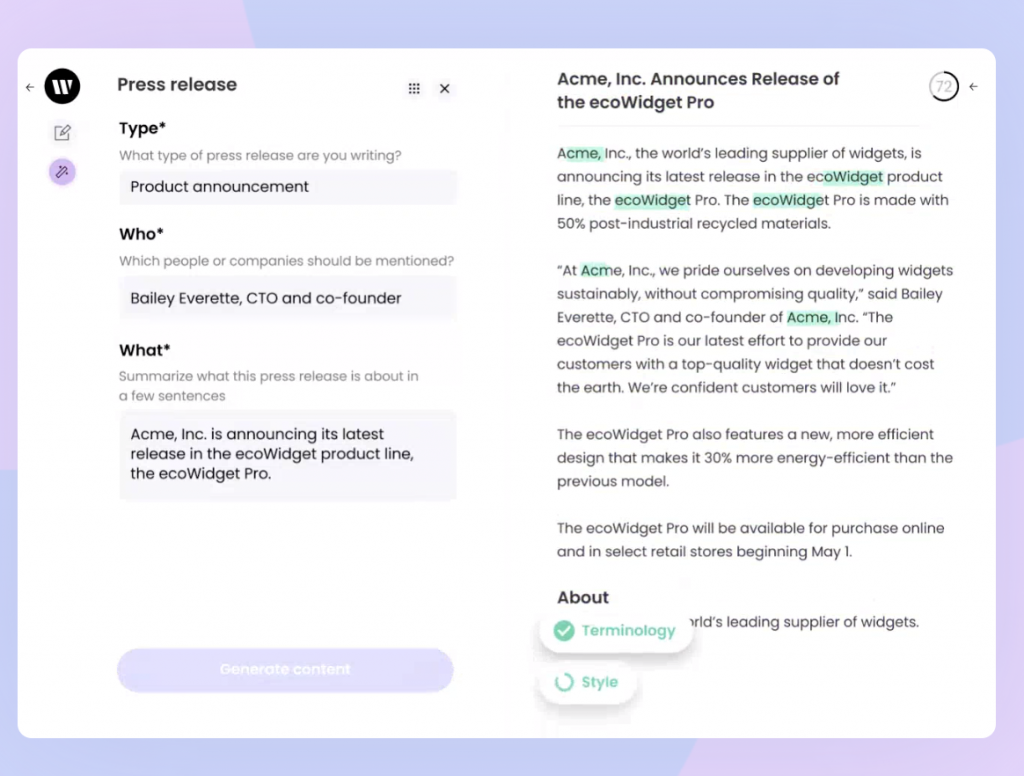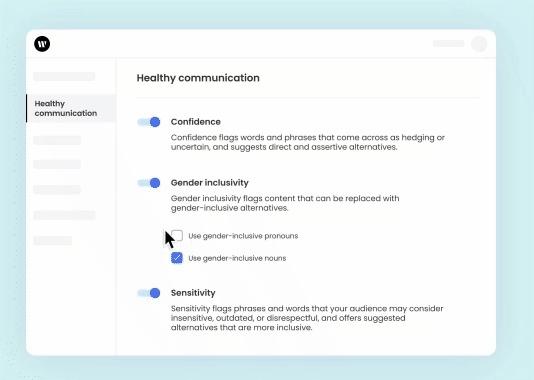 Features:
Works across most of the places your business operates: Figma, Google Docs, Contentful, and more
Choose your business' writing style, noun usage, taglines, and all other pesky particulars so that your team writes clearly across all platforms
Many use cases for the AI writing assistant, including press releases, product announcements, job descriptions, subject lines, and more
Can feed data and writing into the system to "train" the algorithm to "sound" like you!
Pros:
A very sophisticated product that does things no other product on this list does
Choose from 20+ writing use cases
SOC-2 compliant and other enterprise-level security
Companies using Writer.com:
Twitter, Charter, Spotify, Cisco
Pricing:
Starter: $19/mo for up to 5 teammates
Enterprise: contact for details
Our take:
Writer is a very unique product that does things no one else does. Upload your company's writing and other information and get your team on the same page. Make all your copy cohesive across 20+ use cases. If you're a CMO, I'm sure your ears just perked up! It's not as good for SEO copy. Writer has 4.6 stars on G2.
2. Notion

Notion is an incredible project management software tool that enables you to collaborate with teammates effortlessly. You can use it for note taking, Kanban boards, help wikis, and project management. Recently, they unveiled their AI writing suite. Highlight any words in your notion and you'll see an option to use the AI writing features. You can change your tone, summarize in bullets, translate language, and perform about 20 other AI functions all in your Notion dash.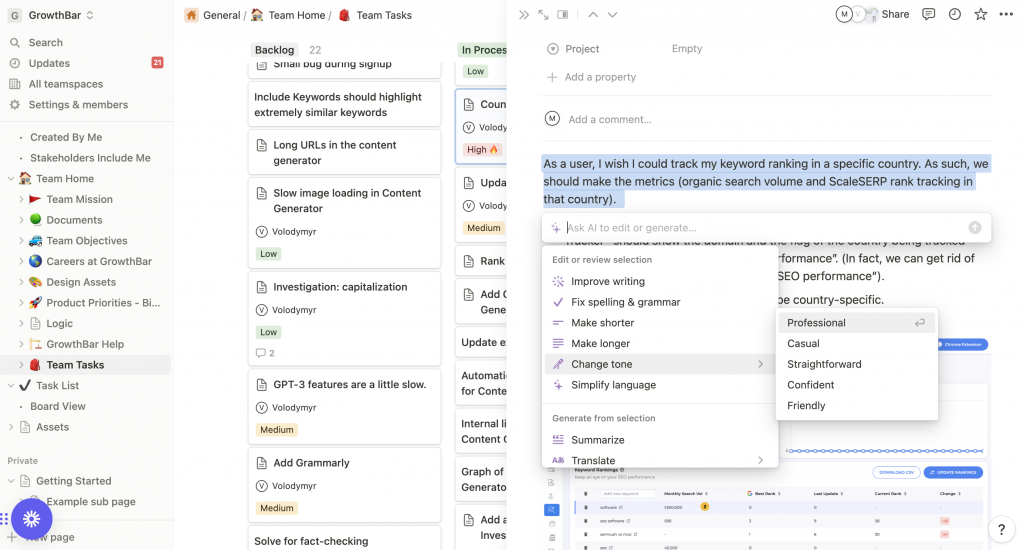 Features:
Project management suite
Improve spelling, writing, and fix grammar
Translate across 10+ languages
Change your language tone and complexity
Summarize text, create bullet points, and add action items
Write blog posts, social media copy, and more
Pros:
It's integrated directly in a project management suite, so your whole team can benefit from AI writing
It's free with a Notion account
Companies using Notion:
Everyone from startups to enterprise businesses can use notion. Customers include Pixar, Netflix, Nike, and Doordash.
Pricing:
There are two different monthly pricing plans:
Free: collaborative workspace, project management suite, publish pages for wikis, and almost all of Notion's features
Plus: $8/user/mo includes all that's in free, plus team features and up to 100 guests
Business: $15/user/mo, which includes SSO/SAML, some bulk export features, and more team collaboration.
Our take:
Notion is a premier project management tool, so its use cases are varied. But any team collaborating in Notion can now use generative AI, which is a pretty incredible upgrade. It only has 20+ writing functions, compared with Jasper and Copy AI's 90+, but Notion is a thoughtful tool for way more than just copy. Notion has 4.6 stars on G2.
3. Copysmith

Copysmith is a content generator that specializes in producing copy for social media, ads, product descriptions, meta tags, and other short snippets of content. It's a great tool for entrepreneurs and digital marketers with quick copy needs. The most common use case for Copysmith is ecommerce. They have some ecommerce-specific features that make it perfect for that type of writer. For instance, you can write product descriptions in bulk (up to 75 at a time). So if you have a lot of products and limited resources, Copysmith is probably the best choice for you. This is why it's a strong enterprise AI writing choice.
Copysmith has many different templates depending on the type of copy you want to generate. Generally speaking, each template format is very similar; you add keywords and other relevant information, then their AI does the rest. You end up with a list of short snippets of copy. Each piece of copy is unique, so you can either copy and paste it or make some edits.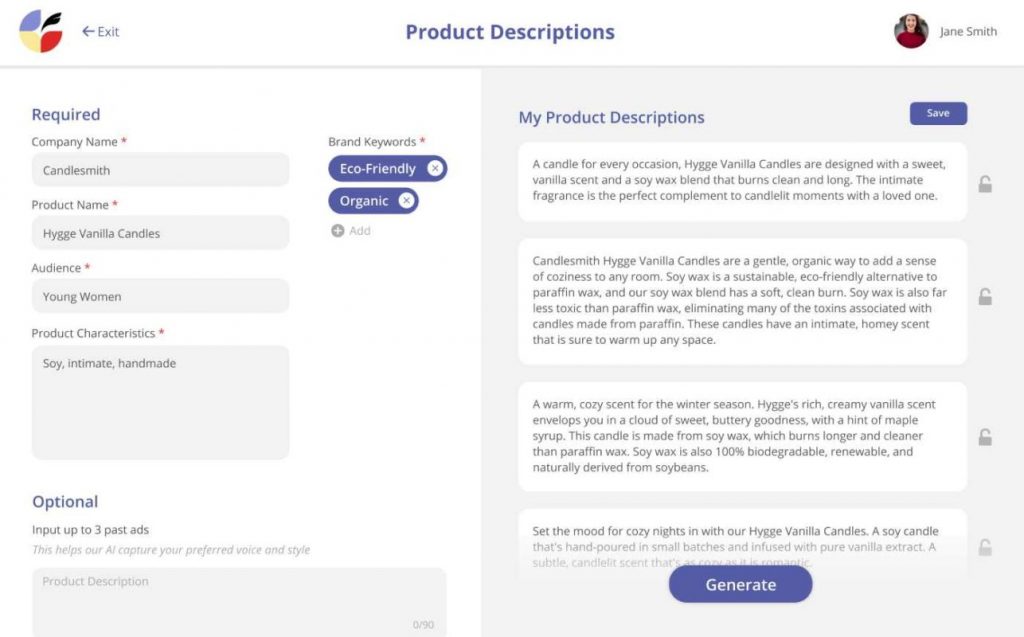 Features:
High-quality copy for ecommerce and enterprise customers
Use cases include: product descriptions, Google Ads, meta descriptions, landing page copy, Facebook Ads, social media captions, Etsy product listings, Amazon product listings, and more
100+ languages are supported, plus there is also an in-file translation to rewrite your content instantly in other languages
Campaign builder to create new product description, landing page copy, meta tag, social media caption and blog post all in one shot
Bulk uploads via Excel or CSV to produce up to 75 product descriptions at once
Pros:
Bulk uploader: this product is unique to Copysmith, so again, if you're an ecommerce marketer, Copysmith is a great choice
Great AI outputs
Nice team collaboration features
Companies using Copysmith:
Change.org, Zapier, and Marshall's
Pricing:
Starter: $19/mo
Professional: $59/mo
Enterprise: $499/mo
Our take:
I'll say it once more: if you're an ecommerce marketer, Copysmith is probably the right tool for you. It uses powerful AI to generate unique content across 50+ use case and 100 languages. It has 4.3 stars on G2.
4 Best Other AI Writing Tools
If you want a tool that works where you do, try one of these.
1. Text.cortext

Text.cortext is a browser extension for writing with AI everywhere. You can use text.cortext to add pizazz to your emails, create long-form content, brainstorm, improve and rephrase. It's cool, because you don't need to work within an interface — it literally works anywhere you're writing. It also has templates to help you take care of some common use cases faster. Text.cortext has social media templates, website copy templates, email templates, and even an AI chatbot like ChatGPT.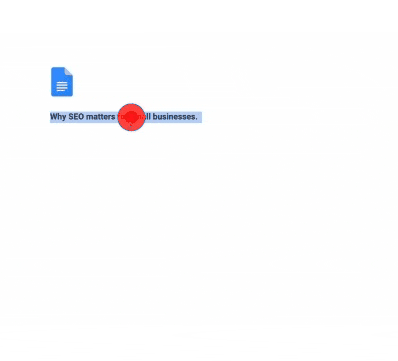 Features: 
Chrome Extension
60+ writing use cases, including email, social, website copy, text-to-speech, product descriptions and more
An AI chatbot
Integrations with Notion, Twitter, LinkedIn, Google Docs, Outlook, and more
API
Pros:
Write with AI everywhere: with the Chrome Extension, you don't have to feel constrained by a platform — you can write with AI using text.prompt's commands anywhere you write.
It has a pretty wide variety of features and works across 25+ languages
Companies using text.cortext:
Deloitte, Upwork, Shopify
Pricing:
There are two different monthly pricing plans:
Free: 10 text generations per day
Pro: $19.99/mo for 200 words per completion, additional templates, foreign languages, tone changer, and summarizer
Business: $49.99/mo for 300 words per completion, 60+ templates, and Zeno Mode for personal writing assistance
Our take:
Text.cortext really is awesome. The Chrome Extension is what really sets it apart. You can literally write anywhere with AI. The user interface is slick and it's all pretty easy to understand, so it's a good choice for novices. Text.cortext as 4.7 stars on G2.
2. Grammarly

Grammarly is a writing app that helps writers find and fix mistakes before they publish their work. By now, you've probably heard about it. They recently raised venture capital at a $13 billion valuation!
The app is also notable for its contextual grammar tips, which help writers improve their writing skills. Grammarly's AI system combines machine learning with a variety of natural language processing approaches, enabling users to correct characters, individual words, sentences, and even paragraphs of text. Plus, there's a friendly Chrome Extension so you can get writing assistance in Word Docs, Gmail, Notion, and almost any other place you write.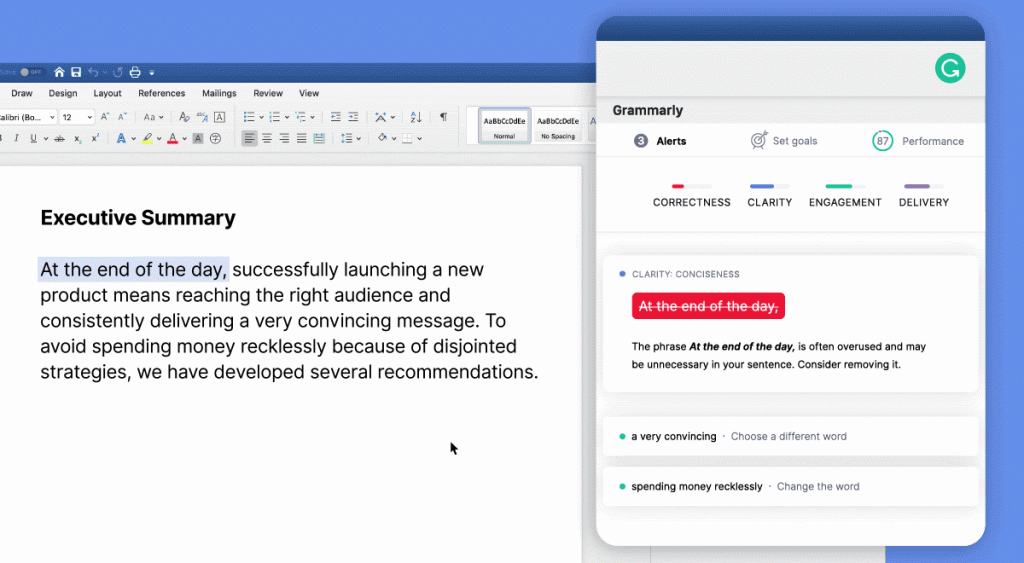 Features:
Grammar checker, word choice
Sentence rewrites
Tone adjustments
Plagiarism detection
Word choice
Fluency checker
Save snippets, create a tone profile, create style guides, and more with the business plan
Integrations with web browsers, desktop apps like Slack, Microsoft product suite, email clients, and more
Pros:
Simple interface that works in your browser as Chrome Extension and desktop app so you can edit emails, Google Docs, and more
Grammarly's free plan is very robust and includes punctuation, tone detector, conciseness checks and more
Grammarly is stupid simple to use
Companies using Grammarly:
The New York Times, The Wall Street Journal, USA Today, TechCrunch
Pricing:
Free: basic functions like grammar checker and punctuation errors
Premium: $30/mo, includes all free features plus word choice, fluency checker, tone adjustments, etc.
Business: Starts at $120/mo for 10 users
Our take:
If you're writing lots of content, you should at least try the free version of Grammarly. I consider myself a good writer, but I can't tell you the number of times I've found silly typos in my blog posts and emails using it. The business plan is useful for larger writing and content teams. There is no AI content generation, but as a writing assistant, Grammarly is second to none. Unfortunately, Grammarly is only available in English.
3. Jenni AI
If I were still in college, Jenni AI might be my best friend. Jenni AI excels in writing academic papers. You can write and Jenni gives you autocompletion-type generative text that you can approve. If you don't like the text, simply skip to the next. Jenni is cool because the AI writing is proactive — you don't have to click a button to write. The writing happens automatically if you "allow" it. Also, Jenni suggests sources to cite in your article and creates a references section as you go.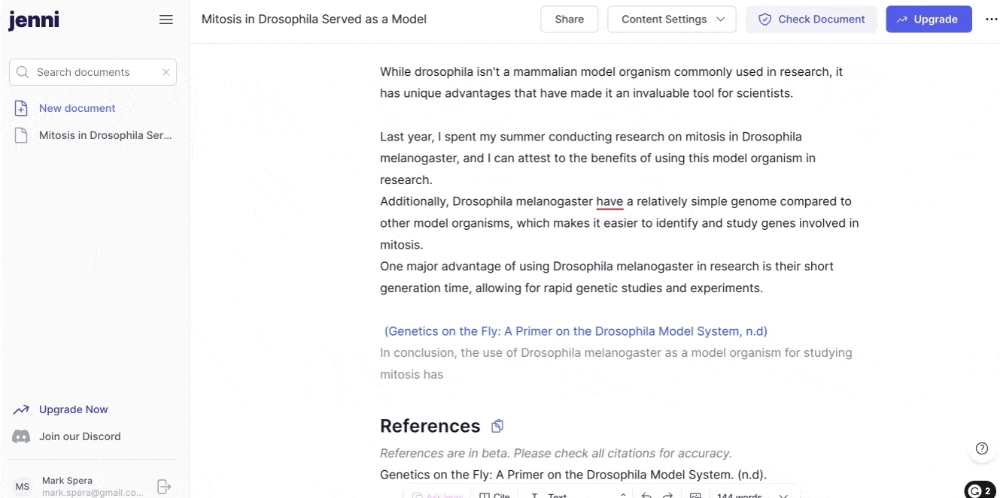 Features: 
Long-form text editor for creating essays
Proactive AI writing that is surprisingly accurate
Pros:
Nifty mechanism for text completion
Citing sources is obviously quite helpful as a student
Very reasonable price
Companies using Jenni AI:
Students
Pricing:
There are two different monthly pricing plans:
Free
$6/mo for 3,000 words and up from there
Our take:
If you're a student, you should definitely check out Jenni. Like I said, it's easy to get started and delightful to use.
4. SmartWriter.ai

SmartWriter.ai is an awesome AI writing tool that generates bulk sales outreach. It searches for podcasts, interviews, articles, Medium blogs and 42 more data sources to create a unique contextual message that grabs the eyes of sales prospects. With one click, it generates sales copy and lets you take it from there. So basically, it researches your prospects, then it tees up an email with AI to them based on their publicly-available personal information. They even advertise that backlink-seeking SEOs can use SmartWriter.ai to scan a webpage and customize a backlink proposal.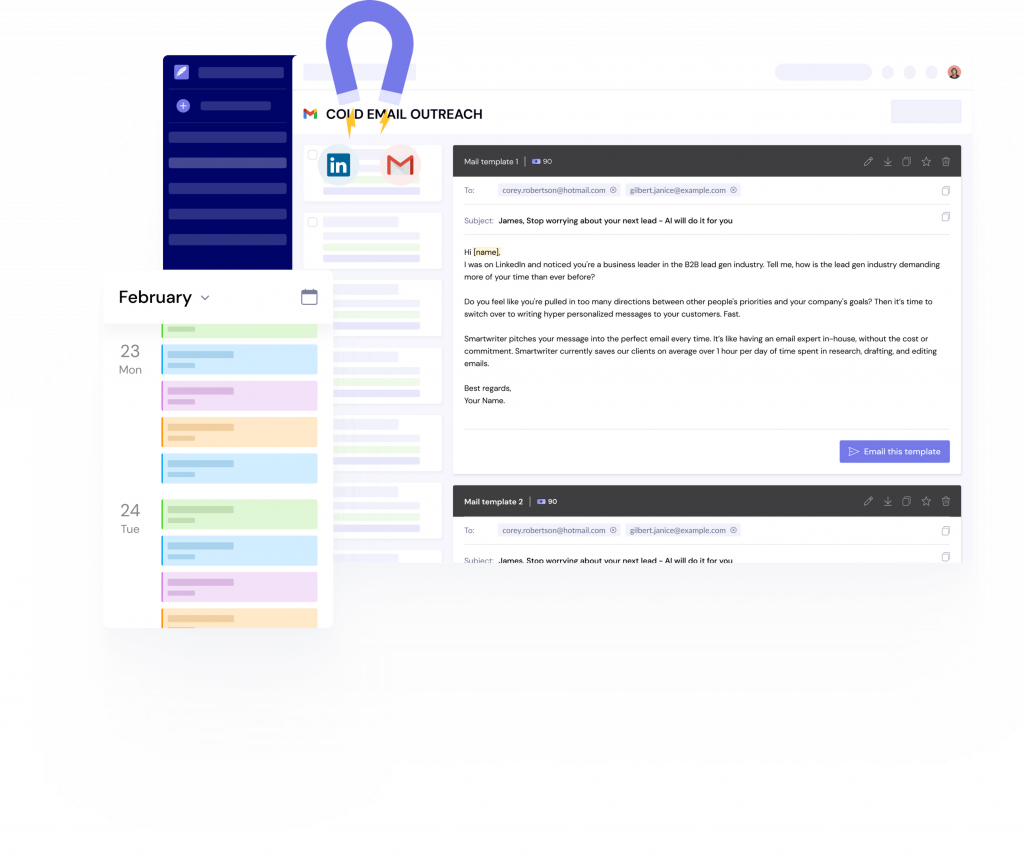 Features: 
Create tailored emails based on your prospects recent online activity
Personalize your entire campaign. From the first email to all your follow ups
Compliment them on their LinkedIn Post automatically with AI
Summarize blog content for backlink outreach
SmartWriter Chrome Extension can scrape any LinkedIn profile for contact information and bio data
Other AI writing features
Pros:
Saves salespeople a ton of time researching and deploying cold outreach emails with AI
Companies using SmartWriter.ai:
Vayner Media, Airtable, Stripe, and MongoDB
Pricing:
There are two different monthly pricing plans:
Basic: $49/mo for 15 personalized lines per lead and up to 400 leads per month
Popular: $124/mo for 15 personalized lines per lead and up to 1,200 leads per
Pro: $299/mo for 15 personalized lines per lead and up to 3,500 leads per
Our take:
Awesome tool if you're a salesperson. SmartWriter.ai is great for salespeople who need to mind-numbingly enrich lists of leads, write sales copy, then deploy the emails. You can do it all from one tool. SmartWriter.ai has 4.0 stars on G2.
What Are AI Writing Tools?
The rise of artificial intelligence writing tools has made it possible for anyone with a word processor and an internet connection to produce their own AI-generated text. This is especially important for content marketing specialists and writers who are looking to cut down on their workload, corporations, trying to write in a single voice, and students, who want to get through their work faster, and more accurately.
There are so many use cases: SEO, short-form content, Google Ads, Facebook Ads, subject lines to longer-form email copy, blog posts, novels, essays, rephrasing emails, sales copy, ecommerce product copy, and so much more.
AI writing tools aren't perfect. Most of them require some amount of human editing to nail the tone and produce fully accurate information. Plus, if you're spending millions of dollars on ads, I'd personally like to do a lot of my own finessing to make sure the final product is exactly what I intended.
But in general, AI writing tools are huge. At this point, nearly every business, agency, and entrepreneur is using some form of AI content. It's accessible, affordable, and pretty accurate.
What are the Best Free AI Writing Tools?
As you've probably gathered, most of the tools on this list aren't free… with a few exceptions.
GrowthBar has a free suite of SEO tools that you can access here.
Copy AI also shows a few free tools.
ChatGPT: the ultimate free AI writing tool for nearly every use case.
Grammarly also has a great free product as well. You can download the Chrome Extension at no cost and there is a web version here that can perform simple grammar checks.
How Do AI Writing Tools Work?
Explaining how AI writers work is actually quite simple.
In essence, all generative AI tools are trained on a corpus of documents (in the case of GPT-3 over 70 billion web pages!). Every word in the corpus is tagged and over time the AI becomes better and better at predicting the next word, sentence, or paragraph.
That process of improving the algorithm is called "training." Basically, humans score the outputs and so the algorithm learns which outputs are favorable and which aren't. The process is extremely time-consuming and iterative… and expensive. GPT-3 reportedly cost $12 million for a single training run!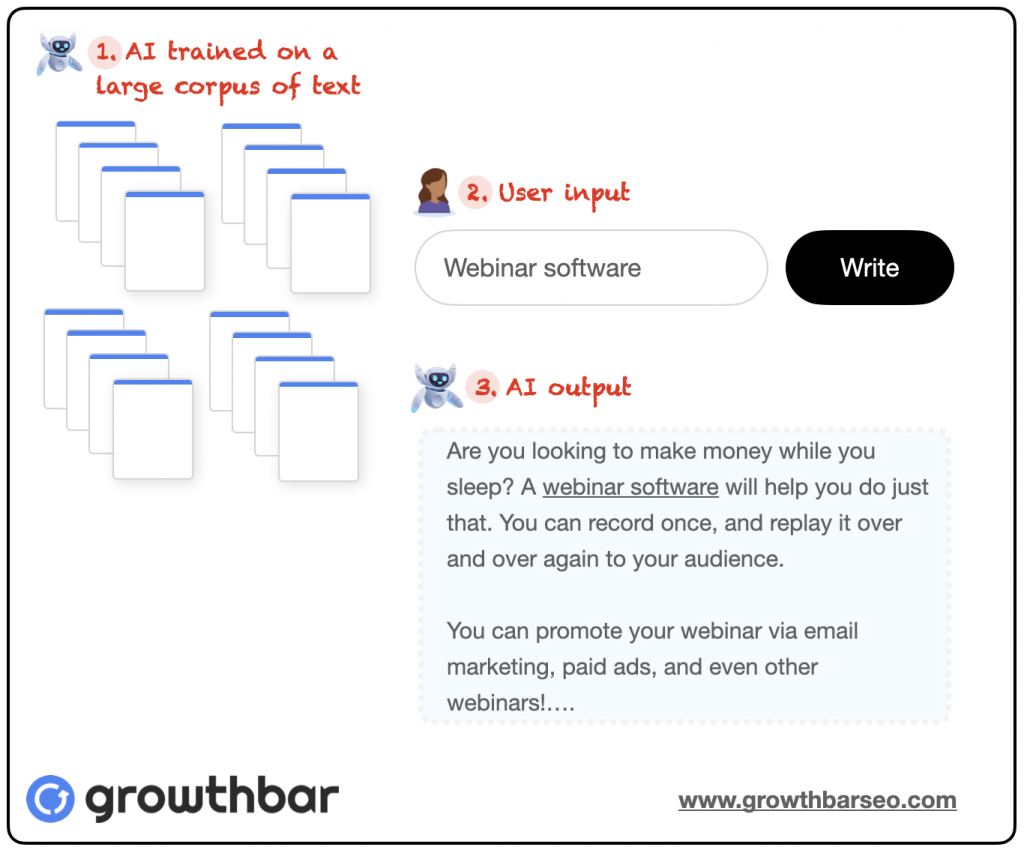 Conclusion
AI writing tools are groundbreaking technology that can produce content in any genre from any perspective. The emergence of natural language processing and specifically GPT-3 has opened a whole new world of tools that make the lives of writers, authors, journalists, content creators and SEOs much easier.
To summarize:
If you're looking for an SEO content tool, look no further than GrowthBar
If you want a tool that can support a team and a wide variety of use cases, I recommend ChatGPT
If you're looking for a grammar-only tool, Grammarly is far and away your best bet
If you're look for an enterprise tool, use Writer.com
If you want the most affordable solution, Writesonic and Rytr will give you great functionality at the cheapest rate
If you need to write essays, try Jenni AI
If you're writing a lot of content, you'd be wise to enlist an AI writing tool. The best ones can save you hours of planning and writing time, which will enable you to focus on other parts of your business.
Also read: