Latest posts by Mark Spera
(see all)
Are you ticked off because your competitors are beating you in organic search (SEO) or they're simply out-marketing you across the board?
Are you tired of writing content that no one reads or shares on social media?
It sucks when Google doesn't reward you for your hard work and customers don't buy your product. Only 9% of all small businesses ever reach $1 million in revenue — and many more go bankrupt every year. The internet is tough.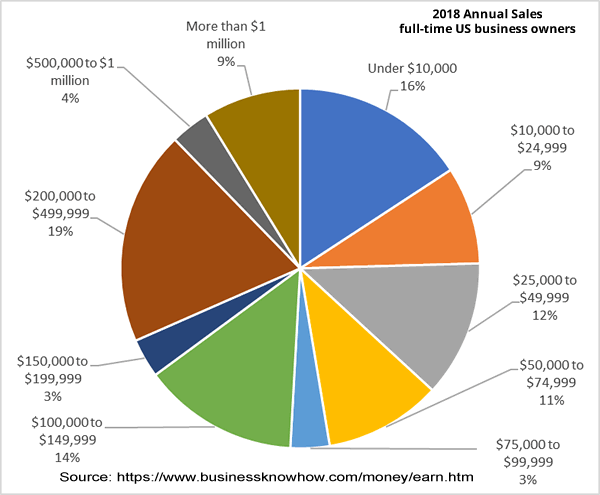 In the vast sea of marketing tactics, there are a ton of ways to get customers and generate leads on the internet. But the most profitable-from-day-one strategy is SEO. SEO is the way we've been able to turn Growth Marketing Pro into the largest growth marketing blog on the internet. And it's the unlock that's helped produce nearly a million dollars a year in passive income for my partner, Hailey and me.
Some of our posts get a huge amount of organic traffic. In March, 2020 we got 12,873 organic hits to "Zoom webinar review" alone.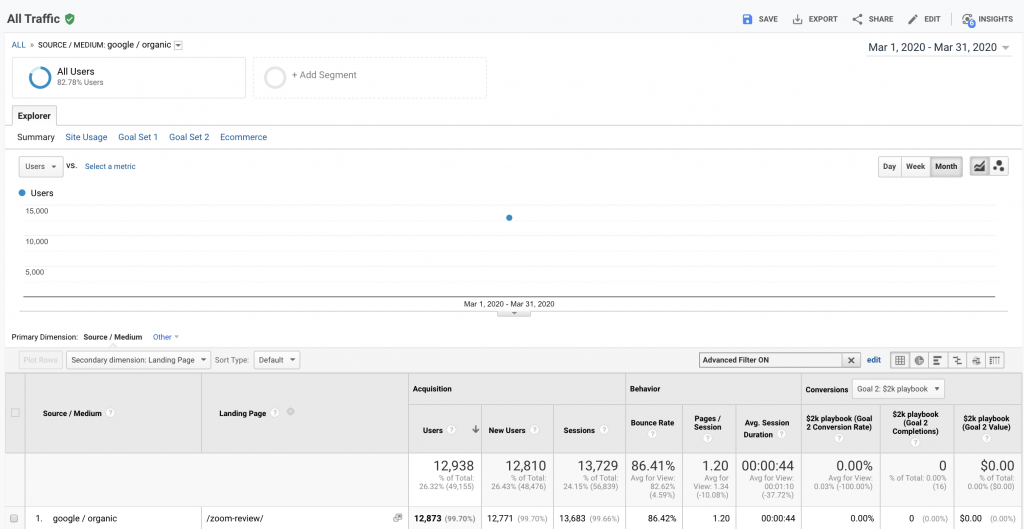 And Growth Marketing Pro ranks #1 or #2 for extremely competitive search terms including "webinar software," "landing page software," and "what is growth marketing?"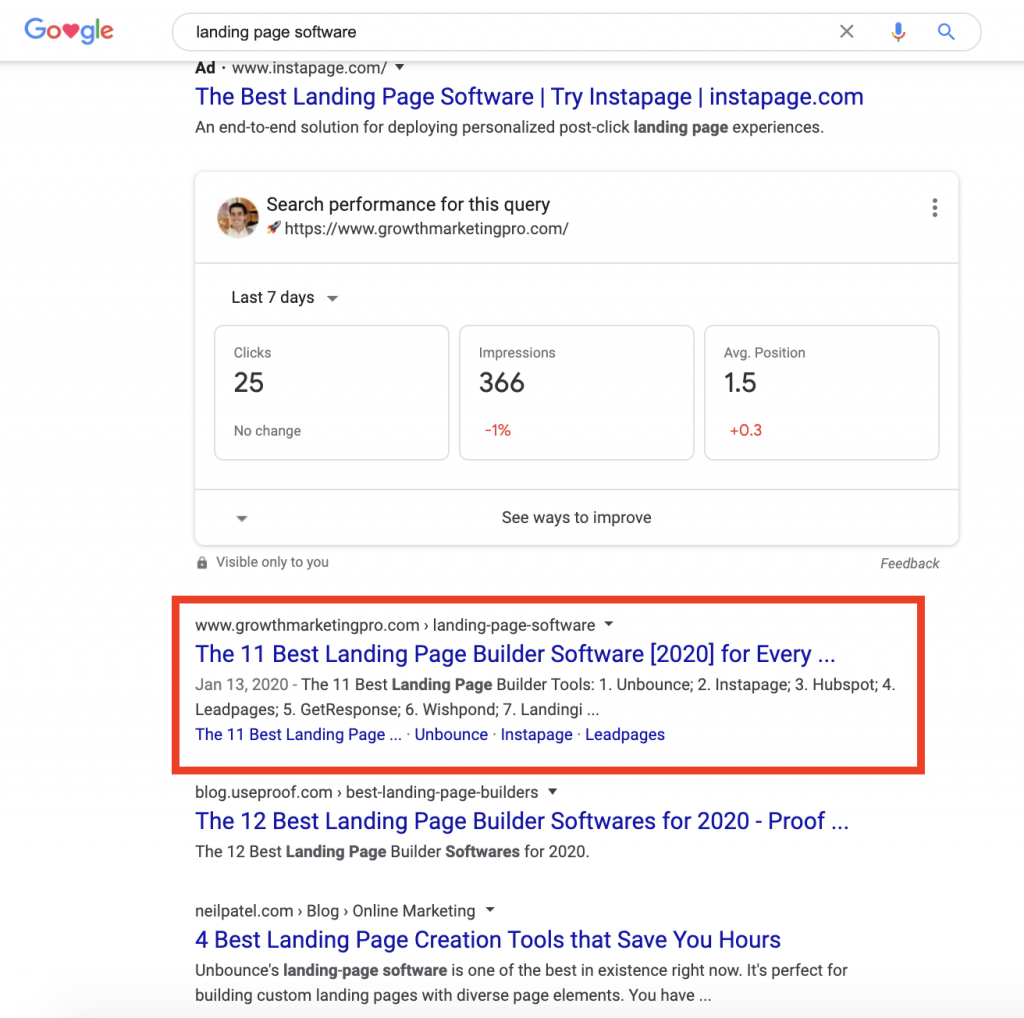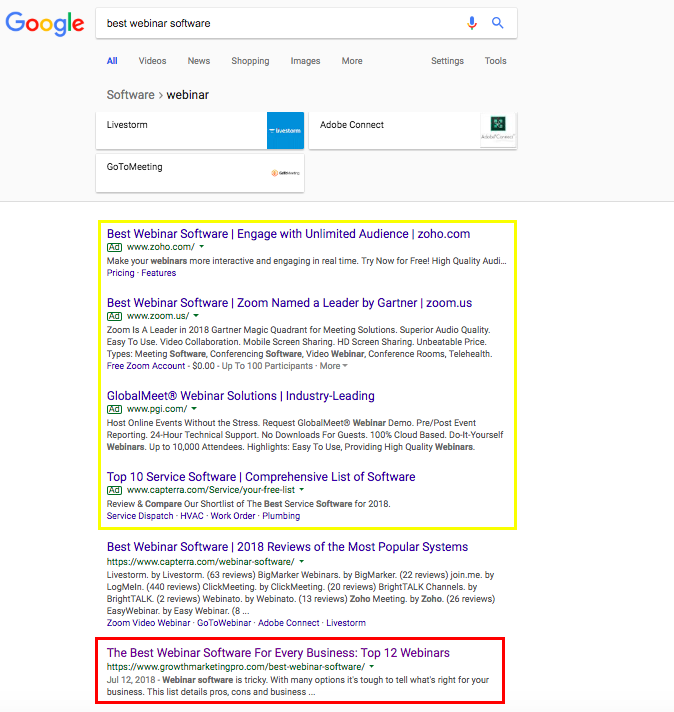 How do we do it so repeatably and consistently?
Over 10 years we've distilled SEO down to just a couple of key components. Those components have helped us rank in the top few results on Google for some of the most competitive keywords on the internet.
I'm going to share those tactics in this post.
By the way: you don't need the tool we created, GrowthBar to replicate our successes, but I promise it will make it much faster and easier for you to see results.
How to Dominate SEO
1. Choose a platform that works
Even in today's day and age, not every site builder is created equal. Some are optimized for ease of use, like Wix and ClickFunnels, but don't perform as well from a search engine standpoint.
That's not to say either platform is bad, but when compared with WordPress, WooCommerce, and even Shopify, they simply don't stack up.
If you've already chosen a platform, feel free to move onto strategy #2.
Companies that want to take SEO seriously should choose a platform that does a few things:
Enables you to have your own domain: Free site builder solutions often will not give you your own domain name. Instead you'll end up with something like username.wixsite.com/siteaddress. The domain is wixsite.com, which means any SEO effort you put in will not result in Google equity for your website. If you're planning on generating income from your site with SEO, you need your own domain.
Organizes your content: In the early days of ecommerce, you had to make an HTML hierarchy from scratch and then create a sitemap so Google bots could "crawl" and index your site. But the most SEO-optimized platforms do all that for you. Make sure you choose a site builder that enables you to make a cleaner navigation structure to help your customers (and Google) navigate through your site. A helpful model for organizing your site may look like Homepage » Category Pages » Sub-Category Page » Product Pages.
Lets you host a blog: Choose a platform that has blogging built in, if possible. There's a reason over 75 million sites use WordPress — including Walt Disney, TechCrunch, The New York Post, and even the official website of the country of Sweden. Blogging is extremely powerful for ranking in the Google search results page. It enables you to capture tons of long-tail keyword volume and convert readers into users of your product or service. Even if you use Wix or Shopify for your site, you may want to start a WordPress blog and plug it in.
Enables a few advanced features: 301 redirects, canonical tags, and alt text may sound intimidating, but they're just a few best practices for eliminating Google confusion. The first two help you not get penalized for duplicate content on your site and the last one is just a way of describing images to Google. The best site builders should enable a few advanced features like these.
Once you've chosen a site builder it's time to do some keyword research.
2. Search volume
Not all keywords are created equal. This has been an SEO fact since search engines began in 1990.
The surest way to succeed with SEO is to find keywords that have high search volume and are relatively uncompetitive. Of course the keywords you choose must have high search volume and be related to your product offering. After all, what good is it to rank for music lyrics if you're selling gym equipment on the internet?
So before embarking on an SEO strategy, look at the number of searches for your desired keyword and any related keywords.
There's no reason to waste your time writing tons of great content on a topic that's never searched!
GrowthBar will help you prioritize which keywords to go after by providing a measure of the monthly search volume for that keyword. Pictured below is GrowthBar's Chrome Extension (free with GrowthBar subscription) showing the search metrics for keywords related to "nike."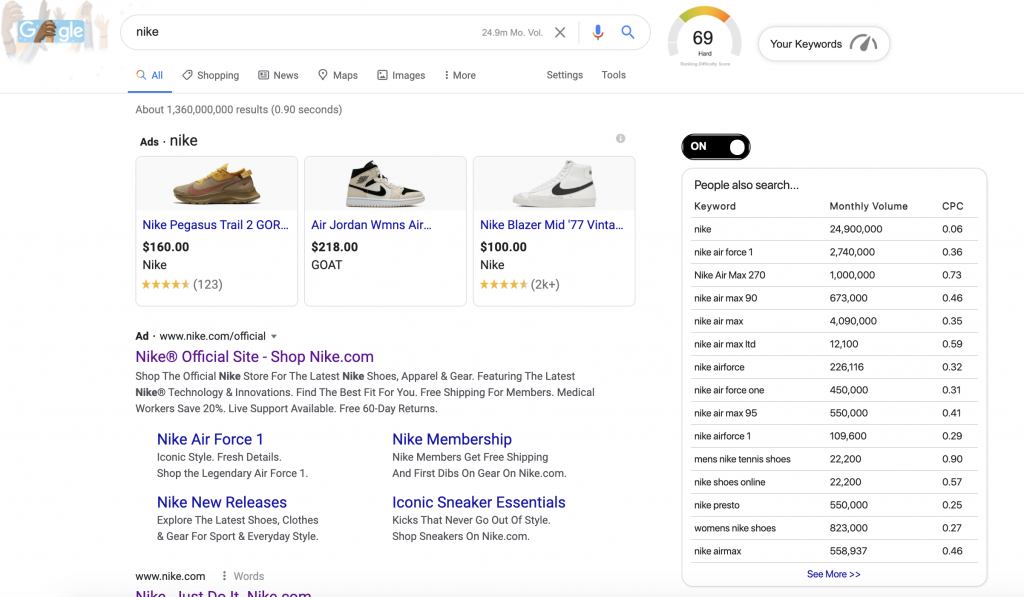 Search any term and instantly see its monthly search volume as well as the CPC that people are paying to run Google Ads against that keyword.
High CPCs usually mean high value keywords — if your competitors are willing to pay for it, then you should probably be investing there too. Plus, when you search a keyword, you'll also get a list of the most popular related keywords and phrases.
Insert these related keywords into your existing posts and consider creating new content around them as well to bolster your SEO efforts.
If you don't want to use GrowthBar for this, try Google's Keyword Planner Tool. You'll need a Google Ads account to use it, but other than that it's completely free.
3. Keyword Competition
There are 1.795 BILLION websites on the internet. It's really crowded out there! So if you're writing content for SEO, you need to be thoughtful when choosing keywords to rank for. You can't just spray and pray. Like I said, not all keywords are created equal. Some are more competitive to rank for than others.
Expensive SEO tools like Ahrefs and SEMRush give you access to tons of data. I mean too much data.
But they miss one simple fact that every good digital marketer knows…
You can do all the keyword research in the world, but when it comes down to it, there's only one thing that really matters when you're trying to outrank your competitors: your Domain Authority.
Your Domain Authority (DA) is an aggregate score from 0-100 that estimates how authoritative your site is in Google's eyes. The higher your Domain Authority, the more likely it is that Google will respect the content you post and quickly rank it on page 1.
In general, Domain Authority is a measure of:
The number of backlinks your site has
The quality of those backlinks (links from CNN, NY Times, and TechCrunch are much better than links from smaller sites)
The age of your website
The quality of your content
When Hailey and I write content for Growth Marketing Pro, it ranks within a couple days of hitting publish.
But most websites don't have the quantity and quality of backlinks we do. Plus, our site is over three years old and we have hundreds of blog posts. So if your site has lower authority, you'll need to be really prescriptive about the keywords you go after.
GrowthBar enables you to see the domain authority of any website.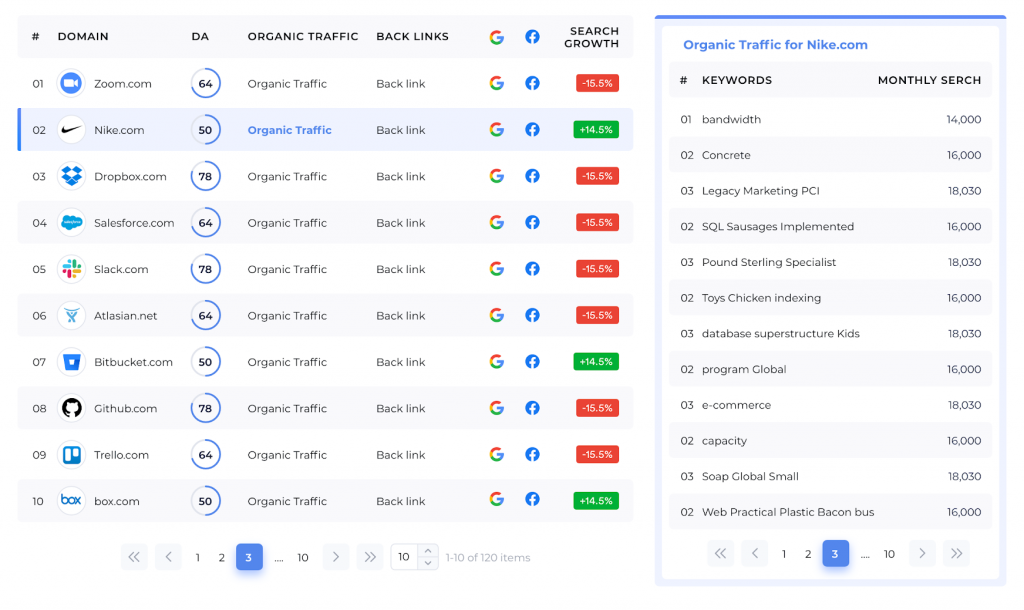 If you type your target keyword into Google and articles by Huffington Post, Wall Street Journal, Business Insider, and other big publications take up all of page 1, there's a good chance you won't rank for that keyword.
Of course, you shouldn't give up! Try searching for longer-tail versions of that keyword, until you find something that looks a bit less competitive.
GrowthBar analyzes the domain authority of the sites that rank highly for Google search queries and displays a simple blended score at the top of every Google search that makes it clear how competitive a keyword is.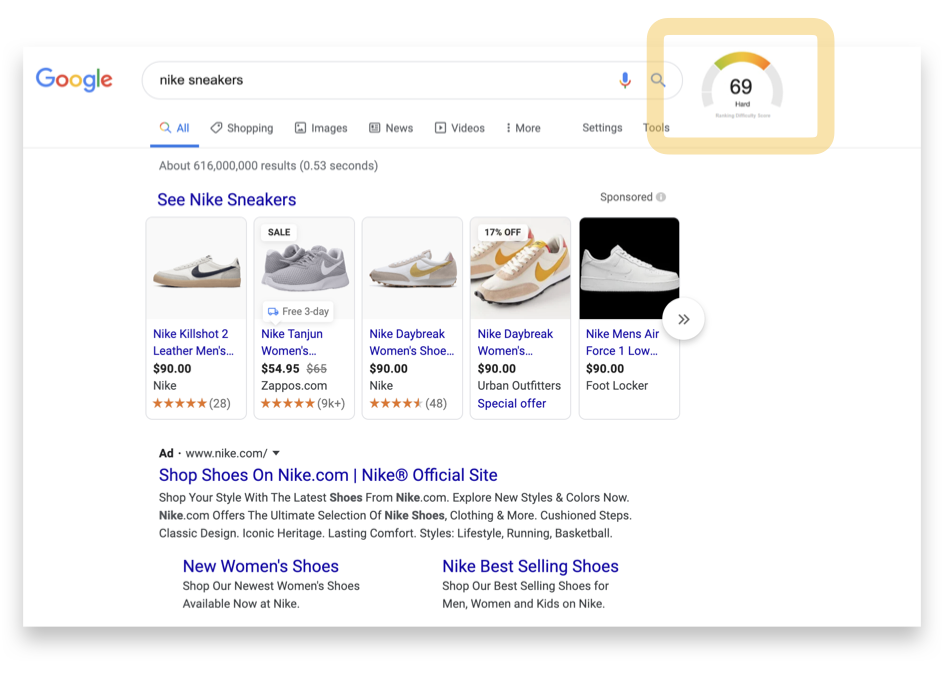 Simple, right? SEO isn't rocket science. Just figure out how competitive a term is, either by eyeballing it or installing GrowthBar.
Once you've decided on the keywords you want to rank for based on search volume and competitiveness, you'll want to weave them into your content. Whether you're writing blog posts for SEO or making product pages on your Shopify site, you need to be aware of keyword opportunities and take care to pepper them into your webpages.
Backlinks matter. A lot.
Like I said, Google's Algorithm places significant weight on the quality and quantity of backlinks that are pointing to your site.
Backlinks are simply hyperlinks from another site to yours.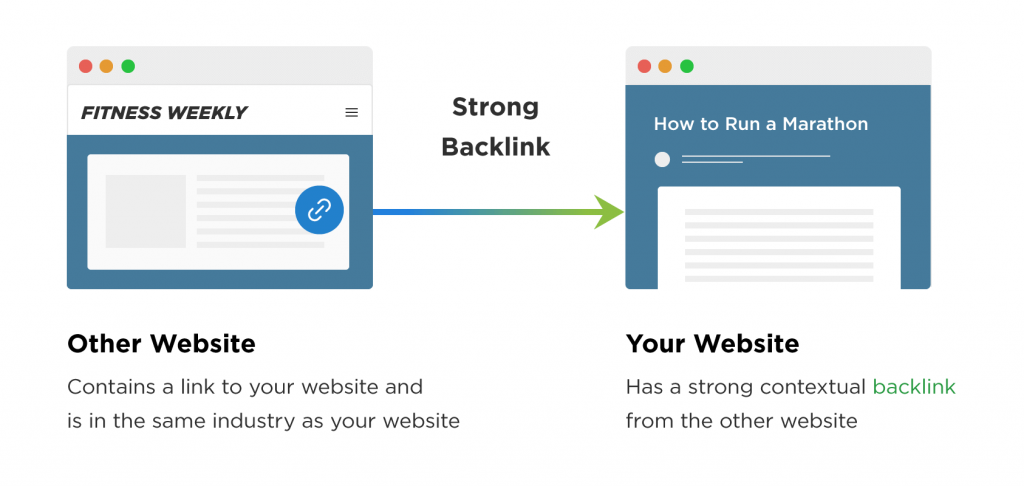 Google doesn't have many human signals. But backlinks are human-to-human votes of trust as far as the internet is concerned. If a New York Times editor includes you in a feature story or product roundup, it's way more likely your site is credible than if a no-name blogger does the same. That's why Google values backlinks from high Domain Authority sites. When it sees lots of quality backlinks, it will consider your website an authoritative source of information and rank it accordingly.
I can't emphasize this enough: most SEOs and entrepreneurs do not take backlinking seriously enough. In my opinion, it is the #1 way to increase your organic traffic.
If you want to rank for your target keywords, you must have links from authoritative sites to your domain (note: it's even better if the backlinks are to the specific page you want to rank).
There are many ways to get backlinks, but these are my favorite:
Launch strategy: Your launch strategy should definitely be a source of backlinks. If done correctly, launch is a unique time in which you can earn hundreds of backlinks just by being the new kid in class.
PR: If you can generate natural press because of your unique story, you should definitely pursue it. Put out press releases, tell industry publications, and get cozy with reporters in your niche. PR is a great way to generate backlinks. And go back to the well. Once an editor has linked to you before, you can get another 3-5 backlinks from him/her before you hit diminishing returns.
Reports, infographics, and data: If you're a thought leader in your space or you have unique information that no one else has, turn it into a report or simple infographic. Put them out on social media and send to "friendlies" in your industry. Google will index your work and bloggers will inevitably pick them up and include them in their posts. We run a yearly SEO survey that tends to garner lots of backlinks naturally.
Backlink exchange: While this is technically considered bad practice by Google, you can still get away with swapping relevant links with peers in your niche where they make sense.
Sniping your competitors' backlinks: See who's linking to your competitors and get them to replace those links with yours! Or, if you're feeling nice, just ask them to write about you too!
Expert roundups: If there are thought leaders or tangential products in your industry, round them up in relevant listicles on your blog. For instance, "The best SEO Experts on the Web." Then, reach out and let them know they've been included. In that moment of flattery, ask them for a link back to your content… or at least some love on social media. About 18% of the time, our expert roundup targets oblige. If this tactic works for you, get creative by making different permutations of your roundups. For instance, I might consider writing "the best ecommerce experts" or "the best technology marketers" — the possibilities are endless.
Guest posting: Find out who's linking to your competitors and research them. Often sites, particularly small blogs, will accept guest posts. They may say it overtly on their site or you may have to email them and ask. Either way, it's a great deal for both parties. They get free content that they don't have to write and you get to include a couple of backlinks to your content.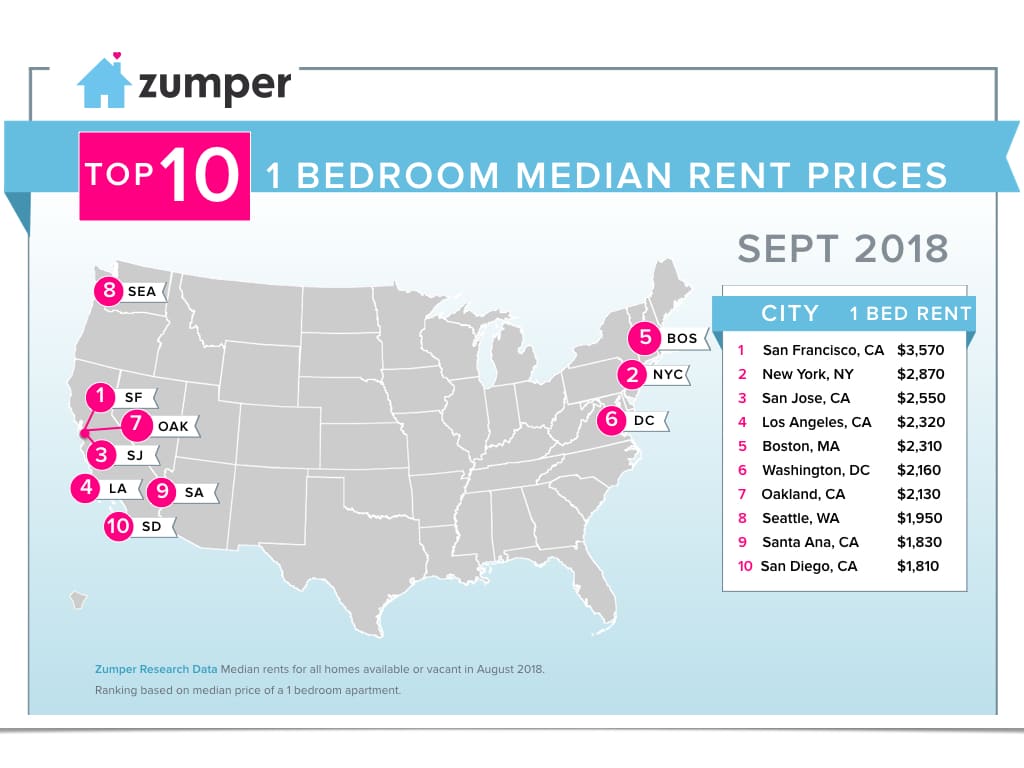 By the way: You can use GrowthBar to quickly view the backlink profile of any site. That means, you can see the best backlinks your competitors have and reach out to snag them for yourself.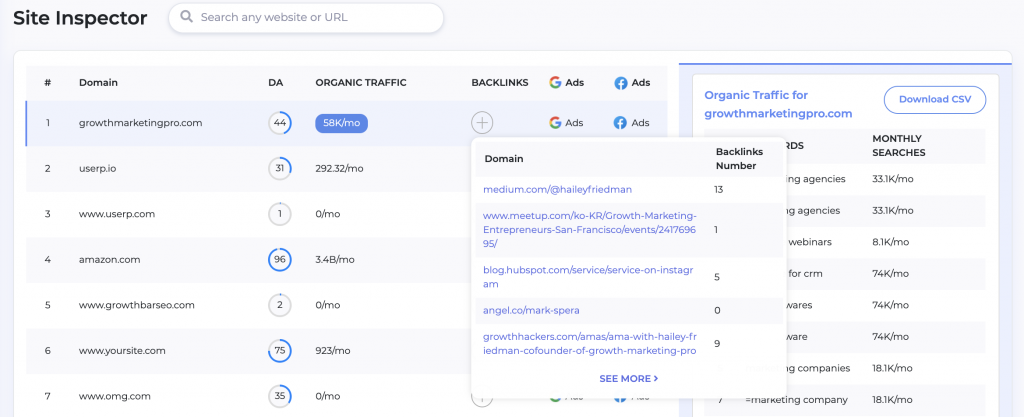 Also read: 25 Ways to Get Backlinks to Your Site
5. Great content
Want your content to rank?
You need to make the best thing on the internet.
Google only cares about one thing: showing Googlers the best answer to their question. That's how they've maintained their reputation as the best search engine on earth.
If a Googler asks "what is the best webinar software," Google's algorithm will show the searcher the best, most comprehensive post out there.
When we surveyed Growth Marketing Pro readers for our State of SEO in 2020 Survey, content creation was cited by 65% as the most important SEO ranking factor.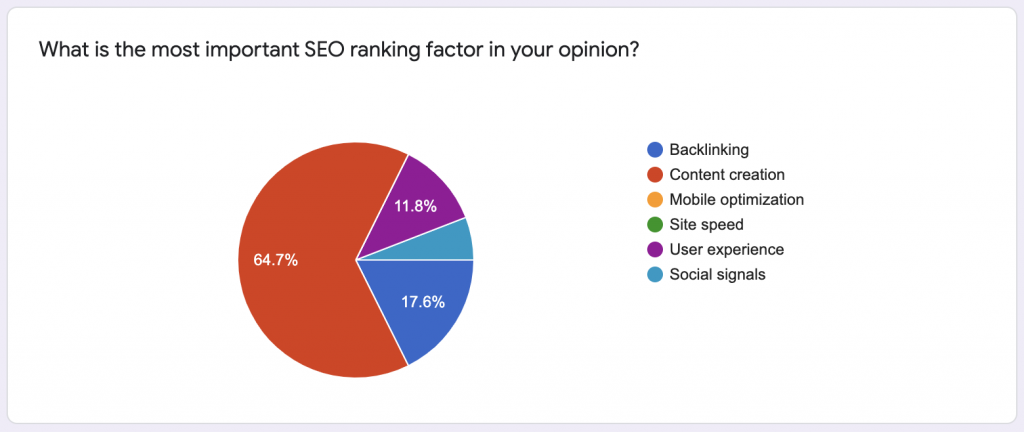 So, how does Google decide what's most comprehensive, best content on the web?
One of the main metrics it looks at is time on site. So if your content keeps Googlers onsite longer than your competitors, you will likely rank ahead of them.
So what are some attributes of high ranking content?
Interestingly, in most search verticals, longer posts do better. See how long the highest ranking posts on page 1 of the SERP are. Make sure yours are longer! That's why GrowthBar has a word count feature that allows you to instantly see how long any webpage is.
Long doesn't necessarily mean paragraphs. Use bullets, images, lists, etc. Make the article skimmable for the readers who won't sit through 2,000 words of dense content.
Link to credible sources: I've found time and time again that our best performing articles have a link or two to very authoritative sources in the first couple paragraphs of the article. If you're writing medical content, link to Mayo Clinic or university studies. This shows Google you care about quality first and foremost.
URLs: Yes your URL structure matters. Stuff your keywords (within reason) into the URL of the article or product listing. For instance, if you're trying to make SEO work for your ecommerce store, it's much better to make a product URL "/striped-maxi-skirt-organic-cotton" than "/maxi-skirt." It's simple, but it matters.
Different content formats work for different search verticals: When I was Head of Marketing at PlushCare, a telemedicine company which is now valued at more than $100 million, I tested many different content formats. Interestingly, sometimes a long long-form blog post worked best in getting to page 1 of Google. While other times a more ecommerce-like page performed best. I built an ecommerce-like page that helped us rank #1 for "get a prescription online," after our blog post on the topic hovered around page 3 for a year, despite my best efforts.

I'll say it again: if you want to rank high in the Google SERP, you need to make superior content and optimize it — make the best thing on the internet. Make it longer, better, and more readable than anything else out there.
Read: How to Write a Blog Post Optimized for SEO
6. Spy on your competitors
One quick secret to marketing is that you don't need to reinvent the wheel. If you can see that something is working well for one of your competitors, it will probably work well for you too.
GrowthBar will allow you to see exactly which channels your competitors are getting traffic from.
See whether your competitors are running paid Google Ads and which keywords they are bidding on. This is a great way to discover low CPC keywords that are effective. Target those keywords for your own Google Ads or SEO strategy.
See whether your competitors are running Facebook Ads and click to spy on the ads themselves and see exactly what they look like.
And of course, see their organic search traffic (SEO) and the queries driving people to their site.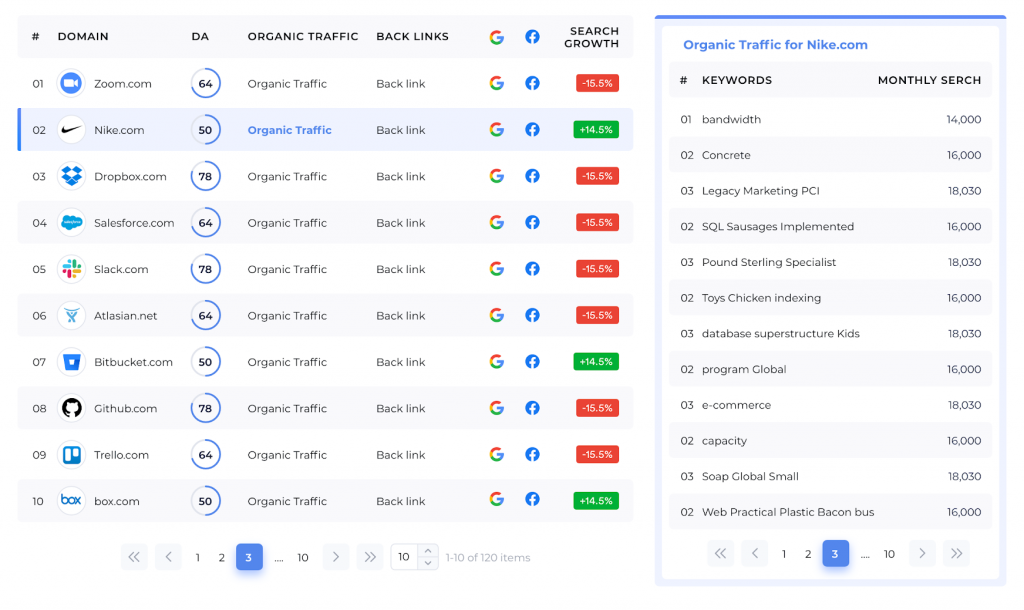 There's some other low tech ways to see what your competition is up to when it comes to SEO. Here's what I like to do:
Look at their navigation. If something sits in the navigation bar, it's usually a good indication that those are important articles and keywords for their SEO strategy.

Look at their latest content. If your competition is SEO adept, they're probably writing about stuff that's working right now. Maybe they've found an uncompetitive niche that you can pursue as part of your keyword strategy. SEO is all about finding pockets of arbitrage — and your competitors can sometimes tip you off on what's working for them.
Check out the meta descriptions in your industry. Meta descriptions are the previews that Googlers see in the search results page. Having a solid meta description means that you'll get more clicks than your competition. But as a starting point, check out what others are doing. You may notice some consistencies. For instance, in the "software review" industry, putting the year "2020" is pretty important. Most of the results have reference to the year in the meta description — likely because it shows that the review is up to date. So as a starting point, we always put "2020" in ours. Maybe 5 star ratings are important in your industry. If that's the case, use schema markup and get stars on your meta descriptions!
7. Site speed
Content is king, but people won't even get to see it if it isn't served pretty much instantly.
For SEO, site speed is really important. Google itself has declared that it ranks websites in the search engine results in part, based on speed.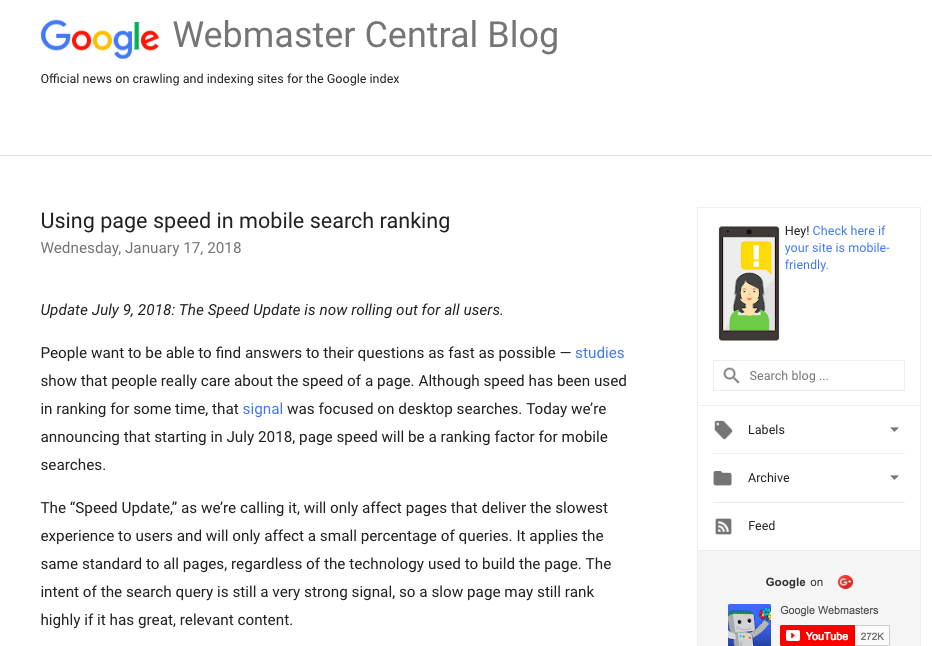 Why does Google care about speed? Of course, because they want the best user experience for their users. If searchers bounce off the pages Google suggests, they might start searching via Bing, Safari, or DuckDuckGo! Google certainly doesn't want that.
And the proof is in the pudding.
We made fixes to our site speed when we noticed things were slowing down a bit and lo and behold, our traffic popped almost immediately.

The good news: most entrepreneurs and marketers don't need to worry about site speed. If you're using a platform like Shopify, your site is naturally fast, thanks to Shopify's already-optimized software. If you're using a content management system like WordPress (with a reputable web host) and your blog is new, you also shouldn't worry about speed. Learn about Shopify SEO here.
Where speed becomes an issue is if you've built your site from scratch, or you have a site with a lot of content, images, videos, etc. Sometimes this can slow things down, which will inevitably impact your organic rankings.
Want to check out your site speed? If you're using Google Chrome, you can run a Google Lighthouse Audit by doing the following:
Right click on your webpage
Select "inspect"
Navigate to "audits"
Click "generate report"
Google crawls your site on the spot and spits out a report containing (among other things) an analysis of your site speed.
If your speed is below 30, you might consider doing a few things to improve performance:
Minimize the use of libraries and plugins: It might seem like a great idea to get that fancy new feature, but is that really worth half a megabyte of data for an element on your site that people rarely see?
Serve images intelligently: Often, images are the main reason a website is sluggish. Website images have to download fully in order for a webpage to render properly. Use a tool like ImageOptim to compress your images before uploading them to your site.
Use a CDN: On the topic of images, many sites (including this one), use a content delivery network like Cloudflare. CDNs effectively serve up images and other assets via a distributed network of servers, which means your web host is freed up to move faster.
Lazy load: If you're using WordPress, find a plugin that enables "lazy loading," which defers rendering elements of a site until a user scrolls to that section. This means your entire page doesn't have to load before a user can see the webpage.
Site speed is especially important in search verticals like personal finance and healthcare — ones that Google feels should provide a high-performance experience, because they are so integral to our lives.
Conclusion
GrowthBar is a no brainer for anyone looking to expand on their marketing strategy and get more customers. Give it a try, on us, for 5 Days. We're 100% confident you're going to love it.
We prioritized the important stuff and stripped out the nonsense to create a more affordable, more efficient all-in-one tool for growth. It's only $29/mo compared to SEO tools that are charging upwards of $100-$200+ per month.
Regardless of whether you use our tool or not, remember to focus on creating great content for your users first and foremost. But also, be smart about which keywords you target — your time is limited and you need to make the most of it if you want to grow fast. Focusing on keywords that are tough to rank for is a fool's errand.
Follow these tips and you're guaranteed to succeed with SEO this year. Good luck!
See our other favorite SEO content: