Latest posts by Hailey Friedman
(see all)
Finding the best website builder software for your business can be tricky.
There are so many different website creation tools on the market, including the option to hire a web design company to build and maintain a website for you.
It's annoying because it doesn't seem like it should be so complicated. We're going to simplify it.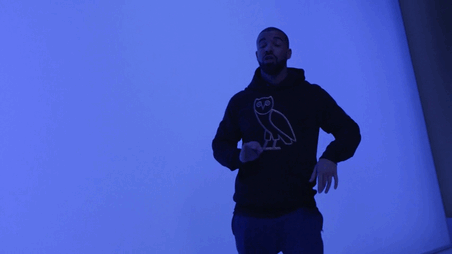 Why Do You Need A Website Builder?
Whether you're an entrepreneur, content provider (blogger), small business or eCommerce online store, you definitely need an online presence in order to be successful.
In today's technology driven world, you absolutely need a website. And with all these helpful website builders on the market, you can have a professional looking website up and running in no time. Even if you have no technical coding skills.
Why use a website builder?
It's quick
It's easy: anyone can do it! You don't need to know how to code.
It's cheap: costing around $10 per month compared to the thousands it would cost to hire a web design company.
Users can make changes and edits to their website in seconds, without calling tech support.
Ready made templates make it easy to insert your content without much extra work.
Most of these tools have drag and drop features that even a child could use.
Which businesses will succeed with a website builder?
Every size business needs a website, and thanks to website builder software, anyone can build one themselves. That includes:
Small business owners
Bloggers
Freelance artists
Musicians
Wedding/event planners
Photographers
Entrepreneurs
and more!
It's true that larger businesses and corporations spend thousands of dollars on getting a custom website developed to expand their business. However, if you happen to be part of a small organization or a budding entrepreneur, you can easily get your own website up and running yourself for just around $10 per month.
It doesn't take more than a couple of hours to make your own website when you are using the right website builder software.
The Top 13 in the World Website Builder Software
We're going to highlight 13 of the best website builders of 2022 to help you get a professional-looking website in no time. The best part is that you don't even need to be tech-savvy to get started.
While Wix and Weebly provide many website building features for free, it's worth upgrading for a small fee to unlock the large array of features all these tools have to offer.
Read on to learn more about the best website builder software…
Wix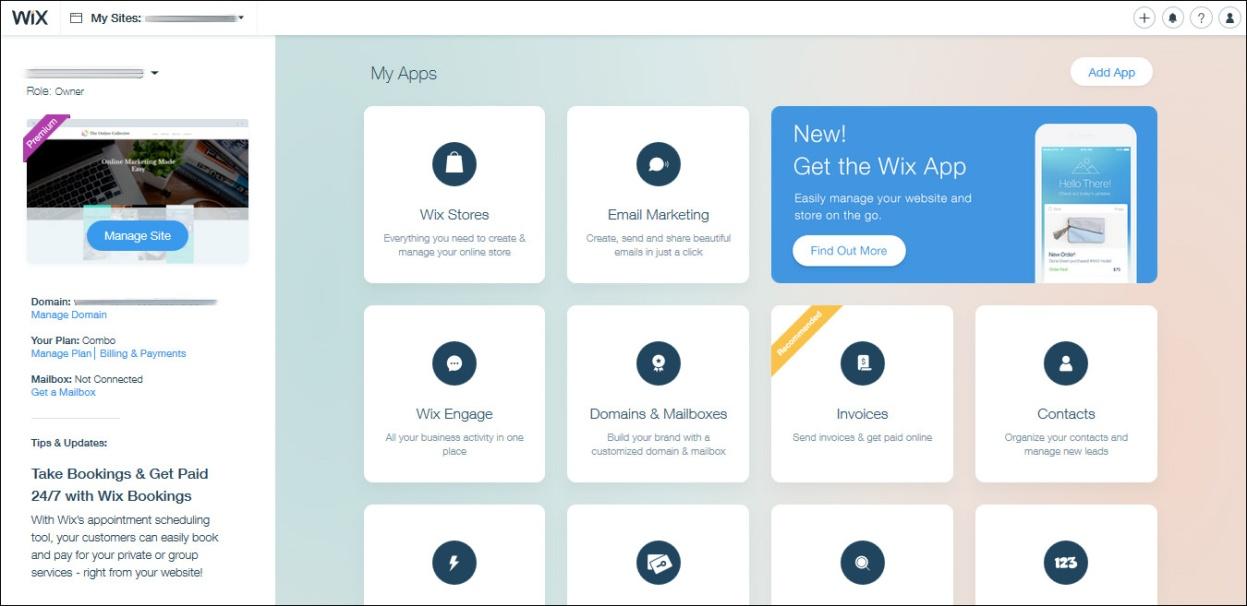 Wix, the drag and drop website builder, is hugely popular for the slew of templates and features it offers. Moreover, you get phone and email support – which is fantastic especially if you are a novice.
I've used Wix myself to build four different websites and have found it to be completely intuitive and easy to use. I used it to create entire websites in just a few short hours. I'm able to start with a beautiful template, yet I can make any change I want without feeling limited. Wix has always been my go-to website builder tool.
Wix has been used for building websites in every major industry – from dog walkers to motivational speakers – as well as offering mobile apps, advanced web development, website editors, and professional services for those of us that want to leave it to the experts!
Beginners love it because you can get so much out of the tool for free. Experts can go one notch up with features such as Wix Code that allows them to manage database collection and create custom forms or dynamic pages using their own JavaScript. And businesses and eCommerce companies can purchase more customized plans.
Wix provides users with more than 800 designer templates that cover a wide range of industries and professions. The templates come with dummy text and images so users can easily fill it with their own content, or get as complex as you want.
Pricing
Wix has several pricing options, depending what sort of plan you're looking for (personal, ecommerce, large organization, etc.). Most Yearly or Multi-Year Premium Plans come with a 1-year free domain voucher.
You can choose your own domain name with suffixes such as .com, .net, .org and more. Once you find the perfect domain for your site, your voucher will be waiting for you at checkout.

Pros
Easy-to-use
Innovative features
Attention-grabbing templates
No transaction fees
Cons
The online store doesn't come with basic/free plans
Link
Video
You can learn more about how to create your website using Wix by watching this tutorial.
Leadpages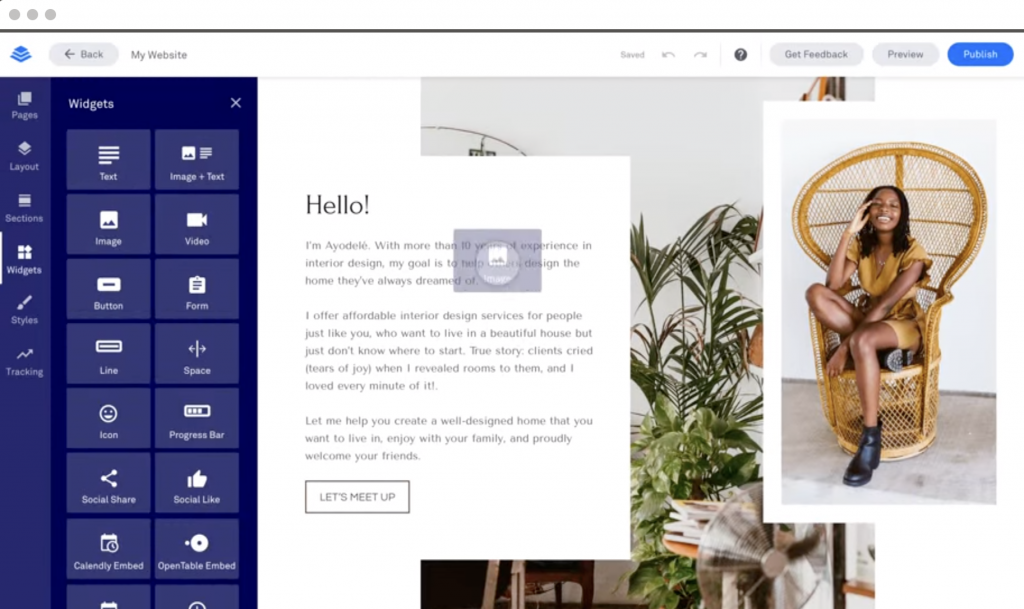 Leadpages is both a website builder and landing page builder, as well as offer pop-ups and alert bars creator options. It was designed to help businesses get more leads (hence the name) and every part of their building options are designed around that.
After you start with a template, you can drag and drop any feature you want, while Leadpages automatically checks if you're following landing page best practices, including the amount of text, the layout, and the CTAs. It even predicts the success of your landing page before you publish.
Leadpages also has very easy to understand analytics that allows you to see what's converting, what isn't, and what changes to make to up those numbers.
This means it's a great option for not only design beginners, but for anyone trying to boost their business leads, which is usually everyone. Leadpages combines design with marketing know-how, making it a tough website builder to beat.
Pricing
Pros
Templates for every business need under the sun
Both landing page and website builder options
Automatically check of lead-building best practices
Ecommerce integration options
Data tracking for optimization and AB testing
Cons
It's on the pricier side of these landing page builder options–but it's worth it
Link
Video
Weebly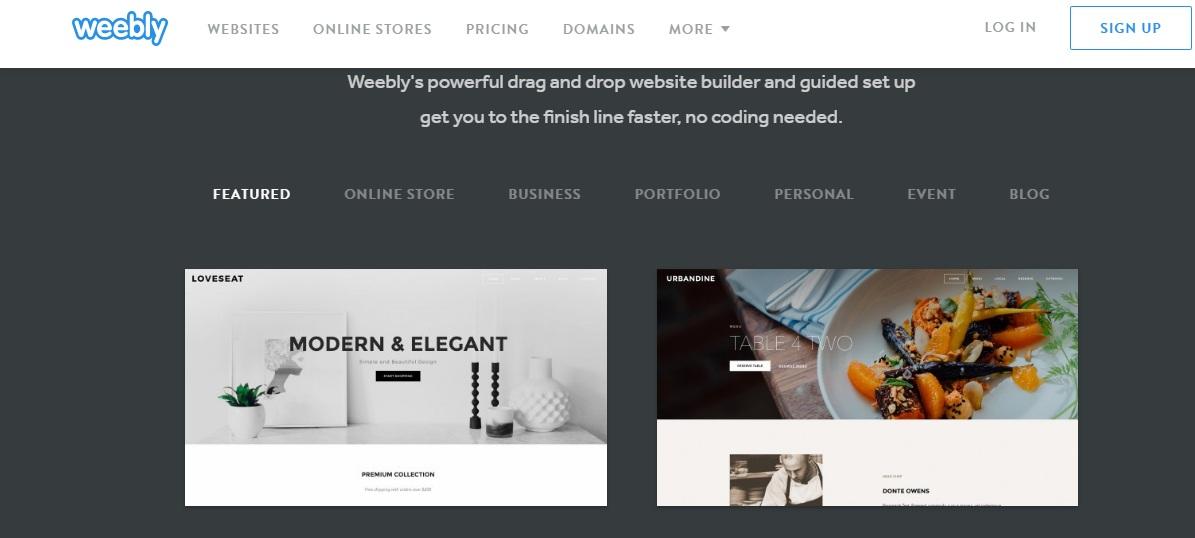 Weebly is another easy to use website builder that offers tons of stunning designs. Not only does it provide intuitive features, but also incorporates some of the most convenient editing features. These functional features allow users to edit their website even if they don't have any coding skills.
Since it is a fully hosted platform, users don't have to install and manage any software. The builder manages all the software that runs in the backend as well as takes care of hosting your website.
Users benefit from dozens of gorgeous website designs to leave a long-lasting impression on first-time visitors. All designs are fully editable with Weebly's live page editor.
The efficient website builder also features built-in support for e-commerce websites, which allows online merchants to easily set-up an online store. Every site created via Weebly has built-in features for sliders, contact forms, photo galleries and much more. There is no complicated process to update features to your website.
Pricing
Weebly offers a fairly basic free plan, with all paid plans starting from $6 per month and billed annually.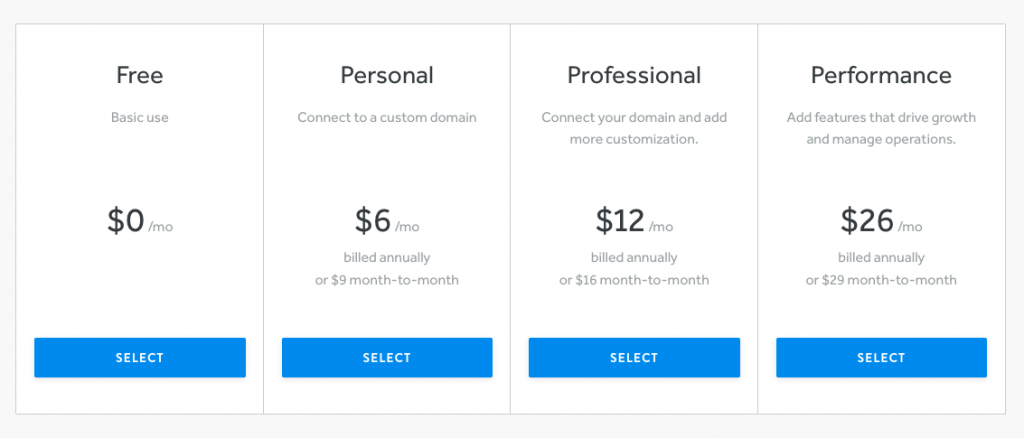 Pros
Perfect website builder for technologically challenged users
Good editing features
Cons
Since it is a fully hosted platform, users are locked to the features they offer and can't hire a developer to add new features to your website.
Link
Video
Watch this tutorial to learn more about Weebly.
Shopify
Shopify is your go-to website builder when you are looking to create the best e-commerce site. Not only it comes with powerful and intuitive features, it is the best tool to help business owners create a stunning online store without any prior coding expertise.
Another great feature that you get with this popular ecommerce website builder is an extensive App Store, where users can choose from thousands of apps, all ready to use.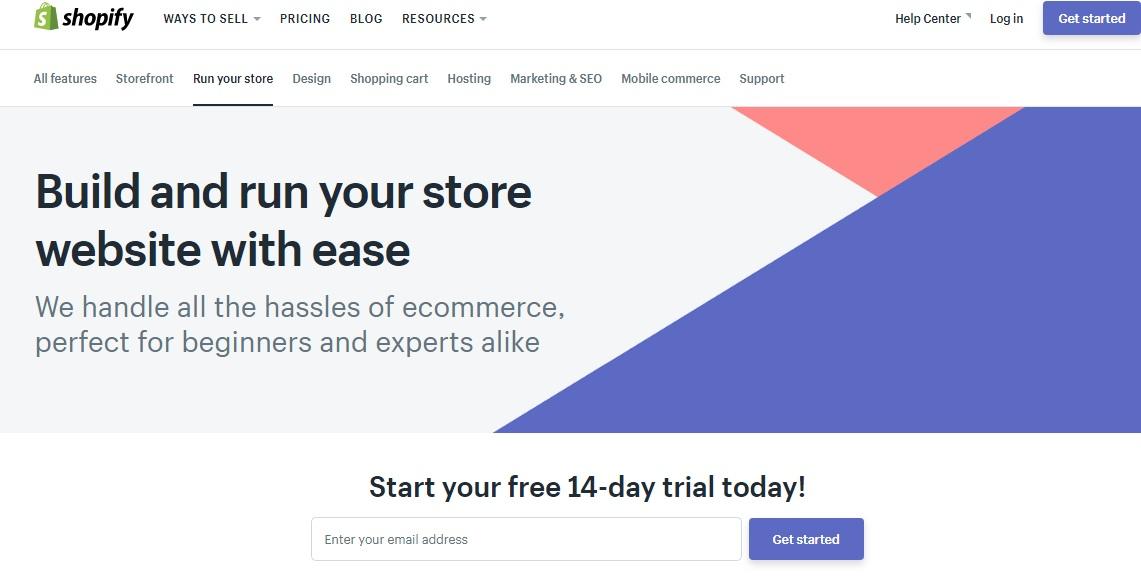 This website builder is for online stores, rather than blogs or other sites. It's an all-in-one fully hosted solution, which means that users don't have to manage software or install updates. Shopify does all the hard work for you while you focus on your core business.
With a robust integrated payment solution, you can add third-party payment gateways. Thanks to Shopify Payments, you get all payments on time. The tool also comes with full inventory management. It is equipped with other crucial features that are essential for creating a good online store. Powerful stats, unlimited products, and feasible marketing solutions are the highlights of Shopify.
Needless to say, this is a convenient drag and drop interface that makes creating a full-fledged online store a breeze. With an in-store POS, sellers can sell a product at their location while benefitting the shipping, inventory, and stats management tools of the website builder.
Moreover, users can integrate Shopify into WordPress to use both these solutions at the same time. Anyone who wishes to have a hassle-free ecommerce website builder can make the most out of this handy tool.
Pros
All-in-one eCommerce solution– the best tool for eCommerce online stores
Powerful analytics and statistics
More than a hundred professional-grade templates
24/7 support
Mobile ecommerce functionality
Payment gateway
Hosting is managed for users
Cons
Payment plans a bit expensive than other website builders
Moving your website away from Shopify can be a challenge
Pricing
You can enjoy a 14 day free trial period without giving out your credit card details. However, there is no free version of the software and you will have to subscribe to a payment plan.
The basic plan goes up to $29 per month that they can upgrade for $79 a month. The Shopify Lite plan is available for $9/month that enables users to integrate a buy button on any website. Users can also be upgraded to Advanced Shopify for $299 per month.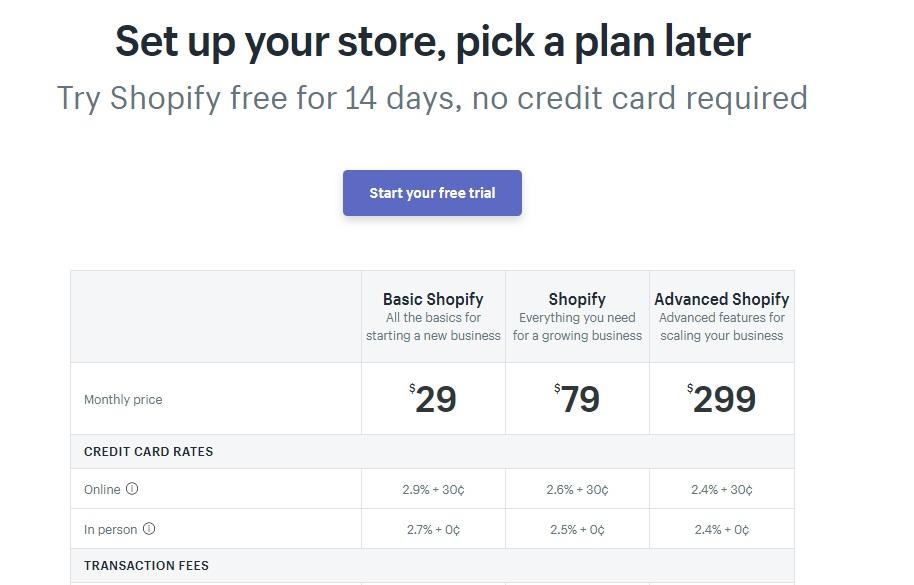 Link
Video
GoDaddy's GoCentral Website Builder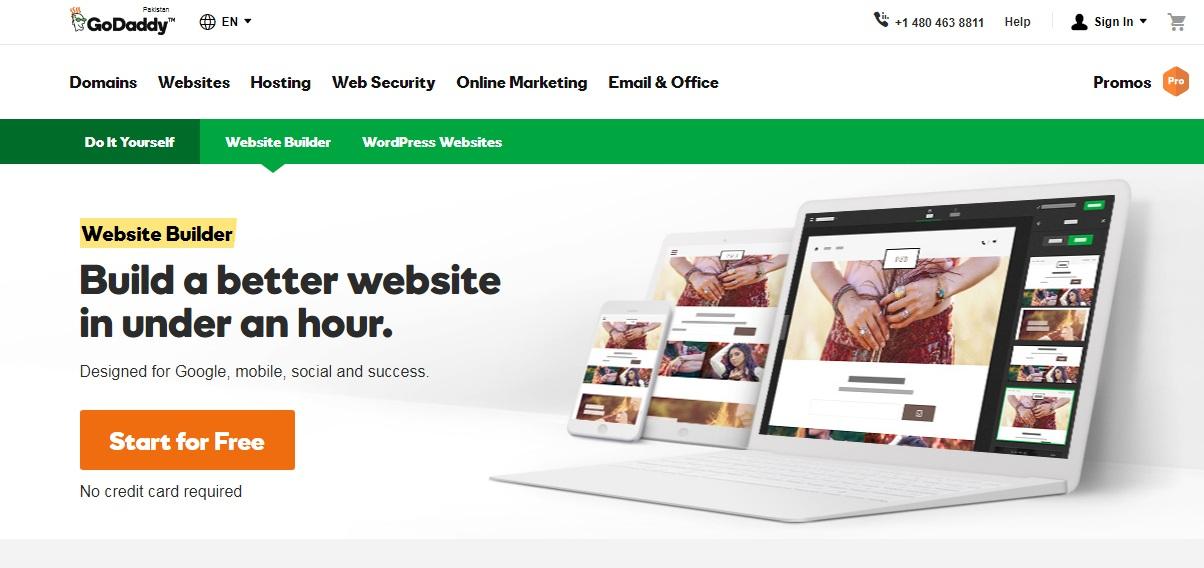 Everybody has heard of GoDaddy. It ranks as one of the biggest domain and hosting service providers in the world. What most people don't know about is that it also offers a decent website builder with hosting called GoCentral Website Builder.
GoDaddy's GoCentral is a brilliant website builder that enables a common internet use to make a fully-functional website. You don't have to be a tech-wizard to use a website builder.
The GoDaddy Website builder helps you make professional-grade websites in no time. The builder features several pre-loaded and ready to use blocks so you can easily drag and drop items to build unique layouts. There is also a photo library incorporated in the builder that boasts professional pictures from Getty Photography so users can choose their desired images. Moreover, you can also compile your own image galleries by uploading your personal photos.
Since, the website builder runs smoothly on smaller screens too, users on the go can also use it via hand-held devices.
Pricing
The GoCentral Website Builder features 4 premium plans in addition to a free plan. The price tag ranges from almost $7 to $25 per month. Small businesses can buy the website builder together with GoDaddy's web hosting services.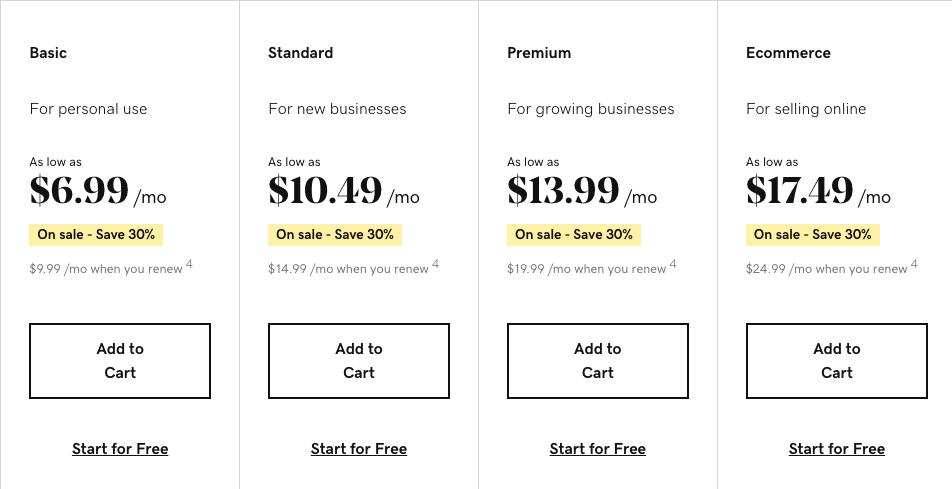 Pros
Easy to maneuver and use
Cost-effective
People with no coding background find it a relatively easier option
Cons
Some reviewers find the builder limited, particularly users who like to play around with CSS and HTML
Link
Video
You can get to know more about how you can get the best out of this builder by watching this tutorial.
SiteBuilder
Another fully hosted website builder platform is the ever popular SiteBuilder. This is an all in one builder platform that offers domain, hosting and a branded email address.

Users are happy to get thousands of templates for creating unique websites pertaining to different niches. Every template is fully editable and users can use simple drag and drop tools to create stunning websites. If you want to edit a specific section, just point and click to make your desired changes.
SiteBuilder also offers an ecommerce plan to let you sell your products online. The builder is designed to create a new PayPal account for your email address so you can receive payments on time.
Being a promising platform, it features all the essential features that you require to build professional-looking websites in no time.
Pricing
Although it is one of the most popularly used website builders that does all the hard work for you, it is not an inclusive CMS like WordPress. This implies that you are unable to extend the platform itself.
Users only get a free domain and email account after getting subscribing to one of their paid plans. You can start off by using a limited free plan which doesn't offer a domain name but includes ads.
Pros
Intuitive features
Affordable and quick website builder.
An easy to use editor
Good for Ecommerce
Cons
It is a hosted platform and does not offer too many tools.
Remember that migrating your content from SiteBuilder to a new platform can be tricky. They do not have a data export option and the software has no RSS feed to sync your content with something like WordPress. All content and designs that you invest in SiteBuilder have to be manually removed.
Link
Video
Check out more about SiteBuilder from this tutorial.
Squarespace
The latest version 7.1 of Squarespace launches some really cool features including Getty Images, a Cover Page Builder and G Suit. But the most crucial aspect of the builder is the editor's usability. Users now have the freedom to edit all content live, without the need for switching back and forth between preview and site manager mode.
Users can also import an existing blog to Squarespace from other services like Tumblr, WordPress, Blogger or Etsy.
Beginners should keep in mind that Squarespace is more than a regular drag and drop website builder. There are also code blocks making room for Custom CSS area and custom code injection. Moreover, there is a developer platform where you can modify anything from the footer of your website to the opening doctype tag.
Pricing
Squarespace offers four subscriptions plans with many varying amenities.

Podcasting and music are great examples of this builder's attention to detail. There aren't too many website builders that come with an audio player or let you embed a third-party audio player. But the great thing about Squarespace is that it offers a handy audio player for both full albums and single tracks.
You can also imbed a webinar seamlessly into your Squarespace site, making it a great option for B2B marketers. Check out which webinar software will work best for your site and your business here.
Thanks to an extraordinary collection of Android and iOS applications, users can edit or create posts, check on website performance and take notes all from their phone on the go. You get nothing but elegant designs and a clear pricing policy that doesn't come with any hidden fee.
Pros
Offers a good range of tools for importing content from other services
Lets you create stunning websites with impressive video backgrounds
Users can enable SSL on any created site
The logo designing app lets you create a basic but professional-looking logo
Cons
No content versioning is available
No autosave for posts and pages
Link
Video
Learn more about Squarespace from this tutorial.
Strikingly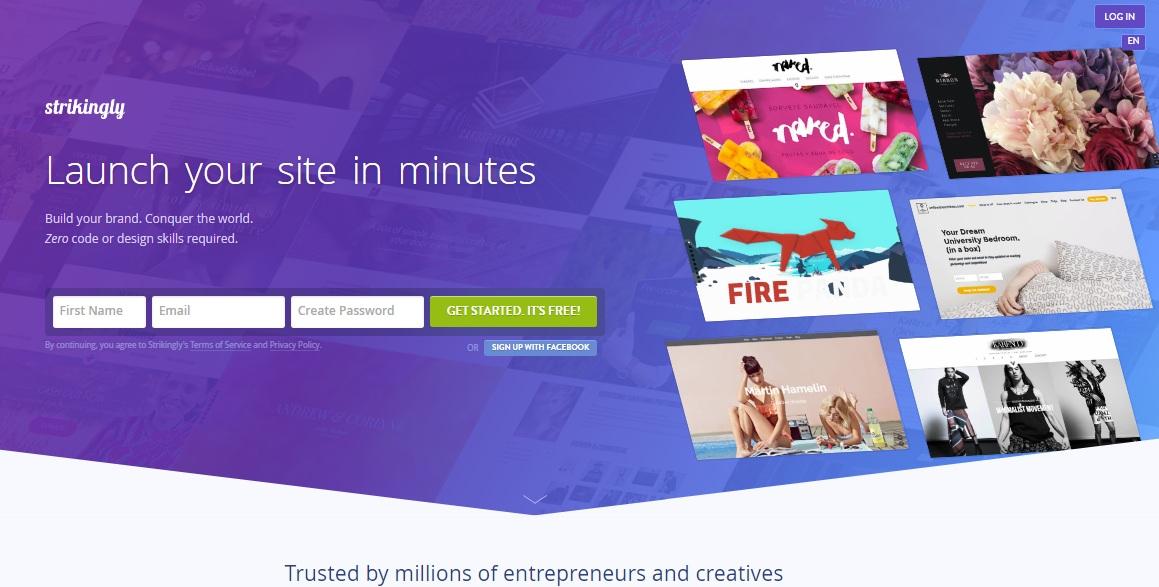 The main focus of Strikingly is being an impressive website builder with a minimalist design. The tool is ideal for users who need to create presentations or one-page sites.
Strikingly is also fairly convenient to use and offers the same drag and drop features you get out of most tools. The graphical editor won't let you write a single line of code as you continue to make changes on different sections.
Pricing
Enjoy the free version or pay for a limited pro plan. However, you will only have the option to link an existing domain to your Strikingly site after purchasing a paid plan. The web builder emphasizes on a mobile-first approach since all their templates work great on a variety of screen sizes and devices.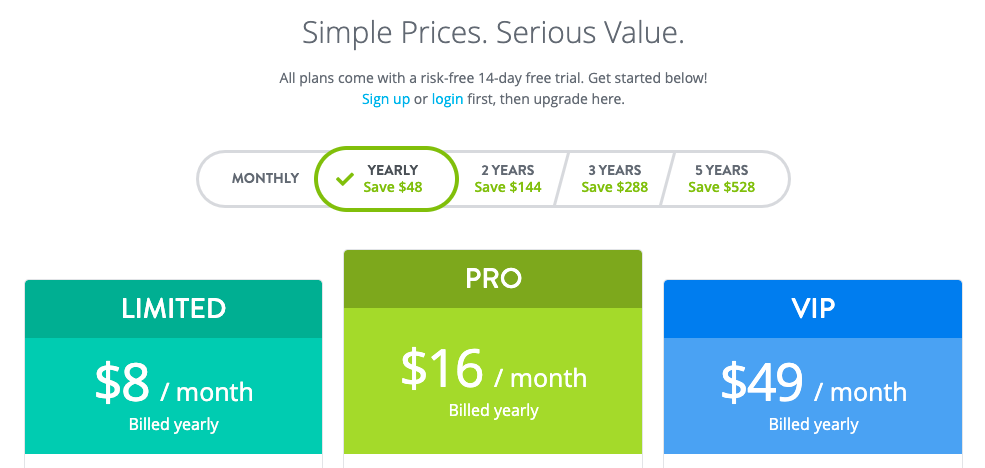 Once you get familiar with how it works, you can get a professional-grade single-page website up and running in no time. Since the pro plan offers access to CSS/HTML files, the builder is a particular favorite of most skilled users.
You get a wide selection of ten templates in categories such as personal, portfolio, business, etc. Although the builder doesn't offer too many templates, users get a wide choice of themes within these templates.
You can also set up an online store by enabling the e-commerce section which lets you add products and create coupon codes. Any plan you select allows your customers to make purchases with either Stripe or Paypal. However, the Pro plan lets you sell up to 20 products. The website builder never charges a transaction fee.
Pros
Prompt chat support
Convenient features
Does not charge any transaction fee
Cons
Limited templates and customization
Under-powered web store
Does not autosave changes. Make sure you keep hitting the 'save' and 'publish' button to make/review changes.
Strikingly is not a regular hosting company which means they do not offer any hosting plans or dedicated servers. The only thing you get from this service is template website.
Link
Video
Learn how to create winning websites with Strikingly by watching this tutorial.
WordPress
If you think WordPress is boring and unconventional, think again. The New York Times, Flickr and TED are only a few of the biggest names that have their official sites and blogs with WordPress.org.

Since its inception in 2003, WordPress has been the numero-uno choice for amateurs. With WordPress.org, users can host their own blog or website.
On the other hand, WordPress.com manages all the hosting for you and you don't have to download software. Since you can't upload any plugins/custom themes or make any changes to the PHP code behind your site, users generally opt for WordPress.org that also lets you have the ownership of your content.
Being an open source CMS, WordPress.org is free to use. However, users will have to purchase a web hosting service from a third party and a domain name for a professional-grade website. Since it powers roughly one-quarter of the web, there is no reason why you shouldn't use it for establishing an impressive website.
All basics are covered and there are no flaws from a content management perspective. You can customize appearance, tools, settings and much more. Although no CSS or HTML knowledge is prerequisite, it does help to be tech-savvy for getting the most out of WordPress.
Users who recommended the website builder consider it a great tool for small businesses and entrepreneurs who don't want a complicated process to create a website. Many of the sites on the WordPress site are actually the self-hosted version of WordPress, as many of them boast a custom-made design.
Pricing
WordPress.com is free. However, its premium package is going to cost you $99 a year. WordPress.org is free for download but users will require hosting and domain that costs a few dollars per month. (Read more about wordpress.com vs wordpress.org)
Pros
Free and open-source
Great for blogging
Incredibly versatile
WordPress.org offers complete ownership of your content
Cons
Better for tech-savvy users
Link
Video
You can make a WordPress website in no time by taking a look at this tutorial.
Jimdo
The impressive and highly popular Jimdo guarantees ease of use in every way. Not only has this website builder has helped create more than 20 million websites; it also aims to provide the best intuitive features to its users.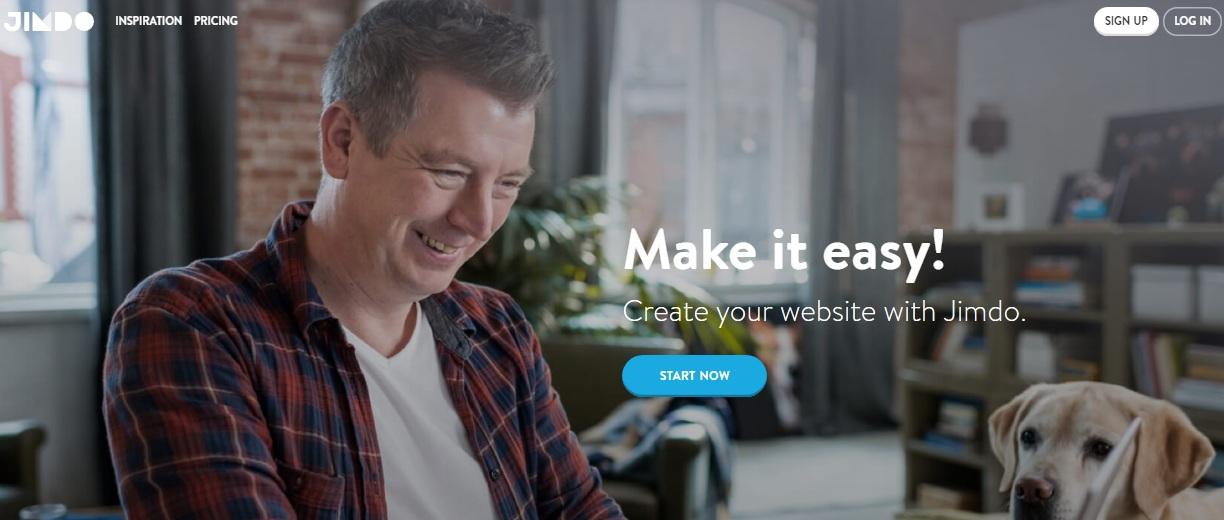 Whether you are an online retailer, a restaurant owner or an entrepreneur, Jimdo works for everyone.
The incredible team behind this company continues to add innovative features to the website builder. More features do not translate into greater complexity but simply an easier website creation process.
Jimdo has received rave reviews not just from techies but from average users who have no technical skills to create a professional-looking website as well. Its inclusive features such as the Jimdo online store let you accept orders from buyers all around the world.
Jimdo is more popular among users who want to create an online store. However, it continues to rule as a multi-faceted website builder to help anyone who wants to build a website without any prior coding knowledge.
Unlike its rivals, Jimdo boasts teams from all around the world. There's no need to worry if English is not your native language.
There is no pressure on users to upgrade to the paid platform. No credit card information is required when you sign up for a free account. This is one of the friendliest website builders for newbies and amateurs. The Jimdo editor is lightweight and there are no complicated toolbars or buttons to make it difficult for you.
Pricing
Jimdo has three different plans. Each of these is available for a 30-day free trial period. There are no monthly billing options so you will have to pay for an annual rate.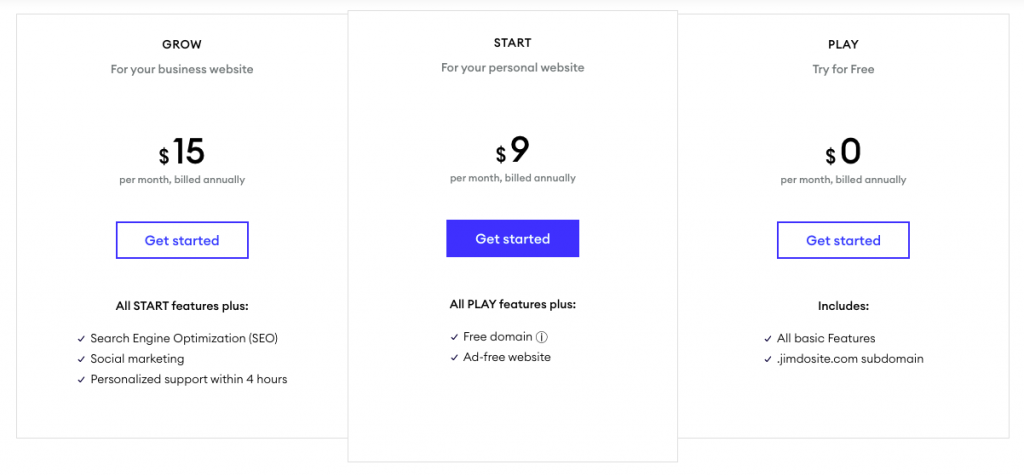 Pros
Convenient features
Great for online stores
Global company
Also provides advanced options for HTML code
Cons
Limited designs and templates
Link
Video
Learn how to create a perfect looking website with Jimdo by watching the tutorial.
BoldGrid
Another notable website builder that takes advantage of the functionality WordPress offers is the popular BoldGrid.
By using a combination of themes, plugins, menus, widgets, and layouts, users create some of the best-looking websites on the internet. The best part about this website builder is that it works for both professional developers and amateur designers.
It quickly enables newbies and experts to present all the content you need to display on your website. One of the best features of this incredible website builder is that you don't get dummy content but text and image relevant to your ideal or industry.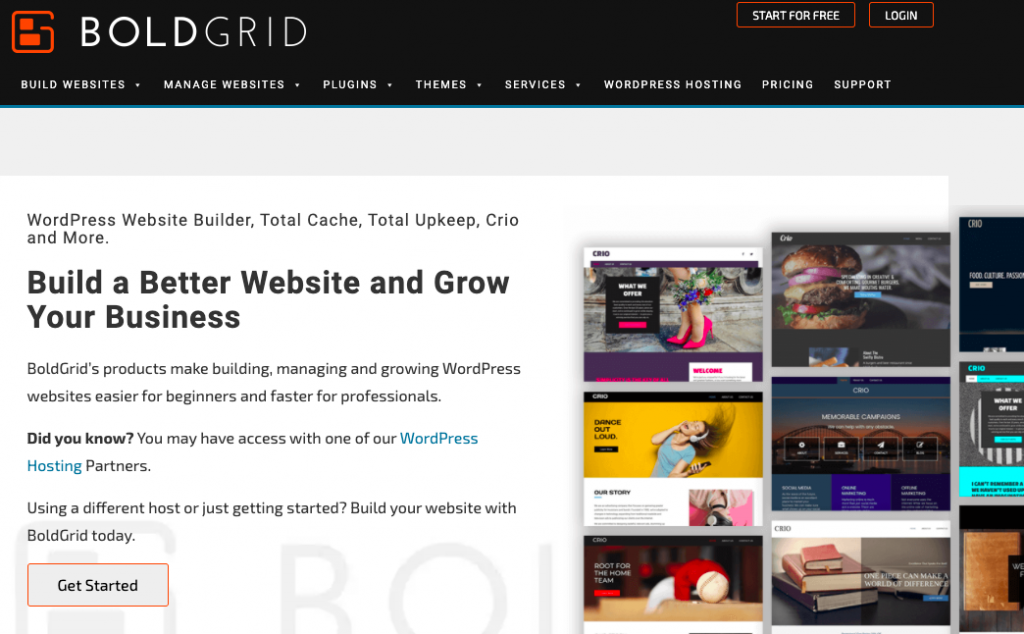 There are plenty of features, menus, and colors to experiment with for creating a stunning website. A simple interface provides SEO tools as well as a staging area to guarantee your site looks great before you hit the publish button.
Since the builder allows users to edit the template code, you can expedite your website creation process by simply editing the template code.
Thanks to BoldGrid, users can create powerful and responsive WordPress based websites. You get great drag and drop customization capabilities. Although some users have reported that it takes some time to get used to its editor.
BoldGrid plugins offer tools for any WordPress website to streamline a web professional's workflow. It offers features such as automatic backups, built-in staging, SEO checker and more. The website builder is a well-rounded tool that is super-easy to use but delivers professional results.
Pricing
BoldGrid provides several pricing options of plugins, themes, tools and services to build, manage and optimize your WordPress websites.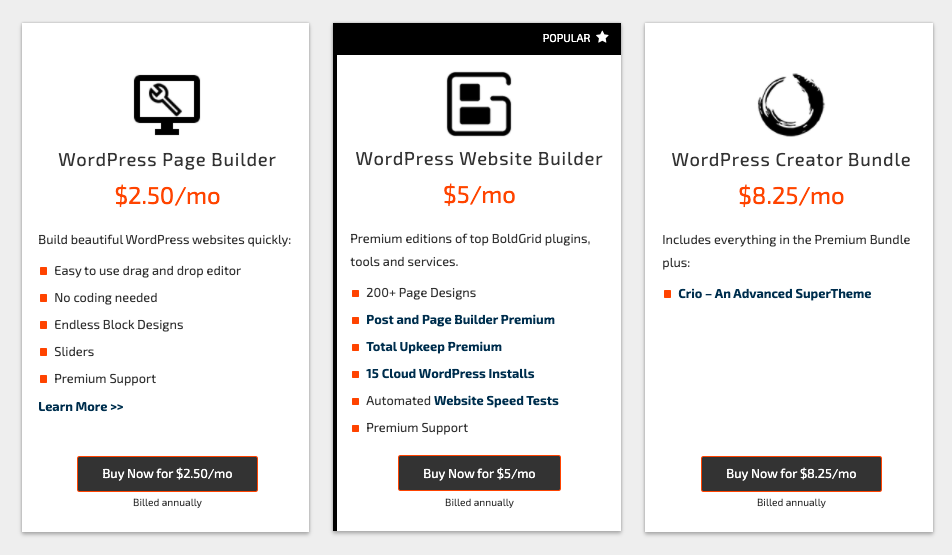 Pros
You get complete ownership of your website
Powered by WordPress
More than 200 mobile responsive templates available
A wide range of plugins available
Cons
No stand-alone version is available yet
Users must be familiar with WordPress since it is built on the same platform
Some users have reported that it takes some time to get used to its editor.
Link
Video
Find out more about how to create a website with BoldGrid by watching this tutorial.
Web.com
Another affordable website builder that has managed to win thousands of users is the popular Web.com. The builder offers a basic package that starts at just $1.95/month and includes a domain name. Hence, it is incredibly popular among enthusiastic professionals, budding entrepreneurs or aspiring online merchants to create a professional-grade website. Users can chose from various categories such as business, media, art, fashion and clothing, etc.
The tempting pricing options combined coupled with intuitive features make it one of the most popular website builders of our times.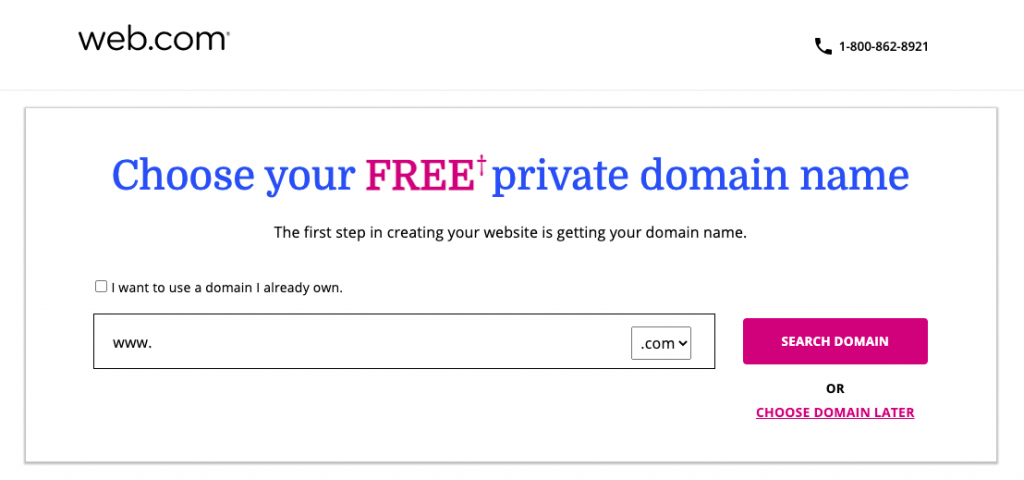 It is a frequent choice for creating personal websites, portfolios and ecommerce websites.
Web.com site builder works like other intuitive drag-and-drop and WYSIWYG builders to grant you complete control of all the items on your site.
Another amazing feature of the fantastic website builder is its spell checker at the top of the page. Type all your text directly without fearing typos. It also offers a photo album feature and lets you choose a free domain name. Moreover, users get access to over nine thousand design layouts.
The tool is an inclusive hosting solution, unlike other popular website builders. Perhaps, this is why it doesn't offer a free plan. Web.com is particularly popular among small biz users and freelancers who are in need of a quick fix without any 'wow factor.'
Pricing
There are several pricing plans available depending on your needs.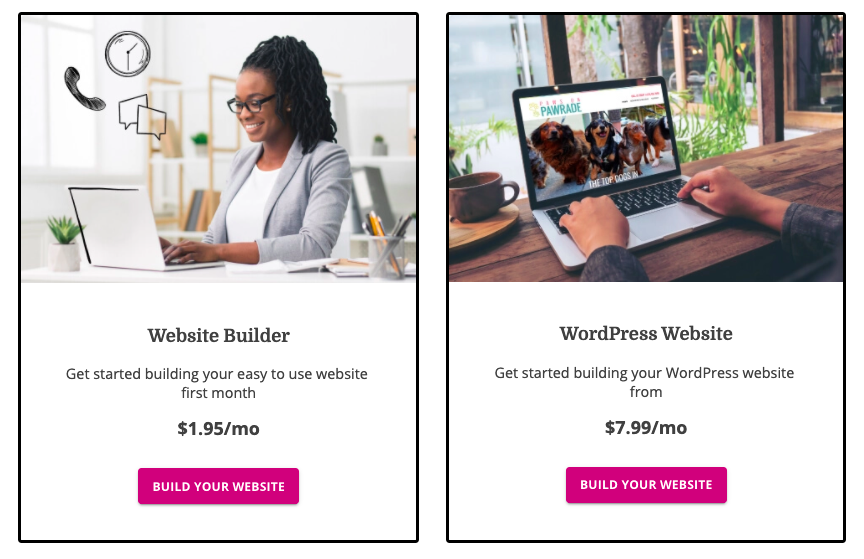 Pros
Affordable intro offer
Publishes a website almost instantly
24/7 support
Cons
Best suited for small businesses
Does not offer a free trial or free plan
Link
Video
Site123
Established in 2016, Site123 was founded with the goal of easing the website creation process. Its intuitive editing sidebar is proof of the tool's pledge to help users who are overwhelmed with innumerable options.
It saves valuable time and effort by removing the need to code and spend hours to put pages together. Site123 is a great tool for you if you are a busy professional who wants to get an impressive website without any coding expertise.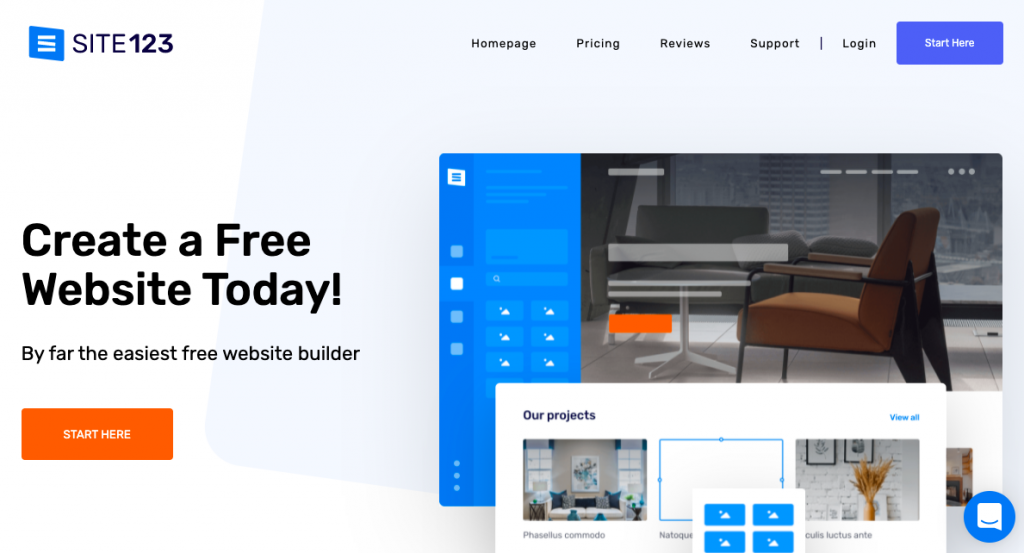 The availability of plugins makes it possible to work with different SEO parameters. Being responsive, all templates are capable of adjusting to any screen, from smartphone to smart TV.
Users can begin creating a website by registering with SITE123 through their Facebook or Google+ account. An easy-to-use dashboard offers intuitive features. Newbies are happy to find only useful buttons and no complicated functions for creating a professional-grade website in less than 10 minutes.
Pricing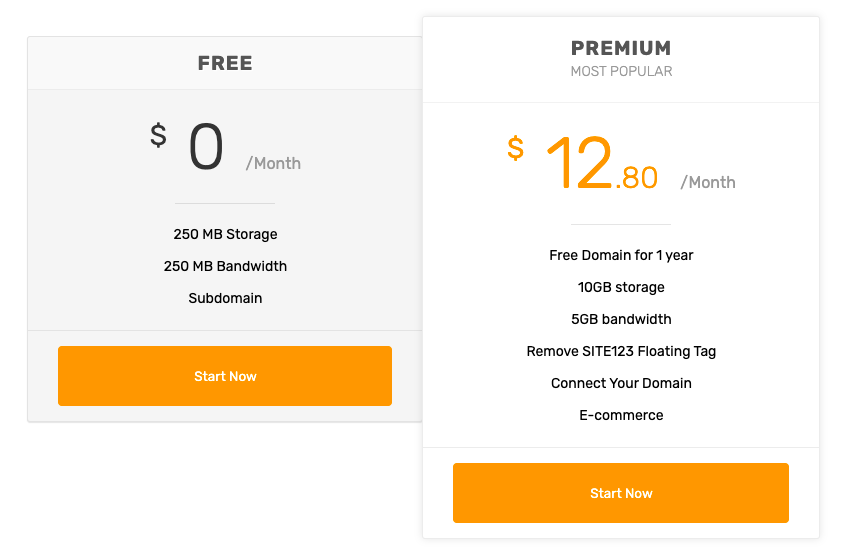 Pros
Users can create multiple websites with just one account
Offers a wide range of customization tools and templates
No coding or web design skills needed
All templates are responsive
Cons
The builder is best for creating simple or basic websites/landing pages
Link
Video
Check out this tutorial to know more about features.
Conclusion
The best website builders should make it simple to create the perfect online presence for your business.
Our recommendation:
The best approach to choosing the most appropriate website builder for your business is to go through the reviews of several different website builders. Compare features and pricing options to pick the best one for your current needs.
Now go build your website!
xoxo
Hailey & Mark