Latest posts by Hailey Friedman
(see all)
An honest Zoom review by Growth Marketing Pro, Hailey Friedman
What is Zoom?
In a post-COVID world, you've most definitely heard about Zoom — it's the company that is becoming synonymous with webinars and video conferencing software. Zoom also offer Zoom Phone, Zoom Webinar, Zoom United, and Zoom rooms.
Video conferencing tools like:
…allow you to host video calls, conference calls, online meetings and big, powerful webinars.
This Zoom review covers the Zoom's capabilities as a video conferencing and webinar software, as well as Zoom pricing, pros/cons, and Zoom alternatives.
Want to check out a full list of all the best webinar software tools? Head to that link!
Zoom Review 2021
You've most likely used Zoom before, but if not, don't worry: it's quick and easy to set up and get a personalized meeting room link. I've had a ton of experience hosting Zoom meetings firsthand, and I'll share my experience of the features with you here.
If you're interested in Zoom's webinar feature (for salespeople and marketers), it's important to note that it's actually an add-on to their video conferencing service (not included).
FYI: If you're a salesperson, marketer or entrepreneur, you should try Demio. If you're interested in Demio, get a Get $49 Off with promo code GMP-DISCOUNT.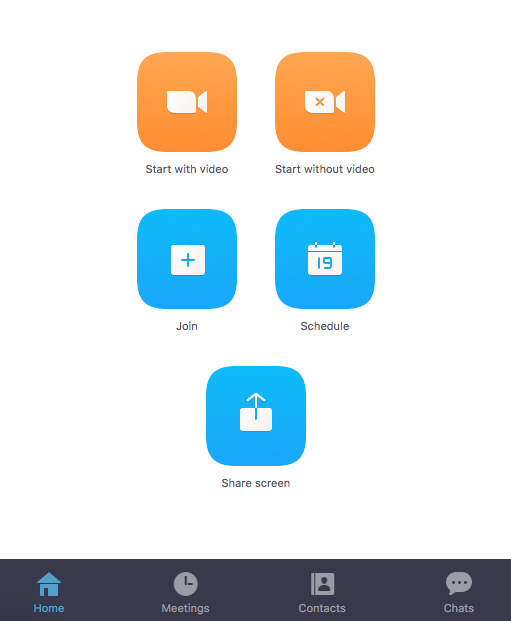 Zoom Meetings Review (Video Conferencing)
Here are some of the basic features that are included in Zoom Meetings:
Screen sharing

: Meet one-on-one or with large groups and show others what is going on on your screen. This is helpful whether you're presenting a deck, work meetings, walking someone through a product demo, or even calls with friends. A basic capability but important nonetheless.

One-on-one meetings: You can host unlimited, 30-hour one-on-one meetings even with their free plan. Zoom is an excellent resource for you if you need to organize professional one-to-one meetings with people across the country without paying a cent.
Group video conferences: These meetings can host up to 500 participants (or 1,000 if you purchase the "large meeting" add-on). There is even a free plan that allows you to host video conferences of up to 40 minutes and up to 100 participants.
Zoom Industry-Specific Features
Education: This is a plan for educators. It helps create easy to use meeting rooms for professors and students. Zoom Education plans are used by tons of universities like Stanford, Berkeley, Drexel, and more. This plan starts at $1,800 per year and includes 20 hosts at that price, and 300 participants.
Developers

: For app developers who want to add video and screen sharing elements to their applications, Zoom has an API Partner Plan that you can purchase. The Zoom API and Meeting SDKs are available to all Pro, Business, and Enterprise accounts with no additional cost.

Healthcare: Zoom has created a unique platform for telehealth professionals who want to use the platform to work directly with patients via video conferencing for things like consultations, specialist visits, and care coordination. Pricing starts at $14.99/month/license that hosts up to 100 participants and group meetings up to 30 hours.
Zoom Meetings Alternatives
Sometimes, Zoom isn't going to be a perfect fit. And that's okay! Here are some great Zoom alternatives:
How to choose? Read our full review of the top video conferencing software first!
Zoom Webinar & Events Review
Zoom's webinar and events feature is an add-on that you can purchase to go along with Zoom's video conferencing feature. But, Zoom Webinar is not a separate being. That means in order to use Zoom's webinar tool, you also need to purchase a Zoom Pro account or better.
FYI: If you're a salesperson, marketer, or entrepreneur, you should try our favorite webinar tool Demio (and trust me, I've tried them all). If you're interested in Demio, you can get $49 off with promo code GMP-DISCOUNT.
Zoom Webinar Features
If you do decide to upgrade to the Zoom webinar add-on, here's what you can expect:
More participants

: Zoom's Video Conferencing feature is capped at 1,000 participants (with the add-on), Zoom webinar can host up more than 10,000 participants

Integrations with CRM & marketing automation tools: Video conferences don't have integrations with popular CRM and marketing automation tools. You can only get these when you get the webinar add-on.
Paid Registration: You can monetize your webinar or event through paid registration.
Panelist Green Room: If you have a lot of panelists, having a place to practice your presentation is key. When you upgrade to a Zoom Webinar plan, you unlock a green room that allows you to practice your webinar with all your panelist.
How to use Zoom Webinar
Sign up for Zoom or the webinar platform of your choice.
Write a script for your webinar. Download the Perfect Webinar Script — it's free.
Create a landing page for your webinar. We recommend choosing a landing page software for this purpose.
Send traffic to your webinar registration landing page using emails, ads and social media.
Re-use your webinar over and over again by recording it and turning it into an evergreen webinar. Demio enables you to do this!
Zoom Webinar Alternatives
Zoom Pros
Unlimited meetings

: Each Zoom plan allows you to host unlimited meetings. This is great because you don't have to condense meetings or host only a few webinars per month for fear of going over a meeting limit.

Scalable platform

: Zoom has a ton of features and capabilities that can grow with you as your business grows. For example, Zoom Webinars can host up to 10,000 participants which is more than enough for what most people will need as they grow their business.

Has a limited free plan: If you want to try out Zoom's video conferencing capabilities to see how easy or hard it would be for you, you can test it all for free.
Excellent webinar reporting features: There are many reports you can pull if you use Zoom for webinars which makes your life so much easier because you don't have to pull reports by hand.
Zoom Cons
Expensive

: Everything seems to be an add-on or an extra with Zoom. At the basic level, if you don't want any add-ons and extras, Zoom is reasonably priced. As soon as you start adding extras, though, Zoom's price gets less reasonable by the addition.

Too many plan options: Plan flexibility is great, but there is almost too much to look at when you try to customize your Zoom plan. Zoom seemingly has their hand in every pot which creates issues for the average consumer just seeking to get into the platform.
Everyone needs Zoom: If you want to run a successful Zoom event, your webinar attendees will also need to download Zoom to access your meeting. This process is quick, but it can be a turnoff to some webinar and meeting attendees.
Zoom Pricing
Zoom has a pretty decent freemium model for their video conferencing plans. The free plan gives you the ability to host up to 100 participants, host unlimited one-on-one meetings for up to 30 hours, and host group meetings up to 40 minutes.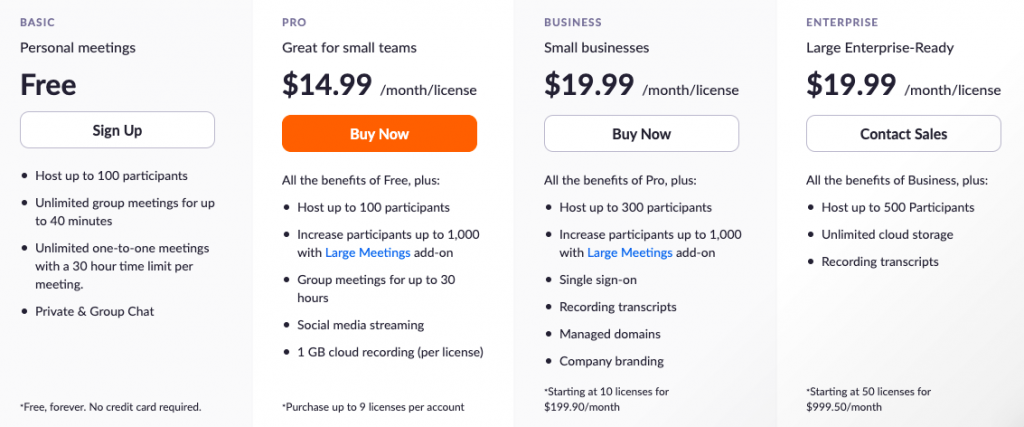 Their pricing is slightly cheaper for competitor GoToMeeting, which you can view here.
But, you'll find that if you need more than that, the prices go up dramatically. Zoom Business and Enterprise plans both require a minimum number of hosts which makes the cost of those plans skyrocket.
Plus, with any Zoom plan, you have to buy multiples of the same plan if you intend to have several employees with a Zoom account. This can add up fast.
A year of hosting unlimited webinars of up to 500 participants is $948/license. It's not the cheapest webinar platform (WebinarJam at under $500/year is the cheapest I've seen. You can also try it for just $1), but it's not the most expensive.
But…that's just the start.
The $948 price tag you see is just for the bare minimum of webinar attendees (500 participants). If you want more webinar attendees, things will increase rapidly from there because you can only purchase webinar participants in the following increments: 500, 1000, 3000, 5000, 10000, and 10000+ participants.
Everything seems to be an add-on or an extra with Zoom. It's quite easy to rack up a massive yearly or monthly bill if you want some of their more advanced features like Zoom Rooms, H.323/SIP room connectors, more cloud recording space, Audio Conferencing, Large Meetings, Premier Support, Developer Support, and more!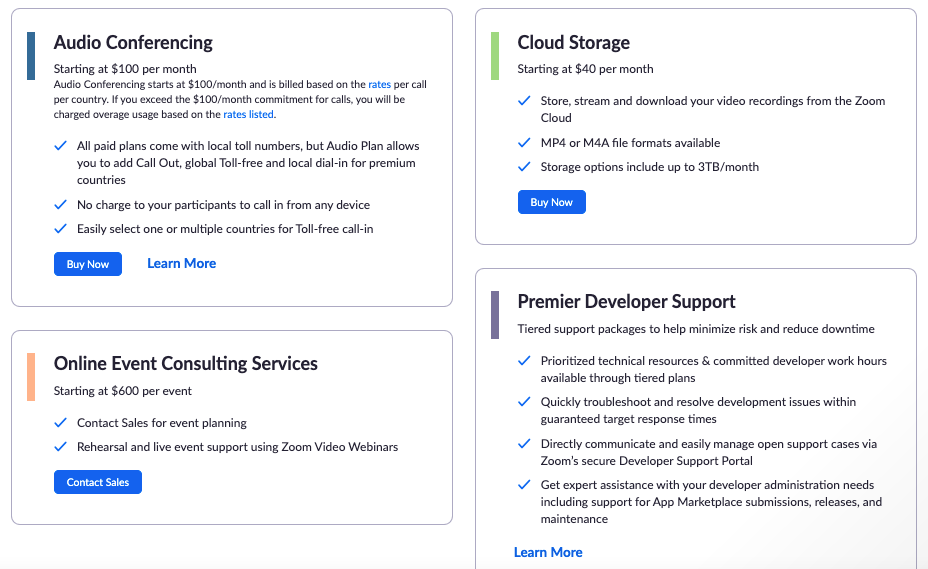 For most small businesses, you may not need these add-ons and extras, but for larger companies, this nickel-and-diming may cause Zoom to bleed your company. And if you choose the events option, that's going to be even more expensive.
Getting a Zoom webinar plan together is so customizable that it almost becomes too much to fathom. All the add-ons and extras make convoluted plans, and it would be nicer if Zoom created a few pre-selected plans to make the process of creating an account easier to manage.
Who Is Zoom For?
Zoom seems to have their hands in a lot of pots. It looks as if their business model is to create tons of product offerings, and they do it well, but it's also way more expensive than most small business owners can handle.
Zoom is a great webinar software for large companies with a ton of resources. Overall, I don't think that Zoom is meant for small teams even with their free and pro account options. Prices add up too quickly making it difficult for me to endorse this as a small business software.
FYI: If you're a salesperson, marketer or entrepreneur, you should try Demio. If you're interested in Demio, get a Get $49 Off with promo code GMP-DISCOUNT.
Conclusion: Should You Get Zoom?
Zoom has quite a lot of features for larger companies to utilize for their growth marketing efforts. For the small business owner, though, investing in Zoom may be a bit out of reach.
There are many other webinar services that we have reviewed here on Growth Marketing Pro that will allow small business owners to host webinars, get reports, and work with other panelists.
The great thing about Zoom, though, is that you can test out the software to see if it's something that you would like to use without paying an arm and a leg. Plus, Zoom is a fantastic software for small businesses to use to host small one-on-one meetings with clients and co-workers, which is a plus even if you don't intend to host your webinars there.
One of the most intimidating parts, is just getting started. That's why I put together this
perfect webinar script
. It's a template for you. Simply fill in the blanks and you'll be ready to go in no time!

Now go on out there and make a webinar!!
xoxo
Hailey