Latest posts by Hailey Friedman
(see all)
If you're reading this, you probably know this: business projects have become immensely complex over the last two decades.
But whether you're a marketer, advertiser, content writer, or project manager, using project management software can help you organize, collaborate, and manage your complex projects.
Coordinating across teams and departments gets challenging.
Throw in a couple (or all) remote employees and contracted workers and you've got a mess of late-night phone calls, webinars, and panic. Life is becoming increasingly difficult for people that need to scope, organize, and time-manage complex business projects.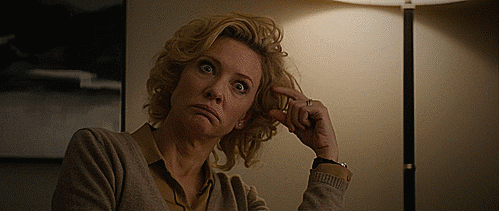 Fortunately, once your business has graduated from project plans, like GANTT Charts and spreadsheets, you can turn to project management software to organize and manage your workflow.
What is the best project management platform? Well, of course, it depends on:
What industry you're in
The size of your team and organization
What your specific project workflow needs are
And your budget
And that's why I've put together a list of the best project management apps for your team. The list includes the top free project management software tools for when you're on a budget, and the easiest-to-use platforms.
Also read: Monday vs Asana vs Trello vs ClickUp
What is project management software?
Project management software helps entrepreneurs and other business users manage complex projects all of the intricacies involved.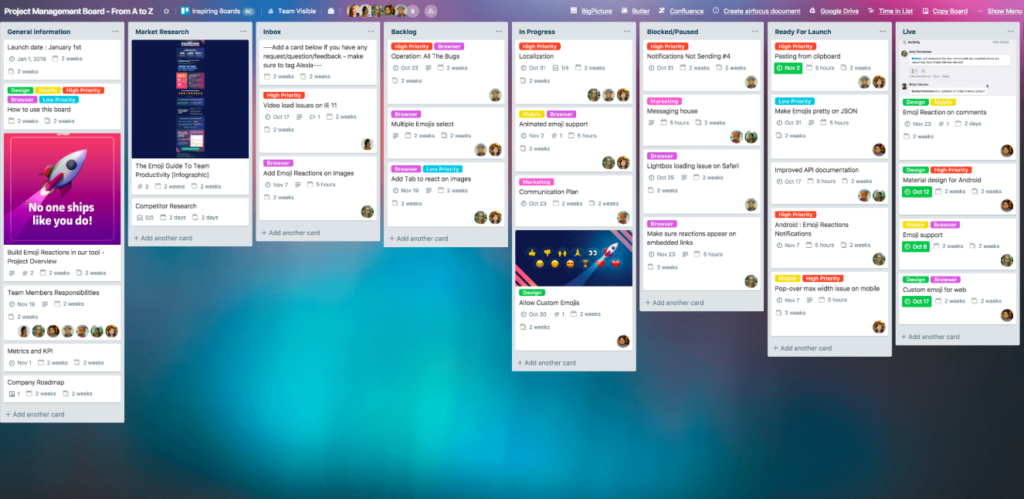 I've seen everyone use project management software — from real estate agents, to consultants, to tech entrepreneurs, to sorta-preneurs working on side projects.
Project management applications help teams work together to meet their goals while managing tasks, time, and costs. A typical project management suite might include:
Task management
Resource allocation
Collaboration
Time tracking
Depending on the size of your business and your needs, you might need one feature more than another. So it's important to do a little diligence.
Project Management Platform Features to Look For
Generally speaking, project management can be organized into a few key areas. I've assessed all the tools on this list based on these important feature.
Planning
Planning is the process of selecting appropriate team members, determining what resources you'll need for the project, and assigning tasks. Proper planning will also help you understand and forecast the time it takes to complete tasks and a project as well as assign resources as needed.
Scheduling
Project managers schedule completion dates for all the tasks needed in a large and complex project. This allows them to put together a timeline for the project and more accurately assess the allocation of resources.
Resource Allocation
Resource allocation features found in project management applications help managers determine where time and resources are invested. A company needs the ability to look at and fluidly manage a project's resources.
Tracking
You can't predict everything. At times, even the most perfect plan doesn't play out as predicted. Good project management software allows fine-tuning control and monitoring so that projects can be managed efficiently.
Time Tracking
Time-tracking software found in project management applications will typically track the amount of time a team member spends on each of their assigned tasks. This measures their productivity in a tangible and relevant way, but it also provides meaningful data for future projects.
Task Management
Being able to look at tasks, how they're assigned, and when they're completed is often the primary use of project management software. Having this ability allows project managers to understand the flow of the project and how it's completed. This is invaluable if there's a large project that requires resources from multiple departments, oftentimes, the tasks involved will be connected to other tasks and dependent on still others.
Permissions
Just about every project management application will have settings for permissions so that a project manager can determine whether a team member can view or change certain tasks.
Expense Tracking and Budgeting
More than likely, your company already uses a separate, stand-alone application for budgeting. But it's worth mentioning that some project management applications also come with the ability to do so along with the ability to track expenses.
Reporting and Analysis
Reporting and analysis allow managers to look at data in different ways. This can be assessed in terms of different metrics and different ways to organize the information presented so that the project manager and stakeholders can more easily digest the information.
Collaboration
Aside from task functionality, collaboration may be among the most important features of project management software. These features–from messaging to video chats to screen recordings–can help team members stay connected to each other as well as other departments.
Document Sharing
Project management software almost always features a way for documents to be assigned to tasks and shared. This makes it easy to see what documents are relevant to the tasks at hand and makes it much more efficient in finding necessary resources. More robust applications can also feature an audit trail that keeps a history of each file or document added.
Messaging
Many organizations have their own form of messaging, but messaging built into a project management application can be beneficial in the sense that all conversations relevant to the project can be traced and referenced.
Now that we have a thorough understanding of what a task management solution can do for your business, we'll take a look at some of the best project management software on the market today.
The Best Project Management Software Tools
Monday.com is an immensely popular project management application that will help your team work well together and collaborate so that your projects get completed on time and on budget (their free plan is great).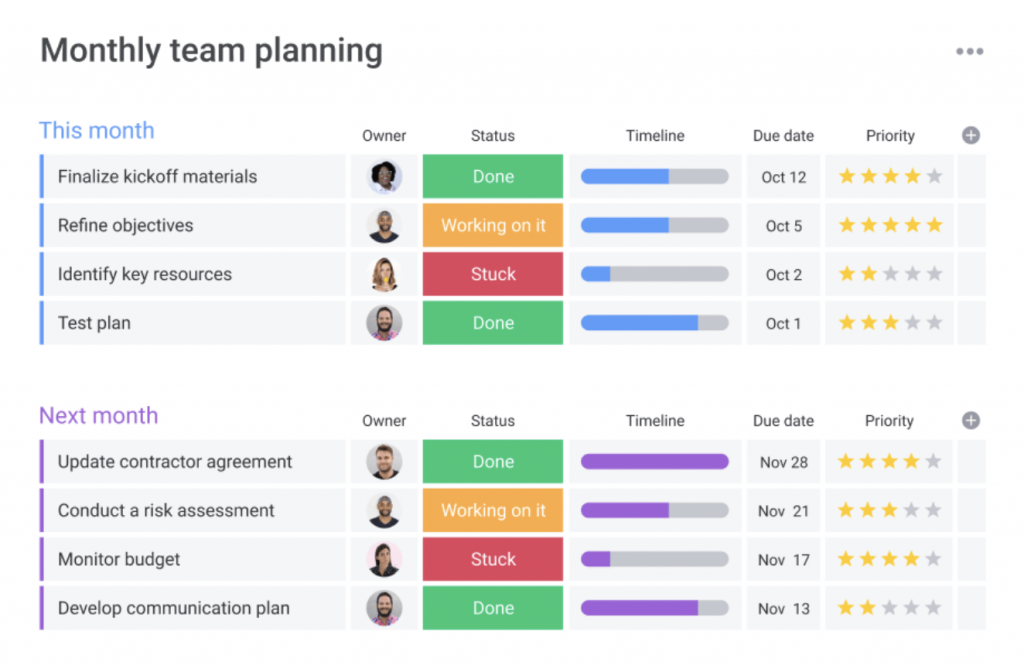 It's extremely easy to use with a great interface, so team members will pick it up quickly. Automatic notifications, time tracking, custom workflows, timeline views, dependencies, and integrations round out the features in this comprehensive task management solution.
It's among the best project management software out there, and all of its integration opportunities help with that. Connect your other project applications like Slack, Google Drive, Gmail, Facebook, Google Calendar, Jira, Mailchimp, Trello, Microsoft Teams, Dropbox, Typeform, and Zapier, for even more endless options.
Pros
Monday.com is extremely easy to use and has a slick interface.
You have API access for custom development.
The application is highly customizable.
They have a free plan, and free trials for larger plans.
Cons
You can't track the number of people on boards or time spent on tasks without upgrading.
It can be on the expensive side when compared to other solutions, and the pricing can get a bit complex.
Pricing
Monday.com starts with their free plan which you can use for up to two seats. If you are managing more than 2 people, then you'll need to get their basic plan, which is $8/seat/month, for at least three seats. It can get a little confusing, so make sure you determine exactly what your business needs, and try out the plans for free first.

Read Growth Marketing Pro Monday.com user reviews here.
Asana is a complete task and project management app that many teams swear by. Asana's interface is easy and accessible with minimal learning, yet it still has powerful features for managing projects. You can view your projects in lists, boards, or timelines, so you can break down your project into the smallest steps, or take a look at how they fit together in the big picture.
Use a project form to submit different projects for different teams, manage marketing campaigns, or close deals faster. Any task that has multiple parts, Asana can make it easier to do. Plus, it offers tons of integration with apps like Slack, Outlook, Venmo, Adobe, Microsoft Teams, Jira, Zapier, Canva, Loom, and lots of others, so productivity is easy.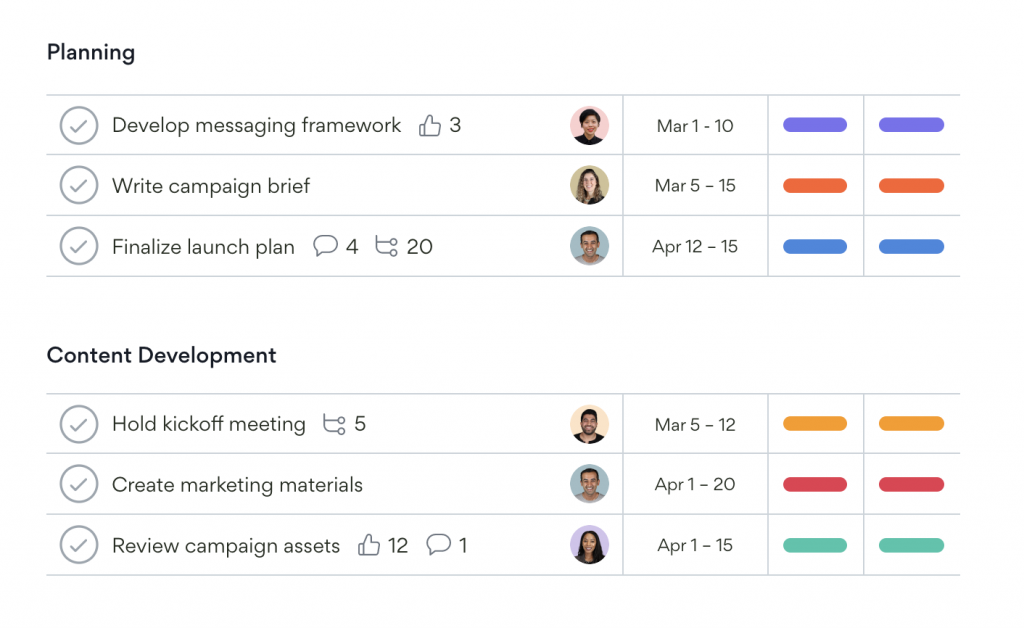 Pros
It's extremely easy to use and has a simple setup.
The free tier is very capable, for up to 15 people!
There's a handy timeline view for managing task dependencies.
Asana has excellent third-party integrations.
Cons
Notes and discussions can be easy to miss at times unless you drill down into tasks.
Not the best solution for work that's graphically intense.
Pricing
Teams of up to 15 people can use Asana for free. Asana Premium will cost you $13.49 per user, per month, or $10.99 if billed annually, and then Asana Business is a tier above. They also have Asana Enterprise,

Wrike is a fully-featured project management application. It's infinitely scalable, so whether you're a small business or in an enterprise environment, it works great. You can customize it to exactly what your business needs, and it can grow as you do, make it the perfect task management option for growing organizations.
Wrike prides itself on its versatility, security, and integration options. Its simple interface enables users to quickly switch between interactive drag-and-drop Gantt charts, Kanban boards, task lists, subtasks, schedules, shared workflows, and traditional workflows views, so you can visualize your priorities to best serve your needs.
With their AI-powered Work Intelligence™ feature, projects benefit from smart automation, project risk prediction, voice commands and smart replies, and document processing. Their mobile application is also very comprehensive and allows you to manage your projects or even track time directly from your smartphone.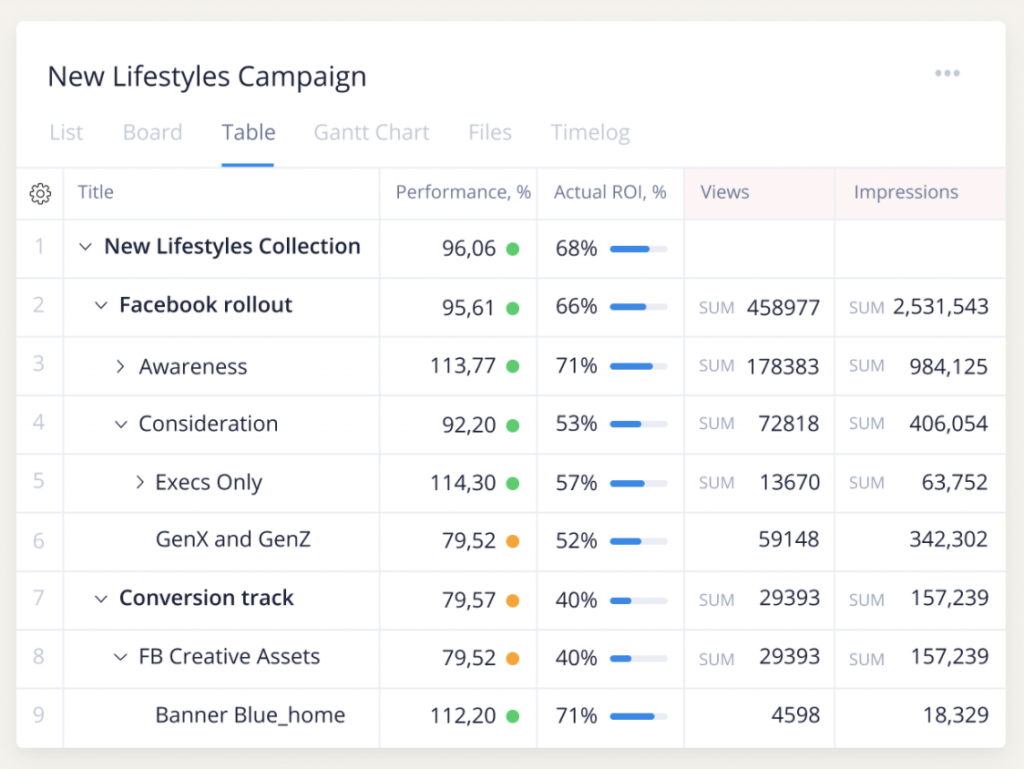 Collaboration in Wrike is comprehensive and fully-featured, offering users an easy-to-use platform for organizing and sharing their work. Plus, Wrike offers more than 400 integrations!
Pros
Quick and easy setup.
Very nice interface with intuitive user experience.
Wrike has built-in time tracking.
The mobile app is excellent.
Cons
It can be a little more expensive than similar applications.
The best features are limited to the higher-tier plans.
Pricing
Wrike has general plans, plans for marketing and creative teams, and for service-delivery teams. They also have a free option, and free trials so you can see is Wrike is the best fit for you before investing. They list pricing for their first three pricing tiers, and then all other teams can contact them for specific needs.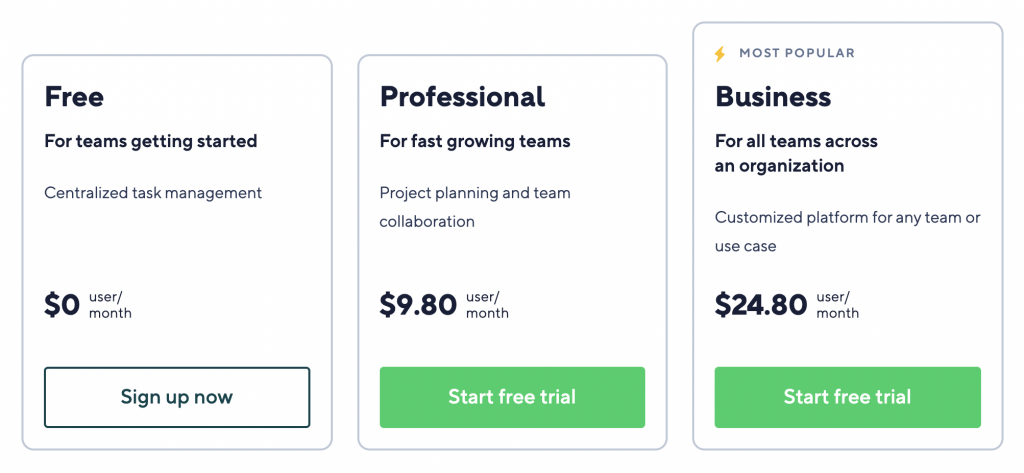 Smartsheet takes the concept of spreadsheets and makes a task management app out of it, making it an approachable project management platform for every user, from marketing to IT to operational teams. Take your Google sheets and Excel expertise, and let Smarsheet make your life a lot simpler.
Smartsheet is a hybrid application that's capable of task tracking and resource management as well as budgeting and reporting. You can
And of course, it offers lots of integrations, from DocuSign, to Amazon Web Services, to Microsoft Teams, and Dropbox.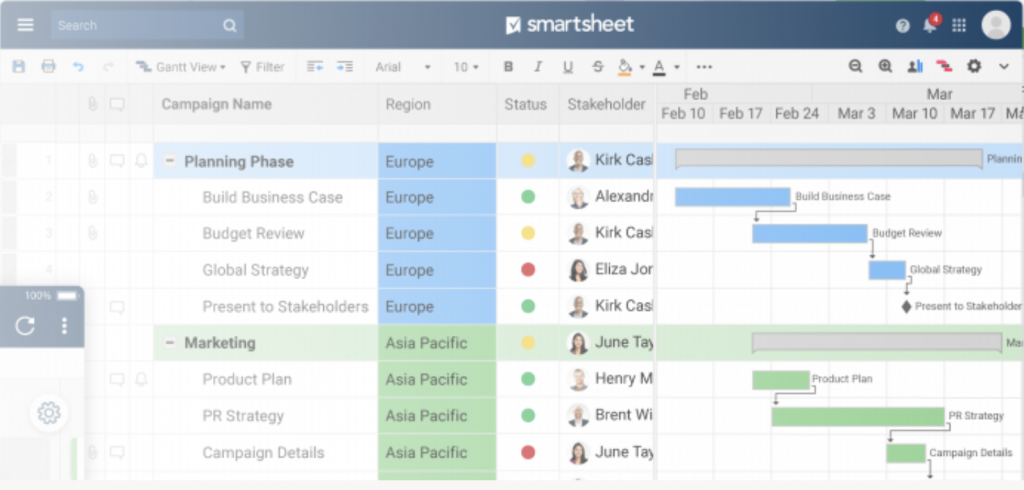 With Smartsheet, team members can collaborate on plans, track tasks, and manage projects seamlessly. There's a full range of management tools for resource and document management, reporting for projects, and a robust timeline tracking feature.
Depending on your industry, this novel approach may work better for your business over more traditional task management software.
Pros
Smartsheet is a powerful application that has countless customization options.
If you're accustomed to spreadsheets, the learning curve will be minimal.
Smartsheet is cloud-based, so it's great for distributed teams.
Cons
It's not the greatest application for pure task management.
There's no free tier.
Some users have reported that it can be a bit slow when there's a lot of data.
Pricing
There is no free service with Smartsheet. There's a standard version that runs you $19 per month, per user and a business version that costs $32 per month, per user.
Read Growth Marketing Pro Smartsheet user reviews here.
Adobe Workfront offers a unified task management application that can integrate your business from end to end, giving project managers a holistic view of business operations. It's a fully-featured task management app that can incorporate methodologies such as Agile and Waterfall, in whole or in part.
It's designed with marketing and information technology processes in mind, and it excels at managing these processes. It's been used by teams at T-Mobile, Under Armour, Sage, and others, as well as companies looking for support managing product development, professional services, and portfolio planning, and business strategizing.
You can use their work management software, and then try out their scenario planner, goal alignment, application integrations, or Adobe Experience Cloud, which has programming for every aspect of your business.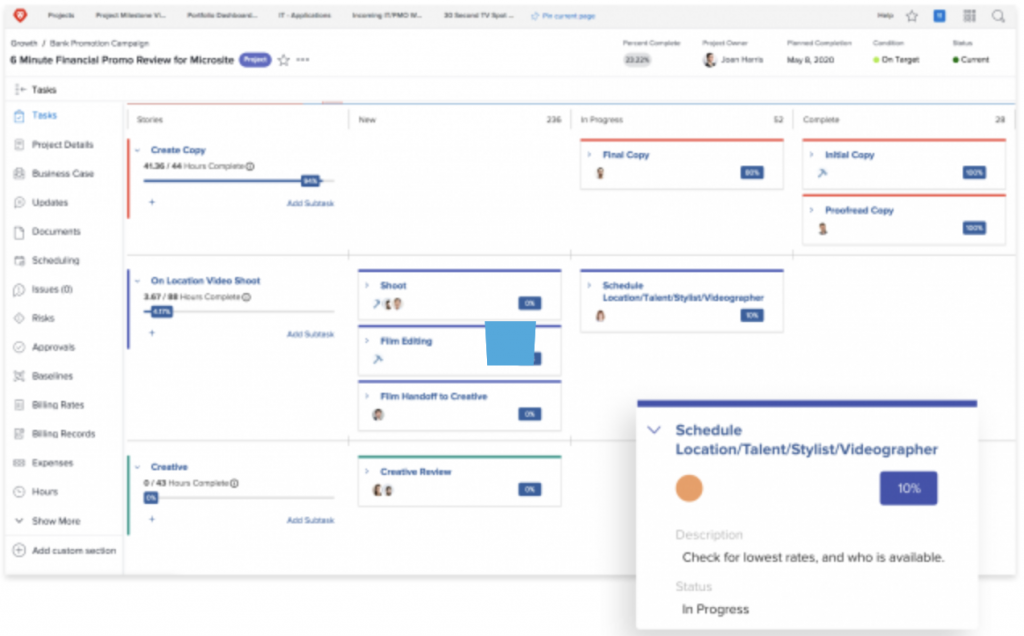 Workfront is fantastic for teams that need strong collaboration features. There are excellent communication features and there are even built-in recognition systems for giving kudos to team members.
Pros
Workfront is highly adaptable and customization to your unique business processes is easy.
Good features for collaboration.
Strong digital asset management.
Cons
If you haven't adopted specific methodologies for your business, setup can take some time and effort.
If you're looking solely for a task management solution, Workfront may be too complex.
Pricing
Workfront comes in three tiers: Enterprise, Business, and Pro. The company doesn't publish its costs, so you'll need to get in contact with them directly for pricing.
Read Growth Marketing Pro Workfront user reviews here.
If you're part of a small team that needs a simple, affordable solution for task management, Trello is going to be a great option. Its focus is around using Kanban boards to view and manage tasks, and there are plenty of features for this methodology. You start with lists and cards, and then differentiate tasks with assignments, timelines, productivity metrics, due dates, timelines, checklists, calendaring, and lots, lots more.
Trello makes things extra simple with its built-in automation, Butler, to reduce the number of tedious tasks (and clicks) for you and your team. Then, integrate your favorite softwares, collaborate with your team, and get producing!
Though Trello is a great project management solution for task tracking, on the whole it's rather limited, so larger organizations may want to look at other solutions.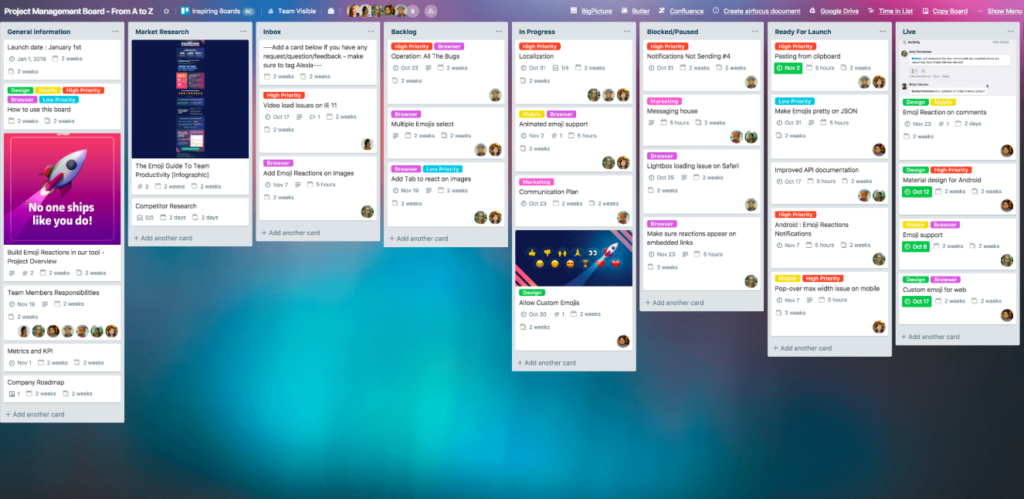 Pros
The Kanban boards are easy to use and great for simple project management.
There's a robust free tier.
Collaboration in this app is fun, featuring stickers and emojis.
Cons
It doesn't come with any reporting features, so analysis can be difficult.
There isn't a lot of wiggle room when it comes to structuring and organizing the boards.
There aren't any hierarchies or dependencies between tasks.
Pricing
Trello's free tier is fully featured, however, they also offer a Standard tier at $5 per month, Premium tier at $10 per month, and Enterprise starting at $17.50/user/month for 25 users, or $7.38/user/month for 5,000 users. If you want more users than that, you'll have to contact their sales team.

Read Growth Marketing Pro Trello user reviews here.
The classic note-taking app Evernote has grown substantially over the years. Once a platform for personal productivity, it now offers full-fledged project management features. Plus, if you upgrade to their enterprise plan, complete with time-tracking and collaborative document features, you have a great project management tool on your hands.
If your business processes are heavy on document management, Evernote Business will be a good option. Teams can make notes, notebooks, and spaces with various levels of visibility. With their powerful search feature, app integrations, activity history, document scanning, and more, you can centralize all your important work, get new team members up to speed, and get your tasks done.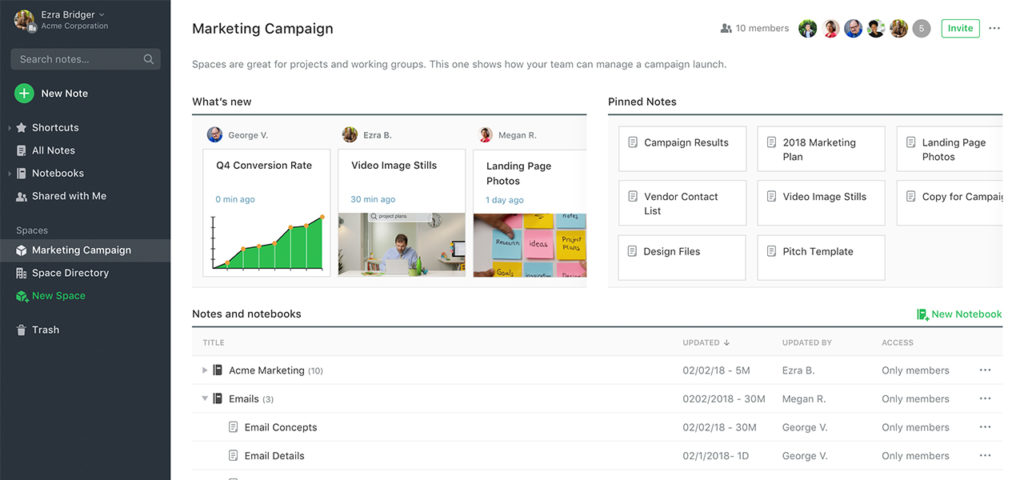 Pros
It has nice time-tracking features.
Web clipping is a great feature for capturing and sharing information.
Evernote has excellent document collaboration features that work seamlessly.
Cons
For what it offers, Evernote can be a bit pricey.
The app itself can feel a bit sluggish at times.
Pricing
Evernote has a free tier, a personal tier, and a professional tier. For full collaboration, you might want to use their Teams option, at $14.99 per user, per month.
Describing itself as the "all-in-one toolkit for working remotely" Basecamp is a very organized and easy-to-use collaboration tool with messaging boards, to-do lists, group chats, document sharing, and scheduling. The organization of multiple projects is where Basecamp shines, with features like separate teams and needs for each project.
You break up your work into separate projects, which should contain everything related to the work at hand; all the people involved, every discussion, every document, file, task, important date, etc. And then our team can access Basecamp from anywhere–on the web, on iOS, and Android–to get those projects done!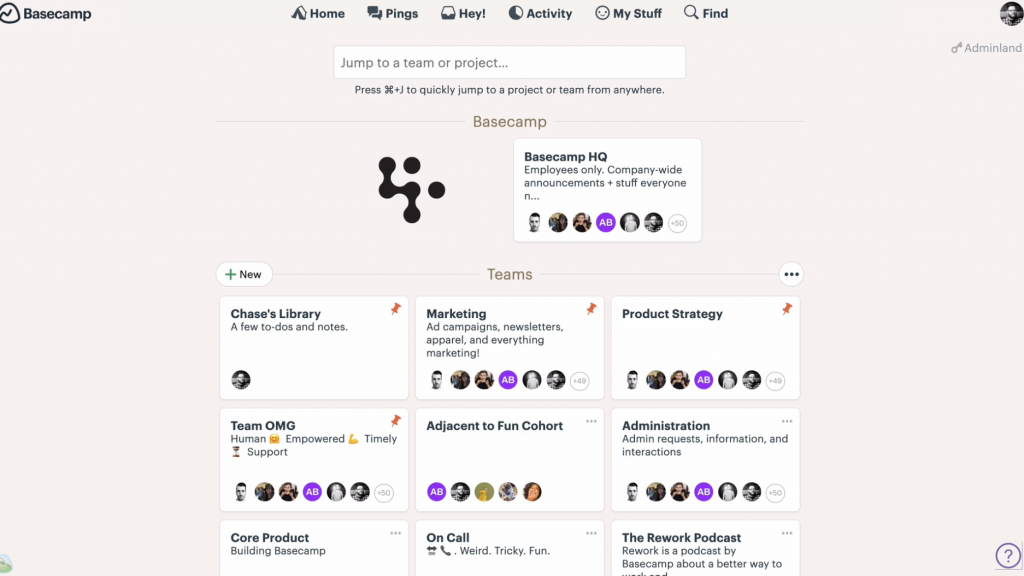 But it's important to keep in mind that, while Basecamp is great for collaboration, it's not necessarily designed to be a project management tool.
It doesn't have features like task reporting and management or Gantt charts. But for a simple collaboration tool, it's very handy.
Pros
Basecamp focuses on the organization of multiple projects and teams, which can be great for businesses that have a lot of smaller, concurrent projects.
It's an excellent tool for team collaboration.
Cons
As a task or project management tool, it can fall short depending on your needs.
The email notifications are a bit excessive.
It could use more seamless integration with other productivity applications.
Pricing
Basecamp has a free tier that's a bit limited. Basecamp Business will cost you a flat rate of $99 per month with no per-user charge: it has unlimited users, unlimited projects, and more, plus a free 30-day trial.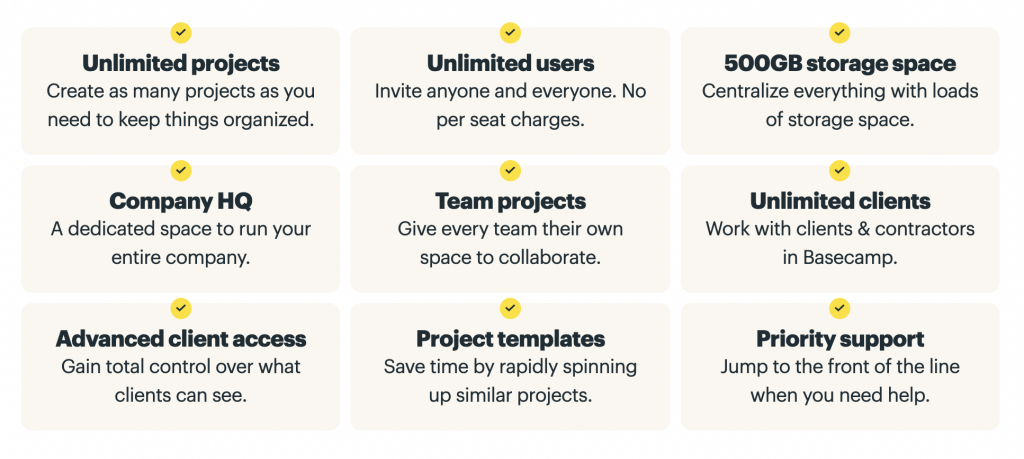 Read Growth Marketing Pro Basecamp user reviews here.
Jira was originally a software used to track issues and bugs, however, it's expanded since then and now features good project management features. It was built for every member of your software team to plan, track, and release great shipping software. You can create user stories and issues, plan sprints, distribute tasks, find improvements, and more, all on Jira.
Integrate over 3,000 other apps, from transforming product requirements in Confluence into a Jira Software backlog, to improving your CI/CD with Pipelines and monitoring build status, to letting Jira automatically updates issues and transitions work when code is committed in Bitbucket. The possibilities are endless if you're a software team.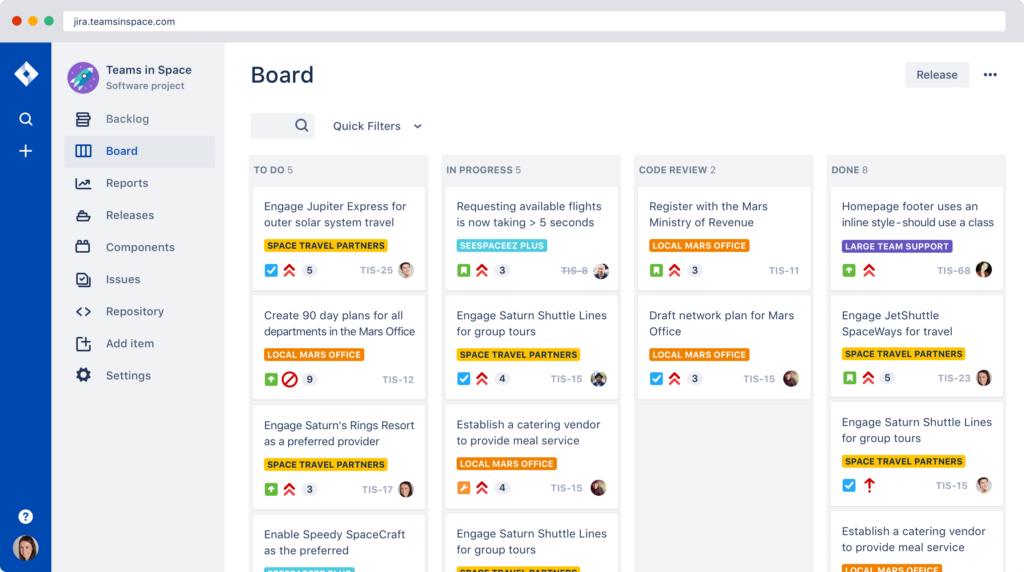 Jira tasks are referred to as "issues," owing to this history, but it's simple to organize projects, assign team members, set priorities, and so on. It's organized to work well with Agile Scrum boards and Kanban methodologies, so if this is part of your business processes, it will work very well. It's a solid task management app for small to medium-sized teams.
Plus, the Jira Software Cloud lets you sketch out the big picture, communicate plans with stakeholders, and ensure your roadmap connects to your team's work.
Pros
Jira has multiple reporting interfaces for seeing the progress of projects.
Excellent collaboration features.
The application improves continuously with frequent updates.
Cons
It's primarily for software teams.
It can be a little overwhelming for smaller teams.
When projects are more dynamic, the application can be cumbersome to use.
Pricing
Jira has a free option for up to 10 users on one site, and then you can grow from there. All of their other plans allow for 20,000 users.

Airtable is another solution that opts to take the spreadsheet approach to task management, but with a nod towards databases. If your projects are data-heavy, this could be an excellent task management solution for your organization. With its predefined layouts, displaying just about any kind of data is easy and accessible.
You can use Airtable for user research, bug tracking, event planning, content calendaring, campaign tracking, product planning, and much, much more. They offer templates for almost anything you can imagine, and you might find yourself even using it outside of work hours to track your favorite restaurants, plan a novel, or apartment hunt.
Integrate with other project management apps like Asana, Basecamp, Evernote, and Trello, or connect with your social media accounts, communication apps, and file databases. Whether you're in marketing, sales, operations, finance, HR, or more, Airtable can definitely find a spot on your desktop!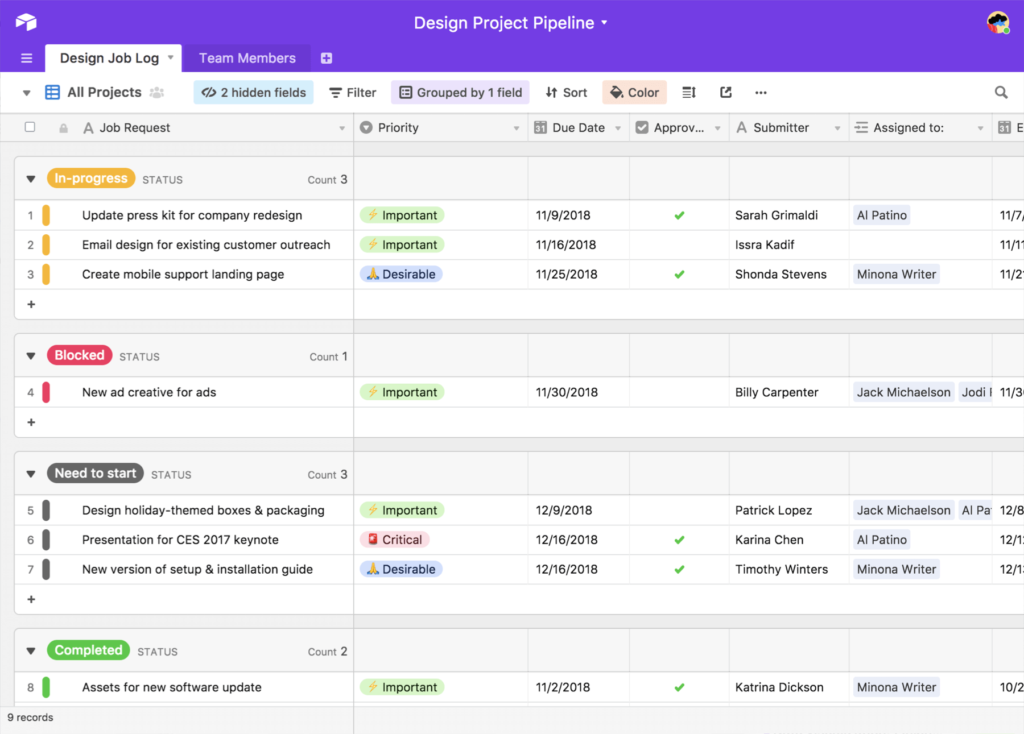 Pros
Airtable has an excellent interface, and it's easy to switch between layouts when viewing your data.
It has fantastic support for collaboration.
It integrates well with several services.
Cons
If you have no experience working with databases, the learning curve can be a bit steep.
You can't link the databases.
It's a bit on the expensive side.
Pricing
In addition to their free plan, Airtable offers Plus, and Pro, and then Enterprise pricing for larger teams.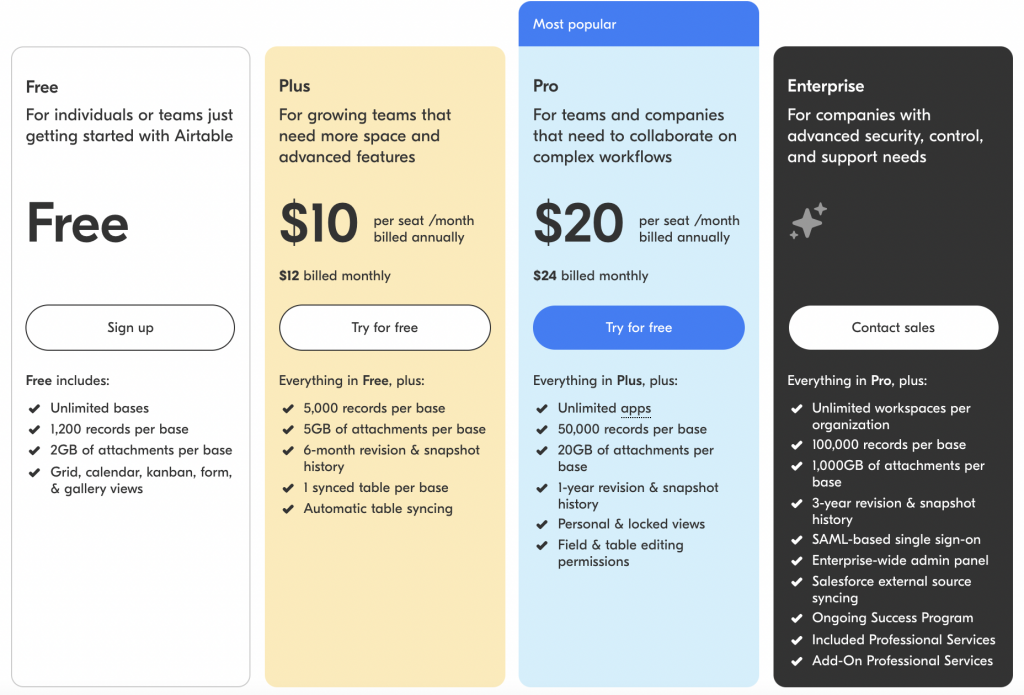 Proofhub is a popular project management solution that is known for effortless communication and collaboration features. Tasks can be allocated on Kanban boards and the drag and drop facility across various stages keeps everyone updated on task progress. Collaboration on files and feedback process becomes effortless as teammates can attach files at a central location.
Calendaring your tasks keeps you on top of schedule, Gantt charts help you visualize your work, Kanban boards create work flows, and various views makes it helpful for everyone. ProofHub helps managers manage, teams improve teamwork, and clients stay satisfied. It has a great interface, is easy to use, and keeps communication in one place for everyone.
Ready to integrate? Access FreshBooks Classic, FreshBooks, QuickBooks, Google Calendar, iCal, Box, Dropbox, Google Drive, OneDrive and Outlook, all on ProofHub.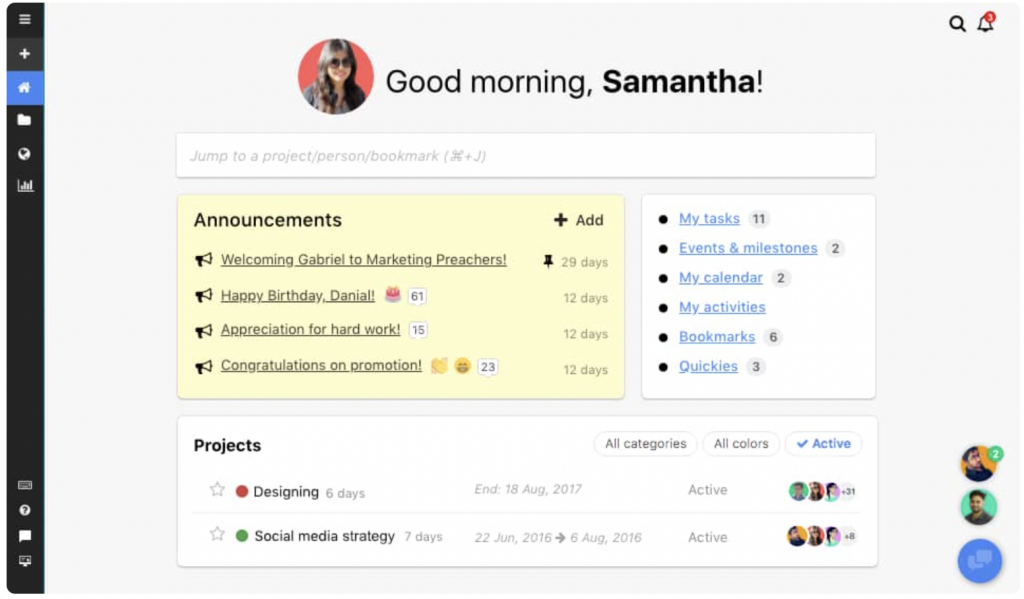 The exhaustive list of project management features like Gantt charts, timesheets, kanban boards, reporting, announcements, discussions, chat, etc. makes ProofHub a versatile solution that can cater to the needs of all sorts of teams. Plus, you can stay on top of everything at all times with their mobile app.
Pros
No need to spend on various different tools as ProofHub is a complete package with an exhaustive feature list.
Simple interface with no learning curve.
It is not heavy on the pocket because there are no per user charges.
Cons
Fewer integrations than other project management options.
Pricing
Proofhub offers a flat monthly rate: no per user charge, and you can cancel at anytime. Plus, they have a free trial.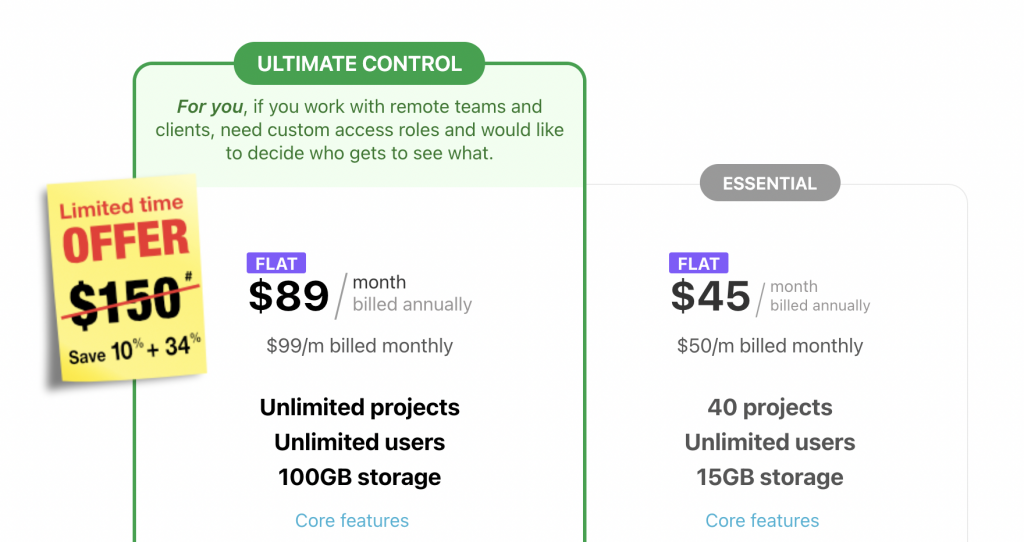 Teamwork is a great option for the project management teams of all shapes and sizes. Teamwork includes all the tools you'll need to track a project, such as board view, tasks lists, Gantt charts workload, collaboration, and many more! The tool is flexible and very customizable, including various intuitive features like Milestones, Task Management, Messaging, File Storage, Time Tracking, and more.
Project teams can also visualize the project using a marked calendar, gantt chart and set-up reporting. File management support is accessible with DropBox, Google Drive and Box.com. Teamwork allows you to centralize your project information, meaning you can help eliminate misunderstandings and missed deadlines.
Pros
Tons of integrations
Has an added chat option for faster collaboration
Aimed at marketing departments and agencies
Cons
Some features are reserved for higher price tiers
Pricing
With a 30-day free trial, you can check out their Deliver, or Grow plans, or get in contact with their team to work with Enterprise.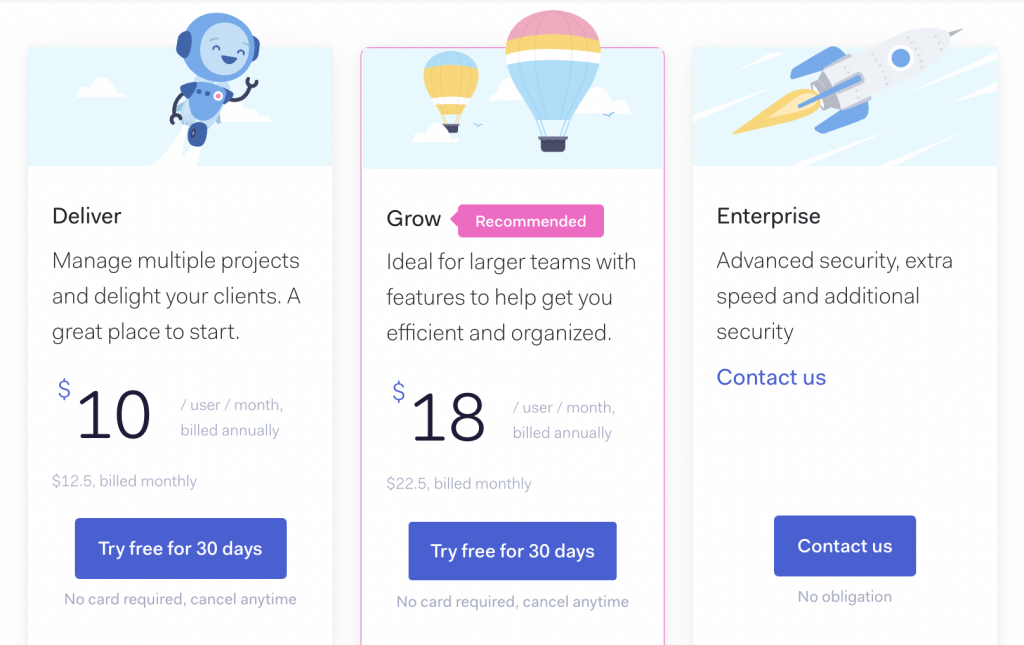 What is the easiest task management tool to use?
You don't want to have a project management app that's clunky or confusing. Some of the simplest project management platforms to start using will be:
What are the best free project management softwares?
Luckily, there are lots of free plans from the project management platforms on this list. Many of them operate with a freemium model, meaning if you're a solo-preneur, one of these may be free to you forever! Some other free project management apps you can try include:
Zoho Projects
TeamWeek
ClickUp
Todoist
Team Gantt
Conclusion: Project Management Software Tools
Time is so fleeting.
There are only so many hours in a day and only so many days in a week. In a place like San Francisco, where seasons bleed seamlessly into the next, it can be difficult to even find the landmarks to acknowledge that time is going by. And yet it is.
We often get consumed with things that seem urgent, but are not actually important.
Like our perpetually refilling inbox or Facebook alerts or Instagram notifications. There's always something to "check".
Our stocks
Our bank account balances
Our LinkedIn connection requests.
It's easy to consume minutes, more often hours of our day, with our thumbs scrolling up and down taking up time we didn't plan for. We didn't intend to spend our time that way. Yet somehow it happens– and it happens every day.
I read a quote recently that said "Every time you're interrupted, it takes you 23 minutes to re-focus".
Sit with that for a second. If you're a business owner, you can't afford for you and your team to waste even a single minute.
I like Trello and Monday for personal and team project management.
I like Airtable for project management and no-code app building.
But all these tools are incredible. Find the one that works for you at a price that you can handle.