Latest posts by Hailey Friedman
(see all)
There are more than 160 AI sales software tools out there. And they do everything you can imagine to augment your sales process. The best AI sales tools can help you:
Automatically analyze past sales performance and suggest ways for improving pipeline
Detect buying signals and productivity patterns
Use generative AI to produce sales videos in bulk
Clean data
Produce graphs and charts so you can find bottlenecks
And they integrate with tools you use like CRM software
The worst AI sales tools come at a hefty price and produce no real value.
I've been testing all the best ones to close more deals for my growth marketing agency. I'll tell you which ones are worth trying based on the lift they're providing for my business.
What is an AI Sales Software Tool?
An AI sales software tool (sometimes called an AI sales assistant) is a computer program that helps salespeople interact with customers and to make sales more efficiently. When you consider that only 10-15% of leads ever become sales for your business, you can't afford to ignore your sales technology stack.
Tools like Tavus, Drift, SetSail and Clari use artificial intelligence learn about the sales pipeline and customers' needs and to provide recommendations for products and services.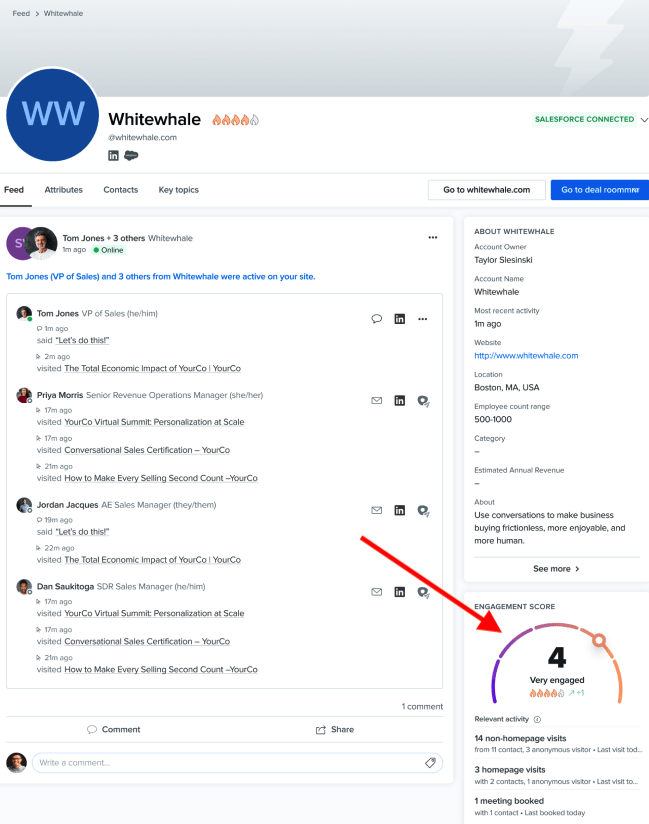 When looking for AI sales assistant tools, there are a few things you should keep in mind. The tool should be able to:
Assist with lead generation and qualification: The AI sales assistant tool should be able to help you identify and qualify potential leads. It should also help you prioritize leads and track their progress.
Help you close deals: The tool should help you close deals by providing you with information and resources that you need to make a sale. It should also help you stay organized and on top of your sales pipeline.
Improve customer service: The AI sales assistant tool should help you improve customer service by providing you with information about your customers. It should also help you track customer interactions and identify opportunities to improve customer service. After all, customer experience and lifetime value is everything!
Also read: The 16+ Best AI Writing Software Tools
Which are the Best AI Sales Tools?
1. Tavus: best for improving contact rate (with AI video)

Tavus is a truly incredible tool for creating AI videos en masse. Imagine recording a single sales video one time for an outreach campaign, and then programmatically changing it for every one of your prospects. Or imagine thanking all of your best accounts in the time it takes to record one video. Again, with Tavus, you record a video, upload it, and then change any elements of it you like. So you can say "Hi Hailey" in video one, and then dynamically replace the name to "Hi Shirley" in video two, and so on. It's truly magical — you need to see it to believe it. The beauty of this is you can get credit for creating a personalized video without having to make a personalized video, so your response rates and satisfaction rates will be higher on LinkedIn, email, SMS, and other channels.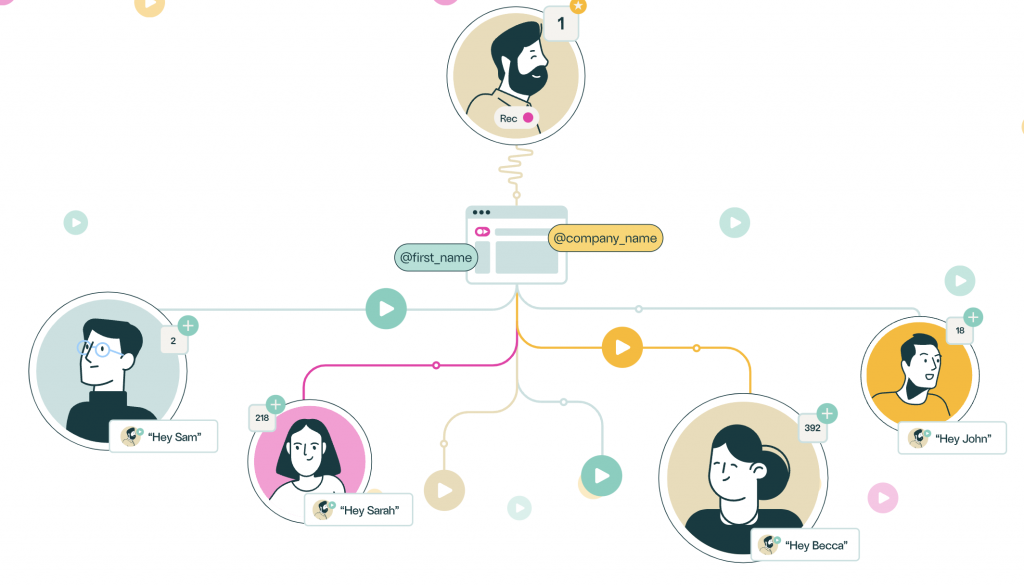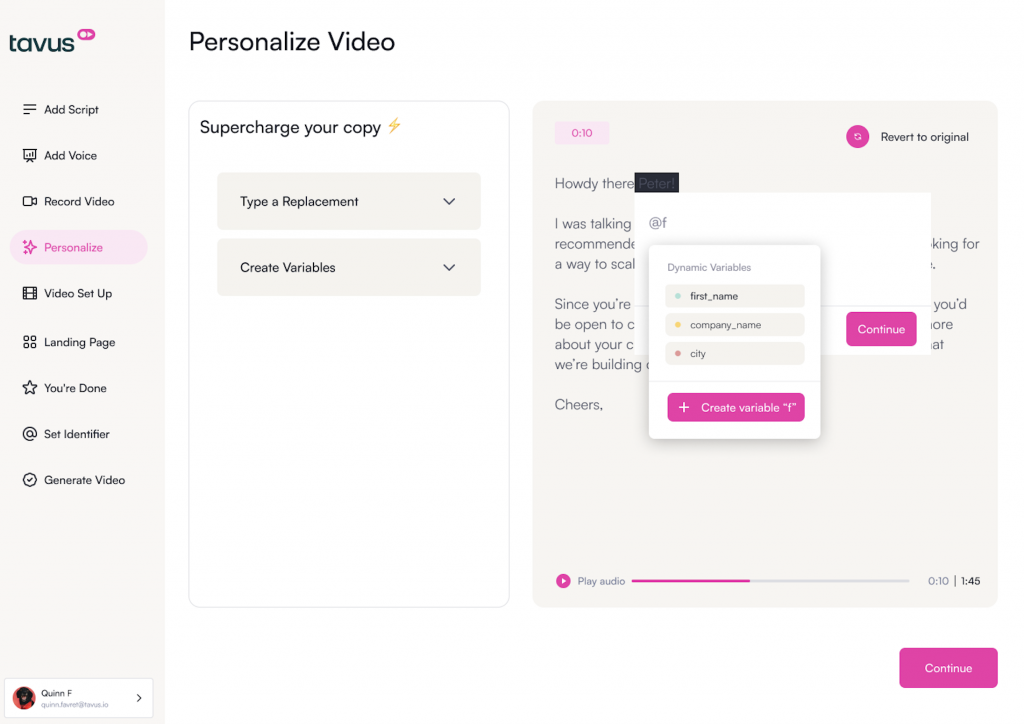 Features:
Hyper-personalized videos that actually look and sound like you, so you can connect with sales prospects or clients in bulk by recording one video
Replace elements in your videos with "variables" and generative AI creates videos uses voice cloning and lip syncing
Personalized video background
Customized calls-to-actions embedded in your videos
API to automate sales outreach
Customers:
Snappr
Verkada
Pathrise
Codeup
Genesys
Price:
The Intro plan is $497/month for 500 AI-generated sales videos with unlimited variables. The business plan gives you unlimited videos and API access.
2. Drift: best for small and medium businesses

Drift is probably the best-known tool on this list. It's a chat platform that has morphed into a full-fledged AI-enabled sales tool. Today, Drift is a sales software that uses artificial intelligence to help sales professionals increase sales productivity and close more deals. It's a great choice for SMBs and even enterprise businesses that want to automate lead capture and the selling process without scaling headcount.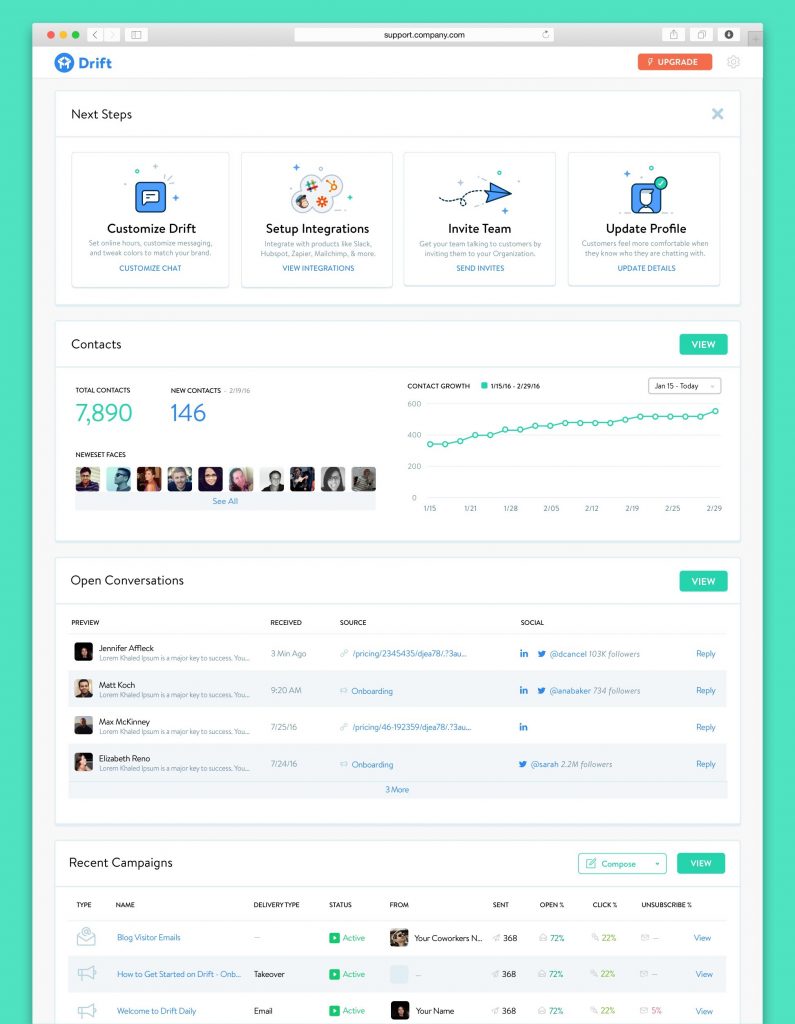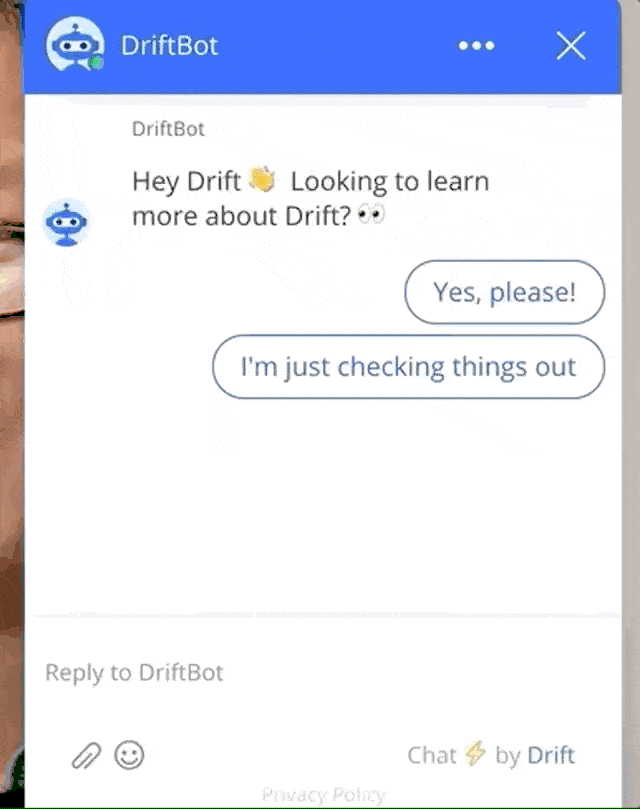 Features:
Connect with potential customers in real-time using live chat
Drag-and-drop Bot Builder that allows users to easily set up a chatbot within minutes
AI chatbots work in multiple languages and can generate pipeline, qualify leads, and answer customer questions
Account-based marketing (ABM) feature where sales reps can engage with clients in real time
Integrates with Google and Outlook for calendaring
Drift Fastlane: an AI feature that surfaces highest quality leads to the right salesperson
Integrations with tools like Mailchimp, Salesforce, and more
Customers:
Okta
Tenable
Snowflake
Smartling
PluralSight
Mindbody
Grubhub
Price:
Free for live chat, but $400+/month for chatbots, AI sales intelligence, and integrations with Salesforce and other tools.
3. Atrium: Best AI-driven sales coaching

Monitoring team performance is hard. Atrium is an AI sales management solution that helps organizations consistently produce the down funnel pipeline needed to hit their number. Atrium provides out of box AI-driven insights to tell you which teams and specific reps are doing the quantity and quality of work required to move more pipeline down funnel.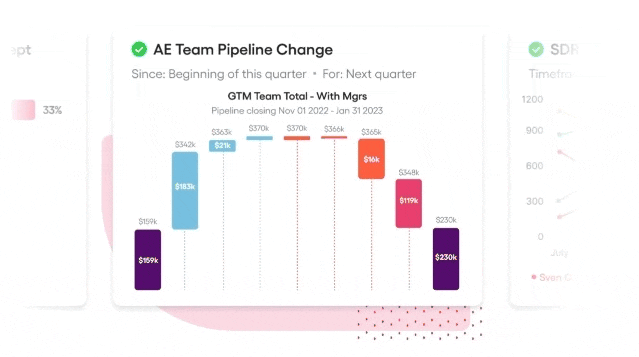 Features:
Integrates with your data sources like Salesforce, Gong, Gmail, Google Calendar and more, in order to monitor team activity.
AI-powered manager assistant aligns your organization around a standardized playbook to deliver consistent results.
Sales Coach: Sales Coach uses Large Language Model AI to provide contextual, practical metrics synthesis and concrete coaching next steps to managers, leaders, and reps. The result is a revolution in the ability of managers, leaders, and revenue operations to measure, manage, and improve the performance of their teams by better comprehending and acting on data-driven insights – at the metric, rep, and team level.
Customers:
Airwallex
Brex
Betterup
Bill.com
Drata
Druva
Gainsight
Justworks
StackOverflow
Staffbase
Price:
Starting at $833/month.
4. Clari: best for sales forecasting

Clari is a leading sales enablement platform for modern sales teams. Clari helps sales reps close more deals by arming them with the best sales content, tools, and data-driven insights. Using actual deal data, Clari continuously and automatically rolls up forecasts across every rep, region, overlay, channel, and product line. Clari also provides complete visibility into rep activity, customer and prospect engagement, and deal status.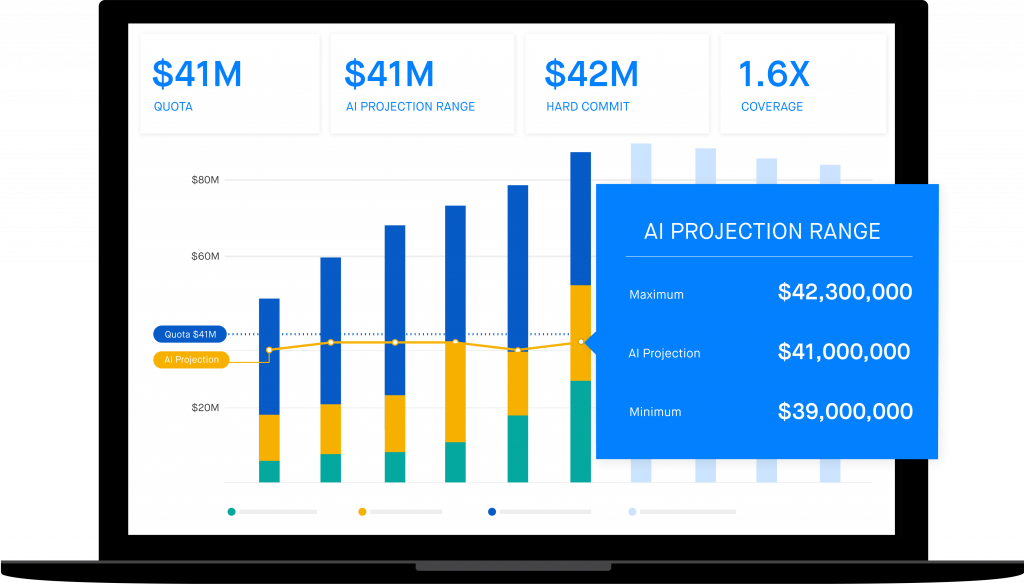 According to Clari, their intelligence platform increases win rates by up to 20%, reduces sales cycle times by up to 25% and boosts average deal size by up to 30%. The claims are ambitious, but the platform does have quite a lot going for it.
Features:
See exactly where you'll end the quarter with incredibly accurate AI-based projections
Revenue health indicators and revenue change indicators
Create forecasts for different revenue segments
Identify risk across all deals
AI-driven insights show how your team is working their accounts so you can identify engagement gaps and better allocate resources
Get a complete and accurate view of where your reps are spending their time and which accounts they're focused on
Customers:
Adobe
SentinelOne
Databricks
Equinix
Fivetran
Fuze
Price:
Contact for pricing
5. Champify: best for activating existing relationships

Champify is a product that enables companies to 10x their best pipeline channel – advocates who change jobs. These could be former champions, power users, or even people that have evaluated your product, but have moved to a new company. When these advocates change jobs, Champify will immediately update Salesforce with all the new relevant contact information and historical context, alert the appropriate AE or SDR, and provide managers with reporting to make sure these are worked. However, everyone knows sales teams have a lot of signals hitting them, so Champify intelligently prioritizes these for reps using criteria such as: # of former users, seniority, intent score, and more.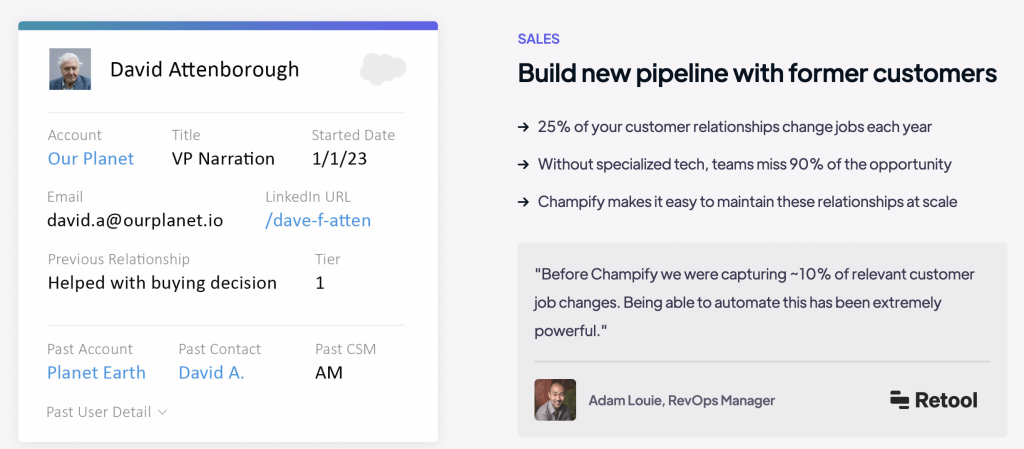 Customers are generating 7 figures in pipeline within months of implementation, closing the fastest deals of their career, and have higher confidence they'll be able to hit their quarterly revenue targets.
Features:
Salesforce Native integration to monitor relevant contacts in CRM
CSV upload to monitor product users managed outside CRM
Data enrichment – contact data, account matching, field mapping, and more
Intelligent qualification and prioritization before routing to the appropriate rep
Salesforce reports, Slack alerts, and email summaries for AEs
Pre-built management dashboards to drive adoption and governance
Sales Engagement Integrations and messaging templates to make it easy to engage with contacts
Hands-on customer success management to measure ROI, drive adoption, and source product improvement ideas
Customers:
Clari
TrustRadius
Heap
Contentsquare
Retool
dbt Labs
Price:
$1,000 / month + (depending on # of contacts monitored)
6. Gyaan: best AI sales tool for team collaboration
Gyaan is the ultimate workspace for high-performance sales teams to increase win rates and score bigger deals faster. In today's B2B sales environment, it's more important than ever for your teams to collaborate seamlessly and leverage analytics and intelligence to surface data-driven insights about "what to do next." Teams use Gyaan's workspace to bring together people, technology, and process, codifying and replicating wins again and again. Gyaan becomes your team's win room—a centralized workspace that's simple, flexible, effective, and actionable.
Features:
Collaboration: Bring together cross-functional team players and implement your winning workflows in one workspace. Share notes, track action items, make decisions, and move deals forward.
Engagement: Increase win rates with data-driven customer insights, effective deal tracking, and customer-centric discovery. Take the guesswork out of the next steps at every deal stage.
Integrations: Create a custom workspace for your sales team with all your apps, tools, and platforms. Remove productivity barriers and do all deal-related actions in one place and one workflow.
Intelligence: Give your sales reps clear actions at every stage with opportunity intelligence, competitive insights, and deal actions. Take charge at every stage of the game.
Customers:
Decision Engines
Emails and Surveys
VELOTIO
NASTEL
Price:
Contact sales for pricing
7. Exceed.ai: best for conversational sales processes

Exceed AI is a sales acceleration and productivity software that helps sales teams close more deals, faster. The software provides a suite of tools that helps sales reps manage their leads and opportunities, track their progress, and collaborate with their team. Exceed.ai also integrates with a number of CRM and ERP systems, including Salesforce, Oracle, and SAP, making it easy for sales reps to manage their sales pipeline and data.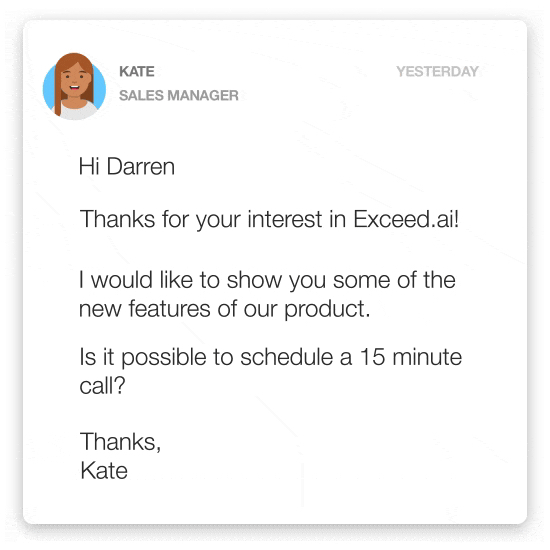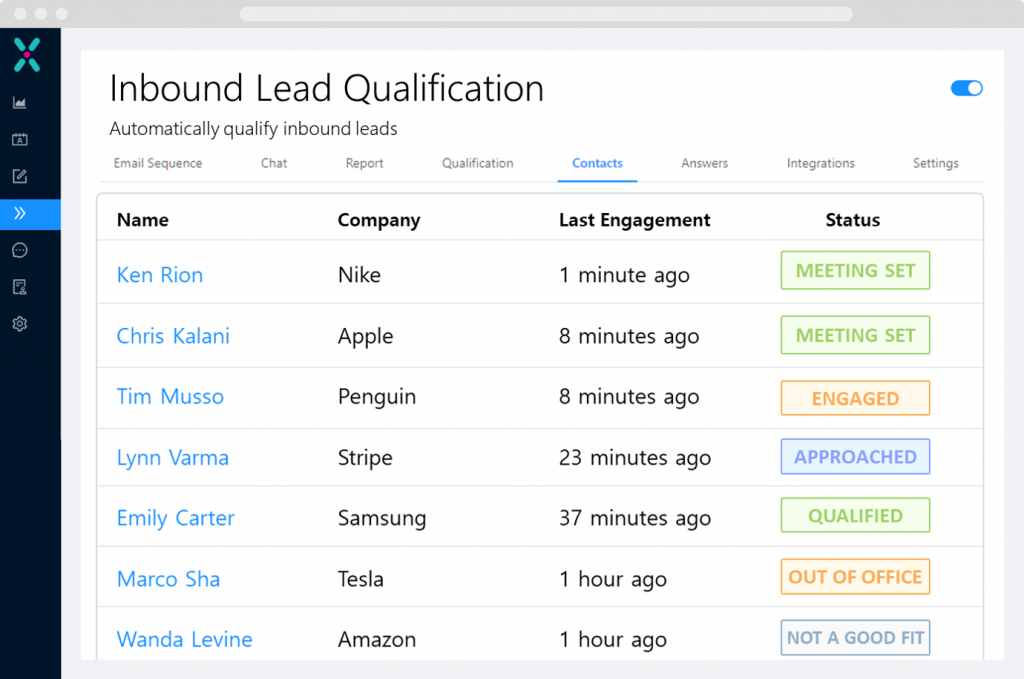 Practically speaking, Exceed AI is an AI-powered chat assistant that works across live chat and email marketing. The AI answers questions, qualifies leads, and then syncs with your CRM. It also saves reps time qualifying, nurturing and handing off leads.
Features:
AI sales assistant uses conversational AI to qualify leads based on your playbook
Sales assistant integrates with your site via chatbot or your sales reps' email marketing
Automatically assigns leads to sales reps based on qualifying information
Updates your CRM with the latest status when leads are qualified, change jobs, leave their company, wrong person, or ask to be contacted later
Automatically schedules meetings for reps

Integrates with CRM and ERP tools you know and use
Customers:
Monday.com
DemandBase
Reseller Ratings
ON24
HCL
Hearst
Price:
Contact for pricing
8. Operative Intelligence: best for contact centers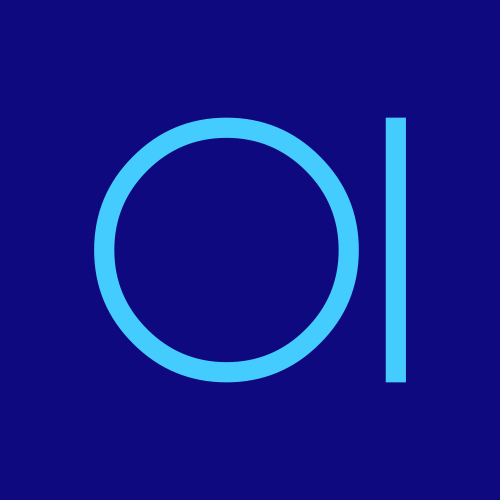 While it's not exactly a sales tool, Operative Intelligence (OI) is well worth a mention on this list because of how much the tool can help with revenue growth, NPS optimization, and churn reduction. It's an end-to-end contact center business intelligence and optimization solution. Operative Intelligence can deliver quantified intelligence about customer pain points and the ROI of customer support interactions. Imagine this: your contact center gets thousands of tickets across voice, chat, and email — but you have no means of understanding it all because there's so much unstructured data. OI takes all of that data and uses AI to structure it and create insights that help you better understand the substance of the interactions, resolution rates, and even which agents are best at resolving which types of interactions.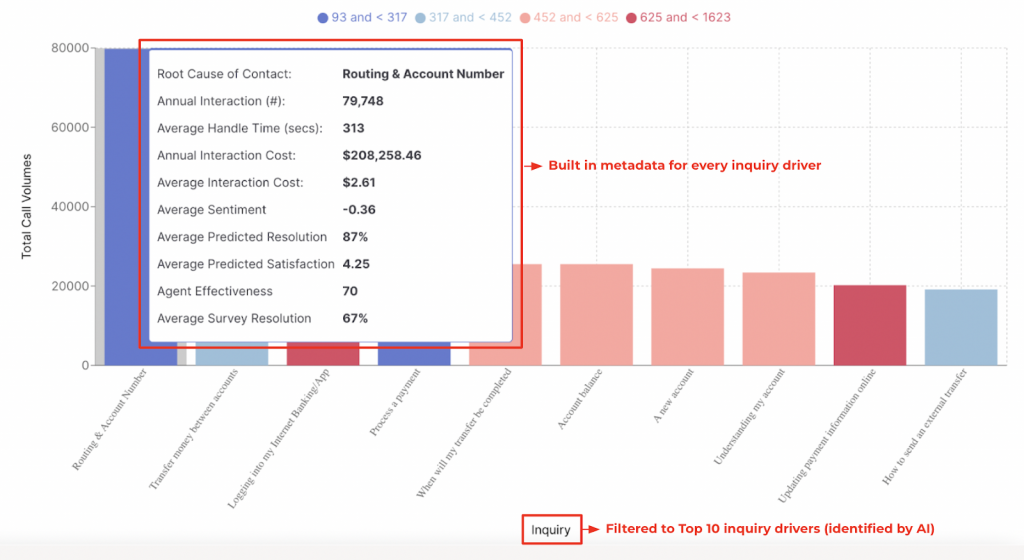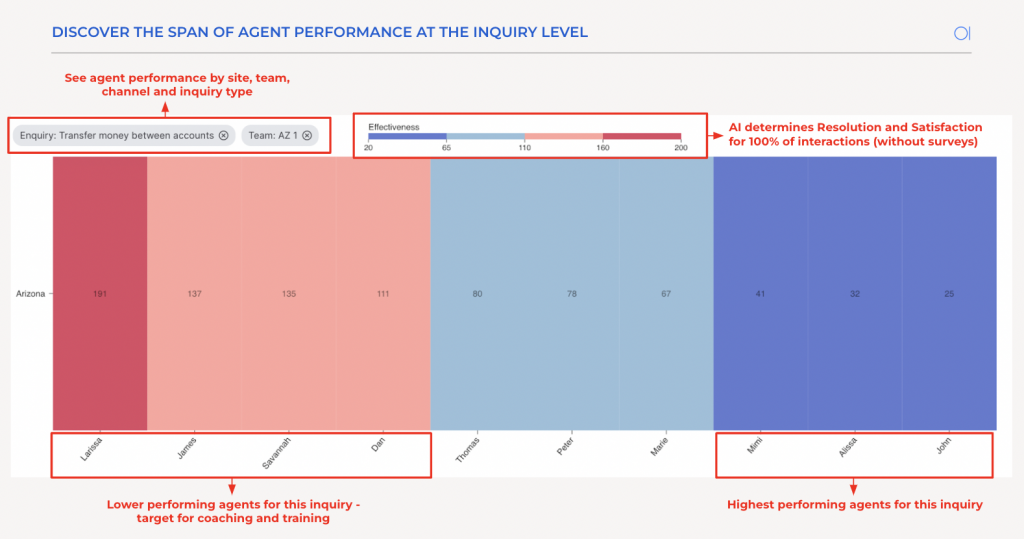 Features:
Analyze all contact center interactions across any customer channel including voice, chat, warranty, and online reviews — OI structures all this data so that you can actually analyze it at scale
Indicators to identify the most common customer support issues
Information to analyze who the best support reps are and who's missing the mark
Quantify revenue impact of all interaction types
Customers:
Orbit
myob
Apple Federal Credit Union
Price:
Contact for a demo and pricing
9. Saleswhale: now 6sense

Saleswhale is one of the best AI sales software because it helps sales reps to focus on the most important tasks and it also provides them with the best leads. Saleswhale will recommend you data-backed Playbooks depending on your intended use cases. Playbooks include Recycled MQLs with no sales activity, Post-webinar leads with low intent and more.
In essence, Saleswhale is an email-based lead nurturing assistant that uses AI. All this means less manual work on the part of your sales reps and more closed deals.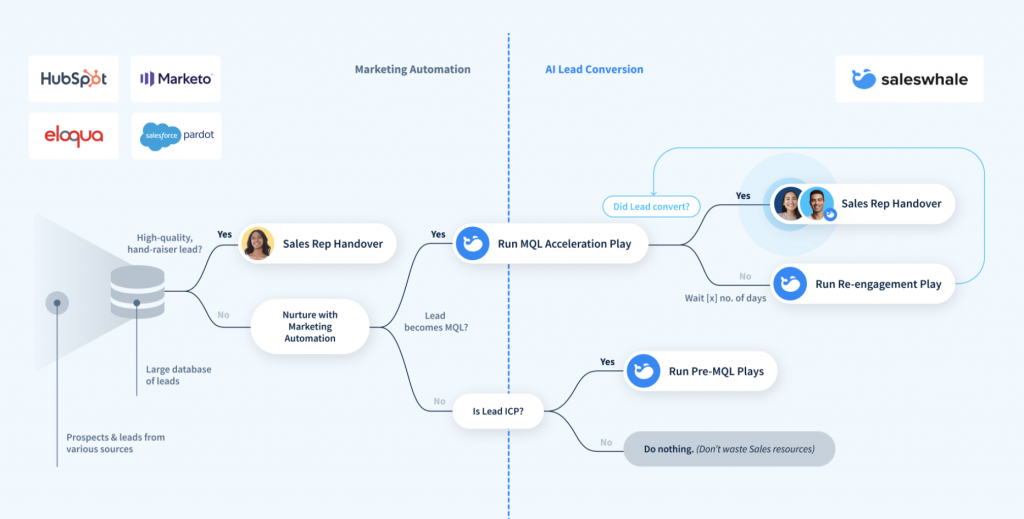 Features:
Configure how you want your lead conversion assistant to handle email reply scenarios such as Not the Right Person, Not a Good Time Now, Request for More Information and more
Customize each response's email copy and follow-up sequence, so emails are more natural and higher impact
Referral handling: if a lead turns out to be the wrong person to have a discussion with, your AI assistant is able to request to be referred to the right person
Out-of-office detection: Saleswhale will automatically detect OOO notifications and will set reminders to follow up once back in office
Saleswhale automatically updates your CRM with information gathered through the sales assistant
Integrates with tools like Salesforce, Marketo, Zapier and HubSpot
Customers:
LaunchDarkly
InVision
Sage
Randstad
Price:
Starts at $2,495/month
10. Hubspot Sales Hub

HubSpot is an all-in-one CRM software that enables sales teams to manage their leads and customers more effectively. It offers a suite of features including contact management, lead capture and tracking, email marketing, and sales reporting. Sales Hub, HubSpot's sales suite also integrates with other Hubspot products such as Marketing Hub and Service Hub, making it a comprehensive AI sales solution for businesses of all sizes.
In essence, HubSpot's Sales Hub is a sales software that includes everything you need for sales productivity and optimization on a single platform. It facilitates lead generation and tracking, easy-to-use sales automation, and allows for lead scoring to understand how each area of your sales cycle is performing.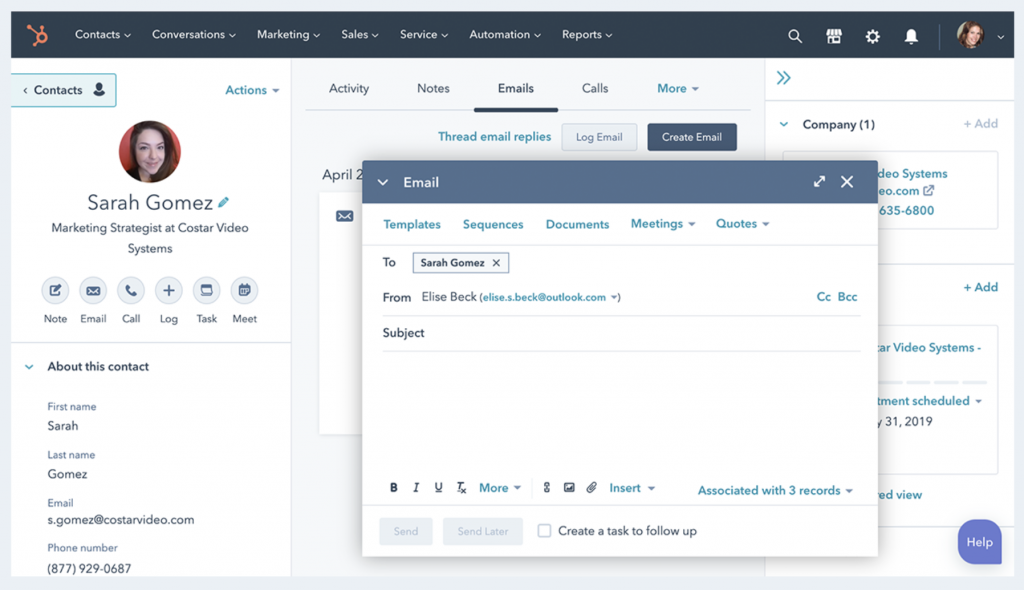 Features:
Build a library of helpful sales content for your entire team, share documents right from your Gmail or Outlook inbox
Automatically capture details from every call so you can uncover the "why" behind team performance, which helps unlock sales coaching opportunities using AI
Prioritize your day's sales calls, make and record calls directly from your browser, and automatically log them in your CRM
Includes a chatbot builder
Plus, HubSpot is a full CRM, email marketing, and sales suite, so it's probably the only tool your business will need
Customers:
Wistia
Zapier
Casio
LegalZoom
Price:
Starts at $45/month for up to 1,000 marketing contacts
11. People.ai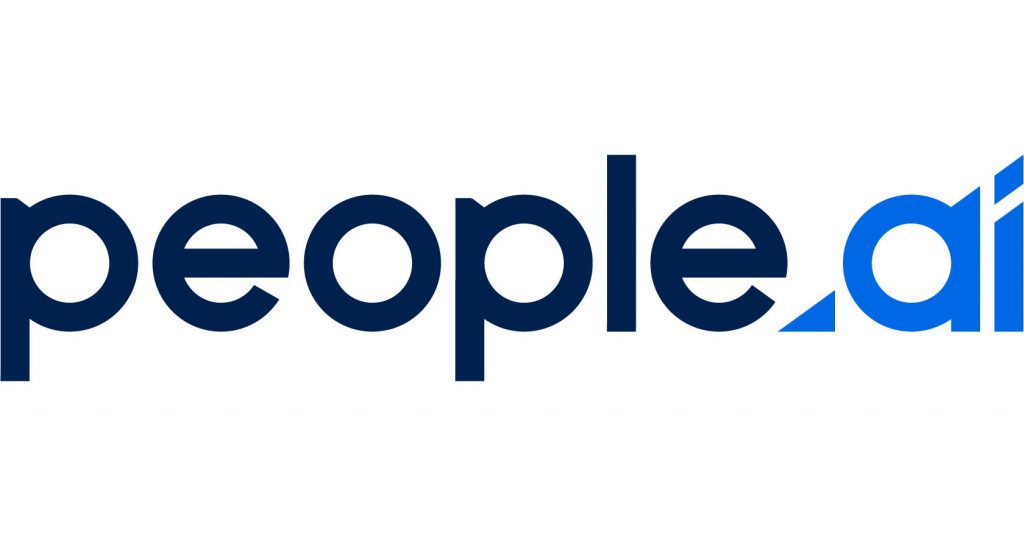 People AI is a powerful artificial intelligence sales software. It helps sales reps close more deals and increase their sales productivity. Like SetSail, People AI analyzes data from past sales interactions to identify patterns and predict which deals are most likely to close. This allows sales reps to focus their time and energy on the deals most likely to result in a sale.
Connect top of the funnel buyer engagement to the outcome of deals, build high quality pipeline, and deliver predictable growth.
Features:
Sales activity tracking: People.ai keeps track of all sales activities, including calls, emails, and meetings, and provides insights into how to improve sales productivity
Sales pipeline management: People.ai helps sales reps manage their sales pipeline and track their progress towards their sales goals
Sales forecasting: People.ai uses artificial intelligence to predict future sales trends and help sales reps plan for future growth
Integrates with Marketo, Salesloft, LinkedIn, Xactly, and many more
Customers:
Splunk
Zoom
Zendesk
AppDynamics
Price:
Contact for pricing
12. SetSail

SetSail is the tool enterprise companies use for tracking sales pipeline, gleaning sales insights at scale. SetSail gives you full visibility into your data and uses machine learning to detect buying signals and productivity patterns. Insights are available wherever you need them: in your CRM, your data lake, or in SetSail's intuitive dashboards.

SetSail can discover the leading indicators of success in your historical deal data. This helps you understand what "good" looks like and how all your reps should be behaving. SetSail can also your coaching with smart contests. SetSail is the most technically powerful tool on this list.
Features:
Integrates with most CRMs and business intelligence (BI) tools
Completes your data by adding contact details like department and title, capturing signals like sentiment and topic, and automatically associating contacts with the correct account or opportunity
SetSail's powerful AI identifies trends in historical data to get buying signals from prospects
Sales rep performance metrics and suggestions for improvement
SOC 2 Type 2 certified and GDPR compliant
Customers:
Cisco
LinkedIn
ADP
SolarWinds
BigID
Duo
Productboard
Price:
Contact for pricing
Conclusion
The best AI sales software helps sales reps automate their sales process and close more deals. It can also help sales managers track and analyze sales performance and better understand customer behavior.
Some tools like Drift excel with Chatbots and lead generations.
Others like SetSail are better for revenue management and sales rep optimization.
No matter your choice, make sure to do your diligence. They are sticky products that will quickly get embedded into your organization and you need one that's both efficacious and affordable. You need to make sure the tool you use integrates with the systems you use (CRMs or BI tools) and will provide real value to your sales and revenue teams.
Also read: