Latest posts by Hailey Friedman
(see all)
Product tour software is popping up everywhere. With the SaaS industry and other public cloud services projected to reach $500 billion in 2022, almost everyone needs support showing off their products, new features, and keeping customers happy.
When we were building our SEO tool, GrowthBar, we did a fair bit of research into the best product tour software and product onboarding platforms. We wanted to make sure our customers would not only know how to use GrowthBar, but also be excited to start using it by the end of the tour.
Lo and behold, since implementing a product tour experience, we've increased our conversion to paid users by 11%. And it has increased our customer lifetime value by 5%, due to better retention. That's a lot of revenue for not much effort!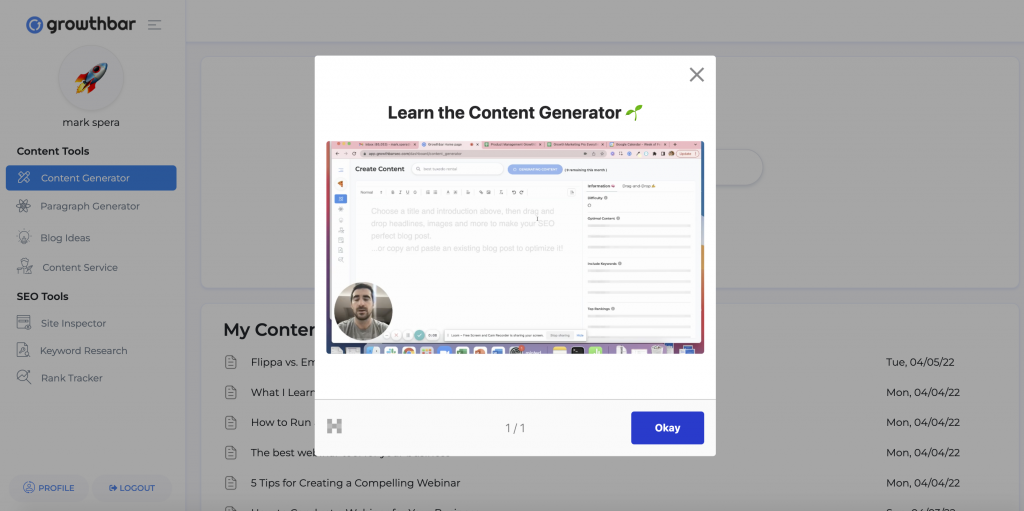 And from this research, trying product tour software, and making our own product tour, grew the list of the best product tours software on the market today.
What is product tour software?
Product tour software–sometimes called product walkthrough software–helps companies create interactive product and platform demonstrations. Often used by SaaS businesses (software as a service), this software can be used to show off a product's features and help users learn how to use step by step.
Of course, product tour software doesn't need to just be for software or online platforms–you might take an online product tour for anything from a flight booking website to an ecommerce business selling an air fryer. Product tours are so useful!
But no matter the product, a poor product touring experience can lead to frustrated users that are no longer interested in using your product, so you want to invest in the best product software for your business.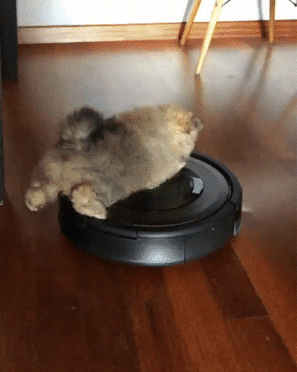 Best Product Tour Software Tools
What are the best product tour software solutions? Keep reading to find out!
Also read: UserGuiding vs Userpilot vs Appcues vs Pendo
1. Hopscotch

Hopscotch is a best-in-class product tour software that enables you to make customized product onboarding flows, which will help drive adoption and reduce churn. We ended up choosing Hopscotch as our product onboarding solution for GrowthBar because of its simplicity (one line of code to drop on the app) and ease of use. The price is pretty awesome too.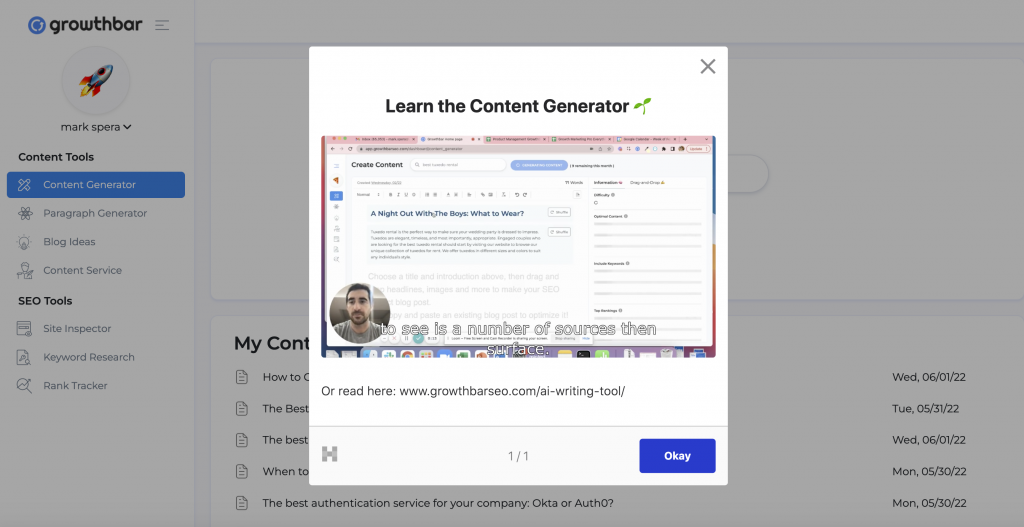 Hopscotch is the perfect solution for entrepreneurs and small-to-midsize SaaS businesses. Unfortunately, it does not have checklists and on-hover help widgets like a few other (more expensive) tools on this list. So if your use case is simple, Hopscotch may be perfect.
Features:
Onboard users with product tours that can include image, video, GIF and text
Super easy, hassle-free pixel that makes getting up in running painless
Guide users through new features
Choose how many times and when to show tips to users
Notify users about upcoming product features, webinars, and more
Use conditional logic to segment in-app messaging based on individual user activity
Easy preview experience, so you know what things look like before you publish
Great email support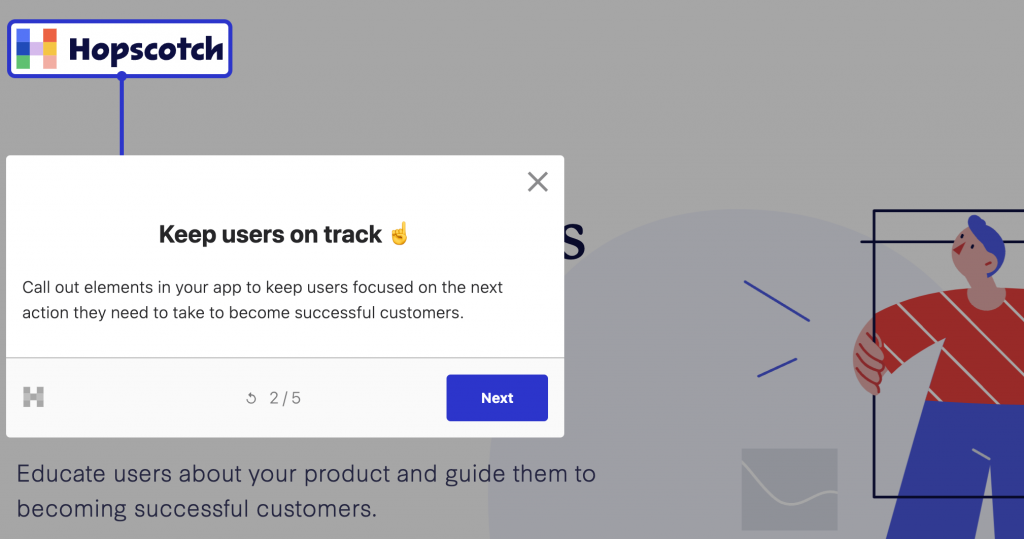 Pros?
One of the most affordable options
Easy to use with great results (we've used it!)
Cons?
Limited analytics options
Not as many options as more robust platforms, which include Q&A and NPS information
Pricing:
Starter: $99/mo for up to 3,000 users
Growth: $249/mo for up to 20,000 users
Enterprise: pricing not provided 
2. Appcues

Appcues takes away the stress of creating custom onboarding flows for your products with little or no code. And with Appcues' Google Chrome Extension builder, you can make pixel-perfect, drag-and-drop experiences to analyze via their dashboard for prime optimization.
While Appcues can be prohibitively expensive for some companies, it's a very strong product–maybe even the best in terms of its feature set and software sophistication. Plus, with $32M+ of venture capital, you know more great features are coming down the pipeline for Appcues.
Features:
One line of code installation and segment integration
Create and target user segments based on virtually any behavior (like the completion of another flow or using a specific feature) or attribute (like job title or location)
Easy preview experience, so you know what things look like before you publish
Integrations with Zapier, Heap, Google Analytics, Salesforce, HubSpot, Slack and more
No-code builder with drag-and-drop images, custom designs, and easy editing
Analytics to track impact of onboarding flows on user behavior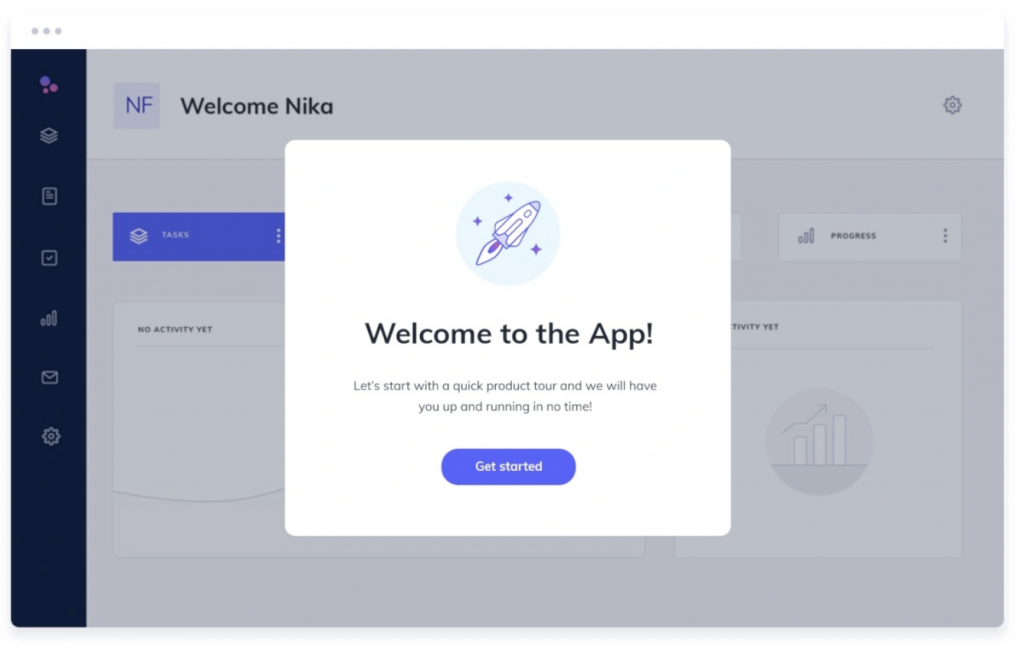 Pros?
Advanced feature set
Easy design options without any coding
Cons?
Enterprise-level pricing
For full design control, you'll need to use CSS
Pricing:
Essentials: $249/mo for 3 user licenses, 10 trackable events, and up to 2,500 monthly active users
Growth: $879/mo for 10 user licenses, 20 trackable events, advanced targeting capabilities, and full customer support and up to 2,500 monthly users
Enterprise: Book a demo for more information
3. Chameleon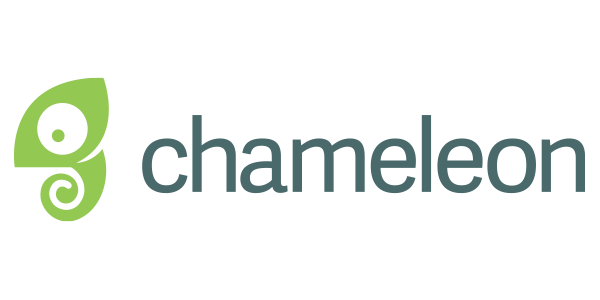 Chameleon's goal is to be your go-to tool for product engagement by using surveys, tooltips, checklists–and of course product tours. With banners, modals, hotspots and more, you can use Chameleon product tours to design powerful flows for user guidance and product launches.
With WYSIWYG editing (what you see is what you get) you can build your tour and watch it in real time, and then edit with their advanced styling options and custom CSS. Not into CSS? It's a no-code platform, so it's only a bonus.
At one of the higher price points on this list, you'll want to make sure you need all of their features before purchasing.
Features:
Tooltips can be dynamically employed to keep users moving through your product
Microsurveys build continuous feedback throughout the user cycle
Customizable in-product widgets can become checklists, help menus, or more to help with feature discovery
Accessible editor so you can build and edit your tours on the go
Preview testing and the ability to instantly become live without needing to wait for product cycles or dependencies
Audience segmentation using data using attributes, actions, tour engagement, and events from integrated apps
Sequential product tour options
Conversion and engagement analytics
Pros?
Bespoke coding option for specific needs
Wide variety of UX options
Cons?
More expensive option on this list
UI can have a higher learning curve
Pricing:
Chameleon pricing varies on how many unique profiles that use Chameleon per month (MAU). So with 2,000 profiles, pricing starts at:
Startup: $279/month
Growth: $849/month
Enterprise: Contact them for a quote
Once you hit 20,000 MAU, Startup is at $825/month, and you need to contact them directly for both Growth and Enterprise pricing.
4. HelpHero

HelpHero allows you to create interactive, easy-to-follow product tours that will help your users get started and adopt new features. Plus, with automated user guidance and no-code capabilities you can reduce customer service inquiries and give your engineering team a break.
With customizable product tours–at a more affordable price point–HelpHero is a good option for product tours software.
Features:
Feedback and gratification boosts for users that complete onboarding steps
Tooltips, feature announcements, and prompts to nudge users
In-depth analytics that tracks completion rates
Target specific users through tour branching and conditions based on language, device, browser and custom user properties
Create, edit, and preview product tours in real time without any coding required
Easy customization of in-app look and layout
Compatible with HTML based apps, whether mainly client-side (React, Vue, etc) or server-side (PHP, ASP.NET, etc
Pros?
Accessible price points
A/B testing option
Cons?
Limited to linear and branching onboarding
No-code styling options can be limited without using CSS
Pricing:
This is HelpHero monthly pricing, though HelpHero yearly customers get two months free.
1,000 MAU: $55/month
2,500 MAU: $115/month
5,000 MAU: $179/month
10,000 MAU: $249/month
20,000 MAU: $299/month
For more than 20,000 MAU, you'll need to contact them directly.
5. Intercom

Intercom is another full-service customer engagement platform that offers chat-based customer support software, shared inboxes, campaign builders, and product tours. Their main goal throughout all their products is to improve conversion rates, reduce churn, and keep your customers happy.
Their product tours feature is no different, offering the ability to create interactive guides, provide guidance at pain-points, and highlight new features–all without coding. Unfortunately, you can't buy the product onboarding suite on its own, so Intercom is a fantastic solution if you need multiple features, but it's not just a product onboarding tool.
Features:
Web chat, in-app chat, email, video, and phone support with features like one-click chat, customer feedback, and satisfaction survey
Audience segmentation and targeting
Customizable templates, unique design features, and various message styles
Create customized, conversational bots to qualify leads, triage support inquiries and more
Use targeted email, mobile push, and in-app messages to encourage customers to take action, or convert visitors to loyal customers. Outbound Messages enable you to onboard, and proactively support your customers on the web and in your mobile app
Simple integration with one line of code on your app or site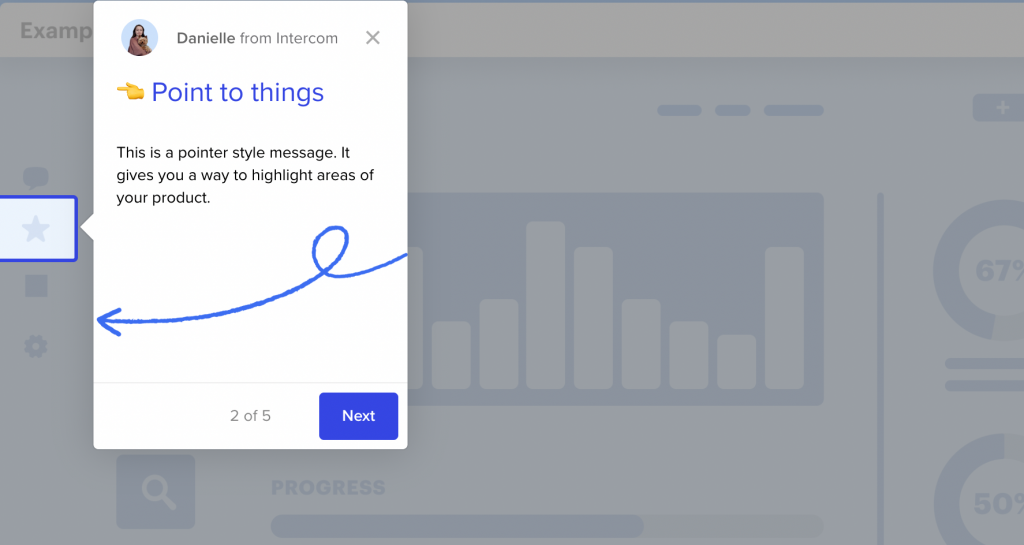 Pros?
Integrates with all Intercom products
Cons?
Only supports linear onboarding
Limited styling options without any coding
If you only want a product tours software, you might not want to pay for the rest of what Intercom provides
Pricing:
Starter: $67/mo
All other plans are custom and require a demo
6. Nickelled

Nickelled offers guided tours, hotspots, and help assistants to reduce churn, improve feature adoption, and make it easier for users and employees alike to understand your product.
Nickelled guided tours show your users what they need to see on the page, dynamically and in real-time. Augmented with their eye-catching hotspots and on-page widgets, Nickelled makes product touring easier at a more affordable price.
Features:
Hotspots to showcase new or important features or work users through friction points
On-page widget that provides comprehensive support and learning resources that suggest tours and helpful documentation
No-code software with easy customization
Offered in multiple languages
Tracks completions, drop-offs, progression, and satisfaction rates
Multiple roll-out options including shareable URLs, Javascript, and browser extension
Advanced segmentation tools and matching data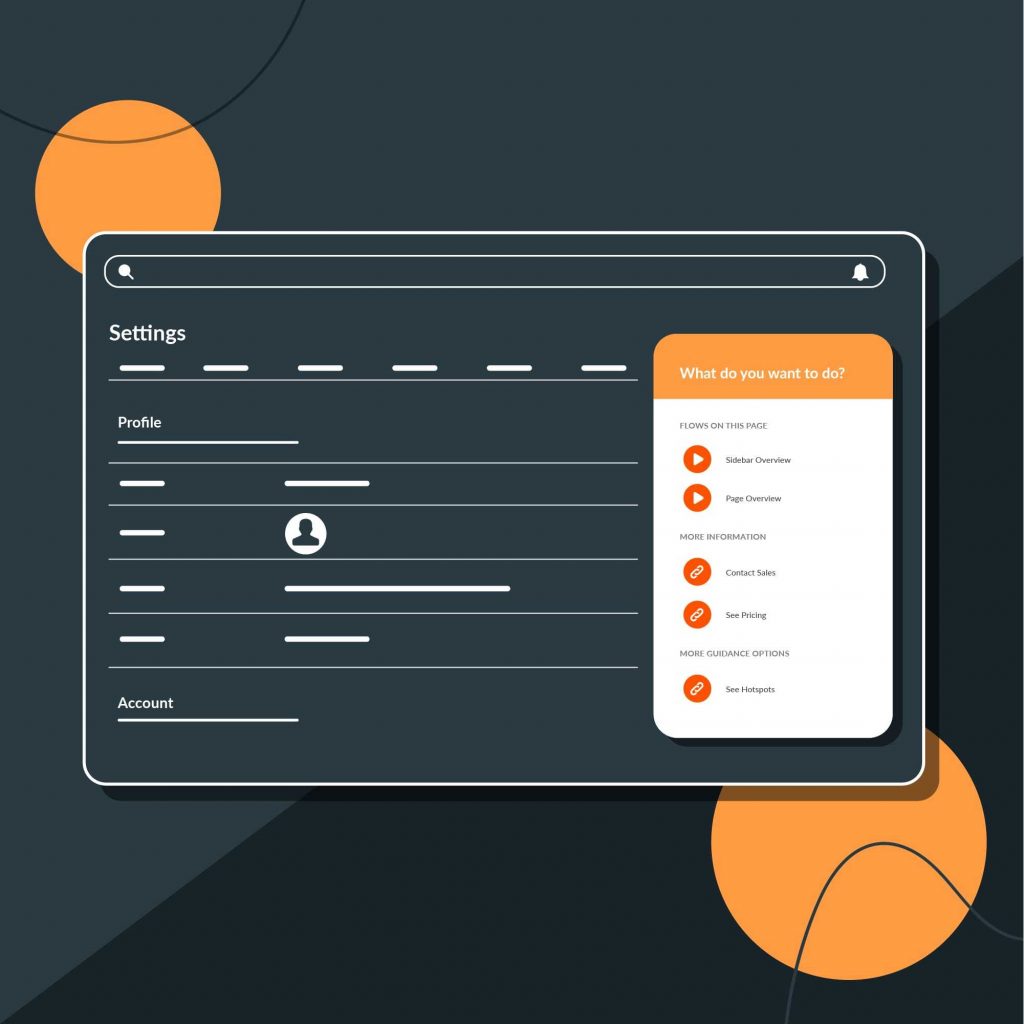 Pros?
More affordable price-point
14 day trial for every package
Focused on product tours
Cons?
Few branching or interactivity options
Pricing:
Starter: $99/month
Growth: $199/month
Premium: $399/month
7. Pendo

Pendo is an enterprise software company that delivers an experience that is personalized, predictive, and delightful. It's all about building relationships and focuses on product experience, digital adoption, and services & support. Pendo is used by world-class brands like Microsoft, Adobe, and Cisco to deliver personalized experiences for their customers.
Pendo hangs its hat on product analytics, but of course it also has an incredible in-app guide feature, which enables you to set up flows and onboard users seamlessly.
Features:
Best-in-class product analytics suite to understand which features are most important for users
No-code tracking of all product activities, so you never have to add additional lines of code to capture user data
Product onboarding suite is one of the most sophisticated, and includes in app guides, product callouts, and announcements
Tooltips and best practices delivered in-app, with tailored messages for specific customer segments
In-app guides include web guides, mobile guides, guide templates, guide scheduling and ordering, resource center, localization, accessibility features, and guide experiments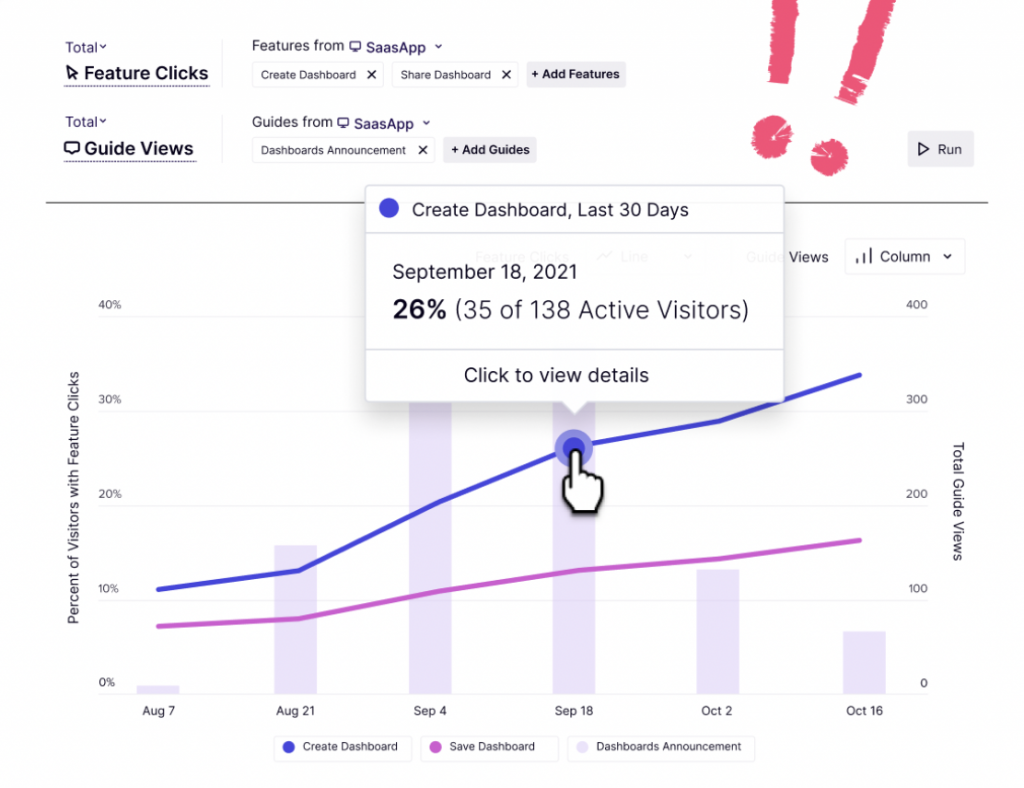 Pros?
Pricing plans for different aspects of the product: you don't have to purchase all in one
But, also offers various options if you need more support with client experiences
Cons?
Quickly gets expensive
Slightly confusing pricing structure
Pricing:
Pendo has pricing for three customer plans: Adopt, Feedback, and Engage, which we'll list here since it includes the in-app guide options
Free: Limited in-app guides for up to 1,000 monthly visitors
All other plans require you to speak with a salesperson – Pendo gets expensive fast
8. Product Fruits

Product Fruits is a comprehensive suite of product onboarding tools. It's a relatively new tool, but it has everything you'll need to onboard users effectively. It enables you to add all sorts of onboarding widgets to lead users through their first-time experience.
It also has all the triggered events you need to customize flows to the language and persona of your users, and get feedback within your app experiences and export all the data you collect.
Features:
Step-by-step no-code product guidance
Localize your product tours to different languages
Target users based on different personas
Create beautiful onboarding experiences with no-code and preview your experiences
Get feedback from users and announce new features
Allow users to record images and record videos
Export all data to CSV for easy analysis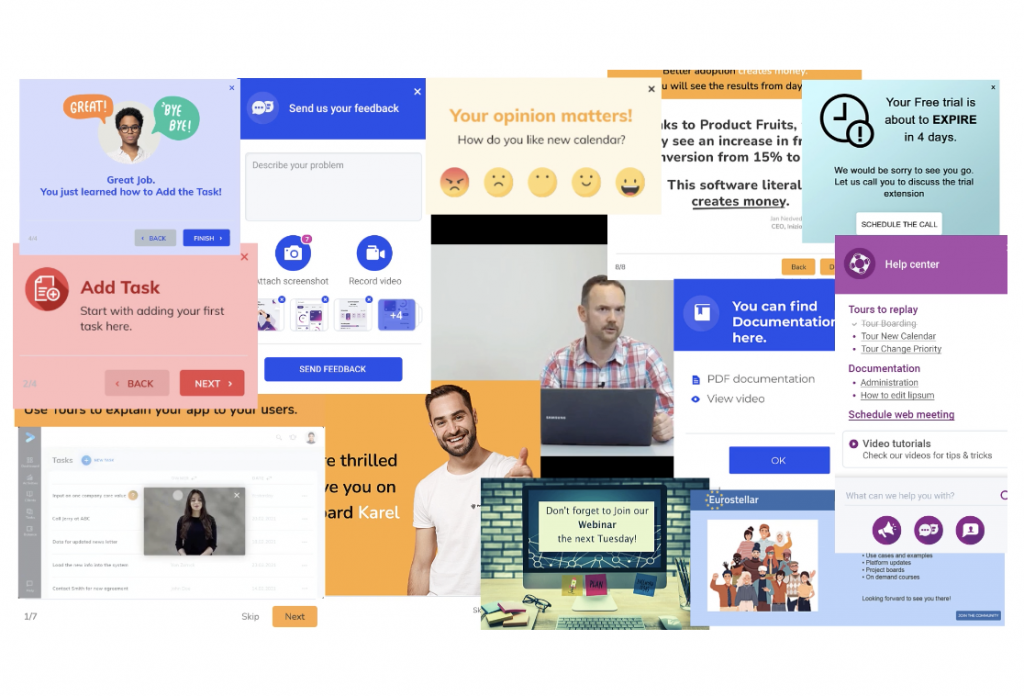 Pros?
More affordable price point
Easy to set up and use
Cons?
Pricing:
Growing: $59/mo for up to 1,500 monthly users ($459/mo for up to 50,000 monthly users)
Enterprise: Inquire for more information
9. UserGuiding

UserGuiding offers self-serve user onboarding so you don't have to provide manual support. Onboard your users with product walkthroughs that don't require any coding so you can prompt the right in-app experience, to the right persona, at the right stage of their user journey.
With clients seeing a decrease in support calls, and an increase in feature adoption and user activation rate, UserGuiding offers a variety of options to keep your customers happy.
Features:
Centralized resource center for blogs, webinars, and help articles
In-depth analytics and NPS to view user statistics and make decisions
Personalized onboarding experience for each user with segmentation options
Onboarding checklists that guide your customers step by step and turn them into power users
Customization using simple emojis, images, GIFs and videos to enhance modules and tooltips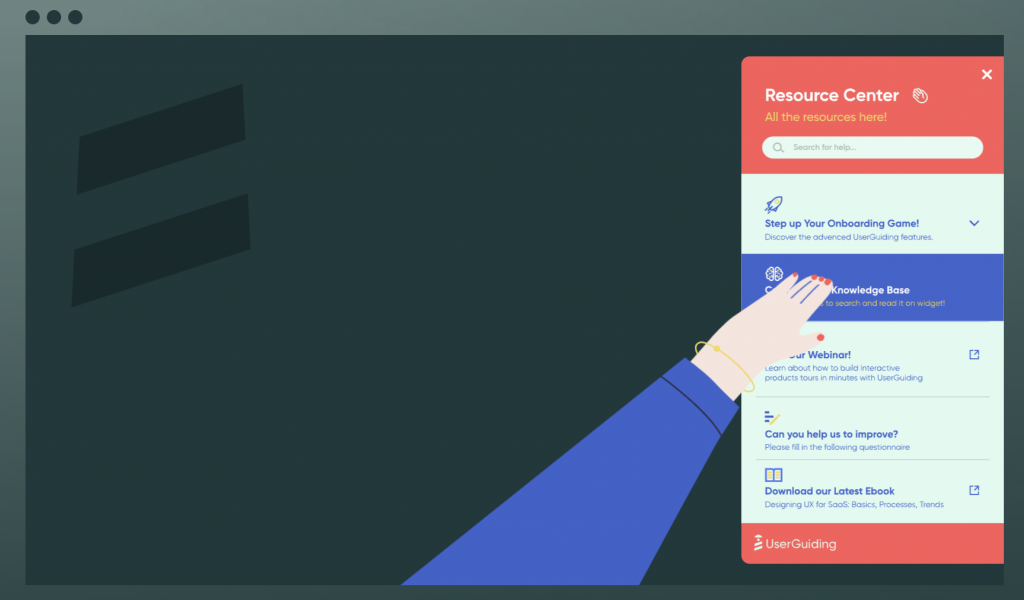 Pros?
No coding required
Yearly discount for plans and free trials for their Basic and Professional plan
Cons?
Might need technical skills for implementation
Higher learning curve
Pricing:
Basic: $99/month
Professional: $399/month
Corporate: $699/month
10. UserPilot

UserPilot helps product teams deliver personalized in-app experiences to increase growth metrics at every stage of the user journey. Userpilot enables you to engage users with a no-code product onboarding suite, track and analyze growth, plus get feedback and NPS scores from users with simple popups.
If what you're looking for is a product onboarding tool, it has everything you need and nothing you don't. With no-code tour building and straightforward analytics, it's tough to beat. But, it comes at an enterprise price similar to Appcues, so make sure the price point is worth it.
Features:
Capture usage trends and growth insights with one code drop, which records all events as soon as it's on your site
Establish goals and track progress to those goals, much like you would in Google Analytics
Create personalized engagement flows with no code
Create contextual experiences based on conditions like "user has taken X action"
Run A/B tests on your onboarding experiences to find winning combinations.
Gather feedback with no-code surveys and NPS prompts directly in your app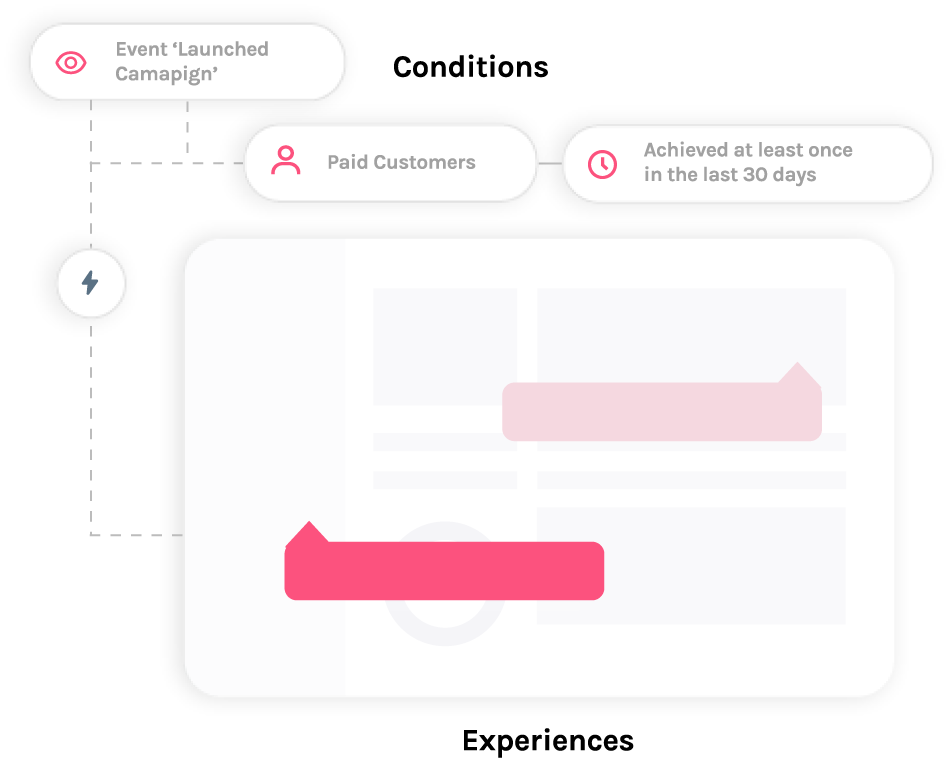 Pros?
Branched & interactive product tours
No-code editor and interface (WYSIWYG)
Cons?
Doesn't have a mobile app feature
Enterprise-level pricing
Pricing:
Traction: $249/mo for all features up to 2,500 users
Growth: $499/mo for all features up to 10,000 users
Enterprise: $1,000/mo paid annually for all features, up to 2,500 users plus GDPR compliance, user permissions, and phone support
11. WalkMe

WalkMe's digital adoption platform helps maximize user adoption through no-code technology and digital experiences. For marketplaces, market research, DAP professionals, institutes, and communities, WalkMe is a full-service engagement platform that also provides product onboarding tours that analyze, measure, and optimize customer journeys.
Features:
Management dashboards to improve tech stack visibility and demonstrate digital experience analytics of user experience
Recreate user journeys by viewing past user sessions in video or list, to analyze user journeys and points of unintended friction
Code-free editor to make strategically placed and personalized on-screen content, cross application guidance, user segmentation engagement, on screen automation, content validation, and more
Various integrations including Salesforce, AWS, Slack, Google Analytics, and more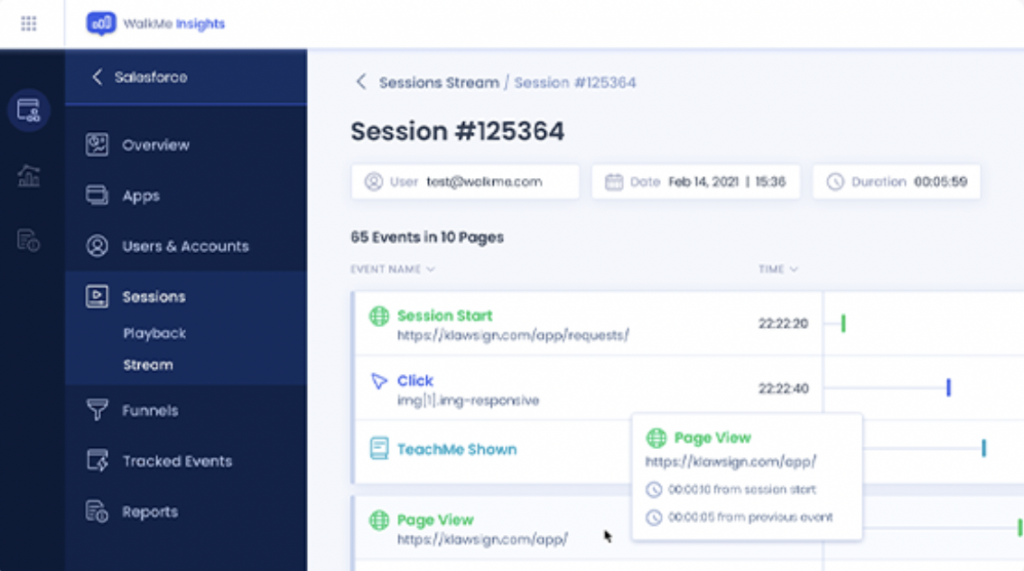 Pros?
60-day free trial
Various product engagement options
Cons?
One of the most expensive on this list–really for enterprise-level businesses
Include features and options you might not need if you're really only looking for product tour software
Pricing:
You'll need to get a quote for all of their pricing plans.
12. Whatfix

Whatfix expands digital capabilities through contextual experiences designed to increase proficiency and productivity across all applications for everyone, and every team. Get guidance analytics, user analytics, and collect feedback.
There are beautifully designed no-code templates, so you can deploy your experience without the assistance of a developer.
Features:
To integrate and deploy Whatfix on your web application, all that you need is a single line of code.
Guides can be easily created and edited by anyone in multiple browsers like Google Chrome and Mozilla Firefox.
Customizable displays and templates.
Smart targeting allows you to perform user-level segmentation on different web pages.
Actionable data on user behavior within applications, consumption of Help content, and real-time feedback on in-app experiences
In-app guidance and contextual self support, announcements, and feedback opportunities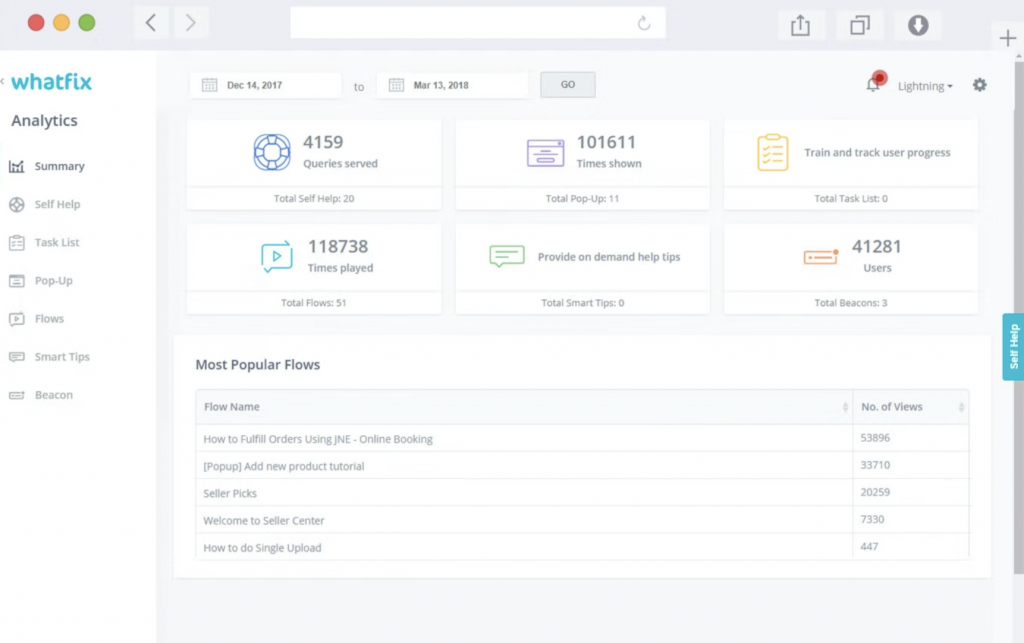 Pros:
No-code integration
Easy install
Cons:
No listed pricing
Not many in-app styling options
Pricing: Contact for pricing.
How is product tour software used?
Product tours software is a great way to showcase your products to potential customers. You can build a tour that highlights your product's features and viewers can seamlessly learn more on a click-to-advance journey. The best product walkthrough platforms allow you to quickly and efficiently make beautiful product tours that are neat, engaging, conversational, and interactive.
Plus, since they're often no-code platforms, product tour software makes it easy on your business: instead of hiring coders or using up your product engineers' valuable time, you can create a tour of your product or update without needing coding knowledge.
A product tour can also be a great marketing tool if you're involved in product-led marketing growth.
What is product tour software used for?
You can use product tour software for:
Onboarding new hires
Explaining your product to new customers
Demos for investors
Showing off a new feature
And really anything you want!
Overall, product tour software is used to improve productivity, reduce friction points, and automate a lot of the time-intensive tasks listed above. In turn, this should keep user satisfaction and retention higher, and improved ROI…without needing an engineering and coding team to build your own tour in-house!
Product tour software vs. product onboarding software
Product tour software and product onboarding software are similar, but product onboarding is going to encompass product tours…as well as perhaps email marketing, support documents, live chat, videos, and any other resource that can help quickly onboard a new user.
Product onboarding softwares, or customer onboarding software, helps customers learn your product faster and therefore begin using–and hopefully loving it–faster. And in a great product user onboarding process, you should definitely include a product tour.
How to make that product tour? The best product tour softwares of course!
Tips for setting up a product tour or walkthrough
Once you've chosen the best product tour software for your organization, team, and customers, the next step is setting up the product tour.
Luckily, with product tour platforms, a lot of the work is done for you, so you just have to make a couple decisions to decide how you best want to reach your users and what are the most important elements to cover (no one wants a product tour that's hours long).
Understand the customer journey
One of the most important parts of the product tour is determining when you want to offer it. Is it for potential customers to show them how great your product is? Will it be after sign-up with a video via email when they first make an account? The first time they sign on? Both?
Deciding when is going to be just as important as what, and knowing the customer journey and any pain points it might include is a huge part of this. Plus, ensuring your product tour can fit into your overall product onboarding will make the entire process easier for your users.
Personalize the experience
You'll want your product tour software to offer as much audience segmentation and targeting as you can get. While having a general product tour is a great first step, being able to recognize potential issues for different types of consumers–enterprise vs. small business, Ecommerce vs. webinar software–and customizing your product tour to address those will improve the product tour experience.
A product tour shouldn't be one-size-fits-all. Customization and personalization can be the difference between a free trial and a paid subscription. Knowing who your customers are, and the key differences between them, will support your product-led growth goals.
Provide next steps
A product tour is a great resource to offer new or potential customers, but it shouldn't stop there. Providing your "tourist" a next step will encourage greater adoption levels, whether customers are new or have been using the product for a while.
Depending on where you offer the product tour on the customer journey, "next steps" can look like completing a purchase, taking an action to start making the product tour, looking at some product tour examples for inspiration, trying out a specific product feature, and more.
Include additional resources
Another option for a next step could be providing additional support resources for your users. Or, include these during hot-spots or via live chat throughout the tour.
While product tours can be great for most of your users, all of us learn differently, so having comprehensive written guides, video lessons, and other elements beyond the tour is crucial to reduce customer support queries and increased user satisfaction.
All of these resources should have cross-platform compatibility, so users can access them across all browsers and devices.
Use the analytics
The best product tour software should have advanced analytics that allow you to provide a comprehensive look on how the product tour is doing for adoption, churn, retention, and satisfaction.
These analytics should make it clear how each part of the product tour is doing, and what improvements can be made, so take advantage of them!
Conclusion: Best product tour software for customer onboarding?
Product tours are an incredibly important step in user onboarding, especially with the increasing number of self-serve platforms for online softwares and new technologies. Creating a customized, comprehensive product tour within your onboarding series–or before–can be the difference between a user actually becoming a serious user or…not.
What is the very best product tour software? All of the options on this list are going to be a great start, and I suggest narrowing down by price-point and need first. We personally used Hopscotch for the product tour of GrowthBar, and it was great (and affordable), but any of the options on this list will give you a great product tour.