Latest posts by Hailey Friedman
(see all)
When it comes to lead generation strategies, I know what works.
In this post, I speak from first-hand experience acquiring leads for…
Recently, I grew a B2B SaaS startup from $120k ARR (annualized revenue) to $2 million ARR in 18 months entirely from inbound leads. Here's a photo of us celebrating…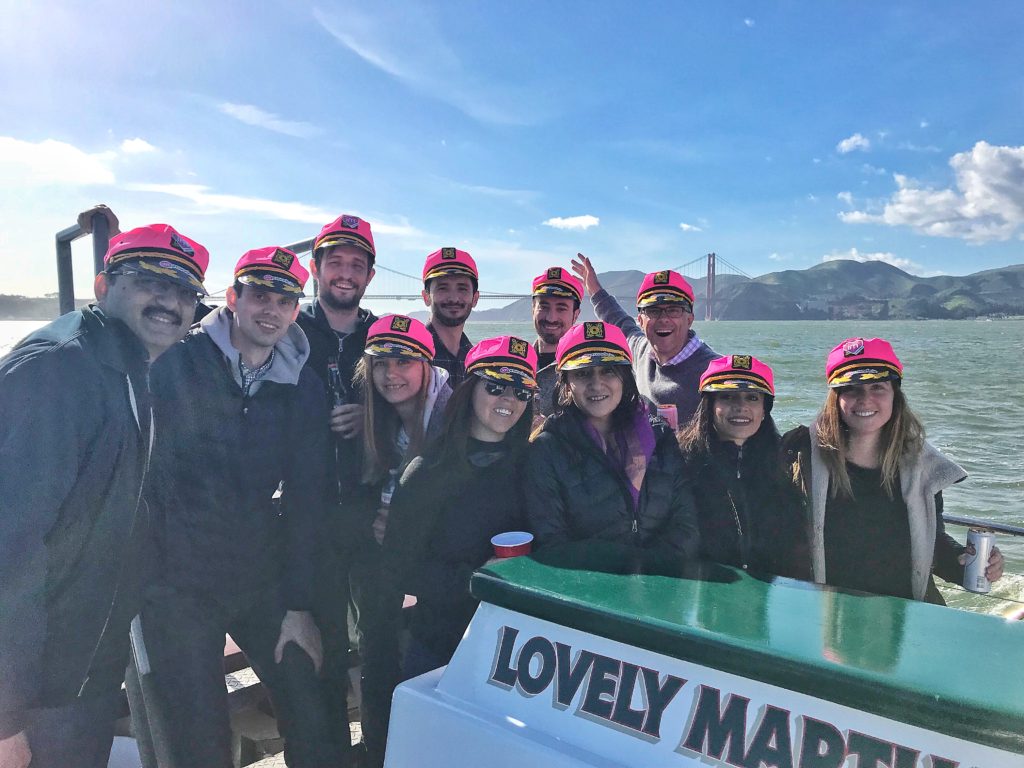 But what I'm most proud of is how much Mark and I have been able to grow Growth Marketing Pro. We started in March, 2017 and now we're already making over $100,000/month profit, plus the revenue from our SEO tool, GrowthBar.
And we did it with a tiny budget and some super savvy lead generation tactics. Ones that I'll share with you below!
I'll share the ones that 1) the most profitable and 2) have the highest likelihood of working across the widest sets of businesses.
What are the Best Lead Generation Strategies?
The first step in getting leads is figuring out how exactly to capture your customers' information on your website — email address, name and phone numbers.
Read: How to Capture Email Leads for more on that, or just sign up for a landing page software and create your own pixel-perfect form!
Once you have a mechanism for capturing leads with your choice lead generation software, you need to start testing tactics.
Now, keep in mind, all the tactics below WILL work with some amount of time and resourcing, but the key is narrowing it down to the lowest hanging fruit — the handful of tactics that will have the highest impact with the lowest lift and ad spend. Your time and money is valuable. So choose wisely!
1. Seal the Leaky Bucket
When it comes to customer acquisition, we're often so caught up in testing the next growth tactic, that we forget the opportunity that is sitting right in front of our faces — optimizing our own funnel a.k.a. "sealing the leaky bucket".
You can improve your lead generation efforts by spending some time optimizing your landing pages, website, and sign-up funnel.
Ideas:
A/B test: use a free tool like Google Optimize to test key features of your website or signup flow and find winning variants.
Use social proof logos: add the logos of any big press mentions, clients, or agency partners.
Testimonials: humans love testimonials. It gives us confidence that others have purchased the product and love it.
Create urgency (when reasonable): use a tool like Proof — a pop-up with countdowns and other "urgency creating" features.
Use exit intent popups: if they don't buy, at least try and capture their email address as they leave the site.
Use live chat: I've seen it increase conversion rates by up to 8%.
Track your funnel: create a simple marketing dashboard to track the checkpoints in your sales the funnel and figure out where the "leaky bucket" moments are.
Test eliminating funnel steps: if your funnel is 1) "fill out a form" 2) "book a call." How about skipping the form fill and prompting your customers to simply book a call right away? It never hurts to test!
Test pricing: Your pricing should be an AB test. Particularly if you're running a SaaS business, you should always be testing to find the optimal pricing structure.
Don't underestimate the power of a good funnel. It can be the difference between acquiring customers quickly/profitably and confusing/losing them.
Cost: Free
Impact: You could theoretically improve your conversion rate 200+%, depending on its state today. That means you could double your revenue!
2. SEO
Search engine optimization (SEO), still stands as one of the most scaleable, cost efficient ways to acquire customers.
Google has to prioritize websites somehow. And Googlers are much happier with an ordered list of the most relevant search results than with an unorganized list of 100,000 search results.
Great SEO's know how to write and structure content to appear at the top of Google's search engine results page.
Don't be this guy.
Through a combination of keyword research, content creation, and link building, it becomes pretty easy to rank for keywords.
We've been extremely successful with SEO and are now seeing over 55,000 organic visitors a month.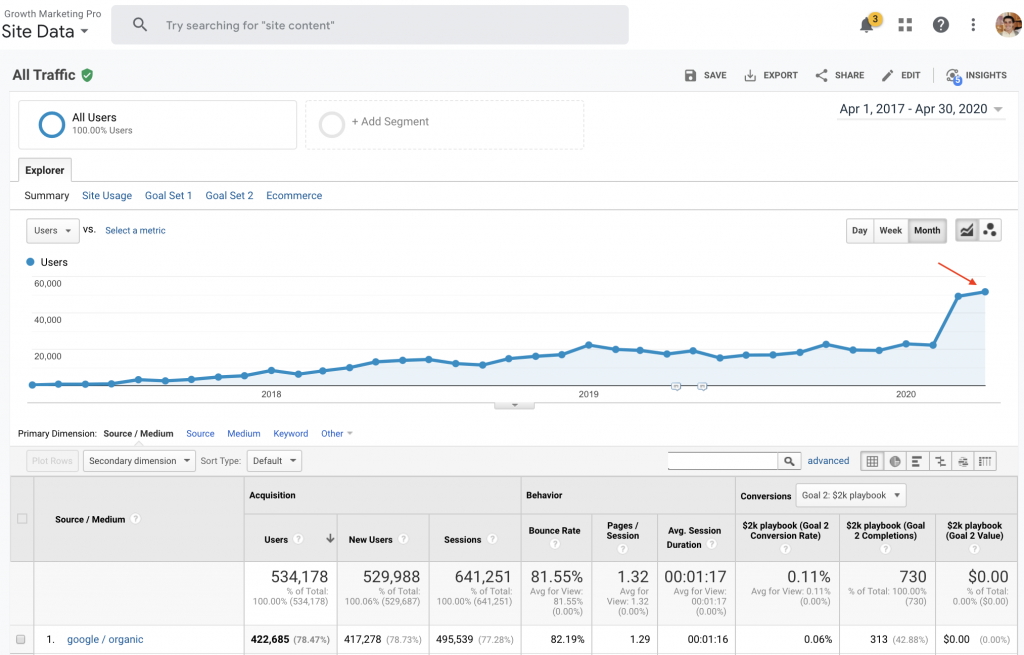 I could write a thousand blog posts on search engine optimization, but suffice it to say, SEO is the holy grail of digital marketing. You just need an SEO software tool and the drive to create content and get backlinks.
Skip the mistakes. Read: 6+ SEO Strategies that Are Guaranteed to Work to understand SEO top to bottom.
Cost: Cheap
Impact: Depending on the search volume in your industry, SEO impact could theoretically be unlimited.
3. The Competitive Review Hack
You're likely not the only one in your space. If you have competitors, then this growth hack is for you.
I first learned this genius lead generation hack from Melanie Fellay, Founder and CEO of Spekit.
This growth hack allows you to leverage review sites to identify the customers of your competitors and then target them with personalized emails and LinkedIn messages. After all, your competitors' customers could be your customer!
This works whether the person's review was positive or negative, it's just a matter of personalizing the outreach to match the review.
Follow the directions below:
If you're in the software industry, it's likely that your competitors' tools are getting reviewed on G2Crowd or Capterra. If you're a local provider, check out Yelp to find a treasure trove of your competitors' customers. Be creative! Find out where your target customer is reviewing your competitors' offering.
Find every person who has written a review about one of your competitors, and collect information about them in this spreadsheet so that you can draft a custom email for each person.
For each individual review, fill in this spreadsheet with data about:

First Name
Last Name
Title
Email (You can find this easily with a tool like Clearbit)
Linkedin URL
Location (where is this person located?)
Software Name (which tool did they review)
Review (what was the comment they made in the review? Copy and paste it here)
Key comment (one sentence from their review where they describe what they like or do not like about the software)
Review site (Did this review come from "Capterra" or "G2Crowd"?)
Review link (A URL link to the exact review)
Feeling (Was the overall sentiment of the review "Positive", "Negative" or "Neutral"?)
Email Template (copy and paste one of the templates below depending on the "Feeling" of the review)
Customized Template (using the content in Columns A-L, draft a personal feeling email in column O, using my templates for positive, negative and neutral emails provided in the spreadsheet)

Send out personalized emails and LinkedIn connection requests and messages to all reviewers. In your outreach, give them a call to action. "Book a phone call" or "enter your email" are tried and true ones.
Cost: Basically free
Impact: Depending on the industry, this can be incredibly effective. Lead generation is massive business.
4. The Content Play
From my experience with lead generation, nothing works better than the content play — particularly for sales-oriented companies like B2B software, real estate businesses, and other traditionally "offline" businesses.
Learn more about content marketing here.
Site Traffic + Gated Content + Email Nurture
The Content Play is simple.
Get traffic to your website.
Capture as many emails as you can using gated content.
Funnel those emails into an email nurture campaign where they will be encouraged to take your desired call to action.
How to Get Traffic To Your Website
There are three ways to get inbound traffic to your website.
SEO: SEO traffic is ideal because it's free. Users who land on your website via search will have high intent to purchase as long as you're creating the right type of content for your business. If your industry has keywords with high search volume, SEO might be a great inbound marketing channel for you.
Paid Ads: If you have budget to spend on marketing, paid ads are a great way to guarantee targeted traffic to your website. For B2B marketing, some of the paid channels that work best are Facebook ads, Google ads, Linkedin ads and native ads. If your budget is limited, then you might consider retargeting ads as it is a great way to stay top of mind with people who have already visited your website by following them all over the internet.
Partnerships: Partnerships can be a great way to drive free traffic to your site. Find complementary businesses in your space who are not competitors, and turn them into a partner. From there, you can work together to create content that will give you the opportunity to get in front of each other's audience for free. For example, you might decide to create a co-branded webinar together or a piece of gated content. Or you can agree on a blog post swap or even a co-branded product offering.
How to Capture Emails with Gated Content
Now that you have inbound marketing driving traffic to your website, you need a way to capture this traffic before they bounce right off the page.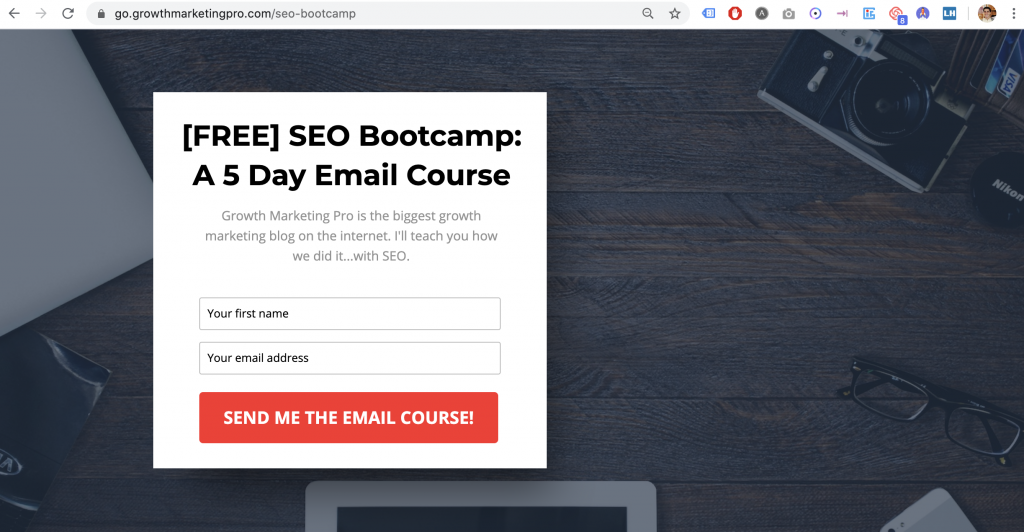 The best way to do this is by luring them in with an appealing piece of content. This appealing piece of content you create, will only be available in exchange for an email address.
This is how you generate leads.
What to "gate" and how to make it appealing?
Put yourself in the shoes of your customer. What are some of problems they are facing? Can you help your customer solve a problem they are having?
You can help by offering a free piece of content in exchange for their email address:
A helpful guide
E-book
Webinar
Podcast recording
Template
Checklist
For example, I write a lot of content about webinar marketing, because it's one of my favorite growth tactics. I offer my readers a webinar script that they can download for free. This mutually beneficial because they get access to this very helpful tool and I get access to their inbox. Now I have the chance to nurture this lead into becoming a customer.
How to Use Email to Nurture Your Leads
Email marketing is a very powerful and affordable tool that doesn't get enough credit. Once you've generated an inbound lead, use email as an opportunity to build a relationship with your leads, convert them into customers, and facilitate a smooth sales process.
I use Mailchimp or ConvertKit to create an email on-boarding sequence that automatically gets triggered anytime an inbound lead enters my funnel. This sequence of nurture emails can be anywhere from a one email long to many, many emails long. One iteration of our Growth Marketing email series had 25 emails that went out over the course of 4 months.
Here are some best practices that may help you get started building your series of on-boarding emails:
Include ONE call to action in every email
If your goal is to schedule meetings or demos, use a tool like Calendly or a Calendly alternative.
Front load your best content early on (the best open rates are in day 1 and 2)
Less is more. Keep the emails concise. If it's a long email, it better be super valuable.
Skip spaces between sentences so it's easy to read on mobile
Identify a pain point that your product/service solves and tell a story that your user might personally relate to, in order to sell your product
Provide social proof (customer testimonials, quantify past results)
Here's a content calendar template you can download to help you map out your email marketing plans.
Cost: More expensive
Impact: I guarantee this works. I know this one covers a lot of ground, but it can literally 10x your business if you get it right.
5. Conferences Done Right
Conferences are a type of field marketing. It might sound a little lamer than a digital channel, but conferences can be extremely effective.
But there's a zillion conferences. It can be hard to know:
Which conferences are worth attending?
Should you buy a ticket to attend the event or spend thousands sponsoring the conference?
How do you measure ROI after the event is over?
To Attend or Sponsor?
As a company, you'll always have the option to just attend a conference or sponsor a conference.
Attending conferences can be expensive. Tickets to most industry events can range from $300-$3,000, so if you decide to just attend, you'll want to make sure that you or your team is maximizing their time there.
When thinking about whether it makes sense to sponsor or attend an event, these are the factors I think about:
How many people will be at this event?
Are the attendees within my targeted audience?
What do I get for the sponsorship?
How expensive is the sponsorship?
How many people from my company do I plan on sending?
Can I achieve the same results by just registering as an attendee?
The Most Valuable Sponsorships Include…
From my experience, the most valuable things I look for within a sponsorship package are live speaking opportunities and access to an attendee list. Getting mentioned in a press release is always valuable as well, since PR is one of the strongest marketing channels for a startup.
Live speaking opportunities are important because they allow you to tell the story of your company directly to every person in the room. All the attendees get to know a face behind your brand and build a personal connection and familiarity with your product.
Access to an attendee list is important because it allows you to communicate with attendees in advance of the event, set up face-to-face meetings during the event, and follow up with attendees again afterwards.
Have a conference coming up?
Share these best practices with your team
Attend the conference! Unfortunately, we have had conferences that employees have skipped. I don't need to say twice what an epic waste of money that is.
Before the conference, ask for an attendee list. This allows you to set up meetings with highest ROI targets before attending. I can't stress doing this enough.
Engage: target your customer. Don't waste your time on people outside your wheelhouse. Politely decline meetings and conversations with parties who will not produce value for the company.
Record: collect business cards or have new clients sign up on an iPad (remember to record the "source" as "conference" in the signup flow if that's an option).
Follow up with your contacts. Immediately follow up with connections you have made. Keeping potential customers "warm" is supremely important.
Give emails to the marketing team. You will hopefully collect contacts at the conferences. The marketing team can upload your contacts to an email list so that they begin receiving content and promotional emails. This creates a much greater chance of converting them into customers. Bad news: people won't remember you! You have to reengage potential clients to make the most of conferences.
Host additional events at the conference: smaller, more intimate events are sometimes best for making lasting business connections that have the highest probability of turning into customers. Host a dinner, breakfast or happy hour at the conference.
Follow up with your marketing team & sales team after the conference. Reflect on how it went, how it can be improved and whether you should attend next year. This MUST happen.
Cost: Affordable
Impact: This one is a bit more industry-specific. If you're in a B2B business like wholesaling, real estate, or software this could be huge. Large software companies have entire teams devoted to conferences and trade shows.
6. Affiliate Marketing
Affiliate marketing is a fantastic way to get leads in the door.
An affiliate marketing program is when you build partnerships with bloggers and influencers in your space that have an existing audience and agree to pay them per lead that they send to your site.
Pretty great, right?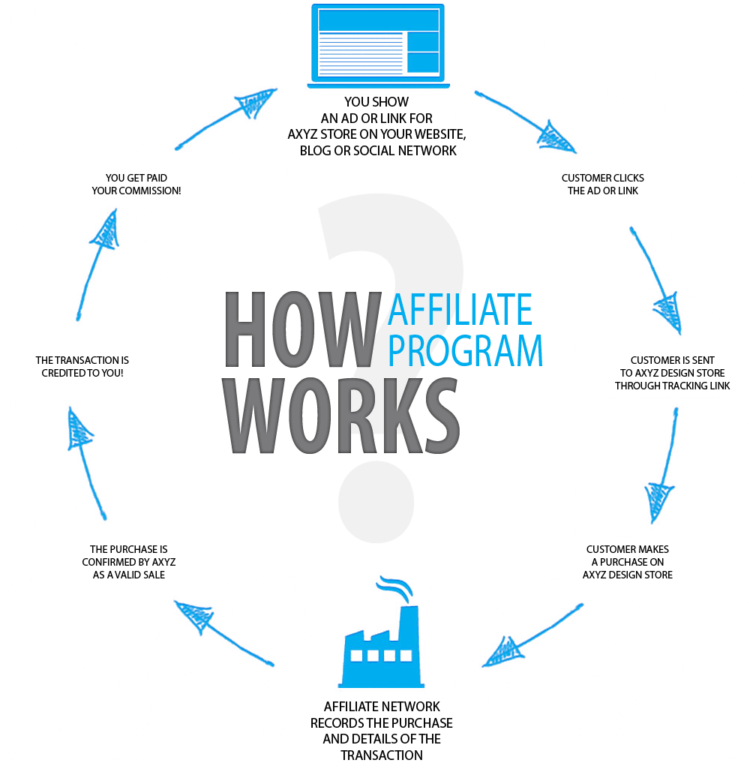 Usually, you both sign an agreement in which the affiliate is paid at a flat rate per conversion, or at a percentage commission of closed deals. But sometimes, it's a bit more casual… a friendly handshake agreement to pay $X for each converted lead.
It's really up to you and what makes the most sense for your business.
Learn about how to set up an affiliate program and my amazing affiliate marketing growth hack here.
To build an affiliate program, simply reach out to influencers and bloggers in your space. Reach out to them on:
LinkedIn
Twitter
Instagram
Email
Conferences
A publication masthead
Wherever influencers in your space are… find them! Affiliates are basically digital partners. It's not that complicated.
When you begin an affiliate program, it's totally possible to use UTM codes to track leads from that source in Google Analytics. But if you want an automated solution for tracking and making payments to partners, you'll need an affiliate marketing software tool.
Cost: Affordable because it's pay-per-customer.
Impact: I'm yet to find a business that doesn't have some affiliate potential. If there are websites, influencers, or other people in adjacent industries, you can create an affiliate lead generation machine. For that reason, the influence of this channel is big.
7. High-Touch Events
High-touch events are another in-person channel that is tried and true.
By high-touch events, I mean engaging, premium events that your potential audience really remembers! Examples include intimate dinners or speaker + cocktails. I used high touch events to grow a real estate technology company I worked at from $2M to $12M in revenue. Our event of choice was simple: box seats at sporting events.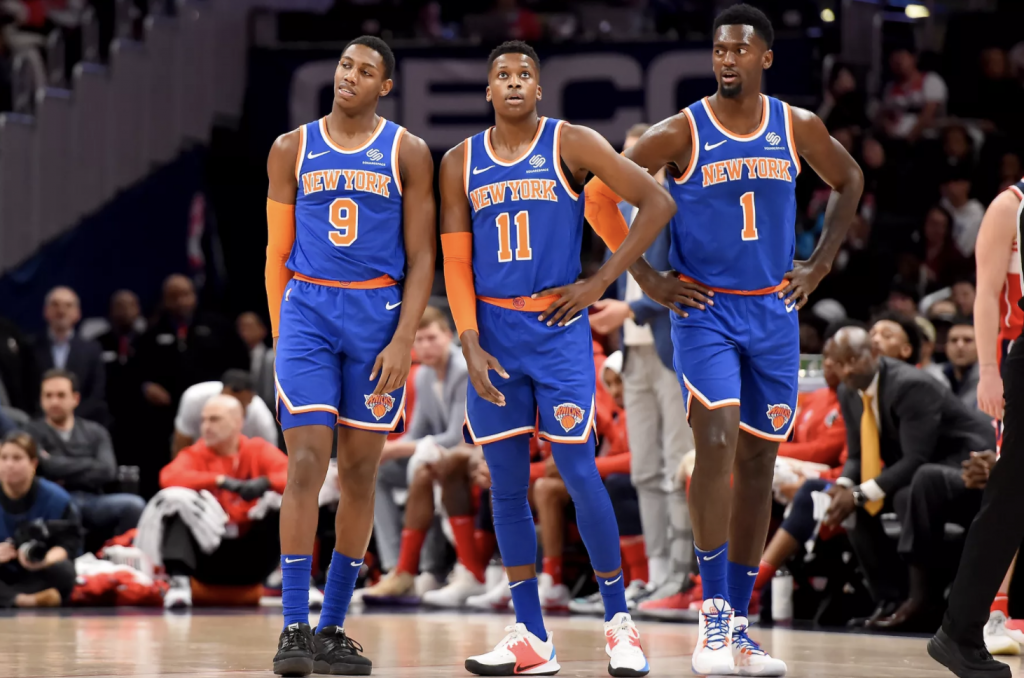 Note: it's not worth doing high-touch events unless they're done right!
Brainstorm with your team about what kind of memorable experiences you can create. Make sure it's something that your prospects won't want to miss and will allow them to build a relationship with you and your brand.
Here's an example procedure for creating a fireside chat event:
Find a venue (Peerspace could be a good resource)

Book a date.

Identify the "Know, Feel, Do" for the event

What do you want people to know?
How do you want people to feel?
What do you want people to do? Have a clear call to action.

Find a speaker or influencer to attend.

Someone engaging (look online to watch their past speaking engagements).
1 hour intro call with speaker to confirm they have juicy stories and are engaging.
Ask lots of questions, take lots of notes, and use this to craft questions that will drive conversation at the event.

Confirm event date with speaker.
Get bio from speaker.
Pull headshot from LinkedIn.
Come up with event title.
Create event page/invitation on Splash.
Send exclusive invitations out via email to a regional and hand-selected list of designers.

Expect that 50%-60% of RSVPs will actually attend.
Send a reminder one week before.
Send a reminder one day before.
Send a reminder morning of with details and address and time (subject: tomorrow).
Send a reminder 1 hour before with details and address and time.

Consider purchasing branded swag to hand out as a giveaway at the event.
Assign someone to help with registration name tags.
Assign someone to help with photography / hire a photographer.
Assign someone to help with video / hire a videographer (so you have content documented from the event and can use that as a "gift" to share in your follow up emails).
Assign someone to help with sound / microphone at the event, and also be the person who passes the mic around for questions during the Q & A.
Assign people to help with set up and clean up.
Assign someone to help with finding sponsors / partners (to help with cost if necessary).
Read through notes and write up a list of interview questions to ask the speaker. Focus on questions that will pull out the juicy nuggets and stories.
Send speaker your interview questions 1 week before.
Send an email the day before the event to get last minute signups.
Follow up after the event with pictures and videos taken from the event and make sure to include a clear call to action. Perhaps getting on a sales call?
Cost: Expensive
Impact: This one is a bit more industry-specific, but was one of the ways I was able to grow a real estate crowdfunding company to $14 million in revenue per year.
8. The LinkedIn Growth Funnel
LinkedIn has proven itself to be an incredibly strong channel for lead generation and other traditionally "offline" businesses.
And I'm not talking about LinkedIn ads.
I'm talking about using LinkedIn as the free social networking platform that it is, and connecting with your target clients along with a personalized message.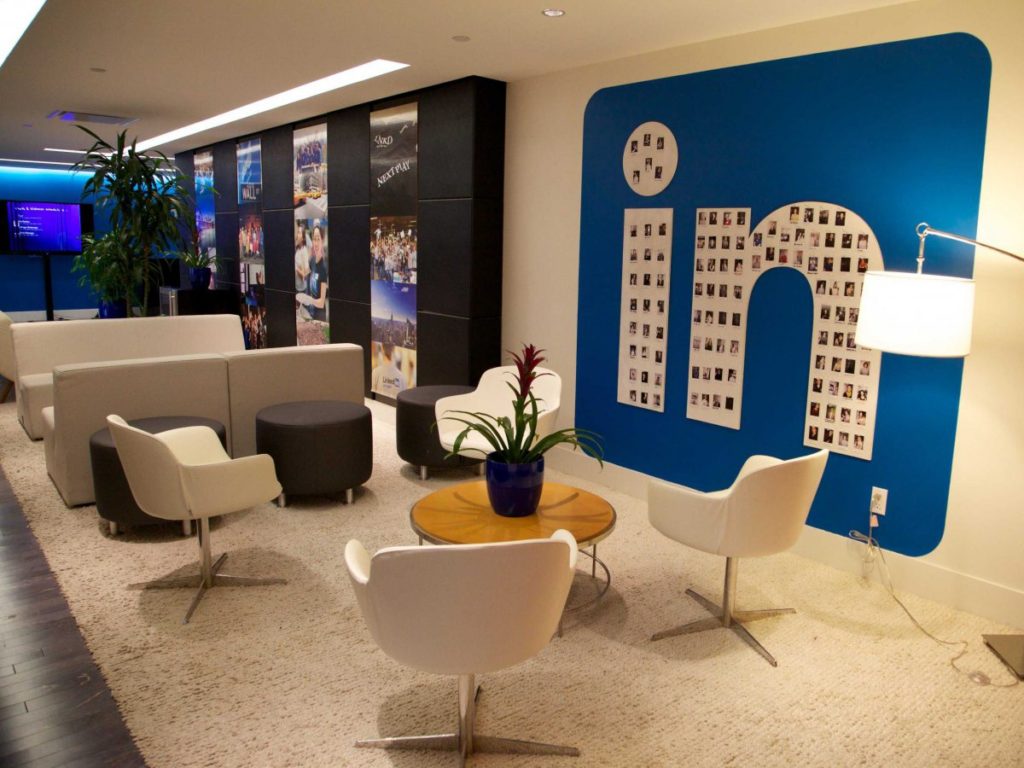 However, doing this one-by-one is time consuming. So I've found a convenient way to automate this.
Plus, this effort can be further amplified when coupled with Facebook retargeting and cold emails to create a conversion.
LinkedIn + Facebook + Cold Email
This triple threat is relatively easy to execute and extremely cost effective for generating qualified opportunities.
There are 3 steps involved in your Growth Funnel:
Auto-Connect to your target audience on LinkedIn
Retarget your Linkedin connections on Facebook & Instagram
Send emails to your LinkedIn connections
For complete instructions, please download the detailed guide here.
Cost: Affordable
Impact: Industry-specific, but could be an unlock that drives multiples of your existing revenue.
9. Going Old School with Direct Mail
When it comes to generating leads, it is often true that multiple channels must work together in unison to create conversions.
One magical combination that consistently results in positive ROI is using account based marketing (ABM) to identify a target list and hitting them with display ads, emails and direct mail, in that order.
I've seen this strategy used to drive revenue for for high lifetime value products and services like medical and dental services, agencies, real estate, etc.
Work with your sales team to identify an email list of target accounts.
Upload the list of emails to Facebook and LinkedIn, making sure that your target accounts are seeing your ads everywhere they go.
Send an email to your target accounts, letting them know a gift package is on the way.
Deliver a direct mail package that includes a small gift and incentivize them to take action, for example offer them a $50 Amazon gift if they schedule a demo call.
This is a beautiful example of sales and marketing working together in unison to drive targeted prospects down the funnel and creating qualified opportunities.
Read: The 15 Best Direct Mail Agencies
Cost: Expensive
Impact: Industry-specific, but definitely effective for ecommerce, medical, real estate, and almost everything except technology businesses.
10. Seeding the Internet
One of the simplest things you can do to generate inbound marketing leads for your business is to "seed the internet." This means posting about your business across relevant places on the internet for free.
There are plenty of free and easy way to spread the word about your business across the internet. It just takes a significant time investment from someone on your team.
The effectiveness will vary by site and can be unpredictable, but some premium sites you can engage on for free include: Reddit, Product Hunt, Quora, Facebook Groups, Google My Business, and Yelp.
You can even troll the comments sections of other blogs and publications with tasteful links to your content!
Cost: Cheap
Impact: This is one of the best ways to drive a bit of incremental revenue, particularly in the early days of your business lead generation strategy.
11. Paid Advertising
I saved this one for last because paid advertising can be mighty expensive… but it can be quite effective too.
Paid advertising is a way to get a message in front of a large audience by paying for placement. Usually when marketers talk about paid advertising, we're talking about channels like Google, Facebook, Instagram, LinkedIn, Pinterest, TikTok, Yelp, Snapchat, and anywhere else you can buy ads.
In just about every case, these platforms operate with a CPM or CPC model — meaning you pay per thousand people who see your ad or pay for every time someone clicks your ad. As a marketer, all of these channels could potentially work — but it's your job to find the one(s) that have the highest likelihood of working best. Where is your audience? Are they young people on TikTok? Are they professionals on LinkedIn? Are they moms on Pinterest? Once you figure out which channel may work best, you then need to do the legwork of running a paid advertising campaign. This usually involves making creative, choosing the audience you want to promote to, and optimizing campaigns. It's easier said than done.
In most cases, paid channels can work. I've particularly found that Google Ads can be profitable if you're in an industry with search volume. If you're in the software world, I do think you can get LinkedIn to work, but CPCs tend to be high. I think Facebook, Instagram, and Pinterest have all become prohibitively expensive in recent years. It used to be that ecommerce marketing was centered around these social channels — but many advertisers have walked away in recent years because of increasingly high CPMs. There is still some arbitrage to be had on TikTok and Snapchat for sure — mostly for consumer businesses.
In any case, paid advertising channels — are just that — paid. You need a budget of a few thousand dollars to experiment with.
Read: Will Google Ads Work for My Business?
Cost: Expensive
Impact: Large
Conclusion
Each of the lead generation strategies outlined above has produced incredible results for me. My hope is that you see the same!
Remember to choose your channels wisely based on:
Budget: focus on SEO, affiliate, content hacking, and other cheap channels like LinkedIn auto-connecting if you're short on funds.
Speed: SEO will not be fast, but certainly fishing for leads at live events and conferences can be quick. And of course, LinkedIn, Google, and Facebook ads can be live in an hour or two.
Impact: you need a good dose of common sense. Where are your customers congregating? Where can you get them into your sales funnel in the lowest friction way?
Need help implementing any of the tactics outlined above? We've got you covered.
Schedule a Free 25 Minute Strategy Session with us.