Latest posts by Mark Spera
(see all)
Ecommerce: A Really Brief History
Do you know: ecommerce began in 1971!?
The first online transaction took place over the ARPANET in 1971. Students at the Stanford Artificial Intelligence Lab completed a sale of marijuana to students at Massachusetts Institute of Technology. True story. 
How to Market Your Ecommerce Store
Think about selling white tee shirts online.
It may seem easy, but search for one on Google and you'll see that every retailer in the world pays to appear at the top of search results for that query.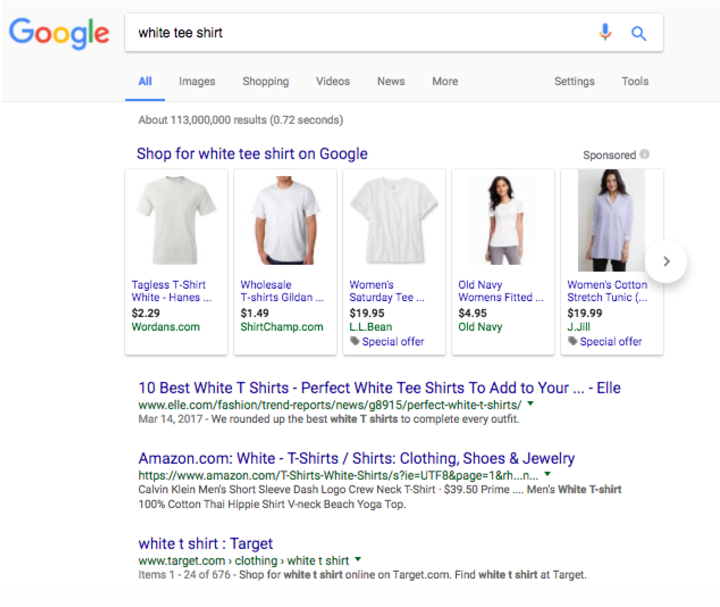 Equally daunting, today 50% of all shoppers start their search on Amazon. 
The internet is a very crowded place, which is making ecommerce marketing harder and harder.
Platforms like Amazon, Etsy and Shopify are amazing in that they've democratized selling online. But with all the extra competition, ecommerce marketers need to be savvier than ever to drive traffic and sales.
[This guide is about how to market your existing ecommerce store. If you want to learn how to set up an ecommerce store, read my article, Shopify Review, Setup and Pricing.]
My first ecommerce business grew to $2+ million in revenue in just a few years. So what are my general rules of thumb for mastering ecommerce marketing?
Step 1: Understand Your Customer
Before doing anything, make sure to pause and understand your customer. For many ecommerce entrepreneurs, it's tempting to jump right into creating Facebook ads or trying some other form of digital advertising. It's natural to want to drive sales tomorrow instead of a couple weeks from now.
But if ecommerce marketers don't first intimately understand their customer, they will likely fall short of their revenue growth goals.
Remember: the way we make purchases online isn't always logical. The only way to understand what your customer wants from you is to ask them and really listen to their feedback! The best CEOs listen to their customers intimately. 
If you understand your customer, you'll be able to speak to them much more clearly and emotionally at every touch point:
On your website

In marketing campaigns, like in Facebook ads

Or even on the box you ship to their home
Learn How to Ask Your Customer Questions
I've found that the best way to learn about your customer is to schedule a phone call with five or 10 of them.
If you don't have that many customers to speak with yet, that's okay!
Speak with a few friends (or strangers) and get their take as you scroll through the pages of your ecommerce store in front of them.
In either case, I recommend asking three questions:
How did you learn about my ecommerce store?

How did you feel when you first laid eyes on the site?
What would make you buy from my store?
Let them talk. You need them to elaborate so you understand their full and true feelings and answers. Embrace the awkward silence.
Listen for both the negative and positive. If you hear consistencies in answers, then you've uncovered some great learnings.
Step 2: Optimize Your Ecommerce Store
Before you begin marketing your ecommerce store, it is probably best to think about optimizing your website – which is effectively your storefront. Every step you take to reduce friction in the customer purchase process will increase the effectiveness of all your digital marketing campaigns.
All of this is going to be important in turning site visitors into customers.
Plus, most of it is important for ecommerce SEO — the art of ensuring your store ranks highly in Google search.
Step 3: Marketing Your Ecommerce Store
Once you've laid a solid foundation that includes an understanding your customer and an optimized store, you're ready to market your business.
The good news is that there are literally thousands of ways to market your ecommerce store.
The bad news is that it's not always easy to choose which strategies are worth pursuing. Companies have done incredibly well doing very different things.
Chubbies Shorts, a wild ecommerce company that sells very short shorts to the discerning weekend warrior has grown to tens of millions in revenue by building a masterful affiliate program.
Chubbies recruited hundreds of college ambassadors, who they would give discounts and freebies to for sharing with friends. What better way to reach your target customer than through their friends?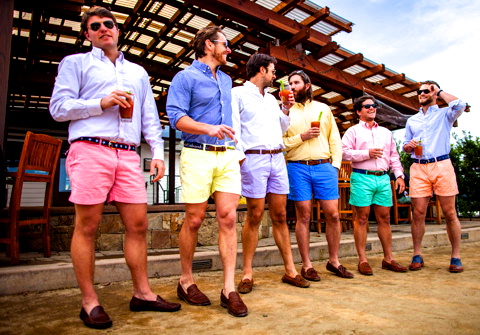 Ecommerce newcomer, Redbubble has been able to compete with giants like Urban Outfitters with a sharp focus on search engine optimization.
Their marketplace for independently-designed goods, means that they have literally tens of thousands of products – all created by artists around the world.
Using a careful URL structure, they have optimized for Google's search algorithm, placing them squarely at the top of many Google search results.

There are many ways to grow an ecommerce business, so part of the challenge of ecommerce marketing is learning which strategies to pursue and which to ignore.
No matter what strategies you choose, it's always best to test a strategy as minimally as possible so that you do not waste time or resources chasing a strategy that simply will not work.
In other words, start with a spend of $1,000 on Facebook advertising rather than $50,000, even if you're convinced Facebook advertising will work for your ecommerce store.
Below are 10 best ways to market your ecommerce store. One size never fits all in ecommerce marketing, but this list will get you started.
Sometimes a blend of multiple strategies works.
Marketing an ecommerce store well requires a bit of creativity.
The 10 Best Ways to Start Marketing Your Ecommerce Store
1. Facebook Advertising
Facebook advertising is a potentially viable strategy for most ecommerce stores. Facebook has nearly 2 billion users, so its no wonder that many ecommerce marketers have turned to the massive social network to sell products.
While I caution against jumping in willy nilly, it's hard to ignore the fact that so many have seen huge success with Facebook advertising. The reason it's so effective is threefold:
Facebook affords hyper-specific customer targeting based on at least

98 personal data points

. This means ecommerce marketers can be very specific with the permutations of audiences they run their ads to.

It is very image and video-centric. Products, especially physical ones like clothing, gadgets, jewelry, etc., lend themselves well to an image and video-centric world. This infographic from Sprout Social implies that the majority of Facebook users respond to ecommerce advertisements. The call-to-action, "shop now" accounts for 74% of all buttons clicked on Facebook. Plus, you can affordably hire graphic design services to pump out facebook ads at scale.
Finally, Facebook can be effective even with low budgets and niche products. Because advertising on Facebook is so specific, niche companies like Tile – the maker of a Bluetooth connected keyfinder – have been quite successful with Facebook advertising. The pretty nifty product is succinctly described with just a sentence and a photo – "sometimes the simplest things are the hardest to find." In other words, Tile is well-served by the visual simplicity of the Facebook ad unit. If your product is very niche, you might find success with Facebook advertising.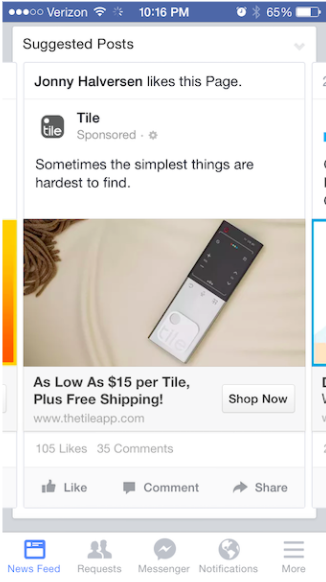 2. Referral Program
Your customers are often your best advocates. A referral program lets you capitalize on this fact.
Instead of waiting for your customers to organically tell their friends about your store, how bout giving them a little incentive to do so?
A popular referral program today is the "give $X, get $X" model. Ecommerce company, Everlane has a "give $20, get $20" so that shoppers can share the Everlane brand with friends. If you want to learn more about Everlane's marketing strategies, read The 10 Marketing Secrets to Everlane's Success.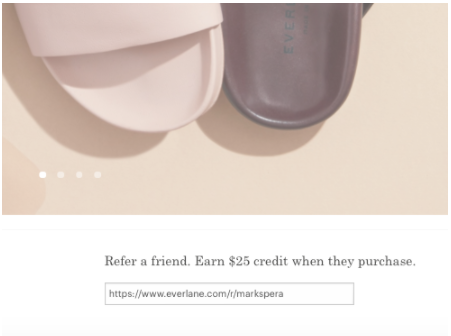 There are a bunch of out of the box referral programs. In most cases, placing one pixel in the <head> of your website – implementation is one line of code.
If you're using Shopify, ReferralCandy and Smile.io are solid choices.
Read: The Best Referral Marketing Software for more information.
3. Affiliate Program
Affiliates are friends. Affiliate programs are ones in which bloggers, influencers and news sites send traffic to your site for some sort of pay-per-visitor model.
Create a network of influencers in your space and ask them if they would be interested in sending traffic to your ecommerce store in exchange for pay. Use BuzzSumo to find relevant influencers in your industry.
For instance, if you're selling jewelry online, you might think about connecting with high fashion bloggers. You may be able to work out an arrangement in which you send samples in exchange for mentions on their blog.
Our post on how to growth hack your affiliate program is insanely good.
4. PR
I think many marketers sleep on PR. The press is a very simple (and often cheap) way of garnering interest for your ecommerce store. Sure, you might not be able to land the New York Times in your first year, there are many smaller publications that are worth trying to connect with.
To garner press, start by sharing the unique story of your ecommerce store. Do you handcraft jewelry using a certain technique that is generations old? Was your gadget made in a Stanford dorm room? Does your clothing have a story that is rooted in your personal experience like Toms Shoes?
Tell publications about it! Read The Most Important Startup PR Tips for more. 
5. Viral Marketing
The term is really vague, but viral marketing is anything that is disruptive, sharable and engaging. "There is a science behind why people share," says Wharton marketing professor, Jonah Berger.
Funny content – especially video – often does well.
One ecommerce company that harnessed the power video is HelloFlo online purveyor of women's hygiene products. Their hilarious video about a girl's first period at summer camp has over 12 million views.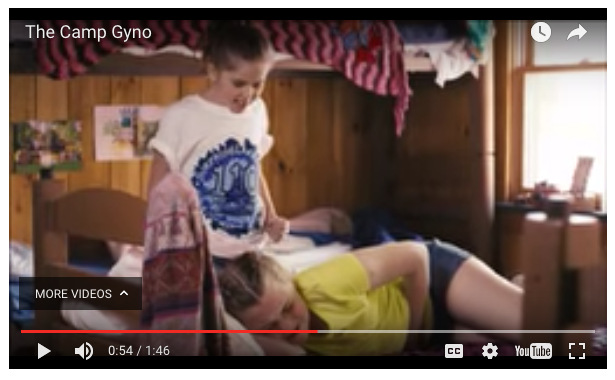 Viral marketing can be effective – but of course, it's much easier said than done. However, some pattern recognition and sound best practices can increase your odds of going viral. Read The Ultimate Guide to Viral Marketing if you want to go deeper.
6. Search Engine Marketing
40,000 search queries take place in Google every second. Search engine marketing, sometimes referred to simply as Google Ads takes advantage of the massive search volume that takes place on Google. It has similar reach to Facebook.
I'm sure you've noticed some Google ads while searching for something. Google Ads is effectively a keyword auction that advertisers are bidding on all the time.
If you want to rank highly for a specific term, simply bid more than your competitors.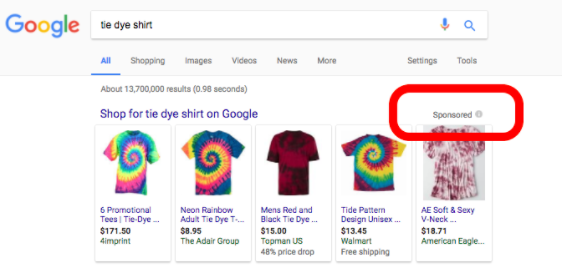 Search engine marketing tends to be effective for ecommerce stores with lots of varied inventory.
If you sell thousands of different SKUs of shoes, jewelry, clothing or any other widget, there are a lot of different auctions with which to find some profitable arbitrage opportunities. Find out here if Google Ads will work for your ecommerce store.
7. Pinterest Ads
Pinterest is an interesting advertising platform that uses an auction-based, cost-per-click model like Google Adwords.
Today, 175 million people come to Pinterest every month to explore and share images and now video. No wonder Pinterest has achieved a market cap of over $5 billion.
I've seen Pinterest advertising work quite well, particularly for small products like stationary and small fashion goods like jewelry and shoes.
The audience is decidedly female and the user experience is very image-based. As such, simple and beautiful images tend to work really well as promoted pins.
For Pinterest advertising, the image content is way more important than the audience targeting. Use vertical images, one pin per campaign and spend no more than $500-$1,000 to test it. That's all it takes.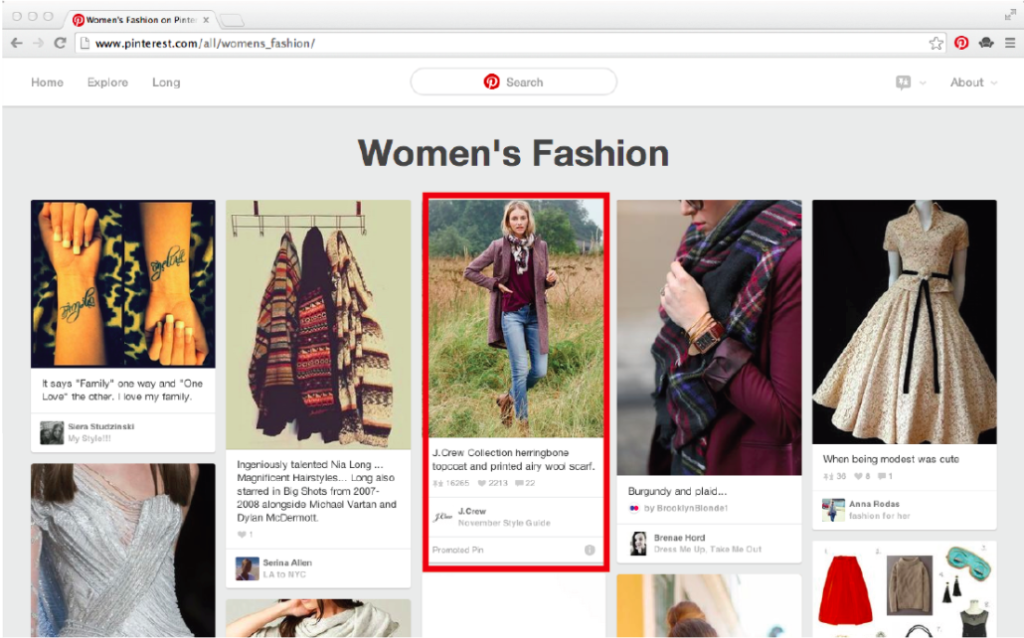 8. Retargeting or Remarketing
If your store is like most, only about 2% of all visitors will end up purchasing from your ecommerce site.
Many advertisers, including Google, Facebook and  Pinterest allow you to "retarget" users – so that you can reach the other 98%.
Usually by placing a single pixel (piece of code) on your website, you will start creating a "cookie pool" that Google, Facebook and Pinterest will use to serve ads to the same users. Your visitors will being seeing your display ads across the internet.
I recommend a small retargeting budget if you are building a digital marketing strategy.
Customers who have been to your website are much more likely to buy from you than those who have not.
Additional reading: Will Retargeting Ads Work for My Company?
9. Podcast Advertising
Recently, podcast advertising has become an extremely effective way to reach a large audience. Because podcasts are usually about a specific topic or at the very least, having a pretty uniform audience, it can be a targeted way to reach your ecommerce audience.

I've noticed a lot of ecommerce companies using podcasts lately, from men's grooming companies, Harry's and Dollar Shave Club, to mattress companies like Casper, to food startups, NatureBox and Blue Apron.
If you're going to pursue podcast advertising for your ecommerce store, keep three things in mind:
Speak to the podcast host to explain your unique selling proposition so that the message can be delivered in the best possible way.

Demand a mid-roll. The mid-roll ad unit appears during the middle of the podcast. This is frequently the best performing placement.
Use a vanity url or promo code to track performance. What good would it be if you didn't know if podcasts worked or not? Make sure to track visitors from podcast reads using some sort of tracking mechanism.
Podcast advertising can range from a couple hundred bucks an episode to over $10,000. Find the shows and reach out yourself or work through an agency.
10. Growth Hacking
Growth hacking means doing what's creative and scrappy to get customers to your ecommerce store.
While this isn't one strategy per se, I'd be silly not to mention the most creative and sometimes fruitful channels ecommerce marketers have at their disposable.
Growth hacking means doing new things and taking uncharted paths to find growth. Growth hacks can be very simple and very effective. They've been happening since before brands were selling online.
For instance, Puma asked Pele to tie his shoes right before kickoff at the 1970 World Cup Final.
As the whole world waited for the game to begin, it was impossible not to notice the best player ever wearing Puma's iconic cleats.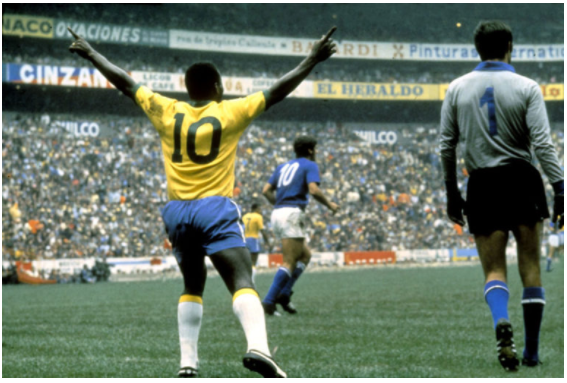 To growth hack effectively, recognize patterns. Many of the best growth hacks are simple adaptations of other growth hacks. And of course, think creatively.
Your Ecommerce Marketing Funnel
Finally, I think it's important to think about your ecommerce store in terms of a funnel.
By visualizing a funnel, you are creating mental checkpoints that allow you to see where the holes in your business are and learn how to react to them.
If all you knew about your business was how many customers come to your website and how much money you're making, you're missing a large part of the story.
How do you know if your customers are adding plenty of products to their shopping cart but simply can't navigate your checkout experience?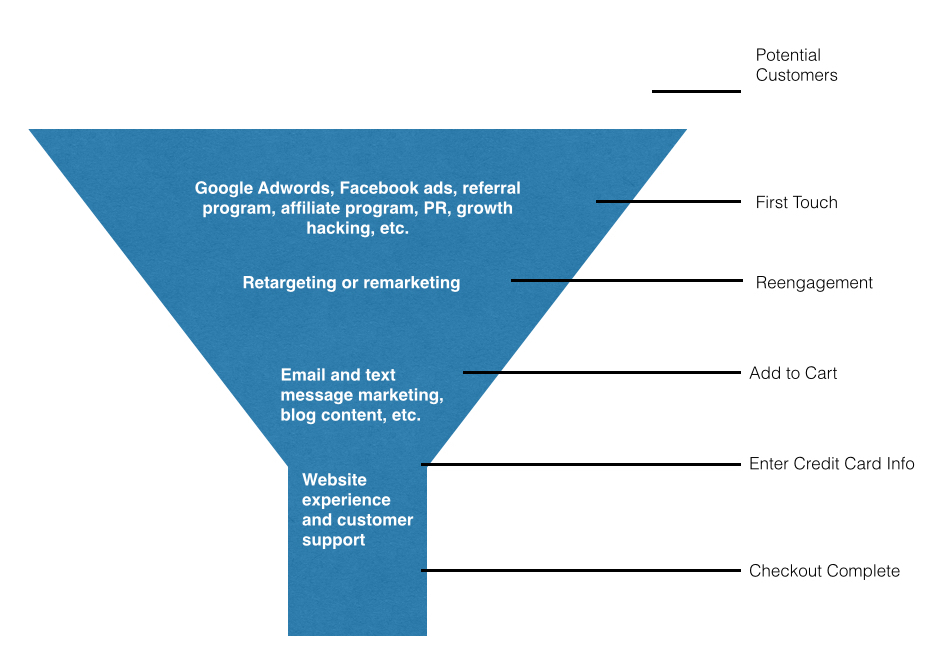 You should create mental funnels all the time. You can even create funnels by marketing channel. For instance, the path that converts your Facebook-acquired customers may be very different than your Google Ads-acquired customers.
For example, maybe your Google ads are very effectively targeted, but the landing page the visitor reaches when they click on the ad does not speak to their search intent.
Imagine clicking an ad for a white tee shirt only to land on a page with 20 other products in addition to the white tee shirt. Visitors could be getting confused and are simply bouncing off the page.
In Summary
The internet can be very crowded – especially in the world of ecommerce.
To stand apart, you need to know your customer better than anyone else and be able to reach them in a cost-effective way. This process is equal parts formulaic and creative.
No one strategy works for any ecommerce company. Simply, customer preferences are too diverse across industries and one company's unique proposition and method of acquiring customers may not work for another company.
As such, it's important to stay lean and fail fast so that you can uncover the perfect strategy for acquiring customers.
By the way: I'm giving away 2 growth hacks you won't find anywhere else on the internet for FREE!