Latest posts by Hailey Friedman
(see all)
Trying to market your business when you have little to no money can seem like an impossible challenge.
However, I'm here to tell you that there are affordable ways to get customers for your startup.
There are literally thousands of resources written about how to market your small business. They're decent articles, but they miss the action-oriented, step-by-step instructions of a Growth Marketing Pro guide!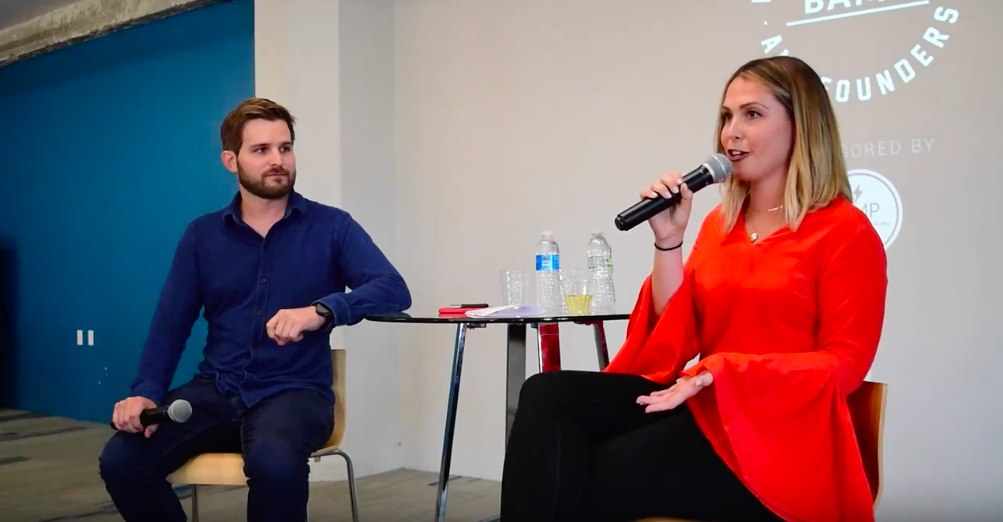 When I Realized How Important Marketing Was
My first foray into the startup world was attempting to build a mobile app.
I was two years out of college and had no idea where to start.
I sat down in front of the Google machine and self-taught myself the entire startup process, starting with "business plan." This is where many entrepreneurs start.

After a quick phone call with an early employee at Facebook, I gathered the insights and confidence I needed to build a small team and develop an app that we later launched on the app store.
It was exhilarating.
I'll never forget the moment I first saw my app on the app store. I was walking down the street in New York City and I literally jumped up into the air. I felt so proud, and so accomplished.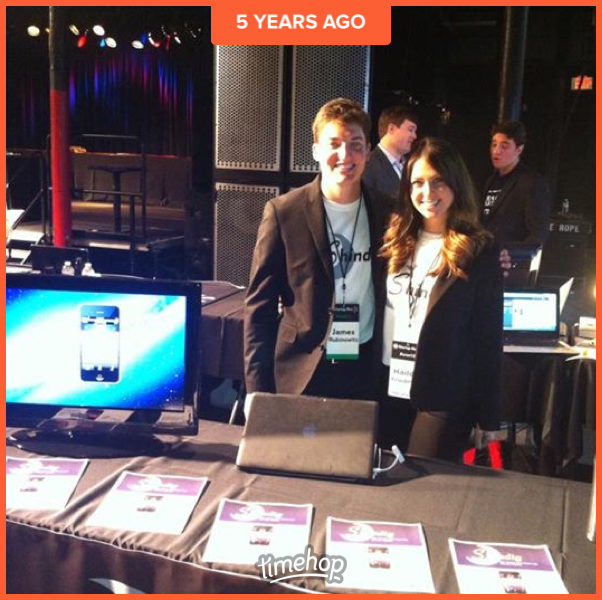 However, the excitement of that moment was fleeting.
What I quickly learned, is that you can have an awesome team, and you can build an awesome product, but if you don't know how to get customers… well, you just don't have very much.
That's when I became fascinated with marketing.
What does it take to get a customer to sign up for something or to make a purchase?
I had absolutely no idea.
Marketing was a gray and blurry box, but I was determined to figure it out.
I spent the next 5 years working at startups, moved to Silicon Valley and immersed myself into the world of growth marketing. I read books, listened to podcasts, met with marketing experts, and tested out everything I learned "in the wild." I played a role in growing multiple startups from the ground floor to multi-million dollar companies.
Now that I'm on the other side, I'm sharing everything I've learned right here on my blog growthmarketingpro.com
I was recently invited to be a guest lecturer at Hult International Business School.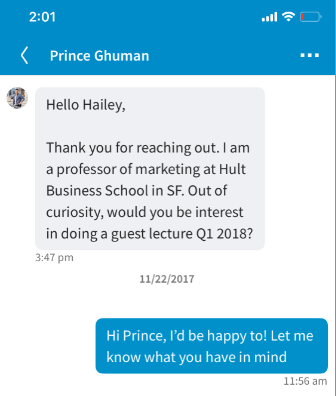 The students there are budding entrepreneurs from around the world who are hungry for knowledge about how to grow their businesses. Before I came in, we surveyed the students– asking what topic they wanted to learn about most.
Their response? "How to market your business with little to no budget".
This is a challenge I can related to very closely, since I was once in their shoes.
So, without further ado, here is the process I shared with them.
How to Market Your Business with Little to no Money

Before I get into the nitty gritty details of how to market your business with little to no money, I want to talk about the three different types of marketing, and what they mean. This is the stuff I've learned working at small and big companies alike.
If you're just concerned about how to market your small business, you can skip ahead.

What is growth marketing?
Growth marketing is a trendy word these days, but what it ultimately means is acquiring customers for your business.
What does a growth marketer do?
A growth marketer is responsible for growing the customer base. They're likely thinking about paid marketing channels, SEO, social media, partnerships and doing whatever it takes to spread awareness and drive customer acquisition.
They're often responsible for thinking about strategy, running tests, copy-writing, tracking metrics and reporting out results to upper management.
Some of the most common growth marketing channels include:
Will you like growth marketing?
Ask yourself: do you like a fast-paced, unstructured environment where you're constantly running new tests to unlock growth? Do you like learning new things and keeping on top of the latest growth marketing trends and tools?
What do I think about growth marketing?
Personally, this is my favorite type of marketing. I love how quickly you can see the impact of your work by testing new channels, copy or landing page designed to uncover growth potential for a business.
I love learning new things, so it's fun for me to read up on what's working for other marketers and testing it out on my business.
______________
What is product marketing?
Product marketing is when you are responsible for effectively communicating your product's value proposition to your customers.
What does a product marketer do?
A product marketer is a very cross functional role that is often collaborating with the product team and sales teams.
This is because the customer journey begins at customer acquisition (thanks growth marketers!) and it continues on to encompass the customer's experience with your product/website (hey there product team 😉 ) and it also includes the interactions that your customer has on the phone and via email with your sales and customer service teams.
For that reason, product marketers spend a lot of time thinking about the inner mind of the customer and likely conducting customer persona research.
Customer persona research is when you interview your customers to learn about their thoughts and wishes and desires.
It may make sense to interview different segments of your customer base. For example, the customers who make the most purchases, and also the customers who signed up to learn more about your product, but never made a purchase.
Interviewing even just 5-10 customers will help you uncover invaluable insights about how to create effective messaging about your product. Once you have your interview answers, you can then synthesize your findings into a concise customer persona document to share with your team.
Click here to download a customer persona template.
Product marketers are constantly thinking about how to get customers deeper through the funnel and build repeat purchases and customer loyalty.
They're also thinking about how to make the website and product experience more seamless and how to support the sales team by developing sales enablement materials and tools.
Will you like product marketing?
Ask yourself: Do you enjoy conducting research and synthesizing results into effective copy writing? Do you enjoy working cross-functionally? Do you do better working with a team or independently?
What do I think about product marketing?
Compared to growth marketing, product marketing tends to beat to a slower pace, given that you're often in a state of copy-writing or your work is dependent upon collaborating with other teams.
I think there are aspects of product marketing that are critical to get under your belt, like effective messaging and understanding the importance of talking to your customers. This is something you should do whether you're marketing for a Fortune 500 company or starting a business from your garage.
You're not building a business for you. You're building it for a customer.
______________
What is brand marketing?
Brand marketing is the process of creating the "feeling" a customer has when interacting with your business.
What does a brand marketer do?
You can think of creating your brand almost as creating a personality for your business. Think of your business as a person. What is this person's values. What do they look like. What does their presence convey when they walk into a room. Are they Confident? Bold? Silly? Intelligent? Friendly? Helpful? Inspiring? How does your company make people feel?
Since feelings are rather subjective, a lot of work goes into developing a brand that evokes a consistent feeling across every customer experience. It's about more than selecting a color pallet or designing a logo.
It's about ensuring that every interaction a customer has with your business is "on brand"– and that includes developing standards around language and design on your website, in emails and anytime employees communicate with customers and the outside world.
Brand marketing is essential, particularly for fledgling ecommerce companies, that must differentiate on "feeling." There's a hundred tee shirt companies on the internet. How is yours different?
Will you like brand marketing?
Ask yourself: Do you like thinking abstractly at a high level? Are you intoned to the feelings of others or have a high emotional EQ? Are you more creative than analytical? Do you enjoy thinking about psychology?
What do I think about brand marketing?
It can be a lot of fun to develop brand marketing for a business. Many companies who take brand seriously, will hire a branding agency to walk a marketing team through the process of uncovering the brand identity, message, look and feel.
Once you develop the pillars for your brand, the hardest part is then implementing that look and voice throughout the company and ensuring that every employee upholds the brand values in a consistent way.
Today, let's talk about growth marketing and what tactics you can use to acquire customers when you have a very tight budget.
How to Market Your (Small) Business
When people talk about marketing their business, they're most often referring to acquiring customers — growth marketing.
There are lots off different channels you can try in order to acquire customers for your business. But if you don't have a lot of money, you'll want to be very picky about what to try and where to start.
I'm going to assume you don't have much money to start. That's okay. Prioritizing acquisition channels is going to pay huge dividends — allowing you to acquire many users for cheap.
Marketing Your Business 101: Look for High Intent Channels
To start marketing your small business, you're going to want to look for marketing channels that have "high intent."

What does that mean?
Well, not all marketing channels are created equal. If they were, everyone would run massive TV campaigns and radio ads in order to win the hearts of thousands or millions of users!
But someone watching the Super Bowl, may not care about the widget you're selling or the student loans you promise to refinance.
There are much higher intent users than those passively watching the tube.
For example, when someone types a keyword into google, they already know what they're looking for. So if your website appears at the top of their search, whether organically through SEO or via a paid Adwords ad, their intent is much higher than someone who is browsing Facebook or watching TV who stumbles upon your ad.
The person on Facebook is just their to pass the time and view photos of family and friends, so your business and the problem it solves are not necessarily top of mind. It's going to take a lot more work to convert that Facebook traffic on your website than it will take to convert that Adwords or SEO traffic.
The marketing channels with the highest intent
Referral program
Google Adwords
Quora and other niche search engines
Email marketing
Native ads
Facebook advertising
What is a referral program?
A referral program is when you incentivize your current customers to invite their friends. Friends and family are often your first customers. And their friends and family are often your second customers.
Why do referral programs work well?
Referral traffic is the #1 most high intent traffic to land on your website, converting near 25% on page, which is simply astronomical compared to the average conversion rate of about 1%.
This is because people trust their friends. If someone heard about your business through a friend, that means the selling has already been done for you. By the time this traffic hits your website, they've already been primed and convinced about your product and they're way more likely to convert.
See the best program referral software here.
But if you have no customers today, that probably will not work.
Also, since you have basically no money, let's exclude the paid channels like Adwords, Facebook and Native ads.
That leaves us with Affiliate Programs, Quora and Content Marketing.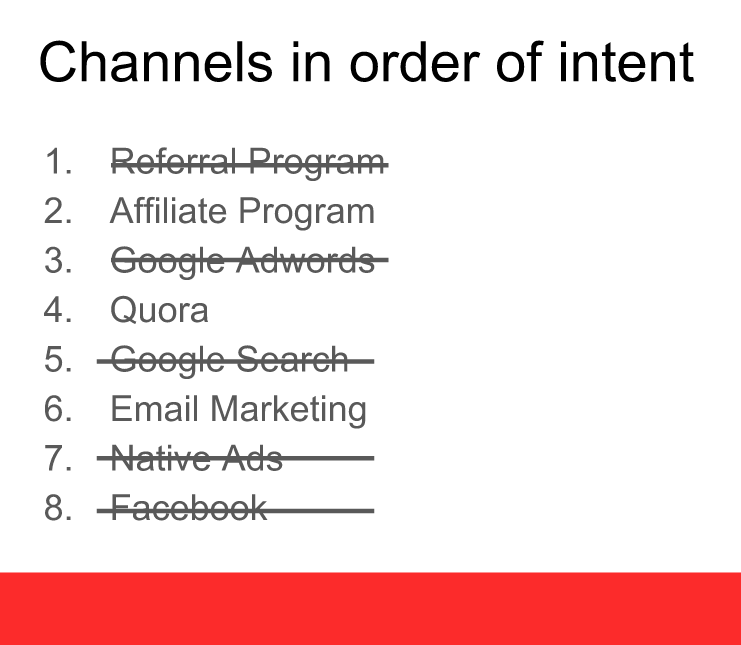 Affiliate programs = when you pay bloggers or other influencers for purchases made via their readership.
Now it might seem natural to start with affiliate program since that channel has the highest intent, however you also want to think about what's going to be the lowest hanging fruit.
Affiliate programs work really well, but it takes a good amount of time and effort to properly to set up — courting bloggers and influencers.
The same goes for developing your content marketing strategy and building an email list. While we will get to both these channels later, let's start where it's easiest. Quora.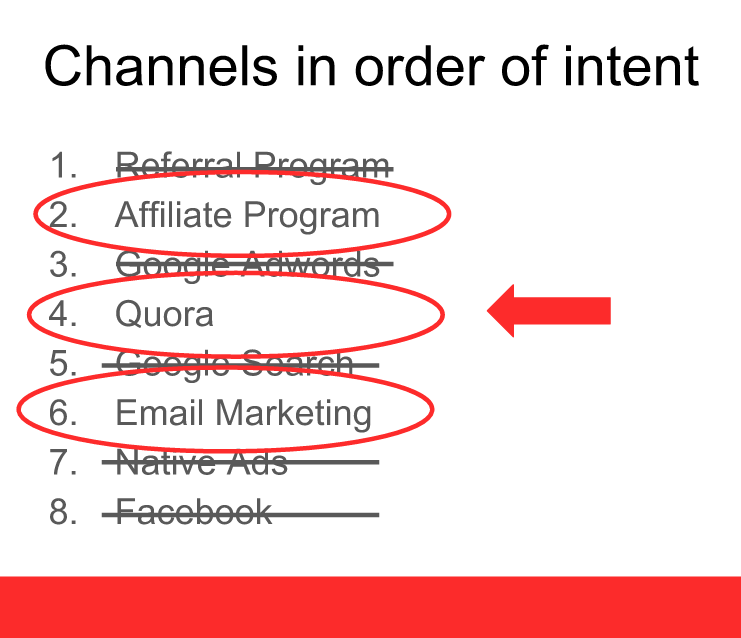 Growth Hack Organic Traffic with Quora

I would consider Quora a "growth hack" for organic traffic. Quora might be a great place to start marketing your small business.
Quora is basically a question and answer website. When you search for many sophisticated queries on Google, you'll likely notice Quora responses.
Historically, in order to rank on the first page of google search, you'd need to focus on SEO strategies which can take months if not years to accomplish.
However, Quora questions and answers are already ranking on page #1 of many google searches. Therefore, if you answer a question that is already ranking on Google, and your answer gets upvoted, you can find your answers on the first page of Google search rankings, in a matter of days– completely gaming the system.
My Quora answers got over 100,000+ views last year alone.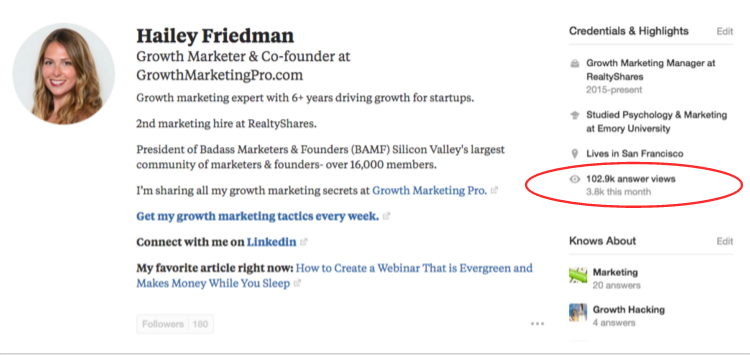 But in order to get these results, you'll want to follow the following process.
Pick the right Quora questions
They should be relevant to your business
Follow the 7:1 ratio rule, in terms of followers to the number of answers provided.
Look for questions with a lot of followers, but many bad answers – yours answers will stand out.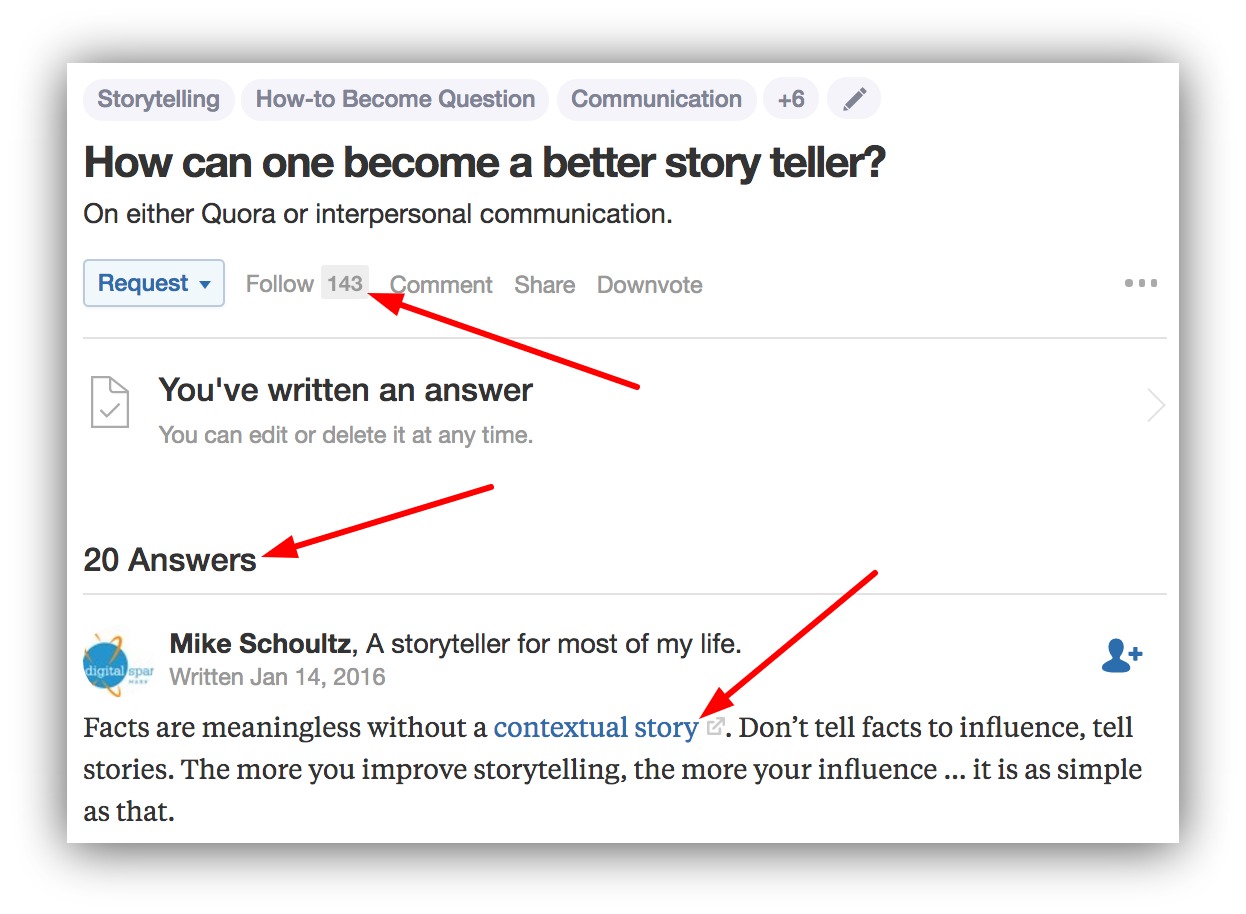 Optimize your answers
Use a picture- of yourself or celebrity
Tell them where they can learn more, and link to your site or blog
Be human– describe emotions, tell a story, give details
Optimize for mobile– make each paragraph one or two sentences, use bullets & numbering
Bold your first sentence and important statements
End with a call to action
Repurpose content on Linkedin & Facebook
Read this article by Josh Fechter
I followed the steps in this article step-by-step to get the results I shared earlier.
Now, onto the next marketing channel to try with little to no budget…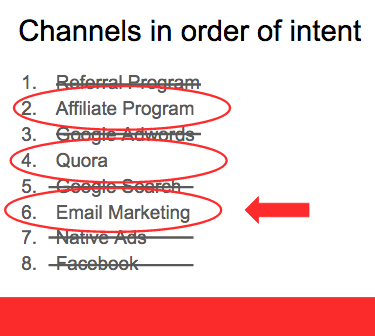 How to Get Started with Email Marketing
Content marketing is extremely powerful. You may find that it is difficult, and often expensive to convert someone into a customer just based on an ad.
A more effective route may be to collect email addresses and nurture those people with an email drip campaign until they are ready to make a purchase. But people don't just walk around handing out their email address. It's way easier to collect emails if you're offering something of value in exchange.

Collect emails in exchange for content, aka using a "lead magnet":
Ebook
Guide
Checklist
Webinar
Event / Meetup
Quiz
Template
Here's an example of a lead magnet I made for one of my webinar blog posts. It's a script for the perfect webinar, and people can download it in exchange for providing their email. Clicking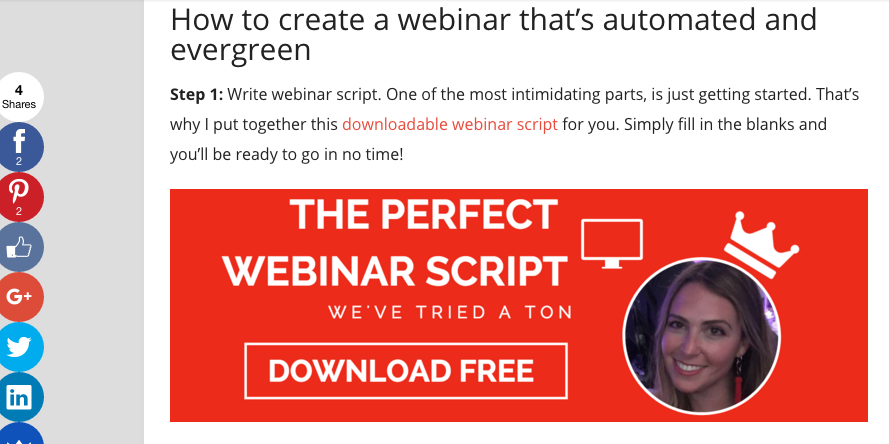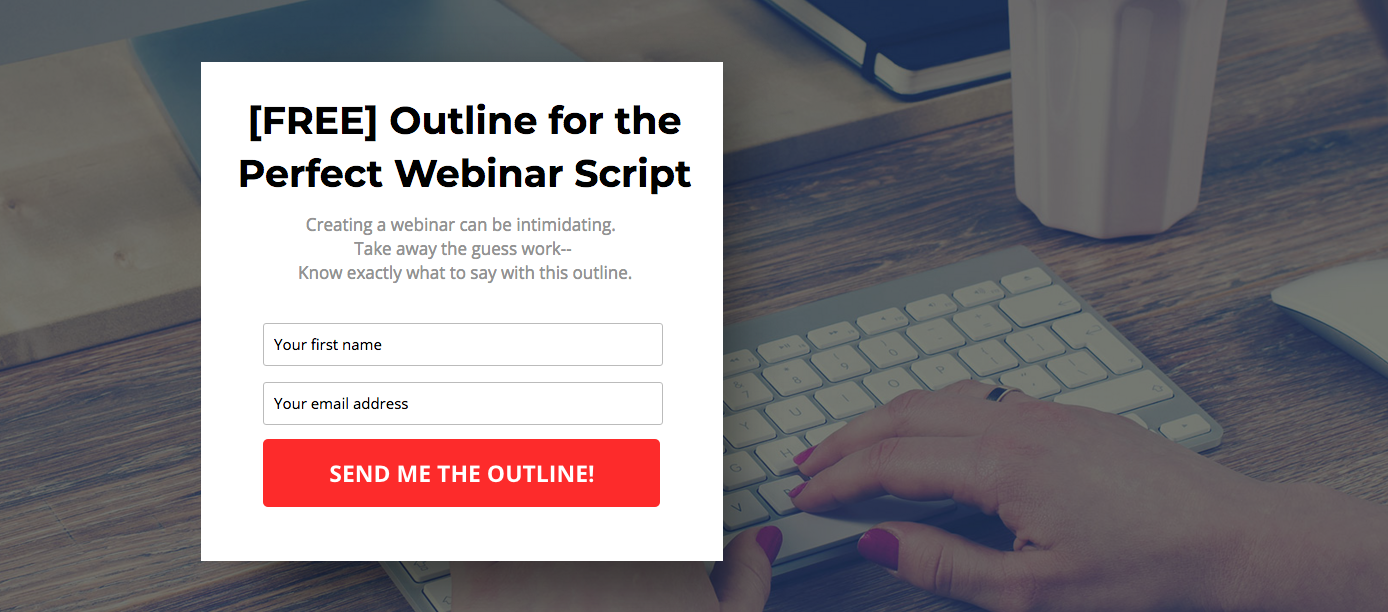 Tools you'll need for building your lead magnet:
Instapage for creating landing pages that will capture leads with a form
Mailchimp for creating email nurture campaigns
Demio for running webinars
Interact for quiz building
Promote your content by posting on social media, relevant sites, running ads if possible (on Facebook, Linkedin, Adwords etc).

Leads in exchange for content are cheaper than direct response leads

Try co-marketing content with a tangentially related company to leverage their audience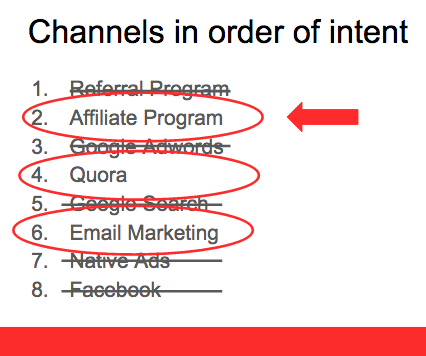 First off, what's an affiliate marketing program?
For those who don't know, building an affiliate marketing program means building partnerships with bloggers and influencers in your space that have an online audience and paying them per lead they send to your site.
Usually you both sign an agreement at a set cost per conversion on your site. The partnership is mutually beneficial in that they benefit by monetizing traffic to their site, and you benefit by having an influencer vouch for your product and send qualified traffic to your site.
Affiliate marketing traffic is "friendly" traffic
Bloggers who have a loyal following, have readers who return to their site time and time again. These readers have established trust with the blog and content they find there.
Therefore, when a blogger writes about your company and can recommend it to their readers in a truly genuine way, that blogger is sending a "warm lead" to your site. This is someone who's already been primed, pre-qualified by learning a bit about your site and is interested enough to click through to learn more.
Why do affiliate marketing relationships matter?
An affiliate marketing lead is comparable in quality to the type of lead you'd get from a referral program- when a current customer refers a friend.
To give you an idea of how strong affiliate leads are, here's a snapshot of my Google Analytics page showing that affiliate leads signup at a conversion rate that is more than 4.4X the average site visitor.

When I joined RealtyShares in 2015 as the second marketing hire and 20th employee at the company, among the many things on my plate, I was tasked with building an affiliate program from the ground up.
The first thing I did was research and create a list of all the FinTech/investing bloggers in our space and reach out to them via email to invite them to join our affiliate program…

I sent out 50 emails and got 12 responses. All of which did not think the partnership would be a fit or were not interested at this time. That effort produced zero affiliate partnerships.
It wasn't until I was working on a side project of mine, when I unlocked the secret to building affiliate relationships.
How I discovered the secret to building affiliate relationships
www.topfivecityguide.com is a blog where I aggregated survey responses from hundreds of New Yorkers and San Franciscans about their absolute favorite restaurants in various categories. Each week I'd post a new blog post based off the data I collected "Top Five Brunch Spots in NYC", "Top Five Burgers in NYC", "Top Five Coffee Spots in NYC".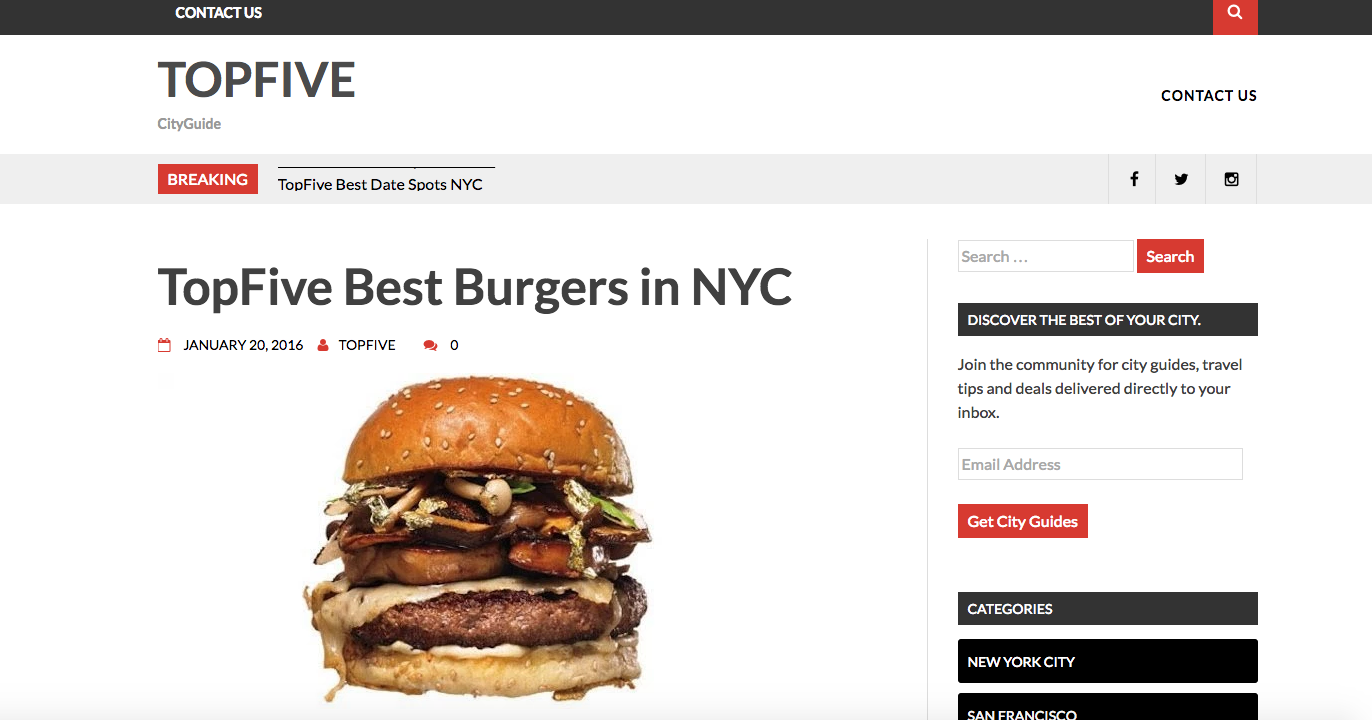 Each time I wrote something I also posted about it on Facebook and Twitter, tagging every restaurant or company that was mentioned in the blog post.
To my surprise, these renowned restaurants and food brands were extremely flattered by the mention and over 50% of them "liked", "re-posted" and "shared" my tweets…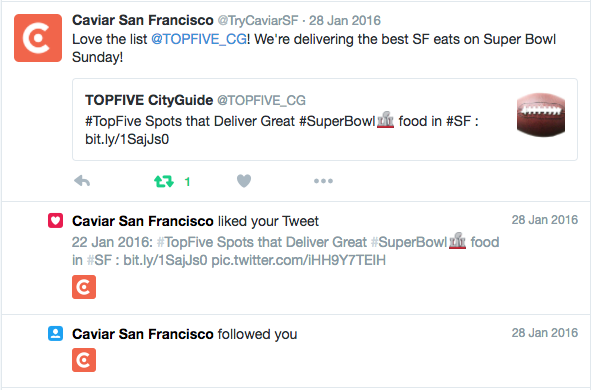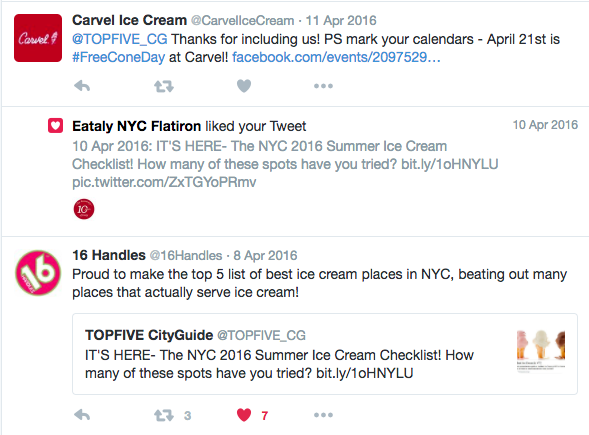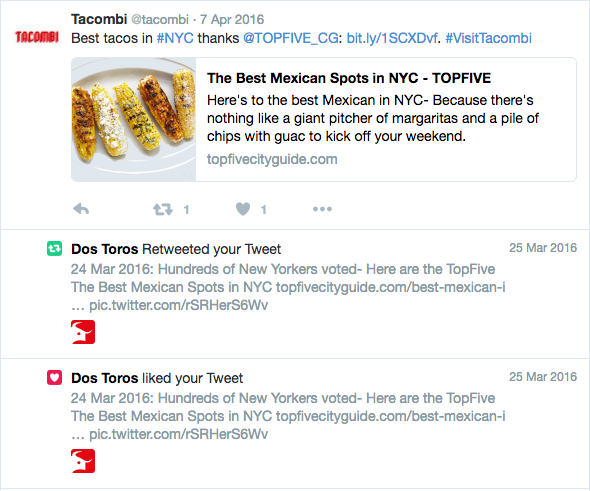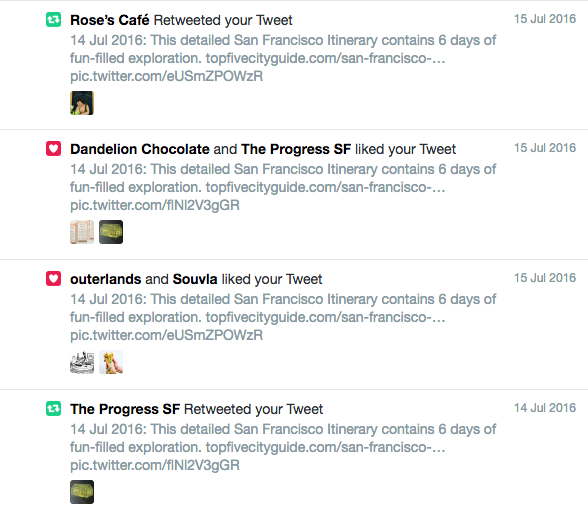 It was at this point that I came to a realization about life that helped to drive my growth marketing career forward.
People love being recognized.
I took this concept and ran with it at RealtyShares. I put together content around the "Top 60 Real Estate Investing Blogs", "Top 76 Alternative Investing Blogs", "Top 75 Real Estate Blogs", "Top 14 Personal Finance Blogs" and many many more. As many categories as I could possibly think of that related to FinTech or the Real Estate industry.
All together we ended up mentioning over 373 different blogs, podcasts, books and influencers within these "Top" lists that we posted to the RealtyShares blog.
Next, I reached out to every single person that was mentioned in one of our blog posts, taking a slightly different approach then the first time I reached out via email- I didn't mention our affiliate program at all.

Here's the response I got this time around…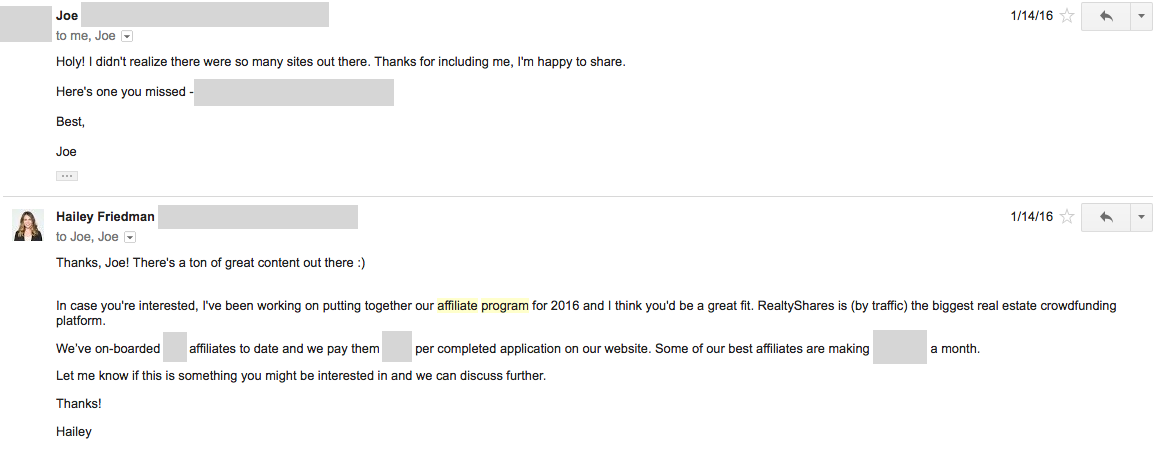 By first giving recognition to the blogger for their fantastic content, I was able to "warm up" the relationship, and therefore Joe and the rest of the bloggers I spoke to were far more open to learning about our affiliate program.
Not to mention all the shares and backlinks we gained when these 373 influencers shared our post with their followers.
Out of the 373 influencers we emailed, 66 of them ended up signing up for our affiliate program. That's an 18% conversion rate!
By utilizing this strategy alone, I was able to grow our affiliate program 9X year over year.
Not only did affiliate traffic grow exponentially- but the quality of the leads proved to be among the strongest relative to other channels like SEM, Native and Paid Social.
Meaning that signups that came from our affiliate program, became investors at a higher rate and invested more dollars on our platform than signups from other channels.
Read more about building and managing an affiliate program here.
Conclusion
There are many different channels and ways to get customers for your business (there are even more channels than the ones I listed here!). But you have to start somewhere, and if you have little to no budget to market your business, than your initial options will be limited. However, the 3 different channels I mentioned here in this post, are a great way to get started– and I promise they do work!
As a recap:
Growth hack organic traffic with Quora
Get started with email marketing
Grow an affiliate marketing program
Best of luck to you! Let me know how it goes 🙂
xoxo
Hailey