Latest posts by Hailey Friedman
(see all)
The Perfect Webinar Script and PowerPoint Deck
I'll get straight to the point: You need to start using webinars to sell your product/service. Download the free webinar script and webinar PowerPoint deck to get started ASAP.
Mark and I have spent years testing nearly every marketing channel under the sun. Why? To acquire customers.
But the one marketing channel that works better than all the rest — is webinars — particularly for the sale of high ticket items, software tools, and "hard to explain" products. We built our blog, Growth Marketing Pro, into a 6-figure passive income business using webinars.
To do it, we created our "Growth Webinar" — an automated webinar that has an attendance rate over 70% and a conversion rate of 12%. That's pretty impressive, considering the product we sell goes for $4,000+ and, according to Adobe, the average webinar attendance rate is only 36%.
We crafted the perfect webinar script and the perfect PowerPoint slide deck ready for you to download so you can get to work, implementing webinars into your marketing strategy and getting your product moving again. Click below to get going!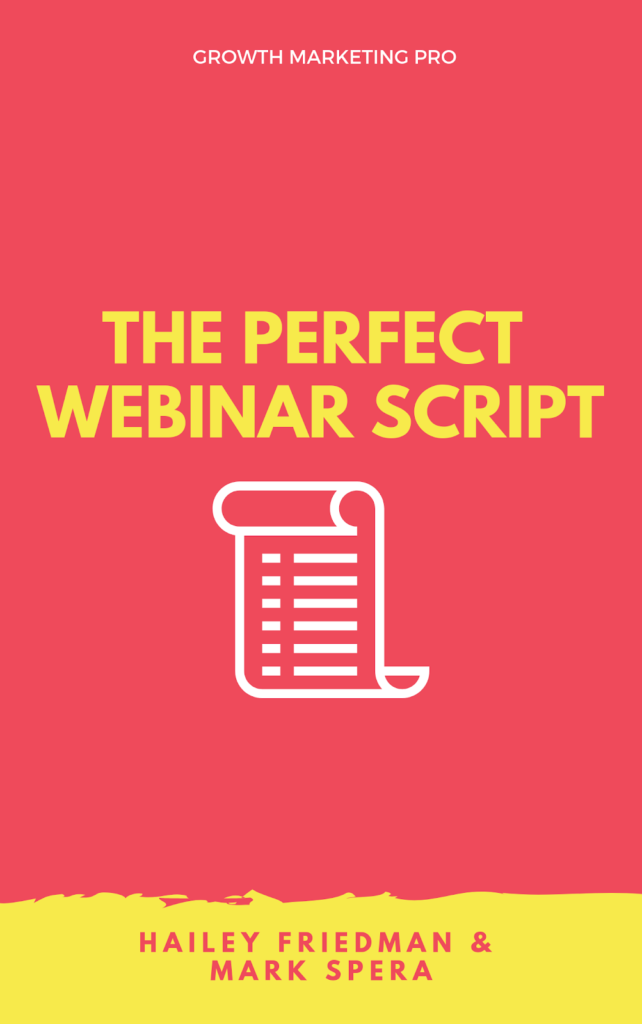 How to Create The Perfect Webinar Script
A great way to begin the script writing process is to set goals for your webinar. Determining exactly what you need to accomplish will help point you in the right direction.
Some goals for your webinar may be:
"I want to generate revenue by selling our product/service and teach customers how it will bring them value."
"I want to communicate my business's brand identity with our customers so they know who we are and how we differ from our competitors."
"I want to establish my business as a thought leader in our industry so our customers come to us first for reliable information."
"I want to gain feedback from our customers to learn what our business can do to better address their needs."
Once you've determined why you're creating a webinar, you can write your script.
Attendees watch webinars to see and interact with real people, so keep this in mind when you're writing. You don't want to sound like you're reading off your script. Try to let your audience get to know you and your personality.

To create your outline, break up your webinar script into these sections:
1. Greeting and a general introduction
Remind your attendees why they're there for and what they can expect throughout the webinar. Make them feel welcome by being friendly and conversational. Remember, this is not the setting for complex business jargon, you're speaking to an audience from a variety of backgrounds so keep it simple and relaxed.
2. Introduction and short bio for the host and presenters
Now is the time to introduce the host and presenters. Start with names and give a brief bio for each person speaking. Webinars should be fun. Get creative and really engage your audience here.
This should include their professional background and relevant achievements demonstrating their expertise on the topic being addressed. Don't be afraid to boast a little, this translates to confidence and authority, and gives your attendees a reason to listen to what your host and presenters have to say.
3. Use storytelling to explain how you became an expert
This is where you begin to establish trust and credibility with your audience.
If you've developed a great product, now is the time to tell the story of how it came to fruition. Use conventional storytelling here to connect with your audience.
Your anecdote should begin with the realization of a problem or conflict which leads you on a journey to fix the issue. Share your struggles and failures, show your attendees all of the hassles they can avoid by listening to your advice and using your product.
4. Explain what attendees will be learning throughout the webinar

Here you should give a more detailed description of what attendees will learn. Break it up into sections and be transparent about exactly what information is being disclosed. This builds excitement and anticipation, encouraging attendees to continue watching.
Include a few positive testimonials that prove your product is worth investing in.
5. Create an incentive to stay until the end of the webinar
Let your audience know about exclusive offers that will be made at the end of the webinar. This is a real key to the formula.
Incentives are a great way to reward your attendees for participating and staying to watch the whole webinar.
Here are examples of incentives that work:
Discounted products
Recordings or transcripts of the webinar
Free ebooks
Private consultations
6. Give your attendees what you promised
Now you can get into the meat and potatoes of your webinar. This section takes up the majority of the time and is where all the exclusive information is shared.
Start sharing industry secrets, teaching about products, and asking questions. This is where you fulfill the purpose of your webinar.
Begin presenting your industry secrets and hacks one by one with detailed explanations about how you discovered them and why they work. Use data and statistics to support your claims.
Take polls, surveys, and ask questions to gather information about your attendees to make this section of the webinar interactive and engaging.
Communicate the monetary value of each element of your product so customers can get an idea of how much it is actually worth. They will know they're getting a good deal when they see the final price.
Here are some tips to engage your webinar attendees.
7. Introduce your product offering
Finally, introduce your call-to-action and encourage attendees to buy your product. Give a final break down of the product and the value associated with each element. Reveal the final discounted price and show them where they can make a purchase.
Remind your attendees of the exclusive offer that comes with the purchase, pack your offer with as much value as possible.
Want a webinar tool to record and play a recurring, "evergreen" webinar?
Use our promo code GMP-DISCOUNT for $49 Off.
Why we built our Webinar Script
At Growth Marketing Pro, we are constantly using webinars, like our Growth Webinar. We educate marketers all over the world about the best tactics, and we do it via webinar. Having a webinar script readily available makes it easy to throw a webinar together in a matter of minutes. Having the right tools reduces the friction of getting started.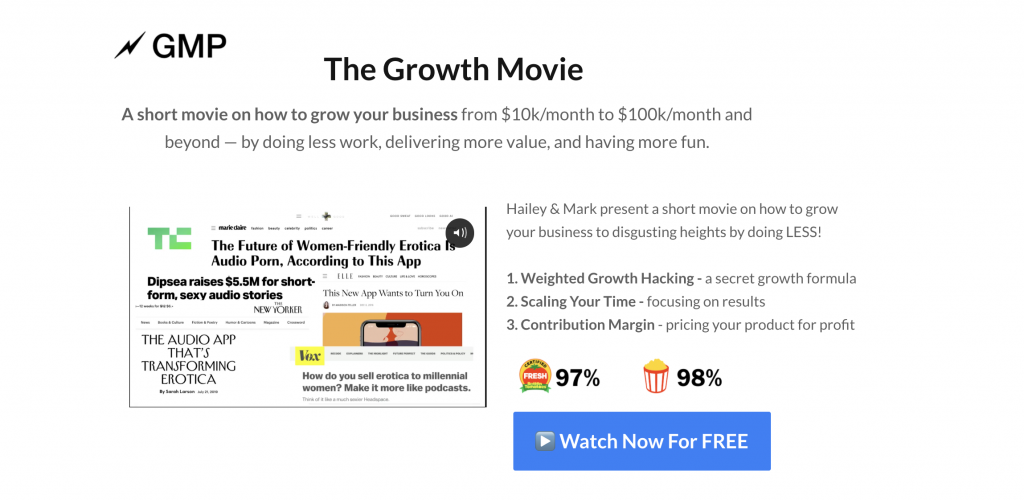 The reason we use a webinar to explain our Custom Growth Playbook offering, is that the offering has multiple components that can't easily be explained via a digital ad. Webinars give high intent consumers the opportunity to see all the facets of our product offering, and understand how it will help them achieve their goals.
And with automated webinars — or "evergreen" webinars — you enable attendees to view whenever they want — earning you passive income with no additional effort. Our favorite tool for automated webinars is Demio.
How to Prep Before Using Your Webinar Script
Before you're ready to draft your webinar script, you will need to make the following decisions about your webinar:

1. Choose the best webinar tool for your needs
Here is a comprehensive list of the best and most reliable webinar software tools. We've broken down the pros and cons along with which type of business will find success with each tool.
You will need to have an idea of the following things in order to choose the right tool:
Portion of your marketing budget you can dedicate to webinar software
Number of attendees you anticipate will attend your webinars
Whether you want to create live or automated (evergreen) webinars
Once you have selected the right tool, purchase a package that meets your criteria from their website. Don't be afraid to invest, the return you'll receive from webinars is well worth the price.
At Growth Marketing Pro, we use Demio for our live webinars and automated webinars.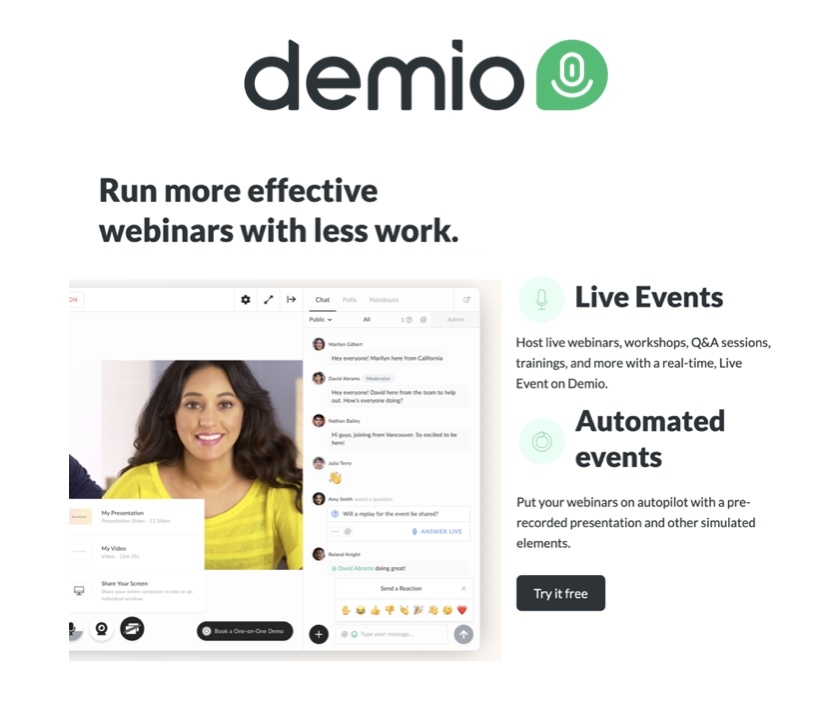 Use our promo code GMP-DISCOUNT for $49 Off.
2. Determine a topic and set goals for your webinar
Your goal is probably to increase trust and make sales. But figuring out how to best tell that story is tough.
Orchestrating and designing your webinar can be overwhelming.
Your webinar script template will help you determining the main focus of the conversation and have specific goals to work towards, showing you exactly what needs to go into your webinar.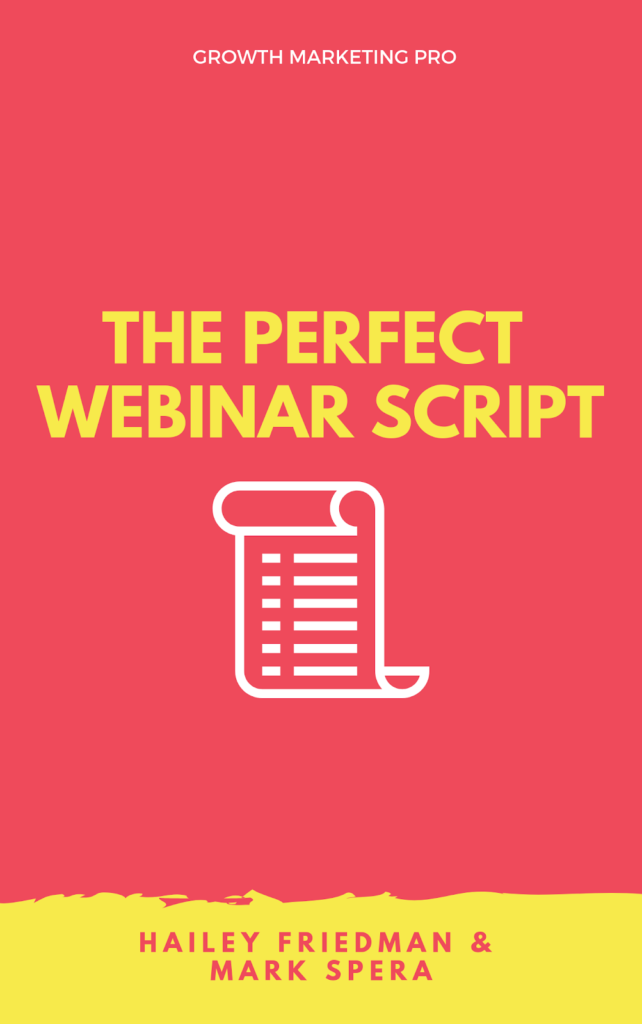 3. Select a host and webinar format
Choosing your host(s) is a crucial step in planning your webinar. Hosts need to have strong expertise in the topic you will be discussing. A knowledgeable host will be capable of answering any complicated questions attendees throw their way.
Hosts need to be comfortable enough with public speaking to stick to a script while sounding natural.
An important note to remember is your attendees will associate your business with whoever is on screen, so choose wisely.
For live webinars, it is a good idea to designate a separate person who is also well versed in the subject, to answer questions that are submitted in the chat section to maximize efficiency.
Depending on the goals for your webinar, you should now select a format.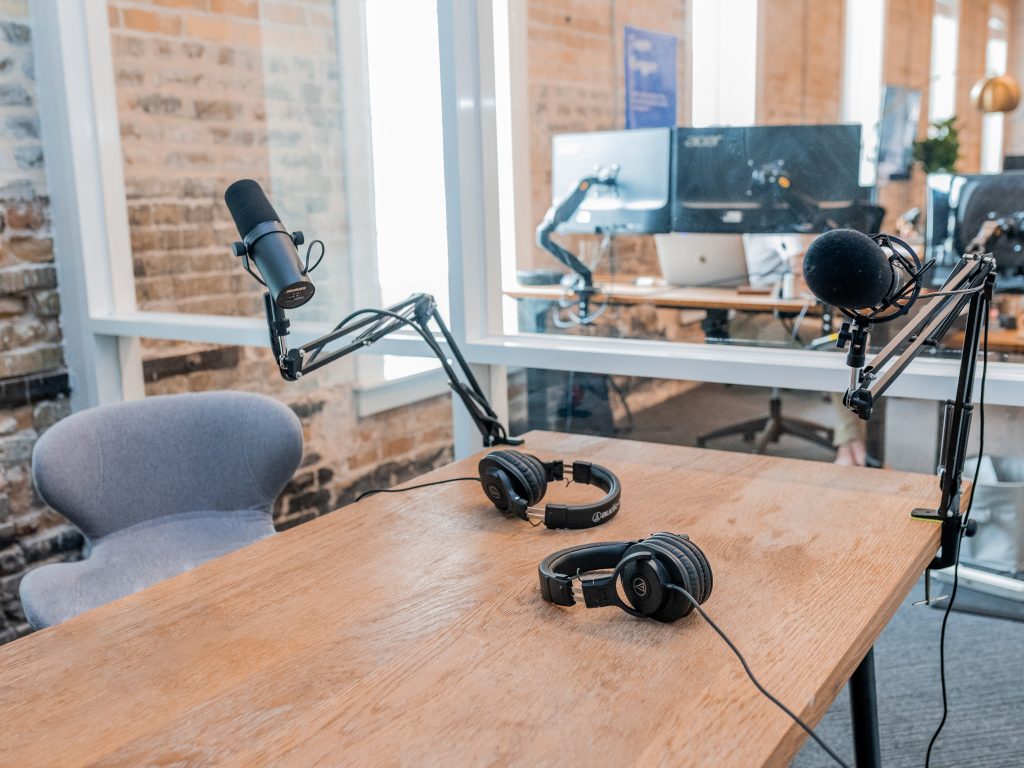 The format of your webinar could be one or a combination of the following:
One presenter – One person speaking and presenting
Q&A – presenter answers questions submitted by attendees
Interview – The speaker asks prewritten questions to an expert with the opportunity for attendees to ask questions at the end
Panel Discussion – A panel of speakers discuss a topic with a moderator guiding the conversation
4. Create your webinar script and PowerPoint deck in advance
This is easily the most important step in designing your webinar. The webinar script and PowerPoint deck outline exactly what your attendees will see and hear.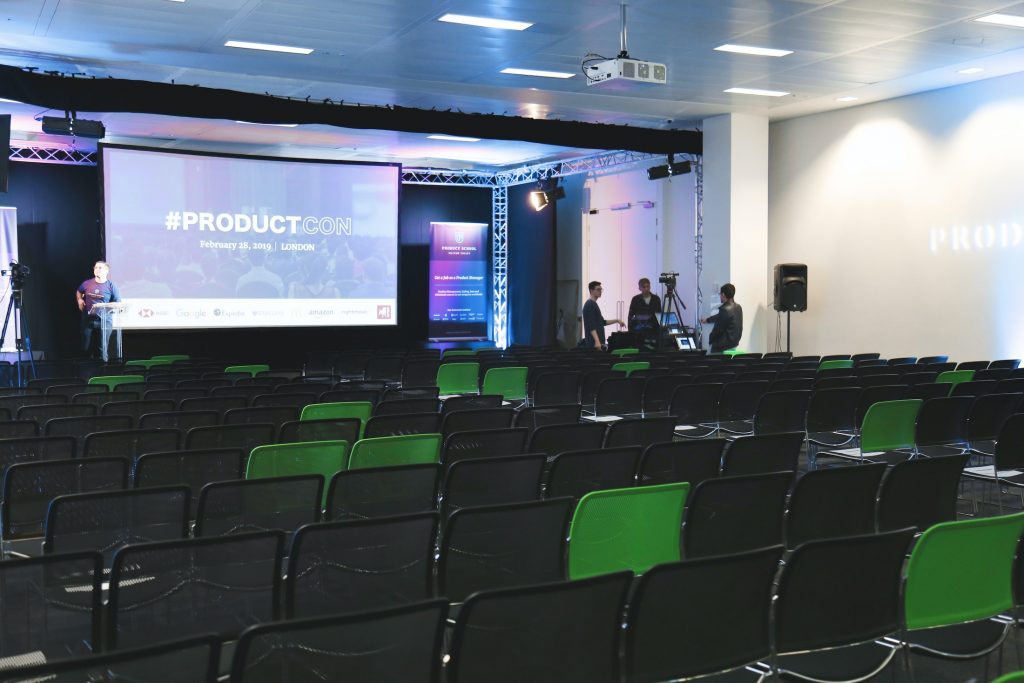 Why You Need A Webinar Deck
Just like in any professional business presentation, you need a deck to visually present information and data to your audience, in this case, it will be for your attendees.

Your PowerPoint deck will be the main visual aspect of your webinar. The purpose of the slides is to display all of the most important information being covered as the webinar progresses. Each slide will guide and support the conversation, helping maintain the attention of attendees.
A well-made PowerPoint deck will keep you and your audience on topic while helping the discussion move forward.
Visual cues will prompt your webinar attendees to take action. If your goal is to sell products, having a powerful call-to-action on the screen at the end of your presentation will help persuade attendees to make a purchase.
Attendees are more likely to purchase your product when all the facts have been presented clearly. Your deck displays only key information and details, making it easier for attendees to remember your main points without being distracted by lengthy bullet points throughout the presentation. The best webinar PowerPoints are simple and direct. Here are some tips to keep it to the point.
Webinar decks are a great opportunity to establish strong branding for your business. Images, icons, fonts and colors show off the personality and unique identity of your business.
Good news is, you don't have to start from scratch because Growth Marketing Pro's downloadable PowerPoint slides will help you create the perfect deck for whatever goal your webinar is set out to accomplish.
The Perfect Webinar PowerPoint Deck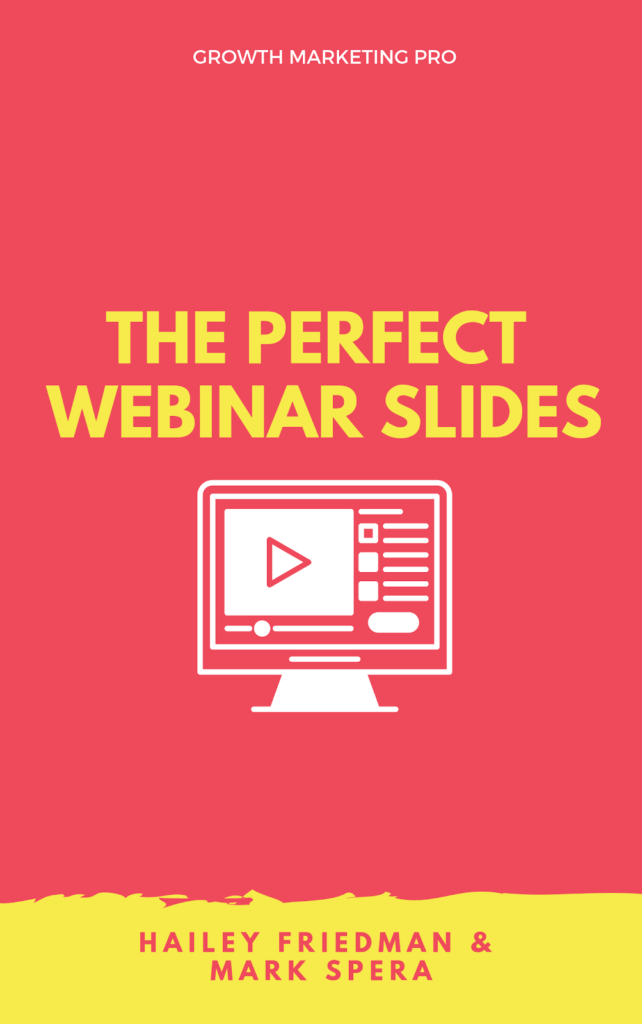 The script for your webinar should be written before you create your deck. The deck is an accessory to the script, we want your attendees listening to you and not just reading the text on your slides.
Your deck will follow the same progression as the script but will also include visual interpretations of the key ideas being shared, assisting in memory and retrieval for your attendees. This will include graphs, charts, statistics, and relevant data.
Another way to reinforce ideas or concepts is to repeat slides and continue reiterating key concepts throughout the webinar. It is easier to remember ideas when they are presented multiple times and through various perspectives.
This can be achieved by sharing an idea or concept, then providing numerical data proving why it's effective. Follow this up with testimonials showing how it works in real life.
Utilizing a mixture of quantitative and qualitative data creates a strong case for any concept.
Having a great looking deck is important, but the main focus should be the information you're communicating with attendees. With this said, you can save time by downloading our version of the perfect webinar deck.

Some things to remember while preparing your webinar slides:

Keep your slides simple by only having a few bullets, sentences or images per slide
Keep the visuals interesting by using simple charts or graphs which represent data in a creative way
Let your slides only contain major information points to be remembered
The design should reflect your brand (layout, font, colors, graphics, images, icons)
Don't be afraid to repeat slides with key ideas
Have a powerful call-to-action
Conclusion
Webinars are a foolproof way to acquire good leads and generate passive income if your business sells products that require some additional explaining.
Creating an amazing webinar begins with adequate preparation. This involves preparing the necessary materials to present your ideas.
After selecting a webinar tool that suits your business's specific needs, you should decide what the goal or goals of your webinar will be so you can produce a focused and informative webinar for your attendees.
There are a few materials that are vital in order to produce a successful webinar.
A webinar script is used to guide the host and presenters through the conversation to keep it on topic without missing a detail.
A well made PowerPoint deck provides interesting visuals which presents your speaking and selling points in a creative way while keeping your attendees on topic as well.
Both materials can be created easily with our step-by-step guides, ready for download.
Learn More