Latest posts by Hailey Friedman
(see all)
The first webinar tool was launched by Microsoft all the way back in 1996.
Microsoft's NetMeeting enabled people to connect all over the world — and even though it was way ahead of its time, the platform didn't see much adoption
Fast forward to today: webinars have exploded in popularity (thanks in part to Covid).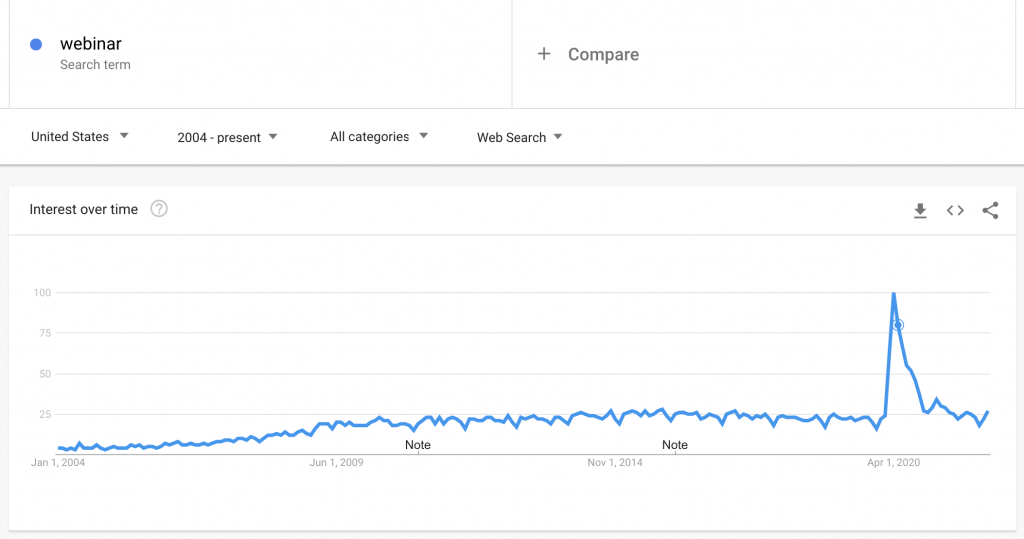 Now most companies (SaaS companies particularly) use interactive webinars to engage with users, sell products, launch features, and even run webinars automatically.
If your company wants to offer dynamic digital experiences that allow customers to interact directly with you, webinars should be a go-to strategy. Check out these webinar statistics to understand why they are core to many marketing plans.
Must-Know Statistics
These are the basic webinar stats you really should know. Perhaps one will convince you to run your own webinar!
1. There are 7 publicly-traded companies that sell webinar software
Zoom, Microsoft, On24, Google (owner of Hangouts), Citrix (owner of GoToMeeting), Cisco (owner of WebEx), and Adobe all have a hand in the webinar software industry. That's remarkable.
2. Somebody searches for webinars every second of the day
According to GrowthBar, someone searches a webinar-related keyword every second of the day — 86,400 times per day to be exact. That's almost 2.6 million searches per month.
3. 58% of B2B marketers use webinars as a part of their content marketing strategy
Content marketing is incredibly effective when it comes to acquiring customers — but for B2B companies, content is even more precious. That's because business customers make more considered purchases. Business purchases are larger and more calculated. A single webinar or blog post can make the difference between a great engagement and no sale.
4. 73% of B2B marketers state high-quality leads come from webinars
Not only are B2B marketers using webinars, they're using them very effectively.
5. 29% of all webinars come from the technology and SaaS industry
Software companies use webinars at a pretty high clip. 29% of all webinars come from software/SaaS.
6. 91% of marketers who use webinars find them successful
If only every marketing tactic could be so effective.
7. 67% of marketers are planning on increasing their investment in webinars
According to LinkedIn, many marketers are increasing their webinar investment. For software companies with big growth expectations (and deep pockets) webinars are at the front of the line when it comes to generating qualified leads.
8. By 2025, the webinar market is expected to be $4.44 billion
According to Research and Markets, the webinar market is already $2 billion+ and will swell to a jaw-dropping $4.44 billion by 2025.
Webinar Engagement Stats
What good is a webinar if no one attends? These are the webinar engagement stats to steer you in the direction of webinar perfection.
9. 65% of people register via email for a webinar
When it comes to getting people to sign up for a webinar, email marketing is your friend.
10. Webinars convert between 5% and 20% of viewers to buyers
That's right, webinars convert a huge amount of users into buyers. In your arsenal of lead generation strategies, it's one of the best.
11. 60-minute webinars attract more attendees than 30-minute webinars.
While the general belief is that an hour is the optimal duration, some reports suggest that the longer the webinar, the bigger the crowd. So even consider a 90+ minute webinar if you have a really meaty topic.
12. 93% of webinars are attended on desktop
Webinars are desktop-first. Sure you'll get the occasional mobile attendee, but you should optimize your experience for desktop viewers.
13. Tuesday is the best day of the week for a webinar
According to On24, the optimal day for webinars used to be Wednesday. But strangely, something in Covid shifted the best engagement day to Tuesday.
14. The best time for a webinar is 11 pm PST (2 pm EST)
According to On24, the optimal time for a webinar is 11 am PST. Remember, the best time for a webinar is one that fits in with the schedule of your audience. Depending on the event or your audience, holding a webinar could work well early in the morning or later in the day.
15. 40% of webinar attendees pay attention from start to finish
That's right, 40% of your attendees will stay until the bitter end. So don't trail off or forget to drink your coffee beforehand.
16. 81% of webinars include Q&As
According to On24, 81% of webinars include Q&As. I've attended at hosted countless webinars. Q&As not help engage your audience, but they give you credibility — since you'll be able to rattle off answers to their questions with ease!
17. 35% of webinar hosts use positive customer feedback as webinar talking points
Whether on your landing page, in your ads, or on your webinar, you should be including social proof — customer testimonials and press badges that prove the value of your product or service. Webinars are no different. If you can weave in customer success stories, you're going to see better engagement and conversion post-webinar.
How to get people to attend your webinar
What good is a webinar if nobody shows up? Now that you've read the stats, here are a few actionable tips to make sure you get going in the right direction with your webinar.
Also Read: The Ultimate Guide to Marketing Your Webinar and get my Perfect Webinar Script Template
Here are some other best practices for effectively marketing your webinar.
Create your webinar registration page
The registration page is the place where people can come and learn more about your webinar. Your landing page sends a professional image and proves your existence to the people.
Of course, people will have a lot of questions about your webinar and what you will be talking about. Use your landing page to answer most of their questions and talk about what they will learn and how they will benefit from attending your webinar. You could create some urgency, release coupon codes, etc. to offer discounts to those who register the earliest.
The good news is that nearly every webinar software can and should take you through all of this so you won't have to do anything from scratch. Try a tool like Demio for great registration pages and features to create urgency and drive signups.
Blast your email list
Use your email lists to tell everyone about your upcoming webinar. You may have spent months or years building up your email list, now is certainly the time to use it. Heck, go ahead and email people on your personal email list. It's optimal to email your list multiple times about your webinar. Specifically:
Two weeks before your webinar
A week before your webinar
The day before your webinar
The morning of your webinar
Half hour before your webinar
5 minutes before your webinar
Maybe your inbox is packed with webinar announcements and reminders like mine is 🙂
Post a CTA on your website
Anyone who visits your website should know that you have a webinar coming up and that they can click to join! You can use a tool like Leadpages to create pop-ups that alert people about your future webinar. I like to use exit popups to drive signups, while not disturbing my site visitors normal research and discovery.
Use social media
Find creative ways to get people's attention via social media. Use your social media accounts to build hype for your webinar and engage the potential audience. You can do things like: create polls to get people's feedback on topics for the webinar or record and share short teaser videos of your webinar.
Paid social media
In addition to that, try to take advantage of targeted marketing on LinkedIn advertising, Facebook and Instagram if you have a little budget to play with. LinkedIn has loads of targeting options that can help you "recruit" people to your webinar. You can target based on interests, demographics, and recent online purchasing histories to know what will attract them. Try "conversation ads" and InMail to drive the best performance.
Conclusion
It's no secret that webinars are a great way for businesses to communicate with their customers. With so many products (particularly in B2B industries), webinars enable business owners to differentiate and get the word out about their products and services.
Webinars are a great way to get your message to a large audience at once. Follow these best practices and you're bound to succeed.
Also read: