Latest posts by Hailey Friedman
(see all)
The global digital content creation industry is expected to grow to $38.2 billion by 2030
And content optimization tools are taking a large portion of that pie.
The reason? Content is the backbone of any well-rounded SEO strategy. And the best content optimization tools make it easy for marketers to create and optimize content for Google's hugely complex ranking algorithm.
Tools like GrowthBar, Semrush, Yoast and Clearscope provide incredible value to content creators.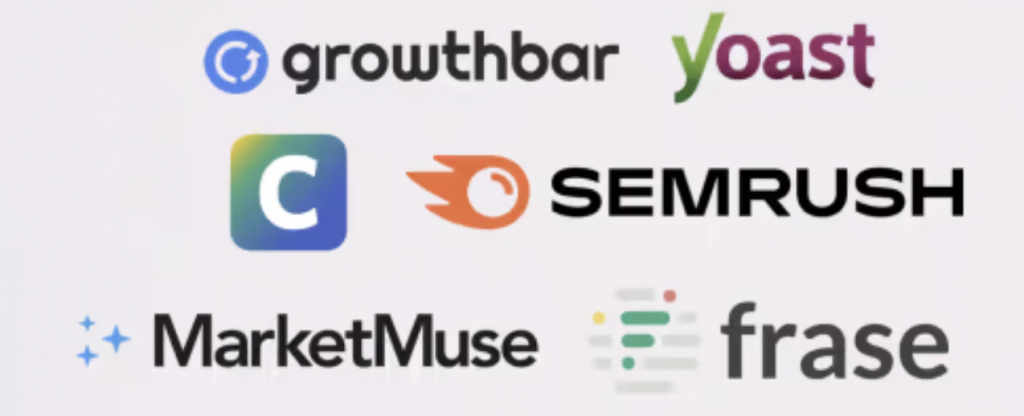 These tools help SEOs and agencies by:
Auditing content

Improving formatting
Optimizing images
Finding internal linking opportunities
And even writing with AI
And the best tools have simple, content-friendly interfaces. Some tools even work right in your browser or WordPress instance.
This post is going to help you figure out which content optimization tool is best for your specific use case at a price you can manage.
What are content optimization tools?
Using algorithms, AI, and machine learning, content optimization tools make the process of producing and optimizing content faster and simpler.
They're popular among bloggers, in-house marketing teams, agencies, and SaaS businesses.
And here's how they work:
They scrape webpages of top-ranking posts and find commonalities between them. They take the best of that information and combine it with NLP (natural language processing) to display recommendations to content creators and marketers. Those recommendations should reveal the most data-driven way to rank for the given search keyword. See it in action with this screenshot from GrowthBar: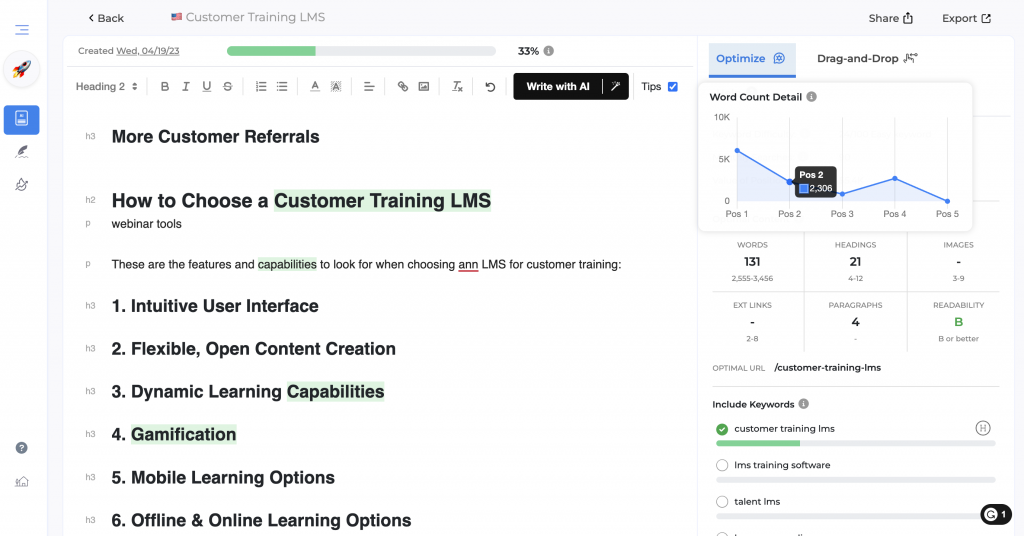 All the tools on this list will help with:
Streamlining the brainstorming, writing, and publishing process, including directing any writing staff
Optimizing your content for search engines by providing recommendations for keywords, headings, post length, and more
Making more content faster by providing keywords, content briefs and outlines, and AI-written pieces or outlines you can base your writing on
Predicting content success by determining ease of ranking for specific keywords and how to change your content to best rank for it (many do this by giving "content scores" as you post)
So which content optimization tool is going to help you become a topical authority in your space and rank on Google? I'll cover that now!
The best content optimization tools for SEO
1. GrowthBar

GrowthBar is a content optimization tool for results-driven entrepreneurs and marketers. GrowthBar helps users uncover opportunities with keyword research, then plan, write and optimize content.
GrowthBar is built on years of market research and OpenAI to give users the most accurate, actionable content optimization process. It scrapes hundreds of results in the Google search engine results page (SERP) and tells you everything you need to know to rank for a given keyword.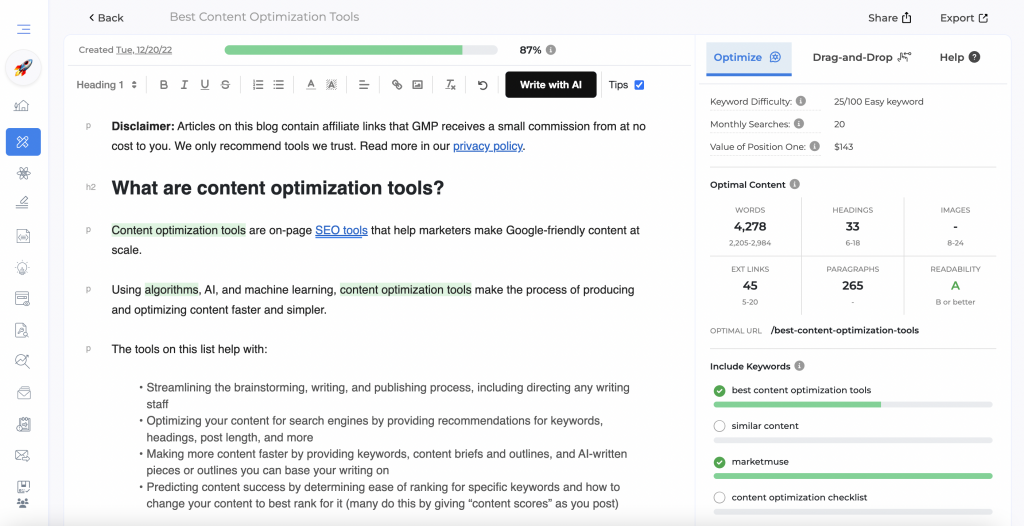 GrowthBar Features
You can import any article on the web to optimize it directly in GrowthBar
GrowthBar presents SEO tips in delightful dashboards that include word counts, headers, images, titles, readability scores, LSI keywords, and more
Offers internal linking recommendations
Integration with Grammarly
GrowthBar is a content generator. It was the first SEO tool in the world to use AI to generate blog posts in a couple clicks.
GrowthBar also has a number of research tools including keyword research and competitor research.
GrowthBar Pricing
GrowthBar Customers
TeePublic
Square
Postmates
AspireIQ
Minted
Bottom Line
GrowthBar is the most complete content optimization tool for bloggers, trusted by thousands of entrepreneurs and marketers at companies you've heard of–including MagicJack, Bill.com, TeePublic, Codeless, and Minted.
It gives you optimized content plus…curated insights, billions of keywords, and content in one quick, user-friendly way. GrowthBar has 4.9/5 stars on G2.
2. Yoast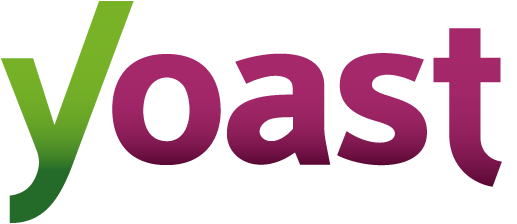 Yoast is an SEO WordPress plugin that has been optimizing content for SEO since 2010. The brand has become synonymous with WordPress SEO over the years. As you create blog posts and add pages in WordPress, Yoast gives you suggestions on how to optimize them with additional keywords, meta descriptions, content length and clarity, plus a whole host of other suggestions. It's a complete content optimization solution for a blogger using WordPress.
Features:
Keyword density, linking suggestions, optimal URL, and other suggestions in your WordPress blog posts
Create meta descriptions
Run redirects on your site
Schema markup
See a preview of what your finished page looks like
Easily edit your URL slug, run redirects from old pages to new, breadcrumbs, and more
Duplicate content checker
Handles technical stuff like robots.txt, .htaccess, sitemaps, and more
Pricing: $99/year
Customers: Not listed, probably because there are over 12 million active users…
Bottom Line:
Yoast is an established, well-trusted WordPress SEO plugin that users love, and has been a favorite here at Growth Marketing Pro since the beginning. Just know that you'll need another SEO tool in addition to Yoast, since Yoast is not equipped to do keyword research and competitor research, so combining Yoast and another SEO tool is necessary. Yoast has 4.6/5 stars on G2.
Also read: The 8+ Best WordPress SEO Plugins
3. Clearscope

Clearscope is a content optimization tool that uses IBM Watson to analyze high-ranking content on search engines and provide suggestions based on this data and SEO best practices. Basically, you tell Clearscope a keyword you want to rank for, say "content optimization tools," and it reverse-engineers the top results on Google for that term.
Clearscope will give you a list of key terms and topics as well as competitors who are currently ranking for that term, and a content optimization outline for whichever topic you click "optimize." This outline helps you understand the scope of work, decide what topics to cover, and the length of your post. It's very similar to GrowthBar.
While you're working, it assigns a content score based on your post's word count, readability, and search volume, as well as how to improve this score. It also audits existing content and gives suggestions for ways to improve it, including content length insights and readability score.
Clearscope advertises its natural language machine learning, which enables it to even make suggestions about article tone and additional keywords that should be included for your content to rank. Plus, they have keyword research capabilities like many of the other tools.
Features:
Competitor content analysis
Content length suggestion
Real-time content assessment and overall grade
Content optimization recommendations, including additional keywords to put in your article
Google Docs & WordPress integration
Unlimited sharing and exporting
Free onboarding and training
Keyword planner
Customers:
IBM Watson
YouTube
Hubspot
Shopify
Deloitte
Adobe
Webflow
Pricing:
Essentials: $170/month
Professional: $350/month
Enterprise: Custom
Bottom Line:
Clearscope makes on-page SEO insights as clear and accurate as can be. If you want to know how many words a post for a specific keyword should be, Clearscope has you covered. If you want to know which additional keywords to include in a particular article, Clearscope will suggest them. Reviewers on G2 give Clearscope an average score of 4.9/5. 
Clearscope is easy to use–you can easily train your writers to use it in a few hours–and it really works. It's got a host of useful features, but…the price tag is extremely high, so it's probably best for mid to large-sized companies.
4. Semrush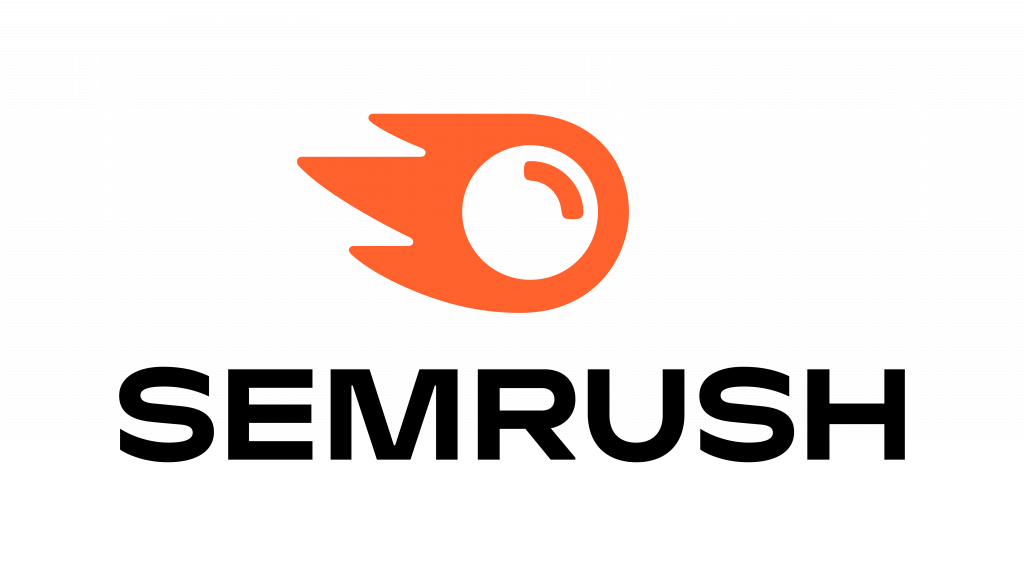 Semrush isn't just a content optimization tool. In fact, it's probably not even what Semrush is best at. It's a suite of digital marketing research tools–with more than 50 options–and is really known as a keyword research, technical SEO and competitive intelligence platform.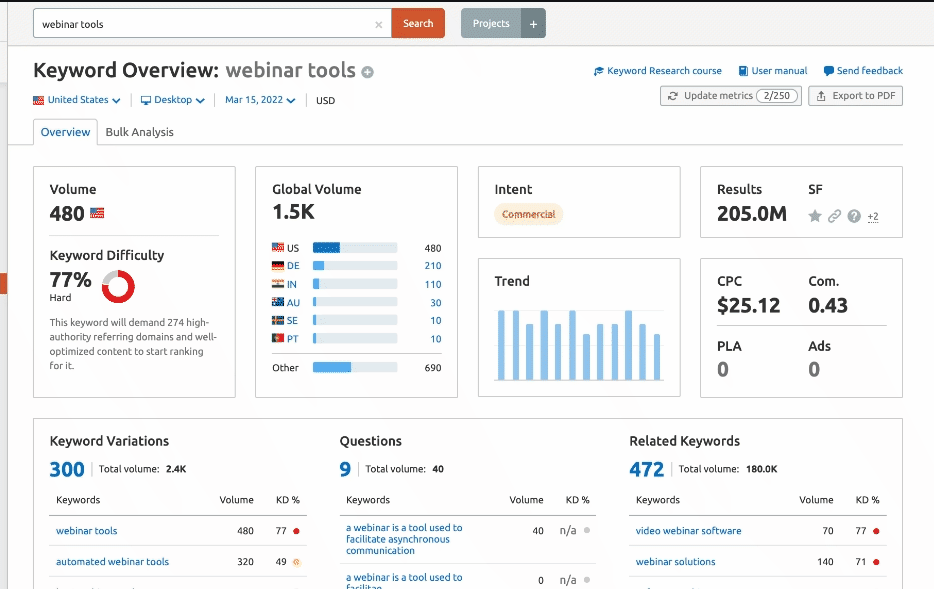 By simply typing in a URL, you can see exactly which keywords a site ranks for and get the estimated organic and paid traffic. Semrush also enables you to deep dive into any website's backlinks, paid ad campaigns, social media followings, and more.
But with actionable SEO tips, real-time content auditing, tone of voice suggestions, and readability review, Semrush does a great job helping optimize your content for SEO and offers a number of onboarding materials and tips and tricks.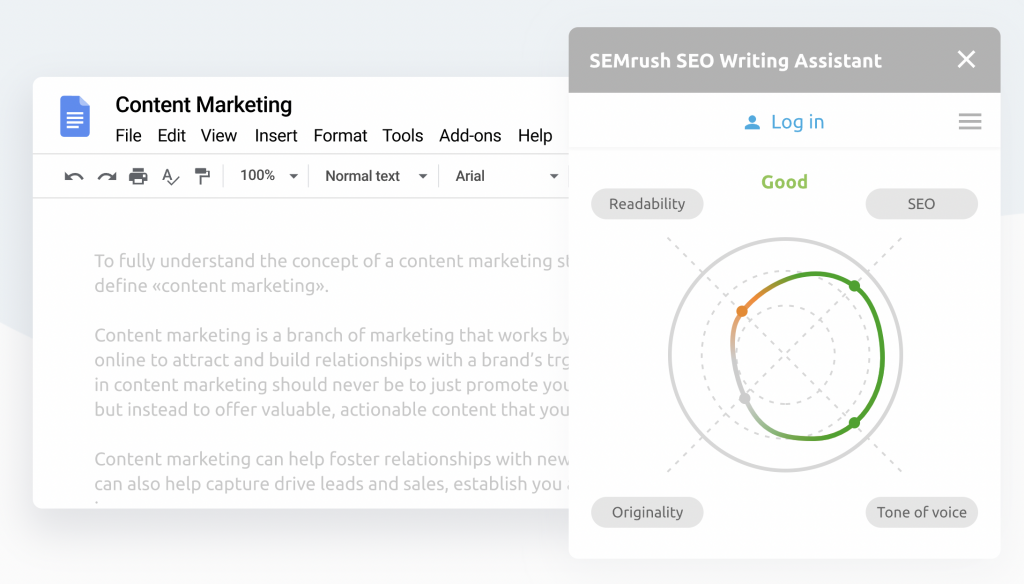 Semrush Features
SEO recommendations on content readability
Plagiarism check
Keyword tracking within content
Word count recommendations
Title optimization
Track organic keyword rankings
Position tracking
Perform website audits
Set benchmarks for data analysis
Find and analyze keywords
Competitor overviews
See competitor's paid ads
Top movers by position
Technical site audits
Mobile performance audits
Chrome Extension for keyword research
Semrush Pricing
Semrush is always running free trials, although the duration changes from time to time. They have 3 paid plans starting at $99/month for their Pro Plan, which allows you to run up to 5 projects.
You can upgrade to their Guru Plan for 50 projects and some additional features or their Business Plan for 200 projects.
Semrush Customers
Tesla
Nike
WalMart
Forbes
IBM
Bottom line
Semrush is one of the most powerful SEO suites out there. It does everything really well, and after a small learning curve–it provides a lot of information–is easy to understand. The content optimization tool isn't bad, but it's not as strong as GrowthBar or Clearscope.
I consider it an enterprise tool since it goes pretty deep in the data in a lot of places and costs $1,000+ per year to use. If you just need a content optimization tool or at least don't need 50+ different tools, you'd probably be better off trying GrowthBar or Clearscope. Semrush has 4.5/5 stars on G2.
Also read: Semrush vs Ahrefs vs Moz vs GrowthBar
5. Frase

Frase is a content optimization tool that identifies the content most relevant to your research and then provides a "smart outline" for your content.
It also automatically generates content briefs that you can share with any writers on your project, so they know exactly what to include to rank that piece well. You can also make your own template brief with detailed brand guidelines.
You can treat Frase's platform like any other word processor and write your copy directly into the platform. As you write, a bunch of "smart insights" will pop up next to your document, as well as a content score that you can improve by including some of the topics mentioned in the ranking articles.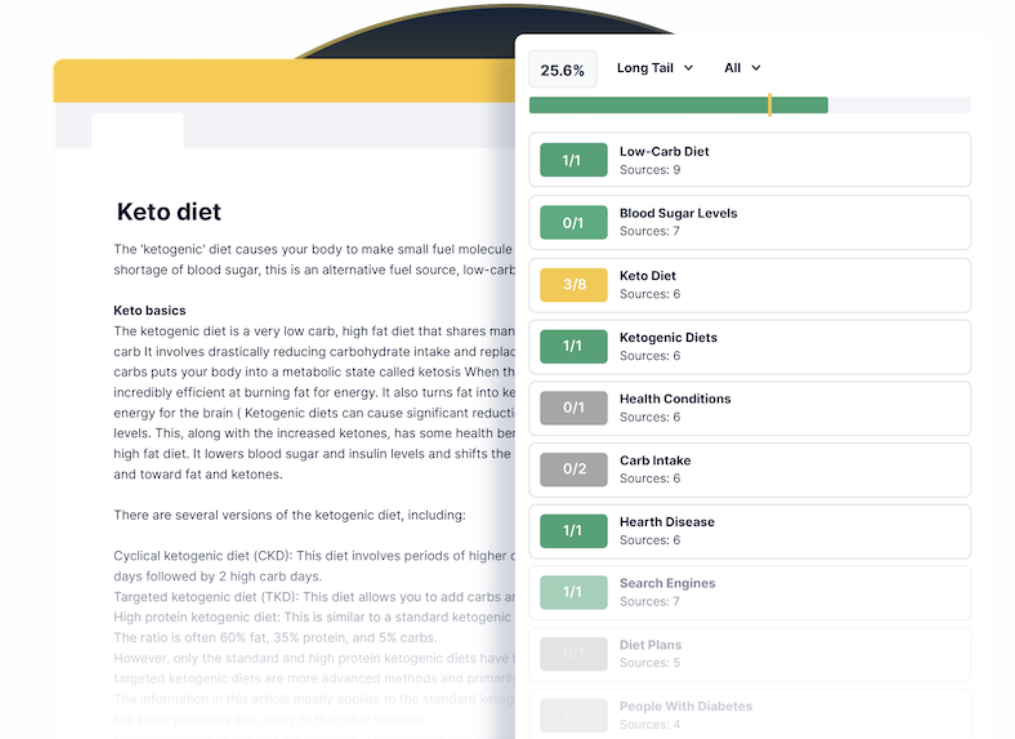 Frase also helps you optimize your content workflows, allowing you to invite writers to your projects, assign due dates, tag documents by stage, and export to WordPress.
Features:
Automatically generated content briefs, sentences, and paragraphs
AI templates for blog intros, FAQs, headings, and more
Google Search Console analytics & insights
SEO guidelines with content scoring
Optimizes content workflows
Content strategy template
Customers:
Coursera
Talk Space
Merkle
Digitas
PTC
Career Karma
Pricing:
Frase has three pricing plans and an SEO add-on for $35/month. Plus, a 7-day free trial.
Basic: $44.99/month
Team: $114.99/month
Enterprise: Custom pricing
Bottom Line:
Frase is definitely a good option for a content optimization tool, especially given its price point compared to the other platforms on this list. With an average of 4.8 stars on G2, Frase is keeping its customers happy with its customer support, various improvements, and their Facebook Group.
6. MarketMuse

MarketMuse is a content optimizer that uses AI-driven research on your topic to determine a personalized difficulty score for you to rank for it based on your entire content inventory. It was one of the first tools in the content optimization space.
It provides detailed content briefs that include what related topics are important and the amount of content necessary to cover these topics, and then uses natural language–not keywords–to suggest content. MarketMuse uses target content scores, subheading suggestions, related topics, internal and external linking suggestions, shareable links, and more to get your content ready to publish.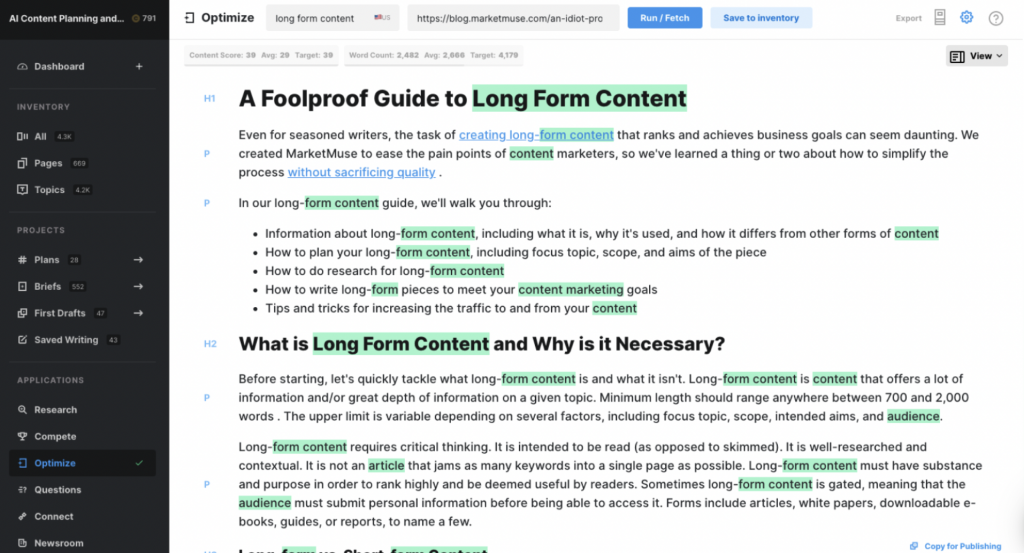 Features:
Content competition analysis
Personalized difficulty scores based on your site and its contents
Fully outlined content briefs about topics to cover word count goals and KPIs
Internal link-building suggestions and external link ideas
Predicts content performance
Inventories and audits current and past content
Client:
Discover
Jabil
Lionbridge
The Motley Fool
ISSA
Pricing:
Free
Standard: $7,200/year
Premium: $12,000/year
Bottom Line: MarketMuse is a great content optimization if you have the funding, especially with its year-long commitment. Overall, it's a good product but best for enterprise-level companies because of the really high price tag.
7. Surfer SEO
Surfer SEO is a full-service SEO company that provides SERP analyzer, content editor, keyword research, SEO audit, and a content editor extension. You can write directly in their content editor (check out their fun, interactive page that shows you just what it's like) and work to improve their continually updating "Content Score."
Their data-driven content editor model takes the guesswork out of manually optimizing your content by showing marketers what's working for the currently top-performing pages…and then how to outrank them.
Plus, manual audits of blog posts and articles can be time-consuming and prone to human error, so having the ability to have a detailed breakdown of the SERPs for a target keyword generated in a matter of minutes can be a huge advantage for people when you're trying to up your content output.
Source: Surfer SEO's fun, interactive page!
To successfully finalize your writing, you should hit the optimal terms usage and a number of structural elements, like paragraphs, headings, words, and images. Their "Content Score" goes green, and then you're reading to publish.
Surfer SEO also offers a content editor Chrome Extension that works in both WordPress and google docs, so you can use it as you go.
Features:
Optimize old blog posts, create landing pages and more
Content scores and content optimization recommendations (length and topic suggestions)
Multi-keyword analysis booster so you can rank for several keywords in one piece
Google Docs and WordPress integration
SEO-driven content briefs
SERP Analyzer
Chrome Extension for keyword research
Now also includes direct integration with Google Search Console so that you can get ongoing content optimization opportunities weekly.
Monthly Pricing:
Basic: $49/month
Pro: $99/month
Business: $199/month
Bottom Line: Surfer SEO is a solid and affordable tool for people looking to boost existing rankings and create higher-ranking content. It's especially useful for less experienced people new to optimizing for SEO and reviewers give it 5 stars on G2.
And since it's available as a web app, it's easier for your teams to use the tool and collaborate on content. It's truly a great tool for on-site SEO, but you need to know what you're looking for because it can be a bit of a data overload at times.
At a more affordable price, it's a good option for smaller businesses or freelancers.
Other Content Optimization Tools and Alternatives
In addition to these top content optimization tools, there are other great platforms that can help you optimize and improve your content.
Google Search Console

You may own a website, or maintain someone else's, but either way the Google Search Console is the ideal tool you need to improve the performance of your website. Simply put, it's an analytics tool that helps you understand the comings and goings of visitors to your site as well as the performance of your site.
The geniuses at Google created this "little engine that could" to produce better insight for website owners about the bubble around their website as it appears on Google. This bubble implies how Google views what is going on around their website, which ultimately allows for creators to maximize their promoting efforts to reach a broader audience and enhance their search engine optimization (SEO).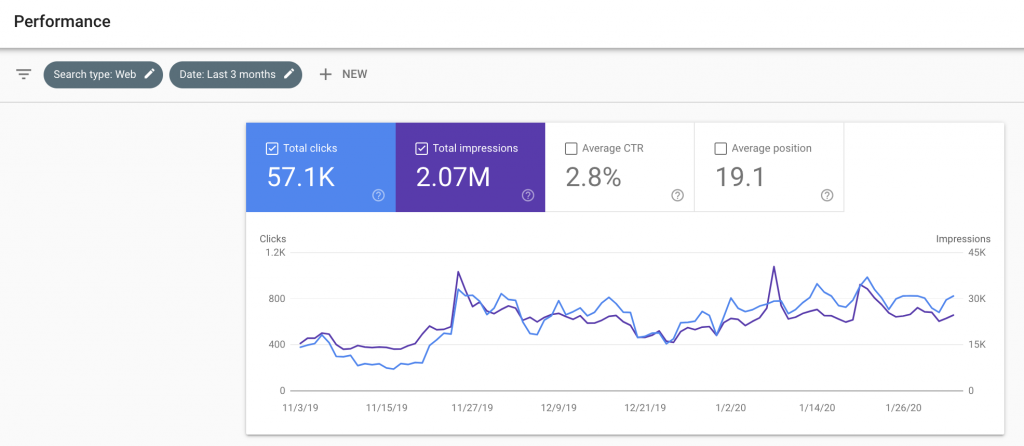 To make it simple, imagine slipping into Google's shoes and being able to see exactly how Google's crawlers see your website. The information provided to website owners through the Google Search Console includes site performance, highest-traffic queries, and keyword research.
Basically, Google Search Console is an indispensable SEO tool.
Pricing: Free
Grammarly

By now you've probably heard of Grammarly. I'd venture to say they created the content writing tool category. They recently raised venture capital at a $13 billion valuation – making them among the top 10 most valuable U.S. startups. Grammarly is an online grammar-checking and proofreading tool that helps make your writing more mistake-free.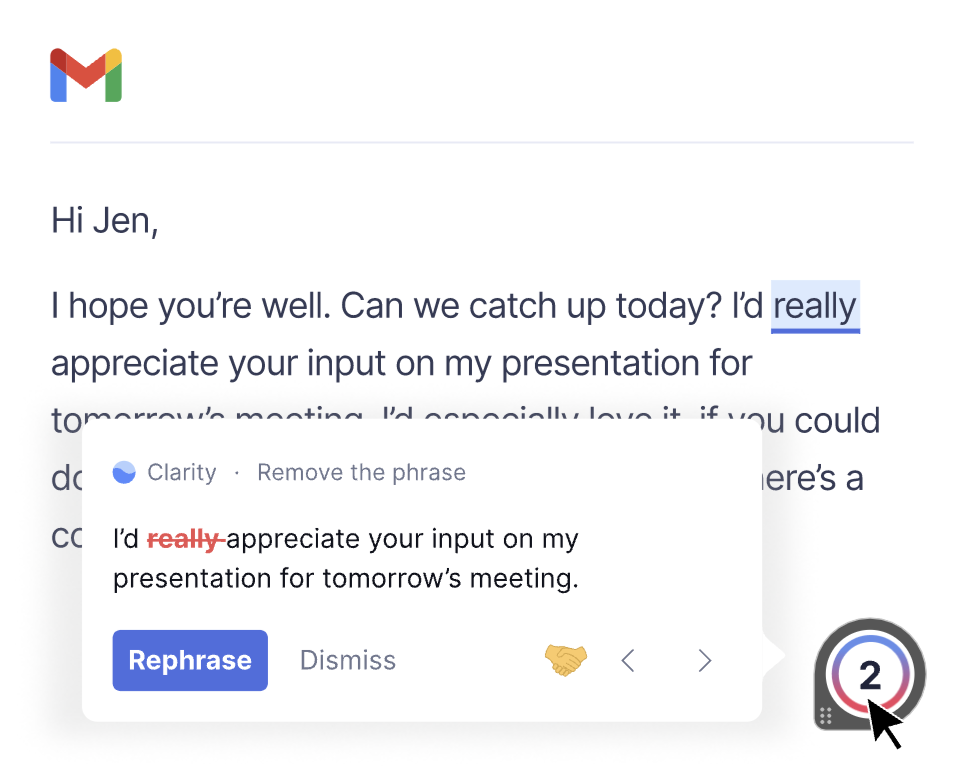 It can be accessed from any web browser and can be used anywhere. It takes a few minutes to install and then you can use it for free for as long as you need it. Grammarly spell-checks users and improves conciseness, tone, word choice, and much more – all as you write.
Pricing
Free: basic functions like grammar checker and punctuation errors
Premium: $12/mo, includes all free features plus word choice, fluency checker, tone adjustments, etc.
Business: Starts at $12.50/member/month
Hemingway Editor

The Hemingway Editor is all about taking your writing to the next level. Run-on sentences? Weak adverbs? Passive voice? Lengthy words? Not with the Hemingway app. Whether you paste your writing onto their webpage or download a desktop version, this editor makes writing better much easier.
While search engine optimization is about technical aspects of SEO, certain word counts, and specific keywords, a lot of it is really about writing well. Google is a business and they want to keep their customers (searchers) happy. How do they do that? By sharing expert content that's engaging, easy to read, and helpful.
And The Hemingway Editor gets you there! For example, I just pasted that first paragraph in the editor and it told me this:
This is saying that the last sentence in yellow is hard to read. On Hemingway, the app highlights lengthy, complex sentences and common errors–if you see a yellow sentence you're supposed to shorten or split it. While I'm not going to do that at the moment, this app is really incredible…if a little blunt. Plus, it's free. Either way–it's worth it!
Wordable
Wordable is a simple tool with a high ROI. What it does is straightforward: with a click of a button, you can upload your Google Docs drafts–multiple docs, fully formatted, and with images–into WordPress and other CMS. It also helps you add alt attributes, post meta details, and open links in a new tab, all with one click!
Since I'm usually writing long form essays or posts with lots of images, I'd wager that Wordable saves me at least a few hours per post (hundreds of hours over the course of a year).
Wordable automates one of the most tedious components of content marketing: uploading and reformatting your already-written drafts. I'm a big fan of automating the boring stuff and saving your energy and creativity for what matters (in our case, creating memorable and effective content).
Monthly Pricing:
Professional: $49/month
Team: $99/month
Company: $299/month
Enterprise: $999/month
What is content optimization?
Content optimization is the process of developing your blogs, website copy, and other online content so that it ranks at the top of Google's search engine result pages. Content optimization helps content creators and SEOs improve their:
Headings: Headings show both Google and readers how your page is organized–and are a great spot to include keywords.
Word count: Gone are the days of 600-word blogs. The top-ranking posts are going to be 1,500-2,000 words at least, but content optimization tools will provide a more exact estimate for the keyword you're trying to rank for.
Internal links: Internal links are links between other pieces of content on your site, from web pages to other blog posts. Internal links show search engines the organization of your site, how authoritative you are on the topics you're trying to rank for, and also keep readers on your site, as they go from one piece of your content to another.
External links: These are links to authoritative outside content that you use to write your blog. You can think of external links like works cited or bibliographies for school essays. You'll probably end up with a better essay when using an encyclopedia than a random Internet blog.
Keyword integration: Keywords are the words or phrases that people search in Google that you want to rank for. For example, you might have ended up at this post by typing in the keywords "best content optimization tools," or maybe "content optimization tools for SEO." You want to include them throughout your blog post, which should happen naturally if you're staying on topic and discussing a topic thoroughly. Content optimization tools also make keyword research a lot more straightforward. GrowthBar SEO even has a SEO Chrome Extension that does keyword research right on Google's search page. As a content writer, it's hands down one of my favorite features.
Images: Image optimization is also a part of content optimization. Images, videos, and other graphics keep people engaged, and accurate alt tags and captions help both Google and your readers understand your piece.
Content optimization tools–or rather, the best content optimization tools–can help you with all of that.
Content Optimization Best Practices
Even though content optimization tools do a lot of the work for you, understanding what they're doing and why is only going to help your SEO.
Titles & URLS
URLs and titles affect SEO because they impact how understandable and usable your site is. Like any business, Google wants to be as helpful as it can for its customers, so if your URL structure or title is confusing, complex, or just hard to read, it can lead to lower rankings on Google's SERP (search engine results pages).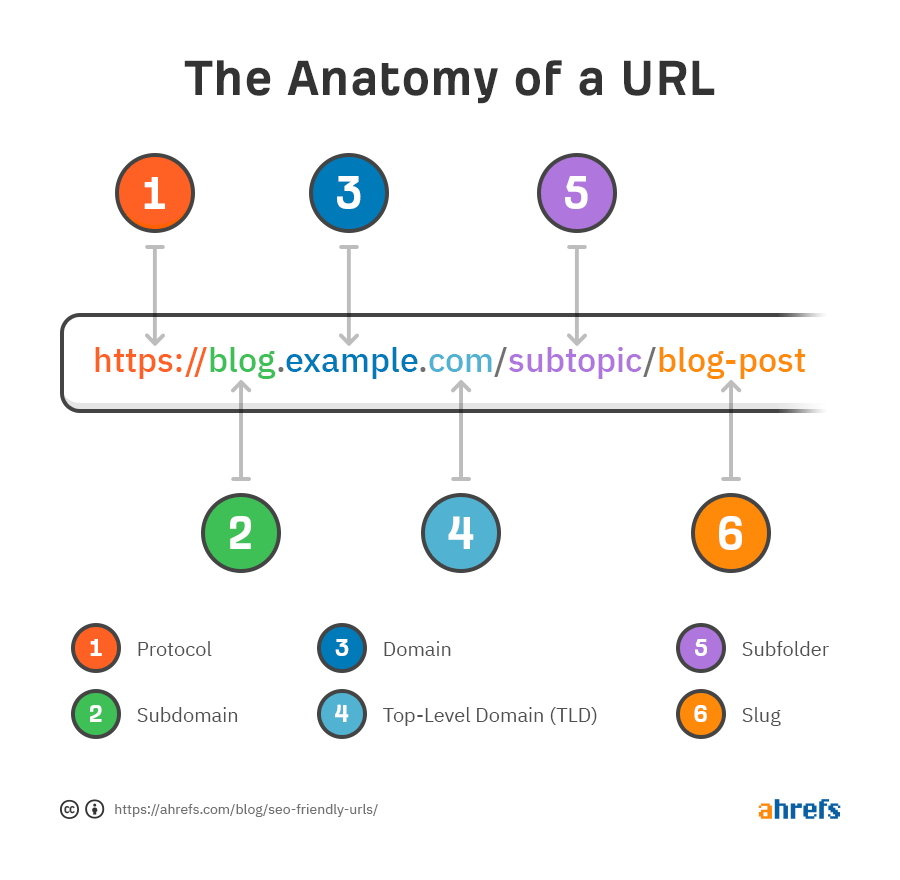 Headings
Headings (headlines) are the titles at the beginning of pages, sections, and paragraphs. They vary in size depending on the importance and location of the heading. When writing content for SEO, you're going to want to include the keywords you're ranking for in your headings.
Word count
Article length isn't arbitrary: Google isn't doing this just to make you put in work. Length helps content writers like you provide searchers with everything they're looking for, and that's how you get the top SERP rankings. For SEO, the ideal blog post length should be around 2,000 words. The 1,700-2,300 word range gives you enough time to answer your readers' queries completely without adding unnecessary content.
This length also helps you include keywords organically, slide-in CTAs to help generate leads, get more shares, and keep your reader on your page longer. But, there are some highly ranked blog posts closer to 1,000 words, and some that need 4,000 words to rank, so using a content optimization tool helps you narrow this wide range down. 
Introduction & conclusions
Your introduction is when you need to hook your searcher, so make it catchy, but also authoritative: they want to figure out as quickly as possible if your page will provide them the answer they're looking for. There are also some people who will decide whether to read an article by reading the conclusion first.
Again, it helps show them whether or not your page can be helpful for them. You want to use the conclusion to summarize the key points of the post to encourage these readers to read your entire article. Of course, make sure to include your keyword phrases: while it can be tempting to be overly entertaining in your introduction, you do need to touch on the topic you're planning on writing about.
Internal links
Internal linking is one of the most important things you can do to rank in the search engines. You'll want to fit as many as appropriate, but make sure your anchor text is representative. That means you don't want to link the phrase "top webinar statistics" to an article that's really about the best product tours software. Also, make sure you go back to older posts on your site, and link back to the new post just written. This helps visitors find the new post and will give both posts a boost.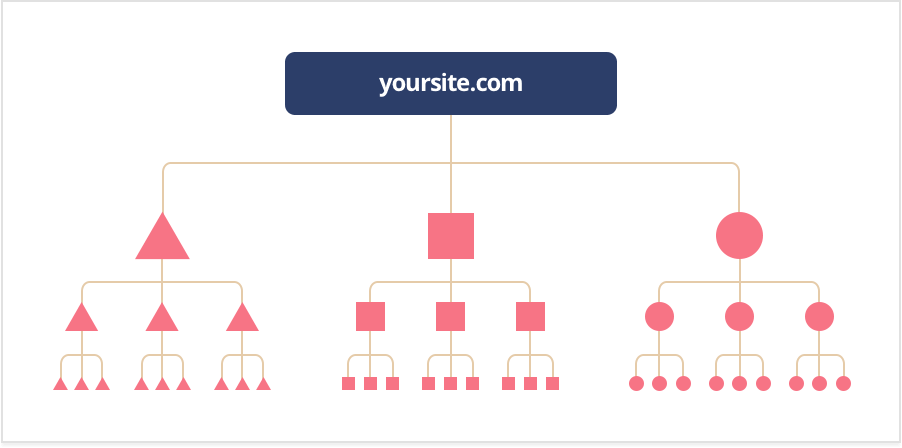 External links
The best-performing articles have a link or two to very authoritative sources in the first couple paragraphs of the article. And, if you're writing about Semrush vs Ahrefs vs Moz vs Growthbar, you'll want to link to all of these platforms within your piece. 
Keyword integration
The first (and probably most important) step in ranking for a topic is to select a list of target keywords for your web page or blog post. The art of finding those keywords is called keyword research, and it's really helpful to use an SEO tool like GrowthBar to do this. Great content optimization tools will show you a keyword difficulty score, enabling you to determine which keywords are the most worth pursuing in an SEO strategy.
Conclusion: Best Optimization Tool for SEO?
While every tool on this list is going to be great, you'll want to choose one that fits your company's needs and budget. If you want a whole suite of digital marketing options, check out Semrush. If you're trying to just improve your writing quality, take a look at Grammarly or Hemingway Editor.
If you want a content optimizer that gives you everything you need to optimize your writing for SEO, check out GrowthBar. With a free 5-day trial you can dive into its content generator, keyword research options (you really need to try the Chrome Extension), competitor platforms, and of course–content optimization.
Also read: