Latest posts by Hailey Friedman
(see all)
In today's marketing world, content reigns supreme.
Chances are you've heard about a million different content tools… and you might be confused.
The digital marketing tools on this list will cover several different categories—publishing, promotion, measurement, optimization, and productivity—so if you end up using all or most of these tools, you'll end up with a full content marketing-tech stack!
It's important to figure out which content marketing tools are the best content marketing tools that will give modern-day marketers the results they're looking for.
From new and improved CMS platforms, to SEO Chrome extensions that help you optimize your copy, pretty much every part of the content marketing process can be improved with software and online tools.
Also read: The Best Content Writing Tools (tools just for writers/bloggers)
The 14 Best Content Marketing Tools:
1. GrowthBar

GrowthBar is a must have tool for content marketers today. It has the same backlinking, Google Ads, and organic keyword capabilities of larger SEO tools, but it also has a specialty feature that make bloggers' lives way easier: a game-changing AI content generation feature that makes writing blog posts a breeze.
The content feature enables you to create blog outlines in one click based on a keyword you input.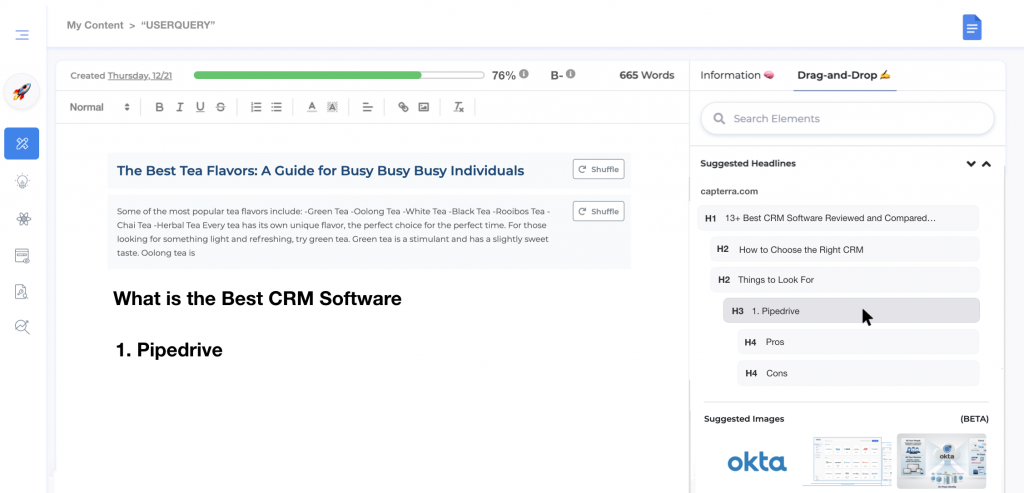 With GrowthBar, you can produce content at scale at an affordable price. Plus, they have a writing marketplace, so if you have huge content needs, you can pay for their writers to create for you.
It's much cheaper than upmarket SEO tools because it was created specifically with small businesses, freelancers, and bloggers in mind to make everyday marketing decisions. It's just as powerful at less than half the price.
Another feature I love is the Blog Post Idea Generator. So long writer's block!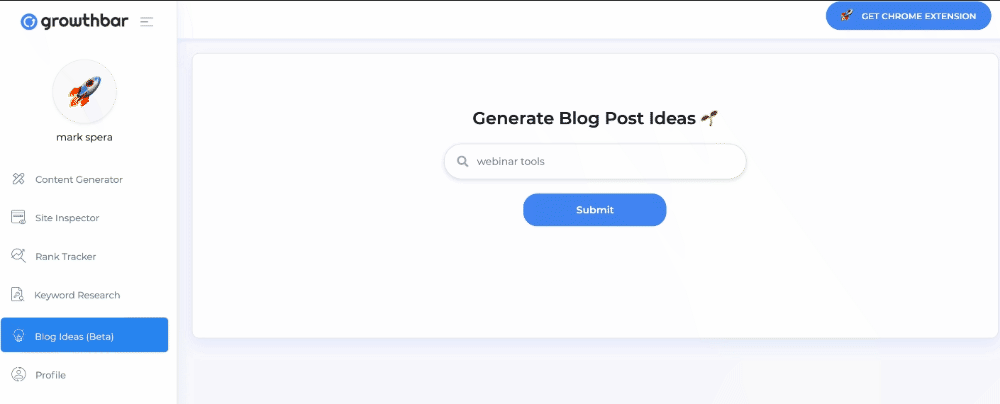 GrowthBar can help you identify exactly which strategies are going to move the needle for your business so you're not wasting time and money on the wrong places.
Additional features include:
Keyword difficulty scores
Keyword suggestions
Export data to CSV
Plus, GrowthBar has a Chrome Extension to find insights on the fly. Because let's be real, bloggers and content creators don't always have a ton of time!
Monthly Pricing:
Standard: $29
Pro: $79
Advanced: $129
2. HubSpot Marketing Free

While you may think of HubSpot as a marketing automation or CRM company, there are a number of free tools you can get started on right away. These tools range in use.
HubSpot's suite of free marketing tools is pretty neat, and the fact that it's free doesn't hurt. Some of the tools available include:
The ease of use and flexible limits on the free tools make this the perfect option for beginning blog teams (and you can always upgrade or swap platforms if you hit limits). You can use HubSpot's lead capture tools on your site like this:
Pricing: Free, unless you start using their paid marketing tools.
Another benefit of HubSpot's free marketing tools is there's a handy WordPress plugin so you can easily connect to your WordPress site.
See HubSpot reviews here.
3. WordPress

When asked what website platform one should use, nine times out of 10 I recommend WordPress. WordPress is the gold standard of website builders nowadays, running almost a third of the internet.
Why?
It's easy: Setting up a WordPress blog/site takes 10 minutes and the dashboard is really intuitive. It is designed for first-timers and is easy to understand, at least on a basic level.
Search engine optimization (SEO): What good is a blog or site if nobody sees it? WordPress naturally organizes your content in ways that optimize for Google's search engine. So your posts should get some eyes on them, just through Google search. This is completely essential if you want to build passive income.
Themes: You can make your blog or site look however you want, and more importantly do whatever you want. WordPress offers a very flexible and incredibly powerful platform that you can customize in a number of ways. WordPress has an endless variety of responsive themes so that you can customize your entire site for free.
Plugins: Once you set up your blog, WordPress makes it super easy to add all the features you'd want desires. You can capture email addresses, add analytics, live chat, build landing pages and way more.
In conclusion…it's basically a blogger's best friend.
While there are other CMS platforms you could use feasibly, I recommend all content marketers get used to WordPress and get to know the platform. At one point or another, you'll likely be using this.
Pricing: It's free, but you'll have to pay something, because domain names and web hosting isn't free. Also, depending on the plugins you want, those can vary in price.
Learn how to set up a WordPress blog here.
4. Google Analytics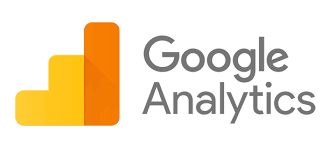 When working as a content writer, you need to measure what you're doing to know if it's working and how to optimize your content. Google Analytics is the best-in-class tool that most marketers use to analyze site performance.
Google, the largest search engine on earth, needed a tool that would help capture and quantify web traffic for its business customers. GA is the way most companies read traffic trends, measure on-site engagement rates, and accurately record goals and conversions…and then use this data to continue to improve.
Google Analytics is actually quite simple to use. You can see users, sessions, or page views, and slice them by channel (such as organic search, social, direct, and more). You can also easily find audience data such as what device people are using to read your content and which countries they're visiting from.
And those are just the basics! Google Analytics includes analytics intelligence, users and conversions, audience reports, advertising reports, acquisition reports, user flow reports, data freshness, funnel analysis segmentation, visualization, data importing, user access control, predictive analysis, and more.
Like WordPress, I recommend learning Google Analytics, if only because you'll probably end up using it someday if you're not already.
Pricing: Free, unless you're using Google Analytics 360
5. Notion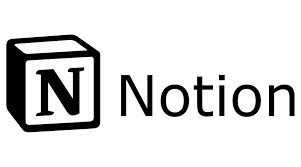 While it may not be specifically and solely a content marketing tool, Notion is an outstanding and flexible project management solution for any content marketing agency. It's also pretty fun to use.
You could theoretically use it to replace Google Docs and do all of your writing there. I don't–I still love Google Docs and do all of my writing there or with paper and pen–but it has a ton of cool features and uses.
You can use it to store content topic ideas and to manage your editorial calendar. You can actually create a calendar view and assign writers, create checklists, and add custom dimensions like price, property, word length, and more.
Here's an example from Everything But The Plant (a cannabis industry supplier):
That said, Notion can be overkill for small teams or individual content marketers. Personally, I still love using a good old Google Sheet to plan out my content, but Notion is a great option.
Monthly Price:
For personal use, basic is free and pro is $4/month
For businesses, it's $8/team member/month
Contact them for "enterprise pricing"
6. Ahrefs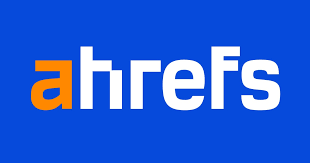 Most content marketing programs are centered on some level of SEO-driven keyword research. Doing keyword research is probably the best way to model out the expected value of your content program.
In other words, you can estimate the level of certainty that you'll rank for the keyword (its difficulty), the relative intent of the keyword (the CPC), and the estimated volume (the monthly search volume).
Keyword and SEO research can also give you a great lens by which you can view competitors' efforts.
Ahrefs is a premium competitive analysis and keyword research tool. They claim to have "the world's largest index of live backlinks" of any tool on the market. Ahrefs has invested in data harvesting, so they likely have the most accurate third-party SEO information available.
A Few Features:
Competitive analysis
Keyword research
Backlink analysis
Content analysis
Rank tracking
Site audits
Monthly Pricing:
Starts at $99/month, which opens up enough of the features for individuals and small agencies.
Pricing tops off at $999/month, making it one of the most expensive tools on the market but it's worth every penny if you're putting it to good use.
They also offer a 7-day trial for $7, which is an awesome way to try out the tool without committing to a plan.
If you don't need a tool that size, GrowthBar is perfect for freelancers, small businesses, and independent content marketers.
See Ahrefs reviews here.
7. Instapage

Once you've done all of that keyword research, written your articles, planned it out in your project management tool, and published it, you'll need some sort of tooling to help you better capture leads.
A popup tool can be wonderful, and you'll definitely need a web form solution. However, if you really want to level up, you need a dedicated landing page builder.
This will help not only with content marketing (as you'll likely develop 'lead magnets' like ebooks and webinars), but if you plan on doing any paid acquisition, landing pages are a must.
Instapage is the most powerful dedicated landing page builder I know of. It's great when you're doing this stuff at a high scale.
Instapage is a straightforward landing page software with a whole suite of useful features—A/B testing, lead capture forms, completely editable templates and easy integrations with Mailchimp, Salesforce and more. (See a full Instapage review here.)
It's impossibly easy and intuitive: the Instapage editor is simple, beautiful and completely drag-and-drop!
Some other landing page software options include Unbounce, and if you're using WordPress see WordPress landing page builders here.
Monthly Pricing: Pricing starts at $149/month
Read Unbounce vs Instapage vs Leadpages vs Clickfunnels if you want to find a cheaper, but powerful option.
8. Clearscope

Clearscope is my favorite underrated content marketing tool. In reality, it's the secret weapon of the majority of smart content marketing agencies as well as in-house teams who operate at a high production scale.
Basically, it's a content optimization tool, very similar to GrowthBar. It takes a keyword you want to rank for, say "content marketing tools," and it reverse-engineers the top results on Google for the term to figure out what words and phrases should be included to rank.
It's easy to use, you can easily train your writers to use it in a few hours, and it really works.
Monthly Pricing:
Essentials: $170/month
Professional: $350/month
Enterprise: Custom
9. Wunderkind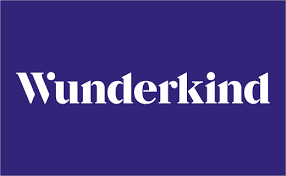 Having already mentioned a few lead capture tools here (HubSpot and Instapage), I wanted to mention my favorite digital persuasion tool: Wunderkind, formally BounceX.
This is one that is probably above the price point of mainstream content marketers, but if you're at a larger company or know the value of building a big email list, you'll want to look into Wunderkind's services. They offer solutions primarily for retailers, travel companies, and publishers.
They're not only the best popup tool in the industry, but they also have a suite of integrated products that help you automate and personalize all of your lead nurturing activities, from triggered emails to user ID resolution and SMS messaging solutions.
It's a world class product, and serious content teams should look into this one.
Pricing: You can get a pricing estimate here.
10. Canva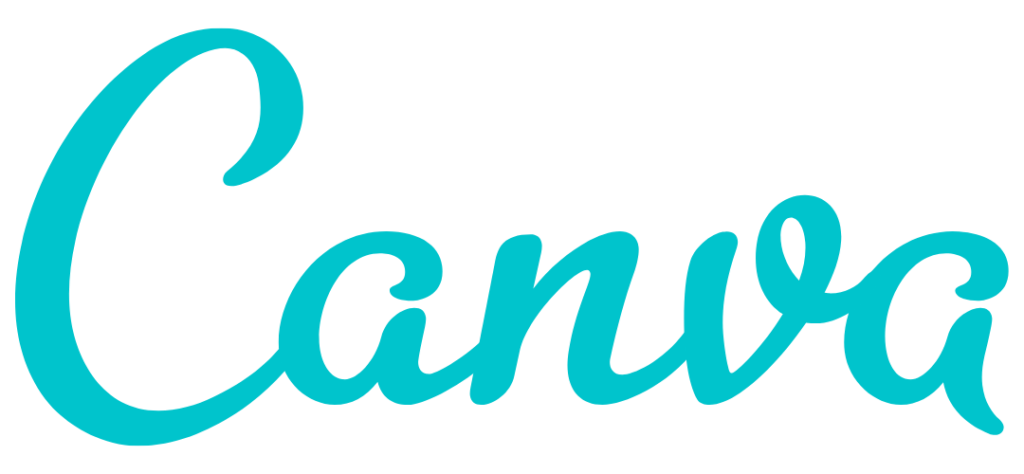 The best content includes helpful visual materials as well as engaging written content. I'm not sure about you, but I'm no graphic design guru.
Canva is a tool for those of us who haven't spent years training as a graphic designer. Even a novice like myself can create stunning graphics for social media, charts and tables for articles, and even longer infographics.
Canva enables small and medium size businesses to create customizable graphs, prints, and presentations with professional layouts, templates, frames, voice icons and more.
Canva has a media library, text and image editor, and a whole suite of tools that help you to make fun, professional images without needing graphic designers. It's a favorite tool for marketers who need to create pixel-perfect images for ads or landing pages quickly.
From business cards and flyers to videos and presentations (and more), you can pick from hundreds of templates, designs, fonts, images, and more for whatever project you have.
Their free option is great, but if you want access to all their tools, stock images, and features, premium is the way to go. For classrooms and non profits, the pro option is free!
Pricing: Use it for free! Premium starts at $119 a year
11. Unsplash

I use a lot of imagery in my content. Typically I try to source original images, but that's not always possible!
I've got to outsource my photographic needs from time to time. Like everyone on earth, I find most stock photos quite cheesy and ineffective, which is why I turn to Unsplash.
It's a community of photographers who offer their images free to use and without attribution. You can find pretty much any type of photo here. It's an invaluable resource that I've used for years at this point.
For an even greater selection of stock photos available for use, check out The Stocks.
Pricing: free!
12. Buffer

Content promotion is important, and the lowest hanging fruit to distribute your content might just be allowing your audience to easily share your content.
Social media management tools are prevalent, but in my opinion, most are overpowered for our basic use cases and the user experience can be quite frustrating. Perhaps a larger team needs something like Hootsuite, but I've always enjoyed the simple and effective tools Buffer produces.
You'll have access to widgets you can place on your blog posts that allow for easy sharing, and you can schedule and plan out your other social media posts. Depending on your team, members can have "approval request" access that allows them to create drafts that you can then approve and schedule.
It's one of the most intuitive social media scheduling platforms to use, and also has an analytics option that you can purchase separately.
Monthly Pricing (for Publishing):
Start free!
Pro: $15/month
Premium: $65/month
Business: $99/month
13. Convert

A/B testing is incredibly important in content marketing, event though it's often underutilized (and very misunderstood) by marketing teams.
Many marketing tools now have embedded A/B testing functionality, but I don't always trust them. They usually only include their own "black box statistics," which are normally one-size-fits-all. You're better off having a dedicated testing tool and analyzing the data on your own (i.e. sending it to a database or Google Analytics).
There are many A/B testing tools out there, but my favorite all around solution is Convert. It's got all the features most companies would want from something like Optimizely, but it's more affordable.
Additionally, they've got great customer service and have placed privacy as a core focus in their upcoming roadmap and company vision.
Monthly Pricing:
Kickstart: Starts at $699/month
Specialist: Starts at $879/month
Leader: Starts at $1,899/month
14. Wordable

Wordable is a simple tool with a high ROI. What it does is straightforward: with a click of a button, you can upload your Google Docs drafts–multiple docs, fully formatted, and with images–into WordPress and other CMS. It also helps you add alt attributes, post meta details, and open links in a new tab, all with one click!
Since I'm usually writing long form essays or posts with lots of images, I'd wager that Wordable saves me at least a few hours per post (hundreds of hours over the course of a year).
Wordable automates one of the most tedious components of content marketing: uploading and reformatting your already-written drafts. I'm a big fan of automating the boring stuff and saving your energy and creativity for what matters (in our case, creating memorable and effective content).
Monthly Pricing:
Professional: $49/month
Team: $99/month
Company: $299/month
Enterprise $999/month
Conclusion
I love finding and trying out new content marketing tools, but I find myself returning the same cast of familiar and highly useful tools I've mentioned on this list.
There are others I'll use from time to time. For example, I love setting up reporting in Data Studio and piping in ranking data from Google Search Console.
But…I still believe that the 14 content marketing tools on this list will give you more than enough to build, expand, and scale a content marketing channel in 2021.
If you've found any other unique and interesting tools I may have missed, especially new categories of tools, I'd love to hear about them. Please comment below to let us know!