Latest posts by Mark Spera
(see all)
Content is everywhere. It's pretty much the foundation of the internet.
Luckily for creators, there are tools that can help speed the content writing process up — which is a good thing, because no one likes writer's block.
Content writing can help with a social media presence, SEO, company branding, and even lead generation. There are hundreds of tools and I've narrowed it down to way less than that. These are the best content writing tools.
Also read: The Best Content Marketing Tools (includes non-writing tools)
The best content writing tools
1. Grammarly: best for grammar

Features
By now you've probably heard of Grammarly. I'd venture to say they created the content writing tool category. They recently raised venture capital at a $13 billion valuation – making them among the top 10 most valuable U.S. startups. Grammarly is an online grammar checking and proofreading tool that helps make your writing more mistake free. It can be accessed from any web browser and can be used anywhere. It takes a few minutes to install and then you can use it for free for as long as you need it.
Grammarly spell checks users, improves conciseness, tone, word choice, and much more – all as you write.
Features
Grammar checker, word choice
Sentence rewrites
Tone adjustments
Plagiarism detection
Word choice
Fluency checker
Save snippets, create a tone profile, create style guides, and more with the business plan
Integrations with web browsers, desktop apps like Slack, Microsoft product suite, email clients, and more
Pricing
Free: basic functions like grammar checker and punctuation errors
Premium: $30/mo, includes all free features plus word choice, fluency checker, tone adjustments, etc.
Business: Starts at $120/mo for 10 users
2. GrowthBar: best for SEO writing

GrowthBar is an SEO suite and AI content generator for content creators (bloggers). GrowthBar enables users to plan and create SEO content at scale.
Do market research, find keywords, and create content outlines with the click of a button. Once you've created an outline (which comes with an AI generated title and intro paragraph), you can write in the content editor and GrowthBar will score your work for SEO-readiness. Thousands of companies use GrowthBar, including Square, Postmates, Teepublic, Minted, Spekit and more.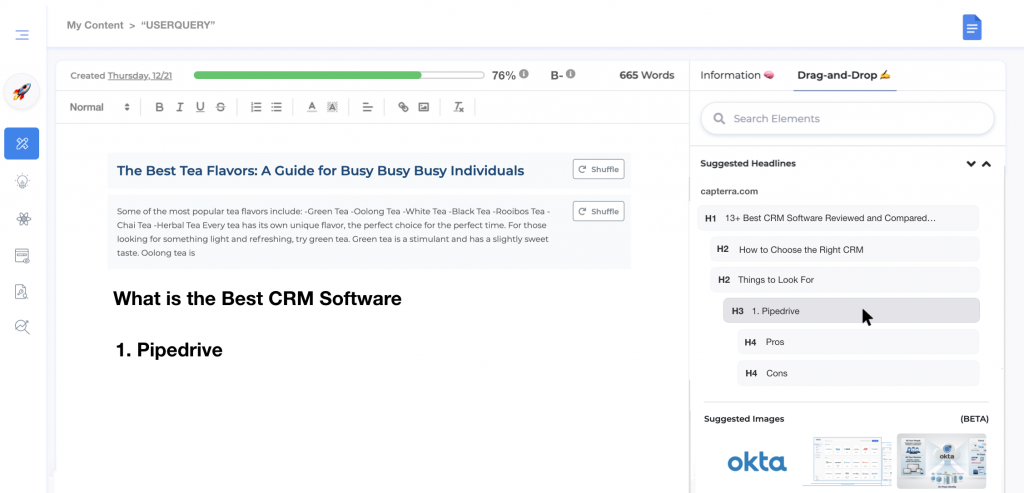 Features
Generate content in one click for any Google search term and get recommended keywords, keyword density, images, links, word count, optimal URL, and more
AI-generated blog ideas
Competitor metrics like domain authority, organic traffic, paid keywords, backlinks, and more
Billions of keyword suggestions
Keyword competition and CPCs
Rank tracking
Chrome Extension for insights on the fly
Pricing
Standard: $29/mo, create 15 AI outlines/month, track 25 keywords, unlimited keywords and backlinks
Pro: $79/mo, create 50 AI outlines/month, track 75 keywords across 3 sites, unlimited keywords and backlinks
Agency: $129/mo, create 150 AI outlines/month, track 150 keywords across 10 sites, unlimited keywords and backlinks
Also read: GrowthBar vs Semrush vs Ahrefs vs Moz
3. Copy AI: best for short-form content

Copy AI is one of the newest content writing tools, but it's come on the map with a bang. They've raised over $10 million for their AI copy generation tool that promises to help marketers create email copy, social media copy, sales copy, and almost every other form of content you can think of.
It enables users to pick a use case, enter the subject of their copy, choose a tone, and voila! Copy AI spits out written text that is over 99% original using OpenAI's GPT-3.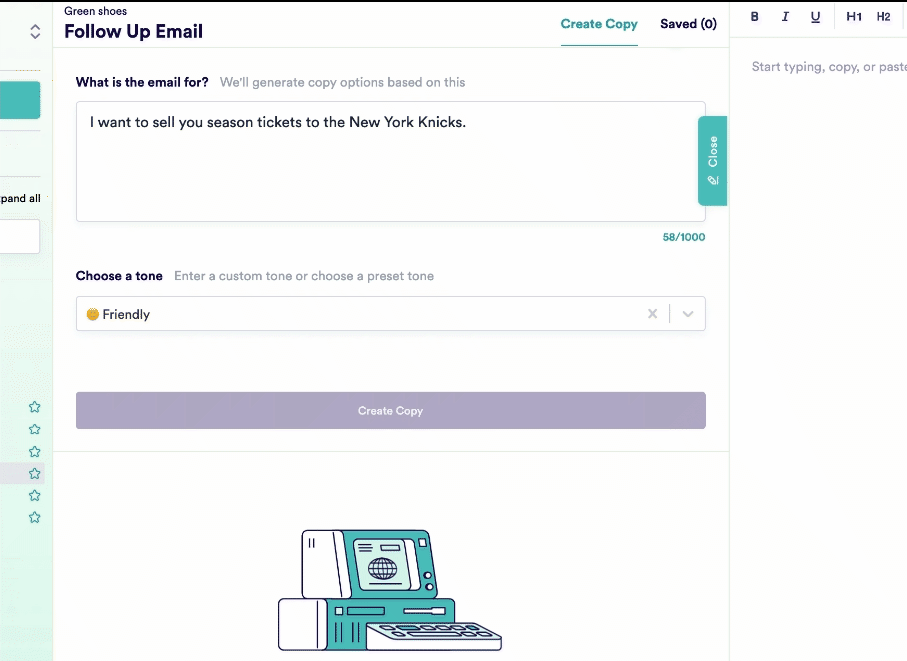 Features
Features over 90 templates including product descriptions, Facebook Ad copy, Google Ad copy, email subject lines, Google descriptions, brand slogans, sales copy, story intros, YouTube video ideas, and much more
Team collaboration features
Works in over 20 languages
Pricing
Solo: $35/mo
Business: inquire for pricing
4. Yoast: best for WordPress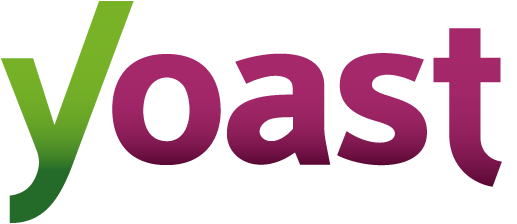 Yoast is an SEO WordPress plugin that has been around since 2010. The brand has become synonymous with WordPress SEO over the years. As you create blog posts, and add pages in WordPress, Yoast gives you suggestions on how to optimize them with additional keywords, meta descriptions, content length and clarity, plus a whole host of other suggestions. Yoast is perfect for on-page SEO — less so for "off-page" SEO insights like backlinks and domain authority of competitor sites, but that's common with SEO plugins.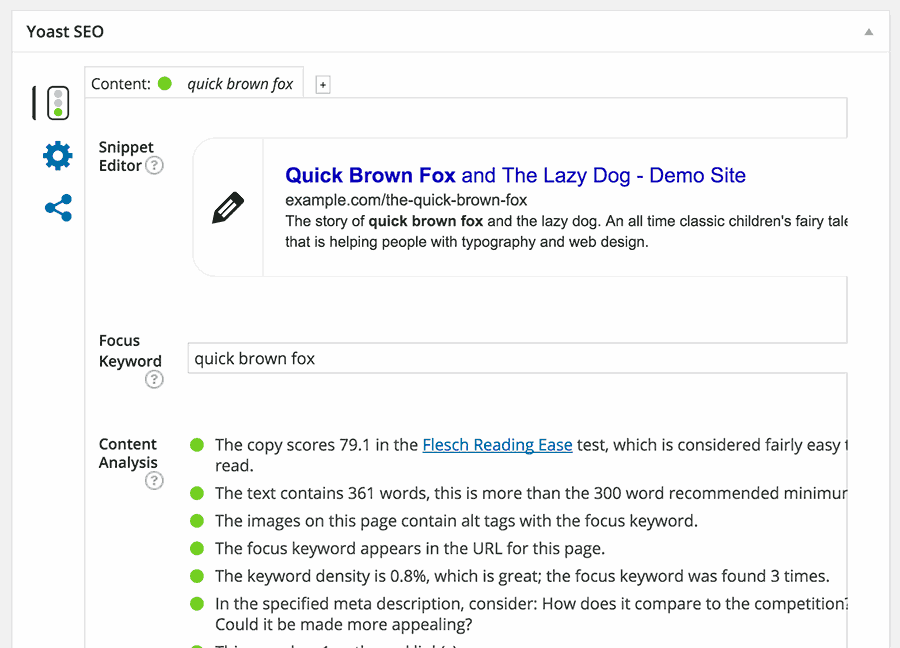 Features
Keyword density, linking suggestions, optimal URL, and other suggestions in your WordPress blog posts
Create meta descriptions
Run redirects on your site
Schema markup
See a preview of what your finished page looks like
Easily edit your URL slug, run redirects from old pages to new, breadcrumbs, and more
Duplicate content checker
Handles technical stuff like robots.txt, .htaccess, sitemaps, and more
Pricing
Also read: Yoast vs Rank Math vs SEOPress vs AIOSEO
5. Jarvis

Jarvis (formerly Conversion AI) is an AI-powered content generator. Like Copy AI, it has many functions, including blog post topic ideas, product descriptions, social media posts, Google Ads, product descriptions, YouTube video ideas, landing page copy, salesperson outreach copy, and much, much more.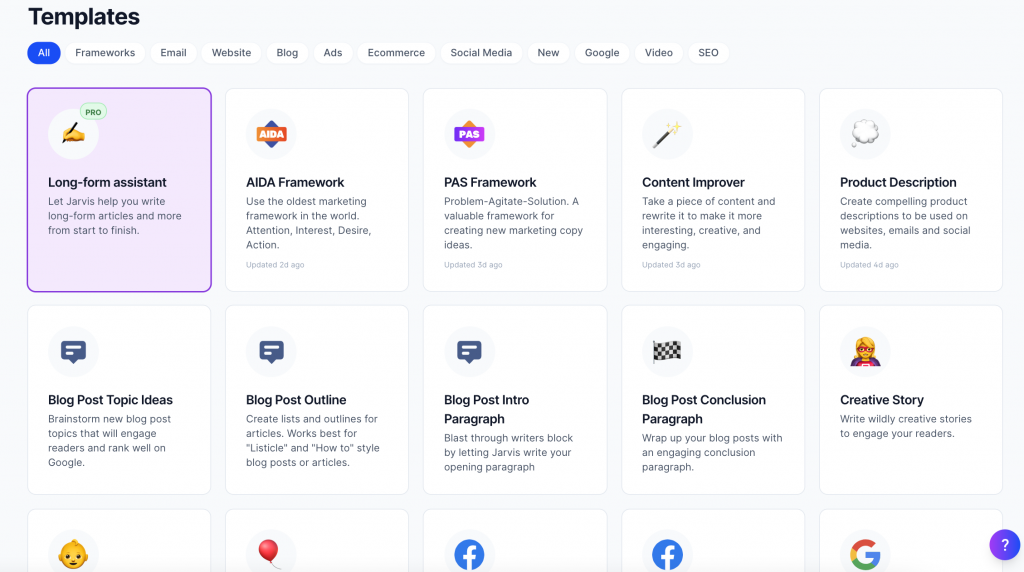 Features
Over 40 templates that produce AI copy
Long form content assistant that allows users to create full blog posts with AI assistance
Team collaboration
Large Facebook community
Pricing
Starter: $29/mo
Boss Mode: $59/mo — Boss Mode is Jarvis' long-form content editor
6. Rytr

Like Copy AI and Jarvis, Rytr is a jack-of-all-trades when it comes to creating copy. It uses AI to generate unique copy for a number of use cases, including business pitch ideas, brand names, calls to action, email, Facebook, Twitter, and LinkedIn ads, product descriptions, meta descriptions and more. It's a straightforward tool that generates unique copy in seconds.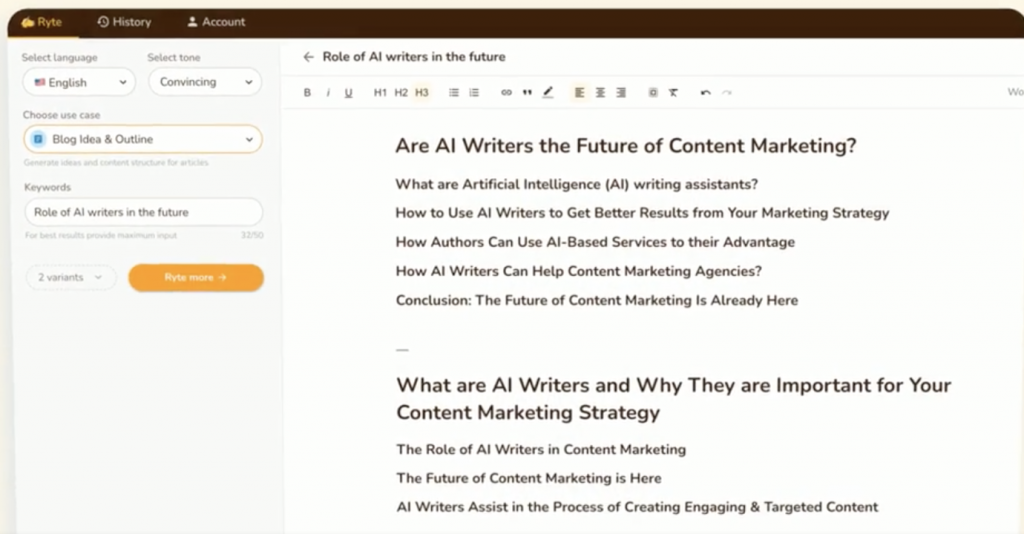 Features
30+ use cases
30+ languages
18+ tones you can select from (convincing, awestruck, inspirational, etc.) to add personality to your content
API
Pricing
Free: $0/mo, generate 5,000 characters per month
Saver: $9/mo, generate 50,000 characters per month
Unlimited: $29/mo, generate unlimited characters per month
7. Surfer Seo
Surfer SEO is a full-service SEO company that provides SERP analyzer, content editor, keyword research, SEO audit, and a content editor extension.
Their data-driven content editor model takes the guesswork out of manually optimizing your content by showing marketers what's working for the currently top-performing pages…and then how to outrank them. Plus, manual audits of blog posts and articles can be time-consuming and prone to human error, so having the ability to have a detailed breakdown of the SERPs for a target keyword generated in a matter of minutes can be a huge advantage for people when you're trying to up your content output.
To use Surfer SEO's content editor tool, their AI technology checks the prominence of each word on competitor's pages based on a topic. Then, it gives you the most accurate and competitive guidelines for you to start working in your content editor.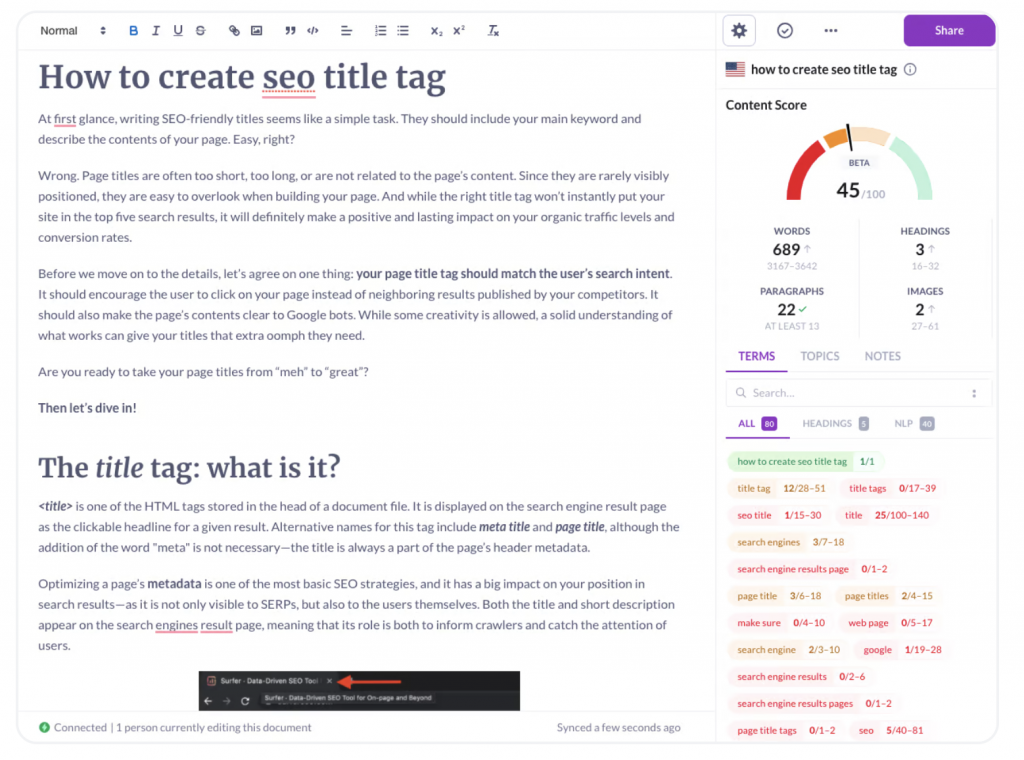 Features
Optimize old blog posts, create landing pages and more
Content scores and content optimization recommendations (length and topic suggestions)
Multi-keyword analysis booster so you can rank for several keywords in one piece
Google Docs and WordPress integration
SEO-driven content briefs
SERP Analyzer
Pricing
Basic: $59
Pro: $99
Business: $199
Also read: Clearscope vs Frase vs MarketMuse vs Surfer SEO
8. Almanac
As a writer, it's essential to have the ability to create documents and collaborate on them in real-time, no matter where you're located. A crisp, clean, and aesthetically pleasing workspace can make all the difference in your mindset when tackling a project, and this is where Almanac really stands apart from other writing tools.
With it, you'll be able to:
Personalize your work with dynamic, fun embeds
Easily track and merge changes between files and connect versions
Stay creative and productive
Through Almanac's visually stunning and user-friendly workspace, you can fuel your creative writing process without hesitation, whether you're making a workplace internal wiki, creating an employee handbook, or chipping away at your next novel. With its custom metadata and nested folders, it's simple to keep documents organized and easy to find.
And of course, once you are done creating your file, you'll be able to share it with the push of a button.These incredible features make it one of the best tools for writers, if not the number one tool on the market right now.
Features:
Custom styling with unique fonts and styles
Advanced version control to connect and merge docs
Track changes to see additions and deletions at a glance
Activity feed that reveals every change to the file
Comprehensive properties with searchable metadata
Pricing:
Free: $0 for unlimited guests and 25 free docs
Pro: $12/month for an unlimited number of docs and collaborators and wiki features
Enterprise: Custom pricing for larger companies who need priority support and extra features
9. Notion
Notion is a good online workspace solution for writing. Using it as a blog, you can keep track of all your thoughts and tasks in one place. You can also use it for scheduling, project management, and collaboration, as well as managing several other tasks.
Using Wiki-like dashboards is what makes Notion so powerful. Your dashboard serves as a central location from which you may access a range of resources.
In particular, Notion has everything, but setting up a collaborative environment for a large group takes time. It's important for project teams to have a solution that can be implemented instantly and requires little configuration.
Features:
Ability to make templates for your notes to save time
Customizable database can help keep track of various aspects of your life
A reliable experience, irrespective of the platform on which you will use it
UX design is smooth
Kanban boards, drop menus, and various other views are available
Collaborative options are also available
Free plans for students and personal use
Pricing:
Free: $0 for Unlimited pages and blocks.
Personal Pro: $4/month for unlimited file uploads and guests.
Team: $8/month for unlimited team members
Enterprise: Contact sales to know the price. It includes everything in the Team, plus features like SAML SSO, SCIM, and advanced security and controls.
10. Evernote
When it comes to keeping track of your writing projects, Evernote is a fairly easy-to-use tool with a classic interface and decent user base. Templates in Evernote are a good way to refine the organization of your notes. There are hundreds of note templates available in Evernote that are divided into three primary categories:
Despite its dazzling features, it falls short in a few areas. For instance, you can't utilize the application if you're not connected to the internet because there's no offline option in the free edition. Furthermore, the upload restriction of only 60 MB is insufficient for media like photos and movies, which may quickly fill up that capacity.
Features:
Improved efficiency via integrating Evernote with the Google Calendar
Keep track of the most crucial information you come across online, such as saving web pages, articles, or PDFs
The ability to do advanced searches and document OCR scanning
Combined Notes and to-do feature to keep track of important things
From brainstorming to execution, Evernote interacts with Google Drive, Slack, and Microsoft Teams.
Pricing:
Evernote has four pricing options:
Free: $0 for basic functionalities.
Personal: $7.99 for sync across devices and 10Gb monthly uploads.
Professional: $9.99 for everything in the personal plan, 20Gb monthly uploads, and many more.
Teams: $14.99 for everything in professional, plus extra 2Gb uploads per user.
11. Coda
If your job requires you to jump between papers, applications, and spreadsheets, Coda can be a good choice for you. It has been regarded as the document management tool that connects everything, and Coda's building blocks may be mixed and matched by anybody to produce a document that is as complex as customized software.
These aspects include pages with limitless depth, tables that connect with one another, and buttons that conduct activities within or outside of your doc. Coda may not be as well-known as Microsoft Word or Google Docs, but it is quickly gaining traction and can soon become the de facto standard for writing and creating documents.
Features:
Collaborative features for teamwork that boost productivity
Use data and tables to create eye-catching images
Use third-party apps to extend your app's functionality
Autopilot the repetitive yet important tasks
Restore any modifications made in the past 30 days using the history function
Pricing:
Free: $0/month for all the basic features like collaboration, Kanban boards, tables, automation, and powerful formulas
Pro: $10/month for unlimited doc size, 30-day version history, custom branding, and access to coda experts
Team: $30/month for unlimited automation, unlimited version history, doc locking, and sync across docs
Enterprise: Custom price for SAML SSO, user provisioning, advanced access controls, and various other dedicated features for extra control.
12. Obsidian
What if you gave your notebook a brain? Obsidian is just like that. Each note in Obsidian is linked to every other node in the database, creating a vast network of interconnected notes.
Obsidian offers a few prominent features, and backlinking is the first step. Using the [[Link Page]] bracket, you may link a page to another note when creating notes. These notes you take are saved on your device so that you don't have to use this application by force if you want to switch to another platform.
Obsidian offers a lot of fascinating features, but individuals who aren't tech-savvy should probably choose a more user-friendly option like Almanac.
Features:
Examine all of your notes and interconnections in a graphical form
Preview content by gliding your cursor over internal links
Search through the note vault and categorize the files according to your needs
Quickly inserting bits of text into a note is made easier with the help of the template
Multiple notes may be cross-referenced with ease because of Obsidian's endlessly scalable panes
Use end-to-end encryption to sync your vaults across several devices
Pricing:
Personal: Free for personal usage. Access to API, community support, and no sign-up required.
Catalyst: $25/one-time payment for support, early access, special badges, and access to an exclusive dev channel.
Commercial: $50/per user/year for commercial use.
13. Scrivener
Regardless of how you look at it, writing a book is a daunting task, more so when you are just using a basic word processor that is not meant to write long content. Scrivener is one of the online writing tools of choice if you want to write long-form content, allowing you to hit the ground running when inspiration strikes. It lets you write, edit, and refine the organization of your work–all in one location.
Users may become frustrated and abandon the platform, as it has too many overwhelming features, such as a library, template database, endless menu selections, and an abundance of formatting panels. While Scrivener takes some initial acclimatization, it becomes more easy-to-use after some time spent with it.
Features:
Writing, researching, and organizing large papers.
There is no restriction on the number of installations.
It is available for Mac, Windows, and iOS platforms.
Images, PDFs, videos, music files, and web pages may all be imported into Scrivener projects.
Create a detailed outline of your writing with the in-built outliner.
Use metadata to find relevant information with ease.
Pricing:
Standard License: $49 for either macOS or Windows.
Educational License: $41.65 for either macOS or Windows.
iOS (Scrivener for iPad, iPhone, and iPod Touch): for $19.99.
Bundles (macOS and windows): $80 for macOS and Windows.
14. Ulysses
When using an online editor like WordPress or Google Docs to write or blog, it's easy to become side-tracked. You may always improve your efficiency by using a dedicated writing program like Ulysses.
With its distraction-free UI and extensive feature set, Ulysses is one of the finest writing programs for individuals who don't want to compromise on quality–but unfortunately, it's only available for Apple products. This means that for Windows users, it falls short of being one of the best tools for writers due to its lack of availability.
Although Wi-Fi can be found almost anywhere these days, you never know when you'll be cut off from the internet. It's a great application for what it offers, but the subscription-only price can be a bit too expensive for most users. With that being said, Ulysses is a full-fledged markdown editor that will allow you to work in a distraction-free environment.
Features:
Tons of features at your disposal
Keeping track of writing objectives
Can post to WordPress, Medium, and other platforms directly
A wide variety of views and distraction-free settings make this app more enjoyable to use
A neat and attractive user interface
In-built proofreader and editing assistant to help smooth out your work
Determine which assignments are most important, so you may focus on them first
Pricing:
Ulysses comes in two different options:
You may pay $5.99/month or $49.99/year for all the functions, depending on your needs.
Businesses and organizations can license the app outside the app store at a different rate.
15. Serene
With the help of three scientifically proven strategies to increase attention, Serene (a macOS program), you may achieve high levels of productivity. The three stages that serene breaks and organize your work structure are:
Plan your day: In this stage, you will need to plan and jot down how your day is going to be and what are your plans for the day.
Block distractions: In the 2nd stage, you will enter a session where you can shield yourself from distracting websites, applications, and various other distracting elements.
Focus enhancers: Music, countdown timers, and frequent breaks have all been shown to aid concentration, but only when used in conjunction with a well-defined strategy and the ability to work uninterrupted.
Combining these three features will help you strengthen your concentration, ensuring that you remain focused on your task and avoid becoming distracted. Although the program is excellent, the fact that it is only available for a single platform might pose a challenge for those who operate in a variety of environments.
Features:
An in-built website blocker will block distracting websites that can disrupt your workflow
Use the To-Do List feature for the creation, management, and organization of your workload
Use the phone silencer Serene provides to keep your priorities straight
Listen to the custom-curated playlist to boost your productivity
You'll receive weekly notifications on your work's progress in your inbox
Import your favorite to-do applications' task lists
Pricing:
All of the features are included in a single $4/month package, payable yearly.
16. Draft
When it comes to writing on the web, you want an app that allows you to concentrate just on the text you're using, one that outputs too many formats and can be backed up virtually anywhere. Draft offers all these features for free, making it one of the more attractive online writing tools out there.
Draft's key feature lies in its collaborative superpowers. Changes made by your collaborators are saved on their copy of the document, so you have complete control over whether to accept or reject each one. It's a good all-around choice because it caters to a wide range of experienced and first-time users, but its minimalist user interface and clean appearance will turn off the majority of users.
Features:
Publish your work to WordPress, Tumblr, Blogger, and various other sites in a few clicks
Transcribing any audio or video is as simple as using the software's built-in transcription capabilities
Look back at a previous version of your manuscript whenever you need inspiration
Enhanced version control enables you to see each editor's modifications and decide whether to accept them
A minimal user interface for complete focus
Pricing:
Free
17. Milanote
Instead of typical notebooks, Milanote is a web-based note-taking tool that considers notebooks as a canvas rather than legal pads.
An interface that looks like a pasteboard can display a variety of components, such as photographs, color swatches, links to examples of related websites, arrows, emoticons, and text. You may share your boards with collaborators so that they can make comments and collaborate in real-time with you.
Since its introduction, Milanote has achieved significant progress, but it does lack in the pricing sector. A free version with upload limits is provided, but if you want to use all of the features, it can get pricey. It would have been preferable if it could have been priced more competitively, but that is not the case.
Features:
Works well for design-related photos and notes
Milanote's drag-and-drop interface allows you to organize your project as you like
Good collaborative features on the go
The user interface of Milanote is delightfully minimalistic
It's ideal for taking notes on the fly
Any web page may be clipped using Milanote's Web Clipper
Pricing:
Free: Free usage of up to 100 notes, images, or links, 10 file uploads, and unlimited board sharing.
Pay per person: $9.99/month for unlimited notes, images, uploads, and shared boards.
Upgrade your team: $49/month for unlimited notes, images, uploads, and shared boards with priority support.
18. Roam
Rather than needing to copy and paste links, Roam is a "note-taking tool for networked cognition" that makes it easy to link your ideas together. Just like Obsidian, you can create interlinked notes. Each note has a connection to other notes, but it does not live within a notebook or a separate piece of paper. Everything is interchangeable, not because it's all in the same folder or hierarchy, but because of the relationships between the notes.
Despite being a great app, it's only web-based and it can't export in formats like docs or pdf, to name a few. Still, it creates a huge graph that has nodes connected in a vast structure where you can get an overview of all of your pages and how they're connected by looking at this graph and not many applications offer this feature.
Features:
Daily notes can be used for free-form journaling beyond the brief nightly prompts.
Roam can track daily tasks along with short- and long-term goals
You can use Roam to jot down notes simultaneously while you read your favorite book
You can use Roam Research to keep track of talks, themes, and next actions
Powerful graphical database to overview all your notes in a single place
Pricing:
Pro: $15/month or $165/year for unlimited private & public graphs along with unlimited collaborators.
Believer: $500/ for 5 years, includes everything in the pro plan along with first access to new features and priority support.
19. Dropbox Paper
Paper is a free product from Dropbox that is designed primarily to assist teams in working together on the same document that needs to have real-time collaboration. Users have some flexibility in how they generate papers within different work environments, and they can keep track of deadlines, assignments, and milestones with Paper's project management features.
Additionally, it provides the capacity to create documentation and presentations in a very minimalistic way. However, in comparison to other options on this list, it offers less features and customizations.
Features:
Straightforward to use and collaborate with the rest of your team effortlessly
Using a single shared document, you can keep track of project details, collaborate on deliverables, and solicit comments
Paper's iOS and Android apps allow you to scribble down thoughts anywhere and everywhere
Using Paper's clever formatting features and clean style, you'll be able to produce great work in no time
By creating milestones and handling approvals in a central location, cross-functional teams can work together more effectively
Pricing:
Free
The best content writing tool for SEO
If you're writing long-form content for SEO look no further than GrowthBar. As said, GrowthBar enables users to gather tons of competitive data points and keyword suggestions (with search volume and competitiveness scores) so that bloggers can plan their content.
Then when it comes to writing content, GrowthBar really excels. Simply enter a keyword and GrowthBar's AI will surface title and intro paragraph options, as well as metrics like the keywords you should include, optimal word count, number of headlines to include, images to include, and then it rounds up headlines for you to drag and drop into your masterpiece.
GrowthBar uses powerful AI and scrapes the Google search engine results page (SERP) so that you know exactly what to write to rank for your keyword.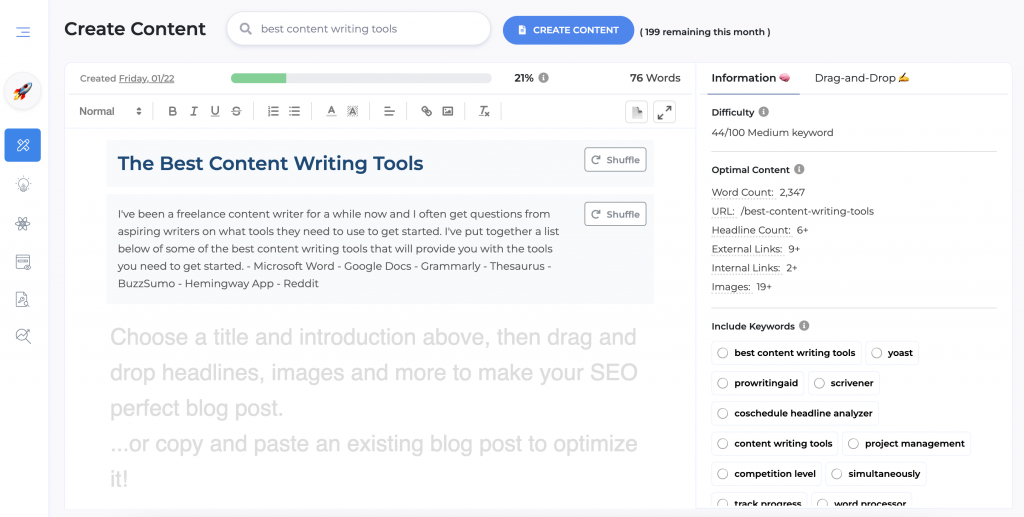 Also read: How to Start a WordPress Blog
Conclusion
There are a lot of content writing tools to choose from. My personal toolkit includes Grammarly for everyday grammar and punctuation help, GrowthBar for SEO blog writing, and Yoast to make my WordPress optimizations a little quicker.
What you need depends on you and your team's content stack. Do you need a wide variety of copy from social media, landing pages, email subject lines, and more? Then consider Jarvis or Copy AI.
Need to organize your work? Try Almanac or Notion.