Latest posts by Mark Spera
(see all)
Webinars are a slam dunk when it comes to connecting with a larger audience to promote products.
But with automated webinars, you can shatter the backboard.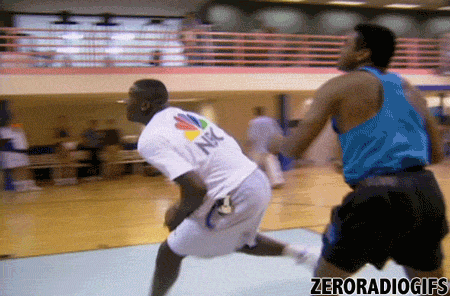 Why?
The content is pre-recorded, which allows you to connect and promote without going live – 24/7 – 365 days a year.
Yup, you can sell in your sleep.
Who should use automated webinars?
Automated webinars have a ton of use cases. Namely, any business that uses standard live webinars to…
Nurture customers
Sell a product/offering
Onboard new users
Train customers on features
…can use automated webinars.
Automated webinars — also called evergreen webinars — are webinars that have a live look and feel, but are actually pre-recorded.
Genius right?
Hailey and I use them on this blog, Growth Marketing Pro to teach new entrepreneurs how to grow their businesses using "weighted growth hacking."
Automated webinars help us:
Engage with hundreds of customers at once on their schedule. And we don't need to show up, be on time, or regurgitate information over and over!
Build our brand 24/7/365. Because automated webinars are pre-recorded, you can tweak and edit as much as you like to make a live seeming, perfect webinar.
Create passive income by introducing a paid product offering during the webinar
The first step in beginning the journey is choosing the right tool for your automated webinar. I recommend trying my favorite tool Demio.
Which are the Best Automated Webinar Software Tools?
Keep scrolling to see the full reviews.
There are a whole host of tools that are awesome for automated webinars. When deciding on the right tool for you, look for a platform with…
Bandwidth for multiple presenters and at least 100 attendees
Light email marketing to remind your audience to show up
Sales tools and features to convert viewers into buyers
A price you can stomach
Without further ado, these are the best automated webinar software tools!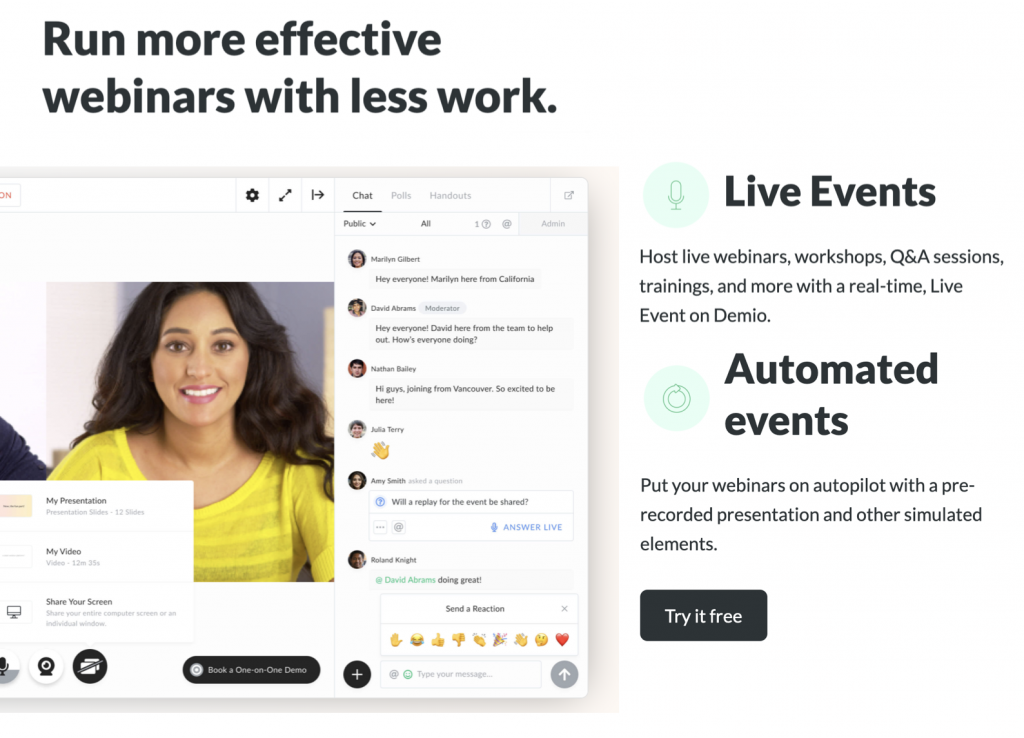 Demio is our #1 pick for automated webinar software.
Demio has both a live webinar option and an on-demand option where attendees can instantly view a webinar at any time.
The BIGGEST PLUS is that it offers both live webinars AND automated on-demand webinars. This is huge because I used to use two different webinar tools to do that and now I can do it all within Demio.
Demio is a simple tool that is easy to set up and use. It is even browser-based, so you don't have to download any software.
The automation feature allows you to schedule automated webinars for specific dates and times. They also have recurring options for daily, weekly, or monthly.
Other Features
100% browser based (no software to download)– support all browsers and devices
Live AND automated on-demand webinars
It's simple. Very easy to setup, literally minutes.
So modern, such a pleasure!
Customizable- you can add your logo so it matches your brand.
Give your audience a beautiful experience that is clean, crisp and reliable in how it functions.
Automated emails go out to make sure everyone gets reminded to attend the event.
Send out the webinar recording to all registrants after the event.
Testimonials
"Super easy to use, excellent customer service and the integration to other platforms is off the charts amazing!" – Maria Gudelis
"I have been struggling to find a cool webinar product & loved Demio. It solved so many automation issues for me." – Vandana Mehrotra
Pricing
Demio has three pricing options, but only the Growth and Business plans include automated webinars. Prices are per month as billed annually:
14-day free trial.
Starter – $34
Growth – $69
Business – $163
Check out our full Demio review for more.
EverWebinar is our #2 pick for automated webinar software.
It was designed by the makers of WebinarJam specifically for automated webinars, so if automation is what you are looking for, then EverWebinar is your best bet.

Simulating a live environment
With automated live chat, you can pre-schedule questions and answers to appear automatically in the chat. If an attendee puts their own questions in the chat box, you get an email and can respond directly. Of course, you can always enter the chat in real-time and interact directly with attendees.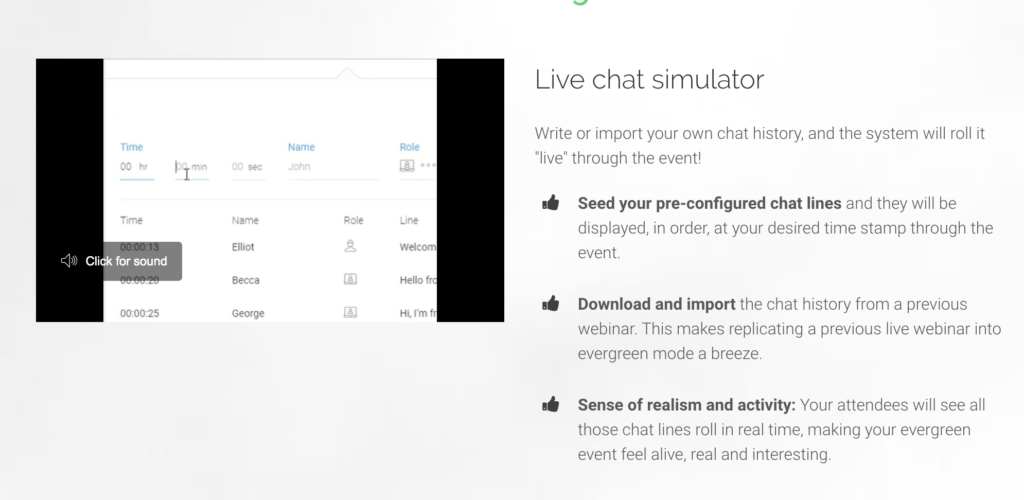 People don't like being in an empty room. This holds true for webinars as well. EverWebinar has a feature where you can adjust the number of attendees in the room so it appears as though there are 400+ people even if there is only one.
Most people won't be hosting a webinar in the middle of the night, or on a national holiday. Block dates allow you to stop your automated webinar from playing on specific dates. You can also block nighttime viewing if you want to keep up a realistic image.
Customization and Automation
You can customize scheduling and choose how many times, and how often, to show a webinar. You can even set up a pre-recorded video for the waiting room for when attendees are waiting for the webinar to begin.
You can set up automated emails such as registration confirmation, pre-webinar reminders, and post-webinar follow-ups. Send em' a "Thank You"!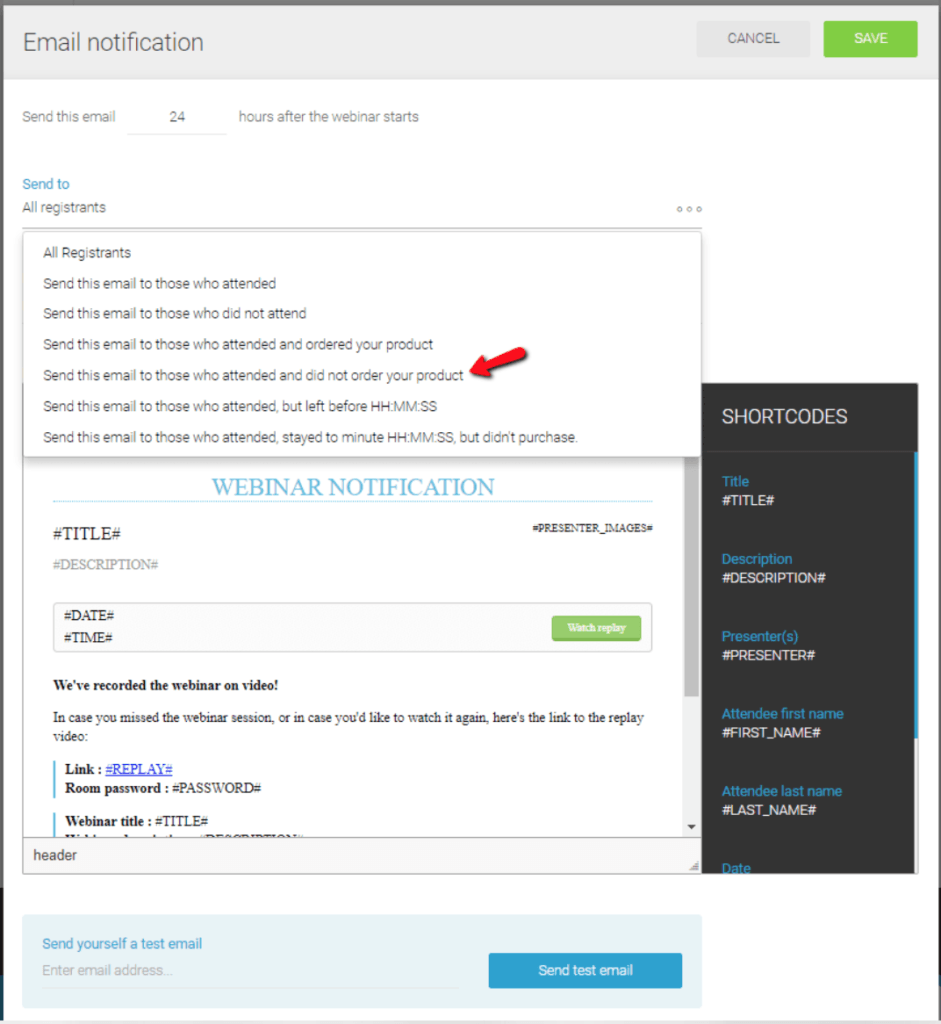 Sales
Usually, this is what it comes down to. Product offers allow you to automate pop-ups of special offers where attendees can make purchases inside the webinar.
There are additional tools to add pressure like a countdown clock for exclusive deals. Live sales alerts show pop-ups when someone else makes a purchase. Many people like to follow the example of their peers. These pop-ups definitely work.
Integrations
EverWebinar integrates with everything you can think of (Instapage, Facebook Ads, Infusionsoft, MailChimp, you name it).
Other Features
Secure webinar rooms with password protection.
Excellent analytics and tracking to help maximize your ROI.
"Webinar University", which has a lot of helpful tips on producing effective webinars.
Testimonials
"So glad We Bought EverWebinar. We absolutely love it… EverWebinar allows us to run webinars to promote our business 24/7/365 in any countries in multiple languages. EverWebinar provides a fantastic ROI." -Capterra Review
Pricing
EverWebinar is priced at $499 per year (approximately $41 per month). We negotiated a $1 14-day trial, if you use this link.
Check out our full EverWebinar review for more.
eWebinar is our #3 pick for automated webinar software.
eWebinar lets you make your webinars available around the clock. They have a just-in-time option so attendees can always join a webinar within minutes.
eWebinar is simple and intuitive to set up. It's actually kind of fun. You'll be able to create your first eWebinar in minutes, all you need is a video. It's all browser-based, so you don't have to download any software.
They have a cool timeline tool which makes it super easy to insert interactions (polls, tips, questions, offers, etc) while you watch your video. I've never seen anything like it. The interactions make the whole webinar experience more interesting and fun for attendees so they stay till the end.
The BIGGEST PLUS is how easy it is to stay on top of chat. You get notified when someone sends you a message so you can jump in and chat with them live from your phone. Or you can respond later and they'll get your answer by email. eWebinar even has a Slack integration.
eWebinar is 100% dedicated to webinar automation. So yes that means you can't use them for live webinars, but trust me it's totally worth it. They've taken automated webinars to a whole new level.
Other Features
100% browser based (no software to download)– supports all browsers and devices
Super simple to set up within minutes and a timeline tool to add interactions
Recurring scheduling with just-in-time and replay options
Robust chat system lets you answer questions on the go or respond later
Branded attendee experience with your logo and colors
Registration page builder anyone can use, no coding required
Automated reminder emails to make sure everyone remembers to attend
Follow up emails with a replay link so registrants can watch the webinar again later
Unlimited attendees, unlimited sessions, and unlimited team members
Lots of integrations with CRMs and marketing tools
The best analytics dashboard of any comparable solution
Testimonials
"Every other automated webinar solution I've tried was clunky and complicated. It took me 10 minutes to set up my first eWebinar and it was actually FUN to do." — Haley Burkhead, Recurring Profit
"eWebinar has outperformed our live webinars in not only engagement, but also participation and conversions to paying customers. To say our sales team loves eWebinar is a bit of an understatement." — Tom Foster, Sales at The Receptionist
"Our customers love the 1on1 private training experience. And we freed up 97 hours in 3 months, it's ridiculous! – Matt Donnelly, Customer Success at Vincere
Pricing
eWebinar's pricing is based on how many published webinars you have. With any subscription, you get all of their features plus unlimited attendees, unlimited sessions, and unlimited presenters and moderators.
eWebinar has four pricing options, including Enterprise. Prices are per month:
14-day free trial.
Level 1 – $49
Level 2 – $99
Level 3 – $199
Enterprise – $250

The power of Livestorm Webinars, on auto-pilot. Set up evergreen webinars with all the features attendees expect from live webinars.
Discover true efficiency with on-demand webinars. Asynchronous communication frees up time, saves costs, and keeps your audience engaged. Get the full benefits of Livestorm's technology with engagement features, integrations and analytics.
Host live product demos and customer training or record and automate training and onboarding videos for internal use. Livestream is a strong webinar tool with all the staple features you could want like polling and Q&A during presentations.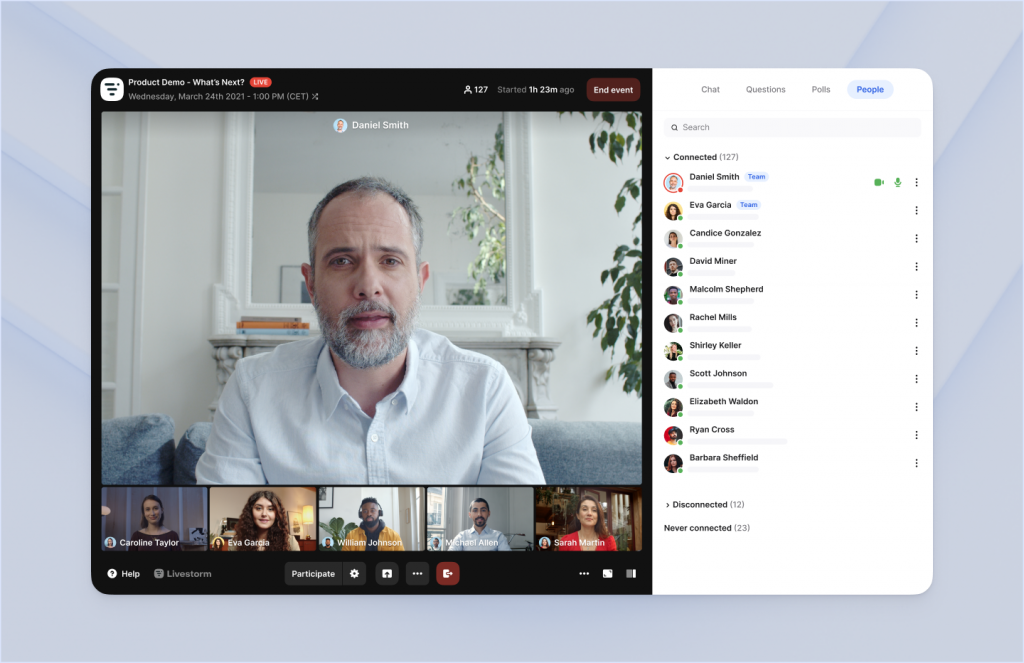 Pros
Great for live & on-demand training and product demos
Unlimited HD Webinars. Host as many webinars as you want. Do them in high definition.
Browser-based webinars. No need to download anything.
Registration pages & emails. Generates complete registration pages and sends email reminders to people who have registered for your webinar
Invite teammates so you can collaborate on building presentations
Fully customizable branding lets you create presentations that are unique to your business
Easily lets you invite moderators and attendees to join the host on screen
Connect Livestorm with any of your marketing tools like Salesforce and HubSpot so you can collect contacts and data from your webinars
Cons
Since it's a browser software, video and audio can be affected by the host's internet connection
Livestorm Pricing Livestorm offers Webinar Basic for free so you can test the platform with up to ten live attendees. The Webinar Premium plan costs $99/mo and you get 100 live attendees.
Designed for meetings, Livestream's Meet Basic plan is free and includes all Webinar Basic features as well as one meeting room with up to four participants. Meet Premium used to cost $31/mo but as a form of COVID relief, this plan is now offered for free. With this plan, you get all Webinar Basic features along with unlimited meeting rooms with up to 12 participants.
Link Livestorm
Companies All sizes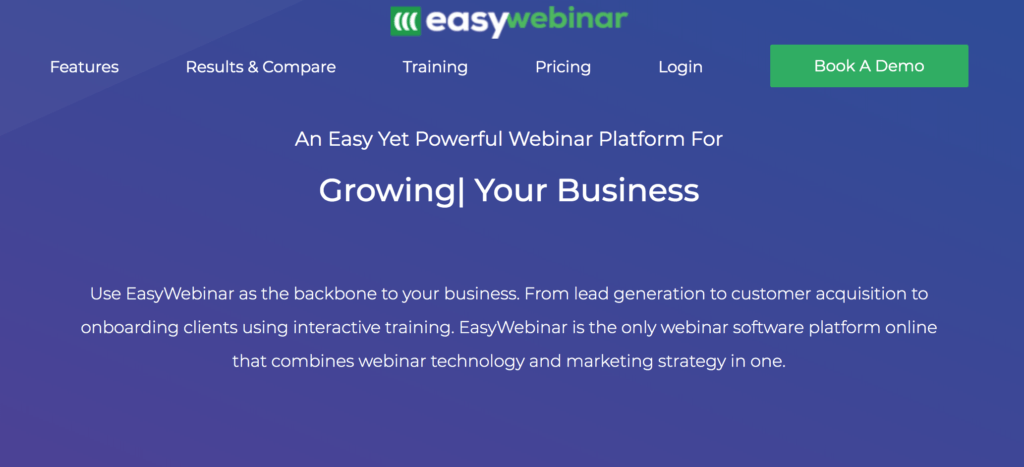 EasyWebinar is an excellent option. It has many of the standard features that come with automated webinars such as mobile compatibility, screen sharing, multiple presenters, live chat, Q&A, just-in-time tickers, and integrations.
EasyWebinar has good analytic and reporting tools, but not quite the to the same level as StealthSeminar. The analytics in EasyWebinar are focused on metrics like no-show registrants, time spent in a webinar, and how many clicks on offers.
Like EverWebinar, EasyWebinar is designed in a fashion that combines webinar technology with marketing strategies. This is a pretty essential component for us.
EasyWebinar is very comparable to EverWebinar, but it is a little bit more costly. So why not just use EverWebinar?
Other features
Any attendee can be made into a presenter.
Simulcasting allows you to show your webinar through EasyWebinar, Facebook, and YouTube all at once.
Custom registration fields allow you to get more information from registrants than just their name and email.
Testimonials
"I LOVE the layout and the simple tabs inside the EW system because it ensures I don't forget anything or miss a step as I'm planning things out. I also love the ease of making a live webinar evergreen, or even changing my mind last minute and choosing to make an evergreen one live."
"For the money Easywebinar is incredible. It's loaded with features for both live and automated webinars. I don't know of another system that allows you to do so much while only using one platform. The customer support and coaching is really top-notch."
Pricing
All plans include access to automated webinars. Prices are per month as billed annually:
No free trial
Standard – $59
Pro – $90
Enterprise – $349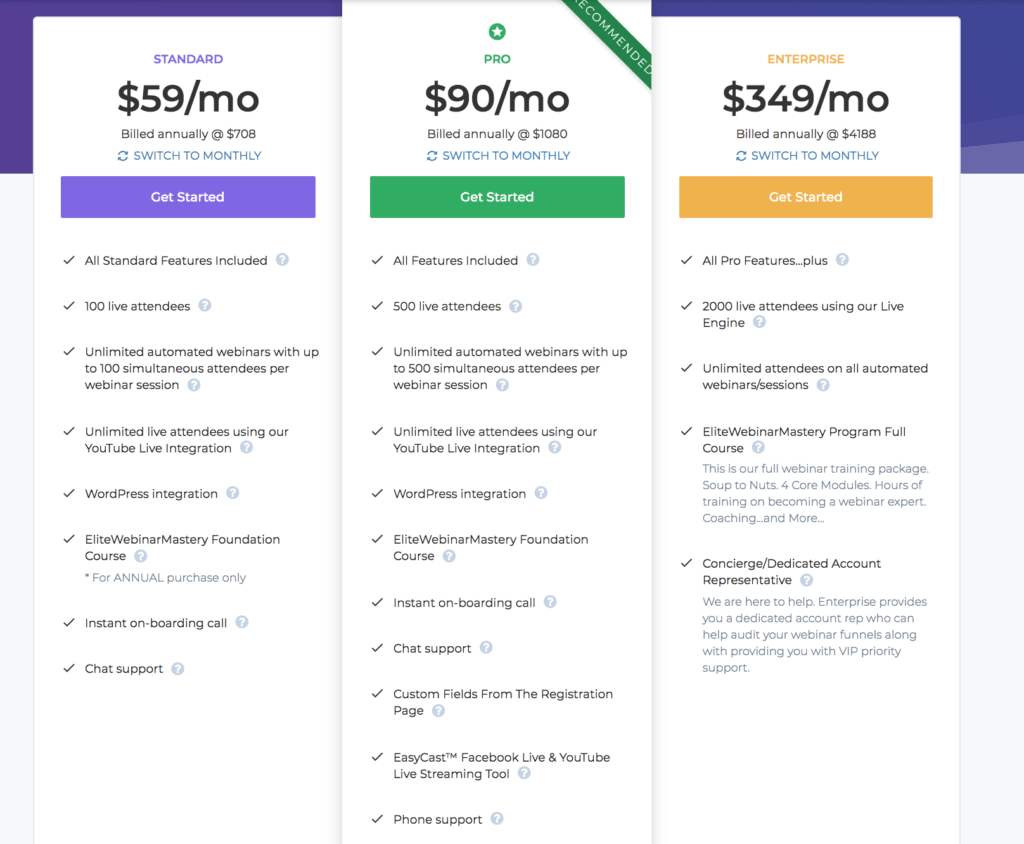 Check out our review of EasyWebinar for more.

StealthSeminar is set up differently from other automated webinar software. They specialize in large capacity rooms (up to 4,000 attendees) and can host 8 times more attendees compared to Demio's highest tier plan.
Features
The best thing about StealthSeminar is that you can do full A/B tests on entire events, offers, etc. – pretty powerful and unique.
Automated delay reset time ensures an attendee won't exit a webinar, come back to it, and then see the same countdown timer that they saw the first time.
Unlimited surveys, polls, and file-sharing during automated webinars.
Attendees can be blocked from chat without their knowledge.
Testimonials
"Stealth Seminar has let me scale up my business to over a million dollars a month. Even more importantly, it has helped me teach hundreds of clients how to have their own 6 and 7 figure businesses. It's simple to use – even for beginners – and no one can argue with the number of leads and clients generated. No others automated webinar service comes with the consistency, stability or service of Stealth Seminar."
"StealthSeminar is profitable and easy to use. One of the things we really like about it is it works with all our webinar attendees systems. It makes no difference if they attend the webinar with computer, iPhone, iPad, etc. the webinar runs right and converts."
Pricing
StealthSeminar's specialty in room size is reflected in their pricing plans, which are based on room capacity. They do not have an annual pricing option, which I think is a downside.
All pricing options begin with a $97 registration fee, and there are no free trials.
150 attendees – $69.95
300 attendees – $135
500 attendees – $220
1,000 attendees – $420
2,000 attendees – $800
4,000 attendees – $1250
StealthSeminar cons
There is no free trial, and while there are no long-term commitments, there is a $97 registration fee. This is a steep fee to take a test drive.
Even without the registration fee, the pricing plans are high compared to others, and certain features cost extra.
The entry-level pricing plan only allows 100 automated webinars to be run per month – a limiting factor limiting for some businesses.
Also, you can't schedule automatic messages to appear in the chat; a features that we really liked about EverWebinar.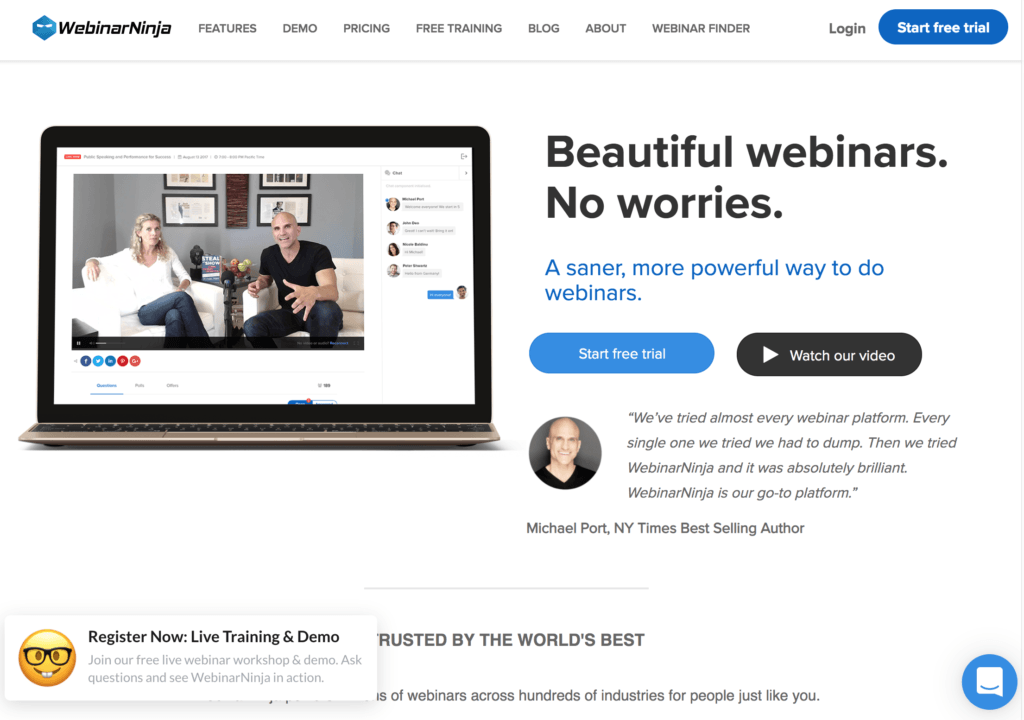 Once upon a time, WebinarNinja had a reputation for low quality. They've changed!
WebinarNinja 5.0, has solved a lot of problems and they are now known for being easy to use, great for beginners, and a robust all-in-one package. They have free training, step-by-step guides, and excellent customer service.
Features
WebinarNinja has several built-in tools like landing pages, email reminders, and more. If you don't like their built-in tools, you can also integrate with other software using Zapier integrations.
Series and summits become available at the Pro Plan, hybrid webinar formats become available at Plus Plan.
Screen sharing allows hosts to display open applications, or bring an attendee on to the screen.
Conduct Q&A sessions, polls, and make custom offers. This includes setting timers for particular messages to appear in the chat.
Deliver limited-time offers that help drive sales.
Webinarninja 5.0 cons
Unfortunately, you cannot correct for an attendees time zone like you can with other options on this list.
Image and video quality is sometimes less than other options, and the registration template is a little bit inflexible and difficult to change.
Testimonials
"We've tried almost every webinar platform. Every single one we tried we had to dump. Then we tried WebinarNinja and it was absolutely brilliant. WebinarNinja is our go-to platform."
"I hosted my first webinar, using WebinarNinja. It was a smashing success! You've built an excellent platform and I'm happy to be a loyal customer for life."
Pricing
All plans include access to automated webinars. Prices are per month as billed annually:
14-day free trial
Starter – $39
Pro – $79
Plus – $129
Power – $199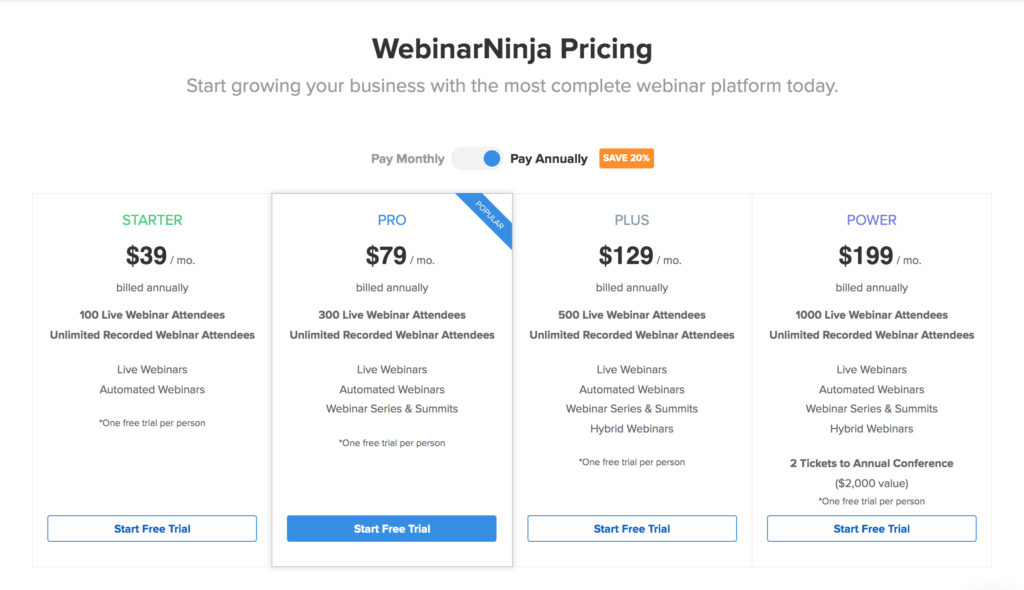 Check out our full WebinarNinja review for more.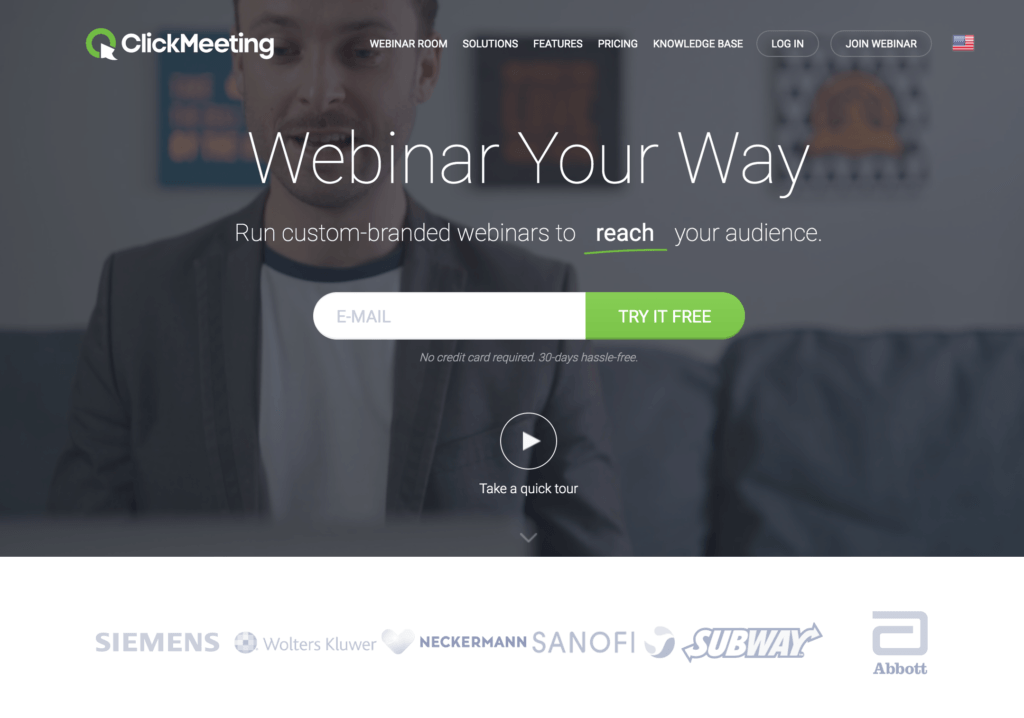 Automated webinars are relatively new to ClickMeeting. Despite this, their interface is very smooth and visually pleasing.
Perhaps the biggest plus for ClickMeeting is the low entry cost. The most economical option is $25 per month, which is the cheapest on this list.
Despite this low entry-level cost, adding features and higher tier plans can result in ClickMeeting becoming more expensive than other options.
Other Features
Chat can be turned off, moderated, or set to answer later.
You can assign roles to different team members to perform various duties.
ClickMeeting has some helpful tools for dynamic presentation, such as interactive whiteboard and presentation modes.
Testimonials
"Clickmeeting has good facilitation features – you can have multiple presenters (max 3) and easily designate other users as presenters if you want to 'hand off' the microphone. It's very simple to record a session, and you can share your link with the attendees after your meeting."
"The software is designed to accommodate how businesses work. You can use default features to set up a quick online meeting or custom design a webinar for 100 attendees. It's flexibility and intuitive interface make it accommodate our complex requirements. Customer service has been very responsive, informative and friendly as we have come up the learning curve."
ClickMeeting cons
One of the significant downsides to ClickMeeting compared to EverWebinar is the limit on how long a recording can be (4 hours for the MyWebinars plan, and 6 hours for the Pro Plan).
ClickMeeting pricing
All plans include access to automated webinars. Each plan is further adjustable based on the maximum number of attendees. Prices are per month as billed annually:
30-day free trial
MyWebinars – $25 (up to 25 attendees)
Pro – $35 (up to 50 attendees)
Enterprise – Custom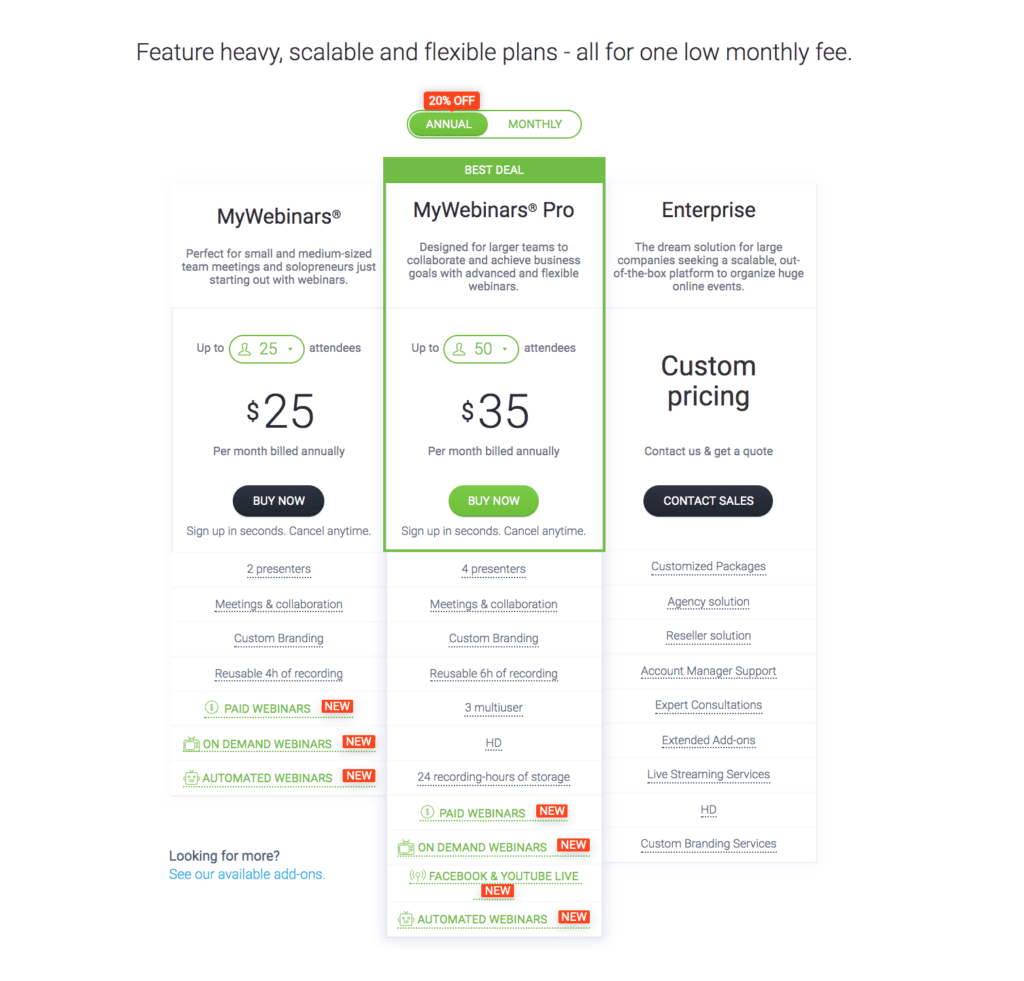 Read our ClickMeeting review for everything you need to know.
Conclusion
Which evergreen webinar software should you choose?
We recommend Demio, or EverWebinar for automated webinars.
That being said, choosing the right evergreen webinar software does really depend on your needs.
To figure out which automated webinar software is best for you, ask yourself the following questions:
What is your budget? Can you afford expensive solutions?
What is the size of your audience? How many attendees do you expect on the event?
Is your audience tech savvy? Whether downloading/installation of the additional software is a problem? What OS and devices do they use?
How important is chat? Do you want to keep attendee questions from falling through the cracks? Do you want to have the option to respond now or later? How about when you're on the go?
How many presenters do you expect during the webinar?
How important is having an interactive experience to you? Do you want things like polls, questions, offers, tips, downloads?
Do you have sales tools you need to integrate with

Do you plan to hold paid webinars or rather use the live events for advertising and collecting customers' emails?

Do you need analytics tools?
If you want to learn more about webinars, then check out our complete guide to webinar marketing.