Latest posts by Mark Spera
(see all)
Landing pages are an essential marketing strategy for increasing conversions and attracting new prospects. Landing pages work because they're targeted to an audience and optimized for conversions.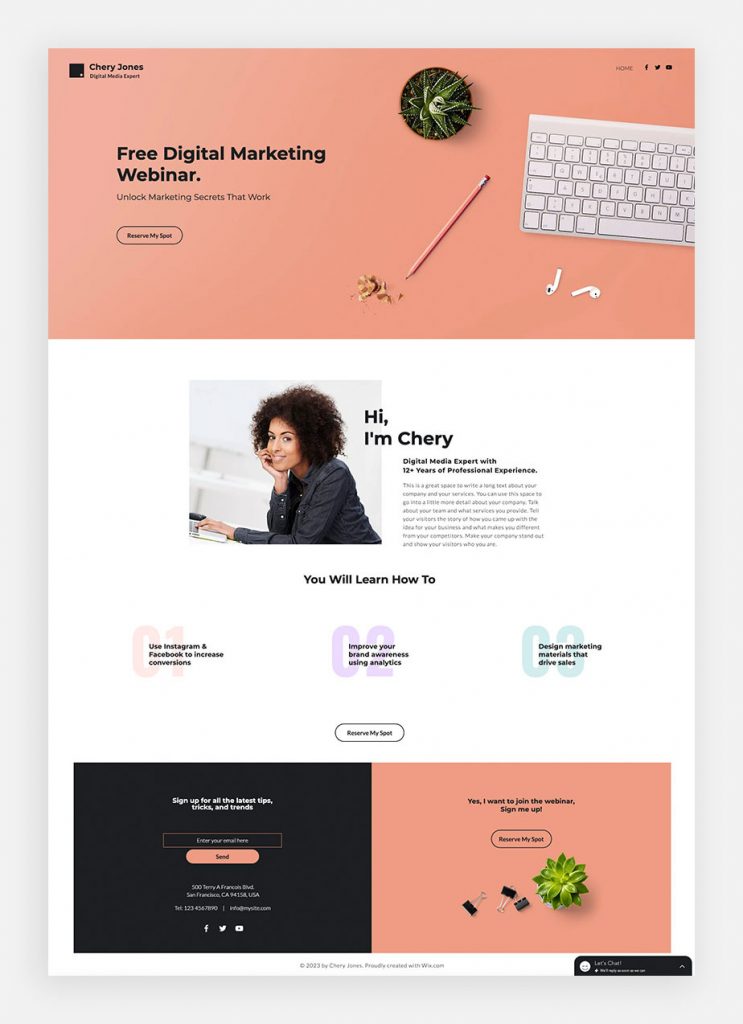 Tons of marketing tools — from HubSpot to Unbounce — make it simple for marketers to make pixel-perfect landing pages and capture more leads.
Getting landing pages spun up can do a lot for your performance marketing campaigns. Check out these stats if you still haven't pulled the trigger on a landing page builder yet…
Also read: Landing Page Builder vs Website or 20+ Great Landing Page Examples
Landing Page Benchmarks and Statistics
1. The average conversion rate for a landing page is 9.7%
The average landing page converts at 9.7% on average. However, that number can be pretty misleading, as it differs widely industry to industry. It also differs depending on the type of conversion — email leads are much easier to capture than form-fills or purchases.
2. Marketers see a 4.42% drop in conversion rates for every second of page-load time
You've probably heard it before. It's true! Just one second of load time is worth over 4% in conversion rate. That's probably make or break for any campaign.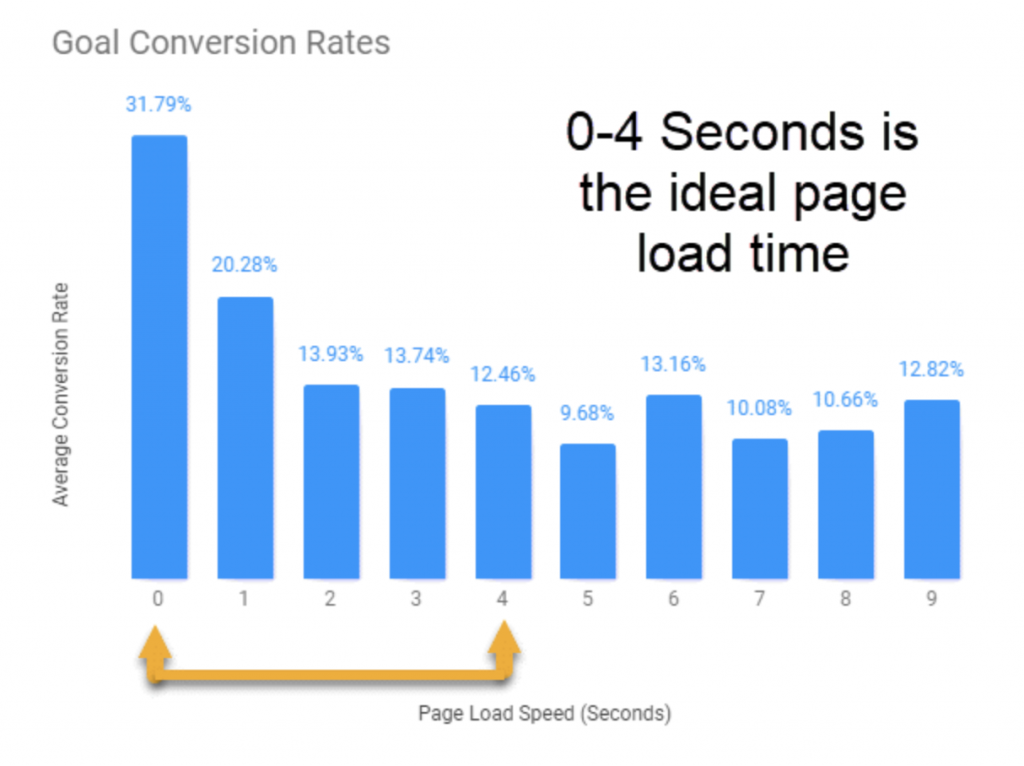 3. 48% is the average bounce rate of a web page
The average bounce rate is between 41-55%. A high bounce rate indicates a web page is not relevant to the user or not attention-grabbing enough.
4. Interest in "lead generation" has grown by 12.2% CAGR over the last 5 years
According to my Google Trends search, interest in "lead generation" has been steadily increasing for the last 5 years. It has accelerated even faster in a post-COVID world.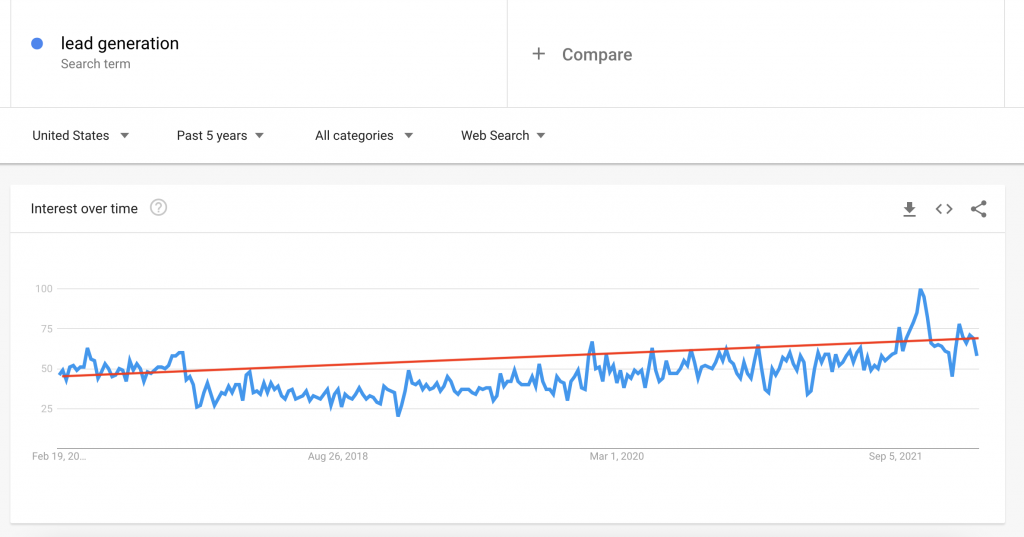 5. As far as channels, email converts best at 13.0%
It probably comes as no surprise, but email marketing simply converts the best of all channels according to Unbounce. While these numbers are pretty general, they do point to the importance of email. Consider collecting emails first, then selling to your audience, particularly if you're in a B2B vertical.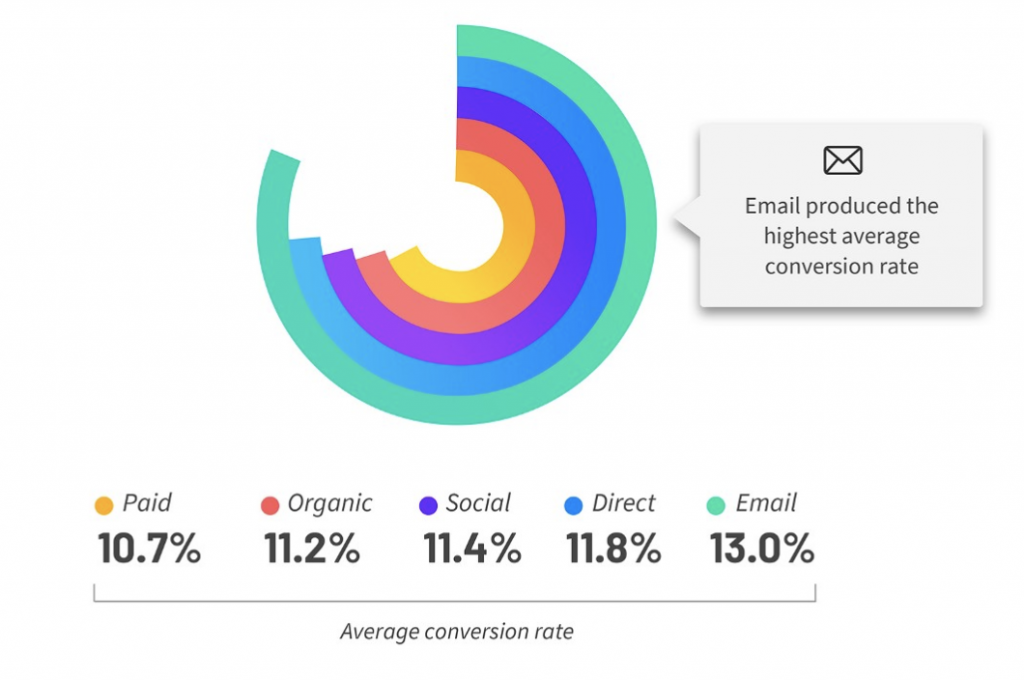 Optimal (Good) Landing Page Statistics
Landing pages are all about the visitors to your site, how to keep them, and how to satisfy them. Understanding your audience, who will be visiting your page, and what they want to see is the first critical step in hooking your visitors. Use the statistics below to optimize your landing page once you get the answers to those questions:
6. Conversions increase by 86% when a video is present on landing pages
Video is crucial for conversions. We've found in many cases that short-form video specifically helps with conversion rate and user onboarding. Conversions increase by 86% when there's a video. Gifs work just fine too.
7. 9 out of 10 customers trust reviews and testimonials on landing pages
If you do anything, on your landing page, use social proof! Customer testimonials, press badges, and other accolades your business has will boost conversions. I've A/B tested this many times, and I've never seen a page perform worse with the addition of social proof.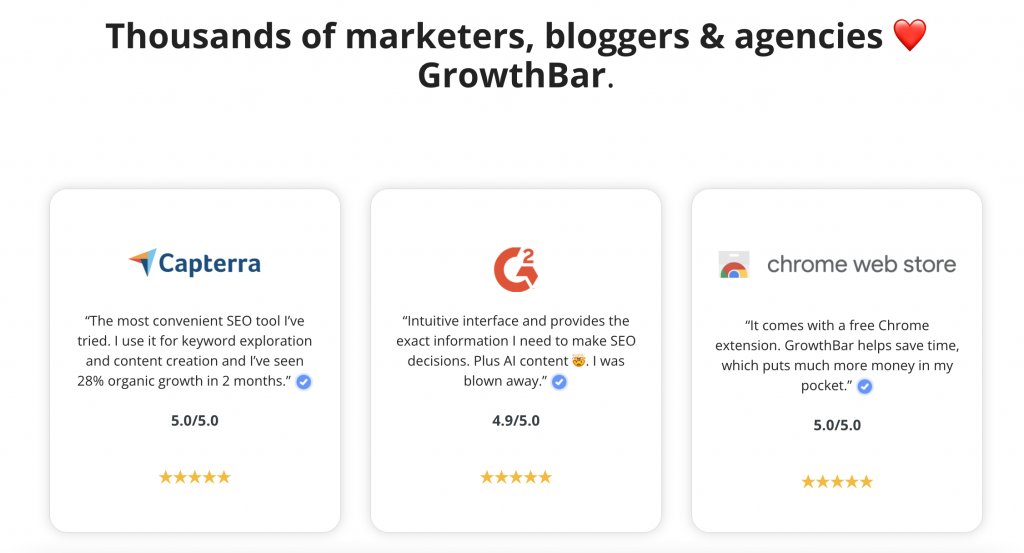 8. Sign-ups increase by 9% when contact details appear on landing pages
In addition to social proof, contact details increase conversion rates on page. While this is a bit more applicable to B2B businesses that rely on high-touch (phone, email, etc.) communications with potential customers — any business can include contact details to improve conversions.
9. Content combined with pictures has an 80% greater chance of being read
Yes, you should use images! Images improve time-on-page for SEO as well as conversion rates. If you're not sure where to get images, use free images from a tool like Unsplash, or try one of the many graphic design tools out there.
10. CTAs that are personalized convert up to 202% better
Personalized calls-to-action are simply better. According to HubSpot, they're 202% better. In almost every step of the funnel, it's best to personalize the experience as much as possible.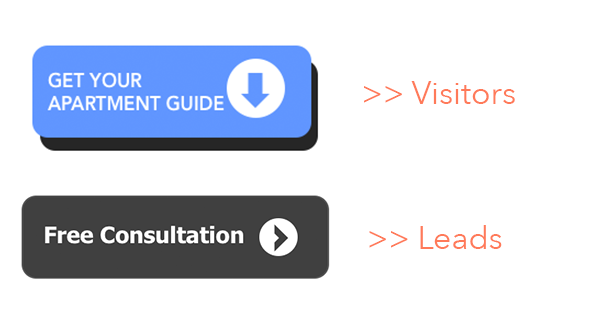 11. Companies that have 10-12 landing pages saw a 55% increase in leads
Yes, you need more landing pages according to HubSpot. Particularly if you're running paid ads, you can't afford not to create more landing pages.
12. Longer landing pages increase leads by 220% compared to 'above the fold' call-to-actions
Longer pages do better than shorter ones. I've found this to be true, particularly for expensive or difficult-to-explain products — less important for ecommerce and impulse products. Companies like ClickFunnels pioneered long sales pages. Long pages give you more opportunity to paint a clear picture of your product, as well as objection handle, so that customers have no choice but to buy!
The other exception to this rule I've found is for landing pages with downloadable assets. If your goals is a PDF download or a webinar signup, often shorter is better.
13. Addressing buyer fears on landing pages can increase conversion rates by 80%.
Marcus Sheridan, a keynote speaker at Inbound 2019, ran an experiment where he found that addressing customer fears, like email spam or personal date use, on his landing pages increased his form conversion rate. If you've found that your landing pages aren't converting as you'd like them to, consider using Sheridan's strategy to be upfront with consumers about what will come from completing forms on your landing pages.
Suboptimal (Bad) Landing Page Statistics
Marketing requires a thorough understanding of your target audience. Not only what your ideal customer wants to see, but also what they don't want to see, what might turn them away, and what might turn them off entirely to your company or product. To discover that sweet spot, you must balance what your customers want to see and what they don't want to see on your landing pages. Here are some facts on what the average user doesn't want to see on landing pages:
14. Multiple offers on landing pages reduce conversion by 266%
It can be tempting to add more CTAs and offers to a landing page, but you shouldn't! At the beginning of my career I did this, thinking I'd increase conversions. Quite the opposite.
15. Landing page conversions drop when personal questions are asked
Forms are a great way to capture leads, but make sure to be thoughtful about which questions you ask in your form. Landing page conversions drop significantly the more personal information you ask. So while it may sound appealing to get your prospects' phone numbers, know that it may hurt your performance. Most best-in-class companies play with their form fields so they can capture as much information as possible to qualify leads, without hurting conversion.
16. 16% of landing pages lack navigation
While navigation isn't a must-have for landing pages, there should be a way for the user to at least get to your homepage, contact us page, and about us page from your landing page. Having no navigation makes users a bit unnerved. After all, when have you ever been to a legitimate website without those things?
17. 77% of landing pages are home pages
Sure you've put a lot of time into making your homepage perfect. I get it, my SaaS company's homepage is a thing of beauty. But that doesn't necessarily mean it's going to convert well. I definitely recommend testing your homepage against other landing pages.
Landing Page Conversion Rate and Statistics By Industry
Not all landing pages are the same. Some industries require a lot of information on page and others, a simple form fill is sufficient. Plus, the intent is different. Booking a restaurant reservation is much less of a commitment than buying a software tool. Finally, these numbers are skewed by acquisition channels — ecommerce companies tend to run a lot of display ads, whereas travel and healthcare companies tend to get most traffic from SEO.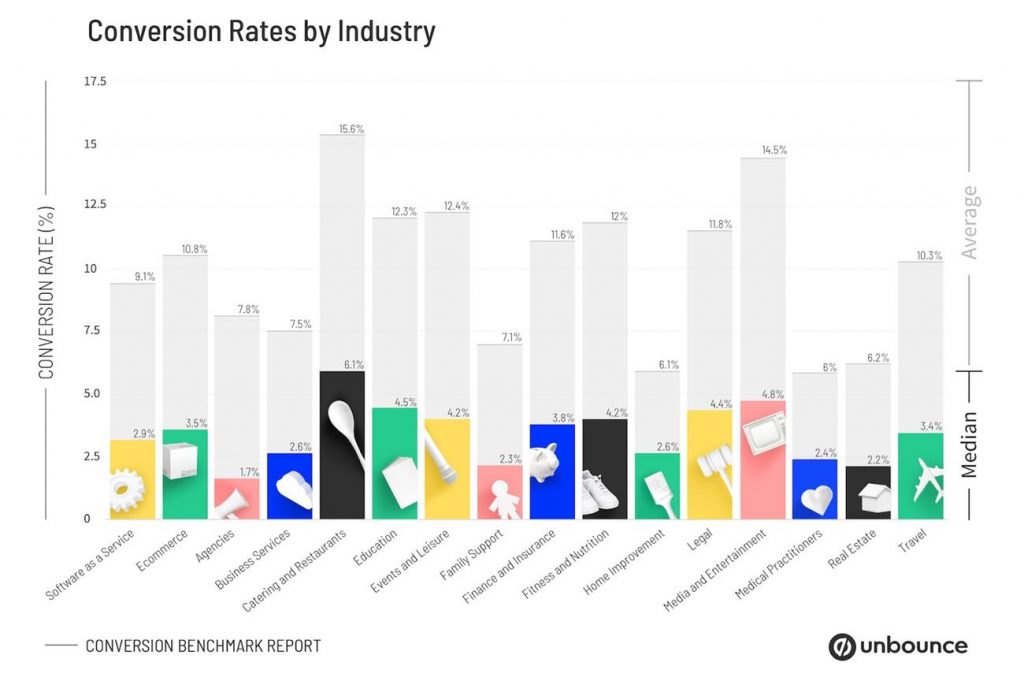 18. For 2022 the median conversion rate is 4.02%
A good landing page conversion rate would be from 2.6% to 6.1%. The average rate is 4.02%. But of course, it varies significantly by industry.
19. The median conversion rate for agencies is 1.7%
Agencies have a high touch sale that requires the customer to input a lot of information, then get on a phone call, then spend $5,000 or more for service. Naturally, this creates a good deal of friction, which probably is responsible for the low conversion rate. I can say with certainty that the conversion rate on our agency sales page is low, but conversion from lead to client is 10% or more.
20. Meanwhile, apps and devices have the highest category conversion rate (6.2%)
App downloads are rather frictionless. Often, there is no cost associated with downloading an app. Plus, deleting an app is pretty straightforward as well. It's unsurprising that app download campaigns have a high conversion rate.
21. Ebooks are great!
According to HubSpot, 55% of their email submissions come from Ebooks. They tend to be very low friction. No wonder my LinkedIn feed is full of Ebook download campaigns!
Tips for great landing pages
Simply implementing a landing page builder doesn't necessarily mean you'll capture more leads and increase your conversion rate. There are best practices that you should follow to get the most out of your landing page builder:
Catchy headlines: Your landing page should lead with value-based copy and your headline should never be ambiguous or vague. It should capture your readers' attention and give them a reason to keep scrolling. As I'm thinking about headline copy, I like to channel one of the best business books I've read, Play Bigger: your copy should make you a category leader. Even if your product isn't a category leader, think of a way to position yourself as the #1 in some category. Maybe you're not the #1 SEO tool, but perhaps you're the #1 SEO tool for fashion bloggers. Figure out a way to "own" a category via your headline copy.
Trust signals: Humans like social proof. We're more apt to buy when we see logos and customer testimonials on a website. I've found that using press badges above the fold on my landing pages increases conversion rate 10% or more. Press badges lend credibility to your product and make users more likely to continue reading. Similarly, customer testimonials enable users to envision themselves using your product, which will increase conversion rates.
Images: Think about how often you read every word on a webpage… not often. Visually appealing images work in keeping users on page and illustrating your product offering. Hint: human faces keep people on page — when in doubt, use a stock photo with people in it.
A/B test: Particularly if you're sending paid traffic to your landing page, you should A/B test. It's the financially smart thing to do. And if you're going to A/B test anything, make sure to first experiment with your headline. Since the headline is the first thing users see when they hit your page and only 20% of users will read past your headline copy, it's the most impactful place to A/B test.
Mobile: Mobile traffic accounts for 54.8% of total web traffic, so make sure your landing pages are pixel-perfect on mobile as well. The good news is that the best landing page builders have mobile and desktop views, so that you can see your page in both formats before publishing.
Conclusion
I'm a big believer in the power of landing pages and landing page builders. I think they're one of the best tools modern marketers have in their arsenal.
If you're looking for a landing page software tool, check out my post reviewing the top four: Unbounce vs Instapage vs Leadpages vs ClickFunnels.