Head of Marketing
at
PlushCare
I'm the head of marketing for a tech company in San Francisco and the cofounder @ GrowthMarketingPro.com
Latest posts by Mark Spera (see all)
This guide will start with some foundational conversation about search engine optimization and will finish with specific SEO tips for 2018.
How do search engines work?
Big search engines are the everyman's portal to the internet. If you need restaurant reviews, how-to guides, song lyrics, news, a job or even underwear, you might start your search with Google. This makes it very valuable to be the first result when a user types, "what did Donald Trump do today?"
Search engines "know" what to display first in the search results by scanning its index of webpages for the pages most relevant to the search query. In order to create the index, search engines use web crawlers to scan pages on the internet.
Web crawlers are programs engineered to methodically catalog pages. Google's web crawler is aptly named GoogleBot.
Web crawlers follow the URL trail – bouncing from website to website via websites' internal and external links. In this way, the crawlers build up a repository of information. They make a digital trail map of the internet.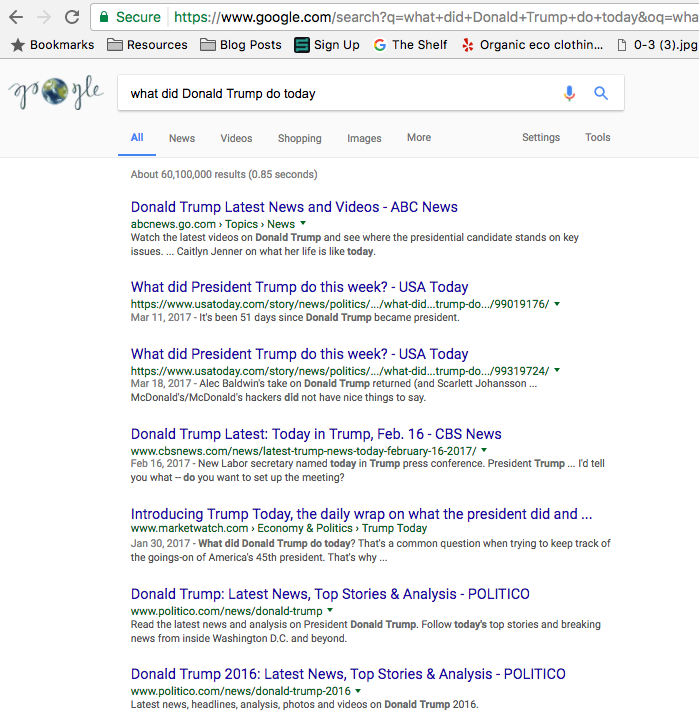 What is SEO and how does it work?
Google has to prioritize websites somehow. Google users are much happier with an ordered list of the most relevant search results than with an unorganized list of 100,000 search results. When I search for "Drake Gifs," I want the most relevant and funny ones to appear first.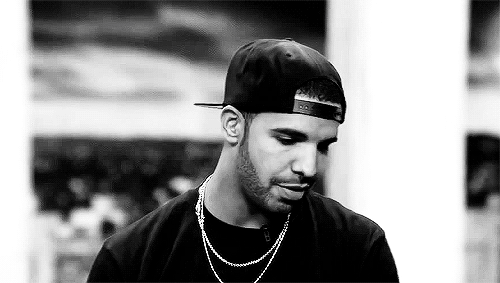 Google's algorithm, PageRank is used to determine "authority" of crawled pages and thereby, the rank of those pages in Google's search results.
SEO or search engine marketing is a digital marketing discipline aimed at ranking your website, blog, ecommerce store or app at the top of Google's search results. Great search engine optimization has many benefits, but the primary one is that the organic search traffic (the traffic that results when users land on your domain from a Google search query) is free traffic. To learn more about how to write blog posts that drive massive amounts of organic traffic, click here. 
You don't pay every time someone clicks on your Google result. Hell yea.
So if you can figure out how to convince Google that your website is the most authoritative on a topic, you will get a lot of free traffic (read: potential customers).
Even though Google is a very big and transparent company, the specifics of its PageRank algorithm are purposefully kept hidden. Google doesn't want savvy marketers like us trying to trick the algorithm – rather, it wants search results to be a real interpretation of a webpage's relevance, importance, readability, robustness and popularity.
However, there are a few factors that definitely influence page rank, including internal and external hyperlinks, social signals (are people sharing your page of Facebook?), backlinks from other credible websites, keyword relevancy, site map, website age and many others. But Google's "secret sauce" is ever-changing.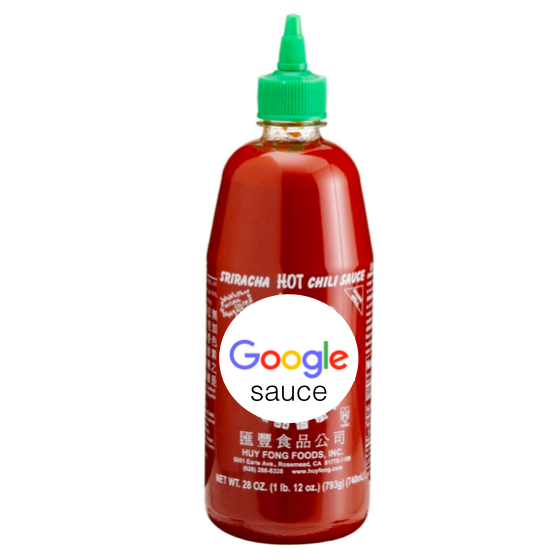 The best marketers optimize their websites' SEO with the tried-and-true techniques just listed, but stay ahead of the curve by using the most current tips to give their site the edge over competition.
Will SEO work for my company?
This is an important question that many fail to ask themselves. Just because SEO exists doesn't mean you should be using it for your website or company. I've had so many startups ask me to help improve their SEO. I always throw the challenge flag.
Some businesses lend themselves very well to search engine optimization, but many more will see little or no efficacy, even with a lot of great, consistent effort. It could be that Facebook advertising, search advertising, affiliate marketing, referral programs, native advertising, guerilla marketing, PR or any number of other marketing channels will be more resource-efficient than SEO.
To explain: some businesses or products are highly searched and others have much lower search volume. All things equal, SEO works much better for businesses or products with high search volume.
An SEO strategy would only be minimally effective for an entrepreneur selling action figures in the likenesses of school teachers and librarians. Simply, not many people are searching for those.
However, it's important to understand that while some keywords are highly searched, they may also be highly competitive. For example, it would be futile to try and rank above Amazon for people searching for "Amazon Echo." Similarly, ranking #1 for "tee shirt" would be a very tall order – as it would be difficult to beat Teespring, Gap and Nordstrom.
Businesses that have the best luck with SEO are businesses that fall in the "high search volume"/"low competition" category.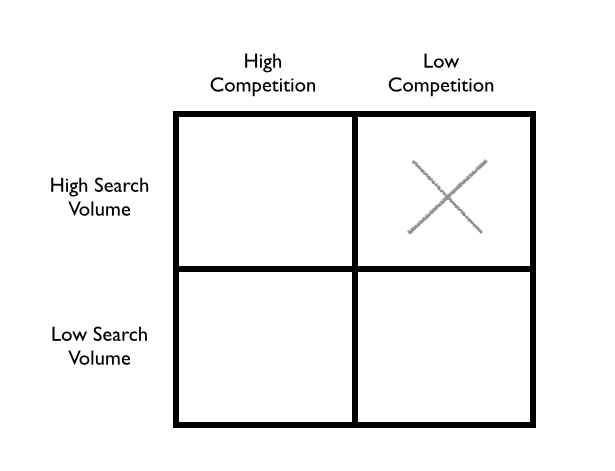 In order to determine if your business falls into this category, you will need to start with common sense. If you're selling Michael Jordan memorabilia, I'd be willing to bet you have a million competitors and it's going to be difficult to dethrone them all.
Conversely, in 2007, when personal finance app, Mint.com was building its business, personal finance search terms like, "which credit card is best for travel points?" were highly searched and not very competitive. Before launching, Mint took advantage of this fact, building up an email list of 30,000 in less than a year completely through organic (Google) search acquisitions.
If you're interested in making a determination about SEO for your business, use my favorite tool, SEMRush or Google's Keyword Planner. Both tools will allow you to type in a term and understand search volume and relative competitiveness.
You'll notice that both tools will spit out lots of variations of your query in the results.
Some may be less competitive or more highly searched than others. If your product offering has a ton of variations, high search volume and low competition, SEO may work for you. Did you notice that I titled the first section of this blog post, how do search engines work? This isn't a coincidence!
Take a critical look at your business. If you think you can make SEO work, nail the basics of SEO and then stay current with our SEO tips for the 2017 marketer.
If you are ready to be h*core you should really check out SEMRush.
SEO tips for the 2017 marketer
Content marketing: Content marketing is still the best way to curry favor with Google. Strong and relevant, written and video content will continue to be rewarded by Google.
Websites with some of the highest Google ranks in the world like Nerdwallet, NY Times and Amazon are huge content machines – each publishes thousands of words of content and many pictures/video every day.
The more content you have, the more opportunity you have to rank for some of the billions of Google searches that happen every day.
When creating content, you have many options for hosting your blog. While there are differing opinions on this topic, my experience has proven that content on WordPress blogs works best for SEO purposes. To learn how to set up a WordPress blog, with step by step instructions, click here. 
Mobile: Google is beginning mobile-first indexing. This means that websites which are mobile-responsive and formatted correctly on mobile phones will be rewarded with better search rankings. More, structured markup on websites must be proper for both desktop and mobile.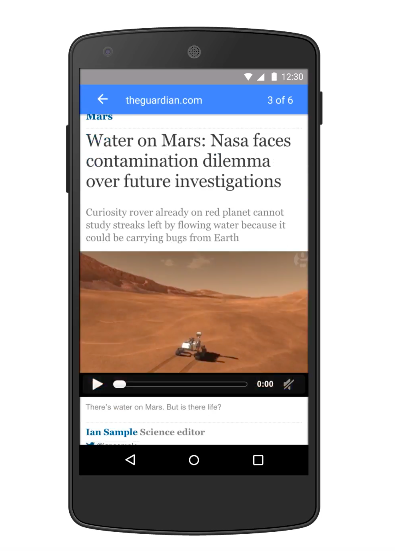 Hint: use short paragraphs whenever possible. Visitors reading posts on mobile devices will be much more engaged than they will be sifting through very dense, long paragraphs.
AMP: AMP stands for accelerated mobile pages. It is one way that Google's mobile-first approach is changing how marketers and developers do search engine optimization.
After Google announced AMP in 2015, 37% of news sites had AMP versions. AMP's purpose is to improve the load time and functionality of mobile sites.
Also, AMP allows developers to build websites for desktop and mobile in one fell swoop, reducing time spent optimizing code for different platforms. Unless you understand HTML, the differences in the code may not mean much – they are not terribly complex, but they are very impactful.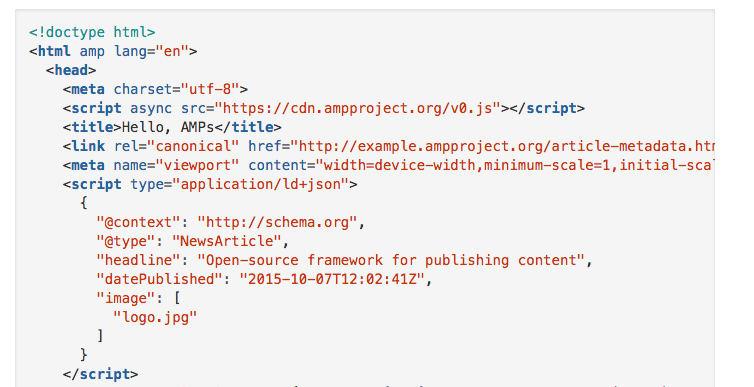 Google Plus: Even though Google+ is as good as dead, Google keeps trying to prove us all wrong, recently announcing updates to the user experience. But it is clear, Google+ is becoming less and less of a factor in page rankings.
When Google was reading Google+ tea leaves, they imagined a personalized search world based on social actions on G+. Below are some of my top 10 results for the search query, "begood clothing," which was my company – I posted on behalf of BeGood often.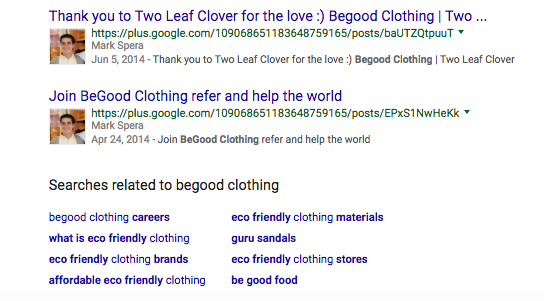 The network didn't catch on like they had hoped. For a while, many SEO experts swore that G+ would be an important factor in search ranking. But the network never caught on.
While fossils of G+ still remain in Google search results, don't bother spending any of your time on this social network.
Local Search: In a mobile-first world, local search is very relevant. The Google Possum Update and all the tests we see in local, indicate that local is going to continue to be important in search results. When you search "san francisco burgers," Google wants to ensure your results are local and rich in content. If local is part of your strategy, you may take advantage of a nice search engine bump in 2017.
Tools: Marketing tools are important and there are some great ones to help improve your SEO strategy. Software like Yoast, which is a WordPress plugin, gives you tips on how to optimize your site for SEO. Because the software updates every few months, the most current information about SEO is incorporated into the tool.
Below is what my Yoast dashboard looks like for this post. You can see I'm optimizing for the term "SEO tips."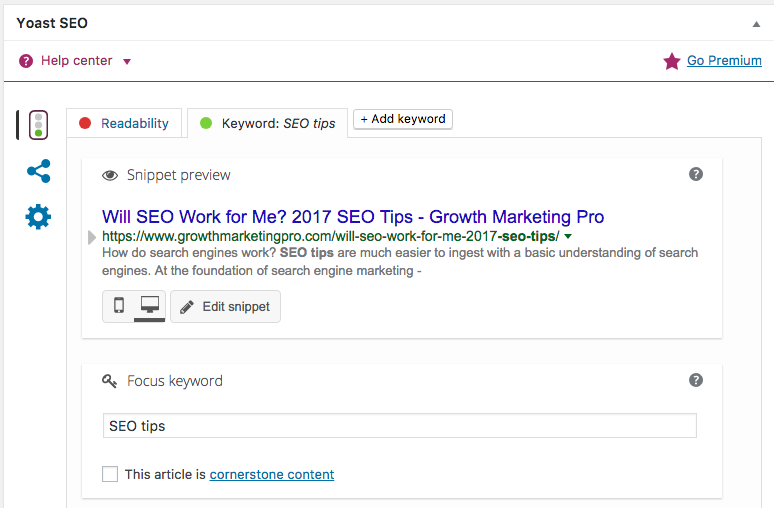 The Normal Stuff: SEO in 2017 is still about the same stuff it was about in 2016 to some extent. Do the following:
Make relevant titles: your webpage titles should speak to your focus keyword — it should answer the Google searcher's question
Create orderly content — it should be organized and structured with h1's, text, etc.
Keep people on your website: Google knows if people are hanging on your page for a while or bouncing right off. If you write compelling content you will keep visitors for longer. Uses short, precise sentences and line breaks to make it an easy read.
Link to other reputable sources
Link to other pages within your website
Don't worry, if you've built your website or blog on WordPress, Jumla, Drupal or some other content management system, your content is going to appear nice and orderly for Google without much effort on your part — h1's, title tags, meta tags, etc. are usually taken care of.
If you're an ecommerce company using Shopify, Magento or something like it, you're in an okay place. Those platforms don't prioritize search robustness like content management systems do — they are built for selling! So if SEO is a part of your ecommerce strategy, you should look into SEO plugins that will help optimize your store.
Closing Thoughts on SEO
Feel a little more prepared for digital marketing in 2017? I hope I was helpful.
SEO is a lot about best practices and staying current and a lot about prioritizing — which search terms to prioritize based on your company/website goals. If you take the time to think critically about your strategy, you're going to be much more successful at winning your prized keywords than you will be creating content blindly.
If you're thinking about getting serious with SEO, try my fave tool, SEMRush. Click here and you'll get a free trial.
Disclaimer: We occasionally link to products and earn fees. We only review products we trust. And we only trust about 10.