Latest posts by Mark Spera
(see all)
You've done your thinking, and now it's finally time to take the plunge and start a blog.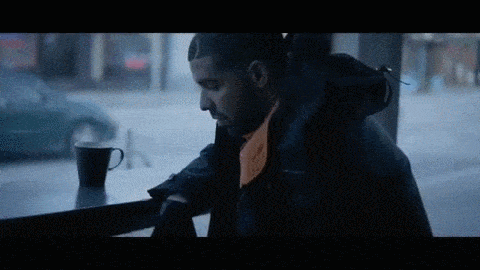 If you've decided on WordPress, you've made a good choice. As one of the best blogging platforms it really stands apart because it's secure, completely customizable, and easy to use. Plus, it's trusted by 74 million bloggers.
But doing the Google search on WordPress you're greeted with two options: WordPress.com and WordPress.org.
If you're not an experienced blogger there's no reason you would know which is the right "WordPress." That's why we're here. 
If you're looking for the secret to increasing traffic to your new and improved WordPress blog, sign up for my SEO course!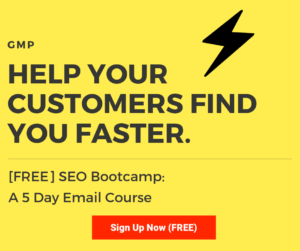 A Short Synopsis: WordPress.org vs WordPress.com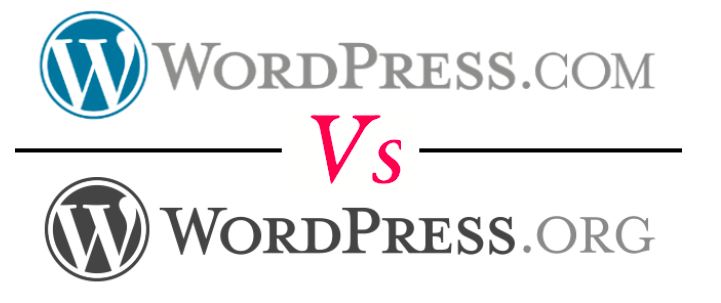 If you have heard people talking about WordPress, admiring it as one of the best blogging platforms — praising the customizable dashboard, flexibility and ease — they're talking about WordPress.org.
The similarities between WordPress.org and .com
First, they are both platforms that help get you on your way to creating a blog 

Their name both contains "wordpress"
But that's it.
WordPress.org
WordPress.org is what you use to create, optimize, change and update your blog. WordPress.org is the open-source software trusted by developers everywhere — the one used by 74 million people.
It's a simple content management system (CMS) that enables you to create a blog without writing any code. 
In order to use WordPress.org you have to "host" it yourself. Web hosting "puts" your WordPress.org website on the internet for all to see. 
The good news is that there are a ton of web hosts. Choose between Godaddy, WP Engine, Bluehost, Hostgator and many more. I review the best web hosting services here. 
WordPress.com
WordPress.com is a conveniently-named web hosting solution like Godaddy, Bluehost, WP Engine and the rest. Their confusing name has probably generated them a ton of business. 
In short, WordPress.com is a hosting solution and support team for your WordPress website.
It's a private company that shares the same name as the famous blogging software.
The Differences between WordPress.com and WordPress.org
1. The Hosting
The major difference between the two is how your website is hosted. 
WordPress.org
WordPress.org is the blogging software and requires you to use a hosting service of your choosing. Getting a web host is the first step to get a WordPress blog going. Read How to Start a WordPress Blog to do the whole thing start to finish!
Well…. it's sort of not free, because it's free to use but you must buy a third-party hosting service and a custom domain name. Both of these can be done through WP Engine, Hostgator, GoDaddy, Bluehost and any other web hosting service. We negotiated a deal with Bluehost for $2.95/mo hosting and a free domain name. 
You get a lot of control with WordPress.org — you're able to edit your website, add plugins, choose responsive themes, publish blog posts and more.
This blog runs on WordPress.org.
This is what our dashboard looks like.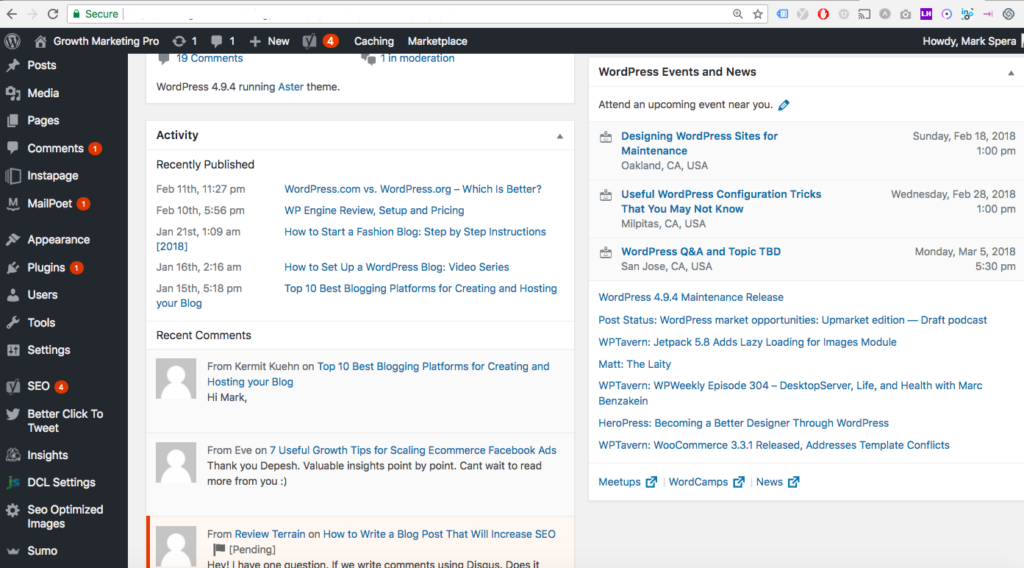 WordPress.com
When you sign up on WordPress.com, your default host becomes WordPress.com, a rather costly and limited domain host. 
WordPress.com is most well known as the free website publishing solution, which becomes very expensive if you want to do anything custom. 
The free website you get with WordPress.com includes the name of the platform within your domain name. For example, if you want to name your website MyLovelyLovelywebsite, the final website address will be mylovelylovelywebsite.WordPress.com.
If you want to remove their name from your website's name, you will have to upgrade to a paid package. 
With such a solution, you can just focus on managing the content that goes or comes off your website whereas the rest of the maintenance and management is taken care of by WordPress.com.
2. Freedom and Control
It's not wrong to say that WordPress.org offers much more freedom and control compared with WordPress.com. Again, that's because WordPress.org is the fully customizable blogging software and WordPress.com is a conveniently-named hosting/service provider. 
WordPress.org
You choose your web hosting service for as long as you want.
You can even decide how much control you want to give your hosts on your website but you can't do that with WordPress.com

Again, it's important to highlight that WordPress.org is simply the software you use to create your site. First sign up for your web host, then install WordPress.org and start blogging!
WordPress.com
When you choose WordPress.com, you are choosing not only your website's content management system (blogging software) but the host as well.
You will have to pick your plan from one of the packages offered by WordPress.com.
If they put a limit on the amount of storage for your website, you will have to live with it. And in fact, this is what WordPress.com is often criticized for, i.e., the storage available for your website with their package is only 6GB. Even with their premium plan, you can only enjoy 13GB of space. While this much space can be enough for many websites, it is still good to have the options available to have more space.

You'll likely need to upgrade to an expensive hosting service. I found that I had an old WordPress.com account that I was getting charged for!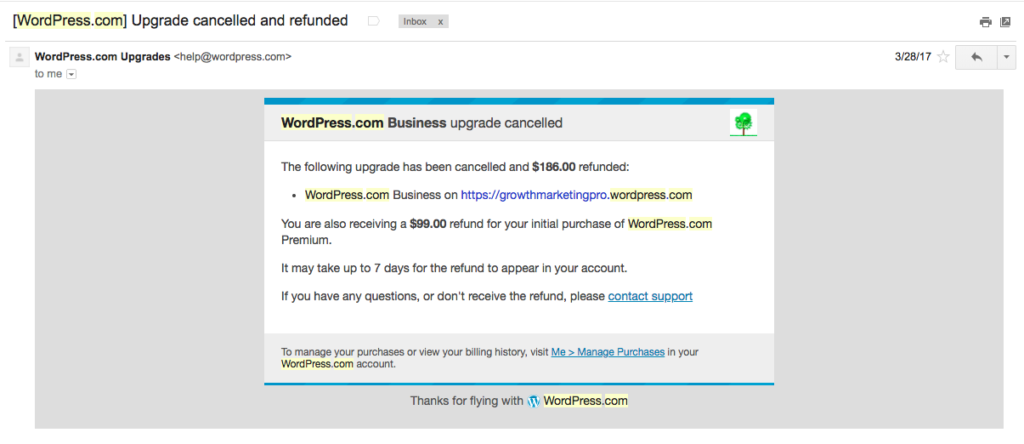 3. The Ownership of the Website
This particular factor applies when you are using the free account with WordPress.com. As you know, you can have your website hosted on WordPress.com with its limitations. Of course, your website's domain name will also include "WordPress.com" at its end when you choose the free account.
WordPress.org
With your WordPress.org website, you have full ownership of your website. That is to say, you can decide if/where/when ads appear on your blog. Your website is truly your asset. 
WordPress.com
The biggest issue with the free account is the ownership of your website and content. With the free account, you don't really have the "ownership" of your content. Break one term or condition stated by WordPress.com, and your content might vanish into thin air, or you'll be charged for a paid account. 
For instance, you cannot have affiliate links to other sites or you may find yourself having to pay for a membership tomorrow. 
Another thing to keep in mind is that your free WordPress.com website you will have to run ads for WordPress.com on your site unless you go to a paid version. 
Again, you must use the domain name WordPress.com gives you. It will look something like mylovelylovelywebsite.WordPress.com.
4. Maintenance and Management
Of course, when you have more freedom you will also bear a bit more responsibility. This is what happens when you want to have a website with WordPress.org. Since you own your website, you are responsible for the management and maintenance.
The good news is that "management and maintenance" really just means a web host. WordPress.com does the hosting for you. I highly recommend using one of the below as a web host, instead of WordPress.com. They are much cheaper and frankly, just as easy with more flexibility.
5. Website Optimization and Analytics Control
Don't overlook this difference!
Google Analytics is the best-in-class analytics tool that almost every blogger uses. Google Analytics allows you to see how many users are or were on your website and what those users are doing. Google Analytics tells you which of your blog posts are the most highly trafficked.
WordPress.org allows you to install Google Analytics with one click.
WordPress.com gives you access to a very simple and rather strange analytics dashboard. You can only use Google Analytics if you go with the most expensive plan from WordPress.com. 
6. Security
WordPress.org
WordPress.org doesn't have "security" per se. Because again, WordPress.org is just a platform you use to build your blog. Your blog is actually hosted on the internet on a domain name of your choice with your web host. With WordPress.org, your blog only has as much security as is provided by the website hosting service.
All three of these hosting platforms below have solid security. They all come with SSL certificates. The best web hosting services are now including free SSL certificates with their offers. This means your website is secure for all to view on the web!
WordPress.com
As a hosting solution, WordPress.com is secure. They don't reference much on their website about security, but after Googling around, it's clear they do have free SSL certificates, making WordPress.com ostensibly safe.  
7. Support
WordPress.org has no support! Remember, this is the job of your web host. So make sure you choose a great host.
Like other good web hosts, WordPress.com has a support team that is there to help you with technical issues. 
Final Words
Of course, the final decision has to be yours as to which service you will pick.
WordPress.org is an amazing tool that everyone can use to create their WordPress blog. But again, you will need to choose your own web host.
I'm not sure WordPress.com is the best hosting solution nor is it the cheapest. But if you want a completely hands-free experience, it's a viable solution. 
If like me, you fell into the trap and got a WordPress.com site by accident, you can still change it. There are a few technical aspects involved in doing this, but this page will explain in detail how you can move from WordPress.com to WordPress.org.
There's no question you should have a WordPress.org blog. But I recommend a few other hosting solutions ahead of WordPress.com.
Want to start a WordPress.org site?
–> Click here to get our Bluehost WordPress hosting deal <–