Latest posts by Mark Spera
(see all)
If you're looking to get started, or grow your affiliate site with SEO, this is the blog post for you.
I've made millions through affiliate marketing over the last decade. 95% of that income has come by pairing affiliate marketing with search engine optimization (SEO).
By harnessing Google search, I've built this site, Growth Marketing Pro, into a passive income machine. And last year, I sold one of my affiliate sites to Hims, a publicly traded healthcare company.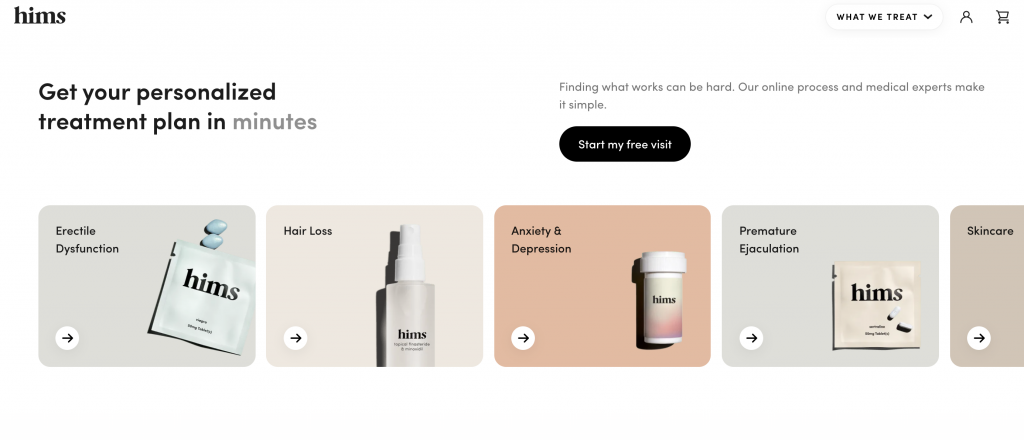 The best way to build a profitable-from-day-one affiliate marketing site is with SEO. That's because organic traffic is cheap, which means that your margins are 100% if you do it right. Keep reading to learn how to make SEO work for your affiliate marketing site.
Getting started with SEO affiliate marketing
Affiliate marketing is incredible because you don't have to have your own product. You can sell someone else's and earn a commission – and with some affiliate programs, the commission can be pretty hefty.
That means you don't have to fulfill the product, support customers, or deal with any of the other headaches associated with bringing a product to market.
SEO for affiliate marketers can be a complicated process, but if done well, the rewards are worth it. These are the 6 repeatable ways to win with SEO affiliate marketing…
1. Affiliate SEO: creating an SEO site
The first step in SEO affiliate marketing is to make sure you have a website optimized for organic search.
Nine times out of ten, that means WordPress.
Today, WordPress powers 39.5% — that's astounding. Some of the most well known companies' blogs are built on WordPress.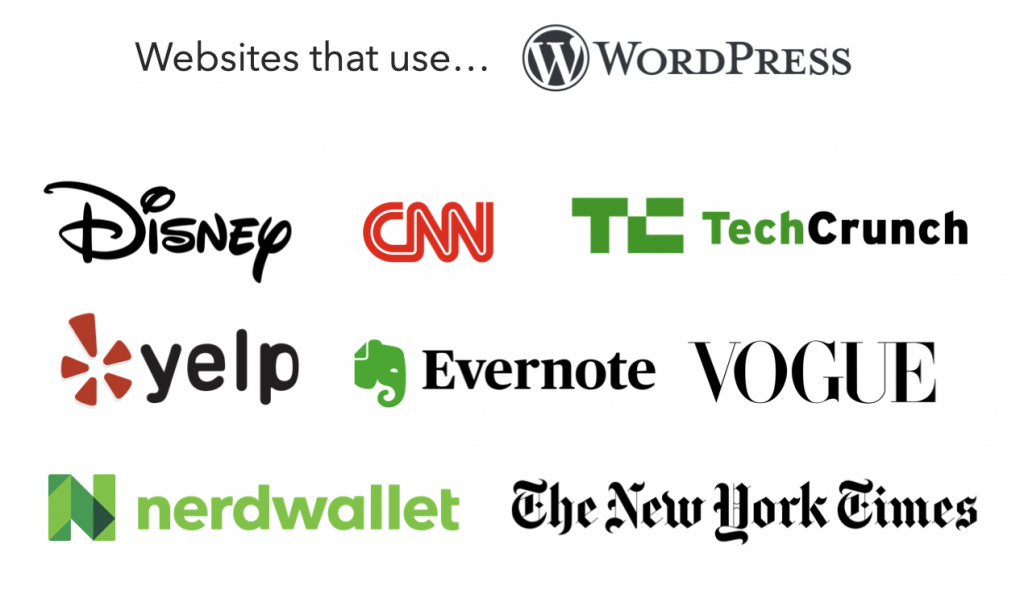 There's a few reason WordPress is perfect for SEO…
WordPress organizes content in a Google-friendly way. Many site builders like Wix and Clickfunnels can produce pixel-perfect designs, but aren't optimized for search. WordPress produces proper URLs, affords users the ability to use headlines, bullets, images, tables and more – all without any coding.
Themes: There are a million and one WordPress themes. Themes make it so you don't have to design your site from scratch. The best WordPress themes are lightning fast and follow SEO best practices, so you don't have to worry about whether or not your blog posts will rank.
Plugins: As of writing this, WordPress has over 60,000 plugins. Some of those plugins, like W3, Lazy Load, and WP Smush can optimize your site speed, which is an important Google ranking factor. Others, like Yoast and Rank Math can help you submit your sitemap, optimize meta descriptions, and even run redirects. Having one of these tools is a must in my opinion (they're both super simple to use).
Also read: How to Start a WordPress Blog
Also read: 17 WordPress SEO Best Practices
2. Affiliate SEO: choosing verticals
Probably the most important part of making money with affiliate marketing is choosing a vertical where there is money-making potential. In general, choosing products with high average transaction value (price) and high commissions (15%+) is best.
Finance: Finance can be a very lucrative affiliate vertical. Sites like NerdWallet and Credit Karma have made a killing selling credit cards, bank accounts, mortgages and more through their massive sites. There's still a lot of arbitrage left in the finance world; look for verticals that are still relatively untapped like crypto and crowdfunding.
Software: Email marketing software, hosting software, webinar tools and more. There are a million and one software tools that technologists use to run their businesses. As an affiliate opportunity, software is incredible. The margins on software are strong, so most partners pass along big commissions (15%-40% usually). Plus, the best software affiliate programs are subscription-based and therefore, have recurring commissions.
Physical goods: Because of Amazon's enormous affiliate network, physical goods are among the most common affiliate products. Often, these programs have lower average transaction values (and thus, lower commissions). But conversion rates can be incredibly strong, which can balance things out and make them quite lucrative.
Healthcare: There are thousands of affiliate programs in the healthcare space. The problem is that it's becoming more and more difficult to rank for healthcare related keywords. That's because Google has become very strict with so-called YMYL search categories – which creates wild search volatility for healthcare sites as Google pushes trusted domains like Healthline and WebMD to the top of search results.
But you should also choose something you like writing about.
I started a pet blog as a fourth affiliate site. While I love my cat (named Kitty), it only took a month or so to realize that writing and optimizing articles about pet care isn't exactly my idea of a good time. The blog actually gets some traffic and makes a few hundred dollars a month, but I just can't get motivated to really invest the 6+ months of consistent effort it will take to produce an exciting amount of passive income.
Starting a blog you care about is going to keep you motivated. Plus, Google favors authority. So if you have unique perspectives and a real deep understanding of your topic, you're going to be more likely to succeed.
One final word to the wise: if you haven't already chosen a domain name, it's best to keep it broad, yet related to your topic. Google is going to be hesitant to rank your content about marketing software if your domain is www.catanddoglovers.com.
3. Affiliate SEO: keyword research
The surest way to succeed with your affiliate site is with keyword research – the art of finding keywords that have high search volume and are relatively uncompetitive.
Of course, the keywords you choose must have high search volume and must be related to your product offering. After all, what good is it to rank for gym equipment reviews if you're trying to sell software?
There's a few ways to do this.
One of the easiest and lowest tech ways is by simply typing your seed keywords into Google. Google autocompletes a list of other popular search terms. These are often long-tail keywords.
Similarly, you can try this with YouTube's autocomplete or even by stalking your competitor's site to get an idea of what they're writing about.
Another (free) way I like to brainstorm and find pockets of search arbitrage is with Google Trends. Google Trends enables you to type in any keyword and see the change in search volume for that query over time. If you can find a keyword that is targeted and has growing search volume, you've found a real winner.
These tactics are all great, but the surest way to find pockets of keyword arbitrage is with a keyword research tool.
Most keyword research tools operate pretty much the same. Usually, you're prompted to type in a head term and it spits out a whole bunch of derivative, longer-tail keywords. The best keyword research tools will include monthly search volume metrics and some measure of competitiveness of the keyword.
GrowthBar is an excellent tool for conducting keyword research.
Try GrowthBar for 5 days free here.
Keyword research tools are typically very friendly to use and they make it super simple to choose long-tail keywords.
Something I'm always asked is, "how many monthly searches makes a keyword worth pursuing in my SEO strategy?"
It's a great question.
For some businesses, a keyword has to have 50,000+ searches a month to be worthwhile, whereas other businesses only need a couple hundred searches a month. In general, there's no "right" number of monthly searches that make a keyword worth pursuing.
One way to approximately calculate the size of the search opportunity is by doing a rough revenue sizing experiment using a few pieces of information:
The target keyword's monthly search volume
An assumption of click-through rate from the Google SERP to your website if you rank on page 1 (5-15% is a reasonable approximation)
The average conversion rate for your affiliate product (usually between 1 and 5%)
And the amount of revenue an average customer brings you — aka your average commission rate
This data will help you turn search volume into an estimation of potential revenue.
Say for instance, your Facebook ad agency wants to rank on page 1 for the keyword "Facebook ad agency." In order to roughly size the revenue opportunity of ranking on page 1, you take the monthly searches for that query (2,400), multiply it by 15% (the average click-through rate of the 3rd result in the Google SERP), multiplied by a conversion rate that is reasonable for your business or industry (10%), multiplied by the average revenue a lead drives for your business ($500). All in, that shows that the revenue opportunity for this search query is about $18,000.
Some keyword formats to consider:
Reviews: Many people are searching for product reviews. So if you're selling gym equipment, some great content could be "bowflex review" or "NordicTrack Commercial S22i Studio Cycle review."
Versus posts: Lots of people also search for comparison posts. Perhaps a workout enthusiast might search "NordicTrack stationary bike versus Peloton bike." Comparison posts are a great way to get in front of those Googlers.
Listicles: Listicles are another way people naturally search. Take for instance this query: "best ways to lose weight with a stationary bike." A long-form article about the top 10 ways to use a stationary bike to lose weight would be a safe bet for an article to rank and convert on this topic.
So, what format is best for a blog post on an affiliate site?
4. Affiliate SEO: create long-form content
This is a topic I have a ton of experience with. I estimate that I've written or edited over 1,000 blog posts in my career. I even made a YouTube video with a little extra information about how to do it well ?.
Long-form content is written content over 500 words. It satisfies the reader's intent, answers questions thoroughly, and keeps people on-page.
So how can you make great long-form content?
Great long-form blog content follows a few important rules:
It answers the Googler's query fully. Great long-form content covers a topic fully and from every angle. Make sure to cover the topic in as many words as necessary, then answer additional user questions at the end of the post.
It's long. Great long-form content is well, long. Broadly speaking, the optimal length of a blog post is over 1,500 words. Not because Google cares how long your content is, but because some queries simply require more words to answer completely. Great content creation tools like GrowthBar will tell you how long is optimal for any keyword.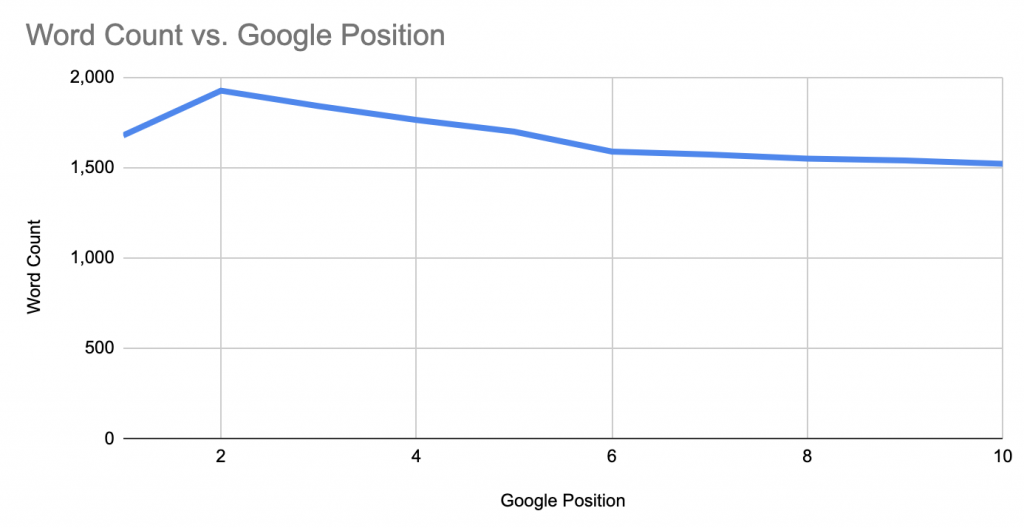 It starts strong. Many people who hit your site will inevitably bounce. In fact, something like 49% of visitors will leave your site immediately. That means you need to grab your visitors' attention FAST. I try and make my introductions concise and engaging. Those who hit my site are more immediately interested and are more likely to trust my authority on a subject.
It's easy to read. When you're creating affiliate content, it can be tempting to brain dump everything you know on a topic in dense paragraph format. Unfortunately, readers are busy and often browsing from a mobile device. Therefore, readability is key. So vary your sentence length. Use bullets and numbered lists where appropriate. And support your writing with video, images, gifs and infographics.
Also read: How to Write a Blog Post for SEO
5. Affiliate SEO: linking
Your content is half the battle.
The other half is linking.
Because Google is basically a trust engine, it wants to rank content with a plethora of hyperlinks pointed to it. Links are basically votes of confidence and all things equal, Google would rather show an article with loads of trust signals. We all use Google because it shows trustworthy results, right?
Therefore, to succeed in affiliate marketing you need to create great content and get hyperlinks to it from both your site and other sites.
Links from your site
The easiest way to send trust signals to your long-form content is by simply linking to it from other sections of your site — interlinking. You can incorporate links to other pages from blog posts that already exist. In fact, I often go back and update blog posts with links to newer articles in order to juice their link authority.
You can also consider linking from your main menu or site footer. Google sees those links as particularly strong signals.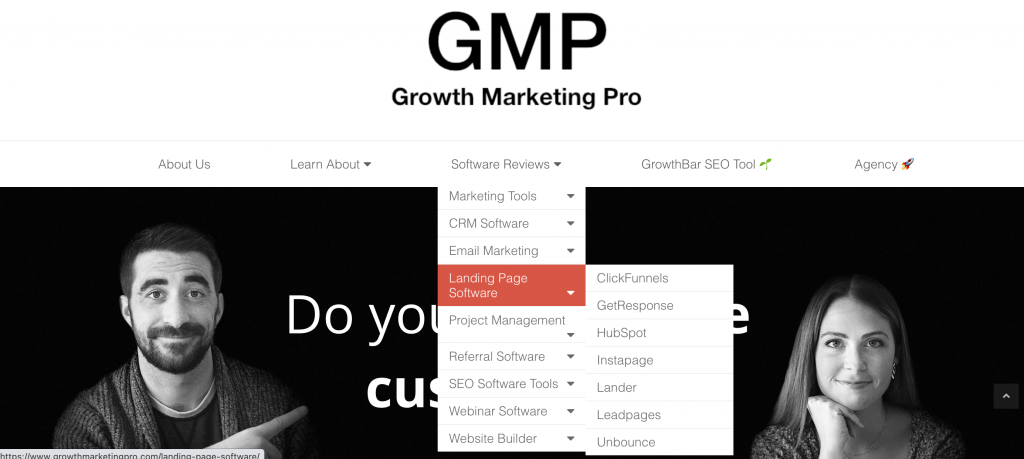 Suffice it to say, interlinking is super important for the ranking of articles on your affiliate site.
Links from other sites
These links are tougher to drum up, since you can't just insert them yourself. I could write 5,000 words about the best backlinking strategies. In fact, I have here. But for this section, I'll keep it a bit lighter.
Pages that rank #1 on Google have on average 2.7x as many backlinks as those in position #2.
While Google likes "natural" backlinks — ones that arise organically over time, you can definitely speed up the process by doing any number of things.
Write a guest post on someone else's site. Some sites explicitly say they accept guest posts and others do not. The only way to find out if they'd take a piece of long-form content from you is by asking.
Simply reach out and ask for a link in an authoritative article you see on the web. Sometimes you'll get a "yes."
Publish an expert roundup and let the experts know they've been featured…. then politely ask for a backlink to your content from their sites :).
Broken backlink building involves finding broken backlinks on the web and getting them replaced with a link to your site. Many of the best SEO tools have broken link finder tools. In essence, they tell you where there are broken hyperlinks around the web and enable you to reach out to those site owners to replace the link with one to your site.
Create great content. The best, most authentic
Word to the wise: Not all backlinks are created equal. It's best to focus on authoritative sites that have many backlinks themselves and/or a high domain authority (a measure of a site's repute). Use an SEO software tool to see which sites are worth pursuing. On a budget? Just use your best judgement.
6. Affiliate SEO: capture leads
You don't have to make all your affiliate sales right on your site.
Capture email leads when possible, so that you can convert users at a later date with your email marketing.
Our emails to the Growth Marketing Pro email list frequently generate between 30% and 50% open rates. So capturing leads is a smart way to drive additional affiliate sales.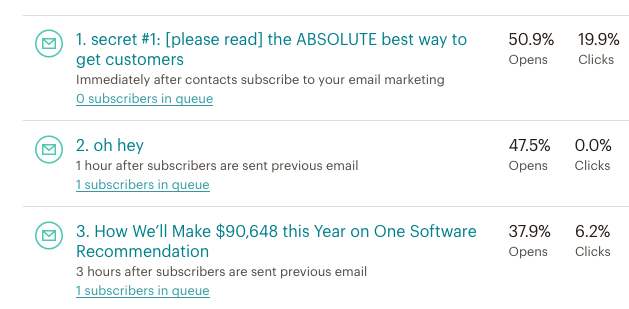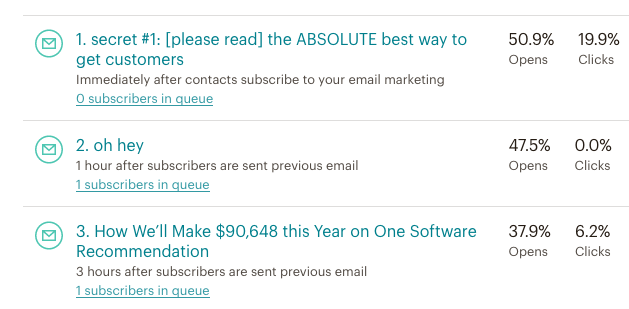 I like to include exit intent popups and gated content on my blog posts. Use a tool like Leadpages or Unbounce to create popups and email captures on your site and send them directly to your email provider. Both tools enable you to A/B test to find the most irresistible lead magnets possible!
Once you have leads flowing to your email provider, make sure to create an email drip campaign that automatically sends 6-10 emails over the course of two weeks with great, engaging content. Include natural affiliate links in your emails in the same way you would a blog post.
How to join affiliate programs
Joining an affiliate program is pretty easy. There are countless affiliate networks like ShareaSale, RewardStyle, Amazon, Ebay, Etsy, and many more.
So getting started with affiliate marketing can be as simple as signing up on one of these sites and choosing products to start promoting.
But many companies host their own affiliate programs. For instance, I write extensively about landing page software and my favorite tool is Unbounce. You can simply find their affiliate program on the website and sign up in a few minutes.
Most larger companies have a dedicated affiliate marketing staff who you should be able to reach out to with questions and best practices.
How else can you do affiliate marketing?
SEO isn't the only way to succeed with affiliate marketing. I happen to believe it's the best way because it's straightforward and relatively inexpensive.
But some other strategies do work.
SEM: In the same way that ranking organically via SEO works, you can also bid on Google Ads keywords. This means you'll pay-per-click and direct potential customers to your blog posts or landing pages geared at selling your affiliate products. As you can imagine this gets pretty expensive, so it's not the cheapest way to create sales. Hint: if you're selling a product that ships internationally, try running Google Ads in other countries. The cost-per-clicks are often much cheaper.
Social media: If you're on Instagram, TikTok, YouTube or Pinterest, you've probably clicked on an affiliate link. Influencers are often a part of affiliate networks and use their social reach to sell products. If you have an audience on social media, consider adding affiliate links to your posts and watch the sales roll in.
Direct sales: Yup, if you have direct human contact with potential customers, you can actually sell directly to them in some cases. For instance, if you have a marketing agency, you can sign up customers (with their permission) for software tools you think will help them grow their business. There's a whole world of offline affiliate selling – have you heard of LuLaRoe or Herbalife?
Affiliate marketing for SEO: conclusion
SEO and affiliate marketing isn't easy. If it was, everyone would do it. But if you write 20+ blog posts on your site and follow other best practices (like backlinking, interlinking and capturing leads) I guarantee you can garner organic traffic and sell products.
Doing so will lead to passive income. And like Warren Buffet says, ""If you don't find a way to make money while you sleep, you will work until you die."
Let me know if I missed anything or if you have any questions in the comments!