Latest posts by Hailey Friedman
(see all)
Web conferencing software is empowering communication and collaboration across the globe by creating digital meeting rooms that utilize video and audio to bring people "together."
And it's working. Zoom recently IPO'd to a lot of fanfare. The point is: web conferencing is here to stay.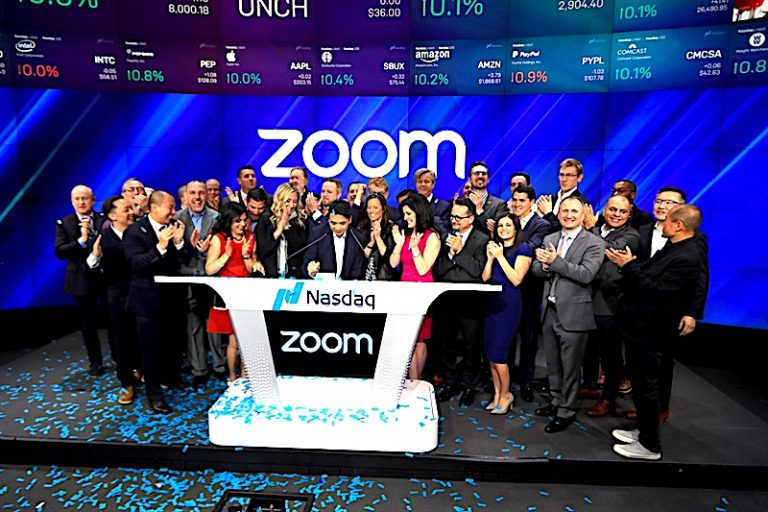 Web conferencing software serves many purposes.
It's great for:
Video calls: Companies with remote employees can use web conferencing to collaborate via online video calls.
Virtual Meetings: Setting up meetings with clients anywhere in the world and meeting them "face-to-face", but digitally.
Webinars: Entrepreneurs & businesses selling products online or engaging their target audience through informative webinars.
Web conferencing allows for more personal, face-to-face relationship building — knocking down the barrier of geography.
Web Conferencing Software Features
Web conferencing tools will generally allow meeting or webinar attendees to do the following:
Share their screen
Show their face
Collaborate via live chat
Web conferencing software for hosting webinars will often include features that help you sell to your target audience, such as marketing tools, landing page forms, contact management, offers, and call-to-action capabilities.
Looking for webinar software to sell a product? We have a different ranking for that. You might like The 15 Best Webinar Software Tools instead.
Web conferencing software for video calls, often provides more tools for collaboration & interaction, like screen sharing, presentation control, and meeting recordings.
Best Web Conferencing Software
About: Demio has positioned itself as a "smart webinar platform" with powerful tracking options. Tracking, retargeting, and conversion pixels can be added to the webinar registration page, the thank you page, or even to the webinar room.
Demio is great because it has an automation rules feature that allows you to do things like send the webinar recording to those that joined a bit late. Creating these rules will allow you to segment your audience based on the actions that people take – a very useful tool when you start retargeting your webinar participants.
The final thing to know about Demio is that it is an incredibly simple tool. It is perfect for webinar beginners and advanced users alike.
Ease of Use:
Takes only minutes to set up
Easy-to-use interface
Reliable
Helpful customer support
Easy to learn
Features:
Automation rules and tracking options
Invite others as collaborators during events
Upload and share materials and downloadable resources
Create a customized registration process
Manage and export contacts
Pricing:
Pricing for Demio is $49/month for the Starter plan with 50 attendees, $99/month for the Growth plan for 150 attendees, and $234/month for the Business plan with 500 attendees. There is also a 20% discount for annual billing, as well as 14-day free trial.
I think: Demio is great for beginners or anyone who feels uncomfortable with numerous settings and clunky interfaces. It only take minutes to schedule your first event, and less than that to set up recurring webinars.
More experienced users still choose Demio as well due to its extensive automation tools, such as automation rules that include sending the recording to attendees who joined after the 30-minute mark. This makes it easy to segment your audience in real time.
Special Offer: Try demio out for free by clicking here!
About: WebinarJam is a flexible webinar conferencing software designed to produce a complete live stream event, from registration to replay. Compatible with all operating systems and devices, and supporting multiple languages, you can host live webinars with thousands of attendees from anywhere.
If you've read pretty much any of my webinar posts, you probably know that WebinarJam is one of my favorite webinar software.
Ease of Use:
Quick and easy to set up webinars
Works in all browsers, OS and devices
Automatically records the webinar
Training videos available
Excellent video and audio quality
Features:
Advanced chat
Push to YouTube or Facebook Live
Landing page templates
Pop up buttons, offers & countdowns
One-click registration
Pricing:
Pricing for WebinarJam starts at $475 per year for the Basic plan, which comes out to almost $40 per month. The Pro plan is $783 per year and the Premium plan is $997 per year.
I think: WebinarJam is possibly the most intuitive and simplest webinar solution available for anyone wanting to sell a service or product online via webinar. The software allows for pop-up calls-to action during webinars, so your audience can make purchases with ease.
Another highlight of WebinarJam is the ability to communicate with views through live chat, along with all of the other bells and whistles, such as a slick interface, multiple presenters, HD video, and live broadcast to Facebook or YouTube.
Special Offer: We've negotiated an awesome deal with the WebinarJam folks, because we really do think everyone should get to try this software. Click here to get a 14 Day WebinarJam Trial for just $1.

If you regularly facilitate product demos and training sessions, Livestorm is a great option for companies at any stage. You can get sessions up and running in a matter of minutes and the tool takes care of most of the planning with auto-generated registration pages and event reminders.
Livestream is great for when you have multiple people collaborating on a presentation and you can easily invite any of your peers to join you on screen. Data and insights collected from sessions can be viewed in Livestorm's dashboard or in your CMS which can be connected to your account. This lets you keep an eye on visits, registrations and attendees so teams can improve and optimize your strategy.
Host live product demos and customer training or record and automate training and onboarding videos for internal use. Livestream is a strong webinar tool with all the staple features you could want like polling and Q&A during presentations.
Pros
Great for live training and product demos
Generates complete registration pages and sends email reminders to people who have registered for your webinar
Invite teammates so you can collaborate on building presentations
Fully customizable branding lets you create presentations that are unique to your business
Easily lets you invite moderators and attendees to join the host on screen
Automate different moments to happen during your webinars like videos and messages so you don't need to fumble around with them during the presentation
Connect Livestorm with any of your marketing tools like Salesforce and HubSpot so you can collect contacts and data from your webinars
Cons
Since it's a browser software, video and audio can be affected by the host's internet connection
Livestorm Pricing Livestorm offers Webinar Basic for free so you can test the platform with up to ten live attendees. The Webinar Premium plan costs $99/mo and you get 100 live attendees.
Designed for meetings, Livestream's Meet Basic plan is free and includes all Webinar Basic features as well as one meeting room with up to four participants. Meet Premium used to cost $31/mo but as a form of COVID relief, this plan is now offered for free. With this plan, you get all Webinar Basic features along with unlimited meeting rooms with up to 12 participants.
Link Livestorm
Companies All sizes
About: GoToWebinar is a proven and professional webinar solution that is one of the oldest tools of its kind around. While you have to install the software, the platform is fairly easy to use and allows for a large number of participants.
Ease of Use:
Easy to schedule and manage webinars
Can plan recurring webinars
Provides seamless integrations with other tools
Can share webinar recordings
Easy installation
Features:
Pre-recorded events
Engagement dashboard
Polls & surveys
Recording
Attendee reports
Pricing:
Pricing for GoToWebinar starts at $89/month.
I think: GoToWebinar is good for businesses who need a web conferencing software solution that can integrate with various tools they may already use, such as Salesforce and Zapier.
It's possible for users to monitor real-time webinar stats, create custom invitations and reminders, and add surveys for participants. Overall, GoToWebinar is a decent option. Plus, it's likely that many users within your organization have already used GoToWebinar, given its popularity.
Try GoToWebinar for yourself by clicking here.

About: GoToMeeting is an online video conferencing software that offers reasonably priced services for any level of business. Their goal is to provide a simple way for people to interact from wherever they are, and their platform certainly achieves that goal.
GoToMeeting is awesome because it helps facilitate collaboration amongst its users. The company has thought about the user experience from both sides of the screen. Whether you are participating in a GoToMeeting online meeting or trying to facilitate a webinar through this software, you are sure to have a great experience.
Ease of Use:
Quick One-Click Meetings
Commuter Mode let's you participate in a meeting while you're on the go
Room Launcher will allow you to start your meeting directly from the GoToMeeting mobile app
Voice Commands allow you to focus on what is in front you, rather than trying to figure out the software.
Cloud Recording means that you don't have to take notes – you can simply record your meeting and listen back for anything you may have missed.
Features:
250 participants
25 active HD webcams
Calendar integrations
Video to slides
Screenshare and draw
Personal meeting rooms
Excellent audio
Turnkey room equipment
I think: The overall experience of using GoToMeeting is great. It runs flawlessly almost every time, and there are tons of different options to help make your meeting as good as it can be. They have all of the software features that I look for in an online meeting platform, including great host solutions that allow you to direct how the meeting goes.
One feature I'm not so keen on is the limit to the meeting participants. If you are going to use your meeting software to host an online learning or webinar type of event, you might be better of with a webinar software instead.
About: ClickMeeting is a browser-based web conferencing software whose major selling point is its user-friendly interface. The platform covers the complete webinar process, from preparation to follow-up.
Ease of Use:
Improved screen sharing
User-friendly
Step-by-step setting
All browser-based, no software installation
Offer on-demand and automated webinars
Features:
"Waiting room"
Webinar recording
Simultaneous chat translation
Moderated Q&A
Polls & surveys
Pricing:
ClickMeeting offers a 30-day free trial for up to 25 attendees. Plans start at $30/month for the Live plan and $45/month for the Automated Plan. There is also a custom-priced Enterprise plan for large companies.
I think: ClickMeeting is designed for conveying knowledge or expertise and generating sales with a target audience, as well as for virtual meetings. The software might be useful for small and medium businesses, web entrepreneurs, and even international companies.
If attendees get to the meeting or event early, there is a "waiting room" where they can get additional information about the agenda, topics, presenters, and more. The platform also offers extensive interactive options for live events.
Special Offer: Try ClickMeeting with a free 30-day trial.
About: More of a web conferencing software tool than anything else, Zoom combines group messaging, simple online meetings, and cloud video conferencing into a single easy-to-use platform.
Ease of Use:
Easy to share screens
Simple setup
Integrates across other systems
Easy-to-use interface
Very intuitive features
Features:
HD audio and video
Simultaneous screen sharing
Meeting recordings
Cloud storage
Group and private chat
Pricing:
Free meetings are available with up to 100 participants with limited duration (up to 40 minutes). Paid plans start at $14.99/month for the Pro plan and $19.99/month for the Business plan and Enterprise plan.
I think: One of the best things about Zoom is it provides free basic web conferencing features. While it shouldn't be used for selling products, the tool is great for internal virtual meetings with simultaneous screen sharing capabilities.
Along with the ability to work on all devices and platforms, Zoom provides several excellent features for video conferencing, such as chats and recordings. It also boasts great video and audio quality.

About: Lifesize has been in the video conferencing industry for nearly two decades and specializes in both cloud-based video conferencing and HD camera systems and phones. Whether you're on your phone or on a desktop, the Lifesize App is easy to use and the quality is like no one else.
Ease of Use:
Quick and easy to schedule meetings
Works in all browsers and devices
Help content available
Excellent video quality (4K)
Features:
Click-to-call team directory
300-way video calls
4K screen sharing
Unlimited guest invites
Meetings encrypted by default
Stream and Record any meeting
Pricing:
In response to COVID-19, Lifesize is offering a 6-month Lifesize account for free. The Standard Plan for small teams starts at $16.95/month. The Plus Plan for small and midsize companies starts at $14.95/month with a minimum of 15 hosts. The Enterprise Plan for large companies starts at $12.95/month with a minimum of 50 hosts. All of their pricing information can be found here.
I think: Lifesize's video quality is unlike competitors. As the leader in 4K video conferencing, you can guarantee every call is going to come through crystal clear. It's no wonder why many hospitals and medical offices use Lifesize to connect with other doctors and patients. When details matter, Lifesize is the tool to use.
Special Offer: In the wake of the COVID-19 pandemic, Lifesize is offering free, unlimited video conferencing service to all global businesses for six months.
About: EasyWebinar can be thought of as an easy-to-use, all-in-one web conferencing software solution. They operate as both a webinar solution and a marketing solution, making their software one of the more appealing options out there.
The EasyWebinar platform is incredibly comprehensive. They offer a live webinar feature, automated webinar features, a mobile app, a pre-made sales funnel, HD video, chat, and so much more.
Ease of Use:
Easy WordPress plugin
Good customer support
Intuitive, easy to navigate platform
Easy to use
Simple setup
Features:
Analytics
HD video
Social sharing
Screen and window sharing
Built-in email notifications
Pricing:
Pricing for EasyWebinar starts from $78/month for the Standard plan, from $129/month for the Pro plan, and from $499/month for the Enterprise plan. You can get three months free with annual billing.

I think: EasyWebinar, as the name would suggest, is considered to be one of the easiest to use web conferencing software solutions there is. The evergreen, or automated, webinar capabilities has analytics and sales funnels that make it a true selling machine.
Live chat, Q&A, screen sharing, multiple presenters, and several other features, combined with the very intuitive interface and easy webinar setup make EasyWebinar a great solution for nearly anyone.
About: Cisco Webex is a web conferencing software designed for team collaboration, allowing users to screen-share and collaborate through voice or HD video calls. WebexMeetings offers a modern, consistent, and simple video experience that integrates with devices and tools teams already use.
Ease of Use:
Mobile app
Robust support for large accounts
Makes it easy for teams to collaborate
Easy to set up group meetings
Intuitive interface
Features:
Live chat
Polling
Screen sharing
Q&A
Recording
Pricing:
There is a Free personal plan for up to 50 participants. Paid plans start at $14.95 per month for the Starter plan, $19.95 per month for the Plus plan, and $29.95 per month for the Business plan.
I think: Cisco Webex is more a team communication web conferencing software, designed more for internal use than a webinar tool for communicating with hundreds of existing and potential customers.
With its mobile app, Webex provides a simple way for teams to collaborate while on the go. It also offers all of the necessary features needed for a company conference call, such as live chat and screen sharing.
About: Google Hangouts is a free web platform that works with YouTube. In order to use Hangouts for web conferencing, you will need the Chrome browser and your own YouTube channel. Teams can connect from anywhere, as long as they have a Google account.
Ease of Use:
Automatic recording
Free platform
User-friendly
Good video quality
Tutorials available
Features:
Instant messaging
Intelligent muting
Built-in screen sharing
HD video calls and group conferencing
Auto screen focus
Pricing:
Google Hangouts is a free platform.
I think: Google Hangouts is popular throughout the business work due to its useful features for inviting the attendees. Also, multiple people can speak during the event and recording can be shared easily upon completion.
Hangouts is best for small web conferencing events, such as team meetings, since only up to 30 people can be in the chat. There are also no marketing features offered with the platform.
About: AnyMeeting, now a part of Intermedia, is a simple web conferencing solution that is primarily used for business meetings and educational purposes for small groups or coaching. It features a simple, clean design.
Ease of Use:
Reliable
Easy-to-use
Good customer support
Simple setup
Mobile app availble
Features:
YouTube video sharing
Screen sharing
Presentation sharing
Chat
Recording
Pricing:
AnyMeeting costs $9.99/user per month for the Lite plan or $12.99/user per month for the Pro plan.
I think: AnyMeeting is particularly good for startups that need a simple way to host virtual business meetings or entrepreneurs with a coaching business.
One of AnyMeeting's main selling points is reliability, in addition to offering the possibility to share audio/video clips and pre-uploaded presentations during the meeting. Users can also chat, take notes, and share the presenter's screen.
Conclusion
You can't go wrong with any of these tools. At the end of the day, the quality of the delivery and the content of your web conference is far more important than the software.
But in general, we recommend one of the tools at the top of the list for the quality, price, and consistency of experience.
Also read: