Latest posts by Mark Spera
(see all)
How many times have you come up with a brilliant idea for a mobile app or software tool and have wished you knew how to code, so you could create the next Instagram or Slack?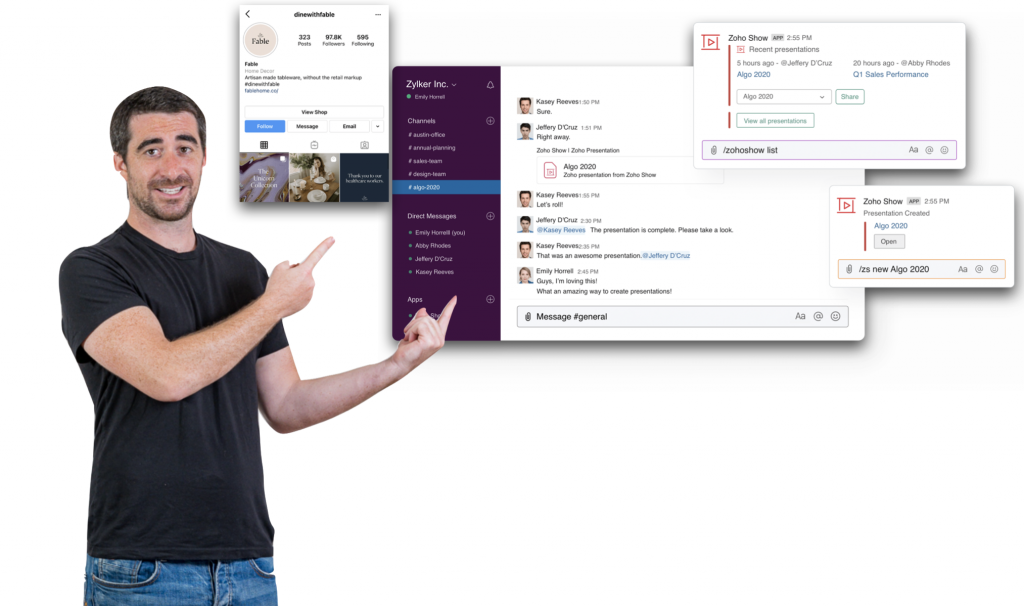 Or, maybe more reasonably, you wish you could code so that you could solve a business problem or streamline a process that you repeat every day.
Well, no more wishing!
With no-code and low-code app builders, you can design and create an application without needing coding knowledge, or the money to hire a coding team.
These no-code development platforms are truly industry-changing, giving the non-techies the opportunity to design and produce applications, and providing businesses with almost endless options to improve operations.
This blog post will help you find the best no-code app builder for your specific use case.
What is a No-Code App Builder?
No-code application builders are platforms that allow designers, artists, creatives, SEOs–whoever–to develop usable software quickly without coding. Originally made for team members without coding experience who were part of product creation, no-code development platforms help anyone make fully functional apps using straightforward visual editors that offer pre-coded elements like text boxes, videos, buttons, etc.
With drag-and-drop tools, WYSIWYG editors (what you see is what you get), workflow automation, beautiful design, and cloud-based spreadsheets to house your data before it's displayed… no-code development platforms do A LOT. They…
Streamline business operations: Some no-code platforms are used most often for business and project management.
Build actual applications: Others are truly just to help you build mobile or computer applications for your company.
How Do No-Code App Builders Work?
No-code development platforms will vary, but most of them follow similar steps to build your application or workflows:
Come up with an app idea (mobile or web-based)!
Prepare your data: It's helpful to prepare whatever data you are trying to organize before designing your app. Some app builders may require this, but in general it will be easier to design an app when you know what information you're including in it.
Design your app: Choose with pre-made templates or start right from scratch with the text, images, and other elements you want.
Add various elements, automations, and actions: After you have the design layout, how do people use your app? What buttons do they press and what actions should they take? And does your app allow them to get where they want to go? Many no-code development platform have various views you can use to
Test & deploy: Or deploy and test! Whichever the direction, get feedback on how your app is being used and what edits you have to make before sharing with the public.
The Best No-Code App Builders
These are the best no-code app builders ranked by price, reviews, and my personal experience with each.
1. Bubble: best for web apps

Bubble is a seriously incredible product that enables you to make any app with absolutely zero code. You build a prototype to test out your idea and then share it with your customer-facing platforms–all without any Javascript, HTML, or big databases to navigate. Bubble hosts and deploys your application for you, so you don't even need a web server.
They even let you see how it works by editing their own homepage. Pretty cool.
Along with Airtable and Appy Pie, Bubble is a best-in-class no-code app builder… and venture capitalists agree. Bubble has raised over $100 million to bring its no-code app builder to life! And now, several venture-backed companies use Bubble to power their products.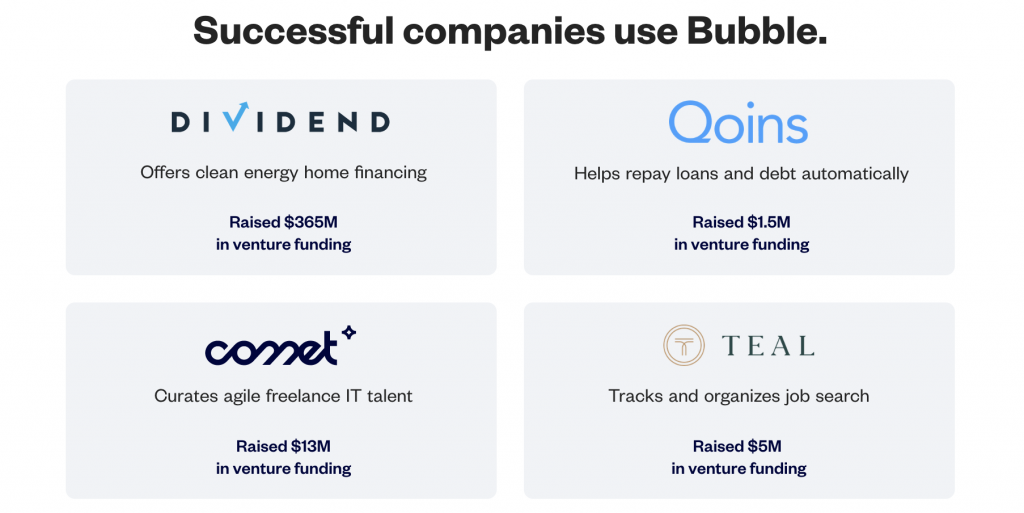 Features
Mobile-friendly and dynamic content
No hard limit for number of users, volume of traffic, or data storage
Password or OAuth 2.0 logins
Dynamic and static content elements for increased interaction

Pricing
Bubble offers a free option and agency subscription model, as well as discounts for students and nonprofit options, so anyone can get started app-building in no time. Annually, membership options include:
Personal: $25/month
Professional: $115/month
Production: $475/month
Cons
Bubble is more for consumer app building than as an add-on to existing development projects: this is truly an all-in-one solution
Bubble will get expensive if your product scales — however, it will still be much cheaper than paying developers
Bottom Line
Bubble is the best no-code app builder for creating a consumer-facing products and web apps. It enables you to make pixel-perfect designs that come to life in app form. Plus, it's the simplest to use: Bubble guides you through all the steps for creating an app in a logical, easy-to-read way.
2. Appy Pie: best for mobile apps
Appy Pie is another very strong no-code app builder that allows you to create multifunctional native apps using pre-set templates and color themes that you can customize for your needs. Whether you're building a shopping app, dating app, delivery app, or others, Appy Pie is one of the best no-code app makers in the game. They also offer courses on building applications for users from students to professionals at all skill levels.
Features
Real-time interface edits
Application testing and analytics
Offline usage and updating
Works for iOS & Androids and built-in app store publishing
Conversion option from websites to apps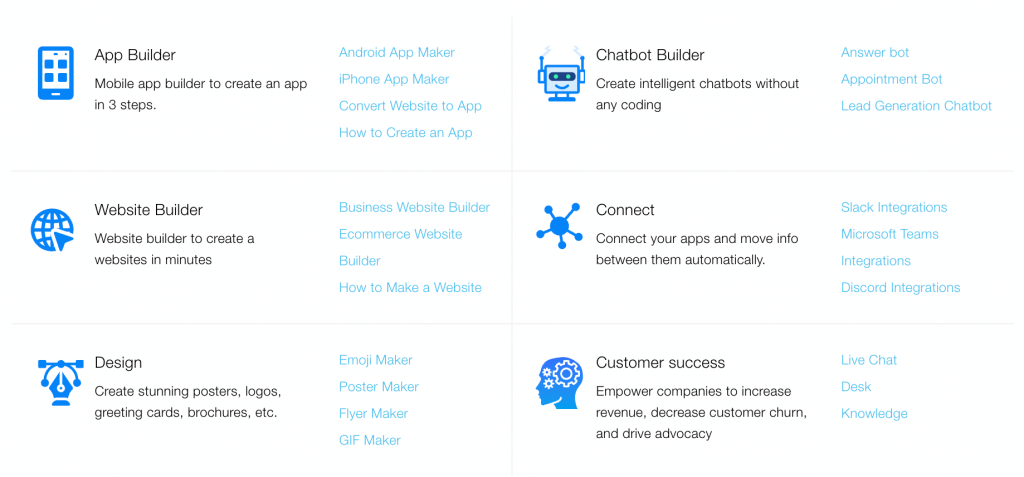 Pricing
Appy Pie starts with a free option, and then you can upgrade for complete features.
Basic: $16/app/month (supports Android)
Gold: $36/app/month (supports Android)
Platinum: $60/app/month (also supports iOS apps)
Cons
Like all technology, there are bugs sometimes — reviewers on G2 cite a few
A couple users also report customer support is lackluster
Bottom Line
Don't let its cute name fool you, Appy Pie is incredibly powerful. They claim to have over 10 million customers using the tool. Note: Appy Pie will work for web apps, but it specializes in mobile apps. If you're building a mobile app, this is probably the tool for you.
3. Airtable: best for operations teams

Airtable is an extremely powerful app builder that large businesses and enterprises use to manage their data, similar to a project management tool. Based on spreadsheets, Airtable helps you create solutions tailored exactly for what teams need–no more, no less. Their pre-made templates and intuitive design help marketing, product, operations, HR, sales, and finance teams reach new levels of organization and productivity.
Features
Various views of each project
Workflow automations & integrations
Over 50 pre-built apps to include in your own
Real-time editing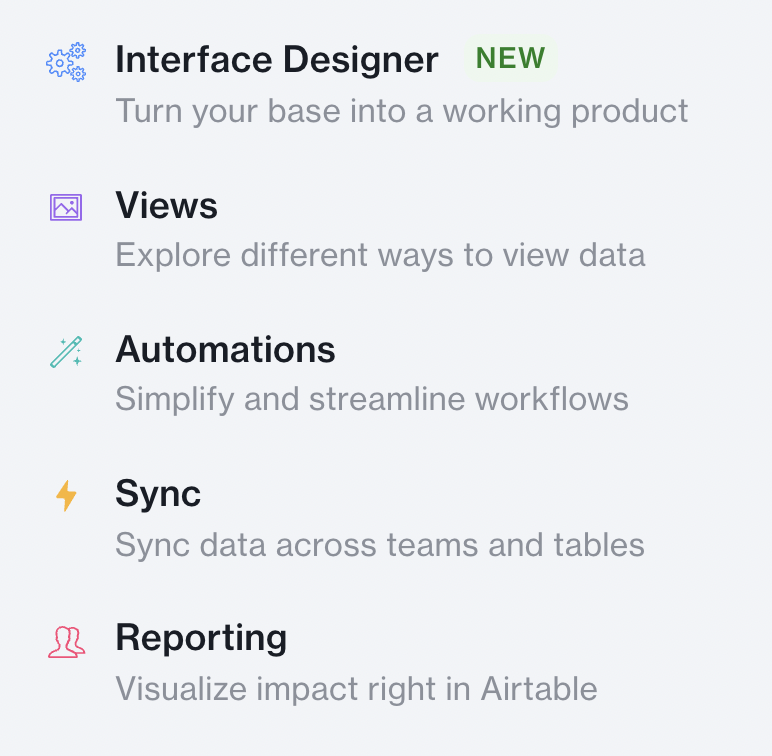 Pricing
Airtable offers a free plan best for individuals or those just starting out, and an Enterprise option for more specific needs.
Plus: $10/seat/month
Pro: $20/seat/month
Cons
Airtable is more rudimentary than Bubble and Appy Pie in that it's more for project management based on spreadsheets, rather than building out a usable product application.
Bottom Line
Airtable is a dream if you're buried in spreadsheets and want to productize some of your operations tasks. It is half project management tool, half no-code app builder. It's not the best choice for building a consumer-facing app.
Also read: The Best Project Management Software Tools
4. Studio Creatio: best for enterprise businesses

Studio Creatio is a no-code platform with composable architecture to automate workflows and build
applications with maximum degree of freedom. It combines a range of no-code tools that enable users to
create powerful business applications in hours and minutes instead of weeks. Thanks to its focus on drag-
and-drop development tools, even users without deep technical skills can successfully implement business
applications, automated workflows, ML/AI-powered models for data-backed decision making, and business
rules.
Studio Creatio offers one environment for workflow development, automation, and orchestration. You can create your own process templates, utilize workflow automation solutions from Creatio marketplace, and
connect multiple departments, systems, and data stores into a unified digital ecosystem. It is definitely an enterprise tool and particularly useful for building internal workflows.
Features
Creatio provides composable architecture that consists of packaged capabilities created as composable elements where every component is pluggable, replaceable, scalable, can be expanded
Studio Creatio provides extensive integration capabilities (.Net tools, REST, SOAP, OData, open API)
Application Hub enables build applications in just a few clicks
No-Code Designer allows create and modify pages and views, data models, workflows, and integrations
Freedom UI Designer provides with a library of predefined views, widgets, and templates to accelerate the design process
AI & Machine Learning to streamline decision making and increase your efficiency
Enterprise Scalability to take advantage of the highest level of security and safety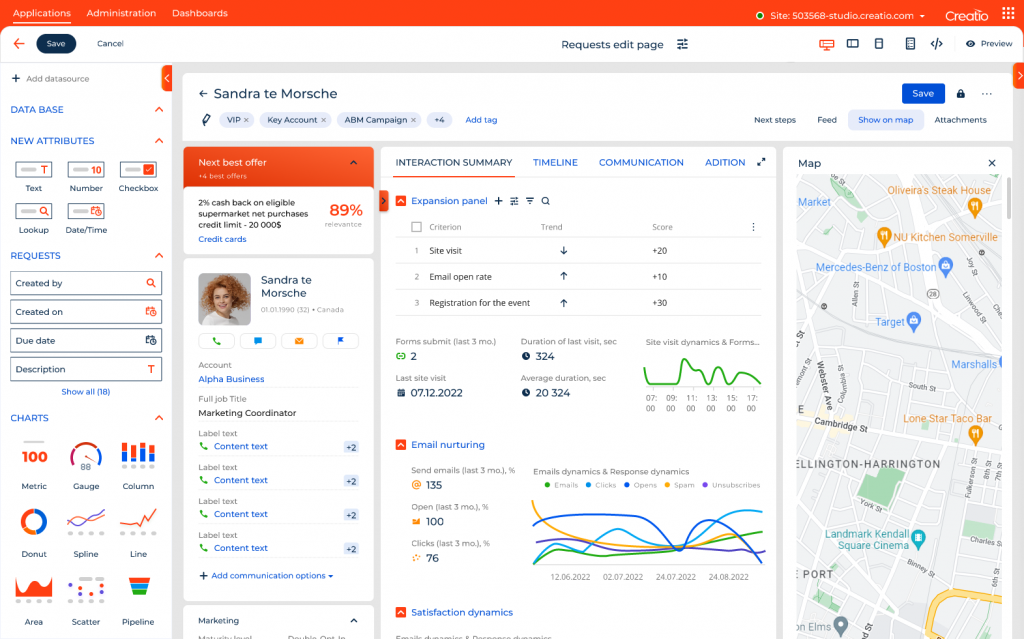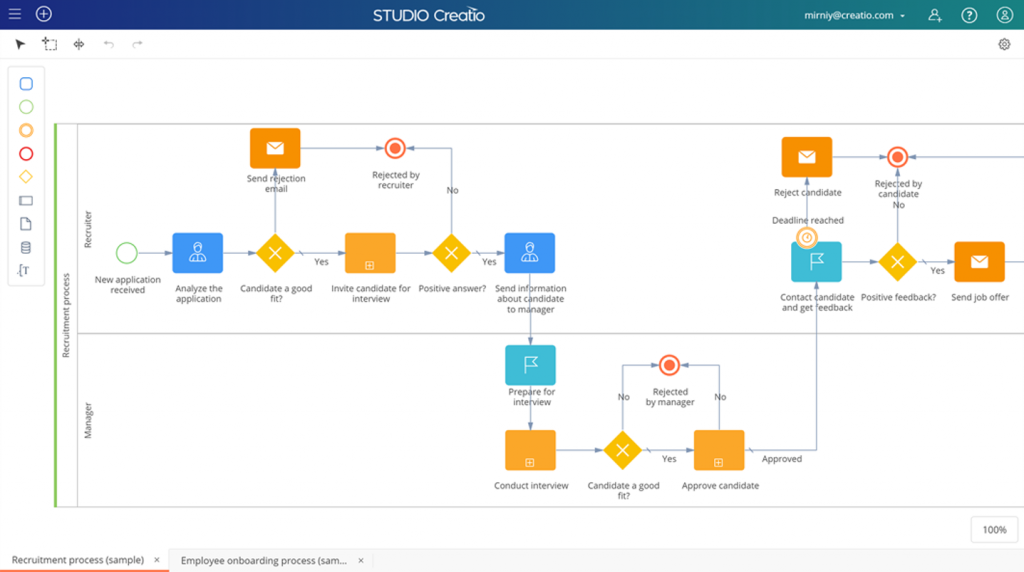 Pricing
Creatio offers a 14-day free trial for you to test all the features available. You also can get a free demo with CRM experts and after choose an option from composable pricing model, starting from $25 per user/month.
Cons
Creatio is not the best fit for smaller businesses. It is an upmarket, enterprise platform, mostly used for no-code internal applications (think: linking your CRM to documents or some other internal tool).
Bottom line
Awesome no-code product for the enterprise.
5. AppSheet

AppSheet is another no-code app builder where you can design and create a full-service app in days without any code. With over 4.1 million apps created, AppSheet applications can capture images, log locations, scan barcodes, generate reports, send emails, apply logic, and much more. With an easy how-to guide and videos to follow along with, AppSheet makes it easy for you to get your application made.
By the way, AppSheet is such an exceptional tool that Google acquired them!
Features
Multi-platform app in real time
Rich data collection
Capture & display geographic or indoor location data across devices
Machine learning & process automation
Access via web and mobile platforms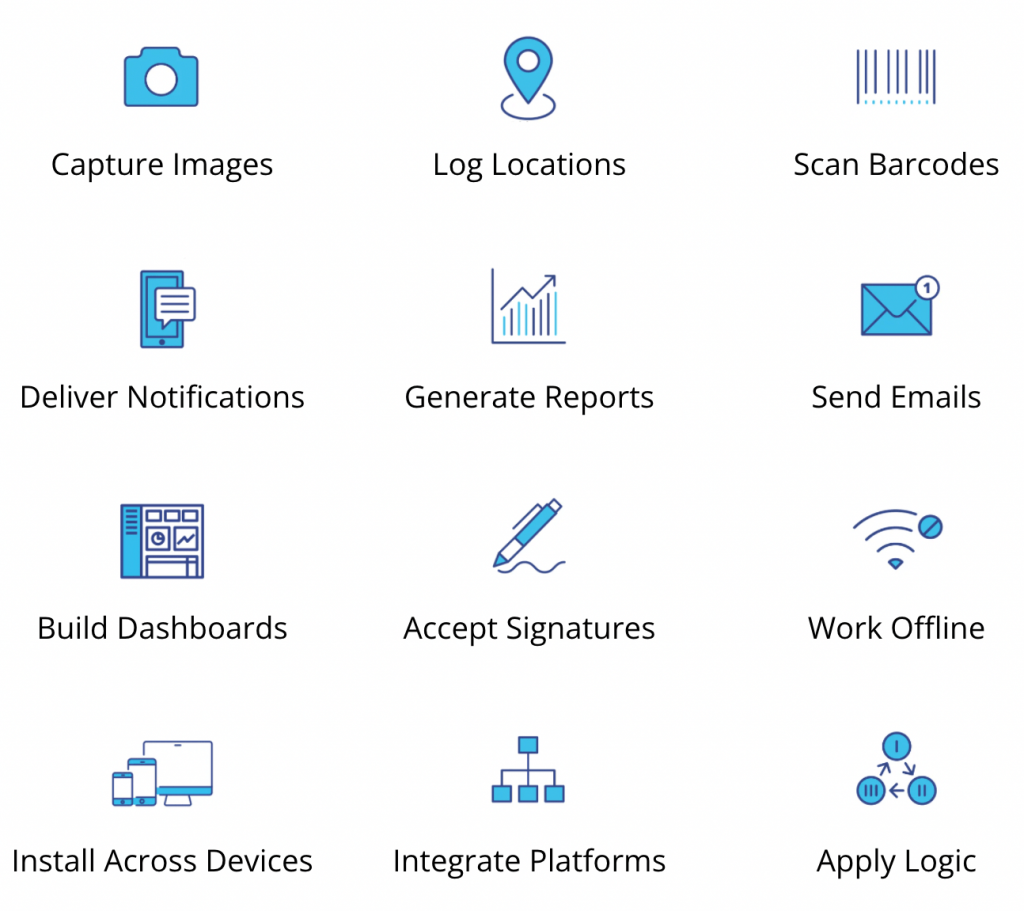 Pricing
AppSheet allows you to start building and testing apps with up to 10 users for free, using features from any plan. Once you're ready to bring in your full team, you choose one of these two plans, or contact them directly for Enterprise pricing:
Starter: $5/user/month
Core: $10/user/month
Cons
There can be a bit of a learning curve when starting with AppSheet.
Bottom Line
AppSheet is right at the top of most lists for best no-code app builders. It's for consumer apps, businesses processes and everything else in between.
6. ClickUp

ClickUp is a full service application with the ambitious motto to be the "one app to replace them all." With 35+ "ClickApps," 50+ action points for automations, documents, reports, project management and more, ClickUp is a virtually limitless platform. It also offers a great no-code tool that connects different sources of information to create funnels and workflows for the ultimate efficiency.
Features
Nested documents and wikis with real-time collaboration
1,000+ native integrations
Pre-built templates and drag-and-drop capabilities
Link all of these features together within the editor
Coaching and course options to become a ClickUp expert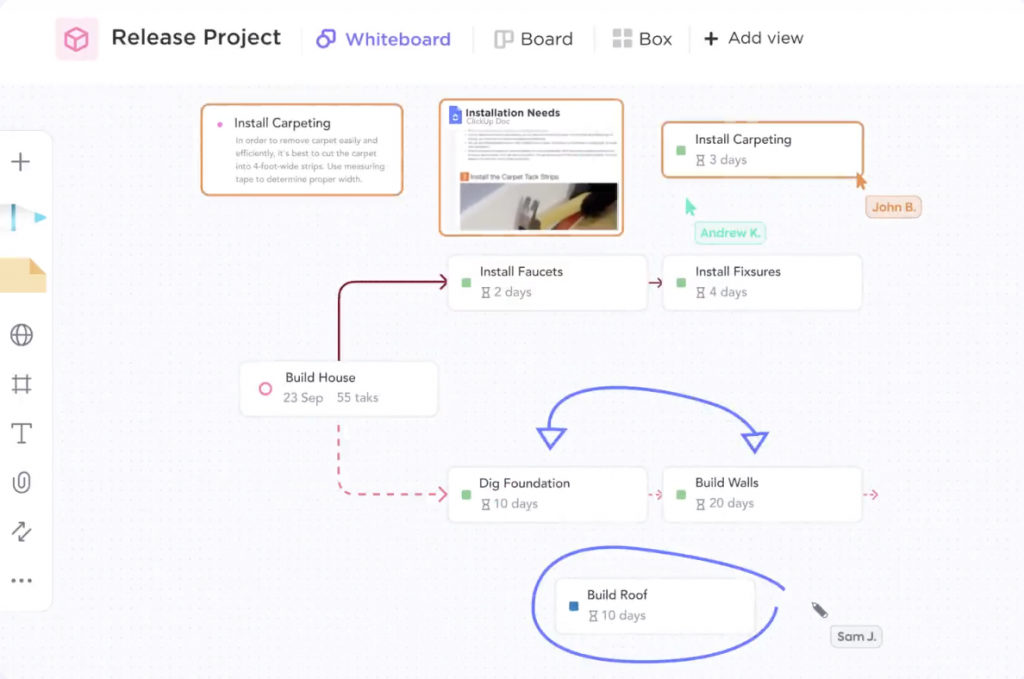 Pricing
ClickUp offers a free forever plan and an enterprise option for large teams.
Unlimited: $5/member/month
Business: $9/member/month
Business Plus: $19/member/month
Cons
ClickUp is also not the best tool for building a consumer-facing app
Bottom Line
ClickUp definitely has no-code features. But it's much like Airtable in that it's primarily a project management tool.
7. Ninox

Ninox is an app-building platform designed to improve business processes through a customizable platform built from drag-and-drop spreadsheets, forms, charts, and reports. Streamline your workflows on everything you use while collaborating with your team from anywhere. Serving industries all over the map, from IT to real estate to med-tech to construction, any organization is able to build an app to serve their customers.
Features
No Internet connectivity needed
Kanban, Gantt, Cards and Diagrams views
Various templates for contacts, meetings, events, invoices, accounting, timesheets, and more
Accessible on the Cloud, Mac, iPad, iPhone, Android, and others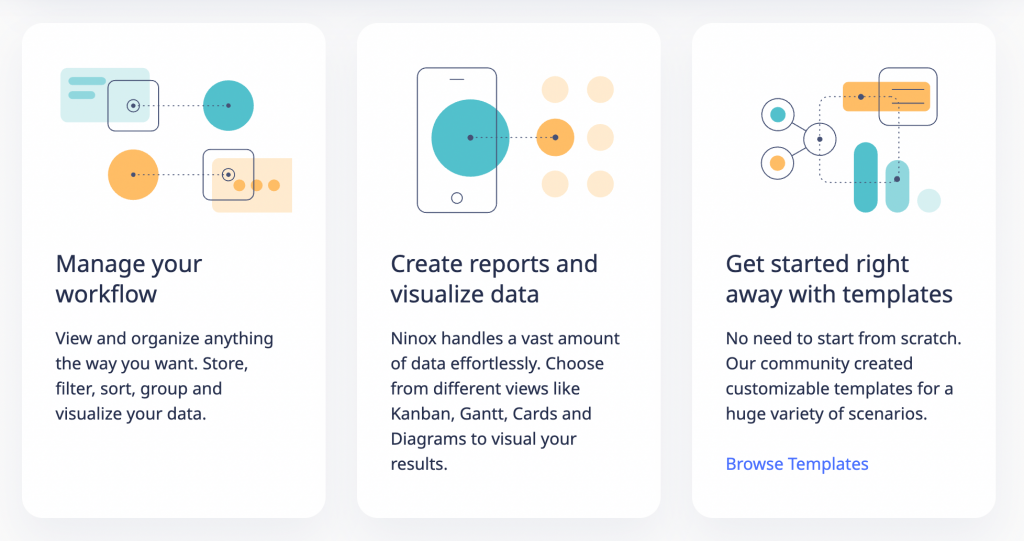 Pricing
Ninox offers individual and team pricing options.
Individual for Macs: 35 euros, one time purchase
Individual for iPad: Free
Individual for iPhone: Free
Ninox Cloud: 10 euro/user/month
Cons
Features are a little limited
Not a good tool for building full consumer-facing apps
Bottom Line
Ninox is probably most analogous to ClickUp or Airtable in its no-code abilities. Plus, they count big companies like Siemens as customers. Ninox is a good solution for EU-based companies that want to productize their operations.
8. QuickBase

QuickBase is another no-code platform that provides workflows to enhance business and IT team collaboration. Made up of an ecosystem of applications, QuickBase allows even those of us with a minimal technical background to manage and scale across one platform. Businesses efficiently transform their ideas into applications, using QuickBase's no-code or low-code solution.
Features
Both no-code and low-code options
Real-time roll outs without Internet connection needed
Strict security and compliance certifications
Tracked changes across all platforms

Pricing
QuickBase is has two paid plans and then an Enterprise option.
Team: $600/month, priced annually
Business: $2,000/month, priced annually
Cons
They don't have personal pricing options, just for larger businesses.
Bottom Line
Informa, Columbia, Sodexo, and Cox (my favorite Southern California cable company) all use QuickBase for enterprise-scale projects. It's a really good tool for streamlining complex business operations projects. This is definitely an enterprise product.
9. BettyBlocks

BettyBlocks shortens your time to market by allowing businesses to build complex applications without any coding. With the User Interface Builder, you drag and drop any front end you like, or combine it with any JS framework for complete flexibility. Process and manage data, develop new capabilities, and put it all together with BettyBlocks. They call themselves a "Citizens Development" platform… Which is a little tough to understand, quite honestly.
Features
Duplicatable app features
Citizen Developers that build applications within Betty Blocks
100% cloud-based
Automatic updates even while apps are running
Flexible UI-builder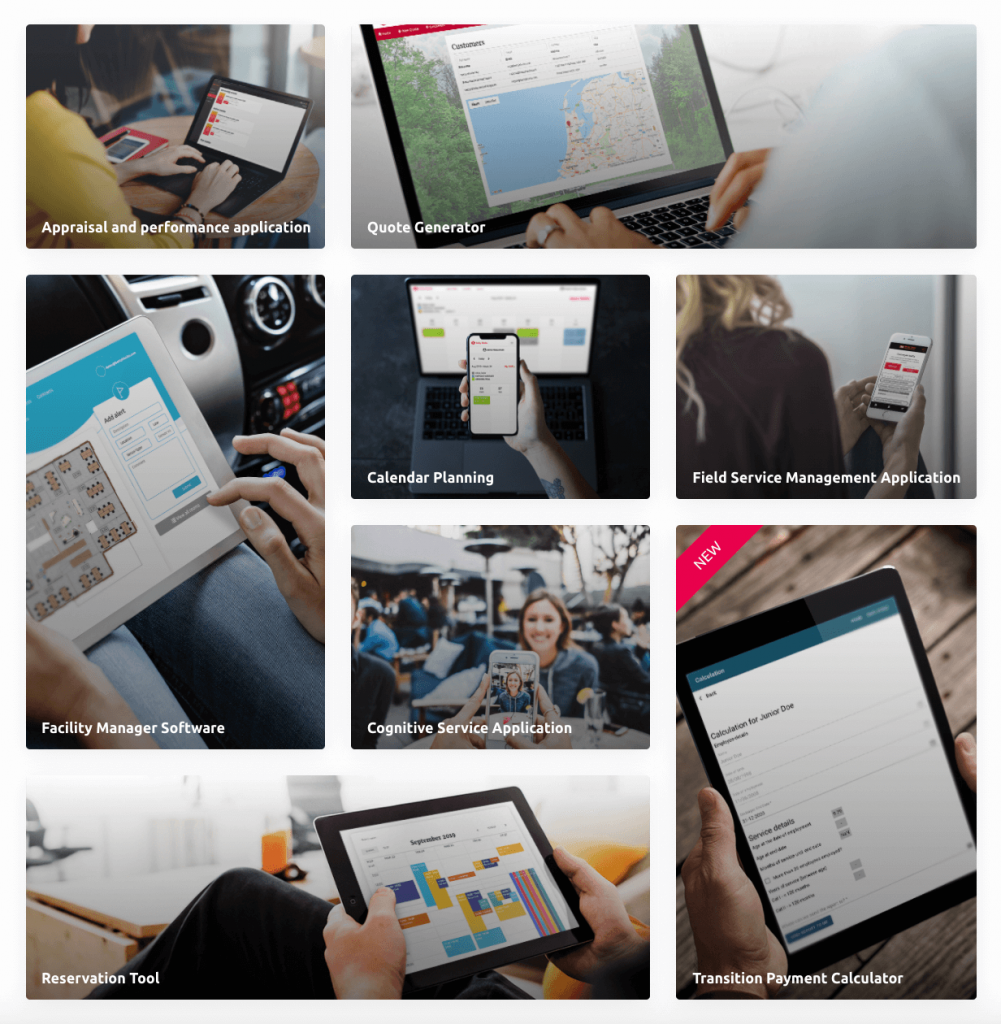 Pricing
Betty Blocks offers three plans, Single, Standard, and Enterprise, but you must contact them directly for pricing.
Cons
Betty Blocks might be a little basic for some no-coders with experience or looking for a range of capabilities.
Bottom Line
Betty Blocks is a great solution for enterprise customers who want to build really functional apps. I don't recommend it as the best choice for customers building consumer-facing apps.
10. Quixy

Quixy helps you design high quality applications without the need to learn complicated design tools. Whether it's an interactive app project, business process management, or building a digital platform, Quixy allows you to do it all without design or technical skills.
Features
Design UI on a six-column layout
Multiple form fields including fields to capture geolocation, e-signature, audio, video and much more
Options including calculate fields, grid controls, sub-forms, facial recognition, and QR code scanning
Various app previews on different device options
Unlimited workflow steps in sequential, parallel, or conditional modes

Pricing
Quixy offers two paid plans, as well as a customizable Enterprise option. Their plans are better depending on if you have a large team or lots of apps.
Solution: $1000/month, billed annually
Platform: $18/user/month
Cons
As a younger platform, Quixy can still build out its customer support and help options.
Bottom Line
Quixy is great for enterprise IT projects. It's not the best choice for consumer-facing apps.
Benefits of No-Code App Builder
The main benefit of no-code app builders is right in their name: you don't need knowledge of coding to get your work done! You can make apps just like Airbnb or Facebook without THIS.
No-code app builders allow for:
Improved workflows
Quicker to market
Easier collaboration
Reduced costs
Easier to test, edit, and update
Less blockers
Stronger collaboration
A downside to no-code app builders? Without coding capabilities, there might be some limitation to what the app builder offers. If you have some coding knowledge, or team members that do, using a low-code version can give you the best of both worlds. Some no-code platforms also offer code modification capabilities, so check that out before making your decision.
No-Code vs. Low-Code App Builders
What is the difference between no-code and low-code development platforms? Like we just touched on, no-code builders will have slightly less functionality and customizability, because they provide tools to to quickly organize information rather than input unique code.
No-code app builders:
Are best for non-developers and business creators without coding knowledge
Have great UX & UI
Provide drag-and-drop elements to design usable applications
Allow non-technical users that don't have coding knowledge to build applications
Integrate with databases, web services, or APIs to integrate data without needing code

Low-code app builders are in between no-code and completely manual coding. They help speed up application building so developers don't have to continuously replicate code. You can create software with a minimal amount of programming.
Are best for techies and developers that want to sped up their craft
Require coding knowledge, but also provide drag-and-drop elements
Look to solve various software solutions
Might have an open system platform, which might cause bugs when updating your apps
However, many no-code application builders also allow for coding modifications, so that their pre-configured blocks can be edited, and new elements can be created. Developers can still code to support the unique needs of their business, but the non-developers of the business can provide their insight.
Best No-Code App Builder for Web Apps
Making a great web app is difficult. It needs to be fast, intuitive, and serve an audience that is used to extremely precise functionality. Bubble is the best tool on this list for making a web-based app start to finish. That's because you can create databases, trigger workflows based on drag-and-drop conditions, and do it all in pixel-perfect designs and templates.
Best No-Code App Builder for iOS Mobile Apps
Which of these tools is best for building web apps like Instagram, Yelp, or any of your other favorites? Appy Pie gets our #1 for no-code iOS app building. FlutterFlow is another strong iOS app builder that didn't make this list.
Conclusion
Remember, no-code doesn't mean easy. Creating a no-code app still requires creativity and relentless drive.
But, no-code development platforms have leveled the playing field.
Now, anyone building software, improving a process, or making an app from scratch can design and build their software with no code! It's pretty incredible technology.
Any of the no-code applications on this list can be a great fit depending on your businesses needs, so take advantage of any free trials or plans before making the final purchase. And if you do have some coding knowledge in your back pocket, make sure they have a low-code options to get ultimate app-building experience.