Latest posts by Hailey Friedman
(see all)
Wix vs Squarespace vs Weebly vs Sitebuilder vs Webflow (vs WordPress)
Did you know that there are over  1 billion websites in the world?
Whether you're a small business owner, building an ecommerce store or starting a blog, you're entire online presence and reputation depends on your website.
But creating a website from scratch can be intimidating.
I know because I went through the process myself for the first time ~7 years ago.
Back then, building a website was reallyyyy difficult. You needed to hire a developer who knew how to code.
But these days anyone can build a website and host it themselves.
There are plenty of drag-and-drop website builders that make it very easy to build a beautiful website, even with no technical skills.
But how do you decide which one to use?
Well, luckily I've been in your shoes many times before and so I did all the research and investigation myself, in order to compare which website builder is best.
In the following post, I will cover five of the most popular site builders: Wix, Squarespace, Weebly, Sitebuilder, and Webflow. 
Or read, How to Set Up a WordPress Blog: Step-by-Step Instructions.
Wix
Wix was founded in 2006 and by 2009 it had reached 1,000,000 users. Currently, Wix serves over 110,000,000 users, making it a trusted site builder for many people across 190 countries.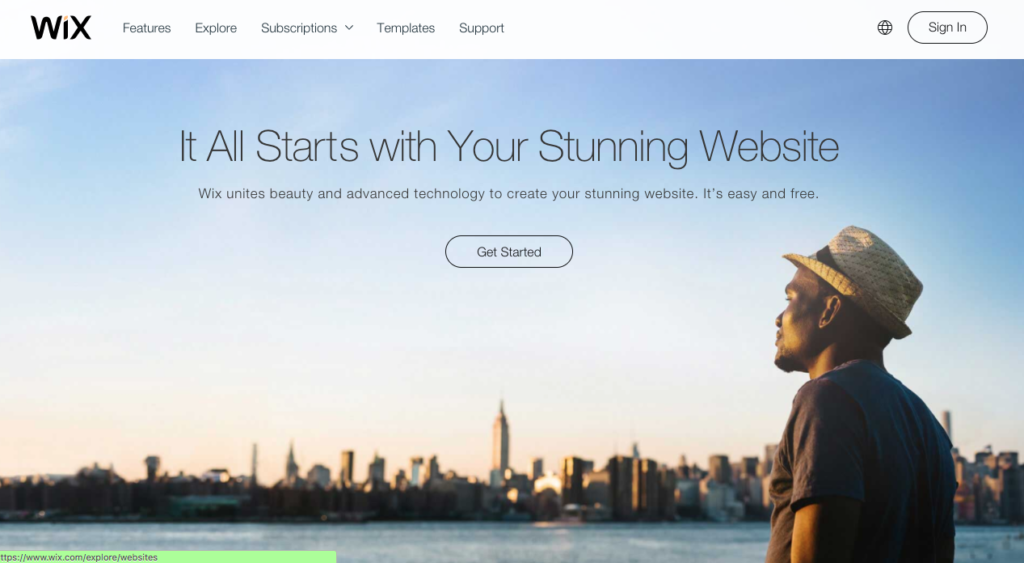 Wix builds websites with many uses cases in mind, so whether you are a photographer, small business owner, or even a student — Wix could be a great platform for you.
Wix features intuitive drag-and-drop editors, 500+ designer-made templates, and they even offer premium services.
When I was looking for a website builder, I used a free trial on a few different platforms to get a feel for how intuitive and easy to use they were.
To be honest, Wix was my favorite of them all. It was very simple and straight forward and I liked how they had a lot of internal apps and plugins that I could use to customize my site and make it function the way I wanted. While the plugin options were not as extensive as using WordPress, they definitely met my needs to a beginning website builder.
You can make a blog, ecommerce site, static website or pretty much whatever you can dream with Wix.
One downside to Wix that is important to point out is that it's impossible to export your site. Most website builders allow you to export your data to another platform like WordPress when you are ready, but that's just not a viable option for Wix.
If you think that you might switch to another platform after you build your site on a site builder, Wix might not be the best option for you.
Wix Pros
You can start with a free website: Wix has a free website option. The free version is limited, but it allows you to take a look at Wix to see if it's right for you.
Lots of templates to choose from: Wix has hundreds of templates available for users to pick from. These templates can help users in a variety of industries such as photography, fashion, restaurants, blogging, and more.
Integrates well with other apps: Wix integrates well with over 250 different apps in their Wix App Market. The market has apps from companies like Etsy, Yelp, Google, Facebook, and more so you can uplevel your website.
Automatic mobile website: With every Wix website you automatically have a mobile version of your website available for you and your customers to use. In this day and age when so much searching is done online, you need a site that works on mobile.
Great help articles & one-on-one help: Wix has advice at every turn. Wix has extensive articles to help you edit your theme, a public forum filled with information, and even a helpline for more one-on-one information.
Wix Cons
You can't easily switch templates: While there are a ton of Wix templates to choose from, once you choose one, it needs to be pretty permanent. Once you pick a template and start adding things to it, you will have to start from scratch if you ever decide to switch templates. Many site builders like Squarespace allow you to keep your copy when you switch, so this is something to consider when picking a template.
Lack of advanced editing features: If you have some knowledge of HTML and code, you may not want to get a Wix website. There are a number of editing features available, but you can't access the code and edit themes that much with Wix.
Themes aren't automatically mobile responsive: While you will automatically get a mobile website, the sites won't automatically be mobile responsive. Instead, you will need to access Wix's Mobile Editor to make the correct changes to your site to make sure it's responsive.
Wix does not allow you to export your site: If you eventually grow beyond Wix, there are no exporting options like you get with Squarespace and Weebly. This means if you want to move your site to a self-hosted WordPress site in the future, you won't be able to do so.
Wix Pricing
Starts free with a Wix domain and ads. For $5 per month, you can connect a domain, but you will still get Wix branded ads. At $11 per month and up you get increased storage with no Wix branded ads.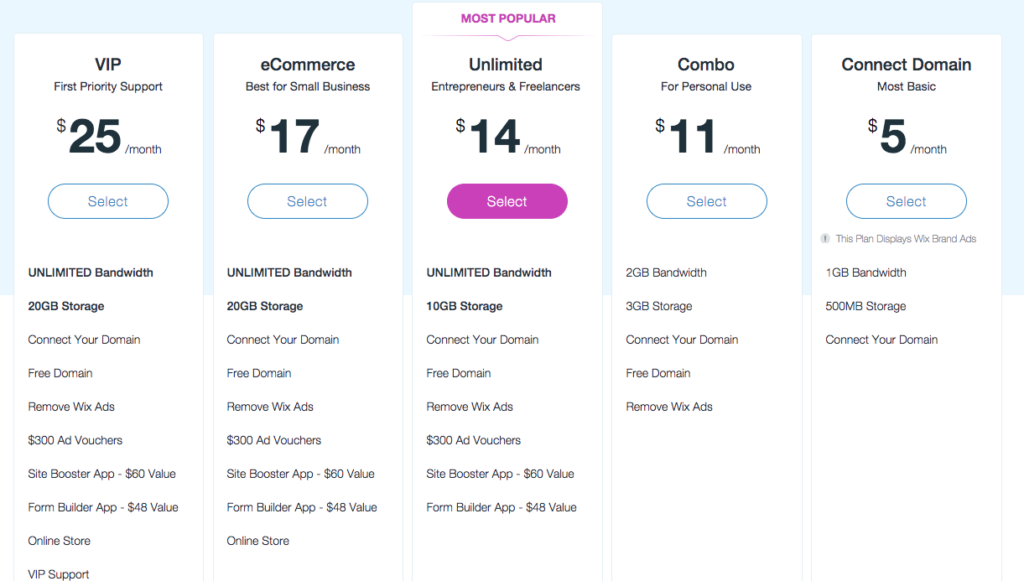 Conclusion: After comparing all the platforms, Wix was my favorite in terms of usability. It's very intuitive and simple to create beautiful websites that are custom for your business.
Link: https://www.wix.com/
Video: https://www.youtube.com/watch?v=U-uM36qkSDw
Weebly
Weebly was founded in 2007, and it offers users the ability to build a website or online store using their responsive themes,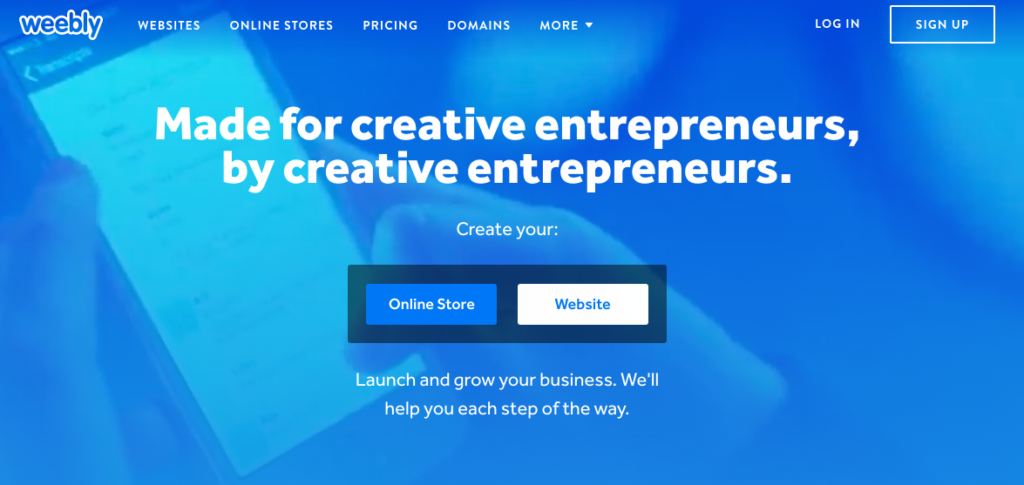 A fun fact about Weebly sites? More than 325,000,000 unique visitors are now going to over 40,000,000 Weebly sites monthly.
That's a lot of sites and traffic! Weebly also has one of the most consistently highest rated website building mobile apps in app stores.
Weebly Pros
Free version available: Weebly is another site with a free website version available like Wix. Although, be prepared to have a Weebly subdomain with the free plan.
Competitive pricing: The highest plan Weebly offers is a $25 per month plan when paid annually. This makes Weebly's pricing very competitive.
More advanced HTML/CSS/Javascript capabilities: Weebly offers a lot of options as far as HTML/CSS/Javascript which sets it above site builders like Wix who don't offer the ability to add code.
Reliable customer support options: If you need help while using Weebly, you have many options such as a help center, a community forum, email support, and even a telephone number.
Responsive themes: Weebly also offers a number of response themes or templates, which checks the box for mobile.
Weebly Cons
Difficult to move blog content to other platforms: There is no easy, straightforward way to export blog content to another platform if you choose to move your content eventually. You will either have to copy and paste everything from scratch or use a plugin on a site like WordPress that can convert an RSS feed into blog content. If you ever wanted to switch to another site builder, though, you would likely have to move things over through copy/pasting content which could be time-consuming.
Limiting templates: Like Squarespace, Weebly has quite a few templates, but they can be limiting as to where you can move items. This may not matter much to you when it comes to website design if you like the Weebly templates as is.
Updates are often erratic: When it comes to building your site, you want a site builder that offers thorough and consistent updates to the back and front end of your website. A consistent complaint about Weebly is that they are pretty inconsistent or erratic with their website updates and often only update a couple of times per year. This is something to consider if you want to keep your website up to date.
Weebly Pricing
There is a free plan available with a Weebly subdomain for websites, but no free plan for online stores. The lowest plan starts at $8 per month billed annually for website or online store plans.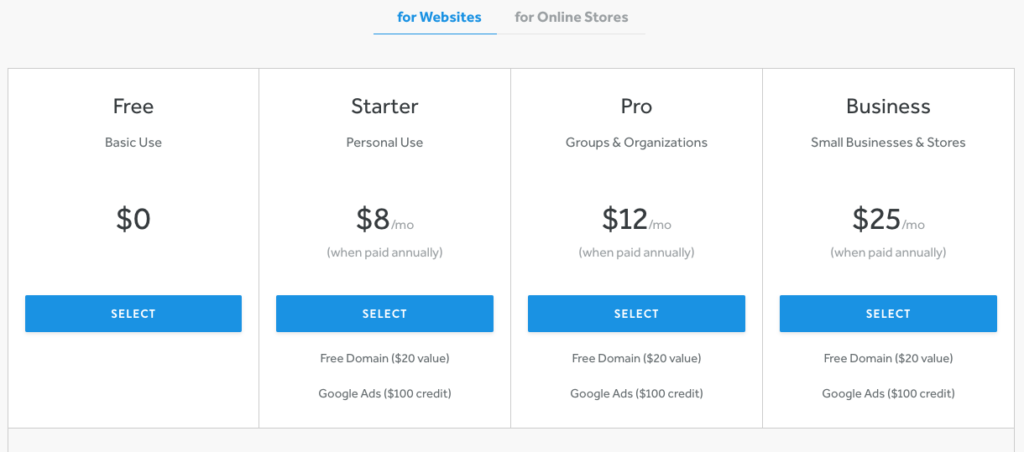 Conclusion: It's a good option with various, cost-effective pricing tiers, as long as you don't plan to move your site much in the future.
Link: https://www.weebly.com/
Video: https://www.youtube.com/watch?v=VlURuZWSoXw
Squarespace
Squarespace was founded in 2003 out of the dorm room of founder Anthony Casalena. Since then, Squarespace has been used to launch millions of websites, and it now has offices in New York City, Portland, and Dublin.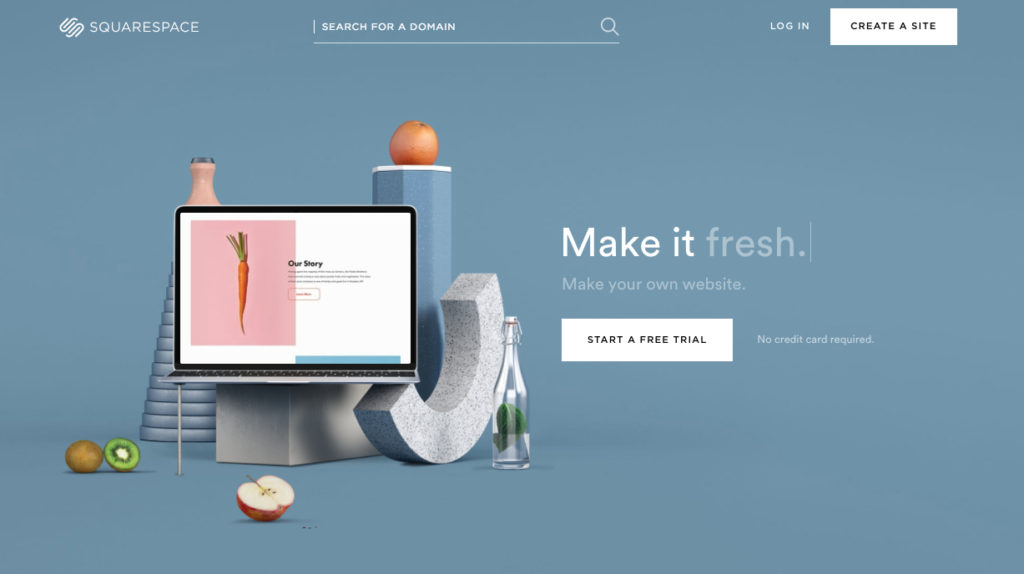 Squarespace has six values that can be seen throughout their own company:
be your own customer

empower individuals

design is not a luxury

good work takes time

optimize towards ideals

simplify
Squarespace has a dedicated team of people behind it. So keep that in mind as you are using the platform–don't be afraid to jump right in or ask for help if you need it.
Squarespace Pros
Dozens of templates available: Squarespace designs tons of templates that can be useful for your business. All of the templates they provide are designed by Squarespace, which means that they offer fewer templates than some website builders that crowdsource their designs, but all of their templates are designed by people who know Squarespace best.
Squarespace allows you to export and import data: You can easily import data into to Squarespace to get started if you have information from another website. Plus, if you ever feel that you have outgrown Squarespace, you can export a lot of data from your site to go to another platform like WordPress.
Excellent customer support & help article database: If you ever have any questions about Squarespace, they have a ton of help articles ready for you about everything from the templates they offer to your account/billing. If you ever have a question that you can't find an answer to, they have people answering your emails 24/7 (with a usually quick turnaround time), and their live chat is open Monday-Friday from 4 AM to 8 PM EST.
Mobile responsive websites: No matter which theme you go with, it will be mobile responsive. This is key given that so much of web browsing is done via mobile now. Google is actually penalizing sites that are not mobile responsive, so you'll want to make sure you cover this base no matter which platform you choose. All themes being designed by Squarespace helps to ensure that all themes they promote are mobile responsive.
You can easily switch between templates and keep your content: With Squarespace, you can switch between templates without losing most of your site. You may have to rearrange pages or recreate a sidebar, but you shouldn't have to recreate the entire site from scratch when you want to switch between their templates.
Squarespace Cons
Pricing can get expensive: Unlike a lot of other site builders, Squarespace doesn't have a free plan (but it does have a free trial so that you can test the platform out.) Squarespace plans start at $16 month-to-month ($12 a month billed annually) and only get higher from there. Given these prices, Squarespace is pretty expensive compared to some other site builders.
Squarespace does not have a ton of apps: Squarespace doesn't have a traditional app marketplace like some other site builders, or WordPress does. You can add some functionality to your site pretty easily with code, and they do have an extensive list of built-in blocks for you to use on your page, so their lack of external apps may not hold you back depending on what you need for your business.
No autosave feature for pages/posts: Many website builders feature an autosave function, but Squarespace does not. Squarespace will not save your work until you tell it to do so. This is frustrating when you are working on long projects and get disconnected.
Templates can be limiting: Each Squarespace template offers a lot of flexibility, but only to a point. You can't change major placement elements of a template or get super creative. And according to this Squarespace review, you cannot change your template once you've chosen one.
Squarespace Pricing
Pricing starts at $16 month-to-month ($12 per month billed annually), and they go up to $46 month-to-month ($40 per month billed annually) depending on what you are using the site for.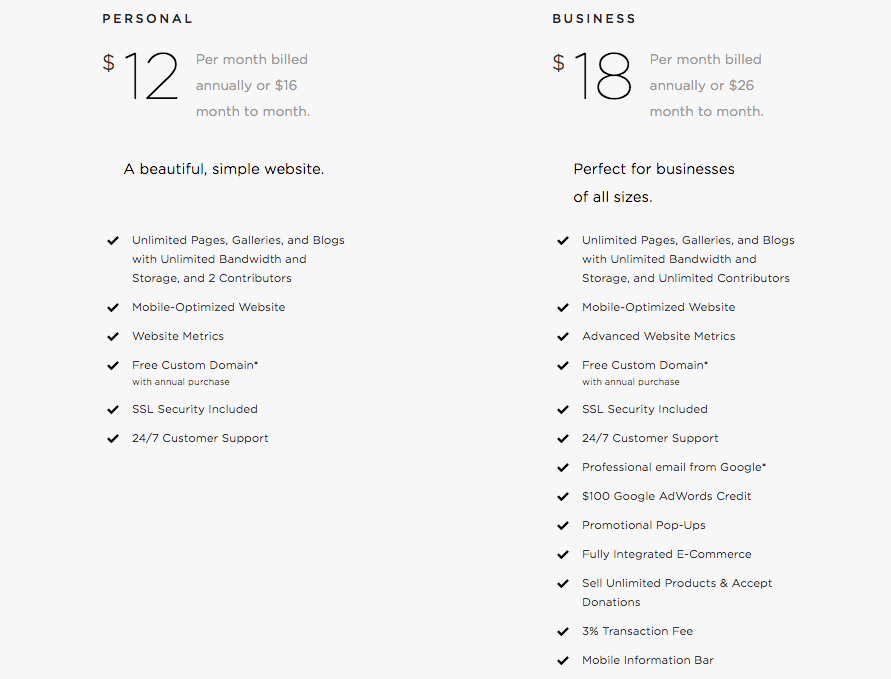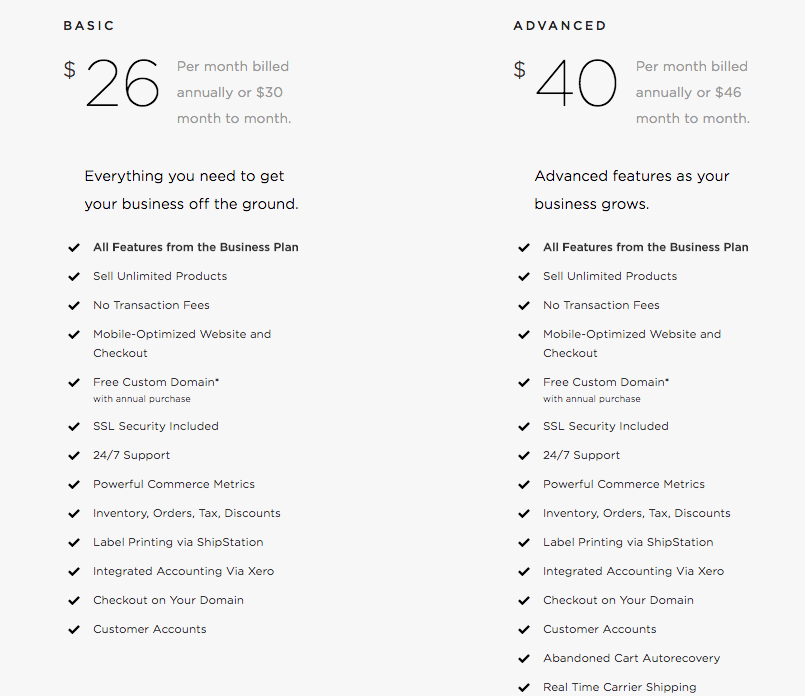 Conclusion: Squarespace is great for businesses of all types and sizes. Works well for beginners.
Link: https://www.squarespace.com/
Video: https://www.youtube.com/watch?v=9IDeKXQuiik
SiteBuilder
SiteBuilder is a fully hosted site creator that allows you to build and websites using  customizable templates.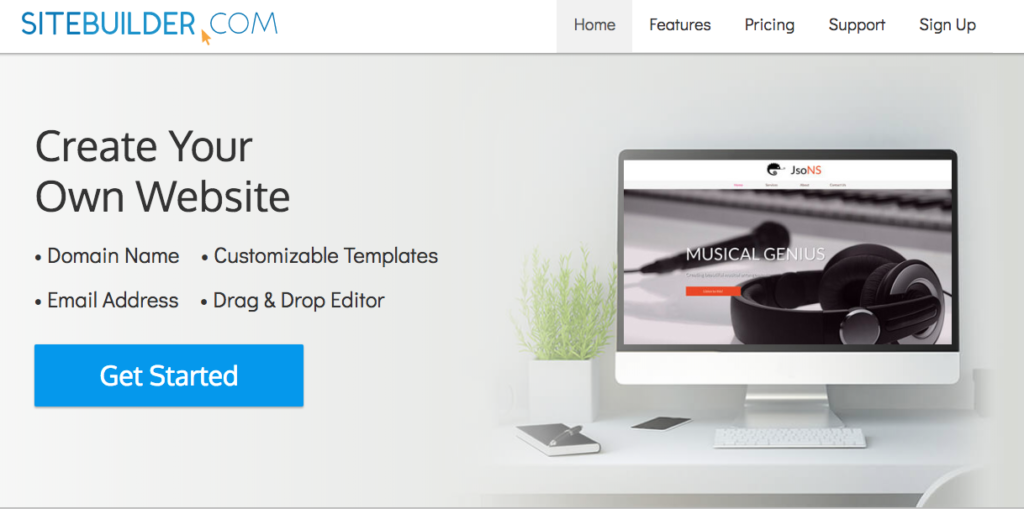 The more research I did about SiteBuilder, the more I saw the word "sketchy."
They don't have the best reputation online for being upfront with pricing/billing or being easy to get a hold of. 
With such overwhelmingly negative reviews online, it's hard to imagine building the foundation of my business on SiteBuilder. But I'll review it anyways just to make sure I'm covering my bases…
SiteBuilder Pros
Has A Free Plan: SiteBuilder has a free plan that will allow you to start a website easily, but you will have to host ads on your site for SiteBuilder.
Offers Introductory Pricing & Competitive Pricing: SiteBuilder offers 50% off your initial term (however long you choose that term to be one month, one year, two years). After that initial term, they offer competitive pricing for their other plans.
Thousands of responsive templates to choose from: SiteBuilder promises thousands of responsive templates for users who want to build their site on the platform, which is significantly more than the other platforms I mentioned so far.
SiteBuilder Cons
No option to export your data: There are no ways to export the data and pages that you build with SiteBuilder which can be a pain if you ever decide to switch to another builder or a different platform.
You must recreate the site to change your template: They may have 1,000s of templates, but each time you want to switch to a new template, you will have to build your site again.
Selling is only allowed on their highest plan: If you are building an online store and want to sell via your SiteBuilder site, you will have to get their most expensive plan.
App market leaves much to be desired: A common complaint among SiteBuilder users is that they have a very small base of apps that you can use to customize your site– which means it will be difficult to customize your site.
Help articles lack information: SiteBuilder does have options for technical support via calling, emailing, and live chat–but their help article section provides insignificant support for many users. If you want to solve an issue via the internet without contacting SiteBuilder directly, you may be out of luck.
SiteBuilder Pricing
There is a free plan. The paid plans start at $3.84 per month (introductory price), then up to $7.68 per month regularly. There are three total paid levels: Pro, Premium, and eCommerce.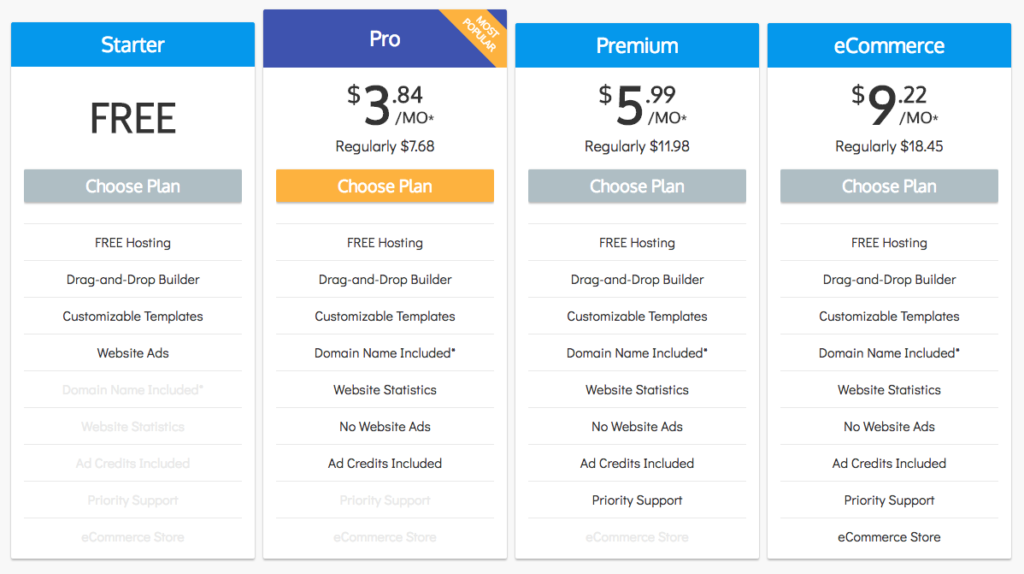 Conclusion: I wouldn't recommend it
Link: https://www.sitebuilder.com/
Video: https://www.youtube.com/watch?v=A6Shk-uYILA
Webflow
Webflow was founded in 2013. It has quickly become the go-to platform for many users who want a more robust site building option. Webflow's mission is "to empower designers, creative professionals, and entrepreneurs to create for the web," and they do this through building an extremely powerful drag and drop website editor.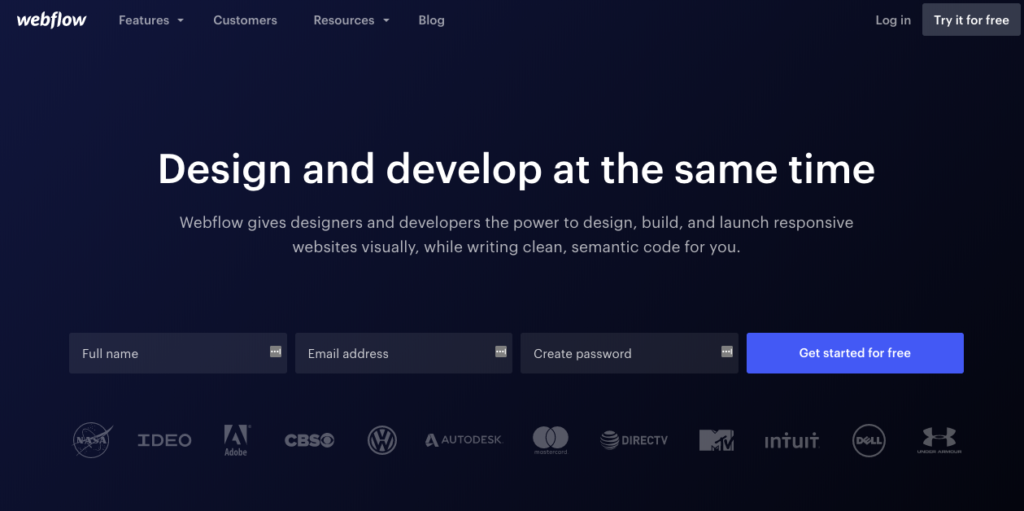 Webflow is trusted by big names like NASA, Adobe, CBS, DirecTV, MTV, Intuit, and Dell.
Webflow creates websites that flow, and they believe that providing access to easy website making shouldn't sacrifice flexibility. All-in-all it's a great website for users who like to combine coding and creating a drag and drop website.
Webflow Pros
Automatic Saving: If you want to save as you go, Webflow offers a great autosave feature that will save you time and headaches as you create your site.
Start from scratch or with one of 100+ templates: Webflow is one of the only site builders that we have seen that allows you to start from scratch when building your site. If you are afraid to start from scratch, Webflow also offers 100+ templates to help you build your site properly.
Extensive Customer Support: With Webflow University, you can take a course to learn how to use Webflow successful, or you can get more help using their email support and forum.
Robust SEO Features: For a website builder, Webflow has more SEO features than most. You can even do things like changing your meta titles and descriptions for search engines, which you can't do on most site builders.
Lots of advanced features: Webflow is a great middleman between a WYSIWYG editor and coding by hand. You don't need a ton of coding knowledge to create a website, but you can learn some basic coding skills using Webflow.
Export Anywhere: Once you create your website on Webflow, you can use the code to host your website on any platform you would like! This is taking the exporting capabilities of most sites to the next level.
Webflow Cons
Limits website visitors based on plan: Webflow plans are more akin to self-hosting WordPress plans. You will not be able to host unlimited visitors to your sites; even the smallest plan offers 25,000 monthly visits.
No native eCommerce solutions: If you want to sell through Sitebuilder, this will need to be an add-on.
May not be as easy to use for those new to website creation: If you are starting, you may have a more intense learning curve than other users who understand coding basics.
Slim template choices: You can design a website from scratch, so there aren't many template choices. Other sites focus more heavily on templates like SiteBuilder.
Webflow Pricing
Webflow offers a free plan on a Webflow subdomain. The lowest plan is $12 per month, billed annually. Plans available for individuals and teams.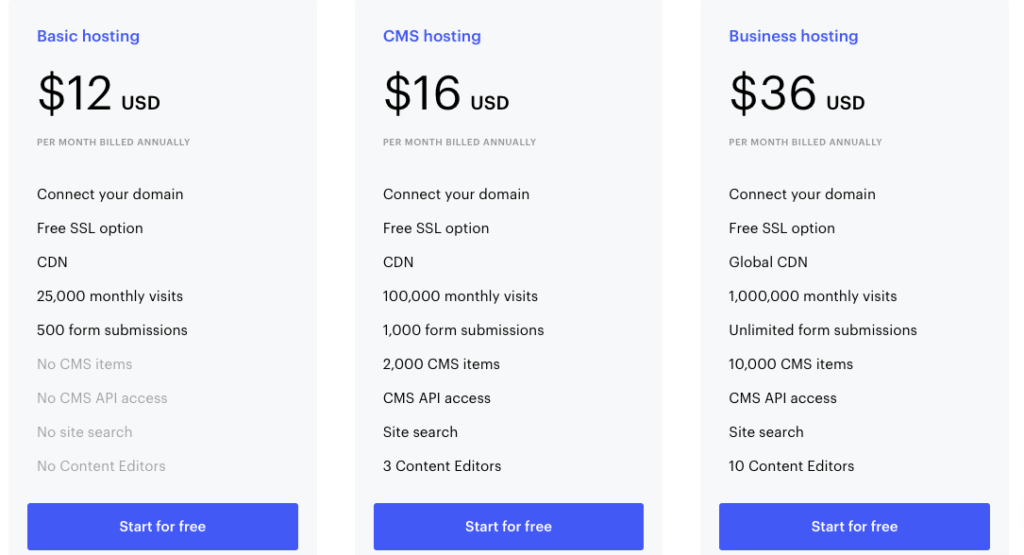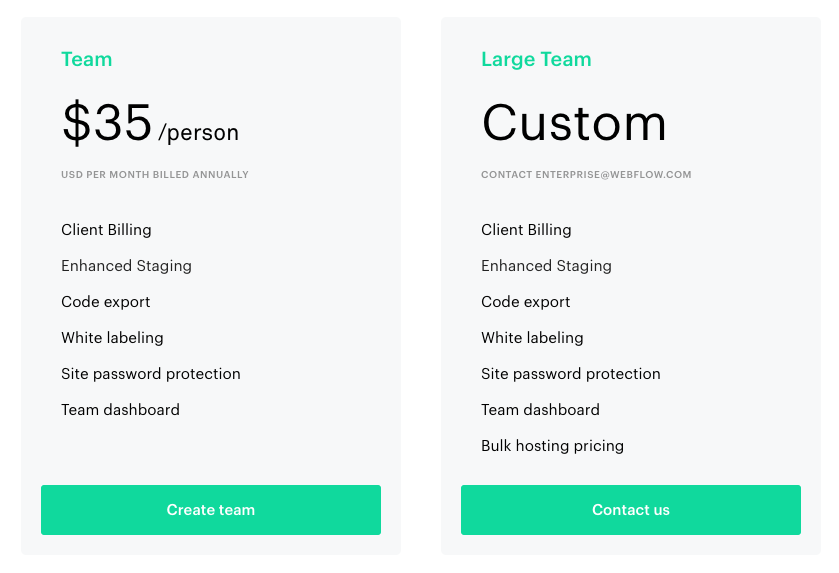 Conclusion: Webflow is best for advanced website builders. It's a drag and drop tool, but it's learning curve may be more than what most business owners are willing to put up with. For those reasons, you may want to stay away from Webflow unless you have some more technically savvy people on your team.
Link: https://webflow.com/
Video: https://www.youtube.com/watch?v=AoTBLxN-Vvs
Conclusion
Building a website takes time and patience, but with these site builders, you can create a website wayyy quicker than you would be able to back in the day when you had to code things by hand. All of these website builders will save you time so you can get your website up and start serving your customers ASAP.
Many of these website builders have a free plan or a trial plan, so don't hesitate to open up a builder and test each builder out like I did. 
Think about the following questions before you pick a plan:
What is my budget for this website? Each website builder has a different pricing structure; you want to choose one that aligns with your pricing.
Do I eventually want to move my website? If you feel that you may one day move to a self-hosted website, you may want to pick a platform that allows easy exporting like Squarespace or Webflow.
How technically are savvy you? Some website builders require that you understand a lot more about technical things (Webflow) so you need to pick a plan that you can use.
How important are template choices? When you are using a website builder, templates are essential. Which website builder has templates that you like? Especially on platforms where you can only use pre-designed templates, you want to make sure you like the themes they have to offer.
Is customer support important? You want to make sure that you feel confident in the customer support that your site builder offers if you need help one day.
Is SEO important to you? If so, check out our review of Wix vs WordPress for SEO here.
Now get on out there and build your website!!
If you like Wix, sign up using our link for a free trial:
xoxo
Hailey