Growth Marketing Manager
at
RealtyShares
Cofounder @ GrowthMarketingPro.com
Latest posts by Hailey Friedman (see all)
2017 was a year of growth, not just for my blog Growth Marketing Pro…  (read more about how to start a blog
here
)

…but also in terms of personal growth thanks to learning about Enneagrams. Let me explain.
Growth is inevitable.
As long as we are moving and making a dent on the world and interacting with other humans, we are growing.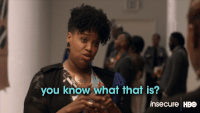 We grow with every person we meet. We learn about their story, their vocabulary, their background, their perspective, their habits. We observe these things and we take with us what we like and we leave what we don't.
We grow with every change. In career, in location, in health, in season, in tragedies, in miracles. Whether or not we stop to acknowledge it as growth, we're always growing.
Personal growth is something I value and I think about often. I even write blog posts about it sometimes- like this one on
time management life hacks
. Being that it's new years, I always think more deeply around this time of year as I reflect on the year that passed and spend time refreshing my personal goals for the upcoming year.
If I stop to pinpoint the biggest catalyst for my personal growth in 2017, I'd have to recognize that it was learning about "Enneagrams".
What is the Enneagram Personality Test?

The Enneagram is a way of categorizing the human psyche into 9 different personality types.
It's a typology that is useful for understanding the inner workings and motivations behind human behavior. Many researchers and theorists teach seminars, conferences and write books on this topic as it is hotly debated world-wide. For many, including myself, it is a helpful tool in navigating workplace dynamics and personal relationships.
How I discovered Enneagrams
In early October 2017, a friend introduced me to Enneagrams.
It changed my life.
Normally I don't think much of personality tests. But the accuracy and detail of this one blew my mind.
How could it actually understand my deepest thoughts, fears and desires – even better than I did?
Without me even taking the test, my friend told me that I'm a 7: "The Enthusiast".
If you have a friend who knows about enneagrams and who knows you very well, you likely won't even need to take the personality test because they can tell you your type right away and you can just go ahead and read about your type like I did.
A 7 is an Enthusiast, an Adventurer and an Epicure. Someone who likes adventures and is always looking to try new things and have new experiences. Their downfall is that since they want to experience all things, they often take on too much, overwhelming themselves to the point where it can wear on their body & health.
I went online and was shocked by how long the full description was for the 7 personality type. It's pages long! It was broken down into sections- an overview, various levels of development, areas for growth, compatibility with other types and misidentification with other types.
The description was specific and spot on- laying out the inner workings of my brain and how I perceive the world. Not only was I 100% confident that this enneagram thing was onto something- it led me to epiphanies about myself and my life- things I hadn't even realized before.
I was so shocked by it's accuracy that I couldn't just stop after reading about my type. I wanted to know about how my type interacted with every other type. And I wanted to know everything about all the other types as well. I figured, if I understood the inner workings of every personality type- I would better understand the people around me.
How The Enneagram Personality Test Changed My Life
I took 4 hours one Sunday afternoon to read about all 9 personality types. I was surprised by how each one was so distinctly different.
As I read, I thought about the people in my life- family, friends, colleagues- who are likely a 4, a 6, or a 3 and how that impacts their perspective on the world.
I gained empathy.
Patience.
Understanding.
Self-awareness.
Now these numbers and their descriptions are a reference point for me. A map that helps me navigate the world and consider another person's frame of reference. To approach relationships and interactions with more thought.
Last week, I stumbled upon this video about the "theory of relativity" and considering different people's frame of reference and it reminded me of everything I learned from Enneagrams.
How one single event can be construed so differently depending on who is perceiving it. Understanding the Enneagram can help you put yourself in someone else's shoes and view the world from their perspective.
The 9 Enneagram Personality Types
There are lots of images on the internet that describe the 9 enneagram personality types. I'm going to share a few with you because they are each helpful in different ways.
In the image below, the bolded word is the most defining feature of the personality type and the words below it are their "flaws" or "pitfalls".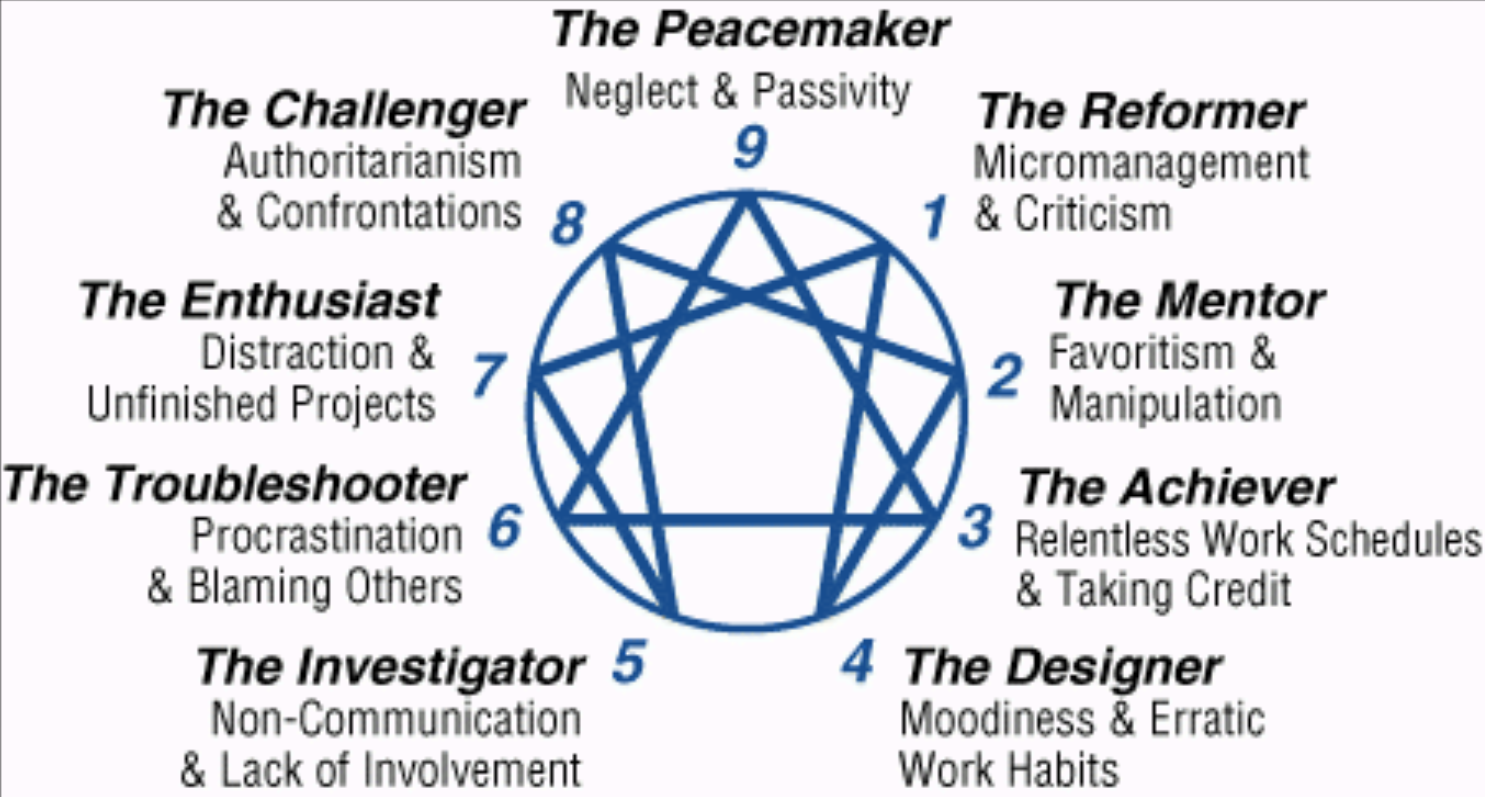 The image below provides a bit of a cartoon visual representation of each enneagram personality type.
The image below goes into a bit more depth about each personality type, describing where their attention and energy is naturally drawn to.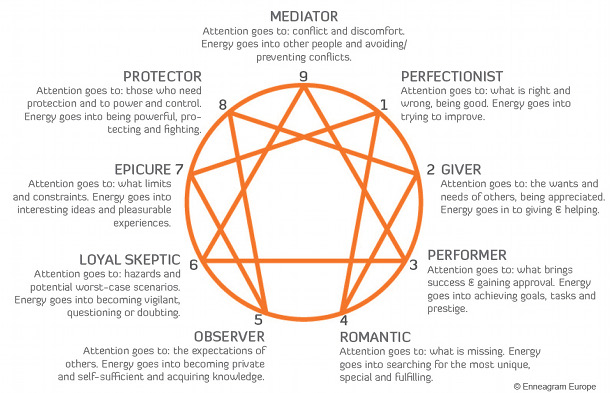 The image below is a map that breaks the personality types down into 3 "personality styles"- Doing, Relating, and Feeling. It discusses the motivations behind personality types in each of the 3 groups.

This chart from Wikipedia breaks down each personality type by their basic fear, desires, temptation, vices, virtues & more.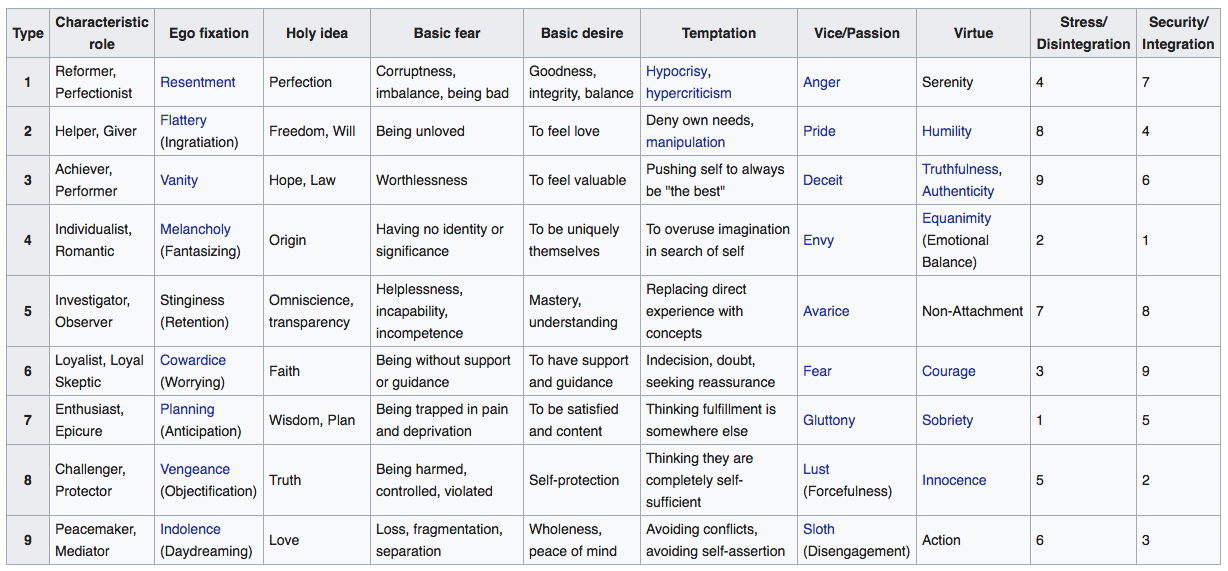 What's your number? The Enneagram personality types
The Enneagram Institute is the site where I read about all of the personality types in detail. I've pulled a brief summary of each personality type below.
Read through this list of each personality type to discover which one most closely resonates with you.
Enneagram Type One: THE REFORMER
The Rational, Idealistic Type:
Principled, Purposeful, Self-Controlled, and Perfectionistic
Type One in Brief
Ones are conscientious and ethical, with a strong sense of right and wrong. They are teachers, crusaders, and advocates for change: always striving to improve things, but afraid of making a mistake. Well-organized, orderly, and fastidious, they try to maintain high standards, but can slip into being critical and perfectionistic. They typically have problems with resentment and impatience. At their Best: wise, discerning, realistic, and noble. Can be morally heroic.
Basic Fear: Of being corrupt/evil, defective
Basic Desire: To be good, to have integrity, to be balanced
Key Motivations: Want to be right, to strive higher and improve everything, to be consistent with their ideals, to justify themselves, to be beyond criticism so as not to be condemned by anyone.
Read more: read a longer description online, listen to an audio recording all about Type One.
Enneagram Type Two: THE HELPER
The Caring, Interpersonal Type:
Generous, Demonstrative, People-Pleasing, and Possessive
Type Two in Brief
Twos are empathetic, sincere, and warm-hearted. They are friendly, generous, and self-sacrificing, but can also be sentimental, flattering, and people-pleasing. They are well-meaning and driven to be close to others, but can slip into doing things for others in order to be needed. They typically have problems with possessiveness and with acknowledging their own needs. At their Best: unselfish and altruistic, they have unconditional love for others.
Basic Fear: Of being unwanted, unworthy of being loved
Basic Desire: To feel loved
Key Motivations: Want to be loved, to express their feelings for others, to be needed and appreciated, to get others to respond to them, to vindicate their claims about themselves.
Read more: read a longer description online, listen to an audio recording all about Type Two.
Enneagram Type Three: THE ACHIEVER
The Success-Oriented, Pragmatic Type:
Adaptable, Excelling, Driven, and Image-Conscious
Type Three in Brief
Threes are self-assured, attractive, and charming. Ambitious, competent, and energetic, they can also be status-conscious and highly driven for advancement. They are diplomatic and poised, but can also be overly concerned with their image and what others think of them. They typically have problems with workaholism and competitiveness. At their Best: self-accepting, authentic, everything they seem to be—role models who inspire others.
Basic Fear: Of being worthless
Basic Desire: To feel valuable and worthwhile
Key Motivations: Want to be affirmed, to distinguish themselves from others, to have attention, to be admired, and to impress others.
Read more: read a longer description online, listen to an audio recording all about Type Three.
Enneagram Type Four: THE INDIVIDUALIST
The Sensitive, Introspective Type:
Expressive, Dramatic, Self-Absorbed, and Temperamental
Type Four in Brief
Fours are self-aware, sensitive, and reserved. They are emotionally honest, creative, and personal, but can also be moody and self-conscious. Withholding themselves from others due to feeling vulnerable and defective, they can also feel disdainful and exempt from ordinary ways of living. They typically have problems with melancholy, self-indulgence, and self-pity. At their Best: inspired and highly creative, they are able to renew themselves and transform their experiences.
Basic Fear: That they have no identity or personal significance
Basic Desire: To find themselves and their significance (to create an
identity)
Key Motivations: Want to express themselves and their individuality, to create and surround themselves with beauty, to maintain certain moods and feelings, to withdraw to protect their self-image, to take care of emotional needs before attending to anything else, to attract a "rescuer."
Read more: read a longer description online, listen to an audio recording all about Type Four.
Enneagram Type Five: THE INVESTIGATOR
The Intense, Cerebral Type:
Perceptive, Innovative, Secretive, and Isolated
Type Five in Brief
Fives are alert, insightful, and curious. They are able to concentrate and focus on developing complex ideas and skills. Independent, innovative, and inventive, they can also become preoccupied with their thoughts and imaginary constructs. They become detached, yet high-strung and intense. They typically have problems with eccentricity, nihilism, and isolation. At their Best: visionary pioneers, often ahead of their time, and able to see the world in an entirely new way.
Basic Fear: Being useless, helpless, or incapable
Basic Desire: To be capable and competent
Key Motivations: Want to possess knowledge, to understand the environment, to have everything figured out as a way of defending the self from threats from the environment.
Read more: read a longer description online, listen to an audio recording all about Type Five.
Enneagram Type Six: THE LOYALIST
The Committed, Security-Oriented Type:
Engaging, Responsible, Anxious, and Suspicious
Type Six in Brief
The committed, security-oriented type. Sixes are reliable, hard-working, responsible, and trustworthy. Excellent "troubleshooters," they foresee problems and foster cooperation, but can also become defensive, evasive, and anxious—running on stress while complaining about it. They can be cautious and indecisive, but also reactive, defiant and rebellious. They typically have problems with self-doubt and suspicion. At their Best: internally stable and self-reliant, courageously championing themselves and others.
Basic Fear: Of being without support and guidance
Basic Desire: To have security and support
Key Motivations: Want to have security, to feel supported by others, to have certitude and reassurance, to test the attitudes of others toward them, to fight against anxiety and insecurity.
Read more: read a longer description online, listen to an audio recording all about Type Six.
Enneagram Type Seven: THE ENTHUSIAST
The Busy, Variety-Seeking Type:
Spontaneous, Versatile, Acquisitive, and Scattered
Type Seven in Brief
Sevens are extroverted, optimistic, versatile, and spontaneous. Playful, high-spirited, and practical, they can also misapply their many talents, becoming over-extended, scattered, and undisciplined. They constantly seek new and exciting experiences, but can become distracted and exhausted by staying on the go. They typically have problems with impatience and impulsiveness. At their Best: they focus their talents on worthwhile goals, becoming appreciative, joyous, and satisfied.
Basic Fear: Of being deprived and in pain
Basic Desire: To be satisfied and content—to have their needs fulfilled
Key Motivations: Want to maintain their freedom and happiness, to avoid missing out on worthwhile experiences, to keep themselves excited and occupied, to avoid and discharge pain.
Read more: read a longer description online, listen to an audio recording all about Type Seven.
Enneagram Type Eight: THE CHALLENGER
The Powerful, Dominating Type:
Self-Confident, Decisive, Willful, and Confrontational
Type Eight in Brief
Eights are self-confident, strong, and assertive. Protective, resourceful, straight-talking, and decisive, but can also be ego-centric and domineering. Eights feel they must control their environment, especially people, sometimes becoming confrontational and intimidating. Eights typically have problems with their tempers and with allowing themselves to be vulnerable. At their Best: self- mastering, they use their strength to improve others' lives, becoming heroic, magnanimous, and inspiring.
Basic Fear: Of being harmed or controlled by others
Basic Desire: To protect themselves (to be in control of their own life
and destiny)
Key Motivations: Want to be self-reliant, to prove their strength and resist weakness, to be important in their world, to dominate the environment, and to stay in control of their situation.
Read more: read a longer description online, listen to an audio recording all about Type Eight.
Enneagram Type Nine: THE PEACEMAKER
The Easygoing, Self-Effacing Type:
Receptive, Reassuring Agreeable, and Complacent
Type Nine in Brief
Nines are accepting, trusting, and stable. They are usually creative, optimistic, and supportive, but can also be too willing to go along with others to keep the peace. They want everything to go smoothly and be without conflict, but they can also tend to be complacent, simplifying problems and minimizing anything upsetting. They typically have problems with inertia and stubbornness. At their Best: indomitable and all-embracing, they are able to bring people together and heal conflicts.
Basic Fear: Of loss and separation
Basic Desire: To have inner stability "peace of mind"
Key Motivations: Want to create harmony in their environment, to avoid conflicts and tension, to preserve things as they are, to resist whatever would upset or disturb them.
Read more: read a longer description online, listen to an audio recording all about Type Nine.
The Best Enneagram Books
Once you know your Enneagram type, you'll likely want to learn even more about it.
The books and audio books below provide even more depth on Enneagrams and how to use them for personal growth and self-discovery.
The Complete Guide to Growth for Each Personality Type

The Wisdom of the Enneagram: The Complete Guide to Psychological and Spiritual Growth for the Nine Personality Types
What is it? The first definitive guide to using the wisdom of the enneagram for spiritual and psychological growth
Includes:
Two highly accurate questionnaires for determining your type
Vivid individual profiles focused on maximizing each type's potential and minimizing predictable pitfalls
Spiritual Jump Starts, Wake-Up Calls, and Red Flags for each type
Dozens of individualized exercises and practical strategies for letting go of troublesome habits, improving relationships, and increasing inner freedom
Revealing insights into the deepest motivations, fears, and desires of each type
An Audio book Overview of Enneagrams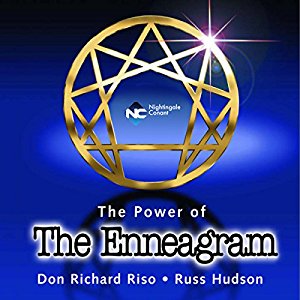 What is it? An audiobook: Your happiness and success depend directly on your "people skills" – how well you get along with others, and how well you really know yourself. Now you can use a remarkable tool for evaluating your own personality and the personalities of your friends, family members, clients, and co-workers. It's called the Enneagram, an ancient geometric figure that delineates the nine basic personality types of human nature.

Personality Types: Using the Enneagram for Self-Discovery
What is it? In addition to updating the descriptions of the nine personality types, Personality Types, Revised greatly expands the accompanying guidelines and, for the first time, uncovers the Core Dynamics, or Levels of Development, within each type. This skeletal system provides far more information about the inner tension and movements of the nine personalities than has previously been published. This increased specificity will allow therapists, social workers, personnel managers, students of the Enneagram, and general readers alike to use it with much greater precision as they unlock the secrets of self-understanding, and thus self-transformation.

Understanding the Enneagram: The Practical Guide to Personality Types
What is it? Personality Types, the first book by Don Richard Riso, has become the leading guide to the Enneagram, as well as a cherished classic in the literature of personal growth around the world. This is the groundbreaking book that set the standard for insight and accuracy about this ancient symbol of human personality. Understanding The Enneagram soon followed and has since become another indispensable reseource, teaching readers not only how to understand this psychological framework in daily life but how to use it in many different settings. Don Riso and Russ Hudson have now fully revised and updated this authoritative guide to the Enneagram, based on their continuing work in the field, which is attracting ever-increasing attention. Discover how to use the Enneagram to find fulfillment in your personal develpemnt and in all of your relationships.

Discovering Your Personality Type: The Essential Introduction to the Enneagram, Revised and Expanded
What is it? Discovering Your Personality Type is the essential introduction to this system, a psychological framework that can be used practically, in many aspects of daily life. This revised and updated edition features the all-new, scientifically validated Riso-Hudson Type Indicator, and has also been refined and simplified to appeal especially to beginners and anyone interested in unlocking the secrets of personality. The most reliable, most accurate, and most accessible way to identify type, the improved enneagram questionnaire helps identify fundamental character traits, revealing invaluable directions for change and growth. The profile that emerges is useful for a wide variety of purposes: professional development, education, relationships, vocational counseling, and more. Discovering Your Personality Type is the book readers need in order to begin to see the possibilities made available by understanding personality types.

What is it? Enneagram Transformations is a groundbreaking contribution to the self-help field. Riso offers readers the opportunity to take a psychological inventory of inner strengths that can be invaluable for self-development and all forms of recovery.

What is it? The Enneagram Cards (TEC) are a kinesthetic, intuitive, and interactive way to learn and apply the Enneagram. They are an exciting new way to deepen your knowledge of the nine types in your daily life as well as to introduce the Enneagram to clients and groups. There are 90 Cards in the full-color set, and they are approximately 3×5 inches in size.
What did you learn about your Enneagram Personality Type that shocked you? Share your story in the comments below!
Growth Marketing Pro is a participant in the Amazon Services LLC Associates Program, an affiliate advertising program designed to provide a means for sites to earn advertising fees by advertising and linking to Amazon.com.