Latest posts by Mark Spera
(see all)
Even today, email is still one of the leading platforms for digital marketers, with 37% of brands actively increasing their email marketing budgets.
Not only is email trudging along, but it's actually improving in efficacy.
Believe it or not, email is currently seeing a boost in email engagement, with 77% of marketers seeing a rise in interaction over the last two years. 
As a fantastic marketing channel that has a relatively low barrier to entry, email marketing is an excellent way to:
Generate leads for your business
Engage customers
And build your brand story and messaging
Plus, email marketing tools can be extremely affordable — or in some cases, completely free.
In 2020, my partner Hailey and I started GrowthBar — a tool that is revolutionizing how SEOs write content. And I run all of our email marketing out of Gmail. Yes, Gmail!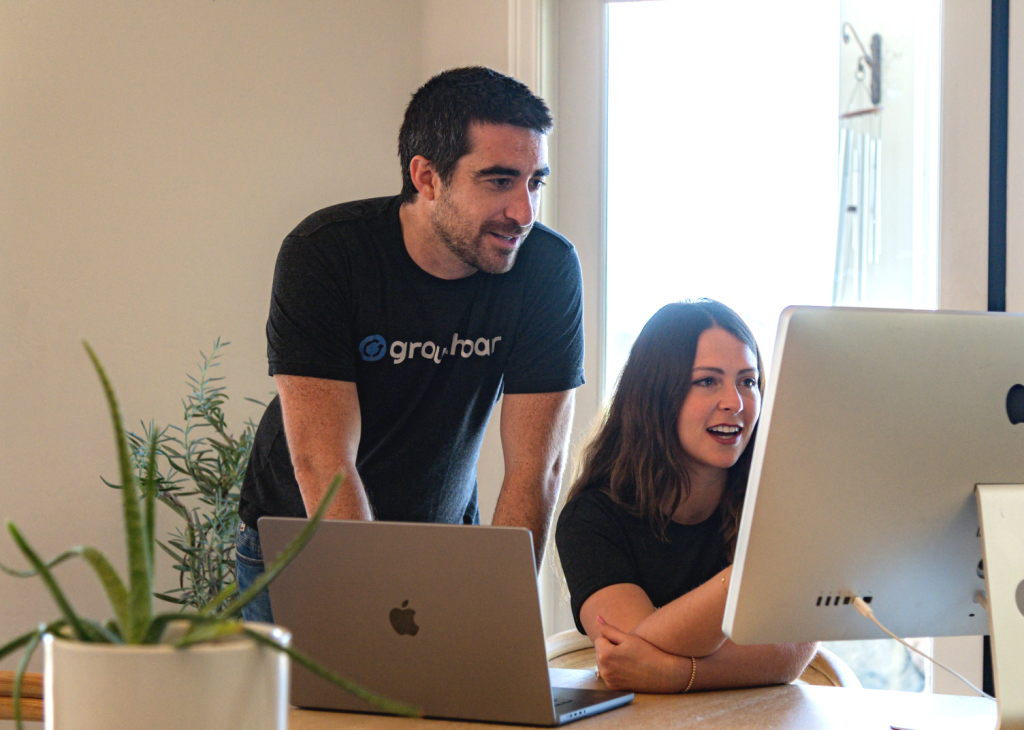 In this article, I'll show you just how easy and cost-effective email marketing can be. I'll show you how to execute all of your campaigns directly from Gmail. Instead of relying on third-party platforms, you'll be able to create a business email account and start launching email marketing campaigns from your Gmail homepage.
1. Get a Domain Email
When running email marketing campaigns, the very last thing you want is your emails to end up in a recipient's spam box.
Considering that email is typically a personal email platform, any email account that ends in @gmail will have a higher chance of never actually making it to the client. This is especially the case when you begin to send hundreds of emails a day, as Gmail might think that you're a spam account and flag your entire operation.
One of the easiest ways of getting around this is to ensure that you have a domain email account. You can do this easily if you already have a website with Google Workspace allowing you to set up an account in only a few minutes. Once you've validated that you own your website domain, you'll have access to a Gmail account that ends in @YourBusinessName.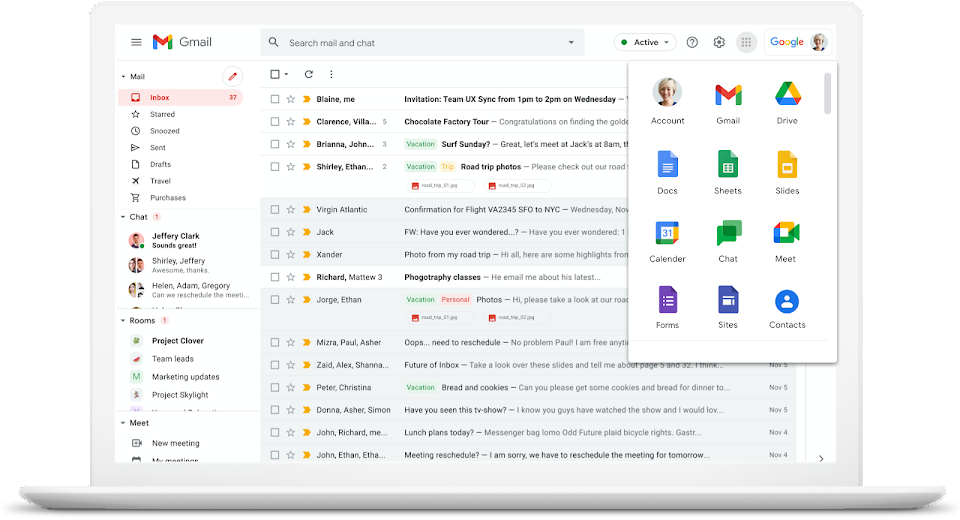 Getting your hands on a domain email is always the first step when using Gmail as an email marketing tool, as this opens up your email to send lots of emails at once without being flagged as spam.
If you're unsure how to set up a Google Workspace account, contact your web host. Most web hosts have an out-of-the-box setup for Google Workspace.
In most cases, set up just requires you to sign up and then make one change to your MX records so that email is routed properly.
Also read: The 10+ Best Web Hosts
2. Build Your Mailing List
Of course, to run an effective email marketing campaign, you're going to need people to actually email! Building your mailing list isn't just a case of finding one online and then copying the email accounts on the list.
Note: You definitely can run email prospecting campaigns with Gmail as well. I like to create lists of prospects using virtual assistants — and then prospect them with a Gmail mail merge tool like YAMM.
Like I said, if you want to run a normal email marketing newsletter campaign, you need to build a list.
Some of the best ways to build email lists include:
Ask your friends, family and Gmail contacts if you can add them to your new email list
Include sign-up links on your website, social media, or wherever you interact with potential customers. Look into a tool like Typeform or Leadpages to make this happen.
You can transition email prospecting contacts into email marketing contacts if they show interest in your prospecting emails
Linking your email newsletter to your Gmail contacts allows people to subscribe and unsubscribe with ease, helping you to keep track of who has given permission for you to send an email to them or not.
Also read: The 10 Best Tools and Strategies For Capturing Leads
3. Use Google Chrome Extensions
I already mentioned one of my favorite extensions, YAMM. But there are a ton of other Chrome Extensions that give you the design and positioning features you'll need to make eye-catching emails.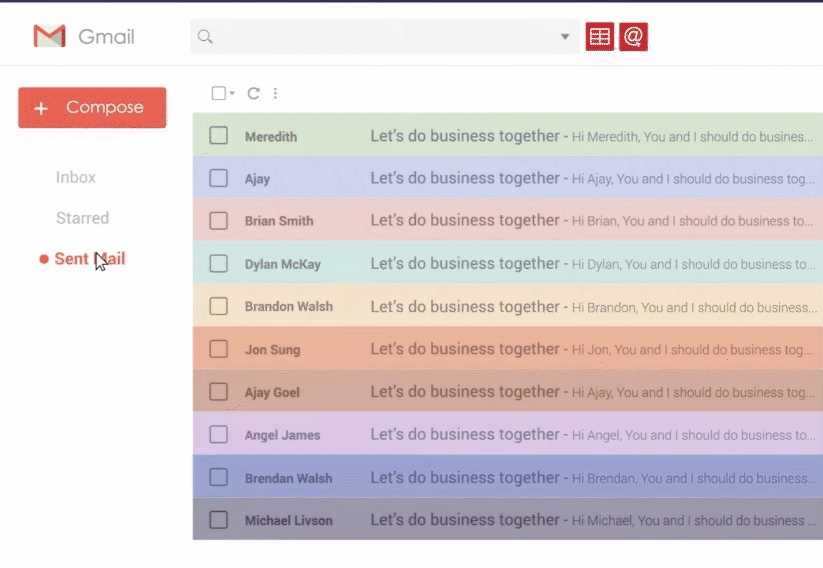 Whenever you run into a problem with email marketing through Gmail, the solution is most likely already on the Chrome Extension store, with marketing teams around the world turning Gmail into a leading marketing platform thanks to the range of fantastic extensions that are offered for free on the Chrome store.
4. Ensure Your Branding Is On Point
Branding within company emails is a fantastic way of increasing the visibility of your company while also appearing as professional as possible when online. When you're attempting to launch email marketing campaigns from Gmail, you cannot forget about your company's branding, and should attempt to incorporate aspects from your website wherever possible.
A cohesive brand has been shown to increase revenue by 33%.
Think about including the following elements of branding in your marketing emails:
Company logo and colors
Tone of voice that matches your website
Company fonts
Messaging and key points
Going beyond this, one of the best features of using Gmail for email marketing in business is that it's incredibly easy to incorporate business email signatures. You can use an online generator to craft a signature that includes key information and links to your website, while also using this to add an element of personalization to your emails.
Just take a look at the best Gmail signature templates and see what other companies are doing with this email marketing tip.
Final Thoughts
Email marketing is a tried and tested method that helps companies to increase engagement and get people to their sites. As one of the most accessible forms of marketing, and one that people can engage in from day one, social campaigns through email are something that marketing teams from around the world deal with on a daily basis.
By using the steps and tips in this article, you'll be able to move away from costly third-party email marketing platforms like Mailchimp and ConvertKit and begin marketing directly through Gmail. With Gmail becoming your primary platform for email marketing, you'll be able to radically decrease costs while continuing with the same rate of distribution and, thanks to Chrome extensions, the same range of design tools.
It really couldn't be easier to get started with email marketing through Gmail!