Latest posts by Mark Spera
(see all)
If you're creating a blog or website and you're confused, I promise you're not alone.
One question I always hear when consulting entrepreneurs and marketers is, "what is the difference between a blog and a website?"
In actuality, there's not too much difference. They are both, technically websites anyway, and in general, you can accomplish some of the same things with each of them. But there are some things to know…
---
Want my free 5-part SEO course?
My course has helped over 20,000 students master SEO with tips that aren't in this guide or anywhere else on the internet!
---
What is a Blog?
A blog is a type of website where the content is presented in reverse chronological order (newer content appears first). Blog content is usually in the form of entries or "blog posts."
Typical websites are static in nature where content is organized in pages, and is not updated frequently. Whereas a blog is dynamic and is usually updated pretty often. Some bloggers publish multiple new articles a day.
Aptly named, Blogger launched in 1999 and was later acquired by Google. Blogger was the first real blogging platform, which made it the de facto option in the early days of blogging.
However, when WordPress launched in 2003, it totally changed the blogging game. That's because it is open-source software — the first blogging software that allowed users and developers to manipulate the code, making a website completely bespoke. Unbelievably, today, over 30% of the internet runs on WordPress.
Some of the most popular sites in the world are blogs — albeit very large ones now:
Huffington Post: 110 million monthly visitors
TMZ: 30 million monthly visitors
Business Insider: 25 million monthly visitors
Mashable: 24 million monthly visitors
The Daily Beast: 15.5 million monthly visitors
I'd even argue that even large web properties like ESPN.com, CNN.com, and CNBC.com are basically glorified blogs.
If you're considering starting a blog, I suggest reading How to Start a WordPress Blog.
What is a Website?
A website is a collection of landing pages and multimedia content that are all collated under one domain. Websites are also usually hosted over web hosting services – which allow these pages and content to be accessed over the World Wide Web. To add, websites can also be internal sites accessed through a secure local area network – which is the case for most corporate 'intranets.'
Websites can be used for different purposes: business, personal, and even for governments and agencies. While there's a broad range of applications, one objective always stays the same: websites are meant to provide information to visitors or audiences – a sort of online brochure for a company or organization.
How is a Blog Different from a Website?
Blogs are a type of website. The only difference is that blogs have frequently updated content and websites tend to be much more static and is organized into pages.
A blog can be a website on its own or a part of a bigger site. Early iterations of blogs were once used mostly for online personal journals. But once its audience-drawing power was realized, businesses began tapping into blogging's potential too. Companies have now begun to use blogs to keep their customers up-to-date with events and product updates, as part of a search engine optimization strategy and to keep users engaged with fun stories.
Growth Marketing Pro is a website and a blog. The content is written and updated regularly in blog format, but we also have static pages like our "about us" page. We built this blog on WordPress.
What's the Difference in Terms of Content?
In terms of content, a website has "pages" – think of these as pages or sections in a brochure. Webpages can be sorted into different categories based on their content. For example, one page can contain the homepage – general information about the organization. Another page can contain a list and descriptions of products and services. And another webpage can list contact information or have an email contact form.
"Posts" on the other hand are updates or unique perspectives, meant to be bite-size reads, and can be composed of one or a combination of the following media: a text article, images (like photo journals or infographics), videos, podcasts, and even social media feeds.
Conveniently, WordPress organizes the two types of content you can publish into "posts" and "pages." "Posts" are dated, authored, and published to your blogging feed. Whereas "pages" just kind of hang out in the background unless you reference them in a prominent place on your site like the navigation bar.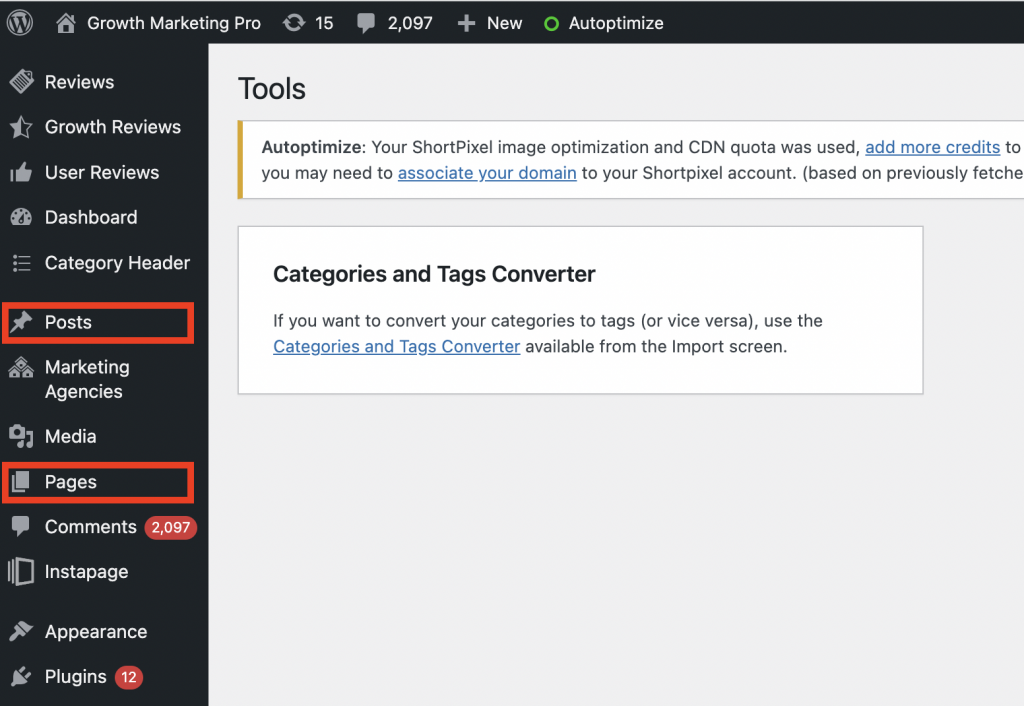 Why Write Blogs?
Blogs are great avenues to get ideas across to a wide audience.
For businesses, it is the best medium to get news and updates out to customers. Many individuals use blogging as a lifestyle or means of expression. Most of the time, blogs have a feature where readers can comment on the post and the author can respond — making it a social outlet for many as well. The best benefit of blogging, for both personal and business, is that it is a platform where the audience can learn and be engaged.
Not only do blogs draw audiences and create community, but they can make serious money too.
Tip: Use a keyword research tool like GrowthBar to figure out which topics to write about for your blog by searching for keywords and looking at their monthly search volume.
Also read: How to Write a Blog Post for SEO in 6 Steps
How to Make Money With Blogs
Most of the time, when someone mentions the term 'blog,' the first thing that comes to mind is a personal journal or hobby website. While there are many people who blog for the fun of it, there are others who use blogging to make money.
This blog started as a passion project, but once we realized that the companies whose tools we promoted (just because we liked them) would actually pay us to do so.
There are a few ways to make money blogging:
Displaying ads. The most popular way to display ads on a blog is via

Google Adsense

. Adsense, like most ad programs, pays every time a reader clicks on an ad placed in the blog.

Affiliate marketing. Another way to rake in revenue is through affiliate marketing. There are affiliate marketing sites like Amazon and eBay that pay commissions for every product bought from ad promotions in the blog. We became affiliates of the marketing software tools we sell by either signing up for their affiliate network or by reaching out and making a relationship.
Another way to generate income from blogs is through memberships and subscriptions – charging members by providing member-only content. This is a pretty tricky way to make money and definitely works best with very niche products (ones in which information is truly hard to come by).
Selling online courses
Setting up an online store
For more, read How to Monetize Your Blog.
---
Want my free 5-part SEO course?
My course has helped over 20,000 students master SEO with tips that aren't in this guide or anywhere else on the internet!
---
How to Start Blogging
Contrary to popular belief, it's not that difficult to start a blog.
Today, as an aspiring blogger, you don't need coding skills. You can just sign up for a free online service and start blogging right away – no technical skills are required.
The best recommendation I can make is to get a content management system (fancy word for blogging software), like WordPress. WordPress allows you to make a customized blog and/or a blog-website hybrid.
Oh by the way, when I say "WordPress" I mean WordPress.org. For more on that, read WordPress.org vs WordPress.com: What is the Difference?
To start a WordPress blog, you will need a domain name (blahblahblah.com) and a web host. Usually, a domain name will run you $15 or more and web hosting, another $8 per month.
Are you an entrepreneur or marketer? Also read…