Latest posts by Mark Spera
(see all)
Software-as-a-service — better known as SaaS — has taken the world by storm. The cloud-based subscription software model shines in almost every industry, from finance to marketing and beyond.
You've probably interacted with a SaaS product today, without even realizing:
If you checked out at a grocery store, their POS system is a SaaS product
If you browsed an ecommerce store, you were probably on a Shopify site
If you've paid for anything on the internet today, Stripe likely enabled your payment
So it's no surprise that the software industry is exploding. The total spend on SaaS in 2021 was $152 billion. And it's easy to see the appeal: SaaS companies help individuals and businesses meet various goals and only require a monthly subscription and an internet connection. It beats hard-to-install hardware and hefty licensing costs, right?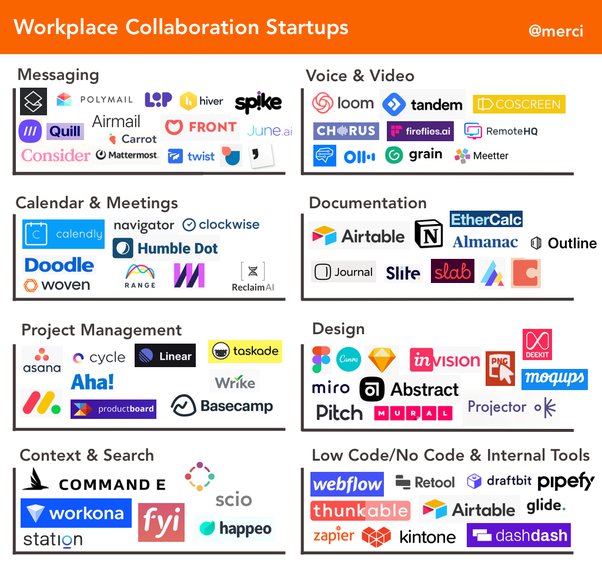 But how many people use SaaS companies, and how do they support businesses in 2022? Is SaaS only for the tech world, or can it help the hospitality, finance, and entertainment industries too?
We'll answer those questions and more with our roundup. Here it is: the ultimate list of SaaS statistics!
Also read:
– How to Grow a SaaS Business FAST
– The Ultimate List of Entrepreneurship Statistics
– The 15+ Best Landing Page Statistics
Must-Know SaaS Statistics
1. Projections forecast that the global SaaS market spend will be $240.61 billion in value in 2022.
That's almost $100 billion more than 2021. Business Wire describes the high growth rate as a growing preference (and requirement) for businesses to reduce costs by outsourcing to cloud computing companies. If SaaS companies keep moving at this rate, the market value will likely reach an upward of $720 billion in 2028.
2. 99% of businesses use at least one SaaS company.
Yes, 99%! Just think about how many businesses use SaaS Companies like Salesforce, Microsoft, and Zoom daily.
3. The top 3 industries for SaaS companies are information technology and services, analytics, and financial services.
And that's just the tip of the iceberg. Other popular SaaS industries include communication, project management, security, and more. However, IT and IT services capture a large portion of SaaS companies, with nearly 37 billion global customers. Think Google, Microsoft, and Salesforce.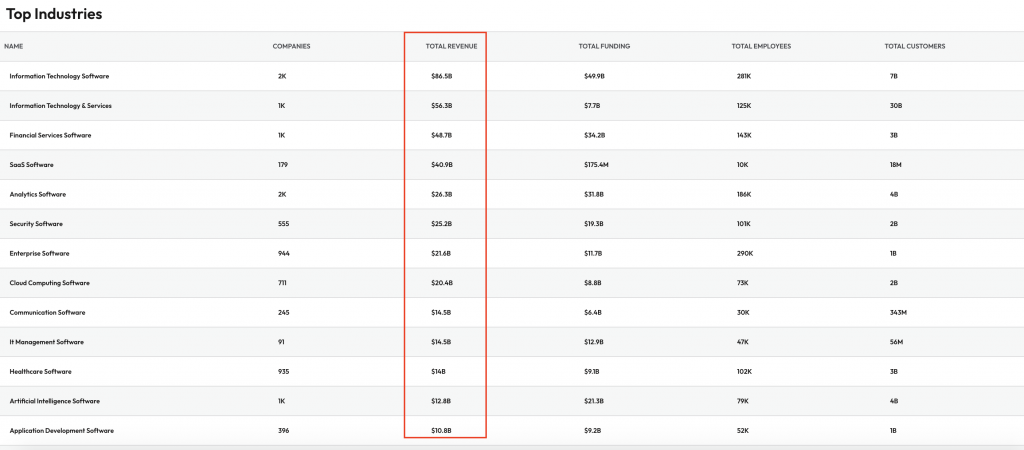 4. Search volume for "SaaS" is up 100% in the last 5 years
Yup, software is getting even more popular. As you'd expect, search volume for "SaaS" has grown.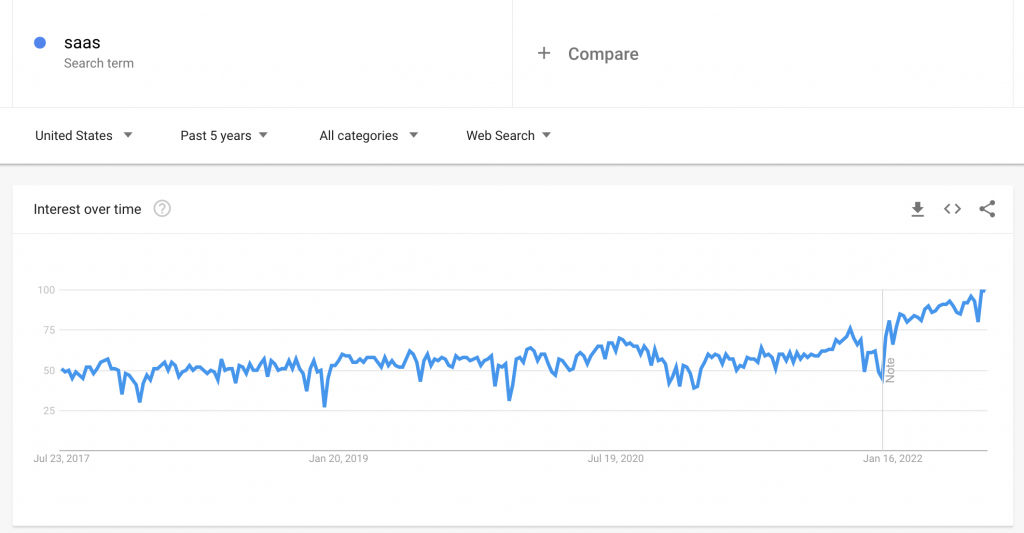 5. With a market capitalization of $1.95 trillion, Microsoft is the largest SaaS company in the world.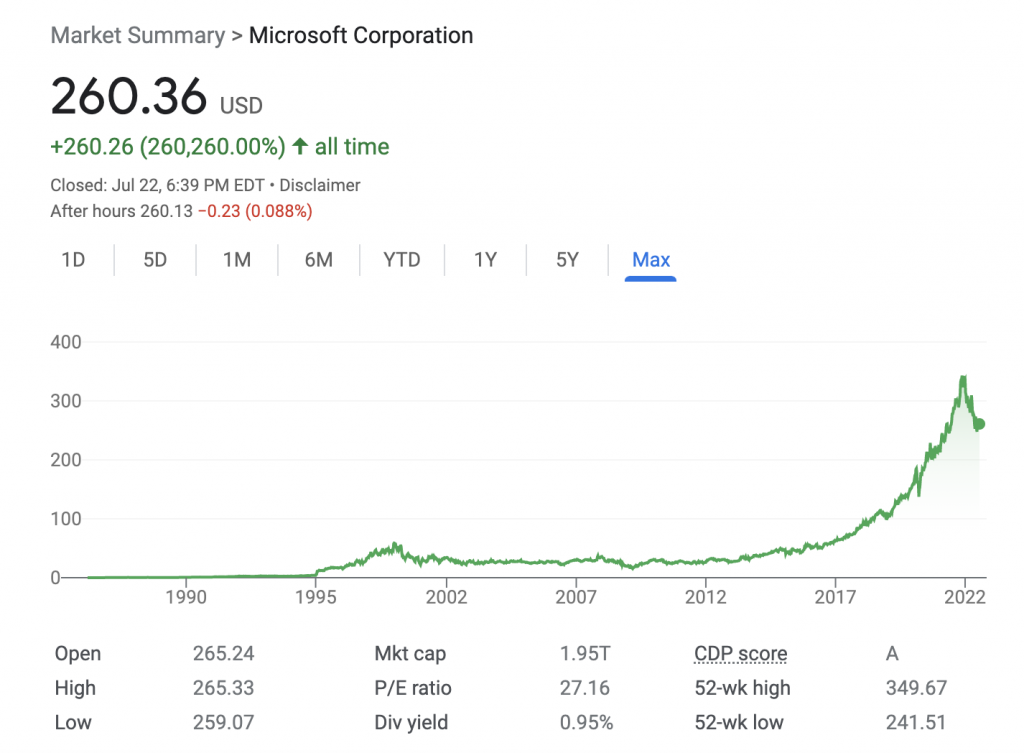 Bill Gate's brainchild has become one of the largest businesses ever. As of the time of this writing, it's the second biggest company in the world (behind only Apple).
6. Companies are opting for annual versus monthly SaaS subscriptions.
Everyone knows you can save more money with an annual subscription, but monthly payments feel lighter on the budget, even if they cost more in the long run.
But that temporary and ostensible budget benefit isn't enough for today's efficiency-forward companies. Now that businesses are learning how much more productive they can be with SaaS, they're finding value in annual subscriptions more than ever.
Also read:
– What's Lifetime Value (LTV) and Why's It Important?
– How to Grow a SaaS Business FAST
– The 7+ Best Product Onboarding Tools
7. CSPs (Communication service providers) save an average of 25% when switching from licensed software to SaaS.
Over five years, according to Nokia. But those savings aren't just found in cheaper subscription fees. Telecommunication companies will find more efficiencies that'll save them money, from smaller learning curves and training needs to scaling hardware.
8. The 2022 customer churn rate benchmark for SaaS businesses is 5.9%.
Customer churn — also known as attrition or turnover — must be low for today's SaaS business. While some SaaS companies might experience churn rates as high as 15%, that should only be transitional to stay successful.
9. 85% of customers will pay more for a SaaS product if there is a high-quality customer experience.
SaaS companies are better off being expensive and customer-focused than discounted and customer-not-focused. Why? Because customer expectations have reached new heights in the post-COVID era. Busy businesses and users demand quality service and personalized support.
Also read: The 7+ Best Customer Support Software Tools
10. SaaS companies spend an average of 18% of revenue on sales tactics and initiatives.
Tack on 9% for marketing and another 10% for customer support. Sales consistently tops budgeting needs for SaaS companies because it's the #1 way to grow their businesses. A fun category of software to follow is AI-enabled sales tools — tools for optimizing sales expenditures and salespeople. There are many emerging tools in this category.
11. 72.6% of internet users will access the web solely through their mobile phone in 2025.
What's worse than clicking a link only to see a clunky webpage? Your website could be beautiful on your desktop, but a mobile-first customer will exit the browser instantly if the layout isn't appealing on the go. Customers and businesses expect mobile compatibility from all SaaS companies now and even more in the future.
12. 70% of Chief Information Officers (CIOs) name agility and scalability as the top motivators for using SaaS solutions.
Growth marketer Rajat Thakur describes SaaS as the flexible solution every business needs — not just startups. More and more businesses require agility to find more efficiencies, as those translate directly into savings. And with more time and resources in a business's pocket, scalability becomes more accessible.
Industry-Specific SaaS Statistics
13. Projections forecast that the healthcare SaaS market is expected to hit $50 billion in value by 2028.
Customers demanded more efficiency and convenience post-COVID, especially in healthcare. The rise of telemedicine, mobile health applications, and CRM systems speak to that demand, resulting in unprecedented levels of success for SaaS companies in the healthcare market.
14. Banks expect to replace applications with SaaS at a 90% rate by 2030.
Banks are notoriously behind on the times when it comes to accessing services. But lately, customers show their dissatisfaction by flocking to more innovative banking solutions. For example, fintech companies like Koho and Stripe are helping both businesses and individuals find more ease in day-to-day payment processing and banking.
15. Streaming giant Netflix brought in a whopping $7.87 billion revenue in 2022 Q1.
Who says SaaS is only for businesses? Nowadays, almost everyone has a Netflix account, making Netflix one of the top SaaS companies in the entertainment world. Even their recent crackdown on password sharing wasn't enough to dissuade customers, as the company's 2022 Q1 revenue surpassed the previous year by about $710 million.
Conclusion
SaaS isn't going anywhere. SaaS companies are evolving to meet every customer need, employing innovations like machine learning and APIs to better serve their clients. And the best SaaS businesses are expanding their offerings to get a bigger wallet share of their customers.
Expect SaaS to expand, not contract in the next 10 years. These are basically the most efficient, stickiest businesses in the history of capitalism.
I hope this set of statistics made it easy to understand the massive scale of the market.
Also read:
– The Ultimate List of Entrepreneurship Statistics
– The Ultimate List of Landing Page Statistics
– The Ultimate List of Webinar Statistics