Growth Marketing Manager
at
RealtyShares
Cofounder @ GrowthMarketingPro.com
Latest posts by Hailey Friedman (see all)
I discovered the brilliant secret behind how to create a webinar that will live on forever — evergreen. And it's addicting. I've become so obsessed with this valuable tool that some people at work now refer to me as the "Webinar Queen".
If you don't believe me, look what I found printed out on my desk last week…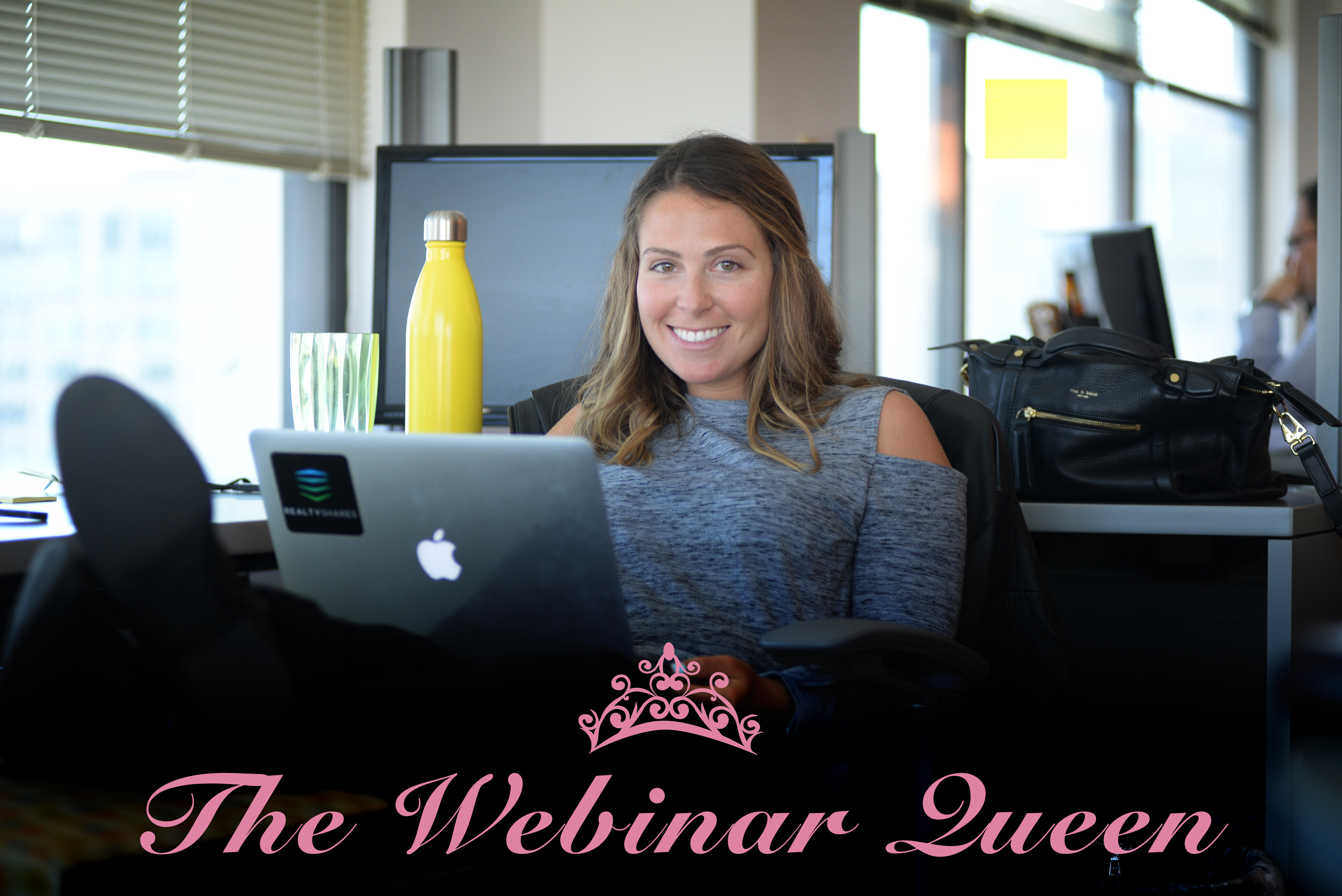 First off, what's a webinar?
For those who don't know what a webinar is or how to create a webinar, essentially it's a presentation over the internet. Webinar = online seminar.
Usually they are held live by the presenter who shares their screen so you can see their face, or show slides from a presentation deck.
You can register in advance to attend the webinar at the specified time to listen to the presenter speak on a topic and usually there are other attendees watching live as well.
We made a list of our favorite webinar software for your future reading pleasure.
Why do webinars matter?
For most of us, it's pretty easy to walk into a convenience store and pick out a razor or a tube of tooth paste.
And maybe we don't need to attend a webinar to be convinced of doing so.
However, there are many products or services, for example software products, financial platforms, educational services, that require a more in-depth explanation of their offerings.
Many of these companies spend tons of money hiring sales people to prospect and conduct one-on-one meetings with potential clients.
Why are webinars great? Because rather than hiring lots of sales people to have lots of meetings, you can have one person hold a digital meeting with hundreds of people at one time.
You can also use webinars to host team trainings and seminars.
I'm so excited to walk you through exactly what you need to do, step by step how to create a webinar that is so easy to build, so persuasive and so evergreen- you'll be able to reuse it over and over again without any additional effort at all.
What does it mean for a webinar to be "evergreen"?
In the marketing world, the word "evergreen" is usually in the context of "evergreen content."
Evergreen content refers to an article that is on a topic that is perpetually relevant and fresh for readers- it can withstand the test of time.
Evergreen trees are known for their perpetual life- maintaining their leaves throughout the seasons, rather than shedding.
Similarly, evergreen webinars should be sustainable and lasting.
Here's an example of non-evergreen content (no one will want to read this next year):
Here's an example of evergreen content (this should still be useful for years if not generations to come):
Putting together an effective webinar takes time and effort. Writing a script, putting together a deck, being prepared to answer questions at the end.
Plus the anxiety that tends to come with speaking in front of a live group is probably present every time- even if the attendees are not physically in the same room.
Evergreen webinars are worth getting right, though. So if you need to have a few redo's, that's okay.
Wouldn't it be great if you could do the webinar just one time and use that same recorded content for attendees next week and the week after?
Sometimes this is necessary, as you don't have time to do a live webinar every single week!
How I discovered the power of webinars
Before I tell you about the product and process that made me obsessed with webinars, let me first tell you about the product that I was using that made me dread hosting live webinars.
The terrible platform you're probably using for webinars right now
You might be familiar with this dreadful product and even use it yourself. It's called GoToWebinar and in my opinion- it absolutely sucks.
It made me hate managing live webinars. It's the most antiquated software-  literally looks like it was made in 2007 and hasn't been updated since.
Attendees need to download confusing software in order to watch the webinar on their computer.
It's SO expensive.
Their most popular product costs $2,400 a year and they only let you register a limited number of people per webinar.
Despite the challenges presented by this clunky interface and sub-optimal experience, I persevered in the belief that webinars are a powerful tool and creating a live dialogue between company and customers can be extremely effective for converting customers.
The platform that made me fall in love with webinars <3
Until one time… I was invited to a webinar hosted by my favorite marketing guru, Neil Patel, and this webinar was unlike anything I'd ever seen.
The registration process was smooth
I was able to click directly to a landing page that hosted the webinar without downloading any plug-ins
The webinar created urgency with count-downs and time-sensitive offers
Interactive widgets would pop up throughout the webinar with enticing offers
I needed to know what software was behind this brilliant webinar experience so I scrolled to the bottom of the page and saw this…
That's when I discovered Everwebinar and I've never looked back.
EverWebinar that allows you to record a webinar and make it automated so you never have to host a live webinar again.
It's completely passive customer activation.
And the best part? The sneaky little features/widgets you can add to your webinar that help to persuade customers to want to buy your product even more- skyrocketing conversion rates.
How to create a webinar that's automated and evergreen
Step 1: Write webinar script (Here's an outline I put together about how to write the perfect webinar script)
Step 2:  Host and record one live webinar. You'll only need to do this once! After that everything will be automated. You can use WebinarJam's software to do this. Make sure you have a live chat box so people can ask you questions live throughout the webinar. (The live chat box will be recorded as well and you can re-use those questions in your evergreen webinar later to make it seem like there are other attendees in the room asking questions)
Step 3: Download the recording of the webinar.
Step 4: Upload the recording to EverWebinar. The platform itself will walk you through every step- it's pretty self-explanatory.
Step 5: Give your webinar a title
Step 6: List your presenters
Step 7: Pick your webinar schedule. You can choose to host your evergreen webinar as often as you want because it's just a recording! For example, you can make your webinar available every Tuesday and Thursday at 2pm in the timezone of that specific attendee. That way, when the user goes to register, they'll be presented with options and can pick one that words for them. See below…
Step 8: If you like, add "live" features that will make your ever webinar feel like a live environment- when it's not. It's still very important for your customers to have a fantastic experience – so answer the questions you think they need answered.
Live chat box. You can actually simulate a live webinar environment by pre-configuring text lines that will roll as if it were a live chat. You can pick at exactly what second, who will say what. Again, this is great for answering customer questions and making your recorded webinar more engaging and informational. 
Product offers. You can pick a specific time to have a product offer pop-up within the chat box so users can click to purchase your product on the spot. You will be able to track clicks and purchases through the analytics dashboard.

Live Sale Alerts. Broadcast in real time the orders from your webinar attendees. These sales alerts are displayed like a quick scrolling ticker: "John has just purchased [Your Product]" and you can pre-select exactly what times you want the alert to pop up.
Step 9: Set your webinar live! Once you get to this step you can watch a video that will show you exactly how to set your evergreen webinar live. Once you've done so, you can promote your webinar link to your desired audience, sit back and relax while hundreds of people register, attend your webinar and purchase your product without you lifting a finger.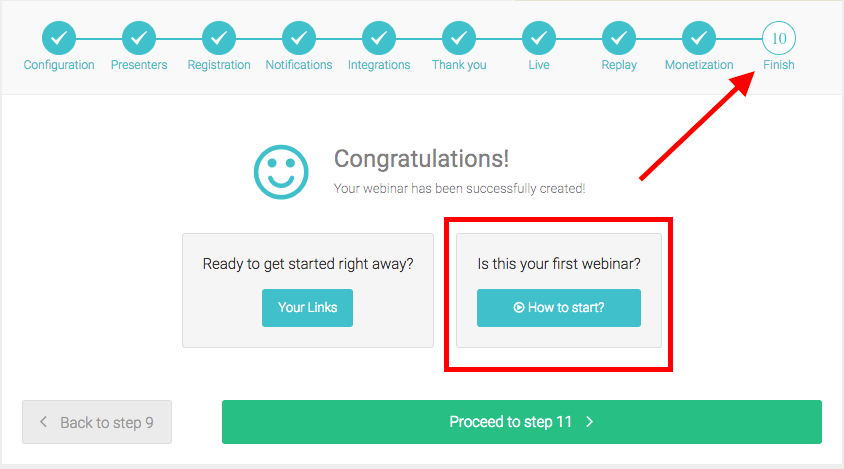 How to create a webinar with EverWebinar- watch the video!
I recorded a step by step tutorial below on how to get started creating your first webinar with EverWebinar. I hope this is helpful!
Conclusion
Evergreen Webinars = passive customer activation
Write a webinar script (Download the free guide here: How to write the perfect webinar script)
Record one live webinar
Re-use it time and time again by utilizing WebinarJam's EverWebinar platform.
Sit back and make money
Good news: we actually have free trials of Everwebinar to give away. Sign up for your free trial here.

If you carefully track your webinar registrations and activity through the platform's dashboard you'll soon discover that webinars can be an incredibly valuable tool for getting your customers to convert.
The great thing about webinars is that they're relatively inexpensive. You might be paying to send traffic to the registration page, but since this is more so a customer conversion tool than a customer acquisition tool, you're likely just emailing your existing customer list with a link to register for the webinar.
And WebinarJam's platform itself is ~$400/year which is a fraction of the cost of other webinar services.
EverWebinar platform <– use this link for a 60 day trial for FREE
If you're looking for a more passive way to help boost your sales/conversions, webinars can be a very powerful tool.
Disclaimer: We occasionally link to products and earn fees. We only review products we trust. And we only trust about 10.