Head of Marketing
at
PlushCare
I'm the head of marketing for a tech company in San Francisco and the cofounder @ GrowthMarketingPro.com
Latest posts by Mark Spera (see all)
What Makes for the Best Blogging Platform?
Today, there are over 152 million blogs on the internet.
Almost all of us read blogs:
News sites and other blogs associated with big companies like CNN or Wall Street Journal

Themed blogs related to our favorite stuff like TechCrunch, Refinery29 or Hypebeast

Professional blogs of leaders in our industry  

Personal blogs: ones of our friends, travel, lifestyle and fitness blogs
But if you've hit this webpage, you're probably considering making the leap from reader of blog content to creator. Congratulations!
Before you begin writing furiously, you need to choose the best blogging platform to create and host your blog on the internet. But it's a bit confusing because there are so many options.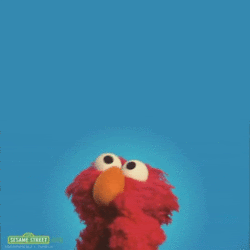 Not all blogging platforms are created equal. Between WordPress, Tumblr, Medium, Weebly and the rest, there's more than enough choices. 
There's some important things to consider when choosing the right one:
Ease: Blogging should be about making great content, not battling with software or settings.
Customization: If you want your blog to look a certain way, you have to be aware of the limitations of certain blogging platforms.
Support: How many people are using your blogging platform? Will it be easy to get help if/when you need it?
Search optimization: If you want people to discover you serendipitously via internet searches, there are some blogs that offer much better "search engine optimization." 

Price

Features: Some of the blogging platforms offer all-in-one solutions including website domain name and web hosting; the others just provide the Content Management System (CMS) suitable for blog publishing. Based on your goals, you need to choose the features you care about.
I've done the research on each of the major blogging platforms. In fact, I've used nearly all of them at one point or another in my career. 
Below is how each of them stacks up.
These are the best blogging platforms for creating and hosting your blog:

1. WordPress.org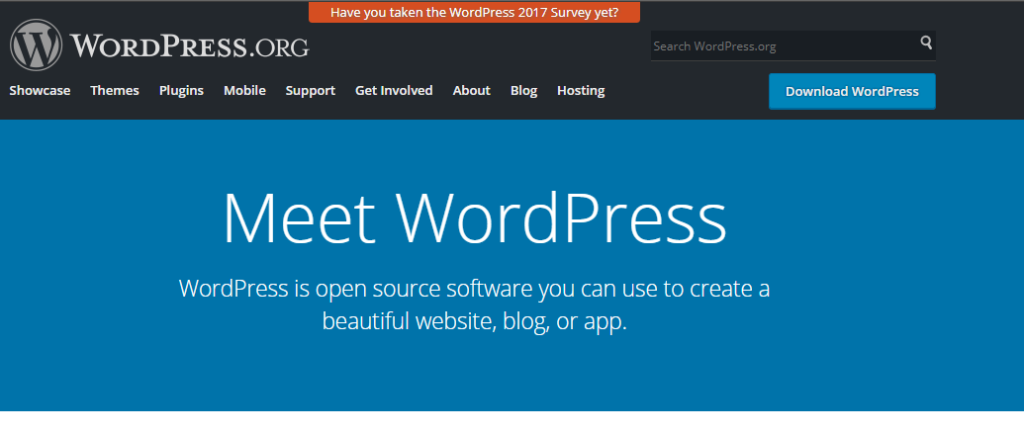 When it comes to choosing a blogging platform the first option that comes to mind is WordPress.org. In my opinion, WordPress wins the award for best all-around blogging platform.
In fact, this blog is a WordPress blog!
Believe it or not, WordPress powers 29% of the internet.
Thus, the first reason I love WordPress is the community. There are hundreds of help websites for WordPress and developers everywhere understand it.
So if you need help, you should have no problem finding someone to lend a hand.
Second, WordPress excels in search engine optimization. Your blog posts are automatically organized in a way that Google crawl them (read and categorize them). This means that people across the internet are more likely to discover your content in Google searches.
WordPress also has a whole host of plugins — in fact there's over 53,291 as of today. These plugins require no code to implement and can do things like:
Make your blog look completely different,
Add analytics so you can see user behavior
Collect email addresses from your visitors
Further improve your search engine optimization
Sell products to visitors
And just about anything else you can think of
Finally, WordPress blogs are beautiful. There are hundreds of themes to choose from so that your blog looks exactly like you want.
WordPress is one of the simplest blogging platforms. The only tricky piece is that you will need to choose a hosting service. This will be the only cost associated with WordPress. We recommend Bluehost — in fact we have a coupon for 60% off your Bluehost hosting.
→ Click Here to Get 60% off Your BlueHost Hosting ←
WordPress is pretty easy. If you're confused how to start though, my colleague Hailey wrote an entire post on how to start your WordPress blog. 
Pros
Suitable for beginners and professional blogs like

CNN.com

Over 50,000 themes and plugins available

Search engine friendly; certain plugins make WordPress' search optimization even more powerful from a search engine optimization perspective
Cons
Not as easy as a drag-and-drop editor like Weebly, but not very difficult
Price Free, hosting costs $3+ per month thanks to our deal with BlueHost! 
Link WordPress
Video https://www.youtube.com/watch?v=5O5pyFS4VTA
→ Click Here to Get 60% off Your BlueHost Hosting ←
2. 
Blogger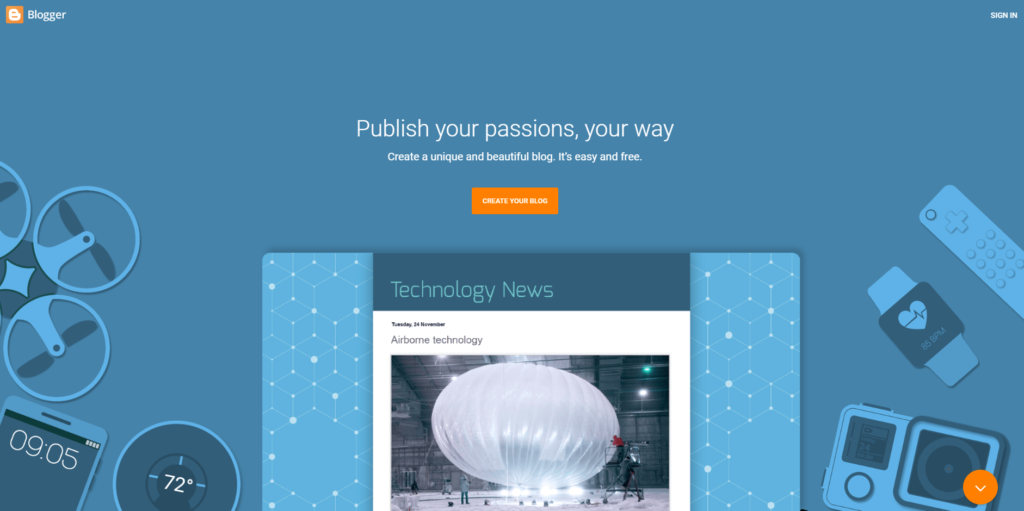 Now owned by Google, Blogger is one of the longest-running blogging platforms on the Internet.
While the most blogging platforms offer paid features, Blogger is completely free. This platform is perfect for the beginners. It's very easy to set up a blog and begin publishing here.
The other advantage is deep integration with Google.
You may choose the photos for your posts from the images stored within your Google account; there's integrated Google Analytics for site stats tracking, and you can even make money on your posts by using Google AdSense option which automatically displays relevant targeted ads on your blog.
The Blogger users get unlimited space for their blogs, and the number of blogs owned by each user is also not restricted. You may even run your blog on a custom domain, which was a feature they once didn't allow.
While the customization options are limited here, the users still have some room for the creativity. It is possible to choose from the number of the templates and to customize them by digging into HTML and CSS. 
You can even edit the blog's code to include third-party advertising.
Blogger also offers a lot of built-in tools, called widgets, which are actually Google Apps integrated with the platform. There are clocks, calendar,  Google Maps, Google Translate, Twitter, Instagram, YouTube widgets among the others.
Pros
Unlimited traffic and storage space for free

No fees for adding a custom domain

Google AdSense integration

Built-in analytics

Strong search engine optimization
Cons
Limited number of features

Limited customization
Price Free
Link Blogger
Video https://www.youtube.com/watch?v=U2QvwgaECps
3. Tumblr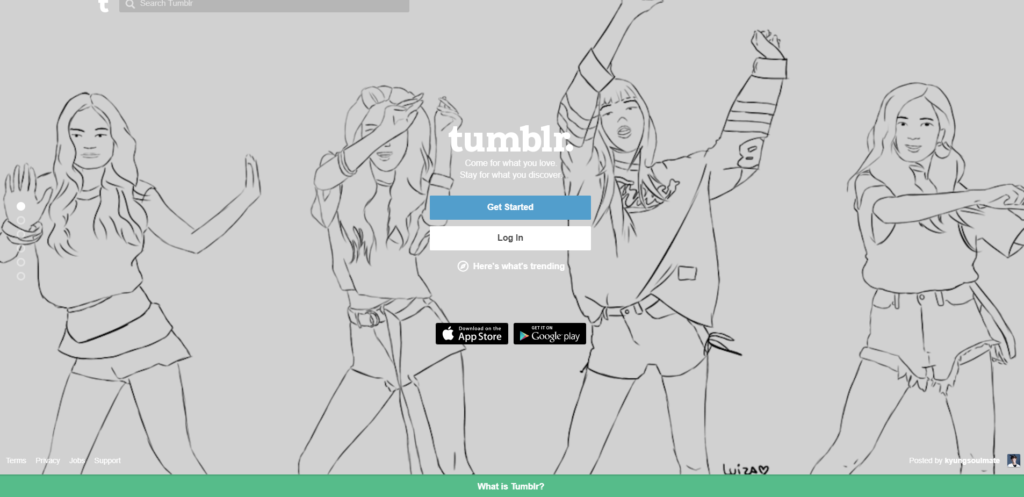 Tumblr is positioned as one of the simplest blogging platforms. As the official site says 'It is so easy to use that it's hard to explain'. It's a totally free service which offers yoursite.tumblr.com address for your blog.
There is also an opportunity to connect your own domain name.
Tumblr is not intended for the people who like to write, as it has the really tiny text field. In fact, Tumblr is more focused on a short content and thus, attracts those who are visually-oriented. It stays in the middle between the classical blogging platform and the social media feed.
It's very straightforward to post links, mp3s, videos, Spotify tracks, photos, and any content you could possibly imagine. You can instantly see the similar posts from the other Tumblr users and share them on your blog.
Apart from the posts, one can also create pages which don't move through the feed and thus are always accessible to the visitors. The number of pages is unlimited on Tumblr.
One of the outstanding Tumblr features is the mass editor. It's very simple to work with the dozens of posts on one screen and make some batch actions with them. For example, you can tag, untag, or change a tag on a selected number of posts which are displayed as the thumbnails.
Tumblr is not optimized for search at all. If you want your blog to be discovered, stay away from Tumblr.
Pros
No fees for adding a custom domain
Convenient mass editor
Unlimited number of pages is possible
Your posts are advertised on the similar blogs
Cons
Limited design controls
Bad management of the comments
Price Free
Link Tumblr
Video https://www.youtube.com/watch?v=9yv-woY0gXA
4. Medium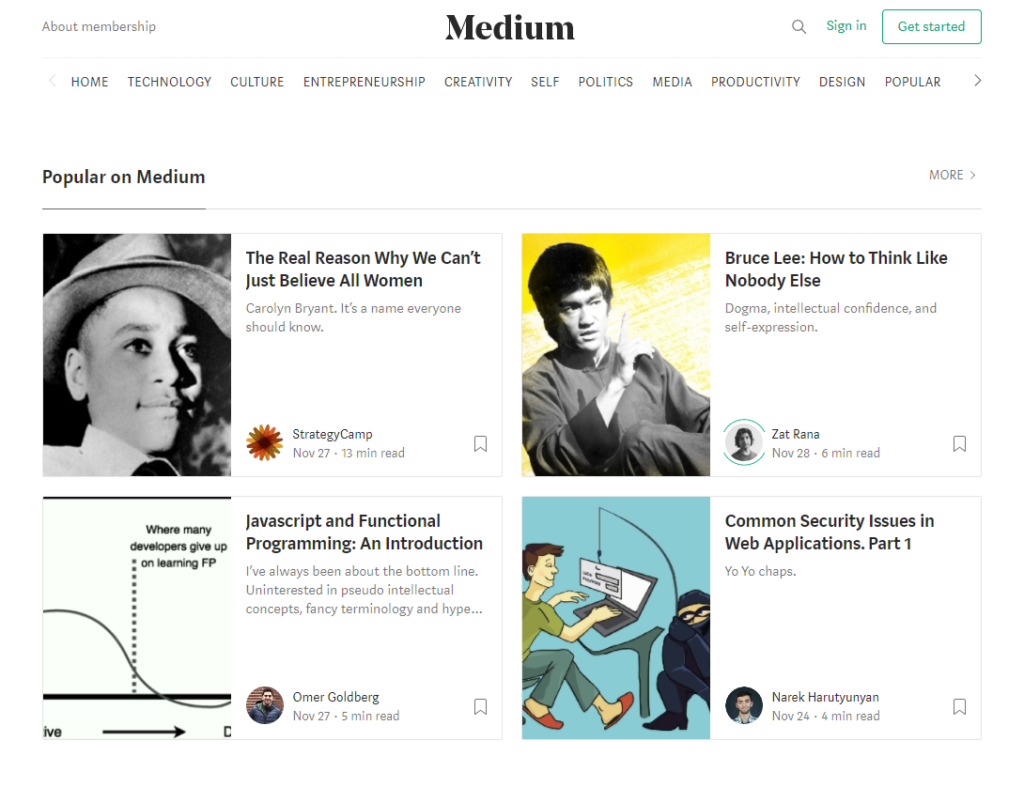 A lot of famous folks and influencers have chosen Medium for their blogging platform.
Created by the Twitter founders, this platform uses microblogging approach. There is one standardized template you use to publish all your posts. 
It is possible to choose a grid or stream based layout for your publication, as well as add your logo, background color, or image to the header.
However, the customization options are very limited, so you'd better focus on what you write.
Medium has the robust WYSIWYG editor which recognizes key commands and formatting characters, correctly displays styles and more.
This makes it easy to use. But Medium is much better for pure written blogging than anything visual.
Once a post is published, Medium makes it simple for the other Medium readers to discover the content. The recommendations are based on the users' interests. The readers can also easily subscribe to authors they enjoy. But Medium posts aren't naturally very discoverable by Google, so SEO is just okay.
There are built-in analytics tools and inline commenting. You may also share your post draft with the interested users before it goes online.
Unfortunately, there is no option of using the own domain for your blog, so you can't get the full control of your content. So you're stuck on medium.com.
Pros
It's easy to reach the existing Medium audience
Built-in analytics
Cons
Direct competition with other writers
Impossible to use your own domain
Just okay for search engine optimization
Price Free
Link Medium
Video https://www.youtube.com/watch?v=QPc4IvUlY6U
5. Ghost
Ghost is another blogging platform very focused on written content. It's extremely minimalistic and thus clutter-free.
However, it's much easier to use Ghost if you or someone on your team has an engineering background. The editor involves code, plus most people customize the look and feel of their Ghost blog in code. There are few plugin or theme choices out of the box.
Ghost installation is much more complicated than WordPress. You need to have the strong technical background to make it work on your domain.
Ghost(Pro) is a simpler option as you instantly get the fully working site with it. However, there is no free plan of hosted version like on WordPress.
The other thing that you should keep in mind about Ghost is the lack of the visual editor. Instead, the posts are written in Markdown which is a text-to-HTML writing syntax that translates your text into the formatted output.
Thus, you should have some idea of how to use HTML and CSS if you move forward with Ghost.
Ghost is an open source content management system made for midsize companies and up — who have engineers that can help with the look and feel of the blog.
Pros
It is seen as the fastest blogging platform
Easy writing
Clean and simple
Cons
Free version is difficult to setup
The number of themes is limited
No plugins
You must have a technical background to use ghost
Price Free to install on your own domain. Paid plans start at $19 per month and include 1 blog and 50,000 unique views/month.
Link Ghost
Video https://www.youtube.com/watch?v=M-WToqkx7GM
6. Weebly
Weebly is not a blogging platform out of the box, but it can be transformed in one.
In actuality, Weebly is a website builder — meant for creating just about any type of website. 
All setup job is done by dragging and dropping the required elements like pictures, paragraphs, videos, buttons, maps, contact forms, and more.
What you see in the site builder is what you get on your pages (WYSIWYG).
Updating the site is easy as well. Weebly includes a lot of extensions that can be added if necessary — related to ecommerce, design changes and analytics. Of course, blog functionality is among the plugins.
If you ever need advanced site features like forums, membership options, integrated advertising, or file uploads it's pretty easy to add them as well.
The best thing about Weebly is that it supports apps made by 3rd party developers. The app center is constantly growing making it easy to find the extensions for any task.
The free version of Weebly includes weebly.com subdomain and 500 Mb of storage which is not much if you want to share images with your visitors.
Weebly offers a number of beautiful themes for all kinds of blog categories: business, academic, education, e-commerce, writer, musician, and so on.
They not only look great but also very responsive and perfectly adapt to mobile devices. And it is possible to customize them making your site to look different.
Pros
Drag-and-drop support
Affordable e-commerce functionality
A lot of extensions and third-party apps
Cons
The pages are difficult to manage if you have more than 10
There isn't great SEO optimization
Price Free. Paid plans start at $8 per month and include unlimited storage and free domain.
Link Weebly
Video https://www.youtube.com/watch?v=_VnRMP7jRjY
7. Postach.io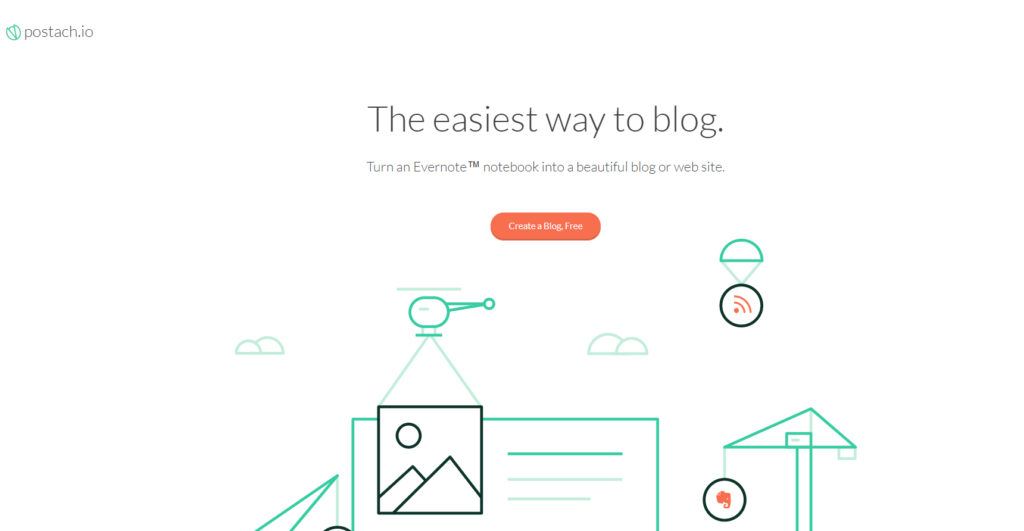 Do you use Evernote for organizing your personal information? Then you'll be happy to find out that there is a way to blog right from this application.
Postach.io is a simple blogging platform directly connected to Evernote. How does it work? You create Postach.io account and connect it to your Evernote account.
Then you specify which notebook will be used for writing and storing the blog posts. That's it.
The best thing about Postach.io is that all your content is actually backed up on your computer and can be reached from Evernote.
The blogging features of Postach.io are basic. The user gets a free yoursite.postach.io domain. By default, your name and surname are used as a subdomain, but you can choose the one you like in the blog settings.
It is also possible to customize blog appearance with a number of themes, to add social profiles and cover photo, to write a blog description, to specify the purpose and category. F
or the small monthly fee, you are allowed to use your own domain as well as to protect your site with the password.
There are also some useful add-ons that can be easily added to the blog. You can power your site with Disqus comments, add analytics to your site with Google, as well as configure automatic sharing of published posts to Twitter, a Facebook page or profile. Social sharing is implemented just by ticking posts with 'share' tag in Evernote.
Overall, pistach.io has limited use cases and should not be used by serious bloggers.
Pros
Evernote integration
Social sharing
Google Analytics support
Password protection
Cons
Few opportunities for customization
No advertising possibilities with a free account
Price Free. Paid plans start at $5 per month and include a custom domain, password protection, more themes, source code access.
Link Postach.io
Video https://www.youtube.com/watch?v=IamSDEpNkDY
8. Wix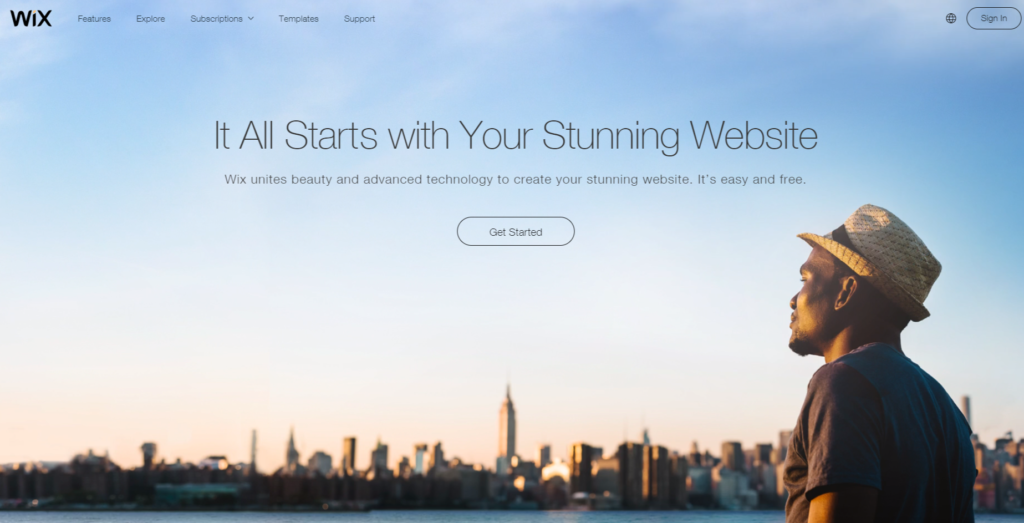 Like Weebly, Wix is a website builder — it's not a blog out of the box. But still, people do use it to power their blog.
Wix is one of the most beautiful blogging platforms. 
Fully powered by HTML5, this website builder offers stunning templates for every niche you can imagine. The choice of the niche is made during the registration.
Once you tell Wix what site do you want to build it offers thematic templates for every taste.
Artists, photographers, graphic designers and other creative people are among the most loyal Wix fans because there are so many different animation options, photo galleries, video players, and so on.
With a free account, you get 500 MB of storage and the ability to create the unlimited number of static pages. Secure hosting and a mobile site are also included. The posts are created within intuitive blog editor with drag and drop support.
You can edit drafts, schedule upcoming posts, tag and categorize the posts to help the readers easily find what interests them.
Wix also offers video and photo galleries that could be embed into the posts. And you can even embed HTML code to add quizzes, polls, surveys, and other interactive content.
Pros
Great looking themes
Themes are customizable
A lot of widgets for adding new features
Cons
Free plan has too many restrictions
Wix Ads on a free plan
Price Free. Paid plans start at $4.50 per month and include the custom domain. To remove Wix ads and increase the storage/bandwidth the $8.50 per month plan should be used.
Link Wix 
Video https://youtu.be/pWDr1MNfJ34
9. Penzu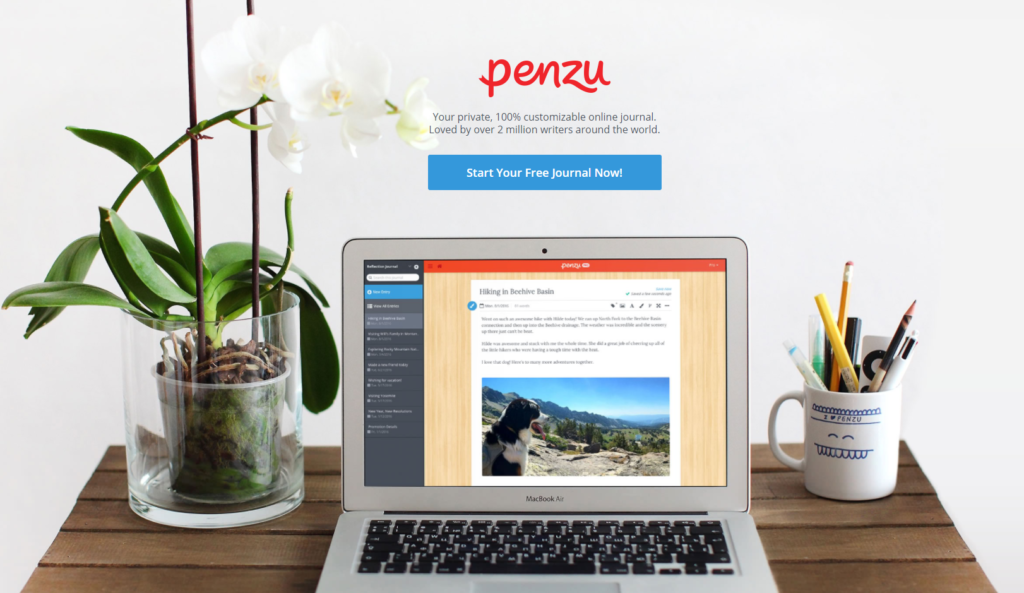 Most people who start blogging want to attract as many readers as possible. Best go with a blog platform that specializes in search optimization like WordPress if this is your goal.
But there are a couple blogging platforms that behave more like diaries — for people who don't want their thoughts to be discovered by others.
Think about pregnancy or food diary, the reflective journal where all daily emotions and activities are covered, private dream journal that makes you feel happy, and so on. This is when Penzu is useful.
The service offers handy blog editor with a focus on writing. There are not too many possibilities for design customization, but basic things like colors and fonts can be changed so that your journal can look the way you please.
Mobile support is also included in the free account, so you can write your thoughts from any device. And don't worry about the post preservation, since autosave option is also in place.
The main focus of Penzu is security. All posts are private by default. You need to use one password to access your journal and the second for editing and adding the new posts.
And if you're really concerned about privacy, the paid plans also include encrypted journal locking. Also, Pro plans and tags for your posts, individual entry locking, PDF Export, starring entries, custom writing reminders, version history, trash recovery, and more.
Pros
Possibility to have private blog
Mobile apps for easier blogging
Cons
Pure customization options
No encryption for the free accounts
Not a real professional blog, more for writers who want to keep a diary
Price Free. Paid plans start at $2+ per month and include multiple journals, added security, reminders, and journal customization.
Link Penzu
Video https://www.youtube.com/watch?v=eGVh4ckt6M0
10. Pen.io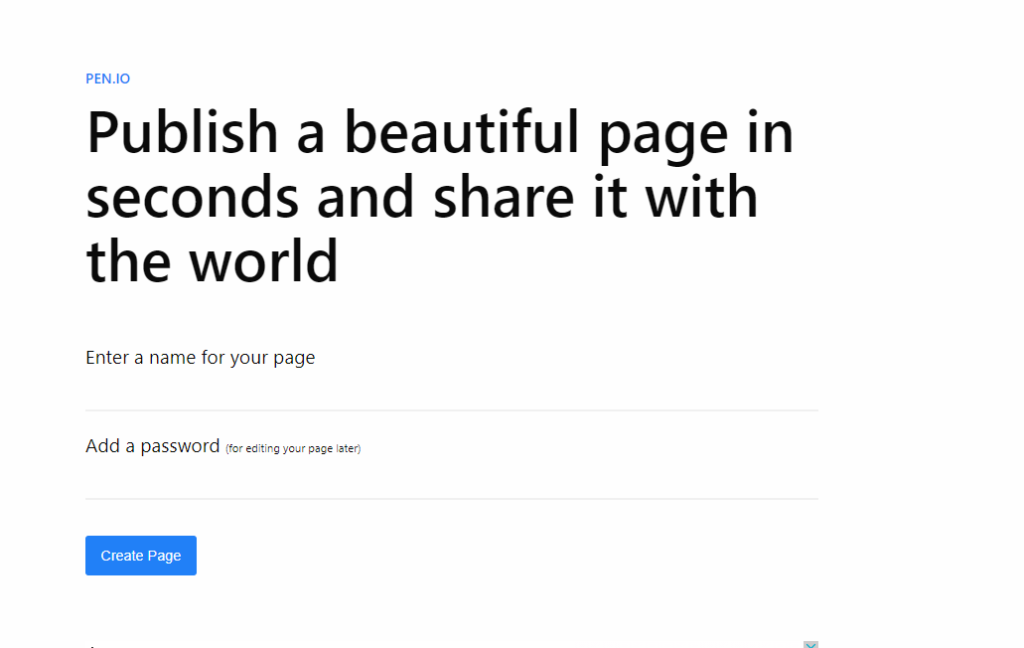 Like Penzu, pen.io is geared toward bloggers who don't want necessarily want others finding their content. The search optimization is not good, but that is by design.
Registering and setting up for Pen.io is incredibly easy.
It is an extremely minimalistic approach to publish your thoughts and to share them in seconds. This platform is also handy for the or online resumes, anonymous letters, lecture notes and so on.
How does it work? Think about services for temporary files sharing. It's almost the same, but for the blog posts. You need to enter your page title and password which could be used later for editing the entry. Write your post and add images from your computer (drag and drop is supported), then save.
You'll get the unique link to the post that can be shared with other people. You may also create multi-page posts using tags. No user account, to blog customization, just the pages with the content. The page can be edited by clicking the link at the bottom.
It is not search optimized.
Pros
No registration required to create blog posts
Simple editing
Cons
No customization for the blog
Once the editing password is forgotten, it couldn't be restored
No social sharing
Not search engine friendly
Price Free
Link Pen.io 
Video https://www.youtube.com/watch?v=F9fyf3hDyyI
Conclusion
When you are just thinking of your own blog you really have the freedom of choice.
Of course, if you're a novice it's important to choose the blogging platform that is easy to set up and customize. But it is always a good thing to look ahead because switching the platform is not easy when your blog is already running.
So, before making your choice, try to visualize your blog in the future.
Could it grow into something bigger (online store etc.)?
Are you considering advertising option on the site?
Do you want to own all your content and have an access to it and thus, ready to buy a domain? Answers will definitely help you to choose the best option.
Again, there's a reason most bloggers use WordPress. It has the out-of-the-box features and flexibility to serve your needs today or however you decide to grow in the future.
→ Click Here to Get 60% off Your BlueHost Hosting ←
WordPress is pretty easy. If you're confused how to start though, my colleague Hailey wrote an entire post on how to start your WordPress blog. 
More from our "How to Start a Blog" series please read:
The Best Web Hosting Solution For Every Business: Bluehost vs. GoDaddy vs. Hostgator vs. Siteground
Disclaimer: We occasionally link to products and earn fees. We only review products we trust. And we only trust about 10.