Latest posts by Mark Spera
(see all)
UserGuiding, Userpilot, Appcues, and Pendo: if you've heard of one, you may have heard of all of them, because they're some of the most popular user and product onboarding software tools on the market.
And…they're all great platforms!
Product onboarding is essential for SaaS businesses who want to increase adoption and reduce churn. 74% of users will switch to another platform if they experience a complicated onboarding process!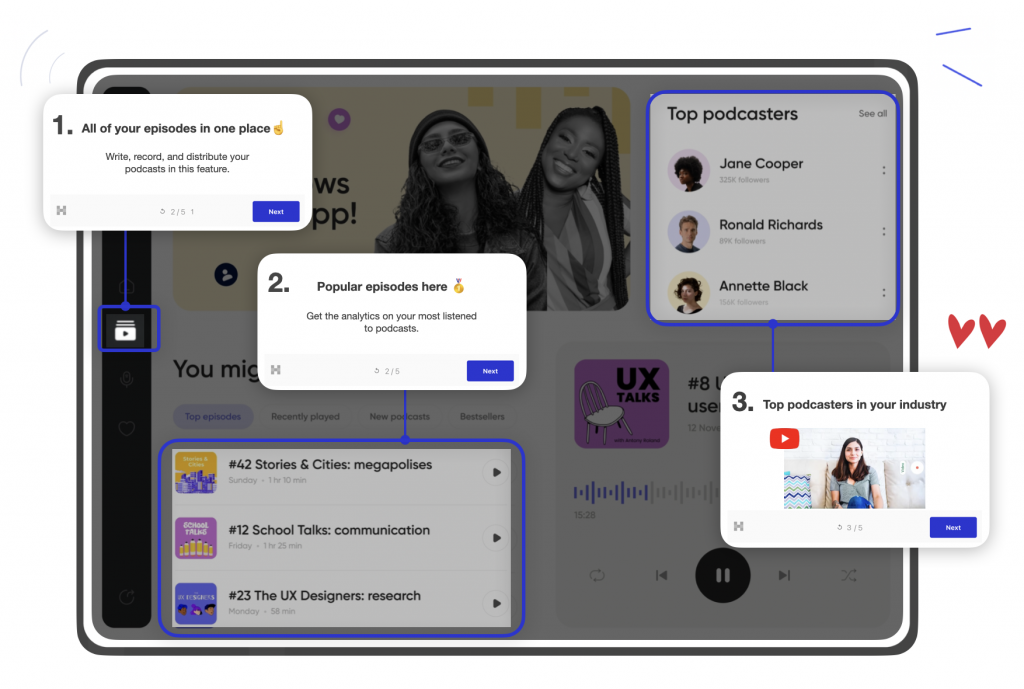 Whether it's UserGuiding, Userpilot, Appcues, Pendo (or a different tool, which we'll discuss later) I'd 100% recommend using an onboarding software, since it will free up your development resources and keep your users happy–customers and employees alike!
The best product onboarding tools typically have features like
Announcements
And analytics to support it all
Let's get into it and find you the right one!
What are user/product onboarding platforms?
When we were building our SEO tool, GrowthBar, we did a fair bit of research into the best product tour software and product onboarding platforms. We wanted to make sure our customers would not only know how to use GrowthBar, but also be excited to start using it by the end of the tour.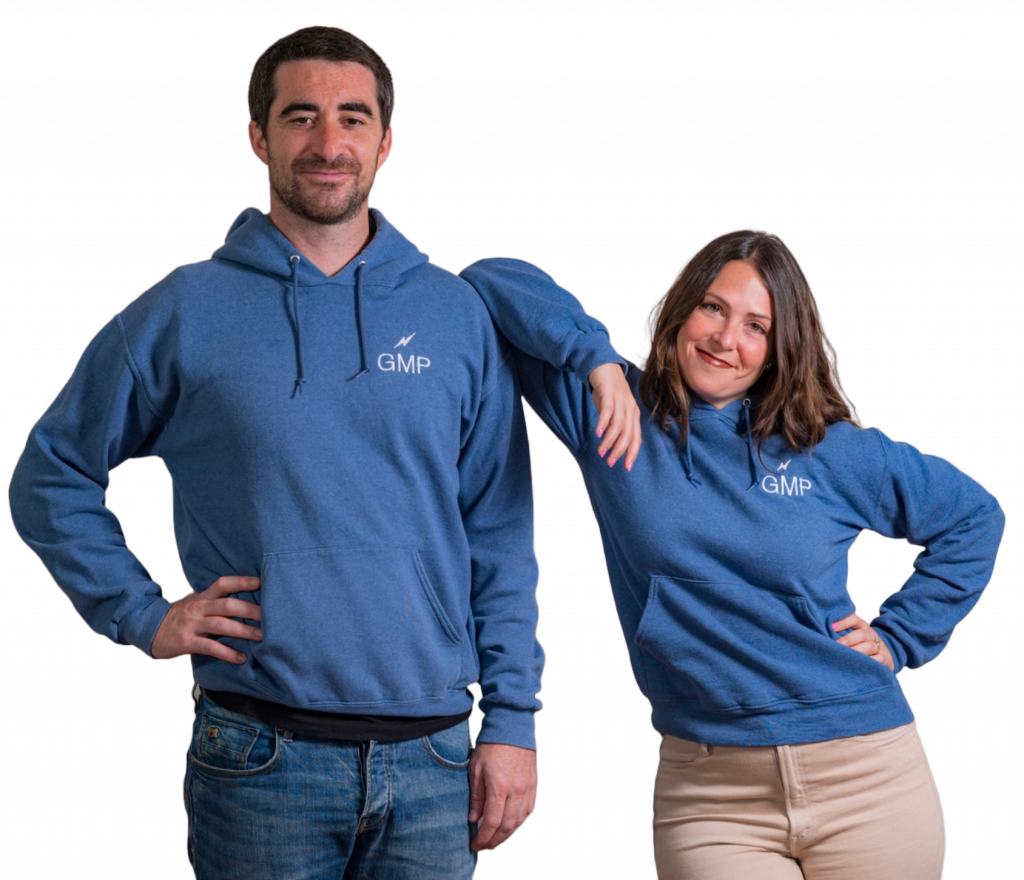 What happened?
Since implementing a user onboarding experience, we've increased our conversion to paid users by 11%. And it has increased our customer lifetime value by 5%, due to better retention. That's a lot of revenue for not much effort!
User onboarding platforms–also referred to as product tours software and product onboarding software–help decrease churn rates, decrease customer support costs, and increase your ability to upsell and cross-sell…all without needing to rely on developers. Though onboarding tools shouldn't replace an intuitive, friendly product, they make the perhaps more complicated parts more approachable.
It can be as simple as a tour of the app or as complex as a multi-step process involving email marketing and live chat. And yes, you can build onboarding yourself with code, but you'll never get the simple, beautiful, code-free experience that one of these no-code builders provide.
Try the most affordable product onboarding solution: Hopscotch
UserGuiding vs Userpilot vs Appcues vs Pendo
UserGuiding, Userpilot, Appcues and Pendo are basically the big four of user onboarding software. They're all fantastic, but pay attention to your use case, price sensitivity, and the scale of your business to choose the best one.
Here are the pros and cons of each.
UserGuiding

UserGuiding offers self-serve user onboarding so you don't have to provide manual support. Onboard your users with product walkthroughs that don't require any coding so you can prompt the right in-app experience, to the right persona, at the right stage of their user journey.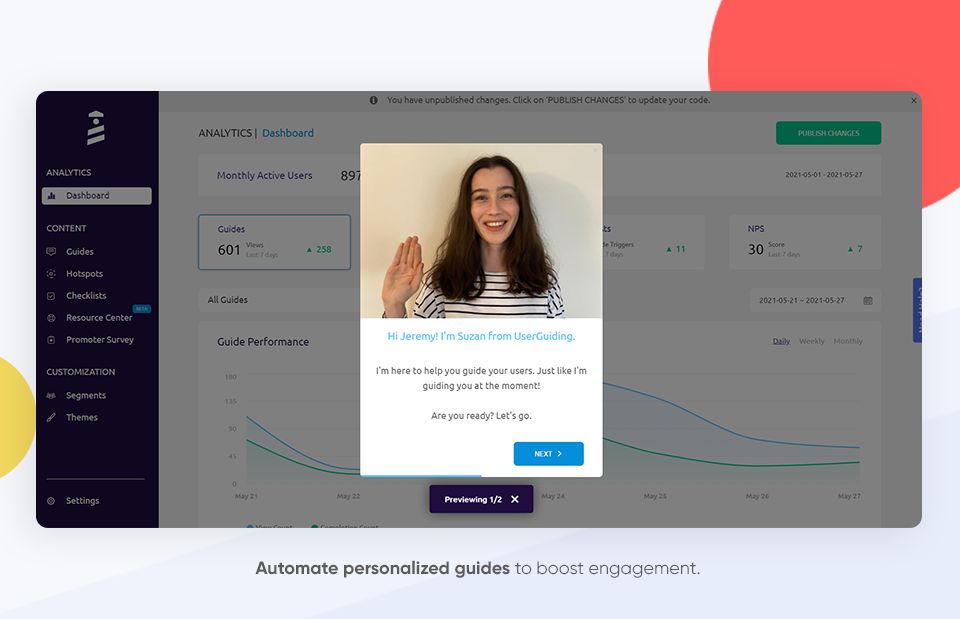 With clients seeing a decrease in support calls, and an increase in feature adoption and user activation rate, UserGuiding offers a variety of options to keep customers happy.
UserGuiding says that a potential client's biggest mistake is thinking that user onboarding starts once users start using your product. In reality, it should start with the very first interaction you have with a customer–and it's not one size fits all. This platform helps create personalized and well-targeted onboarding experiences to help users better relate to your product–and use it better!
Features:
Centralized resource center for blogs, webinars, and help articles
In-depth analytics and NPS to view user statistics and make decisions
Personalized onboarding experience for each user with segmentation options
Onboarding checklists that guide your customers step by step and turn them into power users
Customization using simple emojis, images, GIFs and videos to enhance modules and tooltips
Pros?
No coding required
Yearly discount for plans and free trials for their Basic and Professional plan
Cons?
Might need technical skills for implementation
Higher learning curve
Some customers: Mazars, Genially, Canopy, CitizenShipper, OLX
Pricing:
Basic: $99/month
Professional: $399/month
Corporate: $699/month
Best for: Small to mid-sized businesses that have some tech-minded team members
Userilot

UserPilot helps product teams deliver personalized in-app experiences to increase growth metrics at every stage of the user journey. Userpilot enables you to engage users with a no-code product onboarding suite, track and analyze growth, plus get feedback and NPS scores from users with simple popups.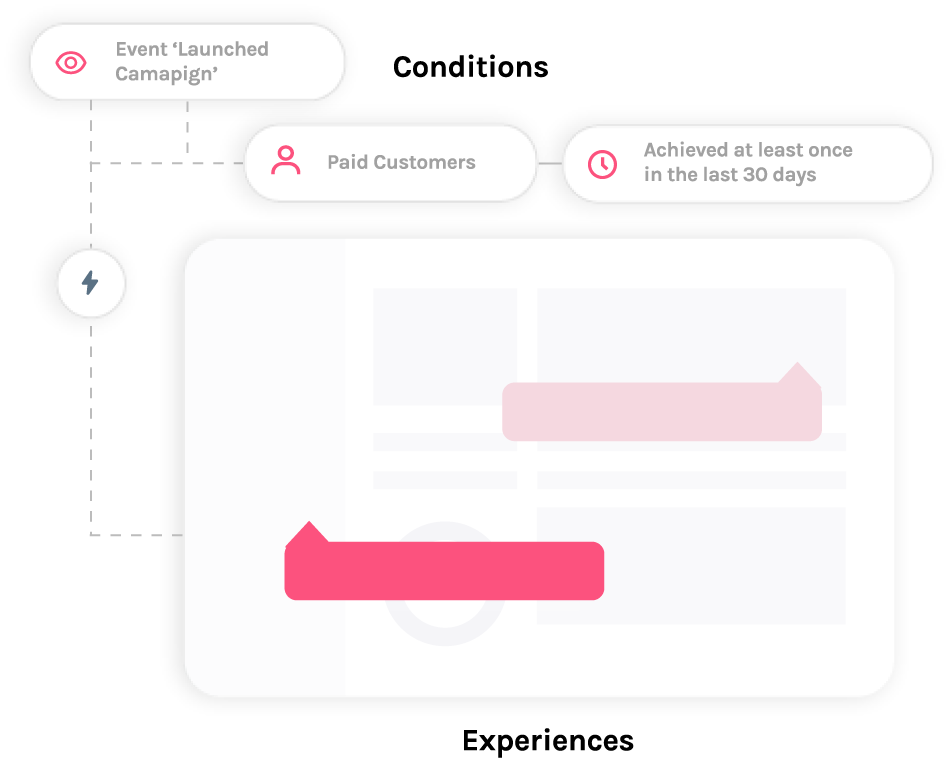 If what you're looking for is a product onboarding tool, it has everything you need and nothing you don't. It offers solutions for user onboarding, product adoption, customer retention, account expansion, and even in-app marketing. Working with product marketing, product growth, product management, and UX design, Userpilot gets you ready for everything.
Plus, with no-code tour building and straightforward analytics, it's tough to beat. But, it comes at an enterprise price similar to Appcues, so make sure the price point is worth it.
Features:
Capture usage trends and growth insights with one code drop, which records all events as soon as it's on your site.
Establish goals and track progress to those goals, much like you would in Google Analytics.
Create personalized engagement flows with no code.
Create contextual experiences based on conditions like "user has taken X action."
Run A/B tests on your onboarding experiences to find winning combinations.
Gather feedback with no-code surveys and NPS prompts directly in your app.
Pros?
Branched & interactive product tours
No-code editor and interface (WYSIWYG)
Cons?
Doesn't have a mobile app feature
Enterprise-level pricing
Some customers: Adobe, Treatwell, Prowly, Observe.ai
Pricing:
Traction: $249/mo for all features up to 2,500 users
Growth: $499/mo for up to 10,000 users
Enterprise: Starting at $1,000/mo paid annually
Best for: Larger enterprises that are looking for a fuller service user growth platform 
Try the most affordable product onboarding solution: Hopscotch
Appcues

Appcues makes it shockingly easy to create custom onboarding flows for your products with little or no code. With Appcues' Google Chrome Extension builder, you can make pixel-perfect, drag-and-drop experiences for onboarding users.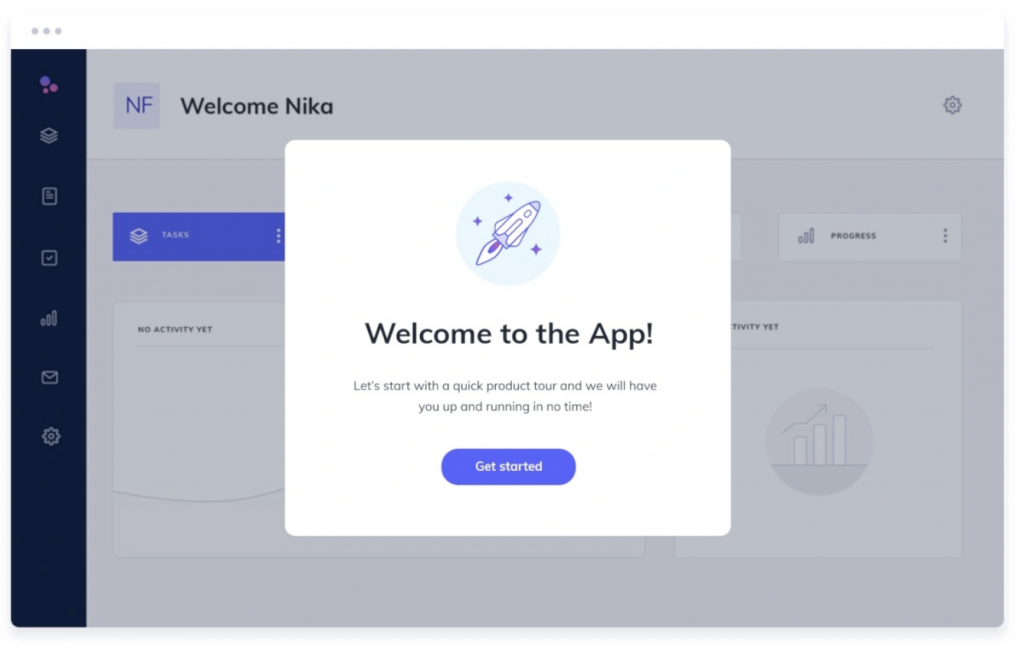 Appcues' drag-and-drop editor means anyone (even non-designers) can create code-free experiences for onboarding audiences. Flows look really great and Appcues has a dashboard so you can read results and optimize your experiences. Their goal is no setup friction, no engineering support, no hassle–and they do a great job at that. With target user experiences and more paid conversions, Appcues works to get users from "evaluators to champions."
Unfortunately, Appcues is prohibitively expensive for some companies, but it is a very strong product–maybe the best in terms of sophistication and feature set.
Features:
One line of code installation and segment integration
Create and target user segments based on virtually any behavior (like the completion of another flow or using a specific feature) or attribute (like job title or location)
Easy preview experience, so you know what things look like before you publish
Integrations with Zapier, Heap, Google Analytics, Salesforce, HubSpot, Slack and more.
Pros?
Advanced feature set
Easy design options without any coding
Cons?
Enterprise-level pricing
For full design control, you'll need to use CSS
Some Customers: Freshworks, FullStory, Zapier, Lyft, ProfitWell
Pricing:
Essentials: $249/mo for 3 user licenses, 10 trackable events, and up to 2,500 monthly active users
Growth: $879/mo for 10 user licenses, 20 trackable events, advanced targeting capabilities, and full customer support and up to 2,500 monthly users
Enterprise: Book a demo for more information
Best for: Larger companies that want sophistication and lots of features
Pendo

Pendo is an enterprise software company that delivers an experience that is personalized, predictive, and delightful. It's all about building relationships. Pendo is used by world-class brands like Microsoft, Adobe, and Cisco to deliver personalized experiences for their customers. Pendo hangs its hat on product analytics, but of course it also has an incredible in-app guide feature, which enables you to set up flows and onboard users seamlessly.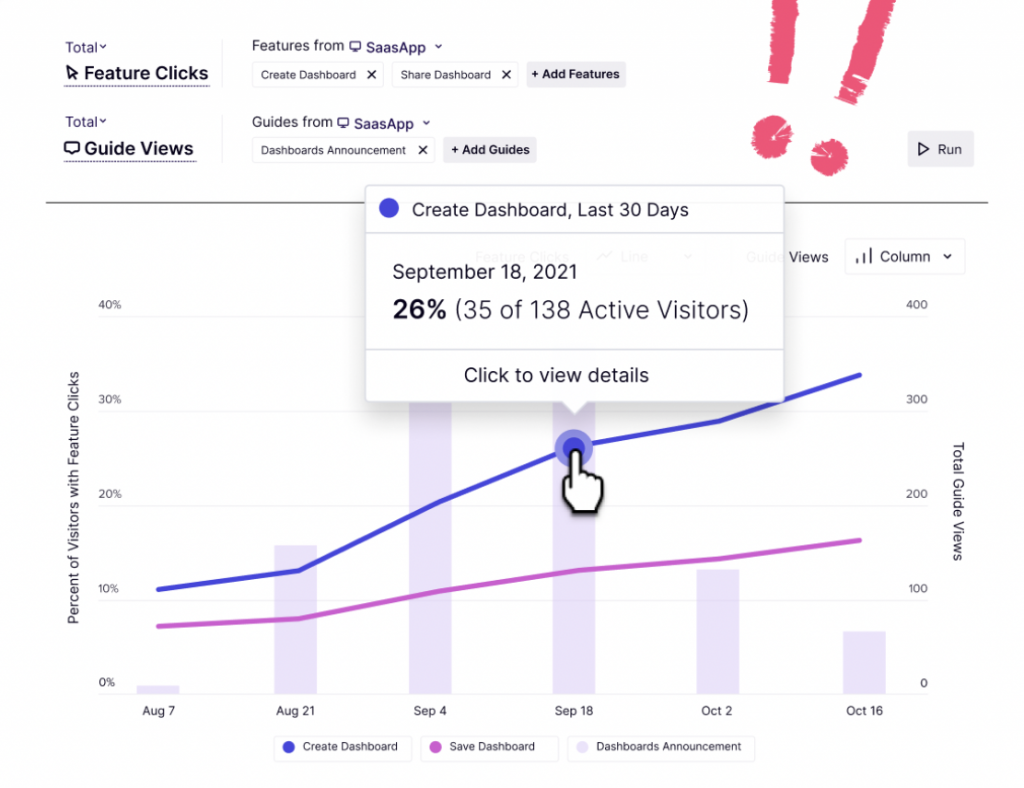 Their product experience solutions cover user onboarding, product engagement, in-app support, feedback collection, and revenue growth. And then they have a whole suite of digital adoption solutions including portfolio management, employee productivity, in-app support, personalization, and government & compliance.
Pendo is definitely an enterprise product and with any amount of use it requires enterprise pricing. But if you need a solution to take care of robust product analytics and in-app product onboarding, it may be the tool you've been looking for.
Features:
Best-in-class product analytics suite to understand which features are most important for users
Pendo codelessly tracks all product activities, so you never have to add additional lines of code to capture user data
Product onboarding suite is one of the most sophisticated, and includes in app guides, product callouts, and announcements
Pros?
Pricing plans for different aspects of the product: you don't have to purchase all in one
But, also offers various options if you need more support with client experiences
Cons?
Quickly gets expensive
Slightly confusing pricing structure
Some Customers: Microsoft, Adobe, Cisco, Cision, Coursera
Pricing:
Free: In-app guides for up to 1,000 monthly visitors
All other plans require you to speak with a salesperson – Pendo gets expensive fast
Best for: Companies that want to try out a product onboarding platform, or those with some money to spend
Affordable Alternatives for UserGuiding, Userpilot, Appcues and Pendo
While Pendo, Appcues, Userpilot, and UserGuiding are all great user onboarding platforms, they may be a bit expensive for smaller business and startups, and might even have too many features for what you need for your onboarding processes.
So here are some other options that are more affordable and sometimes even more straightforward to use.
Hopscotch

HopScotch is a relatively new product that enables you to make customized product onboarding flows, which will help you drive adoption and reduce churn. I ended up choosing HopScotch as my product onboarding solution for GrowthBar because of its simplicity (one line of code to drop on the app) and ease of use. The price is pretty awesome too.
Unfortunately, there are no real analytics features to speak of, but for simple onboarding at a great price, HopScotch is great.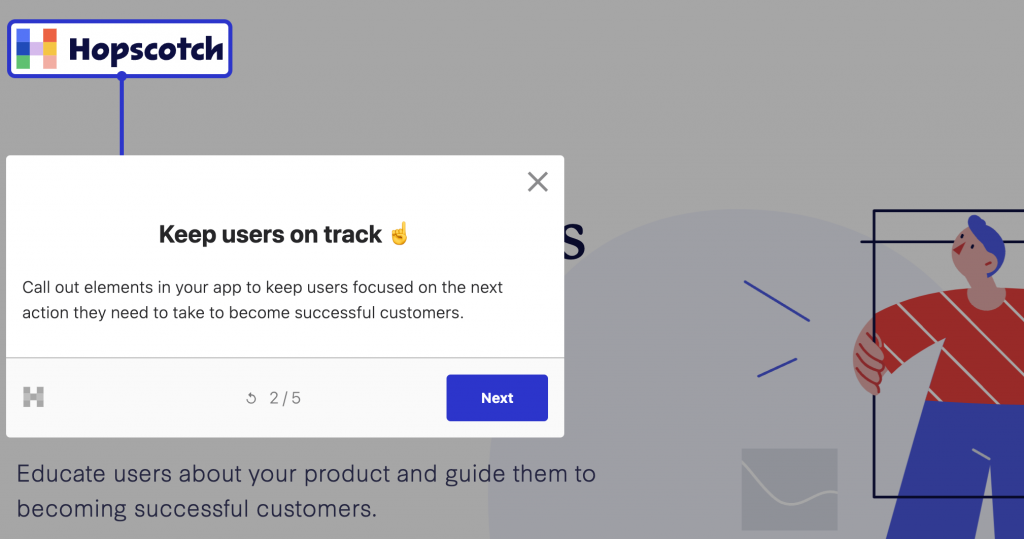 Features:
Onboard users with product tours that can include image, video, GIF and text.
Guide users through new features.
Choose how many times and when to show tips to users.
Notify users about upcoming product features, webinars, and more.
Use conditional logic to segment in-app messaging based on individual user activity.
Easy preview experience, so you know what things look like before you publish.
Great email support.
Pros?
One of the most affordable options
Easy to use with great results (we've used it!)
Cons?
Limited analytics options
Not as many options as more robust platforms, which include Q&A and NPS information
Pricing:
Starter: $99/mo for up to 3,000 users
Growth: $249/mo for up to 20,000 users
Enterprise: pricing not provided
Nickelled

Nickelled offers guided tours, hotspots, and help assistants to reduce churn, improve feature adoption, and make it easier for users and employees alike to understand your product.
Nickelled guided tours show your users what they need to see on the page, dynamically and in real-time. Augmented with their eye-catching hotspots and on-page widgets, Nickelled makes product touring easier at a more affordable price.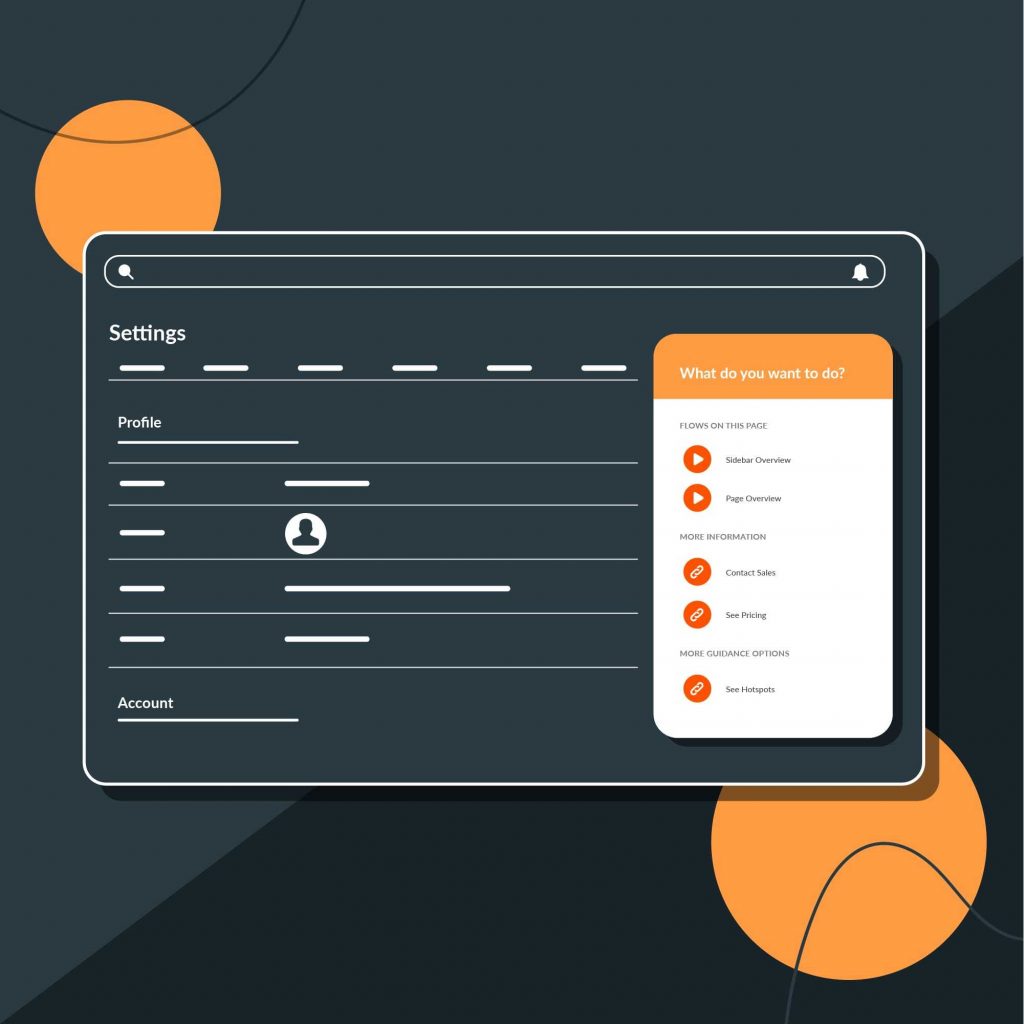 Features:
Hotspots to showcase new or important features or work users through friction points
On-page widget that provides comprehensive support and learning resources that suggest tours and helpful documentation
No-code software with easy customization
Offered in multiple languages
Tracks completions, drop-offs, progression, and satisfaction rates
Multiple roll-out options including shareable URLs, Javascript, and browser extension
Advanced segmentation tools and matching data
Pros?
More affordable price-point
14 day trial for every package
Focused on product tours
Cons?
Few branching or interactivity options
Pricing:
Starter: $99/month
Growth: $199/month
Premium: $399/month
HelpHero

HelpHero allows you to create interactive, easy-to-follow product tours that will help your users get started and adopt new features. Plus, with automated user guidance and no-code capabilities you can reduce customer service inquiries and give your engineering team a break.
With customizable product tours–at a more affordable price point–Help Hero is a good option for product tours software.
Features:
Feedback and gratification boosts for users that complete onboarding steps
Tooltips, feature announcements, and prompts to nudge users
In-depth analytics that tracks completion rates
Target specific users through tour branching and conditions based on language, device, browser and custom user properties
Create, edit, and preview product tours in real time without any coding required
Easy customization of in-app look and layout
Compatible with HTML based apps, whether mainly client-side (React, Vue, etc.) or server-side (PHP, ASP.NET, etc.)
Pros?
Accessible price points
A/B testing option
Cons?
Limited to linear and branching onboarding
No-code styling options can be limited without using CSS
Pricing:
This is HelpHero monthly pricing, though HelpHero yearly customers get two months free.
1,000 MAU: $55/month
2,500 MAU: $115/month
5,000 MAU: $179/month
10,000 MAU: $249/month
20,000 MAU: $299/month
For more than 20,000 MAU, you'll need to contact them directly.
How do user onboarding platforms work?
Normally, you simply need to drop a single line of code onto your website/product to begin using a user onboarding tool.
User onboarding software is any tool you use to help customers understand and adopt different features and products–quickly. The faster they see value in your product for them, the more likely they'll continue using (and hopefully promoting) your product.
Why should you prioritize user onboarding, and take advantage of user onboarding platforms?
1. They decrease churn rates
Churn rate is the measure of customers who cancel their subscription to a service or product, and the rate at which this happens. A high churn rate can be a bad thing for most companies, as most companies depend on the revenue they generate from their customer base. This is particularly true of SaaS businesses.
One of the reasons that churn rates can be high is due to the company not creating a strong enough experience for the customer during onboarding.
I like to survey my audience and watch product recordings with a tool like HotJar to understand pain points and try to solve those with product features and improved onboarding. During onboarding, highlight the parts of your product that are key to retention and head off pain points with first time user tours.
2. They reduce customer support costs
64% of people have contacted customer support. If you had to service 64% of your customers via live customer support, you'd run out of money in a heartbeat.
The best products and onboarding flows will enable you to objection-handle without the intervention of a support staff. Onboarding platforms make this easy by helping you address pain points as they appear, provide spots for additional help resources, and add features like live chats and hotspots to guide your customer through.
3. And increase cross-sells
While retention is key to your business, revenue retention is more important. Even if you churn 20% of your customers per month, as long as your existing customers are spending more money with you every month, you might still have a growing business.
Customers that are onboarded properly are not only more likely to stay, but they're more likely to be sold additional products. Believe it or not, 75% of cross-sells happen in the first 90 days a user is on your platform. And happier customers that quickly get value from your product–due to great customer onboarding processes–are more likely to do that.
Tips for setting up user and product onboarding platforms
Once you've decided on an onboarding platform, now it's time to make the process. Luckily, the point of using these softwares is to make it easier, but we still have some best practices to help you see the most success.
Simple: A clean design and step-by-step process will keep the onboarding process as straightforward as possible. If you're trying to make your product seem as easy to use as possible, you don't want your onboarding process to be confusing.
Engaging: Interactivity is important, and product tours can really help here. Take users step-by-step through your platform, call out potential pain points with hotspots or live chats, and just make it fun.
Customized: The more segmented your audience can be, the more you can address accurate concerns for users. Being able to recognize potential issues for different types of consumers–enterprise vs. small business, ecommerce marketers vs. webinar software platforms–and customizing your product onboarding to address those will improve the product tour experience. The best onboarding platforms will allow be condition-based and allow for tour branching.
Analyze: User onboarding analytics is all about making the onboarding process easier, and understanding your customer better. Maybe you didn't realize that your specific users respond better to live chats than mid-screen pop-ups, or whatever it may be. And remember those cross-sells? Analytics can help with that. Tactics to improve cross-sells during onboarding include showing users value with hard data, personalizing the experience based on information you collect during onboarding, and by showing product recommendations with customer testimonials.
User onboarding vs. customer onboarding vs. product onboarding vs. product tours
What's the difference? Not much, since most platforms have elements of all these features. But I'd be remiss not to explain a bit…
Product onboarding: Product onboarding is about the development of product discovery throughout the customer journey. It includes anyone using the product, from employees to customers to investors and more.
User onboarding: User onboarding is as it sounds: getting users of your product to adopt your product quickly and efficiently into their lives. It's about the user going through the onboarding process at an individual level. Different users might get alternate versions of product onboarding depending on segmentation and customizations.
Customer onboarding: Customer onboarding is the part of user onboarding that focuses on a new customer's experience getting set up and using your product–from sign-up to first use. A good customer onboarding process should demonstrate the value of your product as soon as possible.
Product tours: You'll most likely use a product tour software within your entire product onboarding experience. Product tour software–sometimes called product walkthrough software–helps companies create interactive product and platform demonstrations. Often used by SaaS businesses (software as a service), this software can be used to show off a product's features and help users learn how to use step by step. It can also be helpful for product marketing and customer conversions.
Bottom Line: Choosing Between UserGuiding, Userpilot, Appcues, and Pendo
Onboarding isn't only about teaching users how to use your product, but is focused on determining what your customer's need to achieve, and how to get them there in the best way.
With that goal in mind, UserGuiding, Userpilot, Appcues, and Pendo are all great platforms that are tough to choose between. If you're an enterprise level business with a lot of user onboarding to manage, any of them will be a great fit. Out of the four:
UserGuiding is the most affordable, with self service options
Userpilot has straightforward analytics and lots of features
Appcues is the most sophisticated and feature heavy
Pendo shines for its product analytics focus and enterprise teams
So, like most things, it comes down to your business and your needs. To build our SEO tool GrowthBar, we used Hopscotch and it was a great fit for us. Happy onboarding!
Try the most affordable product onboarding solution: Hopscotch