Latest posts by Hailey Friedman
(see all)
"You've been invited to the event of the summer!" "Looks like you left something in your cart…" "We miss you! Use the code COMEBACK for 15% off."
Sound familiar? If you have a mobile phone, then you've probably interacted with SMS marketing software–the global SMS marketing industry is growing at a CAGR of around 20.3%.
SMS software tools enable businesses to send text messages and other multimedia messages to anyone on their contact list. Whether it's transactional messages or marketing messages, the best SMS software gives companies access to customers almost 24/7. 
That's because we're on our phones all the time. Approximately 3.8 billion people in the world use smartphones…and we check them 344 times a day. So that–combined with 70% of us checking our phones with five minutes of receiving a notification–means that we'll probably get that marketing text.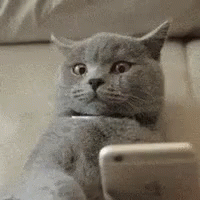 So instead of hoping you check your email–or take the time to go all the way to their website–businesses come to you via texts from SMS platforms. And customers are interested: almost 70% of customers prefer texting to calls in customer service.
Which SMS software is right for your business? Let's check out some of the best.
Best SMS Software Tools
1. ClickSend 

ClickSend's website header is straightforward: "Business Communications. Solved." ClickSend provides companies with SMS, email, rich media, direct mail, and voice and fax gateway to create products that are easy to integrate and use. Sent via their simple dashboard or through trusted APIs, you can automate repetitive tasks and build a business communications stack without any coding required.
With both marketing and transactional messages sent at 4,8000/minute and a 1,224 character limit, you can easily send your messages and measure success with advanced reporting and analytics.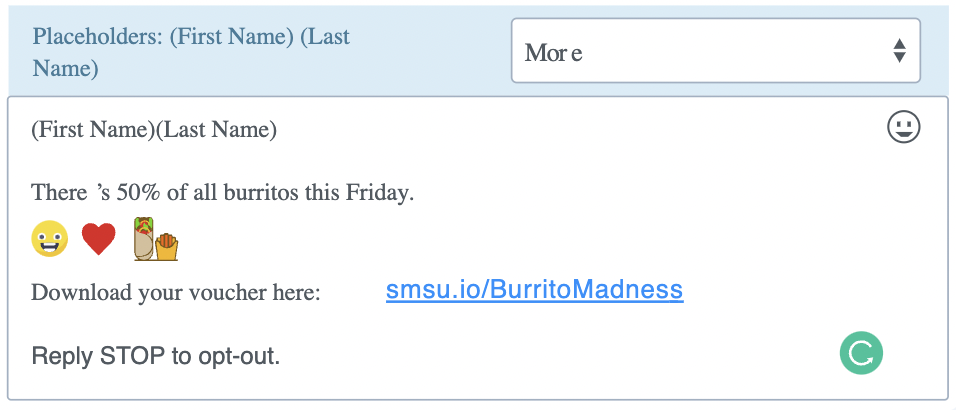 Pros:
Web-enabled with no downloads required
Integrates with emails, APIs, Microsoft Outlook
100+ integrations with apps like Salesforce, Slack, Google, and Shopify
No setup fees and free 24/7/365 customer support
Security with a 100% Uptime SLA guarantee
Bulk SMS marketing options where you can upload CSV or Excel file
SMS keywords for personalization and interactivity
Pricing:
ClickSend has a wide array of pricing options that cover SMS, MMS, text-to-speech voice calls, faxes, posts, and rich messaging. This is their SMS pricing, with inbound messages always free:
Under 2k: $0.0259/msg
2k or more: $0.0185/msg
10k or more: $0.0126/msg
100k or more: $0.0092/msg
Over 200k: You'll need to contact them for pricing.
If you'd like a dedicated number, that's an add-on for $1.85/month. Dedicated shortcodes are $1,072.28 a month with a $1,072.28 setup fee.
2. Drip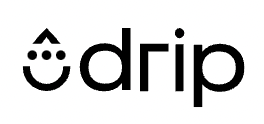 Drip is an email and SMS marketing platform for eCommerce brands looking for growth. This no-code app platform allows you to run multi-channel marketing campaigns across email, SMS, social media, and onsite pop ups. You can use their pre-built playbooks like welcome series, abandoned cart, and post purchase campaigns, or make your own with their visual workflow builder.
Drip's SMS marketing boasts an over 98% open rate to help you improve customer loyalty and satisfaction.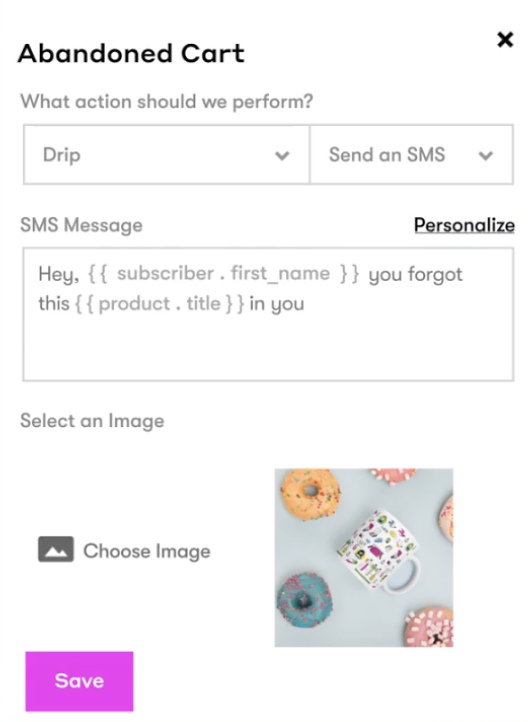 Pros:
Integrations with eCommerce like BigCommerce, WooCommerce, Magento, Shopify, and your own custom stores
Automatic segmentation and targeting of customers
Text personalization and emojis you can view with interactive texts and previews
Combine email and SMS
Metrics including total revenue, revenue per person, average order value, CTR, and more
TCPA compliance
Pricing:
Drip doesn't offer their SMS option alone, so for this price point you get their email and SMS marketing options. All of the pricing is on a sliding scale based on the number of email contacts and messages you'd like to send per month. For example, with 500 email contacts and:
200 SMS a month: $22/month
2,000 SMS a month: $49/month
10,000 SMS a month: $169/month
100,000 SMS a month: $1,519/month
3. EZ Texting

EZ Texting is a text marketing platform that helps organizations share text-based discounts and offers to engage members and convert leads. With keywords, QR codes, sign-up forms, loyalty programs, and re-engagement campaigns, EZ Texting is great for the non-techie teams that want to get started with mobile marketing quickly.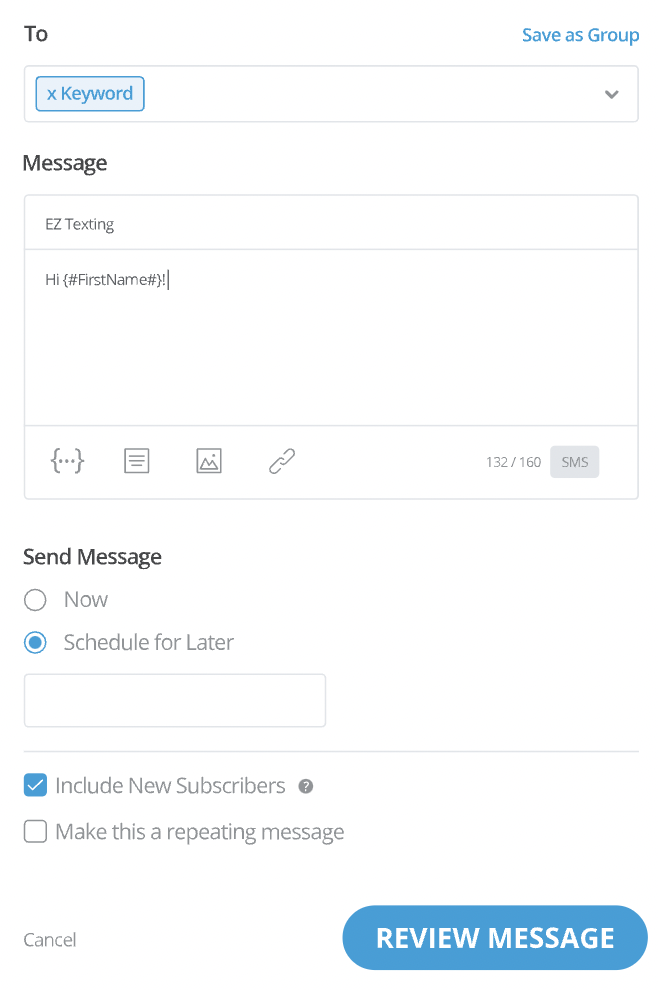 Pros:
Very user-friendly with step-by-step guidance and documentation
One-on-one, group, and bulk messaging
10-digit local numbers, toll-free numbers, and dedicated short codes
MMS messaging options
Built-in reporting and analytics
Pricing:
EZ Texting offers a monthly discount if you pay annually:
Value: $19/month for 1 user, keyword, and textable number, with two-way texting for free
Essential: $29/month for 2 users, 3 keywords, 2 textable numbers, MMS and List Growth tools
Premium: $49/month for 3 users, 6 keywords, 3 textable numbers, 1 high volume number, Drip campaigns
Custom: Starts at $299/month custom everything, and unlimited keywords.
4. Omnisend

Omnisend is a multi-channel marketing company focusing on email and SMS campaigns to engage customers and leads. Marketing themselves as an alternative to MailChimp, Omnisend also integrates SMS right next to your emails. All templates are built in and 100% customizable so customers get a personalized, consistent experience.
From welcome series and cart recovery to post-purchase campaigns and more, you can get Omnisend up and running quickly. Their SMS pricing is based on an SMS credits subscription system–these credits can be used to send both SMS and MMS message. However, Omnisend is really focused on email, so their SMS options are limited at their lower pricing tier.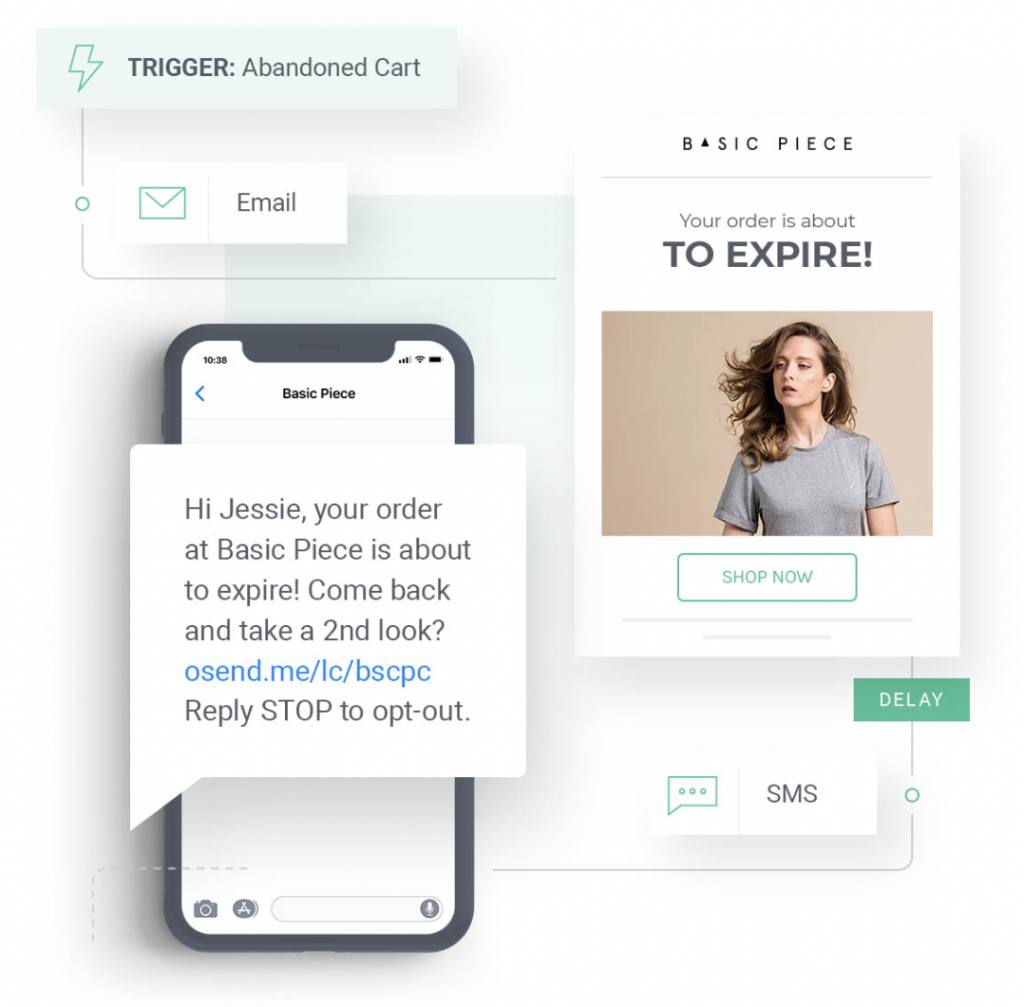 Pros:
Customer segmentation and personalization
Integrations with eCommerce tools or your custom sore
Pre-built workflows with SMS in cart abandonment, birthday, order & shipping confirmation automations
High-throughput toll-free numbers as default US sending numbers without hidden fees
All country codes for SMS (text-only messages) sending
Pop-ups, sign-up boxes, landing pages, and wheel of fortunes for list building
SMS channel reports and data-driven adjustments
Pricing:
Free: 500 emails, 500 web pushes, 60 SMS month for up to 250 contacts
Standard: $16/month for 6,000 email/mo, 60 MSM, unlimited web push to 500 contacts
Pro: $59/month for unlimited emails, 3,933 SMS/month, and unlimited web push for up to 500 contacts
5. Salesmsg

Salesmsg offers simple, scalable, two-way business texting and calling options so you can easily send, receive, and manage text and phone conversations online. Great for small and local businesses in Canada and the United States, Salesmsg is a straightforward SMS software that is one of the simplest–but also most affordable–on this list.
With emojis, scheduled messages, conversation notes, and segmentation options, Salesmsg gives you an easy way to interact with leads.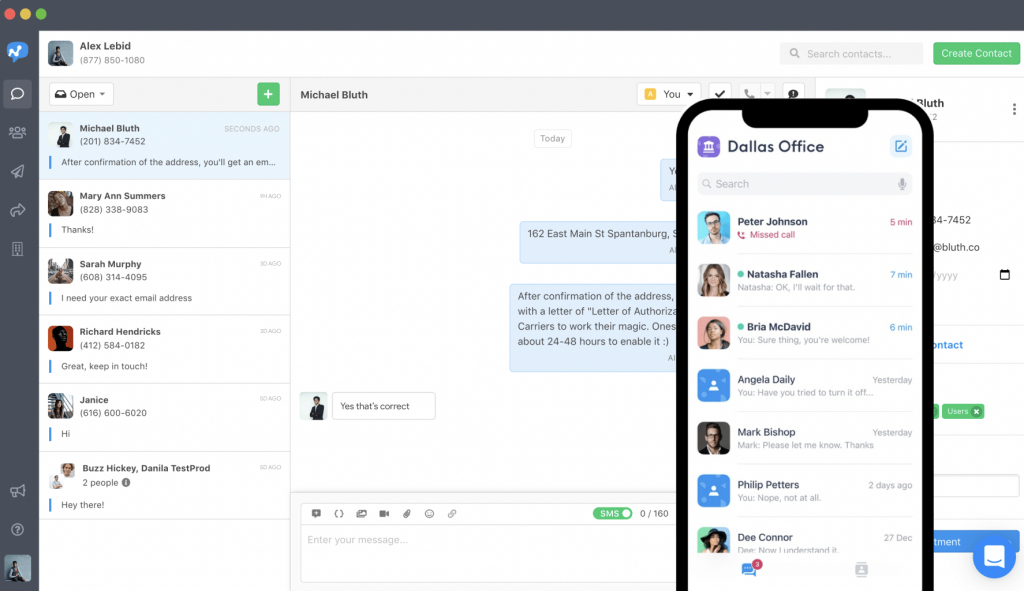 Pros:
Simple dashboard to send, receive, and manage text message conversations online or from your mobile phone
Local, toll-free, landline, and short codes
Various integrations with Outlook, Google Calendar, Hubspot, Zoho, and more through its Zapier integration
Private and shared inboxes for teams
Auto-replies outside business hours, canned response options, and call-forwarding
Data reports and analytics to track campaign success
Video SMS and PDF attachments
Pricing:
500 messages: $25/month for unlimited contacts, 2-way messages, free local or toll-free number, SMS broadcasting, 4 cents per additional message
1,000 messages: $49/month for unlimited contacts, 2-way messages, free local or toll-free number, SMS broadcasting, 3.5 cents per additional message
2,500 messages: $99/month for unlimited contacts, 2-way messages, free local or toll-free number, SMS broadcasting, 3.25 cents per additional message
5,000 messages: $179/month for unlimited contacts, 2-way messages, free local or toll-free number, SMS broadcasting, dedicated account manager, premium support, 3.15 cents per additional message
7,500 messages: $249/month for unlimited contacts, 2-way messages, free local or toll-free number, SMS broadcasting, dedicated account manager, premium support, 3.1 cents per additional message
For 10,000 messages or more, you can get a custom plan
6. Simple Texting

SimpleTexting describes themselves as the "Only All-In-One Text Messaging Service," that makes it easy, fast and affordable to send SMS marketing campaigns or engage in 1-on-1 conversations with customers. With messages allowing texts of over 300 characters, your message credits roll over, and opt-in messages that go to an entire contact list, SimpleTexting is a great SMS platform to get marketing campaigns going quickly.
Pros:
Personalized text messages with photos and custom fields
Link tracking, segmentation, and contact list important
Analytics for click-throughs, delivery, subscriber growth, and more
Two-way messaging, mass texting, text-to-win, and text-to-vote
Zapier and MailChimp integration
Toll-free, landline, and short codes texting
Multiple user access
Pricing:
500 credits: $29/month and 5.5 cents for each additional credit
1,000 credits: $49/month and 5 cents for each additional credit
2,000 credits: $79/month and 4 cents for each additional credit
3,000 credits: $109/month and 4 cents for each additional credit
7,500 credits: $229/month and 3.5 cents for each additional credit, plus a dedicated account manager and 400+ integration options
25,000 credits: $549/month and 2.5 cents for each additional credit, plus a dedicated account manager and 400+ integration options
50,000 credits: $899/month and 2 cents for each additional credit, plus a dedicated account manager and 400+ integration options
More than 50,000: You can make a custom plan with Simple Texting
7. Slicktext

SlickText takes SMS marketing seriously–even having you try out what it's like by getting a demo by texting a shortcode. With options for retail, eCommerce, schools, restaurants, churches, real estate, and various other industries, Slicktext offers keywords, short codes, auto-replies, and mass texts to make the texting process simpler.
They have plans for every budget throughout Canada and the United States, and 1-on-1 account setup and training so you can quickly get started.
Pros:
Web-based platform and phone application
Text to join, text to win, and text surveys
Mass texts, MMS texting, and 2-way messaging options
Loyalty rewards with mobile and coupon codes
Text message scheduling, repeated messages, auto-replies, automatic birthday texts, and automated drip campaigns for less manual work
Pricing:
The Basic: $29/month for 500 texts and 2 textwords
The Step Up: $49/month for 1,000 texts and 4 textwords
The Lil Bro: $79/month for 2,000 texts and 6 textwords
The Big Bro: $139/month for 3,600 texts and 8 textwords
The Boss: $189/month for 5,000 texts and 14 textwords
The Albatross: $350/month for 10,000 texts and 16 textwords
The Whale: $750/month for 25,000 texts and 20 textwords
The Monstro: $1,250/month for 50,000 texts and 30 textwords
Enterprise: For a larger custom plan, you'll have to contact Slick Text
8. TextMagic

TextMagic is an SMS marketing software that allows you to easily send messages across various platforms. You can send notifications, alerts, reminders, confirmations, and SMS marketing campaigns anytime, anywhere–to over 190 countries in fact. You can even send text messages via email with SMS distribution lists, helping keep all of your SMS and email marketing campaigns in one place.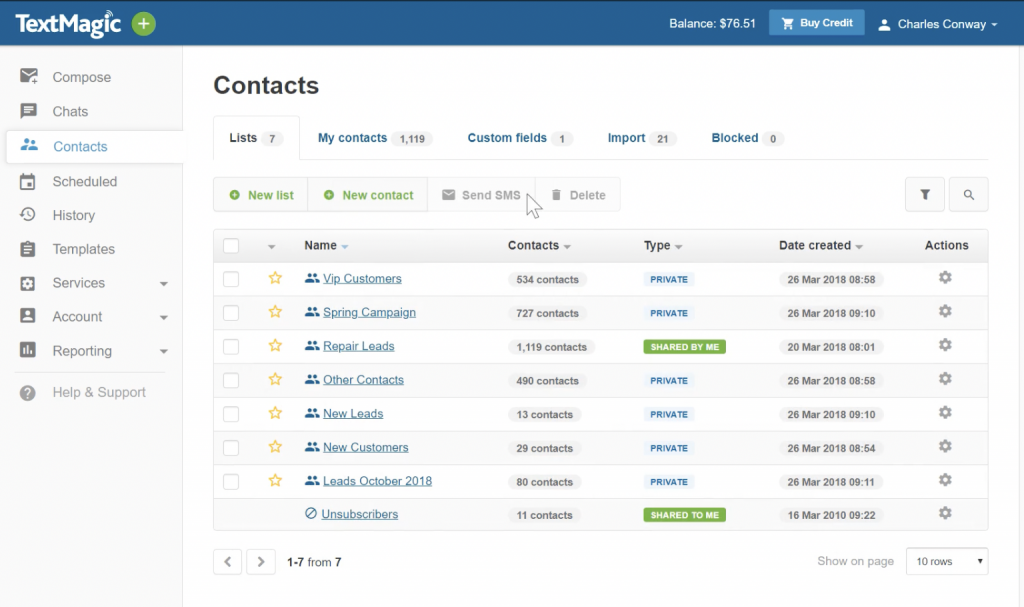 Pros:
Email to SMS gateway and two-way chat
Software option for PCs and Macs, as well as mobile and online browsers
SMS opt-out management
Sub-accounts for team members
Excel and CSV contact uploading
SSL / HTTPS secured sites
Contacts, messages, and accounts are fully backed up 24/7/365
Pricing:
TextMagic keeps their pricing plans simple. Texts to the United States (both SMS and MMS) are each 4 cents, and if you send more than 10,000 a month they will work on a custom pricing plan for you. If you are planning on sending texts to other countries, pricing per text will vary.
What are SMS Marketing Software Tools?
SMS marketing is an evergreen marketing channel that involves sending promotional and/or transactional text messages to current and prospective customers that have consented to receive messages. Promotional messages might be discount offers, sales alerts, and cart reminders, while transactional messages might thank a customer for a purchase, let them know their delivery has arrived, or a reservation confirmation.
Whatever the text message content, they should provide helpful information that moves your customer further down your marketing and sales pipeline.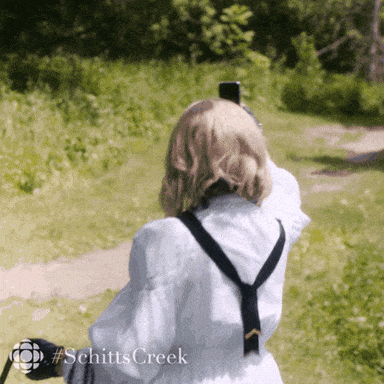 SMS applications make this whole process a lot easier: you can send messages in bulk, have company-specific short codes (5 or 6 digit phone numbers used by companies to send messages and make the opt-in process easier) and even have two-way texting conversations with customers. Need to send a survey? Start a drip campaign? Just want to set up customer notifications? The best SMS platforms have you covered.
Great SMS applications should not only offer a wide variety of features, but also be easy to use. You want to be able to get set up and start sending messages the day you get it. And of course, affordability is always important: while marketing is an investment, too-pricey products can quickly reduce ROI.
How does SMS marketing software work?
The best SMS marketing softwares have a variety of features that allow you to reach your customers with exactly what they need to make a purchasing decision. These features include:
Sending standard texts: This would be a text message from your company to a customer or lead.
Sending bulk texts: Bulk texts allow for single messages to be sent to large groups of your contacts at once.
Two-way texting: Two-way texting means customers can respond to your messages and you can reply back.
Using short codes: Short codes are 5 or 6 digit phone numbers that are used by organizations to send text messages at scale. They are specifically meant to be shorter than normal phone numbers to make the opt-in process easier because people opt into SMS marketing programs by texting keywords to a short code. SMS short codes are capable of sending extremely high volumes of text messages in a short period of time. Shortcodes can be random codes or vanity codes, like 242424, for example.
Keywords: Personalized keywords are unique terms (composed of letters and/or numbers) that customers use to join subscriber lists. They also allow you can sort contacts into more manageable, targeted categories based on which keywords they text to your number.
Campaign support: The best SMS platforms provide campaign templates you can follow, or let you design your own.
Automations: Whether it's auto-replies to short codes or keywords, automatic birthday texts, or automated drip campaigns, your SMS platform should make your marketers' lives easier!
Integrations: Integrations with your other business apps from your calendaring apps to project management and more allow you to manage your SMS marketing campaigns within your current workflow.
Data & analysis of SMS campaign success: SMS platforms offer link tracking, analytics, and reporting so you know what is working and what needs some improvement.
Customization and segmentation: Being able to customize your offers allows for higher engagement and conversion of customers and leads.
SMS list building tools: Many SMS softwares offer opt-in builders, QR codes, and other elements for you to ensure your leads are interested in receiving text messages.
Security: If your customers are allowing you to send messages and links directly to their phone, then they trust you. Therefore, SMS softwares should always offer the highest levels of security through their website, apps, and integrations.
Customer service: Like any SAAS business, the SMS company you work with should offer impeccable customer service to help you successfully use their platform.
What types of businesses benefit from SMS marketing software?
Any business that wants to communicate with their customers via text message can benefit from SMS marketing software. This includes businesses of all sizes, from small businesses to large enterprises.
Some industries that use the SMS softwares on this list include:
Retail
Restaurants
Education
Churches & ministries
Pet care
Fitness
Marketing agencies
Ecommerce
Real estate
Politics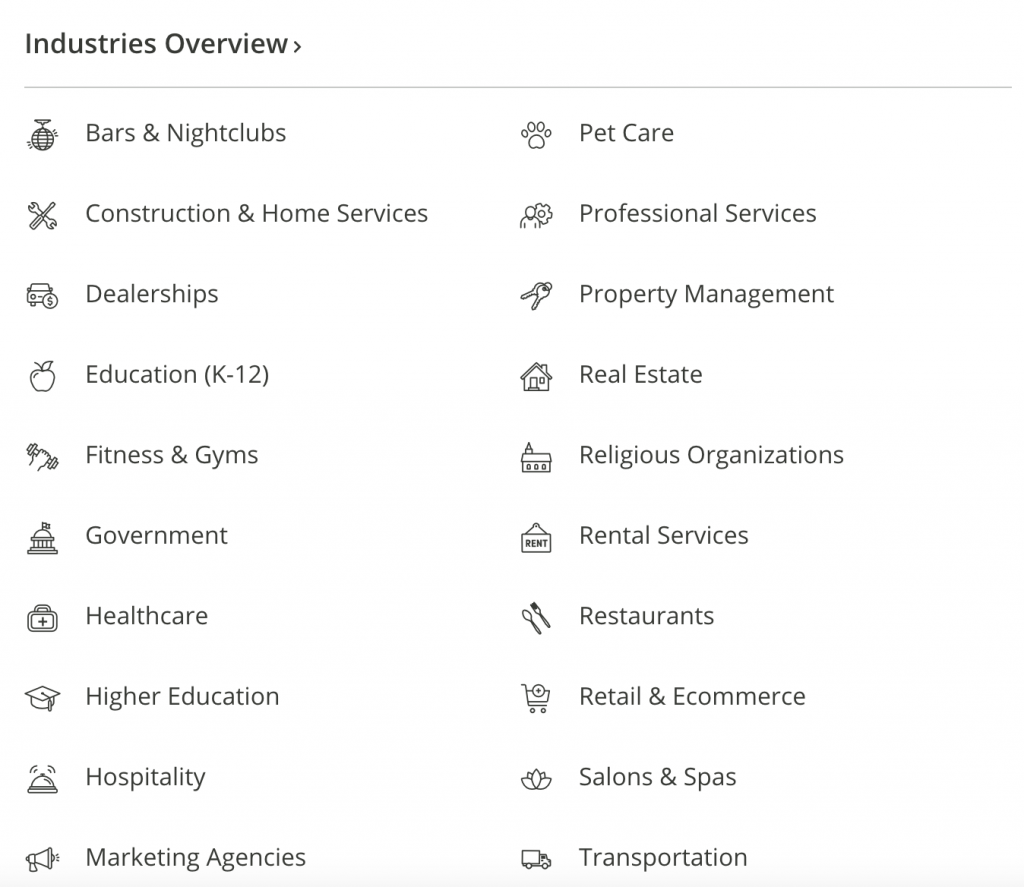 But whether you're in this list of industries or doing something different, you can take advantage of SMS marketing using any of the apps on this "Best SMS Softwares" list!
Frequently Asked Questions About SMS Platforms
What is SMS marketing software For?
SMS marketing software usually refers to cloud-based platforms that allow businesses to send personalized SMS messages to leads and existing customers, and receive inbound messages back. SMS software can be used for:
Sending offers, discounts, and codes
Reminding and notifying customers
Provide information and sharing transactions
Refill prescriptions and orders
Reset passwords and providing dual logins
Creating polls, contests, and surveys
Scheduling, confirming, and changing appointments
Customer service opportunities
What are the benefits of SMS marketing software?
Sms marketing software can be used to improve customer communication, increase customer engagement, and boost sales. Additionally, SMS marketing software can be used to gather customer data for marketing purposes outside of SMS channels.
Is SMS marketing effective?
Yes, SMS marketing is effective! With the over 98% open rates boasted by many of the apps, SMS marketing works because it's accessible, straightforward, and relevant for your customers. And with the newer micro-moment concept in digital marketing, it's increasingly important to reach your audience right when they have a want or need.
With higher open rates, response rates, and click through rates, SMS marketing is a great way to stay at top of mind and increase conversion rates by reaching your customers where they are: their mobile devices.
Is SMS marketing legal?
Yes, SMS marketing is legal. But, make sure your SMS platform follows all compliance obligations, as well as clear single opt-in and double-opt-in opportunities for your contact list–and an easy way to get off the list.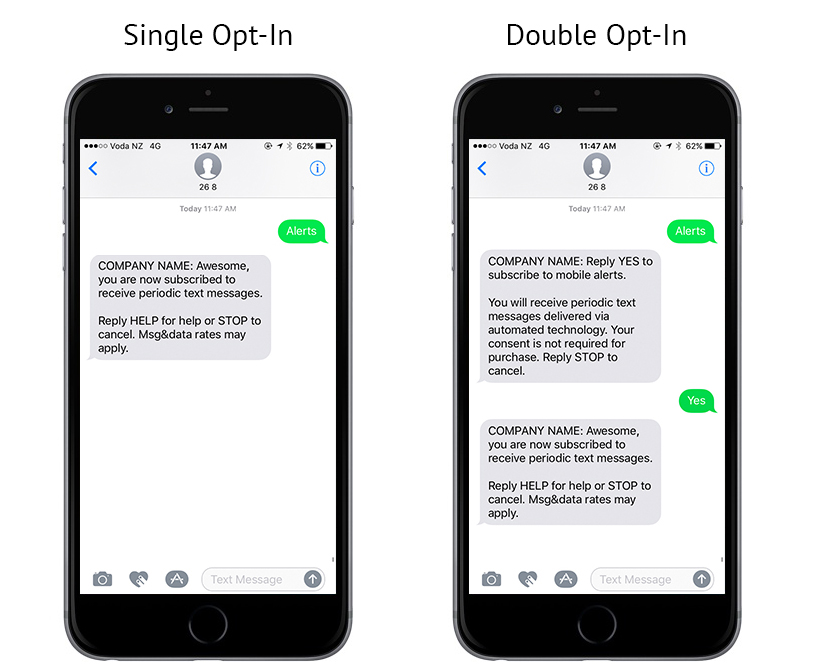 How much does SMS marketing cost?
SMS marketing costs vary. Some platforms determine pricing by each text, some provide plans, and some do both–and there is a range depending on how many messages you need and contacts you have. So make a budget before choosing one of these top SMS marketing softwares.
What about the Best SMS Platform for…
Free SMS software
Omnisend has a free plan, though it only provides 60 SMS a month. The other platforms on this list with free trials at the date of this publication include:
SlickText: 14-day trial
Simple Texting: 14-day trial
TextMagic: 30-day trial
Salesmsg: 14-day trial
Drip: 14-day trial
Top-rated SMS marketing software
These are all some of the best apps for marketing via text message, but these stand out for:
SimpleTexting if you have a bigger budget
Drip if you need email marketing support as well
Text Magic to get your SMS marketing up and running quickly
Best SMS application for small or local businesses
Salesmsg and EZ Texting are both going to be great options for small to medium sized businesses and local businesses. They're affordable, simple, and easy to get started with, while still offering all the features you need for SMS marketing.
Best SMS apps for the non-techies
Text Magic and EZ Texting are great for those non-technical teams that need text message support. EZ Texting stands out with its guides and product tours, and Text Magic's setup wizard and easy-to-use UI makes it one of the easiest platforms to use.
Best SMS tool for bulk SMS marketing
SimpleText and Text Magic stand out for their bulk SMS marketing options. SimpleText focuses their platform around marketing campaigns, with their easy "Campaigns" tab for new campaigns and "Keywords" tab to gather new processes. And TextMagic's intuitive interface makes it easy to send bulk SMS messages from your computer, phone, their website, or your website using their API integration.
Conclusion: The Best SMS Marketing Software?
There are a lot of great SMS marketing softwares out there, and while this is a great list, definitely think about taking advantage of free trials to see what works best for your business and marketing team.
Just want an answer to what SMS software you choose choose?
Try Drip if you're eCommerce
Try Salesmsg if you're a smaller business
Try ClickSend if you're looking for most affordable
Try TextMagic to send messages through various platforms
Try EZ Texting if you want the easiest start
Try Omnisend if SMS marketing is more of an add-on, not a focus
Try SimpleText if marketing is focus
As long as you're finding one that matches your budget with the features your organization needs, you're well on your way to improving your SMS marketing channel, lead generation, and conversions.