Latest posts by Hailey Friedman
(see all)
61% of marketers say generating traffic and leads is their top challenge online.
Online form builders have emerged as one of the best technologies for solving that. That's because form builders enable marketers to create interactive quizzes, surveys, and of course, forms… all without code. It's magic.

In my experience, the best form builder is the one that doesn't require me to do anything out of my normal workflow. I want drag-and-drop, simple integrations, and out-of-the-box templates.
The best form builders, like Typeform and Paperform, make it easy to include custom elements, autofill, conditional logic, and they feature integrations with tools you use like WordPress, HubSpot and Mailchimp.
In this review, I'll share which tools are best for which use case, the best features, and pricing information so you can decide which is right for you.
Also read: The Best Landing Page Software and How to Generate Leads for Your Business

What are the best form builders?
Whether you're selling a product or just collecting feedback, form builders are a great tools generating leads online. These are the best ones.
1. HubSpot Forms
Cost: Free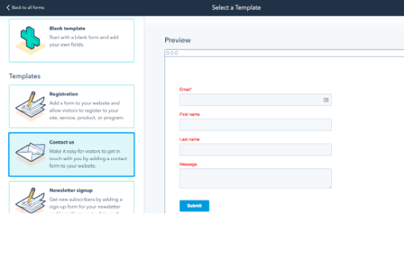 Filling your customer relationship manager (CRM) with qualified leads doesn't have to cost a fortune. In fact, it doesn't cost anything at all with HubSpot's free online form builder.
Quickly (and easily) create custom forms without being a developer. From the form field to the field type, HubSpot provides a number of options to create an experience that converts. Best of all, everyone who fills out a form is automatically routed into the HubSpot CRM for future follow up.
Key Features:
A drag-and-drop builder makes it easy to create the form you want in seconds.
Customization with up to 1,000 form fields and a dozen different field types.
Advanced smart features for HubSpot users to adapt questions to returning website visitors.
2. GravityForms
Cost: Basic licensing starts at $59/month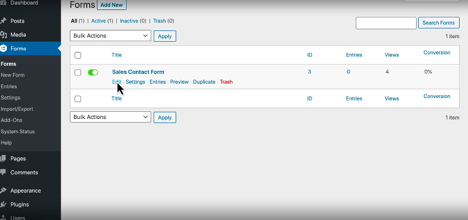 GravityForms is an easy-to-use, online form building plugin for WordPress users.
With plenty of ready-to-use form field options, simply install and start creating. The conditional logic functionality makes it easy to configure your forms based on user selections. This makes for a more personalized user experience and an effective funnel for your marketing team.
Key Features:
Over 30 form fields at your fingertips.
No programming knowledge required.
From photos to resumes, it's easy for users to upload files.
3. Paperform
Cost: Essentials plan starts at $24/month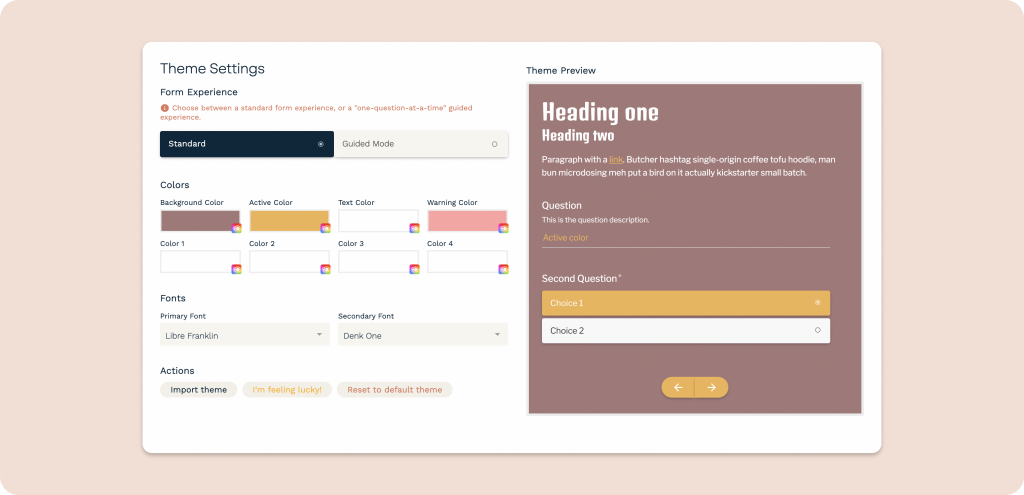 Paperform is a digital Swiss Army Knife for small businesses looking to simplify work and get more done. It's a single destination where you can take payments, communicate with customers, automate workflows and schedule appointments.
With 2,000 integrations and 500+ templates, its powerful no-code editor allows you to customize colours, fonts, layouts and themes or go crazy with their 600+ templates and new in-app editor. Whether you want to use conditional logic, rating fields, form-sharing, and multi-page guided mode, you can create beautiful, engaging forms and reduce survey fatigue.
Key Features:
Entirely customizable solutions using built-in Unsplash and GIPHY libraries or the in-app image editor to add finishing touches on the fly
Advance payment features including Stripe, Paypal Business, Braintree, and Square
Custom built-in data analytics and powerful data management and automation workflows, including google analytics and Facebook pixel support
Form sharing options where you can make your templates
4. JotForm
Cost: Free (paid plans available)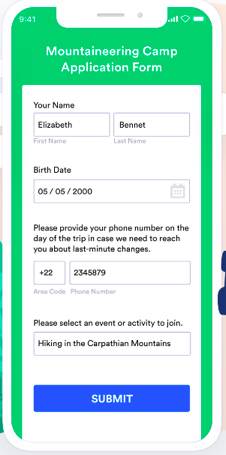 JotForm's extensive functionality and application across industries means no business is left behind.
Use Advanced styling options to create branded forms or select a pre-designed theme or template. You can also build out forms for mobile, where you can collect photos or electronic signatures. See other Jotform alternatives.
Key Features:
Secure payment forms for Square, PayPal, Authorize.net, and more.
The Assign Forms feature lets you send your form with a link, grant access to specific employees, and more.
Collect sensitive patient data with JotForm's HIPAA-compliant online form builder.
5. Google Forms
Cost: Free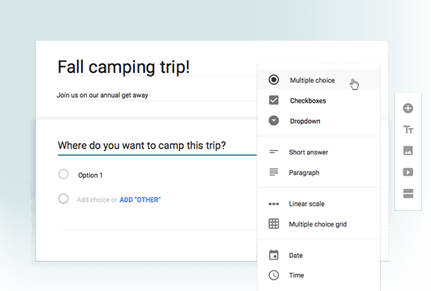 If your team lives and breathes the G Suite, using Google Forms is a no-brainer.
The familiar Google interface makes it a breeze to create forms, surveys, and everything in between. Responses are automatically collected and stored in Forms for further analysis using Google Sheets.
Key Features:
Easily add collaborators.
Add your logo, images, and YouTube videos.
Go beyond your standard form with polls and pop quizzes.
6. Typeform
Cost: Free (paid plans available)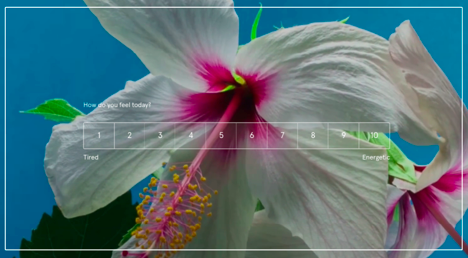 Typeform has your design needs covered. As their name suggests, simply start typing to create the form of your dreams. Live Preview makes it easy to perfect every detail, whether you're generating a contact form or interactive quiz.
Key Features:
Greet form visitors by name with Hidden Fields.
Incorporate icon options into your form responses.
Access stock imagery and video from Unsplash and Pexels.
7. Wufoo
Cost: Free (paid plans available)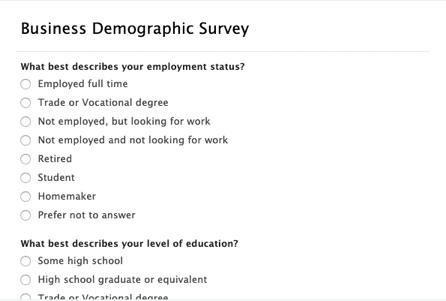 From the creators of SurveyMonkey, Wufoo is both an online form builder and a cloud storage database. Customize one of their ready-to-go templates, accept payments, and automate workflows across the team.
Key Features:
Sync form data to other tools in your stack with over 1,000 integrations.
Get real-time notifications every time someone fills out your form.
Generate custom reports for data analysis.
8. Ninja Forms
Cost: Personal plans start at $99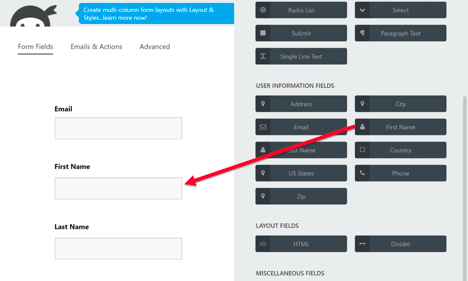 With over 20,000,000 downloads, Ninja Forms is well-loved within the WordPress community. You don't need to be a developer or designer to create a form that converts, especially with their dedicated support team at your disposal.
Key Features:
A variety of add-ons allow for advanced conditional logic, multi-part forms, and more.
Drag and drop fields make it easy to customize the form's layout.
Create forms with file upload functionality and accept payments.
9. Cognito Forms
Cost: Free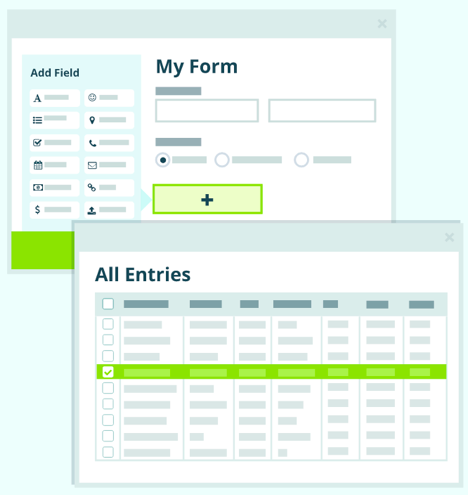 Have a few seconds to spare? Then you've got time to build an online form using Cognito Forms. Build, publish, and manage your entries in one centralized location and put collected data to work for your business.
Key Features:
Give users the ability to revise their form entries after they've been submitted.
Keep form data safe with data encryption.
Create forms in 20 languages, across 121 countries, and 137 currencies.
10. FormStack
Cost: Plans starting at $19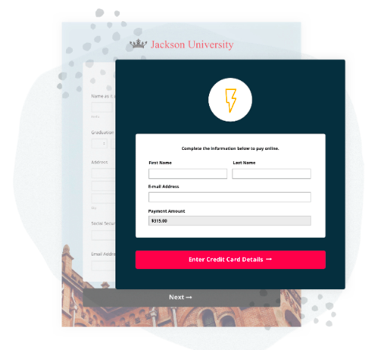 Productivity is the priority with FormStack's drag-and-drop form builder that simplifies data and signature collection. Streamline and automate your team's workflow with dozens of app integrations and custom hooks.
Key Features:
Offline form creation makes it easy to get things done anywhere, any time.
Test and optimize your marketing forms over time with FormStack's conversion rate optimization (CRO) tools.
Consolidate form creation efforts on the backend with team-centric portals.
11. SurveyAnyPlace
Cost: Plans starting at $33
Survey and incentivize your website visitors with SurveyAnyPlace's all-in-one solution. Use their suite of features to create employee-based training materials, assessments, and quizzes.
Key Features:
Use URL parameters to autofill responses.
Create an interactive experience with widgets, like a digital slot machine or scratch card.
Display unique quiz features like a timer or leaderboard.
12. FormBakery
Cost: Plans starting at $19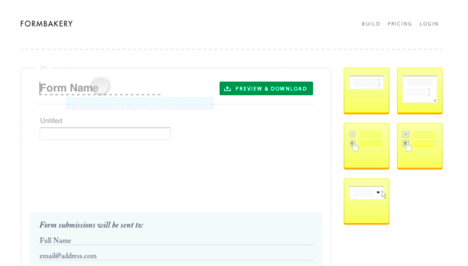 Build a professional form in two minutes and FormBakery will generate the code to match. While the interface is nothing fancy, it's a simple solution for building customized forms.
Key Feature: A no-fuss interface to create online forms and receive emailed text responses straight to your inbox.
13. 123FormBuilder
Cost: Free (paid plans available)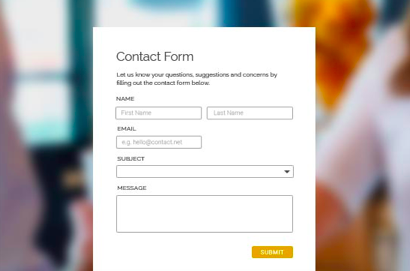 From human resources to healthcare, eCommerce to education, 123FormBuilder provides online form building capabilities for almost every industry. They make it easy to track your lead's journey from form submission to follow up.
Key Feature: 123FormBuilder's in-depth analytics help you visualize online form performance with real-time, graphical reporting functionality.
14. Zoho Forms
Cost: Plans starting at $8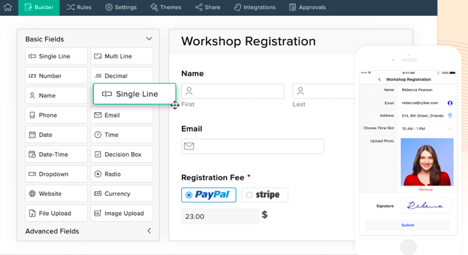 Embed forms for your website or share them privately with Zoho Forms. Their offline mode makes it possible for people to fill them out on-the-go.
Key Features:
Make the form building process a team effort with the ability to assign tasks, add approvers, and more.
Personalize your email follow-ups and use form data to customize things like event tickets and contracts.
15. Microsoft Forms
Cost: Free with Office 365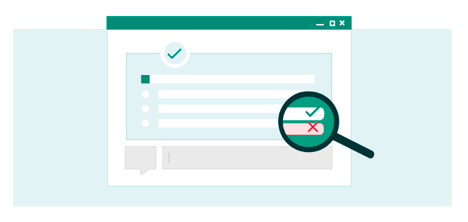 If your team uses Microsoft 365, Microsoft Forms will play along nicely. Create surveys, quizzes, and polls to uncover insights, analyze feedback, and deliver a better customer experience.
Key Feature: Responses can be automatically visualized as charts or exported to Excel for extensive analysis.
16. Formsite
Cost: Free (paid plans available)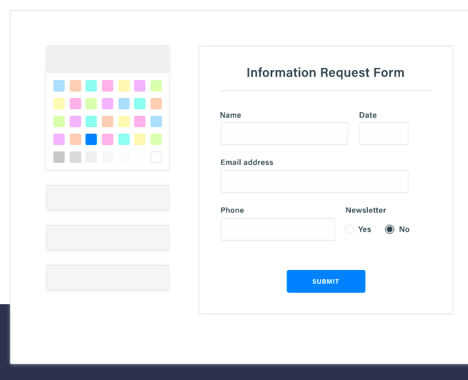 Formsite's 100+ customizable templates and 40 question types are enough to get you started on building out registrations, lead forms, surveys, and more. From hosting to processing results, their tool has you covered every step of the way.
Key Feature: Forms are automatically responsive across all devices and can be shared with a secure link or embedded on your website.
17. Forminator
Cost: Free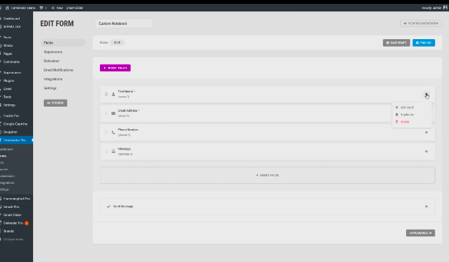 If you're looking for a WordPress plugin for form building, Forminator is the solution. It's not flashy, but it's functional with drag-and-drop form blocks, 1,000+ app integrations, the ability to accept payments, and more.
Key Features:
Google ReCAPTCHA keeps spambots at bay.
Access Forminator's developer application programming interface (API) to build custom integrations.
Add opt-ins to ensure your forms comply with the General Data Protection Regulation (GDPR) and other legal privacy policies.
The best free form builder
Google Forms.
If you need to add online form functionality to your website, there are plenty of options to choose from across a variety of use cases and budgets.
What's your favorite online form builder? Let us know your thoughts in the comments!